Category Archive for
New York
Stay-at-home style, Satanic edition… Hail Goth loungewear!
What's a Goth to wear these days, if there's no travel or Gothic events? Let me show you my favorite Goth lounge-wear and easy makeup, which lets me look "done" for Zoom calls and essential outings.
I'll also continue my NYC flashbacks with a tour of Vessel at Hudson Yards, Fotografiska photography museum, synthwave parties… and other fabulous things we can look forward to in the future.
I'm feeling the urge to keep things simple, during lockdown. However, I like putting on a few touches of makeup for video conference calls, or for essential trips outside.
I rely on pro-level products from Anastasia Beverly Hills, as they feel great and let me easily get "put together." 
Anastasia Soare is considered the Eyebrow Queen, and makeup artists agree that her brow products are the best out there. I especially recommend ABH Dipbrow Gel and Pomade, which let you build natural-looking brows that stay on all day.
(Click the pics below for more about these items:)

For a 5-minute look, I apply The Ordinary mineral sunscreen, followed by Anthelios tinted sunscreen. I do my brows, and flick on Anastasia's Liquid Liner and Lash Brag mascara. Then, I'll swipe on ABH Liquid Lipstick, which stays on all day so I don't need to re-apply. Done.
My Pugnale Italy sunglasses add drama to the simple look. These pink Spalla frames are a collaboration with fashion house Tagliatore; the metallic edges are adorned with hand-sewn pleated fabric.
I accessorized with an Alex Streeter Ouroboros silver ring, and new diamond floral ring.
If you're lounging around all day… you might as well do it in Satanic sweatpants!
Hail Long Clothing, purveyors of devilish streetwear. This indie fashion label has a range of unisex joggers and tops, marked with devilish messages.
I couldn't resist their black lounge pants… There's a smily-faced pentagram on the hip, and the heartwarming message "Satan loves you for who you are"! (You can get this design on a t-shirt or tank as well.)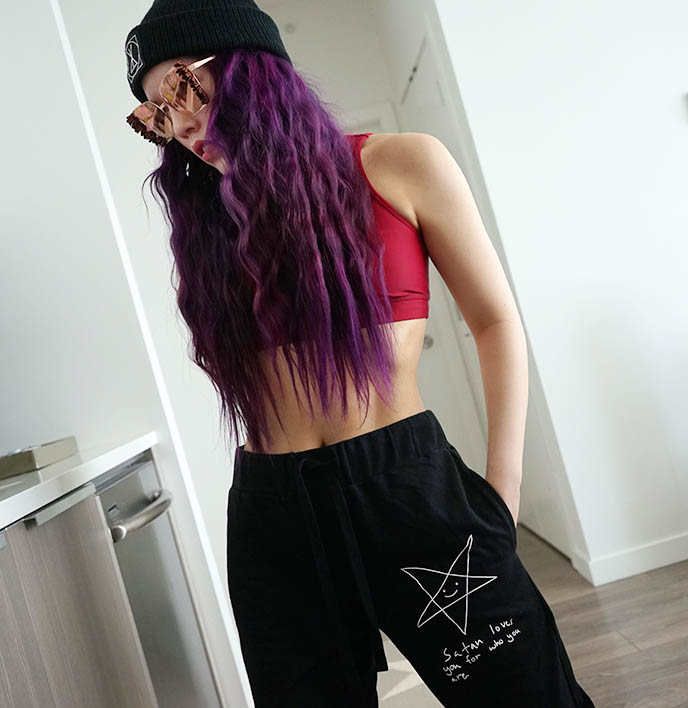 Charli Cohen's Goth activewear is also perfect for at-home outfits. I wear her red Athena halter as a bikini top, as a sports bra for yoga workouts, or simply for lounging around.
It coordinates well with my Long Clothing beanie and "Satan Loves  You" joggers. (The two side pockets and stretchy ribbon-tie waist are handy as well.) When I go out, I can throw over a mesh top and leather jacket.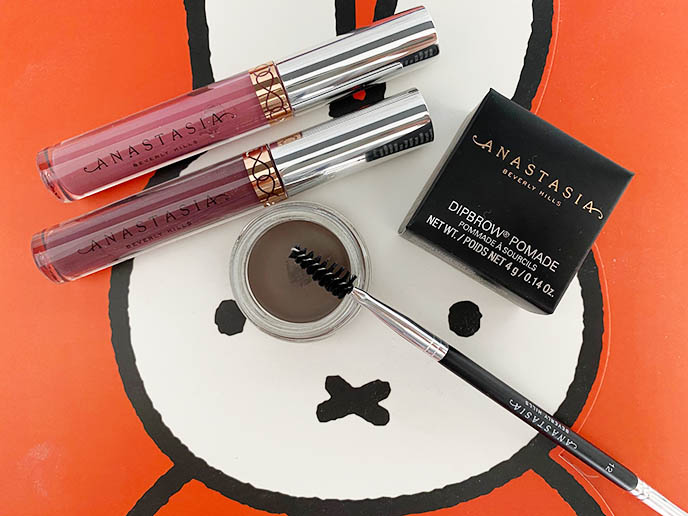 Here's a close-up of my essential Anastasia Beverly Hills products. If I only have two minutes for makeup, I'll apply Dipbrow Pomade to my eyebrows with a 12 Dual-Ended Brush, which has a firm angle and spoolie at either end.
Then, I'll put on a coat of ABH Liquid Lipstick. In the past few years, I've switched over to wearing liquid lipsticks, as the pigment doesn't come off even if you're eating and drinking.
Anastasia has an enormous range of liquid lip colors, including alternative shades like dark blue and green. I'll wear Dusty Rose for a natural look, or Goth it up with the dark purple Trust Issues.
(Find out more and try these products here:)

Let's be real… I'm wearing hats in all my recent photos because my hair roots are atrocious! (They're four inches long at this point…)
Until I can see my professional stylist, I'm keeping my dark purple color vibrant with oVertone. I wash my hair with their Extreme Purple daily conditioner, and every few weeks, I apply the leave-in coloring conditioner / mask for 15 minutes.
Overtone makes me look as if I'd just dyed my hair (when in fact, it's been many months). Their color-depositing conditioners are free of sulfates, parabens or ammonia, so your hair stays hydrated and healthy. And they come in every shade of the rainbow: perfect for Goth and alternative hairstyles.
(My butterfly sunglasses are Pugnale Eyewear, handmade in Italy.)
Until I can venture out into the world again, I've been looking back fondly at my travels. New York City is on my mind…
In February 2020, I returned to NYC for Molly's breast cancer fashion show. I also got to reunite with friends and see some of the city's newest attractions — including Vessel at Hudson Yards.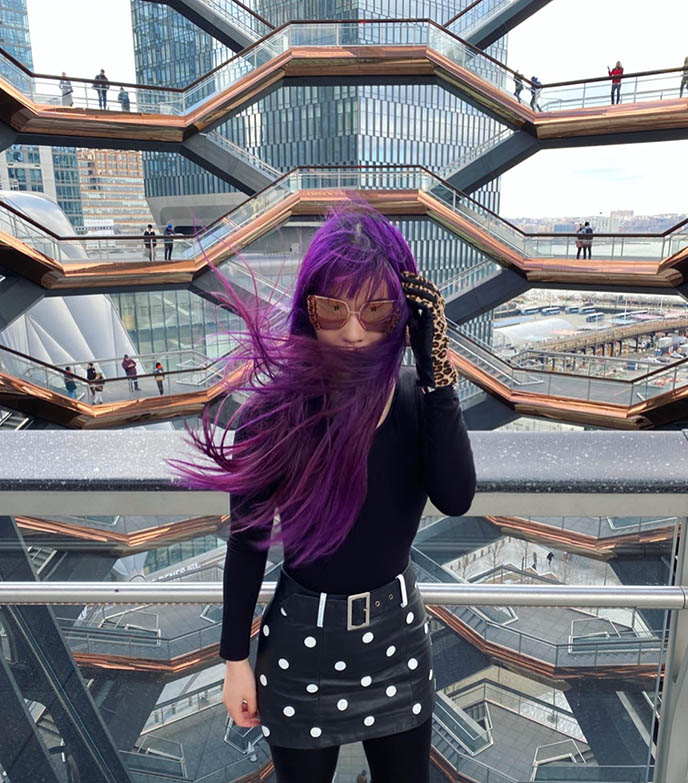 The wind was angry that day, my friends!
OOTD — channeling Michael Jackson's one-glove realness. I wore Spalla pink sunglasses by Pugnale Eyewear, a leather miniskirt by Jeremy Scott, and leopard print leather glove by Moschino.
(Have you seen Moschino's recent Halloween collection, which included a ghost dress and coffin purse? They've released designs inspired by space, skeletons, Power Puff girls… See more Moschino below.)
There's always something new and intriguing to see in NYC. I docked at Vessel, a new architectural landmark that was unveiled in 2019.
Designed by Thomas Heatherwick, Vessel is the focal point of the revamped Hudson Yards. The modern structure is 16 stories high, and contains 2500 steps over 154 flights of stairs.
Is it an acorn? A bee's nest? A woven basket? The interpretation is up to you.
When I lived in NYC, this area was a nowhere zone called Death Avenue (how Gothic!). In the past years, Hudson Yards has developed into an urban and artistic space.
Hudson Yards is now home to a shopping center, residences, and art museums. Right next to Vessel, you'll find The Shed — a museum for emerging artists that work in media ranging from theater to hip hop.
Anyone can visit Vessel for free, but you need to reserve at time slot online in advance via their website. I encourage you to book a free ticket as far in advance as you can, since the dates and times can sell out.
(Of course, Vessel is currently closed because of Covid-19, so file this useful info for the Mad Max future.)
Visitors enter from the ground level, and meander up the staircases however they please. Vessel has no defined path upwards, which gives you total freedom to climb up or down the "honeycomb" stairs and landings. (The hexagon design made me feel like I was in an MC Escher drawing.)
Take your time to hang out on the viewing platforms, and snap photos. Vessel has magnificent views of the surrounding shipyards and skyscrapers.
An ingenious curved elevator runs up one side of Vessel. Note that the glass doors only open up to a few platforms, so the stair-based structure isn't fully accessible.
The bronze, steel and concrete architecture has gotten mixed reactions from New Yorkers. Some adore the landmark, while others say Vessel is a basket-case. What do you think?
I had ramen with my friend Cris Ryan, and he crowned me with this Grinning Ghost cap by his accessories label, Capumon. Pokemon fans, aren't these hats the best ever? "Be the culprit behind shadows, that laughs under moonlight!"
I matched it with a pink Mongolian lamb (ethically sheared) coat by Skandinavik Fur.
I love strolling around NYC and discovering hidden gems. I froze when I saw this marvelous Medusa, on the side of a brick building in Nolita.
This turned out to be House of Hackney, a British boutique for decadent home design. I peeked at Rococo antiques, avian taxidermy, and other exquisite objects.
On this February trip, I also got a taste of NYC synthwave. I re-lived the 1980s at Night.Wav, a retrowave / outrun club night at The Knitting Factory Brooklyn. The energetic DJs had the young crowd dancing on stage to Italo Disco and sounds of the synthesizer. 
NYC's museums are world-class (the Met, MoMa, Guggenheim), and I always try to visit at least one whenever I'm in the city. This time, I went to a new photography museum — the Fotografiska NYC,
When I was in Sweden two years ago, I visited the flagship Fotografiska Stockholm museum, and was impressed by the powerful photos I saw.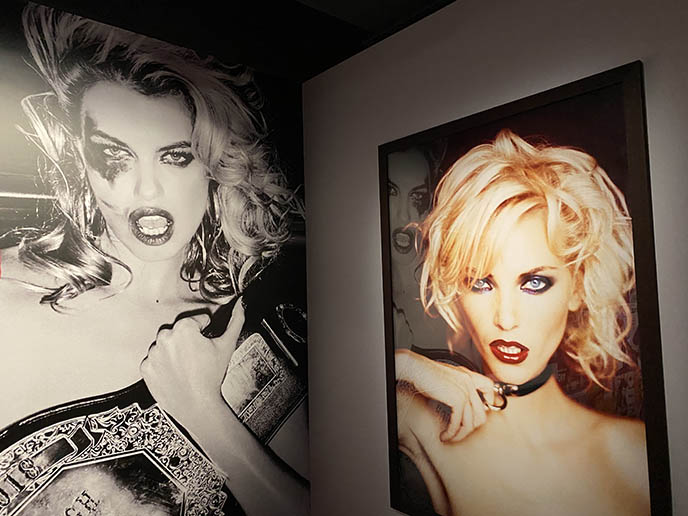 The NYC outpost turned out to be just as memorable. Fotografiska showcases both emerging and established photographers, in all styles ranging from conceptual to pop provocative.
In early 2020, Fotografiska NY had an entire floor dedicated to Ellen von Unwerth. The exhibit — 'Devotion! 30 Years of Photographing Women' — is a playful retrospective of her images throughout the years, including fashion portraits of celebrities like Milla Jovovich.
Many photo collections reflected on social or environmental topics. Anastasia Taylor-Lind's 'Other People's Children' put the spotlight on immigrant workers and unequal access to childcare. I was drawn to Helene Schmitz's 'Thinking Like a Mountain,' which captured the quiet yet violent devastation of Swedish landscapes.
My favorite room (above) held Tawny Chatmon's regal portraits of African-American girls and young women, gilded in the style of painter Gustav Klimt.
I had the pleasure of attending a panel discussion with queer photographer Mikael Owunna. The event celebrated the launch of "Limitless Africans," his portrait photo book that explores LGBTQ African narratives.
The panel spoke with passion about living their truth, and tearing down stereotypes (such as the idea that it was "un-African" to be queer, or that there was no historical precedent in the continent for differential gender identity).
He spoke about the 75 portraits published in "Limitless Africans," which tell the story of LGBTQ African immigrants, refugees and asylum seekers. Owunna described the project as a coming-together of the community, as it steps towards healing.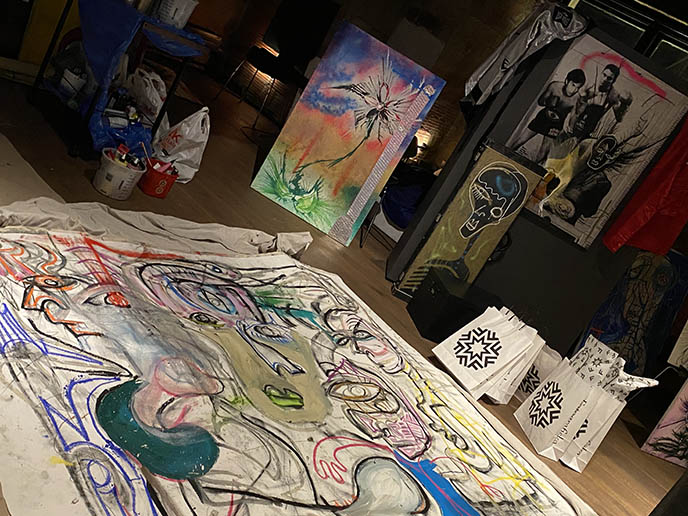 Like pretty much everything in NYC, the Fotografiska museum is currently closed due to the COVID pandemic. But this vibrant space, which gives voice to diverse creators, will open again soon.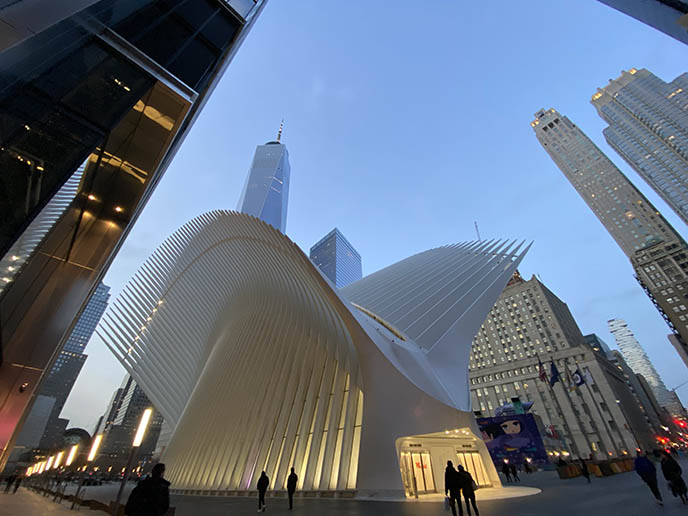 I couldn't leave the Big Apple before scratching my architecture itch a little more.
I was staying in downtown NYC, so I walked over to Santiago Calatrava's new World Trade Center subway station. Designed with his signature ribbed white curves, the WTC Oculus appears to be lifting its wings for takeoff.
Here's what the World Trade Center Transportation Hub looks like from inside. Every year on September 11, at 10:28 a.m (the date and time that the North Tower fell in the 9/11 attacks), these twin skylights flood the Oculus with brilliant light. 
(You may recall that I saw another Santiago Calatrava building, Rio's Museum of Tomorrow, in Brazil with Elizabeth Wurtzel.)
Finally, I paid my respects at the National September 11 Memorial & Museum. Nearly 3,000 names (of those killed in the 9/11 attacks) are engraved in twin pools fed by waterfalls. Above rises One World Trade Center, also known as the Freedom Tower.
New York, NY… we shall meet again soon. Until that day, you can revisit my NYC stories from the past decade (!!) here.
PS: I wrote about Hello Kitty for Fodor's Travel! Did you know the cute Sanrio cat has attractions all over the world, from maternity wards to dental clinics and beauty spas? Check out all my Fodors articles here.
PPS: I'm still selling my Gothic & Lolita personal wardrobe, on Depop (@lacarmina)! I'm letting go of rare clothes and accessories in all sizes. If you're interested in anything I've listed, let me know and we can work out a discount.
Take a browse on my Depop shop here, and email me if you'd like anything. Looking forward to hearing from you.
If you think NY Fashion Week is all about frivolity… then you've never been to a breast cancer fashion show.
In February 2020, I had one of the most meaningful weekends of my life cheering on bestie Molly, a Stage II breast cancer thriver, at NYFW! What a moment to see her and fierce mom Deborah (who also beat the disease) strut the runway.
I was moved to see a diversity of models — representing every stage from pre-vivor to metastatic — slay the catwalk in AnaOno (a lingerie and clothing line for breast cancer thrivers).
This meaningful fashion show partnered with Cancerland, with 100% of proceeds benefiting METAvivor (to conduct much-needed research for metastatic breast cancer treatment).
I hope you enjoy this very special report from New York Fashion Week 2020. (Please see photo credits at end.)
1 in 8 women will be diagnosed with breast cancer in their lifetime, and 1 in 3 will have metastasis. These facts hit hard for me, as I have several close friends who were diagnosed with breast cancer — including writer Elizabeth Wurtzel, who passed in January (you can read my tribute to Lizzie here).
Molly Weingart has been one of my closest friends since we met on Halloween, at Columbia University. Years later, I still remember the feeling of shock when she told me she was diagnosed with breast cancer, at age 32. Her mom Deborah, above, also had and beat breast cancer 25 years ago. (Their walk was supported by Penn Medicine and V Health and Wellness.)
There's no other way to put it: Cancer blows. I visited Molly in Philly during her second round of chemotherapy, and the side effects were unexpectedly rough. And we were traumatized by her experience at the hair salon, where she was forced to shave her head due to chemo. (Since then, I've been growing out my hair and appreciating the ability to maintain a long length!)
Molly is a warrior, and she's now in remission. We celebrated by relaxing and shooting guns in the Dominican Republic!
Everything came full circle in NYC, the place where we met and attended many fab fashion events. In 2020, she and her mom were chosen to walk the runway for the AnaOno x Cancerland x Metavivor benefit show.
The annual NYFW catwalk has an important goal: to raise funds for metastatic breast cancer research and treatments, while changing public perception of the condition.
At the same time, this is New York Fashion Week — so everyone is encouraged to dress flamboyantly and have a fabulous time!
I debuted my Skandinavik pink Mongolian lamb fur coat, and it received a lot of compliments. The sheep are merely sheared to make this luxurious jacket, which comes with a hood and keeps you unbelievably cozy. You can find this statement coat and more, in multiple striking colors, on Skandinavik Fur's site.
I'm also wearing a bats beret and heart cardigan from Sourpuss Clothing, and snakeskin platform boots by Acne.
I adore my new dainty skull silver bracelet, from Stephen Einhorn. The bangle slips on easily, and has a minimalist yet edgy style that goes with all outfits. The skeleton's details are beautifully etched — House of Einhorn's fine Gothic jewelry is always to die for.
I'm living for Stephen Einhorn's medium pearl hoop earrings, which stand out against my dark purple hair. These timeless hoops instantly add a dash of Goth glamour.
(Close-up on my voodoo heart cardigan and bat hat from Sourpuss Clothing.)
While I was taking street style snaps, Molly and her mom were hard at work backstage. Throughout the weekend, they were filmed for a documentary, and spent all day doing photoshoots, fittings, and runway walk lessons.
It was wonderful to meet the models and supporters, who embodied the fashion show motto of "#Fearless." The ladies modeled glamorous garments by AnaOno Intimates and outerwear by Madison Chamberlain. Each look was personalized to fit their unique story of experiencing breast cancer.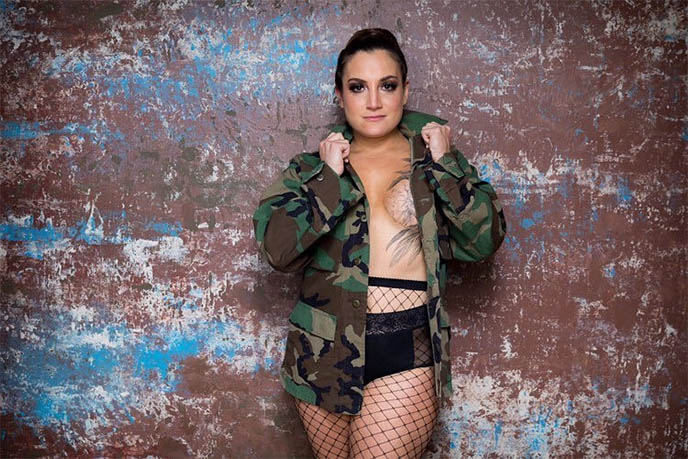 Molly gives off J Lo vibes in this custom camo jacket, fishnets, and mesh panel black underwear. Love how they gave her a high braided ponytail and long eyelashes.
She gives us a peek of her tattoos, by Chicago-based artist David Allen. He specializes in tattooing women who had a mastectomy and/or reconstruction, transforming their scars into swirling flowers.
This year, the breast cancer fashion show focused on diversity, and bridging the gap between early and late-stagers. The women represented a broad spectrum of ages, backgrounds, and stages of breast cancer — including previvors that had a preventative mastectomy.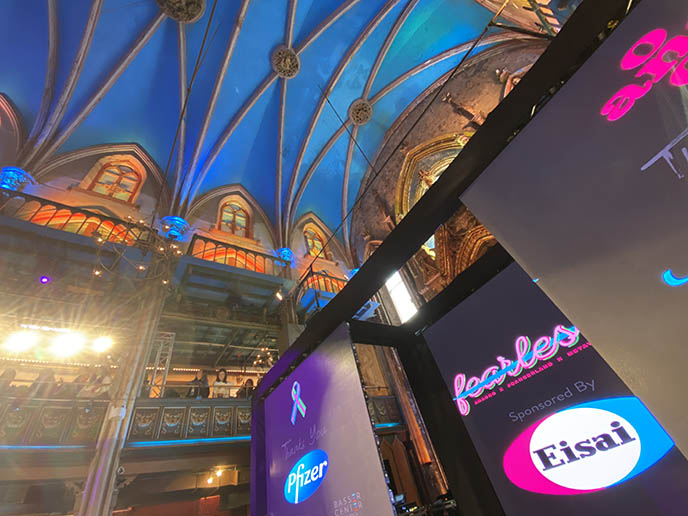 The AnaOno x Project Cancerland x Metavivor fashion benefit was such a success that the tickets were oversold. Everyone eagerly crowded into the Angel Orensanz Center, a former synagogue that has become a gorgeous event and performance space.
The show got off to a rousing start, with several heartfelt speeches. I was moved by the speakers, who shared their fears and hopes at every stage of breast cancer — from preventative surgery to recurrence and metastasis.
On the right, I was happy to finally meet Dana Donofree, creator of AnaOno. When she was diagnosed with ductal carcinoma, she realized there was a lack of beautiful lingerie and loungewear for women who experienced breast reconstruction, breast surgery, or other conditions causing discomfort. As a solution, she launched her fashion line.
More than 30 models "werked" the NY Fashion Week catwalk, modeling AnaOno's spectacular designs. Such an inspiration to see these women take back their bodies and celebrate living.
Unlike a typical New York Fashion Week show, this was a vivacious and touching occasion. It was fun to sit front row, and cheer our hearts out for the breast cancer thrivers.
The models showed a wide range of expressions and walks, each expressing their feelings about living with breast cancer — from anger to sadness and courage.
As each woman appeared, words flashed behind her that conveyed her greatest fears. Walking the catwalk let her own her vulnerabilities, and become fearless.
Knowing Molly's journey firsthand, I screamed so loud when she appeared!
Her full statement: "I walk to use my body as a form of protest, to fight the stereotype that bravery means we should hide our fears related to this illness. All our fears are valid, from death to losing our hair."
When she reached the end of the runway, she slowly took of the jacket and stood strong, revealing her bare chest and tattoos.
Molly describes the moment: "As that jacket made by Madison Chamberlain slid down my shoulders, I felt years and years of shame slide of my body in seconds. My story is in body and I don't have to carry it."
Molly shares her full story, from being diagnosed to getting tattooed by David Allen, here.
"The scars felt like a continuous reminder of what I had lost, what I would never be or do. I was excited to see something beautiful instead of destruction. I didn't expect or even believe that getting tattooed by David could make me feel beautiful again— it did—or that instead of feeling like a medical oddity, I would feel like I'm a walking piece of art and my body is the canvas."
What an emotional moment when Molly's mother, Deborah Spitalnik, joined her on stage for a hug — and then walked the runway herself.
Deborah's story: "25 years ago, I was diagnosed with breast cancer. It was more painful and frightening to see my daughter have breast cancer. I walk to support my daughter, to honor my mother who also had breast cancer and the whole breast cancer community. I fear recurrence in my daughter and myself, but I am inspired by the advances in treatment and restoration."
With her energetic stage-dance, this brave mom got some of the biggest cheers of the night!
I was blown away by the strength of the women who walked in the breast cancer fashion show. I'm grateful I got the opportunity to connect with many of them over the weekend, and hear their stories.
Molly says, "These two photos capture the absolute silly, giggly parts and the quiet, tender parts of the relationship between my mom and me — which was strengthened through my treatment."
(Credits: Backstage pro photos are courtesy Tammy Tarabola, and the professional catwalk photos of Molly and Deborah are by Carey Kirkella. The rest of the images are by me.)
Molly adds a tribute to her amazing father. "My dad stood by my mom's side during her treatment years ago and then mine decades later. He bravely learned about things I don't think most dads would consider their "department" — and of course, he was in New York to support them to the fullest.
When the hard work of modeling is over, it's time to party! Molly put on a sheer bodysuit and glitter heels for the NY Fashion Week afterparty.
We hung out with her friends and supporters, and celebrated the success of the nonprofit fashion show.
As VIP guests, we left with a swag bag of delights, including ChitoCare Icelandic beauty products. Without doubt, this was my best New York Fashion Week to date.
Ah, I miss that NYC street energy… I'll surely be back soon (and I have some additional stories from the city to share with you.)
Wearing a Sourpuss Clothing Goth beret, and Skandinavik Mongolian lamb fur coat of dreams.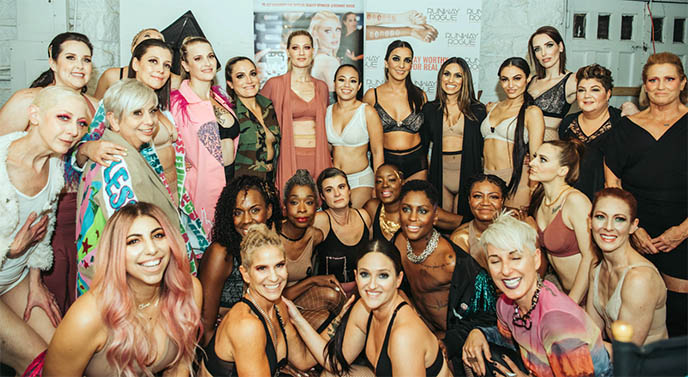 Cheers to everyone who made the AnaOno x Cancerland x METAvivor fashion show a success! The funds raised 100% went to much-needed Stage 4 breast cancer research.
I'm keen to do more to get the word out — these ladies deserve our support, and I'm grateful I got to share in their NYFW 2020 experience.