Category Archive for
New York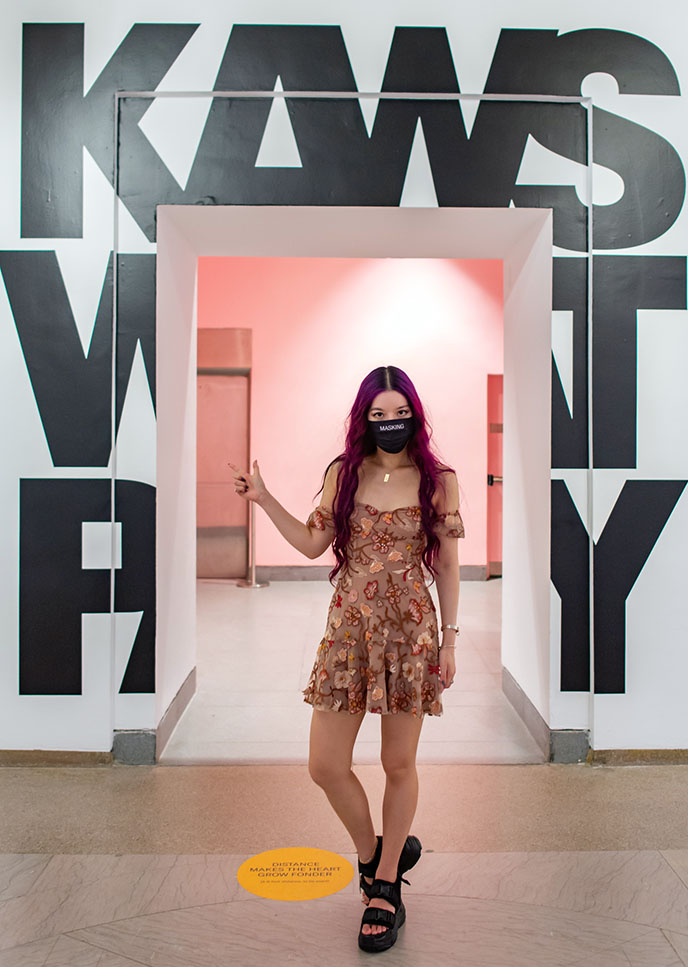 Party on, Kaws! Very glad I took a leap and went to NYC last summer. Travel is increasingly difficult to plan these days…
I spent my time in New York outdoors and at museums (I'm playing it safe, and keeping masked and distanced). One of my favorite memories: seeing the pop-perfect street art exhibit "Kaws: What Party" at  Brooklyn Museum.
You may recognize Kaws' skull-headed and X-eyed Companion: the cute character features prominently in his artwork and merchandise. In this 2021 exhibition, his newest figures have distraught poses and emotions, which reflect our era of disease and collapse.
Read on for my review of Kaws: What Party, as well as a tour of the Fotografiska NY, which has become one of my favorite museums in Manhattan.
Outfit credits: Botanic mini-dress by For Love and Lemons, shoes Anthony Wang,
The Brooklyn Museum greeted me with a "Yo"! It's easy to arrive by subway from Manhattan; the museum is at the corner of Prospect Park, near the Botanic Gardens. Look for an enormous Beaux-Arts building built in 1895, which holds 1.5 million works of art.
(PS: You can find my sunglasses and other clothing from my wardrobe for sale, on my @lacarmina Depop shop.)
The Brooklyn Museum contains both ancient and modern works, and has rotating exhibits starring leading contemporary artists — like Kaws. In the lobby, guests are greeted by a giant wood statue of two Companions, posing arm-in-arm. (Masks and timed entry tickets are required.)
(My off-the-shoulders dress is by For Love and Lemons. More dresses from this designer below:)
Also known as Brian Donnelly, Kaws is a Brooklyn-based artist famous for his cheeky twists on cartoon icons and pop culture.
His cute characters include Companion (left), a Mickey Mouse type figure with X-ed out eyes and skull-and-crossbones features. On the right, he also created Chum (a spin on Michelin Man) and BFF (who looks like Sesame Street's furry Elmo).
The Brooklyn Museum's enormous galleries were perfect for showcasing Kaws' bright and bulbous characters. Many spaces seemed set up for Instagram, reflecting the theme of blurred lines between art, consumption and appropriation.
(Photos by Joey Wong)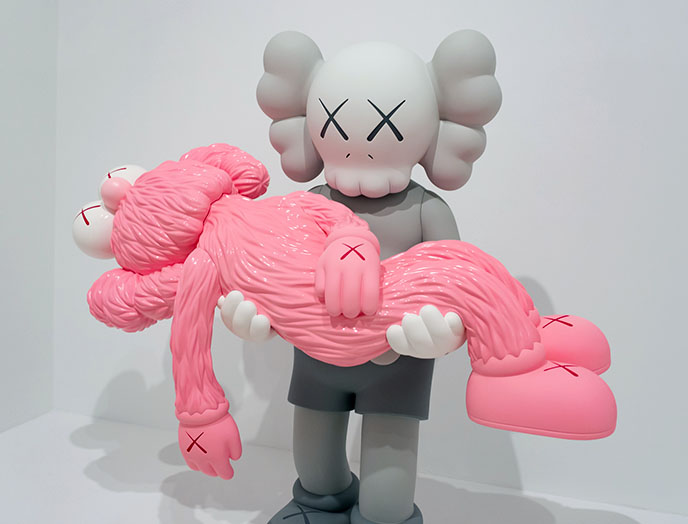 Kaws: What Party includes the artist's works in all sizes and media, including life-sized sculptures, from the 1990s to today. Here is Gone Companion Grey, carrying BFF Pink.
Kaws' cute yet subversive characters are (not surprisingly) immensely popular in Japan and Hong Kong, where they feature in a variety of vinyl figures, fashion, and other collectibles.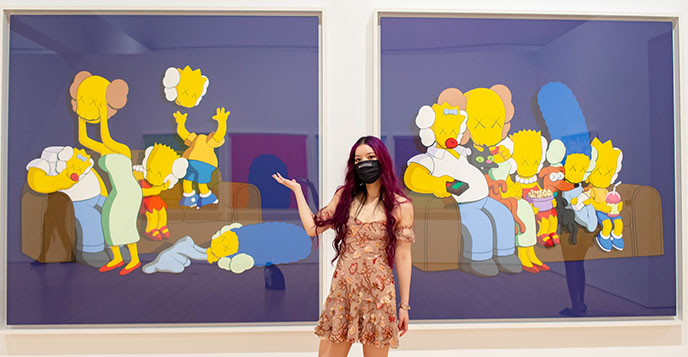 Kaws decapitates The Simpsons, mixes up the XX-eyed heads and seats them back on their iconic couch. Fine art, mass culture, or a bit of both?
He puts similar spins on The Smurfs, Peanuts, SpongeBob, Star Wars, Pinocchio, Astroboy, and Sesame Street.
Kaws works with bright flat colors and simple shapes, which are unexpectedly resonant. Pretty much anyone can recognize these Simpsons characters from the top of their heads alone. (I added my long purple hair to the mix.)
Kaws (Brian Donnelly) produced poignant new works for his What Party retrospective at Brooklyn Museum. The crying "Separated" statue reflects our days spent in isolation, while "Tide" shows Companion struggling to stay afloat in a dark ocean.
The uncertainty of 2020 inspired "Urge," which shows Chum with hands all over his face. The 10-canvas piece is colorful and humorous, yet communicates the fear of touching and spreading disease.
It'll be interesting to see how lockdown and instability will inspire works from a generation of artists, like Kaws.
No hugs or touching. No eyes for him, no mouth for me!
(My Botanic floral embroidered nude dress is For Love and Lemons, see more below:)
Kaws has collaborated on a number of vinyl toys and other collectibles. Quite fitting that his Star Wars figurines are a hit (as the film series has perhaps the most successful merchandising ever). Darth Vader and Stormtroopers get the Companion treatment, with strong attention to detail and textures.
On the left, his Gang sofa is a collaboration with Brazilian artist, Estudio Campana. Many kids grow up sitting on the couch watching Sesame Street, so why not sit on stuffed toys of Ernie, Bert, and more?
On the right, Blue BFF has a wooly texture and looks like Elmo from the children's show.
Kaws started out as a graffiti artist, tagging his name around Brooklyn and NY. What Party includes some of his earliest works such as manipulated poster ads, as well as pencil sketches of his kawaii characters.
Kaws is sometimes described as a pop artist. Is this a snap from the museum's art exhibition, or the gift store catalog? And is there a difference?
The "Flayed Open Companion" comments on whether there is anything substantial beneath the glossy surface. (Looks like there are some guts and sinew involved.)
Snoopy and other Peanuts characters get deconstructed. Uniqlo released a popular clothing and plush toys line with Kaws, which again breaks apart the hierarches of art and commerce.
The pink entryway matched my Botanic Strapless Dress in Nude Floral dress, by For Love and Lemons. More designs below: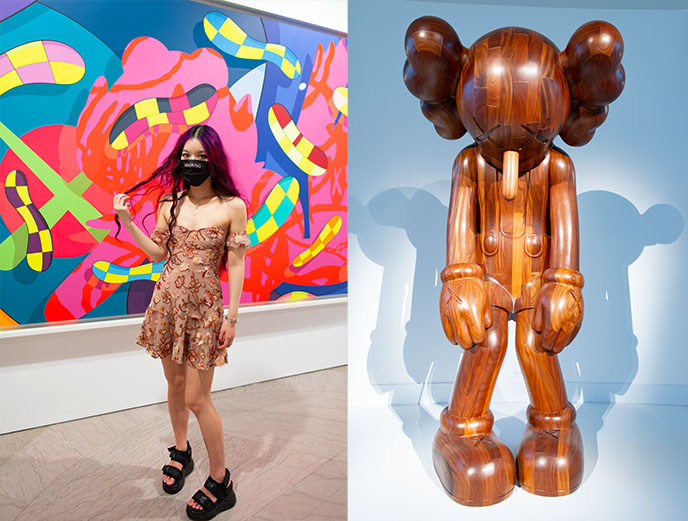 Although I was glad to travel again, there remain so many fears and ups-and-downs, with no end in sight. Kaws' sculptures reflect the zeitgeist; quite a few are slouched or bawling.
The Michelin-esque Chum is usually depicted running, or in poses that convey energy.
Now, the party is over. Chum is bright red and bows his head in a stoic posture, reflecting the disillusionment and stand-still of our times.
I particularly loved Kaws' Godzilla-sized works. The exhibit included video of a 121-foot-long inflatable Companion, who floated on his back through Hong Kong's Victoria Harbour in 2019.
When Mickey Mouse faces disarmament… This one is called "The Nature of Need." (Kaws once worked as a cartoon background illustrator for shows like Daria and Doug.)
The Kaws show has now closed, but there are other exciting exhibits on the horizon at Brooklyn Museum.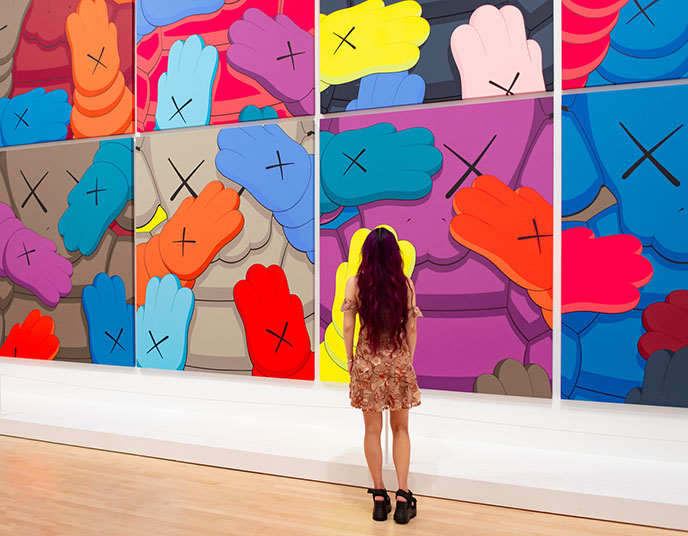 In addition to contemporary art, you can easily spend a day here seeing African, Asian, Islamic, classical and other works from various centuries.
Many Kaws vinyls have become rare collectibles. Above are concept drawings, and a Holiday Space silver figure.
Kaws scaled new heights by sending an astronaut Companion to space (well, the stratosphere) in a sounding balloon. I can't wait to see what he does next.
Follow me to Brooklyn Museum for encounters with art that will leave you feeling inspired.
(The bright yellow Oy/Yo sculpture by artist Deborah Kass stands at the entrance, and is oh-so NY.)
And now… follow me to the Fotografiska NYC, one of best photography museums on the planet. The ever-changing installations focus on boundary pushing photographers from diverse countries and backgrounds.
I was keen to see "Tom of Finland: The Darkroom" — a collection of portraits that served as reference images for his iconic homoerotic drawings.
During the mid-century, Tom of Finland (aka Touko Laaksonen) risked imprisonment for his art, as homosexuality was considered criminal. He courageously took photos of gay men in uniforms, rubber and fetish gear, staring defiantly at the camera.
Perhaps you've seen his racy and highly masculinized drawings, which he had to hide during most of his lifetime.
As the Fotografiska puts it, "Tom's depictions of queer culture thoroughly challenged contemporary society, and solidified his place as one of the most influential artists of the twentieth century."
Each floor of the museum highlights a different photographer. This one was dedicated to "Miles Aldridge: Virgin Mary, Supermarkets, Popcorn" — displaying his vivid, cinematic photos from the past 20 years.
Miles is known for his stylized portraits, often with celebrities as the models. He shoots exclusively in film, and is a talented colorist with a knack for bringing out acidic hues.
Miles' imagery often hints at a sinister underbelly to the flawless facade of domestic bliss.
On each floor of the Fotografiska New York, you'll discover a photographer with a distinct and thought-provoking point of view. Pixy Liao: Your Gaze Belongs to Me was a personal favorite.
The Chinese artist challenges our ingrained notions of gender and gaze, in a series of self-portraits with her submissive Japanese boyfriend. (This one is called "Start your day with a good breakfast together" — how can you say no to that!)
In the exhibit, Pixy Liao (aka Yijun Liao) shares photos from her ongoing project called "Experimental Relationship." She stares at the lens, and portrays herself in dominant roles next to her younger male partner. The images are a warm, playful and often surreal subversion of gender expectations. 
Pixy Liao's films are equal parts entertaining and provocative. She created a "breast spray" bottle, inspired by a woman who robbed a store by shooting breastmilk into the cashier's eyes.
Pixy explains, "When the breast is shooting out milk, it is both feeding and attacking, which are almost opposite behaviors. My boyfriend is enjoying/accepting/enduring the milk coming out."
In her words: "What will happen if man & woman exchange their roles of sex & roles of power? Because my boyfriend is Japanese, and I am Chinese, this project also describes a love and hate relationship."
"I am interested in the mundane life, in finding things and making fun of it, liberating it from what it is." Hail Pixy Liao!
At the Fotografiska NY, even the elevator is an opportunity for expression. The funky wallpaper and seats are an extension of Hassan Hajjaj's exhibition.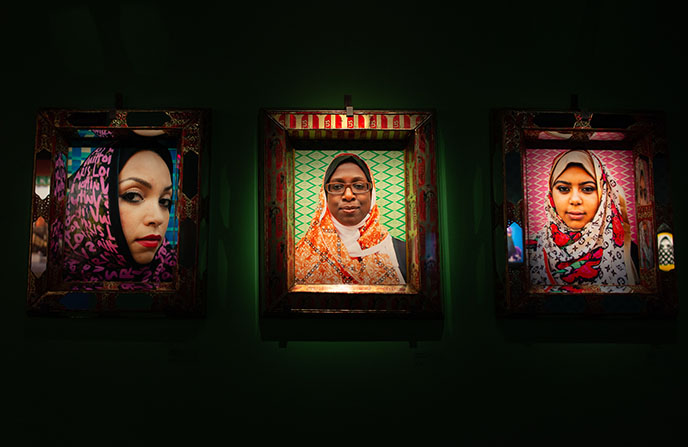 The British-Moroccan photographer Hassan Hajjaj has been called "the Andy Warhol of Marrakesh." He shoots vibrant portraits in a mash-up of street style, couture, kitsch, and urban culture.
"Vogue: The Arab Issue" features Marrakesh locals wearing traditional Moroccan clothes, but in eccentric patterns and color combinations, along with faux designer label insignia. The result is a joyful celebration of personal expression.
Hassan's works come to life thanks to the staging, which includes picture frames made from Moroccan canned goods, and an energetic soundtrack.
Each floor's design captures a different feeling. Adrienne Raquel's Onyx takes an intimate look at exotic dancers, documenting sisterhood, self-transformation and strength in a world that is typically stigmatized.
The dark lighting and booming dance music makes you feel as if you're inside Houston's Club Onyx, where she shot these photos. Raquel's photos reveal the fantastical glamour of the industry, as well as candid moments with the women both on and off the stage.
Every time I visit the Fotografiska NY, I discover new photographers that leave a powerful impression. If you'd like to see more, check out my article about my 2019 visit to the museum, as well as this review of the Fotografiska in Sweden.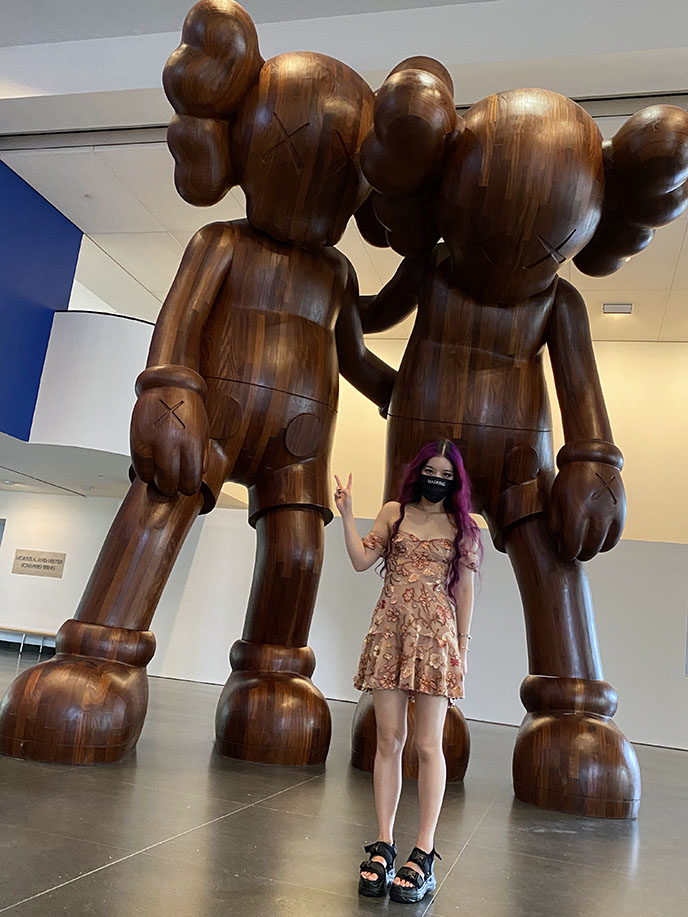 Victory-fingers for art museums in New York. A last look at my outfit that day — wearing Anthony Wang platform sandals, and a dress by For Love and Lemons (click for more below):
PS: My latest travel article has dropped on Fodor's Travel, with more to come. Read about 15 monuments around the world that hail the sun, including ancient sites in Egypt, Cambodia, Thailand, India, and Mexico that I've visited. Thank you for reading!
Finally… if you're in the mood for a devilish dinner… The Satanic Chef (Adam Dodge Ostrofsky) published an impressive Satanic cookbook called "Devil's Food!" It's filled with creative recipes with a dark twist — from Dracula Red Velvet pancakes to long pig ribs. With full color photos, and stories about his work with The Satanic Temple, and more — find the book here.
I'm wearing a fuzzy pastel blue crop top by Fashion Chingu — They have an enormous selection of stylish clothing inspired by Kpop stars and K-idols! I'll be featuring more of their fab designs soon. (And dreaming of going back to Seoul sooner rather than later…)
This purple devil is about to board a flight… to Spain! 
Excited to share that I'm off to Valencia on a food / travel press trip — it'll be my first time outside North America since you-know-what! I will also touch down in Seville, Cordoba and Madrid. Please stay tuned to @LaCarmina on Instagram / Twitter / Facebook to see my Spanish travels and outfit shoots, and let me know if you have tips.
Before I fly, I wanted to share more from my summer trip to New York City. I love catching up on art in NYC, so I went to the outdoor sculpture/installation Vessel (right before it closed down)…  
… and got a Zen minimalist fix at the Isamu Noguchi museum, dedicated to the Japanese-American sculpture artist.
And I was delighted to visit artist Oscar Oiwa in his studio. Read on for an exclusive peek at his latest large-scale works, as well as his quarantine drawing series (detailing his experiences and musings in lockdown). 
All things in life are fleeting, so take the time to see them while you can… Vessel NY is yet another example of this. Photographer Joey Wong and I managed to visit the honeycomb-metal structure days before it unexpected closed (possibly for good).
Located at Hudson Yards, Vessel is a geometric open-air structure that stands 16 stories high, and contains 2500 steps over 154 flights of stairs. I first went to Vessel in Feb 2019 but was keen to return, as the experience changes unexpectedly with the seasons and time of day. 
Architect Thomas Heatherwick unveiled this gigantic sculpture / public installation in 2019. Vessel has garnered both praise and criticism for its Escher-esque design made from steel.
I personally think the concept is brilliant: it's a joy to wander through the beehive, and take in the sunlit panes and patterns. (I'm wearing a celestial Gothic dress by Too Fast Clothing.)
Unfortunately, Vessel is closed for the foreseeable future due to tragedies that took place here…
The 360 degree design lets you take in views of the Hudson River and surrounding mid-town buildings, from all levels. 
Vessel is a photographer's dream — we had fun taking images from a variety of perspectives. 
The view from the top is a dizzying one. A curved elevator runs up one side of Vessel, making it accessible (although it only stops on certain floors).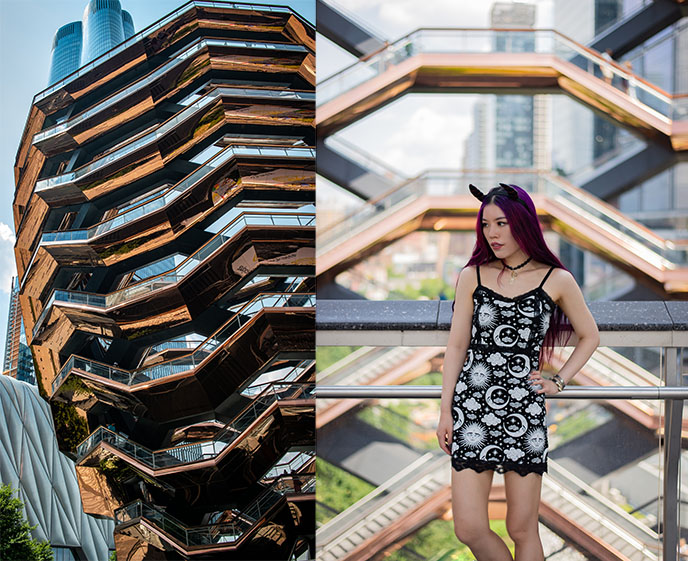 The fate of Vessel at Hudson Yards remains to be seen… (It is now closed, with no concrete plans to re-open).
After years of visiting and living in NYC, I finally got around to visiting the Noguchi Museum, located in the Long Island City section of Queens. The space is designed by the artist himself, Isamu Noguchi (1904–1988), to mirror his Zen-like artistic vision. 
The Noguchi museum feels like a slice of Japan in NYC. The rock garden is particularly lovely: it contains a few of his abstract sculptures and a stone fountain, as well as transparent wind chimes that add a ghostly flutter to the greenery. (This was the sound installation Animitas by artist Christian Boltanski, which was on view at the time.)
Isamu Noguchi is a Japanese-American artist best known for his stone sculptures, which contain both rough and smooth panes, and are more complex than first meets the eye. This museum contains the largest collection of his works, which include architectural models and drawings.  
Enter into the void…. Noguchi made this perfect circle from segments of marble. This modern sculpture references the ancient Japanese enso, or circular symbol of enlightenment.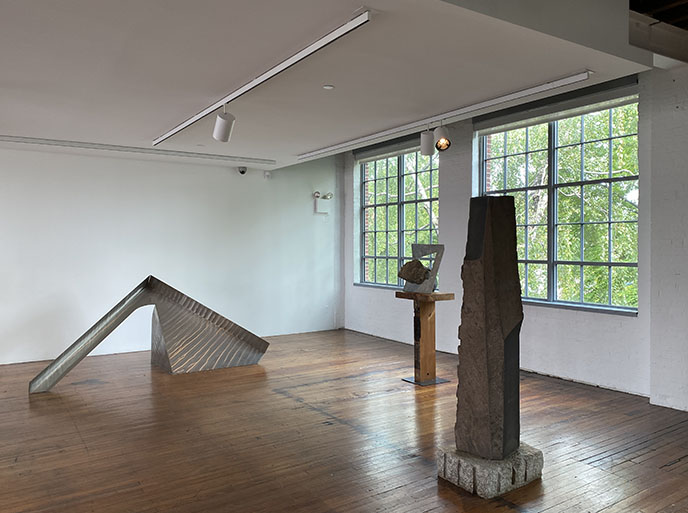 Noguchi is also known for his interlocking sculptures, and works made from wood and metal. I'm particularly fond of his mid-century interior designs, such as the stone-like Noguchi sofa and glass coffee table.  
And I've long coveted a Noguchi lantern. In 1951, Isamu Noguchi visited the town of Gifu in Japan, and was inspired by the lanterns made by local artisans. Using natural materials, he created his own Akari range of lights in a variety of forms, which radiate peace and weightlessness.
As Noguchi put it, "All that you require to start a home are a room, a tatami, and Akari." (And perhaps a metal cage or two?)
Many of Noguchi's works have a touch of the surreal. Here are a few that juxtapose positive and negative space, and geometric and organic forms.
The top floor focused on Noguchi's "Useless Architecture." These designs served no specific function, but were merely for aesthetic purpose — like this step-terrace. The terrace is based on one of Noguchi's models for an unrealized playscape (c. 1961–65) for Riverside Park in Manhattan.
Noguchi's vision was inspired by the stairway to nowhere at Jantar Mantar, which I saw for myself when I was in India.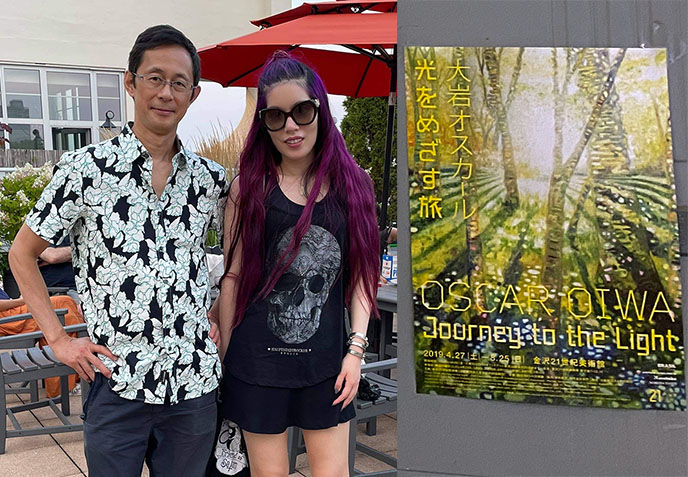 I also made a journey to the Queens studio of Oscar Oiwa (大岩オスカール)! When I was in São Paulo, Brazil, my friend Elizabeth Wurtzel and I saw his Paradise installation in an inflatable dome. We were mesmerised by his 360 degree swirling vortex of dark forests, pathways and skies. Since then, Oscar and I have been corresponding online. 
At long last, I got to visit Oscar Oiwa's studio, and get an inside look at his creative process. Oscar is a Brazilian-American-Japanese visual artist whose distinctive works have been exhibited worldwide.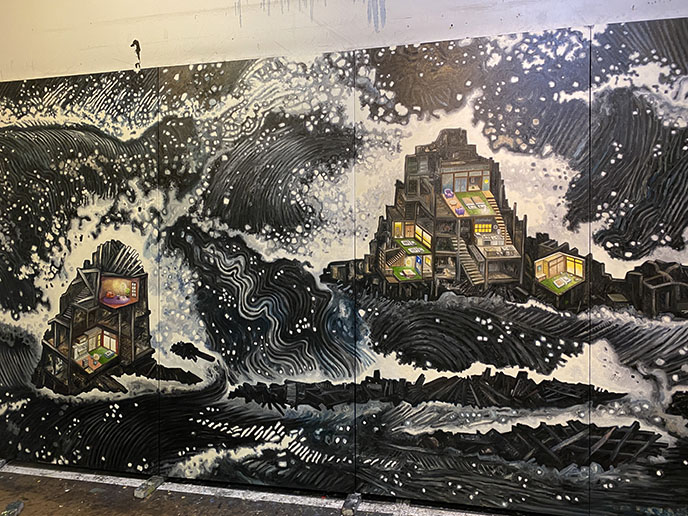 Oscar's gigantic canvases feel like a portal to dream world. He details everyday scenes in these Japanese-style houses, which are tossed about by dark and mysterious waves. 
During the pandemic, Oscar was confined to his apartment in NYC. The experience inspired him to create a series of drawings that reflected his thoughts and experiences. He describes them as "an imaginary trip in the midst of life under quarantine. The result is like a diary of insights about my past, my present daily life, and the future."
Oscar's quarantine art included depictions of an empty Times Square NY, and this surreal and whimsical portrait of Osaka's Dotonbori food district. (He showcases the famous giant crab and fills a boat with takoyaki (octopus balls), the beloved street food.)
Oscar Oiwa is currently in Japan, where he is presenting a number of art exhibitions (details here). These include displays at the Tokyo Museum of Contemporary Art. Hopefully I can return to Japan sooner rather than later, to see his latest artworks for myself.
Until that day, you can look back at my Japan blog posts from over the years. You can also search my site (see Search box on the right sidebar) for specific topics or destinations. I hope you'll find these resources useful as you plan your next trips abroad. And please keep in touch via @lacarmina social media, as I'll be sharing my journey in Spain!