Category Archive for
New Zealand + Australia
Kia ora! When I embarked on my Contiki tour of New Zealand, I was especially excited to see the native Maori culture. Their Sun and Steam journey covers the entire North Island, with an emphasis on cultural experiences.
On this stop of the tour, I'll take you around the town of Rotorua, a historical home for the indigenous people of Aotearoa.
I even got to see a Haka war dance, where the Maori men stomped their feet and made intimidating faces, with tongues thrust out! 
From the glowworm caves of Waitomo, the Contiki bus took less than two hours to reach Rotorua. This charming little city is located on the shores of Lake Rotorua, home to black swans (yes, these creatures really exist).
The Maori settled here centuries ago, due to the unique geothermal landscape. Rotorua's hot, bubbling springs provided natural heat. The thermal mud pools were also an easy way to cook food (in the hangi style) — and today,  they lend themselves to natural spa treatments. 
The lake itself is not sulphuric. Rotorua has charming parks and gardens, and it's a pleasure to stroll around the pier.
I couldn't take my eyes off these black swans with red beaks. They were hunted to extinction in New Zealand, but later reintroduced from Australia.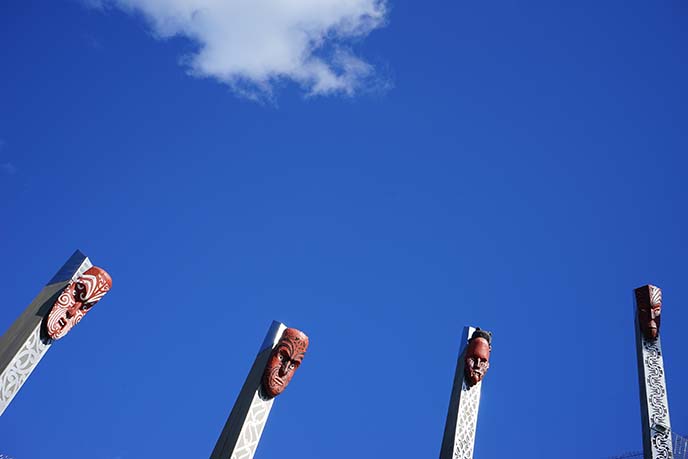 My Contiki bus drove to the Te Puia cultural centre, in the Whakarewarewa valley, for a group activity. This is the home of the New Zealand Maori Arts and Crafts Institute, and a famous erupting geyser.
Contiki tours have a number of included activities, which let you bond with others on the bus. (They also offer plentiful "me-time" on the itinerary, so you can explore whatever you want, at your own pace.)
We split into teams for an "Amazing Race" around Te Puia. We had to complete funny tasks and piece together clues, before time ran out.
The Amazing Race took us to a hut, where local artisans showed us how to do Maori weaving and wood carving. At the Kiwi house, we saw the cute little flightless birds who are the national symbol of New Zealanders.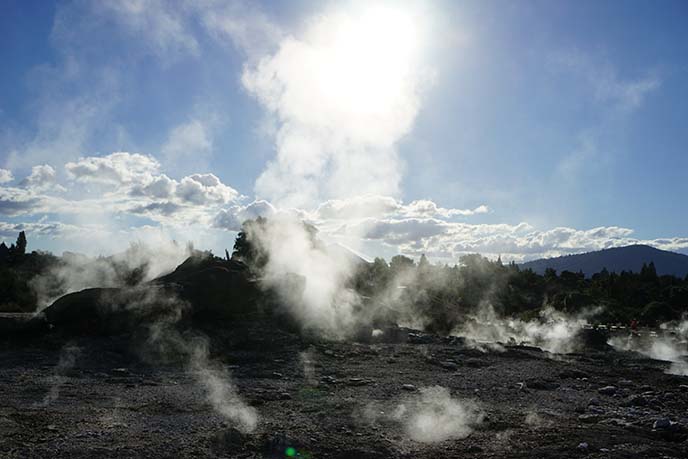 At the center of the park is Pohutu Geyser, which means "Big Splash." This is the Whakarewarewa Thermal Valley for a reason: the geyser spurts up to twenty times per day, and can reach 30 meters in height.
The bubbling mud flats created an otherworldly landscape.
(I'm wearing a black fringe skirt, similar to this longer skirt and shorter fringe skirt. My black cut-out apocalyptic top is by Michi )
Some of the friends on my Contiki tour took part in Ogo, which you might know as "Zorb." Essentially, you climb into a giant plastic ball with water in it, and roll down the hill! Zorbing isn't for me, but I enjoyed watching others take part in this amusing activity.
Back at Sudima Hotel, the group congregated for a special dinner: a hangi feast. All of the food was cooked underground, using the natural geothermal steam. My favorite items from the buffet were the kumara (a type of sweet potato only found here), fish, and a gooey bread pudding type of dessert.
Then, a group of Māori dancers took the stage to perform the Haka, or ancestral war cry. They stamped their feet, bulged out their eyes, and extended their tongues while making big, frightening expressions. The haka serves to intimidate opponents, but also to make the performer feel powerful, and commemorate special occasions. The dancers later invited the men in the audience to try out the movements for themselves!
Some of the performances were women-only. In this "poi dance," the ladies swung around a ball on a string, creating patterns and rhythms in the air. I tried to do this on stage, and ended up hitting myself in the face…
Everyone took part in the Ti Rakau or Tititorea, also known as the Māori Stick Game. This involves the rhythmic throwing and catching of sticks, from one person to another.
I had another delightful meal at Zippy Cafe in Rotorua. Still dreaming of their New Zealand flat white (microfoam steamed milk over espresso) and Moroccan salad.
Zippy is a cute mascot from a local kid's show. At the back of the cafe, he stands in a Super Mario themed mural.
New Zealand wines are much-coveted these days. I suggest trying local varietals while you're here, since many are not expoted out. I quite liked The Ned Pinot Gris, which has a rose-like tint.
Rotorua has an "Eat Street" district, filled with international restaurants. This area uses a geothermal heating underlay to keep the outdoor patios warm all year round.
On the way over, we passed a food trucks fair. Rotorua truly is a foodie city.
One of the highest-rated restaurants in town is Atticus Finch. (Address: 1106 Tutanekai St, Eat Streat, Rotorua)
The restaurant is named after the famous lawyer in Harper Lee's novel, "To Kill a Mockingbird." (Both the book and the movie starring Gregory Peck are wonderful.)
(I'm wearing a fringe skirt and shirt by Michi.)
Local sisters Cherry and Kay strove to make Atticus Finch a lively dining experience for groups of friends, with an open kitchen and huge heated patio. The bird cage, filled with candles, hints at the literary inspiration.
Atticus Finch's cocktails are standouts, made from fresh fruits and herbs. The dinner menu is designed for sharing; everything is made from scratch, with carefully selected ingredients.
Quite a few items are vegetarian and gluten free. I loved the handmade gnocchi, seasoned with date puree, spinach and almonds.
One of the walls displays a quote by Atticus Finch, from the book. He's known for his words of wisdom and tolerance, such as: "If you can learn a simple trick, Scout, you'll get along a lot better with all kinds of folks. You never really understand a person until you consider things from his point of view, until you climb inside of his skin and walk around in it."
All of the dishes were clean, yet tasty — often with an Asian fusion influence. I recommend the unique haloumi cheese salad with broccoli, rocket, sunflower seeds and cranberries. You can't leave without ordering the Chargrilled Kumara (local sweet potato), seasoned with smoked cashew orange chili.
As for dessert, the photos speak for themselves. Lemon and almond cake, with red wine poached pears, mint and citrus accents. The perfect way to end my time in Rotorua.
And this photo sums up the fun I had on my Contiki tour of New Zealand! It was fantastic to meet 18-35 year olds from all walks of life, and living in different countries.
We gathered for a Contiki tour group photo, at this viewpoint near Auckland.
(Photos by Salima Remtulla and La Carmina)
I confess that at first, I wasn't sure if I would enjoy a group bus tour. Contiki, however, is not your typical travel company.
The tours are tailored to millennials, and give plenty of free time. I wouldn't have been able to see so much of New Zealand's North Island in a week, if it weren't for them.
If you're planning on traveling somewhere, especially alone, I encourage you to check out Contiki. They have tours for all types of interests and budgets, in destinations worldwide.
PS: if you'd like more New Zealand travel tips, check out all my NZ posts here.
PPS: I'm currently in six countries all around Europe — check my social media @lacarmina (linked on the right sidebar) to see the latest updates!
I hope you're in the mood for pretty photos today… because New Zealand really knows how to work it!
When I arrived in the Bay of Islands on my Contiki tour, I felt like I had entered a living postcard. Waterfalls, dolphins, beaches… no wonder NZ is one of the world's most beautiful destinations.
I had no regrets about traveling with Contiki, a vacation company for 18-35 year olds. Everyone on the group tour got along well, and the schedule had plenty of "me time." You could go off exploring on your own, sign up for activities, relax with a book, party all night with new friends… it's up to you.
Contiki's journeys are all about living life to the fullest, and treating each day as a new adventure. I was inspired to do something different from my usual trips: get up close to nature.
My Contiki trip started in Auckland, and then we drove about three hours north to Paihia. With a misty morning view like this, it's easy to see why Paihia is considered the jewel of the Bay Of Islands. (The Bay refers to an ocean-front region with laid back towns like Kerikeri and Russell, and 144 islands).
Paihia's beaches invite both relaxation and adventure. Tourists come her to take part in all sorts of outdoor activities: scuba, fishing, skydive, parasail, kayaking. 
I confess I'm not usually an outdoors / sporty type… but it would be tragic to miss out on the natural beauty of New Zealand. My friend recommended kayaking in Paihia, so I signed up with my Contiki tour manager, Monique. (If you want to take part in an optional activity, she makes all the arrangements including transportation.)
Coastal Kayakers offers half and full day tours; I'm glad I went for the shorter one, as I was tired after several hours of paddling! Our instructor showed us how to use the oars and pedals in the rear of the two-person kayaks. Then, we were in the water and off.
Even if you're a total beginner, you'll get used to the rhythm of the strokes. The pace is leisurely; every so often, we took breaks to admire the stunning Oceanic scenery.
One of the highlights of the journey was when our Coastal Kayakers guide led us into a mangrove forest. We weaved our boats through the tress of this unique ecosystem. (Photos by Salima Remtulla)
As we passed by these remarkable mangroves, our guide spoke about their unique characteristics. These twisting trees grow in areas with low-oxygen soil, and the shallow waters let sediments accumulate to support a diversity of wildlife.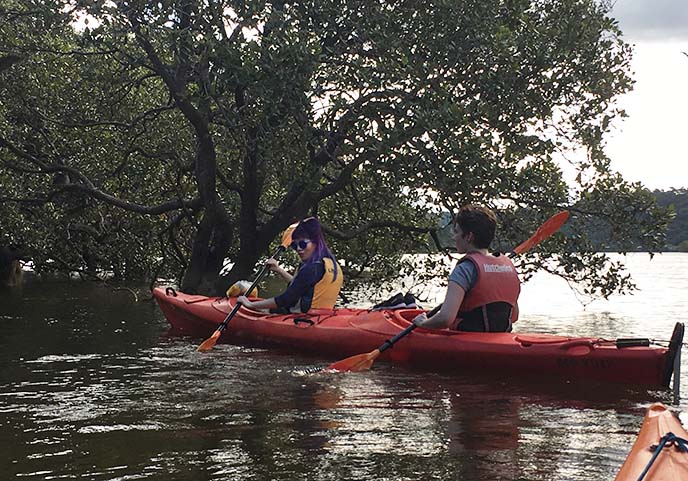 Our guide pointed out a flock of birds nesting in the branches with their children. We held our kayaks together, and she told us a legend of star-crossed Maori lovers whose tears flowed into the Waitangi River.
These tangled roots and branches look stunning in photos, but they have a purpose as well. They draw in fish and other sea creatures, and shelter them from predators. The roots also stabilize the mangroves during the daily tides, and build up sediments in the mud.
We ended the tour by paddling up to Hararu Falls. The image looks more hardcore than it is — people don't go over the waterfall, but can approach the roaring waters from below.
The horseshoe-shaped Hararu looked a bit like a miniature Niagara Falls. The falling water creates a foamy top layer that reminded me of a bubble bath.
We went on land for rest and refreshments, and everyone in the group got to know each other better. Then, it was back on the kayak for the 30 minute journey home.
Coastal Kayakers was the highlight of my time in Paihia. I'm happy I challenged myself on this eco-tour, and was rewarded with the beauty of the Bay of Islands. 
Back in Paihia, I reverted to my modus operandi… and explored the fashion in this cute town. Paihia is a tiny vacationer's spot with a handful of retro vintage stores, cafes and artisan boutiques.
I couldn't resist getting a scoop of gelato, although it was hard to pick from the 100+ flavors. I went with licorice, as it reminds of absinthe ice cream I had in Prague.
Later that evening, I had fresh New Zealand seafood at one of the ocean-side restaurants. NZ has all types of international cuisine but is famous for its fish and mussels, so I encourage you to seek it out.
I went inside this shop that sold Maori art. Love the intricate patterns and tattoos that are part of the native culture.
I learned from our Contiki manager Monique that "Aotearoa" is the widely known Maori name for the entire country.
The Contiki "Sun and Steam" tour includes all breakfasts, and a number of group dinners. I enjoyed dining on fish and chips at the Paihia Ex-Servicemen's Club. This venue is usually for members only, but Contiki has special arrangements that let us through the door.
Monique poses with the hostess, "Auntie," who came to each table to introduce herself and make sure we had everything we needed.
At each stop on the tour, you can choose to join a variety of optional excursions (for a fee, but it's less than if you booked it on your own).
While I kayaked, photographer John Contompasis went on a catamaran cruise around the Bay of Islands. His group saw all types of marine life, and he captured this dolphin jumping out of the water! 
The dolphin cruise also sailed to Hole in the Rock on Motukokako Island, a natural wonder that you can pass through.
Arr, there be pirates in Paihia. After spending time on the water, I understand why many travel bloggers consider New Zealand one of their favorite destinations.
I've heard of bus tours that force you to stop in tourist traps such as warehouses. This was never the case with Contiki — we always took lunch and bathroom breaks in charming towns, where we could find lunch or mosey around.
In Whangarei, I strolled by the sailboats and went into a free art exhibition. 
If "The Sleep of Reason Produces Monsters," I wouldn't mind dreaming about these creatures.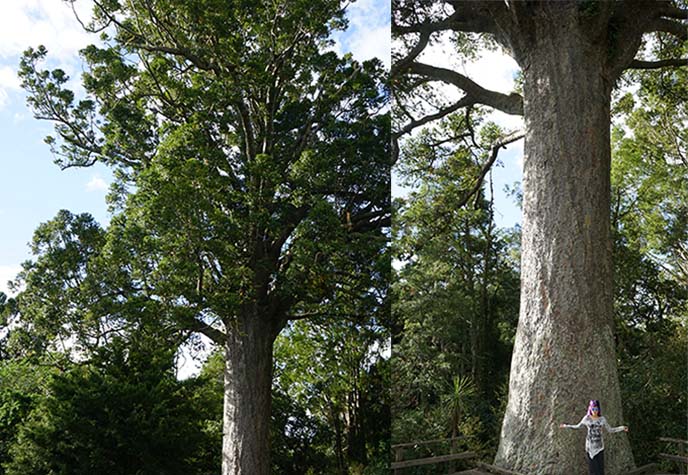 The Contiki bus also stopped at Tane Moana, home of the giant Kauri Tree. Check out the size of the trunk compared to little ol' me. (The entire tree wouldn't even fit in a vertical photo.)
Tane Moana also had a rainway walk that led through the forest. I looked up at this canopy of leaves.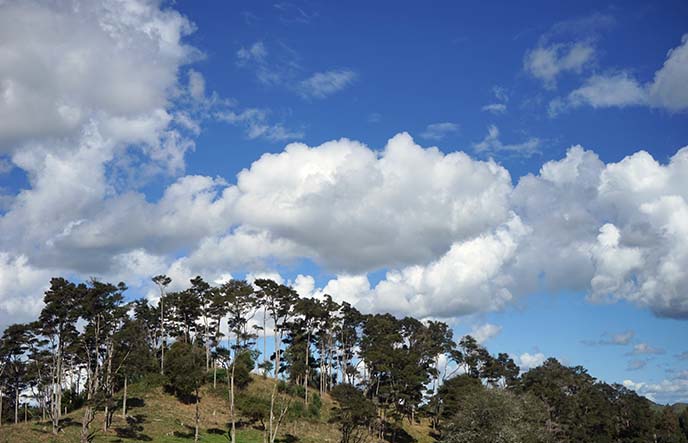 The bus ride itself was a pleasure. Everyone enjoyed the ever-changing scenery from the window, and chatted and listened to music.
Contiki buses are also equipped with Wifi internet, in case you need to Instagram or Snapchat your experience. (I did — I'm @lacarmina on these social networks).
Looking back at these photos, I'm amazed at what I got to experience in just seven days. I didn't get to see New Zealand's South Island this time, but that gives me a good reason to come back soon.
What do you think of my Contiki tour experience? Have you ever spent time in the great outdoors, on an eco or adventure trip?
PS: I'm gearing up for six new destinations this summer… announcement soon. I'll give you a hint. Miffy!