Category Archive for
Nightcrawling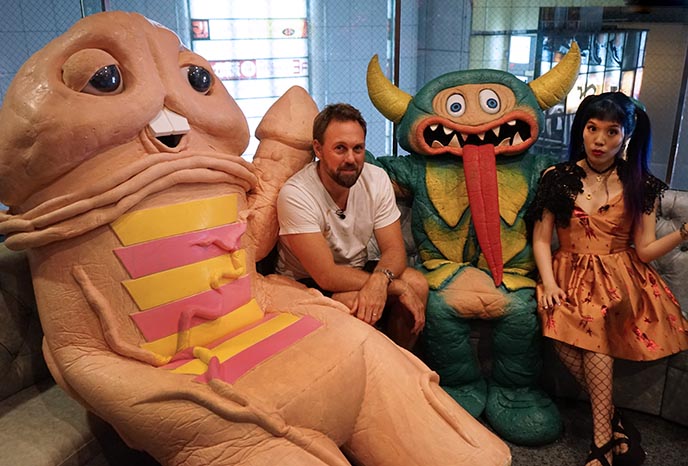 Uhh you may have recently seen La Carmina on German TV, with a giant peen… Ach du lieber!
Finally, we can reveal details of the crazy Japanese travel TV show we shot in September. As you may know, Naomi Rubin and I run a Pirates production company. We do local producing or "fixing" for travel television shows, in Tokyo and worldwide.
The Pirates have teamed up before with Joko und Klaas, the prime-time challenge show airing on Pro Sieben Germany. This time, "Das Duell um die Welt" (Duel around the World) featured celebrity guests… so we took presenter Steven Gätjen on a wild ride through Tokyo's fetish underground!
It was fabulous to be on-camera again for Joko and Klaas' program. As you'll see, I delivered Steven Gätjen's challenge, forced him to dress up in a pink studded suit, and introduced him to his bizarre band-members.
Keep reading to see the behind-the-scenes story of how we turned Steven into Ralf Acapulco, the schlager-industrial superstar singer… culminating in a hilarious performance at Department H, the alternative / S&M / latex / anything-goes party that remain the wildest in Tokyo.
❤ Wanna watch? I can't post the full episode, but here are clips above and on Vimeo. ❤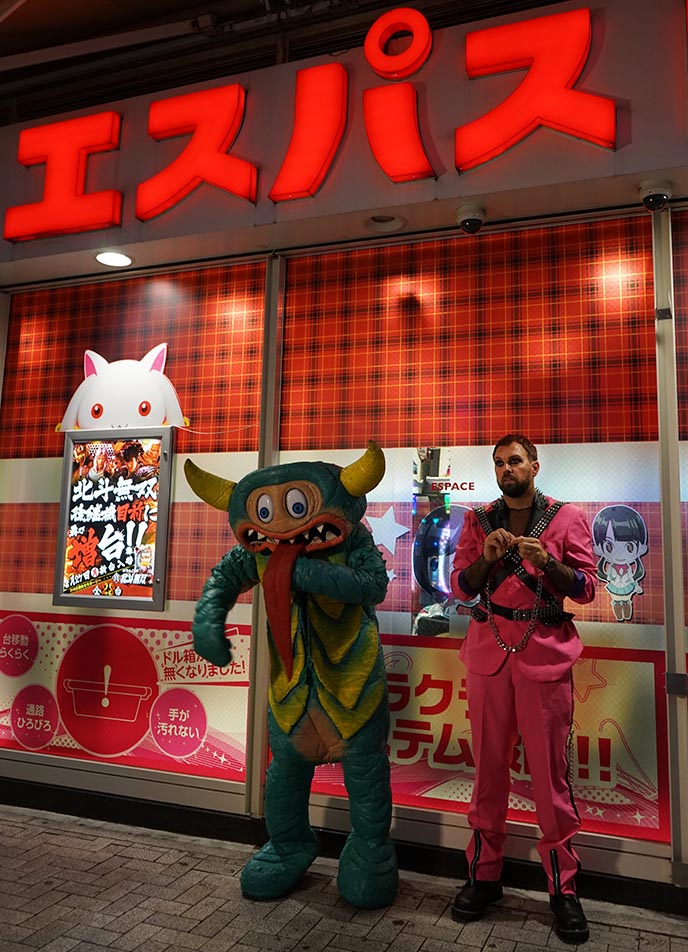 Naomi and I love working with the Joko gegen Klaas team, as they're always keen to do something crazy for the TV show. The production process is a long one: we throw around ideas for the challenge, and then build a story and locations around it.
As fixers, the Pirates make the local arrangements in Japanese including securing permits and locations, casting extras, arranging costume and makeup, hiring a van driver, securing hotels, and any other logistics for a successful shoot.
(You may recall that we gave Klaas a bagelhead, and sewed Joko's lips together for this show! We also worked with Palina Rojinski on a ProSieben travel shoot in Hong Kong, and Olli Schulz in a Box in Tokyo.)
Steven's adventure began in a Zen-like fashion. He sat down to a matcha tea ceremony, in a traditional tatami room that we rented.
The four people in kimono are extras that we hired… from the Japanese "rent a family" company! (Yes, you can hire someone to pretend to be your relative or significant other.) We previously rented the same lady to play a fake mother in Olli's TV show.
Naomi Rubin is an amazing Japanese-English translator who makes the shoot possible by communicating the director's words to the cast. She is also a talented illustrator, and created the elegant watercolor above based on the tea house scene.
In this scene, Steven received a mysterious card with an address. This led him to the next location…
… A karaoke room, where wacky individuals were waiting for his arrival! 
Steven Gätjen is lovely in person, with a gracious and positive attitude. We worked off a script, but had a good time ad-libbing during our scenes.
(My earrings are Alex Streeter, and dress House of Holland.)
Say hello to PicoPico. He makes astonishing full body costumes of monsters and strange creatures. We hired him to be on the show, wearing his original green Becos costume.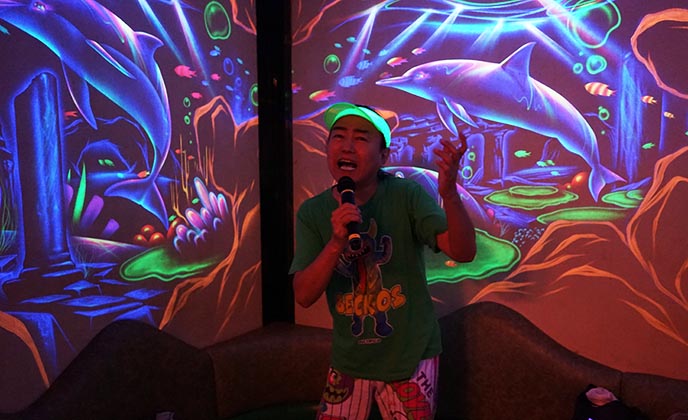 While we waited for our scene, Pico Pico and I did karaoke… why not, we were in Karaoke Kan Shibuya after all!
What's the deal with the blacklight space dolphins on the walls of the karaoke booth? Again… why not! (When you choose a song and it begins, the room lights up with a disco ball and neon lights.)
Pico Pico selected a Power Rangers tune to belt out. Love the spaceship background of the karaoke video.
Yours truly stuck to disco. We did a YMCA duet, of course with the appropriate hand motions!
(If the monster costume looks familiar, it's because he was also in the French travel TV show I did years back, with Antoine de Caunes for Canal Plus.)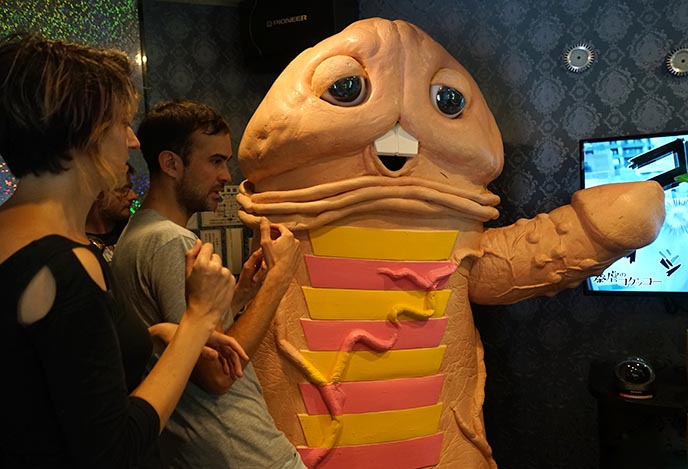 And then, a giant penis arrived… Welcome, Mr Peen! He was so big that he could hardly fit through the doors, no joke.
This phallic character, known as Gachachin, often pops up at Department H and once appeared at Kanamara Matsuri, the Penis Festival in Japan. The old costume got a bit… rotten… so the creator whipped up a fresh and bigger one in just three days.
As you can see, it takes two men to deal with the massive Mr Peen! When Sasano is inside, he can shuffle around and go turgid or flaccid. Check out the vein-y detailing on the foam body, and the arm appendage.
PicoPico also got inside his suit (he can see out of the mesh mouth area).
Naomi arranged for us to shoot in at Karaoke Kan Shibuya, in the exact same glass booth featured in the Lost in Translation movie by Sofia Coppola.
Here's a screenshot from the scene we shot together. I introduced myself as Steven Gaetjen's challenge-meister for Tokyo.
I'm sitting in the same place as Scarlett Johansson in the film, but unlike her pink wig, my hair color is real. (My cape is by Pheren Couture)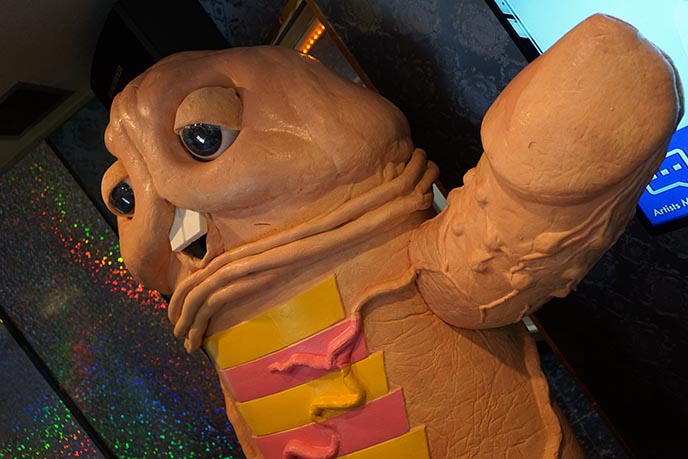 I presented Steven with his Tokyo challenge. He had to sing live on stage, at a wild party with hundreds of people watching… with Picopico and Mr Peen as his band members!
Steven Gaetjen had to perform a song that mixed schlager (cheesy, upbeat German music) with industrial (Rammstein-esque headbanging). He had to dress the part, hence this pink-studded costume that I declared was "so fash."
To add insult to injury, I made Steven take part in a nonsensical interview with a Japanese news crew. Our friends Miki, Ken and Yugo did a fantastic job acting as the host and camera crew for this segment.
We hired makeup and hair artist Tomomi Tokuda to give Steven this edgy look. She nailed it, and was a pleasure to work with.
Travel TV shows always need a ton of B-roll footage, so we headed to Akihabara to do a montage of Steven and the monster. PicoPico couldn't be there for that scene… so someone else literally stepped into his big shoes!
Akiba, the otaku and anime "electric town," made the perfect setting for these funny scenes. Above, the monster insists on taking a selfie with Steven, who is not amused.
Strolling through Tokyo, dressed ridiculous and shooting a TV show… just a typical day in the life of La Carmina and the Pirates.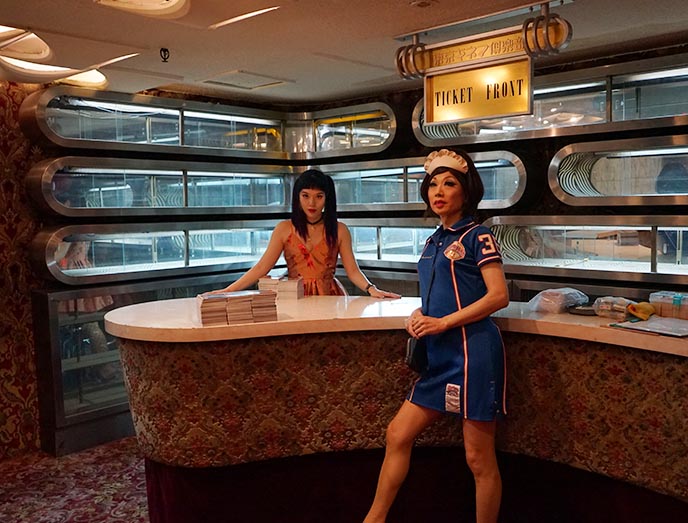 Finally, Steven arrived at the most insane party in Tokyo, if not the universe: Department H. (Keep scrolling for photos, and you'll see why.)
Organizer and mistress of ceremonies, Gogh, generously let us film here many times.
The Dept H party starts at midnight, and takes place the first Saturday of each month. However, the crew got here early to set up and rehearse the performance.
We put up a poster featuring Steven's flamboyant alter ego, Ralf Acapulco, who would be performing "Sushi of Love" live on stage.
"Itai, itai… painful!" Looks like Mr Peen is made to be a drummer. He even has a hole for his drum stick!
Time to rehearse, with the instruments that we rented. I can't stop laughing every time I see Mr Peen banging on the cymbals.
As you can see in the video clips, I took Steven to meet his keyboard players. These three are the Gokiburi crew… and they shocked him by sticking a long skewer through their cheeks, like a human shish kebab.
No Photoshop here. These regular-looking folk gleefully stuck a long metal needle through their jowls, connecting themselves together. Gotta love the creativity of Japanese body modifications.
Naomi shows them how to choreograph their headbanging and hand gestures during the live performance. (In this rehearsal photo, they aren't yet human-centipeded together.)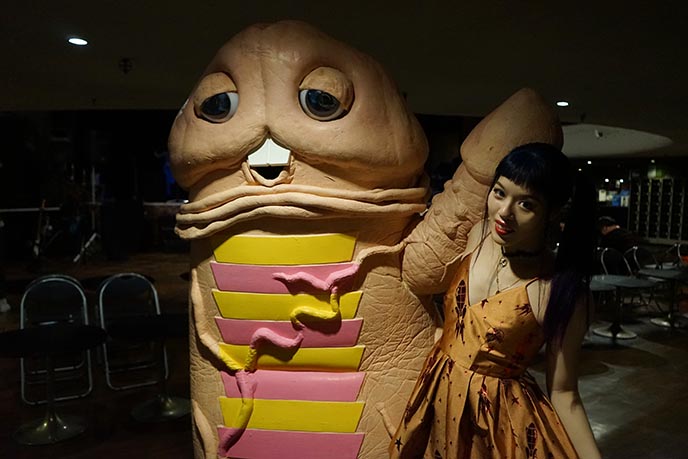 Looks like somebody is happy to see me. P size wa?!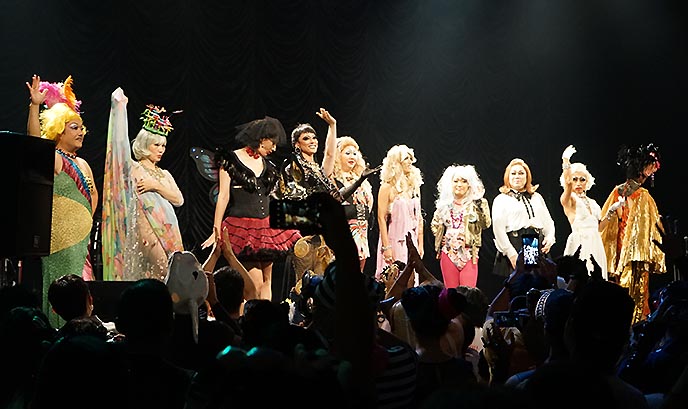 Department H takes place at Uguisidani's Kinema Club. The regular club night has been raging since the 1990s, and is still going strong. The event includes a drag queen show…
… and weird, racy performances such as this monster wrestling match.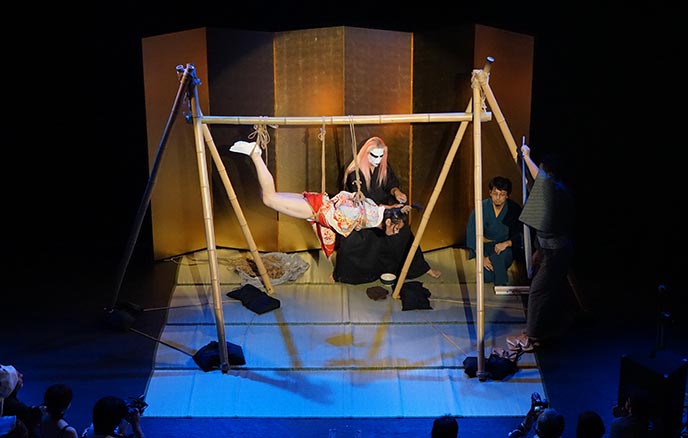 Hajime Kinoko, shibari artist, tied up a victim on stage with rope. The person's hair was then dipped in ink, and used to paint calligraphy on a scroll.
And then, "Ralf Acapulco" took the stage! The contrast between the bright schlager and scream-and-groan Industrial rock made for a hilarious performance.
(Watch some clips from the TV show below, as well as extras on my Instagram video.)
Danke everyone for watching me on Joko und Klaas: Duell um die Welt, Tokyo episode! Take a moment to see what we got up to in the video. I hope our surreal monster dance makes you laugh.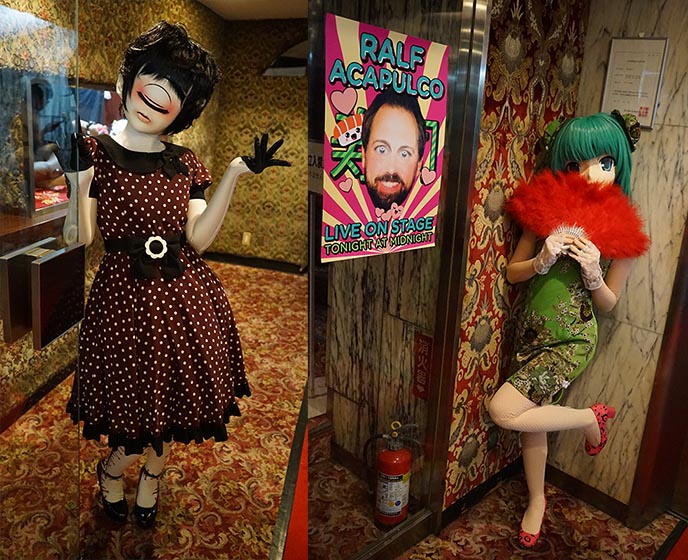 I'll leave you with mind-bending photos from Department H nightclub. The partygoers wear the most bizarre outfits you'll see on the galaxy. At Dept H, you can be whoever you want to be — whether it's a one-eyed dolly, or a green haired lady of the night.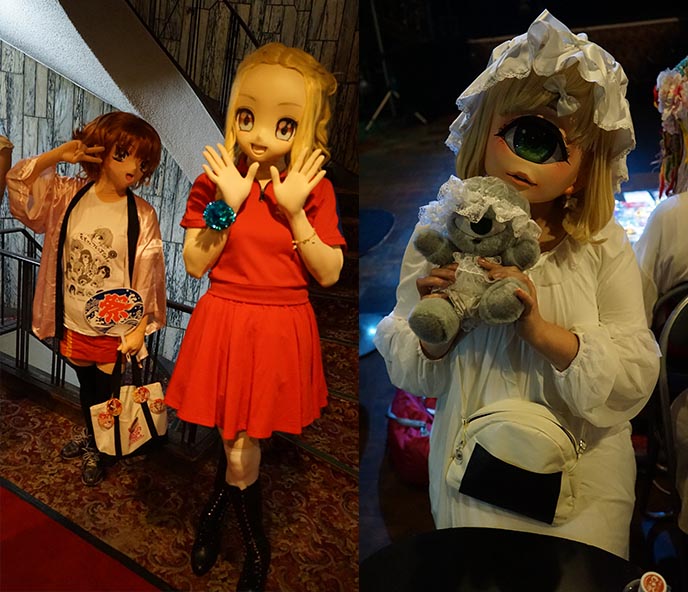 You'll see a lot of anime kigurumi, or dollers, at Department H. Typically handmade, these are full-body suits that include giant masks with big eyes. The effect is a bit cute, a bit creepy… a real-life anime or manga character come to life in three dimensions.
(Click below to see more photos.)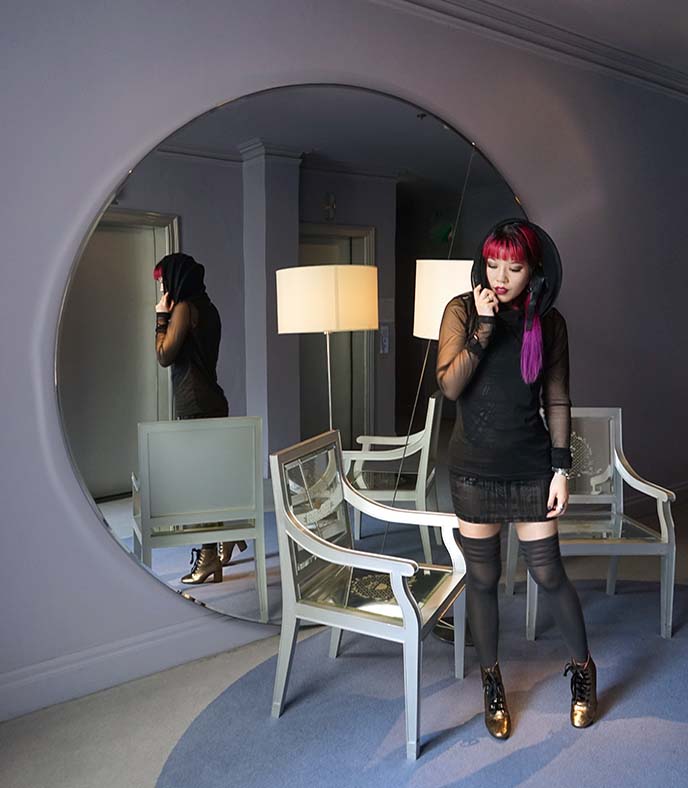 Let's continue my adventures in San Francisco — with a look at the Gothic and occult subculture!
I'll take you inside Herlen Place cafe and Hutch Bar & Kitchen, and out to the Goth club Death Guild. I even got to shoot exclusive photos inside "Loved to Death" boutique (of Oddities fame), as you'll see.
My friends and I had a mini-reunion in San Francisco. You might recognize Caroline, Trevor, John, and Lauren from Tokyo club nights way back in the blog. None of us live in Japan any more, but we've stayed in close touch and continue to meet up regularly around the world.
(Everyone's stayed in sync over the years… as you can see from the unplanned red and black color scheme! Talk about #squadghouls.)
The "ghoul gang" met up at Clift Hotel before a night out on the town. (If you missed our fun hotel photoshoot, see it here.)
OOTD: My dress and mesh hooded top are by Cyberdog, and my Wolford three-quarter length hold-up tights are from UK Tights. (Photo by Lauren Levitt, who you can spy in the mirror!)
Xiomara Entropy always shows up with spooky and sweet treats, made by hand. This time, she brought us delicious skull-shaped chocolate with green absinthe filling. When you crack the head open, it looks like zombie brain matter!
Clift Hotel is filled with funky designer chairs. I took advantage of this mirrored one, for a closeup on my sparkly gold ankle boots by Le Babe.
(More of Le Babe's shoe designs are below:)
The lobby of Clift Hotel is made for taking photos. My ghouls clamored onto Philippe Starck's "Big Chair." (Look underneath the seat, and you'll see a child sticking his tongue out!)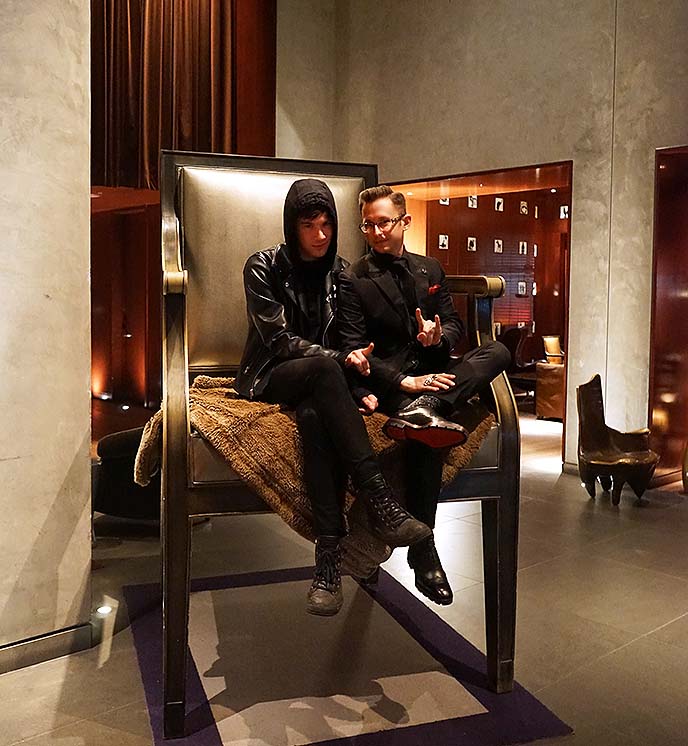 Starck's giant chair actually serves a function (other than providing seating for giants). He designed it to balance the negative space in the two-story high lobby.
Clift Hotel's fabulous furniture collection includes Michel Haillard's Horn Sofa (above), made with ostrich leather, dark wood, bronze, and horns. The devilish sofa is the perfect seating for a quartet of Goths. (For more of my stay at Hotel Clift, see this post.)
We went to Oakland to dine at Hutch Bar & Kitchen, a relatively young restaurant dedicated to Southern cooking and cocktails. The staff treated us to warm American South hospitality from the moment we sat down at this long table, lit by an iron chandelier and Edison bulbs.
Chef/owner David King named the restaurant after his family patriarch, Byron Monroe Hutchison ("Hutch"). The vibe pays tribute to Hutch's zeal for life, and love of good food, drinks and fellowship.
We were intrigued by Hutch's bar selection, which included dozens of American ryes, bourbons, and other spirits. If you're a whiskey connoisseur, try the 3-drink flight that lets you try varieties from different US regions.
The cocktails put a tasty twist on American South classics. You can't go wrong with the Good Ol' Fashioned, or the Two Jacks Sazerac with High West double rye, Peychaud's, and St George Absinthe.
One of my favorite cocktails was the Hutch Sour with 4 Roses bourbon, egg white, lemon, lime, and angostura bitters. All the drinks were beautifully crafted, as you can see from the presentation and foam.
For starters on the lighter side, we dove into a mixed winter greens salad and bourbon-cured trout. The perfect, clean first courses… before the comfort food rolled out of the kitchen!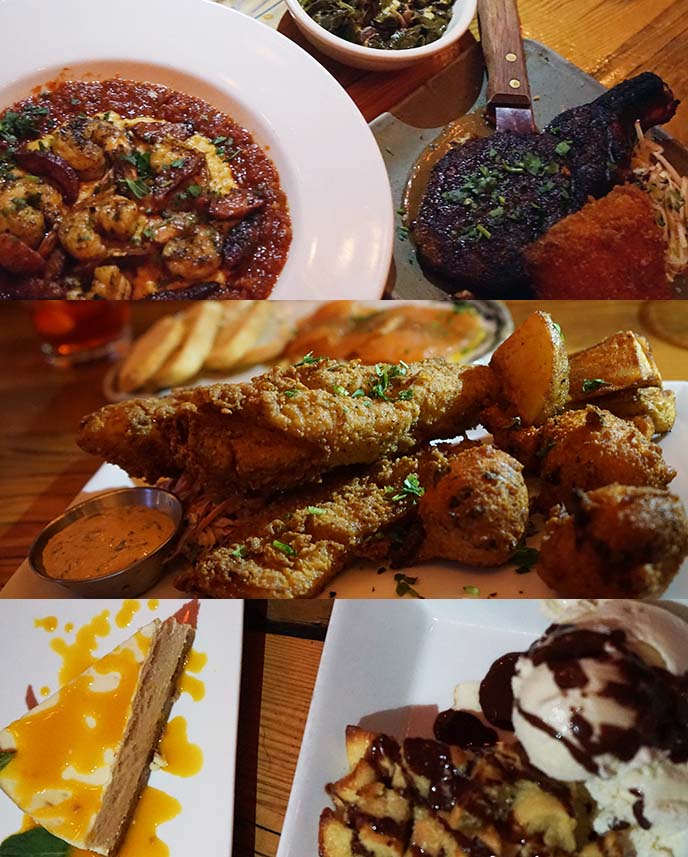 My friends and I were impressed by the spread of Southern classic dishes, prepared with finesse. We especially loved the shrimp and grits with spicy Creole sauce, seasoned pork chop, and catfish with hush puppies, coleslaw and remoulade. David King's recipes are chock full of tenderness and flavor, yet not overly heavy.
It's difficult to choose from the selection of side dishes, but Hutch's creamy, golden cheese grits are among the best I've had (and you'll recall I ate my away around New Orleans!) We also passed around the delicious collard greens, mac and cheese, roasted butternut squash and black eyed peas.
Leave room for dessert, as the passionfruit cheesecake and bourbon bread pudding (with chocolate sauce and ice cream) were stand-outs. I would come back in a heartbeat, especially with a group of friends, for Hutch's outstanding Southern cooking.
Time to dance at Death Guild, the longest running weekly Goth Industrial club night in the country (and second oldest in the world, at the ripe age of 25!) The Gothic party usually takes place at San Francisco's DNA Lounge, but that Saturday, it was at Uptown Oakland.
Alas, Yukiro couldn't be with us… but we had his lovely cousin Pontus, who rocked a darkwave style.
As you know, I love checking out Goth culture worldwide; each city has a unique expression of the dark subculture.
Death Guild Uptown has two rooms that play a mix of Gothic, Industrial, synthpop and other dark music. At the bar, we watched the Japanese monster-fighting CGI film Gantz:O, while sipping on speciality cocktails and grooving to 80s music. In the dance area, the DJs got us moving to Kate Bush, Garbage, old-school Goth tracks, and more.
Upstairs, Death Guild has a "Dark Market" where vendors sell hand-made spooky items. We browsed a fine selection of jewelry, homewares, custom art, and crochet creatures of the night.
(For more Goth party info, check out my previous San Francisco Goth clubbing guide — it includes reports of Wicked Grounds, Cat Club and T-Shack.)
A Gothic cultural trip to San Francisco isn't complete without a visit to Loved to Death in the Haight district. John and I wanted to get everything in this store, which you may recognize from the Oddities SF television show.
The window display hints at the darkness within… Antiques, taxidermy, Victorian memento mori, skeletons and other delights fit for a cabinet of curiosities.
(Loved to Death address: 1681 Haight St, San Francisco, CA 94117, USA)
It was a pleasure to see owner Audra Kunkle again, who remembered me from my last stop-in. As always, Loved to Death has a riveting selection of odd and perhaps disturbing objects from around the world.
We especially loved the skull with Cthulhu tentacles, and Baphomet the Sabbatic Goat statues (John got one). He brought me a Miffy grey plush bunny from Hong Kong, and she fit right in with these Satanic icons. Hail Miffy!
Wouldn't you like a two-headed baby skeleton in your home? An antique bicorn hat? Or how about a poisonous spider in a glass jar?
Creep over to the Oddities San Francisco shop in Haight-Ashbury, and see these critters for yourself. (For more photos inside the store, check out my blog post about Loved to Death from 2014.)
Trevor grew up in SF, and suggested that we visit The Sword and Rose, a hidden metaphysical shop. (From the street, all you see is a narrow walkway… which opens up into this spectacular garden). At The Sword & Rose, seekers come for tarot card readings, and mystical supplies like incense, gemstones, crystals and candles.
Address: 85 Carl St, San Francisco, CA 94117, USA
San Francisco is one of the world's biggest hubs of new age / metaphysical / spiritual culture. Some of the shops veer on the tourist side, but not The Sword and Rose: as soon as you step into the little hut, you can feel a special energy. The staff welcomes people from all walks of life and spiritualities.
The mystical shop is small, and contains several altars that celebrate Egyptian gods and other spirits. The Sword & Rose has many regular visitors; some came with their dogs, who added to the joy of the space.
In the back shelf, you can see over 90 oils and incenses, all ritually made by hand. The staff helps you choose a fitting one according to astrological aspects, ceremonial purpose, intention, or deity.
John got this blue "El" powdered incense, as well as a small burner.
Since 1985, San Franciscans have come here for warm and attentive tarot readings. This is a wonderful space with a sense of community, and we're glad we wandered in.
We ended the San Francisco getaway with a final brunch at Herlen Place. This smiling owl welcomed us into the modern, chic cafe / wine bar, located right by Chinatown's Dragon gate. A relaxing, Zen-like spot to enjoy a leisurely meal.
Herlen Place serves up a healthy and fresh menu, highlighting organic produce, seasonal herbs and vegetables, and bio-dynamic wines.
The photos speak for themselves… this is brunch heaven! I wish I could order Herlen Place's Eggs Avocado every day, accompanied by sundried tomato pesto and baby arugula. Be sure to order one of the delicious espresso drinks, and a chocolate croissant. The Eggs Benedict and Farn Fresh Eggs on the other tables also looked delicious.
We dove into the lunch menu: a crisp tuna salad and hearty cauliflower soup, paired with a sparkling mimosa. Cheers to Herlen Place for its healthy, sustainable, vegetable-centric menu that is quintessential San Francisco.
Namaste to the city by the bay, until I come again (I'm here at least every two years or so).
For more San Francisco alternative culture guides, click here. This is my collection of stories over the years, including a stay at the SF Zen Center, drag queen shows, and cat cafes! I hope you find these travel tips helpful for planning a trip here.