Category Archive for
Palm Springs + California
Oh Palm Springs… You turned out to be one of my final and happiest trips in the before-times!
I've been saving these Joshua Tree photos from January 2020, as they remind me of how carefree things were before the world locked down. Look at where we are now, coming up on a year of being shut in (for me, the date was March 14)…
It's hard to know what to expect and timelines are always shifting. But I hope we'll soon be able to get back in the saddle again, be together with friends, and embark on new adventures worldwide.
When that time comes, Joshua Tree is a destination that you must consider. To help you prepare, I'll share my Gothic guide to the Californian national park — including how to see Skull Rock (above), and Hall of Horrors!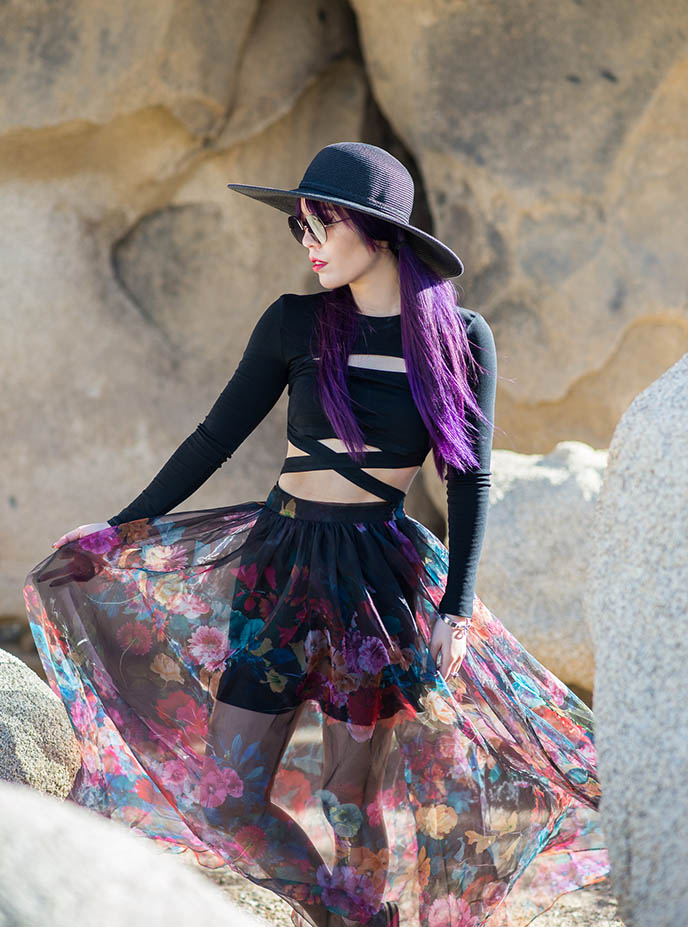 I'm quite pleased with how my outfit turned out for a desert fashion shoot.
My cutaway waist black long-sleeved top is by Forest Ink, and my black hat is from Tenth Street Hats. My sunglasses are by Oliver Goldsmith.
Auxiliary Magazine published these images as well, in a "Flowers in the Desert" fashion editorial. Photography by Joey Wong, hair color by Chad Evans at BlameChad.
From Palm Springs, Joshua Tree is an easy drive — less than an hour northeast, and you're there. We went in January 2020, so the weather was warm yet comfortable. I suggest avoiding Palm Desert in the summer, when temperatures reach boiling levels.
We rented a car from Palm Springs airport, and found it easy to get around — the roads are wide and empty. Our hot tip: be sure to listen to the KGAY 106.5 FM radio station! Known as "the pride of the valley," KGAY provided us with the perfect roadtrip soundtrack of disco, dance and 80s.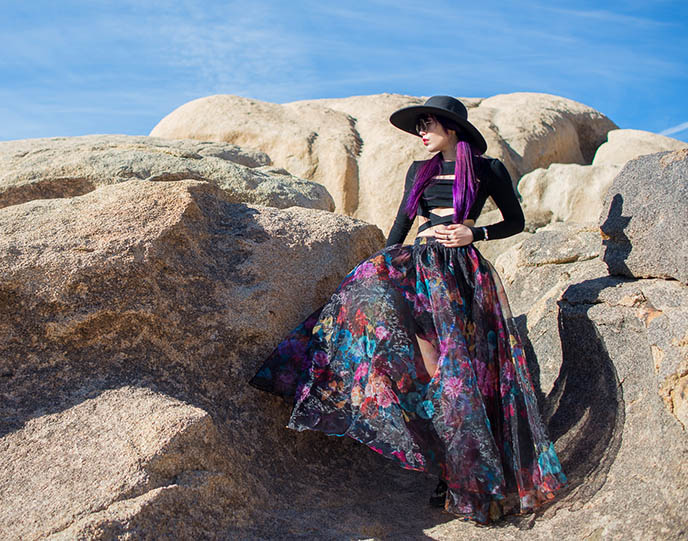 To avoid crowds, I encourage you to visit Joshua Tree park on weekdays, and to arrive early. Start at the visitor center: the staff gave us a map, and circled sites of interest. Here, you can pay the entrance fee of $30 per vehicle, or $15 for individuals.
It's impossible to see all of Joshua Tree's natural attractions, as the national park spans 790,636 acres. As you can see, the desert landscape is out of this world. You'll encounter giant rounded boulders, bizarre rock formations, cacti and desert shrubs…
… and of course, the namesake Joshua trees, also known as the yucca palm. I'm standing next to a large one; the species is easy to spot with its distinctive upturned branches.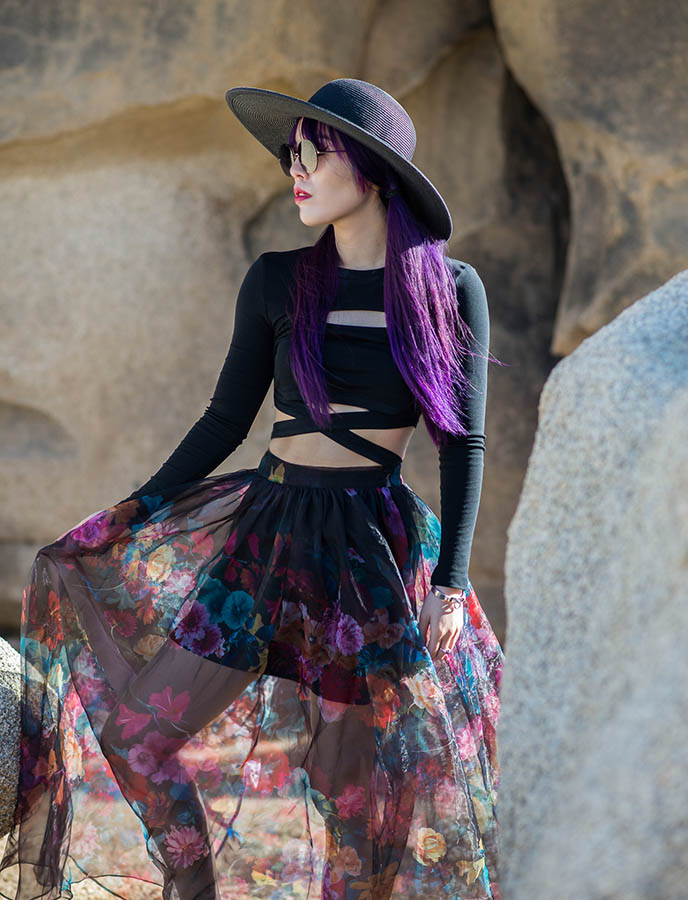 Joey and I were keen to do fashion photography in Joshua Tree. If you're looking to take modeling / portrait photos, I advise you to stay away from the landmarks, which attract lots of visitors. Instead, look for interesting backdrops in obscure spots. (This set was taken at Belle Campground.)
We loved the Flintstones vibe of Joshua Tree. With alien rocks and blue skies like these, it's no wonder the park is popular with Instagrammers and content creators.
You'll be out in the open grasslands, with no shade… so wear a hat, multiple layers of sunscreen, and SPF protective clothing like I did!
I found the sheer floral maxi skirt at Burcu's Angels, my favorite vintage store in Vancouver BC. The sweeping drama of the fabric worked nicely in the shots.
Westworld vibes… Of course, I'd be wearing a black hat.
Next, we had to traverse the Hall of Horrors, based on the name alone! I'm standing in front of what is known as the Exorcist Area.
I'm not sure why this area of Joshua Tree has such a frightful name, but it works for my Gothic style. The Hall of Horrors is a terrific spot for bouldering, and creeping through narrow rock passages
OOTD: Wearing a black cutaway shirt by Forest Ink, black sunhat by Tenth Street Hats, and Oliver Goldsmith sunglasses.
Joey and I focused on enjoying the sights and taking photos during our Joshua Tree day trip. Hardier types might partake in activities like hiking, bouldering, and camping overnight.
"In the name of the Moon, I will punish you!" I adore this shot – you can see the moon next to the precariously perched round boulder.
Then, I had to make a pilgrimage to Skull Rock. Believe it or not, this isn't a skeleton head carved out of stone – it's a natural formation! (Doesn't it remind you of the Citadel in "Mad Max: Fury Road"?)
The granite rock eroded over time, creating what looks like two eye sockets in a cone-shaped skull.
Be sure to visit Skull Rock and give it a Hail! You can also go a little further northeast to Spooky Hollow, which looks like two eyes cut out of a rock are glaring at you.
Although I'm often in LA, I never made it out to Joshua Tree National Park until this trip. It's just over a two hour drive east from Los Angeles.
I'm glad I was able to come here under such perfect conditions, before traveling came to a halt. I think you can sense how inspired and happy we felt in Palm Springs!
Mother Nature is quite the architect. There are endless spots for shooting interesting pictures, whether you're using a DSLR or a smartphone camera.
When travel ramps up again, it's a great idea to start by visiting a national park and spending time outdoors.
I enjoy adapting my Gothic aesthetic to my surroundings. This "dark desert rose" maxi skirt was made for Joshua Tree.
The enormous park includes a variety of ecosystems. The western and northern areas include the Mojave Desert, where Joshua trees are concentrated. The southern end is part of the Sonoran Desert, which is drier and more barren.
Travel Tips: You won't find food stands around the park, so bring lots of water and snacks. Also, use the restrooms at the Visitor Center when you arrive and leave.
We stayed in Palm Springs and made Joshua Tree a day trip. We arrived in the morning, and left as the sun was setting.
I am drawn to places that look like alien planets, and Joshua Tree stirred my imagination.
Look out for the wildlife, which includes birds, lizards, and squirrels. At night, you may come face-to-face with coyotes, lynxes, and jackrabbits.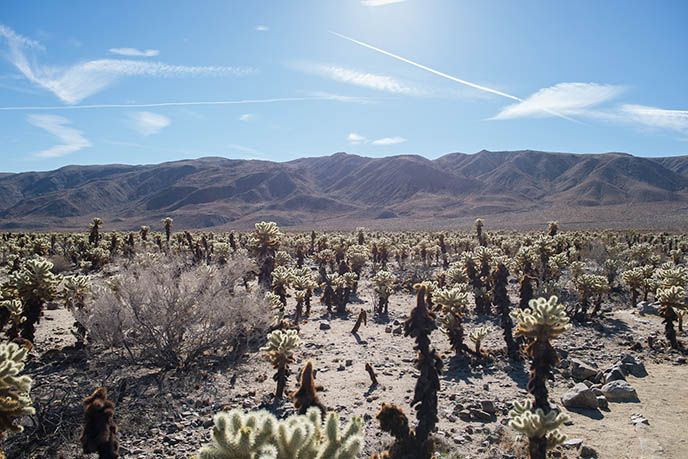 One of the most fascinating areas: Cholla Cactus Garden. Take care as you walk, or you'll get pricked by the sea of cacti!
Bang-bang, I shot you down…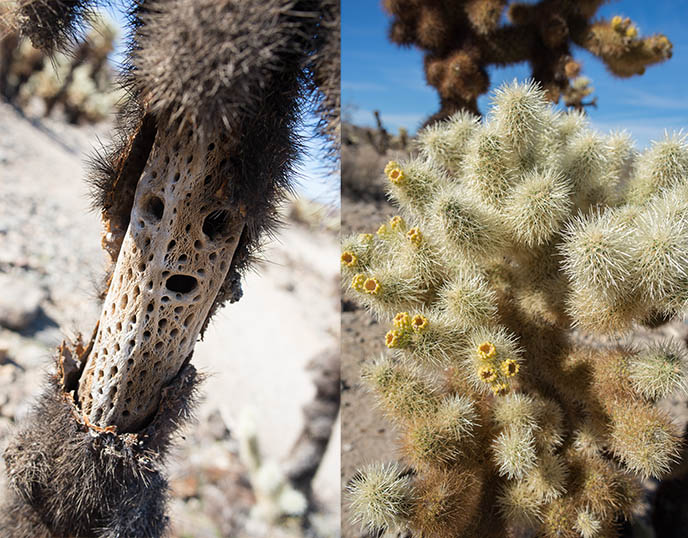 The main species is known as the teddy bear cholla — but you don't want to give these spiked cacti a hug! When the plant dies, it exposes a spooky woody skeleton underneath.
Doing a cactus pose in the Cholla Cactus Garden. (I didn't wear the maxi skirt layer, lest it get caught in the spikes.)
We also saw cacti of all shapes and sizes at the Moorten Botanical Garden in Palm Springs. (See the photos and story here.)
After you leave Joshua Tree Park, it's worth swinging by the Noah Purifoy Outdoor Desert Art Museum, which is a short drive away. This free open-air art space contains a whimsical collection of folk art by the artist.
Noah Purifoy makes assemblage sculptures out of discarded materials such as burnt wood, children's toys, and computer keyboards.
He turns unexpected materials – like pants – into large-scale works, which look especially compelling against the desert horizon.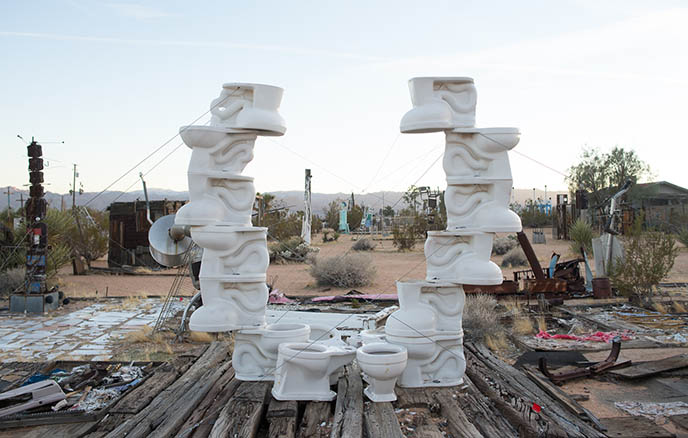 What looks like an elegant abstract sculpture… is actually made out of toilets! Everything was made on-site between 1989 and 2004.
Ah… those were the days, when we could explore freely…
When it's safe again, I hope this post inspires you to visit Joshua Tree's most Gothic and bizarre spots.
When you plan your trip, look back at all my Palm Springs travel articles. These include tips about restaurants, design hotels, and the LGBT nightlife in Palm Springs.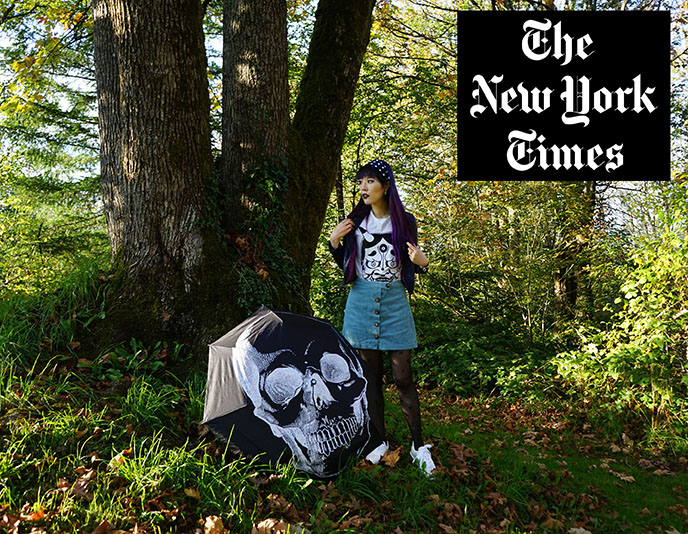 I'll end with a quick press and journalism round-up. The New York Times interviewed me about fashion, for a Wirecutter style story! The NY Times wrote: "I learned about unique ways to style white shoes from La Carmina, an alternative fashion blogger who specializes in subculture styles."
I also took part in a Dark Beauty Magazine interview; I was on the cover of their alternative fashion magazine years ago.
I'm continuing to write for a variety of publications. I'm now a journalist for The Daily Beast! I wrote about Satanic destinations worldwide – including the Baphomet statue at The Satanic Temple, a Devil museum in Lithuania, and a Thai Buddhist Hell park. My aticle about hellish places was also published by Yahoo and MSN.
For Fodor's, I wrote about the world's most bizarre beauty pageants. Did you know there are beauty contests for Barbie dolls, attractive camels, Klingon women, and ugly faces?
More of my writing will be released soon, as well as new photoshoots and local stories. You can keep up with La Carmina on @lacarmina Twitter and Instagram.
One year in… it's challenging, but we'll make it through. Please take care of yourselves, everyone!
2020 started out well, with a jaunt in Palm Springs. How quickly things can change!
Right now, I'm dealing with smoky skies due to the west coast wildfires, in addition to a certain viral pandemic… It feels like we've entered the era of Mad Max / Dune / Blade Runner. 
But let's look back through rose-colored glasses, at my January adventure in the California desert. As you might surmise, photographer Joey Wong and I were captivated by the Wild Wild West landscapes. Very glad we made this trip before the end of times.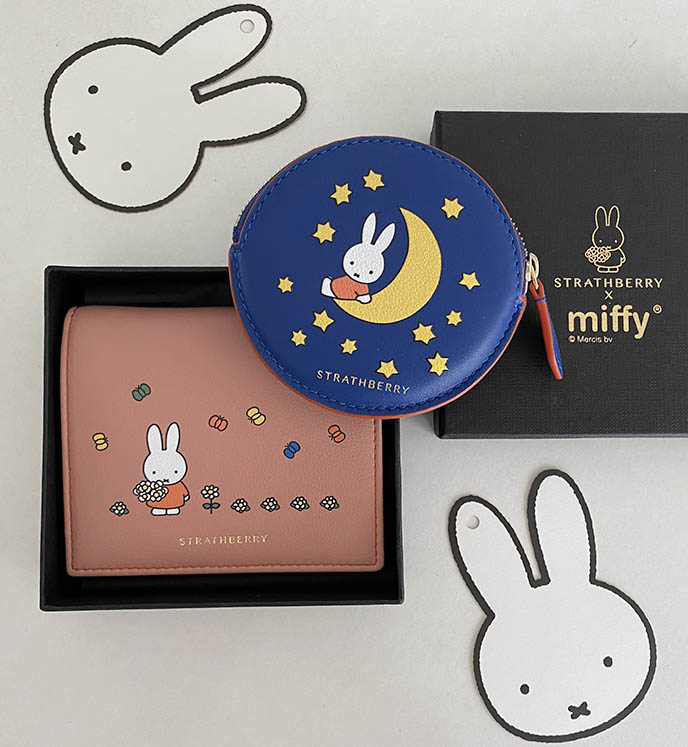 In other happy news – I wanted to share a new collaboration from one of my favorite handbag designers, Strathberry. They released a luxurious collaboration with beloved kawaii character, Miffy the bunny!
The new Strathberry x Miffy collection includes purses of all sizes and shapes, and accessories – like this ridiculously cute coin purse and wallet. The collab is a match made in minimalist heaven: the accessories' clean lines and fine leather share the aesthetics of Dick Bruna's designs. 
How adorable is the pink Walker Street Miffy wallet, featuring the X-mouthed bunny with butterflies and flowers? There's a midi-size version in white as well. 
Keep reading for close-ups of my Miffy coin purse, and more info. And see more of Strathberry's outstanding leather designs below (all made in Spain from fine leather):
Let's go back in time to the pre-apocalypse, when our minds were focused on finding the best places in Palm Springs to take fashion or Instagram photos! 
Read on for our favorite photography spots, including mid-century modern houses, epic doors, a cactus garden, and rows of white turbines (above).
We'll also take a look at Palm Springs' LGBT nightlife, including drag queen shows.
Palm Springs' dramatic mountains are the perfect backdrop for outfit photos. In January, we found this photogenic location next to the Tramway Gas Station, a modernist triangle designed by Albert Frey in 1965.
My Cali desert outfit consists of a hat by Tenth Street Hats, St Bart's pink sunglasses from Spiltmilk Eyewear, red sandals by Lola Ramona, and a For Love & Lemons cherry print summer dress (get it here). 

I was excited to visit Moorten Botanical Garden, as it's a top Palm Springs photography location. Founded in 1938, this living museum features more than 3000 species of cacti and desert plants. 
Wander through Moorten's outdoor gardens, and be amazed by the wide variety of spiky cactus species.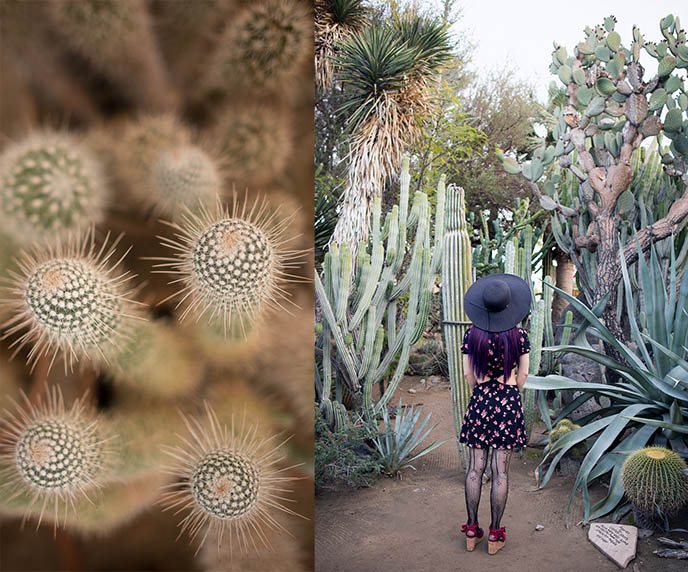 Some cacti are tiny, while others are three times my height. A few look like the ones drawn in cartoons! And they're all pokey, so watch your step.
Bring your DSLR camera, or use "portrait mode" on your smartphone — and have fun snapping close-up cactus photos.
Be sure to visit the "cactarium," which is the only indoor area of the garden. The enclosure houses the world's rarest cacti, such as odd-looking specimen from South Africa, the Mojave Desert, and South America.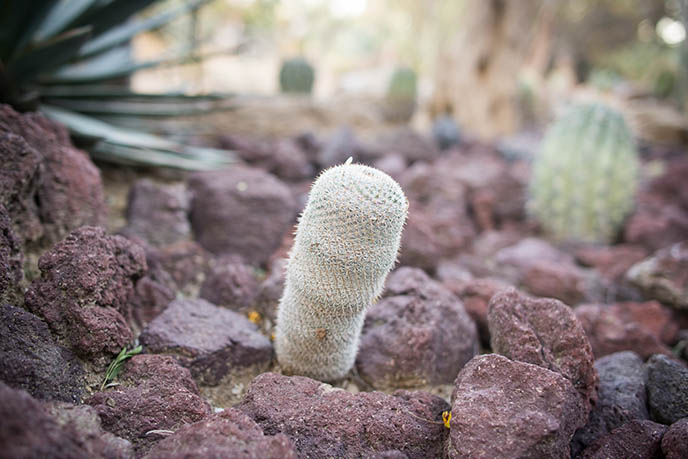 What does this cactus remind you of? I wonder why Joey took its photo…
Moorten Botanical Garden is a spiky delight for plant-lovers and photographers alike.
Many travellers come to Palm Springs for its golf courses, spas, and gay life. The resort city is also a favorite spot for retirees. As for me, I was mostly keen to see the mid-century modern architecture. 
Behold, Kaufmann House — designed in 1946 by Richard Neutra, a talented architect who worked with Frank Lloyd Wright and Rudolf Schindler. Rising above stones, this sleek glass and steel vacation home is a Desert Modernist classic.
You can find a large number of mid-century homes in this style, known as Desert Modernism, throughout Palm Springs. Most are privately owned, so you can't see the interiors unless you join an architecture tour.
I want to come back to Palm Springs for its annual Modernism Week. Some of the most famous MCM houses open their doors during this event, giving you a rare opportunity to look inside.
As the sun began to set, we drove to perhaps the most iconic Palm Springs photography location: San Gorgonio Pass. These tall "windmills" are actually wind turbines. You can't miss them, as there are more than 3000 spinners at the entrance of the Coachella Valley.
Pastel sunset + wind turbines + desert sand = Instagrammer or style blogger heaven.
Matching the pink skies with Spiltmilk sunglasses, and a pink cherry printed cut-out waist dress by For Love & Lemons. Find it here, and more below):

The San Gorgonio Pass is one of the windiest places in the USA. The wind farm was established here in the 1980s, providing locals with clean and renewable energy.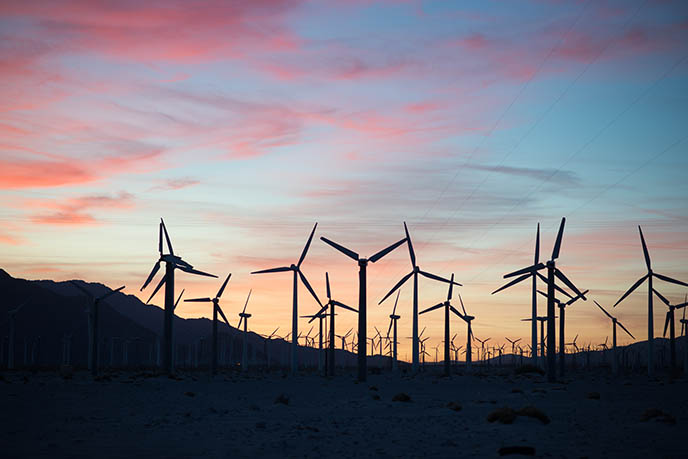 The wind turbine silhouettes stand out against the candy floss sunset. No Photoshop needed: this is the unfiltered beauty of the California desert.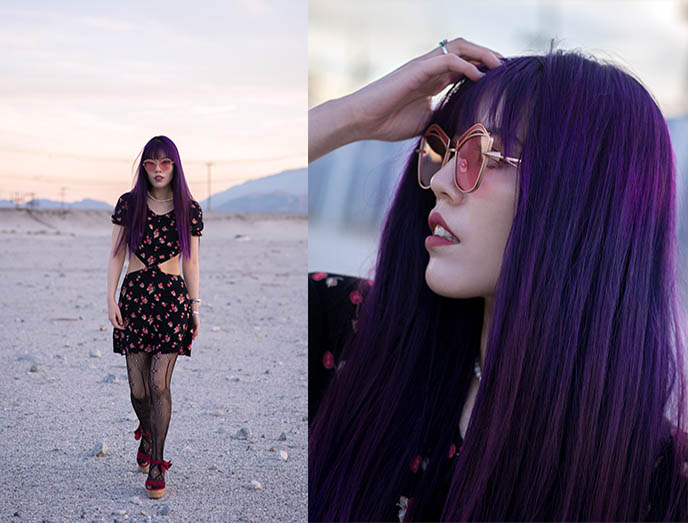 The light desert sand creates a space-like feeling. No wonder these "windmills" are among the top photography (or Instagrammable) spots in Palm Springs. 
Is there life on Mars? (I'm ready to explore other planets, once the technology is there…)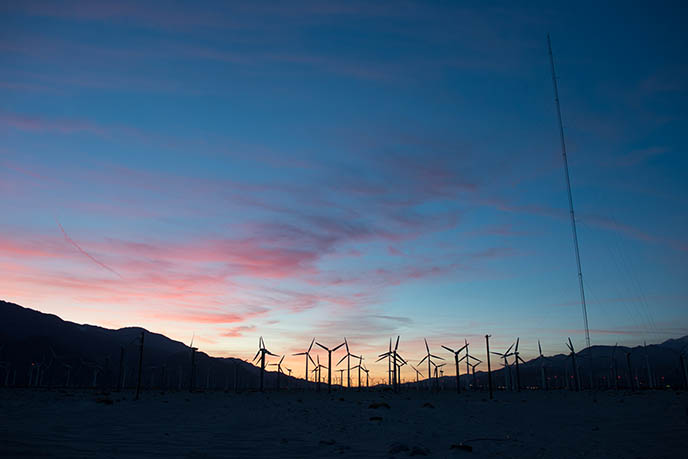 Grateful I was able to experience Palm Springs for the first time, before Covid-19 made travel impossible.
Hang in there! We'll make it to the other side soon, and be off on new adventures with a greater appreciation.
After all, we Goths know that there is beauty in darkness…
That night, we were keen to check out Palm Springs' infamous LGBT nightlife. The main gay clubs and shops are clustered on Arenas Road, with storefronts lit up in neon.
Palm Springs has a friendly and casual gay scene. Anyone can bar-hop between the venues, which cater to different ages and preferences.
We caught a drag queen performance at Hunters Palm Springs, on Arenas Road. This queen's lip-syncing was as dramatic as her floor-sweeping gown!
(Hot tip: Tune in to the local K-Gay radio station. We blasted it every time we drove… I miss it so much!)
A howdy to the Parker Palm Springs hotel for hosting us, and making our stay so memorable. You can see our full story about this hip hotel here.
The Parker Hotel is home to the most photographed / Instagrammed door in Palm Springs. We took an obligatory photo in front of the tall orange and white entrance.
Jonathan Adler designed the Parker's interiors with his signature whimsy. I was tickled pink by this enormous macrame owl, by artist Andy Harman.
Stop by the Parker Palm Springs' spa, which looks like a waterfront yacht club. Snap some photos with the nautical decor, and snack on some fresh fruits and herb-infused water.
Check out The Shining carpets, and an enormous mid-century macrame owl… The Parker seems like it was designed for me!
Enjoy my first post about the Parker Palm Springs here.
If you're enjoying these 'fit photos, you can see more on my social media @lacarmina. Find La Carmina on Instagram, Twitter and Facebook.
Perhaps you might be interested in owning something from my wardrobe… I'm still selling clothes and accessories on Depop (username @lacarmina)!  
Check out my Depop shop, and email me if you'd like anything from my personal collection. Happy to do discounts.
Things are quite different these days… Instead of planning my next international trip, I'm writing about how to style COVID face masks with your outfits! 
Check out my latest article for At Home in Canada magazine here.
We should all be wearing masks, but many people are reluctant to put one on. For this article, I turned to my stylish friends around the world for tips on how to look fashionable in face masks. 
Here are some additional photos that I hope will inspire you. Aurelio Voltaire rocks a macabre mask and gloves…
Josie Stevens models masks from her fashion line. She created a collection of cheeky and edgy masks in a variety of prints.
The stylist, designer, and "Married to Rock" reality TV star has an enormous selection of fashionable face masks for sale here.
Taeden Hall of Gloomth & the Cult of Melancholy, the Toronto-based Gothic indie fashion house, released a medical-art mask that is creepy cute perfection. Her model Azura Rose shows off the matching leggings, which come in inclusive sizes. (Photo of her by Stephie Scarlet)
Anime/J-pop musician Stephane Yanez is kawaii to the max, in her pink masks and Hello Kitty face shield!
Last but certainly not least, Asia's Goths show how mask-wearing is done. Mim Midori Lai rocks this devilish look, while Yukiro as drag diva Die Schwarze Frau "werrrkks" it. 
I hope these fashionistas worldwide inspired you to wear a mask with confidence.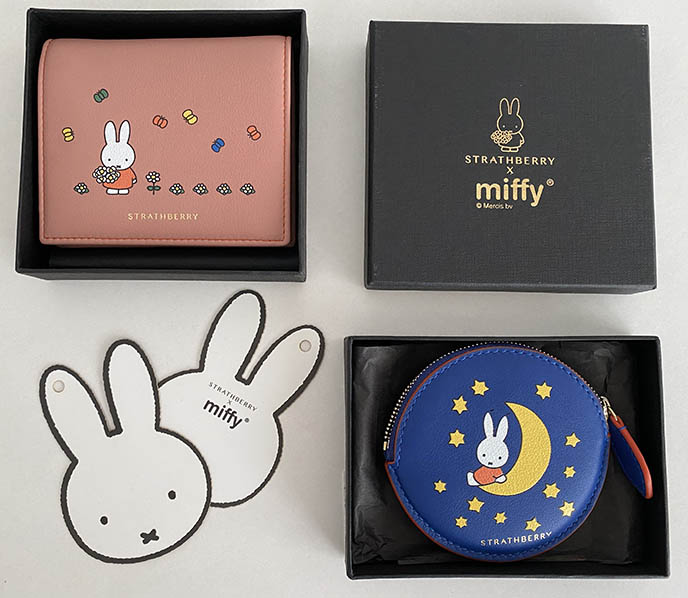 Accessories are everything… and the Strathberry x Miffy release is a head-turner! I'm delighted to update my wallet and coin purse with these cute meets luxurious designs, crafted from supple leather and gold hardware. 
I've been a Miffy fanatic since childhood. These days, I focus on timeless, high quality leather bags and accessories — but preferably with a touch of cute. And so, the Strathberry x Miffy Walker Street Wallet is a dream come true.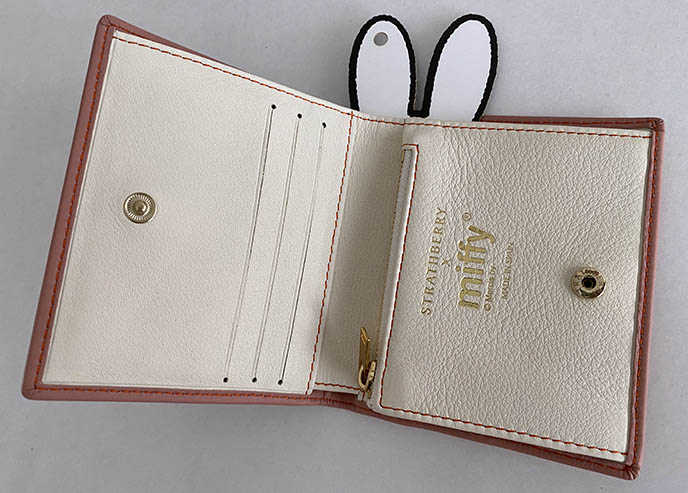 I love the compact size, which holds together with an easy snap button. It opens up to reveal a handy bill compartment, credit card slots and a zipped coin pocket.
And I'm seeing stars, with this Strathberry x Miffy cobalt leather coin purse! Love Dick Bruna's illustration of the white rabbit with a moon and stars, surrounded by sleek orange edging.
The limited collection includes clutches, totes, crossbody bags, scarves… check out the adorable range here before it's gone.
And browse more Strathberry bags below:
Speaking of sweet bunnies… I'm staying at home almost all the time now, and lounging in these soft bunny-ears slippers from SlipperSin! These open-toed bedroom slides are so comfortable, and keep my feet protected. 
I'm wearing these adorable faux fur slippers with bunny ears, which come in women's US size 5-6 or 7-8. The "kawaii" pastel rabbit design is head-turning, without being heavy or cumbersome.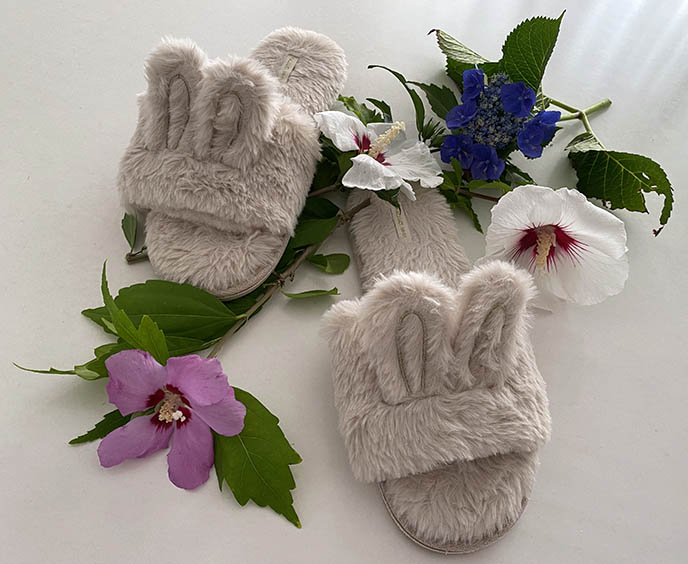 In addition to these cuties, there are hundreds of slipper designs available on SlipperSin — including rainbow poofs, animal print booties, and other fab footwear for home. 
I've also been riveted by the new book ANATOMICA, by Joanna Ebenstein of Morbid Anatomy fame. (We met at the museum in NYC, and went on a Day of the Dead Mexico trip together!) 
In "Anatomica: The Exquisite and Unsettling Art of Human Anatomy," Joanna compiles bizarre and beautiful medical art from the 16-20th century. I was flabbergasted by some of the drawings, such as Japanese illustrations of "energy points" in the body, and a Chinese guide to tongue diseases! 
Anatomica vividly shows how our understanding of anatomy and medicine changed over the years. We've always been fascinated by the human body and death. As you'll see from the remarkable paintings of blood vessels and dissected cadavers, there's a lot of beauty to be found within the "morbid."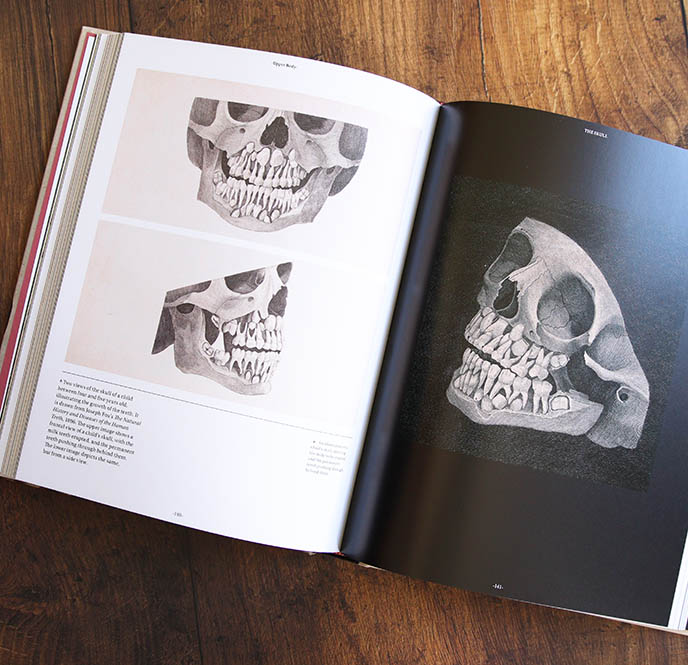 You'll encounter skulls galore as you flip the pages… It's the perfect book for anyone who loves history, medicine, art, and all things Gothic. 
Anatomica is a labor of love by Joanna Ebenstein, and it's out today.  This hard-cover, full-colored book is only $35 — well worth picking up a copy, as you'll gain so much fascinating knowledge from it.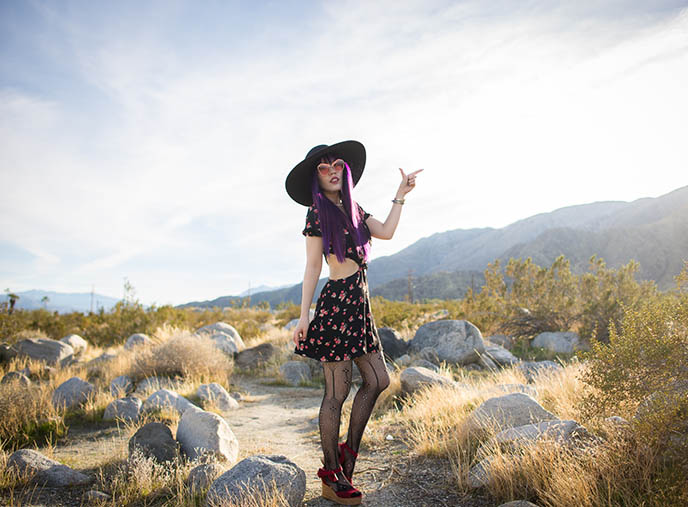 In this age of COVID and wildfires, we're remembering how much of an impact medicine has in our lives. Stay inside and keep healthy, everyone!
PS: You can see all my Palm Springs + California posts here. Dreaming of being back.