Category Archive for
Palm Springs + California
Hail, San Diego! Since California is currently one of the safest US states (in terms of case count), I went west after Salem to hang with the animals.
I didn't have time to visit the famous zoo… but still got to pet the giraffes, at the chic Andaz San Diego hotel.
Read on for my SD travel diary that includes sushi restaurants and the Andaz's STK Rooftop Bar, which overlooks downtown San Diego…
… and a cannibalism exhibit at the Museum of Us, at the nearby Balboa Park! (It features famous flesh-eaters like Issei Sagawa, The Japanese Cannibal.)
The Andaz San Diego, a concept by Hyatt, ticked off everything I look for in a hotel. It's a design-focused boutique property, with a convenient central location (San Diego's downtown Gaslamp district).
On the top floor, you'll find The Rooftop by STK — the largest roof-top hangout in all of San Diego, with soaring views. I had fun sitting around the fire pit with cocktails and shared plates. (Dress by Sourpuss Clothing.)
The Andaz's 159 rooms are decorated with sleek furnishings and local art, which capture the warm and laid-back vibe of San Diego. I was glad to find an enormous bathtub, and small touches such as free earplugs on the side table.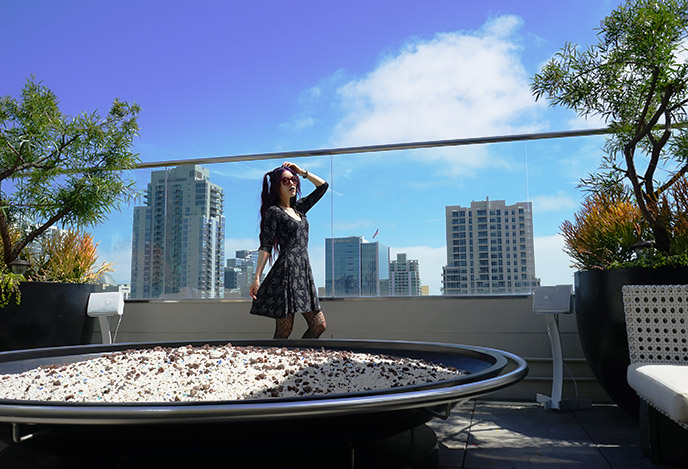 The Andaz is set in a historic building, which was originally built for the 1913 World's Fair. Today, it's a contemporary space with an open-air rooftop restaurant / bar for safe hangouts.
The Rooftop by STK serves food all day. I particularly enjoyed the breakfast / brunch menu: the avocado toast, oat milk lattes, and veggie frittata with goat cheese, spinach and tomato jam hit the spot.
There's also a swimming pool on the Andaz rooftop. Take a swim at sunset, to watch the sky turn pink.
The Andaz's lobby is filled with surprises, including this art gallery / lounge space inhabited by a giraffe and her baby!
(My Hail Satan, Est 666 shirt is from The Satanic Temple's shop.)
When I checked in at Andaz San Diego, the staff offered me complimentary coffee, beer, or wine. There was also cold brew coffee available on-tap at all times — and I sure took advantage of that.
The hotel's common areas are well tended (Plexiglass separators, hand sanitizer stations, masks required), and filled with art that pay homage to San Diego's sights, such as the Zoo. The Andaz has special designer suites too (see photos of the rooms.)
My favorite art piece: a 12-foot tall giraffe sculpture.
The funky design draws from the Gaslamp Quarter's artistic culture. Local works are displayed throughout the Andaz, including large-scale paintings.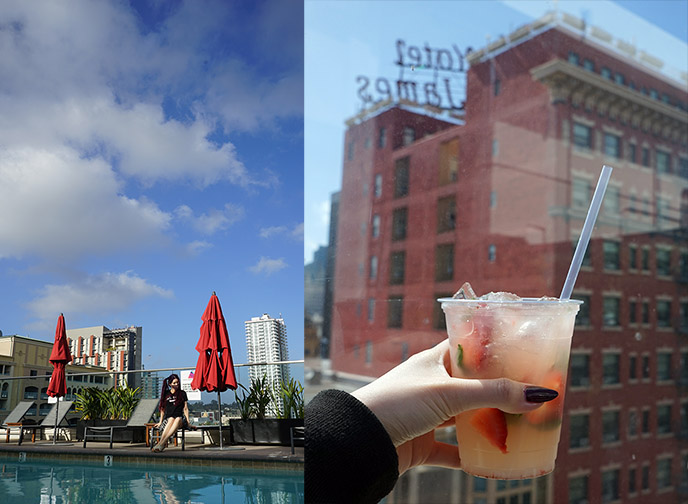 Cheers to the Andaz San Diego — I'd love to come back for a strawberry cocktail at the rooftop pool!
San Diego is known for its excellent sushi, so I went to investigate the best Japanese restaurants nearby. Locals rave about Taka Sushi; located in the Gaslamp dining district, it was only a short walk from the hotel.
Chefs Maru and Makoto greet all guests with enthusiasm. Taka Sushi​'s intimate wood interiors and long sushi bar add to the friendly feel — and made me nostalgic for sushi restaurants in Japan.
At Taka, the skilled chefs combine a creative modern approach with traditional techniques. They select the freshest ingredients, including seasonal fish from Japan, and put together phenomenal omakase sashimi platters. Above, we were speechless at the melt-in-your-mouth salmon from New Zealand, amberjack, uni (sea urchin), squid, tuna, hamachi and more.
Taka Sushi also offers cooked Japanese dishes, and one-of-a-kind creations — like this spicy tuna tartar, flecked with gold and caviar! The combination of avocado, quail egg, and spicy sesame oil soy sauce was remarkable.
I strongly recommend going for the omakase at Taka, meaning that you leave the selection to the chef (the Japanese word comes from "makaseru," or "to entrust.") You'll get to try unusual and seasonal offerings, such as these small crunchy red crabs.
Next came a sushi and nigiri selection… isn't the presentation lovely? The battera "box" sushi stood out, and the ikura salmon roe gunkan, tamago egg, and ebi shrimp were among the best I've had in a while (a well-executed tamagoyaki is a sure sign that a sushi restaurant knows its stuff).
The server came back to take this fish and the still-moving prawn, which were then fried.
Don't leave without trying the original zucchini flowers starter with wasabi salt, and black sesame creme brulee. Arigato Taka Sushi for the outstanding omakase — I've had a lot of sushi around the world, and this experience ranks among my favorites.
For a chic Japanese fusion experience, there's no better spot in San Diego than Cloak and Petal. Located in Little Italy, "cloak" suggests a hidden spot, while "petal" references the gorgeous cherry blossoms trees that decorate the restaurant. Year-round, anyone can come here to eat under the pink and white sakura flowers, similar to "hanami" picnics in Japan.
Start with hot sake, and then choose from Cloak & Petal's imaginative menu. The sushi creations have catchy names like "Go Go Ohime Sama" on the right (asparagus, avocado, krab, salmon, yuzu gel, smoked salt, strawberry compote, lemon oil, micro greens), and "Cezar Chavez & Main" on the left (shrimp tempura, spicy tuna, avocado, black pepper, tuna, charred jalapeño ponzu, cilantro, habanero).
The restaurant decor has a Japanese street art vibe, inspired by the Tokyo subway and graffiti art.
I loved this spicy and textured spin on hamachi (yellowtail): prepared carpaccio-style with ponzu, jalapeno, black garlic sauce, chives, and garlic.
Thank you Cloak and Petal for a lovely Japanese meal under the sakura blooms, with excellent service and ambiance.
(SD sushi restaurants and Andaz rooftop photos by Kym LaRoux.)
Speaking of eating raw foods… I stumbled upon an intriguing cannibalism exhibit. "Cannibals: Myth & Reality" is currently on display at the Museum of Us (formerly known as the Museum of Man). It's located in San Diego's Balboa Park, an enormous green space and the site of many museums, art galleries and the world-famous zoo.
The thoughtful and gore-free exhibition dives into cannibalism from all perspectives, from historical incidences to pop culture perspectives, Quite a few horror movies have humans-eating-humans; above is the Japanese poster for the "Cannibal Holocaust" film.
Here's a newspaper article that sensationalizes Jeffrey Dahmer, "The Milwaukee Cannibal." He stored body parts in his freezer, and admitted to feasting on the flesh of his victims.
Cannibalism is considered taboo and associated with evil — yet the exhibit points to instances where people turned to it as a last resort for survival. I saw photos from the famine during the Nazi siege of Leningrad, and heard stories from the Uruguayan rugby players trapped high in the Andes Mountains, who resorted to eating the dead to survive.
Cannibalism is also shrouded in myth and mystery. We still don't know what happened to Michael Rockefeller, the heir who disappeared in New Guinea in 1961. The natives of that region were known for headhunting and cannibalism, and rumors spread that he was eaten by them.
Our judgments of "right" and "wrong" change with the times. Here's a scene depicting ritualistic Aztec cannibalism. (You can read more about pre-Columbian civilizations in my Mexico City stories.)
The Museum of Us has interactive displays that make us ponder the nuances of eating "long pig" around the world. (Is it acceptable to eat hair or nails? Or one's own flesh? And under what circumstances – where do we draw the lines?)
The museum has other fascinating exhibits centered on anthropology and cultures worldwide, I enjoyed the "Monsters!" section, which has a hell of an entrance.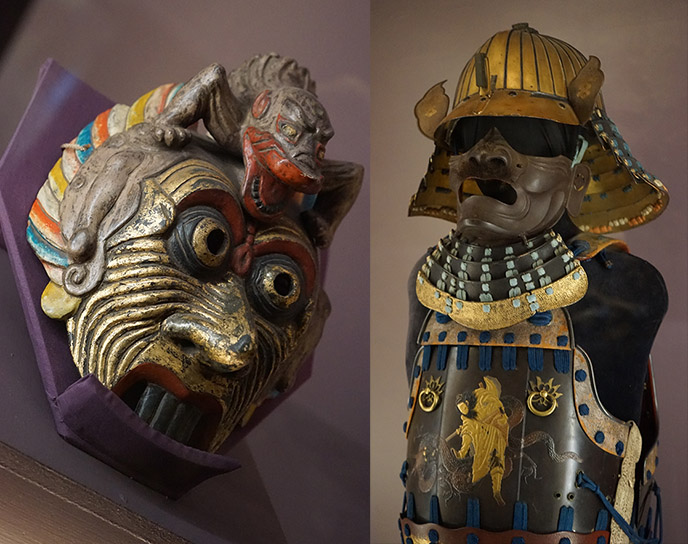 It dives into fantastical art and legends of monsters worldwide. These Asian depictions got my attention.
From the manticore to Godzilla to fierce Chinese dragons, monsters have long had a hold on our imaginations.
The San Diego Museum of Us also had some visitors from ancient Egypt. This sarcophagus is looking a little green. (See more mummies, Sphinxes and Egyptian artifacts in my report about the Cairo museum.)
The building itself is a beauty. It was constructed for the 1915 Exposition, and the exterior sculptures were by the Piccirilli Brothers.
I leave you with a devilish figure from inside the Museum of Us…
… and the true ruler of the underworld (if you ask me) — Miffy the bunny! (I came across this mural on the walk from the hotel to Balboa Park.)
Is San Diego on your list of places to visit, now that travel is re-emerging? Thank you to the Andaz San Diego for the terrific stay, and I'm keen to be back soon.
Until that day, as Ron Burgandy would say… "You stay classy, San Diego!"
Oh Palm Springs… You turned out to be one of my final and happiest trips in the before-times!
I've been saving these Joshua Tree photos from January 2020, as they remind me of how carefree things were before the world locked down. Look at where we are now, coming up on a year of being shut in (for me, the date was March 14)…
It's hard to know what to expect and timelines are always shifting. But I hope we'll soon be able to get back in the saddle again, be together with friends, and embark on new adventures worldwide.
When that time comes, Joshua Tree is a destination that you must consider. To help you prepare, I'll share my Gothic guide to the Californian national park — including how to see Skull Rock (above), and Hall of Horrors!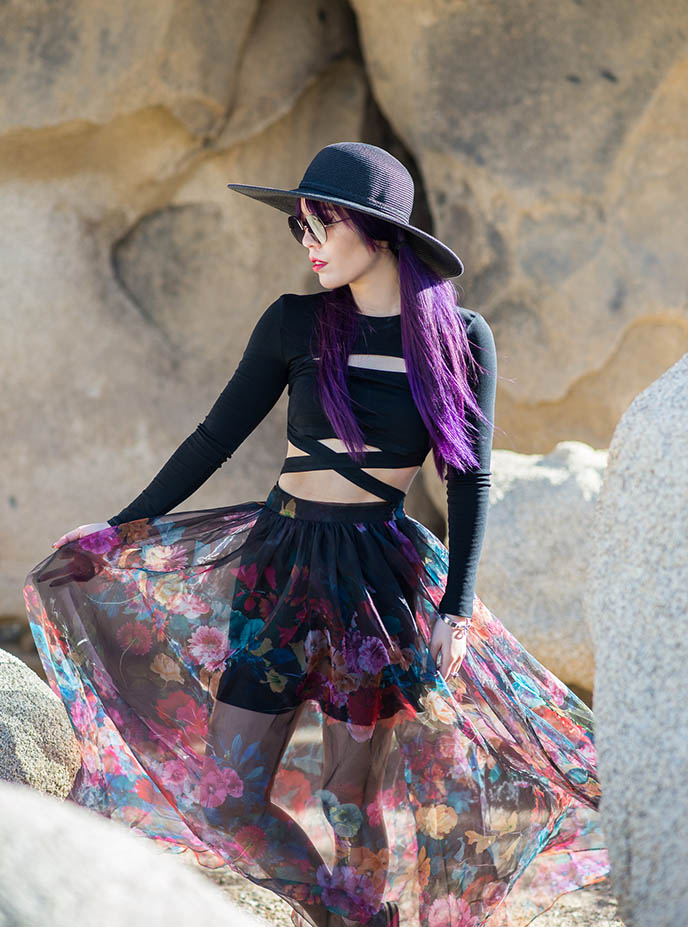 I'm quite pleased with how my outfit turned out for a desert fashion shoot.
My cutaway waist black long-sleeved top is by Forest Ink, and my black hat is from Tenth Street Hats. My sunglasses are by Oliver Goldsmith.
Auxiliary Magazine published these images as well, in a "Flowers in the Desert" fashion editorial. Photography by Joey Wong, hair color by Chad Evans at BlameChad.
From Palm Springs, Joshua Tree is an easy drive — less than an hour northeast, and you're there. We went in January 2020, so the weather was warm yet comfortable. I suggest avoiding Palm Desert in the summer, when temperatures reach boiling levels.
We rented a car from Palm Springs airport, and found it easy to get around — the roads are wide and empty. Our hot tip: be sure to listen to the KGAY 106.5 FM radio station! Known as "the pride of the valley," KGAY provided us with the perfect roadtrip soundtrack of disco, dance and 80s.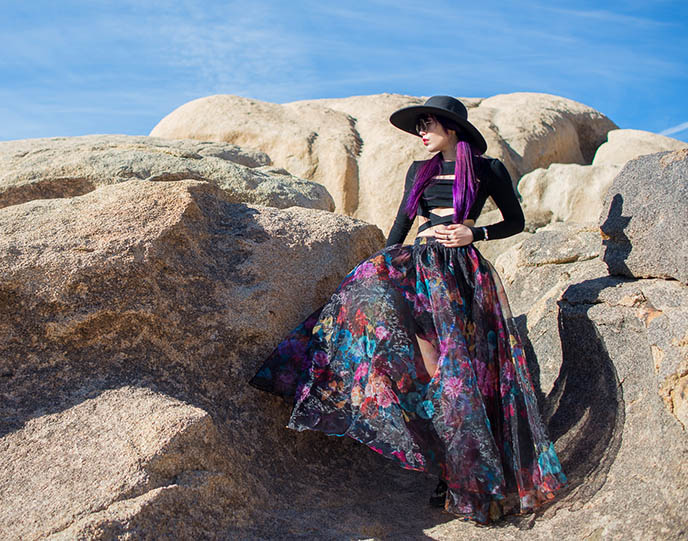 To avoid crowds, I encourage you to visit Joshua Tree park on weekdays, and to arrive early. Start at the visitor center: the staff gave us a map, and circled sites of interest. Here, you can pay the entrance fee of $30 per vehicle, or $15 for individuals.
It's impossible to see all of Joshua Tree's natural attractions, as the national park spans 790,636 acres. As you can see, the desert landscape is out of this world. You'll encounter giant rounded boulders, bizarre rock formations, cacti and desert shrubs…
… and of course, the namesake Joshua trees, also known as the yucca palm. I'm standing next to a large one; the species is easy to spot with its distinctive upturned branches.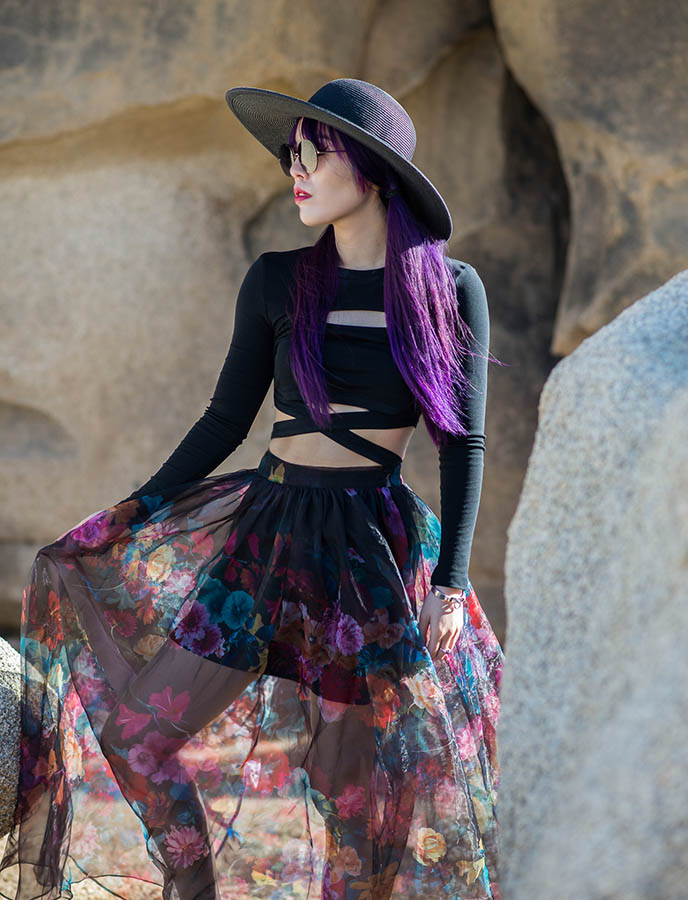 Joey and I were keen to do fashion photography in Joshua Tree. If you're looking to take modeling / portrait photos, I advise you to stay away from the landmarks, which attract lots of visitors. Instead, look for interesting backdrops in obscure spots. (This set was taken at Belle Campground.)
We loved the Flintstones vibe of Joshua Tree. With alien rocks and blue skies like these, it's no wonder the park is popular with Instagrammers and content creators.
You'll be out in the open grasslands, with no shade… so wear a hat, multiple layers of sunscreen, and SPF protective clothing like I did!
I found the sheer floral maxi skirt at Burcu's Angels, my favorite vintage store in Vancouver BC. The sweeping drama of the fabric worked nicely in the shots.
Westworld vibes… Of course, I'd be wearing a black hat.
Next, we had to traverse the Hall of Horrors, based on the name alone! I'm standing in front of what is known as the Exorcist Area.
I'm not sure why this area of Joshua Tree has such a frightful name, but it works for my Gothic style. The Hall of Horrors is a terrific spot for bouldering, and creeping through narrow rock passages
OOTD: Wearing a black cutaway shirt by Forest Ink, black sunhat by Tenth Street Hats, and Oliver Goldsmith sunglasses.
Joey and I focused on enjoying the sights and taking photos during our Joshua Tree day trip. Hardier types might partake in activities like hiking, bouldering, and camping overnight.
"In the name of the Moon, I will punish you!" I adore this shot – you can see the moon next to the precariously perched round boulder.
Then, I had to make a pilgrimage to Skull Rock. Believe it or not, this isn't a skeleton head carved out of stone – it's a natural formation! (Doesn't it remind you of the Citadel in "Mad Max: Fury Road"?)
The granite rock eroded over time, creating what looks like two eye sockets in a cone-shaped skull.
Be sure to visit Skull Rock and give it a Hail! You can also go a little further northeast to Spooky Hollow, which looks like two eyes cut out of a rock are glaring at you.
Although I'm often in LA, I never made it out to Joshua Tree National Park until this trip. It's just over a two hour drive east from Los Angeles.
I'm glad I was able to come here under such perfect conditions, before traveling came to a halt. I think you can sense how inspired and happy we felt in Palm Springs!
Mother Nature is quite the architect. There are endless spots for shooting interesting pictures, whether you're using a DSLR or a smartphone camera.
When travel ramps up again, it's a great idea to start by visiting a national park and spending time outdoors.
I enjoy adapting my Gothic aesthetic to my surroundings. This "dark desert rose" maxi skirt was made for Joshua Tree.
The enormous park includes a variety of ecosystems. The western and northern areas include the Mojave Desert, where Joshua trees are concentrated. The southern end is part of the Sonoran Desert, which is drier and more barren.
Travel Tips: You won't find food stands around the park, so bring lots of water and snacks. Also, use the restrooms at the Visitor Center when you arrive and leave.
We stayed in Palm Springs and made Joshua Tree a day trip. We arrived in the morning, and left as the sun was setting.
I am drawn to places that look like alien planets, and Joshua Tree stirred my imagination.
Look out for the wildlife, which includes birds, lizards, and squirrels. At night, you may come face-to-face with coyotes, lynxes, and jackrabbits.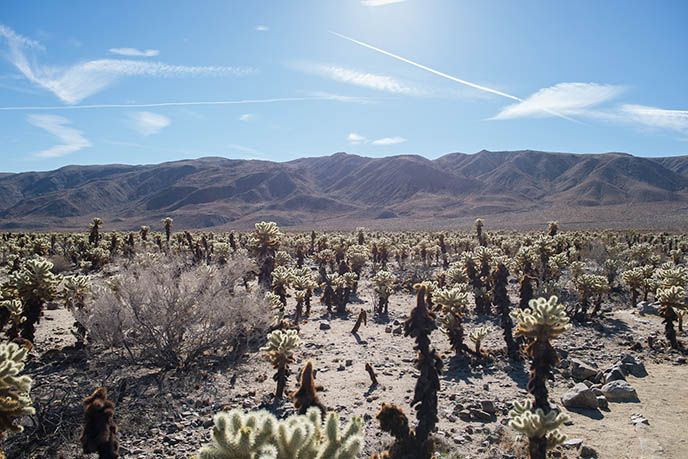 One of the most fascinating areas: Cholla Cactus Garden. Take care as you walk, or you'll get pricked by the sea of cacti!
Bang-bang, I shot you down…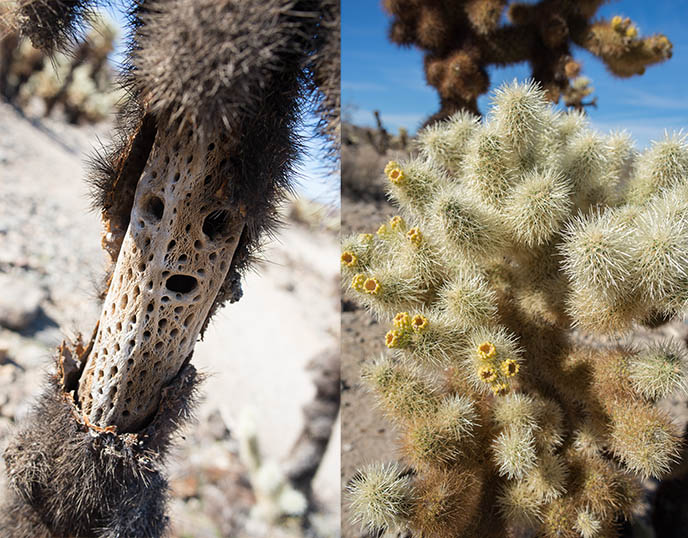 The main species is known as the teddy bear cholla — but you don't want to give these spiked cacti a hug! When the plant dies, it exposes a spooky woody skeleton underneath.
Doing a cactus pose in the Cholla Cactus Garden. (I didn't wear the maxi skirt layer, lest it get caught in the spikes.)
We also saw cacti of all shapes and sizes at the Moorten Botanical Garden in Palm Springs. (See the photos and story here.)
After you leave Joshua Tree Park, it's worth swinging by the Noah Purifoy Outdoor Desert Art Museum, which is a short drive away. This free open-air art space contains a whimsical collection of folk art by the artist.
Noah Purifoy makes assemblage sculptures out of discarded materials such as burnt wood, children's toys, and computer keyboards.
He turns unexpected materials – like pants – into large-scale works, which look especially compelling against the desert horizon.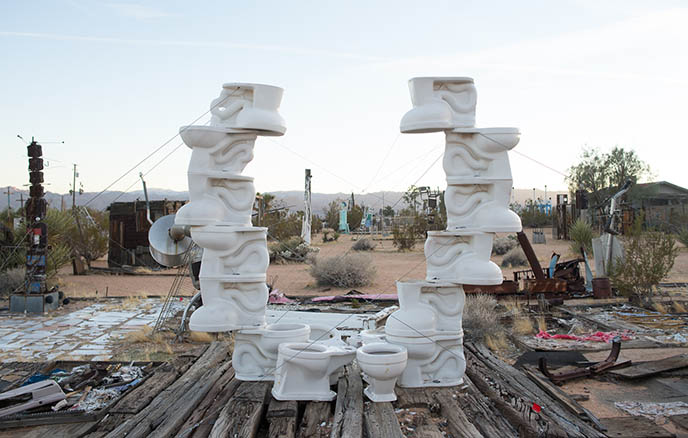 What looks like an elegant abstract sculpture… is actually made out of toilets! Everything was made on-site between 1989 and 2004.
Ah… those were the days, when we could explore freely…
When it's safe again, I hope this post inspires you to visit Joshua Tree's most Gothic and bizarre spots.
When you plan your trip, look back at all my Palm Springs travel articles. These include tips about restaurants, design hotels, and the LGBT nightlife in Palm Springs.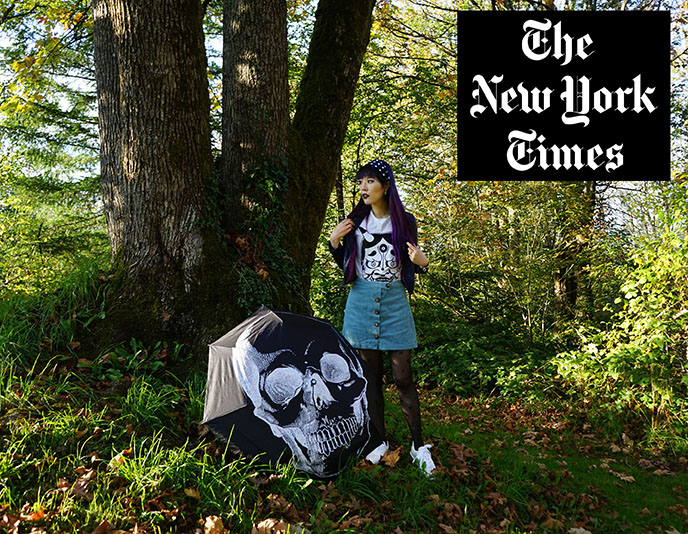 I'll end with a quick press and journalism round-up. The New York Times interviewed me about fashion, for a Wirecutter style story! The NY Times wrote: "I learned about unique ways to style white shoes from La Carmina, an alternative fashion blogger who specializes in subculture styles."
I also took part in a Dark Beauty Magazine interview; I was on the cover of their alternative fashion magazine years ago.
I'm continuing to write for a variety of publications. I'm now a journalist for The Daily Beast! I wrote about Satanic destinations worldwide – including the Baphomet statue at The Satanic Temple, a Devil museum in Lithuania, and a Thai Buddhist Hell park. My aticle about hellish places was also published by Yahoo and MSN.
For Fodor's, I wrote about the world's most bizarre beauty pageants. Did you know there are beauty contests for Barbie dolls, attractive camels, Klingon women, and ugly faces?
More of my writing will be released soon, as well as new photoshoots and local stories. You can keep up with La Carmina on @lacarmina Twitter and Instagram.
One year in… it's challenging, but we'll make it through. Please take care of yourselves, everyone!