Category Archive for
Philippines
Why am I waving like a beauty queen? Because I was a judge in the 2014 Miss Scuba Philippines contest, held at Pacific Cebu Resort! 
Unlike typical pageants, Miss Scuba has the meaningful goal of promoting marine conservation. All the contestants learn to dive, and are questioned on how they'd preserve the ocean ecosystem.
Let me tell you, it was difficult to crown a winner from the 12 contestants. Read on, and I'll show you what went down at this unique Filipino beauty pageant.
Hong Kong-based hotel group sáv Hospitality hosted Miss Scuba Philippines at Pacific Cebu Resort. Since the resort is right on the water and home to a diving school, it was a perfect fit.
What I Wore: didn't plan this outfit in advance, but somehow it came together and fit the ocean-theme of the pageant.
Crop top: Show Me Your Mumu Lil Miss Crop Top in teal green (get it on sale, they also have it in black).
Skirt: The bottom half is actually a scarf with a fish-scale pattern, similar to this tie-dye maxi skirt.
Browse more mermaid-styles by clicking the images below:

Princess Jasmine meets The Little Mermaid. The shell hair accessory is a gift from the Nalusuan Island marine sanctuary that we visited.
Before heading to the pageant, I waded in one of the hotel's three swimming pools. (There's one just for the diving school — you can see it in this post.)
Spa treatments are available at all hours — the resort can even send a masseuse to your room. But if you're a DIY type, there is this self foot massage from smooth white rocks.
To get to the pageant, I walked down a jungle path lit up with torches. At the entrance, I posed for photos with the Miss Scuba backdrop, and left a drawing of my Scottish Fold cat. 
My film team and I also posed for a nice souvenir: Polaroid photos to take home. (Images in this post by Eric Bergemann and Melissa Rundle.)
I went to my judge's head table, and found my place card. The other pageant judges included the mayor of Lapu-Lapu, and sáv Hospitality founder/CEO Edwin Chuang.
The sáv team did an impressive job with the stage design, lighting it up in colors with a big screen in the back.
Here come the Miss Scuba contestants! They wear sashes that indicate their hometown in the Philippines. Amazing how they can walk in those heels, and toss their heads just so.
This contest is held in English, since it's an international pageant (founded in 2011). The winner of this regional round will go onto the Miss Scuba finals in Kota Kinabulu, Malaysia on November 28.
Between the pageant segments, there were singers and performers, such as this happy number by the University of Cebu Dance Company.
So hard to give a score for each lady! There are typical sections like the swimsuit contest, but the most important criteria is how well the contestant advocates for marine conservation.
Pageants are a huge deal in the Philippines, and many young women spend a year in beauty queen training. They learn how to walk, carry themselves well, and speak eloquently — and all of them do their own hair and makeup.
In the Talent contest, their personalities come out. Some danced, some sang, some drew pictures. This contestant did a theatrical monologue, complete with evil queen cackling! 
It was fun to get to know these young ladies during my stay in Cebu. I learned a lot about their daily life and pop culture — such as their love of "chika time" or girl chatting, and karaoke. Celine Dion's "All Coming Back to Me" was stuck in my head because I heard several people bawl it out!
A quick change, for the evening-wear presentation. Everyone wore long, sparkling dresses that reflected the colors of the ocean. 
They make it look easy… but the competition takes a lot of dedication. I was impressed by their unshakable poise. (Love this lady's long blue ball gown — shop more styles like this below.)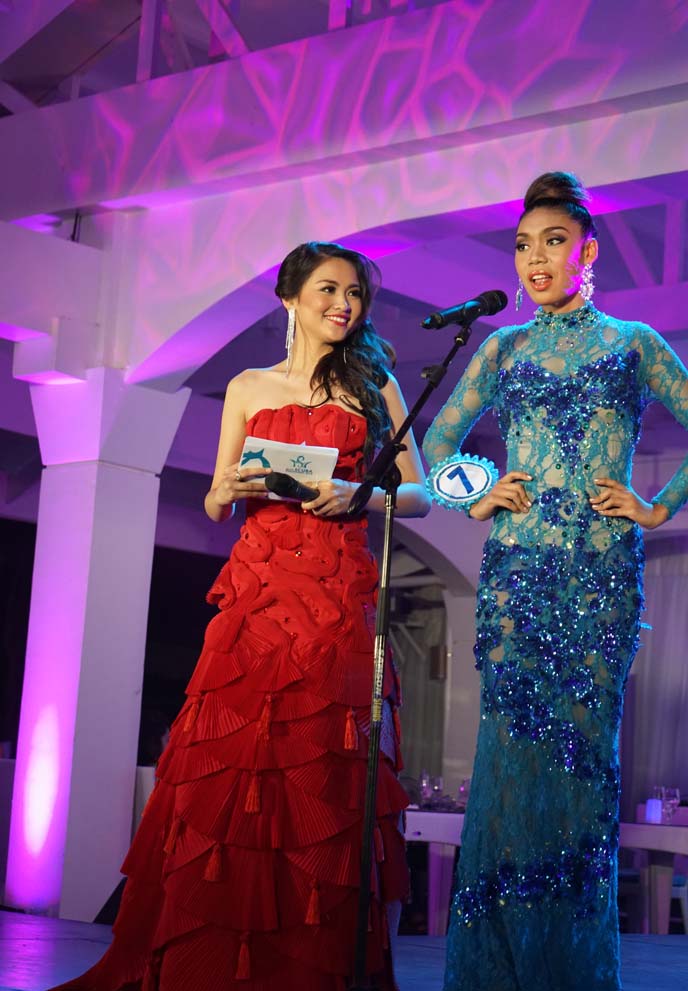 Pick an envelope, and it's time for the question and answer. Since Miss Scuba is a spokesperson for "saving oceans through beauty," they were quizzed on how they'd educate the public on marine conservation.
Cebu's "Prince of Ballad" Philip Mancol serenaded all the contestants, while I handed in my final scores to be tallied up.
Congrats to the winners of Miss Congeniality, Miss Photogenic, Bets Evening Gown and Swimsuit. They received a sash and cash prize.
Confetti rained down for Amanda Arbitrario, winner of Miss Scuba 2014! Last year's winner, Christine Paula Love Bernasor, gives her the tiara, while the mayor of Lapu-Lapu and Edwin cheer.
Amanda stands with Princess and Reygin, the second and first runner-ups. Congratulations to all!
We ended the night with cocktails at the afterparty by the beach. Fireworks exploded above us — I've never seen them from so close.
It was an honor to be a judge in Miss Scuba, a beauty pageant with the goals of protecting the planet's oceans, promoting safe diving practices, and inspiring the next generations.

Above is a selection of brands and styles featured in this post. Select the images for more details, and to shop.
Does this story make you think differently about beauty queens?
I chalked up a lot of amazing travel memories this year, from the lost city of Petra to petting owls in Japan. However, one of my absolute favorite days of 2014 was the one I'm sharing with you now.
My team and I were in the Philippines to film a video about Pacific Cebu Resort (did you see my post about this gorgeous place?) We met the mayor of Lapu-Lapu — one of the biggest cities in Cebu — and she arranged for her tourism board to take us on an island-hopping beach excursion. 
I'm all smiles before we sail away for the day. I wore Ksubi Bellatrix sunglasses from West LA Boutique. Love the anime-Goth round shape of the glasses.
There's no better backdrop for this Unif rainbow tie-dye robe, also from West LA Boutique (check out their fabulous online store, which carries brands like these). It's the perfect swimwear cover-up, with a fringe that moves in the wind. Unif also makes a rainbow tie-dye skirt and colorful sneakers.
We met our Lapu-Lapu guide, and hopped onto a boat. I walked the front plank like a pirate, and let the wind blast through my robe and hair.
(The above 5 photos are by K of Bright Production in Hong Kong. The rest of the images are by Melissa Rundle and Eric Bergemann.)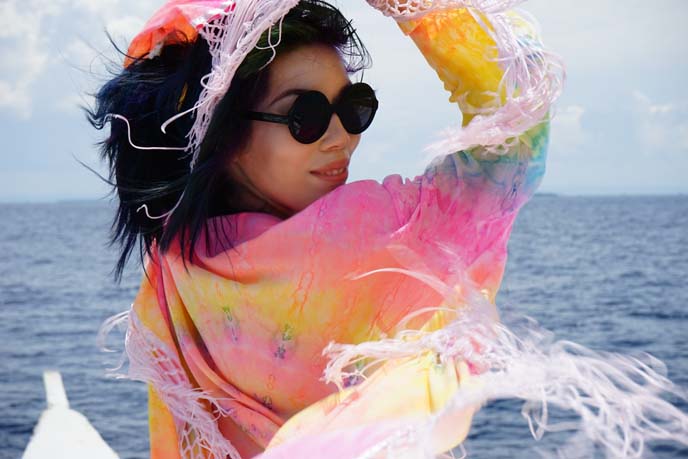 A Titanic moment, at the bow of the boat. How I love my Technicolor dream coat. 
About 30 minutes later, we docked at Caohagan Island. I couldn't believe my eyes: white sand, pristine waters, and almost no-one else there.
Travelers tend to overlook Cebu as a beach destination, which is a mistake. It's not expensive to stay in the Philippines, and you get a far more authentic experience than if you went to a place like Phuket, which is over-run with tourists.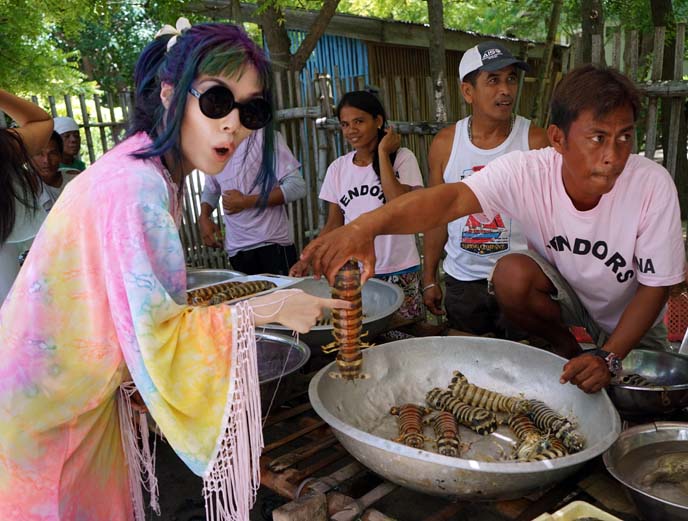 There aren't any Starbucks on this island. You pick your seafood fresh from the local vendors, and they'll cook it up for you.
What on Earth is this striped sea-creature?
It's a mantis shrimp, a lobster-like Southeast Asian crustacean. They move in a creepy-crawly way, as you can see in my Instagram video.
I find it thrilling when I come across local food that I can't recognize. Not sure exactly what type of conch and clams these are, but I'm willing to try.
Our Lapu-Lapu tourism rep took charge and ordered a selection of seafood for us to share.
While we waited for our meal to be cooked fresh, we browsed other stalls that sold handmade jewelry. The Philippines is an easy destination to visit because many locals speak English, and accept American dollars as currency. 
Black Mustache meets Rainbow Brite. Filmmaker Melissa and I waded into the calm and warm shore.
The waters are so shallow in Lapu-Lapu that you can walk between some of the islands during low tide! Here's a shot of my skeleton-print swimsuit, similar to this ribcage one in black and white.
In the reflection of Melissa's heart-shaped sunglasses (get them here), you can see the palm trees and beaches of Caohagan.
Apparently, these Japanese men are in on the secret! Cebu is not far from Japan and Hong Kong, but still, not many people think of it when they plan a vacation.
Time to chow down on seafood, lightly seasoned with Asian flavors. Crab, squid, fish, abalone, mantis shrimp, conch… I'll let the photo above speak for itself.
After, to wash off, all you need to do is jump back into the ocean. Ah, the island life!
Only a few hundred people live on this tropical isle, mostly working as fishermen and craftspeople. I enjoyed seeing how the residents of Caohagan lived.
It didn't take long to walk across the barangay (or village). We ran into a lively parade of Filipino schoolchildren! 
They all waved and smiled at us. So sweet, these school uniforms.
Aren't you tempted to climb this treehouse, camouflaged by leaves?
These children insisted on posing for photos. I must have taken a dozen snaps of them.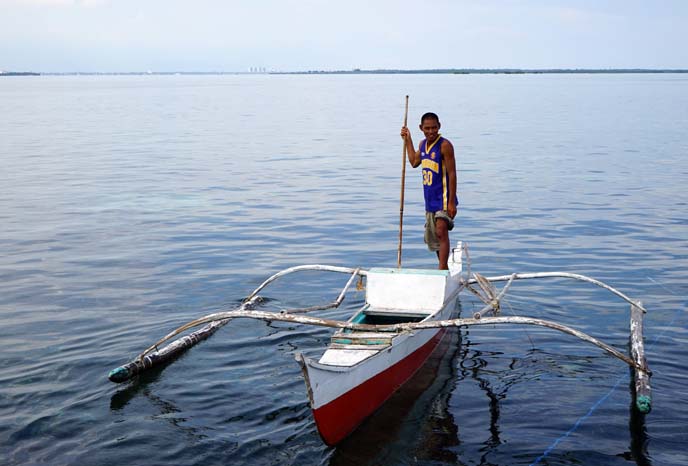 Sad that we had to leave Caohagan, but there were more islands to explore. Since the waters were so shallow, we had to ride this little "jukung" in order to board the larger "banca," or pump boat.
By now, I'm sure you see why this Lapu Lapu adventure was one of my favorites this year.
Cebu's weather is humid, and I was glad to cool off during the boat ride.
We arrived at Nalusuan Island, a resort and marine sanctuary. Located in the Olango Reef, these waters are rich with sea life.
Case in point: this is what the sea floor looked like, from the pier. How many starfish can you count? 
Sipping a fresh coconut in the Philippines, under waving palm trees. If this doesn't convince you to come here, I don't know what will.
Cebu has it all. Marine diversity, snorkel and scuba, white beaches, clear waters, an intriguing culture, flavorful local food… and at much lower prices than Bali or Bangkok. 
As I mentioned before, I have some eye and skin sensitivities that make activities like snorkeling impossible. Melissa and I stayed on shore and threw fish food at Eric, and he filmed them splashing around.
He used a Go Pro underwater camera to capture the experience of snorkeling. We're excited to show you the fish in action, when we release our travel video.
Huge smiles for Lapu-Lapu — what a perfect day! None of this would have been possible without the sáv Hospitality team, which brought us to Pacific Cebu Resort.
How do you like my rainbow Gothic beachwear? Were you as surprised by Cebu as I was?