Category Archive for
Portugal
Happy New Year! Before we jump into 2016, let's wrap up the second half of my "Year in Review" — which included journeys to Morocco, Cambodia, Vietnam and Portugal.
This year, I was fortunate to work with a number of travel partners that made these trips possible. I'll give you a deeper look at how these blogging projects come together (case studies, if you will). Hopefully this sheds some light into the way we team up on projects around the world.
The downside of being a road warrior is that you can't spend as much time with your pets…
But my Scottish Fold cat had his own adventure this summer. He went on a stuffed toy tour of Poland, with Panda Tours. (Here's the full story.)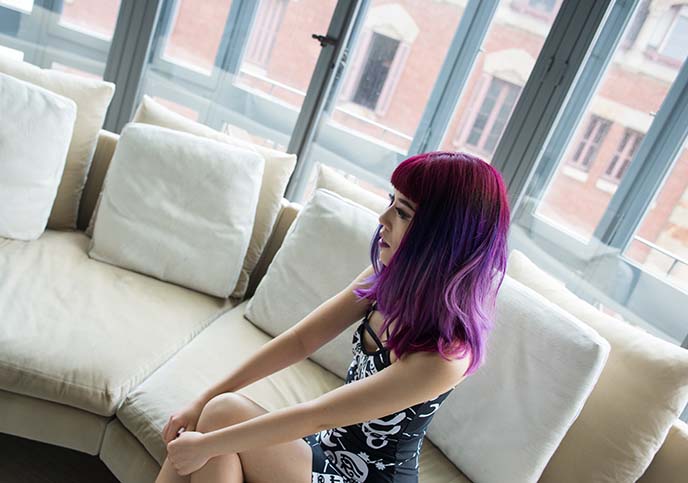 Meanwhile, my film team and I went on a long and slightly grueling trip throughout Spain, Morocco and Portugal.
Since we aren't on the road full time, we try to combine as many destinations, partners and projects into a two or three-week leg. This way, we can keep flights to a minimum and capture a lot of content, in a limited amount of time. Then, we can go home and work on this material for you, in various formats (videos, travel stories, photos).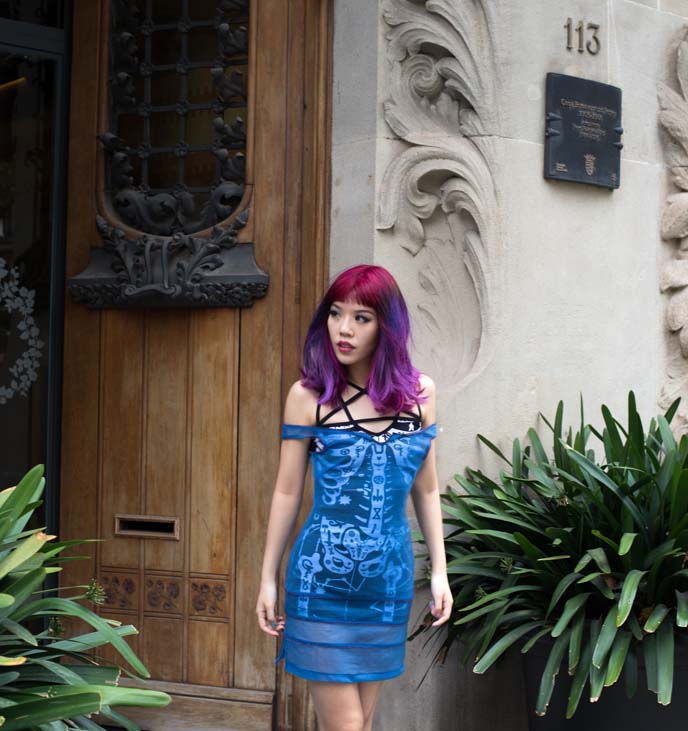 For our Southern Europe journey, we partnered with Spain Tourism Board, Portugal Tourism, and Eurail (riding between the cities on their rail passes). We also stayed with hotels like the art nouveau El Palauet Barcelona (here are all the photos).
We'll only ever team up with partners that are a natural fit with our niche (artistic, creative, offbeat travels). It's a delicate balance, and we turn down a lot of offers. At the end of the day, our primary mission is to capture worldwide stories that otherwise wouldn't get a voice — such as punk rock artists in Iceland, and women running collective businesses in Morocco.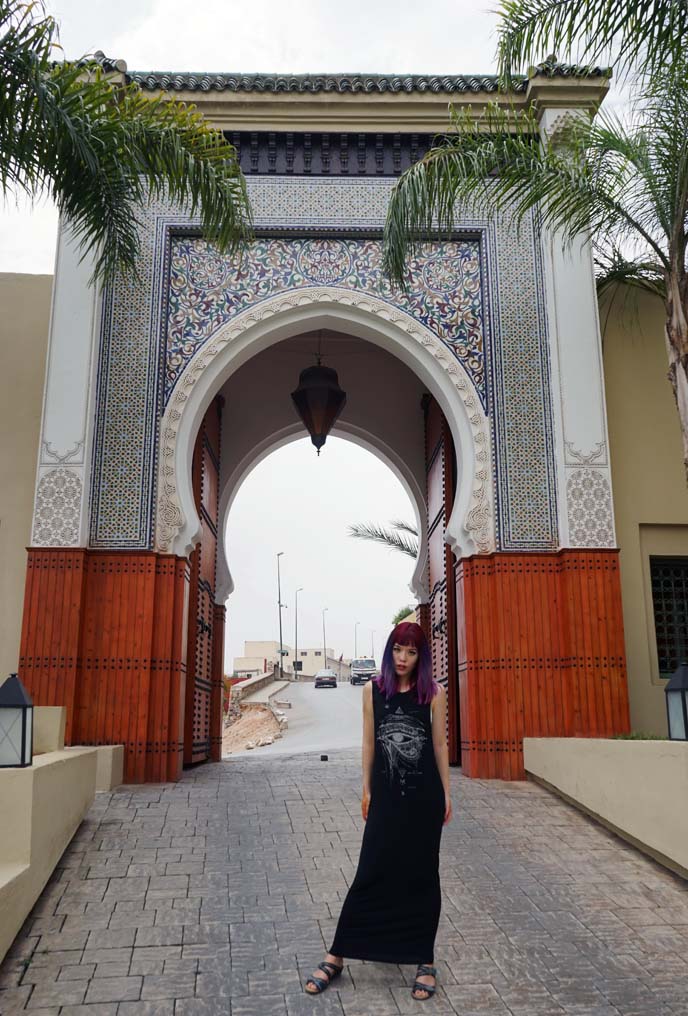 A perfect example: We worked with Plan-It Fez Tours for our Morocco journey (driving from Tangier to Fez, Marrakesh, Essaouira). Thanks to their translation and expertise, we were able to stay in Berber villages and interview locals. 
We were happy to get the word out Plan-It Fez, since their approach was exactly in line with ours (and we wholeheartedly recommend their tours for travelers to Morocco). With their support, we were able to dive right into the culture — such as by taking a henna workshop with ladies of all generations.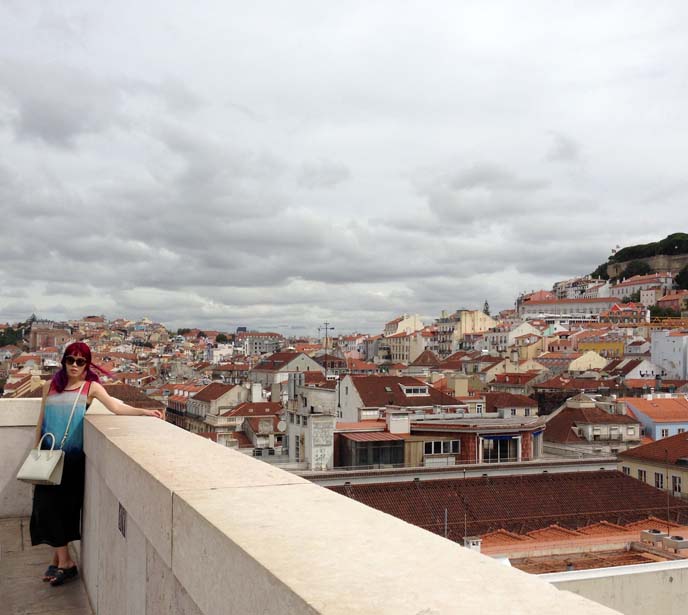 As I mentioned, we try to visit multiple destinations in one go. From Marrakesh, we flew to Lisbon and took the train to Porto.
When tourism boards assist us (with a driver, accommodations, meals etc), we can cover more ground in a short period, without stressing about the logistics of getting around. Keep in mind that we aren't traveling as tourists for leisure, but have work responsibilities — so we can't just show up somewhere and "wing it."
I haven't gotten around to sharing all my stories from Portugal yet, but they're coming up… and this country is now one of my favorites in all of Europe!
I also frequently travel for television hosting jobs, especially in Asia. In spring, I was in Tokyo for a Travel Channel shoot. Later that summer, I was flown to Hong Kong for a major US network TV project. As usual, I must keep mum until it comes out… and it can take a while.
For example, I filmed with German TV in Hong Kong last year, and didn't get to post the clip until recently (watch me on Inside TV with Palina Rojinski).
While in Hong Kong, I also did a dark fashion photoshoot with my friends. I also collaborated with a new pet supplies company called Pet Sensei, which has Basil as its mascot! (All the details and modeling images here).
When I have time off in Hong Kong, I take the opportunity to find cute shops and cafes to share with you. One of my most popular articles last year was about the Hello Kitty Chinese dim sum restaurant, and it's no surprise why.
Hanoi is only a two-hour flight from Hong Kong… say yes to an adventure, always! This time, I collaborated with Vietnam Food Tour. Similar to Morocco, I was able to have an immersive, foodie experience thanks to the help of these local experts.
From making spring rolls with a village grandma, to interviewing tattoo artists in Hanoi, Vietnam surpassed all my expectations. (Read all my Vietnam travel posts here.)
We made a casual video about these Vietnamese adventures — watch it above, for pirate shenanigans!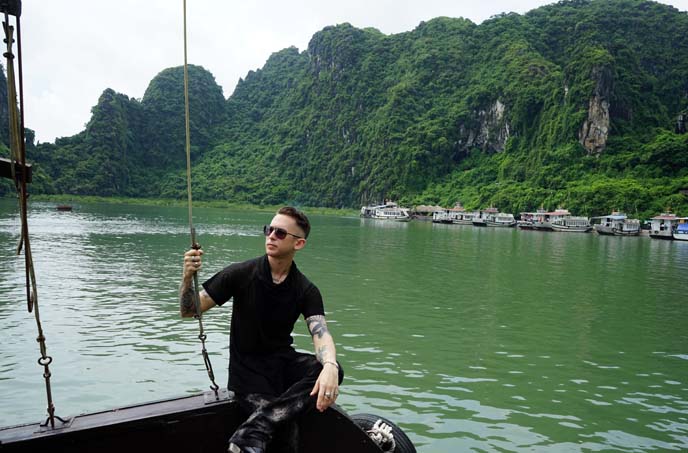 You've probably noticed that I travel with different people (who help me with the photography and videos). Who accompanies me?
It depends on the job, location and availability, but I'm always around friends — which makes these trips all the more fun.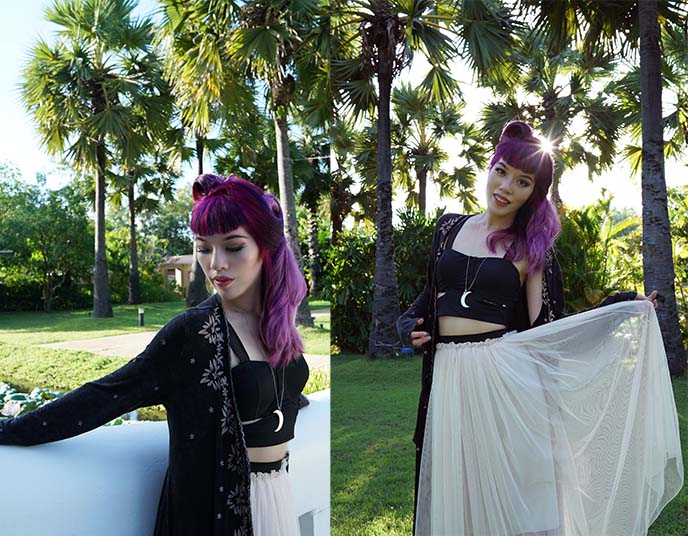 I wrapped up 2015 with a journey to Cambodia, thanks to my long-time flight colleagues HK Express.
I felt at peace in Siem Reap as soon as I arrived. One of my favorite outfit shoots of the year was this one, at Le Meridien hotel (another partner that shares our artistic leanings). Soon, I'll share a video from our Cambodian travels.
It was unthinkable — even a few years ago — that I'd be able to see such incredible places around the world, with my own eyes. The sunrise at Angkor Wat temple was one of the magic moments of 2015, and I'm excited for what 2016 holds.
If my 2015 was all about travel, then what will be the word for 2016? Technology. I have to keep my current project secret for now, but it's happening — and I'll share the news with you as it unfolds.
Sending you all the best for 2016. Be bold, take a leap, live life according your terms… and let this be the most extraordinary year yet!
And don't forget, you can take part in my current travels in Tulum, Mexico on my social networks @lacarmina: Snapchat, Instagram, Twitter, Vine, YouTube, Facebook. 
I finally visited Lisbon, Portugal… and kicked myself for not doing so sooner! I loved the city so much that it's now one of my top three favorites in all of Western Europe.
Portugal tends to be overlooked when people travel to Europe. (I've been guilty of skipping it over, in favor of places like Italy and Croatia).
Little did I know that Lisbon is exactly my type of travel experience: not expensive or touristy, lots of cool neighborhoods and street art, and top-notch food — including the best sardines I've eaten.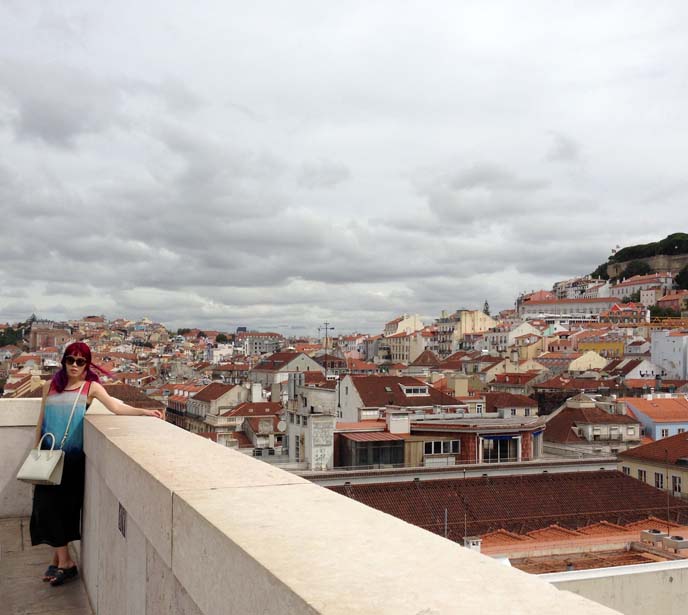 As always, I like to highlight the young, hip, alternative attractions in any city. Visit Lisbon helped us put together the perfectly-tailored itinerary, and supported us as we explored Lisboa for the first time.
We asked them, "Why do travellers go to other countries ahead of Portugal, or treat it as an add-on leg?"
There's no simple answer. Perhaps Lisbon lacks a world-famous landmark like the Eiffel Tower or Colosseum that tends to draw in tourists. Many are also unfamiliar with Portuguese culture, history, food and attractions.
All this is an advantage for travelers like us, who seek out alternative experiences. It was also a breeze to get to Portugal from Spain: we rode over on our Eurail train passes (which let us ride the rails in 28 European countries).
First impression: it's so beautiful here. No filter needed, for these clear blue skies and fluffy white clouds.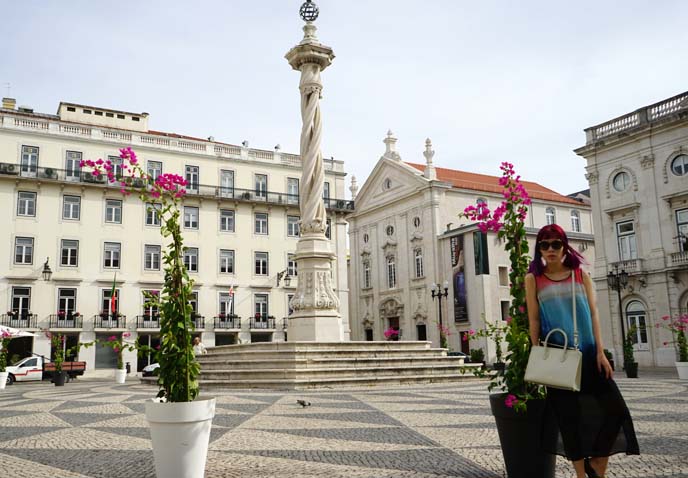 We couldn't stop taking photos of the classic architecture. Municipio Square is one of the many pristine public courtyards we passed.
(I'm wearing a white tote purse by Strathberry of Scotland. The modern minimal style and luxury leather got a lot of compliments. My bag's magnet closure, with an additional bar that goes over the handle, also keeps possessions safe while I'm traveling.)
Everyone we met was so kind. Our driver and guide, Mario, acted as our bodyguard while we filmed on top of the Rua Augusta Arch (Arco Triunfal da Rua Augusta).
Located on the main Commerce Square, the triumphal arch commemorates the rebuilding of Lisbon after a devastating earthquake in 1755. At the top, a female statue of Glory spreads her arms, and a lion rests by her side.
(In a later post, I'll show you how the Rua Augusta got lit up in a digital light projection!)
From up here, we could see the classic red rooftops and ocean under dramatic skies. Behind me is Lisbon Cathedral, the oldest church in the city.
We ran into another lion at the Palácio de São Bento (St Benedict's Palace), home of the Portuguese parliament.
We  were intrigued by the vivacious street art and murals, peeking out from behind 18th century buildings. There's a sense of energy in Lisbon, and we were determined to see more of it.
In the hip Bairro Alto district, we attempted to find Park restaurant — a secret hangout located in an unassuming car park! There are no signs advertising it, and the lot looks like a regular parkade. However if you ride the elevator up, and walk up another floor surrounded by graffiti, you'll wind up in a hidden bar / cafe with outstanding views of Lisbon. 
Park address: Calçada do Combro, 58 1200-115 Lisbon
You can sit on the terrace with the hipster crowd, and take in this 180 degree scene of Lisbon from up high.
Tip: When traveling in Europe, eat your fill of soft cheese, local wines, and breads — since these are usually not imported out of the country. European bread also tends to be made with high quality grains that don't cause trouble for people who regularly must eat gluten-free.
At Park, all of the above were extraordinary, and at lower prices than in neighboring countries. (Above — I'm still dreaming of this cheese plate with pumpkin jam…)
Lisbon felt a lot like San Francisco, with streetcars over rolling hills, brightly painted houses, and even a Golden Gate bridge!
This is actually the "25 de Abril Bridge" spanning the Tagus river. It's named in honor of the Carnation Revolution, the 1974 peaceful civil resistance that overthrew the Estado Novo regime.
Lisbon's artistic vibe followed us everywhere we went — even to our rooms at LX Boutique Hotel in Bairro Alto. The wall above my bed had a mural of Portuguese guitars, which are twelve-strings with a round body. These accompany the singers of Fado, the melancholic musical genre.
We were big fans of LX, a luxury boutique hotel with a lot of personal touches: including funky art displays, free egg tarts and Ginjinha cherry liqueur in the lobby, and a fusion sushi restaurant. (Book a room at LX, found at R. Alecrim 12, 1200-017 Lisboa, Portugal)
The same type of spirit is omnipresent at LX Factory, a former industrial corner that is now home to design shops, cute eateries, and creative studios. 
(Address: Rua Rodrigues de Faria, 103, Alcântara, Lisbon)
In 1845, a fabric and thread factory opened up in this area on the outskirts of Lisbon (Alcantara). It became a manufacturing hub that was later abandoned.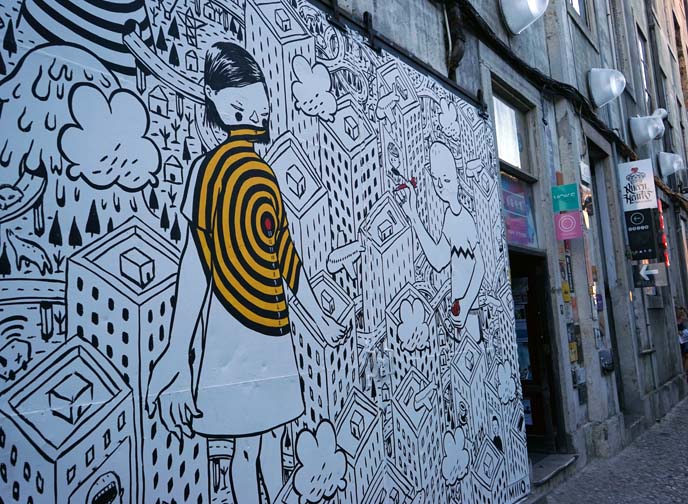 Now, the space has been transformed into a playground for Portuguese artists. Many of the walls are covered in eye-catching modern works.
We ducked into the various art studios and interior design shops, including one that sold handmade furniture for kids. LX Factory also has restaurants with outdoor seating areas — our guide Mario recommend the sushi parlor.
I enjoyed seeing how "ugly" old industrial structures were transformed into bright, edgy works of art.
At Ler Devagar bookstore, I found novels and treatises in all languages. The big warehouse-like interior is my idea of book heaven.
Can you spot the skull? LX Factory is packed with creativity, and I hope you'll make the trip to see it.
What are some other hipster areas to explore? Bairro Alto, and Cais do Sodre. My team and I could have spent days browsing the artisan stores, such as a wax candle shop that looked like a cathedral. (Photos by Borderless Media)
Everyone knows about the joys of Italian and Spanish food… and we discovered that Portuguese cuisine is right up there. We loved the fresh seafood — there's outstanding sushi here — and tasted a variety of local dishes at the Mercado da Ribeira market (I'll show you in an upcoming post).
Some must-eats: the famous egg custard tarts, sushi / seafood, black rice…
… and above all, sardines! These are essentially a food group for me — I eat these little fishies all the time at home, and they're full of healthy oils and minerals.
You can imagine my excitement at visiting Lisbon sardine shops, and seeing rows of tins with cat-faces. One of the historic ones is Conserveira De Lisboa (Rua dos Bacalhoeiros 34).
I bought so many sardines, in various rainbow packaging. The shops also sell other canned fish, such as mackerel.
Sardines are so famous in Portugal that they're considered a national icon. Many souvenir shops had sardine products for sale.
Finally, fashion. At Embaixada LX, we found boutiques by indie Portuguese designers inside a centuries-old building. It's wonderful how Europe can preserve and transform architecture in this way.
(Address: Praça do Príncipe Real 26, 1250-184 Lisboa, Portugal)
These concept stores sit inside a Moorish-style building built in 1857.
There's a dramatic double staircase, an Arabic courtyard and stained glass windows.
The stores flowed into each other: toys, swimwear, home goods. All of the works are by local designers, and ranged from silky caftans to quirky lamps. 
Embaixada shopping center is yet another example of Lisbon's cool, quirky charm. Visiting the city was a breath of fresh air, and I wish I had come sooner to experience it.
Obrigado to Eurail and Visit Lisbon for making our Portugal adventures possible. (We learned that the Japanese word for thank you, "arigato," is derived from the Portuguese one!) For more architectural inspiration, check out these modern Japanese houses.
We stayed at LX Boutique Hotel and fully recommend it for its value, hip atmosphere and location.
I hope this post opens your eyes to Lisbon, and that you'll include the city in your itinerary when you come to Europe.
What do you think of the contemporary art, food and fashion found in Lisboa?