Category Archive for
Press
Here we are again… looking over our sunglasses at the year that was!
Can't believe it is time again for the annual blogging Year in Review. In the past 12 months,  I made it to some of my dream destinations and landmarks. These include India (Taj Mahal), Romania (Dracula's Castle), Switzerland (HR Giger museum and bar) … and we mustn't forget our pilgrimage to the Amsterdam Miffy store!
Enjoy this 2017 flashback, which includes previously unreleased outfit photos. (Above, I'm wearing Iron Fist in Athens, Greece. Click to shop more from this brand here, and below.)

But before the retrospective… let's look ahead to my upcoming travels in January 2018. Can't wait to escape the winter by heading to three new countries: Cuba, Panama, and Dominican Republic!
I'll be spitting time between relaxing on Caribbean beaches, and investigating the local culture. Get ready for stories about Havana vintage cars and Santeria rituals. As always, if you have travel tips for me (Havana, Punta Cana, Santo Domingo, Panama City), please leave me a comment or message.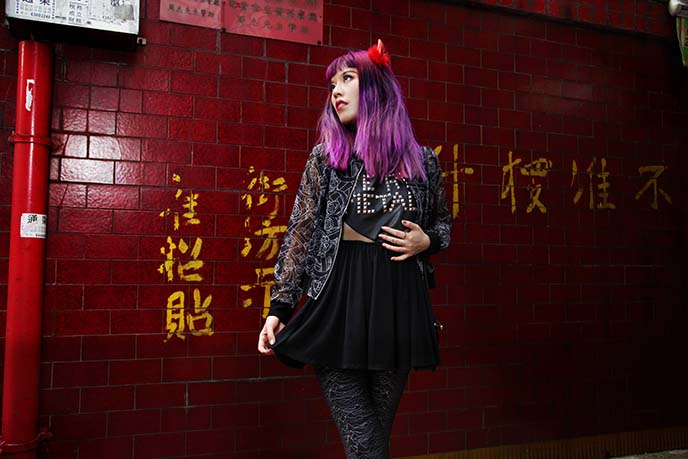 2017 was a meaningful year, as it was my 10th anniversary of blogging! I can't believe I've been at this for a decade now.
We've come a long way since the site's original focus on Japan and Gothic Lolita. In fact, I didn't step foot in Tokyo at all this year. Although I adore Japan and still get inspired by every visit, the subculture scene isn't what it used to be.
But there's a whole world out there to discover. This past year, I continued to partner with travel companies and tourism boards, which let me visit new destinations worldwide (including off-the-beaten-path places like Romania, above).
Crazy enough, I've been to over 60 countries by now. Still pinching myself that blogs and the Internet have let me live this life.
Other milestones include being interviewed for the BBC's radio documentary about Goths, and winning the Best Blogger of the Year award from Auxiliary (as well as being on their magazine cover). Once again, a huge thank you to all of you who voted for me, and for your continuous support. Every comment, share and like makes a difference to me.
At the start of 2017, my friends and I were saddened to say farewell to Rose, who had long been fighting gastroparesis and complications brought on by undiagnosed Lyme disease. Many of you got to know Rose through our early adventures on this blog, and her spirit made an impact on everyone she met.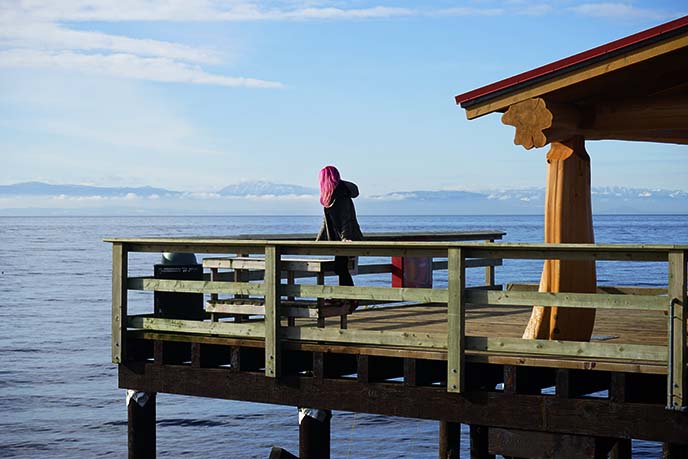 There's a tribute to Rose here, which includes our boat trip to Sechelt, BC for her last hurrah.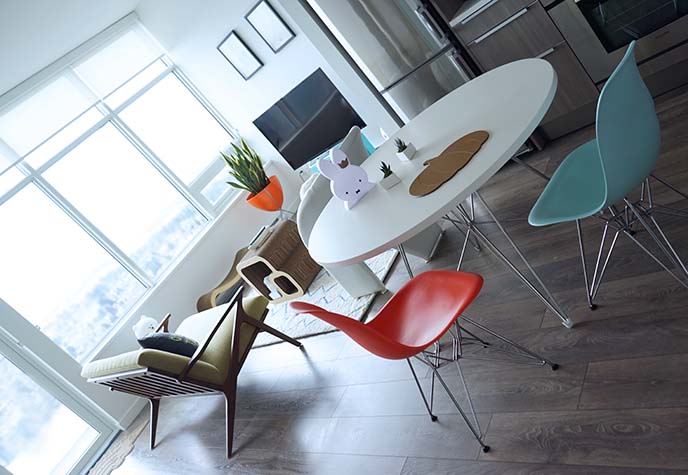 I finally hunkered down and completed my apartment decor project, which I unveiled in my house tour. I was happy to hear your kind feedback on my interior design, which is inspired by Zen minimalism, mid-century modern and kawaii. (And yes, it's always this clean and sparse… death to clutter!)
Since I'm a Miffy fan, I included a lot of the minimal Dutch bunny in my apartment. It was fitting that my next was to her home country…
The Netherlands! It was great to return to Amsterdam after many years, thanks to an invitation from the tourism bureau. I had come here over 10 years ago, but when I was a less experienced traveler, I stuck to the tourist landmarks.
This time around, I sought out the artistic, off-the-beaten-path districts including Noord (above, the EBM music A'Dam tower) and De Pijp. I also made it to the Miffy / Nijntje store, and Mr. Maria's lamp studio. If you missed these Holland blog posts, find them here.
And then… Acropolis Now. I partnered with Visit Greece to showcase both the ancient and modern sides of Athens. This photo by Joey Wong is one of my favorites from this trip, since it captures the "Athena the Greek goddess" feeling of being here.
After, it was time for some sunshine in Santorini, Greece. There's nothing like staying in a classic white villa, with a private swimming pool and patio.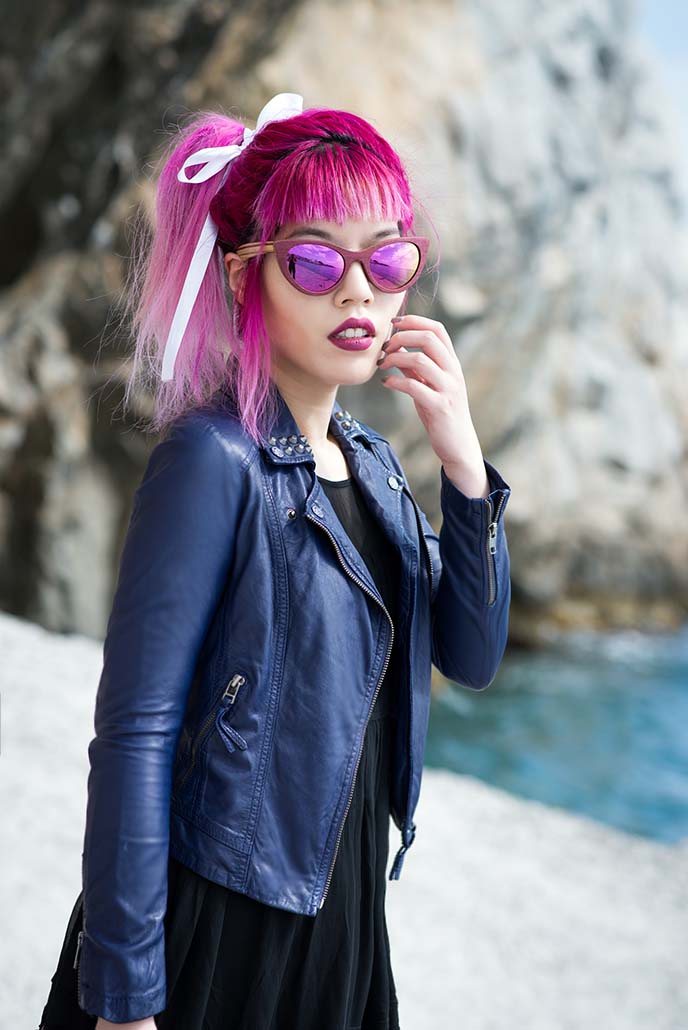 We went sailing around the islands, and witnessed the magnificent sunset in Oia. I wore blue to match the waves at Perissa Beach in Santorini.
(Catch up on all my Greece travel articles here.)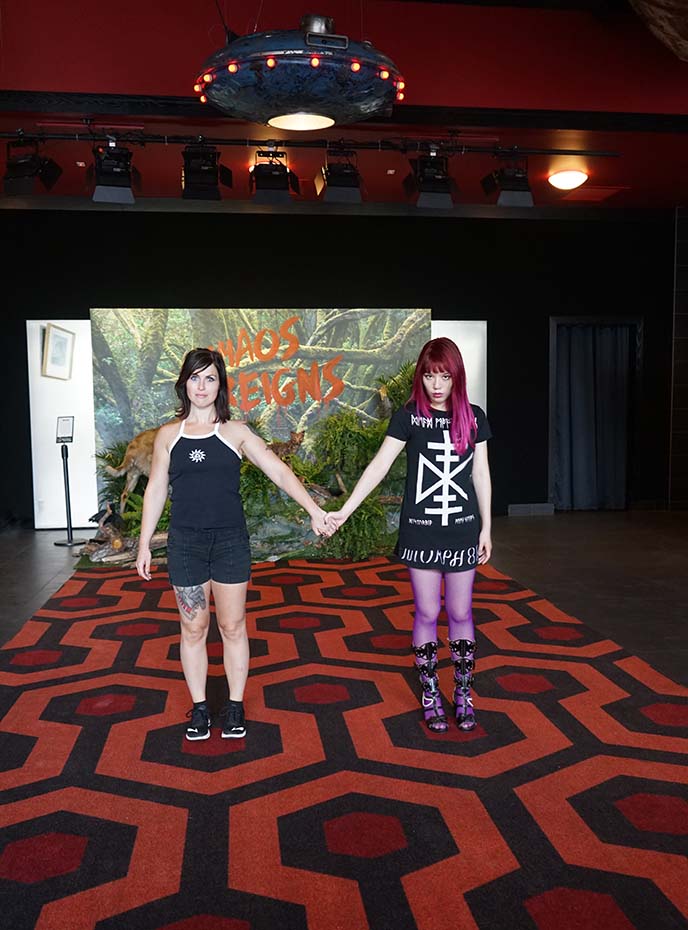 This year, I had the good fortune of meeting up with friends from over the years, in various places. I made it to Austin, Texas for the first time — I was keen to check out the alternative sights in Texas' most liberal city.  "Weird Austin" did not disappoint, with gems like Satanic karaoke and floppy disk bars.
Yukiro and I had long dreamed of making a "Passage to India." This summer, we toured Delhi and Rajasthan in style (would you expect anything less from us?)  Seeing the Taj Mahal was one of my favorite memories of the past year.
India is an onslaught for the senses, and we adored it. We got to meet hijira (the third recognized gender in India), dress in saris for the first time, see cremations on the banks of the Ganges, and take care of elephants at an ethical sanctuary in Jaipur.
All these stories can be found here, under the India category.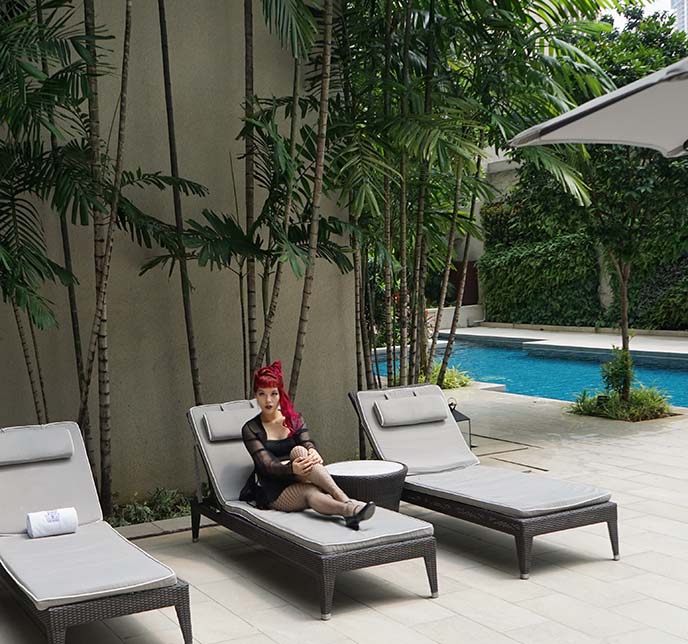 Yukiro and I also journeyed to Kuala Lumpur, Malaysia (crazy that I've been to most countries in Asia by now). Can't complain about the pool and spa at the Ritz-Carlton KL.
We also enjoyed sipping dragonfruit cocktails and drawing pentagrams in the sand, in Langkawi Malaysia. All our adventures in Malaysia are compiled here.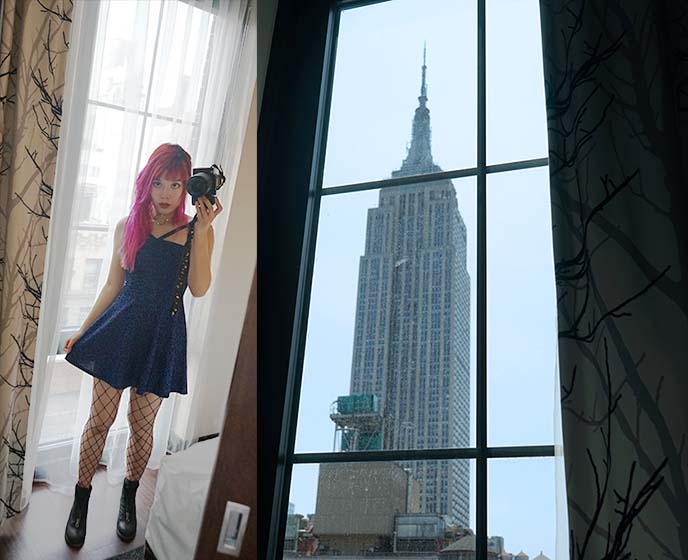 I ended up spending more time in the US this year. It's always fun to return to NYC… 
… and see the Magic Gardens and Mutter Museum in Philadelphia, Pennsylvania.
Right before Halloween, I was invited to Experience Bucharest, Romania (click for all stories). The land of Dracula and vampire lore was on my bucket list — and it was as dark and delicious as I hoped! (Above, I'm wearing Moitie and Peace Now inside Bellu Cemetery).
It was an honor to speak at the event for travel bloggers, influencers and media / tourism.
2017 was one hell of a year for Halloween. I reunited with friends in London, England; we haunted Highgate, saw The Exorcist play at the West End, and made an obligatory pit-stop at Cyberdog in Camden Market (above).
As an Alien fan, I couldn't resist making a side-trip to Switzerland… to see the H.R. Giger bar and museum in Gruyeres! I haven't released these photos yet, but above is a synthwave space-jacket outfit from Montreux.
I leave you with some bonus Xmas /  holiday snaps from last year in Hong Kong. I bit into Frosty and Rudolph at Yum Cha, the cute dim sum restaurant.
At Yum Cha cafe in Hong Kong, you can order smiley-faced animal buns and other adorable "kawaii" decorated food.
And how cute are these Chinese Hello Kitty plush dolls, which look like daruma? These round, lucky figures are objects for goal-setting — a great way to prime yourself for the New Year.
Here's to a soaring, successful 2018! Let's all dream big, and make it happen in 2018.
As for me, I'm getting ready to fly to Havana Cuba, Panama and Dominican Republic! Let me know if you have travel tips for these places. I've also updated my Travel Destinations page (everything is listed by region and country). You can easily find all my travel guides / stories about each place I visited, such as Japan, Korea, Morocco, Iceland, Vietnam.
Leaving you with a bonus holiday outfit remix. The top is Morph8ne, skirt Long Clothing, and shoes Swear London (you can customize every aspect of their footwear).
More by Morph8ne Clothing below, or click here to shop.

What were your favorite moments of 2017? Despite what my Long Clothing sweatshirt says… let's make it a happy New Year!
This little vampire had the best Halloween ever. I got to visit the ultimate Gothic destination… Bucharest, Romania! 
Since I was a teen, I imagined myself haunting Romania's cemeteries. This dream became reality, thanks to the hard-working team at Experience Bucharest — who invited me to speak at their October 2017 travel and tourism conference.
Over the course of several days, I got to meet dozens of fellow travel bloggers, influencers and industry professionals. We experienced the best of Bucharest through immersive activities (and some stayed on to see more parts of the country with Experience Romania).
Needless to say, I had the time of my life. I'm so excited to share these stories from the land of Transylvania –– starting with a waltz through Bellu Cemetery in my Japanese vampire cape. (All photography by Joey Wong.)
For a long time, Romania has been an overlooked destination. However, the tide is turning thanks to Experience Bucharest / Experience Romania, the largest independent project to promote tourism in this fascinating country. The passionate team of volunteers invited 100 top travel bloggers, vloggers, digital influencers and media to discover Bucharest's many attractions, as well as take part in a day-long conference.
Above, I'm with Tudor Maxim (founder and one of the chief organizers) and Jeanette Ceja (travel TV reporter and expert), who spoke on the social media panel along with me.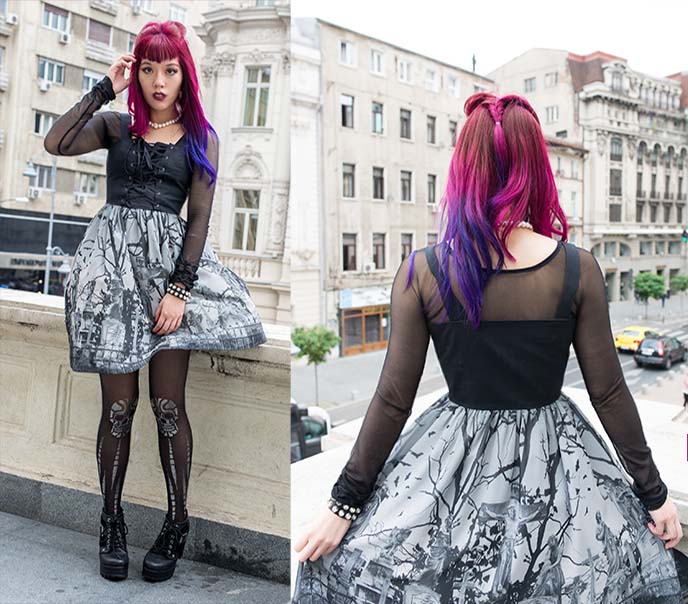 The conference took place at the Novotel Hotel Bucharest, which also hosted my stay. It's located by Old Town, with a balcony that had this lovely view of the city's classic architecture.
Hair: My new purple/red/blue ombre haircolor is by Chad Evans at Stratosphere Salon in Vancouver, Canada. He cut my bangs into a vampire V, and did a fishtail braid in the back. So happy with this new hairstyle!
Outfit details: I wore Gal Stern tights with a silver skull pattern, Alex Streeter pearl necklace, Sleevey Wonders sheer sleeves, and a Moi-meme-Moitie graveyard dress (designed by Japan's Elegant Goth Lolita icon, Mana of the bands Moi-dix-Mois and Malice Mizer).
I spoke at the "The Future of Tourism in Romania" conference, which  brought together travel professionals from all around the world. This Eastern European country has modernized and opened up to visitors especially since 2007, when it joined the EU.
The local tourism organizers first shared success stories of tourism in Romania, highlighting the increasing interest of travelers in Sibiu (historical city in Transylvania), Mamaia (beach and resort destination on the Black Sea), Bucovina (scenic historic region on the slopes of the Carpathian mountains) and other areas.
Next, I stepped onto the Experience Romania stage to speak about "Best international practices in tourism and social media." I was a speaker on this social media panel along with leading travel Instagrammers Altug Galip and Laiza Souza, and Jeanette Ceja who comes from a journalism background.
For about an hour, we answered questions from the audience and shared personal advice on topics related to travel, digital media, press trips, sponsorships and tourism trends. It was fantastic to hear everyone's perspectives from their various backgrounds, and have a conversation with an audience of hundreds who are passionate about traveling. 
I put together a few clips of my Q&A answers during the travel blogger panel. You can see the video above and here.
Many thanks to the Travel Massive Romania volunteers and local businesses for welcoming us bloggers, and showing us the best of Bucharest!
We got to go on walking tours of the city, try various restaurants… I'll be showing you much more of my explorations soon.
I wore Gal Stern tights, Alex Streeter accessories, Sleevey Wonders under-sleeves and a Moi-meme-moitie dress (the wind gave my skirt and hair a boost!).
More photos of this look at the end of this post, but first…
Is there any better place to wear a vampire cape… than in the land of Dracula?
I transformed into a bat and flew to Bellu Cemetery (part of the Bucharest Urban Adventures "Darkside Tour"). This graveyard, officially known as Șerban Vodă, is the largest and most celebrated one in the city.
Bellu Cemetery was particularly atmospheric during Halloween season, with autumn leaves on the dramatic coffins.
Address and access: Șoseaua Olteniței 3-5, București, Romania. If you're traveling by subway, get off at the Eroii Revolutiei metro stop (two stops from Universitate Station in Old Town). Entry is free, and the graveyard is open daily from 10 am to 8 pm.
I got to live out my Dracula fantasies in this photoshoot, surrounded by wooden stakes and dark tombstones. 
Outfit details: I'm wearing my Black Peace Now designer cape from Japan, and a Moi-même-Moitié dress. 
The cemetery is located on a 54-acre plot of land, donated by Baron Barbu Bellu (hence the name). Many of the graves date back to the 1850s, when the Romanian graveyard was founded.
My friends and I enjoyed strolling through the many rows of tombstones, some with interesting and eerie statues.
We came across a memorial to someone named Putin, featuring two Sphinx-women carrying a globe on their backs. (Edit – actually, this actually translates to 'a little' and has a spiritism spooky story associated with it… see the first comment at the bottom for the history.) On the right, I half-expected a vampire to rise out of this thorny black coffin!
Many famous Romanians lie beneath the soil including writers, gymnasts and astronomers. Two of the most famous residents are the national poet Mihai Eminescu, and playwright / humorist Ion Luca Caragiale.
Count Dracula may have been imagined by Ireland's Bram Stoker, but Romanians have long-established legends about the dead rising from the grave. According to the local folklore, these "strigoi" crave fresh blood and can transform into other animals, as well as turn humans into ghouls.
Nosferatu vibes… When you're standing in Bellu Cemetery, it's easy to understand why Romanian vampire legends have captured the imagination of millions worldwide.
I love seeing how nature enhances the beauty of the chains and crosses. The leaves add a splash of blood-red to these resting grounds.
When night falls, who knows what might rise from these coffins?
(Of course, I also visited Bran Castle in Transylvania, associated with Vlad the Impaler… there's a giant article to come out soon about it.)
Even if you aren't captivated by vampire stories, you should spend time wandering in Bellu Cemetery. The local history, art and architecture are fascinating to behold here.
My V-bangs haircut and Black Peace Now cape helped me get into the spooky spirit. Bucharest's graveyard is truly a Goth dream.
We saw several cats living among the dead. (Dracula's fellow creatures of the night.)
Vampira vibes, in front of one of the largest and most elaborate mausoleums in Bellu graveyard. It belongs to Gheorghe Grigore Cantacuzino, a 19th century Romanian politician and lawyer.
Such a pleasure to tour this necropolis with my Romanian Gothic friends, Beatrice and Alex.
In love with the historic architecture and dark decay of the mausoleums.
Most of the burial ground is Eastern Orthodox, with well-tended graves topped with crucifixes and angel statues.
"Out of what crypt they crawl, I cannot tell / But every night I see the rubbery things / Black, horned, and slender, with membraneous wings / And tails that bear the bifid barb of hell." – H.P. Lovecraft, "Night-Gaunts."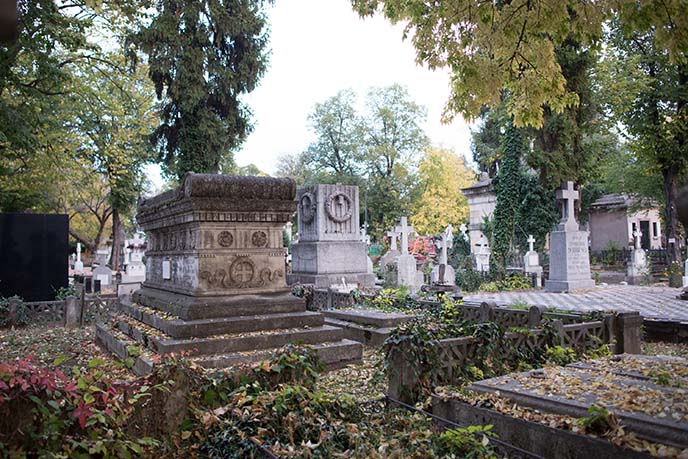 This photospeaks for itself… Bucharest's Bellu Cemetery is one of the most beautiful I've visited.
You can come here on your own, or join the Bucharest Urban Adventures Dark Side walking tour. It also takes you to other eerie parts of the city, including a serial killer's alleyway and bloody buildings from the Communist era.
"To walk with me you must die to your breathing life and be reborn to mine." – Count Dracula in Bram Stoker's novel
Bellu Graveyard is tended by citizens, rather than the government. Many locals come here to leave flowers and offerings, and maintain the tombs in good condition.
Although this is a huge plot of land at 54 acres, the graveyard has been filled up over the past century and half. The paths between the rows are narrow, which make you feel close to the dead (or undead?)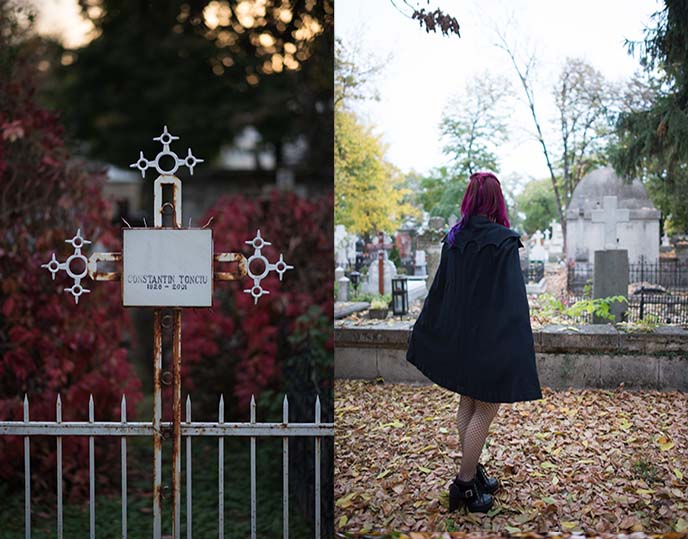 As you can see, Bucharest was everything this Goth girl imagined it to be… and far more.
I'm very grateful to the Experience Bucharest family for bringing me to their hometown, and having me take part in the conference's 2nd Edition! (Above, with the lovely Anda Maxim who worked hard on the program, along with the other team members.)
Some of the invited bloggers stayed for an extra two weeks, and toured all around the country with Experience Romania. I'll have to return soon to see more.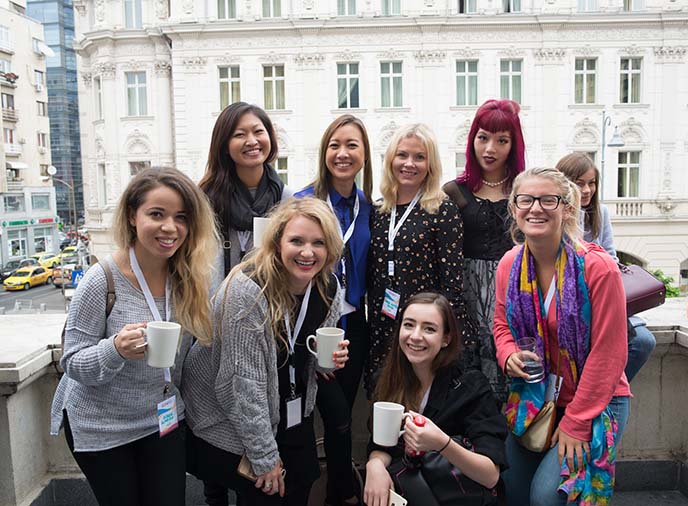 One my favorite parts of Experience Bucharest? Meeting dozens of fabulous travel storytellers, each with a unique niche and medium. (Facebook Live, LGBT, comedy videos, history blogs, desserts, you name it).
We hit it off with our shared love of travel; it's such a joy to connect with others who walk a similar path. I left feeling inspired, and am sure I'll meet up with many of these new friends somewhere in the world.
I leave you with some close-ups of my jewelry. My Morbid Debutante white skull and pearls necklace is by Alex Streeter (who created the pentagram Angel Heart ring, most recently worn by Marilyn Manson on the cover of several music magazines).
My vampire nails were bloody perfect for the occasion. Dripping blood, bats, Dracula, fangs, coffins and skulls, rendered by hand in unbelievable detail.
As always, these gel nails are the work of Keiko Matsui at Glam Nail Studio in Vancouver. You can see a close-up of the nail art here on my Instagram, and I'll post more images soon. (My bracelet cuff is vintage Yohji Yamamoto.)
So thankful to Experience Romania / Bucharest for having me come to give a talk on the social media panel, and capture these stories and photos for you. (All photography by Joey Wong.)
"Listen to them, the children of the night. What music they make!" – Bram Stoker's "Dracula"
This is only the first bite of Bucharest. Many more travel tales to come, including a visit to Bran Castle, and alternative street art tour. 
What are your impressions of Romania so far? Have you ever thought of visiting? If there was a land for Goths… I think it would be here!