Category Archive for
Press
2021 has arrived… and I'm dressed to face whatever might come!
I'm determined to make this a glamorous and creative year — even if we must remain in lock-down mode for the time being.
What's been going on in La Carmina's life?
I'm continuing to write (mostly about travel) for various publications, and I've recently added some new bylines to my roster. At the end of this post, you can find links to my recent articles.
I also have a devilish new web show coming out soon… Stay turned to my @lacarmina social media (Twitter, Instagram, Facebook) for the announcement! Can't wait to unveil what we've been working on remotely in the past months.
And I was honored to be profiled in the January 2021 issue of Millie Magazine, a print publication by Meredith Corp. (It's currently released along with Real Simple Magazine.)
The magazine is about diverse women and personal finance, with a focus on achieving one's financial and career goals. Senior editor Emily Silber interviewed me about my "cool and unusual job" as a TV producer and host in Japan! (See scans further down.)
Millie Magazine commissioned photos of me to accompany the interview. I had a terrific time shooting around Vancouver, British Columbia with local photographer Rachel Pick. She took these vibrant photos in front of an East Van mural.
Millie Magazine hired my trusty team to do my hair and makeup for the editorial shoot. (Earrings by Stephen Einhorn; rings Sapphire Studios.)
Artist Jennifer Little has been doing my makeup for years. She gave me a soft yet alternative look, with a double layer of eyelashes.
My stylist, Chad Evans of BlameChad, dyed my hair dark purple with pink face-framing front pieces. He styled my hair into two Harajuku-style half ponytails, with curls.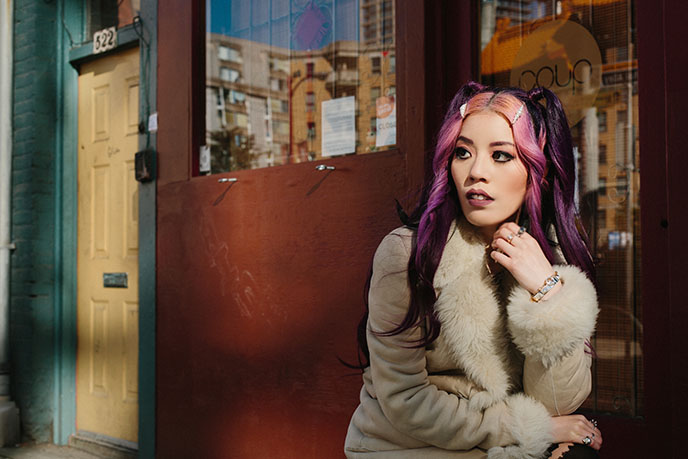 We also took photos around Vancouver's old Chinatown. Doesn't this image have a Wong Kar Wai cinematic feel?
A behind-the-scenes shot of my photography session with Rachel Pick. She brought reflectors, a box for me to sit or stand on, and more to achieve these shots!
I'm not a morning person, but it was worth getting up early to have these excellent natural lighting conditions.
Millie Magazine liked my various fun coats, and asked me to model a few. (Everything is styled and selected by me, from my personal wardrobe).
I'm wearing a few of my favorite pieces: a pink Mongolian sheared sheep coat by Skandinavik, a Miffy bag I got years ago in Hong Kong, and pumpkin-faced stockings by UK Tights.
This look involves a vintage coat, Forest Ink cutaway top, and Jeremy Scott leather mini-skirt with polka dots.
Money shot. All jewelry from La Carmina's collection.
Skull bangle and pearl earrings by Stephen Einhorn; Aphrodite skull and Sailor Moon rings Sapphire Studios.
We took these photos in October, before the "household-only" restrictions took place in British Columbia. Windows of opportunity are so fleeting these days, and difficult to predict… I'm glad we were able to make this Millie Magazine photoshoot happen.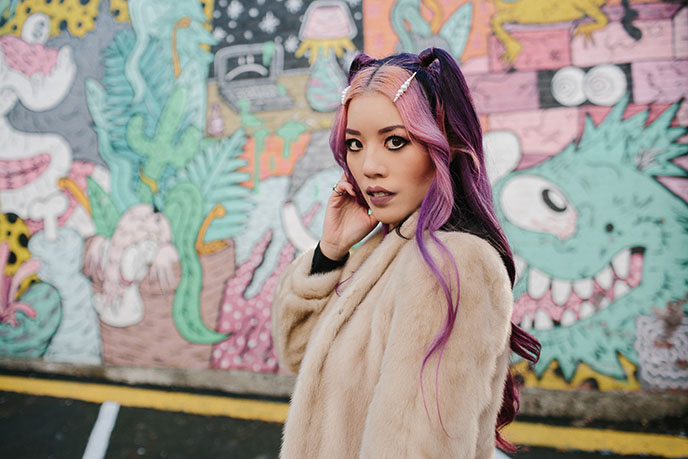 I love how the shoot turned out — what do you think? It's rare to have an excuse to get dolled up these days. Fingers crossed that this changes soon.
Here's the cover of the Winter issue of Millie Magazine (January 2021). Thank you to the team for featuring me in this magazine about women, finance, and careers!
I'm featured in the Table of Contents page of Millie Magazine as well. My profile is under the "My Odd Job" category. ("A TV fixer in Japan… These women have cool and unusual jobs.")
Here's a look at my full-page interview in Millie Magazine (Jan 2021 edition). Emily Silber writes: "Not Your Average TV Producer. La Carmina is an expert in oddities, the Lady Gaga of the Japanese underworld, and a 'fixer' of peculiar TV shows."
A final behind the scenes look at my photography session with Rachel Pick. Here's to more fashion and portrait photoshoots soon.
Let's finish up with a few of my latest bylines. I spilled my secrets of becoming a travel TV host and producer — see my essay on Fodor's Travel. It includes bloody memories of bagelheads, love dolls, body mods, fake families, and other adventures in Japan with my Pirates.
Hopefully we can work on more wacky travel and culture TV shows soon, in Japan and worldwide. If you're looking to hire a local production coordinator / fixer in Tokyo, check out our company — La Carmina & The Pirates.  
I also interviewed Lucien Greaves, co-founder of The Satanic Temple — for my new article published by Roadtrippers Magazine.  Read about my visit to The Satanic Temple in Salem, and their important activism for pluralism and personal autonomy.
I spoke with Lucien Greaves about the notorious Baphomet bronze statue, and how TST set up their headquarters in Salem, Ma. We also discuss the fight against false Satanic Panic accusations, and his fantastic Movie Night (TST3K) on The Satanic Temple TV.
Please enjoy my article about The Satanic Temple here, and see more photos from my visit to TST Salem in 2019.
Here's to a hell of a 2021 — whatever that may mean. I'm keen to stay connected, so please reach out! Find me @lacarmina on social media; links below.
I'm also continuing to sell cute clothing and accessories on @lacarmina Depop; let me know if I can send you anything from my shop. Cheers!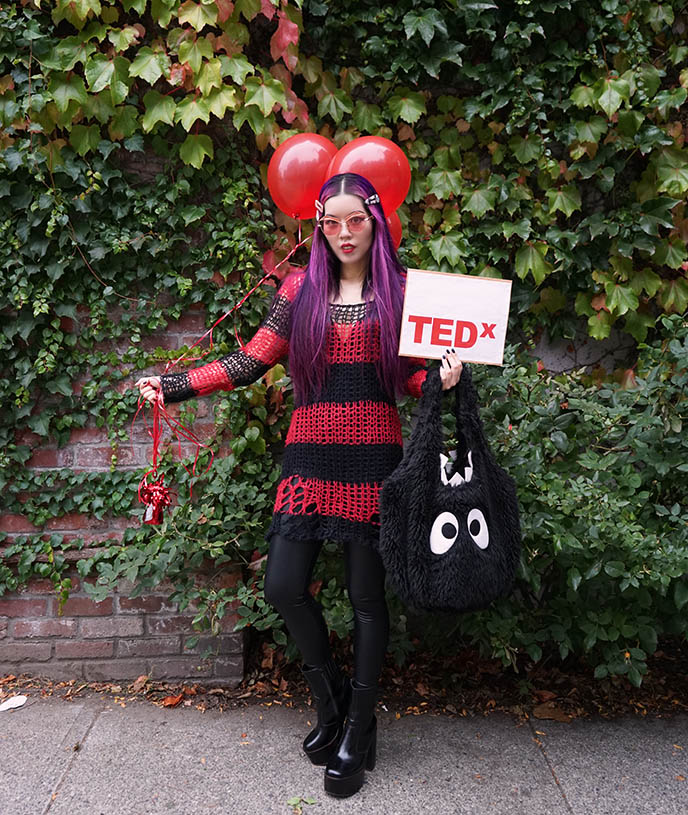 Balloons out, as it's getting closer… to the date of my 2020 TED talk!
You're invited to watch my TEDx speech, which will be livestreamed (there won't be a live audience event this year). Tune in on Nov 14 and 15 from 1-5pm Pacific, to see me and other speakers deliver "ideas worth spreading." The TEDxSFU conference is free to watch — just register here (my Ted talk is airing Nov 15 around 3:30pm PT).
(Read on for more about TED, as well as exclusive photos from the spooky Sedlec Ossuary — a Czech Republic church made from real human skeletons!)
I'm delighted to be part of this year's TEDxSFU 10th anniversary conference. The theme this year is "Unravel," and there's a lineup of 12 speakers from a variety of backgrounds and disciplines.
Register here to watch my TED talk on Nov 15, 3:30 pm Pacific — tickets are free or by donation!
By registering for this event, you'll get access to both livestreams on Saturday November 14 and Sunday November 15, from 1:00PM to 5:00PM PST. You'll get to see six TEDx talks each day (including mine on the second day), as well as performances.
Find out more on the TED x SFU website and Facebook invite page, and pick up free tickets here.
I'm thrilled to be giving the first TED talk ever about Goths. As my TEDx Vancouver video caption will read, "What does it really mean to be a Goth? Why do many of us have biases towards Goths, as well as other groups who seem "strange"?
La Carmina shares her personal journey into the dark subculture, and unravels six of the biggest stereotypes about Goths. Through eye-opening photos and stories, she demonstrates how people of color worldwide participate in Gothic culture, in surprising yet beautiful ways."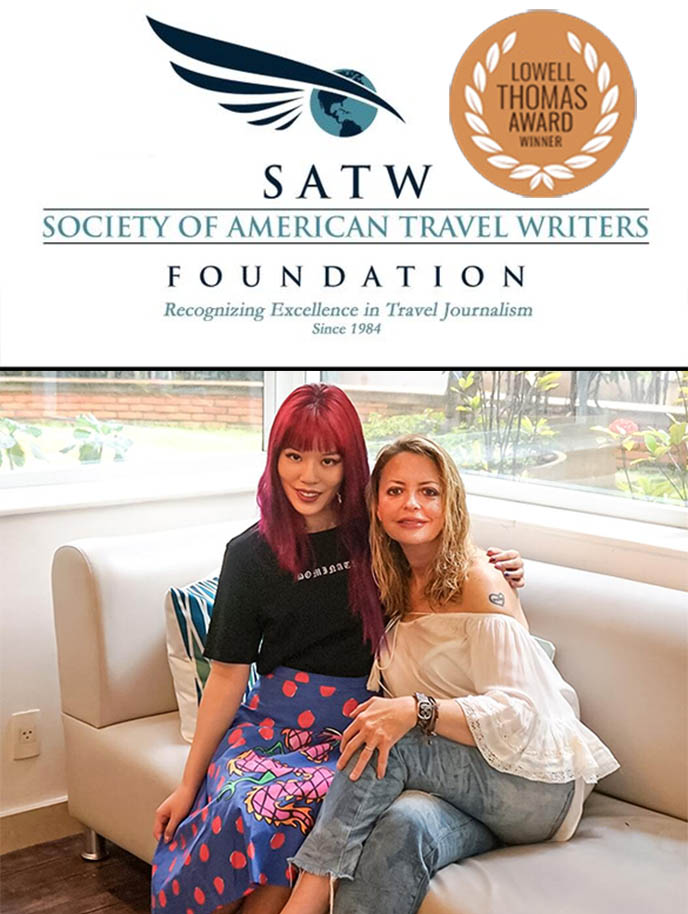 Also, some unexpected news… I received a travel journalism award from the Society of American Travel Writers!
"La Carmina was awarded Bronze in the 2020 SATW Lowell Thomas Travel Journalism Competition. This prestigious annual award ceremony has been "recognizing excellence in travel journalism" since the early 1980s. Journalist La Carmina won in the Best Personal Comment category, for her travelogue about visiting Brazil with her friend Elizabeth Wurtzel."
I'm speechless and honored! You can read my award-winning piece on Fodor's. Thank you everyone who believed in me.
Celebrating with a Goth-Punk sweater in red and black, the colors of the TED conference.
I did my gel nails by myself, using the Gelish at-home gel nails system (it works so well — recommended!). My silver creature ring is by Alex Streeter, and devil necklace by Sofia Zakia 
Close-up on my Witch Tarot 14k gold necklace by Sofia Zakia Jewelry of Montreal. You may recognize the goat, pentagram and fire imagery from the horror movie "The Witch." The horned one taunts: "Wouldst thou like to live deliciously?"
Here is my Satanic Gothic necklace layered with a Stephen Einhorn gold bee pendant. I'm all about fine jewelry with bite.
As a travel blogger, it's quite the change to be stuck at home in 2020. Fortunately, I'm able to take this time to pursue new avenues (like freelance journalism, and TED talks).
And I have trusted friends worldwide who can still bring us international travel stories… Like this exclusive peek inside Sedlec Ossuary near Prague, Czech Republic! Time to turn over the blog to photographer/writer Joey, for his tale of the church made from real human skulls and bones.
Hello again! It's Joey, trusted traveller and photographer friend of La Carmina. I'm back to tell you about my spooky day trip to the Sedlec Ossuary, the chapel adorned with bones from over 40,000 human skeletons.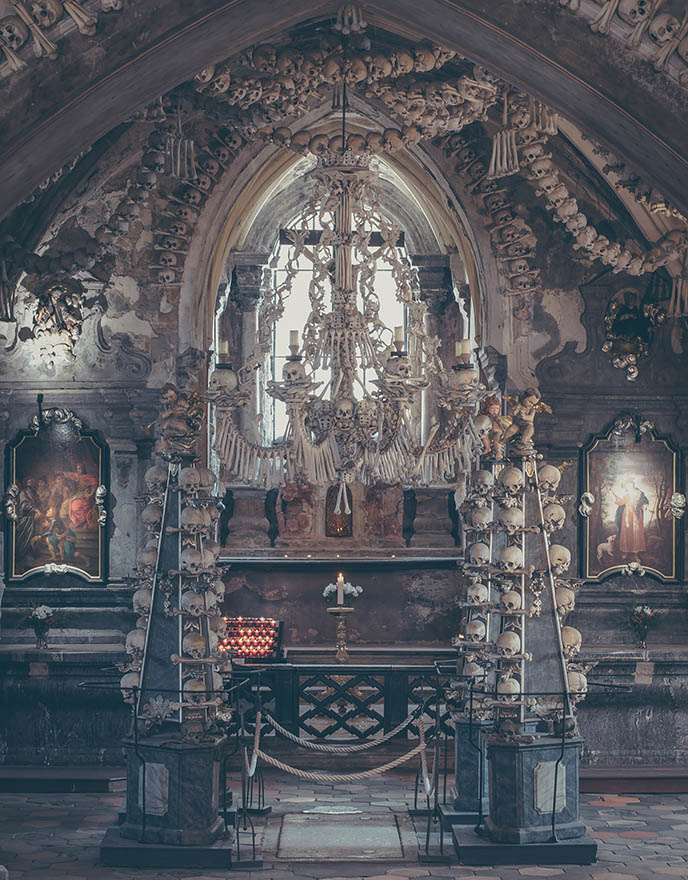 Also aptly known as the Bone Church, the Sedlec Ossuary is located just an hour east of Prague in Kutna Hora making it an easy, must-do day trip from Prague. Due to its close proximity to Prague and it's extraordinary, otherworldly atmosphere, it's no surprise it is one of the most visited attractions in the Czech Republic with over 200,000 visitors a year.
A selfie with skulls is sure to get the Likes, but it is important to note that there is a strict ban on photography inside the chapel. This is due to excessive, inappropriate behaviour from visitors who all too often forget the significance and beauty of the church and touch the bone displays or take inappropriate selfies.
As press, I received unrestricted access to photograph the ossuary. I spent over two hours inside the chapel photographing the striking displays in order to capture the true essence and beauty of this seemingly gloomy place. Somber yet fascinatingly beautiful, I am privileged to share my experience and exclusive photos with you.
The Sedlec Ossuary comes with an enchanting history that matches its striking interiors. It is said that in 1278, an abbot returned to Sedlec with some holy soil from Jerusalem. He spread this holy soil across the cemetery which in turn, made it a very popular place to be buried. Due to the Black Plague and the Hussite Wars of the 14-15th century, the Sedlec Ossuary became the final resting place of an estimated 40,000+ people.
After being commissioned by the Schwarzenberg family in 1870, a Czech woodcarver named František Rint crafted the bone arrangements that we see today. You can even see his name signed in bone on the entry into the chapel!
Today, the ossuary is going through a significant reconstruction, which is completely funded by ticket sales. Although the church is a popular site, most visitors come in groups that are aligned to the train timetable or wider Kutna Hour organised tours. I was very pleased to have many moments where I had the whole chapel to myself so I could enjoy the peace and serenity.
During my visit, I saw so many remarkable creations in the chapel with the most notable being an extravagant chandelier made with every bone of the human body that hangs in the centre of the chapel.
It's easy to get lost in the captivating sites and mounds and mounds of skulls, but when you visit, be sure to absorb the atmosphere and pay close attention to the finer details of the bone creations. In addition to garlands of skulls and a bone coat of arms, I also saw cherubs sitting atop towers of skulls and even a raven poking a human eye out!
Travelling is my favorite form of escapism, and the Sedlec Ossuary truly brought me to another world.
Thanks for following me along on my Prague and Sedlec Ossuary adventures. Until next time!
How to get to Sedlec Ossuary and Church: From Prague, take the train from Prague main station to Kutná Hora hl.n. From there, it's a 15 minute walk to Sedlec.
Joey's photos make me keener than ever to visit Sedlec. Did you know there are other structures worldwide constructed from human remains?
There's a Chapel of Bones in Evora, Portugal. In Italy, you can see desiccated mummies and skeletons in crypts, such as Appia Antica, and Cappucuni Catacombes. Niš, Serbia has a Tower of Skulls. The list goes on…
At least I got to creep through the Catacombs of Paris, France last year. If you missed my story about the Paris Catacombes, check it out here.
For tickets, opening hours, and more info about Sedlec Ossuary, visit their site.Note that Joey received advance media permission to take photos of the interiors; otherwise, photography at Sedlec is prohibited.
Thank you, Joey, for this spooktacular tour of Sedlec Ossuary! At least I got a chance to travel to Prague in 2012. I am dreaming of returning to the Czech Republic for a glass of wormwood-infused absinthe.
I've been on so many memorable travel adventures with photographer Joey. Before we fly away, let's take a photographic stroll through memory lane.
Joey and I met in Tokyo 2010, and above is the first photoshoot we ever did together (in the alleys of Golden Gai, Shinjuku!) I got my hair done gyaru-style in a Japanese salon for the occasion. (Enjoy more of my Japan travel stories.)
Our first international trip together was to Iceland — and it remains one of our favorite destinations. Joey took this photo of me in the Blue Lagoon… right before his glasses fell in the water! See all our photos from Iceland (Reykjavik).
We went to Whitby UK for the annual Gothic Weekend, and shot these dramatic images in front of Whitby Castle (the architectural inspiration for Bram Stoker's Dracula). See more of our United Kingdom adventures.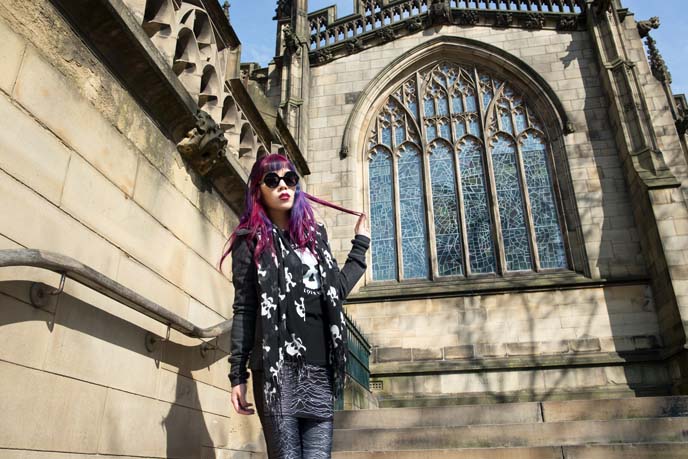 Here's one from Manchester Cathedral (site of the Joy Division album cover photo.)
We hung out multiple times in Vancouver. Joey photographed me for the cover of Giuseppina Magazine, and for a spread in Leveled. We also did a Killstar shoot in front of the Museum of Anthropology.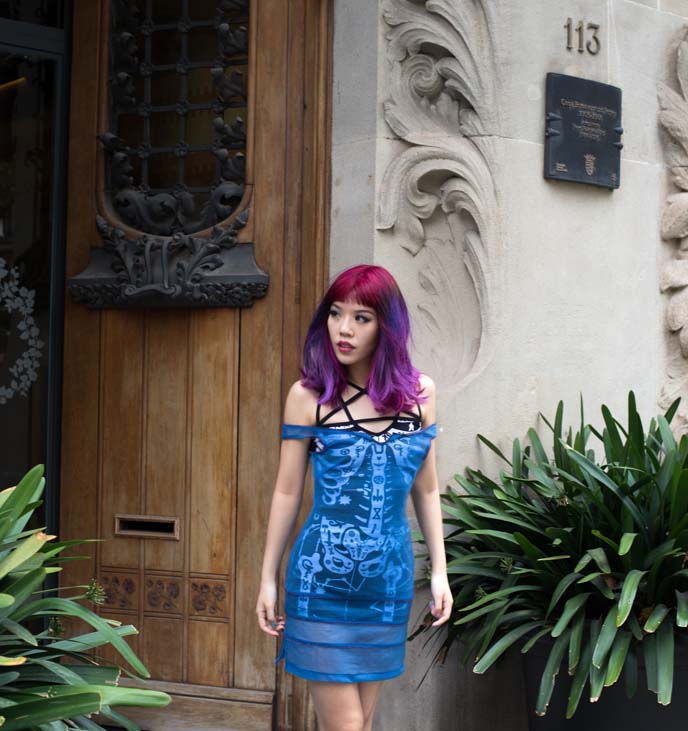 Hola Barcelona, where we stayed in an Art Nouveau palace while working with Spain Tourism and Eurail. Here are our Spain travel guides, which include Granada.
Istanbul, Constantinople! What a city. I was invited there, as a top travel blogger, to attend World Tourism Forum. More of Joey's epic pics from Turkey.
We got ghoulish with Yukiro in NYC, at the Morbid Anatomy Museum (which is now as dead as these wax heads). Can't believe I've been blogging about New York City, NY for over a decade now!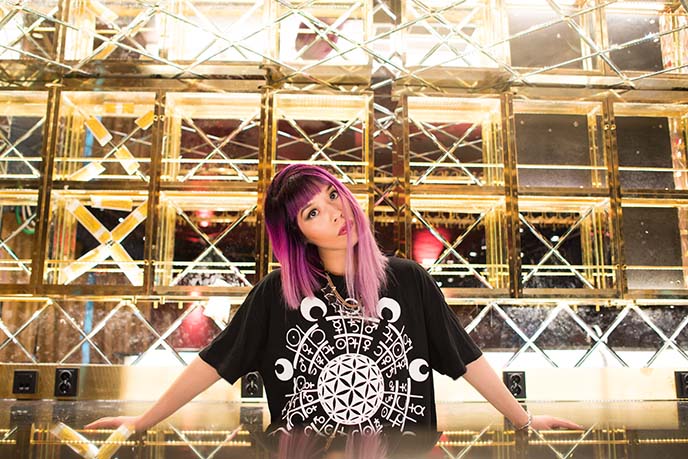 Off to Scandinavia. where we stayed in a haunted theater-hotel in Stockholm, Sweden.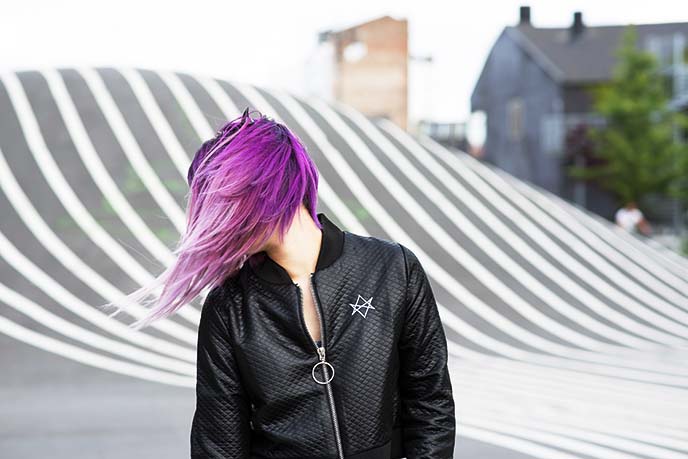 Joey and I also spent time exploring Copenhagen, and got inspired by Superkilen Park.
V-fingers for beautiful Athens and Santorini, Greece. I miss eating sardines, dolmades and orange cake.
A Goth dream come true to visit Romania, as a speaker at Experience Bucharest Conference. The graveyards and Dracula's Castle in Transylvania were to die for.
It was also a dream (or nightmare) to shoot with Joey at the HR Giger Museum and Bar in Gruyeres, Switzerland. We ate so much cheese that we fell into a coma on the train back, and nearly missed our stop in Zurich!
Don't cry for me, Argentina… A little drizzle in Buenos Aires added emo drama to these photos.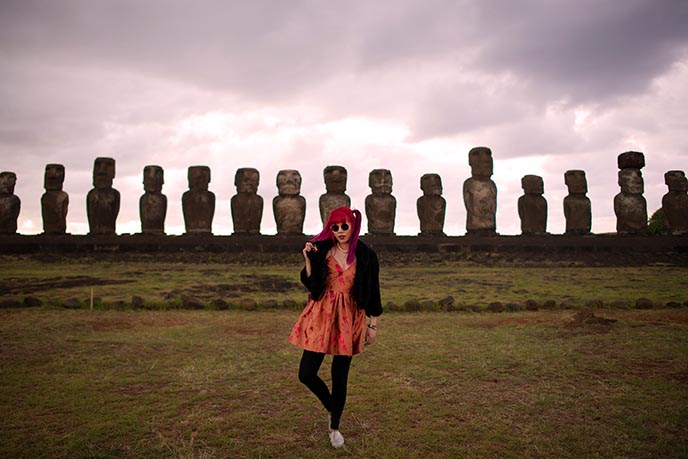 Joey and I reached the zenith of travel photography… Standing with the Tongariki moai of Easter Island! I just wrote about the strange mysteries of Rapa Nui and its stone-faced statues, for this article on Fodor's Travel.
Our LATAM Airlines project took us to various South America destinations, like Santiago and Valparaiso in Chile. (So glad we made the most of these opportunities before the world came to a halt.)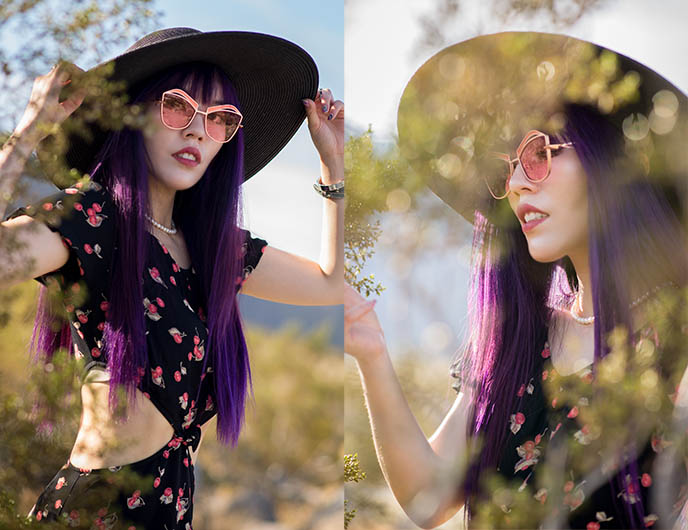 Joey and I had one final trip together in January 2020, before life took a strange turn for us all. Palm Springs, California… A destination as warm and dreamy as the bokeh.
We said goodbye in Los Angeles (after taking snaps at the Blade Runner Bradbury building). What will the future hold for us — space travel, perhaps?
Until the borders re-open, I'll think back at our adventures around the world. (Such as meeting the elves of Iceland). Nothing lasts forever, so take plenty of photos in special places… you won't regret it.
For now, I'm making the most of local adventures in Vancouver, Canada. At the end of summer, I got to experience the Sea to Sky Gondola about a hour north of the city (in Squamish, BC).
It was a joy to rise up into the mountains. (Sadly, a week later, a vandal cut the cable lines for the second time… sending the gondolas crashing to the ground. But the Sea to Sky is re-building, and I'm confident they'll be back and running soon.)
When the Sea to Sky Gondola is back in operation, I hope you'll get a chance to experience the epic views and nature activities up top. I went across the suspension bridge, did scenic hikes, and had a drink at the patio bar.
I'm not usually an "outdoors" person, but that's all we have these days, due to 2020's surprises… so I'm pushing my boundaries. I did a hike at Whyte Lake in West Vancouver — wearing my platform boots, of course!
And that's why they call it "Beautiful British Columbia." I'll be showing you more local getaways in the next articles.
Until then, I'll be counting down the days to my TEDx talk! Register here to watch me on Nov 15 (it's a free livestream, and you'll get to see talks from the other speakers too).
And I'm sooo happy it is Halloween. Wearing my funny egg ghosts shirt from Mexico City, which I got last fall. Gold chunky crystal choker / glasses holder by Frame Chain.
A few final life updates. I'm continuing to write for a variety of travel publications. Read my latest dispatch — "I'm a Goth. Here's How I Stay True to My Style When I Travel the World" — on Fodor's Travel. 
I also did a round-up of destinations with creative skull art for Fodor's. From Malta marble tombstones to Bangalore pirate restaurants and Japan's skull museum, these places are thrilling to the bones.
I've started writing for Brides Magazine as well. Enjoy my guides to having a Gothic wedding, and planning a Buddhist marriage ceremony.
My funny article about animal-shaped architecture also got picked up by MSN.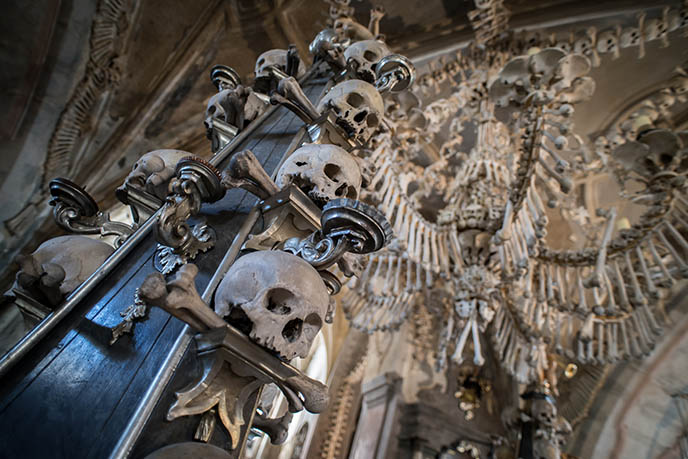 I hope you had a happy Halloween! My guide to the Satanic Temple and Salem Art Gallery came out in time for the darkest day of the year; see it on Tripsavvy, where I'm a regular travel contributor.
I also celebrated Halloween with an Instagram takeover on Tripsavvy's page (@tripsavvy). Check out their story highlights and grid, to see my memories of spooky travels worldwide. You can see more of my travel articles here on Tripsavvy.
And please take a moment to reserve your free ticket for my TEDx talk about Goth culture, airing Nov 15, 330pm PT!.