Category Archive for
Press
I've been kickin' it with The Satanic Temple lately, and have some devilish news.
On May 28, I'm hosting the Satanic Planet virtual album release party at The Satanic Estate! (Please join me — tickets are by donation.)
Hang with me on May 28th to hear the devil's music — Satanic Planet's highly-anticipated first album comes out that day. We'll be celebrating with special videos, musical previews, rituals and more.
Satanic Planet is the "dark musical soundscape collaboration featuring Luke Henshaw, Justin Pearson, Lucien Greaves, and Dave Lombardo." Tracks include Baphomet, Exorcism, Liturgy, Grey Faction… The debut album spans a wide gamut of Satanic soundscapes ranging from bone-chilling dissonance, to snippets of children's voices, to messages revealed when songs are played backward!
I'll be hosting the release party online – May 28, at The Satanic Temple's Virtual Headquarters (The Estate). I'll be doing a panel interview with Satanic Planet's members Lucien Greaves, Justin Pearson, and Luke Henshaw. You'll also experience a Satanic Unbaptism with Shiva Honey and more… My Tokyo Pirates Naomi Rubin and Yukiro (drag queen Die Schwarze Frau) are creating scandalously Satanic videos to four songs as well!
Get tickets now for the Satanic Planet album release event at The Satanic Estate (they're by donation) — and see you May 28!
To get you in the mood, here are some outfit photos featuring items from The Satanic Temple's shop. (Proceeds from merch sales go to their campaigns to uphold reproductive and LGBT rights, and maintain the separation of church and state).
I'm feeling cozy in my TST purple logo hoodie, which features the sigil of Baphomet (The Satanic Temple's goat head figure and pentagram logo) in my signature color. The adjustable hood and large front pockets make this hoodie both stylish and sensible.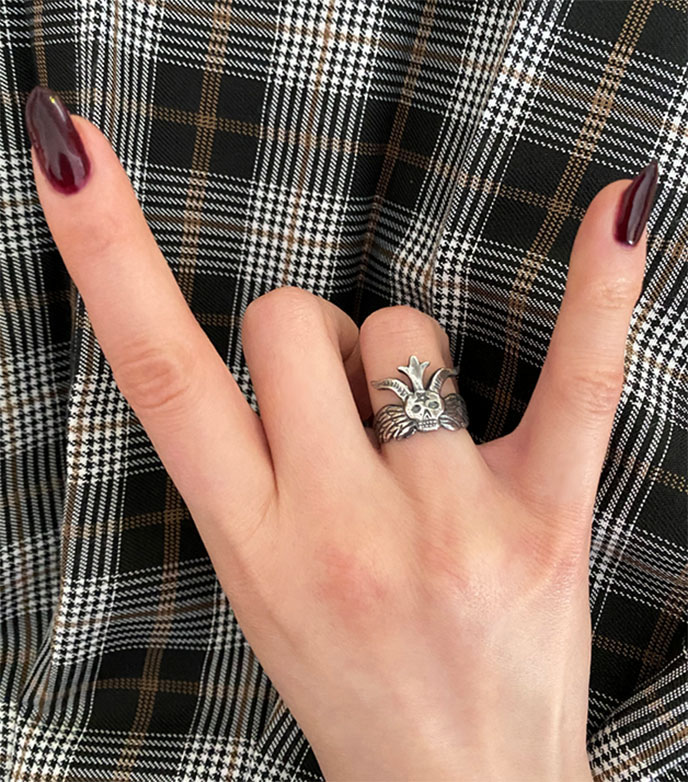 Giving the devil horns hand signal, in my The Satanic Temple Winged Crowned Skull Logo Ring. It's designed and hand made in silver by Kate Hockstein of Arcana Obscura. The ring comes in a range of unisex sizes, and has TST's Salem tombstone skull logo (it looks like the ones I saw in Salem's graveyard.)
I am also wearing a schoolgirl-style tartan skirt by Ninja Cosmico. platform sneakers by Anthony Wang Shoes, and a blue headband by Jennifer Ouellette,
I'm wearing Japanese-style socks, which can be scrunched down as Harajuku girls did in the 90s. These fun accessories are by Sock Dreams; all their legwear comes in a variety of sizes and colors.
The Satanic Temple Shop carries a variety of Gothic products, from candles to hot sauces and kitchenware, in addition to membership cards, certificate, and clothing. I'm rifling through my "I am a Friend of Satan" tote bag, designed by co-founder and spokesperson Lucien Greaves. (More TST fashion features to come soon).
Lucien Greaves also designed this TST Satanic Citizens t-shirt, which has 666 — mark of the beast — in 4-bit binary numbers. The shirt is printed on soft black, and comes in unisex sizing. As always, all proceeds support ongoing Satanic Temple campaigns.
For more about the band Satanic Planet, see my interview with LG for Riot Fest. And please join us at the Satanic Planet album release party at The Satanic Estate (tickets by donation, more info at the website. See you May 28!
PS: just wanted to share a recent interview I did with InsideHook. I'm passionate about researching how people around the world express themselves through alternative beauty and body modifications. I was interviewed about the art of adornment worldwide, for this article; we discuss neck rings, scarification, and other meaningful extreme body mods.
2021 has arrived… and I'm dressed to face whatever might come!
I'm determined to make this a glamorous and creative year — even if we must remain in lock-down mode for the time being.
What's been going on in La Carmina's life?
I'm continuing to write (mostly about travel) for various publications, and I've recently added some new bylines to my roster. At the end of this post, you can find links to my recent articles.
I also have a devilish new web show coming out soon… Stay turned to my @lacarmina social media (Twitter, Instagram, Facebook) for the announcement! Can't wait to unveil what we've been working on remotely in the past months.
And I was honored to be profiled in the January 2021 issue of Millie Magazine, a print publication by Meredith Corp. (It's currently released along with Real Simple Magazine.)
The magazine is about diverse women and personal finance, with a focus on achieving one's financial and career goals. Senior editor Emily Silber interviewed me about my "cool and unusual job" as a TV producer and host in Japan! (See scans further down.)
Millie Magazine commissioned photos of me to accompany the interview. I had a terrific time shooting around Vancouver, British Columbia with local photographer Rachel Pick. She took these vibrant photos in front of an East Van mural.
Millie Magazine hired my trusty team to do my hair and makeup for the editorial shoot. (Earrings by Stephen Einhorn; rings Sapphire Studios.)
Artist Jennifer Little has been doing my makeup for years. She gave me a soft yet alternative look, with a double layer of eyelashes.
My stylist, Chad Evans of BlameChad, dyed my hair dark purple with pink face-framing front pieces. He styled my hair into two Harajuku-style half ponytails, with curls.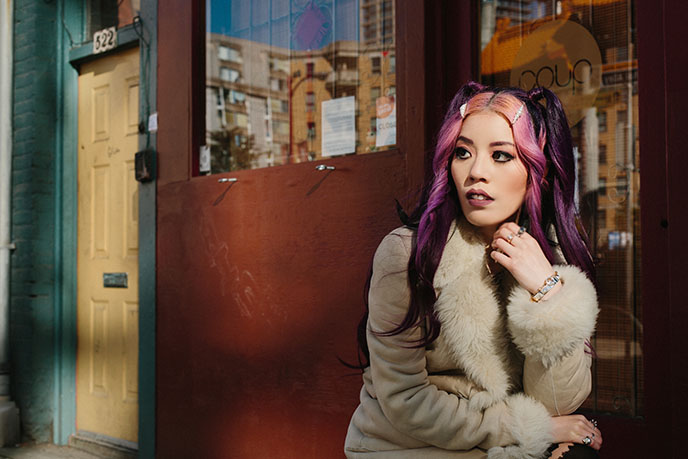 We also took photos around Vancouver's old Chinatown. Doesn't this image have a Wong Kar Wai cinematic feel?
A behind-the-scenes shot of my photography session with Rachel Pick. She brought reflectors, a box for me to sit or stand on, and more to achieve these shots!
I'm not a morning person, but it was worth getting up early to have these excellent natural lighting conditions.
Millie Magazine liked my various fun coats, and asked me to model a few. (Everything is styled and selected by me, from my personal wardrobe).
I'm wearing a few of my favorite pieces: a pink Mongolian sheared sheep coat by Skandinavik, a Miffy bag I got years ago in Hong Kong, and pumpkin-faced stockings by UK Tights.
This look involves a vintage coat, Forest Ink cutaway top, and Jeremy Scott leather mini-skirt with polka dots.
Money shot. All jewelry from La Carmina's collection.
Skull bangle and pearl earrings by Stephen Einhorn; Aphrodite skull and Sailor Moon rings Sapphire Studios.
We took these photos in October, before the "household-only" restrictions took place in British Columbia. Windows of opportunity are so fleeting these days, and difficult to predict… I'm glad we were able to make this Millie Magazine photoshoot happen.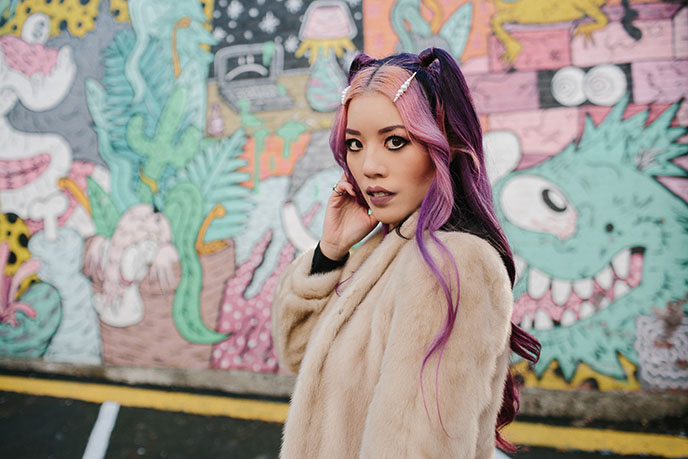 I love how the shoot turned out — what do you think? It's rare to have an excuse to get dolled up these days. Fingers crossed that this changes soon.
Here's the cover of the Winter issue of Millie Magazine (January 2021). Thank you to the team for featuring me in this magazine about women, finance, and careers!
I'm featured in the Table of Contents page of Millie Magazine as well. My profile is under the "My Odd Job" category. ("A TV fixer in Japan… These women have cool and unusual jobs.")
Here's a look at my full-page interview in Millie Magazine (Jan 2021 edition). Emily Silber writes: "Not Your Average TV Producer. La Carmina is an expert in oddities, the Lady Gaga of the Japanese underworld, and a 'fixer' of peculiar TV shows."
A final behind the scenes look at my photography session with Rachel Pick. Here's to more fashion and portrait photoshoots soon.
Let's finish up with a few of my latest bylines. I spilled my secrets of becoming a travel TV host and producer — see my essay on Fodor's Travel. It includes bloody memories of bagelheads, love dolls, body mods, fake families, and other adventures in Japan with my Pirates.
Hopefully we can work on more wacky travel and culture TV shows soon, in Japan and worldwide. If you're looking to hire a local production coordinator / fixer in Tokyo, check out our company — La Carmina & The Pirates.  
I also interviewed Lucien Greaves, co-founder of The Satanic Temple — for my new article published by Roadtrippers Magazine.  Read about my visit to The Satanic Temple in Salem, and their important activism for pluralism and personal autonomy.
I spoke with Lucien Greaves about the notorious Baphomet bronze statue, and how TST set up their headquarters in Salem, Ma. We also discuss the fight against false Satanic Panic accusations, and his fantastic Movie Night (TST3K) on The Satanic Temple TV.
Please enjoy my article about The Satanic Temple here, and see more photos from my visit to TST Salem in 2019.
Here's to a hell of a 2021 — whatever that may mean. I'm keen to stay connected, so please reach out! Find me @lacarmina on social media; links below.
I'm also continuing to sell cute clothing and accessories on @lacarmina Depop; let me know if I can send you anything from my shop. Cheers!