Category Archive for
Salem + Boston
It's been a while since I've dressed up for an event! (Above is what I wore for my cousin's wedding — haven't been to a gathering like this in years now.)
I've been making the most of reprieves in The Collapse to see family and friends. If you've been following my @lacarmina Instagram, you'll know I was recently hopping around Boston, Baltimore, and Puerto Rico.
(Wearing a For Love & Lemons dress and Alexander McQueen skull bag. Click below for more of their designs:)

Before returning home, I flew to Boston for a quick visit. Read on for soaring photos of my stay at The Bostonian Boston hotel, where I got to channel The Crow on their rooftop pati
I took my Too Fast Moon Phases dress out to play at The Bostonian Boston, a Millennium hotel. Love the striking design featuring bat-wing bell sleeves and a witchy starry moon print.
It felt great to spread my wings inside my spacious Deluxe Room that featured a makeup / vanity area, large plush bed, and balcony.
The Bostonian's contemporary rooms feature these photogenic views of historic downtown Boston, Quincy Market, and Faneuil Hall Marketplace (which is located right across the street from the hotel).
From my private Juliette balcony, I got to enjoy a bit of sun on my legs while looking out at the waterfront and surrounding North End architecture, which ranges from classic brick to Brutalism.
The Bostonian Boston's 7th floor also has a large rooftop patio with lounge chairs and tables, which any guest can access.
The hotel's location is as good as it gets, if you want to be close to Boston's main attractions. I only had to walk a few minutes to find excellent shops and food, such as poke burritos. I also had fun meandering around the nearby docks.
The Bostonian's cheerful staff and chic red-and-black lobby were among the highlights of my stay. (Wearing a bell-sleeved Gothic dress by Too Fast Clothing.)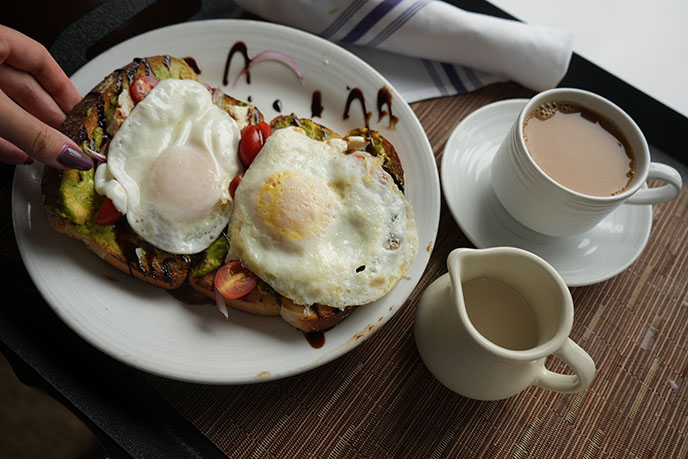 Room service from North 26 is also very reasonably priced. I lazed around with avocado toast (topped with eggs, mozzarella, tomatoes, balsamic) and coffee with almond milk.
The downstairs restaurant, North 26 Restaurant and Bar, stood out for its casual and locally sourced fare, including traditional New England seafood with modern elements.
The bartender showcased his talent for cocktails: picante margarita with jalapeno tequila, orange liqueur, and lime. A starter of crab cakes with spicy remoulade and arugula hit the spot.
Then came a fresh Maine Lobster & Shrimp Cobb with blue cheese, and succulent New York Sirloin with wild mushroom risotto.
The Bostonian Boston hotel and North 26 restaurant have it all: superb views, location, service, and dining. I'd swoop back here any time for more. Cheers to Millennium Hotels for the stay.
On the same trip, I had the opportunity to experience Baltimore, Maryland for the first time. I attended my cousin's wedding at Catonsville Overhills Mansion / Whitehouse Caterers.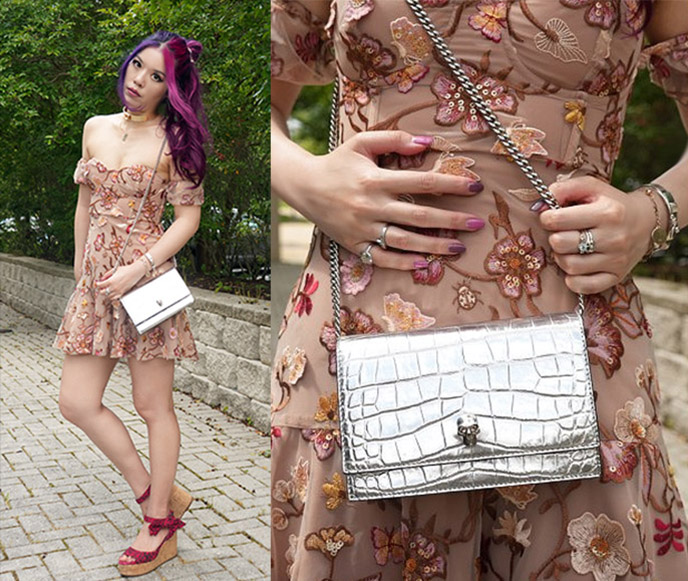 I wore some of my favorite fashion for the occasion: For Love & Lemons Botanic strapless dress and Alexander McQueen silver skull bag. (Find these designs below):

When in Baltimore… do what John Waters would do! This is the hometown of the cult film director known for his eccentric, fabulous comedies — including Pink Flamingos, Female Trouble, Hairspray, and Cry-Baby.
I made a bee-line to the American Visionary Art Museum, as it is right up John Waters' surrealist alley.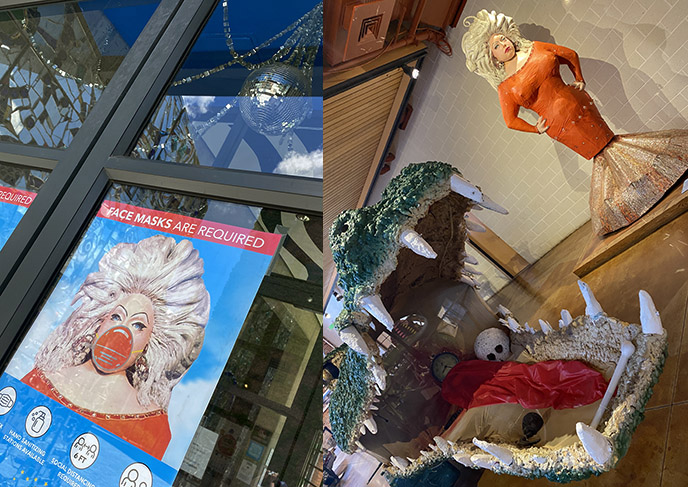 Many of John Waters' films star drag queen and disco diva Divine. At the entrance, a poster of her highness asks visitors to mask up.
The museum's Jim Rouse Visionary Center houses a 10-foot statue of Divine by her friend Andrew Logan. The fierce queen spins from side to side, in her iconic orange dress from Waters' Pink Flamingos movie.
You can also fine Divine memorabilia at The American Visionary Art Museum's gift store, Sideshow. Above is a Baltimore postcard of the drag queen, and an autographed copy of John Waters' new novel, Liarmouth.
A sign proclaims that John Waters considers Sideshow to be the best museum gift store out there — and I'd have to agree. I was mesmerized by the kooky and imaginative selection of items…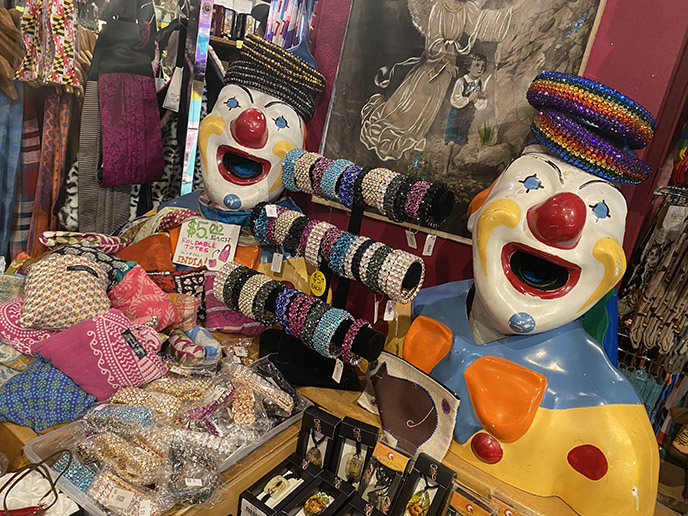 … such as sparkly bracelets, gag gifts, and Nepalese peace sign bags (I got one of those).
The American Visionary Art Museum consists of two buildings and an outdoor sculpture area with an head-scratching, eye-popping selection of permanent and special exhibits. The AVAM features self-taught and intuitive "outsider artists," meaning that their works have plenty of passion and imagination, and aren't afraid to bend so-called design rules.
Case in point: a depiction of the Biblical Job's story includes details of a serpent Satan, and a golden cow licking out a sinner's eye!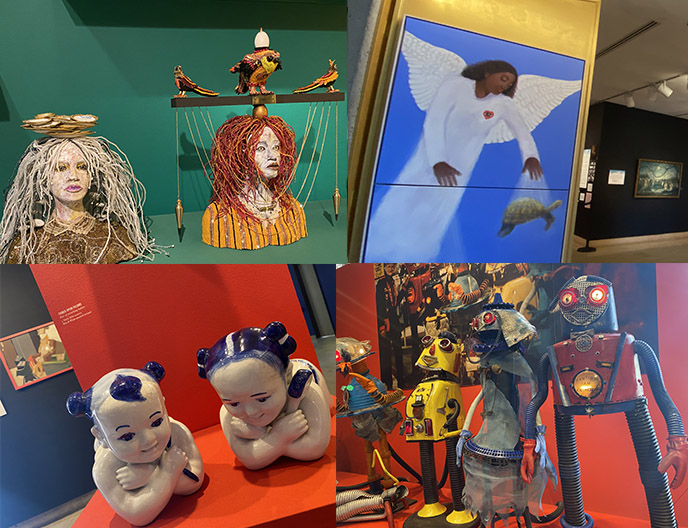 Here are more examples of the offbeat Art Brut at AVAM. The above two works are part of a healing and compassion gallery (I chuckled at the angel saving the turtle!) Below are Chinese opium pillows and a robot family: humorous and charming outsider art that you wouldn't find in a typical museum.
After exploring the three floors of the Main Building, don't miss out on the Jim Rouse Visionary Center. I was tickled to see this portrait of actress Edith Massey as Edie, the egg-loving trailer-dwelling mother in John Waters' Pink Flamingos.
And here's the big bitch queen herself… Divine! As the late drag star sings in her catchy disco song, "Turn around, stand up like a man and look me in the eye. Turn around, take one final look at what you've left behind!"
The AVAM runs an annual Kinetic Sculpture Race, among other creative events. Here are 15-foot fluffy pink poodles that participated in the race.
I had an illuminating time at Baltimore's American Visionary Museum — it was one of my favorite art experiences in recent memory. Don't forget to visit Sideshow gift store, and say hi to owner Uncle Fun and the colorful staff!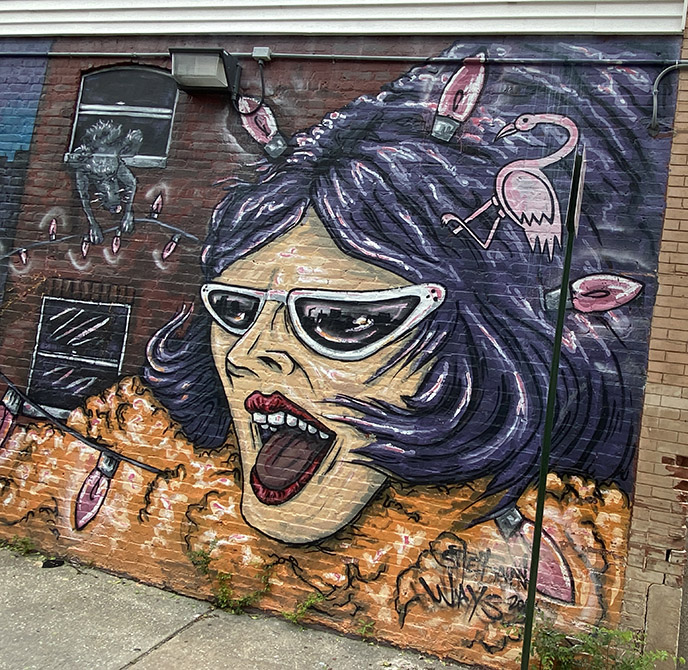 Next, I went to hang out in John Waters' favorite Baltimore neighborhood — Hampden. As you saunter through the hip area along 36th Street, you'll feel like a main character in one of his movies. (I spotted a mural of Mink Stole as the degenerate villain Connie Marble, from his 1972 movie Pink Flamingoes.)
Many scenes from John Waters' films were filmed in Baltimore's Hampden, including Pecker and Hairspray. You might recognize the bright row houses from his cinematography (and as you'd expect, this is the city's LGBTQ+ district).
John Waters has a nearby residence, and often spends time hanging in Hampden. Browse the director's beloved Atomic Books, along with vintage clothing and record stores. Grab food at Ekiben (the yuzu juice rocks), and peek at The Food Market restaurant (the site of scenes from Pecker).
Wave hello to the 30-foot pink flamingo sculpture, which poses over The Avenue and was made by Randall Gornowich.
Although I didn't have much time in Baltimore, I'm pleased I got to get a glimpse of John Waters and Divine's filthy, flamboyant universe. Have you ever been, or wanted to go?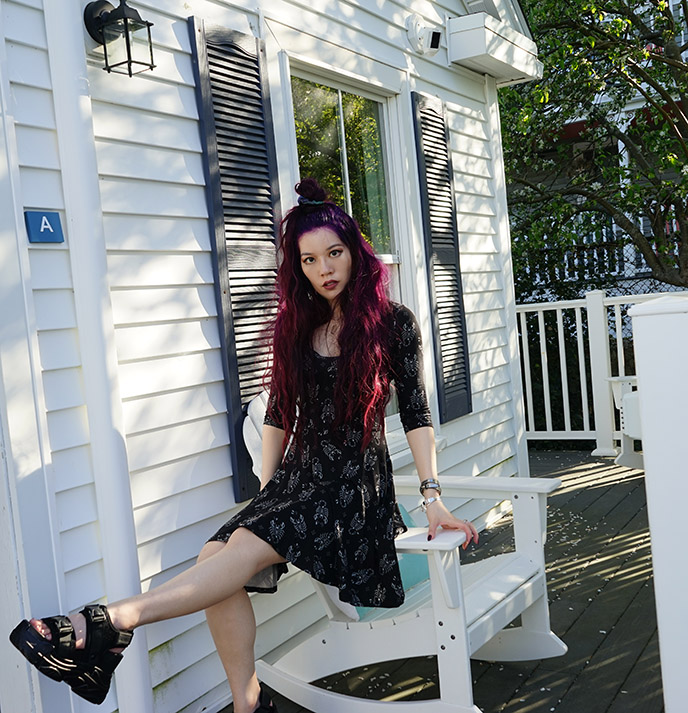 In this era of travel restrictions, I'm grateful whenever I have the chance to enjoy "pockets of devilish fun." This summer, I took a 35 minute drive north from Salem, MA — to kick it at The Cove at Rockport beachfront hotel!
(My platform 90s-style sandals are by Anthony Wang Shoes.)
Here's the picture-perfect view of the Atlantic Ocean, which you get from The Cove's vacation condos. Now I get why vacationers love to spend time in New England in the summer, indulging in seafood and beach time.
With fishing boats under blue skies, the harbor town of Rockport, Massachusetts is the definition of charming. You may recognize the red fishing shack known as "Motif No. 1," as it's featured in many scenic American paintings.
The Cove at Rockport is right across from the beach, and a 5-minute walk to the downtown filled with art galleries, cafes and restaurants. I found the best apparel, accessories and gift stores in Rockport, MA through Weefty. This location-based shopping guide lets travelers discover the most unique indie businesses all over Massachusetts.
All Cove guests have access to the common areas and clubroom, which are decorated with these mod pod basket chairs. (I felt like I was in a 1990s music video, especially with these Anthony Wang platforms.)
You can also hang out with a cocktail at the "On the Rocks" Oceanfront Deck, and watch the sunset over the water.
Address: 1 King Street, Rockport, MA, 01966.
I was pleased to find white Adirondack rocking chairs on my sunlit patio.
(Outfit details: Gothic platform shoes by Anthony Wang Shoes and dress by Sourpuss Clothing)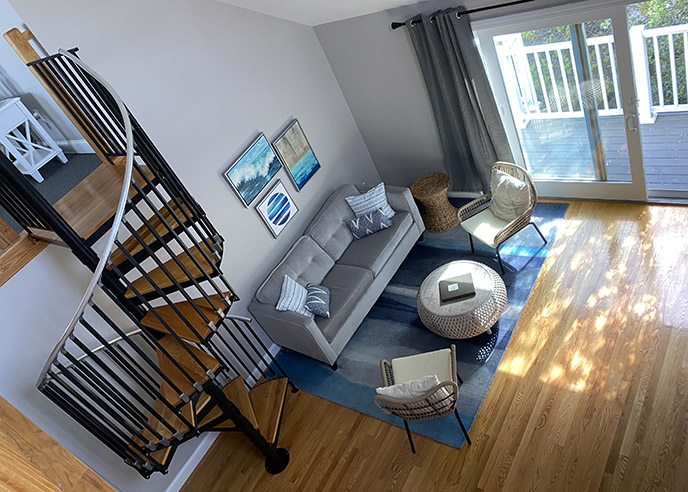 My condo, "Milbrook A," had a spacious living room and full kitchen. A twisting modern staircase took me to the bedroom in the upstairs loft.
The Cove's condos and suites have a classic seaside design, but are equipped with modern amenities. The purple planter of flowers at the front entrance were a sweet touch.
Inside, the decor is all about casual beach comfort. The Cove at Rockport's accommodations are well-suited to family or friends traveling together, or a romantic getaway.
I was hungry when I checked in… Fortunately, The Cove left me a generous basket of local treats. The snacks included wine, white lavender chocolates, and tea. The rosemary salt crackers and cheeses are not pictured, as I devoured them immediately!
The Cove's spaces retain historic elements, such as restored woodwork pieces and flooring. They blended in new furniture and bright paint, for a modern refresh.
The condos were surrounded by trees and flowers of all types.
Close-up on my Alex Streeter Ouroboros ring, and Hermes Collier de Chien bracelet. I'm wearing a Bvlgari Serpenti bracelet, see more Bulgari accessories below:
Summertime, and the living is easy…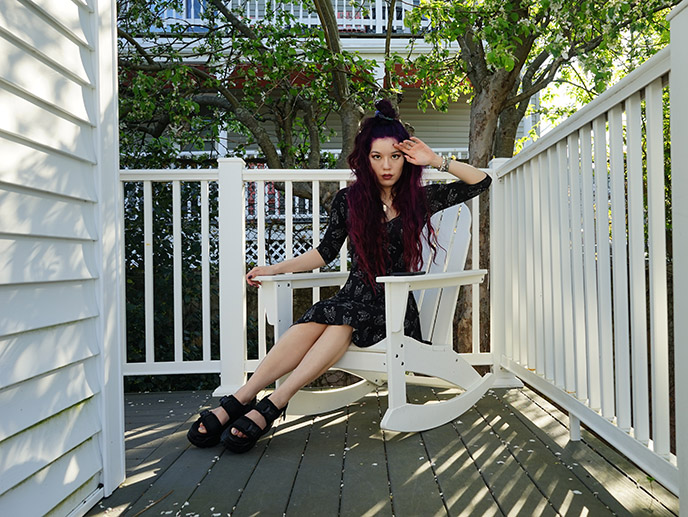 Rockport, MA was historically a colony of artists and fishermen. The creative, maritime feeling comes across at The Cove at Rockport.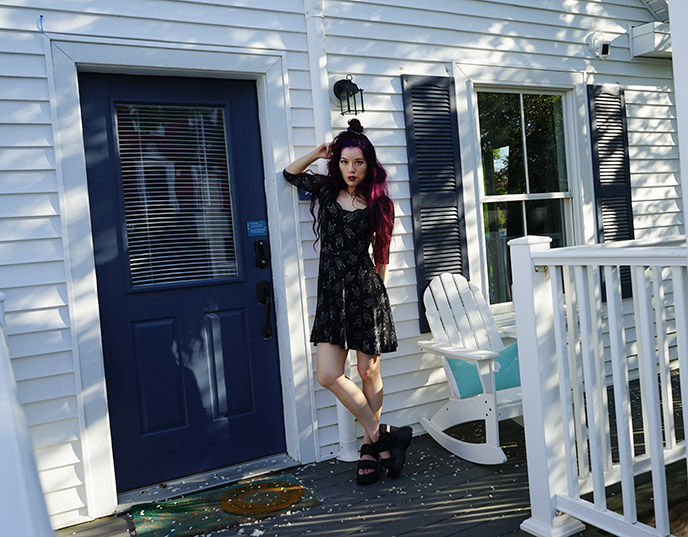 The classic architecture has a high-tech keyless entry, with a digital touch code unique to each guest.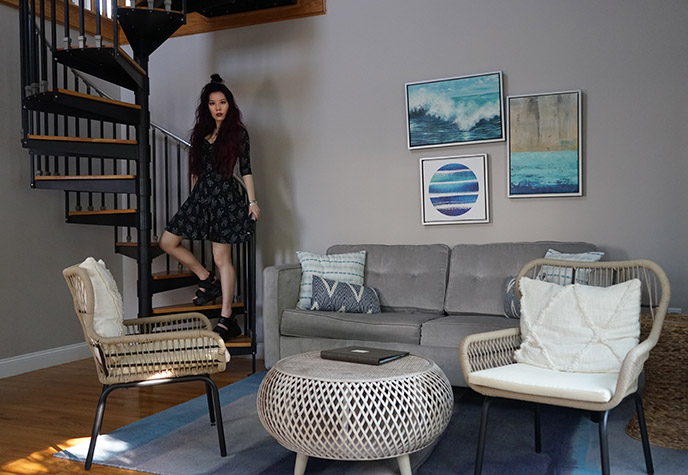 If you're in Boston or Salem, it's an easy and short drive up the coast to Rockport, MA. I encourage you to come to the Cove for a few days, to relax by the ocean.
Guests have access to the mixed-use common areas, which contains tea and coffee pods, game tables, a giant TV, and lounge seating.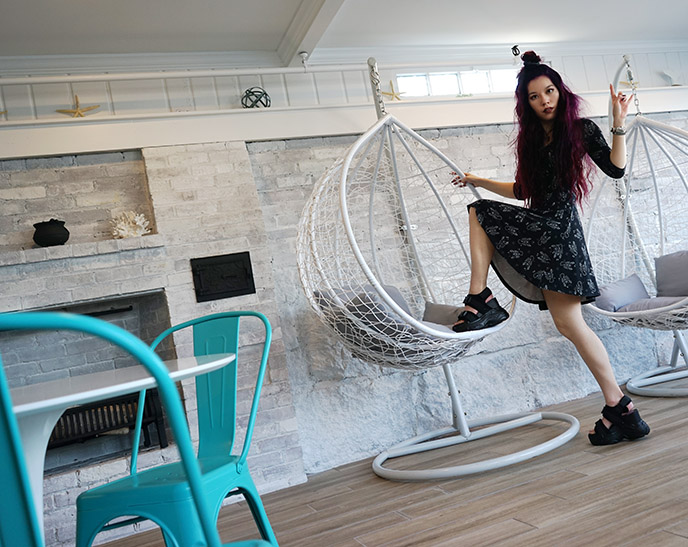 Scorpions dress by Sourpuss, and shoes by Anthony Wang.
The hotel was formerly the Peg Leg Inn, hence the pirate statue with a telescope haunting the exterior!
Time to explore. I went across the street to Front Beach, which has a mix of sand and rocks. Then, I took the quick walk to downtown Rockport village.
Along the way, I came across a friendly whale and an old cemetery overlooking the water.
The red Motif Number One fishing hut was first built in 1840; this is a replica of the original. It's known as "the most often-painted building in America," as it's found on many canvases.
I ate very well while in Rockport. Try the avocado egg toast from Brothers Brew, the fish sandwiches and salads from Roy Moore's Fish Shack Restaurant And Bar, and the oat milk lattes and snacks from Two Little Birds Eatery (right next door to The Cove hotel).
For a sweet treat, stop at Helmut's Strudel (fresh baked German apple pastry, topped with vanilla ice cream).
The town is tiny, and filled with quaint ports.
You can also peer in to indie art galleries, and take in a show at the Shalin Liu performing arts center.
For those focusing on outdoor activities, go for a walk and look for animals at Millbrook Meadow and Mill Pond. The park is straight out of a storybook (frog pond, stone bridge, playground), and right next to The Cove at Rockport.
Details of New England architecture. I thought those were flying bats, but they appear to be sea birds.
With sunsets like this, no wonder Rockport, Massachusetts attracts artists from all over.
Next time, I'd love to do some sailing along the coast.
Make a booking at The Cove at Rockport, for a luxurious and laid-back stay like mine.
Have you spent time vacationing in the New England seaside? This was my first time, and I'm keen to come back and see more of its charm.