Category Archive for
Seoul
Announcing my next travels and writing projects, including the debut of my Israel travel episode! I've been hinting at some exciting destinations. In April, I'm embarking on a "Gothic pilgrimmage":
I will be visiting Reykjavik, Iceland for the first time … followed by Manchester and Whitby Gothic Weekend in the UK!
Manchester's not just famous for football — in fact, many of the earliest Goth and Punk bands emerged here. Joy Division, New Order, and The Smiths to name a few.  Marketing Manchester is sending me on a journey to discover the city's subculture, past and present. I can't wait to take you around the Northern Quarter, the current hotspot for young chefs, artists and innovators.
I'll also be stopping by Iceland, with the support of Visit Reykjavik.  I've always wanted to see this unique and mysterious country with my own eyes — from Hallgrims Church to Yoko Ono's Imagine Peace Tower. (Above photos via Wikipedia)
And I'm crossing off a bucket list destination: Whitby Goth Weekend! Twice a year, Goths gather in this English seaside town to celebrate dark music, culture and fashion.
Will you be at WGW festival? If so, let me know in the comments or on Facebook. I hope to see you there.
I'm also thrilled to announce I've started writing for Yahoo Travel. As one of the "Yahoo Travel Explorers" bloggers, I'll be sharing my worldwide stories and videos on their site.
Finally, we've been able to release our Israel travel video! Watch me explore the surprisingly edgy culture found in this ancient place. Including hip Israel designers, creative fusion food, LGBT clubs, and the most fabulous drag queen of the holy land. 
(See this episode above and on Yahoo Travel. Produced by Eric Bergemann and Melissa Rundle.)
Israel remains one of our most memorable trips to date. Here's a bonus photo, from the boardwalk at Tel Aviv beach. I'm wearing a tank top and skirt from World Wide Love, the cute-ghost Tokyo brand.
I still have tons of posts to share from last summer, when I went all around Asia. Let's go back in time to Lotte World, Seoul's famous indoor amusement park.
This indoor theme park is the largest on the planet. The gates open up to a giant hall, framed by hot air balloon rides and roller coasters. Lotte World also has an outdoors portion with scarier rides.
On the way in, you'll encounter the mascot, Lotty. He appears to be some sort of chipmunk-raccoon in a vaudeville suit.
Lotte World's entrance fee ranges from 12,000 to 46,000 won ($12-44 US) depending on your age, the time of day, and whether you want full access to all the rides (try to go on weekdays to avoid the lines). You can also buy a "no riding" pass, and pay for each attraction individually (about $5-7 each).
Lotte World address: 40-1 Jamsil-dong, Songpa-gu, Seoul, South Korea
A lot of families come to the theme park, as well as couples. Many of them wear matching outfits, which is a romance trend in Korea. Yes, those boys are wearing big red bows on their heads…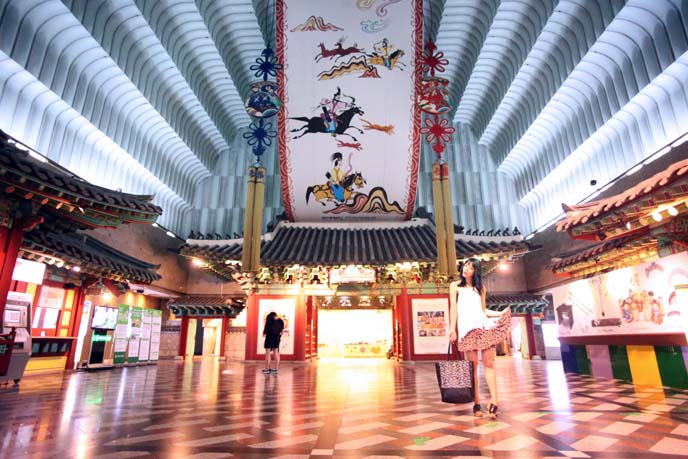 When the children are tired of posing with Lotty, take them to bibimbap and tour the Korean folk museum. Visitors can try on hanbok (traditional Korean dresses) and wedding outfits.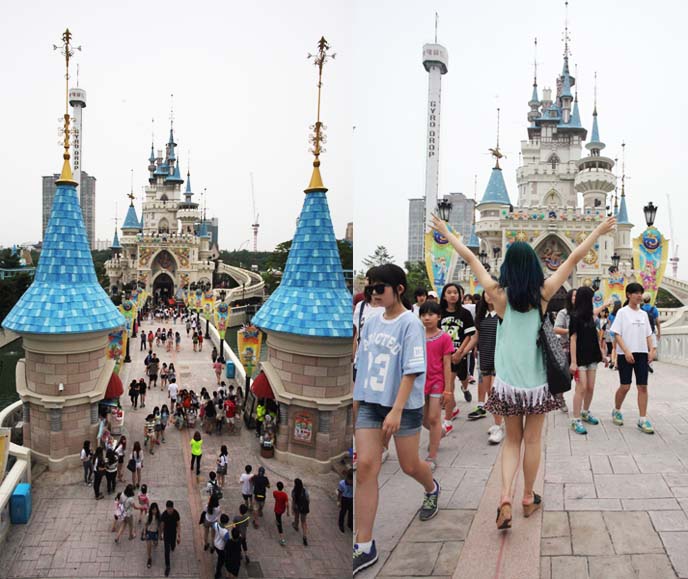 Outside, the Lotte Magic Castle looks a lot like the Disney one… Talk about a Korean Magic Kingdom.
The haunted house is a hoot, with live actors that seem to come out of a Korean horror film. These young girls were so scared. At each turn, they screamed and grabbed onto me and my photographers! We had to hold their arms and push them forward.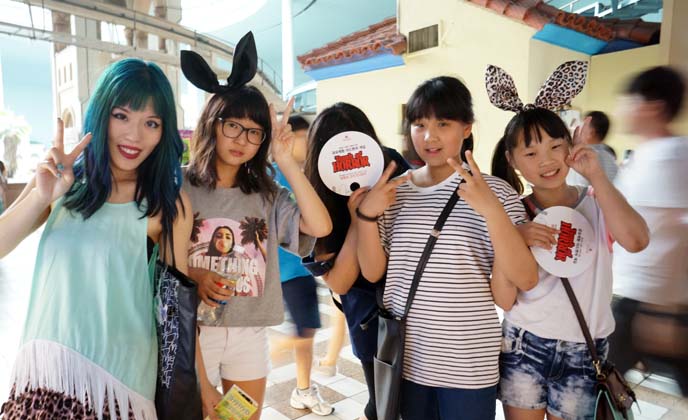 After, it's all smiles and Victory-hand poses. Except for the Korean girl in the middle, who insisted on hiding her face.
The map lists so many attractions, from 3D shows to water rides. No wonder Lotte World is a popular destination for all ages.
People lined up for hours to experience the scarier rides, like a 70 meter Gyro Drop, or this Gyro Spin.
They cooled off by eating cute popsicles shaped like Lotty, or Hello Kitty. (Photography by Ken Yuen and noircorner.)
I love roller coasters, but I didn't have the patience to line up. I was happy to visit Lotte World to see the quirky mascots and unique indoor rides.
I leave you with a ghoulish horror attraction…
… a group of stylish Korean teenage girls, doing heart hand-poses…
… and this shy youngster, who was playing with the rooster. For more adventures from Seoul, see all my Korea travel articles!
Please take a moment to watch our Israel travel video, on Yahoo Travel. It's one of our favorites yet.
And let me know your tips for next destinations. I hope to see you in Iceland, Manchester and Whitby Goth Weekend!
Life is now complete (joking, sort of)… because I've been to the Hello Kitty Cafe in Seoul, Korea!
I know you want to step inside this Sanrio theme restaurant, and eat Hello Kitty cake… so let's hop right to it.
First, how to get to this pink house? If you're taking a taxi, tell the driver to go to this address: 헬로키티카페: 서울시 마포구 서교동 358-11
In English, this says Hello Kitty Cafe: 358-112 Seogyo-dong, Hongdae, Mapo-gu, Seoul
If you're riding the subway, disembark at Honggik University station (aka Hongdae) and walk out of exit 5. The tall pink facade, topped with her signature bow, is impossible to miss.
Hello Kitty's most diehard fans come to Seoul specifically to visit her theme cafe. Try to come on a weekday and during off-hours, since this is a popular destination and the two floors may be packed. If you're lucky, you can nab a table and plush chairs, overlooking the Kitty-faced window.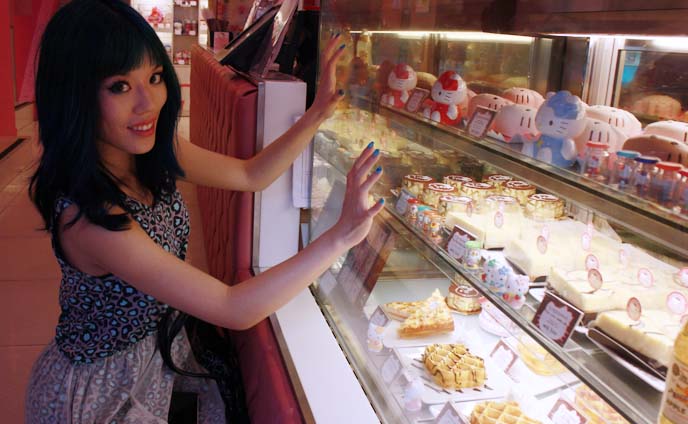 At the entrance, you can place your order for cakes, waffles and lattes decorated like Hello Kitty (6000-10,000 won each, or $6-10).
How can you resist getting a cheesecake shaped like Hello Kitty's face? It comes in three different flavors and colors.
The pink one tastes like strawberries. Only sweet dishes are served here, so be prepared for a blood sugar spike.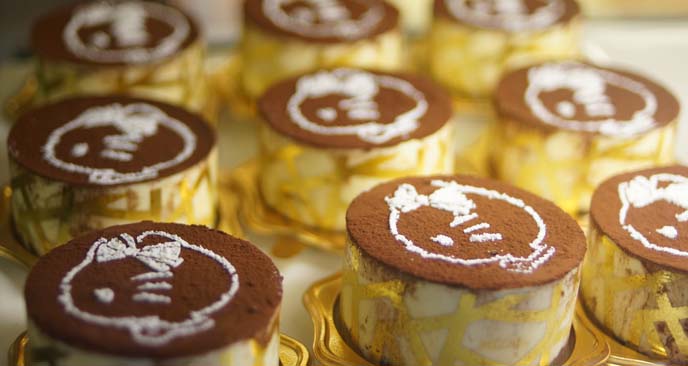 I also ordered a tiramisu. I don't usually have much of a sweet tooth, but this is one of my favorite Italian desserts.
Rounding up the sugar-loaded meal: a decorated mocha and cappuccino, a pink milkshake that celebrates her 40th anniversary…
… and chocolate-covered waffle, shaped a la Hello Kitty. This one looks more like an earless Scottish Fold cat face to me.
To be honest, the pastries are priced on the high side, and look far better than they taste.
We cut Miss Kitty open, and poked at her sugary, bland insides. Not exactly the meal of a lifetime.
But if you're a fangirl, the "kawaii" decor — including a Hello Kitty statue in a sparkly pink dress! — make up for it.
On the back wall, there's a mural showing Hello Kitty shopping in Paris. Visitors write notes or leave their signatures here. One of the customers seems to be giving me the side-eye…
Another window shows white stones, scrawled with Korean wishes. (Photography by Ken Yuen and Noircorner)
"Kitty's room is full of fun and play!" Why not. I'm a fan for life.
Downstairs, you can shop for special edition Sanrio souvenirs, including Korean-style ones. Shop for Hello Kitty items below >>

I was tempted to get this keychain of Hello Kitty in a hanbok (traditional Korean dress).
Let me warn you, the hurried staff is not known for its customer service. They pointed aggressively at an English sign, to make sure we understood we had to return the plates after eating. I guess some naughty diners tried to smuggle the custom dishes home as souvenirs.
Since the cafe has such a high turn-over, the tables and restrooms may not be satisfactorily maintained either. Perhaps I came on an off-day, but there was no toilet paper in the stalls — not even a square to spare! — and the staff neglected to mop up a spilled drink.
However, this didn't damper the mood of these smiling Korean girls. Most of the customers are young and female, and come here in groups.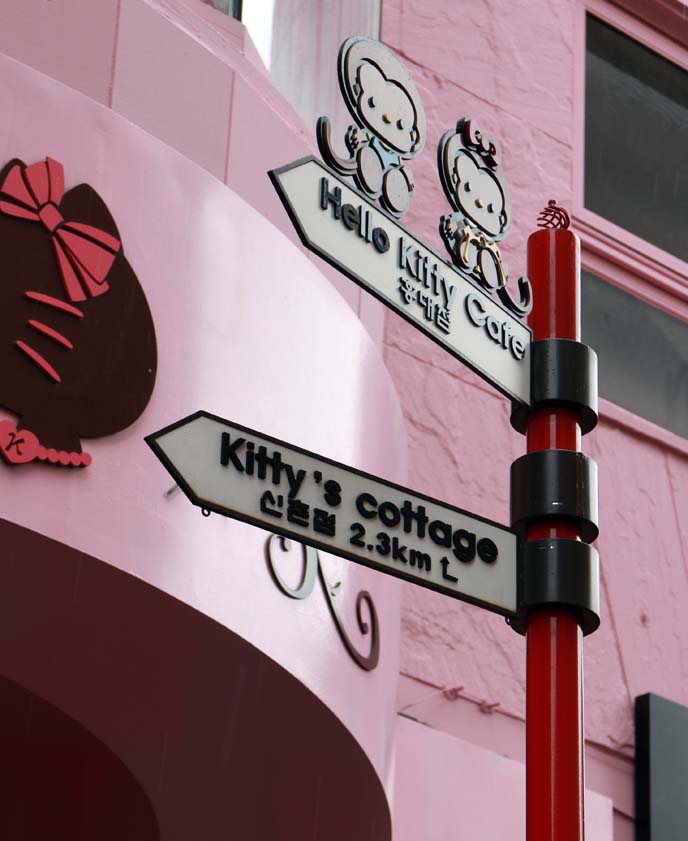 The "cottage" doesn't really exist (unless I'm mistaken), but the Hello Kitty Cafe is a must-see if you're in Seoul, and a lover of all things Sanrio.
● For more tips about places to see in this neighborhood, check out my Hongdae guide featuring Eat Your Kimchi.
● I've covered various Hello Kitty attractions in Asia; here are my blog posts about Japan's Puroland theme park, and the Hong Kong Hello Kitty pop up cafe. And don't worry if you aren't in Asia; you can still find her products below!