Category Archive for
Shanghai
I'm currently in Spain (as you can see on my @lacarmina Snapchat and Instagram) — but have so many posts still to share with you from Asia. In this one, let's explore Shanghai's French Concession and go shopping in two of China's coolest districts, Tianzifang and Xintiandi.
(I am wearing a Shakuhachi Future Minimal dress – this season, they have a similar white kimono dress.  The skull and pearl necklace is from Hong Kong jewelry designer, LLazy Bonez.)
So far, I've been showing you China's emerging trendy side. Remember my photoshoot inside my penthouse suite at Cachet Boutique Hotel? Here are a few snaps from the lobby, which is decorated in the same "ancient China meets mod art" aesthetic. 

From Cachet Hotel, we walked to the French Concession. This district belonged to France from the late 19th century to 1943. Even today, the European influence is seen in the architecture and character of the streets.
Melissa and I stopped to take in the old brick buildings, and the new skyscrapers rising above them. China's changed enormously even in the past decade. Business and development are booming.
The French Quarter remains the most peaceful and chic area of Shanghai (and arguably all of China). These trees — all imported from France — form a leafy canopy above the international boutiques and restaurants.
While China is modernizing, there remain strange remnants of the past. Communist China doesn't officially allow sex shops, so this one put up a "health" sign.
Another example of this juxtaposition. The French Concession feels as clean and contemporary as any European boulevard. And yet…
… we came across a woman selling puppies in a box. She poked at them, to make them seem more lively for potential customers. And one was dyed with tiger stripes… Despite other modernizations, you'll still see practices like these, in the open.
On the positive side, I enjoyed the calm vibe of the French Quarter. We passed by many artsy shops and cafes, like the one above.
I recommend spending at least a few hours walking around at random, and popping into boutiques. (The sign above says that this building's foundation is sinking, and urges people to consider the health and safety of residents.)
Seems like cute food is popular all over Asia. We were there around Halloween, so I spotted these skull, ghost and pumpkin donuts. 
Shanghai converted about 500 old red telephone booths into WiFi hubs. Funny how they transformed an obsolete technology into something functional for today.
My white neoprene dress is similar to this one also by Shakuhachi.
We stopped by Xintiandi, an upscale district that was the site of a controversial urban redevelopment project. This project transformed a slum into a business and residential space, while preserving the historical architecture. Unfortunately, it also displaced thousands of Shanghai residents.
Everywhere I went, I felt a strange mix of new and old. Tianzifang is an artsy area that has preserved its old alleyways and buildings.
At the same time, it's become a tourist destination. Nonetheless, the little stalls — selling handicrafts, tea and other goods — are fun to browse.
Prices in China are notoriously low, but you can (and should) try to bargain them down more.
Be wary of poor quality and knock-off items. These cell phone cases are cute (love the Mario and Spirited Away ), but are constructed from glue and felt. I'm sure they'd fall apart within a day.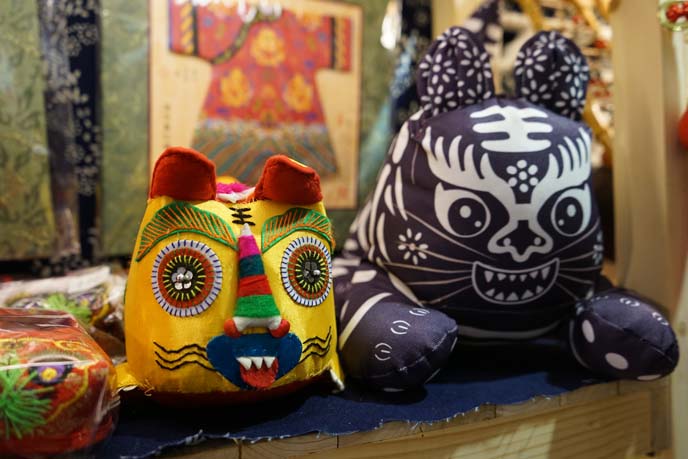 Other shops sell intriguing art, and traditional souvenirs — like the Chinese cats above.
Colorful characters, painted in vivid colors. (Photos by me and Borderless Media — check out our global travel videos on their site.)
In one shop, I saw a Scottish Fold coin purse, with tiny folded ears (on the right).
You can flatly assume that all "designer" items here are knock-offs here. Look close at the tag, and it reveals the truth about these "brand-name" sneakers. You can't make this Chinglish up: "never expose to intense meat or hot vehicles!"
Tianzifang is packed with street food and little restaurants, serving all types of cuisine.
Look what we ran into… the More Than Toilet theme restaurant! As the male/female sign indicates, this is a poop-themed restaurant. (Address: Tianzifang, No. 5, Lane 274, Taikang Lu)
This restaurant concept is similar to Taiwan's Modern Toilet. Customers sit on toilet seats and dine on such "delicious and happy" concoctions, like a swirl of chocolate ice cream, served in a urinal. 
In the glass case, you can buy stuffed toys shaped like a big dump, with cute faces on them (of course).
We didn't eat here, but saw others feasting on dishes like "Stool #1," a mix of brown sweets served in a toilet bowl.
If you're interested in reading more about bizarre Asia theme restaurants, check out my book about them.
Travel isn't always always positive and easy. In fact, some of the most memorable trips are the ones that leave you feeling challenged. Some of Shanghai's contradictions were hard to wrap my head around, but I'm glad I came here. I'm curious how the city will continue to change in the next years and decades.
Have you visited China before? What was your experience with the culture here?
Death stare… That's me, on the cover of Giuseppina Magazine! 
I'm honored to be featured in Issue #27 of Giuseppina (available here), with an editorial spread and interview. I've been a fan of this leading alternative / Gothic fashion magazine for a long time.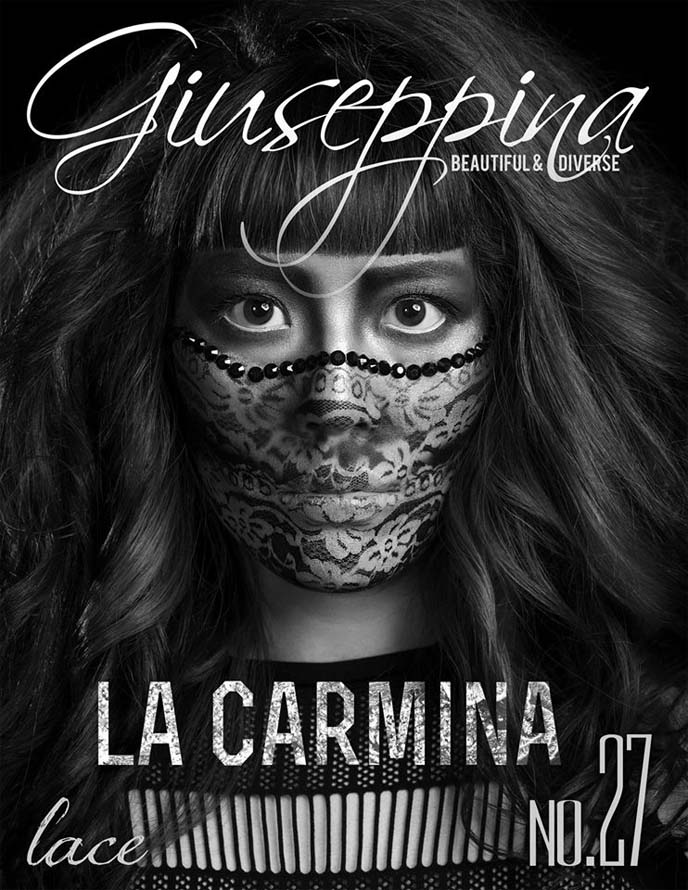 Above is the cover! My almighty team created these images to fit with the "Lace" theme of the current issue. We were inspired by an elegant, Gothic, Japanese moodboard.
Photographer: Joey Wong of Joey Wong Photography
Makeup artist: Jennifer Little of A Little Artistry
Hair stylist: Stephanie Hoy of Stratosphere Hair salon, Vancouver
Model and styling: La Carmina
I love how it all came together. A fog machine added to the witchy, spooky feeling of this shoot.
I'm wearing a lace cape by Black Milk Clothing (they also make the stretchy leotard, seen below). The leather pencil skirt and corset top are by Hong Kong's Erbert Chong. 
Jennifer Little of A Little Artistry keeps on raising the bar, each time we work together. She airbrushed over lace fabric, to create this ninja-like effect.
Stephanie Hoy of Stratosphere Salon made my hair come alive with dark blues, purples and magentas. If there's a hair-color-Zen-master, it would be her.
Photographer Joey created this eerie effect by shooting into the mirror. It has a The Shining type of vibe, don't you think?
(I'm wearing a top by Teale Coco.)
Everyone got creative with the "lace" theme. We wanted the look to be Gothic, yet a departure from what usually comes to mind.
A million thank yous to Giuseppina Magazine for the cover feature, and to my creative team for their outstanding work! (You are welcome to Pin / share our images, if you kindly link and credit back.)
To see more of these modeling images, and read my interview, you may order a copy of the issue. 
Speaking of photography — I've decided to share some of my Shanghai iPhone snaps with you. As you know, I now travel with professional photographers, and we strive to keep the image quality high in all of our works.
However, there are times when I leave the big DSLR cameras behind. I relish these moments of wandering at leisure, and capturing sights like these on my iPhone.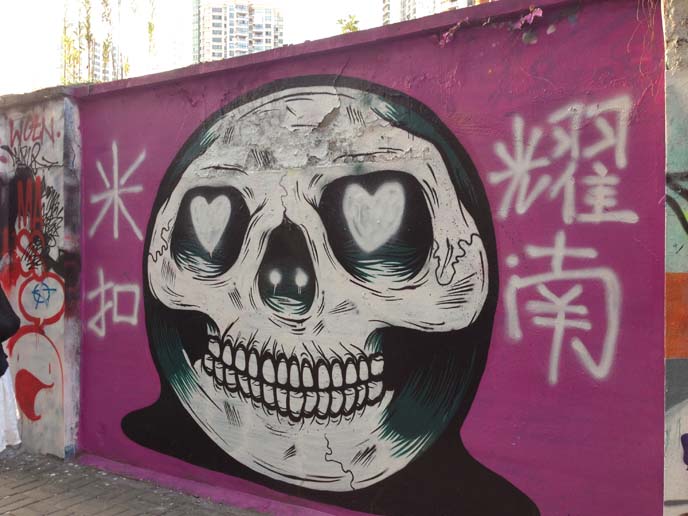 On my last day in Shanghai, I went to M50 or Moganshan Road by myself. Strolled around, met with local friends, and snapped away at inspiring murals (like this skull one above).
I hope you enjoy this casual iPhone diary of street art and fashion in China's biggest city! 
M50 is known as one of the coolest districts in Shanghai. It's home to contemporary art galleries and a long wall of street art, which anyone can contribute to.
Address: ask your taxi driver to go to 50 Moganshan Road (Chinese: 莫干山路50号). Cab fares are cheap in China, and the streets in this area are a bit confusing, so it's better to just pay for a ride.
Moganshan Road stretches along a crumbling wall, and every possible space is covered with street art. I took photos of my favorites, like this one of Street Fighter Chun Lee.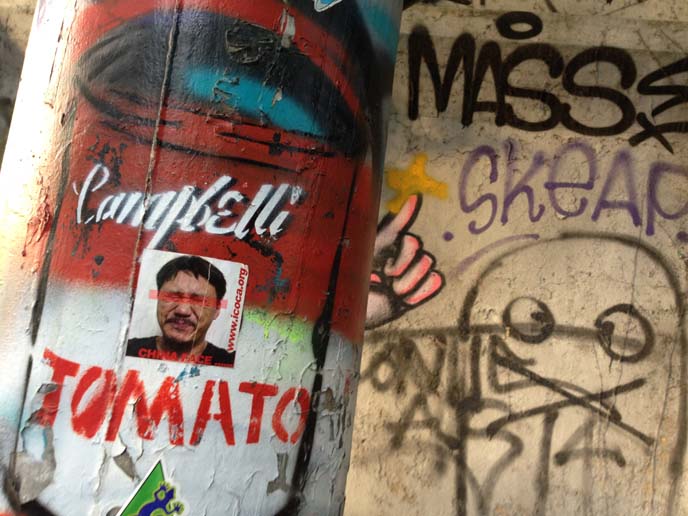 The works are an assortment of graffiti, sketches, and painstakingly-made paintings. The messages are a peek into the minds of the artists. I wonder what China Face and "Campbelli Soup" represent.
Every time you visit M50, the colors and images change. It's a constant work in progress. A fellow visitor handed me a silver market, and I added my fold-eared cat to the wall.
About 15 years ago, this district was a run-down industrial area. Shanghai artists flocked here, drawn by the cheap rent, and opened up studios.
Today, this area has over 100 art studios, which are free and open to the public.
I met up with my local friends, Andrew and Storm, who were adding art to the famous Moganshan wall. Using stencils, masking tape and spray-paint, they created this intergalactic work.
Want to see their street art in action? I took a short video of them making the mural; see it above and on VideoFy Me.
This art district reminded me of Woodstock in Cape Town, where local artists also brought color and creativity to decaying buildings.
Unfortunately, the property is owned by a Chinese developer, which has threatened tear it down. Parts have already been demolished, despite pleas. Hopefully they won't tear down this wall, as it's one of the few public spaces for expression, in strict China. 
I could have spent hours in Moganshan Lu, exploring the contemporary art galleries and studios. I was most impressed by this solo exhibition by Qiu Shengxian.
His painting style is known as "Mother and Son" because he fuses classical Chinese motifs with contemporary fashion and styling. The result: arresting, alien-like portraits like these.
Look closely. The red jackets contain a subtle pattern of Buddha heads and demons, all drawn by hand.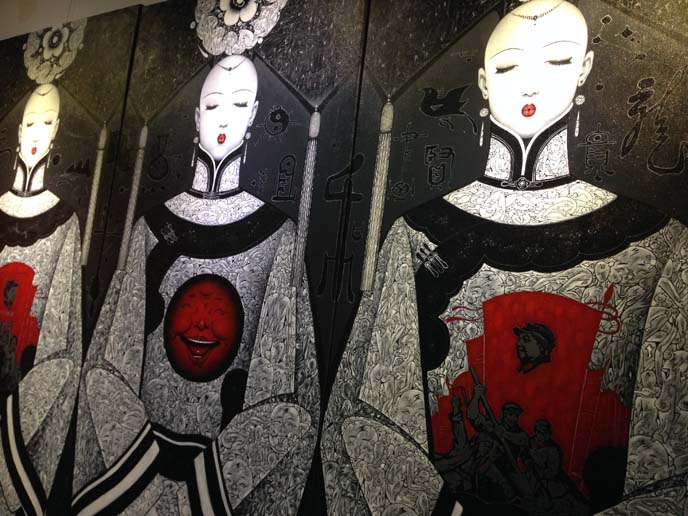 Ancient Chinese empress meets The Fifth Element. No wonder local artists like Qiu Shen Xian are gaining notice worldwide.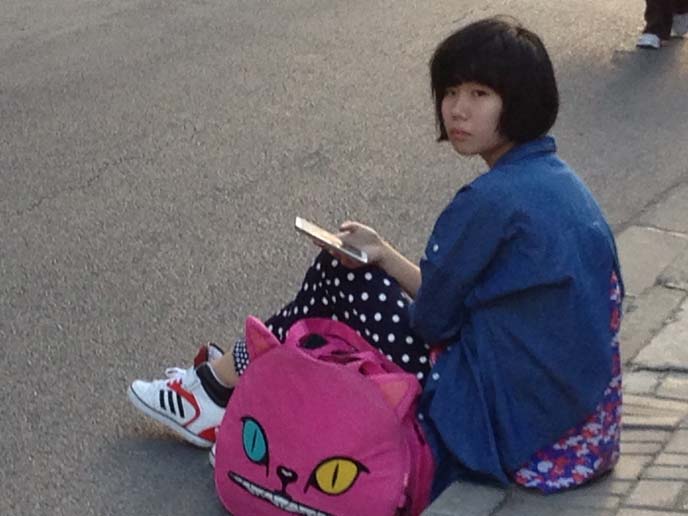 As I waited for a taxi, I took this snap of a Shanghai hipster girl, sitting with her pink cat bag and texting on her phone.
What else should I do on my free day in Shanghai? Shop, of course!
I walked from Cachet Hotel (where we stayed) down West Nanjing Road, and went into whichever boutiques drew my eye. Such as Snoopy, dressed in A Bathing Ape (BAPE) camouflage, and the silver cone-heads in the window.
I passed a lot of luxury brand stores, similar to the feeling of Fifth Avenue in NYC, or Ginza in Tokyo (not my cup of tea). Finally, I came across something intriguing: a smiley face, and three golden lions perched on a tall pole.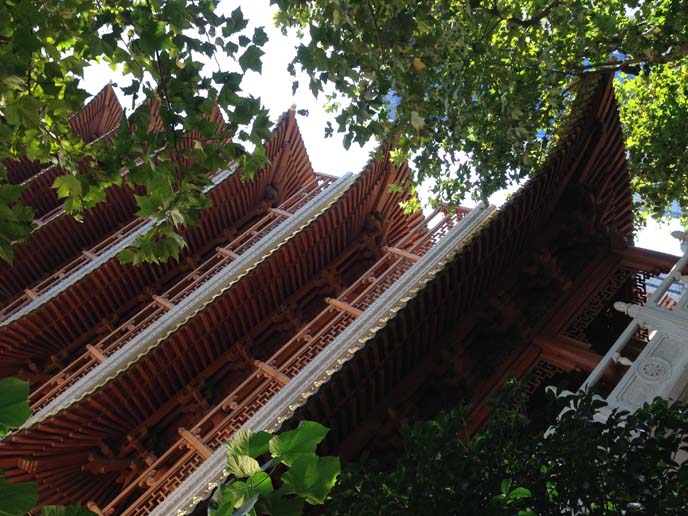 They are guarding Jing'an Temple, a of worship that was built almost 800 years ago. After a devastating fire in the 1970s, the Buddhist temple was rebuilt, and remains a popular site today.
❤ Continue reading this post, to see photos from the Miffy store, Gladnews and more Shanghai style. ❤