Category Archive for
Singapore
What's it like to dine at one of the best restaurants in the world? A foodie's dream, as you'll find out in this post!
Singapore does both street food and high-end dining fabulously. During my time in Singapore, I got to taste the latter during an insider tour of Marina Bay Sands hotel. You know which iconic building I'm talking about…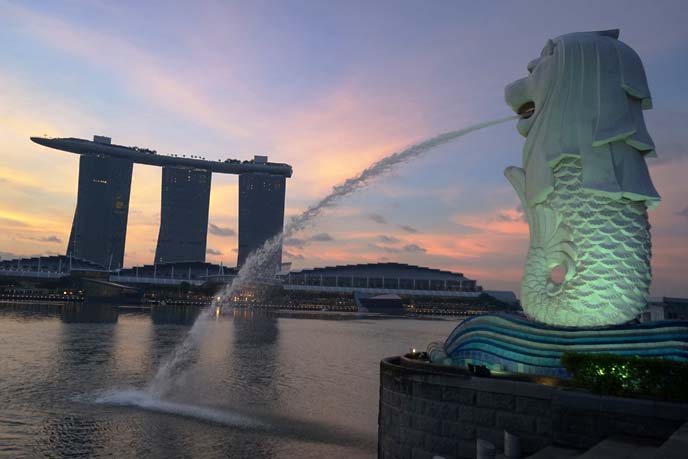 .. this "surfboard on three pillars," located across from the Merlion fountain!
Let me take you inside Marina Bay Sands' celebrity chef restaurants, including Adrift and Waku Ghin. We'll even get to dip our toes in the infinity edge swimming pool.
If you're visiting MBS, I recommend also spending time in the nearby Gardens by the Bay. This large complex includes dramatic outdoor gardens, and indoor conservatories with an admission fee. (Visitor info is found here.)
The Gardens are part of a government initiative to increase green spaces in cosmopolitan Singapore. When I went inside the Cloud Forest dome, I immediately saw this wall of "epiphytic" plants, adapted to grow on vertical walls.
(I'm wearing a skirt that's actually a scarf from Naumi Hotel. My hat is this one from Lack of Color Australia.)
The misty Cloud Forest looked like a scene from a storybook — and yet, it was all contained within a giant glass structure! This is the world's tallest indoor waterfall, and you can walk all around and through it.
Towering walkways twist around the Cloud Mountain. Most visitors take the elevator up, and walk downward. On the way, I saw thousands of plant species, and came across interactive displays about the environment.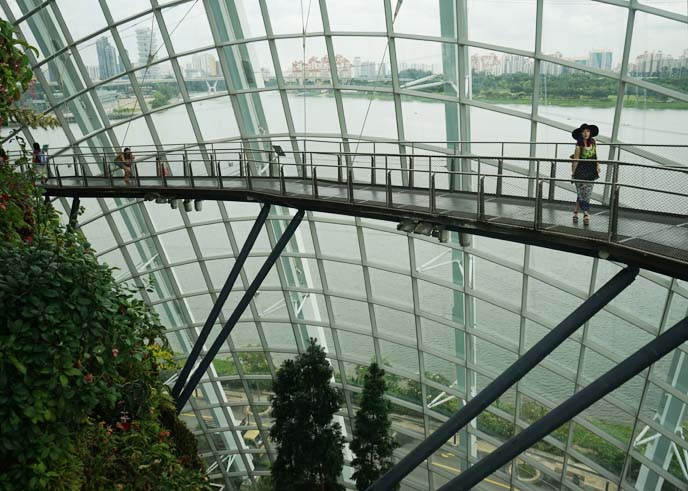 This is not your typical park, since many of the elements are indoors and manmade, and feature plants from all around the world. Still, the experience feels like a dream, especially when you walk along the high paths and see the dramatic waterfall.
Visiting Gardens by the Bay opened my eyes to how it's possible to build lush, vertical environments within a busy city, where space and resources are limited.
Next, we went into the Flower Dome, home to species from countries as far ranging as South Africa and Spain.
Everything here is constructed to minimize the environmental footprint, such as by re-circulating rainwater for cooling.
Do you like my black large-brimmed hat? The exact same one is available here!
l tried my best to blend in with the background. The dome's Flower Field changes constantly, and has special displays for various seasons and themes (such as Fairy Tales).
Outdoors, the Supertree Grove looks like an alien landscape. These unique vertical gardens are 50 meters tall, and turn into a display of light in the evening.
We strolled along the 128 meter long OCBC Skyway, which connects two of the Supertrees. (Photos by Ken Yuen)
Now, are you ready to go inside Marina Bay Sands? The eyecatching hotel officially opened in 2011, and contains… eveything. An ice skating rink, theaters, a casino, haute couture shops, and dozens of restaurants.
I'm sure you have heard of their famous 150 meter long infinity pool, located high above Singapore skyscrapers!  Talk about "swimming on the edge."
Only guests of the hotel can access the infinity pool, but PR kindly let us take a look around. And while this photo looks like I'm alone at the top… in reality, there were a lot of kids and families running around!
PR also let us look inside one of the infamous luxury suites. I couldn't believe it… in addition to spacious bed and bathrooms, the suite had a karaoke den, hair salon, massage parlor, and gym!
From the living room window, I looked out at the skyscrapers, and down at the lotus flower-shaped ArtScience museum.
Can you believe that only 5 years ago, the MBS hotel and gardens didn't even exist? Incredible to see how much Singapore's landscape has changed, in a short time.
The Marina Bay Sands lobby communicates this sense of soaring ambition. The entire complex sits on 20 hectares, and was designed by Moshe Safdie Architects. 
Restaurants are one of the biggest draws here — and I was ready to taste what they had to offer.
We started with lunch at Adrift by David Myers, a brand new concept for modern Asian fare.
Chef Myers trained with greats such as Charlie Trotter and Daniel Boulud, and his name is often found on award lists.
Adrift's menu is inspired by Chef Myers' travels in Asia. This dining room decor reflects his love of South East Asian flavors, Japanese ingredients, and more.
The cocktail bar is a scene straight out of Ginza, Tokyo. Bar consultant Sam Ross created drinks that perfectly fit with Adrift's approach. He uses ingredients like sake, and makes his own version of the Singapore Sling.
I tried his much-celebrated cocktail, The Penicillin, and it's my favorite drink of the year so far. Smoky scotch, lemon juice, ginger honey perfection.
I paired my cocktail with elevated "bar snacks" — creative, Asian-flavored munchies that I could have eaten all day long.
I'm eyeing the caramel popcorn with a spike of togarashi, and the nori rice crackers with yuzy kosho aioli.
These mouth-watering photos say it all… fresh flavors, gorgeous presentation. Adrift encourages diners to share plates, tapas style.
We loved the signature crab melt with pimento cheese, and the basil-infused tuna with avocado on a papaya-coconut sauce.
All of Chef Myers' dishes were perfect for sharing, and never too heavy.
It doens't get any better than this seared Hokkaido scallop with peas.
His handcrafted desserts were the perfect finish. The Guanaja chocolate pot de crème with burnt marshmallow was so good that I dug into it before we could take a proper photo!
Cheers to Adrift for a remarkable East meets West dining experience, "for dreamers and explorers."
I had tea and a chat with Tamir Shanel, the Vice President of Food & Beverage. He told me he had a vision of the hotel as a world-class dining destination from the start. Today, Marina Bay Sands is home to original restaurants by the world's top chefs including Tetsuya Wakuda, Daniel Boulud, Wolfgang Puck, David Thompson, Gordon Ramsay, and of course David Myers.
He's also created a name for MBS with their annual Epicurean Market. This food and wine fair brings in the best for master classes — I wish I could have attended this August, and tried all the international food!
We toured the hotel and peered into the various restaurants… if only I could dine at them all. I'm walking by Gordan Ramsay's Bread Street Kitchen, which will be open soon. (MBS has more than 60 international dining options, listed here.)
A peek inside Cut steakhouse by Wolfgang Puck. He sources the highest quality Kobe beef, and other top cuts from the USA, Australia and Japan.
The bartender was preparing ice for the evening. Cut is particularly well known for gin cocktails with Asian flavors like lemongrass and yuzu.
Wolfgang Puck, won't you cook a meal for me?
And now, for the main event... Waku Ghin. The Japanese word for excitement ("waku waku") describes the feeling of anticipation we had. After all, it's the brainchild of celebrated Chef Tetsuya Wakuda — and consistently named one of the top restaurants in Asia, if not the world.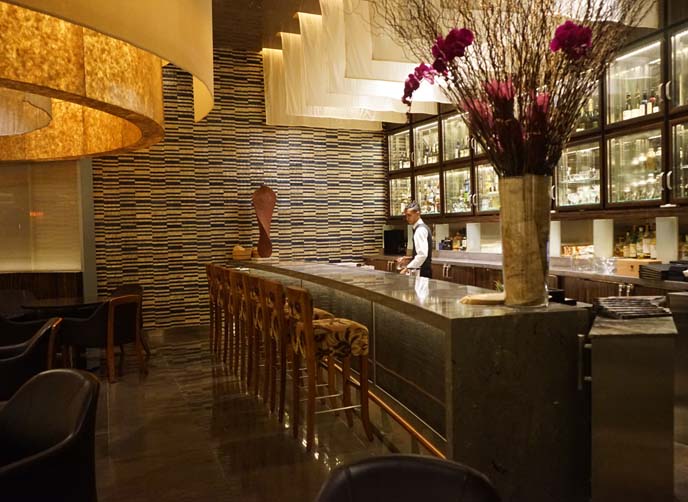 The name 'Waku Ghin' actually comes from two Japanese words, meaning "arise" and "silver." This is the chef's favorite color, and permeates the intimate modern decor.
From the start, you know that this is a sublime dining experience. The journey begins at the bar, with a staff that seems to anticipate your every need.
Then, you'll be ushered into one of the three "cocoons," or spaces where a chef cooks right in front of you. Waku Ghin only has two seatings a night, serving only about 50 lucky people each evening. It goes without saying that reservations are a must.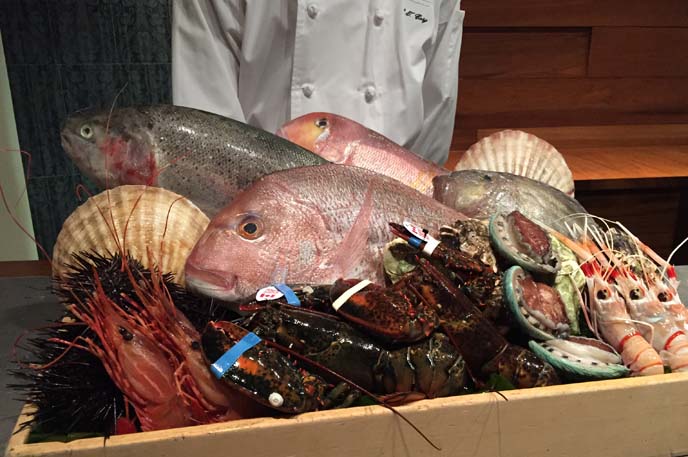 Our chef showed us a box of the the ingredients he would be serving us. The highest quality seafood sourced from all over the world, to be savored with a pairing of wine or sake.
Our chef was Cory Soo Thoo, a young Singaporean who has risen quickly in the culinary world. Chef Wakuda was in the restaurant that evening, and came out twice to greet us.
Watching Cory cook felt like witnessing a solemn ritual. He took the greatest care with each step, from the preparation to the plating.
And what a meal he delivered. One of the first courses was sea urchin and oscietra caviar with marinated botan shrimp — so decadent yet balanced.
Then (moving clockwise): pan-fried ayu with daikon and fennel, Tasmanian abalone with fregola (Sardinian pasta) and tomato, and steamed Alaska king crab.
I typically find shellfish a bit heavy, but in the hands of Chef Cory, this wasn't the case. He used techniques such as steaming to let the natural flavors speak for themselves.
After the 10-course degustation menu, all the diners move to this lounge for dessert. The window overlooks the Bay and Merlion, which light up with evening light shows.
Waku Ghin offered us some of the best desserts we had in Singapore: fresh strawberry sorbets and mousses, and petit fours.
Singapore lives up to its name as a foodie dream destination, especially at Marina Bay Sands!
Have you been to any celebrity chef restaurants, anywhere in the world? Are local food experiences important for you when you travel?
Ah, there's no skyline like Singapore. I'm still catching up on posts from my recent trip to Asia (I was in Tokyo to filming with Travel Channel TV, and also Bali and Singapore). But things are about to heat up some more… as I'm now heading to three new countries on two continents.
Morocco, Portugal and Spain — here we come!
I'm excited to share that I will be in Spain, Portugal and Morocco with my filmmaking partners, Borderless Media! (Above is a photo from Israel's Jaffa market.)
Spain Tourism is sending us over to capture stories of cool culture. I went to Barcelona years ago, but never Granada and other parts of this gorgeous country. We're also partnering with Eurail again and riding their trains around Spain, and to Porto and Lisbon. Finally, we're heading south to Fez, Marrakesh and Ouarzazate with Plan-It-Fez tours, to support women-run businesses and get immersed in Moroccan culture.
We're excited to hear your travel suggestions for all these cities. Please let us know in the comments or on Facebook, and check out my daily updates on Instagram and Snapchat (@lacarmina.)
But for now, back to the pink skies of Singapore. Some travelers make the effort to wake before dawn, in order to shoot photos in the first light. However, I'm not a morning person, and never managed to make this happen. The only reason I was able to capture these sunrise images for you… is because I took an overnight flight to Singapore, and landed around 5:30am!
When you step out at the airport after a red-eye, disheveled and jet-lagged, the last thing you want to do is struggle with transportation. 
I was invited to try out Blacklane Limousines, and booked a driver to pick me up and take me to my hotel. I was impressed by the seamlessness of the process, from the online reservation to the meet-up. Blacklane texts you to let you know your driver is on the way and gives you his cell number, so I never had to stress about a missed connection. Each time, the driver was waiting at our exact meeting point, holding a sign that said "La Carmina."
Blacklane's service is a splurge but worth it. It's a relief to have a calm, direct car ride after a long flight, especially if you have to travel a long distance to your hotel (such as from Narita to Shinjuku, which can take two hours in traffic.)
Blacklane's drivers are a class act. My Singapore driver offered to stop by Merlion Park on the way to my hotel, so I could take these images of the famous fountain. He also gave me a bunch of local travel tips.
The mythical Merlion is the symbol of Singapore. The fish body symbolizes the city's humble origins as a fishing village. The lion head refers to its original name, Singapura, which means 'lion city' in Malay.
Across the bay, I spotted the unmistakable Singapore Flyer Ferris wheel, and the ArtScience museum shaped like a lotus flower. Marina Bay Sands hotel stands to the right (I'll take you inside, in an upcoming article.)
When I was a child, my family and I never went to Singapore (even though it's a short flight from Hong Kong) because it wasn't considered a "must-see" destination. All this has changed, and tourism has boomed in the past years. Believe it or not, the Ferris wheel, MBS hotel, Gardens by the Bay and ArtScience museum opened only in the 2000s! Yet they've completely altered the cityscape, and are now as iconic as the Merlion fountain (which was established in 1972 by Prime Minister Lee Kuan Yew).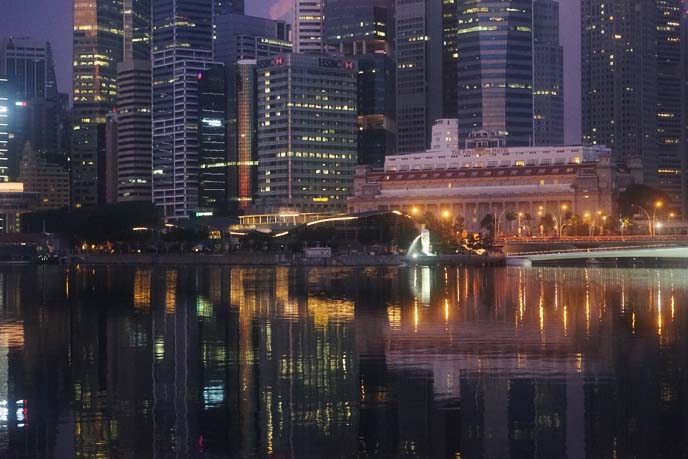 My driver stopped at a different look-out point so that I could see the Merlion from across the water, surrounded by skyscrapers. Crazy to realize that none of these buildings existed a few decades ago.
(All photos are taken with my beloved Sony A7 / Alpha 7 mirrorless camera. Available here; it's a must for travellers.)
However, Singapore is not just about high-tech architecture. The government puts careful attention into preserving historic, colonial homes and ethnic neighborhoods.
My friends at Naumi Hotel also invited me to stay at Naumi Liora, their boutique hotel that is dedicated to this mission. (Address: 55 Keong Saik Rd)
My hotel is in Chinatown / Tanjong Pagar, a hip area for restaurants and bars. The entire street consists of heritage buildings with charming shutters. (This is the view across the road.)
Naumi Liora turned a 1920s Chinese townhouse into a 79-room boutique hotel that maintains the original Peranakan elements. Double-leaf doors, French style windows and lattice patterns give character to the lobby and rooms.
However, the comforts of the modern world abound! Air conditioning, modern amenities — even free ice cream, lattes and snacks in the lobby. No wonder Naumi Liora is a hit among 20-something travellers.
We were steps away from one of the city's coolest and best-rated restaurants: Tippling Club (Address: 38 Tanjong Pagar Road). Look for the sign Bin 38, which refers to their new test kitchen and private dining space.
My white cut-out dress is from Chaser the Brand. The bunny-ears Japanese headband is from WeGo Tokyo.
Tippling Club's interior is modern eye candy, and hints at the fun-house meal awaiting you. The hanging bottles over the bar are both for form and function.
The cocktail menu looks like a map, with drinks sitting on a continuum: sweet, sour, fruity, dry. I loved the Occiton, created for  "Diageo World Class 2015," which puts together gin, pineapple vermouth, thyme, basil.
Tipping Club is famous for its cocktails, which come with a cheeky presentation. I ordered the bubble tea with melon and mangosteen infused gin — and it had a dome of giant bubbles on top, made with a fish tank air pump! The Panda's Escape (left) creatively combined rum and coconut water with Southeast Asian pandan, with two panda cookies on top.
Tippling Room wins my award for "coolest lights." The upper level is a private dining space, which lets diners sample new creations straight from the test kitchen. Many of these experimental dishes later become part of the main menu.
Each creation is paired with wine from Penfolds' celebrated Bin series. I'd love to have a party with my foodie friends here.
Downstairs, British born chef Ryan Clift works his molecular magic right in front of you. We sat at the open kitchen counter, and tasted over a dozen small bites.
As you can see from the photos, Chef Clift's amuse bouches are playful and aims to defy expectations. He began with bite-size twists on bar snacks, anointed with flavors squeezed from droppers. I bet you've never had a white truffle cracker that looks like Styrofoam, and is served on the material itself!
Tippling Club is often described as molecular gastronomy, but it goes beyond that. Take the Singaporean curry (top right) with puffed rice and curry coconut foam. Although made with molecular twists, it captured the flavors of this traditional local dish.
Same goes for their roasted monkfish with green curry and lime tofu. (Photos by Ken Yuen)
Don't miss out on their signature charred red pepper with a soy wasabi dipping sauce (right), and mango and togarashi sorbet white chocolate Meteorite for dessert (left).
Chef Clift gets especially whimsical with his desserts. There are cheesecake pills served in a prescription bottle, and a rainbow Fizz Bomb packet that bursts on your tongue like Pop Rocks candy. On the right: a beetroot and blackberry sorbet sandwich came impaled on a moving metal rod, which I had to catch in my mouth. 
The word "memorable" gets tossed around a lot, but it truly applies to Tippling Club. A must-try if you're in Singapore.
I couldn't leave without checking out the legendary Raffles Hotel and drinking a Singapore Sling. Established in 1887 and named after Singapore founder Stamford Raffles, the hotel maintains a feeling of colonial-era grandeur. (Address: 1 Beach Road)
My dress is from Alice's Pig. and I got the cat-ear sunglasses at Parco Shibuya in Tokyo.
Outside, anyone can wander through the courtyard gardens — you'll feel like a member of the old gentry, on the way to a decadent ball. Raffles now has a row of high-end shops outside.
Inside, only guests of the hotel are allowed. I was invited to peruse the lobby and tea rooms, and it felt like The Grand Budapest Hotel come to life.
I couldn't resist taking a photo with the doorman in a colonial Raj military-style uniform.
We were invited to visit the revamped Long Bar, which is now being more geared to locals.
The staircase shows the hotel's rich history over the years. Ah, to be a flapper in Singapore!
Inside, the architecture retains the old-time feeling, with a 1920s  spiral staircase.
The Long Bar's row of rattan fans is a throwback to the days before air-conditioning. This is probably the only place in Singapore where littering is encouraged. Every table has a bag of peanuts, and it's tradition for customers to throw the shells onto the ground. 
(But what if you have a peanut or nut allergy? Then you can wave around this "no nuts or I'll die" sign, which Naomi made to help out travellers! Just print out a copy of this helpful peanut allergy poster.)
Raffles is the birthplace of the Singapore Sling, a pink cocktail made by Ngiam Tong Boon in 1915. In these olden times, it was considered uncouth for women to drink alcohol. The bartender skirted these rules with a girly-looking mix that still packed a punch (ingredients include cherry liqueur, pineapple juice, Cointreau).
The Long Bar is celebrating the 100th anniversary of the Sling with mixology classes and other events, making this is a good year to visit.
I leave you with a few more glowing photos of the Singapore Flyer…
.. and skyscrapers over the water.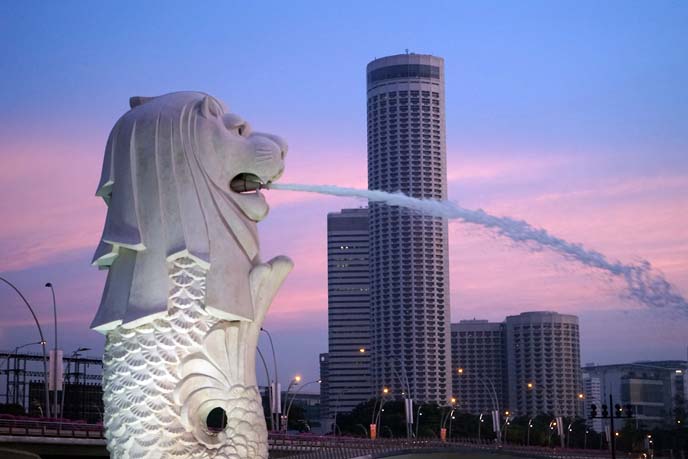 Doesn't Singapore have a fascinating history? I'm glad I finally got a chance to travel here.
PS: Please let me know your suggestions for Spain, Morocco and Portugal — and add my Instagram and Snapchat (@lacarmina) for previews of this trip!