Category Archive for
South America
That feeling when you finally make it to Medellin, Colombia!
For years, I'd heard fabulous tales of Medellin's vibrant street art and restaurants. In November, I was honored to be invited to spend time in the City of Eternal Spring, and experience the best of its food and culture.
I wrote a foodie's guide to Medellin, Colombia in my debut for TravelAgeWest Magazine — and here's an extended diary of everything that inspired me during my stay!
As I wrote in my Travel Age West magazine piece: "Ask a food blogger or chef about the world's best cities for dining out, and chances are that Medellin, Colombia, is at the top of their list. Over the past decade, the South American metropolis has developed an energetic food and drink culture in which the U.S. dollar goes a long way."
Photos by me and DC-based photographer Albert Ting (@pootie_ting on Instagram), who was on the trip with me.
Can you tell I loved staying at the luxurious and chic ElCielo Hotel? I love my baths, and this freestanding bathtub with lights was an Instagrammable dream.
You've got to stay at El Cielo hotel in El Poblado (the nightlife/hip/upscale area) if you come to Medellin (I recommended it as one of my fav hotel rooms ever, in this interview with Alibi Zine.)
Elcielo Hospitality is known for its diverse range of restaurants in Colombia and the US — so of course, the hotel's room service was delectable. I'm still reminiscing about the omelet with indigenous microgreens, and a generous side of Colombian avocado!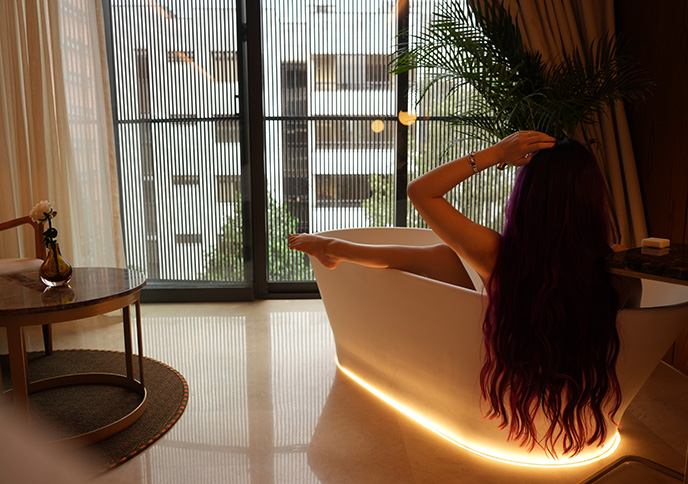 Every space made the most of Medellin's native plant life — one of the elements I loved most about this green South American city in the mountains.
Love the clean and natural aesthetics at Elcielo hotel, such as the spiral staircase from the upper level lobby to the rooftop bar…
This was my happy place during my Medellin stay, surrounded by greenery.
I came up to Elcielo's gorgeous rooftop pool multiple times to dip my legs in the water, and sip on an iced Colombian coffee with almond milk (and later, a pisco sour).
It was a delight to meet Juan Manuel Barrientos, or Juanma – the young Michelin-starred chef and entrepreneur behind Elcielo Hospitality. (It's a family run business; his dad is responsible for operations.)
Chef Barrientos has a rock star presence that carries over to his visually arresting dishes at Elcielo, his much-lauded fine dining restaurant in Medellin. (There are locations in Bogota, Miami and DC as well.)
The appetizers included Colombian corn crisps topped with edible flowers, gold foil and a cheese emulsion from the town of Paipa — and small bites like tapioca cubes, served with animal heads!
We sat down to 17  "experiences" with playful visuals, including a beet rose salad, and a demo of fresh corn tortillas made right at the table.
As I wrote: "Chef Barrientos loves to put an imaginative spin on native products, such as by molding yucca bread into what looks like a Tree of Life from the Amazon. Between plates, El Cielo offers eye- opening sensory "moments" such as washing one's hands in warm chocolate and coffee grounds: guests are encouraged to play with the sweet liquid and lick it from their fingers."
Feeling tropical amidst the living green wall and plants in Elcielo.
I continued to eat my way around Medellin, which has become a hub for inventive plant-based cuisine. I was knocked off my feet by Kaime Restaurant run by Sara Barrientos and her mother, who have been plant-based for decades.
The women have channeled their years of personal experience into creative dishes like this ridiculously tasty pesto vegetable pasta, as well as vegan burgers and cocktails. Kaime's Colombian-vegan dishes are such a hit that they are opening a US location soon.
More of my writing: "Colombia is famous for its coffee, which is the country's third-largest export and has a distinct citrus, chocolate and nut flavor. Trek to Hacienda Santa Isabel farm in Fredonia, about a 1.5-hour drive from Medellin, to see how coffee is produced at high altitudes with the help of donkeys."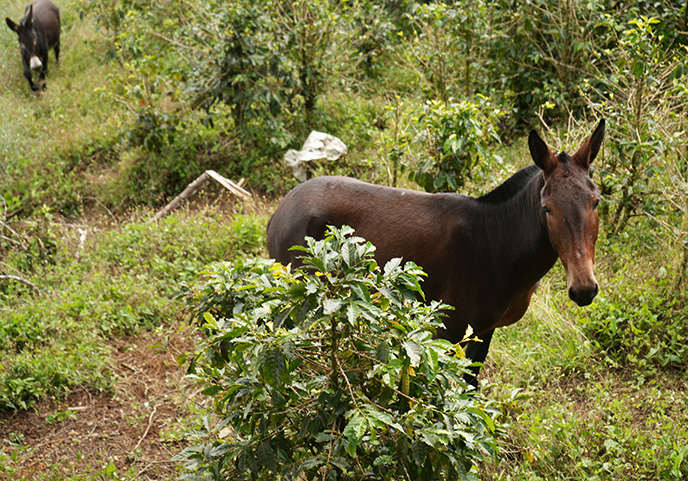 The views from the coffee farm were unforgettable… and the polite resident donkeys followed us to say goodbye!
At Cuon restaurant, chef Juanma puts a spin on Asian cuisine such as sushi rolls and sake cocktails.
The cocktail menu features Asian flavors like lemongrass and passionfruit, with cool presentations that involve dry ice and flames.
Impressed by Chef Barrientos' range… His Elcielo Hospitality Group has several restaurants within walking distance in El Poblado, the best dining area of Medellin. Here's La Serenissima, which focuses on Italian favorites. (His sister is behind the chic restaurant/hotel interior designs.)
Can't get enough of Colombian coffee… it lives up to its global reputation.
Happy to indulge in burrata pizza and prawns with handmade pasta.
After all that eating, I was excited to get to know the artsy side of the city through a walking tour.
I joined a Comuna 13 graffiti tour, in which a local shows you around the formerly dangerous neighborhood (now transformed into a street art living canvas).
Comuna 13 is filled with art galleries and murals in all styles. Here are two of my Gothic favorites.
The rainbow-painted houses on the side of the mountain are a sight to behold.
My Dutch braided hair matches the colors of this Comuna 13 art wall.
I felt safe during my Medellin travels — just be aware of your surroundings, and you'll have no trouble in places like Comuna 13 and El Poblado / Parque Lleras where travelers tend to go.
Much of the artwork reflects on Comuna 13's revitalization, and themes of local history and politics.
Nothing like the eclectic skyline of Medellin, with the jungle and Andes Mountains in the distance.
And I had to see the "thicc" sculptures of 20th century Colombian artist Fernando Botero! 
At Plaza Botero in the old quarter, you can walk around dozens of giant bronze statues made in his signature "plump" style. (The area is a tad seedy, so watch out for your belongings.)
Botero aimed to emphasize volume and form in his works, which are a delight to behold.
The cute, rotund animals were my favorites.
Then, pop into the Museum of Antioquia to see more of Botero's works including devilish paintings.
There are elements of surrealism and humor in Botero's art, especially the religious paintings. I'm a fan after seeing his works at Museo de Antioquia in Medellin!
The city has a vivacious nightlife and late-night dining culture. Here's the spooky decor at Agua Fresca Taqueria y Mezcaleria, a Tulum-style Mexican restaurant.
Be sure to order the dishes with "avo" —  like the guacamole topped with local microgreens, with tortilla chips and a plethora of house-made sauces. The local Lorena avocado is round and creamy, and I could eat it by the bucket.
The modern Mexican restaurant also serves fresh-milled corn tostadas and tacos piled with generous portions of creamy avocado. Goes down great with a paloma or margarita.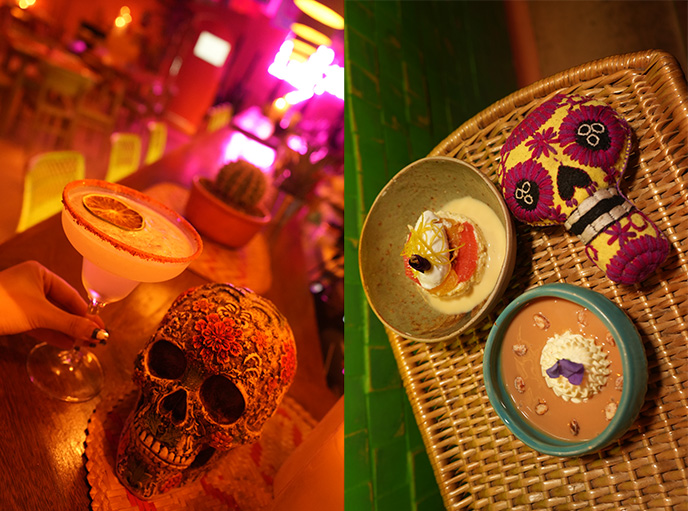 Cheers to the day of the dead skulls found throughout. Photos by me and Albert Ting (@pootie_ting). 
We packed a lot into our Medellin journey — including a drive to El Peñón de Guatapé. The giant granite rock looks like an alien monolith, and you can go up 649 stairs to get to the top.
Instead of doing the "Stairmaster" to El Penon, we took in the surrounding views and snacked on Colombian street food.
You can't help but be inspired by Medellin, with rooftop views like these.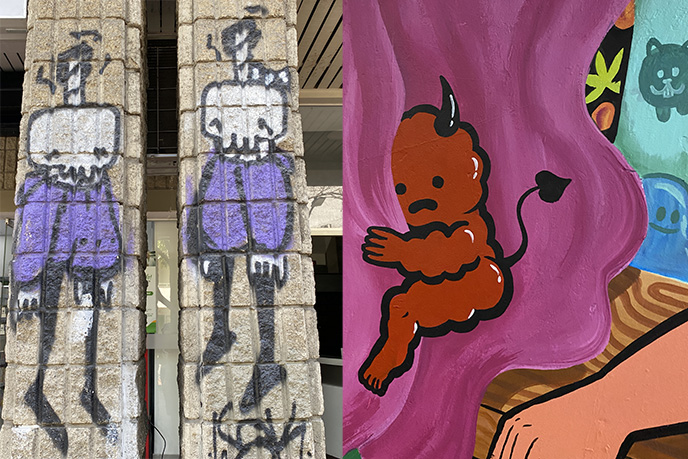 And there's street art everywhere you turn. Here are some Satanic and Gothic favorites… how sweet is the baby devil?
Be sure to do some shopping as well — Oviedo mall is my favorite, and is known for its emerald jewelry stores.
At the "Kinky" store, I couldn't resist getting this kawaii Baphomet amigurumi (crocheted plush).
Satan is indeed everywhere… The houses in Guatape are decorated with bright friezes, including this occult alien pentagram pyramid wall.
Speaking of Goth matters… I did an interview with Cherry Chu magazine about the Japan Gothic subculture, favorite clubs, clothing lines and more.
Hail Medellin! Such an energetic and warm city.
I will always think back to my lazy early afternoons at the Elcielo Hotel rooftop pool…
Relaxing poolside with fresh avocado and these views.
Must come back here… ahh!
What do you think of my offbeat, artsy and foodie travels in Medellin? Leave a comment if you have any questions about coming to Colombia.
Easter Island is one of the strangest places on Planet Earth. With stone-faced statues and weird landscapes, it's no surprise that some truly believe UFOs landed here!
Visiting "Isla de Pascua" was one of my long-time travel goals. This year, I finally made it to the land of the moai. As you'll see in this story, it surpassed my high expectations.
In part one of my moai adventures, I visited the northern part of the island, where I saw Orongo and other famous sites.
The next day, I once again joined Easter Island Travel — but this time, on a private custom tour to Tongariki (the row of 15 aliens above)…
… and Rano Raraku, the stone quarry from whence these giants emerged. (All photos by Joey Wong)
Isn't this as close as it gets to a real life Mario-Land? Read on for tales of the mystifying moai of Easter Island!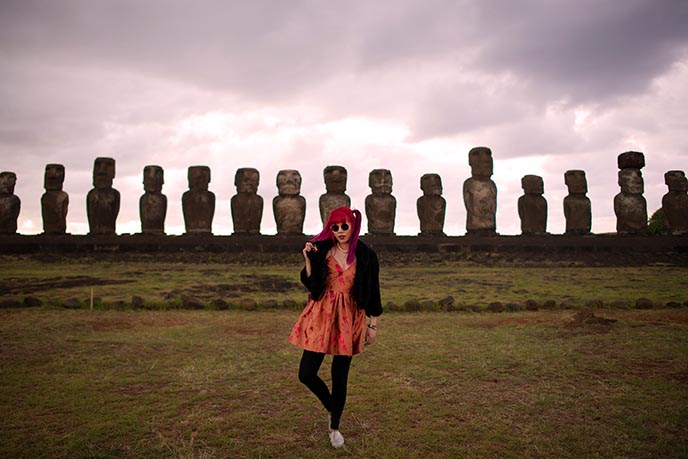 Dream. Come. True. (And the perfect new Facebook cover / banner photo!)
I still can't believe I got to see Easter Island… it feels like a lucid dream. LATAM Airlines, the only airline that flies here, made this extraordinary trip possible.
On the second day of my journey, I woke up at 5 am to catch the famous sunrise at Tongariki. The lovely Patricia of Easter Island Travel picked us up from our hotel Hangaroa, and we drove east for about 45 minutes.
When I stepped out of the car, I was in awe at the sight before me. A crescent moon glowed above the silhouette of 15 giants standing in a row — it was a vision straight out of a sci-fi movie!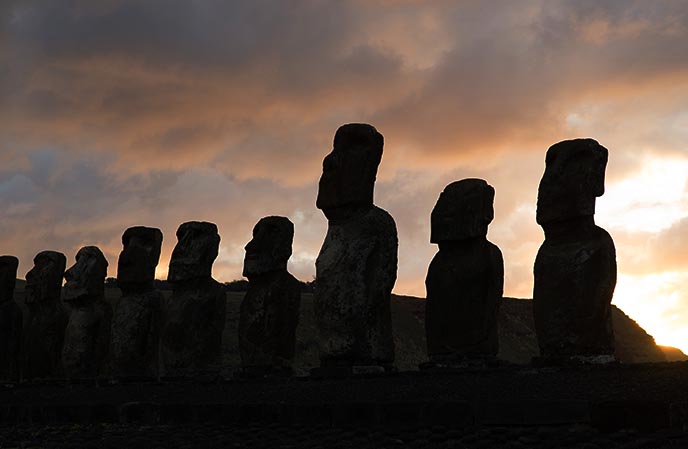 As the sun began to light up the sky, I felt like I was in front of a fleet of extraterrestrials. I can only imagine what it was like for the Dutch explorers to arrive on Easter Island in 1722, and encounter this mind-bending sight.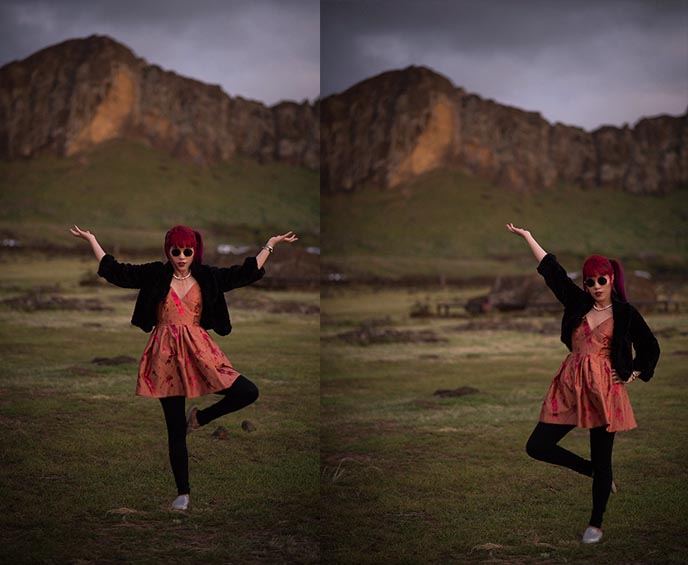 Space invader, that's me. The landscape of Easter Island made me think of Mars.
It's fitting that I am wearing a dress from House of Holland's space collection. Below are more of their intergalactic designs: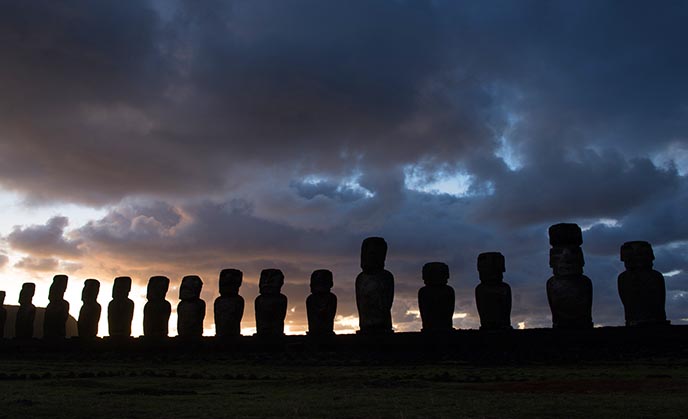 With fifteen statues in line, Tongariki is the largest "ahu" (platform) on the island.
During the island's civil wars around the 1700s, these Godzilla-sized moai were toppled. In 1960, the ahu was also swept inland by a 9.5 earthquake (one of the largest ever recorded) and tsunami. Tongariki has since been restored, as you can see from the powerful shapes of the 15 stone men today.
Ahu Tongariki has some of the largest and most exquisite moai on the island. The largest of the bunch weighs 86 tonnes; it's the heaviest statue ever erected by the Rapa Nui.
As you can see, only one of the moai at Tongariki still has his "pukao" (red hat or topknot). Some of the others originally had pukao as well, but their headwear was too badly damaged to be restored.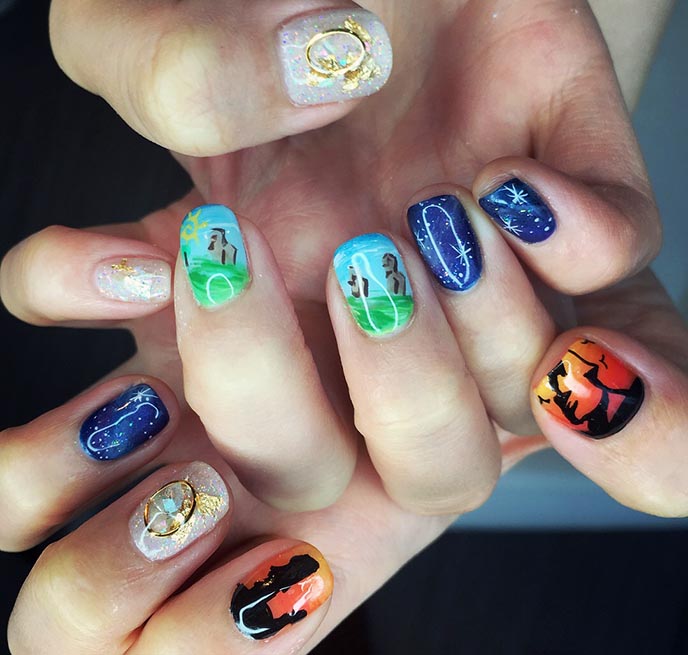 My nail art, by Keiko Matsui at Vancouver BC's Glam Nail Studio, sums up the magic of Easter Island. She drew the stone faces and their silhouettes at dawn, as well as dark skies filled with stars.
As the sun rose, the sky burst into radiant hues of red and orange. Slowly, the rays illuminated the details of the carvings.
The moai are all unique in small ways, which gives each of them personality. Scholars believe they are homages to ancestors, and infused with "mana" or energy. No matter what you believe, these 15 elders undoubtedly radiated a feeling of power.
Alien nation. (Although Easter Island has a hot tropical climate, it is a bit chilly in the early morning, so I recommend that you wear layers).
I'm wearing metal round sunglasses by Edwardson Eyewear, and a spider brooch on my faux fur black jacket.
It's easy to fantasize about aliens building these statues. However, the truth is that early humans were capable of remarkable feats of art and engineering. 
Easter Island's inhabitants knew a lot about astronomy as well. This 100-meter long platform faces sunset during the summer solstice.
On the other side of the ahu is Poike volcano, the oldest on the island. Legend tells of a battle between "the long ears" and "the short ears" taking place here.
These days, it feels like tourists are everywhere. In remote Easter Island, however, there are very few visitors.
What a joy to experience Tongariki with only about 50 other people. There was plenty of room for everyone to stand or sit (or hail the moai), and no gift stores or vendors.
When I saw this moai on thet way out, Covenant's song lyrics came to my mind.
"Stand before the gates and watch metropolis. Empires come and go, we live forever… I stand alone."
In the 1990s, the Japanese contributed immensely to the restoration of Tongariki. As a thank you, the people of the island sent this moai to Japan to be exhibited.
Today, this fellow is known as the "Travelling Moai" and continues to tour the world. (I think his expression is rather kawaii, don't you?)
This moai was also used in the 'walking' experiments of Thor Heyerdahl, which researched how the inhabitants originally moved the stone figures. It's believed that they held them upright with ropes, and shuffled them back and forth until they reached their final destinations.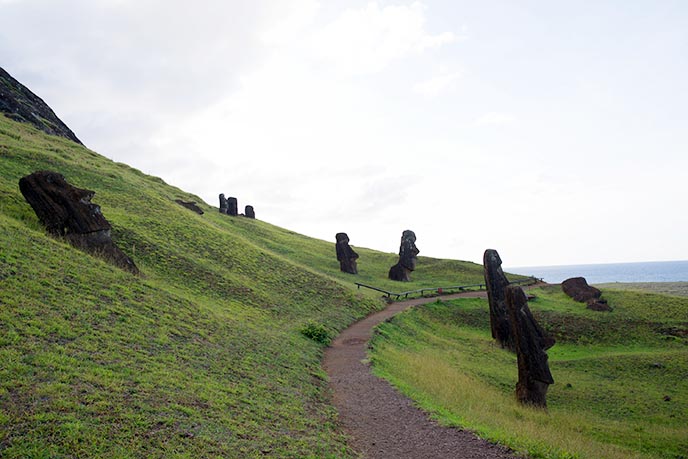 The feeling of being a "stranger in a strange land" continued at the nearby Rano Raraku. This is the stone quarry where most of the moai were carved. With monolithic heads sticking out of rolling green hills, I felt like I was inside a Super Mario video game.
Archaeologists are still making startling discoveries about the moai. Not long ago, they excavated a few of these giants… and found out that they have bodies beneath the ground! Over the years, the statues were naturally covered with eroded dirt, which left only their faces poking out from the grass.
Some of the moai were half-carved or abandoned, which makes it look as if they are "sleeping" face-down. My imagination flowed as I walked around Rano Raraku. I pictured the creatures "waking up" one day, and teaching us their secrets.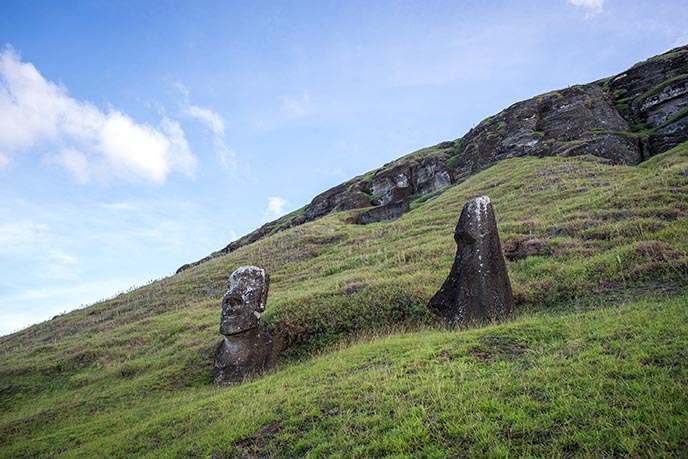 To this day, there remain so many unanswered questions about the moai. It's extraordinary that the ancient tribes of Easter Island were able to engineer these monoliths, which have become recognizable worldwide (they even have their own emoji 🗿).
Where Do We Come From? What Are We? Where Are We Going? The moai remain tight-lipped…
As I mentioned before, you must purchase the National Park Ticket (at airport arrivals) in order to see the most famous moai, and some sites are limited to one entry only.
Visitors must stay on the paths at Rano Raraku. We saw a tourist wander off-limits towards the moai… and yelled "yo!" until a guard came horseback to tell him off!
Rano Raraku is a UNESCO World Heritage Site, and these hills give a spectacular view of the surrounding ocean. There are about 400 moai resting here… I gave them a hearty Hail.
All of Easter Island's moai were originally carved in this quarry, before being transported to various locations. Many of the moai were half-carved and abandoned, or never moved — so they remain grounded at Rano Raraku.
Here's a big guy, in the process of emerging from stone. His profile is easy to recognize… but the artist stopped working on him for unknown reasons.
Our sweet guide, Patricia, pointed out "sleeping moai" along the roads. They fell or broke while being transported, and were abandoned as their "mana" was considered to be lost. It looks like these face-down moai are taking a nap… one day, maybe they will wake up!
With their sloped noses, pursed lips and unreadable expressions, the moai look like "chill dudes" hanging out. No wonder their replicas are often found in tiki bars.
Rano Raraku is only about a five minute drive from Tongariki, so it makes sense to visit both at the same time. I recommend first seeing the sunset at Tongariki, then heading over to the quarry. Having a private driver/guide and car meant that we could be flexible, and spend as much time as we needed to take photos.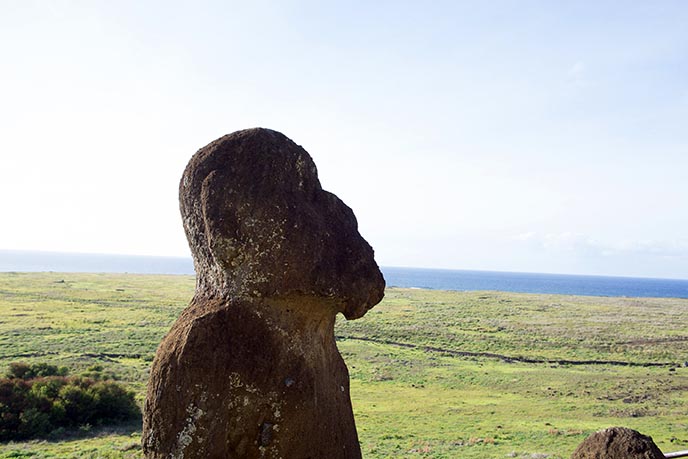 One of these moai is not like the others… Introducing "Tukuturi." He's carved in a different style, out of red scoria from Punu Pao. Tukutiri has a beard and unique facial features, and sits in a kneeling posture. 
Queen of the moai, that's me. (Isn't the scenery of Easter Island out-of-this-world?)
The visible moai are already huge… but remember, they have bodies beneath the ground. This makes them up to three times larger!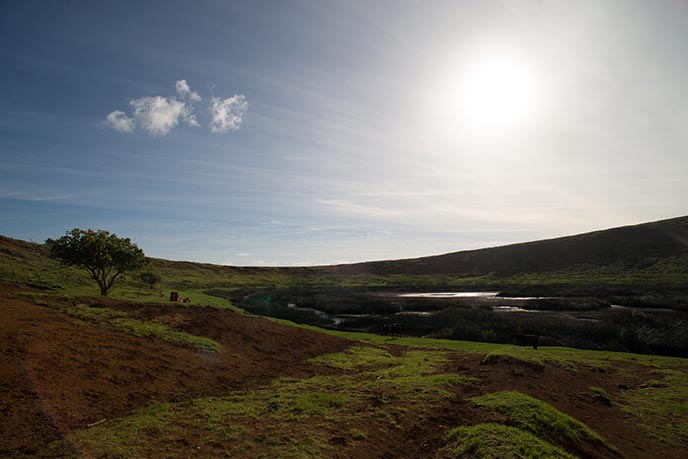 Rano Raraku is a a volcanic crater. You can take another path to see the dramatic asteroid-like indentation.
I always had a fascination with the stone-faces, and am grateful I had the chance to meet them.
Close-up on the carvings. Minimalist, monolithic mastery.
This puzzling civilization fired up my imagination. Easter Island is without doubt one of the coolest places I've ever been.
Details of my rockets and stars dress by House of Holland (see their space collection here). My pearl and skull necklace is Alex Streeter.

The hues of my outer space dress happened to match the sunrise. (You can see footage of the changing skies in my Instagram video.)
Although Easter Island is technically part of Chile, it feels like it belongs in another galaxy. (All photography by Joey Wong.)
Now that I had seen all the major attractions on the isle, it was time to go. We said goodbye to the horses grazing around the crater.
LATAM Airlines is a rock star for making our journey possible. Their flights were comfortable and on-time, with fantastic service from the staff.
If you're inspired to come to Easter Island, LATAM is the way to go. I recommend booking a window seat so that you can take in these soaring views. And if you are looking for souvenirs, there are stalls at the little airport with moai-themed goods.
Visiting Easter Island felt like I had left the planet, and entered another world. If you're fascinated by ancient cultures and mysteries, I encourage you to make this trip of a lifetime.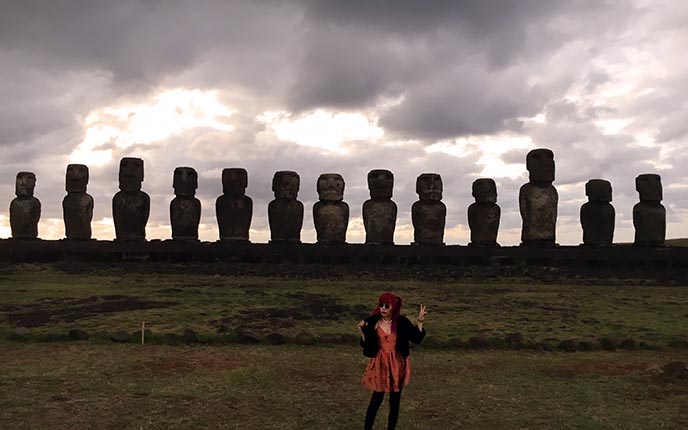 Click to see a short Instagram video of my Easter Island travels. 
After seeing the stone-faced moai, I think the only thing that can top this… is a journey to outer space!
For more travel tips (including our hotel and Day 1 of our tour), see all my Easter Island articles and photos here.
Is Isla de Pascua on your bucket-list? And what do you think of the alien connection… is there anything "out there?"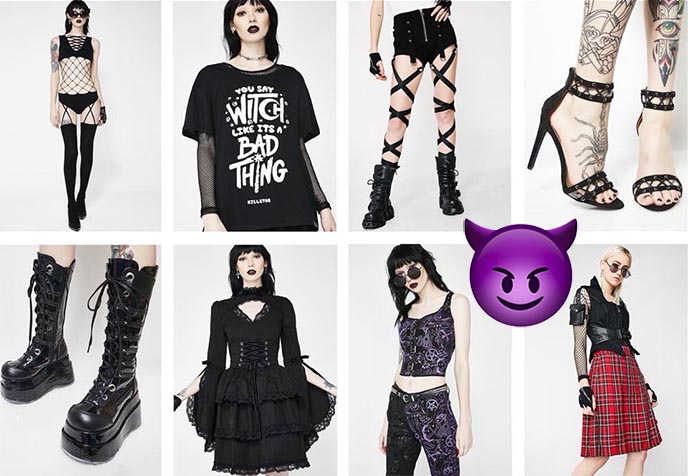 Announcement: I'm heading to Japan for travel TV shoot, where I'll be hosting and producing! I will also be traveling in Thailand and Laos with my pirates.
Since this major television program is occupying my full time, I won't be able to do any blog updates for the next month or so. However I will update my social media regularly with Asia adventures. Please feel free to add me on @lacarmina Instagram, Twitter and Facebook for the latest updates!

As always, you can find my favorite Gothic fashion here (such as the boots, dresses and fishnets in the photo above). You can also shop my personal closet here on Depop. I've listed my clothing at discounted rates; email me if you'd like anything at all. "Mata ne!"