Category Archive for
South Asia Travel
Goodbye, 2013! What a spectacular year you've been. Let's continue our look-back with highlights of the last six months.
But first: a peek into a Hong Kong cat cafe! Watch my new video on Huffington Post, where I visit Causeway Bay's "Ah Meow" theme restaurant. It's home to dozens of adopted cats, including at least three Scottish Folds.
My round Basil Farrow makes a cameo too… Can you find him in there?
Now, back to the yearly sum-up. As you saw in Part 1, I spent the first half of the year traveling for work. In July, I remained in my hometown of Vancouver — but did I stop to rest? Hell no.
The famous German TV show, Circus HalliGalli with Joko and Klaas, flew in to shoot a challenge about lip-sewing body modifications! When it aired, it caused quite the stir among the tabloids. Watch my evil TV hosting in this episode, if you dare.
Seby and I also appeared as guests of honor, at Vancouver's Anime Evolution convention. We had a great time meeting you, and hope to be back next summer.
Next, my film team and I did an epic journey in Central and Eastern Europe with Eurail. We "coolhunted" emerging trends, nightlife, fashion and more in Vienna (Austria), Bratislava (Slovakia), Budapest (Hungary), Belgrade (Serbia), and Zagreb (Croatia).
Our videos are getting hundreds of thousands of views, on Business Insider; I'm glad you're enjoying this series. Here are all my east European travel guides.
Then it was back to Asia. Thailand Tourism sent Seby and me to Bangkok, to experience "T-pop" culture and share it with you. We were hosted by Sofitel So, a blissfully elegant 5-star hotel (this is their funky "Earth"-themed room).
We were enthralled by the colorful local fashion at Siam Discovery, and golden temple of Wat Pho. I still have more Bangkok posts to share with you, so stay tuned to the South Asia page.
I also had the chance to do more TV presenting. Some projects, I can't say much about yet due to contractual agreements… but rest assured that when things air, you'll be the first to know.
Above is my latest TV hosting reel, which includes clips from Discovery TV's Oddities. The cover image is from my dinner with my friend Andrew Zimmern, who was in Vancouver filming Bizarre Foods!
Every year, I go all-out for Halloween and Day of the Dead. This time, I celebrated my favorite holiday in Portland. Between partying, this space-girl floated to steampunk stores, vegan brunches and Lovecraft bars. Click here for all the PDX, Oregon action.
Are you exhausted yet? The year's not quite done: a TV job meant spending most of November in Tokyo, Japan. I love seeing the cute Christmas lights and decorations during this festive season.
I was also on two magazine covers in December: the alternative fashion Rebelicious Mag, and the in-flight magazine of Hong Kong Express Airways.
And here we are, licking our feet. I can't wait to see what 2014 holds. Already, there are meaningful travel projects in the works, and a new destination in January… Keep your eyes peeled for the announcement. Hint, it's somewhere in the Middle East.
For you Tokyo fashion lovers, worry not: I have lots of Jpop posts coming up. You can get sneak peeks (along with snapshots of my cat) on @lacarmina Instagram.
And don't forget to watch my new HK Cat Cafe video, wink wink.
Do you feel you've grown or changed in 2013? What are you looking forward to in the New Year?
Ready to ring in the New Year?
If you've been following my blog for some time, you'll know it's time for my annual Year in Review. This gives me a chance to reflect on the past 12 months, and share some bonus photos with you. So let's head straight (or gaily forward, as my friends would say) to the first half.
My site's focus and projects grew significantly in 2013. At this point, I'm traveling at least once a month to a far-off place, usually with my film team or a TV show. It's my passion to report first-hand on alternative cultures around the world.
Last January, I escaped the cold at Miami Art Deco Weekend. I caught up with friends and did this retro 1920s photoshoot with Mayleen G. Enjoy the Florida posts, including a Bettie Page runway show, in this category.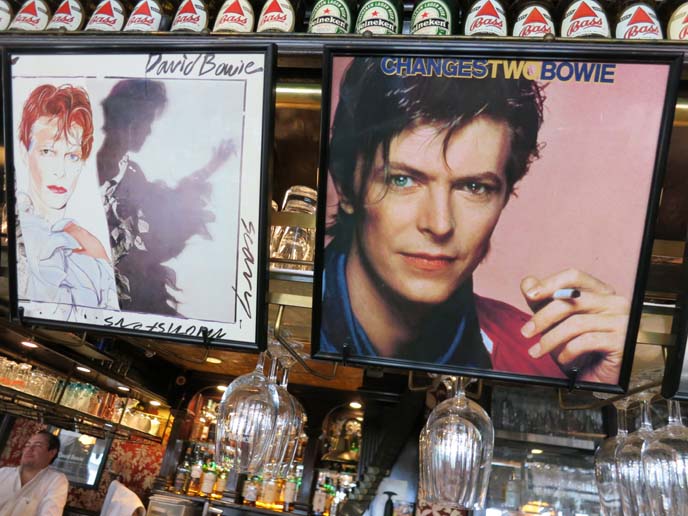 I'll never tire of going to Tokyo. I continue to be in Japan several times a year for television hosting and arranging jobs. Each time, there's something new to experience, like the David Bowie cafe, Alphonse Mucha exhibit…
… and King of the Pirates theme restaurant. Best of all, I get to have fun with my friends. (Interested in hiring us? Learn about our TV production and consulting services.)
Next, my filmmakers and I were invited to a very special place: the Maldives. We fell in love with eco-luxury resort Gili Lankanfushi, and I got to live out my Treasure Island fantasies. Here's our Maldives video and all the sunny photos.
We also landed in the Middle East for the first time. Dubai was a sci-fi wonderland, and I loved walking through the egg-like Grand Mosque of Abu Dhabi. Discover the Arabian peninsula's grandeur in these blog posts.
There's no need to jet to far-off places to have an adventure. I featured my home country – Canada – in a series about Montreal's Goth culture and Kinetik Festival. One of the highlights was bagel-tasting with Aesthetic Perfection's Daniel Graves.
It appears a lot of people read my site for the Hong Kong travel guides, which makes me happy. This city is full of energy and pop culture oddities, like cute food and giant floating ducks. (Intrigued? Then see my Hong Kong tips.)
I leave you with an image from Shinjuku's Hanazono Shrine. Shinto worshipers write wishes on these little wood plaques (called ema), and leave them for the kami to hopefully deliver.
On that note, do you have any New Years resolutions? What do you hope to achieve or improve in 2014?
I think we can all resolve to take care of ourselves, do meaningful work, and treat our furry companions like the kings they are! I'm shooting everything with DSLR now, so you can expect more images like the one above.
Coming up next: part II of my annual reflections.