Category Archive for
Spain
Happy New Year! Before we jump into 2016, let's wrap up the second half of my "Year in Review" — which included journeys to Morocco, Cambodia, Vietnam and Portugal.
This year, I was fortunate to work with a number of travel partners that made these trips possible. I'll give you a deeper look at how these blogging projects come together (case studies, if you will). Hopefully this sheds some light into the way we team up on projects around the world.
The downside of being a road warrior is that you can't spend as much time with your pets…
But my Scottish Fold cat had his own adventure this summer. He went on a stuffed toy tour of Poland, with Panda Tours. (Here's the full story.)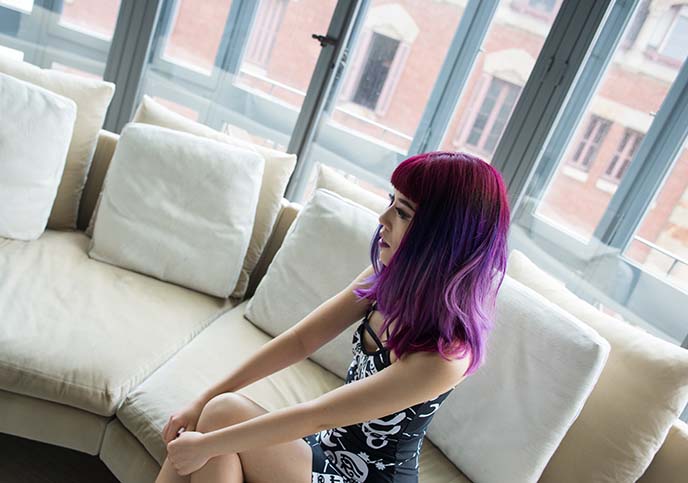 Meanwhile, my film team and I went on a long and slightly grueling trip throughout Spain, Morocco and Portugal.
Since we aren't on the road full time, we try to combine as many destinations, partners and projects into a two or three-week leg. This way, we can keep flights to a minimum and capture a lot of content, in a limited amount of time. Then, we can go home and work on this material for you, in various formats (videos, travel stories, photos).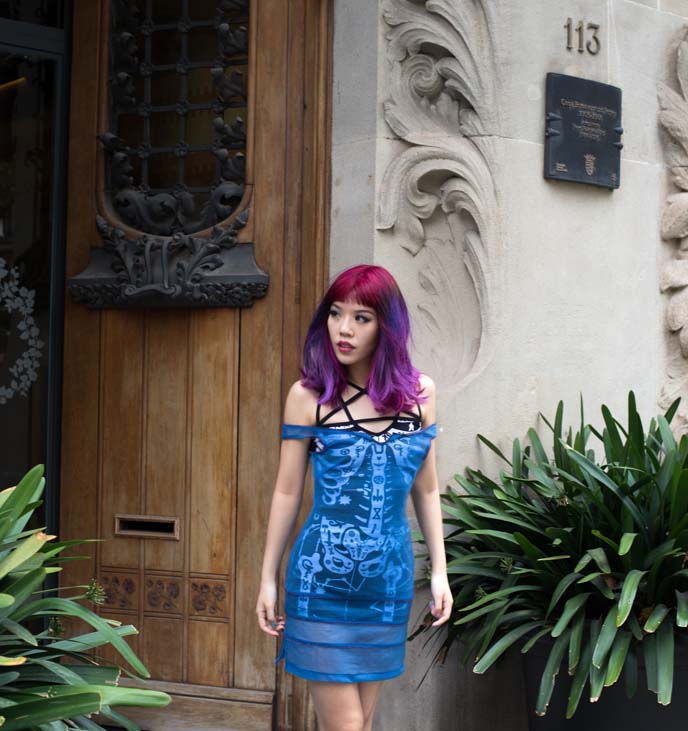 For our Southern Europe journey, we partnered with Spain Tourism Board, Portugal Tourism, and Eurail (riding between the cities on their rail passes). We also stayed with hotels like the art nouveau El Palauet Barcelona (here are all the photos).
We'll only ever team up with partners that are a natural fit with our niche (artistic, creative, offbeat travels). It's a delicate balance, and we turn down a lot of offers. At the end of the day, our primary mission is to capture worldwide stories that otherwise wouldn't get a voice — such as punk rock artists in Iceland, and women running collective businesses in Morocco.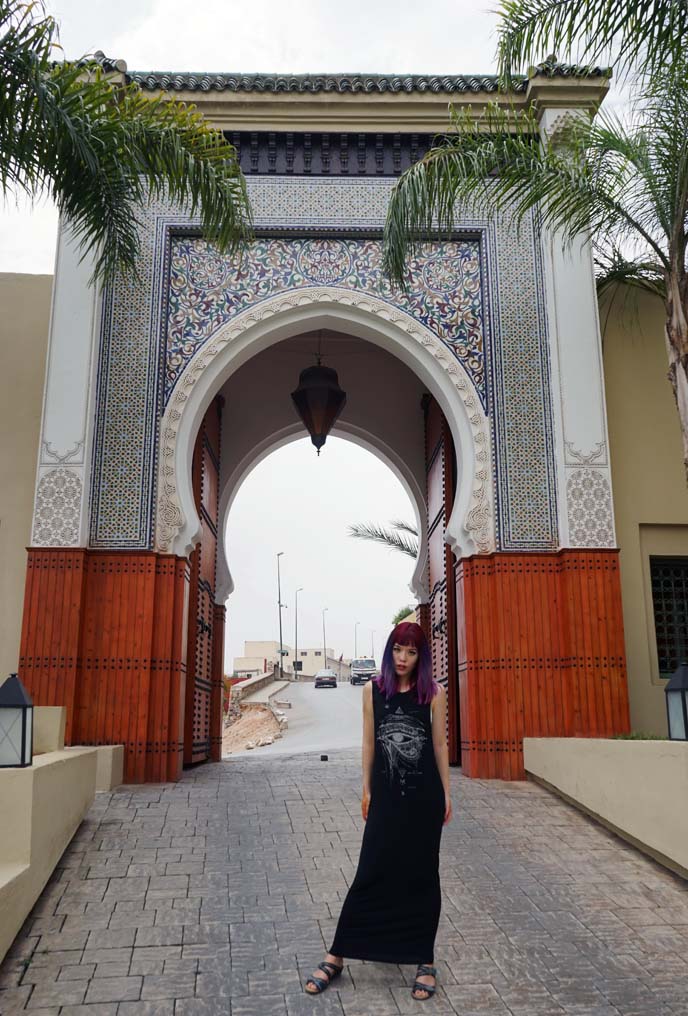 A perfect example: We worked with Plan-It Fez Tours for our Morocco journey (driving from Tangier to Fez, Marrakesh, Essaouira). Thanks to their translation and expertise, we were able to stay in Berber villages and interview locals. 
We were happy to get the word out Plan-It Fez, since their approach was exactly in line with ours (and we wholeheartedly recommend their tours for travelers to Morocco). With their support, we were able to dive right into the culture — such as by taking a henna workshop with ladies of all generations.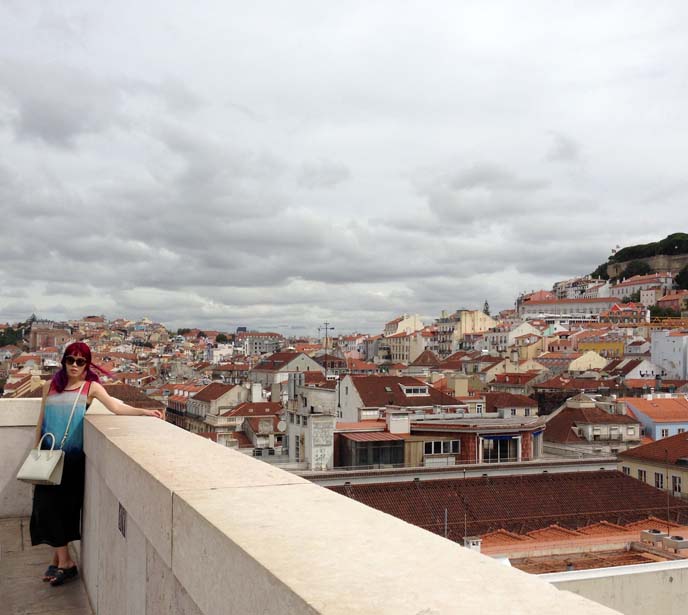 As I mentioned, we try to visit multiple destinations in one go. From Marrakesh, we flew to Lisbon and took the train to Porto.
When tourism boards assist us (with a driver, accommodations, meals etc), we can cover more ground in a short period, without stressing about the logistics of getting around. Keep in mind that we aren't traveling as tourists for leisure, but have work responsibilities — so we can't just show up somewhere and "wing it."
I haven't gotten around to sharing all my stories from Portugal yet, but they're coming up… and this country is now one of my favorites in all of Europe!
I also frequently travel for television hosting jobs, especially in Asia. In spring, I was in Tokyo for a Travel Channel shoot. Later that summer, I was flown to Hong Kong for a major US network TV project. As usual, I must keep mum until it comes out… and it can take a while.
For example, I filmed with German TV in Hong Kong last year, and didn't get to post the clip until recently (watch me on Inside TV with Palina Rojinski).
While in Hong Kong, I also did a dark fashion photoshoot with my friends. I also collaborated with a new pet supplies company called Pet Sensei, which has Basil as its mascot! (All the details and modeling images here).
When I have time off in Hong Kong, I take the opportunity to find cute shops and cafes to share with you. One of my most popular articles last year was about the Hello Kitty Chinese dim sum restaurant, and it's no surprise why.
Hanoi is only a two-hour flight from Hong Kong… say yes to an adventure, always! This time, I collaborated with Vietnam Food Tour. Similar to Morocco, I was able to have an immersive, foodie experience thanks to the help of these local experts.
From making spring rolls with a village grandma, to interviewing tattoo artists in Hanoi, Vietnam surpassed all my expectations. (Read all my Vietnam travel posts here.)
We made a casual video about these Vietnamese adventures — watch it above, for pirate shenanigans!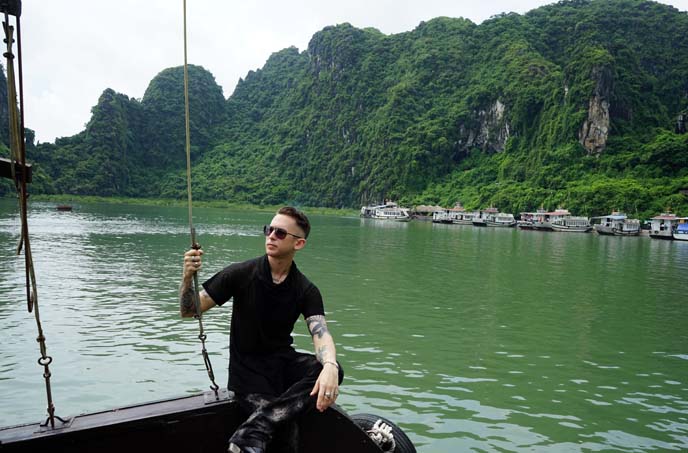 You've probably noticed that I travel with different people (who help me with the photography and videos). Who accompanies me?
It depends on the job, location and availability, but I'm always around friends — which makes these trips all the more fun.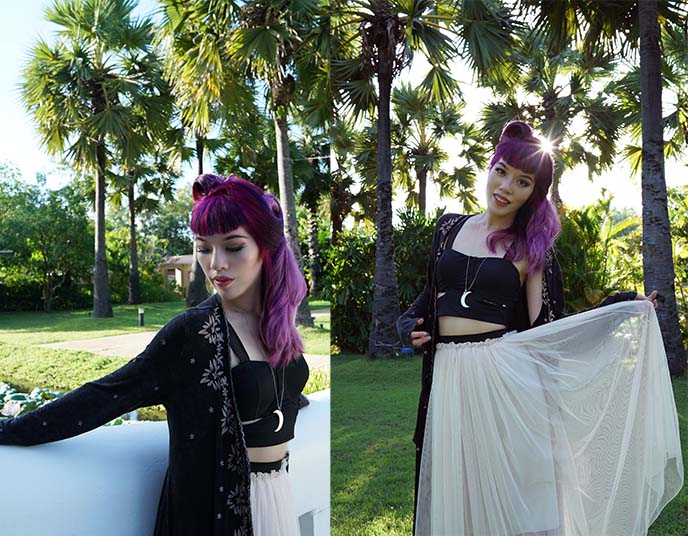 I wrapped up 2015 with a journey to Cambodia, thanks to my long-time flight colleagues HK Express.
I felt at peace in Siem Reap as soon as I arrived. One of my favorite outfit shoots of the year was this one, at Le Meridien hotel (another partner that shares our artistic leanings). Soon, I'll share a video from our Cambodian travels.
It was unthinkable — even a few years ago — that I'd be able to see such incredible places around the world, with my own eyes. The sunrise at Angkor Wat temple was one of the magic moments of 2015, and I'm excited for what 2016 holds.
If my 2015 was all about travel, then what will be the word for 2016? Technology. I have to keep my current project secret for now, but it's happening — and I'll share the news with you as it unfolds.
Sending you all the best for 2016. Be bold, take a leap, live life according your terms… and let this be the most extraordinary year yet!
And don't forget, you can take part in my current travels in Tulum, Mexico on my social networks @lacarmina: Snapchat, Instagram, Twitter, Vine, YouTube, Facebook. 
Ten years ago, if you visited Barcelona, people would warn you to stay out of El Raval. It had a red light reputation and was considered a dangerous place to wander into unaware.
Today, El Raval is one of the coolest neighborhoods of Barcelona, and a center of skateboard subcultures and gritty street art. Intrigued? Then let me give you a tour — and scroll to the end of the post, to see the new country I'm traveling in right now!
But first, speaking of colorful art… I wanted to share with you the new Karl Lagerfeld and Melijoe fashion collection! How sweet is this animation video above, starring the iconic couture designer and his white cat Choupette?
Karl Lagerfeld and Melijoe have released the cutest clothing line for children and babes — including hoodies with embroidered prints, knit caps with whiskers, and other adorable yet classic designs. Personally, I want to get my paws on the black purse with cat ears.
Check out more cat-inspired juniors fashion and pre-order items now on their website.
Back to my Spanish hipster tour. El Raval is located next to the Gothic Quarter  — I'll show it to you in an upcoming post — not far from Las Ramblas.
(I'm wearing a white dress with long sleeves, and a cut-out skull back, from Pretty Attitude Clothing.)
El Raval used to be one of the most densely populated urban areas in the world. During the 1800s, it was a poor district peppered with brothels and bars.
Today, the area still has an industrial feeling, and a large immigrant population.
However, thanks to rejuvenation programs, El Raval has become a cool cultural center. It's the best place in Barcelona to experience cutting-edge art, food and nightlife.  
One of the most innovative restaurants / bars in this quarter is Marmalade. I spread my wings at the 1950s dapper decor, featuring angel-winged lamps and an illuminated Art Deco bar.
Address: Carrer de la Riera Alta 4-6, El Raval, Barcelona
I felt at home in the vintage New York meets Havana atmosphere. You can sit in the lounge, or reserve one of the long tables for a party with friends.
Marmalade has an extensive cocktail list. We couldn't resist this generous goblet of sangria, made with red wine and fresh fruit.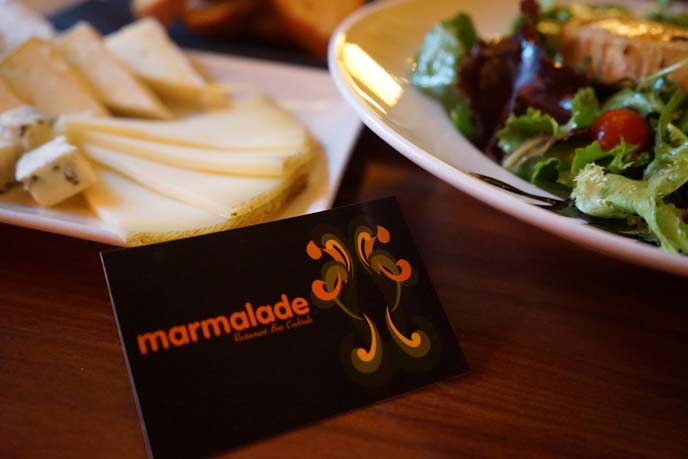 Marmalade is known for creative burgers, including a ramen noodle burger. Diners also rave about the brunch offerings such as eggs Benedict. That evening, we ate up every last bite of the cheese plate appetizer and a warm goat cheese salad.
One of my local friends recommended their hip sister Milk Bar and Bistro too, decorated "like a millionaire's drawing room." I'll be sure to check it out next time.
Marmalade is located near the Rambla del Raval, an open space lined with palm trees and benches.
This neighborhood felt like a breath of fresh air, compared to the tourist-packed La Rambla. We passed by eclectic street art, old-style buildings, and not a single souvenir shop.
There aren't any "landmarks" or big attractions in El Raval. The pleasure comes from strolling around and encountering unexpected street art, like this Empatia and hearts on a brick wall.
If you're doing an Instagram wall crawl, you'll find plenty of backgrounds in El Raval. We saw intriguing murals on every street corner.
Cthulhu made his mark here, with a winding tentacle.
Even though El Raval is no longer a dangerous area, it still has an edgy, red-light feeling. You'll find lots of bars and tattoo shops here.
Layers upon layers of posters, graffiti, and paint.
No wonder El Raval is the known as the most offbeat neighborhood of Barcelona.
(Shoes by YRU, dress from Pretty Attitude)
I found an Art Nouveau pharmacy with my name on it.
Those swirling moldings, and absinthe fonts… I got a new appreciation for Catatonia Modernisme after this trip.
In the summer, Barcelona's best-known districts are filled with tourists, which put a bit of a damper on the experience.
Filmmaker Melissa and I stopped for a healthy snack, in this cute open-window cafe called Komo en Kasa. (All photos by Borderless Media)
There remains quite a large Moroccan and Middle Eastern population in El Raval.
An anarchist black flag hangs above the graffiti.
The Portlandia "Put a bird on it" has made it to Barcelona.
We filmed outside the MACBA modern art museum, located next to the Centre De Cultura Contemporanea. It's become a gathering place for skateboarders to hang out and practice tricks. 
Skaters zoomed around and used the long ramps to leap into the air.
Nearby, there was a skate shop. Love the custom skateboard with kittens and rainbows. 
After spending the day exploring El Raval, we went back to our Art Nouveau hotel, El Palauet. 
I was in the mood for something sweet, and found exactly that at a Xococake, a specialty dessert shop run by chef Albert Badia Roca.
Address: Carrer Gran de Gràcia, 17, 08012 Barcelona, Spain
At the front window, I had a hard time deciding on which gelato flavor to get. I wound up with a scrumptious dark chocolate, and can vouch that this is the best gelato in Barcelona.
Xocockae makes all sorts of desserts, from candies to fruit tarts to cakes. Everything is adorably decorated, and perfect for bring home to friends.
There was even a station for horchata, a hot and sweet drink made from tigernuts, water, and sugar.
Have you heard of Barcelona's El Raval? What do you think of the current street art and hipster bars, in this formerly sketchy district of Spain?
Finally, I'm overjoyed to share my next travel destination… Siem Reap, Cambodia — home to the temple of Angkor Wat! (Photo above via Wikipedia Commons.)
I've been working long-term with Hong Kong Express Airways, and they are sending me there to capture the experience. I can't wait to see the Tomb Raider temples for myself, and experience the warm Cambodian hospitality I've heard so much about. If you have suggestions for things to do and see in Siem Reap, please let me know with a comment.
PS: I'll be sharing my journey live, on Snapchat (@lacarmina) and Instagram. Check me out on these social networks, to see behind the scenes.