Category Archive for
Taiwan
When one of your favorite Japanese artists is in town… It's time to get trippy!
If you love manga, anime and "kawaii" Japanese pop culture, then head down the rabbit hole to Takashi Murakami's exhibit at Vancouver Art Gallery.
For the first time, Murakami's major works have come to Canada. Over 50 pieces spanning three decades are currently on display at VAG (from Feb 2 to May 6, 2018).
The retrospective is titled "The Octopus Eats Its Own Leg," so get ready to dive into a world of tentacles.
Read on to the end of this story, where I'll also share photos of the Hello Kitty airport lounge in Taipei (since we're on the topic of Japanese pop-cute). It's definitely the world's weirdest airline lounge, featuring Sanrio characters!
Murakami Takashi (村上 隆) is one of Japan's most intriguing contemporary artists. You might recognize his smiling flowers and cartoon bears, which were on the cover of a Kanye West album and Louis Vuitton purses.
However, as I found out from this exhibit, Murakami's artistic tentacles reach far deeper than pop commentary on consumer culture. The exhibition's title, "The Octopus Eats Its Own Leg," refers to a Japanese parable where the creature survives by sacrificing parts of himself. In this way, "Takashipom" consumes his native history and spirituality, transforming them into colorful new visions. 
The Vancouver Art Gallery went all-out to welcome Murakami. Each window is plastered with happy flower decals, and the rotunda looks like it's been attacked by a pink and blue cephalopod, Godzilla-style. The artist himself came here for the opening, dressed in a tentacles-hat for the occasion.
The Murakami exhibition is already an immense success, drawing in queues of visitors. Instead of spending time in line, I recommend that you purchase a ticket in advance from the Vancouver Art Gallery website (it lets you choose the specific date of your visit.) You may also want to aim for a weekday visit, since the space was packed over the weekend.
The Japanese artist is known for his eccentric outfits. I was pleased to see that a few visitors dressed up for the occasion; I loved this girl's Harajuku decora candy style.
During the grey winter months, it's a joy to wander among giant neon paintings with friends.
Murakami's best-known works are influenced by Japanese "kawaii' (big-eyed, round cuteness), with nods to anime, manga and otaku culture. However, these critters always have a deadly or bizarre twist
The exhibition spans several huge rooms, and includes wall-sized works and ceiling-high sculptures. Many feature Mr. Dob, his cute character who is a bit like Hello Kitty meets Mickey Mouse.
In his 3D work "DOB in The Strange Forest," Murakami surrounds the innocent mouse-bear with seeing-eyed mushrooms. In the back, he's become an unhinged monster spewing vomit (the painting is called "Tan Tan Bo Puking.")
The mutant Mr. Dob reflects on how icons can run amok, hiding sharp fang beneath inviting surfaces. Despite this commentary on consumerism, Mr. Dob has (ironically? purposefully?) become a popular design on Louis Vuitton bags and other branded designer goods.
(Click the images below to see Murakami's art x commerce collaborations):

Anyone can take photos inside the exhibition, which makes it highly Instagrammable. One of the most popular selfie-spots is in front of this happy floral wall. Murakami once described these flowers as making him "feel almost physically sick, and at the same time I found them very cute."
We're mesmerized by "Flower Ball." As Ben mused, "Where does art end, and wallpaper begin?"
Murakami is best known for his "Superflat" high-meets-low, 2D pop imagery. However, he explores many other facets of Japanese culture in other works, often with a darker vibe.
One of the most powerful rooms held towering red and blue demon totems (Embodiment of "A" and Embodiment of "Um"). These statues imagine a present-day belief system, built on ancient myths and folklore.
Murakami was devastated by the 2011 Japan earthquake and tsunami. The tragedy inspired a new direction in his art: he drew upon Japan's cultural heritage to create spiritual narratives.
One of these masterpieces from this era is on display: a 10-panel painting called "The 100 Arhats." It was painstakingly made by layering hundreds of silk screens, and depicts Buddhist monks who roamed Japan and helped enlighten people.
Many of Murakami's works are inspired by "Nihonga," the late 19th century fusion of Western and Japanese artistic techniques. In the above work, "Of Chinese Lions, Peonies, Skulls and Fountains", he illustrates the legend of the lion who guards Buddhist temples. The cute baby cub and rainbow stream of skulls made it one of my favorites.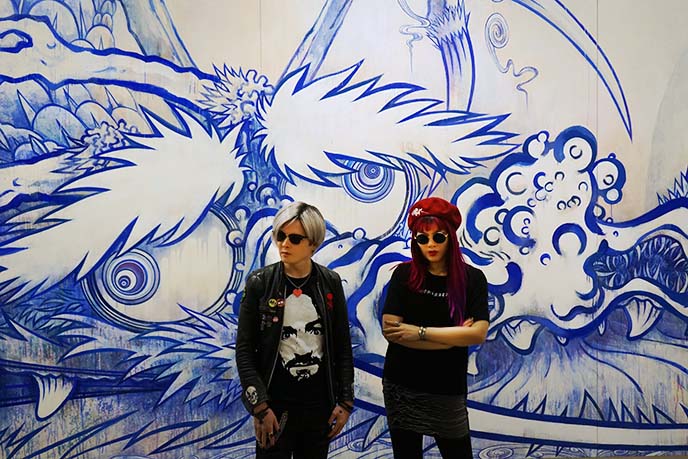 Murakami's works are big, in terms of both size and concept. This is "Dragon in Clouds – Indigo Blue", a re-imagining of a 1763 Japanese fantasy painting by Soga Shohaku.
Takashi Murakami is often compared to Andy Warhol. The Japanese artist is better received outside of his homeland, where some deride him for being too commercial/marketing oriented. Personally, I think these detractors are only skimming the surface; both artists made provocative works that went far deeper than soup cans and smiley flowers.
Intrigued? I encourage you to come out to Vancouver Art Gallery to see Murakami's works in person. There's no other way to get a full sense of his scale and impact.
Exit through the gift store... There's a selection of pins, toys, prints and more. This demented octopus plush caught our eye. Looks like something that Charles Manson might embrace.
Have you heard of Takashi Murakami? Are you also a fan of his work? (You can browse his fashion designs below:)

A final close-up of Murakami's flowers (note the tiny faces), and my outfit of the day. My red 90s beret and Domination top are by Mary Wyatt London. My round minimalist sunglasses are Edwardson Eyewear.
I'm also loving my new Bulgari Serpenti metallic leather bracelet, which matches my snake plant! I only wear jewelry with edge; the ring is Alex Streeter. (More Blvgari bracelets below):

Since we're on the subject of "kawaii" culture… I thought I'd end with photos I took during a stopover, at Taipei's Taoyuan Airport. If you go to Terminal 2, gate C3… you'll discover a Hello Kitty airport lounge! 
Although Hello Kitty is from Japan, the mouth-less cat is popular all over Asia. Taiwan loves her so much that they have an airport lounge in her name. The large waiting area has plenty of seats, a kid's play area, and a nursing station featuring images of baby Kitty and Daniel.
Taiwan's Eva Air even launched a Hello Kitty jet, which mainly flies routes to Japan. Everything about the flight is in her likeness: the tickets, staff outfits, food, and art on the side of the airplane. (The Hello Kitty plane was so popular that EVA Airlines now also has Pokemon and Gudetama themed flights.)
In Taipei's airport lounge, Hello Kitty is depicted as a world traveller. We see her wearing pilot goggles, and toting a suitcase behind her with a wink. The murals show the cat flying on her pink airplane to Sydney, India, New York, Rome and Paris.
These pictures are pretty accurate if you think of it… Since Sanrio launched her in 1974, Hello Kitty has taken over the world. I see merchandise with her face on it everywhere I travel.
I filmed an Instagram video here that shows you more of the pink, ridiculous terminal. Is this Hello Kitty heaven… or hell? That's all up to you.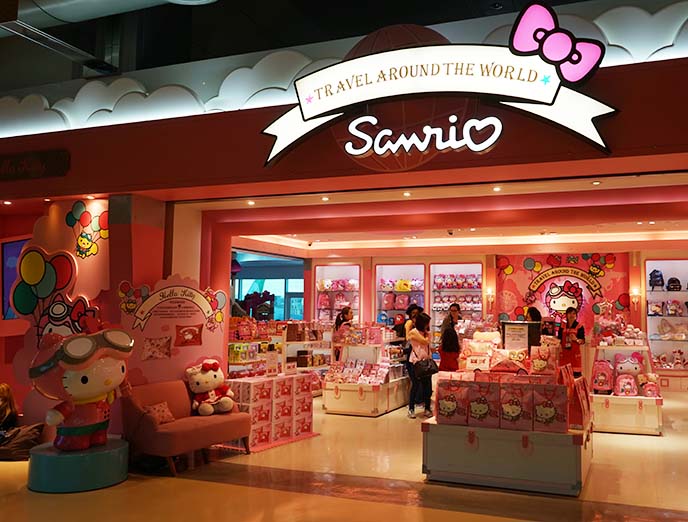 Right next door is the ultimate gift store, aptly named Hello Kitty Dream World. Taiwan Taoyuan airport has a few Sanrio shops, and they're open from early morning to late evening.
"I like to stop at the duty free shop!" Especially when it's filled with rare Hello Kitty and Sanrio character goods. I was tempted to get stationery, stuffed toys, jewelry, backpacks, kitchen items…
Hello Kitty isn't just for children. Sanrio has released multiple designer fashion and jewelry collaborations. I'm eyeing this Hello Kitty sequin dress, cashmere sweater and more below…

Over the years, Sanrio has added more adorable animals to the family. Above is Bad Badtz Maru, Pompompurin, Cinnamon Roll and My Melody.
Some of the character items are on the weird side. I need a Hello Kitty robot cleaner in my life…
If you're planning a trip to Taipei or doing a layover, look out for the Hello Kitty lounge in Taoyuan Airport (Terminal 2, section C3).
I grew up with Hello Kitty, so I'll always have a soft spot for her. How about you?
And what do you think of Takashi Murakami's mind-bending exhibit?

Yet another reason you should drop everything and travel to Hong Kong… there's now a Hello Kitty dim sum restaurant! 
At Hello Kitty Chinese Cuisine, diners can bite into fresh steamed buns that look like the famous cat. Read on for dozens of photos from the theme restaurant.
I'll also take you inside the somewhat-controversial Gudetama cafe in Hong Kong (where you can squeeze chocolate poop out of the egg character), and a Sanrio anniversary exhibition in Taipei. 
And if you're a fan of Hello Kitty, you've got to check out the cute fashion items below!

Let's start with my visit to Hello Kitty Chinese Cuisine. There are many Sanrio theme cafes worldwide — remember the Seoul Hello Kitty one, where I ate cake shaped like her face?
However, this is the first time anyone has done a Cantonese-style Hello Kitty restaurant. It's a cute-faced version of dim sum, the traditional dining where everyone shares bite sized dishes around a table.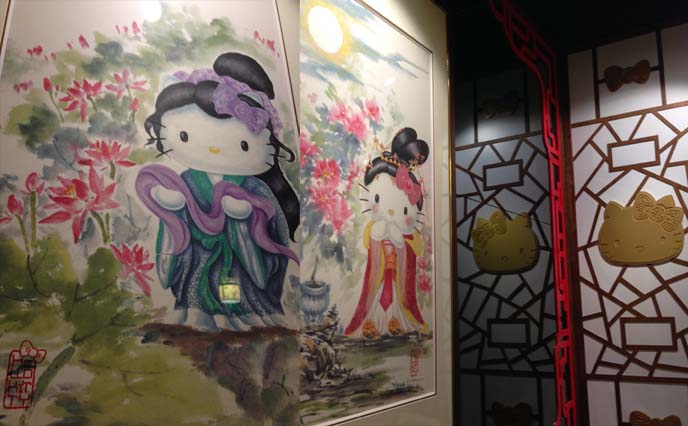 The local owner pitched the dim sum idea to Sanrio, and won them over. The restaurant's interior design is magnificently executed, combining Chinese tradition with Japanese kawaii. Case in point: the paintings of beautiful ancient Chinese ladies… with Hello Kitty's face!
Hong Kong Hello Kitty Restaurant Address: Shop A to C, Lee Loy Mansion, 332-338 Canton Road, Jordan, Kowloon.
It's about a 3 minute walk from the Jordan MTR subway station, or ask your taxi driver to go to 佐敦廣東道332-338號利來洋樓A至C地舖
The Hello Kitty Chinese restaurant is extremely popular, so don't expect to walk in and get a table. Fortunately, you can make a reservation in advance through their website.
The excitement begins at the entrance, where there's a glass case glittering with Sanrio jewelry and wines.
Even the table and chairs have Hello Kitty faces, carved right into the wood. The attention to detail is apparent here — a nice change from other Asian theme restaurants, which often skimp on quality.
The menu is in both Chinese and English, with illustrations. You can choose from a range of Cantonese dishes or fusion creations, all decorated with a Hello Kitty touch.  (On left, a giant bread-cat, with Chinese patterns imprinted on her bow!)
The restaurant has several special dishes, such as this one made with apples since this is Hello Kitty's favorite fruit. 
Another happy departure from other theme restaurants: Hello Kitty Chinese Cuisine uses "real" ingredients such as vegetables and beans to make the decorations.
The owner focuses on healthy ingredients, and it pays off. The har gow (steamed shrimp dumplings) were so good that we wanted to order several more baskets!
We were pleasantly surprised that the quality of the food was so high, considering the pristine Hello Kitty faces on everything.
Every aspect of the dim sum experience gets a Kitty makeover, even the paper lining of the steam baskets.
I'm sure you "awwed" at this photo of Hello Kitty steamed buns… We won't show you the "after", where we tore into her face! Inside, there is a light and delicious red bean paste filling. 
(Photos by noircorner and Ken Yuen.)
Finally, we ended with this light egg white custard and fruit. A perfect palate-cleanser, without added sugars or fake flavors.
This was by far the best Hello Kitty theme restaurant I've visited, with high standards for the Cantonese food, cute presentation and interior design. The prices are also very reasonable.
It's the small touches that make this dim sum experience such a pleasure. I love how the owner was able to create an authentic Hong Kong dining experience, fused with Hello Kitty. 
More info including how to make reservations on the Hello Kitty Chinese Cuisine site.
Sanrio characters are extremely popular in Hong Kong, possibly even more so than in Japan. One of their new mascots — Gudetama, the lazy egg — seems to be everywhere.
We stopped by Mongkok's Langham Place, where they were celebrating the mall's 10th anniversary with a Gudetama exhibition. I admit I don't really "get" this character's appeal… maybe someone can explain it to me?
People lined up to take photos with the funny displays, including Gudetama as an egg sushi, and a subway train. There was special Gudetama merchandise at the pop-up store, but fitting with his attitude, I was unmotivated to take a look!
Hong Kong also opened up two Gudetama theme cafes. The one in Kwun Tong is a "YATA Gudetama Café by Izumi Curry" (Address: LG/F, apm Millennium City 5, 418 Kwun Tong Road).
I took photos of Dim Sum Icon, the sort-of controversial Gudetama restaurant. (Address: L308, 3/F, The ONE, 100 Nathan Road, Tsim Sha Tsui, Kowloon, Hong Kong)
Similar to the Hello Kitty restaurant, this one has dim sum dishes that look like the egg character. However, there are also international selections like burgers and ramen, and the decor is much simpler.
Do these diners look engrossed with their food? Perhaps they are grossed out… by the Gudetama bun, which has a rather bizarre design…
If you squeeze his body, chocolate sauce comes out of his butt! I doubt I'd be able to eat something that looks like a mascot with brown liquid oozing out the back…
On the other hand, I was gung-ho to pose with Hello Kitty statues at her 40th anniversary exhibition in Taipei. 
We actually took these Taiwan photos a while ago, but I never got around to posting them. Last year, Sanrio celebrated Kitty's big birthday with an interactive exhibit at Songshan Cultural Park (松山文創園區). (Address: No. 133, Guāngfù South Rd, Xinyi District, Taipei.)
Fans paid an admission fee of about $20 to see Kitty in various guises, such as Marilyn Monroe and Holly Go Lightly.
The exhibit consisted of several giant rooms, each decorated with large-scale displays that you can pose with. Most of these feature Kitty, but there are also statues of other Sanrio mascots. Above: Pom Pom Purin, Lala from Little Twin Stars, Keroppi the frog, and Pom Pom Purin.
The Taipei exhibit hall also had a Hello Kitty pop up cafe, serving desserts and drinks decorated like her mouth-less face.
This pop up has now closed, but you can still visit Taipei's permanent Hello Kitty Sweets Restaurant. (Address: No.90, Sec. 1, Da'an Road, Xinyi Distict, Taipei).
These colorful macaroons and cupcakes, topped with Hello Kitty candy decorations, look too cute to eat!
I paid a bit extra to see the Hello Kitty hologram show. (Hey, you only live once.) We weren't allowed to shoot it, so imagine a bizarre hologram of Hello Kitty entering the stage — it was basically someone in a glittery purple dress and giant cat-head mask. She sang and did para-para moves with two background dancers, while soap bubbles floated in the air. We had a lyric sheet, and wanted to sing and dance along to the "Kitty Kitty Kitty" rap song… but nobody else in the audience was moving a muscle.
Are you curious as to why I'm doing this bizarre hand pose? It's a tribute to Brown, the bear from Line Friends — yet another character with a single expression! He always does this tentative morose pose, with the tips of his index fingers pointed together.
One of the best ones was "Hepburn Hello Kitty: Breakfast at Sanrio's." You wouldn't expect to see this cute cat combined with Hollywood icons… but it works.
I was impressed by the amount of creativity that went into these intricate sets. In front of Marilyn Kitty, there's a grate that puffs up air, blowing up your skirt! The designer even incorporated Kitty's bows into the background architecture.
Hello Kitty's design has changed over the past 40 years. One room was like a museum, showing her evolution from baking pies in the 80s, to Charmmy Kitty in the 2000s.
Is that a tattoo on my arm? Nope, it's a Sanrio stamp. There were special stamps and inkpads located all throughout the exhibit. Fans collected these prints on notebooks or on their bodies.
This exhibition took place in Songshan Cultural and Creative Park. Originally a Japanese colonial tobacco factory, Taipei's government has converted this unexpected space into a "Creative Hub" for artists and innovators. The park transforms ghosts of its past — boiler rooms, warehouses — into modern design museums, gardens and stores.
You can check the Songshan Park website for upcoming special events. This "Hell Kitty" presentation is no more, but there are always other kawaii displays.
Taipei is crazy for this cat. In addition to the Sweets theme cafe, the airport has a Hello Kitty lounge. EVA Air also has a Hello Kitty airplane, which I'm keen to fly.
The Kiss by Gustav Klimt turns into Hello Kitty and her teddy bear. A wonderful use of colored mirrors to recreate the Art Nouveau work.
You all know I love Italo Disco… so this was perhaps my favorite backdrop!
Wouldn't you love to party all night with me and DJ Disco Queen?
The life-size sets encourage guests to pose and be silly. In front of this retro TV, there were giant Charlie Chaplin shoes that you could step into.
Near the end of the maze-like exhibit, you could see the concept drawings and a video of how it all came to life.
Pretty amazing how a simple character design can inspire so many artistic variations, over the course of four decades.
Taipei's Hello Kitty exhibition encapsulated what I love about Sanrio. They're more than cute merchandisers. Their designs inspire creativity, unite fans of all ages, and put smiles on their faces.
Would you visit a Hello Kitty dim sum restaurant, or exhibition where you can pose with the characters?
(Here are my favorite Sanrio fashion items and toys below — click the images to shop them.)