Category Archive for
Taiwan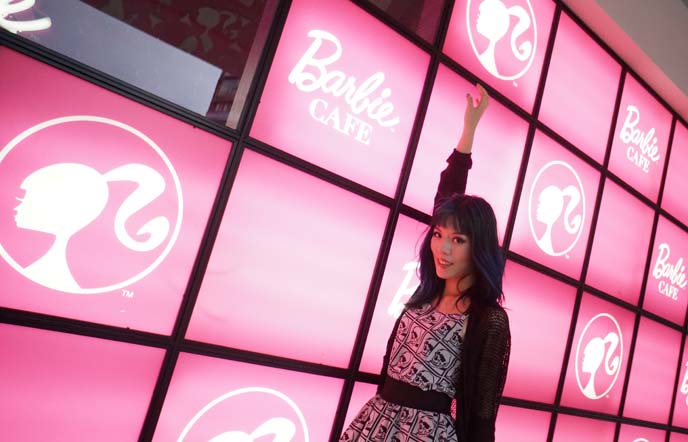 Where can you find the world's most bizarre theme restaurants? Japan still has the most madcap ones, but Taiwan is coming in at a close second.
While in Taipei, I visited some of these quirky theme cafes — which include a Barbie dream house, and a fake European castle. Let's start with the blonde plastic doll, shall we?
She's a Barbie girl, and this theme cafe is her world. The glowing staircase is a prelude to the spacious, neon-pink restaurant upstairs. (Address: 2F, #128 Section 4, Zhongxiao East Road, Da'an, Taipei)
If your friends are late, you can sit on the plush handbag-shaped sofa and relax on poodle pillows.
Mattel opened this "dream house" in 2013, and it is the first officially licensed Barbie cafe in the world.
A glass case displays cakes and other sweets stamped with Barbie's ponytailed profile. Other pastries are topped with hearts and bows (colored pink, what else?)
In the back, there are Mattel dolls for sale. I saw Barbie, Ken and friends in various outfits.
Here's a princess Barbie, wearing what looks like a cake dress with swirls of icing. (All photos by Ken Yuen and noircorner).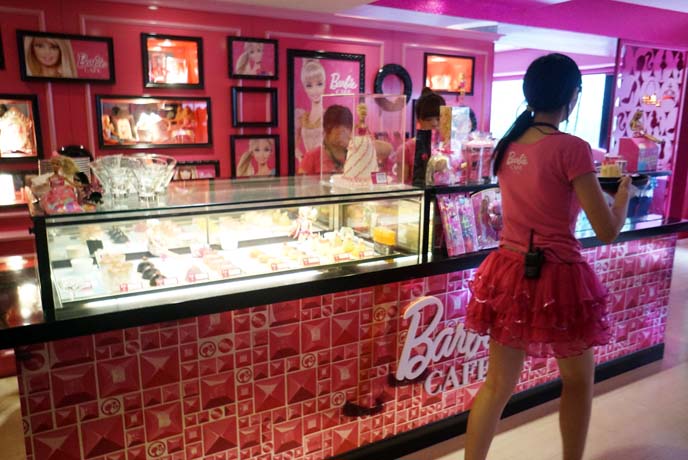 The waitresses even get in the spirit by wearing hot pink skirts and tops, topped with tiaras. None of them had blonde hair, however.
As typical in theme restaurants, the food is nothing special and on the pricey side: a set lunch with salad, curry and cake costs $15-20 US.
Still, it's a unique venue for a girly-girl bonding session. The Barbie cafe is not far from Zhongxiao Fuxing station exit 2, and next to the SOGO department store — in case you suddenly get the urge to dress in pink ruffles.
(Personally, I will stick to Gothic dresses! Purchase a skull dress like mine here.)
Walking around this district, you'll come across cute shops and unique eateries. My film team and I stopped by Soma, a "tea and mocktail" parlor.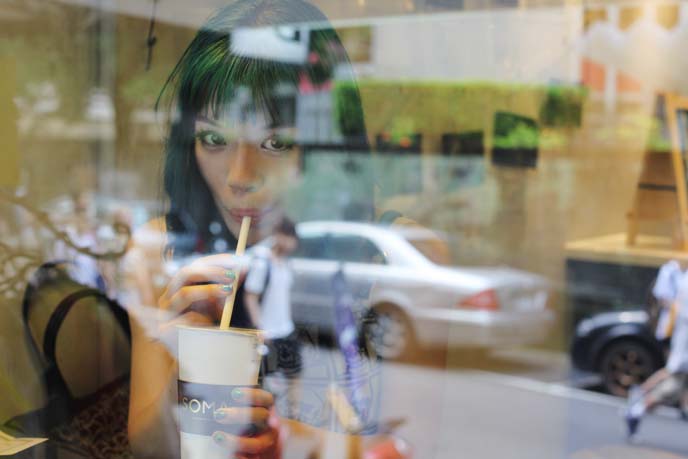 I had a grapefruit mix, which had chewy, gelatinous basil seeds in it. Such a bizarre texture, like a mouthful of little eyeballs.
While I've visited plenty of theme restaurants, I haven't seen anything quite like Deja Vu. It's located in Huashan Creative Park (Address: No.1, Section 1, Bade Road, Taipei).
The velvet curtains open into what looks like a tall European castle, with royal portraits and gargoyles staring down from the high stone walls.
This restaurant is the brainchild of Jay Chou, Taiwan's most popular singer-actor-idol. Fans love to take photos of the personalized decor, which includes his Batmobile and an aristocratic piano.
The food, however, is nothing to sing about: mediocre and over-priced Italian (around $12-15 US a plate). I suggest coming just for a coffee and to pose in the grand space.
How about Taipei's nightlife? My friend Boris took me to several laid-back, artsy bars in the Xinyi district (by Taipei 101). For those in the know, there's a secret bar inside the popular nightclub, Barcode. (Address: 22 Songshou Rd, Taipei)
Walk in and to the right, and look for an unmarked door. It leads to a narrow staircase, which ends at a bookshelf. But if you slide the shelf open, you'll find yourself in Alchemy. The speakeasy theme matches the "insiders only" cozy feel, featuring a fireplace and dark leather seats.
Try a signature Prohibition cocktail, made with whisky and wrapped in an American newspaper announcing the 1920s ban on alcohol. The Miso-Tini comes in a miso soup bowl, and smells like bonito flakes — but when you take a sip, it's sake and wasabi with a light, pleasant sweetness. Cocktails are around $12-15 US each.
Boris also took me to Mod bar, and his favorite MonoMono, which has architectural photographs on the walls. We ended our final night at "F-king Place"  (above) — yes, that is the actual name — and drank cocktails while listening to a retro-rock playlist!
Go on a pub crawl to all these Taipei bars, and you're guaranteed a fun night.
During the daytime, I encourage you to check out Taipei's contemporary art scene. Many of these exhibits are free, and found in the unique Huashan 1914 Creative Park.
In 1997, a group of young actors discovered an abandoned factory that used to produce wines and breed moths. They took it over and started putting on experimental performances. More artists set up workspaces, and today, Huashan is a protected center for art.
When I visited, there was an exhibit dedicated to the Japanese manga One Piece, and a shop for the Korean Line characters. I loved poking my head into the local design shops, which sold creative goods like the "color-me" robot toy above. Have a look at Huashan 1914's website for upcoming event listings; the hands-on art workshops are excellent for children of all ages.
Where else can you find cute character goods in Taipei? At Shima Risu picture books store. "Shimarisu" means "chipmunk" in Japanese, so this children's shop is designed like a fairytale forest hideaway.
The books are in Chinese and English; I found my childhood favorites like Miffy, Tintin, Babar, Moomin, Peter Rabbit. The shelves also stock gorgeously bound and illustrated works by new authors, especially from Taiwan. There are miniature seats all around, and parents are encouraged to read to their children right in the bookstore.
The little ones, however, might be more interested in the plush toys and mascot accessories placed all around Shima Risu. I picked up a small stuffed Miffy bunny for $320 TWD, or $11 US.
Toys aren't just for children. Taipei has many anime collectible stores, like Hot Dog Toyz in Da'an. A Robot Hello Kitty beckoned us to enter.
All your favorite Japanese mascots are here, including collectible figures of Doraemon the earless robot cat.
As you can see, "kawaii" is big in every part of Asia. The subway had a poster for StayReal's Disney clothing collaboration.
Songshan Park is another creative art destintaion, and home to the Eslite Spectrum mall. Be prepared to spend hours inside, mesmerized by the selection of cute gifts like these cat-in-hat notebooks. The bottom floor is a cluster of speciality cafes, including a stall for Ice Man shaved ice.
Upstairs is a seemingly endless hall of hip design: I spotted panda bear soap, owl pillows, plants in beakers, oversized fringe pillows and more, mostly by local designers.
The top floor is an Eslite bookstore with an immense collection of photography and art books. Look for the traditional tea house hidden among the racks, which go well with the sun biscuits also sold in the mall.
I leave you with a shot from the entrance of the Raohe Street Night Market. So many bizarre street foods inside…
Taipei has more strange theme restaurants, including Modern Toilet, Sky Kitchen (which looks like an Airbus A380), and DS Music (hospital themed). There's also a Hello Kitty Sweets Restaurant! However, since I went to the one in Seoul, and John covered the Hello Kitty pop-up in Hong Kong, I decided not to visit it. (I did, however, go to the Sanrio exhibition in Taipei's Songshan Design Park, which I'll show you soon…)
Have you tried Taiwanese food? Would you eat at any of these theme cafes?
As a travel writer, I do my best to seek out obscure and offbeat places. For this reason, I went out of my way to visit Taichung's Rainbow Village with my friend Boris Tsai. The photos say it all: this attraction is a total LSD trip!
The "Rainbow Family Village" consists of several old buildings and paths, with every surface coated in vivid, primitive strokes.
What's the story behind these colorful paintings? Who made them, and what drugs was this person on? Let's find out.
I was staying in Taipei, at the Humble House hotel (remember my photoshoot here?). Taichung is another major city, located about two hours south.
To get here, I recommend either driving (as we did), or taking a train and then a taxi. Taichung is rather spread out, and public transportation isn't conveniently located near the Rainbow Village.
The directions are a little tricky. If you're in a taxi, show your driver the address in Chinese (written below), and have him plug it into the GPS.
Rainbow Family Village: Lane 56, Chun'an Road, Taichung, Taiwan
台中彩虹眷村: 台中市南屯區春安里
This tourist attraction is small, and it won't take you more than 15-30 minutes to explore it. I wouldn't go out of my way to come here, but if you're already in Taichung, it's an opportunity to see weird and wonderful local art.
Boris and I were perplexed by these figures — human, animal and supernatural — surrounded by swirls of color. What a distinct style: modern meets primitive, with a touch of Taiwanese tradition.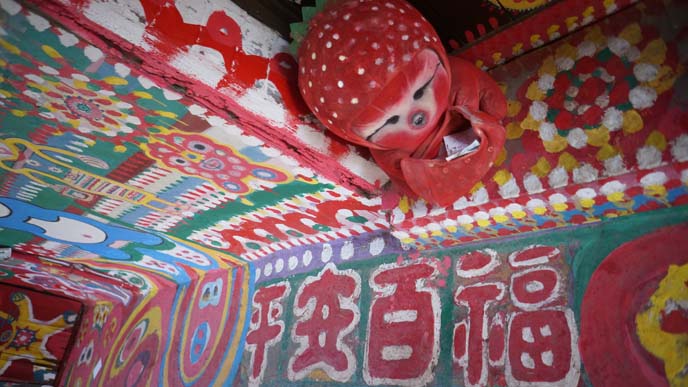 This scary strawberry-person holds pamphlets by the door. On the floor, the Chinese characters say "peace and good luck."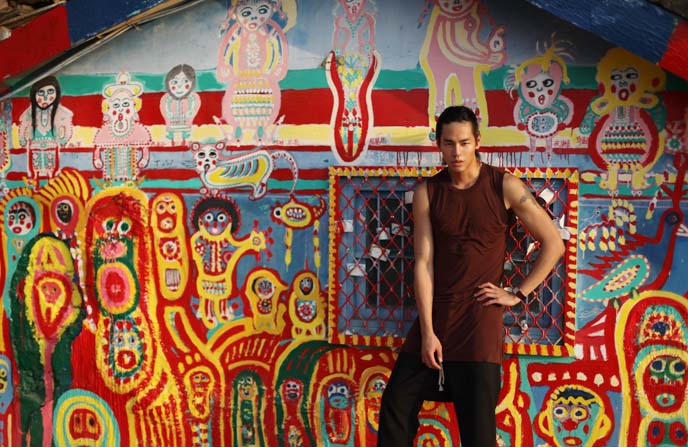 The walls are a superb backdrop for modeling. We were here to shoot images for Hong Kong Express Airways magazine, where I have a regular column.
Boris wears Rick Owens wool pants with drawstring, a Rick Owens tank top, and Rick Owens high top shoes.
I'm wearing Camper sandals, and a sheer white flowing top from Show Me Your MuMu. They also make a blue-white tunic and watercolor flowers cover-up.
The characters ranged from old people to panda bears. Doesn't this little guy look like my Scottish Fold cat?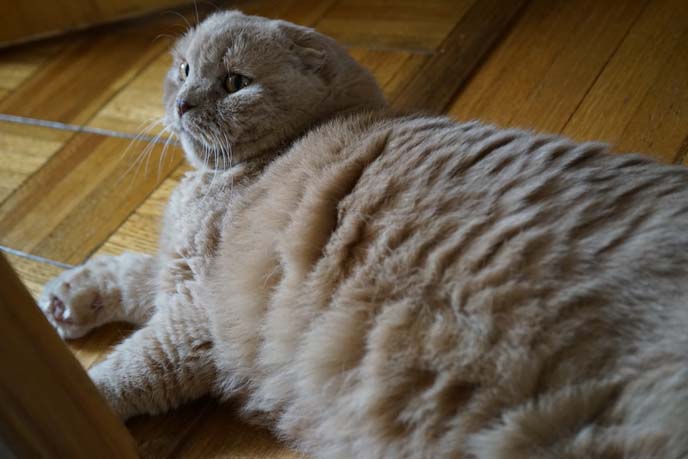 They have the same short legs, tiny ears and round body.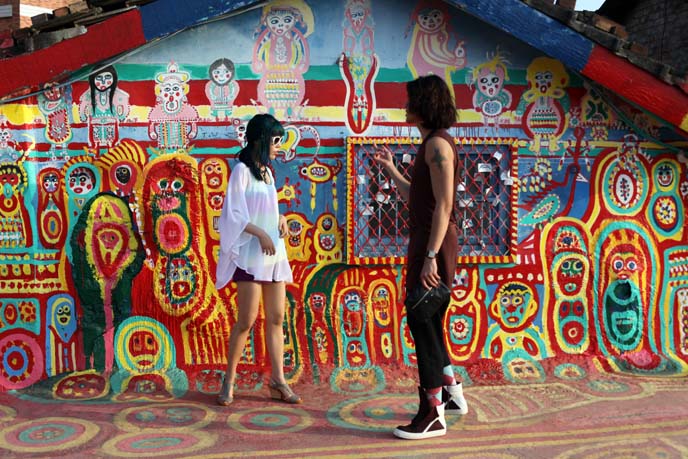 You'll never guess who is responsible for this bizarre art… a 91 year old grandfather! Grandpa Huang was born in Hong Kong, and lived in these dilapidated buildings that were initially built for WWII veterans. He had time to kill, so he bought paint with his pension, and started to transform the old walls into rainbow murals.
Grandpa Huang is a self-taught artist who painted out of passion — he wanted to inject color into this worn-down neighborhood. Before long, students at a nearby university discovered the ever-expanding Rainbow Village. They took pictures of his works, posted them online, and they went viral.
Today, this little settlement is one of Taichung's most popular tourist attractions. People come here to read the positive messages on the walls, and pose with the spirited paintings.
The Taiwanese government had originally planned to demolish the Rainbow Village. However, locals started a petition, and the area is now preserved (hopefully for the long run).
We saw a small souvenir stand where you can buy drinks and Popsicles, and small souvenirs. It's an easy way to support the Rainbow Village and its aged caretaker.
Sweet and slightly demented: that's my kind of place!
The "acid trip" feeling of the Rainbow Village inspired us to get a little crazy with our poses.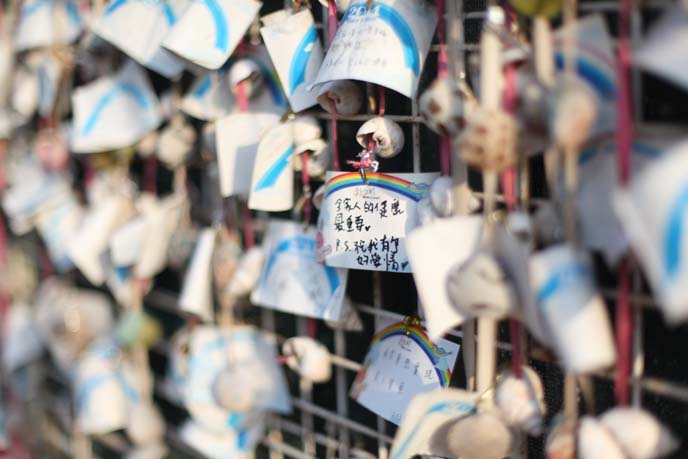 Visitors write wishes on these notes, and hang them along with seashells on the windows.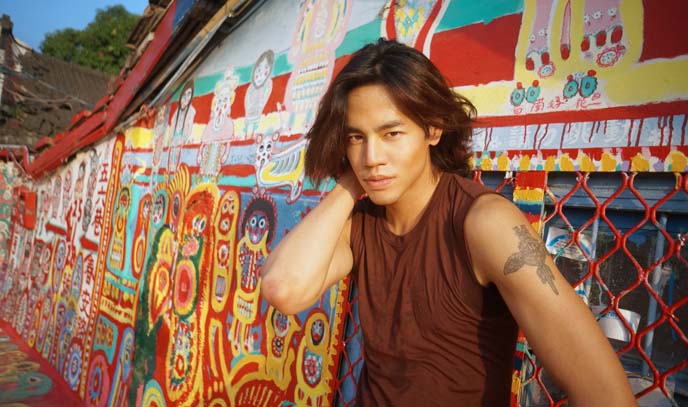 My wish to visit Taiwan and reunite with my friend certainly came true!
Pretending to be the Chiefs of the Rainbow Village.
All photography by Jacqueline Kwok of noircorner, and Ken Yuen.
We didn't see Grandpa Huang that day, but he still touches up the paintings daily. Children love to see his works in progress.
Come make a wish at the Taichung Rainbow Family Village. The nearby Dawncake (a gifts and snacks building, featuring Miyahara tea-flavored ice cream) and Taichung Night Market are also fun to include in a day-trip.
And you can't leave without taking a funny photo with the cut-outs!
Are you intrigued by the Rainbow Village? Do you seek out local oddities when you travel, like I do?
I wrote about this funny Asian attraction, and many more, in my travel column "Go Go Goth." It's published in Chinese, in every issue of UO (the in-flight magazine of Hong Kong Express Airways). Above are scans…
… and you can always see on-the-go snaps from my travels on my @lacarmina Instagram. I'll be back in Asia soon, and you'll be able to see what mischief I'm making!