Category Archive for
Thailand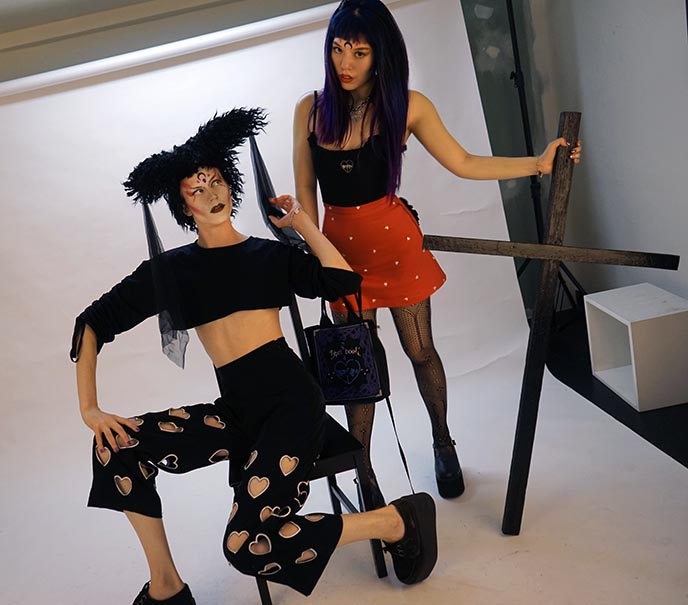 Don't be Cross with me… or you might get a stake through the heart!
It's been a busy few months, and I've fallen behind on recapping my Asia travels. As I pray for your forgiveness, I'll continue with our adventures in Thailand.
If you're looking for Gothic, alternative and experimental fashion in Bangkok, then this post has everything you'll need. We'll sashay into a drag queen mall, and work the stage at LGBT club Maggie Choo's (with RuPaul's Drag Race Thailand host, Pangina Heals!)
While in Bangkok, I was delighted to connect with the team at Morph8ne Clothing. They are one of my favorite independent designers (from these spooky elegant photos, you can easily tell why).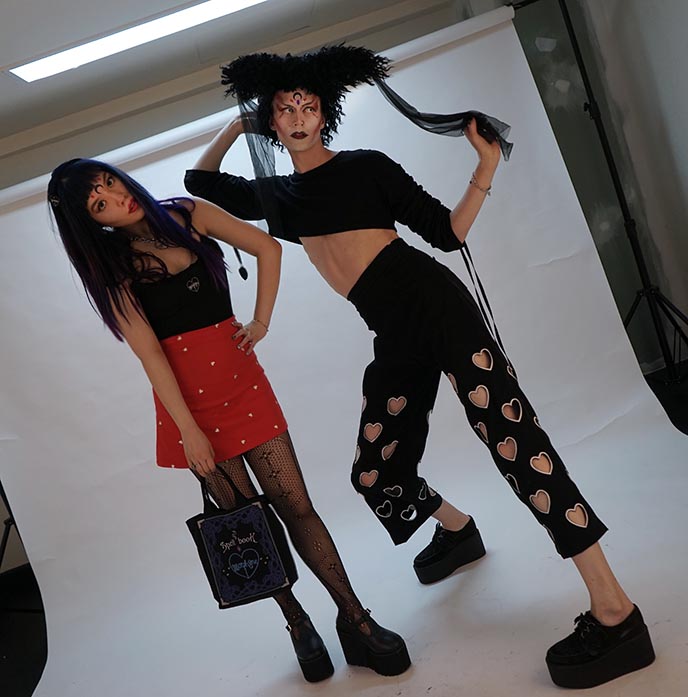 For a long time, I've been online friends with the Morph8ne girls, and loved wearing their clothing around the world. It was a devilish treat to finally met them in Bangkok, Thailand where they are based!
They kindly invited Yukiro and me to visit their fashion studio (access is by private appointment only), and model their latest designs.
The all-women team is so sweet, and their personal style epitomized the brand. The founder (second from right) is named Morphine, hence the name of the label. The ladies work together on the design and production.
Morph8ne's design studio is decorated with elegant Gothic flourishes. The walls are adorned with antique portraits, crosses, and haunting artwork.
This rack showed their latest collection at the time: we couldn't get enough of the purple garments! Morph8ne uniquely combines influences from Japanese Gothic Lolita, grunge, 90s, and pastel Goth — a delectable witches' brew.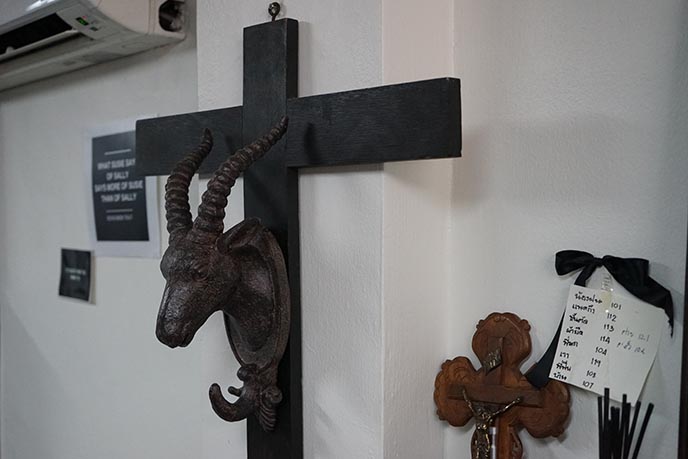 I loved seeing Morphine's creative process at her studio, including mood boards for upcoming wardrobes (which I can't show you!) Their dark dolly clothing is always made ethically, and in small batches.
You can browse and purchase designs through Morph8ne's website — they ship worldwide. They're also stocked by some Asia boutiques, like Never Mind the Xu in Tokyo, and Outcast street style store in Bangkok.
This studio is not open to the public, so I'm grateful that the Morph8ne girls let us take a look behind the scenes. We were captivated by Morphine's collection of horror oddities, displayed in a glass case at the entrance.
Living Dead dolls, skulls, crucifixes… and Gollum.
How lovely is this purple-edged Spell Book purse, featuring their heart and cross logo?
Next, we got to play dress-up and take photos. I'm wearing a Bad Mood dress, featuring red ribbon tie straps and the adorably emo heart character.
Yukiro went for an ultraviolet look. Morph8ne uses textures fabulously, from faux fur to sheer panels and accent patches.
Cheeky ruffled heart patches on the back of my red Madly miniskirt… they double as pockets.
Bringing on the darkness, with a crop top (check out the trailing ribbon sleeve detailing) and one-of-a-kind heart cut out pants.
If you like what you see, you can find these Gothic-girly fashions on Morph8ne's web store. The prices are incredibly reasonable for the high quality and originality of the pieces, and we encourage you to support these lovely ladies.
To quote their latest collection: "Sisterhood is forever whether you like it or not."
Thank you Morph8ne for opening your dark hearts to us!
We encountered more fab fashion… at the most decadent gay and drag club in Bangkok, Maggie Choo's. When you step in, you'll be greeted by muscled, shirtless men in turbans swinging from the rafters.
The nightclub looks like an opium den with 19th century style lamps, velvet curtains, and Grecian marble bust statues. The venue holds a variety of live performances and dance parties. However, we came for Maggie Choo's famous Sunday night drag queen party.
Every Sunday, you can see the best Thai drag queens strut the stage, and entertain the crowd with sassy banter. The drag show is hosted in both English and Thai by the vivacious Pangina Heals, the host of "RuPaul's Drag Race Thailand" TV show.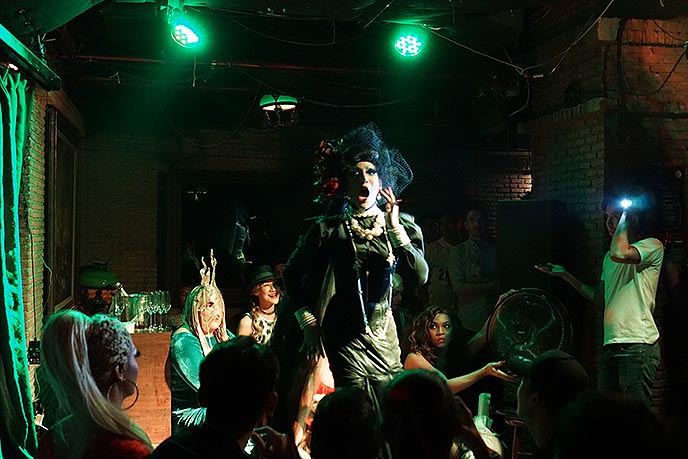 Thailand is known for its next-level drag queens — and at Maggie Choo's, the performers truly brought it. The fashion and lip-synching were top class; Yukiro was surprised when this Gothic queen performed an obscure track, Malena Ernman's Tragedy song. which he also uses in his shows.
"Here comes the tragedy, The sound of agony, The tears you love to cry, The pain that wants no remedy…"
We'll never forget this rousing rendition of Sia's "Titanium." This queen wrapped herself in a plastic tube, which protected her from objects that others threw at her… talk about symbolism at its funniest!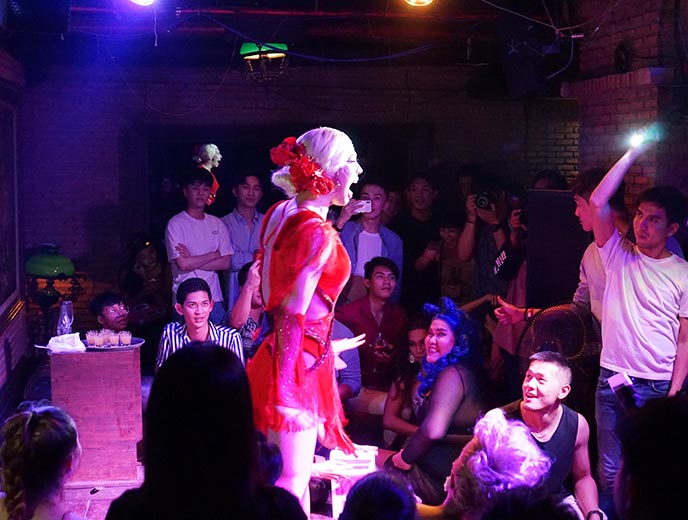 Pangina Heals performed with powerful energy and charm, demonstrating why she's the host of the Thailand RuPaul's Drag Race TV show. Between sets, she entertains the crowd with banter. If you can name the disco tune that the DJ plays, Pangina will invite you onstage to do a shot with her.
On a Sunday night, Maggie Choo's is the LGBT club to be in Bangkok.
Where do Bangkok's showgirls and drag performers get their wild wardrobes? The secret spot is Watergate Mall, which looks like a small and unimpressive shopping center.
However, when you walk inside, you'll be bombarded by feathers and glitter! Nicknamed the "drag mall," Watergate Bangkok has several floors of small shops, filled with flamboyant creations by locals.

Be sure to visit Hutcha, a talented Bangkok designer. Admire his mannequins, who are dressed in mermaid dresses with gauzy ruffs. (Not sure how you'd get through the doorway, in some of these ballgowns!)
Hutcha can also custom-make a garment in any style you please (how about a space pirate suit?)
Walk around Watergate Mall, and you'll find all sorts of showy garments. Admire the traditional Thai theater costumes, or shop for holographic jumpsuits.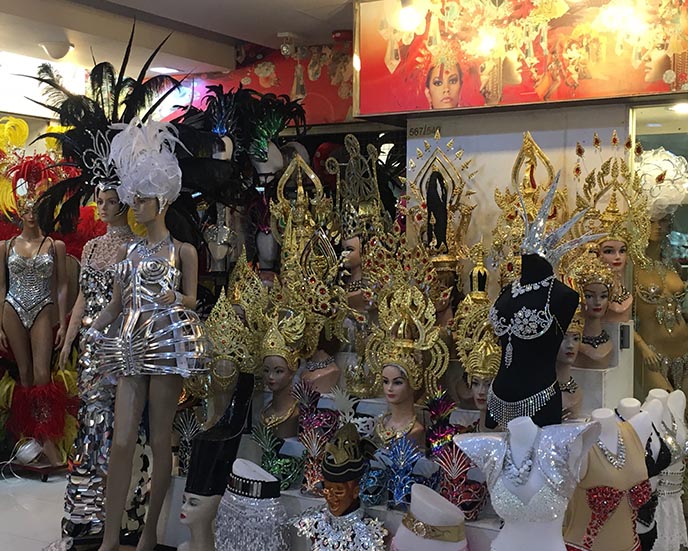 You'll be overwhelmed by the options for glitzing up your wardrobe. Bargaining is welcome, at accessories and headdresses stores like this one.
Watergate Mall is an excellent place to find costume jewelry, and experimental pieces such as headpieces covered in spikes. Or how about this crown decorated with a skull and cobwebs?
The prices vary widely. Yukiro got this purple dressing gown with trailing sleeves for a steal. Other items, such as this glittery military gown, can be $1000+.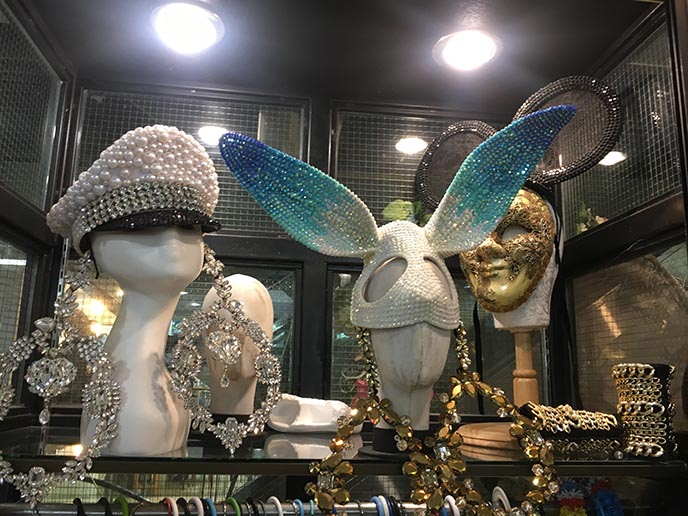 Those giant earrings look like they'd be a pain to wear… but that's the price of fab fashion, isn't it?
For fashion that's less "out-there" but till outstanding, I recommend heading to Siam Paragon and Siam Discovery malls. This is my favorite spot to see Thai indie clothing all in one place.
Ascend to the upper levels and wander through Ecotopia. This department is all about ethical and eco-friendly goods. I eyed the organic cotton dresses and home products, and took home a few packets of local herbal curry.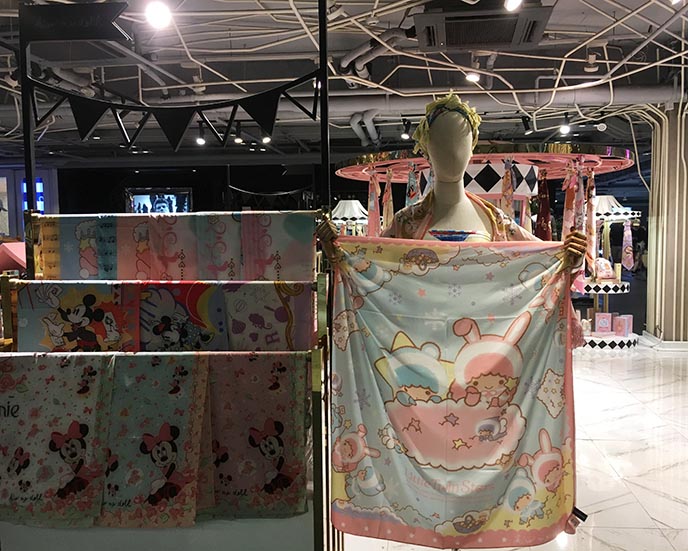 Cross over to Siam Center, and you'll be confronted by a variety of cute, hip fashion geared towards younger shoppers.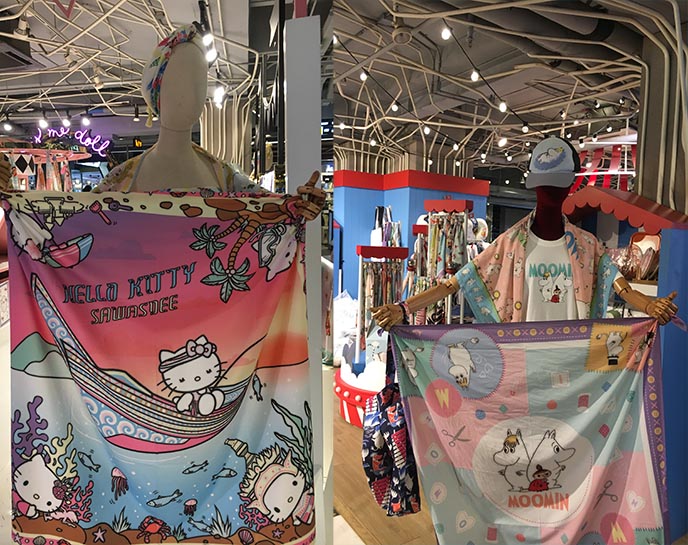 This scarf store had a collaboration with Sanrio. There's a limited edition "sawasdee" Hello Kitty shawl, as well as some featuring Little Twin Stars and Moomin.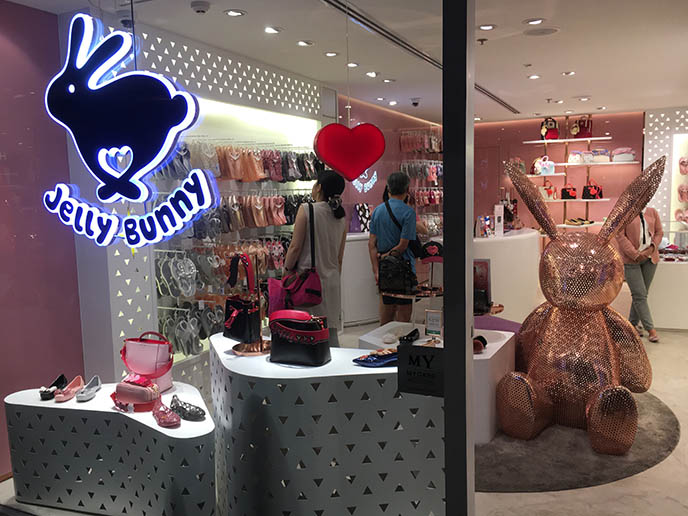 Those who love playful fashion will adore Jelly Bunny, a local line of kitschy shoes and purses. When you walk in, you'll be welcomed by a large, sparkling pastel-pink rabbit statue.
Jelly Bunny has a huge range of "jelly" shoes, the malleable style that was big in the 90s. I was tempted to get one of their space-inspired holographic purses, shaped like astronauts or sleepy crescent moons.
Don't miss out on the psychedelic Flynow store, also in Siam Center. You'll run into colorful lions and bears dressed in the funky designer's clothing.
Flynow's designs stand out for being high-end – the brand presents at Bangkok Fashion Week – yet playful, with a pop-culture bent. The experimental garments include rainbow dresses, and bedazzled jeans with cartoon character faces.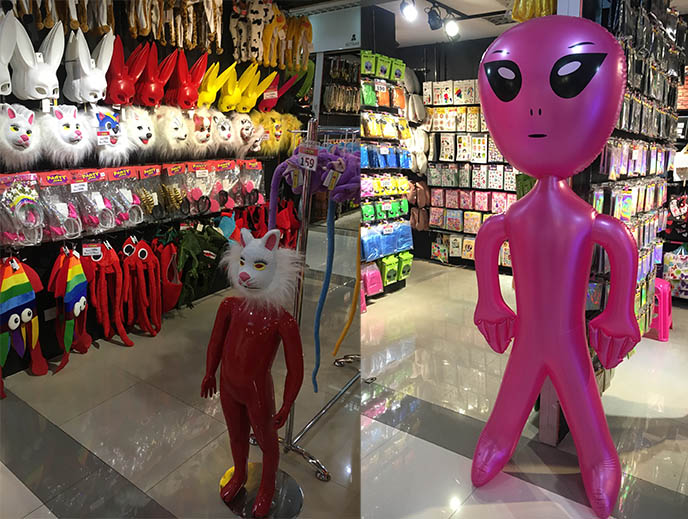 We also enjoyed roaming through Pink Pvssy, a quirky accessories store with multiple locations. Pink Pvssy carries every accessory you can imagine, from giant bead necklaces to 3D lion's-head backpacks. You can even pick up a human-sized inflatable alien!
Finally, we popped into Bloody Bunny and Friends cafe. This Thai mascot is a mix between cute and frightening: note the bloodshot eyes, bent stitched ear and knife.
Bloody Bunny's friends are similarly spooky-cute. Get to know a growling, frowning bear (Serious Kuma) and a raven dressed like a plague doctor. This is a great place to pick up adorable themed goods, such as notebooks and toys.
Then, head to the Bloody Bunny theme cafe. You can sip a red slushy, or munch on snacks served in bowls with his evil eyes.
I hope you found these dark and alternative Bangkok tips helpful — or at least, frightful!
I also wrote about many of these places for Touring Bird, the new Google Area120 travel tips site. You can find all my Touring Bird tips for Bangkok here, as well as my underground guides for other cities worldwide.
(If you're heading to Thailand, I contributed Touring Bird tips for Hua Hin, Krabi, and Ko Samui — plus many other major destinations in Asia. Thanks for checking out my writing on Google's new travel website!)
Let's start this Thailand temple diary in a fitting way… with an Italo Disco song!
"One night in Bangkok and the world's your oyster
The bars are temples but the pearls ain't free,
You'll find a god in every golden cloister
And if you're lucky then the god's a she.
I can feel an angel sliding up to me!"
I think you can tell we had a fun time exploring Bangkok temples, with Tours By Locals! Our insider guide took us on a fully customized journey that included the demon protectors of Wat Arun…
… and the Temple of the Emerald Buddha. (How do you like my "sun protection schoolgirl" outfit of the day?)
I can't stand basic, big group tours — which is why I teamed up instead with Tours By Locals. They link travellers with passionate local guides, and create a custom itinerary off the beaten track. 
My friends and I were keen to see Thai Buddhist art and spirituality, without crowds elbowing us. Our guide Kay listened to our preferences, and delivered by taking us to obscure temples (like Wat Kalayanamit) that were literally empty of tourists. 
As you'll see, the day tour was a joy, and left us buzzing with knowledge and inspiration. Kay picked us up and gave us an overview of Thai Buddhist culture, along with a primer on helpful phrases. Becky Hawkins made this terrific reaction drawing of her and her "shoulder angel"! 
I have been to Thailand twice before, but it's always a joy to return (and this was the first visit for Yukiro, Naomi, and Becky). Even though Bangkok is now an extremely popular destination, you can still enjoy the warm, welcoming Buddhist culture. 
So many temples, so little time… There are over 400 "wats" in Bangkok alone. The most famous ones (Wat Pra Kaew, Wat Arun, Wat Pho) are certainly worth seeing if you're here for the first time. Kay made sure we got to peek around Wat Arun, but focused most of our tour on temples where tourists rarely tread. 
A reflective moment in front of the Golden Buddha statue at Wat Arun Ratchawararam. Also known as the Temple of Dawn, it dates back to the 17th century, and is known for its glowing exterior at sunrise. (More photos at the end of this post.)
We also said hello to the giant demon yaksha, guarding the Grand Palace at Wat Phra Kaew (Temple of the Emerald Buddha). Don't avoid these sacred sites, simply because they're popular — they're among the most impressive ones in Thailand. 
We struck a balance by visiting those two landmarks quickly, and then took our time to wander around two little-known temples on the outskirts of Bangkok.
(I'm wearing a Boy UV umbrella, Mary Wyatt London shirt, Lola Ramona heart bag, and Japanese plaid skirt similar to the ones below.)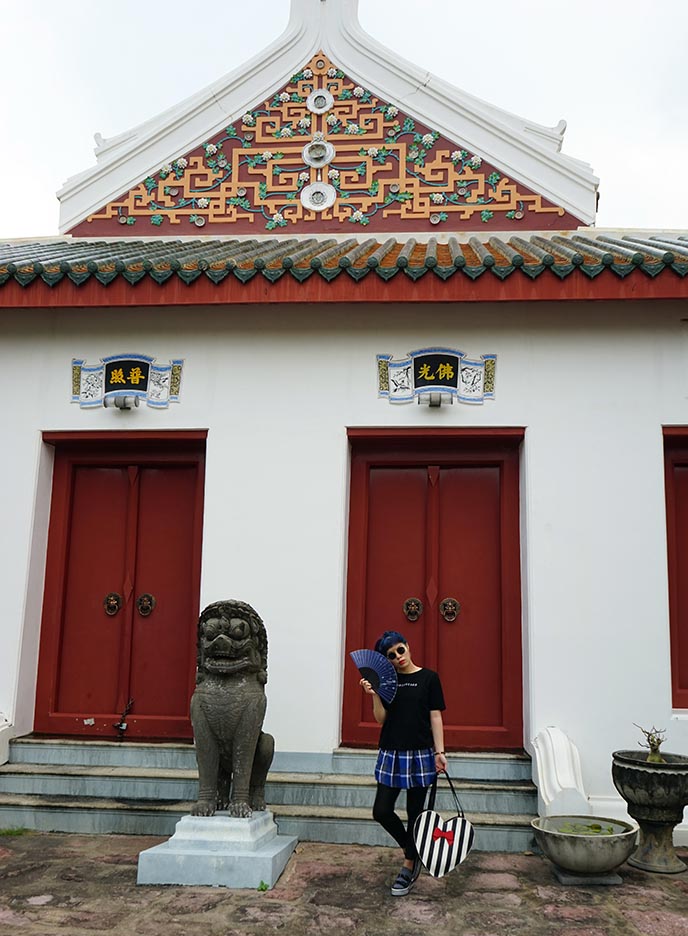 We're at Wat Ratcha-Orasaram, a royal monastery built in the Ayutthaya period. The prince was influenced by both Thai and Chinese art, hence the unusual temple colors and carvings. 
Can you spot Yukiro beneath the colored eaves and white pillars? You can see I'm not exaggerating when I said there was nobody else around during our visit. In bustling Bangkok, it was a joy to take our time to meander through this peaceful monastery. 
We said hello to the resident golden Buddha icon. Becky Hawkins made this drawing that gives you a sense of the ornate detail of the altar. In this unhurried atmosphere, she and Naomi could take all the time they wanted to draw their surroundings. 
Yukiro and I mosied around and took photos of the fascinating details. Of course we were drawn to the metallic demon on this red door, with a fierce grimace and horns. 
Love the elegant features of the Buddha, sitting in the lotus position. The chandeliers, candles and surrounding murals add to the radiant feeling of the room. 
As a fan of minimalist design, these white stupas spoke to me. (They house the remains of Buddhist monks and nuns, or sacred relics.)
Naomi Rubin sketched the residence of the monks. It was surrounded by shrubbery that looked like it had been pruned by Edward Scissorhands! She has been posting these travel drawings as part of her web comic Moonsprout Station; you can read the Thailand dispatches here.
We were glad to have our Tours by Locals guide Kay with us, as he introduced us to these secret spots and answered all our questions. Whats's the deal with the fan in front of the Buddha's face? Is he being coy? Kay explained this traditional fan with a long handle was made of talipot palm leaves, and used to cover the face while chanting.
We dared not disturb the Buddha's repose by ringing the giant bell.
There was so much to see at Wat Ratcha-Orasaram, including sculptures of all sizes dedicated to the Buddha.
In the Ordination Hall, we came across this giant gold reclining Buddha. Love the chill expression in his eyes. 
Becky Hawkins captured Kay in action. We couldn't have seen all these temples and learned so much without his guidance.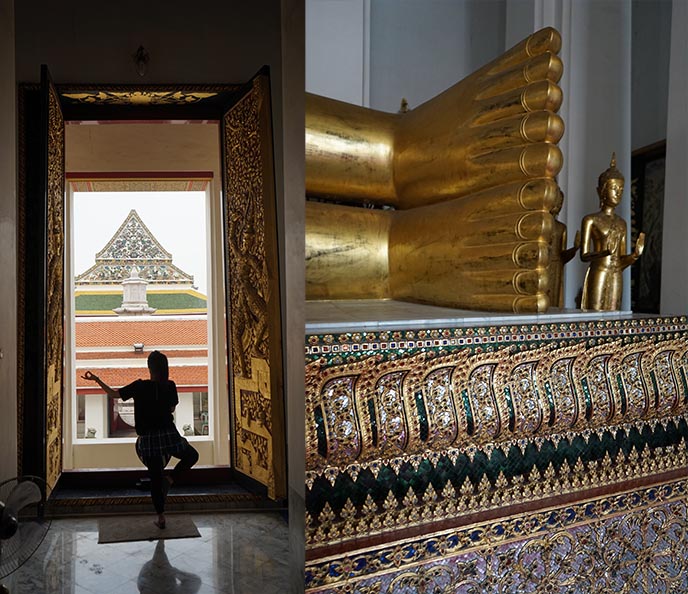 Close-up on the Buddha's extra large feet, with toes all lined up. 
Looks like Yukiro wants to join Siddhartha in hanging out!
We saw a few monks walking through the courtyards, wearing their signature vermilion robes over one shoulder.
Becky Hawkins sketched these scenes from daily life in a Thai Buddhist monastery. 
Yukiro and I got some posing inspiration from these green yakshas.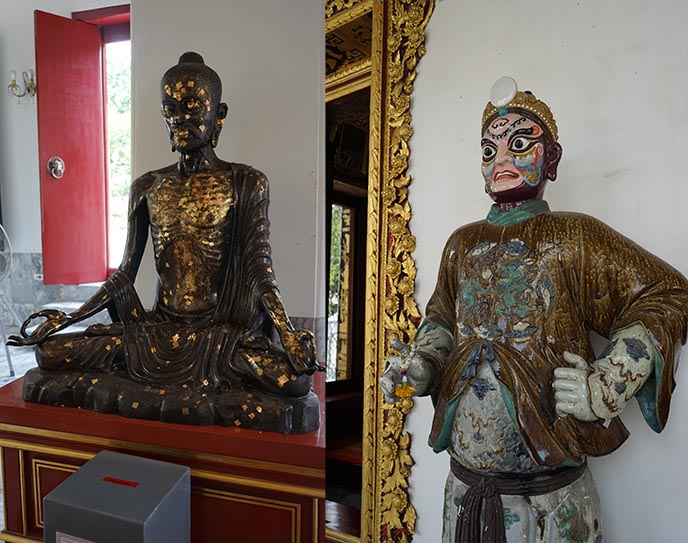 Seeing art and architecture like this, firsthand… this is why we live to travel.
"When the mind is silent like a lake, the lotus blossoms." – The Lotus Sutra
Kay then took us to Wat Kalayanamit Varamahavihara — the name means "friendship." Founded in 1825, this is one of the most tranquil temples in the city. (Once again, you can see there's nobody around us!)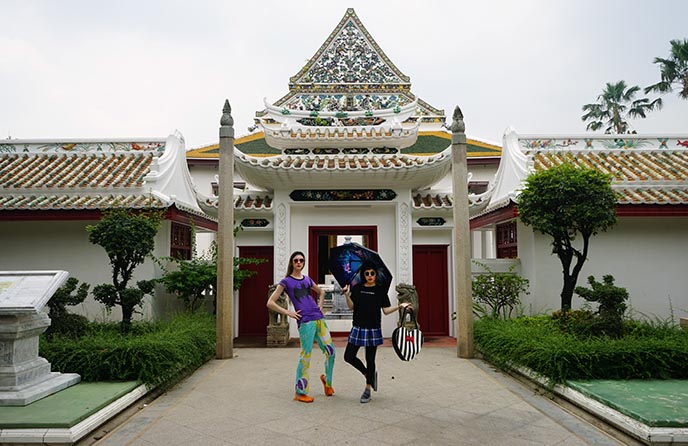 From the trees to the rooftop carvings, everything is richly yet subtly decorated. 
Many Buddhists come to a Wat Kalayanamitr for New Years blessings. The gold Buddha statue has a slim frame and long earlobes, and is the only Thai temple to feature him in Palilai posture. 
Such fun to visit the "friendship" temple with friends I've known through thick and thin, for over 10 years now!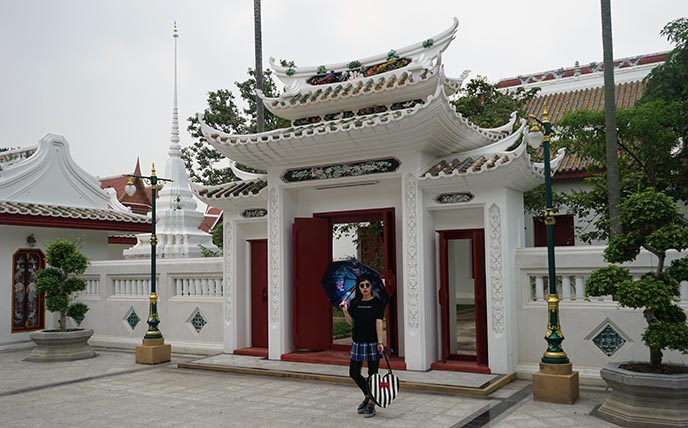 The gold, red, and green details make the white structures stand out.
This wat is also a monk's residence. If you come across any visitors here, they'll be locals performing spiritual rituals. 
When visiting Thai temples, you should cover your shoulders and knees. I'm wearing a short tartan skirt like the ones below (click to see).

Grateful to Tours By Locals for letting us see this special side of Bangkok. We would never have heard of these monasteries if it weren't for Kay.
We'll finish off at Wat Arun. Kay took us here in the early morning so that we could avoid the hoards of visitors. We were transfixed by this towering prang, or Khmer-style tower, studded with porcelain carvings. 
There were quite a few signs and billboards around Bangkok with this message: don't use the image of the Buddha in tattoos, bar decor, and other ways they consider disrespectful.
This huge central prang is covered in stucco figures from Hindu and Buddhist mythology. The various levels symbolize the realms of existence.
These "Khon" figures have a heavy load on their shoulders, wouldn't you say?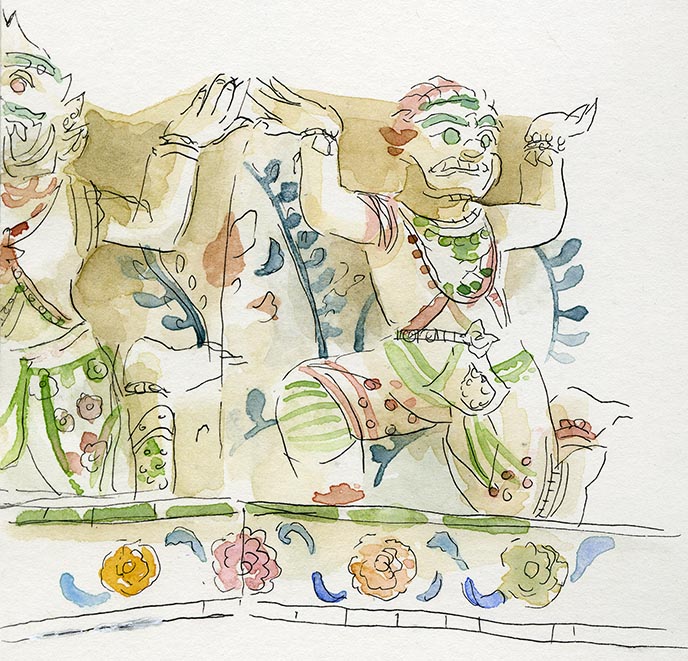 Naomi Rubin made this gorgeous watercolor of the mythical demons, with arms and a foot raised. (In the next Bangkok posts, you'll see more of her works. She and Becky added a new dimension to these travel stories through their art.)
"Khob kun" to Kay for teaching us how to say thank you in Thai (and for taking us around on this fabulous day-tour.)
Close-up on the artistic details at Wat Arun. Some of the 3D elements are seashells. 
Ready for another Italo Disco refrain? 
"One night in Bangkok and the tough guys tumble
Can't be too careful with your company
I can feel the devil walking next to me."
Elegant goddesses peered out from these arches. 
Work that asana (pose)! 
Also known as Wat Chaeng, this temple is dedicated to Aruna (Hindu God of Dawn). Located by the river, these spires sparkle at sunrise and sunset. 
Becky's take on the grand pagoda. Love how she captured the horse sculpture detail.
If you're heading to Bangkok (or any major destination), give Tours By Locals a look. As you can see from our temple hop, they help you get the most out of your destination — with entirely bespoke private tours led by a fantastic guide. 
I teamed up with Tours by Locals in Luang Prabang, Laos as well: check out this travel diary of our waterfall trek.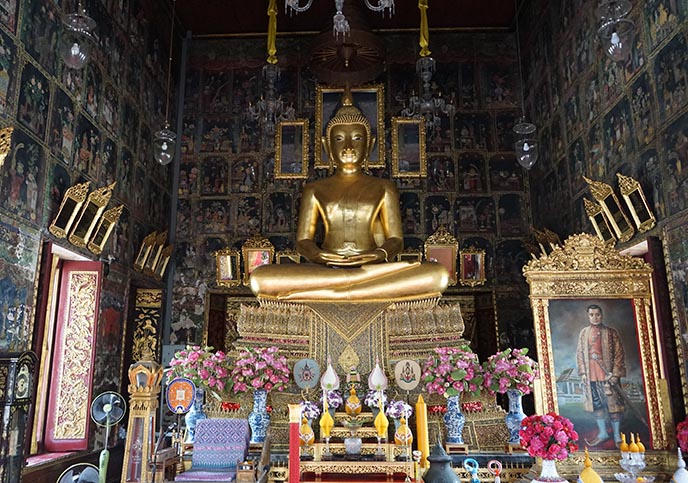 I hope you enjoyed our Bangkok travel photos and art so far, and there's more to come. Leaving you with love and the Diamond Sutra:
Thus shall you think of all this fleeting world:
A star at dawn, a bubble in a stream;
A flash of lightning in a summer cloud,
A flickering lamp, a phantom, and a dream.