Category Archive for
The Satanic Temple
O-hisashiburi, Baphomet-sama. It's nice to be back on your lap.
In Part 2 of my Salem, Massachusetts stories, we'll take an insider peek at The Satanic Temple's headquarters! (You may recall that I first visited TST Salem in 2019, and came back recently.)
TST / Salem Art Gallery has opened its doors again to visitors, with new art exhibitions and a goat-headed fortune telling machine. You can now stay in a suite at The Satanic Temple, and get married here by an ordained Minister of Satan… Read on for the Satanic scoop.
First, we'll run around Witch City with Thomas O'Brien Vallor, who runs the top-rated Satanic Salem Walking Tours. He developed the tour with The Satanic Temple; it's a 1.5 hour guided stroll covering Salem's history and connection to the devil, free from supernatural or superstitious elements.
A Salem resident since his teen years, Thomas is an experienced tour guide, and expert in occultism and witchcraft. He's a member of The Satanic Temple and previously worked at TST HQ. In addition to running his successful tour company, he gives regular lectures on history and other dark matters at The Satanic Estate / Virtual Headquarters.
Thomas offers Satanic Salem Walking Tours every day except Tuesdays, at 12 noon or 8pm (make a booking via his site).
Look for him at the Derby Square meeting place, by Salem Old Town Hall (above). Built 1816, it's the location of the Halloween party where the Sanderson Sisters performed "I put a spell on you" in the film Hocus Pocus.
Within minutes, you'll "get" why Thomas O'Brien Vallor has the #1 rated tour in Salem on TripAdvisor, with hundreds of 5-star reviews. He has an infectious energy and deep knowledge of Salem's history, which doesn't gloss over its darkest moments or wander into ghostly territory.
If you've seen the Hail Satan? documentary, which I recommend, then you'll have a sense of The Satanic Temple's origins and mission.
In line with TST's values (the pursuit of knowledge, and seeking justice for marginalized), Thomas debunks misconceptions about Salem's history and the witch trials — such as that Satan caused women to falsely accuse outsiders of witchcraft.
He spoke with compassion about the victims of the Salem Witch Trials, at their memorial at Charter Street Cemetery. Each stone honors one the nine who were hanged as witches. I stood over a plaque that read, "God knows I am wholly innocent of such wickedness."
Also known as the Old Burying Point, Charter Street Cemetery is the second oldest in the USA (founded 1637). The famous graves include that of Justice John Hathorne, who sentenced many innocents to be hung as witches. (The judge is the great-great-grandfather of Nathaniel Hawthorne, author of The Scarlet Letter and The House of the Seven Gables.)
Thomas pointed to the "hanging trees" in the Old Burying Point Cemetery. They're similar to the ones that some of the victims were hung from, during the 1692 Salem Witch Trials.
I wasn't surprised to see people with Gothic fashion and tattoos, on the Satanic Salem Walking Tour. However, this is an activity for everyone, and all ages are welcome. Thomas often gets families who book his tours on a whim (or because he's the number one rated guide), and end up being delighted by the experience.
Thomas does a terrific job of delivering historic facts in an entertaining and witty fashion. Here stands Roger Conant, the founder of Salem, outside the Salem Witch Museum. (It's a must-visit for first-timers; see my Witch Museum review here.)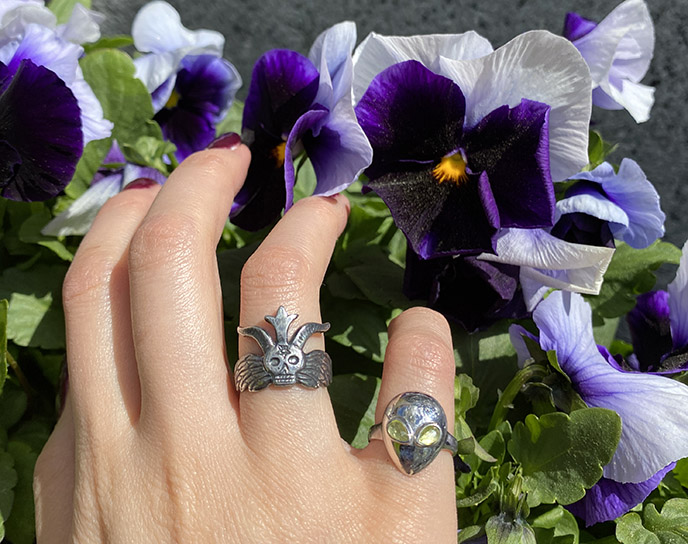 Don't forget to stop to… fondle the flowers. I'm wearing an official The Satanic Temple ring; it's the TST Winged Crowned Skull Logo Ring, created by Kate Hockstein of Arcana Obscura. My alien pinky peridot ring is Alina Abegg Jewels.
We walked by St Peter Episcopal Church at a time when the sunlight fell just-so on the winged skull headstones. These very Gothic "Death's Head" carvings show the deceased carried by wings, representing the soul going to heaven. (Or… hell?)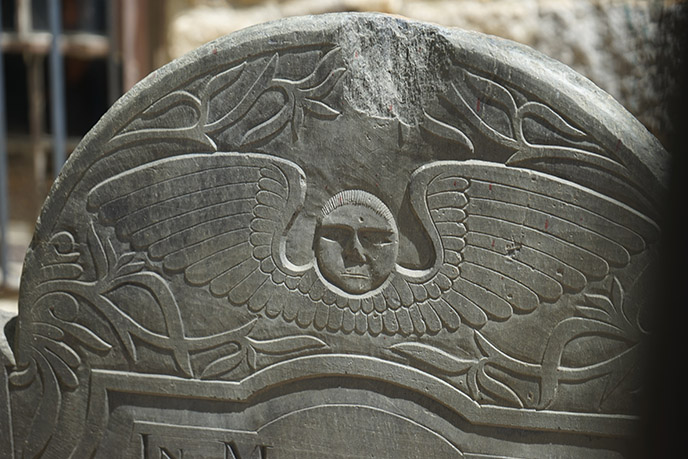 After the 1690s, the tombstone imagery included winged cherubs ("soul effigies"). If you ask me, these round faces with wings are creepier than the grinning skulls!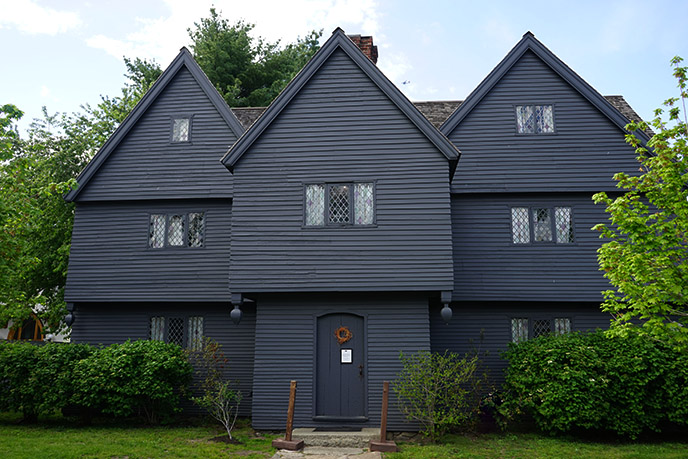 Salem is filled with centuries-old Gothic architecture (Thomas told us the historic pointy-roof houses are often painted black, to make them look extra spooky for visitors). Here is The Witch House, home of Judge Jonathan Corwin; see my tour inside Witch House here.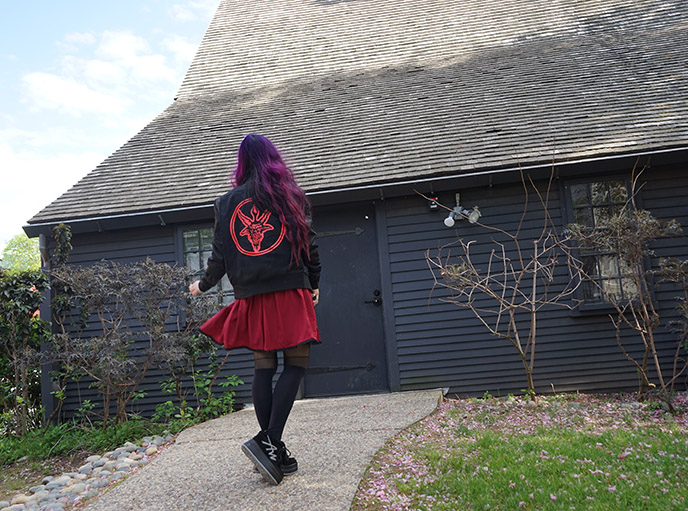 Made sense to wear my Baphomet bomber jacket by Long Clothing. Salem truly is a Goth / Satanist haven.
Hail Thomas O'Brien Vallor — Salem witch, historian and tour guide extraordinaire! When you visit Witch City, I hope you'll join his Satanic Salem Walking Tours. There's no better way to get to know Salem and its fascinating history, from a Satanist perspective.
Speaking of the devil… The Satanic Temple's headquarters looks particularly enticing at night. Located at 64 Bridge Street, TST HQ / Salem Art Gallery is impossible to miss, as the former funeral parlor glows with purple lights after dark.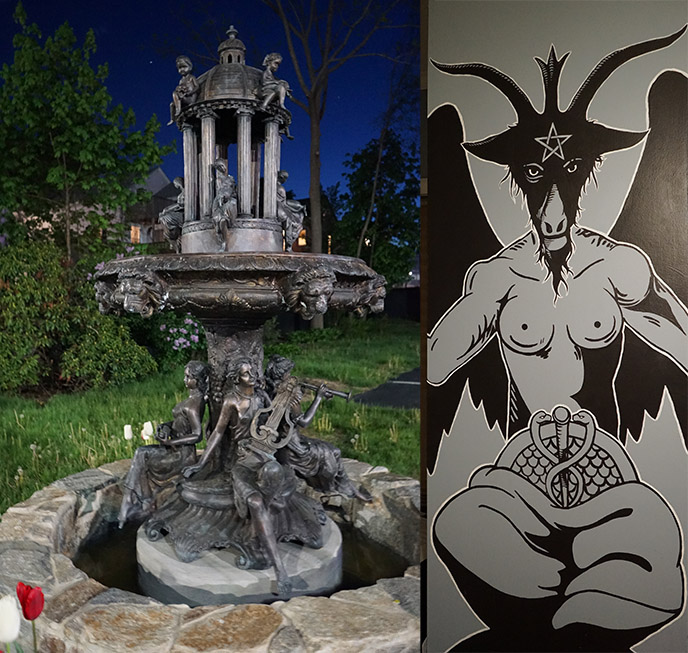 An elegant fountain sits outside the The Satanic Temple Salem. You may recognize this office wall painting from the Hail Satan? documentary; it depicts Baphomet, goat-headed Satanic symbol of the reconciliation of opposites. (As above and so below, male and female, animal and human.)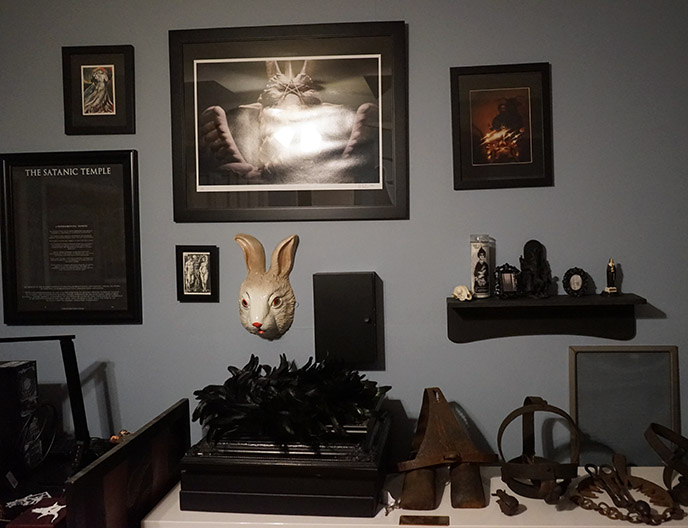 The Seven Fundamental Tenets hang on the office walls. One shouldn't be surprised to see a bunny mask and black feather boa in the inner sanctum of TST…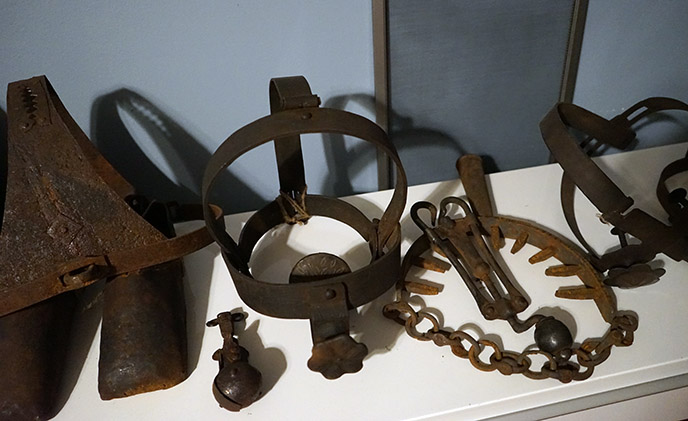 … or a collection of rusting metal chastity belts and torture equipment!
Gothic candles, animal skulls, and a bronze figure of Baphomet add to the office's dark decor.
Visitors are welcome to visit The Satanic Temple / Salem Art Gallery during its opening hours, and sit on the infamous Baphomet statue. (The Satanic symbol was built to be placed next to a Ten Commandments monument on Arkansas Capitol Grounds, to ensure the equal representation of minority religions. To this day, TST is fighting for the right to emplace Baphomet.)
Mark Porter constructed the controversial bronze statue, which weighs over 3,000 pounds and stands eight and half feet tall.
"Baphy" sits next to these ghostly figures by Zach Brown, who had a "Strange Familiars" exhibition at The Satanic Temple Salem. His evocative works draw from ancient myths, and touch upon themes of mortality.
Be sure to bring some US $1 bills, to feed the new Satanic fortune-teller machine! The mechanical Baphomet moves his hands around the glowing crystal ball, and speaks (much like Zoltar).
Here's a first look at another new addition… The Satanic Temple is now available for overnight visits! You can stay in this Gothic suite with red satin drapes and a dramatic wood poster bed. (Book it here.) Guests have access to a private bathroom, and a newly renovated kitchen as well.
You can also now get married, Satan-style. The Satanic Temple is available for wedding parties with fewer than 50 people. Salem Art Gallery provides a TST-ordained minister to officiate your marriage. They'll help you with decor and catering, and have both indoor and outdoor areas for for small wedding receptions.
The Satanic Temple now has a online Satanic Ministry ordination program. The program is currently being rolled out in stages, and involves 10 lessons, an exam, essay, and background check (eligibility also depends on location). Once you're ordained as a Minister of Satan, you can officially oversee weddings, funerals, unbaptisms, and other religious rituals.
(Thomas Vallor just became a minister himself, and will be helping with weddings at Headquarters.)
Here are some bonus answers from an interview I did with TST cofounder and spokesperson Lucien Greaves, as it refers to the Belle Plaine military memorial above (which you can see at Salem Art Gallery).
La Carmina: "I adore The Satanic Temple's elegant veterans memorial, which features gold pentagrams on a black steel cube. Can you tell me about your efforts to emplace it in a Minnesota veterans park, as a means of upholding government viewpoint neutrality?"
Lucien Greaves: "In Belle Plaine we offered a monument on public grounds where there was already a privately-donated Christian monument, similar to Arkansas. Instead of "allowing" a Satanic monument on their public grounds, the city decided to remove their Christian monument and close down their park as a public forum. That's great, but they only did this after approving our monument, which caused us to expend considerable resources in having it constructed, and they shut down the "forum" only after having the Christian monument displayed for some two years. The case for discrimination against us seems pretty clear, and the claim that we have a type of contractual breach claim ("promissory estoppel") is moving forward."
Lucien Greaves continues, regarding the Belle Plaine lawsuit: "Nonetheless, the judge dismissed the claim of religious discrimination on the grounds that we have failed to establish that there is anything in our religious practices or tenets that directly demands that we should have a monument on those public grounds. Imagine if Christian claims were subjected to this level of scrutiny. In fact, there is nothing in the Bible that directly prohibits abortion. More to the point, there's nothing in the Bible that comes close to recognizing that Christian corporations are prohibited from providing health insurance that covers certain forms of contraceptives for employees, but Hobby Lobby successfully argued that case to the Supreme Court.
We are clearly not being treated equally by the courts, and I don't think that's going to change until more legal scholars and commentators start recognizing and exposing what it is that is going on here. Unfortunately, we now see a lot of people merely looking at the ruling in the most general of fashion and assuming, often out of convenience, that we failed to make a compelling case."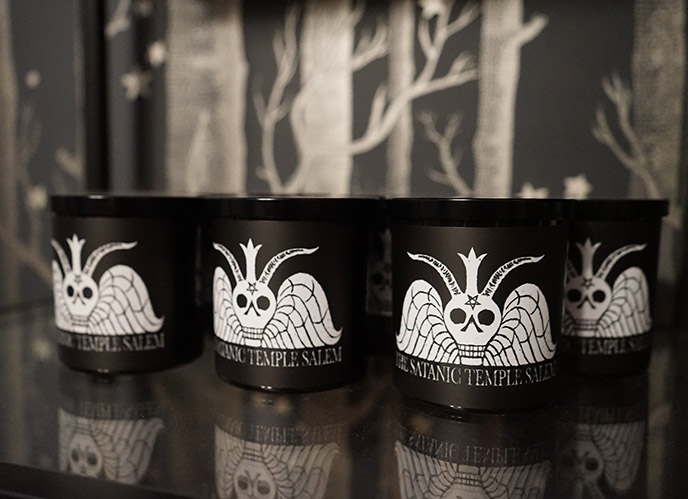 At the entrance of The Satanic Temple Salem, you can pick up candles (such as these), clothing, homewares and more from the gift shop. Proceeds go to their campaigns for social justice, pluralism, and reproductive rights. You can also shop for all things Luciferian through The Satanic Temple's online shop.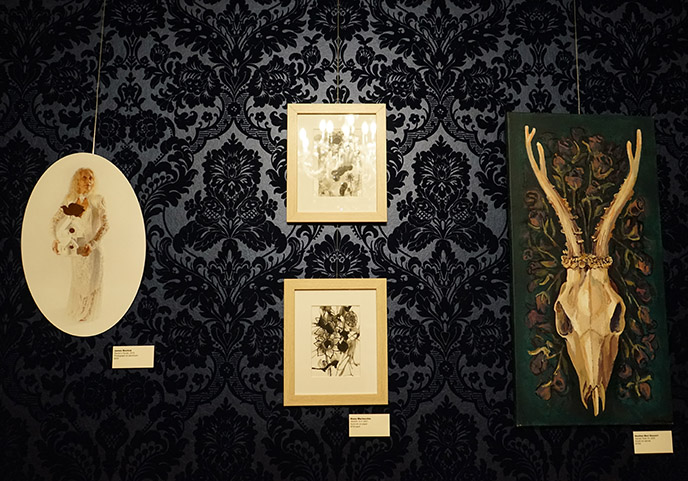 The Salem Art Gallery / TST HQ has rotating art exhibits at all times. When I was there, "Incipit Spring" was on display (photos pictured). Co-organized with the Salem Arts Association, the installation features local artists and their interpretations of renewal and growth.
Right now, you can see Cevin Soling's "We've Become What We Parody." He describes his artwork as "bending the familiar to create an alternate world that exposes the undercurrents of hypocrisy and violence that persist beneath everyday objects' veneer. The works are intended to generate a conflicted response of both horror and humor where the humor may feel guilty or inappropriate. The works serve as critiques of both ourselves and our culture designed to prompt unsettling questions. What kind of world have we created? What do we value, and what do we want to achieve? How do we suppress thoughts of our eventual demise and the specter of violence that surrounds us?"
Here's another bonus Q+A question with LG that didn't get published.
La Carmina: "Many people continue to confuse TST with the Church of Satan (established in 1966 by Anton LaVey, author of "The Satanic Bible"). Could you discuss how TST is distinct from the Church of Satan, and the significance of LaVey's writings to Satanism today?"
Lucien Greaves: "LaVey was certainly important to Modern Satanism, but his Church of Satan did not have much longevity. Something calling itself The Church of Satan exists as a website and a Twitter account today, but there really is no Church of Satan, as an organization, offline. I get the impression that some people think that the Church of Satan holds similar events to The Satanic Temple, has a physical headquarters like The Satanic Temple, believe that the Church of Satan is a federally recognized religious organization in the same way we are, and that the Church of Satan even manages public campaigns in the same way that we do. None of that is true of the Church of Satan."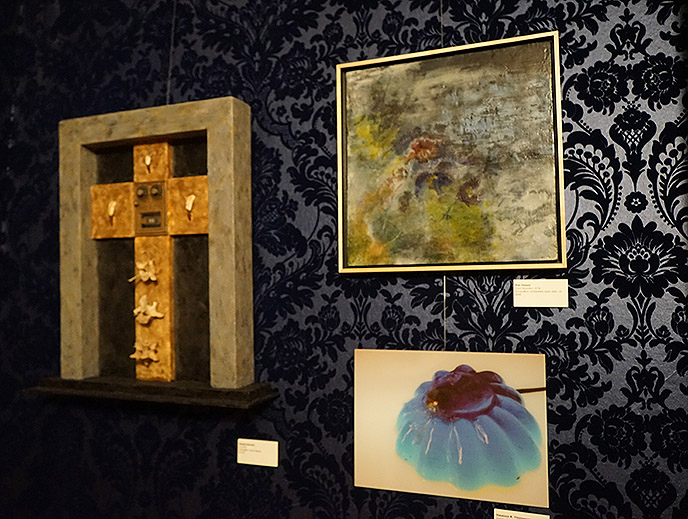 Lucien Greaves: "Philosophically, the Church of Satan fetishizes authoritarianism and endorses a belief in the power of magic, and the legitimacy of Social Darwinism. On the face of it, this places the two organizations worlds apart. However, LaVey believed that his philosophy was born of adherence to the best available scientific evidence, which he clearly thought should override comforting dogmas. It is not at all impossible that if he were alive today, he would adjust his thinking to contemporary knowledge and approve of the Satanism of The Satanic Temple. Some of his living friends have told me that they think he would."
The Satanic Temple has more of a connection to The Process Church of the Final Judgment, a defunct religious group founded in 1966 that spoke of a balance between Luciferian and Christian ideals. Lucien Greaves has the largest collection of The Process memorabilia, much of which is displayed in TST's library (which anyone can visit).
You can learn more about The Process in the engaging documentary Sympathy for the Devil: The True Story of The Process Church of the Final Judgment, which is on TSTTV and directed by Neil Edwards.
Close-up on the masks on the wall of the red throne room, and the shelves of Satanic Panic literature inside The Satanic Temple's Library.
The library has a lot of Satanic eye-candy on the walls. The picture frames contain newspaper clippings about TST, cartoons by Lucien Greaves, a portrait of Elvira signed "To TST," and Lucien's original sketches for the After School Satan logo, and Baphomet statue design.
This cute baby goat caught my attention. Satan is kawaii…
If you're intrigued by The Satanic Temple's work as a religious organization, I encourage you to view the Hail Satan? documentary by Penny Lane. It's currently streaming on Netflix Canada, and can be found on Amazon, Hulu, etc.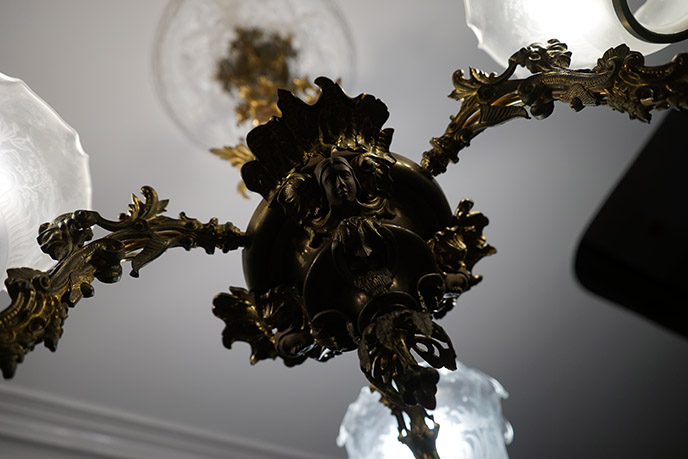 And do pay their official headquarters in Salem a visit. Admission is well worth it to see the artistic details for yourself, such as these antique chandeliers.
The Satanic Temple is having live, in-person events again as well. Check TST's calendar for upcoming events and tickets, including The Satanic Chef's Devil's Dinner Party in October. (And you can spend the night in their suite, above.)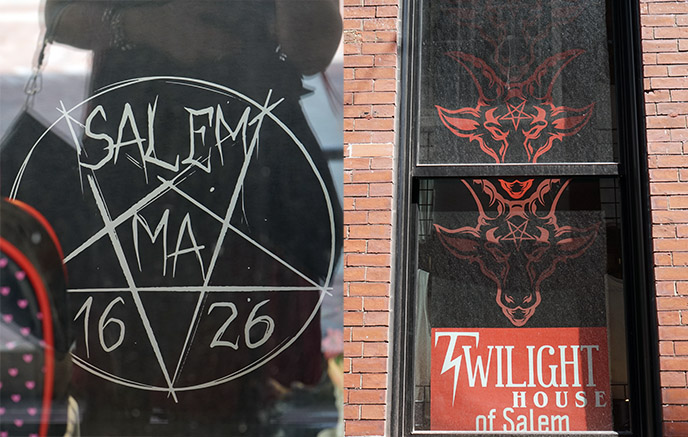 The Mark of the Beast is found elsewhere in Salem. The downtown gift store Twilight House has pentagrams and goat-headed figures in the windows.
Baphomet was a heathen idol associated with the Knights Templar, and later with occult and mystic traditions. His famous image as the Sabbatic Goat is based on an 1856 drawing by Eliphas Levi.
Before we leave Salem, let's take a twirl in my red dress on Salem's only rooftop bar — The Roof. Located at the top of The Hotel Salem, this rooftop bar and restaurant has magnificent views of the historic downtown.
The outdoor bar and kitchen serves up special mixed cocktails, decorated with edible flowers. We tried the blossom 'rita with blood orange liqueur and lime juice, and a pineapple gin cooler with muddled sage.
The Roof's menu includes tacos, rice bowls, and seafood. I went for the fresh guacamole with blue cheese, served with spiced tortilla chips. (I wonder what Anton LaVey would think of me eating this dish…)
Matching the brick architecture around me, in my Sourpuss Clothing red dress.
I was already in awe at the panoramic views from The Roof Salem… and then, this rainbow appeared as the icing on top.
Blending in with the Massachusetts brick buildings, in a red Sourpuss dress and matching silk mask by Lemonwood Luxury.
From the rooftop balcony, I could see Salem's cobblestone streets and harbor in the distance.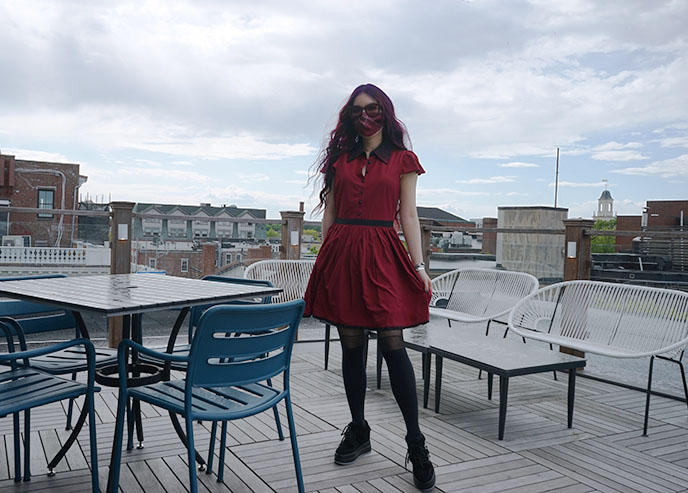 See my full Hotel Salem review here. Loved staying at these hip mid-century modern boutique accommodations (part of Lark Hotels).
"Here lyes Buried"… Come see the skull death head gravestones and more for yourself, in Salem MA.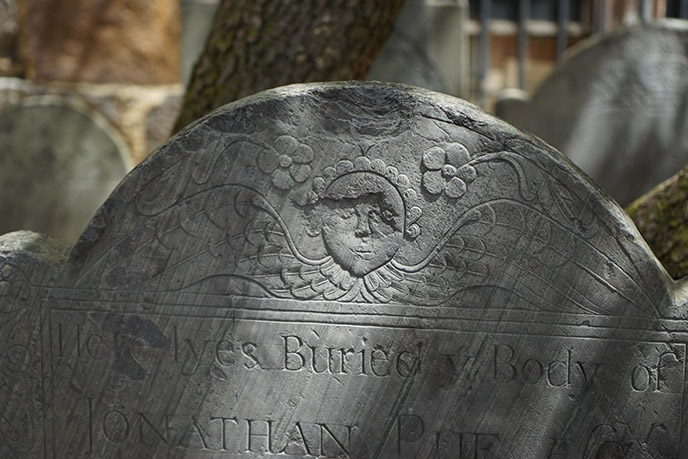 The town is known for its "Haunted Happenings" Halloween celebrations, but it's spooky and Satan-y here year round.
Have you seen the Hail Satan? documentary about TST yet? If you haven't, give it a watch and let me know your thoughts. You can also see more from The Satanic Temple's headquarters in my article from 2019. And never forget… "Thou art thine own master!"
As summer 2021 heats up, I have a fiery announcement… I have a web television show coming out August 1, on The Satanic Temple TV!
"Satanic Show + Tell" was created by me and my co-host Dr. John Skutlin, and produced by William Morrison (of Ogre / Skinny Puppy, and executive producer of TSTTV).
♥ If you're keen to see our show, please support by sharing this article — we really appreciate it! ♥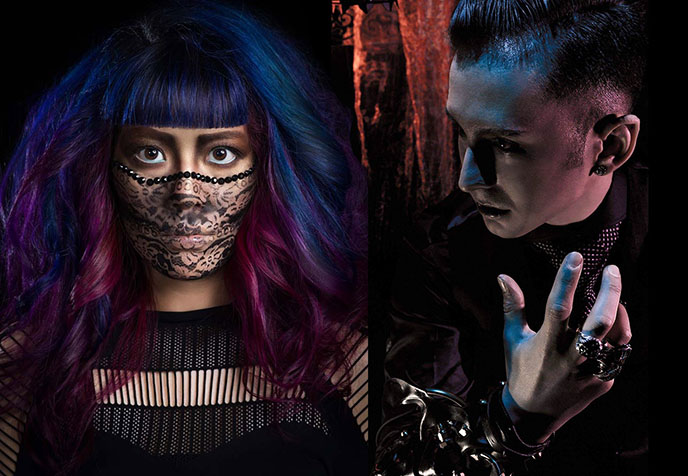 In each episode of "Satanic Show + Tell," John and I interview notable guests about their rare Satanic objects. We hold in-depth discussions about their most delightfully devilish possessions, from Devilman guitars to pentagram jewelry.
We're thrilled to the bones to share our first SS+T episode with you…. starring Evan Michelson, who you may know from the Discovery / Science Channel TV program, "Oddities!"
For a sneak peek, see our Satanic Show + Tell intro teaser here. (Music by GPK Gothique Prince Ken.) Episode 1 comes out August 1, 2021.
John, William and I have been having a hell of a time filming "Satanic Show + Tell" remotely over the past months, via Zoom. (I even created a kawaii Satan hand-puppet for Evan's episode!)
We though the format of the program was particularly apt for these times, as it lets us connect with likeminded friends worldwide, and get an inside peek at their darkest collections.
Here's a screencap from our premiere episode with Evan Michelson (@evanobscura Instagram).
She gives us a tour of her home's cabinet of curiosities, and tells the fascinating tales behind her Satanic collectibles — such as this scowling antique puppet. We also hear about her new oddities store, Obscura West in Lambertsville, NJ, which I can't wait to visit.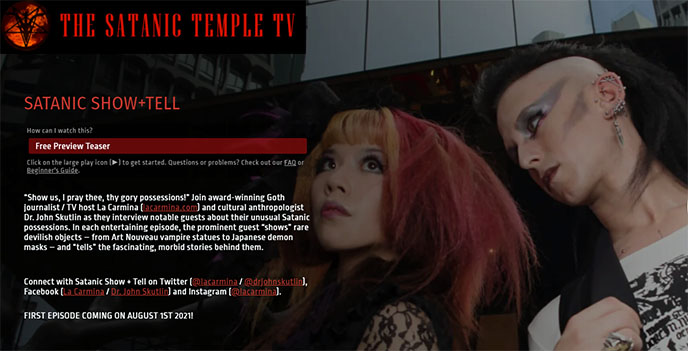 Please take a moment to see the trailer of Satanic Show + Tell (on The Satanic Temple TV), and mark your calendars for the August 1 drop!
So far, we've shot 6 episodes and our show guests include:
– Keroppy Maeda, Japanese body modifications expert (bagelheads)
– Family of Kirk Hammett of Metallica – Trevor White gives a tour of his classic horror/sci fi collections
– Evan Michelson and Ryan Matthew Cohn of Oddities, TV show on Discovery Channel
– Alex Streeter, pentagram Angel Heart ring designer
– Rhys Dawney, designer of Long Clothing / Boy London
The secret is out… "Get ready to pour yourself a libation of choice and settle down with some truly interesting individuals and their insights into all things dark and Satanic. Our first episode with Evan Michelson of Oddities airs on The Satanic Temple TV on Lughnasadh (August 1)!"
Click above and here to see the trailer for Satanic Show + Tell — the new television series on The Satanic Temple TV, created and hosted by La Carmina and Dr John Skutlin, and produced by William Morrison.
Description: "Show us, I pray thee, thy gory possessions!" Join award-winning Goth journalist / TV host La Carmina (@lacarmina) and cultural anthropologist Dr. John Skutlin (@drjohnskutlin) as they interview notable guests about their unusual Satanic possessions. In each entertaining episode, the prominent guest "shows" rare devilish objects – from Art Nouveau vampire statues to Japanese demon masks – and "tells" the fascinating, morbid stories behind them.
WATCH our new show on The Satanic Temple TV!
Hail to everyone who made Satanic Show + Tell possible, and for your kind support in getting the word out!
To celebrate the big news, I thought I'd release some bonus photos taken during my Millie Magazine shoot.
We had fun shooting in Chinatown Vancouver. I'm wearing a pink Mongolian wool coat by Skandinavik Fur (the sheep are only sheared and not harmed), and pumpkin-faced stockings by UK Tights.
Ready to be admitted to the Chinese Seniors Center… I'm wearing these exact black platform boots: Jeffrey Campbell Mexique shoes, click link for details.
My makeup for the shoot was by my longtime collaborator, Artist Jennifer Little — we've worked together on several magazine covers! Much of my makeup, including the mascara, brow pomade and liquid lipstick, is by Anastasia Beverly Hills.
My Harajuku-Goth hair is by Chad Mitchell Evans of BlameChad, who is brilliant with color and alternative styling.
If I can't be in Asia anytime soon, I can at least hang out with the lion guardians of Vancouver, BC's Chinatown. These two white stone lion statues flank either side of the Millennium Gate.
There's a large Asian population in Vancouver, so you'll find plenty of kawaii pop culture around the city, including this colorful wall art.
Wearing a vintage coat, Jeremy Scott leather mini skirt, and Forest Ink cutaway top.
I got this shearling coat in London years ago. It reminds me of the Almost Famous jacket.
Pink furry coat by Skandinavik, Halloween stockings by UK Tights, boots are Jeffrey Campbell Mexique (click to get).
One day, I will turn into my final form: Miffy the bunny.
Founded in the 1880s, Vancouver's Chinatown is now the largest in Canada, and one of the biggest in the world. Stroll around to see vibrant storefronts, architecture, food shops and more.
Had to capture this makeup by Artist Jennifer Little, and hair by BlameChad.
If I could teleport anywhere, I'd go to Japan and Hong Kong…
Hail Miffy, the original kawaii character.
Close-up on my black leather ankle boots: they're Jeffrey Campbell Mexique, found here.
May the stone lion protectors keep us safe in this unstable world…
Closeup on my pearl hoop earrings by Stephen Einhorn; Aphrodite skull and Sailor Moon rings by Sapphire Studios.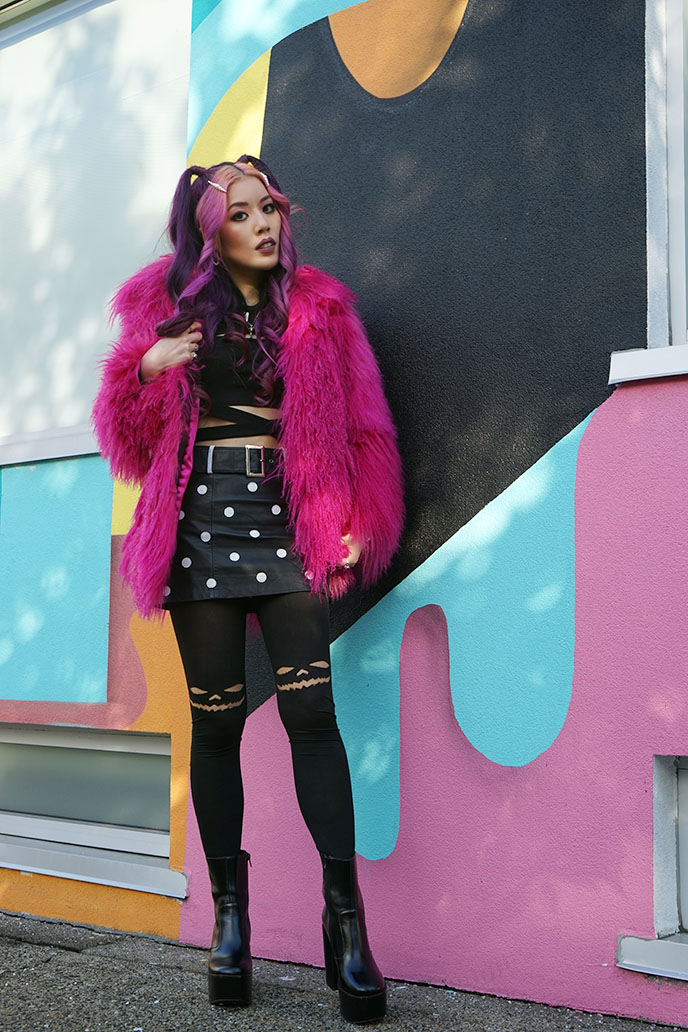 I hope you enjoyed this fashion series! I was just in NYC, and shot many new outfits there… I'll share the images with you soon, and you can see previews on @lacarmina Instagram.
And please mark down August 1 — we'll be releasing Ep 1 of our Satanic Show + Tell TV series, with guest Evan Michelson! (For now, check out the trailer on TST TV.)
In each episode, we interview guests from a variety of expert backgrounds (fashion, music, history) about their dark and devilish possessions. John and I also show and tell a belonging of our own, such as a sugar skull that I picked up in Mexico City.
Honored to have Evan Michelson be our very first guest! You may remember that I appeared on an Oddities episode with her, and we were in Mexico together on a Day of the Dead trip — where I found these Mexican demon and skull masks above.
In journalism news: I'm delighted to share that I have a byline in Time Magazine… I wrote a travel article about Osaka, Japan, highlighting the new Universal Studios Nintendo World!
You can read my Time Mag article here, and get it in print on newsstands now. (It is the TIME World's Greatest Places 2021 issue.)
♥ If you're keen to see our new TV show, please support by sharing this article and Satanic Show + Tell trailer.— we really appreciate it! It debuts August 1st on The Satanic Temple TV. Thank you!