Category Archive for
Turkey
Istanbul is one of those fascinating destinations where ancient history and edgy youth cultures co-exist. In a single street, you can walk by the 14th century Galata Tower, and come across a spread of psychedelic graffiti.
Let's take a stroll through the hipster neighborhoods of Istanbul: Karaköy and Beyoğlu. I'll take you inside video-art galleries, and the design stores of Çucurcuma. We'll end our day with cocktails while overlooking a 360 degree view of the Bosphorus.
And since this is my birthday week (August 17!), I've put up many new items on my Depop store! Please take a browse. It would make me happy to send you a package of my Goth Kawaii fashion and accessories.
Check out my sales and email me if there's something you'd like!
Istanbul is a city made for walking. At every turn, you'll find photo-worthy details like flowering tiles, brightly painted walls, mosques… and a cat or two. (I wrote more about the street animals of Istanbul in this post.)
For a glimpse of local life, wander through the winding roads of Beyoglu. I enjoyed seeing the family-run markets and colorful homes of this district.
Outfit Details: I'm wearing a coat by Alice's Pig – here's a similar jacket with faux fur collar, by Free People. My natural wood sunglasses are Moat House Eyewear. (More fuzzy collar jackets below!)

You'll come across cats and dogs everywhere in Istanbul. They're quite well fed and relaxed — this kitty made himself at home, on a motorcycle!
I recommend wearing good walking shoes, since Beyoğlu's roads are steep and lack pavements. The area is safe during the day, but my local friends advised me not to go here alone at night.
On the popular shopping street, Istiklal, you'll find lots of modern art galleries. At Arter, there was an intriguing collection of video and light projections. Quite a few had creepy motifs: a giant stuffed bear, a floating dress, a bedroom voyeur. 
If you're afraid of clowns, then you wouldn't want to come across this gigantic pregnant mime! 
Continue to the Karakoy district. You'll find stores selling handmade goods, and walls of colorful street art.
There's a funky, hippie vibe to a lot of the works. I just love the energy of cities like Istanbul.
Be sure to find Çukurcuma, a cool street in the heart of Beyoglu. It's famous for its antique shops, but I was more interested in browsing the hip design boutiques.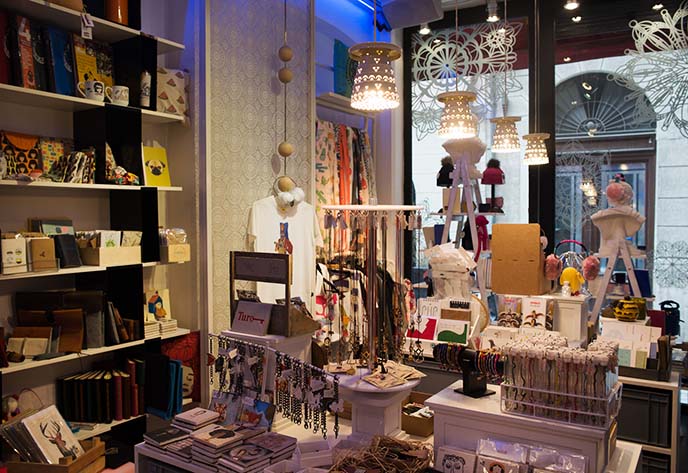 I found Totoro pins and bunny dolls in Lunapark. Most of the Cukurcuma retailers are local and independent — a nice contrast to the more commercial shopping areas.
Nearby, there was a jewelry maker, and a comic books store. We passed by the cutest cafes, and couldn't resist stopping for a tulip-shaped glass of hot black Turkish tea.
Every district of Istanbul has a distinct character. The fish and fruit vendors waved me into Besiktas market.
Pants: I'm wearing these exact Black Milk leggings.
Shoes: Ecco Intrinsic sneakers — love these kicks!
Coat: Alice's Pig, similar here. Faux fur, always.
Shades: Moat House Eyewear
Istanbul's hottest restaurants and nightlife are centered around Istiklal St, near Taksim Square.
We had a world-class dinner at 1924 Rejans, a restaurant that hearkens back to the era of Russian emigres in Turkey.
(Address: Asmalı Mescit Mahallesi OIivya Geçidi No:7-A, 34435, Istanbul)
Rejans was once an Istanbul hot-spot for wealthy Russians, who fled the Bolshevik revolution and recreated their urbane lifestyle in Turkey. Bohemians and politicians alike rubbed shoulders in the wood-paneled dining room.
Today, the restaurant has been revived as 1924 Rejans. The classic decor and attentive staff instantly bring you back in time.
The mixologist introduced himself, and brought out a pushcart of house-infused vodkas. We started with the classic lemon vodka: I was tempted to taste every flavor.
We ordered a round of classic cocktails, each made in perfect measure.
Nostalgia isn't afraid to meet innovation. I watched the bartender make me a smoky Negroni, with molecular cocktail theatrics.
The menu is tribute to classic Russian and Eastern European favorites, with some modern twists. We started with a delightful spread of appetizers including salads and warm salmon blinis, followed by comfort classics like chicken Kiev and beef Wellington.
A live accordion player filled the room with Slavic song. 1924 is a warm, elegant dining experience that brings you back to Europe's golden days.
On another night, we had a very different — but equally memorable — evening at 360 Istanbul. Located on the rooftop of an eight story building, this bar / restaurant / club offers one of the best panorama views of the city. (Address: Tomtom Mh., İstiklal Cad. Mısır Apt.No:163 K:8, 34433 Beyoğlu).
360 Istanbul is completely surrounded by windows, which lets you dine with a spectacular unblocked view. You can also step onto the patio to gaze out at the Bosporus, mosques and historical district.
The restaurant is open for lunch and dinner, with a large selection of dishes that range from Turkish mezzes to international cuisine. On the weekends, 360Istanbul turns into 360Club, with top DJs and live musical performances.
Don't miss out on the many clubs and bars in the Taksim area, especially in the summer. At night, these streets are full of energy, and venues are pumped up with partygoers until early morning.
I leave you with some illuminated art, from a gallery in Besiktas.
Istanbul is inspiring, isn't it? I hope this guide gives you a sense of the coolest neighborhoods, what to see, and where to eat! Please feel free to share the post with friends who are interested in Istanbul, and perhaps traveling here soon.
And thank you again for the birthday wishes. I'd love it if you took a look at my store — I'm selling lots of my Japanese fashion and accessories for low prices.
Just take a browse here, and email me directly if there's something you would like. I'll gladly do exact shipping and bundle discounts, and send your package with a personal note, photo, and more. Talk soon!
Dark angel over Byzantium! If a single image could sum up my feeling about Istanbul, it would be this one.
It was my first time here, and I wanted an in-depth look at the Hagia Sophia, Blue Mosque and other ancient wonders.
I had heard rave reviews of Walks of Turkey, a local company, so I joined them for a tour of Istanbul's historical district. Keep reading, and I'll take you to all the famous cultural sites.
(Outfit Details: I'm wearing a Killstar devil-wings dress. The same black dress also comes with red fringe on the sleeves, or pink fringe.)
As you'll recall, I came to Turkey as a guest of the World Tourism Forum. After the travel conference, I stayed a few extra days to explore.
I met my Walks of Turkey guide in the Sultanahmet area, where these cultural landmarks are located within easy walking distance of each other. The city may be now be called Istanbul, but you still feel the grandeur of Constantinople (as it was known during its heyday).
From the start, we knew we were in good hands. Our guide, Kamil, understood our photography goals — and used his personal connections to bring us to the best viewpoints, like this one. He also customized the tour to suit our interests and pace. The entire time, it felt like we were on a walk with a friend.
(Hair by Stephanie Hoy of Stratosphere Salon, Vancouver BC).
As you can see from this video, Walks of Turkey delivered the ideal, customized tour! The company has a five-star rating because of its expert guides and small private tours. You can just relax and enjoy the personal experience, and there are never surprises such as hidden costs along the way.
Kamil started his tour at the Hippodrome of Constantinople, which is marked by two obelisks and a Serpentine Column. He brought the ancient scene to life, describing the spirited sporting events that took place here, and pointing out the tracks of horse chariots.
Above is a close-up of the obelisk that Theodosius the Great brought from Egypt in the 4th century. I couldn't believe how well the hieroglyphs stood the test of time. The owl looks like he was carved yesterday.
Right next to the Hippodrome is the glorious Blue Mosque. Our Walks of Turkey guide explained that this is a nickname, and that locals call it the Sultan Ahmet. This blue-tiled, six-minaret achievement was built in the early 17th century, during the rule of Ahmed I.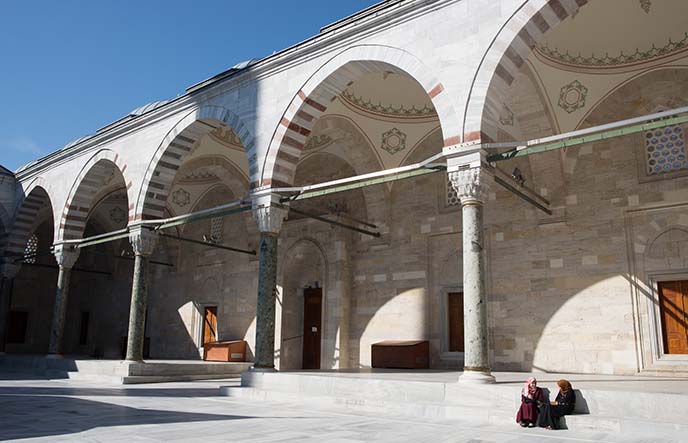 We admired the peaceful courtyard, with a hexagon fountain for ablutions in the middle (which is now dry).
Before entering the mosque, everyone must remove their shoes (they provide a plastic bag, so you can carry them with you). The women must cover their heads with scarves, and put on a blue skirt (even if  you're wearing leggings, you'll be asked to wear one). This is out of respect to the Muslims that attend the mosque for prayers and services.
I was prepared: I had my arms covered, and brought my own scarf.
My dress is this one by Killstar, which also comes in red or pink fringe versions. Shop similar styles below:

Walk into the Blue Mosque, and look up. You can't help but be captivated by the heavenly domes, which are made with over 20,000 Iznik ceramic tiles.
 These intricate designs merge into floral patterns, diffused by the light from over 200 stained glass windows and glowing chandeliers. 
The tablets on the walls are inscribed with the names of caliphs, and verses from the Koran. The Blue Mosque is a brilliant example of how Islamic architecture uses delicate touches to create a magnificent effect.
I saluted the Blue Mosque's six minarets, or towers. Before electronic microphones were invented, the muezzin had to climb a narrow spiral staircase five times a day to do the call to prayer!
Our Walks of Turkey tour guide then took us to the Basilica Cistern, and used his special pass to skip the line.
Photos alone can't convey the mysterious mood of the ancient water supply, known aptly as the Sunken Palace. I heard the drip-drip of the water as we walked through the paths, and noticed fish swimming in the pools (an old-fashioned way to test for poisons).
Built in the 6th century by Byzantine Emperor Justinian I, Basilica is the largest of several hundred cisterns that supplied Istanbul with water. Two columns have bases shaped like the heads of Medusa; these stones were re-used from Roman sculptures.
What could possibly top this? The Hagia Sophia, a 6th century Christian church that became an imperial mosque. Today, it's a museum — so you don't need to abide by a dress code in order to enter.
We were in Istanbul in February, which is the off-season for travelers. On the plus side, you won't encounter as many tourists. However, the weather is still quite chilly during this time of year.
Once again, we were grateful to be with Walks of Turkey, as we could skip lines and breeze right in.
The Hagia Sophia is considered the height Byzantine architecture. Every detail was so tremendously executed that Emperor Justinian reportedly exclaimed, "Solomon, I have outdone thee!"
I would have to agree — I was mesmerized by the feeling of the Hagia Sophia. Our guide gave us insight into the Arabic symbols, which mixed with Christian references — such as paintings of seraphim.
As we walked through the two floors, Kamil pointed out details we would never have known. He showed us the Hagia Sophia's "official cat," who greeted President Obama and roams the museum freely. He also showed us the "Face of Satan," a marble panel that happens to look like the devil.
Looking up, the Hagia Sophia's dome appears to be levitating, thanks to the light from from 40 windows surround its base. An incredible architectural achievement, especially considering that it was built in the 6th century.
As I mentioned before, our guide made sure we had access to the best scenic locations. He took us to a rooftop by the Grand Bazaar, which only locals know about. I climbed up on the dome for this epic shot.
(Find my dress and morebelow):

The last stop was the Istanbul Spice Market, a hall of sensory delights. At one of the stalls, we tasted apple and pomegranate tea, and samples of Turkish Delight.
I usually don't like Turkish Delight, but it's made fresh here, with the highest quality fruit and nuts. After trying the real deal, I get why the confectionery has its delightful name! 
Our Walks of Turkey guide made sure we never felt pressured to buy anything. We could take our time to shop, and ask all the questions we liked.
I wanted to take home all of the teas, made from fresh flowers and herbs, and served in a tulip-shaped glass.
There's so much to see in the Sultanahmed district. We walked through the Grand Bazaar, one of the oldest covered markets in the world. 
Again, it was named Grand for a reason. I was dazzled by the labyrinthine of shops. Fine jewelry, magic carpets, pottery, handicrafts, leatherworks — you name it.
These glowing rainbow lanterns made me feel like I had gone back in time, and was wandering the Grand Bazaar of the 15th century.
Topkapı Palace is a short walk away. It was the sprawling home of the Ottoman sultans, between the 15th and 19th centuries.
Today, it's a museum that holds Muslim holy relics like Muhammed's sword, and more bizarre items like his wooden stick and bits of beard. The rooms also have displays of Ottoman furniture, Islamic calligraphy and other art.
We're so happy we spent the day with Walks of Turkey: the expert guides put their hearts into making your tour special. With Kamil's help, we got an in-depth look at Byzantine culture, and were able to access photography locations known only by insiders.
Walks of Turkey offers a variety of tours, including food excursions and Bosphorus cruises. They're a team to be trusted, and I hope you'll let them be your guides when you visit.
I leave you with a ceiling shot from a small mosque. Long live Constantinople.
All the photo and video credit goes to the uber-talented Joey Wong. Please take a moment to watch our Istanbul video here — we hope it gives you a taste of our travels.
And if this post gave you wanderlust, we'd appreciate if you could share it on Facebook or your social media. Teşekkür ederim, or thank you in Turkish!