If the tropical leaves and ukulele didn't give it away… surprise, I've been hanging out in Honolulu, Hawaii!
After over a year at home in Canada, I jumped on the chance to be on the paradise island of Oahu.
In Part 1 of my Hawaiian diary, you'll see how I fit right in at The Laylow, a mid-century modern design hotel by Waikiki beach.
Still dreaming of this sunset… the fashionable Laylow hotel was walking distance from poke cafes and picture-perfect beaches, like Fort DeRussy Beach (above).
Since we're taking a look at Hawaiian contemporary design, I'll also show you the flamboyant murals of Kakaʻako, and a street art exhibit at the Bishop Museum. (Quite a few have a Gothic and kawaii influence, which isn't a surprise as there is a substantial Japanese population in Honolulu.)
The Laylow hotel is part of Marriott's Autograph Collection, a group of unique design properties. My hotel room was made for photography, with statement wallpaper, a colorful midcentury sofa, and a ukulele to strum. (The little guitar-like musical instrument was introduced to Hawaii by Portuguese, where it took off.)
(My long bat print Goth dress is by Sourpuss Clothing.)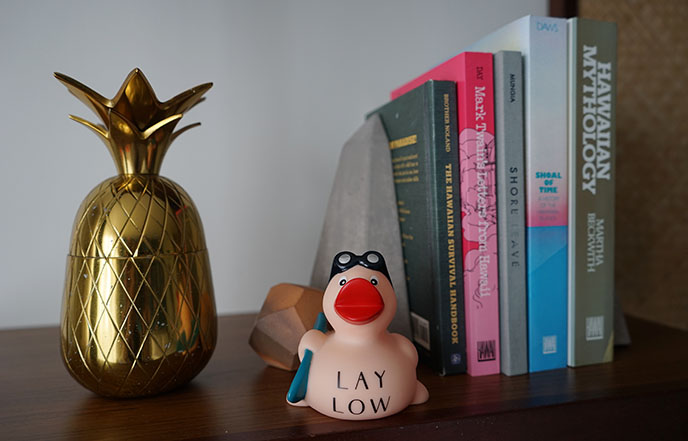 Each of the 251 rooms is filled with retro-tropical touches. All guests receive this Lay Low surfer rubber ducky in a gift basket, as a memento to take home. The shelves contain nostalgic books about surf culture, art, and more. (I was fascinated by the an architecture book about Vladimir Ossipoff, Hawaii's most renowned mid-century modern architect whose buildings were inspired by his childhood in Japan.)
I loved "laying low" in my cozy and spacious room, which had a vintage Hawaii color scheme and design accents.
Snuggling up in this white robe, which every guest can find in the closet. With its round illuminated mirror, the futuristic Laylow bathroom looks like something out of 2001 A Space Odyssey.
In addition, every stylish room has a private lanai, or curved balcony.
You may recall that my own apartment decor is inspired my mid-century modernism — it's one of my favorite design styles. The Laylow's custom and refurbished vintage MCM furniture includes a pin-leg lounge chair and curving table reminiscent of a surfboard.
Everyone who checks in receives a generous "E Komo Mai Basket" of goodies to use and take home as souvenirs. These include Laylow branded flip flops in two sizes, water bottles, snacks, a cute rubber duck and a sanitization kit.
Be sure to take a photo with The Laylow's signature monstera leaf wallpaper, which was inspired by vintage bark cloth patterns.
The cheerful kitsch extends to the hotel's common areas. Behind the check-in counter, you'll find classic hula dancer figurines swaying their hips and strumming ukuleles.
The Laylow maintains the 1950s/60s vibe with its outdoor saltwater pool framed by foliage. I'm all about the egg chairs and retro bullet planters (I have one myself).
The Laylow boutique hotel opened in 2017, so everything is brand new — while retaining the sprit of the 1960s-era hotel that it replaced.
And did I mention the location, location, location? I only had to walk for a few minutes to be at Waikiki Beach! (With all my sun protection, of course.)
After the past year and more… I couldn't believe I was in sunny Honolulu, wading in the clear waters and saying hello to the schools of fish that darted about.
A moment of Zen, watching the waves roll over the rocks at Waikiki. (Thankfully, I managed not to drop my phone in the ocean…)
If you're a sportier type than me, you can take part in water activities like surfboard yoga, paddle-boarding, and sailing. (These bright surfboards lined the walkway to the water.)
The Laylow is located at 2299 Kuhio Avenue, right by International Marketplace and major Waikiki shops/restaurants. Take the long escalator down to the street level, and everything is right at hand — including multiple ABC Stores, the infamous Hawaiian "conbini"!
The hotel also has a stylish dining space: Hideout at The Laylow. The restaurant that serves modern Hawaiian cuisine with ingredients from the ocean and local farms.
With outdoor seating and a sandy floor area, Hideout felt like beachside dining. Come for happy hour to try the signature mai tai made with local rum, pineapple, and lilikoi (a fruit similar to the passionfruit).
The Hideout menu includes poke bowls (I chose ahi tuna, and it came with kimchi and an egg on top). Fresh fish is always a good idea when you're in Hawaii, and the kampachi ceviche with calamansi hit the spot.
The seared ahi tuna sandwich has a Japanese touch. It's coated with bubu arare, tiny glutinous rice pops originating from Kyoto.
Later, you can grab a bottled cocktail from the ABC Store, and sit on your Laylow private balcony to take in the sunset.
I was inspired to see more of Hawaii's art — past and present — at the Bishop Museum. Founded 1889, the Bishop is the state's largest museum and has the world's largest collection dedicated to the history, culture, and environment of Hawaiʻi and the Pacific.
The Castle Memorial Building held a special art show: "POW! WOW! The First Decade: From Hawaiʻi to the World." The vibrant exhibition showcases some of the most notable local and international street artists, whose works include a big-eyed inflatable bunny.
This exhibit was curated by Jasper Wong, the founder of POW! WOW! (a nonprofit that brings contemporary artists together to enrich neighborhoods with art). The Bishop featured over 160 artists, with 30 creating new murals and installations.
I walked into what looked like an urban street corner, covered in decals and graffiti tags.
The creative works included a modified old-school Mortal Kombat arcade game. I spotted a Stop Asian Hate Crimes poster by Lauren YS.
The devil is always lurking about, wherever I go…
The Bishop's gallery space included over 120 new 2'x2' paintings. In the foreground, Winnie is squatting and straining, and living up to his "pooh" name…
The kinetic artwork drew my attention. The ""good" and "bad" ideas sway left and right into the empty heads.
The show brought together contemporary creative expression with traditional and indigenous perspectives.
Leave it to me to find some cute pastel monsters. Designer and illustrator Kevin Lyons is known for these funky characters.
The Bishop has many other exhibits, as well as a museum of science and nature. Be sure to wander in the impressive Hawaiian Hall, guarded by a 55 foot long sperm whale. It houses thousands of fascinating artifacts about the royal family and Polynesian cultures.
On the first floor, I learned about ancient Hawaiian gods and legends, which are expressed through haunting stone carvings. (They reminded me of my time on Easter Island.)
A few of the many fascinating totems by Pacific Island tribes. Thank you to The Bishop Museum for letting me discover Hawai'i's history and living culture.
Even for a sun-phobic Goth, spending outdoors is a must in Hawaii. At Diamond Head beach park, you can walk up to a lookout point for this view, or hike up to the summit of the volcanic crater.
You'll come across hens and roosters roaming about the park. The birds first arrived on the island through Polynesian voyagers in 300 AD, and have stuck around.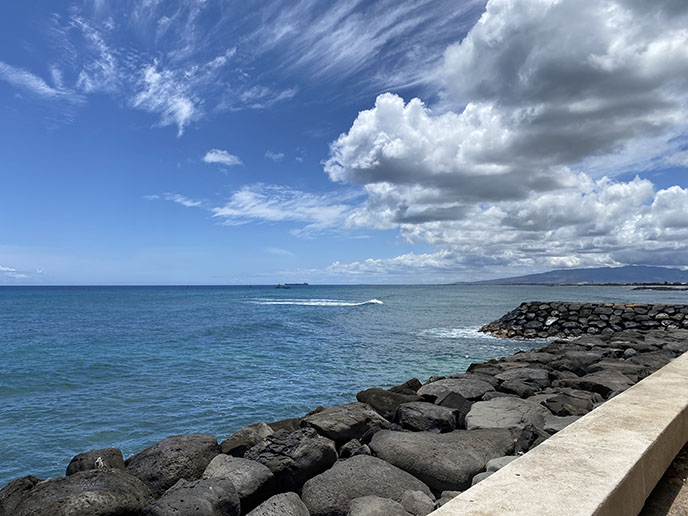 There are endless spots on Oahu to see the waves – this is Kakaʻako Waterfront Park. I would have driven to the North Shore and Japanese temples, had there not been a rental car shortage…. (Something to be aware of when you plan your trip.)
Honolulu's Kakaʻako district has been revitalized with urban street art. I encourage you to come here to see the impressive large-scale works, such as "Aloha Monsters" by Kevin Lyons.
Most of these were part of POW! WOW!, the festival that brings local and global artists to the neighborhood to paint public murals. 
Kakaʻako isn't too far from Waikiki, so you can Uber or Lyft here easily. Set your location to the "Fisher Hawaii" office supply store, and you'll find tons of murals in the surrounding streets.
Quite a few had Japanese manga aesthetics. Here's a gundam robot fist and hopping bunnies.
I dug this eccentric take on tiki statues.
Spend some time walking around Kakaako, then end up at the hip Salt retail center for an iced tea.
Tokidoki is easy to recognize. Note how the palm trees look like skulls and animals, and a dinosaur is chomping on one!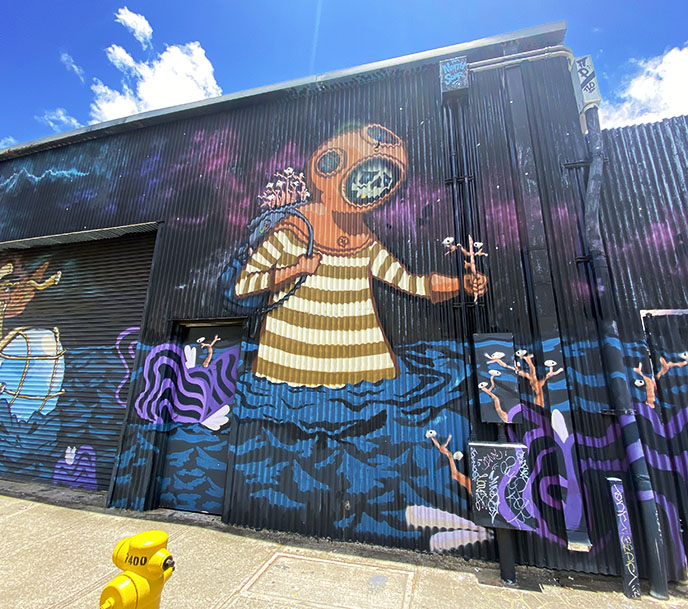 Quite a few murals had a Goth or spooky theme, such as this skeleton diver.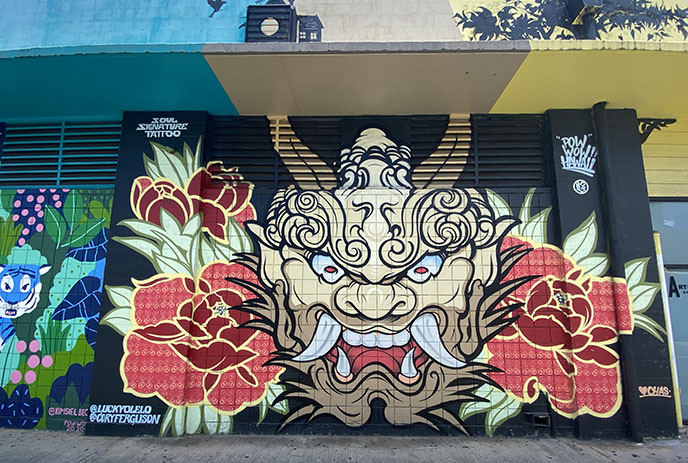 And the devil is always near.
Not surprising to see cuteness like this in Hawaii, as it has one of the world's largest Japanese communities.
Waikiki has plenty of great Japanese food options as well as poke, the native Hawaiian dish of diced raw fish. I had this generous selection of spicy salmon and marinated tuna at The Poke Bar, near my hotel. (And I stumbled upon Satan on my walk there.)
Hawaiians also invented spam musubi, or fried canned ham placed on a rice ball and secured with a strip of nori seaweed. (I'm not a fan, but I loved the wide selection of bento boxes and onigiri.)
Stop by Mitsuwa Marketplace to pick up snacks, or to-go dishes like a salmon roe chirashi. And PSA: Honolulu has Coco Ichiban, my favorite Japanese curry chain… Of course, I went out of my way to get my Coco Ichi fix!
After the year and plus we've had, it was a dream come true to be in Honolulu. I'll miss meandering from my hotel to Fort DeRussy Beach, which has this view of Diamond Head volcano.
Come back to the beach at nightfall, and walk up the jetty pier to see the sunset over the ocean waves.
I have more to share with you from the Aloha State — stay tuned for part two of my dispatches. Thank you to The Laylow for the happy memories here.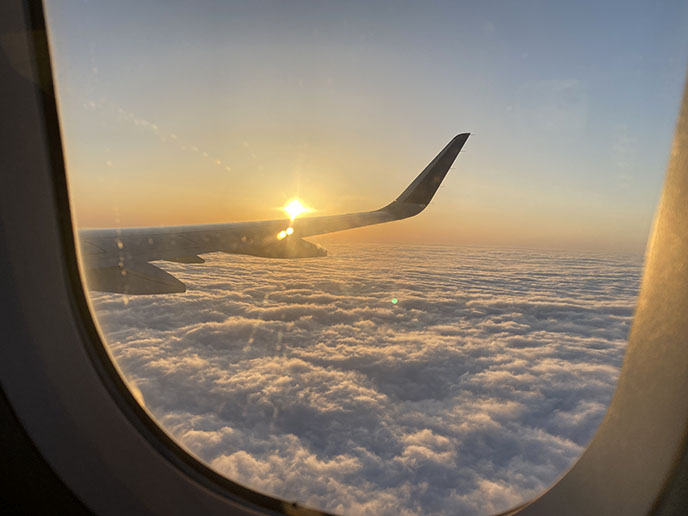 I leave you with a view from the wing — I've missed this! Please stay safe this summer.
Will you be flying somewhere soon, or do you have any road trips or local getaways planned?
Hail, San Diego! Since California is currently one of the safest US states (in terms of case count), I went west after Salem to hang with the animals.
I didn't have time to visit the famous zoo… but still got to pet the giraffes, at the chic Andaz San Diego hotel.
Read on for my SD travel diary that includes sushi restaurants and the Andaz's STK Rooftop Bar, which overlooks downtown San Diego…
… and a cannibalism exhibit at the Museum of Us, at the nearby Balboa Park! (It features famous flesh-eaters like Issei Sagawa, The Japanese Cannibal.)
The Andaz San Diego, a concept by Hyatt, ticked off everything I look for in a hotel. It's a design-focused boutique property, with a convenient central location (San Diego's downtown Gaslamp district).
On the top floor, you'll find The Rooftop by STK — the largest roof-top hangout in all of San Diego, with soaring views. I had fun sitting around the fire pit with cocktails and shared plates. (Dress by Sourpuss Clothing.)
The Andaz's 159 rooms are decorated with sleek furnishings and local art, which capture the warm and laid-back vibe of San Diego. I was glad to find an enormous bathtub, and small touches such as free earplugs on the side table.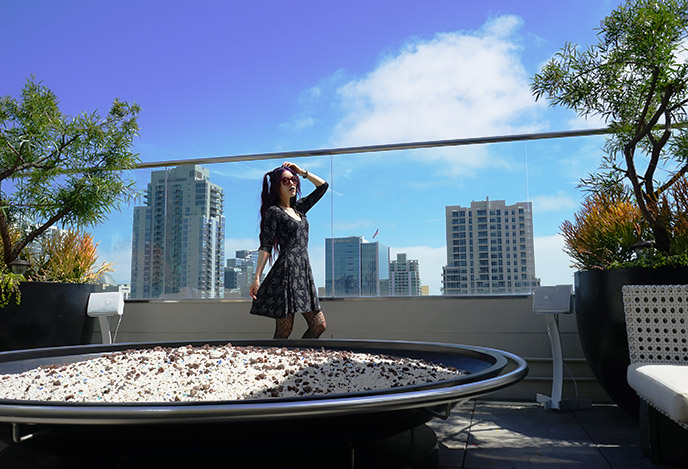 The Andaz is set in a historic building, which was originally built for the 1913 World's Fair. Today, it's a contemporary space with an open-air rooftop restaurant / bar for safe hangouts.
The Rooftop by STK serves food all day. I particularly enjoyed the breakfast / brunch menu: the avocado toast, oat milk lattes, and veggie frittata with goat cheese, spinach and tomato jam hit the spot.
There's also a swimming pool on the Andaz rooftop. Take a swim at sunset, to watch the sky turn pink.
The Andaz's lobby is filled with surprises, including this art gallery / lounge space inhabited by a giraffe and her baby!
(My Hail Satan, Est 666 shirt is from The Satanic Temple's shop.)
When I checked in at Andaz San Diego, the staff offered me complimentary coffee, beer, or wine. There was also cold brew coffee available on-tap at all times — and I sure took advantage of that.
The hotel's common areas are well tended (Plexiglass separators, hand sanitizer stations, masks required), and filled with art that pay homage to San Diego's sights, such as the Zoo. The Andaz has special designer suites too (see photos of the rooms.)
My favorite art piece: a 12-foot tall giraffe sculpture.
The funky design draws from the Gaslamp Quarter's artistic culture. Local works are displayed throughout the Andaz, including large-scale paintings.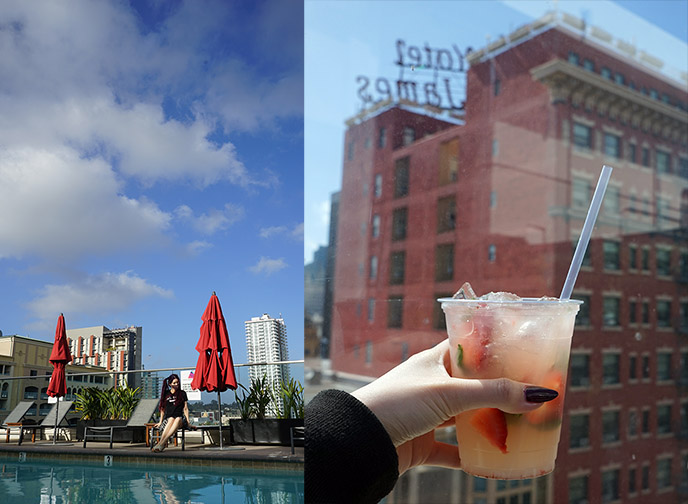 Cheers to the Andaz San Diego — I'd love to come back for a strawberry cocktail at the rooftop pool!
San Diego is known for its excellent sushi, so I went to investigate the best Japanese restaurants nearby. Locals rave about Taka Sushi; located in the Gaslamp dining district, it was only a short walk from the hotel.
Chefs Maru and Makoto greet all guests with enthusiasm. Taka Sushi​'s intimate wood interiors and long sushi bar add to the friendly feel — and made me nostalgic for sushi restaurants in Japan.
At Taka, the skilled chefs combine a creative modern approach with traditional techniques. They select the freshest ingredients, including seasonal fish from Japan, and put together phenomenal omakase sashimi platters. Above, we were speechless at the melt-in-your-mouth salmon from New Zealand, amberjack, uni (sea urchin), squid, tuna, hamachi and more.
Taka Sushi also offers cooked Japanese dishes, and one-of-a-kind creations — like this spicy tuna tartar, flecked with gold and caviar! The combination of avocado, quail egg, and spicy sesame oil soy sauce was remarkable.
I strongly recommend going for the omakase at Taka, meaning that you leave the selection to the chef (the Japanese word comes from "makaseru," or "to entrust.") You'll get to try unusual and seasonal offerings, such as these small crunchy red crabs.
Next came a sushi and nigiri selection… isn't the presentation lovely? The battera "box" sushi stood out, and the ikura salmon roe gunkan, tamago egg, and ebi shrimp were among the best I've had in a while (a well-executed tamagoyaki is a sure sign that a sushi restaurant knows its stuff).
The server came back to take this fish and the still-moving prawn, which were then fried.
Don't leave without trying the original zucchini flowers starter with wasabi salt, and black sesame creme brulee. Arigato Taka Sushi for the outstanding omakase — I've had a lot of sushi around the world, and this experience ranks among my favorites.
For a chic Japanese fusion experience, there's no better spot in San Diego than Cloak and Petal. Located in Little Italy, "cloak" suggests a hidden spot, while "petal" references the gorgeous cherry blossoms trees that decorate the restaurant. Year-round, anyone can come here to eat under the pink and white sakura flowers, similar to "hanami" picnics in Japan.
Start with hot sake, and then choose from Cloak & Petal's imaginative menu. The sushi creations have catchy names like "Go Go Ohime Sama" on the right (asparagus, avocado, krab, salmon, yuzu gel, smoked salt, strawberry compote, lemon oil, micro greens), and "Cezar Chavez & Main" on the left (shrimp tempura, spicy tuna, avocado, black pepper, tuna, charred jalapeño ponzu, cilantro, habanero).
The restaurant decor has a Japanese street art vibe, inspired by the Tokyo subway and graffiti art.
I loved this spicy and textured spin on hamachi (yellowtail): prepared carpaccio-style with ponzu, jalapeno, black garlic sauce, chives, and garlic.
Thank you Cloak and Petal for a lovely Japanese meal under the sakura blooms, with excellent service and ambiance.
(SD sushi restaurants and Andaz rooftop photos by Kym LaRoux.)
Speaking of eating raw foods… I stumbled upon an intriguing cannibalism exhibit. "Cannibals: Myth & Reality" is currently on display at the Museum of Us (formerly known as the Museum of Man). It's located in San Diego's Balboa Park, an enormous green space and the site of many museums, art galleries and the world-famous zoo.
The thoughtful and gore-free exhibition dives into cannibalism from all perspectives, from historical incidences to pop culture perspectives, Quite a few horror movies have humans-eating-humans; above is the Japanese poster for the "Cannibal Holocaust" film.
Here's a newspaper article that sensationalizes Jeffrey Dahmer, "The Milwaukee Cannibal." He stored body parts in his freezer, and admitted to feasting on the flesh of his victims.
Cannibalism is considered taboo and associated with evil — yet the exhibit points to instances where people turned to it as a last resort for survival. I saw photos from the famine during the Nazi siege of Leningrad, and heard stories from the Uruguayan rugby players trapped high in the Andes Mountains, who resorted to eating the dead to survive.
Cannibalism is also shrouded in myth and mystery. We still don't know what happened to Michael Rockefeller, the heir who disappeared in New Guinea in 1961. The natives of that region were known for headhunting and cannibalism, and rumors spread that he was eaten by them.
Our judgments of "right" and "wrong" change with the times. Here's a scene depicting ritualistic Aztec cannibalism. (You can read more about pre-Columbian civilizations in my Mexico City stories.)
The Museum of Us has interactive displays that make us ponder the nuances of eating "long pig" around the world. (Is it acceptable to eat hair or nails? Or one's own flesh? And under what circumstances – where do we draw the lines?)
The museum has other fascinating exhibits centered on anthropology and cultures worldwide, I enjoyed the "Monsters!" section, which has a hell of an entrance.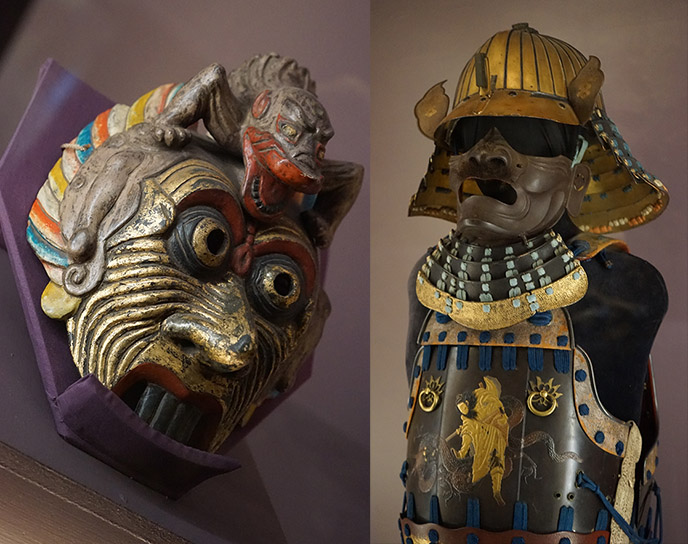 It dives into fantastical art and legends of monsters worldwide. These Asian depictions got my attention.
From the manticore to Godzilla to fierce Chinese dragons, monsters have long had a hold on our imaginations.
The San Diego Museum of Us also had some visitors from ancient Egypt. This sarcophagus is looking a little green. (See more mummies, Sphinxes and Egyptian artifacts in my report about the Cairo museum.)
The building itself is a beauty. It was constructed for the 1915 Exposition, and the exterior sculptures were by the Piccirilli Brothers.
I leave you with a devilish figure from inside the Museum of Us…
… and the true ruler of the underworld (if you ask me) — Miffy the bunny! (I came across this mural on the walk from the hotel to Balboa Park.)
Is San Diego on your list of places to visit, now that travel is re-emerging? Thank you to the Andaz San Diego for the terrific stay, and I'm keen to be back soon.
Until that day, as Ron Burgandy would say… "You stay classy, San Diego!"