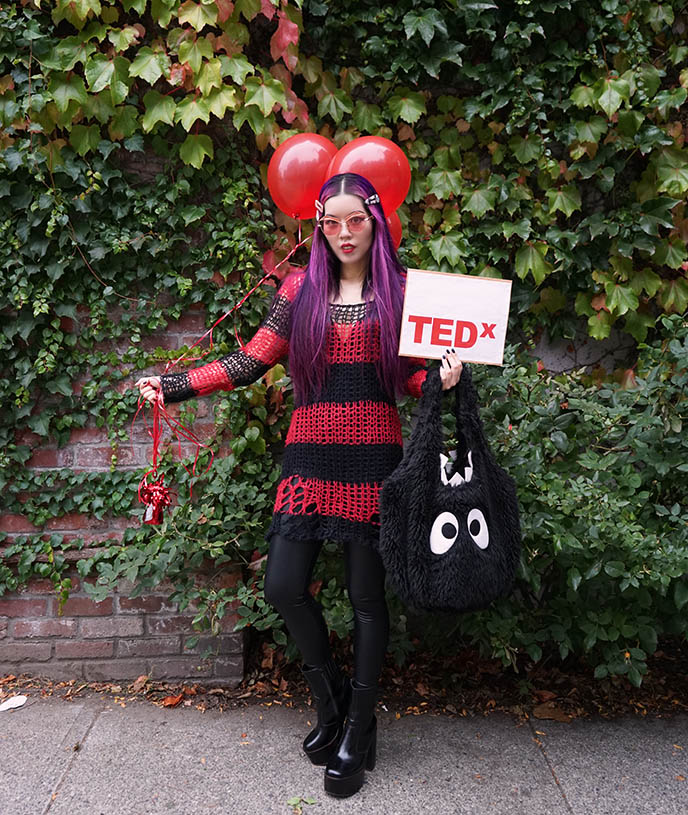 Balloons out, as it's getting closer… to the date of my 2020 TED talk!
You're invited to watch my TEDx speech, which will be livestreamed (there won't be a live audience event this year). Tune in on Nov 14 and 15 from 1-5pm Pacific, to see me and other speakers deliver "ideas worth spreading." The TEDxSFU conference is free to watch — just register here (my Ted talk is airing Nov 15 around 3:30pm PT).
(Read on for more about TED, as well as exclusive photos from the spooky Sedlec Ossuary — a Czech Republic church made from real human skeletons!)
I'm delighted to be part of this year's TEDxSFU 10th anniversary conference. The theme this year is "Unravel," and there's a lineup of 12 speakers from a variety of backgrounds and disciplines.
Register here to watch my TED talk on Nov 15, 3:30 pm Pacific — tickets are free or by donation!
By registering for this event, you'll get access to both livestreams on Saturday November 14 and Sunday November 15, from 1:00PM to 5:00PM PST. You'll get to see six TEDx talks each day (including mine on the second day), as well as performances.
Find out more on the TED x SFU website and Facebook invite page, and pick up free tickets here.
I'm thrilled to be giving the first TED talk ever about Goths. As my TEDx Vancouver video caption will read, "What does it really mean to be a Goth? Why do many of us have biases towards Goths, as well as other groups who seem "strange"?
La Carmina shares her personal journey into the dark subculture, and unravels six of the biggest stereotypes about Goths. Through eye-opening photos and stories, she demonstrates how people of color worldwide participate in Gothic culture, in surprising yet beautiful ways."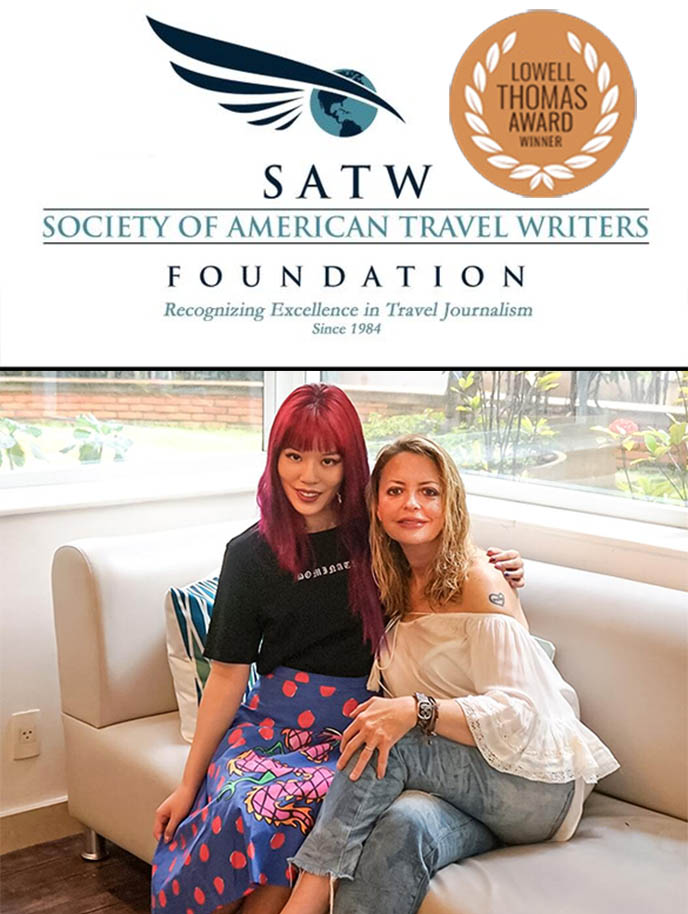 Also, some unexpected news… I received a travel journalism award from the Society of American Travel Writers!
"La Carmina was awarded Bronze in the 2020 SATW Lowell Thomas Travel Journalism Competition. This prestigious annual award ceremony has been "recognizing excellence in travel journalism" since the early 1980s. Journalist La Carmina won in the Best Personal Comment category, for her travelogue about visiting Brazil with her friend Elizabeth Wurtzel."
I'm speechless and honored! You can read my award-winning piece on Fodor's. Thank you everyone who believed in me.
Celebrating with a Goth-Punk sweater in red and black, the colors of the TED conference.
I did my gel nails by myself, using the Gelish at-home gel nails system (it works so well — recommended!). My silver creature ring is by Alex Streeter, and devil necklace by Sofia Zakia 
Close-up on my Witch Tarot 14k gold necklace by Sofia Zakia Jewelry of Montreal. You may recognize the goat, pentagram and fire imagery from the horror movie "The Witch." The horned one taunts: "Wouldst thou like to live deliciously?"
Here is my Satanic Gothic necklace layered with a Stephen Einhorn gold bee pendant. I'm all about fine jewelry with bite.
As a travel blogger, it's quite the change to be stuck at home in 2020. Fortunately, I'm able to take this time to pursue new avenues (like freelance journalism, and TED talks).
And I have trusted friends worldwide who can still bring us international travel stories… Like this exclusive peek inside Sedlec Ossuary near Prague, Czech Republic! Time to turn over the blog to photographer/writer Joey, for his tale of the church made from real human skulls and bones.
Hello again! It's Joey, trusted traveller and photographer friend of La Carmina. I'm back to tell you about my spooky day trip to the Sedlec Ossuary, the chapel adorned with bones from over 40,000 human skeletons.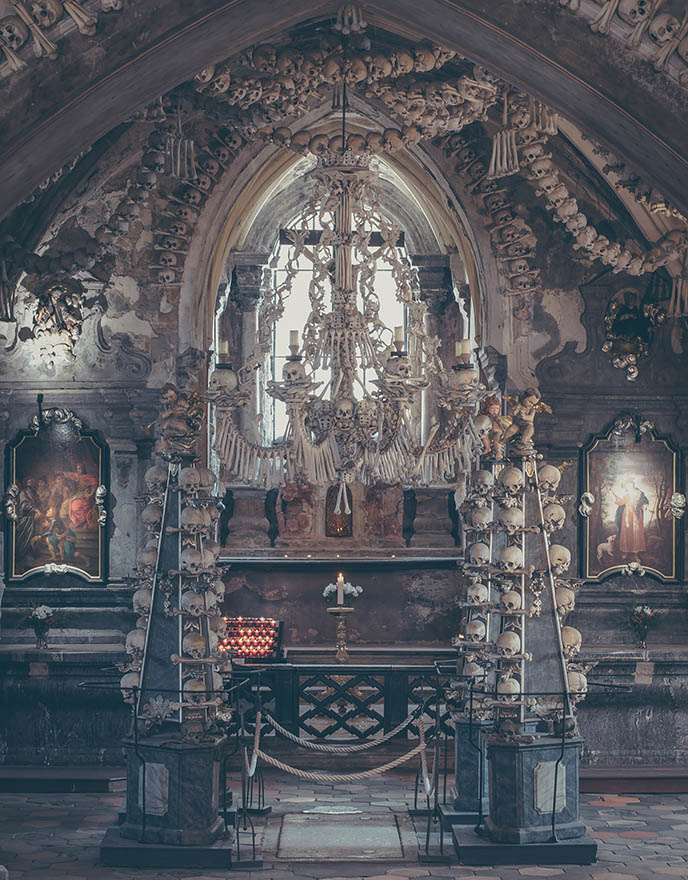 Also aptly known as the Bone Church, the Sedlec Ossuary is located just an hour east of Prague in Kutna Hora making it an easy, must-do day trip from Prague. Due to its close proximity to Prague and it's extraordinary, otherworldly atmosphere, it's no surprise it is one of the most visited attractions in the Czech Republic with over 200,000 visitors a year.
A selfie with skulls is sure to get the Likes, but it is important to note that there is a strict ban on photography inside the chapel. This is due to excessive, inappropriate behaviour from visitors who all too often forget the significance and beauty of the church and touch the bone displays or take inappropriate selfies.
As press, I received unrestricted access to photograph the ossuary. I spent over two hours inside the chapel photographing the striking displays in order to capture the true essence and beauty of this seemingly gloomy place. Somber yet fascinatingly beautiful, I am privileged to share my experience and exclusive photos with you.
The Sedlec Ossuary comes with an enchanting history that matches its striking interiors. It is said that in 1278, an abbot returned to Sedlec with some holy soil from Jerusalem. He spread this holy soil across the cemetery which in turn, made it a very popular place to be buried. Due to the Black Plague and the Hussite Wars of the 14-15th century, the Sedlec Ossuary became the final resting place of an estimated 40,000+ people.
After being commissioned by the Schwarzenberg family in 1870, a Czech woodcarver named František Rint crafted the bone arrangements that we see today. You can even see his name signed in bone on the entry into the chapel!
Today, the ossuary is going through a significant reconstruction, which is completely funded by ticket sales. Although the church is a popular site, most visitors come in groups that are aligned to the train timetable or wider Kutna Hour organised tours. I was very pleased to have many moments where I had the whole chapel to myself so I could enjoy the peace and serenity.
During my visit, I saw so many remarkable creations in the chapel with the most notable being an extravagant chandelier made with every bone of the human body that hangs in the centre of the chapel.
It's easy to get lost in the captivating sites and mounds and mounds of skulls, but when you visit, be sure to absorb the atmosphere and pay close attention to the finer details of the bone creations. In addition to garlands of skulls and a bone coat of arms, I also saw cherubs sitting atop towers of skulls and even a raven poking a human eye out!
Travelling is my favorite form of escapism, and the Sedlec Ossuary truly brought me to another world.
Thanks for following me along on my Prague and Sedlec Ossuary adventures. Until next time!
How to get to Sedlec Ossuary and Church: From Prague, take the train from Prague main station to Kutná Hora hl.n. From there, it's a 15 minute walk to Sedlec.
Joey's photos make me keener than ever to visit Sedlec. Did you know there are other structures worldwide constructed from human remains?
There's a Chapel of Bones in Evora, Portugal. In Italy, you can see desiccated mummies and skeletons in crypts, such as Appia Antica, and Cappucuni Catacombes. Niš, Serbia has a Tower of Skulls. The list goes on…
At least I got to creep through the Catacombs of Paris, France last year. If you missed my story about the Paris Catacombes, check it out here.
For tickets, opening hours, and more info about Sedlec Ossuary, visit their site.Note that Joey received advance media permission to take photos of the interiors; otherwise, photography at Sedlec is prohibited.
Thank you, Joey, for this spooktacular tour of Sedlec Ossuary! At least I got a chance to travel to Prague in 2012. I am dreaming of returning to the Czech Republic for a glass of wormwood-infused absinthe.
I've been on so many memorable travel adventures with photographer Joey. Before we fly away, let's take a photographic stroll through memory lane.
Joey and I met in Tokyo 2010, and above is the first photoshoot we ever did together (in the alleys of Golden Gai, Shinjuku!) I got my hair done gyaru-style in a Japanese salon for the occasion. (Enjoy more of my Japan travel stories.)
Our first international trip together was to Iceland — and it remains one of our favorite destinations. Joey took this photo of me in the Blue Lagoon… right before his glasses fell in the water! See all our photos from Iceland (Reykjavik).
We went to Whitby UK for the annual Gothic Weekend, and shot these dramatic images in front of Whitby Castle (the architectural inspiration for Bram Stoker's Dracula). See more of our United Kingdom adventures.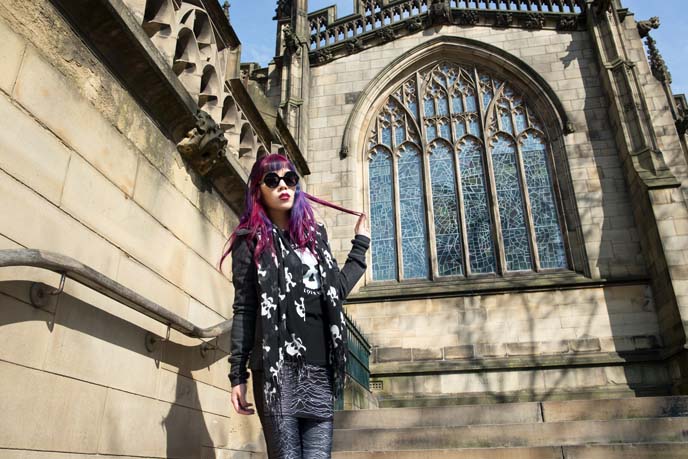 Here's one from Manchester Cathedral (site of the Joy Division album cover photo.)
We hung out multiple times in Vancouver. Joey photographed me for the cover of Giuseppina Magazine, and for a spread in Leveled. We also did a Killstar shoot in front of the Museum of Anthropology.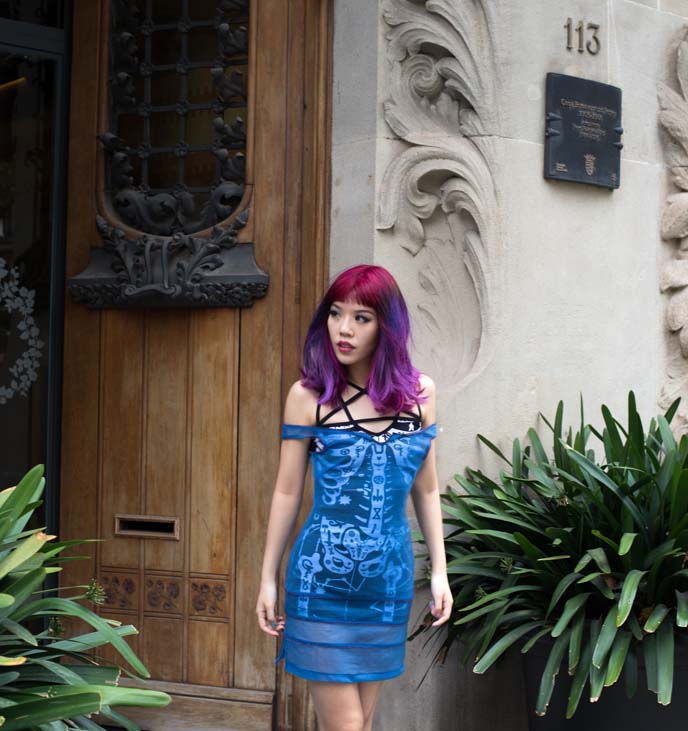 Hola Barcelona, where we stayed in an Art Nouveau palace while working with Spain Tourism and Eurail. Here are our Spain travel guides, which include Granada.
Istanbul, Constantinople! What a city. I was invited there, as a top travel blogger, to attend World Tourism Forum. More of Joey's epic pics from Turkey.
We got ghoulish with Yukiro in NYC, at the Morbid Anatomy Museum (which is now as dead as these wax heads). Can't believe I've been blogging about New York City, NY for over a decade now!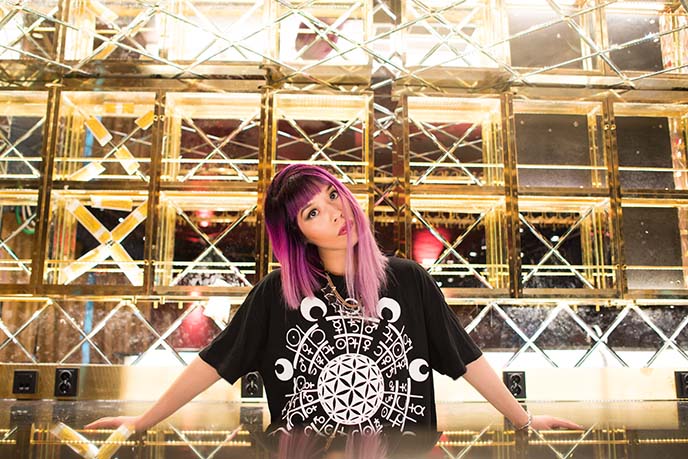 Off to Scandinavia. where we stayed in a haunted theater-hotel in Stockholm, Sweden.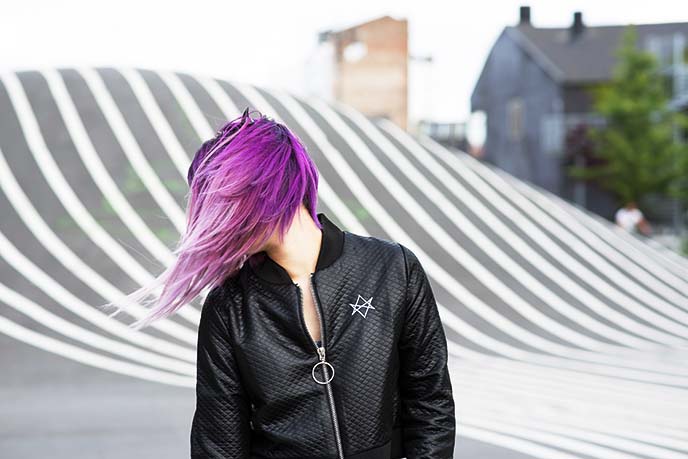 Joey and I also spent time exploring Copenhagen, and got inspired by Superkilen Park.
V-fingers for beautiful Athens and Santorini, Greece. I miss eating sardines, dolmades and orange cake.
A Goth dream come true to visit Romania, as a speaker at Experience Bucharest Conference. The graveyards and Dracula's Castle in Transylvania were to die for.
It was also a dream (or nightmare) to shoot with Joey at the HR Giger Museum and Bar in Gruyeres, Switzerland. We ate so much cheese that we fell into a coma on the train back, and nearly missed our stop in Zurich!
Don't cry for me, Argentina… A little drizzle in Buenos Aires added emo drama to these photos.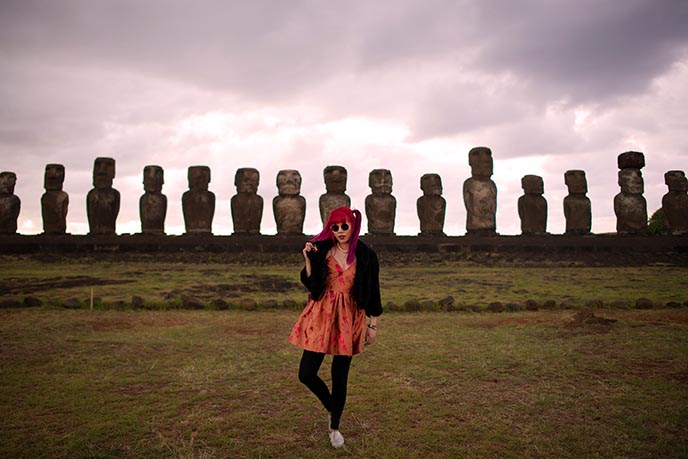 Joey and I reached the zenith of travel photography… Standing with the Tongariki moai of Easter Island! I just wrote about the strange mysteries of Rapa Nui and its stone-faced statues, for this article on Fodor's Travel.
Our LATAM Airlines project took us to various South America destinations, like Santiago and Valparaiso in Chile. (So glad we made the most of these opportunities before the world came to a halt.)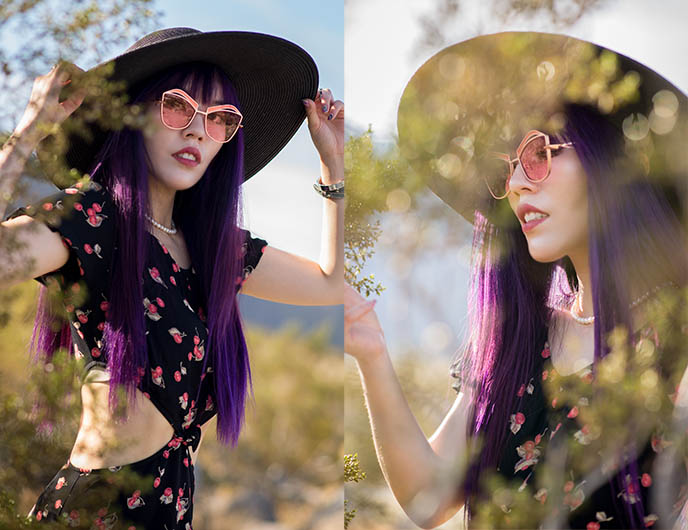 Joey and I had one final trip together in January 2020, before life took a strange turn for us all. Palm Springs, California… A destination as warm and dreamy as the bokeh.
We said goodbye in Los Angeles (after taking snaps at the Blade Runner Bradbury building). What will the future hold for us — space travel, perhaps?
Until the borders re-open, I'll think back at our adventures around the world. (Such as meeting the elves of Iceland). Nothing lasts forever, so take plenty of photos in special places… you won't regret it.
For now, I'm making the most of local adventures in Vancouver, Canada. At the end of summer, I got to experience the Sea to Sky Gondola about a hour north of the city (in Squamish, BC).
It was a joy to rise up into the mountains. (Sadly, a week later, a vandal cut the cable lines for the second time… sending the gondolas crashing to the ground. But the Sea to Sky is re-building, and I'm confident they'll be back and running soon.)
When the Sea to Sky Gondola is back in operation, I hope you'll get a chance to experience the epic views and nature activities up top. I went across the suspension bridge, did scenic hikes, and had a drink at the patio bar.
I'm not usually an "outdoors" person, but that's all we have these days, due to 2020's surprises… so I'm pushing my boundaries. I did a hike at Whyte Lake in West Vancouver — wearing my platform boots, of course!
And that's why they call it "Beautiful British Columbia." I'll be showing you more local getaways in the next articles.
Until then, I'll be counting down the days to my TEDx talk! Register here to watch me on Nov 15 (it's a free livestream, and you'll get to see talks from the other speakers too).
And I'm sooo happy it is Halloween. Wearing my funny egg ghosts shirt from Mexico City, which I got last fall. Gold chunky crystal choker / glasses holder by Frame Chain.
A few final life updates. I'm continuing to write for a variety of travel publications. Read my latest dispatch — "I'm a Goth. Here's How I Stay True to My Style When I Travel the World" — on Fodor's Travel. 
I also did a round-up of destinations with creative skull art for Fodor's. From Malta marble tombstones to Bangalore pirate restaurants and Japan's skull museum, these places are thrilling to the bones.
I've started writing for Brides Magazine as well. Enjoy my guides to having a Gothic wedding, and planning a Buddhist marriage ceremony.
My funny article about animal-shaped architecture also got picked up by MSN.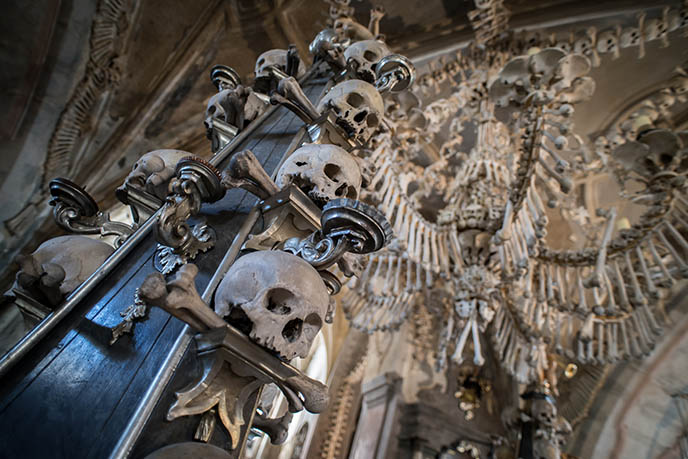 I hope you had a happy Halloween! My guide to the Satanic Temple and Salem Art Gallery came out in time for the darkest day of the year; see it on Tripsavvy, where I'm a regular travel contributor.
I also celebrated Halloween with an Instagram takeover on Tripsavvy's page (@tripsavvy). Check out their story highlights and grid, to see my memories of spooky travels worldwide. You can see more of my travel articles here on Tripsavvy.
And please take a moment to reserve your free ticket for my TEDx talk about Goth culture, airing Nov 15, 330pm PT!.
Last Halloween, someone had a date with the Devil… in Salem, Massachusetts!
All hail the Satanic Temple, who have a headquarters and art gallery in Salem — the New England town where the 1692 witch trials took place. Read on for a peek inside…
In part 1 of my Salem Goth Guide, I took you to the witchiest museums and historic attractions, including the local cemetery and Witch House. (Since these tend to close early, around 4-5pm, I suggest that you visit them first if you are only here for a day).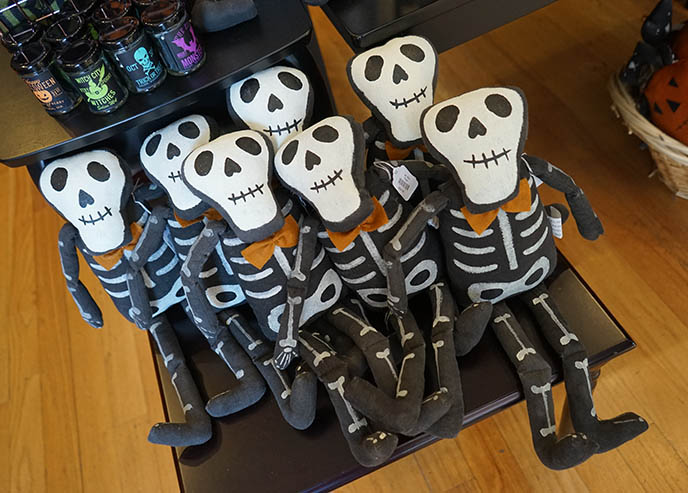 In this second installment of my Salem adventures, I'll show you what we did in the later afternoon (around 4-7pm). This is the ideal time to check out the Gothic stores on Essex Street, as they don't generally close until 6pm. But before we go shopping, let's pay a visit to The Satanic Temple of Salem.
Coronavirus Note: Salem will still be having "haunted happenings" this year, but with safety precautions to prevent COVID. Please see the tourism board's FAQs about travel, mask requirements, and events in Salem for Halloween 2020, before you visit.
Because of COVID-19, the Salem Art Gallery is open only by appointment. You can easily make an advance reservation via their site.
The gallery and Satanic Temple are located at 64 Bridge Street. The street number is a few digits shy from 666, but the black and red signpost makes up for it.
Don't feel apprehensive about visiting this devilish lair — everyone is welcome here. I saw families and children wandering inside, and snapping cheerful photos with Baphomet.
The Satanic Temple (TST) has chapters worldwide — remember when I went to their disco party in London! — but their head office is in Salem, MA.
The Satanic Temple has been designated a tax-exempt church, but they're a non-theistic organization and don't "worship the devil." In their words, "Satan is an icon for the unbowed will of the unsilenced inquirer – the heretic who questions sacred laws and rejects all tyrannical impositions."
Members believe in respecting the freedoms of others, and acting with compassion in accordance with science. (Unlike certain religious figures who sit on chairs like these…)
Logistics time. What's the best way to get to the Satanic Temple of Salem?
Most of Salem's historic / tourist attractions are in the central part of the town. The TST is a little further north (15-20 minute walk, or 5 minute car ride). If you're only here for a day and short on time (as we were), I suggest taking an Uber to maximise your time.
Opening hours: TST usually closes at 7pm, which is why we visited it last. (Salem's other Gothic attractions close earlier). Keep in mind that it is closed Monday/Tuesdays, and that this year (with COVID), you must make an appointment through their site first.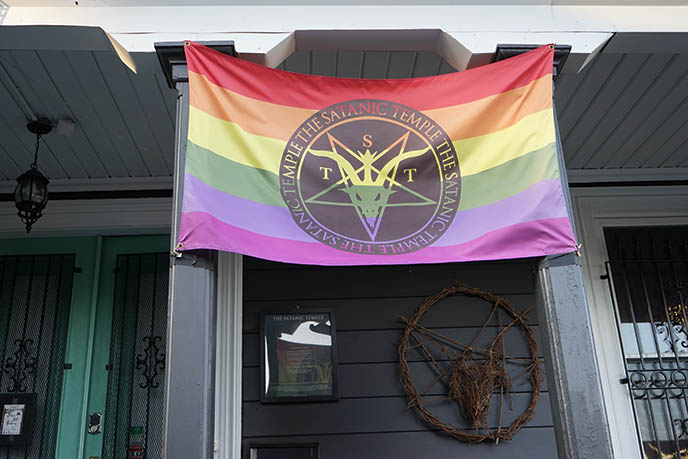 The Satanic Temple and Art Gallery are easy to spot. Look for a dark grey historic house with a rainbow flag of the goat-headed one.
Many members identify as LGBTQ+. The Satanic Temple stands for equal rights, benevolence, and freedom of expression — often taking part in campaigns for LGBTQ+ and reproductive rights.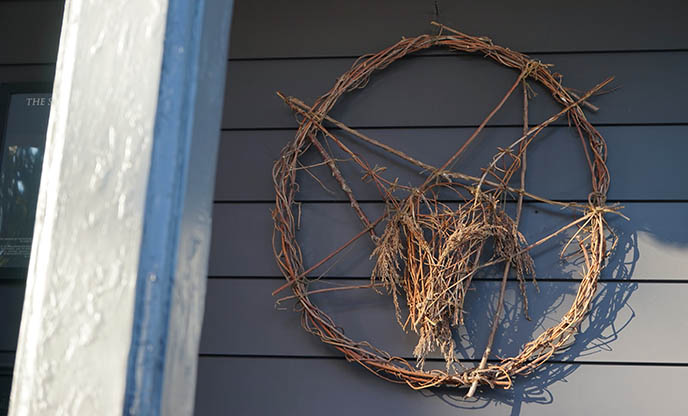 How charming is this goat-headed wreath? The Satanic Temple's logo is a Sigil of Baphomet (the Sabbatic Goat) and an inverted pentagram.
Inside, you can sit on the lap of Baphomet — check out Daddy's hooves! (More about this controversial statue further down.)
Founded in 2013, The Satanic Temple rebels against arbitrary, tyrannical norms that interfere with individual freedoms. They've made waves by using devilish imagery (such as black masses and "Snaketivity" sculptures) to fight encroachments on the separation between church and state.
If you're confused about the Church of Satan vs. Satanic Temple, here's a funny guide to the differences between the two. (The former was founded in 1966 by Anton LaVey, author of The Satanic Bible).
For members of TST, Satan isn't a supernatural deity. He represents the never-ending search for knowledge, using the best scientific evidence available to make rational decisions.
The Satanic Temple has seven fundamental tenets, which focus on living with compassion, justice, and wisdom.
In addition to serving as an office, Salem's Satanic Temple is an art gallery and creative gathering space. Anyone is welcome to visit and see the rotating works on display.
(Admission must be made in advance via their site. Note the local logo, featuring a death's head or winged skull that is found on many Puritan graves.)
It's well worth the visit — you get to peruse a dark collection of memorabilia for sale, and see art such as the original concept sketch for the Baphomet statue.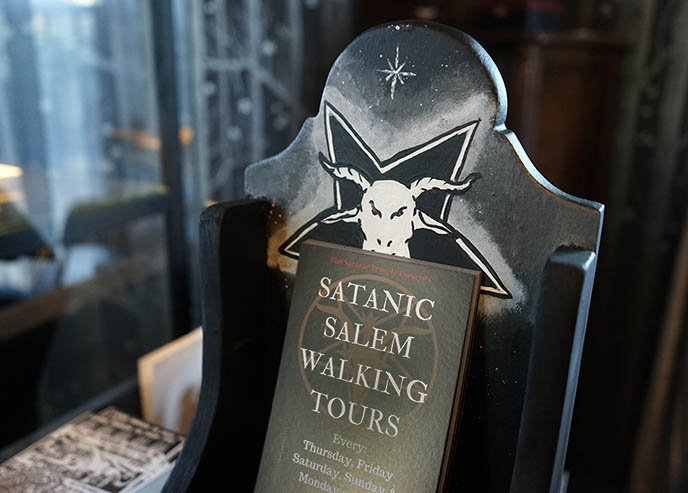 The team also offers a Satanic Salem Walking Tour, and various activities. You can attend a lecture, take a class on making candles for a Satanic ritual, or watch a screening of documentary Hail Satan? (which focuses on co-founder Lucien Greaves, and TST's activities).
As you'd expect, the Satanic Temple of Salem is a Gothic dream-house. Built in 1882, the Victorian-style interiors once housed a funeral parlor. Wander up the winding staircase, and be inspired by the artwork by mostly local artists.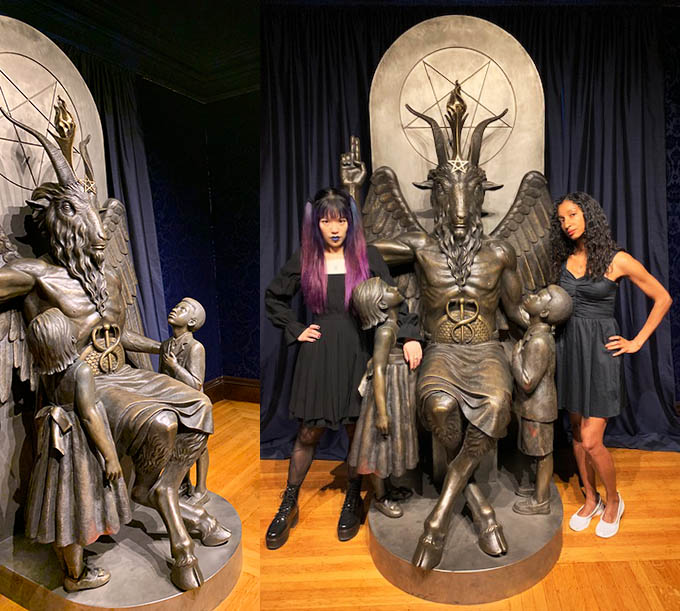 Lissette and I were delighted to stand with the infamous Baphomet statue, which is 8.5 feet tall and weighs 3000 lbs. Originally a pagan idol associated with the Knights Templar, the horned deity evolved into the Sabbatic Goat, and is a symbol of both TST and the Church of Satan.
When a Ten Commandments statue was placed outside Oklahoma State Capitol, The Satanic Temple created this Baphomet to sit beside it in the name of religious equality. The court ended up removing the Christian statue on the grounds that state property shouldn't be used to further religions — win!
The bronze Baphomet is a political symbol, and a powerful work of art especially when seen (and sat on) in person. Love the pentagrams, snakes, and two children staring up at him.
The Satanic Temple has fought against religious encroachment in other creative ways. They asked to give a Satanic invocation before Scottsdale City Council, since only Judeo-Christian groups have said prayers in this public forum. They were arbitrarily denied, and are currently in court to defend their First Amendment rights.
I got a kick out of their response to the Christian Good News Club, which some public schools offered as an after-school children's program. Enter the After School Satan Club! "While the Good News Clubs focus on indoctrination, instilling them with a fear of Hell and God's wrath, (we) focus on free inquiry and rationalism, the scientific basis for which we know what we know about the world around us." V-fingers to that, from our perch on these Pope chairs.
The Salem headquarters also holds the Satanic Temple Veterans' Monument. In response to a two-foot steel cross memorial placed in Belle Plaine's remembrance park, the Satanists donated this statue. However, they were denied the right to place it — and are currently still fighting for the same access to public spaces as other religions.
The monument is simple yet strong: a black steel cube marked with a gold inverted pentagram, and an empty soldier's helmet on top where people can leave messages.
Be sure to visit the Satanic Temple's library. They have a fascinating collection of death masks and medical devices, which reminded me the Morbid Anatomy exhibit.
A wonderful collection of books and objects on the subject of witch-hunts, Satanism, and occult matters.
Peruse the fascinating collection of Satanic Panic literature and records. In the 1980s, there was a widespread and unfounded fear that Satanic ritual abuse had become widespread, resulting in child blood-lettings and other dark matters. These books (Halloween Satanism, Turmoil Toybox) look ridiculous now, but they were taken seriously at the time.
The moral panic even led to police guidelines on how to spot a Satanist. I laughed out loud… if your teen draws a yin-yang or is listening to Dio, you better pray for their soul!
Intrigued by this "hell house?" Then crawl on over to The Satanic Temple of Salem for an enlightening visit.
(You can find out more about their work in the Hail Satan documentary.)
Now, let's check out some spooky boutiques. Salem is an incredible destination for those who love Gothic fashion and home decor. (Note that these photos were from my visit last fall, so things may have changed with COVID.)
Some of the stores are more on the tourist side, and sell generic Halloween goods. However, there are also wonderful indie boutiques with local / handmade Goth items (like this skull sweater).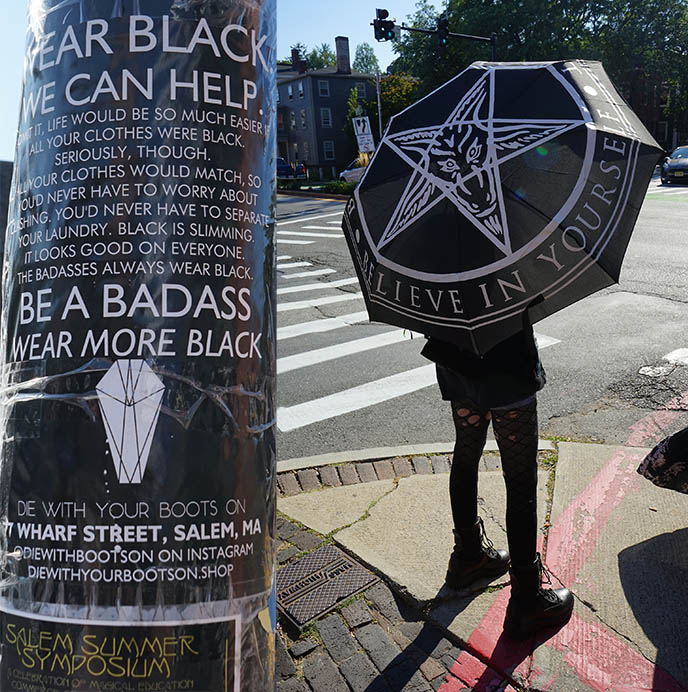 I didn't get to go to every Goth store — I missed out on Die With Your Boots On, purveyor of underground / subculture fashion and locally made products.
Most of the Gothic boutiques are on Essex Street, between Summer – Washington – Hawthorne. I suggest starting at one end and walking along Essex, and meandering to the side streets as well.
Lissette and I were fans of Witch City Wicks, an independent, handmade, local candle and home goods company.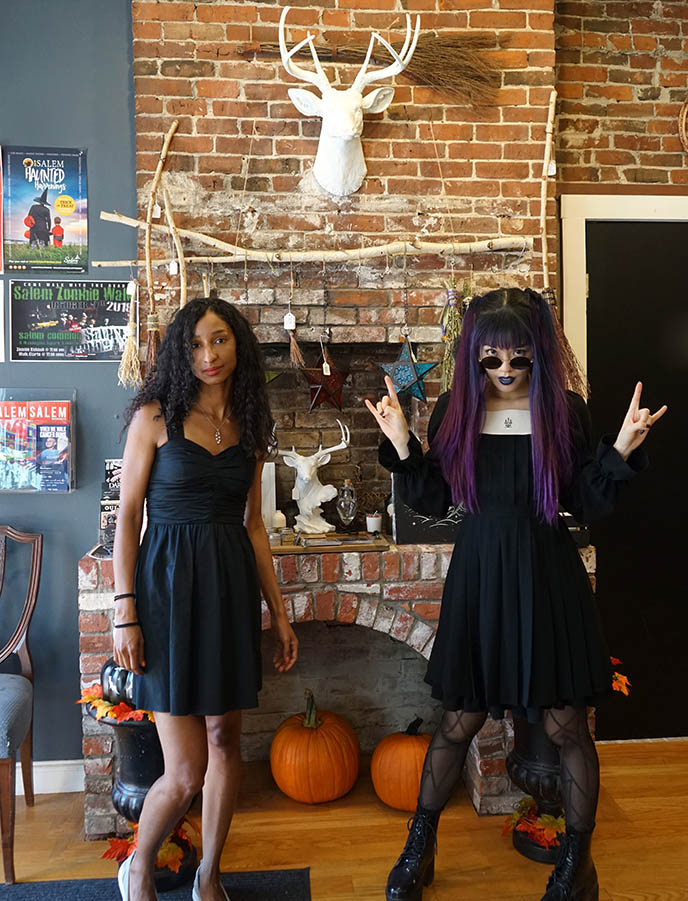 In addition to artisan candles, Witch City Wicks stocks hand-crafted interior decor and gifts — perfect for witchy women.
They carry an enticing selection of silver jewelry with witch and occult themes. These pentacle necklaces and pendants are by Burial Ground.
All their candles are made with vegan-friendly soy wax, and have alternative scents and packaging influenced by Salem's culture.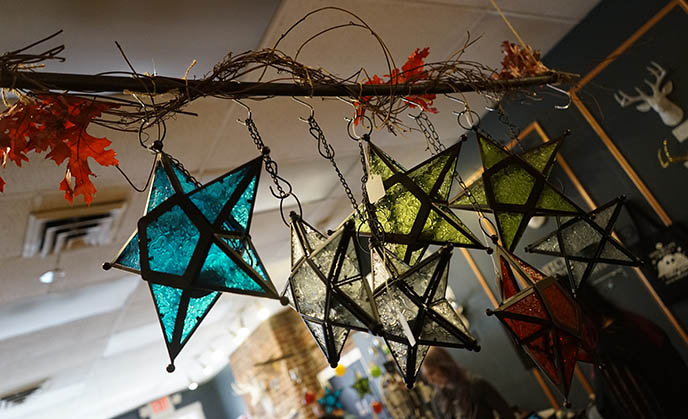 Witches tend to be associated with horror and darkness in popular culture, but Witch City Wicks shows the positive, spiritual side of wicca.
Be ready to spend when you're in Salem… it's hard to resist designs like these, especially when they are by indie makers.
Bubble, bubble, toil and trouble… Can you picture me stirring a cauldron by this hearth?
I'm wearing a rare OG pleats dress by Moi-meme-Moitie (the elegant Gothic Lolita brand of Mana-sama, guitarist of Moi dix Mois and Malice Mizer).
Salem isn't just for witches. The little New England town with a ghastly history had drawn in other bloody subcultures.
Coffin-dwellers will love the boutique Vampfangs. Founded in 1993, they carry all things vampire-related including red contacts and sharp fangs.
There's a selection of jewelry that looks like it belongs to Lestat. I spot an anhk and skull.
Vampfangs also has a variety of fragrances, oils and skincare — wiwth vampiric names like Bitten, Immortal, Funeral Parlor, Black Cloak.
Need a skull, or a horned headband? Vampfangs has you covered.
These specialty boutiques are run by locals who participate in the subculture, and put careful attention to design details. Salem's historic atmosphere adds to the charm of shopping for Goth goods.
"I put a spell on you…" All your ritual needs can be found at Hex Old World Witchery.
This old world witchcraft store is a wonderland of herbs, crystals, divination objects, voodoo dolls…
Hex pays homage to deities and demons from all cultures. The Satanic Baphomet sits next to Kali, Hindu goddess of destruction (remember I visited her temples in India?)
So many potions to choose from… In Salem, it's always the Season of the Witch.
Can you picture yourself wearing this pointed witch hat with a skull?
Be sure to pay your respects to the altar at the entrance of Hex, which brings together Santa Muerte candles, voodoo dolls and a human skull.
Many Salem stores run special events and workshops. No matter when you visit, you'll find something witchy or artistic to partake in. Tarot card readings, spell casting, broom-making… If only I had more time!
You can visit the store websites and Destination Salem to learn about upcoming activities. Or just wander around, and see what happens to be going on (we stumbled upon a small vendors fair).
The sun, it burns! Outside The Coven's Cottage, which has a pagan and metaphysical focus, especially on Norse/Asatru.
The word "witch" is found on pretty much everything in Salem… Impossible to see everything in a single day. I'll have to come back for more.
Be sure to read Part 1 of my Salem Goth Guide as it covers the best museums (including the Witch Trials of 1692), and Goth-friendly attractions like Count Orlok's Nightmare Gallery of monsters.
A hearty hail to The Satanic Temple of Salem for the special tour. (Keep in mind that I visited last year, so these photos are from the pre-COVID days.)
Salem, MA more than lived up to my Gothic expectations! I hope you'll get to safely fly (either by plane or broom) to Destination Salem and revel in these haunted happenings for yourself.
(For more, check out the first instalment of my Salem Goth travel guide and Chilling Adventures of Sabrina the teenage witch adventure. Happy Halloween!).