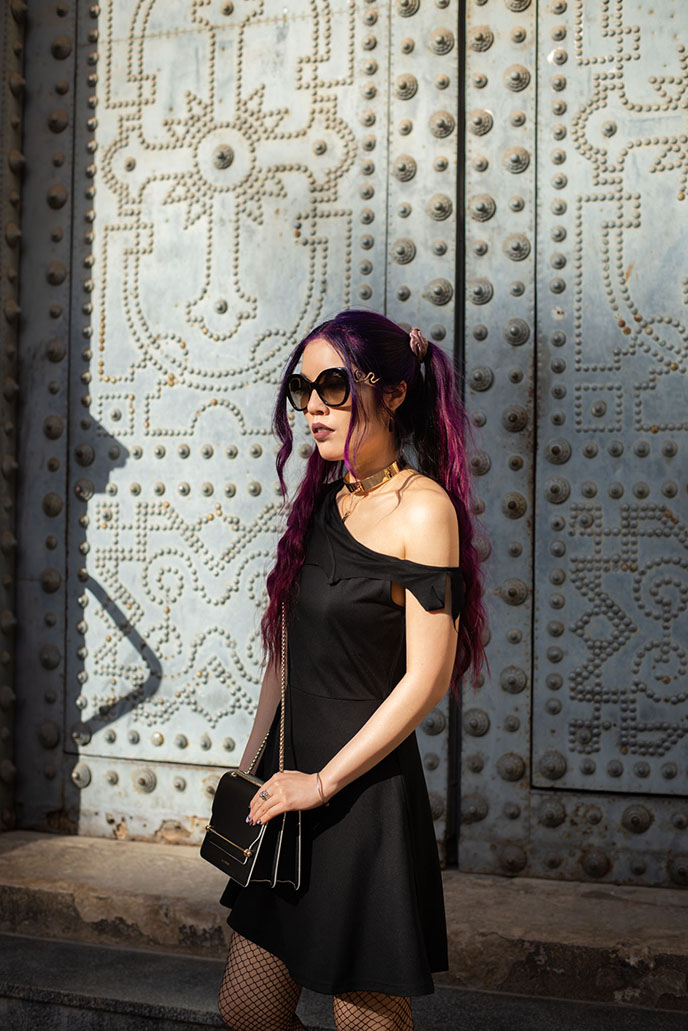 Valencia tends to be overlooked by travelers to Spain, who tend to visit well-known spots like Barcelona. But as you'll see in this photo diary, Valencia is a gem of a destination with space-age architecture, Baroque carvings, Michelin-starred restaurants… and for you Goths out there, the city even has a bat as its mascot.
This mega-post will cover it all, along with outfit photos taken in the most Instagrammable locations in the city. (I was delighted to be invited to Valencia by the tourism board last November.)
Outfit details: Robert Cavalli snake sunglasses, Strathberry East / West purse, Fantasmagoria dress with batwing collar. See more with a click below:

Let's start by visiting the City of Arts and Sciences, which looks like a scene from The Jetsons. Designed by Spanish architects Santiago Calatrava and Félix Candela, Ciutat de les Arts i les Ciències was inaugurated in 1998, with additional buildings added to the complex up to 2009.
My devilish look for the day included a Strathberry crossbody purse, and Satanic dress with a pentagram straps / harness detail.
You can easily spend hours exploring the enormous Valencian cultural / architectural complex. The many curving, white modern structures include L'Umbracle — a landscaped garden dome that includes a Walk of the Sculptures.
Here is Museu de les Ciències Príncipe Felipe — an interactive science museum of science with a roof designed to resemble the skeleton of a whale.
Behold, the Palua de les Arts Reina Sofía — an opera house and performing arts center surrounded by water. Many leading musicians have performed within these eaves.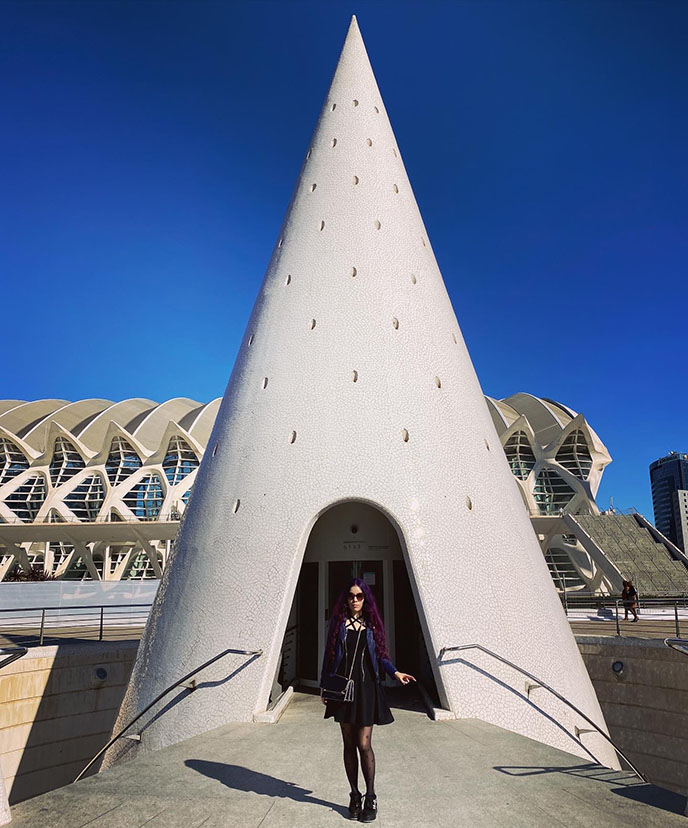 I let my imagination run wild, as I walked around the City of Arts and Sciences. The geometric, bone-white designs made me feel like I was in a sci-fi movie. These cone simply holds an elevator that leads to the garage!
The Ciutat de les Arts i les Ciències includes L'Hemisfèric, which contains an IMAX Cinema, planetarium and laserium. The building is meant to resemble a giant eye of knowledge.
I enjoyed walking around Calatrava and Candela's buildings, and noting how the shapes changed when viewed from different angles.
There were so many fascinating elements that I couldn't photograph them all. The City also includes L'Oceanogràfic, an open-air oceanographic park, and a curving white cabled bridge called Assut de l'Or.
You'll be hard-pressed to find a better spot for Instagram and fashion photography. (Strathberry purse, and see more items below):

I've long been a fan of architect Santiago Calatrava, known for his white spaceship-like designs inspired by organic forms. You may recall I saw his Brazil Museum of Tomorrow and World Trade Center subway station in NYC. 
Duck under Montolivet Bridge, and see the glimmering reflections of the water on the concrete curves.
Look for the light in unexpected places… This is a transportation area that turned out to be a great shooting spot.
There are rotating public art exhibitions throughout the City. This rather emo bunny rabbit sculpture is "Aqui Estamos" (Here We Are) by Leiko Ikemura.
Details, details. Can't get enough of the architectural creativity, such as the zig-zag stair railing that mirrors the peaks of the roof and windows.
All photos by Joey Wong — love how he always finds that sliver of light.
Isn't the City of Arts and Sciences dazzling? I half-expected a UFO to land here.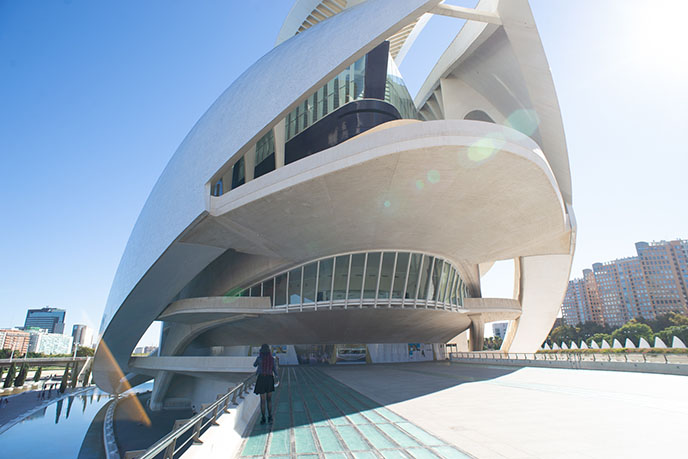 Don't miss this eyepopping site if you're in Valencia. Bring a camera, and enjoy the various events, performances, and museums within it.
Valencia Tourism also took me on a city tour to see the historic side of the city — which is just as fabulous. The main district is filled with churches, buildings, sculptures, fountains and pavilions that date back centuries.
The star of the show is Valencia Cathedral, also know as Saint Mary's. Consecrated in 1238, the church is a fine example of Valencian Gothic architecture.
The ornate chancel of Valencia Cathedral is decorated with colorful 15th-century paintings.
Outside, be sure to snap a photo with the oldest door in the city, which is framed by multiple arches.
I learned that Valencia's symbol is the bat — how vampiric! The nocturnal winged creature has perched atop Valencia's coat of arms since around 1238, when King James of Aragon was fighting the Moors. Legend has it a bat landed on his flag and brought him good fortune, as he won the battle.
Look up as you walk around Valencia, and you'll find the bat mascot everywhere — much like Batman's beacon in Gotham City.
The bat element makes Valencia a fitting city for Goths! (Wearing Robert Cavalli oversize designer sunglasses.)
The walking tour continued on to Mercado Central, the major food market of Valencia. Completed in 1928 by Valencian architect Enrique Viedma Vidal, it is a stunning example of Spanish Art Nouveau. 
The interior is a feast for the senses. You'll find every type of vendor along with Iberian hams hanging from posts, and stacks of bright Valencian oranges (which are delicious).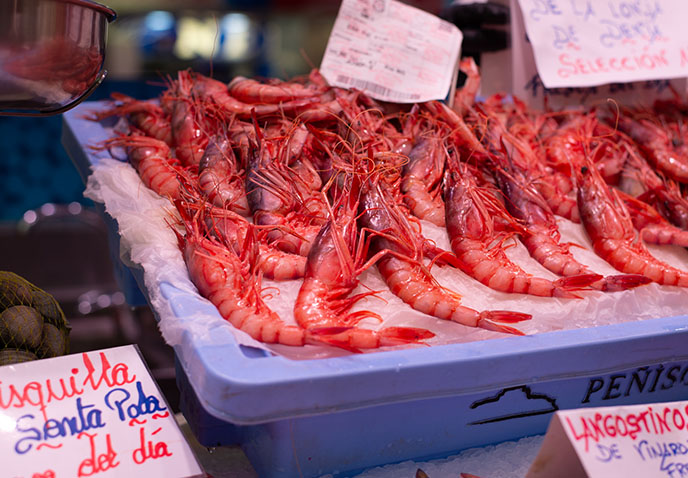 The seafood section is particularly tantalizing. Above are the famous Denia prawns found only in the waters near Valencia, and known as the tastiest and most expensive in the world.
On this trip, I met Valencian chef Danny Lledo and interviewed him about his quest to serve Denia prawns (gambas rojas de Denia) for the first time in America, at his DC restaurant Xiquet. Read my article about his journey here, in my debut for AFAR Magazine! 
I also wrote an article for Fodor's Travel about how Chef Danny Lledó turned his hometown cuisine into a Michelin star. Read how the chef's childhood in a fishing town paved his path to winning paella championships and opening Michelin-starred D.C. restaurant, Xiquet.
I was a guest of Valencia's Mediterranea Gastronoma food festival… and met the Michelin man himself! 
Spain is known for its boundary-pushing culinary scene, and Valencia is home to a number of restaurants starred by the Michelin Guide.
I adored the industrial-style open kitchen and Argentinian-influenced tasting menu at Fierro. At the top: hake fish with seaweed, citrus, and pil pil (a collagen-rich sauce). Below: a creative dish entirely made from parsnips, including picked parsnips that have a spicy touch much like wasabi. The wine pairings were excellent such as Galician-grown whites), and Gran Fondillon dessert wine made from Monastrell. 
I also ate at Michelin-starred La Salita, which had a whopping 16 courses prepared in innovative ways. The amuse bouche plate was beautifully presented: it includes corn tostada, colorless gazpacho, and a chilled caprese bite, decorated to look like flowers and a butterfly.
Each dish came with a story: the focaccia on the right was inspired by the bread brought by soldiers to war, which they softened with olive oil (La Salita uses Lagrima, the finest one). It was served with an eel soup with ikura (salmon roe), green apple, and cilantro — and paired with wines from the Valencian mountain region.
At a time when travel experiences are few and far in between, I feel unbelievably lucky to have done a food and culture journalism trip like this in Valencia.
After being in North America for two years, it felt like a palate-cleanser to be in a very different country / culture, and see buildings that dated as far back as the Middle Ages.
Artistic details like these make me happy. Would you dare to put your hand in the lion's mouth?
Leave it to me to find bats throughout Valencia.
And I think this takes the cake for "most epic door." This is the Palacio del Marques de Dos Aguas, which has now become the González Martí National Museum of Ceramics and Decorative arts.
The Valencian palace / museum's main entrance is surrounded by Baroque alabaster sculptures.
The amount of details in this doorway… phenomenal.
Museo Nacional de Cerámica y Artes Suntuarias González Martí is dedicated to ceramics (with a focus on Valencian ones), porcelains and other decorative arts such as textiles, costumes, and furniture.
I happened to wear a one-shoulder dress from Fantasmagoria with a batwing design at the collar… how fitting for a day exploring Valencia!
Details, details. My large gold choker necklace is the Safety Chain by Eddie Borgo. Sunglasses are Robert Cavalli.
Look up to see stately stained glass rotundas… and a gargoyle pleasuring itself!
Some travel outfit inspiration for you. I wore these Anthony Wang platform sneakers and a loose dress so that I could walk around comfortably all day. I dressed it up with fishnets and a leather jacket, and tied my hair with silk scrunchies.
A final Baroque facade: this is Church of the Santos Juanes (Església de Sant Joan del Mercat).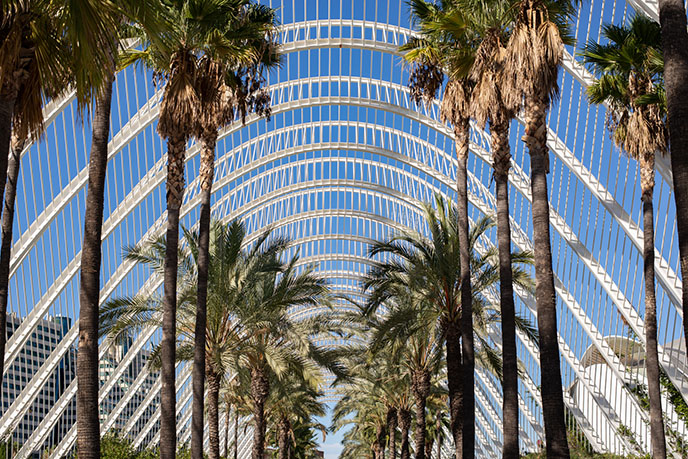 I hope this story convinces you to add Valencia to your itinerary, if you're traveling in Spain!
If you liked my outfit of the day, you can find these designs below:

And cheers to all for reading and featuring The Little Book of Satanism! My latest book is featured in Auxiliary Magazine, as well as publications like Forbes and CBC.
You can get a copy of my "The Little Book of Satanism" from Amazon ♡ Kindle (digital) ♡ Barnes and Noble ♡ Bookshop and other retailers worldwide. Thank you for your kind support!
Thank you for your support for The Little Book Of Satanism: A Guide to Satanic History, Culture, and Wisdom, which is now out! My latest nonfiction book — about the development of Satanism and its values — is available everywhere in paperback and digital, published by Ulysses Press / Simon and Schuster.
To get a copy, simply Google "The Little Book Of Satanism" and your country name. You can also ask your local, indie book shop to order it for you. Or find my book at the links below:
ORDER NOW from Amazon ♡ Kindle (digital) ♡ Barnes and Noble ♡ Bookshop
♡ My Simon & Schuster book page has links to other retailers worldwide — including UK stores ♡ Chapters/Indigo ♡ Amazon Canada ♡ Dymocks Australia.
I'm grateful to all who reached out — thank you for supporting the book, and I hope you enjoy reading it! Here's a look at the cover design of The Little Book Of Satanism — I love how it turned out.
Lucien Greaves of The Satanic Temple wrote the foreword and contributed ideas for the design (a Baphomet with gentle eyes, and a block print style). It's in my signature purple color, with an elegant font and subtle pentagrams. The publisher and I wanted to avoid the "scary, heavy metal, black and red" type look typically associated with Satanism. Rather, I hope the cover conveys that the religion has a rich historical and cultural basis, and is a meaningful path for many worldwide.
Thank you for supporting The Little Book Of Satanism by sharing this post!
To celebrate my book release, Joey Wong and I did a photoshoot in Akihabara, Tokyo. This is the Electric Town district known for its anime and manga shops, video game and purikura arcades, maid cafes, and otaku / nerd everything.
(Wearing a Kikirara Shoten skirt, and Cruella black/white pearl necklace by Lily Streeter. The "Satan is my Daddy" cropped t-shirt seemed appropriate for the occasion.)
Here's a peek at the inside pages of The Little Book Of Satanism.
As I trace "the Devil's hoofprint" on society and culture through the centuries, a theme emerges. Time and time again, it is the marginalized that are labelled as Satan's bedfellows, and suffer unjust consequences from ostracism to jail and executions (such as with the witch trials).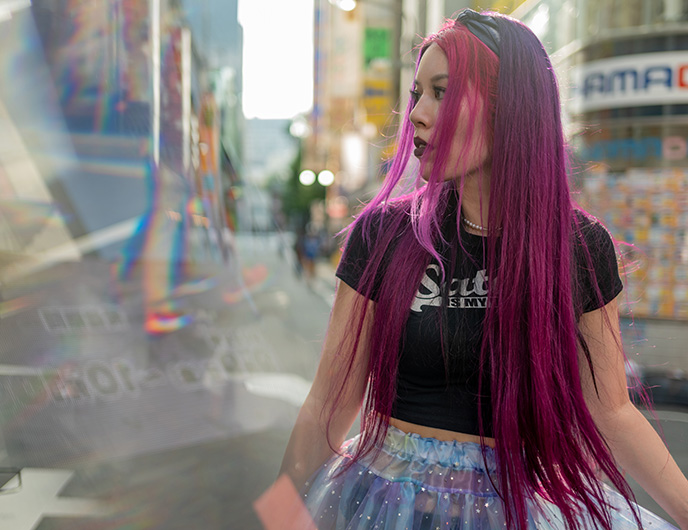 As The Little Book Of Satanism is a short and accessible guidebook, I hope it can help a general audience better understand what Satanism really is about. Many people thinks of Satanists as they are portrayed in horror movies: evil followers who believe in a real Devil, and invoke him for nefarious means. This isn't at all what religious Satanism is about, and it's time to lay these damaging, pervasive stereotypes to rest.
My book is 145 pages so it's a quick read. You can easily pack the small paperback in your bag to read on public transit, or on your travels. The sections of The Little Book Of Satanism are as follows:
– Foreword by Lucien Greaves
– Introduction: Sympathy for the Devil
– Part One: "Please Allow Me to Introduce Myself"
– Part Two: Historical Satanism—the Middle Ages to the Early Twentieth Century
– Part Three: Modern Satanism—the Mid to Late Twentieth Century
– Part Four: Satanism Today—the Twenty-First Century
– Conclusion: Your Own Personal Satan
It was apt that we did this shoot in Tokyo — because that's where I first became intrigued by Japanese Satanism, and started writing about it for this site and other publications. Contrary to stereotypes, practitioners value personal self-expression, critical thinking, anti-authoritarianism, and other positive values.
Only about 1 percent of Japanese residents are Christian, so Satanists in Japan don't grow up with the theocratic influences that one sees in places like the US. (I discuss this in detail in my OnlySky article about Satanism in Japan).
However, Japanese society is notoriously conservative, collectivist and conformist. In this context, Satanists find meaning in the metaphor of Lucifer as the ultimate rebel. Many were drawn to unofficial translations of Anton LaVey's works, and resonated with the ideas of pursuing one's self-interest and not bending the knee (especially in the context of a society of polite passivity).
I hope my book provides a short but comprehensive overview of the religion, and helps to answer questions readers might have about Satanism. For instance, there are sections with illustrations about the meaning of Satanic symbols (like the inverted pentagram, and the goat-headed Baphomet). I also discuss ritual practices, origins of the concept of the Devil, Satanic art / literature / music, the influence of individuals like Aleister Crowley, and more.
To give you a better sense of the contents, here's the back copy of The Little Book Of Satanism:
Satanism is often misunderstood as a religion that worships an evil Prince of Darkness. But in reality, modern Satanists are nonviolent and consider the Devil to be a positive metaphor for the pursuit of knowledge, reason, and justice.
A window into the fascinating culture and practices of Satanists, The Little Book of Satanism details the Devil's footprint on historic events over the centuries and dispels misconceptions about ritual abuse and serial killers. In addition to contextualizing the core values of practitioners, this accessible guide covers:
SATAN'S BIBLICAL ORIGINS ● HISTORICAL SATANISM, FROM WITCH TRIALS TO THE SATANIC PANIC ● THE CHURCH OF SATAN AND THE SATANIC TEMPLE ● THE DEVIL IN POP CULTURE ● SYMBOLS AND RITUALS
Written by award-winning journalist La Carmina and with a foreword by The Satanic Temple cofounder Lucien Greaves, The Little Book of Satanism shines a light on the religion's affirmative values that oppose arbitrary authority and champion scientific rationalism and personal liberty.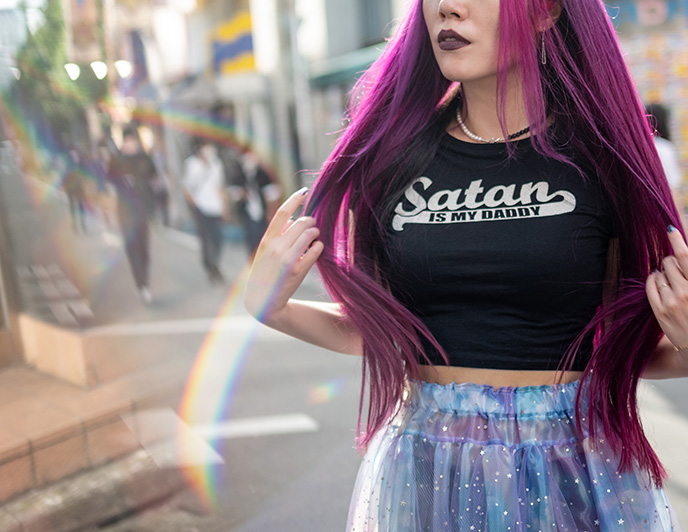 Thank you again for your kind encouragement! I'm grateful to all who reached out and shared my book on social media, or pre-ordered it. 
Lucien Greaves (spokesperson and co-founder of The Satanic Temple) wrote the foreword to The Little Book Of Satanism. We chatted about the book and why he recommends it in this podcast episode on his Patreon.
THE LITTLE BOOK OF SATANISM: A Guide to Satanic History, Culture & Wisdom is published by Simon and Schuster, so you can get it anywhere in the world. Ask your local bookstore to order it, or search for the book title and your city/country to find it.
You can ORDER MY BOOK via Amazon ♡ Kindle (digital) ♡ Barnes and Noble ♡ Bookshop
♡ Link to other retailers worldwide — including UK stores ♡ Chapters/Indigo ♡ Amazon Canada ♡ Dymocks Australia.
The Little Book of Satanism is my fourth book. My previous books include Cute Yummy Time and Crazy, Wacky Theme Restaurants: Tokyo (published by Penguin Random House).
Get The Little Book Of Satanism here — and please tell your friends!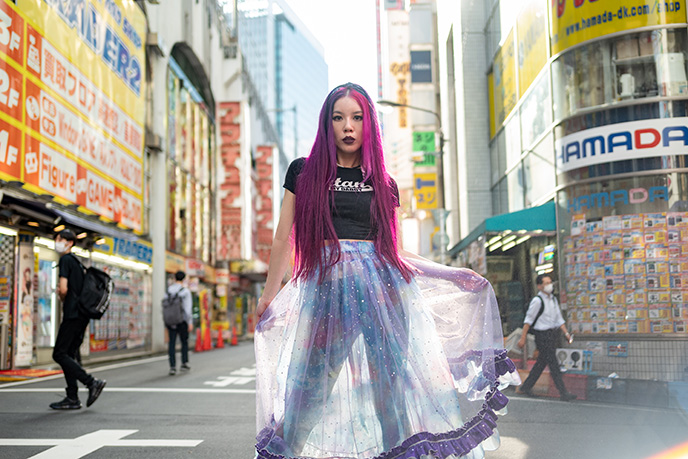 The new book has gotten some great press so far — including features from CBC Radio, Forbes Magazine, Columbia University Magazine, Fodor's, Metropolis, and other major publications. It's been fun to do interviews and podcasts with a variety of media outlets.
Book reviews of The Little Book of Satanism have also been coming out. OnlySky says: "La Carmina offers a fresh, brisk, accessible introductory overview of Satanism, past and present […] with a sharply-inviting foreword by one of the founders of The Satanic Temple, Lucien Greaves. La Carmina's deftness in writing a "little book" on Satanism is most laudable."
Reviewer The Magical Buffet writes: "It is no easy task to unweave the tapestry that creates what Satanism is today, but La Carmina does an excellent job untangling the web and laying out a timeline for us to follow. In "The Little Book of Satanism," author La Carmina makes a compelling argument for modern Satanism and the role a modern take on Satan could play in your personal spiritual practices. If you're even slightly curious, I highly recommend getting yourself a copy of this book."
Thank you again for your interest in The Little Book Of Satanism! If you have any questions or want to interview me about the book — please contact me here or leave a comment below.
And if you might be willing to share my book with anyone who might be interested, I'd be most grateful. You can also find me @LaCarmina on all social media.
FIND MY BOOK on Amazon ♡ Kindle (digital) ♡ Barnes and Noble ♡ Bookshop
♡ My Simon & Schuster page links to other retailers worldwide — including UK stores ♡ Chapters/Indigo ♡ Amazon Canada ♡ Dymocks Australia. Thank you!
Pick up The Little Book Of Satanism here — and thanks for sharing this post.