If you think NY Fashion Week is all about frivolity… then you've never been to a breast cancer fashion show.
In February 2020, I had one of the most meaningful weekends of my life cheering on bestie Molly, a Stage II breast cancer thriver, at NYFW! What a moment to see her and fierce mom Deborah (who also beat the disease) strut the runway.
I was moved to see a diversity of models — representing every stage from pre-vivor to metastatic — slay the catwalk in AnaOno (a lingerie and clothing line for breast cancer thrivers).
This meaningful fashion show partnered with Cancerland, with 100% of proceeds benefiting METAvivor (to conduct much-needed research for metastatic breast cancer treatment).
I hope you enjoy this very special report from New York Fashion Week 2020. (Please see photo credits at end.)
1 in 8 women will be diagnosed with breast cancer in their lifetime, and 1 in 3 will have metastasis. These facts hit hard for me, as I have several close friends who were diagnosed with breast cancer — including writer Elizabeth Wurtzel, who passed in January (you can read my tribute to Lizzie here).
Molly Weingart has been one of my closest friends since we met on Halloween, at Columbia University. Years later, I still remember the feeling of shock when she told me she was diagnosed with breast cancer, at age 32. Her mom Deborah, above, also had and beat breast cancer 25 years ago. (Their walk was supported by Penn Medicine and V Health and Wellness.)
There's no other way to put it: Cancer blows. I visited Molly in Philly during her second round of chemotherapy, and the side effects were unexpectedly rough. And we were traumatized by her experience at the hair salon, where she was forced to shave her head due to chemo. (Since then, I've been growing out my hair and appreciating the ability to maintain a long length!)
Molly is a warrior, and she's now in remission. We celebrated by relaxing and shooting guns in the Dominican Republic!
Everything came full circle in NYC, the place where we met and attended many fab fashion events. In 2020, she and her mom were chosen to walk the runway for the AnaOno x Cancerland x Metavivor benefit show.
The annual NYFW catwalk has an important goal: to raise funds for metastatic breast cancer research and treatments, while changing public perception of the condition.
At the same time, this is New York Fashion Week — so everyone is encouraged to dress flamboyantly and have a fabulous time!
I debuted my Skandinavik pink Mongolian lamb fur coat, and it received a lot of compliments. The sheep are merely sheared to make this luxurious jacket, which comes with a hood and keeps you unbelievably cozy. You can find this statement coat and more, in multiple striking colors, on Skandinavik Fur's site.
I'm also wearing a bats beret and heart cardigan from Sourpuss Clothing, and snakeskin platform boots by Acne.
I adore my new dainty skull silver bracelet, from Stephen Einhorn. The bangle slips on easily, and has a minimalist yet edgy style that goes with all outfits. The skeleton's details are beautifully etched — House of Einhorn's fine Gothic jewelry is always to die for.
I'm living for Stephen Einhorn's medium pearl hoop earrings, which stand out against my dark purple hair. These timeless hoops instantly add a dash of Goth glamour.
(Close-up on my voodoo heart cardigan and bat hat from Sourpuss Clothing.)
While I was taking street style snaps, Molly and her mom were hard at work backstage. Throughout the weekend, they were filmed for a documentary, and spent all day doing photoshoots, fittings, and runway walk lessons.
It was wonderful to meet the models and supporters, who embodied the fashion show motto of "#Fearless." The ladies modeled glamorous garments by AnaOno Intimates and outerwear by Madison Chamberlain. Each look was personalized to fit their unique story of experiencing breast cancer.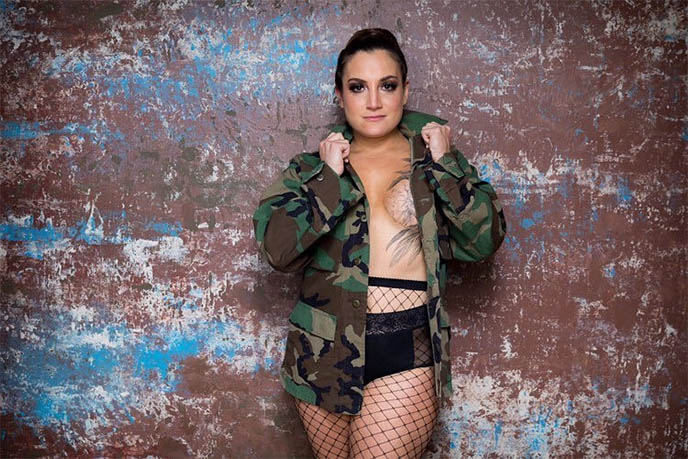 Molly gives off J Lo vibes in this custom camo jacket, fishnets, and mesh panel black underwear. Love how they gave her a high braided ponytail and long eyelashes.
She gives us a peek of her tattoos, by Chicago-based artist David Allen. He specializes in tattooing women who had a mastectomy and/or reconstruction, transforming their scars into swirling flowers.
This year, the breast cancer fashion show focused on diversity, and bridging the gap between early and late-stagers. The women represented a broad spectrum of ages, backgrounds, and stages of breast cancer — including previvors that had a preventative mastectomy.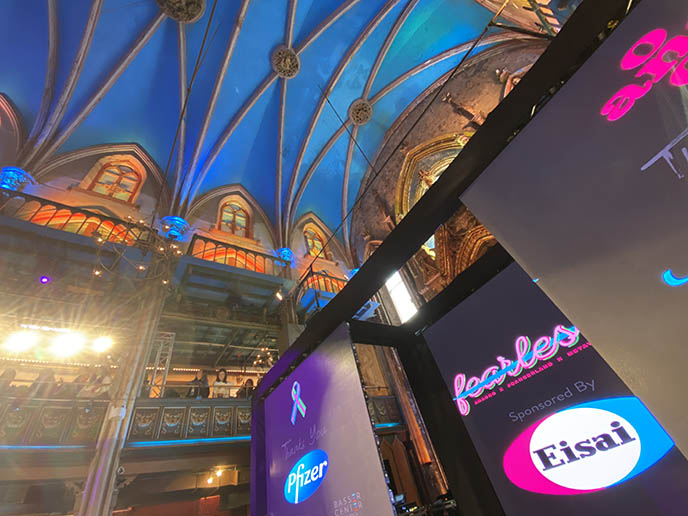 The AnaOno x Project Cancerland x Metavivor fashion benefit was such a success that the tickets were oversold. Everyone eagerly crowded into the Angel Orensanz Center, a former synagogue that has become a gorgeous event and performance space.
The show got off to a rousing start, with several heartfelt speeches. I was moved by the speakers, who shared their fears and hopes at every stage of breast cancer — from preventative surgery to recurrence and metastasis.
On the right, I was happy to finally meet Dana Donofree, creator of AnaOno. When she was diagnosed with ductal carcinoma, she realized there was a lack of beautiful lingerie and loungewear for women who experienced breast reconstruction, breast surgery, or other conditions causing discomfort. As a solution, she launched her fashion line.
More than 30 models "werked" the NY Fashion Week catwalk, modeling AnaOno's spectacular designs. Such an inspiration to see these women take back their bodies and celebrate living.
Unlike a typical New York Fashion Week show, this was a vivacious and touching occasion. It was fun to sit front row, and cheer our hearts out for the breast cancer thrivers.
The models showed a wide range of expressions and walks, each expressing their feelings about living with breast cancer — from anger to sadness and courage.
As each woman appeared, words flashed behind her that conveyed her greatest fears. Walking the catwalk let her own her vulnerabilities, and become fearless.
Knowing Molly's journey firsthand, I screamed so loud when she appeared!
Her full statement: "I walk to use my body as a form of protest, to fight the stereotype that bravery means we should hide our fears related to this illness. All our fears are valid, from death to losing our hair."
When she reached the end of the runway, she slowly took of the jacket and stood strong, revealing her bare chest and tattoos.
Molly describes the moment: "As that jacket made by Madison Chamberlain slid down my shoulders, I felt years and years of shame slide of my body in seconds. My story is in body and I don't have to carry it."
Molly shares her full story, from being diagnosed to getting tattooed by David Allen, here.
"The scars felt like a continuous reminder of what I had lost, what I would never be or do. I was excited to see something beautiful instead of destruction. I didn't expect or even believe that getting tattooed by David could make me feel beautiful again— it did—or that instead of feeling like a medical oddity, I would feel like I'm a walking piece of art and my body is the canvas."
What an emotional moment when Molly's mother, Deborah Spitalnik, joined her on stage for a hug — and then walked the runway herself.
Deborah's story: "25 years ago, I was diagnosed with breast cancer. It was more painful and frightening to see my daughter have breast cancer. I walk to support my daughter, to honor my mother who also had breast cancer and the whole breast cancer community. I fear recurrence in my daughter and myself, but I am inspired by the advances in treatment and restoration."
With her energetic stage-dance, this brave mom got some of the biggest cheers of the night!
I was blown away by the strength of the women who walked in the breast cancer fashion show. I'm grateful I got the opportunity to connect with many of them over the weekend, and hear their stories.
Molly says, "These two photos capture the absolute silly, giggly parts and the quiet, tender parts of the relationship between my mom and me — which was strengthened through my treatment."
(Credits: Backstage pro photos are courtesy Tammy Tarabola, and the professional catwalk photos of Molly and Deborah are by Carey Kirkella. The rest of the images are by me.)
Molly adds a tribute to her amazing father. "My dad stood by my mom's side during her treatment years ago and then mine decades later. He bravely learned about things I don't think most dads would consider their "department" — and of course, he was in New York to support them to the fullest.
When the hard work of modeling is over, it's time to party! Molly put on a sheer bodysuit and glitter heels for the NY Fashion Week afterparty.
We hung out with her friends and supporters, and celebrated the success of the nonprofit fashion show.
As VIP guests, we left with a swag bag of delights, including ChitoCare Icelandic beauty products. Without doubt, this was my best New York Fashion Week to date.
Ah, I miss that NYC street energy… I'll surely be back soon (and I have some additional stories from the city to share with you.)
Wearing a Sourpuss Clothing Goth beret, and Skandinavik Mongolian lamb fur coat of dreams.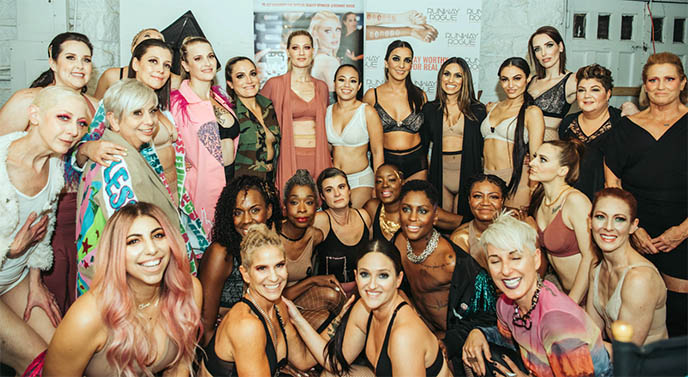 Cheers to everyone who made the AnaOno x Cancerland x METAvivor fashion show a success! The funds raised 100% went to much-needed Stage 4 breast cancer research.
I'm keen to do more to get the word out — these ladies deserve our support, and I'm grateful I got to share in their NYFW 2020 experience.
Welcome back to La Carmina's Big Adventure! (Do you recognize these Cabazon Dinosaurs from the Pee Wee Herman movie?)
After a few relaxing days in Palm Springs (see first post), photographer Joey Wong and I took a road trip to LA — with a pit stop at this kitschy roadside attraction. 
In LA, I stayed at my favorite home-away-from-home — The Orlando Hotel in West Hollywood. At this point, taking a photo with the big O sign is tradition.
Read on for a peek inside, as well as dinosaurs and aliens, oh my!
When you're driving west from Palm Springs to LA, you'll pass through Cabazon. This appears to be a sleepy retirement desert town… until you see a tyrannosaurus rex in beast mode!
The Cabazon Dinosaurs are an amusing place to stop and take photos. The 20 meter tall Mr Rex is made from steel and concrete. 
Dinny the Dinosaur, a 45 meter long brontosaurus, hangs out next to him. His humped back mirrors the curves of the Palm Desert mountains. Both dinos were featured in the 1985 comedic film, "Pee-wee's Big Adventure."
(My outfit consists of a hooded top by Cyberdog, white dress by UK Swimwear, and sandals by Lola Ramona.)
I disguised myself using my silver alien backpack (get one here), and got up close to the T-Rex.
These ridiculous dinosaur statues were built in the 1960s by Claude K Bell, a former sculptor for Knott's Berry Farm. He made them to entice highway drivers to visit his restaurant. 
Things get weirder. After Claude died, the dinosaurs were sold to a group… that turned the attraction into a Creationist museum! Yes, there are people out there that believe the world was created only 6000 years ago along with humans and dinosaurs, who co-existed.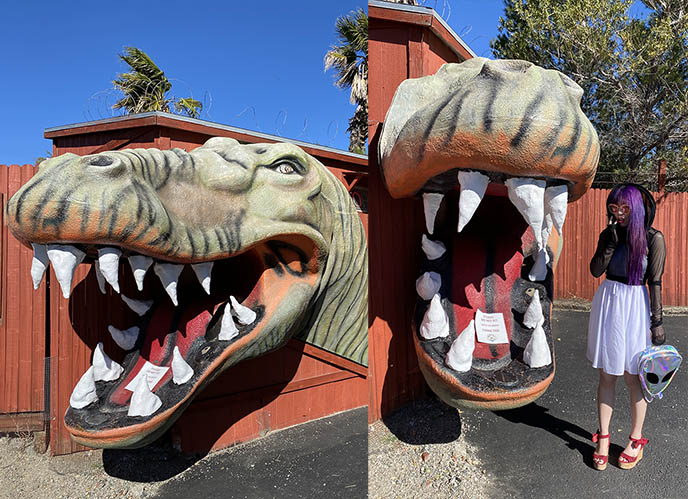 The dino attractions look like kid's stuff. But if you look closer, you'll notice Creationist slogans in the gift shop like "Don't swallow it! The fossil record does not support evolution."
The Creationist museum suggests that dinosaurs might still exist but be in hiding, citing Loch Ness and other supposed spottings.
Is the truth in there? I wasn't about to pay the fee to go in and be dis-informed, so I just took photos outside. 
One can dispute whether dinosaurs are real… but aliens exist for sure!
The drive between Palm Springs and LA is an easy one, and takes just over 3 hours (try to avoid peak traffic hours). We landed in downtown Los Angeles, which has developed significantly over the past 10 or so years.
Here's a futuristic view from The Geffen Contemporary at MOCA (contemporary art museum). In a later post, I'll show you the Broad art museum and Disney Concert Hall. 
Don't overlook the incredible historic architecture in this district. I popped in to the Bradbury Building: built in 1893, this is a five story masterpiece of cast iron filigree surrounding a central glass atrium.
If this setting looks familiar to you, it may be because Harrison Ford ran around here with a gun, in the 1982 apocalyptic film Blade Runner — one of my personal favorites. 
The set designers added trash, fog and mannequins to The Bradbury Building, transforming it to the character J. F. Sebastian's apartment. These geometric stairs, iron railing and open cage elevators made this one of the most memorable scenes in Blade Runner. 
I'm wearing a holographic alien backpack, and pink sunglasses with built-in eyebrows by SpiltMilk Eyewear.
Time to check in at The Orlando Hotel in West Hollywood. I've been docking at this boutique hotel since 2011, and always recommend it to anyone coming to Los Angeles. From the valet to the front desk, the Orlando staff are a standout. Everyone shows genuine care and welcomes you warmly. 
(Silk striped dress by Chaser, and skull mini purse by Alexander McQueen.)
The Orlando Hotel's location (West 3rd Street in WeHo) can't be beat. I dislike taking the highways and battling with LA traffic. By staying at the Orlando, I can take local streets and easily get to the beach, Koreatown, Hollywood, and downtown. 
In addition, the hotel is on a hip street lined with cafes and shops, so you can access plenty of fantastic places by walking. Or, you can simply hang out at their pool. 
Over the years, the Orlando has spruced up its interiors. They now house Cleo Third Street, a chic bar and restaurant named after Queen Cleopatra. Guests can order room service from Cleo as well (no need to ever leave those cozy rooms!)
I've stayed at a number of "design" hotels that seem luxurious, but aren't actually that functional or comfortable. This is why I adore The Orlando: everything works seamlessly! 
Here, it's easy to find and operate the light switches. The rooms and bathroom are spacious, with plenty of storage space. The shower heats up quickly, and is easy to step in and out of (no water splashing everywhere). And the plush beds with silky sheets are among the best I've slept in. 
I feasted like a royal at Cleo Third Street, the hotel's restaurant. Their Middle Eastern meets Mediterranean cuisine has a modern touch, and the small plates are designed for sharing with friends. We were fans of the craft cocktails, featuring fresh juices and garnishes. 
The fiery halloumi was a big hit, along with the smoked eggplant and sumac babaganoush, served with spongy laffa bread. The menu has plenty of flavorful dishes to choose from, with ingredients like harissa, tahini, and lebaneh. Cleo also has multiple options for those who are vegan, vegetarian or gluten free. 
I've made so many wonderful memories at The Orlando Hotel over the years. My friends, from Josie Stevens to the Amazing Race Goths, have found inspiration here with me. 
Next time you're heading to LA, I hope you'll get to stay here and see why The Orlando Hotel is my happy place! 
Time to check out something new: OUE Skyspace in Downtown LA. Opened in 2016, this is the tallest open air observation deck in California.
We went up the elevator until we were almost 1000 feet above the city. From the various outdoor viewing decks, OUE SkySpace lets you take in panoramic 360 degree views of Los Angeles.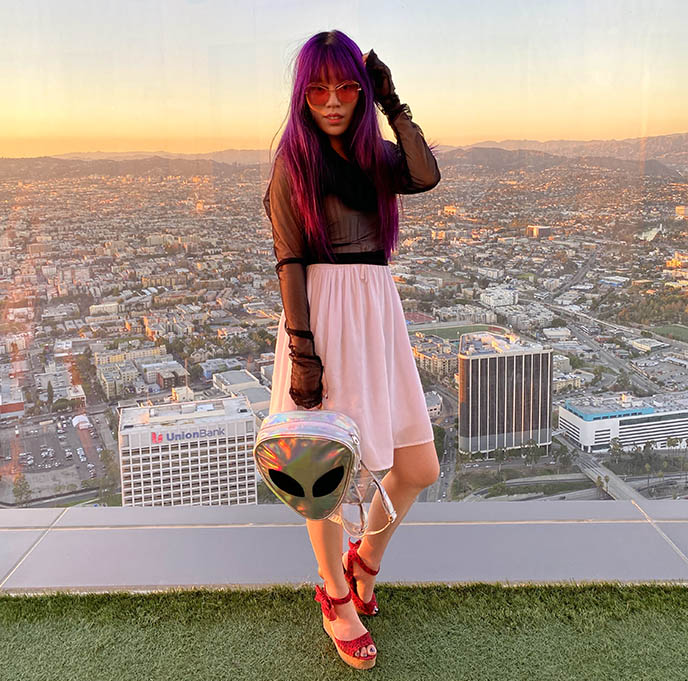 You can buy wine from the bar, and sit on the lounge chairs to enjoy the views of the horizon. OUE Skyspace has areas set up for selfies as well. 
OOTD: alien backpack (from here), pink sunglasses by SpiltMilk Eyewear, mesh shirt Cyberdog, white dress UK Swimwear, heels Lola Ramona.
Be sure to ride The Skyslide, a clear glass slide that lets you shoot down the outside of the building! Although the slide only spans one floor, it's a fast zoom that delivers thrills. (I yelled "Oueee!")
I recommend visiting right before sunset so that you can catch the glow of dusk. Yes, that's the moon above me. 
OUE Skyspace is a must for photography lovers. Joey Wong shot these images that capture the energy of LA.
During golden hour, you can get plenty of pink-hued portraits and fashion photos.
Joey's long exposure shows the snake-like roads and frenetic pace of downtown LA. 
Love how the car lights turn into laser beams. 
The last light before the darkness. If you'd like to come up here, you can learn more about OUE Skyspace and get timed entry tickets through their site.
LA LA LLA LA! I have more to come from Los Angeles and Palm Springs, as well as NYC and Portland. (You can see previews on  my @lacarmina social media.)
Thanks for your patience, these are crazy times… Wash your hands and stay safe, aliens!