When I mentioned I had a cameo on The Purge television series, everyone assumed I'd be one of the baddies. I think you pictured me donning a mask, and slashing victims with homemade weapons.
Surprise: I'm one of the people protesting Purge Night, at a Resist rally!
Did you spot me next to the main cast, in the finale of Season 2? The Purge TV show just finished airing on USA Network and Amazon Video – meaning I can finally share my experience with you.
For the second season of this horror series, The Purge took everything up a notch. Instead of focusing on a single night, we follow four interconnecting storylines over the course of a year.
This time around, each episode is filled with thrills, action, satire and blood — which is what the Purge universe does best.
Read on for my behind-the-scenes report from the set of the Purge, including the scoop on my appearance (I'm at the end of episode 10, titled "7:01 AM" — which also features Ethan Hawke!).
As a horror fan, I had the time of my life meeting the cast and watching the crew film wild stunts — like escaping from a bus lit on fire. (Head's up: some of this post may reveal slight spoilers, but I did my best to keep the main twists hidden.)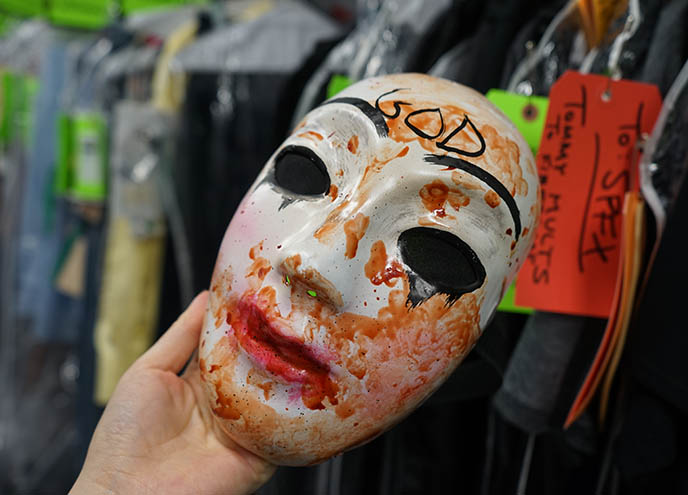 I also got to try on The Purge masks from the TV shoot, including the infamous blood-stained God mask!
As you may recall from this post, Blumhouse Productions and USA Network flew me to New Orleans for a set visit. I'm a mega-fan of Blumhouse's horror films (such as Purge 1-4, Sinister, Halloween, Insidious, Get Out) — so this was a Goth dream come true.
For those unfamiliar with the Purge concept: The USA was taken over by the New Founding Fathers of America (NFFA). This totalitarian government created an annual Purge Night, where citizens can commit pretty much any crime without penalty — even bloody murder.
Inspired by the Purge: Election Year character Kimmy, I made a Kiss Me mask to accompany my return to NOLA. I got to chat with several cast members; they all found my mask rather amusing / terrifying! 
I sat down with actress Paola Nuñez, who plays Esme Carmona — a NFFA agent who uncovers a conspiracy by her bosses, and sets out to make things right.
Paola revealed that when she was a child, she felt scared to watch horror movies. Today, she finds it exhilarating to be a principal actor in a series where "The greatest fear is what you don't know."
Paola had never been to New Orleans until this role, and she's enjoyed shooting in historic homes and iconic city sites. "There's a ghostly, voodoo energy here" that makes NOLA the perfect setting for The Purge.
(The lovely Paola hails from Mexico, and she also gave me fantastic travel tips for my Day of the Dead trip!)
I also had a conversation with Joel Allen, the main actor of another narrative in The Purge season two.
He plays innocent college student Ben Gardner, who narrowly escapes death on his first Purge Night out. The violent incident instills an "urge to purge…" Before long, Ben is putting on the creepy God mask and causing bloody havoc at his school.
Joel told me he enjoyed the challenge of portraying Ben's coming of age. This role required him to convey a range of emotions, from "pure fear" to killer instincts. Some of the scenes were difficult to shoot — particularly Ben's violent assault by "God," and complex choreography for the camera — which made the character evolution all the more gratifying.
The other journalists and I climbed into a van, and arrived on set (in a NOLA warehouse). We received hair, makeup and costumes… as we were "Resist the Purge" protesters in the final episode! 
It was thrilling to go behind-the-scenes at a major network TV show. I'm accustomed to run-and-gun travel TV hosting / production, which is very different from shooting a scripted series with massive sets, special effects, and hundreds of extras.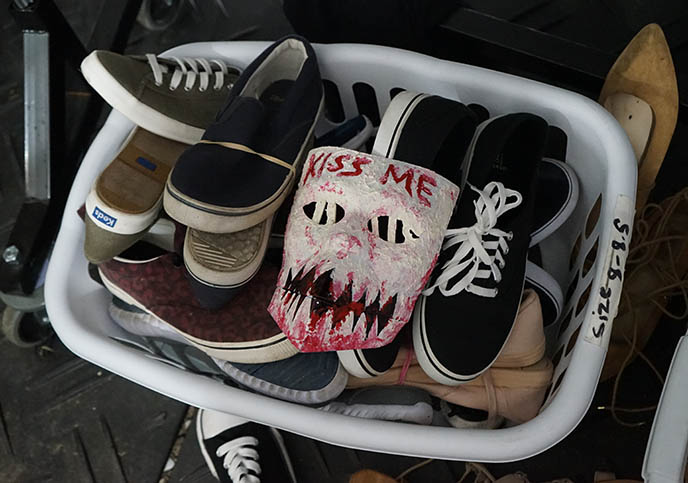 We joined the crew in a giant tent with craft service. The costume department was working hard, outfitting the background actors with dark garments typical of a resistance rally.
I wore my own faux-leather legging and stomper boots, and slipped on the Resist logo t-shirt that the Purge costumers gave me.
The hair artist gave me a semi-pulled back style. I sat in the makeup chair, and emerged with a dark lip and fierce smoky eye. I also got me badass fake tattoos… I made sure the crucifix was pointing upside down.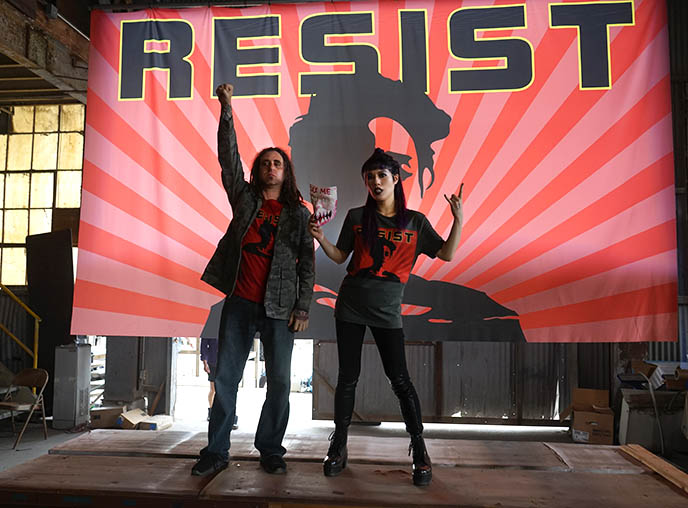 This ramshackle warehouse was set up with a platform and big red Resist banner.
Without revealing too much of the storyline — the sign shows Esme's face because of her fight to expose the NFFA's wrongdoings. She learned that Purge Night doesn't decrease violence as the government claims. It makes people like Ben hungry for more.
In season 2, the television show follows different groups of NOLA residents in the period between Purges. All the storylines cross in clever ways, leading to plenty of frights and a satisfying finish.
The Anti-Purge protesters cheered as Denzel Whitaker (playing university student Darren Moore) walks on stage. He delivers a rousing speech about how the destructive Purge needs to end, "right here, right now."
The director placed me next to two of the principal actors, Derek Luke and Rochelle Aytes. They play Marcus and Michelle Moore, a wealthy couple whose lives are turned upside-down when someone breaks into their home and tries to Purge him. 
I added my own handmade mask to the pile of props. In this end scene, I held one of these posters that urge citizens to "Join the Resistance" and "Stop the Purge – End the NFFA."
In the rally scenes, you can see me standing next to the main actors while we listen to Darren's impassioned words. The camera shows me in close-up as I clap and cheer him on.
It was fun to see how a single scene came together. The actors were pros, giving perfect performances with each take. At one point, the crew removed the banner so that they could get shots from an alternate angle.
Resist Authority! End the Purge!
Can you tell I had fun getting into character and rocking a darker look? 
Everyone I met was kind and welcoming, and it was an honor to be a tiny part of the show.
I can't post the full scene featuring me, but you can see a little clip with my fist-pumping closeup here!
Later that day, we got to watch another scene from Episode 10 while it was being shot. We drove to a covered hangar on the outskirts of New Orleans, where Jaren Mitchell, Jonathan Medina, and Chelle Ramos were geared up and ready for a fight.
Check out the guns and ammo on the table… Some of these are dummies, while others emit a loud noise with a realistic flash of light!
Chelle gets a touch-up between takes. In the resulting scene, you can't tell that they are in a sheltered space, and that it was quite humid even at night.
Very cool to meet Max Martini, and see him get intensely into character as leader of the team. (Perhaps you recognize the talented actor from Pacific Rim, Saving Private Ryan, Captain Phillips and Fifty Shades.)
Max Martini plays Ryan Grant, a former police officer who tried to execute a daring bank heist during Purge Night. Things go south when the rival Jackals arrive and one of his friends ends up jailed.
In the scene we witnessed, Ryan and his loyal team are preparing to make things right.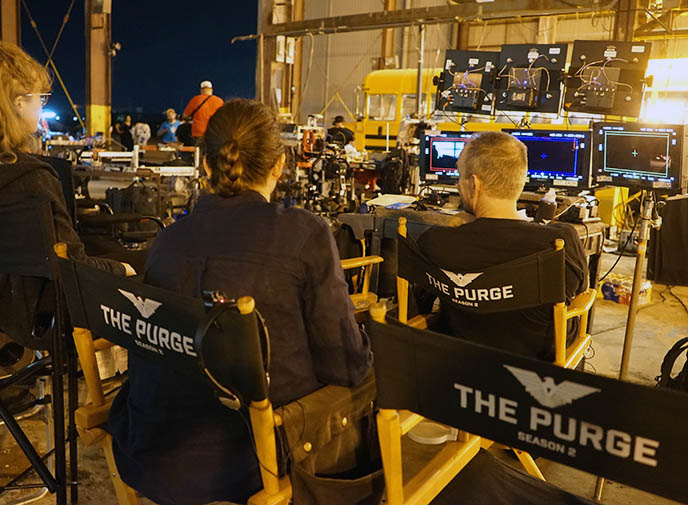 Take note of the cinematography when you watch The Purge, Season 2 — it's beautifully shot and paced. Acclaimed horror director Gigi Saul Guerrero helmed several of the episodes as well. 
I was also impressed by the efficiency of the Purge production. The director yelled the final "cut," and within 10 minutes, all the equipment had been packed and moved to the next location.
Onward to one of the most thrilling scenes in the show… A daring escape from a burning bus.
This stunt was carefully executed with the highest safety precautions. I learned that you can turn the blazing jets on or off, and that a fire-proof screen separates the back of the bus from the front driver's area. Still, these are real flames, and you can feel the heat even from a distance. 
Jonathan Medina must have nerves of steel… As soon as he stepped out of the hot bus, the "string" of fire behind him rose to human height!
I took advantage of these special effects to have a Sadako moment. Doesn't this look straight out of a Japanese horror movie?
I also got to go inside the costume truck, and try on the many terrifying masks from the Purge TV show. Costume designer Eulyn Hufkie (known for her work on The Walking Dead) and her team drew from their darkest imaginations to create the various disguises that Purgers wear. 
Eulyn says this Baby Doll mask " was inspired by a true story that I heard at the NOLA cultural museum. The baby dolls were a group of women who attacked Mardi Gras goers with sticks and knives. I had these made out of plastic and they all wear a different color lipstick."
The "God" mask made its first appearance in "The Purge: Anarchy" movie. Considered one of the eeriest masks in the series, it makes its return in The Purge TV show. 
There ended up being multiple people playing God, as events unfolded… so the costume department had to create multiple versions, and store them in bags. Doesn't this look like something you'd find in a serial killer's lair? 
The Purge costume designer Eulyn Hufkie reflects, "I always felt part of the grotesque allure of the Purge was that it allowed sick, demented psychopaths to play GOD – deciding who would live or who would die on this nihilistic day." 
At one point, a God mask gets broken. Sometimes, you only get a quick glimpse of a Purge mask, so it was sweet to see the bloody detail up-close. 
The Purge TV's masks are expertly made, from a variety of materials. If you see this one… RUN.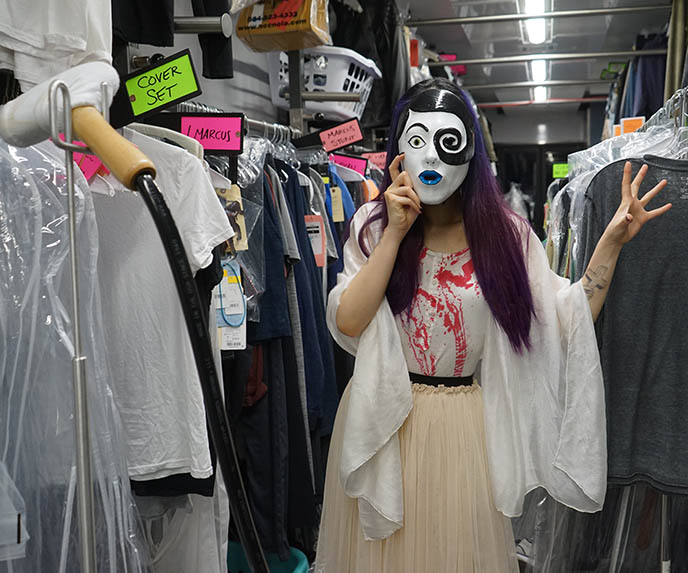 The flapper Baby Doll is among the freakiest looks this season. 
I'm standing next to racks of clothing for the various characters. The costume team drew upon brands and colors that best represented each personality. For example, they outfitted Dr. Marcus in Theory and Lululemon, while Max Martini's Ryan had a scruffier look. 
The Purge TV series got very creative for season 2. I always laughed out loud at the standalone opening vignettes, which gave glimpses into the twisted "Purge economy."
For instance, a marketing group discussed launching a scary rainbow mask, to appeal to LGBT+ Purgers! In my favorite, a Brazil bride-to-be asks a travel agent about booking a Purge bachelorette party in the USA. She whispers, "What if not everyone makes it back on the return flight?"
Here's a peek at the fake blood — you'll see a lot of it this season. 
I don't think you would want to run into me, in a dark alley… So much fun to get my hands on the Purge masks and costumes.
A last look at my temporary skull tattoo.  
The Purge TV show rocks — fans agree that the second season is better than the first, and stays true to the dystopian concept. I invite you to screen The Purge TV show (a Blumhouse production) on USA Network and Amazon Video.
There's also bonus website, Morning Time America: Post-Purge Edition, which is a spoof on the morning talk show. In the Off-Purge months, the peppy hosts chat about how to make yourself un-Purgeable, or put together a freaky look! 
(The team sent me this cheery mug, which I use daily. And I got to keep my Resist t-shirt from the filming.) 
In an alternate universe where "Blessed be our New Founding Fathers and America, a nation reborn… " it makes sense that my friends and I would be anti-Purgers, fighting with the Resistance.
Hail Blumhouse and USA Network for making this set visit possible. You can take glimpse at my Purge TV appearance in this clip here.
For Goth travel tips about New Orleans, see all my stories here.
Do you think I could be the next Scream Queen? Did these photos give you the urge to watch The Purge?
(PS: additional photos of me at the rally, Max Martini with his crew, Jonathan escaping the bus, and Denzel pumping up the crowd were shot by Alfonso Bresciani.)
When I was in Salem MA, a child came up to me and yelled "Witchhh! Witchhh!" I took it as a compliment that she put me on trial (wearing Moi-meme-Moitie achieved the desired effect).
This September, I made a Goth pilgrimage to Salem, Massachusetts — the center of the 1692 century witch trials. As you'll see, this little American town lives up to its notoriety as the ultimate Gothic destination.
The sign "Enter if you Dare" is apt. I have several friends who didn't plan out their trip to Salem well, and ended up being disappointed (the shops and museums were closed, or they couldn't get tickets or access to certain places).
Fear not — if you're planning a trip to the witch capital, then this Goth travel blogger has got you covered. Here lies part 1 of my guide to getting the most out of a day trip to Salem MA, including how to plan transportation and see all the darkest, witchiest attractions.
† How to maximize Salem, in a nutshell †
– Come between spring-fall, but avoid the October tourist rush.
– Weekdays are less crowded, but make sure the places you want to see are open (some shut in winter, and Satanic Temple closes Mon-Tues).
– Arrive around 10am, when the museums and shops open.
– Go to the Witch Museum first, as ticket slots sell quickly. Then make your rounds of other attractions and stores before things close around 5-6pm.
– End with a visit to the Satanic Temple & Art Gallery, as it requires an Uber and closes at 7 or 8pm. (I'll take you inside in Part 2 of this guide).
Let's start with how to get to Salem. Unless you're able to fly on a broom, most travellers come over from Boston — as this is the closest major city and airport.
Year-round, you can take the subway from Boston to Salem. Board the MBTA Commuter Rail (Rockport/Ipswich Line) from Boston's North Station. In 30 minutes, you'll be in Salem.
Boston Harbor Cruises also runs a Salem Ferry between mid-May and October 31. The boat sails from 1 Long Wharf, and the journey takes less than an hour.
My friend Lissette and I took the earliest Salem Ferry sailing. We enjoyed being out on the water, and taking in Boston's famous waterfront and brick skyline from the deck.
Be sure to reserve Salem Ferry tickets in advance from their website, as time slots can sell out. Also keep in mind that the boat route only runs from spring-fall.
(We took the subway back, as we wanted to stay past the last ferry departure; take note that the last train departs around 11:30pm. You can make Salem a day trip like we did, or book a room overnight if you want to take your time and see more.)
The moment you arrive in Salem, you'll feel as if you have arrived in witch heaven! The quaint New England town is filled with occult symbols and spooky stores, much like in the movie Hocus Pocus (which was filmed here).
I walked by a statue of Samantha, the witch from the 1960s TV show Bewitched, by Lappin Park. The popular series shot a few episodes in Salem, which got people intrigued about traveling here. (Photo by my friend Julie.)
From the 1960s onward, Salem has embraced its witch / Halloween reputation to the fullest. Today, travellers flock here to learn about the late 17th century witch trials, and take part in all things Gothic (as the posters around town hint).
Thankfully, Salem remains a small town with a historic, indie and subculture feel — it hasn't turned into a "Disneyland for Witches."
That being said, Salem gets extremely busy around Halloween. Tourists are blocked from the graveyard in October, and you may encounter long lineups everywhere. I recommend coming in late September (like I did): you'll still get to experience the fall / Halloween feeling, without too many people around.
I've been waiting for this moment… Hail, Salem Witch Museum! This is the most popular museum in Salem, centering on the Witch Trials of 1692.
I did a "Puritan meets Harajuku Goth" look for this journey. The dress is a Moi-meme-Moitie rare Pleats from the early-mid 2000s; got it in Tokyo Japan, of course. I paired it with UK Tights, Edwardson Eyewear sunglasses, and Jeffrey Campbell platform ankle boots.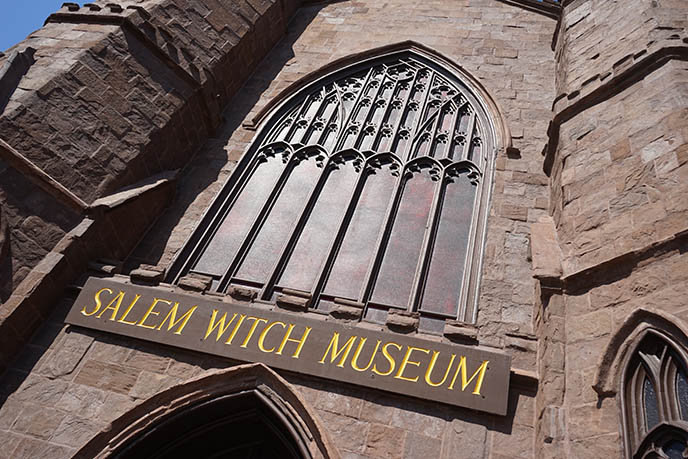 Goth alert: Get to the Salem Witch Museum early, ideally around opening time (10am). The tickets are first come first serve, and can't be booked in advance. Since the passes are sold by 30-minute time slots, you might have to wait until a later hour to get inside. (We arrived around 11am and were lucky, as we got the next immediate entry).
If you need to kill time before the doors open, go next door to Salem Witch Museum's gift shop. There's an enormous selection of witch-themed books, jewelry, homewares and other memorabilia.
(My next article will focus on all the Gothic boutiques you must visit, so stay tuned for a full Salem shopping guide.)
My Alex Streeter Ouroboros ring fits in with the shop's selection of witch brooms and magic spells.
I was tickled to see a "Ride with Pride" t-shirt with a rainbow broomstick trail. As you'd expect, we ran into many fellow Goth and alternative travellers in this dark destination.
Our group was ushered inside, and the riveting presentation began. All around the room, life-sized sets lit up, and a narrator told the story of the 1692 Salem Witchcraft Trials in dramatic voices.
Photos aren't allowed, so imagine… Satan, with red horns and glowing eyes! Did the "evil hand of the Devil" cause the "embittered women" to accuse hundreds of witchcraft, resulting in 30 courtroom death sentences?
I learned how a slave's fortune-telling games led to weird behaviors and hysteria among a group of young women. Between 1692-3, hundreds (mainly outsiders such as older single women) were accused of "entering a pact with Satan." By the end of the Salem witch trials, 20 were executed as witches, mostly by hanging.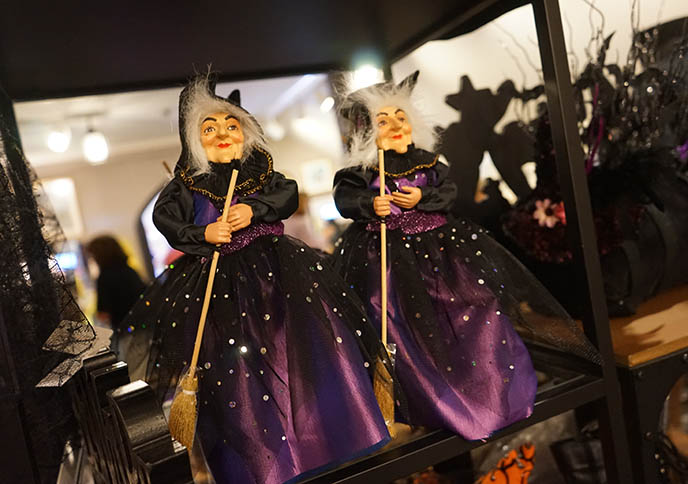 After, a guide took us to an exhibit on the evolving perspective of witches over the years: from pagan healing women, to green-faced crones on broomsticks (influenced by the Wizard of Oz).
The Salem Witch Museum was both entertaining and enlightening — I was fascinated by the tales of witch hunts throughout the ages. I was also glad I went here first, to learn about the town's terrifying history before sightseeing further.
Since I was in a morbid mood, it made sense to stand among the tombstones of The Old Burying Point Cemetery. Also known as Charter Street Cemetery, this is one of the oldest graveyards in America (established 1637).
It's right by the Salem Witch Trials Memorial: a simple granite monument with an open book etched with court transcripts, and benches carved with the victim's names.
Many of the 17th century headstones were decorated with winged skulls — how pirate-Goth. Known as death's heads or Soul Effigies, these represent the spirit flying to the afterlife.
(I have many more photos of these Gothic-looking Puritan tombstones in my article about Boston's Granary Burying Grounds.)
This year, Salem's historic burial place was closed to visitors between late Sept and early Nov. October is peak season for Salem tourism, and they wanted to prevent damage to the centuries-old tombs. Keep the closure dates in mind, if you want to tread carefully among the dead.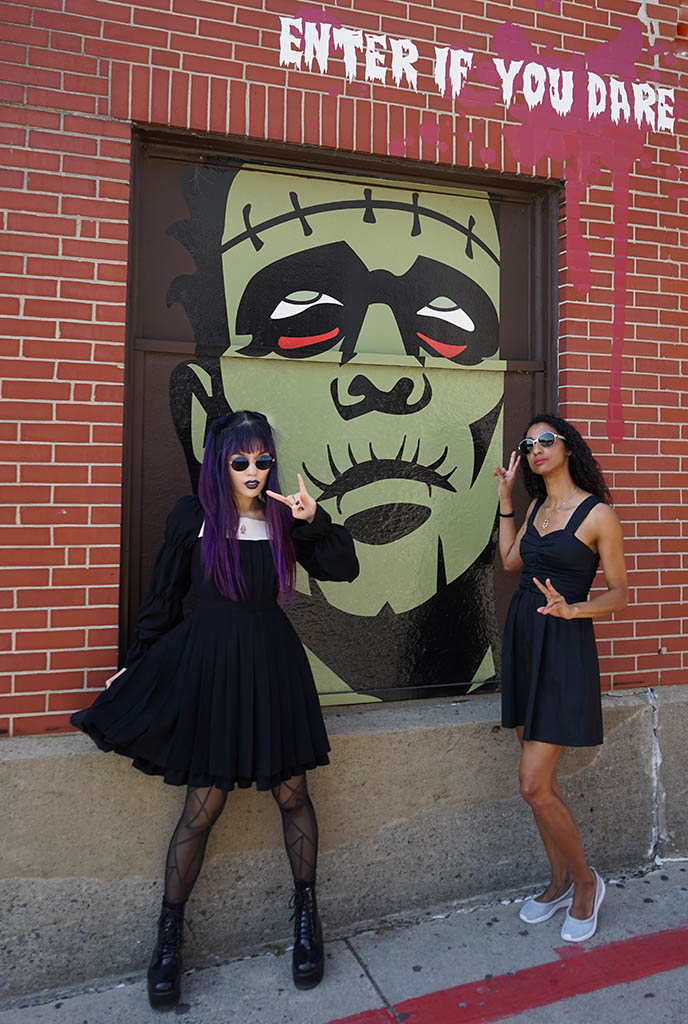 Lissette and I had until 5-6pm to see Salem's other museums and boutiques (as they generally close at this time, with the exception of the Satanic Temple / Art Gallery).
I recommend browsing Destination Salem's site, as they give a great run-down of all the restaurants, shows, tours, shops and attractions in Salem.
I personally wanted to focus on all things Goth and Witch, so I didn't see some of the other highly-rated places, like the Peabody Essex art museum or House of Seven Gables (the mansion at the center of Nathaniel Hawthorne's novel).
Some of Salem's witch-related attractions seemed to be on the cheesy side, and I preferred to learn about the culture / history than to get scared at a haunted house (there are several here).
That's why I stopped by the Salem Witch Village. A local man took us through a pathway of tableaus, which explored the legends, myths and truths about witches and their craft.
Rather than sensationalizing witches, the Village Museum taught us about the symbols and rituals of Wicca. Our guide talked about the many meanings of the pentacle (an upright five-pointed star in a circle). It's a symbol of the elements and divine feminine, and a magical talisman that summons energies.
The tour delved deeper into the Salem Witch Trials. We saw a mannequin being pressed to death by giant rocks! This was Giles Corey, a man accused of being a warlock. Because he refused to plead guilty or not guilty, he was pressed over the course of three days. When asked what he wanted, Giles — his eyes bulging from the heavy boulders on his chest — defiantly told them to add "More weight!"
We also learned about the ancient pagan festival of Samhain, which takes place in October and influenced Halloween. I was thrilled by the tales of Jack O' Lantern, a miserly man who tricked the Devil. Later, the horned one got his revenge and cursed Jack to roam the Earth until the apocalypse, with only an ember inside a turnip to light his way. (These carved turnips turned into Jack-o-lantern pumpkins lit by candlelight!)
Salem's a small and walkable town, so Lissette and I were able to easily see multiple historic sites by foot in a single day.
I struck an ominous pose in front of The Witch House. Isn't this dark and pointy-roofed home a Gothic dream? Built in the mid-17th century, this was the home of Judge Jonathan Corwin, who presided over the witch trials of 1692.
The Witch House is located at 310 Essex Street, and it's a stunning example of New England architecture in the 17th century. I've been to many allegedly haunted houses, but in this case, the truth is scarier than sorcery. Swayed by witch-hunt hysteria, Judge Corwin's court sent 20 wrongly-accused victims to the gallows, while others died in jail.
Inside, you can see relics of the diabolical trials. There were documents about witchcraft and demonic possessions, and examples of "witchcake." This not-so-delicious cake was baked with the urine of possibly possessed girls, and fed to the household dog. Somehow, this could reveal whether the ladies were dabbling in black magic.
The upper levels gave me a peek of how limited life was for these Puritan women. The weaving wheel and wood cradle look like something out of a dark fairy tale…
Some theorize that the women "acted out" in response to their oppressive religious/patriarchal environment, leading to the witch-scares and executions.
The Witch House is open daily from mid-March through November. It's great to go inside if you're interested in the daily life and artifacts of the witch-hunting days. However, if you're short on cash, you can just take photos outside.
(Side note: there's a dark electronic music genre called witch house that emerged about a decade ago. Perhaps this could be my album cover.)
We wrapped up our museum escapades at Count Orlok's Nightmare Gallery. Salem MA has a movie monsters permanent exhibition, and it's a classic horror film buff's dream (or nightmare).
This town isn't just about witches –– Salem has grown into a hotbed for all things horror and Halloween especially in October, when the annual Haunted Happenings take place.
Outside Count Orlok's lair, I ran into these old-school monsters… and gave Frankenstein's creature a tip in order to get strangled! (As my friend John S. would say, "I'd buy that for a dollar.")
This private gallery is named after the Draculean baddie in the 1922 classic horror, Nosferatu. Photography isn't allowed inside Count Orlok's museum, so here are snaps from the gift store outside.
The admission fee is well worth it for the life-sized monsters and killers you'll encounter inside. The Nightmare Gallery isn't your typical cheesy wax museum. Made of resin, silicone and other life-like materials, these horror legends are impressively made and dramatically lit, with eerie music in the background of each room.
This mannequin insists, "Hi, I am NOT Slappy." He's been mistaken one too many times for Slappy the Dummy, from R. L. Stine's Goosebumps books.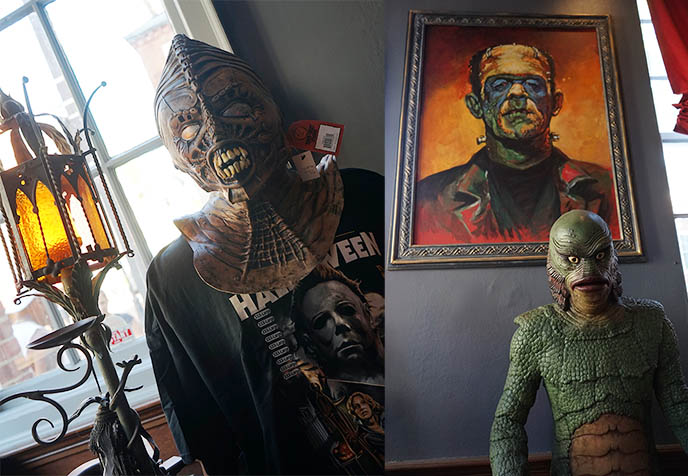 I appreciated the mix of old and new creatures inside Count Orlok's. The tour begins with replicas of silent and black-and-white movie stars, dressed as their horror alter egos. Hello Boris Karloff as Frankenstein's Monster, and Bela Lugosi as Dracula.
The human-sized creatures includes cult characters from The Shining, Halloween, Carrie, Friday the 13, Night of the Living Dead, and Trick 'r Treat. (Can you recognize the masks above?)
You'll also see rare photos of the actors, and actual set pieces or props. I was wowed to see the real upside-down head with crab legs, from John Carpenter's The Thing!
If the terrifying characters above stir your heart, then Count Orlok's Nightmare Gallery is a must-see.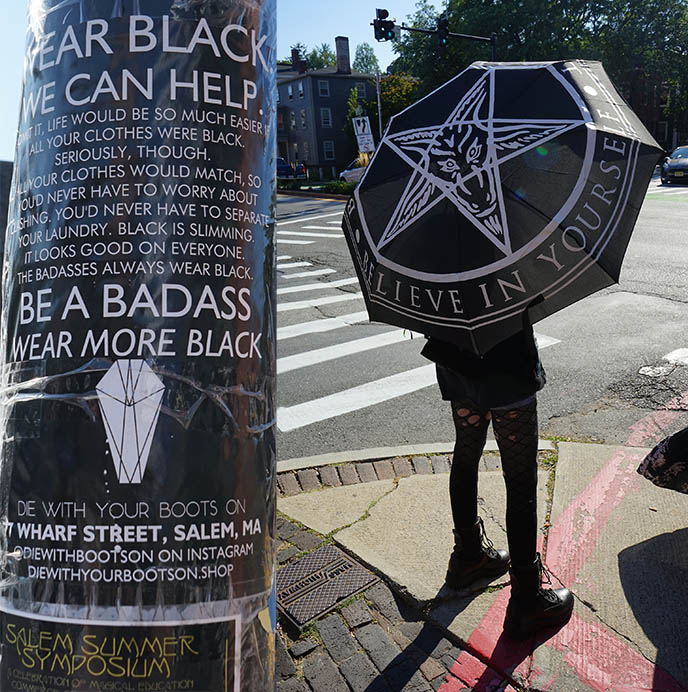 We packed so much into a single day-trip to Salem… this is only part 1 of my coverage! In the next piece, I'll take you inside the most fabulous Goth, vampire and witch-themed indie boutiques. (As you'd guess, Salem is a Gothic shopping paradise, with stores like Die With Your Boots On.)
At any time of the year, you'll find dark and monstrous events in Salem. I'll gladly go back any time to experience more of this Goth destination.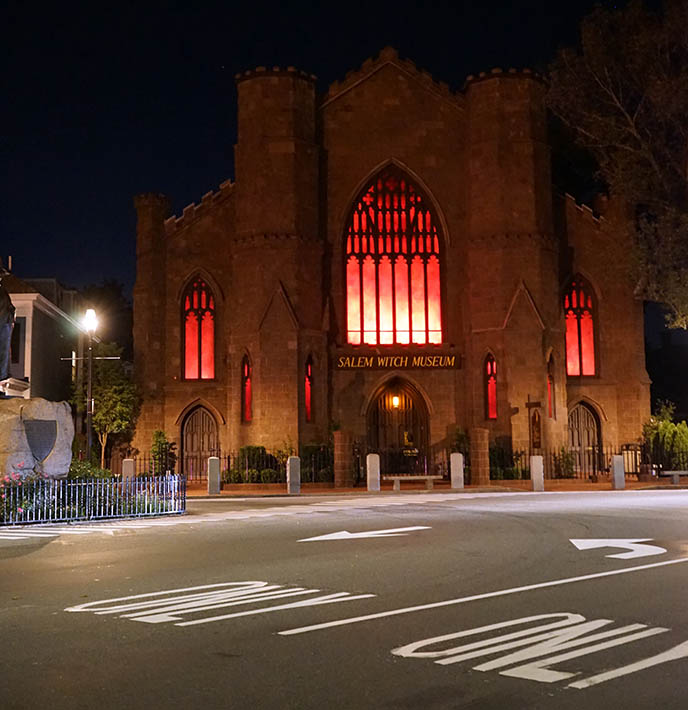 The last train from Salem to Boston departs around 11:30 pm, so if you're staying late, keep an eye on the clock.
Salem is fun to walk around at night. Lots of lively cafes and bars, and the Salem Witch Museum glows red with the fires of hell.
Hail Witches! Thanks to Destination Salem for supporting our trip here. Their website and visitor center (a short walk from the train station) are excellent resources for planning your journey.
PS, speaking of horror: my episode of The Purge TV show airs Dec 17 on USA Network and Amazon! Next, I'll take you behind-the-scenes of my television shoot and set experience in New Orleans.