I hope you were naughty this year… because Krampus is coming!
As we head into the holiday season, I thought I'd put together some Gothic gift guide ideas for you. If you're searching for Christmas presents for your favorite dark soul, then I hope this gifting list will provide some inspiration. 
I'll start with an overview of my favorites, and then delve into the details. For the Beachy Goth in your life, I recommend a Towers Swimwear skeleton bikini, or other alternative swimsuit! 
For Witchy Goths, conjure up this celestial black and white dress from Too Fast Clothing. 
If you're more of a Disco Goth, then Too Fast also has you covered — with halter tops and spider cobweb bellbottoms.
What if you're a Luxe Goth? Then hail to this customized leather cell phone case from Michael Louis.
And for the Crafty Goths out there… Papercraft World makes Satanic 3D paper masks!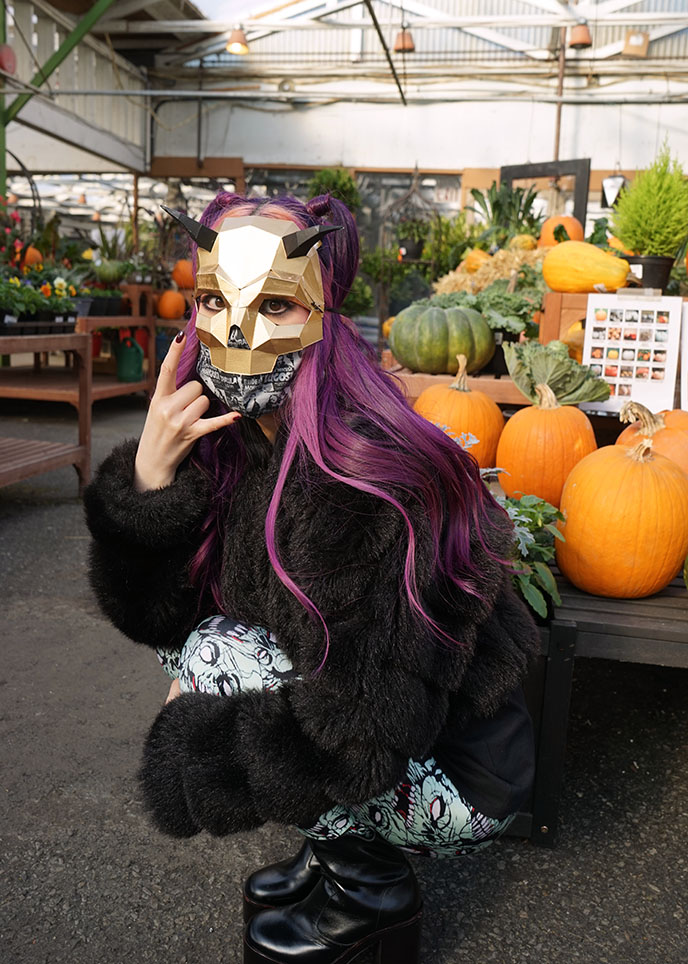 Keep on reading to see photos and reviews for each of these Goth gift suggestions.
(I paired my Paper Craft gold devil mask with zombie tights by Michelle's House of the Strange and Unusual, and black leather platform boots by  Jeffrey Campbell.)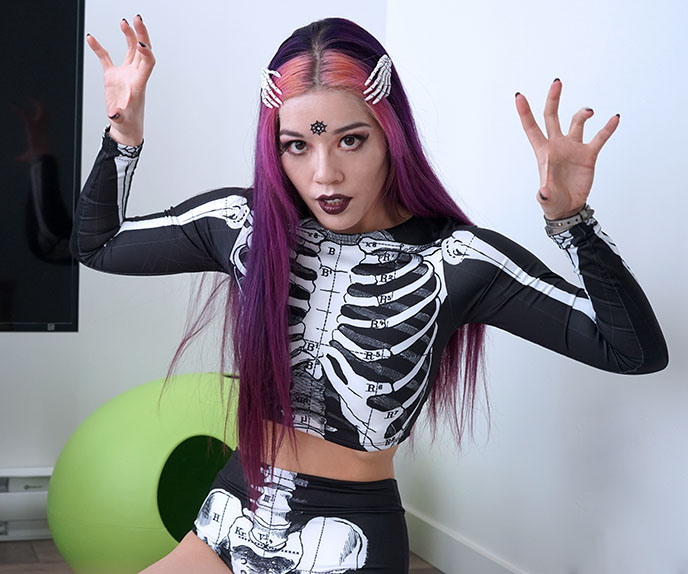 As 2020 comes to a close and the weather grows colder, I'm dreaming of being on the beach… Until then, I can wear my Towers Swimwear skeleton swimsuit at home! The Gothic design is a stand-out, and the long surf sleeves keep you protected from the sun as well.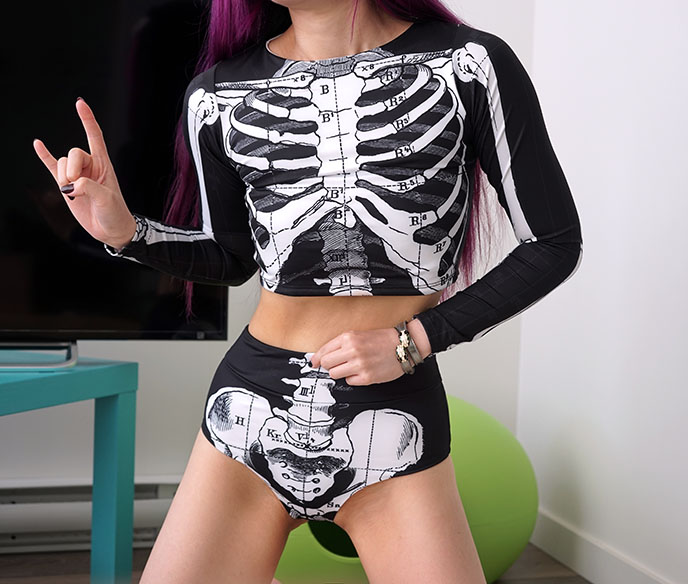 Love the bikini's medical skeleton illustration, which corresponds to the parts of the body. (Can you see my ribs?) Towers Swimwear makes swim designs for men and children as well — using high-quality UV and sea water resistant fabrics.
Towers is an indie company, and their swimwear is 100% made in Colombia. In addition to spooky skull styles, they have other alternative one-piece and bikini designs — I'm eyeing the ones with rainbow tie dye, glow in the dark, and flames. Devil horns to Towers Swimwear — you can see other edgy and rock-inspired swimsuits on their site.
If you're shopping for someone who loves 90s witch vibes, then consider this Gothic babydoll dress by Too Fast Clothing!
Spread a little black magic with their "Xtra Celestial Moon & Suns Lace Slip Dress." Close-up on their enthralling 1990s Goth night sky fabric — featuring constellations, crescent moons, suns with faces, and stars.  
I styled Too Fast's dress with a vintage coat, and Day of the Dead cut-out skull tights by UK Tights. 
The lace trim at the hem, waist and neckline elevate the dress' design. I'm all about playing with different textures.
My two-tone face framing colored hair adds color to the Gothic monochrome. My stylist dyed the front strands on either side of the face with Joico K-Pak Color Intensity. These days, I'm growing out my bangs and doing a middle part.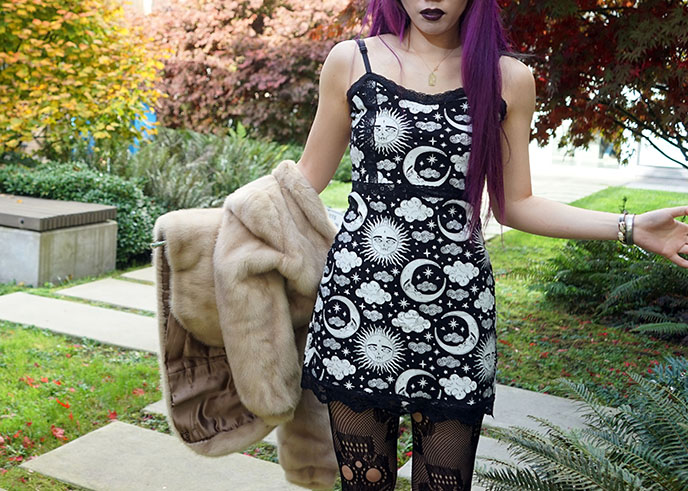 The dress has adjustable spaghetti straps for a perfect fit. Too Fast Clothing carries other devilish designs for men and women — featuring Baphomet, pentagrams, and skulls. 
My hair has grown so much since the last time I cut it (to chin-length) in Feb 2017!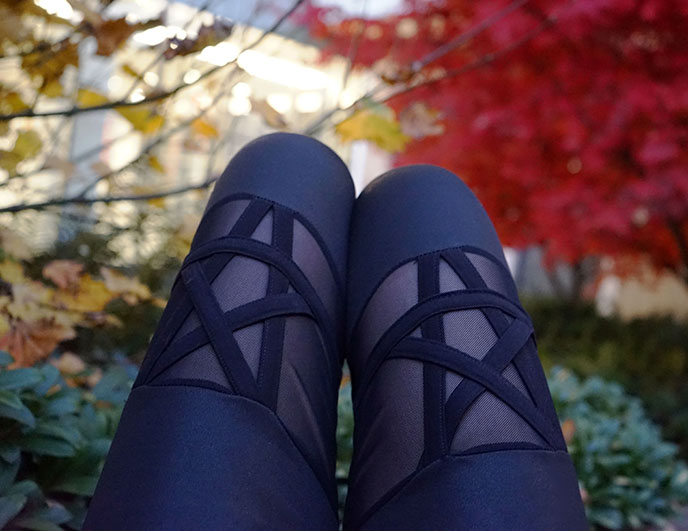 Too Fast Clothing makes pentagram mesh leggings that are easy to wear with oversize shirts and sweaters. Their glitter-infused, stretchy, high-waisted black leggings have a pentagram star at the thighs, with a mesh overly. 
As a disco music fanatic, I've been getting groovy in Too Fast's Bats in the Belfry halter top. It has a flattering white outline, and flying bats and stars on one side of the shirt.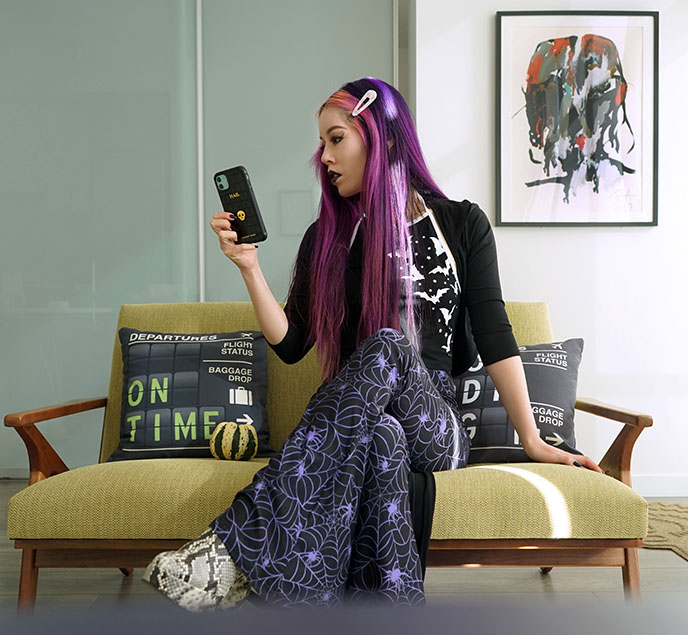 And I'm weaving a tangled web in Too Fast's Hellz Bellz Purple Spider Web Flares. It has a fabulous spiders-in-cobweb print, and wide-legged bell bottom design. 
Ready for a disco party… alone at my apartment. At least I have spooky creatures to keep me company — spot the bats, spiders, skull, and snakeskin (these leather python boots are by Acne).
You can find hundreds of Gothic, Punk and Alternative goods from Too Fast Clothing's site. In addition to clothing for men and women, they carry original dark housewares, shoes, jewelry, bags, you name it. 
Speaking of skulls… Hail to this outstanding smartphone phone case, by Michael Louis!
Each of their protective phone cases are custom-made and fitted, with genuine lambskin leather for a luxurious finish. These slim phone covers keep your phone protected with shock-absorbing material as well.
On Michael Louis New York's site, you can find phone cases of all sizes (Android, Galaxy, iPhone etc). The covers are lightweight and unobtrusive, with perfect cut-outs for the cameras and buttons. I like how you can see a pop of turquoise from my iPhone 11 underneath.  
As you can see, these high-end phone cases are head-turners. Michael Louis NY offers a selection of leather colors and finishes, and you get to customize the words and emoji however you like, at no extra charge.
I chose a gold foil emboss (out of 5 color options), and the cute skull (you can also pick a heart, diamond, star, or other emoji). Then, you can create a custom word or monogram from 6 characters (I went with HAIL). I'm so pleased with the one-of-a-kind result, which suits me to a T.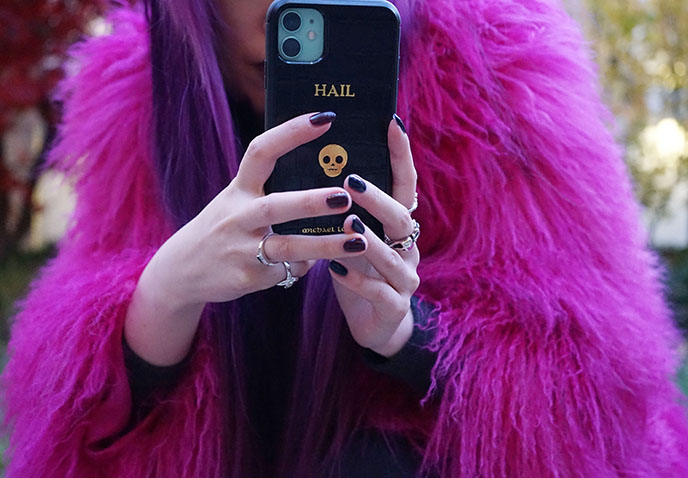 The cases come in various luxury leather finishes (croc, python, pebbled, snake, etc) and colors (pink, green, red, blue, etc).
Michael Louis' designer phone cases are functional as well as beautiful. They're crafted in a shock absorbing rubber/TPU mold, with a raised protective screen edge.
Michael Louis New York sells other leather accessories as well, including wallets and key holders, which can be personalized. 
How would you customize your phone case? On their web shop, you can preview the personalization options before checking out. 
Can't stop staring at my Michael Louis leather smartphone case. Their phone covers and accessories are brilliant and unique gifts for the X-mas season. 
Who's that creeping around and stealing pumpkins?
I spent Halloween raising hell, in my red devil mask by Papercraft World!
I folded and assembled a gold horned skull mask as well, using a Papercraft World 3D kit. Love how these DIY paper masks turned out. 
Papercraft World sells a variety of artistic craft kits, which let you fold and glue together a mask, sculpture, wall art, or other paper item. Their Halloween Masks selection include a number of Satanic designs, like the ones I made above.
Here's how the kits look — you get sheets of hard colored paper, which you punch out, fold, and piece together by numbers. The "map" at the back shows you how to fold the segments (inward or outward). Then you match the numbers, add white liquid glue, and hold the folds together until they stick.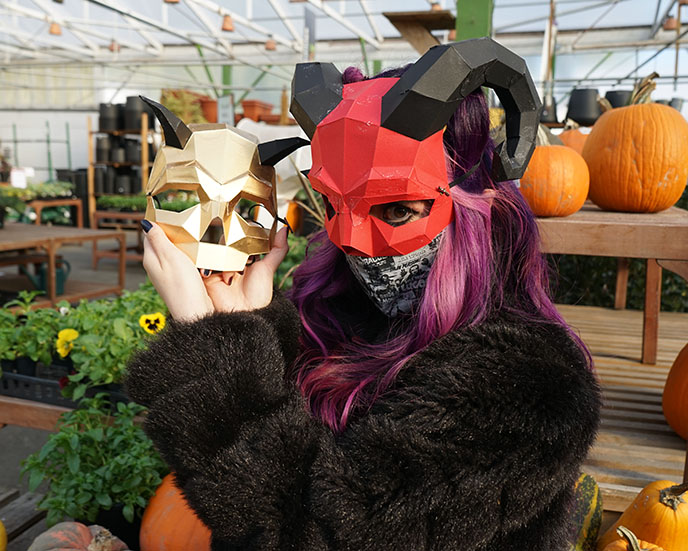 It takes a bit of time and patience, but you soon get the hang of it. I got into the flow of the process, and the result was rewarding — just look at these geometric devilish masks! 
I'm all about natural and eco-friendly Halloween decor — I feel there's too much plastic and waste these days. Papercraft lets you put together a mask using 100% recycled materials, creating a Halloween costume that stands out among the rest. 
Close-up on the round horned skull mask. As you can see, it's made up from strips of paper, which are placed together like a 3-D jigsaw and held together with glue.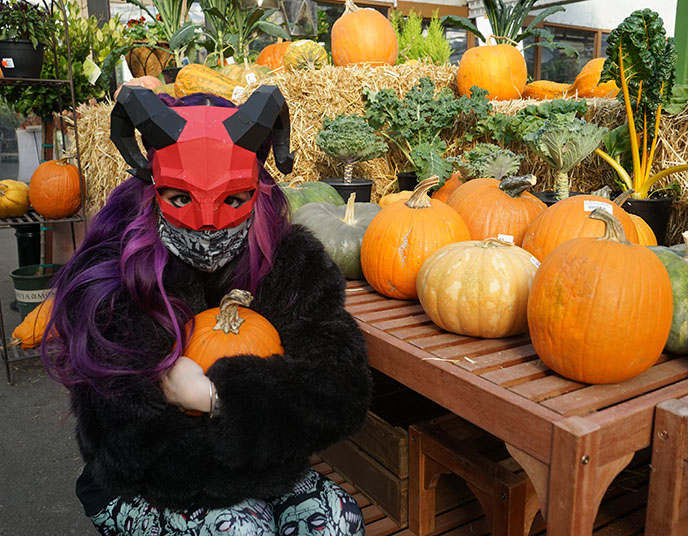 Love the geometric polygonal look of the finished mask. Those black goat horns were the most challenging part.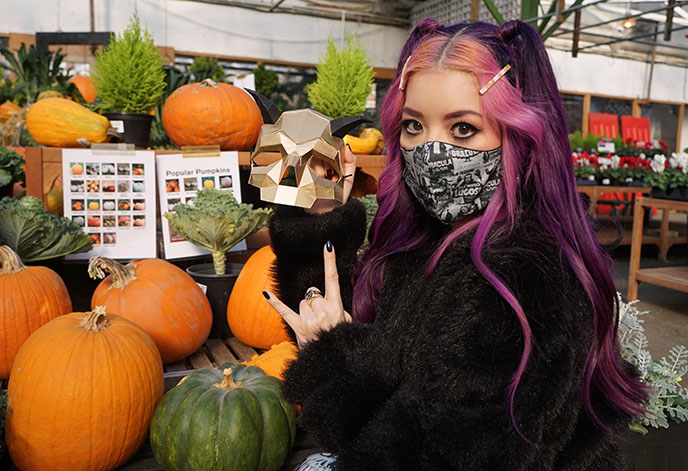 Papercraft has many eye-catching mask designs with cut-outs for the eyes, nose, and mouth. These include a werewolf and pumpkin-head, and cute animals like foxes and panda bears.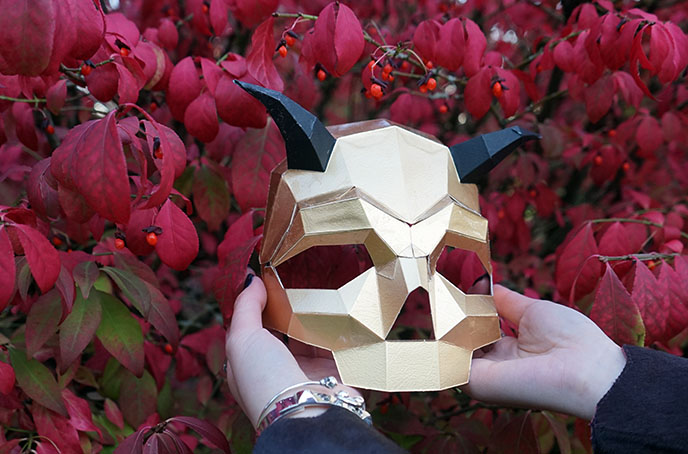 This devil one has a luxurious finish, thanks to the gold heavy paper stock. Each mask includes holes and stretchy string, so you wear it over your face with comfort. 
No need to wait until Halloween — we can wear an occult mask year-round! I styled mine with these exact Jeffrey Campbell Mexique boots. See more styles from this designer below:
In addition to costume masks, PaperCraft has kits that let you create wall art, table or floor sculptures, and other three-dimensional works. 
The kits are fun for families or friends to make together. Patience is key, so set aside at least a few hours, and take your time to make sure everything is properly lined up before gluing. 
A look at my current hairstyle — face-framing front pieces, dyed light pink to contrast with the dark purple in the back, by my Vancouver stylist BlameChad.
OOTD: zombie tights by Michelle's House of the Strange and Unusual, classic monsters fabric face mask by Josie Stevens, and these Jeffrey Campbell Mexique black leather heeled boots.
These photos were taken around Halloween, before there were more restrictions in Vancouver… Looks like we will be wearing masks for quite a while, so we may as well make them stylish. 
If you're looking for an activity to do at home this winter… why not put together a Satanic mask like this? 
Hail Papercraft World — I had fun tapping into my artistic side, thanks to their paper 3D design kits. 
I hope my Goth Christmas gift guide was helpful to anyone looking for original presents (for others, or yourself). 
Last look at my outfit — glad I was able to enjoy Halloween, despite the state of the world. Green zombies tights by Michelle's House of the Strange and Unusual, and these JC Mexique platform shoes.
Shop more Jeffrey Campbell styles below:
I got this BOO shirt in Mexico City last year. The ghosts remind me of the Nintendo Boo character, and also appear to be cracked eggs! (Catch up with my Mexico City stories here.)
I have more Satanic Panic coming your way, in the form of new projects, magazine shoots and articles… including a fashion interview in the New York Times. Stay tuned to @lacarmina on Twitter, Instagram, Facebook and TikTok for updates. 
And remember, you can shop my closet (@lacarmina on Depop) — I'm happy to send you a discounted package from my personal collection.
Stay safe this holiday season… or Krampus will spank you!
"Masks are required…" As they should be, whether you're at the airport or not!
Oh, how it felt exhilarating to board an airplane for the first time since late February. Let me assure you straight off the bat — this was a short and safe local flight with Flair Airlines, within my province of British Columbia. My mission: to report on the outstanding wine region of Kelowna, in the Okanagan. 
(Note: I traveled with Flair in early-mid October 2020, when BC was in Stage 3 of re-opening and greenlighted mindful local travel. Keep in mind that guidelines may always change, so please be diligent when planning  trips). 
Did you know that British Columbia, Canada has a world-famous wine country, located under an hour's flight east from Vancouver?
Read on to see what I experienced at two of the the coolest indie vineyards, Kitsch Wines and Frequency Winery. (I couldn't resist posing amidst the grapes, in a Towers Swimwear top.)
(And I'll share my honest experiences with flying on Flair Airlines… along with a 25% off code [LACARMINA25] that you can use on future flights!) 
This trip wouldn't have been nearly as seamless and stylish without Okanagan Executive Rentals & Concierge. The wonderful owner, Jeremy Giroux, has a fleet of luxury and exotic cars that you can rent, or hire him to drive.
Thanks to Jeremy's kindness and expertise, I got to visit off-the-beaten-path vineyards in Kelowna — and even take a helicopter ride! (Keep reading to see my epic landing at Kitsch Winery.)
But let's begin at Vancouver Airport (YVR). I haven't flown in eight months, which feels like a lifetime for a travel writer who usually averages a trip per month. To my relief, the airport felt empty, and had all the precautions in place (Plexiglass, distancing, hand sanitizer, etc). 
It was my first time flying with Flair Airlines, a Canadian company that offers domestic flights at low prices. As the cheeky sign indicates, they "fly to (too many destinations within Canada to fit on this thing) for less." These cities include Vancouver, Toronto, Winnipeg, and Calgary.
After a smooth check in and zero lineups, I boarded this aesthetically-pleasing Flair jet. The flight from Vancouver to Kelowna takes less than an hour — yet it brings you to a very different region of British Columbia, filled with dozens of top-notch wineries. 
As you can see, Flair's modern interiors gave me plenty of room to distance. Masks are required for all passengers, and everyone on board was great about wearing one. (I researched HEPA filters and circulation, and was reassured to hear that the air on planes actually tends to be cleaner than in restaurants and stores.)
Flair Airlines also gives passengers the option to keep the middle seat next to them empty for an extra $49. 
I settled into my seat, and enjoyed the view from the wing. I felt relaxed throughout the entire ride, and before I knew it, I had landed in Kelowna. 
Flair Airlines already offers low fares, but they're letting me share a promo / discount code that brings prices down even further. ** Enter "LACARMINA25" when booking a flight on their site, and you'll receive 25% off the base fare. (This promotional voucher is valid for all Flair flights for booking and travel until Dec 15, except between Nov 6-15.)
Kelowna is a small and laid-back destination, so it only took 10 minutes to go from the airport to Hyatt Place Kelowna. The hotel opened up a few months ago, and the location is perfect — close to all the major Kelowna wineries, and within walking distance to excellent sushi. I was delighted with the Hyatt's spacious rooms and modern amenities, including a pool and gym that guests can book in advance, to keep within safe capacities. 
Above all, the Hyatt Kelowna staff was wonderful. I loved getting to know the front desk team, who gladly brought up extra towels and packets of Tazo tea. And how lovely to find this gift in my room: reserve chardonnay from local producer Mission Hill, and a bouquet of flowers. 
The Hyatt was excellent at following safety guidelines and maintaining a clean environment. For instance, every morning, guests could take up a packaged hot breakfast box to eat in their rooms. I'll be staying here again the next time I visit Kelowna. 
Kelowna doesn't have Uber, and driving yourself isn't recommended if you're planning on doing wine tastings. The brilliant solution: Okanagan Executive Rentals & Concierge! Owner Jeremy Giroux can drive you to multiple vineyards in a day — in a luxury car — meaning you can simply relax and enjoy (and imbibe).  
Jeremy knows all the best local spots, and offers concierge services to help you plan a ski trip, spa getaway, wine tour, and other experiences in the Okanagan. His fleet of luxurious vehicles (for rent or car service) include a Range Rover, two Porsches, and Lincoln Navigator.
Jeremy is able to make special arrangements for his clients — including a helicopter ride above Kelowna! In partnership with Private Sky Aviation, he made it possible for me to experience a short tour of the skies with Coldstream Helicopters.
Coldstream Helicopters is a Canadian company with a wide selection of aircraft — from the large red Airbus Super Puma (Firecat), to a small Bell 4-seater. Whether you're traveling with a group or alone, for pleasure or for business, they'll have a rotorcraft for your needs. 
As soon as I met chief pilot Albin Neururer, I knew I was in expert hands. He has over 15 years of flying experience, and it shows in the calm and clear way he taught me how to safely get in/out of the copter, what to expect, and ways to be aware at all times.
A smooth liftoff later, I was taking in these spectacular views of Kelowna and Okanagan Lake. Albin pointed out notable sights, such as a Swarovski spa resort and new housing developments by the water.  
Top Gun vibes, anyone? This aviation headset let me communicate with the pilot, while cutting out noises. (My updated pink face-framing dyed hair is by Chad Evans of BlameChad in Vancouver.)
Such a delight to watch Albin work the controls with ease. I think these views are enough to convince you to add a helicopter ride to your Kelowna bucket list. 
After about 40 minutes in the air, we landed in style. Touching down in Kitsch Winery, I felt as if I were one of the ritzy characters in the HBO "Succession" TV show. 
The helicopter's descent was so smooth that I didn't even notice when we were on the grass. (This is the lawn right by the Kitsch manor — what a way to make an entrance!) 
A wave goodbye to Coldstream Helicopters. Jeremy can arrange a journey like this for you too, which can land at nearby ski slopes or resorts.  
I was greeted with a smile by Ria Kitsch, who runs Kitsch Wines with her husband Trent. They're successful entrepreneurs that also founded underwear and cannabis businesses — and they've brought their signature edgy fun to their namesake winery. 
Kitsch is a local family business throughout, with Okanagan roots that go back to 1910. When the helicopter landed, Trent and Ria's two children ran over and brought pink flowers as a greeting! 
I was thrilled to do a private "moke" vineyard tour at Kitsch (which anyone can book, for an in-depth and personal experience). This 90 minute VIP tour let me explore the grounds and taste various wines, with expert guide Katie (@katies.wine.life on Instagram).
Kitsch specializes in small batch, sustainably-grown wines — and they're known for their playful and non-elitist attitude (they love to blast 90s hip hop, for example!). Their patio attracts a young artsy crowd in the summer, and the family plans to expand their operations to include other creative experiences. 
Let's taste. As a Chablis lover, I was a fan of their natural oak chardonnay. I also loved the Maria's Block Riesling, which has sweeter citrus notes.  
Katie drove me around Kitsch's grounds in this Moke, an electric front-wheel drive recreational vehicle favored by California surfers. What a treat to see the process from grape to glass, and take in these gorgeous views.
She taught me that pinot noir is known as the "heartbreak grape," since it can be delicate and difficult. I sampled the dark grapes on the vine, followed by the silky wine that reflected East Kelowna's unique terroir. 
Cheers to Kitsch's Blanc de Blancs chardonnay champagne, a joyful glass of barely-there bubbles.
Kitsch's tasting room is closed for the winter season, but they'll be back in spring 2021. Until then, you can pick up bottles of wine from their web shop.
Kitsch grows Riesling, Chardonnay, Pinot Gris and Pinot Noir. I got to walk through the fields and try grapes straight from the vines — something that most vineyards don't offer. (Unlike grocery store grapes, these fruits are small with seeds, and full of deep flavor.)
You won't find any snootiness at this vineyard. Kitsch's staff is young and energetic, with a genuine passion for wine.  
I went at the tail end of the season (in October), which let me avoid the high heat and crowds of visitors that congregate in Kelowna in the summertime. (Wearing a skeleton print surf top from Towers Swimwear.)
I wish I could have taken more bottles home in my suitcase! (If you can only choose one, the pinot rose is a universal pleaser.)
Before you go, be sure to take photos in front of the impressive manor. Thanks Kitsch Wines — I think you can tell I learned a lot, and had fun on their tasting tour.
Jeremy was stationed and ready to whisk me off to the next vineyard. His company provides exotic car rentals and shuttle services, with outstanding customer service. As a long-time local, he has a wealth of knowledge about local spots, and can tailor the trip to best fit your needs. 
Right now, Jeremy has winter pricing in effect (it's the off-season, so it's a great time to contact him). He excels in luxury ski shuttle services — he can take you to nearby slopes at Big White, Revelstoke, Sun Peaks, and more. Jeremy also does wine tours year-round in Okanagan. 
Very glad I had Jeremy to provide expert advice and take me around, so I didn't have to worry about directions or logistics. Reach out to Okanagan Executive Rentals & Concierge to learn more about his services — I can vouch that he'll make your Kelowna trip all the more enjoyable! 
I was keen to feature offbeat and lesser-known BC vineyards, rather than the big-name ones. Jeremy recommended Frequency Winery, which I had never heard of. As soon as I saw the psychedelic bottle labels and Jimi Hendrix art at the entrance, I knew this was my type of place. 
Owner Tony Lewis studied audio engineering, and he combines his love of music and wine in a single space. Frequency has an impressive recording studio, where local artists come to make magic. 
Tony held jam sessions in the barrel room of his family's vineyard. He noticed that the wine closest to the drums was settling faster than usual, due to the sounds and vibrations. This inspired him to start Frequency, a winery that infuses wine with music.  
Anyone can come in to sample Frequency's "Thank You" wines. The white is a "supergroup" of seven varietals, which come together in a grassy citrus harmony. The red is a warm and smooth gamay noir — a grape that tends to fly under the radar, much like this winery. If I had to choose a favorite, it would be the rose, a floral "fab four" of sauvignon blanc, pinot gris, viognier, and merlot.
I also loved the Grateful Vine sparkling wine, which uses wild fermentation (from native yeast found in the vineyard). The bottle is covered in the names of people who contributed to Frequency. As Tony said, "Here is to letting go of limiting beliefs, and finding gratitude as our permanent attitude." 
Anyone is invited to help move the wine's sediments with music of their own. There are several pianos and a drum set that anyone can play… witness my amateur attempt at percussion! As you can see, Frequency is one special place with a unique philosophy. 
A clink of wine glasses to Hyatt Place Kelowna — a welcoming and modern home away from home. 
I'll forever remember my Coldstream Helicopters ride that landed in a vineyard. A million thanks to Jeremy Giroux of Okanagan Executive Rentals for making all these Kelowna experiences possible.
This is only the "first pour" of my Flair Airlines wine trip to Kelowna… I have much more coming your way, including tastings at Naramata Bench and Penticton.
And I'm eager to fly again with Flair Airlines — if you have any questions about the experience, leave a comment and I'll be sure to reply! 
Don't forget, you can book a Flair flight using my promo code at checkout —LACARMINA25 for a 25 percent reduction from the base fare. (Valid for flights for bookings and travel up to Dec 15, except Nov 6-15.)
Have you flown recently? If so, what was your experience like?
(Feels like eons since I did an airport OOTD: Backpack Spiral UK, yellow Minions suitcase Away Luggage, mask by Josie Stevens, crop top Cryptic Apparel, satanic joggers Long Clothing.)
PS, thanks for registering for my upcoming TED Talk — tickets are now sold out! Can't wait for you to hear my TEDx speech about Goths on November 15, and it'll be up on the Ted.com site in the months after. Til then, you can see my TED promo video here on @lacarmina YouTube.