Although I've been going to Japan since I was a child, there's so much I have yet to explore. Case in point: I haven't spent much time in Yohohama, the city located about 50 minutes south of Tokyo.
On my most recent trip with photographer Joey Wong, we went to investigate Yohohama's cutest attractions — including the Miffy cafe (Dick Bruna Table)…
and an Anpanman museum! Read on for the kawaii story, as well as a visit to Shibuya Sky (the relatively new observation deck) and evocative night-time shots of the famous Scramble crosswalk.
The Miffy Cafe in Yokohama is called Dick Bruna Table, and it's difficult to find even after asking around and using Google Maps… so give yourself plenty of time.
Access / Directions: You have to purchase a ticket to the subway or use your Suica pass, and beep to go inside the JR gates of Ekyutoedishon Yokohama, in order to access the Miffy theme cafe. In other words, it's within the inner gates of Yokohama Station.
Look who is here to greet visitors: my favorite cute character, Miffy the Dutch bunny! She's the brainchild of Utrecht artist Dick Bruna, hence the name of the restaurant.
Inside, you can shop for special items found only in Japan, and decorated with Dick Bruna's minimalist bunny rabbit.
Miffy peers out from all over the themed cafe — including from the top shelf, next to the wine bottles. (Miffy is not only for kids — you can get buzzed at her theme restaurant in Japan.)
The attention to detail is impeccable — check out the napkin and the peeking Miffy on the wall. I wore a black purse from the Miffy store for the occasion. (I got it at the Miffy Style boutique at Tokyo Character Street, see the post here.)
Love the presentation of the cheesecake popsicle! It comes with dabs of fruit sauces, and fresh whipped cream with mint.
The other cute-faced character is Dick Bruna's black bear.
This chocolate cake pop was as scrumptious as it looks — moist, and perfectly paired with raspberry sauce.
I'm happy to see that Miffy has conquered Japan (she has several shops and the Dick Bruna Table cafe). This cloud lamp is by my friends Mr Maria in the Netherlands (remember when I visited their studio?)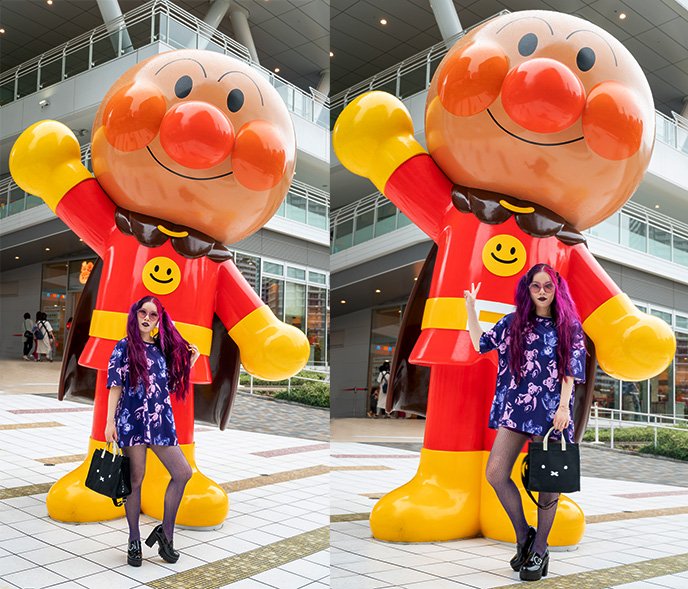 Miffy isn't the only round and kawaii mascot to dominate Yohohama, Kanagawa… Look at the height difference between me and this massive Anpanman statue!
The red bean pastry superhero stands in front of Yohohama's Anpanman Children's Museum — a huge space to get immersed in the anime character's world.
The rainbow staircase and kawaii design are on point.
There are many other J-pop culture attractions in Yokohama such as Gundam Factory, Peanuts Diner and Snoopy Town shop, Cup Noodles museum, Red Brick Warehouse, Marui and Sogo department stores…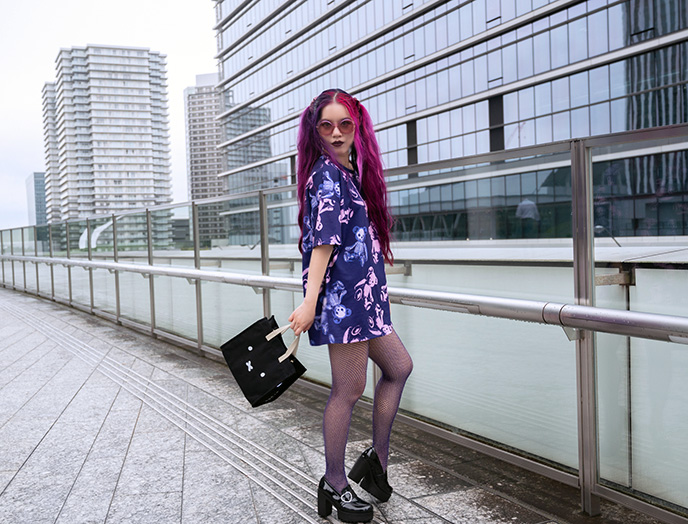 It's also fun to walk around the harbour area (there are various skywalks), stop for sushi, and take photos.
From Yokohama, you can take the rapid express Tokyu Toyoko Line — and arrive in Shibuya in under an hour. Here's the scene at the iconic Shibuya subway station, where Hachiko the dog statue sits.
Photographer Joey Wong and I went up to Shibuya Sky, the360° open-air observation deck located about 230 meters above the ground.
Shibuya Sky lets you look out from the roof of the Shibuya Scramble Square skyscraper. It was raining that day, so we looked out from the big windows that circle around indoors.
Joey Wong took these remarkable long exposure photos from up above, showcasing the energy and neon lights of Shibuya.
We then walked around Shibuya — one of our favorite Tokyo districts for fashion, pop culture, food, and fun.
On his Nikon mirrorless camera, Joey Wong captured slices of life in Shibuya.
Quite a few Shibuya boys in punky street style gathered around the Shibuya station entrance, handing out flyers.
The noises, lights…. you have to be there yourself to experience Shibuya!
Many young people come here to dine and shop (I'll take you inside the newly renovated Parco Department Store in an upcoming post).
I always stop by Shibuya 109, the youth / street style department store. The building features the new 109 logo design.
One thing has not changed since Shibuya 109 opened in 1979.. Japanese schoolgirls love hanging out here! The mall is full of fashion boutiques blasting music, and there are purikura booths on the top floor.
Shibuya never sleeps — many place are open 24 hours.
You'll still see Lolita-ish style in Shibuya. These ladies gathered by Toho Cinemas.
Joey Wong's long exposure turns the trains into zip of lights.
The award for most stylish school uniforms goes to Japanese schoolgirls, of course.
A lens flare at the famous Shibuya Crossing, which is the busiest pedestrian crossing in the world. The lights stop entirely, and hundreds of people walk across in every direction.
No wonder it's called Shibuya Scramble Crossing… the feeling is one of controlled chaos!
Above the cross-walk, you'll be bombarded by flickering billboards and colorful signs — like one advertising the Rilakkuma bear streaming show!
Shibuya scramble / crossing features in many TV shows and films, such as Alice in Borderland on Netflix.
Have you been to Shibuya or Yohohama? I hope these images convey the magic of being here — and I can't wait to go back!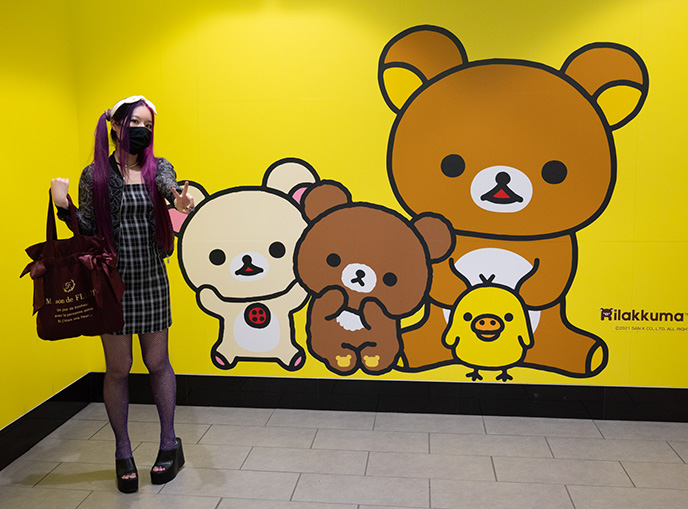 Japan is the land of the cute (kawaii)… and if you want to see all your favorite mascots in one spot, then Tokyo Station Character Street is the place to be! 
Located in (obviously) Tokyo Station, Japan's "First Avenue" underground shopping area contains about about 30 stores dedicated to kawaii characters like Rilakkuma (above), Hello Kitty, Pikachu, Kirby…
… and my personal favorite, Miffy the bunny. She's dressed in a train conductor uniform because you can find limited edition themed goods here, along with every cute-faced plush toy imaginable.
Follow along for my Tokyo Character Street shopping guide, which includes a photo-packed tour of the cutest anime, manga and kawaii stores. (All images by Joey Wong.)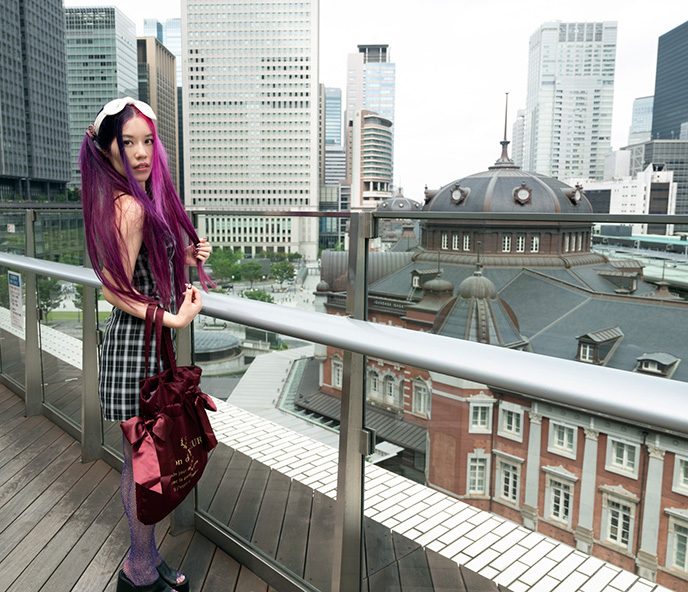 To get to First Ave Tokyo Station, simply head to Tokyo Station in Marunouchi. It's one of the capital city's biggest transit hubs, as you can take the shinkansen (bullet train) as well as multiple subway lines.
I'm standing in front of the Tokyo Station Hotel. The underground is large, so look for the signs leading to a basement shopping area called Character Street, or First Avenue Tokyo Station.
But first, a tax-free shopping tip! Bring your passport if you're a traveler, and you can get a tax refund on anything you buy here.
First, head to the red-and-white Tax Free Booth on the ground floor of Tokyo Station. (Look for signs, or ask someone if you can't find it). Show the staff your passport, and they'll staple in a form that shows you're an "alien" and therefore do not need to pay tax.
Now, you can shop til you drop for big-eyed cuties. After you've spent all your yen, head back to the tax-free booth to show them your receipts, and you'll get the tax refunded to you.
Last fall, I was in Japan on a business visa to report on Tohoku's food culture. In Japan, it seems every city, company or movement has a cute mascot: I got the Sobachi soba-bowl dangle in Morioka!
Be prepared to be overwhelmed when you enter Tokyo Station Character Street. There are cute boutiques as far as the eye can see, themed after Moomin, Nintendo, Domo, and much more. Here is one dedicated to Kamen Rider, the creation of manga artist, Shotaro Ishinomori (he has a space-like anime museum in Ishinomaki.)
The stores are constantly changing, so chances are you'll run into adorable creatures that are unfamiliar to you. (We did our best to photograph as many as we could for you).
For example, I think these are kawaii-fied versions of We Bare Bears, but I'm not certain (correct me if I'm wrong.)
The giant plushes and cushions are tempting, but there are also smaller items like keychains if you need to save space in your suitcase.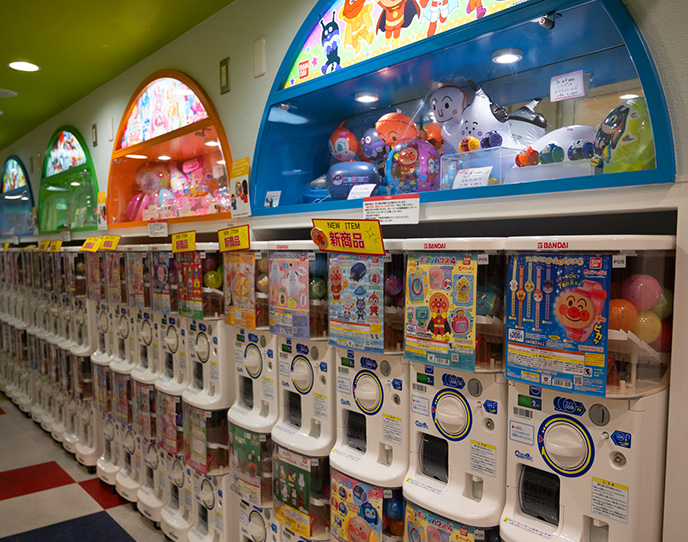 Character St / First Ave also has a room full of gashapon machines (I spot Anpanman at the end). Put a coin into the vending machine, and you'll get a random prize.
Studio Ghibli remains one of Japan's most beloved franchises. Hayao Miyazaki's Cat-Bus and other imaginative characters greet visitors to the store.
How can you resist giving Totoro and friends a squeeze?
I was delighted to see No Face from Spirited Away, which is my favorite anime film. Go see it if you haven't; it's currently on Netflix along with other Miyazaki masterpieces.
Not all of the mascot shops are Japanese. Case in point: Snoopy Town, which had Halloween-themed items at the time.
One section of Tokyo Station Character Street contains displays from most of the shops. On the right: Koupen-chan, a baby penguin with a wand.
Sumikko Gurashi has many fans worldwide. Tokyo Station opened a new theme cafe, which serves Sumikkogurashi sweets and savory dishes decorated to look like these funny faces.
Of course, I knelt before my favorite :x – Miffy!
Although Miffy looks like a Japanese icon (even taking on the form of a daruma), she was invented by Dutch artist Dick Bruna in 1955 — two decades before the birth of Hello Kitty.
Dick Bruna's minimalist character designs remain as impactful today — just look at how he conveys expressive puppies, lions and elephants with a few strokes and circles.
Tokyo Station's Miffy Style store has only-in-Japan designs like calendars, stationery, bags, sweets, baby items, accessories like umbrellas…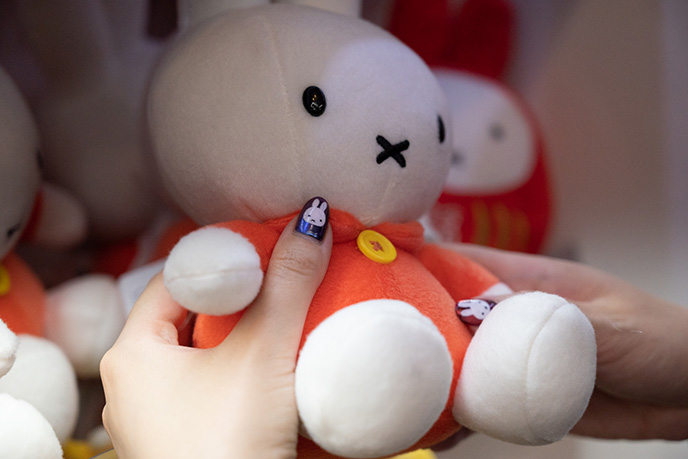 And rows of plush Miffies. (Soon, I'll take you inside the Miffy Cafe in Yokohama too.)
Love how the bunny put a sheet over her head to become a ghost. I'm such a Miffy fan that I've been to her attractions worldwide, including her Nijntje museum in Utrecht, the Netherlands.
I also have an older post about visiting Tokyo Character Street here, so you can see how the shopping district and stores have evolved. (My Miffy gel nail art is by Glam Nail Studio in Richmond, Vancouver BC.)
Many of the shops have cross-overs. Sailor Moon and Sanrio did a collaboration.
Of course, there's a Sanrio shop with goods featuring Pekkle the duck, My Melody, Pompompurin, Pochacco and others.
There are photo areas and collectibles for magic girls, anime, and manga as well. (My bag is from Maison de Fleur, a Japanese accessories label.)
Such a wide variety of character designs and fandoms, all in one underground shopping area.
Doraemon the robot cat is waiting for you. Big eyes and roundness are the signatures of Japanese kawaii.
Not surprisingly, the Pokemon Store was one of the busiest.
Pikachu and all your favorite pocket monsters are on the shelves.
Got to catch them all! It's easy to spend a lot of yen at Tokyo Station's character street, so don't forget about my tax-free tip at the start of this story.
I'll end with this funny shot… only in Japan, you'll find someone with a 666 Freemason t-shirt hanging out among the kawaii stores!
Have you explored the Tokyo Station area? For more, check out my Tokyo Character Street images from a few years ago to see the differences.