Kiss Me… if you want to get Purged!
Can you tell I'm already in a Halloween mood? I'm relieved that scary season is back — I always feel most "me" at this dark time of year.
To celebrate, I'm sharing my Gothic travel guide to Paris, France — including a visit to the Catacombs and famous Pere Lachaise cemetery.
And I also have a fun announcement… Blumhouse Productions is flying me to New Orleans, to be part of the Purge TV show and report from the set!
I'm sure you've heard of Blumhouse, as they've released some of the most terrifying horror movies in recent years. I'm a huge fan of The Purge, Paranormal Activity, Get Out, Insidious, Split, Happy Death Day, and the new Halloween (with music by John Carpenter, godfather of synthwave!)
Right now, Blumhouse and USA Network are filming season 2 of  The Purge TV show (one night a year, society becomes lawless — so you can pillage, kill and Purge to your heart's delight). They're flying me to New Orleans, where the series is being shot, to go behind the scenes. I'm also going to be in an episode, as an extra: you'll see me in a big finale scene.
(I got so excited about this opportunity that I decided to cosplay as Kimmy, the evil candy girl from "The Purge: Election Year!" She wears this bloody "Kiss Me" mask as she wreaks havoc. I took a plain white masquerade mask, and covered it in white caulking, paint… and real blood?)
Ready for the Commencement? You're invited to follow along my Instagram @lacarmina to see my horrific adventures in New Orleans, with The Purge TV show!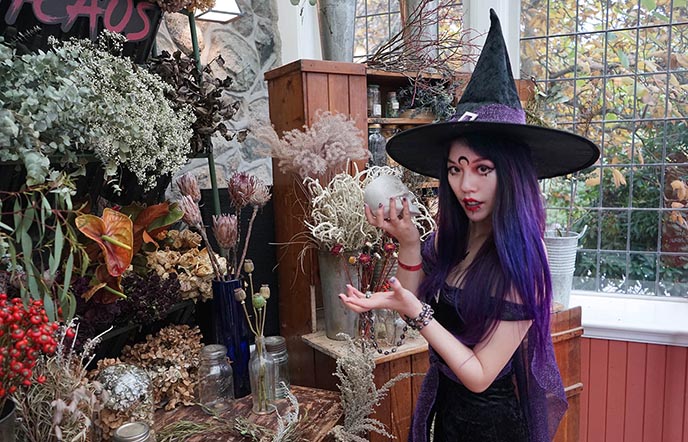 I'll also be visiting Boston and Salem, MA — center of the 17th century witch trials. Can't wait to get my Witch on, in one of the most Gothic places in the world. Keep your eyes peeled for stories from Salem, a place I've wanted to see for years. (Photo from last year's Netflix Spellman House for the Chilling Adventures of Sabrina TV show.)
And I have two more trips coming up in October… I'll reveal more soon. This is going to be the best Halloween ever, muahaha.
Until then, I'm thrilled to release my Gothic travel guide to Paris, France! 
Let me take you to the darkest, spookiest places in the city, including The Catacombs of Paris. (I know many of you have been asking me to cover this ossuary, for years.) We'll encounter thousands of human skulls and bones…
… and hunt for bats and vampires in Père Lachaise Cemetery. (Above is a devilish winged symbol I found on a tomb.)
Finally, we'll unwind with a glass or several of absinthe, at Cantada II — the heavy metal absinthe bar that Anthony Bourdain visited. 
Let's begin our Gothic tour of Paris with a stroll through Père Lachaise Cemetery.
The Paris Tourism Board connected me with Jacques Sirgent, vampirologist and author. He also curates le Musée des Vampires, a collection of obscure vampire objects, and runs walking tours that show the darkest aspects of the famous graveyard.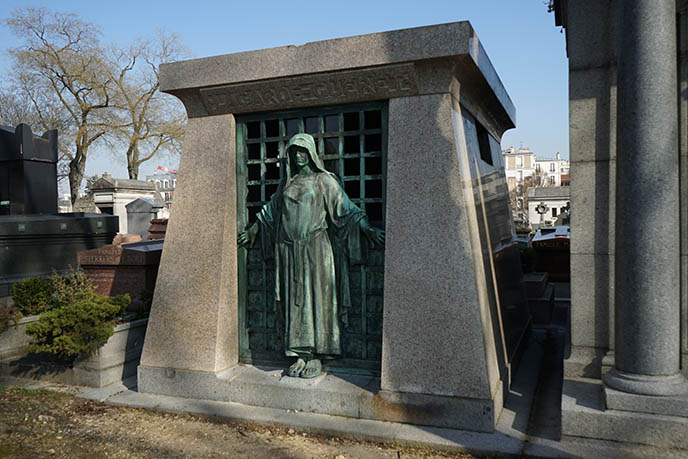 Père Lachaise Cemetery opened in 1804, and stretches over 110 acres. The burial ground is named after Louis XIV's confessor, and is the final resting place of many famous artists — including Melies, Proust, Moliere, Ingres, and Jim Morrison.
Jacques Sirgent knows every corner of cemetery, and has uncovered its most haunting secrets. He showed us desecrated graves — like this one, with Jesus' arms removed — and places where he found the remains of twisted, occult rituals.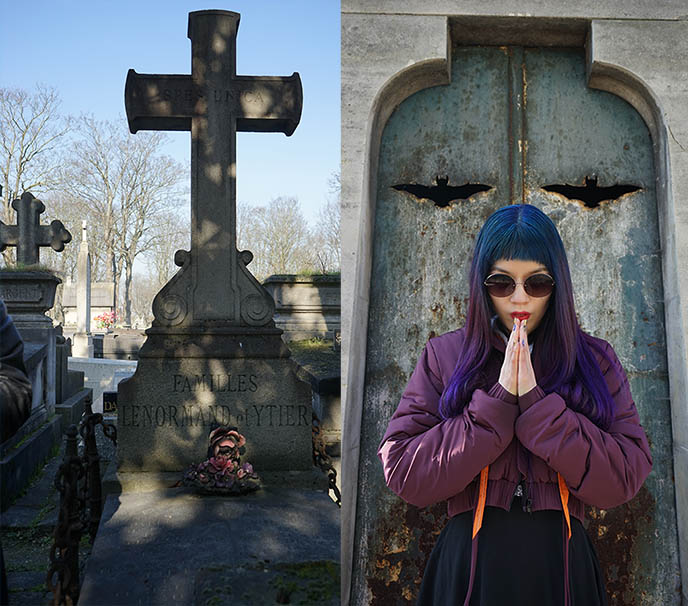 Pere Lachaise is a Goth wonderland. We wandered past decaying flowers under stone crosses, and mausoleums guarded by bats.
(My silk cropped jacket is by Charli Cohen).
Jacques pointed out dark details, such as this figure with what appear to be horns and batwings. The 19th century French mausoleums are beautiful to behold.
Don't miss the grave of Oscar Wilde, featuring a 1914 sculpture by Jacob Epstein. This winged deity in motion is inspired by Wilde's poem The Sphinx. (Officials had to put up a glass barrier, as too many people were kissing the stone).
Jacques told us tales of his strange discoveries and theories at Pere Lachaise. He suggests that this coffin-shaped grave for Leduc is linked to Vlad Tepes, the real Count Dracula. Fittingly, it's marked with bats, always in the dark, and has no cross.
(I'm wearing a Jolie dress by Parisian designer Valfre.)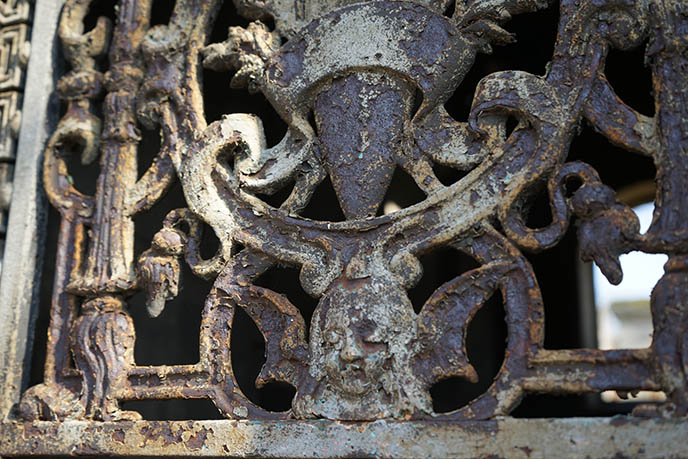 If you're visiting Paris, be sure to wear your finest mourning garments, and hunt for bats and vampires at Père Lachaise.
For a more morbid attraction, you've got to make a pilgrimage to the Catacombs of Paris!
The catacombs can only hold 200 visitors at a time; book a ticket online in advance, or arrive at off-hours to avoid waiting in a long line. A head's up: you have to walk down 131 steps, and up 112 at the end, so the site may not be accessible for everyone.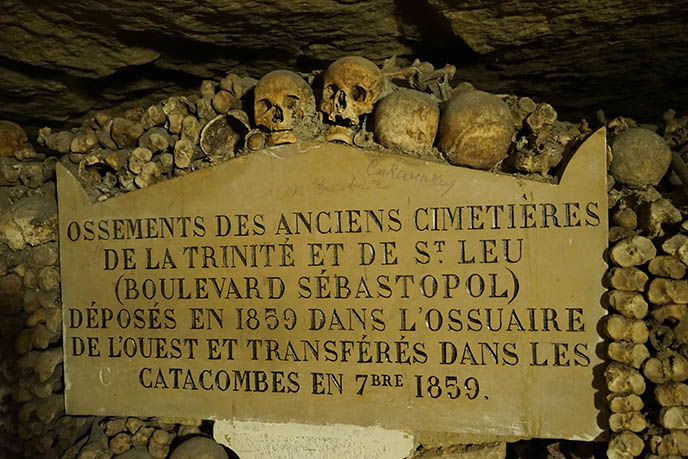 It doesn't get any spookier than this subterranean collection of the dead. The Paris Catacombs hold the skeletal remains of more than six million people!
In the late 1700s, Paris' cemeteries were over-crowded, and rotting corpses were spilling out. As a solution, officials unearthed, blessed, and stacked mounds of bones in the city's former limestone mines.
The Goths of the 19th century enjoyed hanging out in this bone repository, as you can see in the drawing above.
As you creep through the Catacombs, you'll be surrounded by tall stacks of skulls and bones. I felt quite at home among the dead, but the "dry random bits" at the top made me shiver.
"Dem bones" are rather artfully arranged. Just when you think you've reached the end of the tunnel, you'll step into yet another passage filled with femurs and crania.
I learned that only a small area of the Catacombs are open to the public. Some urban explorers known as "Cataphiles" illegally sneak into secret entrances, and hang out in the dangerous restricted zones.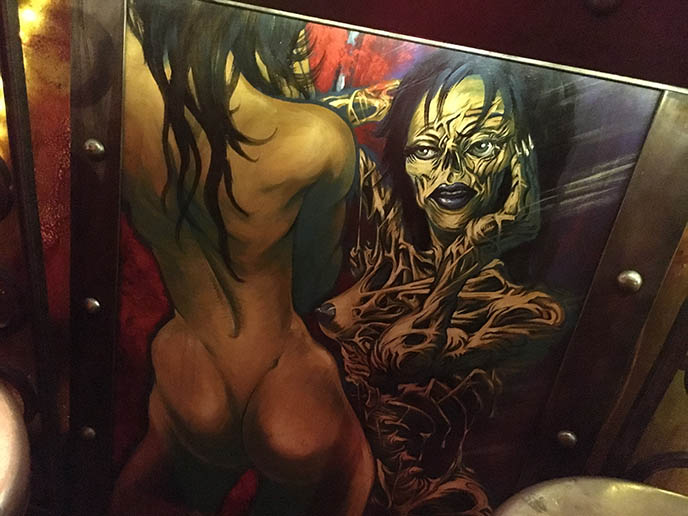 The ghoulish theme continued that evening at Cantada II, a heavy metal absinthe bar in the 11th arrondissement.
I learned of Cantada II from Anthony Bourdain's Paris episode (RIP). With blood red walls, and creepy zombie / monster art everywhere, this was my kind of place.
Cantada II has dozens of absinthe bottles from around the world, which you can order on the rocks, in a cocktail, or served with a flaming sugar cube and water drip from a vintage vessel.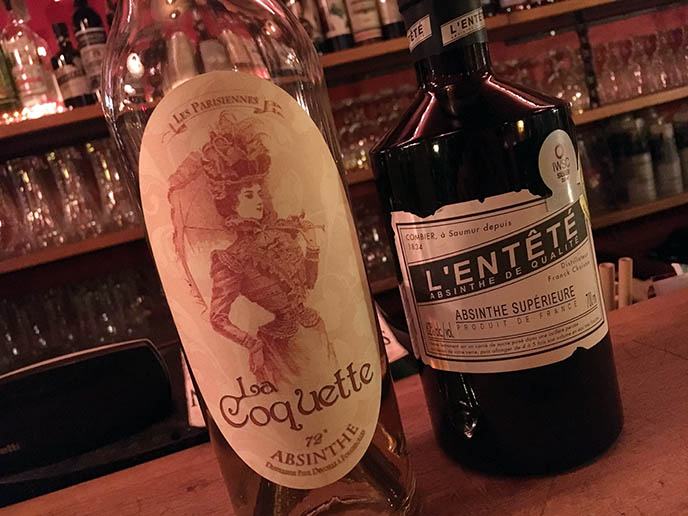 Don't expect a ritzy fin-de-siecle environment: Cantada II blasts heavy metal music, and draws in a gritty alternative crowd.
Since I was in Paris, I stuck to French absinthes including La Coquette, and L'Entete. Everything is well priced, and there are beers and spirits as well.
Creep past the viking skeleton, and enter a crypt that doubles as a performance space. You might encounter burlesque, pole or tribal dancers at "Cabaret du Neant," or hipster singing hard rock karaoke.
So happy I got to experience Cantada II absinth bar, and all these spooky sites, while traveling in Paris.
Since I'm in a Halloween mood, we'll end with a few "batty" outfit posts that I hadn't shared on the blog. Sourpuss Clothing sent me this Gothic bat baseball tee, faux fur leopard print jacket, and black mini-skirt.
I paired it with a bone-shaped hair clip, Jeffrey Campbell platforms, and a Miffy purse from Hong Kong. (The Miffy lamp is from Mr Maria.)
This Sourpuss faux fur cheetah print jacket is a vibe, no? Love animal prints, and the motto on their long-sleeve top: Support your local working stiff, Monster Mortuary!
Release the bats… and bunnies! Here's the head-to-toe look, which is perfect for fall weather (so happy it's no longer so hot outside). Hail Miffy, my favorite cute mascot, as you well know.
This summer, I didn't go anywhere without this Lack of Color bucket hat.  The cotton-canvas material is light and foldable, and the black color matches everything. It's perfect for taking along on a day out, and can be worn with the brim pushed up or down.
What I wore to see Perturbator in concert. Top by Turboluv, a synthwave / outrun / retrowave clothing label. The pharoah leggings are by Cryptic Apparel.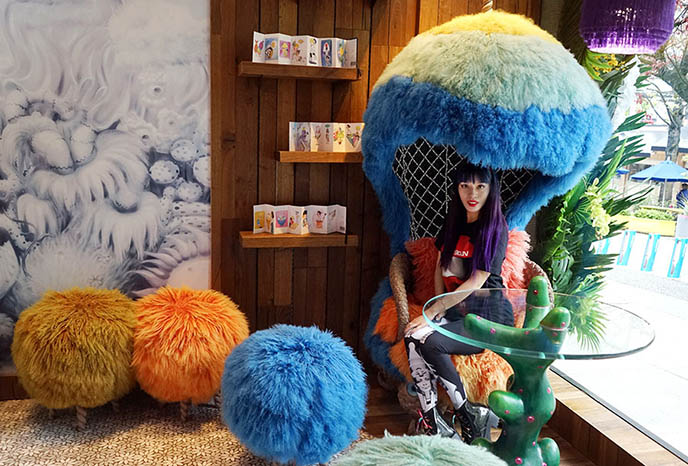 I paid a return visit to the Laurence and Chico cafe in downtown Vancouver. This time, I got to sit in a different fuzzy critter chair in the whimsical high fashion cafe.
I also checked out Hail Mary's Vancouver, a kitschy theme bar with sacrilegious cocktails and Virgin Mary decor all over.
Adieu to Paris for now… here's a final look at the Arc du Triomphe, lit up at night.
I hope you enjoyed my spooky, alternative guide to the city. For other tips (including museums, where to stay, and what to eat), you can consult my first Paris travel article here. A bientot, Paris.
"This is not a test." I'm truly off to get Purged!
Check out my Instagram @lacarmina posts and stories starting today, to see what I get up to, on the set of The Purge TV show in New Orleans. It's going to get bloody… and you're going to love every second of it.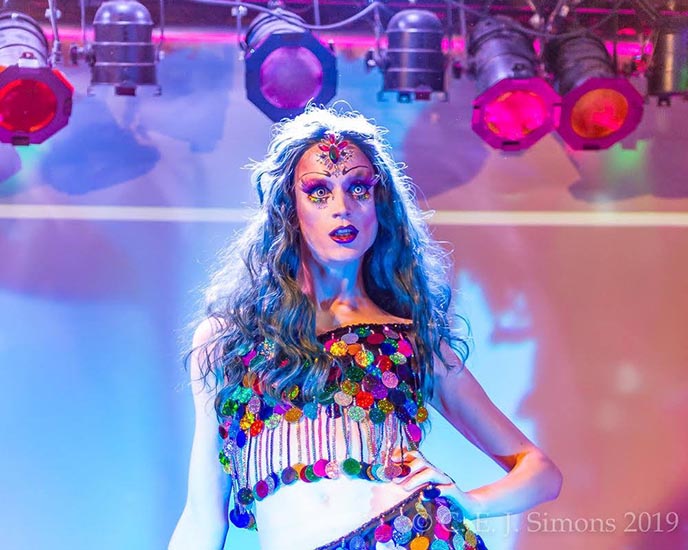 She's back… I'm delighted to present a travel story by Yukiro Dravarious, aka Tokyo drag superstar Die Schwarze Frau!
Did you know Japan has a fox village, and an island of cats? In this special post, Yukiro takes you inside these bizarre Japanese attractions that are sure to enthrall any animal-lover.
PS, Goth alert: Yukiro and DJ Sisen are having an old-school Gothic party in Tokyo, on Saturday, September 15! See the end of this post for details, and I hope you can make it to their spooktacular club night Witch Garden – details here.
In the words of Yukiro:
What a dream come true! For a birthday gift this year, I got to travel to a Japanese Cat Island and Fox Village. Just as the names suggest, these places feel like entering an old school children's picture book. Being surrounded by human-friendly fuzzy felines and foxes was tremendously fantastic.
Even after living in Tokyo for 12 years, there are always new things to explore in and outside of the capital. I heard of the notorious Cat Island, aka Tashiro-Jima (田代島) last year. Ever since, I've been looking for a good opportunity to visit this isle inhabited by hundreds of cats. 
(Quick fashion break before we continue to his foxy and catty travel adventures!)
Yukiro is a huge part of this blog for 10+ years, and I wanted to give you an update on his many creative pursuits in Tokyo. He performs regularly as Die Schwarze Frau, a frighteningly fierce Gothic drag queen, with regular shows in Tokyo.
Above, how fierce is the Tokyo Goth and drag fashion scene?
Yukiro and his friend Julia are currently filming a video series, which dissects each episode of the Boulet Brothers' Dragula (Goth drag queen competition show). Want to know who's their pick for the top super-monster? You can cackle over their catty remarks every week, on Yukiro Dravarious Youtube.
Yukiro never fails to astonish the universe with his out-of-this-world "lewks." These promo photos for Tokyo Pride Week are by Aleksandar Dragičević (Alexlens.com and @genkiserb Instagram).
I'm always amazed at how he can put together outfits from unexpected materials — living for this Red Queen transformation. And how fab is the makeup?
Take a dash of Halloween horror, and add glam rocker confidence… The spooky queen reighneth!
Yukiro's also busy filming a new B-movie, and does drag shows regularly at Harajuku's Kawaii Monster Cafe. (The next dates are 9/12 & 9/26).
If you'd like a piece of this dark cake, scroll to the end of the post to see Die Schwarze Frau's upcoming performance dates (including the Witch Garden Gothic party on September 15 in Tokyo).
Now, let's step back into Yukiro's Japan travel story. Take it away, queen…
Going to the Cat Island in Japan is more or less of a fuss, which makes it so much more rewarding when you finally arrive. First, you must travel to Sendai (仙台). The fastest way is from Tokyo Station by shinkansen (bullet train). If you're on a budget, you can take local trains or buses, but that takes a good half day of transit…
From Sendai, you must then travel to Ishinomaki (石巻) by train, or by the cheaper bus. Ishinomaki was hit hard by the tsunami from the earthquake disaster on 2011-3-11, and had to be rebuild. The nearby cat island,  Tashirojima, was also badly damaged... and that of course had it's turn on the poor cats.
We often forget about animals when a disaster like this happens, and how badly it effect every living being. Nowadays, the island's cat population is a mere fragment of what it used to be. Nonetheless there are still many cats around.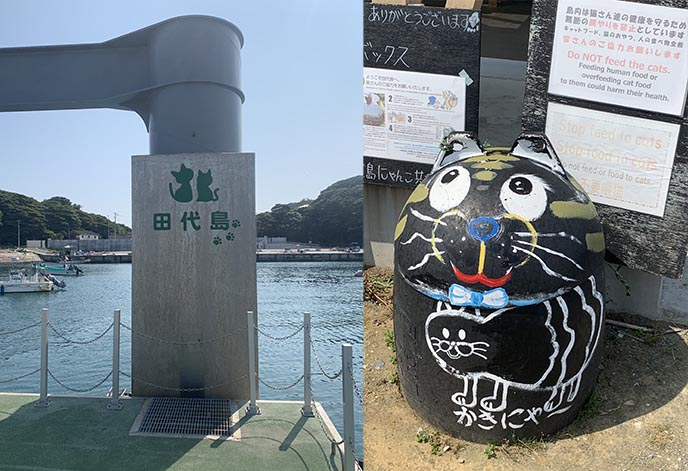 How to take the ferry to Cat Island: We woke up early the following day to catch the morning ferry from Ishinomaki port to Tashirojima. There is a bus from the train station you can take to the port, or you can walk for 10-15 min. You have to buy the tickets to the ferry in a separate building from the port, but it wasn't too hard to find. The ferry takes approximately 40-50 min.
There are usually only 3 ferries going a day, so make sure to check up the times before going. Once on the island there are lots of signs and time tables showing what time the next boat will come.
There were clear instructions and signs on how it was prohibited to bring dogs to the island, and to not feed the cats. I was very happy to see these responsible restrictions.
It was as big contrast from my trip last year to the Rabbit Island, which is also highly recommended. (It's called Ōkunoshima, 大久野島, and located outside of Hiroshima). Over there, a lot of tourists were feeding the wild rabbits and it was even encouraged by the islanders.
Tashiro-Jima's cats were used to tourists and sometimes let you pet them! They all seemed to be from the same cat species, a tinier sort that is super adorable.
When there are many cats around you, you can clearly see how different each cat's personality and expressions are. "Meow" — or as in they cry in Japanese — "Nya, Nya!"
There was not much to do on the island itself, other than see the feral cats. One of the highlights was to visit the Cat Manga Museum. We found various cat drawings by very famous Japanese manga artists, such as one of my heroes Nagai Go (above left – the artist who draws Devilman, Cutie Honey etc). A fun fact; it is said that before Tashiro-jima was known as the Cat Island it was known as the Manga Island!
The second and final sightseeing spot was Neko-jinja, the cat shrine (猫神社). Besides that, you can walk around the small island in less than 1 hour.
The entrance featured a maneki neko with a raised lucky paw.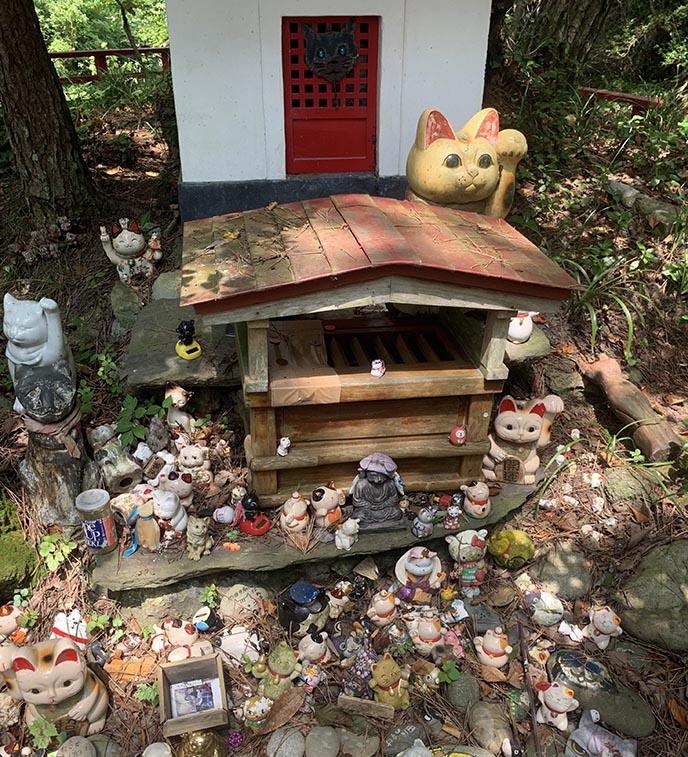 Many visitors left little kitty statues and offerings at the Japanese neko shrine.
(La Carmina's note: There are actually about 12 cat islands in Japan, aka islands inhabited mainly by kitties. Another popular "Cat Island" is Aoshima, which is located in Ehime Prefecture.)
We enjoyed taking shelter from the sun inside one of the many hidden cafes. This one is called Black Cat Cafe, or (黒猫堂) Kuro-neko-dou. Despite the name there were several cats inside with collars, in many different sizes, colors and shapes.
We indulged in black coffee and their speciality, Cat Curry. The only thing kitty about it was the shape of the rice. Still, it was rather fun to eat it on the cat island.
At this cafe there was also a comic exhibition of famous cats from the island in manga style. They had drawn-on evil eyebrows and spirally cheeks. Naturally I liked the malicious looking cats the most!
I wouldn't set my foot in most cat cafes, as the ones in Tokyo tend to treat them badly. Super small cages and constant abuse from tourists, with a few exceptions of course.
But on this island the cats were not an object for customers. They are the primary residents could come and go as they wanted. Sometimes the cafe cats even helped by jumping up on the cashier and tumbling around in the goods.
One of my best memories was how in the middle of the road, a snake and a cat were communicating and somewhat starting a fight. Both of them were very stubborn and refused to budge. I think the cat got bored after a while or the snake won the staring competition… since the cat walked away after a few futile attempts to paw its tail.
What to pack for a trip to Cat Island: I recommend bringing the following necessary items: 1. Sun lotion, as it gets very hot and there is little shade outside. (La Carmina note – one should wear sunscreen year round!)  2. Mosquito repellent. 3. Sunglasses and sunhat. 4. A book or phone game while chilling in the shadows. 5. A good camera 6. Hand sanitizer to put on after cuddling with the nekos.
There were a lot of cat souvenirs everywhere as one could figure. We were in awe after seeing DVDs of cats who had become celebrities on the island.
I would totally like to go back again to Tashirojima, the island of cats. I assure you it will be a dear memory to cherish especially if you are a cat person like me!
This summer, I also travelled to Japan's Fox Village. Cat Islands – sure that is a thing, but a village of foxes is completely out of this world!
Foxes are a strange fascination, as they are undeniably cute but also predatory. I grew up in the countryside, where you always hear stories about how a sneaky fox went through the fence and got some chickens or rabbits. They are very smart animals and should be handled with caution.
That being said, the Fox Village is a breeding center so these animals are accustomed to humans. Still, as the sign says before you enter, they don't take any responsibility for injuries… so enter at your own risk, mohahahaa!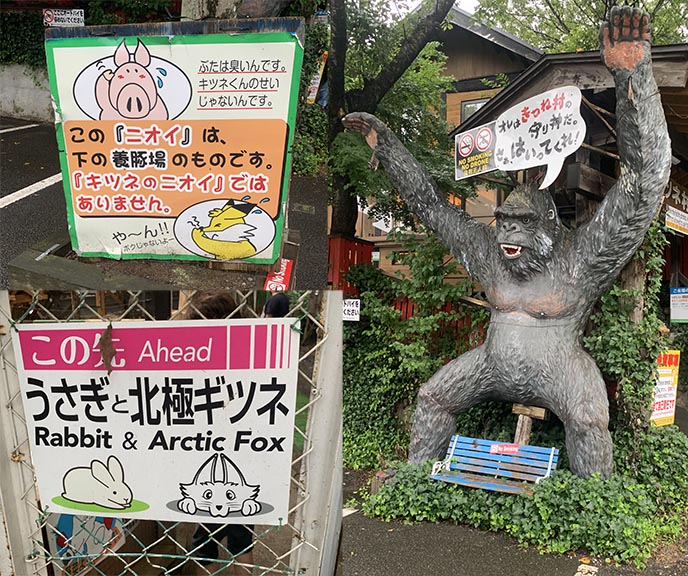 How to get to the Fox Village:
Zao Fox Village, or Zaoo Kitsune Mura (蔵王狐村) is located in Miyagi prefecture — also a remote and tricky place to get to. We first went to Shiroishi (白石駅) by train from Sendai. I believe most people travel to the village by car (from Sendai it would be a 1 hour car trip, and from Tokyo it would take 5 hours).
We took the bus from Shiroishi station to Zao Fox Village. There seems to only be one local bus going there in the morning around 7:30 am and one back at 2pm… on Tuesdays and Fridays only.
If you go there on a budget, the 1 hr bus ride is recommended. However getting a taxi is also a valid option if you have 3-4 people sharing. We actually did that on the way back and it was only 4000 yen, or 1000 yen each – not bad at all, and way faster than the bumpy bus ride.
Once at the Fox Village you'll get greeted by… a gorilla!?
There are a lot of "do not" signs everywhere, but don't worry. Before you enter the area, the staff will show you very clear instructional pictures about what is allowed and what is not.
Most of the staff could make themselves somewhat understood in English, since they now have many tourists from outside Japan. Just be rational and treat the animals with respect, and they will do the same to you.
You are not allowed to touch any foxes, and the youngsters / rarer species are locked in cages. They have over 100 foxes and a total of 6 different types. Some are in different colors like the marvelous white and black foxes. They all were utterly cute!
I especially was struck by how they curl up in a ball and use their tails as pillows to snooze on. Their tails are truly magnificent; as long as their bodies if not even longer, with an oval shape and super fuzzy. No wonder fox fur and tails are luxurious products… (I'd never purchase or support the fur market though!)
There was some rabbits and goat kids around too. One of the horned goat kids managed to escape several times and made quite a scene, to our delight. But he got swiftly carried back again by the care-takers.
Some of the cages were, by my standards, way too small for the poor animals. That being said, the biggest cage had 50-80 foxes sleeping and hanging around – a broad and spacious playground where they run freely!
It was a fabulous and unreal sensation to be surrounded by so many foxes. If you reached out your hand you could easily touch them – but you are not allowed to!
You should never show them fear because they will take that into their advantage. No plastic bags or hanging objects are to be carried with you, not even your wallet. They might take a bite at it if its sticking out of your pocket.
Be prepared for quite an intense musky smell around the foxes. Also, in the summer, most of them are in the midst of shedding their furs. There were even signs that said "I'm sorry for being ugly, we are just changing our summer furs."
The most amusing episode was when my travel partner Kenichi was scent-marked by one of the foxy creatures, in the middle of the sidewalk. So he is now in their possession… it was nice knowing you (666)!
The staff checks the foxes for pests or sickness each year, and take cares of them with vaccinations and care. Therefore, the facility is supposedly completely safe from diseases.
They provided hand sanitizers and hand washes for visitors, before you go into the bigger  cages. Grandma's tip: always wash your hands thoroughly after touching wild animals!
Another highlight was the "photo and holding a fox session," which they do once or twice a day at certain hours. We waited for our turn, and got to wear raincoats and trousers over our clothes (to avoid getting them dirty or smelly) while holding a fox.
It was very safe with plenty of staff making sure nothing went out of hand – literally! The foxes we got to hug were probably trained for this and accustomed to humans. However they are predators and unpredictable tricksters, so you better listen and follow the instructions being given.
You got to take a photo while holding the fox for 1500 yen extra –  but it was so worth it. Feeling their heartbeat and having one on your lap is such a trip, and cuteness overload.
Here too there was a lot of overpriced merchandise in the souvenir shop,  all with fox motifs. There was no food court or food stand when we were there so I highly recommend bringing  rice-balls, food and drinks to the rest area.
What does the fox say? "Kyuun Kyuun! Kon Kon!" Foxes are a sacred auspicious animal in Japanese spirituality, and you can see temples (Inari-san) with fox motifs and masks worn at certain festivities.
It became very clear to me after being to the world's only Fox Village why Japanese people love foxes so much! For all of you foxy ladies and furry lovers you simply must go visit when the opportunity comes.
I leave you with some of Yukiro's Halloween snaps from Tokyo. Already, there's a ton of spooky snacks, candy, and even wine in stores… (You can shop for Halloween design goods here.)
Trick or treat? In Japan, everything is packaged with distinctively kawaii-cute designs. You won't see smiling pumpkins and happy ghosts like these in North America. My favorite is the nori (black seaweed) bat on the right!
At 100-yen stores like Daiso, you can shop til you drop dead for Halloween goods. There are racks of ghostly merchandise at Tokyo "dollar stores" right now… perfect for a Day of the Dead party.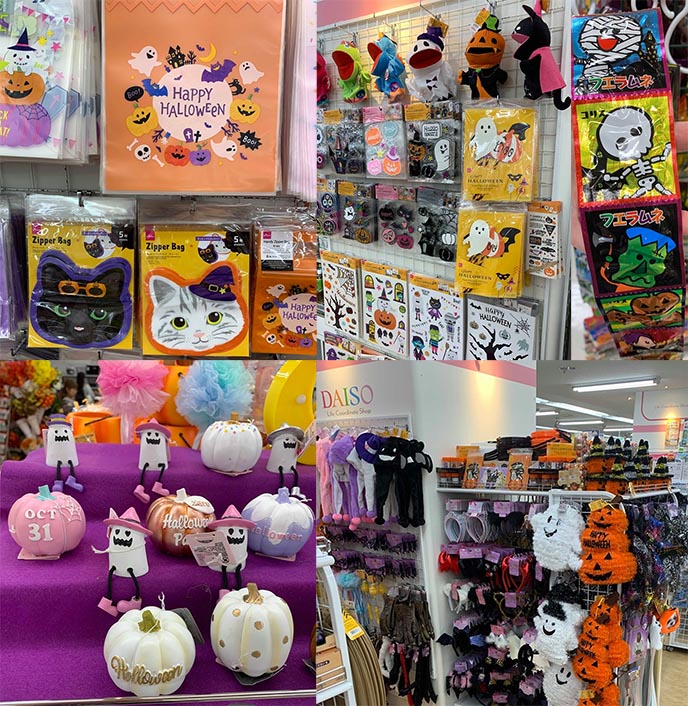 Stickers, costumes, party decor, makeup… Halloween is here, my friends, and I couldn't be happier.
If you aren't in Japan, don't worry — you can find spook-tastic decorations and home goods online here.
Now, the most important announcement! Did you know Yukiro and DJ Sisen launched a Goth party in Tokyo, called Witch Garden? 
The next one is coming up on September 15th, at Shinjuku Club Science.  It starts midnight, and is 3500 yen at the door or 3000 yen in advance. Please press "going" on the Facebook page for an advance discount, and to see all the details of the performers.
The witchy event has a theme each time, and guests love to dress up to the nines (it's encouraged, but not mandatory). This time, the theme will be Medieval Witches. Above, you can see a video of the past party (Witches from Space) to get a sense of the atmosphere.
Yukiro writes: "The Goth and alternative scene in Tokyo has been slowly but steadily dying and we'd love to get your help in raising it from the dead. Even if you can't come, we're grateful if you can post about it on social media, to make people aware that this amazing party is happening!" See all the info about Witch Garden here.
You can also catch Die Schwarze Frau's Gothic extravaganza drag show at Kawaii Monster Cafe in Harajuku (9/12 & 9/26, and ongoing).
Did you know about Japan's Cat Island and Fox Village before this story? Would you like to see more guest posts on this blog by Yukiro?
I hope you'll get a chance to party with him and DJ Sisen at Witch Garden, the next time you're in Tokyo! 
PS: A quick update from La Carmina – I've been busy guest-writing Japan articles for Once In A Lifetime Journey, the luxury travel site run by my friend Mar Pages! So far, I've written a bunch of Japanese travel guides — including fun and interesting facts, where to shop, what to eat, and things to do all over the country. You can read all my Japan guest posts here.