Search Results for:
dubai
Dubai is considered a high fashion Wonderland — and as you can see, Etoile La Boutique takes this concept through the looking glass!
Read on to learn about Arabian designers, and peek inside our Fairmont suite on the famous Palm island.
Dubai's sprawling shopping centers are legendary. Etoile is inside Mall of the Emirates, a hub of haute couture. (In the next post, I'll take you inside Dubai Mall, which ranks among the largest in the world.)
If it ever rains in the desert, I'll be protected by my giant hat and magic mushroom.
Big floppy hat: San Diego Hat Company
Dark purple cardigan: Muji
Spooky tank top: h.NAOTO, from Closet Child Harajuku
Pastel goth skirt: Peace Now, from Closet Child Ikebukuro
Grey shoes: Camper
Etoile La Boutique has a choice selection, a mix of international and Middle Eastern luxury labels. To suit the local market, many dresses are in larger sizes, and have veils to cover the limbs and head.
We filmed inside the store as part of my Dubai travel episode. The White Rabbit seems to be saying: "I'm late, I'm late… for a very important TV shoot."
Filmmaker Melissa, who took the images in this post, couldn't stop photographing the shoes!
Everything is jumbo-sized in Dubai. This Mad Hatter chair is the perfect illustration.
The owner of the store has her own fashion line, Ingie Paris; I tried on a sequined glittery dress with cut-out back. In addition to Middle Eastern designers like Toujouri, she stocks fashion week favorites such as Alaia, Chloe, Derek Lam.
Wearing Toujouri (who dresses the singer of Florence and the Machine) in the dreamy dressing room. No, that's not a voyeur — it's filmmaker Eric.
In public, many Arabian women wear a black hijab (head veil) and abaya (loose-fitting robe). However, they can still accessorize with flair, so you'll often see women with glam sunglasses, handbags, and tottering heels! When they're alone with other ladies, they take off the coverings to reveal the designer clothing underneath.
Travel note: Dubai's an international city, so there's no need to cover up unless you're going to a more traditional neighborhood or mosque.
The lobby of our hotel, Fairmont The Palm, continues the theme of grandeur.
A genie must have come out of the magic lamp and granted us a stay. The Fairmont generously hosted us, and let us experience their new hotel on the famous Palm-shaped island.
We had a hedonistic meal at Frevo restaurant, a unique Brazilian churrascaria. After cachaça-based cocktails like Caipirinhas, a "saladista" helped us put together a plate of greens. Servers brought cuts of meat and carved them at the table until we hit the red light button!
For sweet tooths, the Fairmont Palm has its own European-style bakery. Let's see if you can spot the marshmallows and macaroons in the above photo.
Outside, an oasis pool with a view of the sci-fi skyline.
Have you noticed that I always pose with pineapples? The welcome plate included selections from the bakery, and a fruit plate complete with my beloved mangosteens.
In the bedroom. I expected a regular room, but the hotel upgraded me to the Signature Suite! The balcony, literally the size of a modest Japanese apartment, overlooks the marina.
And this is the view…
Major gratitude to the kind staff at Fairmont The Palm for making our UAE travel coverage possible. Abu Dhabi photos are next.
Isn't Dubai wild? What do you think of the regional designers and customs? Don't miss the rest of our photos here.
Thanks for your kind words about my appearance on Discovery & Science Channel's Oddities! If you missed my episode (where I "purchased" this elk head), you can see the TV show clip and bonus photos here.
In the Oddities segment, I talk about my work in journalism and coolhunting worldwide. On last month's Middle Eastern adventure, I got to fulfill a travel goal… visiting the famous sail-shaped Burj Al Arab hotel in Dubai.
My film team and I started at the Souk Madinat Jumeirah, a cluster of restaurants and shops near the Burj Al Arab. We thought we could get some traditional food and shisha here…
… but were sorely disappointed, as this turned out to be a Disney-Vegas take on an Arabian market. (Skip this place, and visit Dubai's gold and spice souk instead; photos and info here.)
On the bright side, we got a great "establishing shot" of the famous hotel, lit under a crescent moon.
We took a cab to one of the most expensive hotels in the world (the Royal Suite is $18,776 per night!). Inspired by the curve of a dhow (Arabian boat), the Burj Al Arab is considered the symbol of Dubai.
Regular tourists can't simply walk onto this island. You must be a hotel guest, or have a restaurant or bar reservation, in order to make it past the security gates. We chose the cheapest option (drinks at the Skyview Bar), which requires a minimum spend of $70 per person.
But it's worth it — this is Dubai, and the world's only (supposed) 7-star hotel! When we entered the lobby, my filmmaker Melissa exclaimed, "It's like Donald Trump on steroids." Designed by Tom Wright, with interiors by Khuan Chew, the concept is Arabian Technicolor Palace Dreams.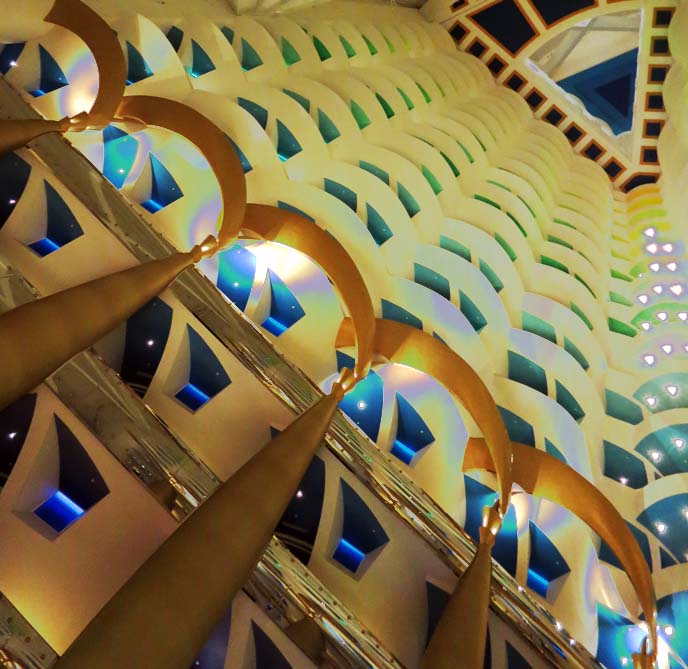 Take the elevator next to the aquarium, and look up. Vertigo.
In Dubai, brunches are big social occasions. Fridays and Saturdays are holidays here, and since alcohol is a no-no (unless you're in a hotel), brunch is a way to get decadent.
But we were here for cocktails. We took the elevator to the Skyview bar on the 27th floor.
"It's like a 90s music video," exclaimed Melissa. Circuit boards and cyber lights, and a grandiose view of the marina.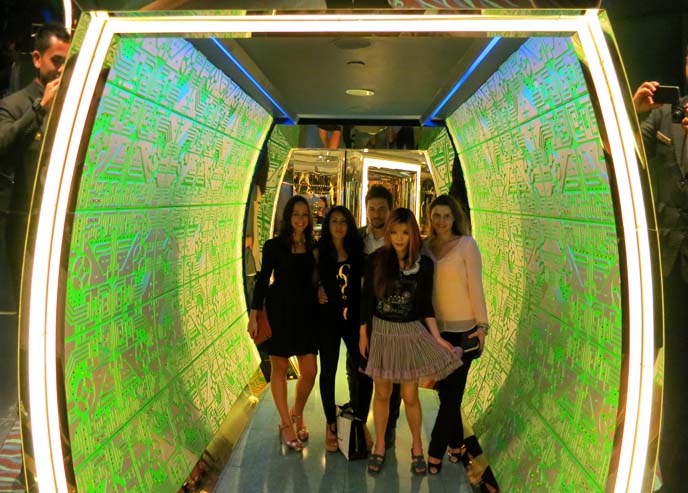 We enjoyed drinks with Barbara of Elle Magazine, and Georgina of Etoile La Boutique (I'll show you this fashion heaven soon). The cocktails were inventive — one had wasabi inside — and the bar's atmosphere was from another planet. (Consult the Burj Al Arab's website for reservations and dress code.)
I leave you with a few screencaps from my Oddities TV guest spot. My Goth-Victorian hairstyle looks a bit like mouse ears.
Watch the clip carefully, or you might miss the caption about my celebrity earless cat! You can see my TV reel and other appearances on my bio page.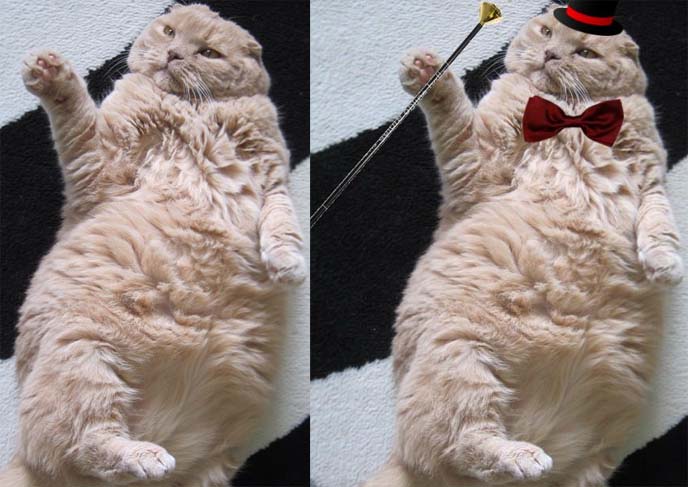 Have you heard of the Burj Al Arab hotel in Dubai? What do you think of the interiors, and do you think it deserves the seven-star rating?
PS: thanks Fashion Indie for interviewing me about personal branding, the reality of travel TV hosting, and how bloggers can get into television. I hope you find my advice helpful.