Search Results for:
rose seattle
Thanks for supporting our GPKISM dance video on the anniversary of the earthquake! Mary Nine and tank9 are an amazing duo. We hope the video encourages people to take action for Japan.
The charity project wouldn't have been possible without Seattle's Kimpton Hotel Vintage Park. (Remember the time we stayed at this boutique wine hotel?)
As a seasoned traveler, I can vouch: Kimpton's customer service is through the roof. The charming concierge Louis greeted us with hugs, and sent this hand-written note to our room — along with chocolates, a DVD, and a bottle of Syrah!
The rooms are lushly decorated, each with individual artwork. No beige here.
The hotel upgraded us to a double suite. We love the leopard print bathrobes.
Local producers hold afternoon wine tastings, which let the guests mingle. This time, we tried rose and syrah by Washington's Adamant Cellars.
The beds were comfortable, and had a good bounce! (No, we don't encourage such naughty behavior…)
Guess who brought these bear bags.
When you travel to Seattle, keep Hotel Vintage Park in mind. You can't find a warmer hotel (and it's pet-friendly too).
For more tips about why boutique hotels rock, watch my Huff Post video.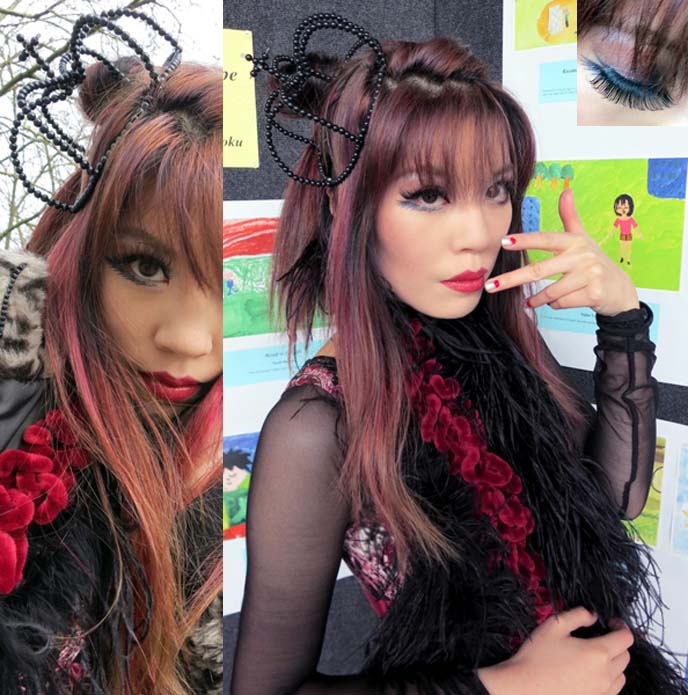 Closeup on my DIY crown, scarves and nails. The sheer sleeves are gifted by Sleevey Wonders.
My dashing eyelashes are a gift by Sugarpill by Shrinkle. Basil Farrow loves the packaging.
Sugarpill's eyelashes are well-made: no sharp edges, and lightweight. They went on easily and kept their shape, so I can wear them multiple times. Paws up.
Rose also rocked spider lashes.
Lolita-Punk fashion, and leopard half-shaved hair.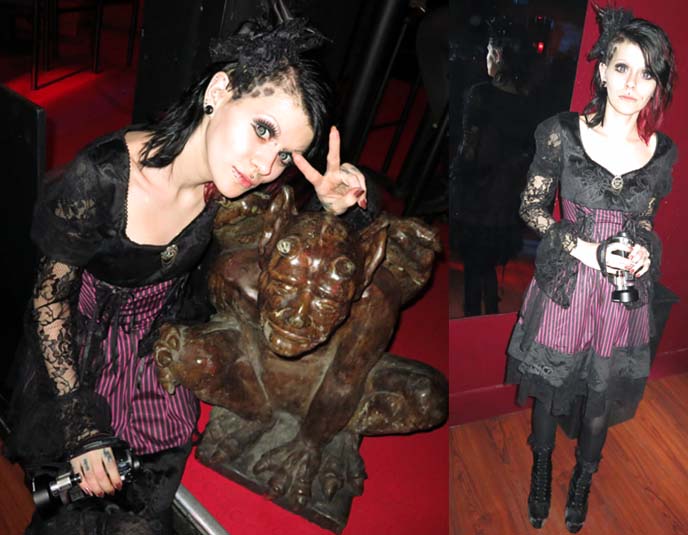 That evening, we went to the Industrial night (Resurrection) at Club Noc Noc.
Hugs for everyone who came and supported our project.
PS: I'm posting daily photos with the Instagram app, including cute Scottish Fold cat snaps. Let's be friends? My Instagram name is lacarmina.
What's your favorite hotel, and why? Did you enjoy our Seattle Goth adventures? Take a moment to watch my industrial dance video with tank9, Mary Nine, and jumping kigurumi.
❤ Did you heart this post? Like it (below): ❤

While in Seattle, Rose and I visited artist Andie DeRoux. As soon as we saw her Rococo-pink studio, we knew we were among a kindred spirit.
Don't we look like undead Japanese Goth dolls?
Grey plaid Lolita dress with heart pockets: Angelic Pretty, from Closet Child Harajuku
Hair piece: I wrapped around a silver hearts ribbon, sparkly silver fabric from a dress, and two flower clips from a fabric store. The materials are about $3 total.
Black tights: Vivienne Westwood, a gift from my cousin
Knee high grey striped socks: Got these years ago
Shiny black ankle boots: Alice and the Pirates, from Closet Child Harajuku
Pink-haired Andie is also an alternative and fetish model. She's the sweetest — we were greeted with champagne and Thai food!
Rose glued on gems for eyebrows, and rocks the Japanese circle contacts that makes eyes look huge. I'm wearing layers of false eyelashes and greyish purple eyeshadows over green and blue eyeliner, all gifted from Annabelle Cosmetics. My nail art is sparkly.
Andie's art incorporates glossy resin and Sweet Lolita self-portraits.
From bold filigrees, ominous tree-scapes and lush floral sprays, Andie creates a mixed-media dreamland. In Rose's words, "I wish I could decorate my house with everything you create."
The glittery 1980s-style cell phones are pure genius.
Andie used keyboard keys and cute Japanese ice molds as materials. You can see more on her website.
Who are your favorite artists? Please leave me some links and names in the comments — I always love discovering alternative art!
Japanese Word of the Day: Gekijou = Theater
Song of the Day: D – Gekka no Yasoukyoku (Metal cover of the Malice Mizer song.)