Death becomes her… so don't you dare wake us from our slumber!
Why are Yukiro and I hanging out a coffin? Because Bangkok's theme restaurants are strange and delightful. We'll take you inside Kid Mai, a death-themed cafe…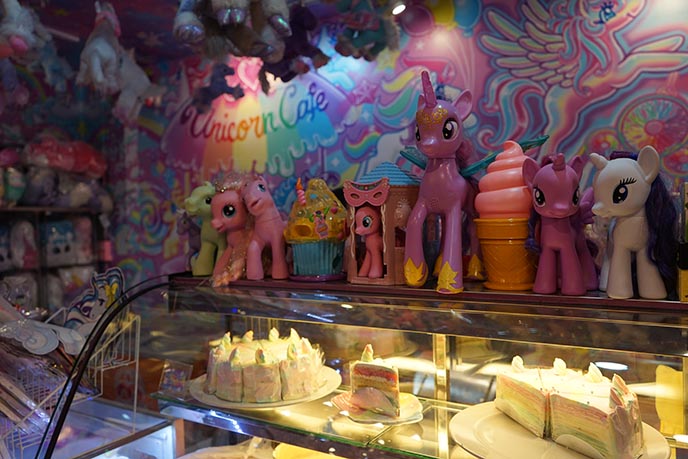 …and the fabulous Unicorn Cafe, which is rainbow cute overload!
For you foodies, we also explored the outstanding restaurant scene in Bangkok. Keep reading to see what we ate at Soul Food Mahanakorn and Pladib, located in the hipster districts Thonglor and Ari.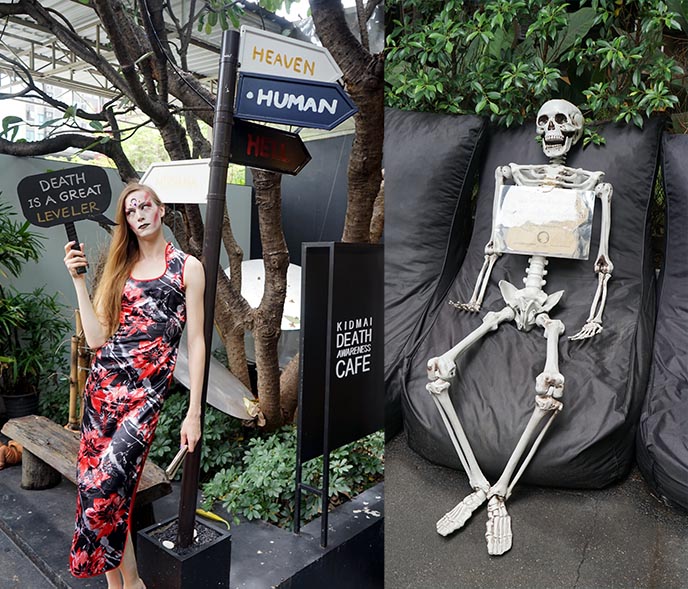 As Yukiro's speech bubble says, "Death is a great leveler."
If you've got a Gothic disposition, then you've got to visit the Kid Mai Death Awareness Cafe. Follow the signs to Hell, and plop down next to a skeleton on the beanbag chairs.
The "cafe" is run by Dr. Veeranut Rojanaprapa. However, he emphasized that Kid Mai is more of an educational space.
The professor started Kid Mai Death Cafe to celebrate all the stages of life. Located in Bangkok's hip Aree district, this open-air attraction lets visitors participate in interactive exhibits and ponder death in a meaningful way.
Visitors begin by walking through a long dark tunnel with emo messages, like "Is anybody waiting for you?"
The hallway sets the mood of the fascinating project, which brings death to the forefront and encourages you to reflect on typically "taboo" themes.
We were intrigued by this display about end-of-life cultures around the world. The food offerings and photos highlighted a variety of rituals, from Swedish death cleaning to Indian cremation at the River Ganges.
In Thailand, these decorated fans are part of Buddhist funerals. Usually, the fan contains the deceased's name, and Buddhist scriptures relating to impermanence.
Then, you can head to Kid Mai's cafe area, and slurp on sweet drinks with names like Born, Elder, Painful (coated in red syrup that mimics blood), and Death. Which one would you choose?
Artist Becky Hawkins made this drawing about our visit to Kid Mai. She shows how the staff offers free educational classes for the elderly.
Cross-generational compassion is a major theme. Younger visitors can put on a weighted vest to understand how it feels to be in an older body.
You can even slip into an ornate Thai coffin and have a friend slide the lid shut… to mimic the feeling of being interred underground! (I felt like Beatrix Kiddo when she was buried alive in Kill Bill.)
Beware, the rise of the undead…
How does it feel to be shut into this confined space? Hot and humid… but otherwise, we were quite at home in a coffin.
The "birth experience" lets you swing in a red pod, and make your way through Fallopian tubes. (Just watch out for mosquitoes here!)
Kid Mai Death Cafe is a thought-provoking space, which encourages you to reflect on death from all angles. This Bangkok experience is one-of-a-kind, and gets our Goth stamp of approval.
During our Thailand trip, my friends and I sometimes split up to do separate activities. Becky shares this comic about how she and Naomi went looking for food, and barely missed getting caught in torrential Southeast Asian rains.
Meanwhile, Yukiro and I pranced over to Bangkok's Unicorn Cafe! You'll know you have arrived when you see a winged unicorn statue at the entrance, with front legs raised.
The interior is total unicorn overload. The magical horned creatures cover every inch of the pastel rainbow cafe.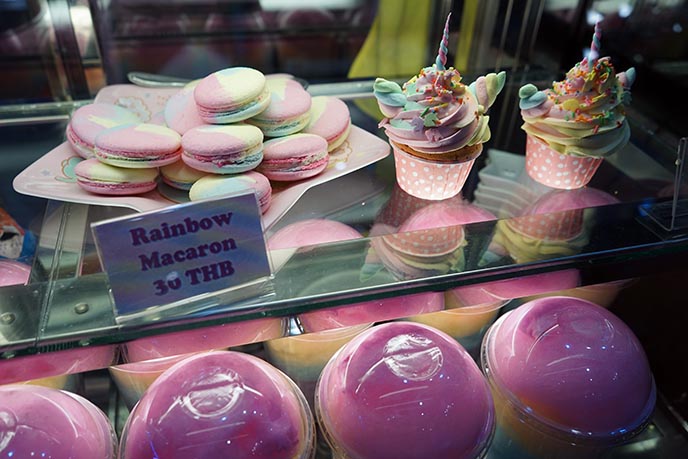 Even the sweets in the display case have horns. Our eyes popped over the cotton candy, cupcakes, and macarons that matched the fantastical theme.
At the Thailand Unicorn Cafe, you can also pick up themed merchandise: I got a sparkly unicorn t-shirt. Guests can also rent unicorn kigurumi (full body costumes) to become "one" with the creatures.
As you'd expect, the menu looks like a Lisa Frank 90s girl explosion. There are both savory and sweet food choices, and many of the dishes are rainbow-colored or decorated with a unicorn horn. You can also order non-themed sides such as French fries.
At each table, you'll find stuffed unicorn toys that you can hold while you snack. The ceiling is also strung with My Little Pony plushies.
The Unicorn Cafe brought back so many childhood feels. The over-the-top space is a favorite for Instagrammers.
While this looks like a cavity in the making, the Unicorn Cafe's platters were actually not too sweet, and came with fresh fruit. The birthday cafe flavor of the rainbow waffles was pure nostalgia.
There are no genders for the bathrooms, as we are all unicorns on the inside!
The Unicorn Cafe may be well-known at this point, but it was surprisingly good and worth visiting if you're in Bangkok.
Now, for some non-themed restaurant reviews!
Bangkok is now known as a world-class food destination, with everything from Michelin-starred eateries to street food. Naomi Rubin drew this scene from a delicious French bakery that we visited.
Becky Hawkins captures a charming Bangkok cafe interior. There's an enormous variety of excellent food in this city, at all price points and from all regions of the world.
We wanted to focus on creative Thai cuisine, run by young chefs in the hippest districts of Bangkok.
Soul Food Mahanakorn was highly recommended to me, and lived up to its reputation for serving authentic, street food inspired dishes.
The cozy restaurant is inspired by the flavors of regional Thai cooking. There's an impressive wine and cocktail selection, and the ingredients focus on organic and fair-trade sources (such as small farms in northeast Thailand).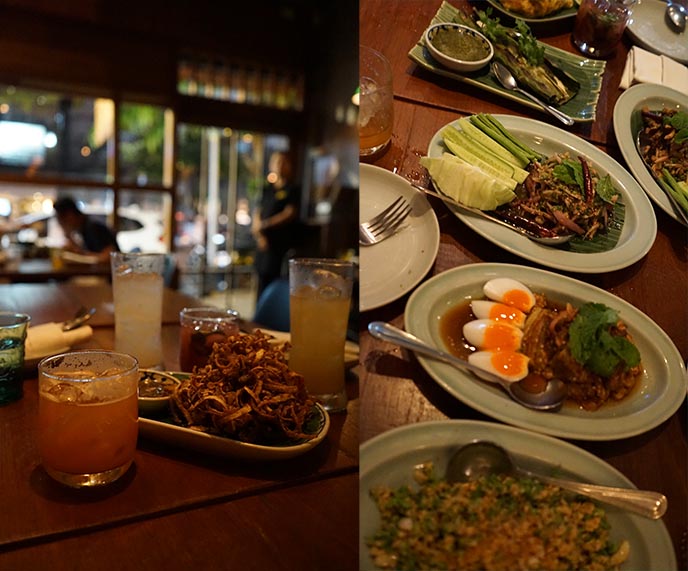 Soul Food Mahanakorn is a wonderland of flavors, which makes you realize the depth and variety of Thai cooking (going far beyond what you'll find on a typical takeout menu!)
We adored the grilled sea bass wrapped in banana leaf, and tender smoked duck larb. The egg dish is Yam Makrua Yao, a smoked eggplant salad with soft duck eggs and a flavorful sauce.
Restaurant founder Jarrett Wrisley sat down with us to chat about his passion project. Becky Hawkins made this sketch of the American food writer, who opened up one of the most soulful Thai restaurants in recent years.
Onto spicy mains, such a pork belly curry with a side of organic rice. The execution is not too heavy, using local herbs and spices with finesse to bring out the flavors.
Naomi Rubin drew the aftermath of our meal — you can tell that we enjoyed every bite, and somehow managed to finish all the plates!
No wonder Soul Food Mahanakorn is recommended by the Bangkok Michelin Guide. For a truly memorable Thai dinner, make a reservation here and raise a glass to Jarrett for us.
In the hipster neighborhood Ari / Aree, we were warmly welcomed into Pladib, a restaurant set in a modern space.
Pla Dib does fusion in a fresh way — marrying Thai tradition with Japanese and European influences. The dishes are presented without fuss or over-seasoning, which lets the quality of the raw fish and organic produce do the talking.
Naomi Rubin sketched the pear-shaped wood oven in the back. Pladib is a popular spot for locals to hang out, and share wood-fired pizzas. The space also brings in art exhibits and DJs.
A fresh coconut paired nicely with grilled octopus with black mayo, and creamy mushroom ravioli.
The melt-in-your-mouth grilled duck salad turned out to be one of my favorite duck dishes of all time!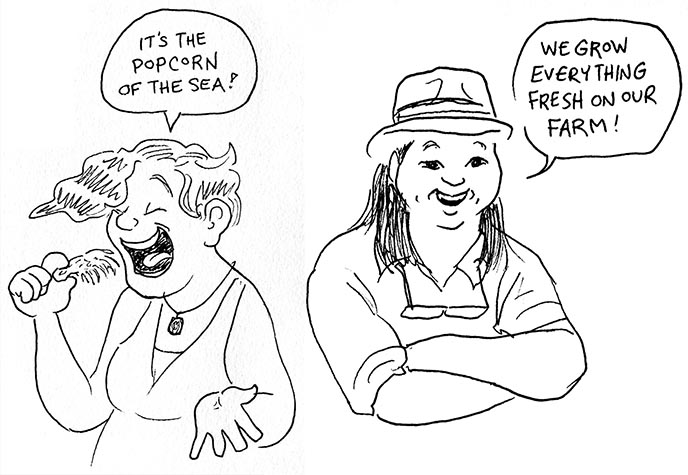 Becky Hawkins illustrates the joys of eating fresh shrimp, and sampling Pladib's farm-grown vegetables.
We couldn't decide between the lemon or dark chocolate tart — so we got both, plus lots of berries and extra ice cream.
Pladib is an inventive, modern Bangkok restaurant that I think you'll love.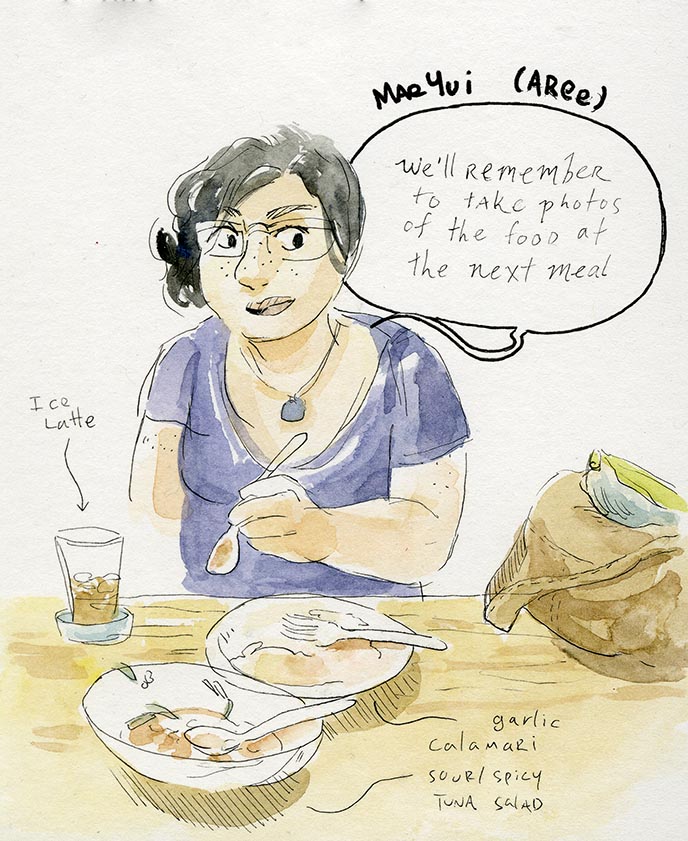 Bangkok's Ari / Aree area has become a food and art hotspot. My friends and I had multiple meals at Mae Yui. We ate the food so fast that there are no photos, but Naomi Rubin made this delectable watercolor.
Aree's hipsters love to hang for hours at Mae Yui restaurant, which features a home-style Thai menu. The dishes are nostalgic favorites prepared with a light touch. Our favorites included the tuna salad with Thai spices and herbs, creamy Thai ice tea, and fresh passion-fruit sorbet.
If this story makes you hungry to visit Bangkok, then you can find more of my tips about the city here on Touring Bird. I featured a Totoro theme cafe, and other fabulous eateries in Thailand.
You'll find me all over TouringBird.com — I wrote almost 700 articles about insider spots, in dozens of worldwide cities. I hope you're enjoying this travel resource so far (it's a project by Google Area 120).
And that's the final nail in the coffin, for these "Bangkok bitches"… until I come back again!
For more alternative Bangkok travel tips (boutiques, hotels, restaurants etc), you can see all my Thailand stories (from my trips in 2013 and 2018).
Hail Horus, falcon-headed son of Osiris and Isis!
My head still spins when I recall all the epic activities we did in Egypt, thanks to Travel Talk Tours. Today, we'll explore the temples of Edfu and Kom Ombo — home to bird gods and mummified crocodiles.
At the end, I'll announce my next destination… it's somewhere French-speaking, and you can follow along on my Instagram @lacarmina. 
(Outfit details: Heart bag by Lola Ramona, long black skirt Charli Cohen, and Ghoul Gang top from Unique Vintage. I'm hiding from Ra (the sun god) with my Gottex Belladonna hat from UK Swimwear.)
When I said we did a lot of wild experiences in Egypt, I wasn't exaggerating. We'll go up, up and away in a hot air balloon over Luxor and the River Nile…
… and sail on the Nile in a felucca, or Egyptian traditional wood boat.
Let's begin on the River Nile, which flows north through Egypt. I'm wearing a Cryptic Apparel cropped sweatshirt with a winged Egyptian goddess print: perfect for the occasion.
I was tempted to Photoshop out the foot next to Yukiro, but decided to leave it in…
… as it was this foot that was doing the hard work, in steering the felucca! This Egyptian sailor was a master of multi-tasking: he expertly worked the canvas sail and tiller (long stick that turns the rudder) against the wind, while puffing on a cigarette.
I'm glad we got to experience this ancient form of sailing, which is a gentle ride over the Nile's waters. Feluccas are still used today by locals, and you'll see their white sails gliding peacefully over the river.
But I want to be a pirate… Instead of a puffy shirt, I wore a Cryptic Apparel top and skirt by Charli Cohen.
Onward to the temples. Our Travel Talk Tours group went by bus to Kom Ombo temple in Aswan, and our guide taught us about the history beneath these columns.
The Greco-Roman influences indicate that this was built in Ptolemaic times (the last era of ancient Egyptian civilization) — much like Philae temple, which we also saw.
In these times, Egyptian medicine was the most advanced in the world. Our guide pointed out some intriguing medical carvings that depict surgical instruments, and two goddesses perched on birthing chairs.
Kom Ombo temple's layout stands out for being perfectly symmetrical. This design includes two matching entrances, hypostyle halls and chambers.
The eastern part is dedicated to the crocodile-headed god of the Nile. The western axis is the domain of Horus, the bird-headed deity.
I'm striking a dramatic pose in front of one of the most striking reliefs in Kom Ombo. The carvings show one of the later Ptolemies being crowned as pharoah by Sobek and goddesses.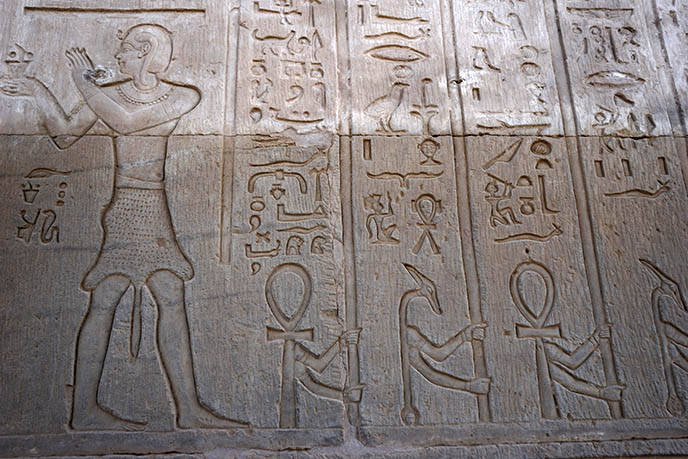 The rounded figures also reveal that this is a late-period temple (compare this to the stiff poses and fabrics of Abu Simbel). Note how even the ankhs have arms!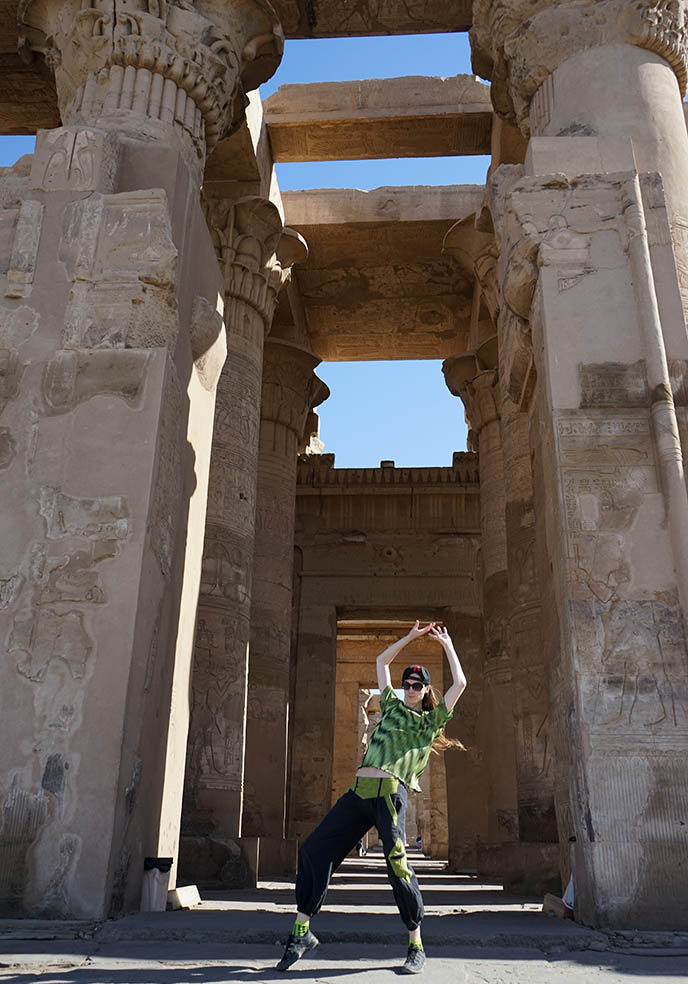 Traveling with a tour let us easily see many sites all over Egypt, and learn fascinating aspects about each place. At Kom Ombo, our guide pointed out an ancient graffito, and reliefs that were later defaced by Coptic Christians.
Check out the curves on Sekhmet, the fierce lion-headed goddess. According to the tales, she's the greatest warrior as well as as goddess of healing, and her breath formed the desert. (Sekhmet is a solar deity, hence the circle over her head).
The bas-reliefs at the Temple of Kom Ombo are remarkably well preserved.
Don't miss out on the Crocodile Museum next door (or as the sign said, "Crocodile Mus.") We weren't allowed to take photos, so you'll have to imagine a giant glass case with dozens of mummified crocodiles!
The cold-blooded creatures are huge and black-skinned, with rows of sharp teeth — very Gothic death metal. The "mus" also features crocodile art that honors Sobek.
As vampires say, "drink from me and live forever"… or as the Egyptian carvings reveal, "eat the ankh and enter into eternal life!"
By now, Yukiro and I are well-versed in the art of striking Egyptian poses.
Next, Travel Talk Tours drove our group to Edfu Temple, which also dates back to the Hellenistic period in Egypt.
Edfu's magnificent pylon (decorative entrance) was one of the largest in Egypt. The gigantic carvings show ruler Ptolemy VIII vanquishing his enemies, while Horus the Elder looks on.
Edfu Temple is dedicated to Horus, son of Osiris, the god of the underworld. Inside, this spooky staircase looks like a pathway to the afterlife.
Our guide took us into the inner chambers, and showed us the various forms of Egyptian writing (demotic, hieratic, hieroglyphic). We also saw an unusual carving of Isis breastfeeding young Horus.
We peered into the Sanctuary of Horus, which houses a ceremonial barge and altar used in rituals.
Quite a few horned ones graced these walls.
Banebdjedet, the ram-headed god, became known as the "Baphomet of Mendes," as he was worshiped in the ancient city of Mendes. The Satanic Baphomet figure was based on his horned appearance.
Yukiro blends in with the bird-god. We're enthralled by the rich imagination of the Egyptians, who dreamed up an animal-headed pantheon.
Edfu's builders had a knack for drama. Imagine wandering through these tall outdoor passages, in ancient times.
So far, I've shown you the wonders of ancient Egypt. However, we also got to see day-to-day life in the cities today.
While on the bus, we passed by this gathering of locals in the streets.
We took a gander at Aswan market, where locals go to buy daily necessities.
This Egyptian man's tricked out motorbike has Mad Max vibes.
Many of the stores sold spices. We eyed the mounds of coriander, cardamom, cinnamon and more.
Wouldn't you like to stop by for a cup of Cleopatra Coffee?
Most of the markets are geared to tourists, and the vendors sell "made in China" trinkets. I avoided these shops, and instead, picked up a local, handcrafted robe and sheath dress made from Egyptian cotton.
(I wrote other insider, hidden tips for Cairo on Touring Bird, the new Google Area 120 site — including a Fair Trade Egypt boutique.)
View of Aswan at night, from our hotel room. We weren't able to spend much time here, as there was yet another early wake-up call…
We left around 3:30am, and took a van and boat to this field. The early start was worth it… for a sunrise hot air balloon ride over Luxor!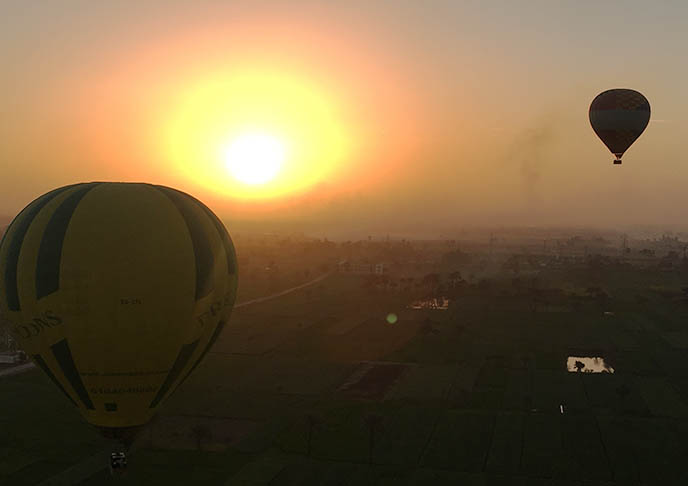 I had never flown in a hot air balloon before, and was excited that Travel Talk offered this as an optional excursion in Egypt.
Passengers can only bring a small bag and iPhone (no DSLR cameras). The basket is divided into several standing areas, each holding about three people. At take off and landing, you must brace yourself and hold on to the ropes — but otherwise, it's a smooth ride.
Yukiro found it ironic that Pokemon's Team Rocket claimed to be "blasting off at the speed of light" in their hot air balloons… when in fact, the process of inflating the envelope and getting off the ground took quite a while!
The pilot adjusted the burner flame and repeated a single joke over and over, as we slowly flew higher into the sky. Below, we could see the ruins of temples, and stretches of desert that reminded me of an alien planet.
I'm happy that I finally got to experience riding a hot air balloon, and in Egypt of all places. Everyone relaxed and took in the 360 aerial views of Luxor.
The winds were in our favor that day, and we glided over the Nile.
Touching down was a bit bumpy, but we were in safe hands and a van was right there to drive us back.
A final hail to Horus, also known as "he who is above."
And now, "Team Rocket's blasting off again…"  I'm happy to be returning to Quebec City and Montreal this week! If you have any travel tips for French Canada, please let me know — and you can follow along the journey on my Instagram @lacarmina.