Sugar sugar… Have I stumbled into Candyland?
Presenting one last photoshoot before I fly to Paris, Cairo, and Beirut — featuring Charli Cohen's progressive activewear for the modern super-heroine! 
As you can imagine, being a travel blogger means I'm always on the go. More than ever, I need a wardrobe that fits with both my lifestyle and alternative aesthetic.
These days, I've been turning to Charli Cohen for her edgy, technical "futurewear." As you can see, this designer activewear can seamlessly go from day — running around, working out — to night. (Just add fishnets and heels!)
I shot images of her designs at the new Musee du Bonbon in Richmond, BC. This pop-up is designed for taking photos, and the first of its kind in Vancouver. The 3000 square foot space has over 20 creative displays, which are perfect for snapping and sharing on Instagram.
This pink hallway let me channel Sheena Easton in her 1983 song: "Long long distance love affair (whoa-oh!). I can't find you anywhere (whoa-oh!).  I call you on the telephone, but you're never home…"
When it comes to building fantastical sets, Musee Du Bonbon doesn't phone it home. Read on to see my playful photoshoot with the various set pieces, wearing several different outfits. (This Valfre Jolie dress is from Forest Ink.)
This diamond room was the perfect spot to showcase Charli Cohen. All her garments are beautifully tailored with high-end technical fabrics.
Charli's designs brilliantly express her passion for futuristic technology, luxury couture, streetwear, and sportswear. I'm 100% behind her evolved approach to fashion, which insists on sustainable materials and production.
I'm going to be wrapping myself up in her Trojan Bomber all spring. This burgundy cropped jacket is made with the softest technical silk, which is breathable and has Thinsulate climate-control insulation. How adorable is the cropped coat design, with a cinched elastic waist, and zip pockets?
I paired my look with Alex Streeter silver jewelry. The Marquise Scorpion ring and Sphinx earrings arrived in time for my trip to Egypt. (The scorpion was a powerful symbol of protection, hailed by the ancient Egyptians).
The Radiator Cuff is a space-inspired bracelet by the "New York Goth-father" silversmith.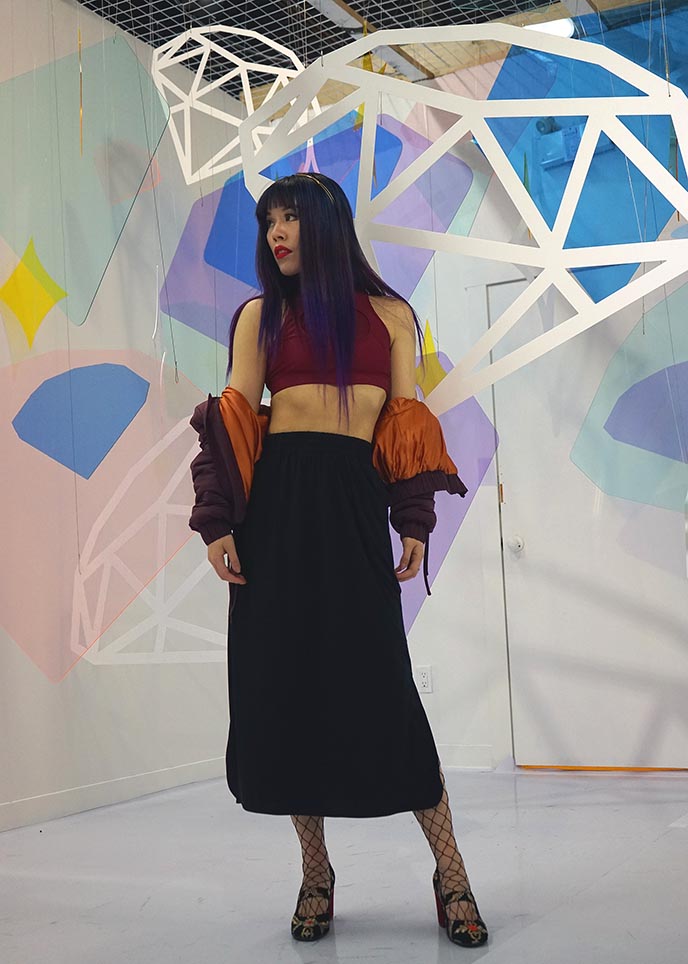 Details of my Charli Cohen Cipher skirt. Love the versatile style, with side slits to show a bit of leg, and pockets down the front. I'm excited to wear this piece on my travels, as it can be styled in a variety of ways and for different occasions. (I'll take it from the temple of Luxor to the nightclubs of Beirut…)
I matched this outfit with strappy red-heeled shoes by Le Babe.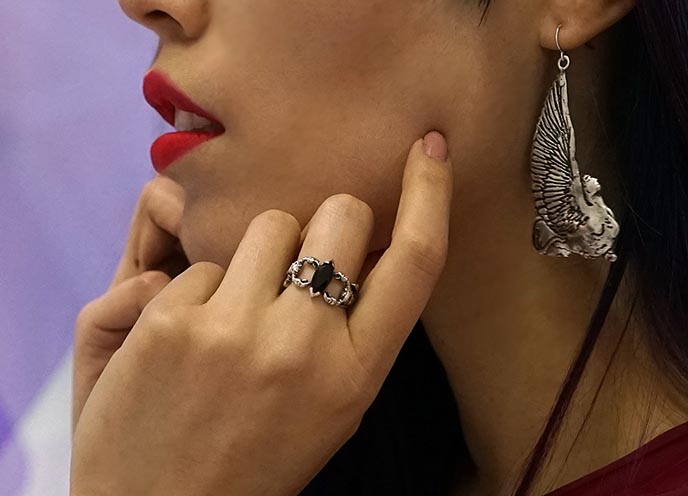 Another close-up of my Alex Streeter jewelry. I'm wearing these Silver-Plate Sphinx Earrings, which are intricately acid-edged. My Alex Streeter ring features a black Marquise-cut stone, held by two mirrored scorpions.
Ancient Egypt is one of Alex's influences, and I'm honored to wear his designs soon at the Great Pyramids of Giza!
Charli Cohen's red Athena multi crop lives up to its name: it can be worn as a sports bra, edgy top, swimwear, you name it. I'm all about the cut-out back and apocalyptic paneling. It's easy to put on, with a clasp at the top of the neck.
As always, Charli uses sustainable materials that are excellent at wicking away sweat, and moving with the body. (The red fabric is a technical polyamide made with recycled econyl fibers.)
I had fun posing with the various backdrops and props that Musee du Bonbon makes available for their guests. It's remarkable how the "empty" sets pop once you see them in photos.
You can tell I'm a fan of Charli's zip trackpant. The wide leg and elastic waist are made for dancing, and the vertical white striping makes it stand out. She adds two handy front pockets to the pants, which are made with technical scuba.
I'm blown away by Charli Cohen's luxury fitnesswear. Her alternative designs are unlike anything you'll find in stores, and they function at the highest performance level.
You can find out more on her website and @charlicohen Instagram (she makes clothing for both men and women, and ships worldwide).  I hope I'll soon get a chance to see one of her London Fashion Week shows. Until then, I'll be "kicking it" in her apparel on my upcoming travels!
The Musee du Bonbon had a highly Instagrammable rainbow room, featuring a confetti paper pool and large neon arc-en-ciel light.
The colorful scene called for a monochrome look, so I wore my Cryptic Apparel Secret Society sweatshirt with a hood.
In anticipation of my Egypt journey… Glam Nail Studio dolled up my nails in glittering gold and blue – the colors of King Tut! This Japanese nail salon is based in Richmond (Vancouver-area), British Columbia, and they deservedly win top awards for their nail art prowess.
My nail artist drew these designs by freehand, using a tiny brush… look at the lines on Tutankhamen's sarcophagus! We based the artwork on ancient Egyptian hieroglyphics. Can you spot Horus, Osiris, Bastet, a scarab, and an ankh?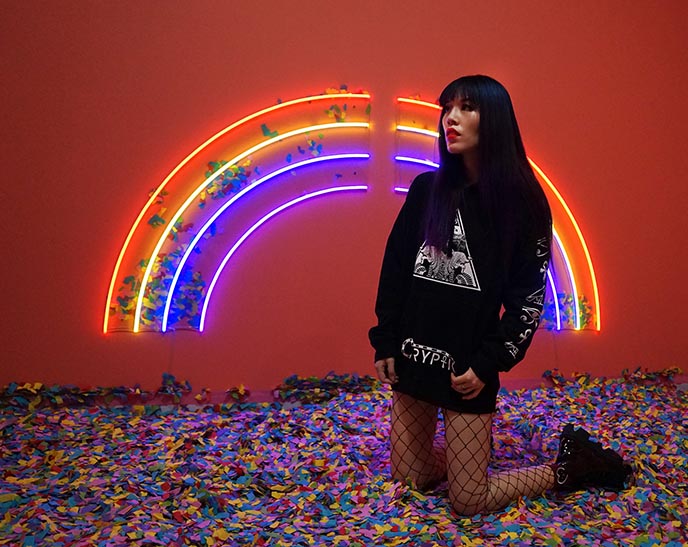 Hanging out in a neon-lit rainbow swimming pool… just a typical day.
I'm wearing Jungle petrol patent boots by Underground Shoes, a subculture and music inspired footwear brand from the UK. Shop their footwear below:

Here's another example of the jaw-dropping nail art you can get at Glam Nail Studio. (These aren't my hands, but as a Miffy fanatic, I wish they were!) Check out more Japanese kawaii nail art inspiration on @GlamNailStudio Instagram. 
Ready to meet the Sphinx, in my Cryptic Apparel hoodie featuring a pyramid and Egyptian symbols. Love how their designs blend Gothic, street, urban, and ancient history.
Now, for an even darker look…
Have you heard of "rage rooms" or "anger rooms"? The concept began in Japan: people pay to release their stress by destroying objects in a safe environment!
Smash Therapy (situated right next to Musee du Bonbon) is Vancouver's first anger room. You gear up in protective clothing that makes you look like a survivor of the zombie apocalypse. Then, you pick up a baseball bat or other weapon, and smash objects in the room to your heart's delight!
I'm not actually smashing anything here — just posing with a heavy metal hook, which can really do damage to someone!
Fittingly, I'm wearing a witchy Goth dress from Forest Ink (it's by French label Valfre). Forest Ink is an online shop "created for peculiar girls who don't mind standing out." (Sounds like anyone you know?) They have the most delectable range of Gothic / cute / grunge clothing, pins, and patches — sourced from indie brands and artists worldwide.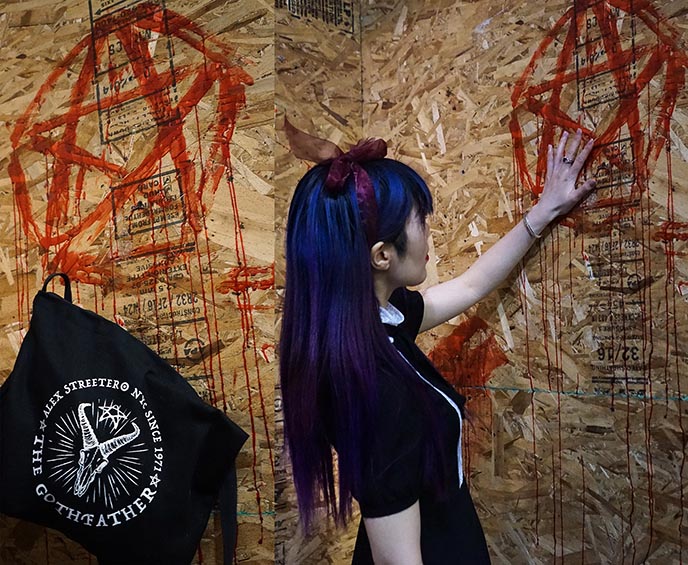 Love how the Smash Therapy room has a pentacle on the wall, drawn in what appears to be blood. It matches nicely with my devilish Alex Streeter "Gothfather" bag. (Hail!)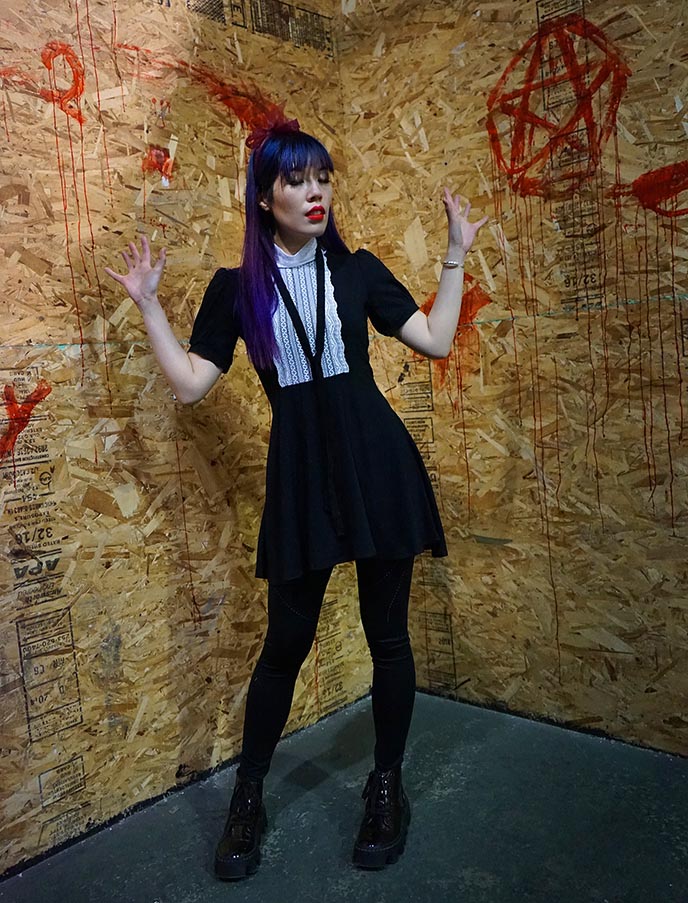 I paired the dress with Charli Cohen's Helix leggings, which have a sleek fit and laser cut detailing down the sides. (I'll show you more details soon.)
My Valfre Jolie black and white dress from Forest Ink reminds me of the Weird Sisters in the Chilling Adventures of Sabrina. This elegant, high-collared dress comes with a black ribbon that can be tied in a variety of ways around the neck.
I added a hair ribbon to channel Sabrina Spellman's headband. (Anyone else into the show about the teenage witch? You may recall I went to Spellman House, an event celebrating the Netflix release, around Halloween.)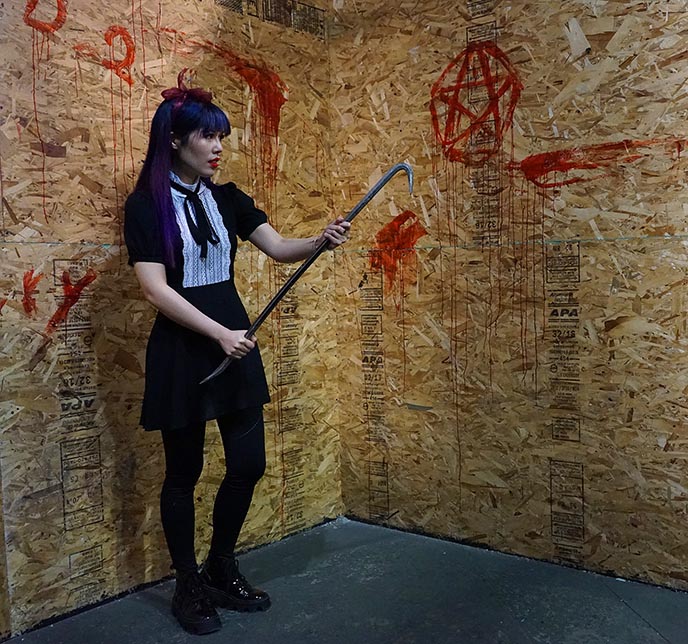 Next time I need to let off some steam, I'll be heading back to Smash Therapy to destroy everything in sight! (Visitors can bring their own items to bash, or purchase packages of items like old computers and vases.)
It's fun how I can play up different sides of myself, in Musee du Bonbon's various photo rooms.
This "Parisian cafe" staged set is getting me in the mood for France. I'm wearing a versatile light blue corduroy skirt, also by Forest Ink.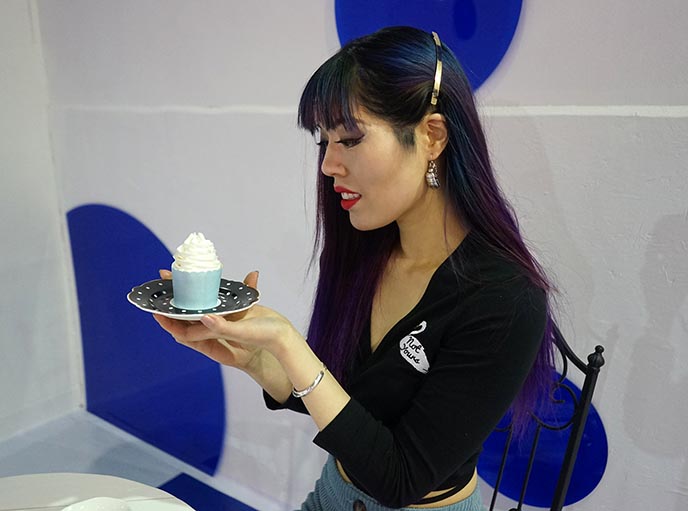 Forest Ink also sent me this delicious Valfre ballerina wrap top, which has ribbon ties that you can loop around your waist. Note the white swan logo on it, and the cheeky words "Not Yours"!
My gold minimalist barrette is by Sylvain Le Hen.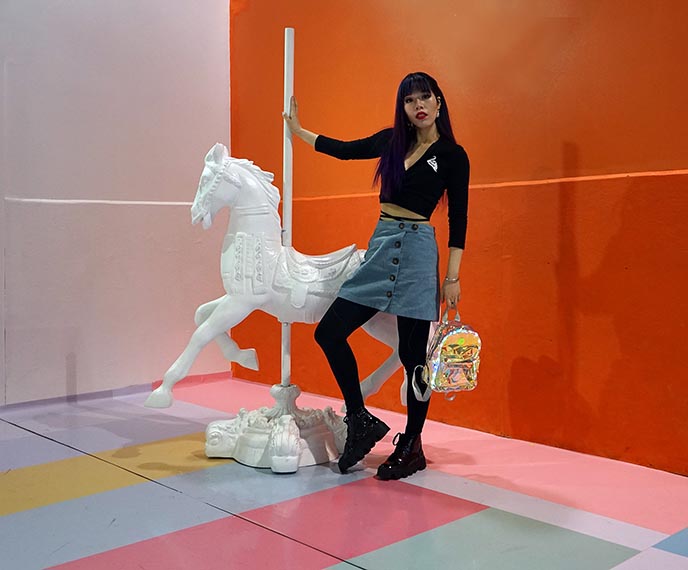 Here's the look from head to toe. My light-up backpack is by Cyberdog: the flashing colors mimic the backdrop.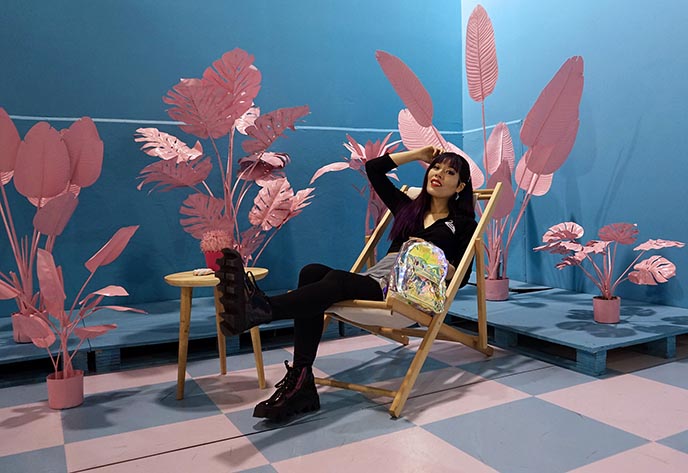 Vaporwave aesthetic, anyone? Lounging with hot pink palm leaves and a chessboard floor. (My boots are by Underground Shoes, see more below.)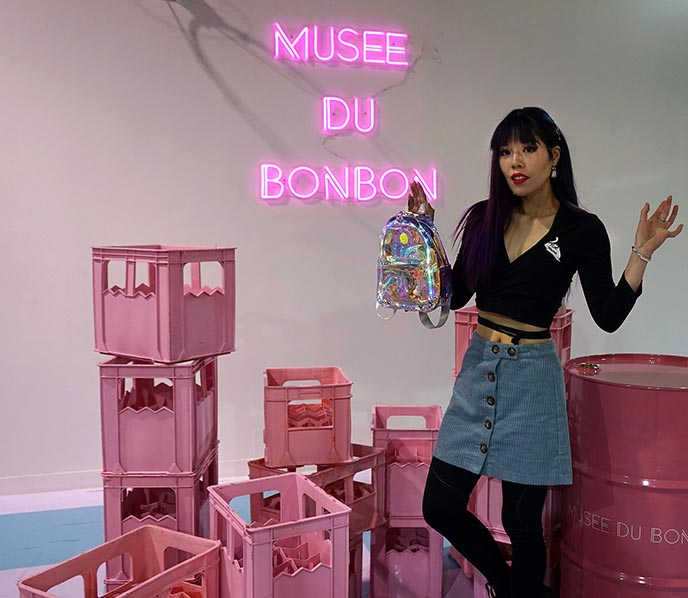 It was a joy to get creative and play with photography at Musee du Bonbon. The special photo/art exhibit is open in Vancouver only until March 31, so get a ticket and take pictures before it's gone.
A last look at my scintillating Egyptian nail art bestowed by Glam Nails.
Head's up — it's going to be quiet on the blog for the next while, as I'll be off on adventures in Egypt, Beirut, and Paris!  However, I'll be updating daily on Instagram: add me @lacarmina.
See you over the rainbow… in the land of the Nefertiti, Osiris and the Sphinx!
Lately, I've been sending out Cleopatra Goth vibes… because I'm about to embark on a dream journey. The cat's now out of the bag: I'm going to the land of animal-headed gods and cunning queens!
Hail Bastet… in collaboration with Travel Talk Tours, Yukiro and I are heading to Egypt!
(How excited are you to see us rocking Egyptian undead fashion, next to the Pyramids of Giza? Here's a hint: I'll be packing this crop top by Cryptic Apparel, which has a winged goddess design and hieroglyphics down the arm! The headbands are Sylvain Le Hen.)
Yukiro and I were invited to join Travel Talk Tours' Felucca Odyssey and Red Sea journey, a 12-day trip that will take us to Cairo, Aswan, Luxor, Dahab, and more major sites. We'll be in a group tour with fellow young travelers (generally age 18 to 30s), which will be a fun and safe way to see Egypt.
(Above is as photo from the time I visited Metairie Cemetery in New Orleans. Can't wait to see the real Sphinx this month.)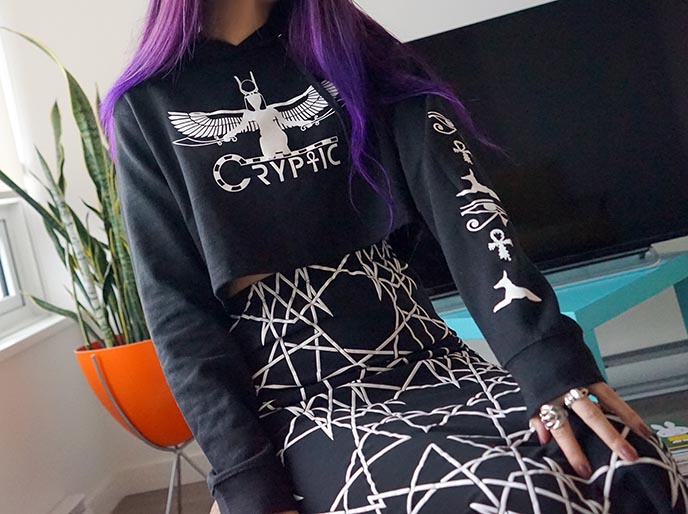 As someone who's long been fascinated by ancient Egyptian culture, I'm excited see the country with an expert guide. Booking with Travel Talk Tours means that we don't have to stress over anything, as they'll be driving us throughout the country, and arranging our hotels (we'll be in 4-5 star places). We'll also get to take part in activities like a dinner cruise on the Nile, and a camel trek in the desert. (You can peek at our itinerary here.)
If you're keen to see our adventures from Egypt, add me on Instagram @lacarmina — I'll be posting daily snaps!
But wait… there's more! Before flying to Cairo, I'll be swinging by Paris for a few days, with the assistance of Paris Tourism and Paris Perfect Apartments. (It's been ages since I stepped foot in France. What shall I wear to Pere Lachaise cemetery and the catacombs? Maybe something like the above?)
Yukiro and I are also spending a few days in Beirut, Lebanon! I've long wanted to visit this stylish city with a fab nightlife — can't wait to share what we discover with you.
I couldn't wait until Egypt to rock my streetwear from Cryptic Apparel, so I did a photoshoot with Jim Ollett, assisted by Joey Wong.
Since some associate the ancient Egyptians with aliens… I paired Cryptic's jackal beanie and goddess cropped hoodie with Irregular Choice's Satine space boots!
Irregular Choice is infamous for releasing glam glitter fabulous footwear. Their latest collection is inspired by outerspace. How amazing are these thigh-high boots, with stars and planets on sparkly pink fabric?
Click the images below for more decadent Irregular Choice shoes:

Cryptic Apparel is a Chicago-based streetwear brand that "merges the mysteries of ancient culture with modern style." Many of their designs are dark and with an occult bent, or Egyptian influence — like this Goddess Crop Top Hoodie.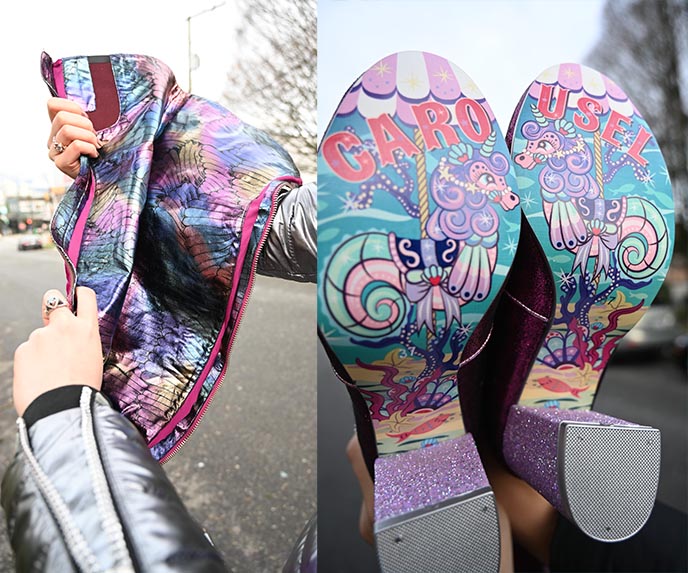 Details of the shimmery lining, carousel soles, and glittery heels of my Irregular Choice Satine boots (they come in pink and dark grey versions). Aren't they out of this world?
Barbarella, queen of the Galaxy… meets 1980s Egyptian Goth. Think Siouxsie Sioux and Death from the Sandman comics.
Love how Cryptic Apparel combines alternative street fashion with the symbols of ancient Egypt. These visuals are directly inspired by the art found in the tombs of queens and pharaohs.
My space age boots have a zipper down the back, and rise up over the knee. The crescent moons, starbursts and Saturns are embroidered onto the fabric. Even the high heel has a stardust effect.
Irregular Choice lets you "be the ultimate space age queen of the universe, in these astronomically superb over the knee boots."
Here's another look, this time with a pin-up vibe. I'm wearing a cropped bat sweater by Jawbreaker Clothing, and 3/4 style Oroblu designer stockings from UK Tights.
Release the bats! The spooky neon green creatures stand out from the black knit fabric.
I've been a fan of Jawbreaker Clothing for some time now. They produce alt clothing inspired by 1990s grunge, Goth, and Victorian aesthetics.
Call me Batgirl… Hair color and cut by Chad Mitchell Evans at Kore Salon in Vancouver, Canada. (You can book him through the link in his Instagram.)
I wore the sweater with a black suede skirt with a slit, which I had since the early 2000s. I've been wearing skeleton hand barrettes like this since that same era.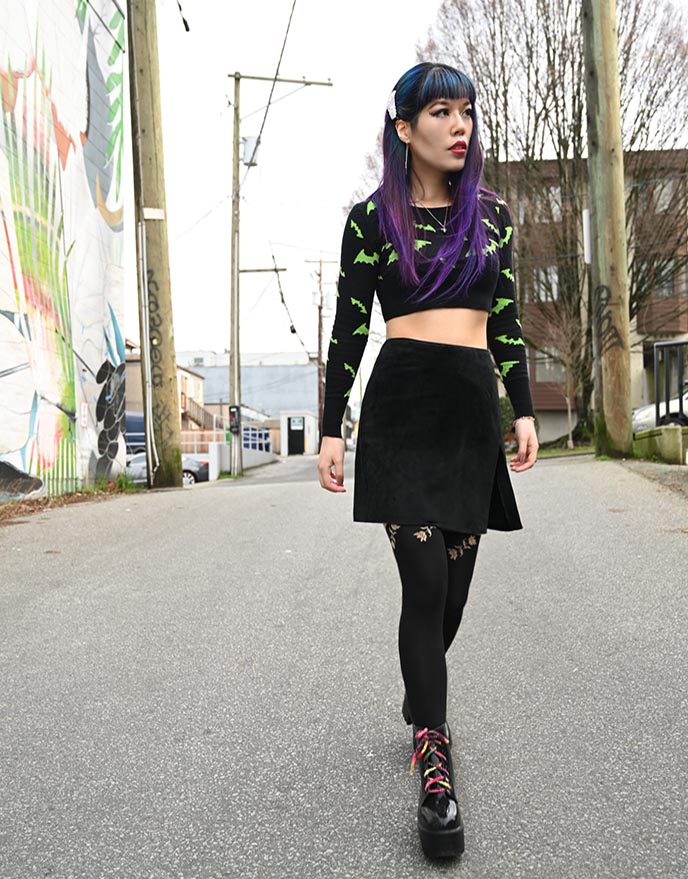 As for the platform shoes, they're Jeffrey Campbell boots. See more from this footwear designer below:

These Jeffrey Campbell Fog boots are remarkably easy to walk in, and waterproof as well. They came with black laces, but I replaced them with rainbow ones from Japan.
Jim Ollett took these photos in a random Vancouver alleyway, with creative direction and assistance from Joey Wong.
We snapped one last look with my red floppy hat from Tenth Street Hats, a silver space jacket I got in Romania, and Moschino leather gloves. Which of these three looks do you like best?
Speaking of aliens… we ventured to Locked Canada for their Abduction escape game. (Bodysuit from UK Tights.)
I've gotten into escape rooms over the past years, and Locked Vancouver's games are among the best I've experienced. As you can see, they put enormous attention into the details, immersing you in the world of extraterrestrials, zombies, serial killers, and more.
Take me to your leader… Pikachu?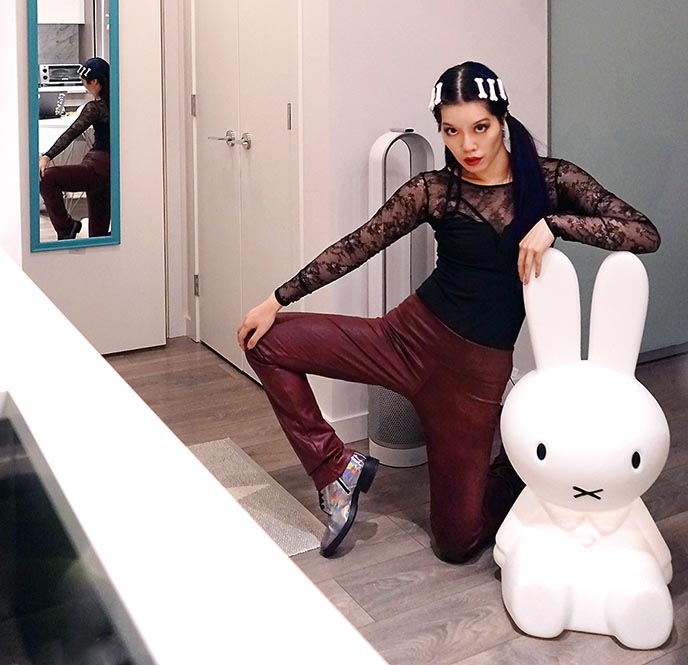 Negative. We all know that the leader of the Illuminati is Miffy! :x
My silver boots are also Irregular Choice, and the red faux leather leggings are UK Tights.
I leave you with a final Egyptian fashion preview. I'll be living in these Oliver Goldsmith sunglasses: they're the 1970s Rose Gold. The British designer's OG Decades Live collection includes frames from every iconic decade of the 20th century. Of course I chose the ones from the days of disco!
Can you spot the gold ankh pull-through earring? It's Wendy Nichol Jewelry, and the Domination top is Mary Wyatt London. (I could see Hatshepsut and Nefertiti rocking that.) My gold barrette is this one by Sylvain Le Hen. More below:

I'm all about minimalist design these days, and Oliver Goldsmith is a master craftsman. These Seventies sunglasses are constructed with lightweight stainless steel, and have large gradient lenses for a decadent look.
(For more eyewear from Oliver Goldsmith, click below.)

And that's it for now. See you in Cairo: I owe the real Sphinx a kiss!
Feel free to add me on Instagram @lacarmina — I'll be posting live updates from Paris, Beirut, and Egypt.