La Carmina Press: interviews, media appearances, travel TV hosting reel.
"La Carmina is one of the best-known names in the blogging world, having authored three books and hosting travel segments for international television networks." – Qantas Airlines

(La Carmina has) "beauty, grace, intelligence and can speak with authority on many subjects." "If you don't subscribe to this woman's Facebook, blog, and Twitter feeds you are really missing out, kids." – Andrew Zimmern (TV host, Bizarre Foods on Travel Channel)
La Carmina was featured on magazine covers and interviewed for major publications including The New York Times, The Guardian, Vogue, LA Times, The New Yorker, Washington Post, BBC, Forbes. See these clippings below. She was awarded the Best Blog of the Year award in 2017, and CBC's "Canada's Greatest Blogs." She received a travel writing award from the SATW Foundation in 2020.
♥ La Carmina's speeches and appearances as an influencer/expert include TEDx Talks Vancouver, World Tourism Forum Istanbul, guest speaker at Experience Bucharest / Travel Massive Romania, presenter at PechaKucha Tokyo, speaker at New York fashion week (Independent Fashion Bloggers conference and sitting front row at Lincoln Center), Hong Kong Social Media Week, Luisaviaroma Firenze4Ever (guest at exclusive event for top style bloggers), Mediabistro Social Curation Summit, PRSA Travel & Tourism Conference.
♥ TV hosting & arranging: La Carmina was a guest on The Today Show and CBS The Doctors, and co-starred in an episode of Bizarre Foods with Andrew Zimmern for Travel Channel. Recent credits include Better Late Than Never (NBC travel series with William Shatner, Henry Winkler, George Foreman, Terry Bradshaw), The Purge TV for USA Network / Blumhouse, National Geographic "Taboo", Travel Channel "Anthony Bourdain: No Reservations anniversary promo," Food Network "World's Weirdest Restaurants", Discovery / Science "Oddities", Pro Sieben "Joko vs Klaas", "Offline" and "Schulz in a Box," Canal Plus France "Toque a Tokyo," Norway TV "Ari and Per", NHK "Kawaii TV", and CNN International. Learn more about her TV production company.
♥ Travel TV / video series: La Carmina hosts and scripts an ongoing travel video series, which receives 500,000 views per episode. Shot worldwide in locations such as Slovenia and Morocco, she and her professional filmmakers experience a destination (especially the youth culture, fashion and nightlife). They do a personalized series of blogs, videos and articles about the experience. For example, her Hungary episode was made with support by Eurail and the Continental hotel. Read more about her travel blogging work.
♥ Books & travel journalism: She is the author of four books with major publishers (Simon and Schuster, and Penguin Random House worldwide). La Carmina writes for leading print and in-flight magazines. View her articles at The New York Times, Travel & Leisure, Time Magazine, CNN Travel, Business Insider, Fodor's Travel, The Daily Beast, and Huffington Post, among other publications. Learn more about La Carmina's 4 books published globally — including The Little Book of Satanism. La Carmina's writing won the Bronze award in the 2020 SATW Lowell Thomas Travel Journalism Competition.
♥  Television production and consulting: She and her business partner Naomi run La Carmina & The Pirates. They do TV local fixing / producing for major network shows, and specialize in weird Japan, body modifications, cosplay, Goth, trends, art and youth subcultures. (Click here to learn more and hire the Pirates. See her TV hosting clips.)
La Carmina – Recent & Featured Press Coverage
– La Carmina was featured in The New York Times – sharing her memoir for Modern Love, Tiny Love Stories.
– Her latest book deal was announced on Publisher's Weekly (religions books deals) and Publisher's Marketplace. "The Little Book of Satanism" is published by Simon & Schuster with a foreword by The Satanic Temple cofounder and spokesperson Lucien Greaves.
– Feature in Forbes Magazine. "Her new book, The Little Book of Satanism, is a thoughtful, concise examination of the history of the devil, and cuts through the Satanic Panic myths that are still prevalent today."
– La Carmina discusses the Satanic Panic with Dazed Magazine.
– Her "The Little Book of Satanism" is reviewed / featured by Vancouver Magazine, Metropolis Tokyo, OnlySky, CBC, Religion News, Religion Dispatches, Columbia University Magazine, Interlocutor, Rue Morgue, CrimeReads and more, as well as numerous podcasts like Darkness Radio.
– La Carmina was interviewed about fashion for The New York Times Styles and InStyle Magazine.
– Her work as a Japan pop culture journalist is honored by the Tokyo Metropolitan Government.
– La Carmina shared her favorite Goth and Halloween spots in Tokyo, Japan for Metropolis Magazine and Tokyo Cheapo.
– She was profiled in Meredith / Real Simple print magazine Millie, about her job as a travel TV host and fixer.
– She was interviewed by Unilad about the Satanic Panic and false Satanic ritual abuse claims.
– La Carmina is interviewed regularly as a travel expert for Yahoo and Huffington Post, providing tips and advice.
– She was featured as a fashion expert in an interview for Nylon Magazine.
– LC was interviewed by Conde Nast Traveler. See CN Traveller Magazine.
– LaCarmina was on the cover of Dark Beauty Magazine.
– La Carmina was quoted about travel and lucid dreaming in The Globe and Mail, and also provided the newspaper with sleep and travel tips.

– La Carmina received the Bronze Prize in the 2020 SATW Lowell Thomas Travel Journalism Awards. This prestigious annual award ceremony has been "recognizing excellence in travel journalism" since the early 1980s.
– Featured on the front page of Metro News UK, Travel section – interviewed for the largest circulating newspaper in the United Kingdom.
– Memoirs of her travels with author Elizabeth Wurtzel (Prozac Nation) for Fodor's Travel (this article won a SATW travel writing award)
– She is frequently interviewed by Huffington Post as a travel expert, for a variety of traveling topics.
– Interviewed by Refinery29
– Pink Pangea "Conversation with Goth Travel Blogger" feature
– LaCarmina's interview with MSN and Yahoo Finance about travel.
– Travindy (top tourism site) interview about sustainable travel and overtourism
– Uproxx interview: "A Travel Expert Explains Why Easter Island Should Be On Your Dream Vacation List"
– Space Nation: LaCarmina's space travel fashion tips
– LC interviewed about flights and travel tips for Vancouver is Awesome.
– Penguin Random House author page for La Carmina's books, published in print worldwide
– Express Germany: travel TV host on ProSieben (Germany TV) "Das Duell um die Welt – Team Joko gegen Team Klaas", Tokyo challenge with Steven Gätjen
– Interviewed by Global News – "Canadian travel experts weigh in on some of the best way to pass time" on an airplane.
– News Australia travel advice interview
– Cover of Auxiliary Magazine, as well as interior editorial fashion spread and interview.
– Invited to be a guest speaker at Experience Bucharest / Romania Tourism conference and travel influencer event
– LC is a regular guest on podcasts, speaking as an expert on travel, Goth culture and Satanism. Her podcasting appearances include Cemetery Confessions, Black Mass Appeal and Satanic Study Hall.
– Visit Estonia tourism board feature

– BBC Radio Worldwide interview for "The Why Factor" show about Gothic culture.
– Daily Hive feature of @lacarmina Instagram
– Her apartment interior design was featured in Movato Home Magazine (print publication in 3 languages / 5 editions across Canada) and Adorable Home.
– La Carmina won the Best Blogger of the Year award
– LaCarmina featured as a top Goth Instagram and blog by Radisson Red hotels
– Buzzfeed profile about La Carmina's Tokyo travels and expert tips.
– Profiled by Chris Guillebeau for The Art of Non-Conformity
– Canadian Traveller magazine interview
– The New York Times – NYT photo contribution
– Buzzfeed Travel – tips from the "world's top travel writers and bloggers"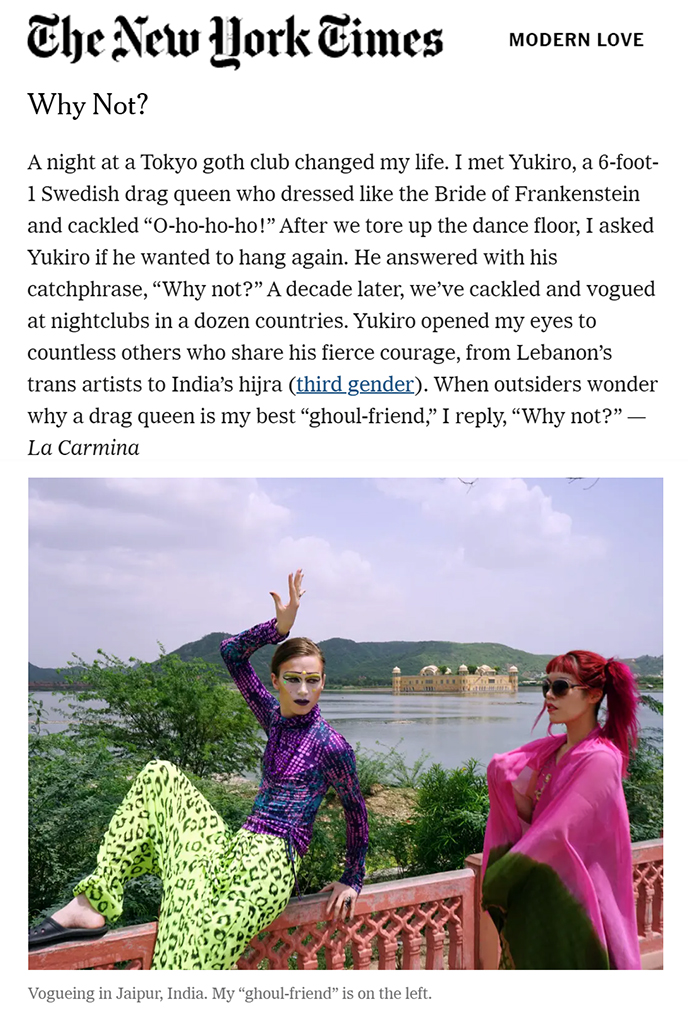 – Interview with Time Magazine publication for millennials, about growing her career.
– The New York Post and News Australia
– Cover of Where Magazine, found in North American bookstores and hotels.
– Cover of Carpe Nocturne Magazine – shot at Dracula Whitby Abbey, UK
– Cover of Love Japan magazine, with interview and spread.
– Fashion One TV – La Carmina was the subject of a episode on this fashion TV network, airing in 120 countries.
– Travelpulse, the leading travel industry resource, honored her as a top travel blogger.
– CBC – La Carmina is named one of Canada's greatest blogs
– Yahoo Travel – Israel travel video. LaCarmina is part of the select Yahoo Travel Explorers bloggers team
– ABC News – appeared on ABC Nightline, as a guest expert on Japanese concept cafes
– Cover of Giuseppina Magazine, leading alternative fashion & beauty magazine
– Qantas Airlines magazine: travel blogger insider interview
– NME music magazine, tribute to Craig Gill
– Lookbook.nu top fashion blogger profile
– Fashion One TV interview
– Ray Li Magazine (瑞丽 or RayLi: featured in China's leading fashion magazine)
– Cover of Kirameki Magazine (plus interview and spread)
– Sunday Times Travel Magazine feature
– Travel + Leisure magazine
– Cover and 4-page feature in Hong Kong Express Airlines in-flight magazine
– Lucky Magazine – fashion blogger feature
– Cover, interview & spread in Rebelicious Magazine
– CBC Olympics home page
– Multiple German newspapers including Focus.de
– Cover and spread of Ladies of Steampunk magazine: Tokyo steampunk fashion
– Cover and spread in Adone Magazine: Street Style issue
– Trendhunter (fashion influencer trends)
– Fashion Indie feature interview
– Vice Magazine highlights her Scottish Fold cat
– South China Morning Post (Hong Kong, Encounter Travel magazine)
– About.com Multicultural Beauty interview 
– Dark Beauty Magazine (Jan 2013 cover & spread, street style issue)
– Gulf News (Dubai, United Arab Emirates)
– The Doctors, CBS daytime TV talk show guest (speaking about Japan bagel head forehead inflation)
– The Japan Times (interview about Japanese bagel heads on National Geographic Taboo TV)
– Vanity Magazine UK – cover and spread of this British fashion magazine
Escala Revista, cover story for Aeromexico flight magazine (1.5 million readers)
– Gothic Beauty Magazine
– Fashion TV & Fame Rocks red carpet
– ANAN Magazine (major Japanese fashion publication)
– AOL Celebrity Japan
– My Daily UK – NY Fashion Week
– The Daily Beast
– Vogue India
– Fashion TV Italy
– Racked
– Sohu China 
– Luisaviaroma Firenze4Ever (haute couture event for the world's top fashion bloggers)
– AOL / My Daily
– Style.it 
– BUST Magazine (full page color spread + interview)
– Alt Noir Magazine (cover and inside spread)
– Zagat (named one of the best cooking shows on YouTube)
– AOL / Huffington Post (launch of her travel TV show)
– LA Weekly (Hello Kitty birthday party, travel TV show premiere)
– Vogue Italia
– Featured interview in Coolhunting Digital book (Spain)
– Luisaviaroma styling lab (Italy: she was one of the 40 top fashion bloggers flown to the event)
– LA Weekly interview and 33-photo slideshow about her Japan charity work
– LA Weekly: featured in a 31-photo slideshow
– The Diplomat (Japan: current affairs magazine)
– Touring Bird, announcement about the Google Area 120 travel tips site she wrote for / project managed
– Cosmopolitan Magazine France
– Andrew Zimmern's column in Mpls St. Paul Magazine
– Travel Channel: Bizarre Foods with Andrew Zimmern
– Bizarre Magazine (UK: 4-page spread)
– Front page of CNN International and CNNGo
– The Guardian (UK: her book Cute Yummy Time was one of the oddest book titles of the year)
– Washington Post (Cute Yummy Time is recommended)
– Mediabistro Galleycat
– BoingBoing
– LA Weekly interview
– LA Times feature about her book Cute Yummy Time
– About.com feature about her Theme Restaurants book, also recommended in About's Manga gift guide
– CNNGo (Asia: photo feature)
– Cover and spread in Metro NY and Metro Philadelphia
– Women's Day Magazine
– The Village Voice
– Ming Pao (Chinese newspaper)
– The Today Show, NBC TV interview 
– Random House author page
– Penguin USA author page
– Vancouver Province
– Vancouver Sun
– The New Yorker
– Women's Wear Daily
– The National Post
– Time Out New York
See La Carmina TV interviews and television hosting / presenting on-camera clips here. See her magazine covers and modeling photos here.
Watch La Carmina's TV demo reel. Clips include CNN, Today Show, Bizarre Foods with Andrew Zimmern, Circus HalliGalli Joko und Klaas, Kawaii TV Japan NHK.
Want to interview or reach La Carmina?
Email La Carmina for interview requests, TV guest expert appearances, travel influencer FAM / press trips, sponsored posts, blog ads, promotions and other collaborations.
Write to her at gothiccarmina {at-gmail} dot-com
Add La Carmina's Verified social networks (@lacarmina): Instagram, Facebook, Twitter, Tumblr, YouTube, Pinterest, #lacarmina