Category Archive for
Alternative Canada
Sugar sugar… Have I stumbled into Candyland?
Presenting one last photoshoot before I fly to Paris, Cairo, and Beirut — featuring Charli Cohen's progressive activewear for the modern super-heroine! 
As you can imagine, being a travel blogger means I'm always on the go. More than ever, I need a wardrobe that fits with both my lifestyle and alternative aesthetic.
These days, I've been turning to Charli Cohen for her edgy, technical "futurewear." As you can see, this designer activewear can seamlessly go from day — running around, working out — to night. (Just add fishnets and heels!)
I shot images of her designs at the new Musee du Bonbon in Richmond, BC. This pop-up is designed for taking photos, and the first of its kind in Vancouver. The 3000 square foot space has over 20 creative displays, which are perfect for snapping and sharing on Instagram.
This pink hallway let me channel Sheena Easton in her 1983 song: "Long long distance love affair (whoa-oh!). I can't find you anywhere (whoa-oh!).  I call you on the telephone, but you're never home…"
When it comes to building fantastical sets, Musee Du Bonbon doesn't phone it home. Read on to see my playful photoshoot with the various set pieces, wearing several different outfits. (This Valfre Jolie dress is from Forest Ink.)
This diamond room was the perfect spot to showcase Charli Cohen. All her garments are beautifully tailored with high-end technical fabrics.
Charli's designs brilliantly express her passion for futuristic technology, luxury couture, streetwear, and sportswear. I'm 100% behind her evolved approach to fashion, which insists on sustainable materials and production.
I'm going to be wrapping myself up in her Trojan Bomber all spring. This burgundy cropped jacket is made with the softest technical silk, which is breathable and has Thinsulate climate-control insulation. How adorable is the cropped coat design, with a cinched elastic waist, and zip pockets?
I paired my look with Alex Streeter silver jewelry. The Marquise Scorpion ring and Sphinx earrings arrived in time for my trip to Egypt. (The scorpion was a powerful symbol of protection, hailed by the ancient Egyptians).
The Radiator Cuff is a space-inspired bracelet by the "New York Goth-father" silversmith.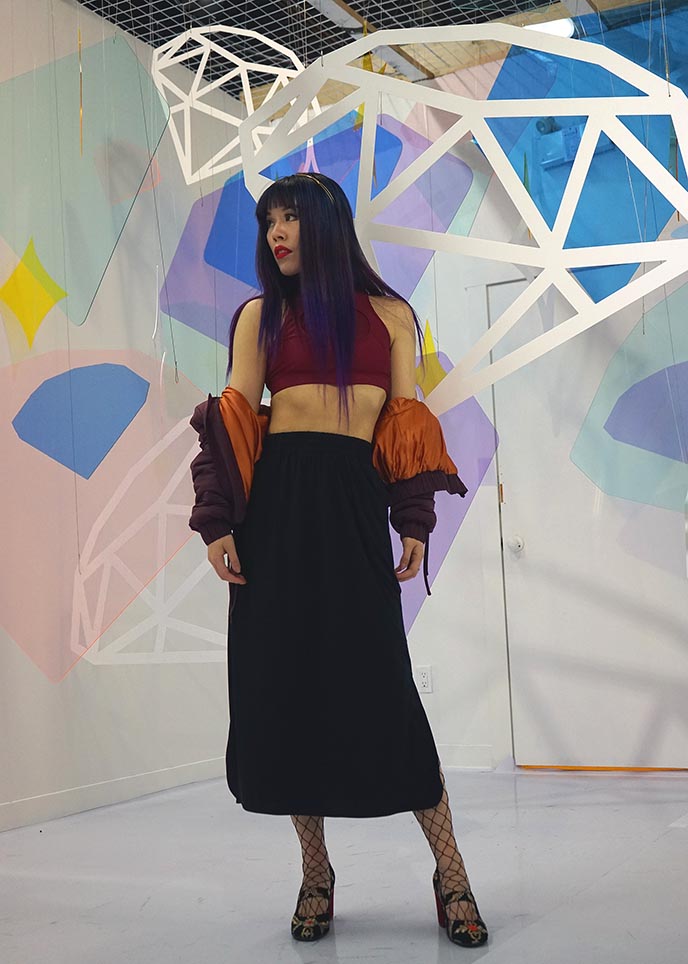 Details of my Charli Cohen Cipher skirt. Love the versatile style, with side slits to show a bit of leg, and pockets down the front. I'm excited to wear this piece on my travels, as it can be styled in a variety of ways and for different occasions. (I'll take it from the temple of Luxor to the nightclubs of Beirut…)
I matched this outfit with strappy red-heeled shoes by Le Babe.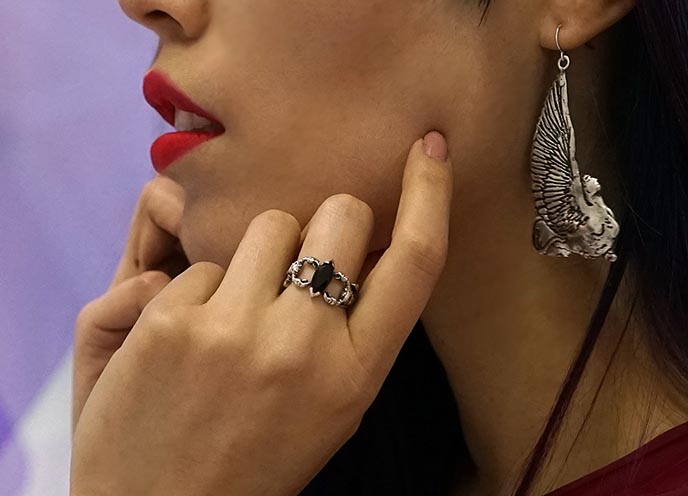 Another close-up of my Alex Streeter jewelry. I'm wearing these Silver-Plate Sphinx Earrings, which are intricately acid-edged. My Alex Streeter ring features a black Marquise-cut stone, held by two mirrored scorpions.
Ancient Egypt is one of Alex's influences, and I'm honored to wear his designs soon at the Great Pyramids of Giza!
Charli Cohen's red Athena multi crop lives up to its name: it can be worn as a sports bra, edgy top, swimwear, you name it. I'm all about the cut-out back and apocalyptic paneling. It's easy to put on, with a clasp at the top of the neck.
As always, Charli uses sustainable materials that are excellent at wicking away sweat, and moving with the body. (The red fabric is a technical polyamide made with recycled econyl fibers.)
I had fun posing with the various backdrops and props that Musee du Bonbon makes available for their guests. It's remarkable how the "empty" sets pop once you see them in photos.
You can tell I'm a fan of Charli's zip trackpant. The wide leg and elastic waist are made for dancing, and the vertical white striping makes it stand out. She adds two handy front pockets to the pants, which are made with technical scuba.
I'm blown away by Charli Cohen's luxury fitnesswear. Her alternative designs are unlike anything you'll find in stores, and they function at the highest performance level.
You can find out more on her website and @charlicohen Instagram (she makes clothing for both men and women, and ships worldwide).  I hope I'll soon get a chance to see one of her London Fashion Week shows. Until then, I'll be "kicking it" in her apparel on my upcoming travels!
The Musee du Bonbon had a highly Instagrammable rainbow room, featuring a confetti paper pool and large neon arc-en-ciel light.
The colorful scene called for a monochrome look, so I wore my Cryptic Apparel Secret Society sweatshirt with a hood.
In anticipation of my Egypt journey… Glam Nail Studio dolled up my nails in glittering gold and blue – the colors of King Tut! This Japanese nail salon is based in Richmond (Vancouver-area), British Columbia, and they deservedly win top awards for their nail art prowess.
My nail artist drew these designs by freehand, using a tiny brush… look at the lines on Tutankhamen's sarcophagus! We based the artwork on ancient Egyptian hieroglyphics. Can you spot Horus, Osiris, Bastet, a scarab, and an ankh?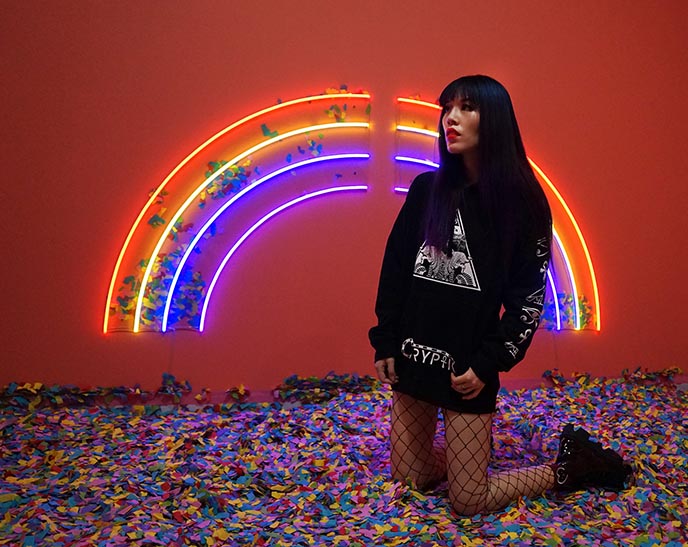 Hanging out in a neon-lit rainbow swimming pool… just a typical day.
I'm wearing Jungle petrol patent boots by Underground Shoes, a subculture and music inspired footwear brand from the UK. Shop their footwear below:
Here's another example of the jaw-dropping nail art you can get at Glam Nail Studio. (These aren't my hands, but as a Miffy fanatic, I wish they were!) Check out more Japanese kawaii nail art inspiration on @GlamNailStudio Instagram. 
Ready to meet the Sphinx, in my Cryptic Apparel hoodie featuring a pyramid and Egyptian symbols. Love how their designs blend Gothic, street, urban, and ancient history.
Now, for an even darker look…
Have you heard of "rage rooms" or "anger rooms"? The concept began in Japan: people pay to release their stress by destroying objects in a safe environment!
Smash Therapy (situated right next to Musee du Bonbon) is Vancouver's first anger room. You gear up in protective clothing that makes you look like a survivor of the zombie apocalypse. Then, you pick up a baseball bat or other weapon, and smash objects in the room to your heart's delight!
I'm not actually smashing anything here — just posing with a heavy metal hook, which can really do damage to someone!
Fittingly, I'm wearing a witchy Goth dress from Forest Ink (it's by French label Valfre). Forest Ink is an online shop "created for peculiar girls who don't mind standing out." (Sounds like anyone you know?) They have the most delectable range of Gothic / cute / grunge clothing, pins, and patches — sourced from indie brands and artists worldwide.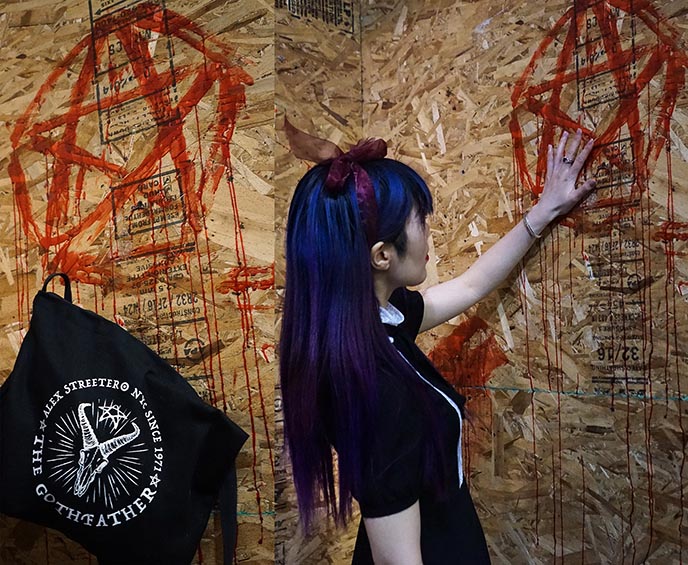 Love how the Smash Therapy room has a pentacle on the wall, drawn in what appears to be blood. It matches nicely with my devilish Alex Streeter "Gothfather" bag. (Hail!)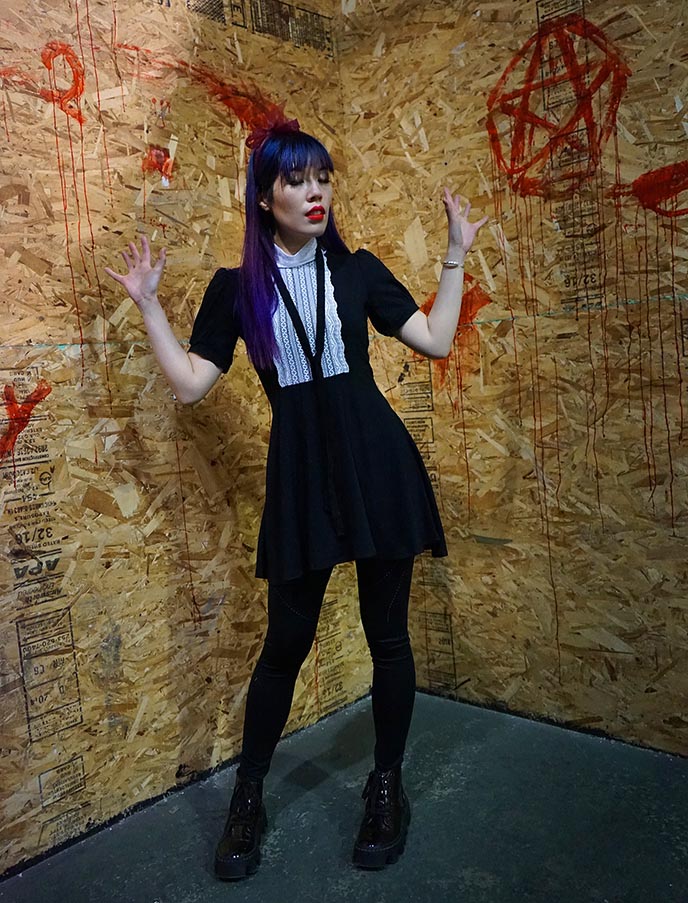 I paired the dress with Charli Cohen's Helix leggings, which have a sleek fit and laser cut detailing down the sides. (I'll show you more details soon.)
My Valfre Jolie black and white dress from Forest Ink reminds me of the Weird Sisters in the Chilling Adventures of Sabrina. This elegant, high-collared dress comes with a black ribbon that can be tied in a variety of ways around the neck.
I added a hair ribbon to channel Sabrina Spellman's headband. (Anyone else into the show about the teenage witch? You may recall I went to Spellman House, an event celebrating the Netflix release, around Halloween.)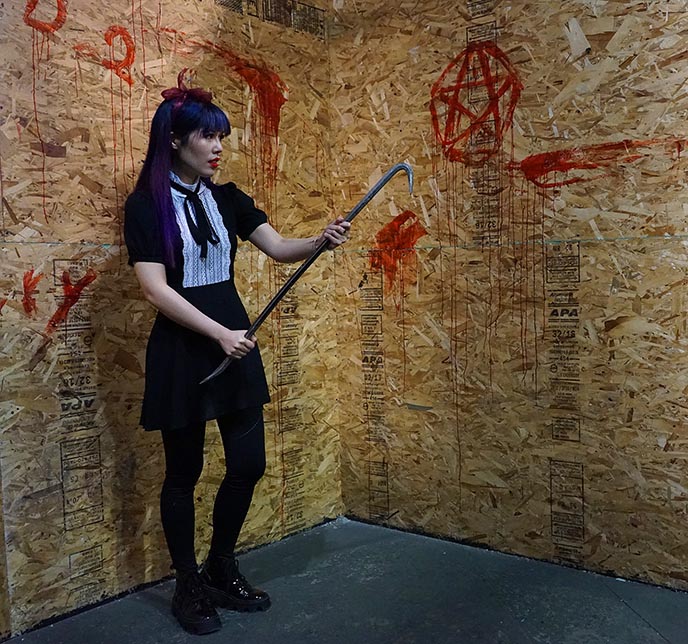 Next time I need to let off some steam, I'll be heading back to Smash Therapy to destroy everything in sight! (Visitors can bring their own items to bash, or purchase packages of items like old computers and vases.)
It's fun how I can play up different sides of myself, in Musee du Bonbon's various photo rooms.
This "Parisian cafe" staged set is getting me in the mood for France. I'm wearing a versatile light blue corduroy skirt, also by Forest Ink.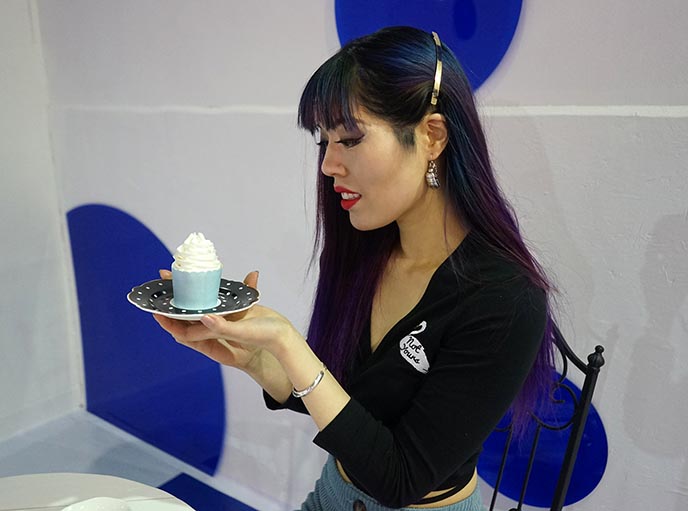 Forest Ink also sent me this delicious Valfre ballerina wrap top, which has ribbon ties that you can loop around your waist. Note the white swan logo on it, and the cheeky words "Not Yours"!
My gold minimalist barrette is by Sylvain Le Hen.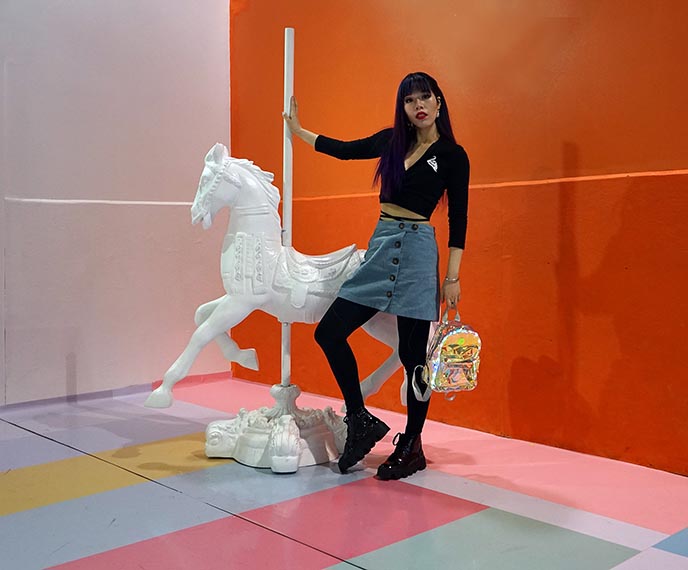 Here's the look from head to toe. My light-up backpack is by Cyberdog: the flashing colors mimic the backdrop.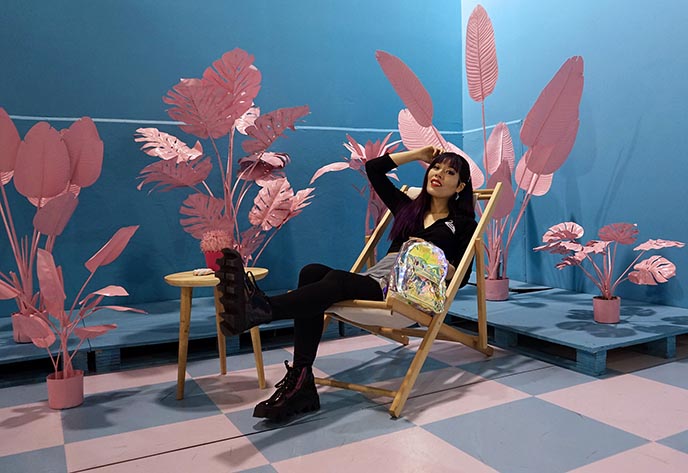 Vaporwave aesthetic, anyone? Lounging with hot pink palm leaves and a chessboard floor. (My boots are by Underground Shoes, see more below.)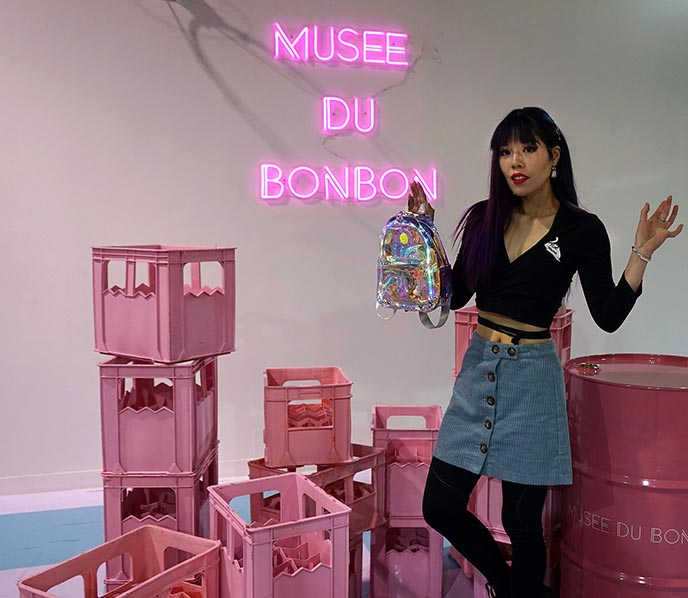 It was a joy to get creative and play with photography at Musee du Bonbon. The special photo/art exhibit is open in Vancouver only until March 31, so get a ticket and take pictures before it's gone.
A last look at my scintillating Egyptian nail art bestowed by Glam Nails.
Head's up — it's going to be quiet on the blog for the next while, as I'll be off on adventures in Egypt, Beirut, and Paris!  However, I'll be updating daily on Instagram: add me @lacarmina.
See you over the rainbow… in the land of the Nefertiti, Osiris and the Sphinx!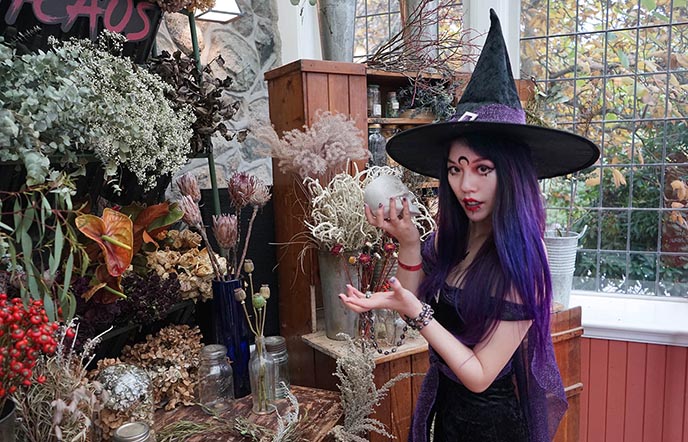 "Ooo I put a spell on you… Because you're mine."
This Halloween, I got witchy at Spellman House — a special popup event to celebrate the launch of Netflix's Chilling Adventures of Sabrina TV series!
Read on for my haunted tour of Sabrina Spellman's manor. At the end, I have a shopping guide to Tokyo Station Character Street — where you can buy kawaii goods featuring all your favorite mascots, from Miffy to Hello Kitty!
We 90s girls grew up watching the original Sabrina the Teenage Witch TV sitcom. Rob and I also read the strips by the makers of Archie Comics, which debuted in 1962. The storylines follow the adventures of teen half-mortal Sabrina, who lives with her aunts Hilda and Zelda and learns to use her powers of sorcery.
We wore witch outfits to pay tribute to Sabrina Spellman and her coven. Instead of black cat Salem, I have a google-eyed furry as my familiar!
I'm wearing a long black and purple witch dress with cape, buckles and pointed hat — similar to this Halloween costume.
See more witch and sorceress costumes below:

The Sabrina pop-up took place at Cecil Green Park House, an event space in UBC (University of British Columbia) Vancouver. The elegant Tudor mansion was Goth-ed up with skulls, candles, antlers and other spooky delights.
At #SpellmanHouse #CAOS, visitors can take part in various installations or activities. Before entering, we received a video greeting from Kiernan Shipka, the blonde leading actress of the new Chilling Adventures of Sabrina show. We then signed our names in blood red, in the Book of the Beast.
In the patio, we encountered the black-hooded Dark Lord, casting spells over his pentagram. This evil queen made him give up his throne chair for a photo.
One of the mansion rooms contained makeup stations, where guests could try Sephora makeup. Rob got a black lip stain, and red pentagram nail art.
The Cecil Green library contained a set-up of tarot cards. We picked one red card, marked with a pentacle, and found out which animal was our familiar (cat, owl, spider, etc). Then, you could get a temporary tattoo in the shape of the familiar – I got cat, and put it on my chest.
I was psyched to attend the launch party, as I've been watching the new Chilling Adventures of Sabrina on Netflix. No animatronic kitties in this show: it's a dark, adult, bloody take on the Sabrina tale, much like the recent revamp in the comic books.
The organizers went all out to make the venue look like Spellman Mortuary, including hanging an identical sign outside the door. The Sabrina show is shot in Vancouver, so it's fun to be part of the Greendale / Riverdale universe (Cheryl Blossom's home in the Archie show is this Cecil Green manor.)
Everyone received a special-edition poster and drink ticket, which they could turn in for a themed cocktail at the bar. It was fun to sip a green or purple potion, surrounded by taxidermy critters, antique chairs and fireplaces.
Bubble, bubble, toil and trouble… In this room, guests could smell and try various essential oils.  There was also a display of poisonous ingredients to concoct a potion.
One of the best activities involved dramatically walking down the hallways of Baxter High (Sabrina, Harvey and Roz's high school), while being filmed in slow-motion. The GIF is then emailed to you (see mine above and on Youtube). Alas, the wind blew my witch hat off my big head… but you just have to keep on werking that catwalk!
As promised, we'll finish off with a tour of Japan's Character Street. Tokyo Station used to be a nothing-land, and my friends and I never hung out in this area. However, the station has been expanded and renovated. It now contains tons of exciting food, and dozens of shops dedicated to cute characters.
Now, Tokyo Station is the best place in the city to shop for kawaii character goods in one place! There is an entire level with stores for every mascot you can imagine (Anpanman, Hello Kitty, Pokemon, and some I've never heard of). The boutiques sell limited edition items as well, which can only be bought at Tokyo Station.
To get First Avenue Tokyo Station, take the subway here and then look for Yaesu North exit. Go down the stairs, and you'll be greeted by Kirby, Aggretsuko and other cuties. (The pink Nintendo star is wearing a conductor's cap, as many of the special goods are train-themed).
Before you whip out your wallet, I recommend that you begin at the Tax Free booth on the level above. Bring your passport, as they'll need to register you. Then, you can buy whatever your heart desires without sales tax!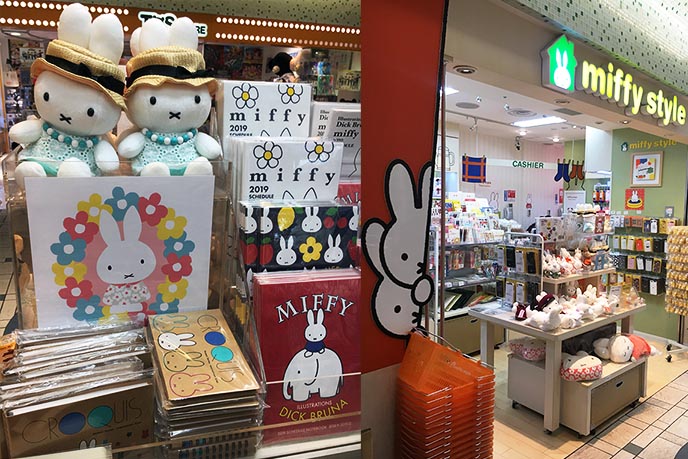 As you might guess, my main goal was to visit the Miffy Style store. The X-mouthed rabbit is by far my favorite mascot. At Miffy's Tokyo Station Character Street shop, you can find limited run items that aren't available anywhere else or online.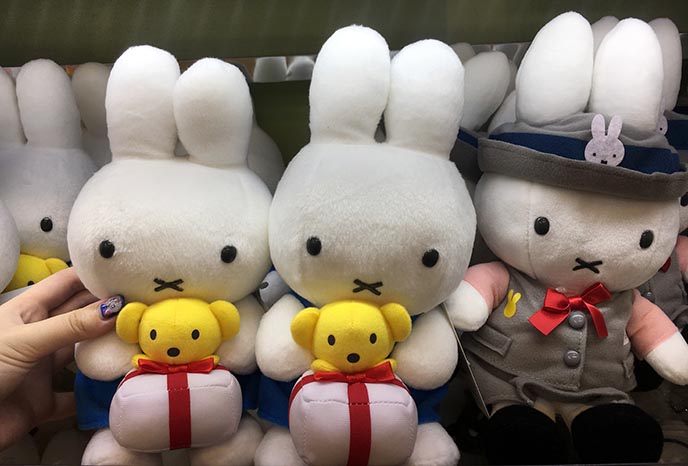 Miffy is actually a Dutch bunny, designed by Dick Bruna. She's arguably the first 'kawaii-style' character, arriving on the scene even before Hello Kitty. I'm obsessed with the minimalism of the design.
Tokyo's Miffy Style store is bursting with plush toys of the bunny in all her incarnations. There she is as a Hankyu Line train conductor, with a bent ear, and sleeping peacefully on her side!
In addition, you can find Miffy-themed cookies, fine jewelry, stationery, baby clothes, home decor… and even designer trash cans.
I couldn't resist buying a few things here. I got a Miffy phone case, a daruma charm, and water bottle with her image.
Japan actually has a few Miffy Style locations, as the bunny has been more prominent here in recent years. However, the Tokyo Station one will have items that you can't get anywhere else, so I encourage you to come here.
(You may remember I also visited Miffy Amsterdam shops and the Nijntnje / Miffy museum in Utrecht. Unfortunately, all the Hong Kong Miffy 2% stores have closed down, so Japan and Holland are the two best places to get souvenirs.)
One of the most popular boutiques is the Pokemon Store, which was packed with fans trying to "catch em all." Train conductor Pikachu welcomes the crowds, while Mimikyu stuffed toys hide in the back.
No "Character Street" would be complete without the Japanese queen herself. The Hello Kitty shop is easy to spot, with its all-pink color scheme and big bow logo.
Tokyo Station has tons of items for both adults and children, such as this Hello Kitty Furla purse and Sanrio clothing. Click below for more of my picks:

Too cute, too cute! The Sanrio store has plushies and character goods for Pompompurin, Bad Badz Maru, and other characters from the Hello Kitty multiverse over the years.
You can't find Hello Kitty in a Japanese train conductor suit or Japanese sailor schoolgirl (seifuku) uniform anywhere else.
Tokyo Station's Character Street shops are constantly changing, and there are always interesting temporary pop-ups. When I visited, there was a collaboration with Bonobono the mellow sea otter in the works. One stall sold mashup products between Sanrio's mascots and Nintendo video game Splatoon. (Look at My Melody's evil-looking mask, in the poster!)
The bakery Mimi et Bon in Marunouchi is famous for its creamy cheese tarts. They teamed up with Sumikko gurashi to produce these adorably decorated pastries, which can be purchased individually or in gift boxes.
The Sumikko Gurashi shop also sells items featuring these squishy characters — like the yellow prawn tempura!
As you can see, there are so many kawaii shops in Tokyo Station Character Street… My head began to spin at the overload. I ducked into this one to pursue a "Happy life with Rilakkuma."
Rilakkuma is loved around the world. It's possible to fill your office, home and kitchen with goods entirely featuring the relaxed bear.
From Boobo Pig to Snoopy Town, there's a character that appeals to everyone, no matter where or when they grew up. It's easy to go broke here, as there is an outrageous amount of cute goods for sale in each shop.
I have nostalgia for the Peanuts cartoons and movies. I always cheered for Olaf, Snoopy's plus-sized brother caught with cookies in his paws!
Click the images below for more Snoopy goodies:

Walking around Character Street brought back memories of travels over the years, like visiting the Moomin stores in Finland. The Scandinavian creature is well-loved in Japan.
The Ghibli / Totoro shop looks fittingly like a forest, and sells enticing items like a No Face sushi set.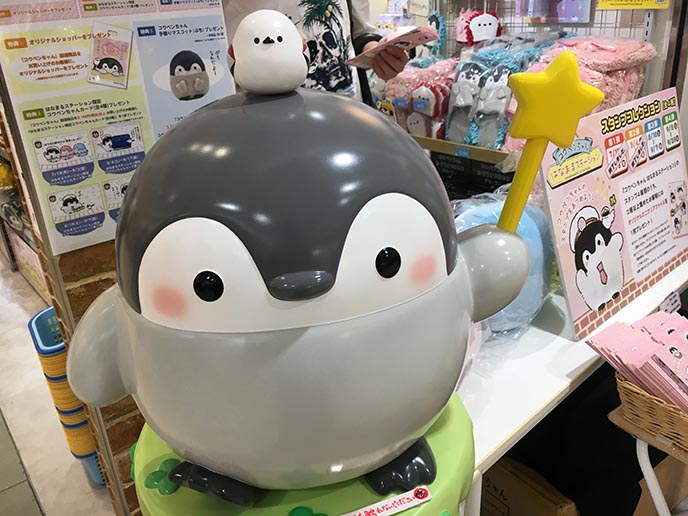 There are dozens of shops in Tokyo Character Street, some featuring lesser-known mascots. The penguin Koupen Chan has an 1980s pastel vibe that drew my attention.
How sweet is the smiling Kapibarasan, a capybara that lets a panda ride on his back.
I had never heard of Nameko Chiba, a dopey mushroom mascot, or the pink-haired magical girl on the right. There are some weird and obscure characters in the mix…
I couldn't possibly photograph everything, so you'll have to visit Tokyo Station First Ave Character Street to see the cuteness for yourself. Fair warning, you'll experience agony at not being able to buy everything in sight!
The only character missing from Tokyo Station is Sailor Moon. However, she has a Sailor Moon store at Laforet Harajuku, where you can pick up a Luna hoodie or seifuku school uniform.
See below for more Sailor Moon items:

I leave you with my Sailor Moon nail art by Glam Nail Studio! This Vancouver BC nail salon remains at the top of their game. They gave me gel nails with the school uniforms of Usagi and her Sailor Scouts, plus the cats Luna and Artemis, and crescent moon 3D gems. (My Sailor Moon ring is Sapphire Studios.)
For more Japanese cuteness and shopping guides, check out all my Tokyo travel articles.I hope you had a fun Halloween!