Alternative Goth Travel Guides & Destinations: shopping, clubs, bars, restaurants.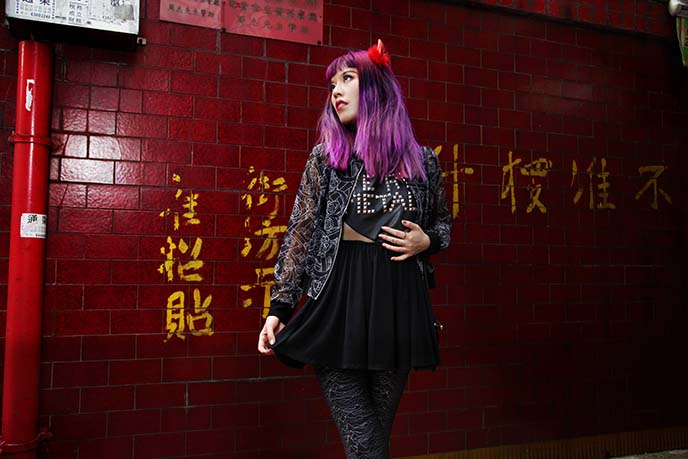 La Carmina is an award-winning travel & culture blogger, author and TV presenter, specializing in personal stories about underground culture worldwide. She's particularly known for her Asia pop culture & Gothic subculture coverage, including her popular guides to Tokyo Goth Punk shopping, the alternative bars and theme parks in Osaka, and the coolest clubbing in Japan.
She travels constantly with her film team, for jobs related to travel TV and fashion (hosting shows on NBC, Travel Channel, Food Network, National Geographic, ABC and more). Some of La Carmina's favorite adventures include sailing in Cebu, staying in a Godzilla hotel in Tokyo, wearing a sari to India's Taj Mahal, exploring the golden pagoda of Yangon, and meeting Hobbits in New Zealand.
Carmina is also the author of 4 books with major publishers (including The Little Book of Satanism / Simon & Schuster), contributes regularly to print and online publications (The New York Times, CNN Travel, Business Insider, Sunday Times), and managed hundreds of travel writers as a project manager for Google's Touring Bird site.
♥ Below are links to her travel stories, organized by city and country. She has been to over 70 countries worldwide, with more destinations to come. See the latest stories on her LaCarmina blog.
♥ To work with La Carmina (on press trips, travel partnerships, TV hosting, ambassadorships etc) – contact her here. Read more about her expert experience on the Biography page.

She's previously collaborated with Contiki, Eurail, Japan Rail Pass, Luisaviaroma Italy, Experience Bucharest, World Tourism Forum, PRSA Travel & Tourism Conference, Easter Island Travel, and dozens of tourism boards, fashion labels and luxury hotels / resorts worldwide.
DESTINATIONS / 70+ countries worldwide
Asia
♥ Japan (Tokyo, Osaka, Kyoto, Kobe, Koya-san, Naoshima, Hiroshima)
♥ Hong Kong
♥ Korea (Seoul)
♥ China (Shanghai)
♥ Taiwan (Taipei, Taichung)
♥ Singapore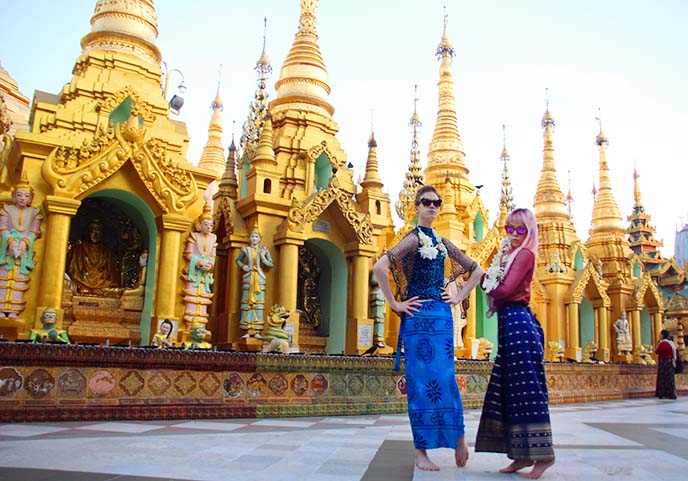 Southeast Asia
♥ Thailand (Bangkok)
♥ Philippines (Cebu, Lapu Lapu)
♥ Macau
♥ Indonesia (Bali, Ubud, Nusa Dua)
♥ Cambodia (Siem Reap, Angkor Wat)
♥ Vietnam (Hanoi, Halong Bay)
♥ Myanmar / Burma (Yangon)
♥ Malaysia (Kuala Lumpur, Langkawi)
♥ Laos (Luang Prabang)
South Asia
♥ The Maldives
♥ India (New Delhi, Agra, Taj Mahal, Jaipur, Varanasi)
Australia and New Zealand
♥ Sydney, Australia
♥ New Zealand (Auckland and North Island, Paihia, Waitomo)
Middle East
♥ Egypt (Cairo, Giza, Luxor, Aswan, Dahab, Nile) – technically N Africa
♥ Beirut, Lebanon 
♥ Israel (Tel Aviv, Jerusalem)
♥ Jordan (Petra)
♥ Dubai
♥ Abu Dhabi, UAE
Africa
♥ Egypt (Cairo, Luxor, Aswan, Dahab)
♥ Cape Town, South Africa
♥ Morocco (Fez, Marrakesh, Essaouira, Berber village)

Europe
♥ Iceland (Reykjavik)
♥ Romania (Bucharest, Dracula's Castle, Transylvania)
♥ Turkey (Istanbul)
♥ United Kingdom (Manchester, Whitby Goth Weekend, London / Camden / Shoreditch)
♥ Switzerland (HR Giger bar in Gruyeres, Geneva, Montreux)
♥ Paris, France
♥ Spain (Barcelona, Granada, Seville, Madrid, Cordoba)
♥ Portugal (Lisbon, Porto)
♥ Greece (Athens, Santorini)
♥ Belgium (Brussels, Wallonia)
♥ The Netherlands (Amsterdam, Utrecht, Miffy museum)
♥ Slovenia (Ljubljana, Lake Bled, Portoroz)
♥ Scandinavia and Nordic Europe (Finland, Sweden, Estonia, Denmark)
♥ Eastern / Central Europe (Zagreb, Budapest, Belgrade, Bratislava, Poland)
♥ Western Europe (Czech Republic – Prague, Italy – Florence, Milan, Venice, Germany – Berlin, Leipzig, Vienna)
(Note: La Carmina has been 70+ countries, but some of these trips were from before she started her blog.)
Central America and The Caribbean
♥ Mexico (Yucatan Day of the Dead, Mexico City CDMX, Tulum, Riviera Maya, Mazatlan, Puerto Vallarta)
♥ Havana, Cuba
♥ Panama
♥ Dominican Republic, Puerto Rico & Caribbean islands
South America 
♥ Easter Island (Rapa Nui, Hanga Roa)
♥ Chile (Santiago, Valparaiso)
♥ Argentina (Buenos Aires)
♥ Brazil (Rio de Janeiro, Sao Paulo)
♥ Colombia (Medellin)
North America / USA / United States
♥ Salem + Boston, Massachusetts
♥ New Orleans, Louisiana
♥ Austin, Texas
♥ Portland, Oregon
♥ San Francisco, CA
♥ Los Angeles, California
♥ New York City, NY
♥ Philadelphia, PA
♥ Maui and Honolulu, Hawaii
♥ Miami, Florida
♥ Phoenix, Arizona
♥ Las Vegas, Nevada
Canada
♥ Canada / Vancouver BC / Kelowna / Parksville and Vancouver Island
♥ Montreal, Quebec City QC
♥ Banff, Alberta
♥ Toronto, Ontario
La Carmina is constantly adding new cities and countries to this list. See La Carmina Blog and @lacarmina Instagram for the latest travel updates, and add her on her Blue Check Verified social media Tik Tok, Pinterest, Youtube, Twitter (username @lacarmina).
♥ Interested in having La Carmina feature your destination, hotel, tour, conference or event?
She partners with select companies on individualized FAM and tourism trips, media / blog / social network showcases (tours, hotels, fashion brands etc), travel video and virtual reality TV shoots, digital influencer destination marketing, magazine shoots, speeches / conferences, travel journalism and more.
Read more abut La Carmina's past collaborations and contact her (gothiccarmina at gmail dot comm). We're open to discussing all creative partnership ideas!