Category Archive for
Miami
While I put together my Tokyo coverage, let's pop back to Florida for an outfit post. I didn't visit any Miami Goth clubs earlier this year, but glammed up for Art Deco Weekend's Speakeasy & Gala.
The invitation read: "Come as a Flapper, or come as you are. Dress like a Gangster, or a Silent Movie Star." So I wore…
Leopard print retro dress: gifted by Bettie Page Clothing (I wrote about their fashion show)
White flapper-style coat: I.T store in Hong Kong
The party was held in a secret location. These two coat-tails gave me a secret key, and I stepped through the speakeasy doors…
… into a world of the Roaring Twenties. (With Amanda of Miami Design Preservation League).
Above three images by Stephane Chiche.
It was fun to people-watch; quite a few party-goers got into the swing of the era.
We sampled wines, caviar and other delicacies.
There was a silent auction…
… and live music by the South Florida Jazz Orchestra.
We goofed around by posing like the paintings. Zack gives a Marlene Dietrich stare-down.
Can't wait to show you our video, which involves funny dance scenes.
Have you ever been to a 1920s themed party? Or dressed like a flapper?
I leave you with this sunrise view of South Beach. You can see all my Miami posts here.
And don't forget to add my social networks (below) for sneak peeks of my Tokyo TV adventures. I ate Totoro sweets, hung with Bagelheads and Stormtroopers, went to a Pirate restaurant and steampunk party, made a drag queen film with Yukiro…
Facebook – Twitter – YouTube – Google Plus
While in South Beach, I met up with a top Miami fashion blogger and photographer, and we did an impromptu Art Deco photoshoot!
These striking images are by Mayleen Gonzalez of Photo Boutique. She's a well-respected street style and fashion photographer, available for shoots in Miami (and at New York Fashion Week in February).
I struck poses all along Ocean Drive with my friend Annie Vasquez of The Fashion Poet. We met last year in New York, when I spoke at IFB Conference (Independent Fashion Bloggers).
Since it was Art Deco Weekend, we wanted to capture the iconic South Beach architecture in the shots.
Girls and classic cars are always a good mix. La Carmina wears…
Scarf as a top: gifted by Italian label Pitsart — so versatile and soft!
Draped jacket: gifted by Peace Love World, a cozy-meets-couture Miami brand
Large brim sun hat: Giovanno
Skirt and shoes are older items from my closet
Beautiful Annie wears: MAIO Swimsuit, Forever 21 shirt, Steve Madden shoes, Coach sunglasses
Pastel paradise.
Palm trees and bright benches — there's no place like Miami. My vintage-style sunglasses are a present from Bonlook.
My Pitsart art scarf matches the Congress Hotel frieze.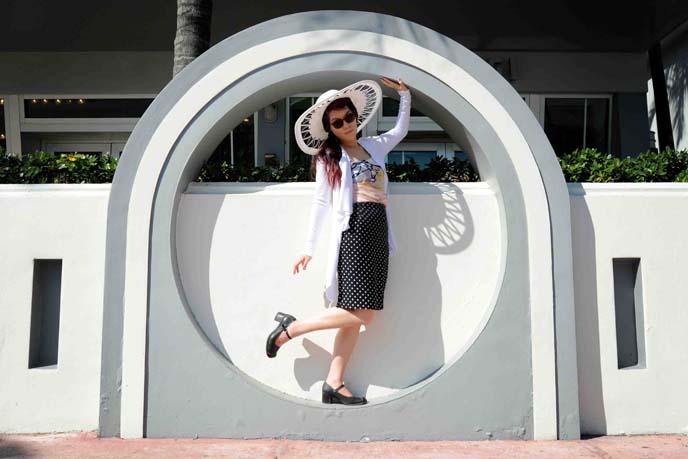 I also posed with this cirlce on day 1 of Art Deco Weekend.
Deco and sun… Miami's pure fun! Fingers crossed that I'll be back in December for Art Basel.
An iPhone outtake (you can add me on Instagram, under lacarmina).
Behind the scenes shots by Annie's iPhone.
My hat casts a structured shadow.
Big hugs to my Miami friends. I love how the photos came out, and can't wait to meet up again.
I leave you with this ocean view. Ahh…
Have you explored Miami's retro culture and design? Or surf and sand? What do you think of the Florida fashion scene?