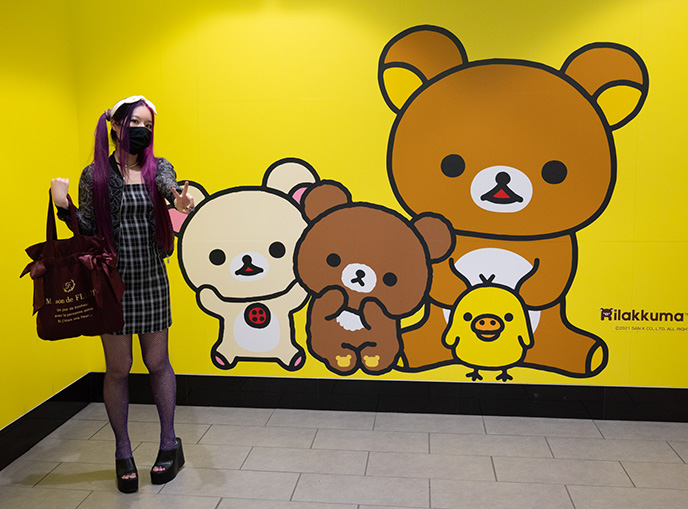 Japan is the land of the cute (kawaii)… and if you want to see all your favorite mascots in one spot, then Tokyo Station Character Street is the place to be! 
Located in (obviously) Tokyo Station, Japan's "First Avenue" underground shopping area contains about about 30 stores dedicated to kawaii characters like Rilakkuma (above), Hello Kitty, Pikachu, Kirby…
… and my personal favorite, Miffy the bunny. She's dressed in a train conductor uniform because you can find limited edition themed goods here, along with every cute-faced plush toy imaginable.
Follow along for my Tokyo Character Street shopping guide, which includes a photo-packed tour of the cutest anime, manga and kawaii stores. (All images by Joey Wong.)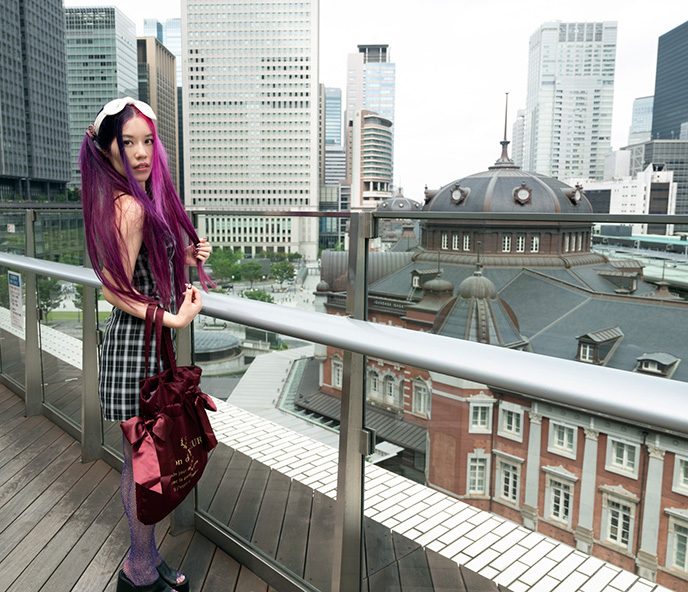 To get to First Ave Tokyo Station, simply head to Tokyo Station in Marunouchi. It's one of the capital city's biggest transit hubs, as you can take the shinkansen (bullet train) as well as multiple subway lines.
I'm standing in front of the Tokyo Station Hotel. The underground is large, so look for the signs leading to a basement shopping area called Character Street, or First Avenue Tokyo Station.
But first, a tax-free shopping tip! Bring your passport if you're a traveler, and you can get a tax refund on anything you buy here.
First, head to the red-and-white Tax Free Booth on the ground floor of Tokyo Station. (Look for signs, or ask someone if you can't find it). Show the staff your passport, and they'll staple in a form that shows you're an "alien" and therefore do not need to pay tax.
Now, you can shop til you drop for big-eyed cuties. After you've spent all your yen, head back to the tax-free booth to show them your receipts, and you'll get the tax refunded to you.
Last fall, I was in Japan on a business visa to report on Tohoku's food culture. In Japan, it seems every city, company or movement has a cute mascot: I got the Sobachi soba-bowl dangle in Morioka!
Be prepared to be overwhelmed when you enter Tokyo Station Character Street. There are cute boutiques as far as the eye can see, themed after Moomin, Nintendo, Domo, and much more. Here is one dedicated to Kamen Rider, the creation of manga artist, Shotaro Ishinomori (he has a space-like anime museum in Ishinomaki.)
The stores are constantly changing, so chances are you'll run into adorable creatures that are unfamiliar to you. (We did our best to photograph as many as we could for you).
For example, I think these are kawaii-fied versions of We Bare Bears, but I'm not certain (correct me if I'm wrong.)
The giant plushes and cushions are tempting, but there are also smaller items like keychains if you need to save space in your suitcase.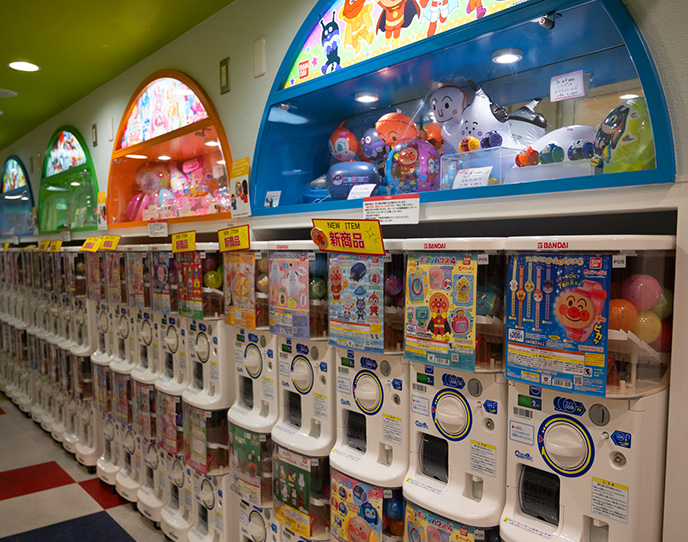 Character St / First Ave also has a room full of gashapon machines (I spot Anpanman at the end). Put a coin into the vending machine, and you'll get a random prize.
Studio Ghibli remains one of Japan's most beloved franchises. Hayao Miyazaki's Cat-Bus and other imaginative characters greet visitors to the store.
How can you resist giving Totoro and friends a squeeze?
I was delighted to see No Face from Spirited Away, which is my favorite anime film. Go see it if you haven't; it's currently on Netflix along with other Miyazaki masterpieces.
Not all of the mascot shops are Japanese. Case in point: Snoopy Town, which had Halloween-themed items at the time.
One section of Tokyo Station Character Street contains displays from most of the shops. On the right: Koupen-chan, a baby penguin with a wand.
Sumikko Gurashi has many fans worldwide. Tokyo Station opened a new theme cafe, which serves Sumikkogurashi sweets and savory dishes decorated to look like these funny faces.
Of course, I knelt before my favorite :x – Miffy!
Although Miffy looks like a Japanese icon (even taking on the form of a daruma), she was invented by Dutch artist Dick Bruna in 1955 — two decades before the birth of Hello Kitty.
Dick Bruna's minimalist character designs remain as impactful today — just look at how he conveys expressive puppies, lions and elephants with a few strokes and circles.
Tokyo Station's Miffy Style store has only-in-Japan designs like calendars, stationery, bags, sweets, baby items, accessories like umbrellas…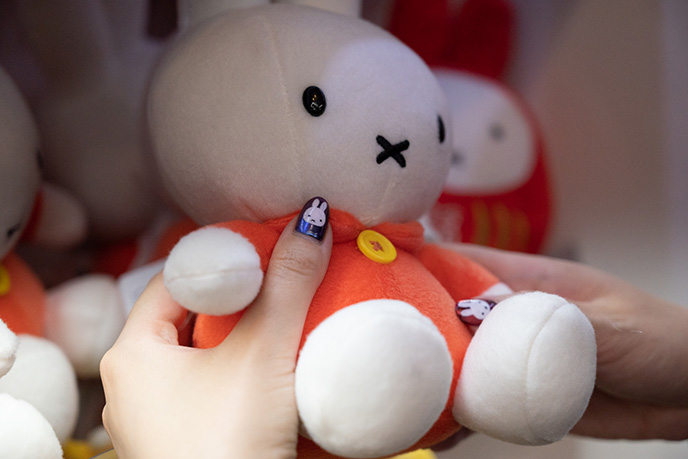 And rows of plush Miffies. (Soon, I'll take you inside the Miffy Cafe in Yokohama too.)
Love how the bunny put a sheet over her head to become a ghost. I'm such a Miffy fan that I've been to her attractions worldwide, including her Nijntje museum in Utrecht, the Netherlands.
I also have an older post about visiting Tokyo Character Street here, so you can see how the shopping district and stores have evolved. (My Miffy gel nail art is by Glam Nail Studio in Richmond, Vancouver BC.)
Many of the shops have cross-overs. Sailor Moon and Sanrio did a collaboration.
Of course, there's a Sanrio shop with goods featuring Pekkle the duck, My Melody, Pompompurin, Pochacco and others.
There are photo areas and collectibles for magic girls, anime, and manga as well. (My bag is from Maison de Fleur, a Japanese accessories label.)
Such a wide variety of character designs and fandoms, all in one underground shopping area.
Doraemon the robot cat is waiting for you. Big eyes and roundness are the signatures of Japanese kawaii.
Not surprisingly, the Pokemon Store was one of the busiest.
Pikachu and all your favorite pocket monsters are on the shelves.
Got to catch them all! It's easy to spend a lot of yen at Tokyo Station's character street, so don't forget about my tax-free tip at the start of this story.
I'll end with this funny shot… only in Japan, you'll find someone with a 666 Freemason t-shirt hanging out among the kawaii stores!
Have you explored the Tokyo Station area? For more, check out my Tokyo Character Street images from a few years ago to see the differences.
That feeling when you finally make it to Medellin, Colombia!
For years, I'd heard fabulous tales of Medellin's vibrant street art and restaurants. In November, I was honored to be invited to spend time in the City of Eternal Spring, and experience the best of its food and culture.
I wrote a foodie's guide to Medellin, Colombia in my debut for TravelAgeWest Magazine — and here's an extended diary of everything that inspired me during my stay!
As I wrote in my Travel Age West magazine piece: "Ask a food blogger or chef about the world's best cities for dining out, and chances are that Medellin, Colombia, is at the top of their list. Over the past decade, the South American metropolis has developed an energetic food and drink culture in which the U.S. dollar goes a long way."
Photos by me and DC-based photographer Albert Ting (@pootie_ting on Instagram), who was on the trip with me.
Can you tell I loved staying at the luxurious and chic ElCielo Hotel? I love my baths, and this freestanding bathtub with lights was an Instagrammable dream.
You've got to stay at El Cielo hotel in El Poblado (the nightlife/hip/upscale area) if you come to Medellin (I recommended it as one of my fav hotel rooms ever, in this interview with Alibi Zine.)
Elcielo Hospitality is known for its diverse range of restaurants in Colombia and the US — so of course, the hotel's room service was delectable. I'm still reminiscing about the omelet with indigenous microgreens, and a generous side of Colombian avocado!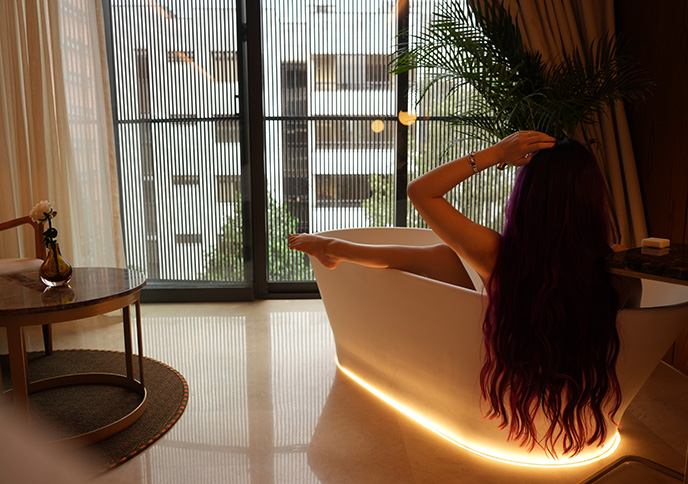 Every space made the most of Medellin's native plant life — one of the elements I loved most about this green South American city in the mountains.
Love the clean and natural aesthetics at Elcielo hotel, such as the spiral staircase from the upper level lobby to the rooftop bar…
This was my happy place during my Medellin stay, surrounded by greenery.
I came up to Elcielo's gorgeous rooftop pool multiple times to dip my legs in the water, and sip on an iced Colombian coffee with almond milk (and later, a pisco sour).
It was a delight to meet Juan Manuel Barrientos, or Juanma – the young Michelin-starred chef and entrepreneur behind Elcielo Hospitality. (It's a family run business; his dad is responsible for operations.)
Chef Barrientos has a rock star presence that carries over to his visually arresting dishes at Elcielo, his much-lauded fine dining restaurant in Medellin. (There are locations in Bogota, Miami and DC as well.)
The appetizers included Colombian corn crisps topped with edible flowers, gold foil and a cheese emulsion from the town of Paipa — and small bites like tapioca cubes, served with animal heads!
We sat down to 17  "experiences" with playful visuals, including a beet rose salad, and a demo of fresh corn tortillas made right at the table.
As I wrote: "Chef Barrientos loves to put an imaginative spin on native products, such as by molding yucca bread into what looks like a Tree of Life from the Amazon. Between plates, El Cielo offers eye- opening sensory "moments" such as washing one's hands in warm chocolate and coffee grounds: guests are encouraged to play with the sweet liquid and lick it from their fingers."
Feeling tropical amidst the living green wall and plants in Elcielo.
I continued to eat my way around Medellin, which has become a hub for inventive plant-based cuisine. I was knocked off my feet by Kaime Restaurant run by Sara Barrientos and her mother, who have been plant-based for decades.
The women have channeled their years of personal experience into creative dishes like this ridiculously tasty pesto vegetable pasta, as well as vegan burgers and cocktails. Kaime's Colombian-vegan dishes are such a hit that they are opening a US location soon.
More of my writing: "Colombia is famous for its coffee, which is the country's third-largest export and has a distinct citrus, chocolate and nut flavor. Trek to Hacienda Santa Isabel farm in Fredonia, about a 1.5-hour drive from Medellin, to see how coffee is produced at high altitudes with the help of donkeys."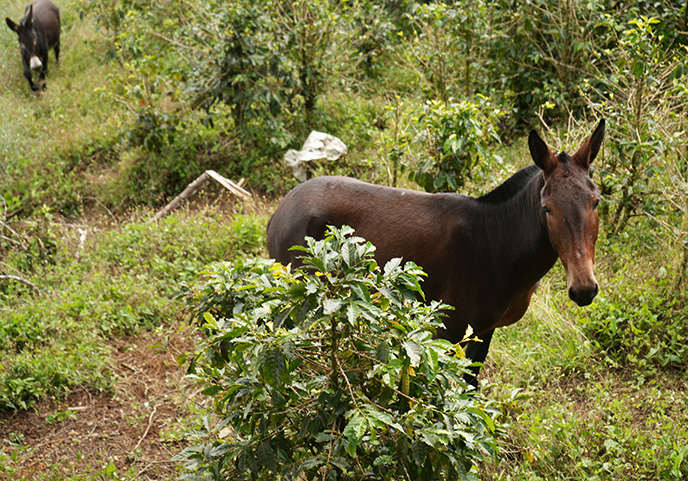 The views from the coffee farm were unforgettable… and the polite resident donkeys followed us to say goodbye!
At Cuon restaurant, chef Juanma puts a spin on Asian cuisine such as sushi rolls and sake cocktails.
The cocktail menu features Asian flavors like lemongrass and passionfruit, with cool presentations that involve dry ice and flames.
Impressed by Chef Barrientos' range… His Elcielo Hospitality Group has several restaurants within walking distance in El Poblado, the best dining area of Medellin. Here's La Serenissima, which focuses on Italian favorites. (His sister is behind the chic restaurant/hotel interior designs.)
Can't get enough of Colombian coffee… it lives up to its global reputation.
Happy to indulge in burrata pizza and prawns with handmade pasta.
After all that eating, I was excited to get to know the artsy side of the city through a walking tour.
I joined a Comuna 13 graffiti tour, in which a local shows you around the formerly dangerous neighborhood (now transformed into a street art living canvas).
Comuna 13 is filled with art galleries and murals in all styles. Here are two of my Gothic favorites.
The rainbow-painted houses on the side of the mountain are a sight to behold.
My Dutch braided hair matches the colors of this Comuna 13 art wall.
I felt safe during my Medellin travels — just be aware of your surroundings, and you'll have no trouble in places like Comuna 13 and El Poblado / Parque Lleras where travelers tend to go.
Much of the artwork reflects on Comuna 13's revitalization, and themes of local history and politics.
Nothing like the eclectic skyline of Medellin, with the jungle and Andes Mountains in the distance.
And I had to see the "thicc" sculptures of 20th century Colombian artist Fernando Botero! 
At Plaza Botero in the old quarter, you can walk around dozens of giant bronze statues made in his signature "plump" style. (The area is a tad seedy, so watch out for your belongings.)
Botero aimed to emphasize volume and form in his works, which are a delight to behold.
The cute, rotund animals were my favorites.
Then, pop into the Museum of Antioquia to see more of Botero's works including devilish paintings.
There are elements of surrealism and humor in Botero's art, especially the religious paintings. I'm a fan after seeing his works at Museo de Antioquia in Medellin!
The city has a vivacious nightlife and late-night dining culture. Here's the spooky decor at Agua Fresca Taqueria y Mezcaleria, a Tulum-style Mexican restaurant.
Be sure to order the dishes with "avo" —  like the guacamole topped with local microgreens, with tortilla chips and a plethora of house-made sauces. The local Lorena avocado is round and creamy, and I could eat it by the bucket.
The modern Mexican restaurant also serves fresh-milled corn tostadas and tacos piled with generous portions of creamy avocado. Goes down great with a paloma or margarita.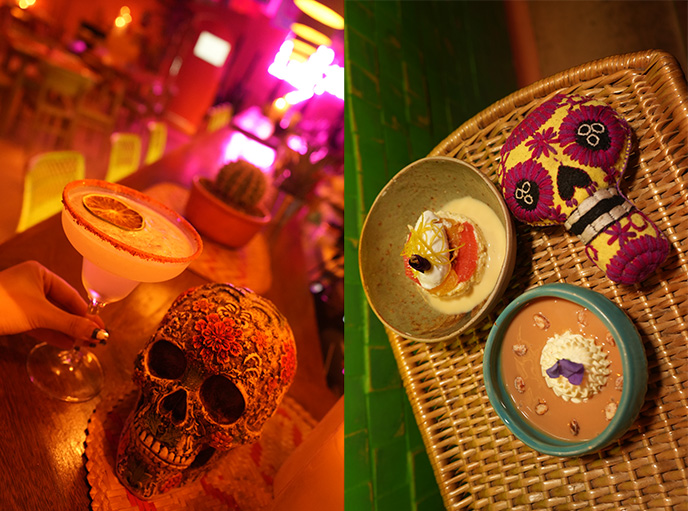 Cheers to the day of the dead skulls found throughout. Photos by me and Albert Ting (@pootie_ting). 
We packed a lot into our Medellin journey — including a drive to El Peñón de Guatapé. The giant granite rock looks like an alien monolith, and you can go up 649 stairs to get to the top.
Instead of doing the "Stairmaster" to El Penon, we took in the surrounding views and snacked on Colombian street food.
You can't help but be inspired by Medellin, with rooftop views like these.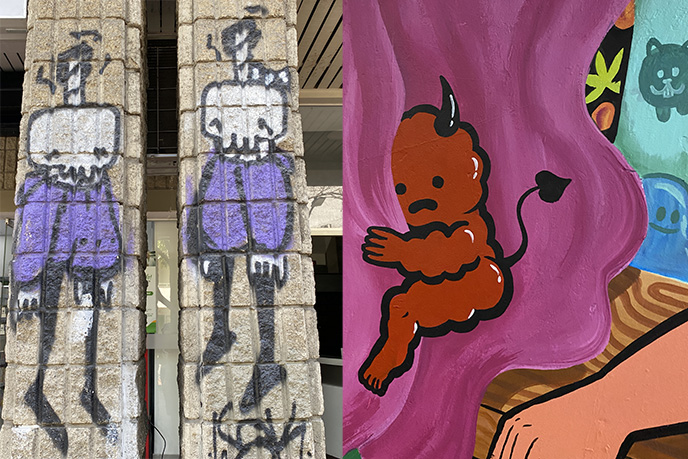 And there's street art everywhere you turn. Here are some Satanic and Gothic favorites… how sweet is the baby devil?
Be sure to do some shopping as well — Oviedo mall is my favorite, and is known for its emerald jewelry stores.
At the "Kinky" store, I couldn't resist getting this kawaii Baphomet amigurumi (crocheted plush).
Satan is indeed everywhere… The houses in Guatape are decorated with bright friezes, including this occult alien pentagram pyramid wall.
Speaking of Goth matters… I did an interview with Cherry Chu magazine about the Japan Gothic subculture, favorite clubs, clothing lines and more.
Hail Medellin! Such an energetic and warm city.
I will always think back to my lazy early afternoons at the Elcielo Hotel rooftop pool…
Relaxing poolside with fresh avocado and these views.
Must come back here… ahh!
What do you think of my offbeat, artsy and foodie travels in Medellin? Leave a comment if you have any questions about coming to Colombia.