Io Saturnalia! Happy Sol Invictus!
I'm well aware that these aren't the happiest times, with rising worldwide numbers and strict lockdowns. Still, we can do our best to channel the ancient Roman festivals and revel in life's good things… rather than being The Grinch.
In the spirit of Dionysus / Bacchus, the god of wine — let's take a tipsy walk back in time to last autumn, when I was able to do a safe local trip from Vancouver to Kelowna, BC.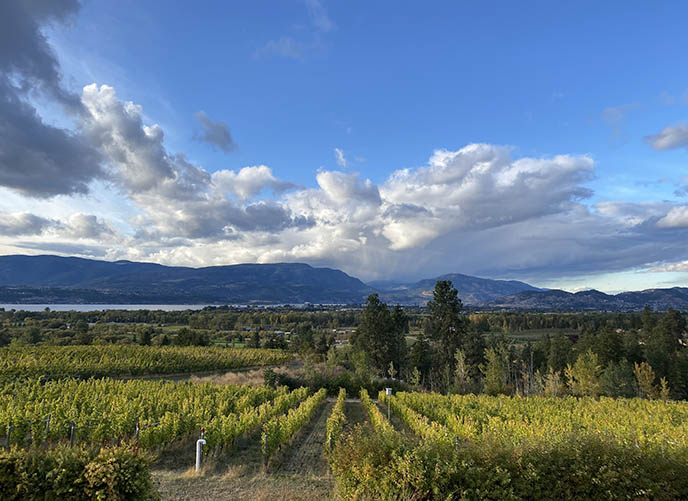 This view says it all: British Columbia's Okanagan has become one of the foremost destinations for wine tours. Read on to see what I experienced and three of the most creative BC wineries: Vibrant Vine, Blind Tiger, and Tantalus (above). 
Instead of driving six hours east from Vancouver, I took a less than 60 minute flight to Kelowna on Flair Airlines. (Note that I flew in early October; check your provincial guidelines for current travel recommendations.)
Flair, a Canadian airline, offers low-cost tickets to destinations all over the country. I was impressed with their safety procedures (seamless check-in behind plexiglass, required face masks, and distancing including the option to purchase an empty middle seat for $49). I felt relaxed throughout my Flair flight, and before I knew it, I had touched down.
Everything about my trip was relaxing and seamless. I had a cozy stay at Hyatt Place Kelowna — the hotel just opened this year, so all the furnishings and amenities are bright and new.
Loved getting to know the front desk staff, who were happy to share local tips and quickly deliver any items needed, such as extra towels.
I was rollin' through Kelowna in style, thanks to Okanagan Executive Rentals & Concierge. Owner Jeremy Giroux offers a sweet fleet of luxury and exotic rental cars. You can also hire him as an experienced driver and guide in Kelowna — well worth it, especially if you plan to hit multiple wineries in a day.
My Kelowna trip wouldn't have been nearly as enjoyable without Jeremy's guidance. He took me to outstanding local wineries in style, in this black Lincoln Navigator. I also rented a Range Rover from him, to drive on my own — much fun!
Jeremy even organized a helicopter ride that landed in Kitsch Winery; see my first post for the aerial adventure. You can find out more about his Okanagan BC rental cars and services on his site.
First stop on this beautiful October day — The Vibrant Vine Winery in East Kelowna. The bright psychedelic colors and flowers give a hint at what's inside.
The Vibrant Vine is run by the Lewis family, and combines their love of creative drinks and art. Everyone who enters receives a pair of these goggles… because this is a 3D winery! 
The entire space is filled with groovy, psychedelic art — including giant paintings on the ceilings. Artist Phil Lewis was already creating eye-popping art — but one day, he viewed his works while wearing 3D glasses. To his surprise, many of the lines seemed to pop out towards him!
Today, he creates paintings like this owl with the help of a computer, using color and textures to bring out the three dimensional elements.
Put on the 3D glasses, and look around… the dragons and leopards will seem to be lunging out at you! 
As you can see, Phil Lewis' colorful art covers The Vibrant Vine's bottle labels  — making them a treat for the eyes, as well as the palate.
I sampled wines with the guidance of a staff member, and it turned out to be one of the most informative tastings I had on this trip. He described Okanagan, BC as being a bit of an experimental "Wild West." For instance, Vibrant's smooth and peachy rose blends Pinot Auxerrois and Gewurztraminer, with a blush of Merlot — a technique that isn't allowed for roses in Europe.
I loved the story of The Vibrant Vine's signature "Woops" blend. The label was accentually reversed on the bottle — so they just went with it, and continued to produce an upside-down release called "Woops!" The seven-varietal blend was also unknowingly entered in a prestigious Geneva contest, and won "Best White Wine in the World." (Oops they did it again.)
This vineyard does it all — from a bubbly Vibranté Classique, to a crisp Pinot Grigio with notes of citrus and stainless steel. Vibrant focuses on the underdog, such as a fruit-forward Gamay Noir. With flavors of blackberry, violet and red currant, this red wine is perfect with both Thanksgiving turkey and dim sum.
Merlin's Merlot celebrates art and family, with a snuggly portrait of the Lewis' golden retriever. This cool climate merlot is aged in oak, and tastes like cherries, plums and figs. (A portion of sales from Merlin the Dog's wine go to the SPCA animal charity and United Way.) I ended my tasting at The Vibrant Vine with a Riesling ice wine with a bite of dark chocolate — perfection.
Another Lewis brother, Tony, also runs an imaginative winery that uses music to affect the settling of the sediments. You can read about my inspiring visit to Frequency in the previous post.
Now, let's honor the wine-loving Greek gods at Tantalus — the oldest continuous vineyard in Kelowna. This winery is named after Tantalus, the unfortunate Greek who was sentenced to eternal punishment. Try as he might, he could never quite reach a handful of fruit or sip of water to quench his hunger and thirst.
In ironic contrast, this 72-acre vineyard has been successfully producing grapes since 1927. In 2010, Tantalus Vineyards built this modern-minimalist green building, and opened to the public for tastings.
On these spectacular grounds, Tantalus grows Pinot Noir, Chardonnay, Riesling and Pinot Meunièr. The vineyard is committed to sustainability: everything is farmed naturally without pesticides, and the vines are hand-tended.
I've grown increasingly interested in wine over the years, and was fascinated to see the vinification process firsthand from start to finish. Wouldn't you like to dive into this juicy bin of Pinot Noir grapes, like Scrooge McDuck?
Tantalus took me on a behind-the-scenes tour, and let me peer into the enormous stainless steel tanks filled with wine in various stages.
I got to try "grape juice" that had been fermenting for different numbers of days. Fascinating to taste the difference in yeast, fizziness and sweetness, as the "nectar of the gods" transformed into wine over time.
In the barrel room, I learned about the next stages of aging the wine. Some of Tantalus' varietals undergo malolactic fermentation in French oak. In this process, bacteria convert tart malic acid to lactic acid, creating a richer and creamier texture.
Tantalus has indoor and outdoor tasting spaces — how beautiful is the natural wood architecture? Fittingly for a BC wine, Tantalus' labels feature First Nations masks by Dempsey Bob, a woodcarver / sculptor of Tahltan and Tlingit (Northwest Coast) descent.
I contrasted Bear, the young and lightly oaked chardonnay, with their signature version — which had a darker honey color, and flavors of lemon curd and creme brulee.
Then, I got to taste the differences between the Maija and flagship Tantalus Pinot Noirs. The first is warm and juicy, with plum and dark cherry flavors. The second has Tantalus' signature minerality, with floral aromas and surprising hints of cocoa, earth and mushroom.
As the sun started to set, and I sipped wine while looking out at these fields, I felt as if I was in Elysium. Thanks Tantalus Vineyards for the unforgettable views and lessons in viticulture (wine growing).
Finally, Jeremy drove us north to Lake Country, BC to visit a certified organic vineyard. Blind Tiger is a small, family-run operation — and their down-to-earth warmth shines through as soon as you enter the tasting room.
Blind Tiger's young, alternative attitude is reflected though its name. In the days of Prohibition (1920-33), bootleggers set up illegal blue collar speakeasies known as Blind Tigers.  Many had a tiger statue at the entrance. If it wore a cover over its eyes, then come in and party. But if the blindfold was off, the police was watching and you should stay away! 
Co-owner Jerry Wowchuk treated me to a flight of Blind Tiger's organic wines. I was delighted by Giggle Water, a light sparkling blush of chardonnay, Gewürztraminer and Pinot Noir (fizzy, with hints of apricot). 
Then, I tried something made for an alien like me… a green-colored wine! Blind Tiger's 2014 Riesling experienced "noble rot," or a fungus that turned it green and made it unsellable. However, it's safe to drink and turned out to be delicious. It was my first time trying this unusual wine — one of the many perks of doing a tasting at an indie winery. 
Blind Tiger's Pinot Noir ice wine was one of the tastiest I've ever tried. Harvested from -10 degree frozen grapes, this sweet dessert wine has Asian fruit flavors like lychee, along with mango and apricot. 
Their Riesling is wonderfully tart, with green apple and a touch of petrol on the nose. I highly recommend coming in to Blind Tiger for a tasting, and picking up bottles to take home — as you won't find their wines at large retailers like BC Liquor. 
I snacked on charcuterie as I sampled wines. In the summers, Blind Tiger offers authentic woodfire pizzas and live music on the patio, which draws in a fun young crowd. I'll have to come back for a bite. 
I feel fortunate to have been able to visit Kelowna in early October, right before the end of wine season.
However, Okanagan Executive Rentals & Concierge can take you on winery tours at any time, as some are open year-round. In the winter, Jeremy offers luxury car rentals and shuttles to ski resorts, spa, and more. 
Thanks to Hyatt Place Kelowna for the fab stay. Their accommodations are comfortable, modern and close to everything in the city — such as the downtown district known for its waterfront walk and restaurants. 
And thank you Flair Airlines for the safe and smooth journey through the skies. 
For more Kelowna travel guides, please see my first article about wineries and a private helicopter ride. Coming up in the third and final installment, I'll explore Naramata Bench. 
PS: I wanted to share one of my recent travel articles for Home in Canada magazine. I wrote about testing out a telepresence robot… and going on a virtual tour of the Mass MoCA museum!
Even if we can't travel to different countries, we can visit museums from a distance by using innovative, remote robotic technology. 
I beamed into a GoBe Robot, using their app on my laptop. The video conferencing puts me "inside" the robot, which is in the Massachusetts art museum. Using remote controls, I could move it through the exhibits as if I were there. 
That's me inside the GoBe telepresence robot! It truly felt as if I were exploring the Mass MoCA in person, and chatting with my guide about Sol LeWitt's colourful murals. 
"Domo arigato, Mr. Roboto" for letting me travel via AI.
Read my article about telepresence robot art tours here, and see a funny video on @lacarmina TikTok and Instagram Reels.
More travel articles and devilish filming projects coming up soon… I'm keeping busy, and finding creative ways to do things remotely. Domo arigato to all of you for your support over the years — I love hearing from those who have known me since my MySpace days! 
I hope you were naughty this year… because Krampus is coming!
As we head into the holiday season, I thought I'd put together some Gothic gift guide ideas for you. If you're searching for Christmas presents for your favorite dark soul, then I hope this gifting list will provide some inspiration. 
I'll start with an overview of my favorites, and then delve into the details. For the Beachy Goth in your life, I recommend a Towers Swimwear skeleton bikini, or other alternative swimsuit! 
For Witchy Goths, conjure up this celestial black and white dress from Too Fast Clothing. 
If you're more of a Disco Goth, then Too Fast also has you covered — with halter tops and spider cobweb bellbottoms.
What if you're a Luxe Goth? Then hail to this customized leather cell phone case from Michael Louis.
And for the Crafty Goths out there… Papercraft World makes Satanic 3D paper masks!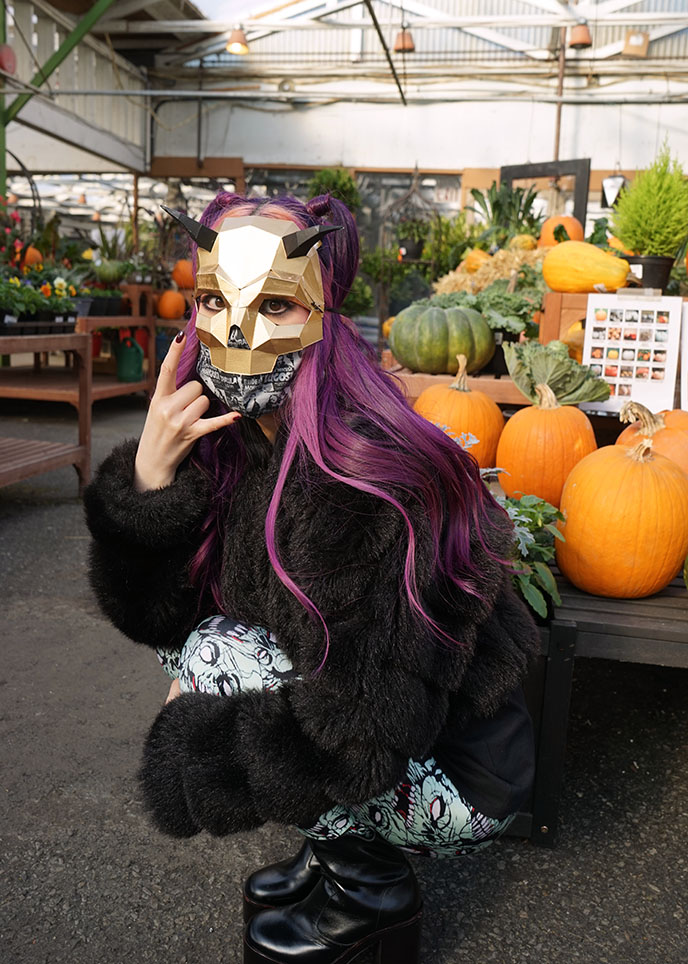 Keep on reading to see photos and reviews for each of these Goth gift suggestions.
(I paired my Paper Craft gold devil mask with zombie tights by Michelle's House of the Strange and Unusual, and black leather platform boots by  Jeffrey Campbell.)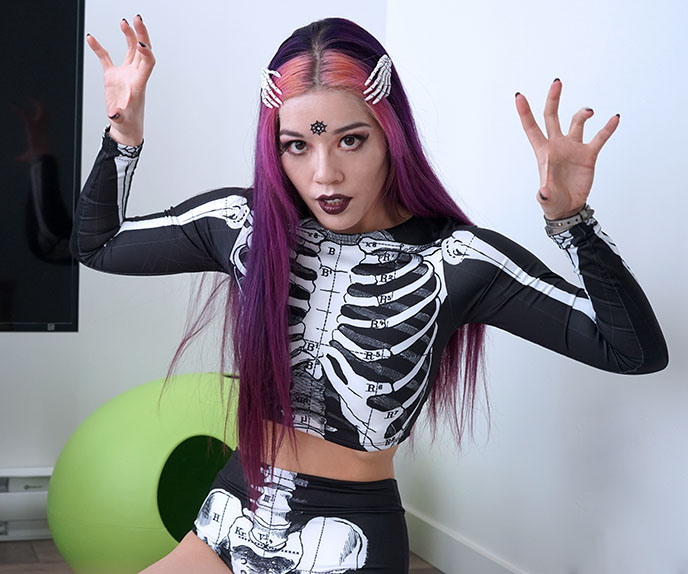 As 2020 comes to a close and the weather grows colder, I'm dreaming of being on the beach… Until then, I can wear my Towers Swimwear skeleton swimsuit at home! The Gothic design is a stand-out, and the long surf sleeves keep you protected from the sun as well.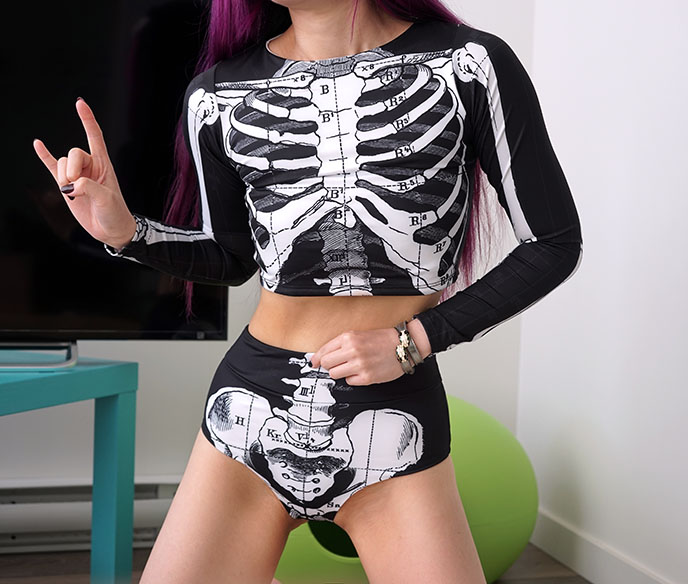 Love the bikini's medical skeleton illustration, which corresponds to the parts of the body. (Can you see my ribs?) Towers Swimwear makes swim designs for men and children as well — using high-quality UV and sea water resistant fabrics.
Towers is an indie company, and their swimwear is 100% made in Colombia. In addition to spooky skull styles, they have other alternative one-piece and bikini designs — I'm eyeing the ones with rainbow tie dye, glow in the dark, and flames. Devil horns to Towers Swimwear — you can see other edgy and rock-inspired swimsuits on their site.
If you're shopping for someone who loves 90s witch vibes, then consider this Gothic babydoll dress by Too Fast Clothing!
Spread a little black magic with their "Xtra Celestial Moon & Suns Lace Slip Dress." Close-up on their enthralling 1990s Goth night sky fabric — featuring constellations, crescent moons, suns with faces, and stars.  
I styled Too Fast's dress with a vintage coat, and Day of the Dead cut-out skull tights by UK Tights. 
The lace trim at the hem, waist and neckline elevate the dress' design. I'm all about playing with different textures.
My two-tone face framing colored hair adds color to the Gothic monochrome. My stylist dyed the front strands on either side of the face with Joico K-Pak Color Intensity. These days, I'm growing out my bangs and doing a middle part.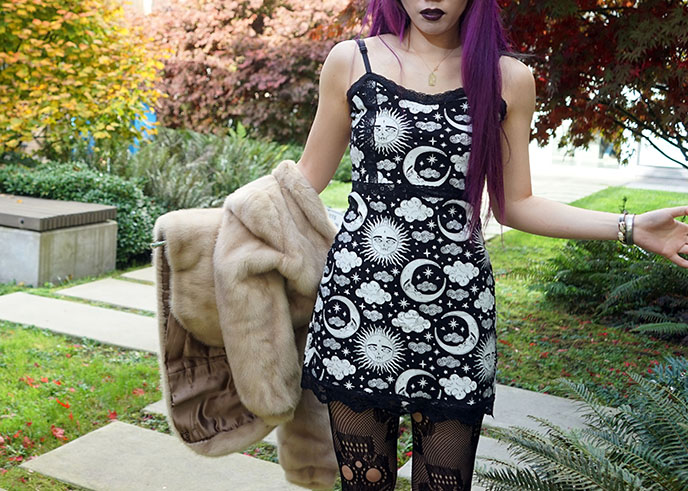 The dress has adjustable spaghetti straps for a perfect fit. Too Fast Clothing carries other devilish designs for men and women — featuring Baphomet, pentagrams, and skulls. 
My hair has grown so much since the last time I cut it (to chin-length) in Feb 2017!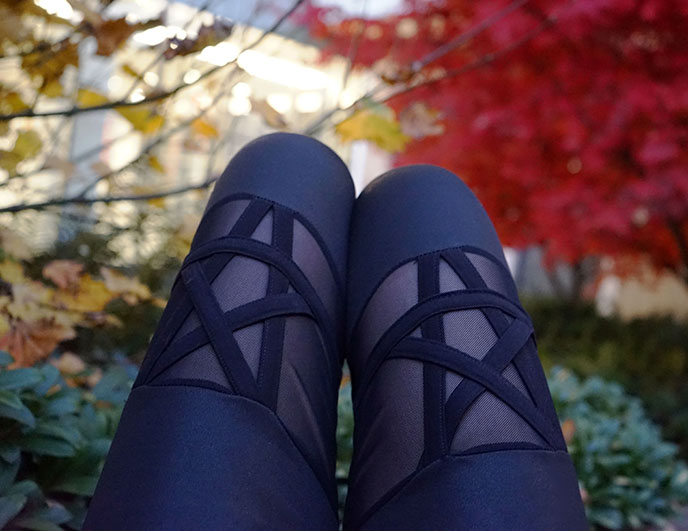 Too Fast Clothing makes pentagram mesh leggings that are easy to wear with oversize shirts and sweaters. Their glitter-infused, stretchy, high-waisted black leggings have a pentagram star at the thighs, with a mesh overly. 
As a disco music fanatic, I've been getting groovy in Too Fast's Bats in the Belfry halter top. It has a flattering white outline, and flying bats and stars on one side of the shirt.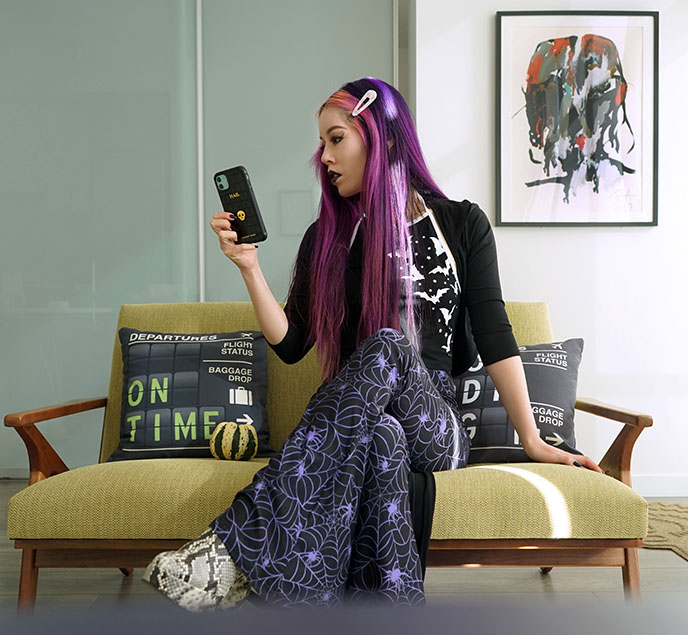 And I'm weaving a tangled web in Too Fast's Hellz Bellz Purple Spider Web Flares. It has a fabulous spiders-in-cobweb print, and wide-legged bell bottom design. 
Ready for a disco party… alone at my apartment. At least I have spooky creatures to keep me company — spot the bats, spiders, skull, and snakeskin (these leather python boots are by Acne).
You can find hundreds of Gothic, Punk and Alternative goods from Too Fast Clothing's site. In addition to clothing for men and women, they carry original dark housewares, shoes, jewelry, bags, you name it. 
Speaking of skulls… Hail to this outstanding smartphone phone case, by Michael Louis!
Each of their protective phone cases are custom-made and fitted, with genuine lambskin leather for a luxurious finish. These slim phone covers keep your phone protected with shock-absorbing material as well.
On Michael Louis New York's site, you can find phone cases of all sizes (Android, Galaxy, iPhone etc). The covers are lightweight and unobtrusive, with perfect cut-outs for the cameras and buttons. I like how you can see a pop of turquoise from my iPhone 11 underneath.  
As you can see, these high-end phone cases are head-turners. Michael Louis NY offers a selection of leather colors and finishes, and you get to customize the words and emoji however you like, at no extra charge.
I chose a gold foil emboss (out of 5 color options), and the cute skull (you can also pick a heart, diamond, star, or other emoji). Then, you can create a custom word or monogram from 6 characters (I went with HAIL). I'm so pleased with the one-of-a-kind result, which suits me to a T.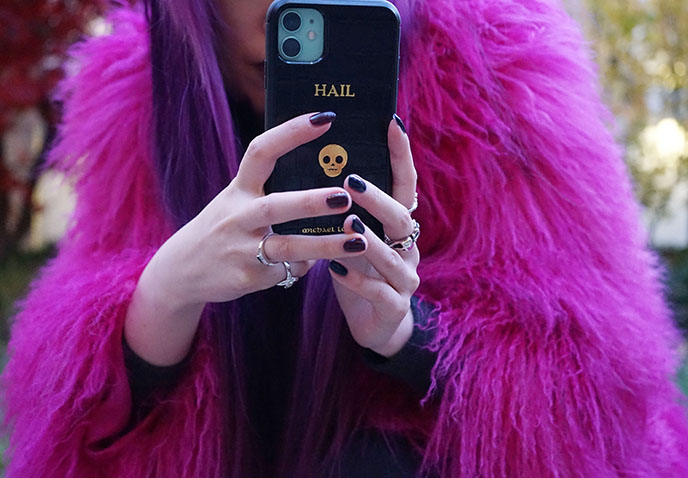 The cases come in various luxury leather finishes (croc, python, pebbled, snake, etc) and colors (pink, green, red, blue, etc).
Michael Louis' designer phone cases are functional as well as beautiful. They're crafted in a shock absorbing rubber/TPU mold, with a raised protective screen edge.
Michael Louis New York sells other leather accessories as well, including wallets and key holders, which can be personalized. 
How would you customize your phone case? On their web shop, you can preview the personalization options before checking out. 
Can't stop staring at my Michael Louis leather smartphone case. Their phone covers and accessories are brilliant and unique gifts for the X-mas season. 
Who's that creeping around and stealing pumpkins?
I spent Halloween raising hell, in my red devil mask by Papercraft World!
I folded and assembled a gold horned skull mask as well, using a Papercraft World 3D kit. Love how these DIY paper masks turned out. 
Papercraft World sells a variety of artistic craft kits, which let you fold and glue together a mask, sculpture, wall art, or other paper item. Their Halloween Masks selection include a number of Satanic designs, like the ones I made above.
Here's how the kits look — you get sheets of hard colored paper, which you punch out, fold, and piece together by numbers. The "map" at the back shows you how to fold the segments (inward or outward). Then you match the numbers, add white liquid glue, and hold the folds together until they stick.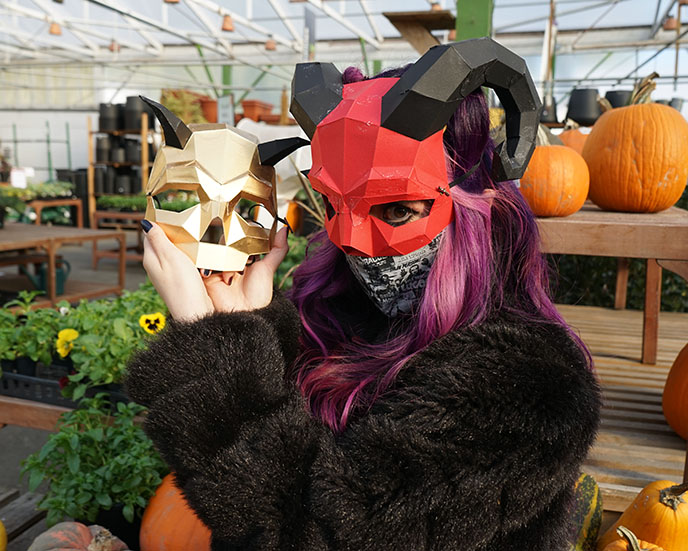 It takes a bit of time and patience, but you soon get the hang of it. I got into the flow of the process, and the result was rewarding — just look at these geometric devilish masks! 
I'm all about natural and eco-friendly Halloween decor — I feel there's too much plastic and waste these days. Papercraft lets you put together a mask using 100% recycled materials, creating a Halloween costume that stands out among the rest. 
Close-up on the round horned skull mask. As you can see, it's made up from strips of paper, which are placed together like a 3-D jigsaw and held together with glue.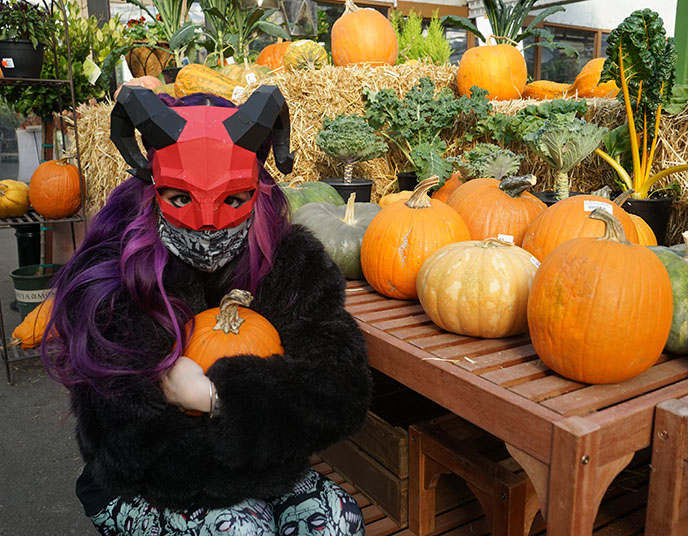 Love the geometric polygonal look of the finished mask. Those black goat horns were the most challenging part.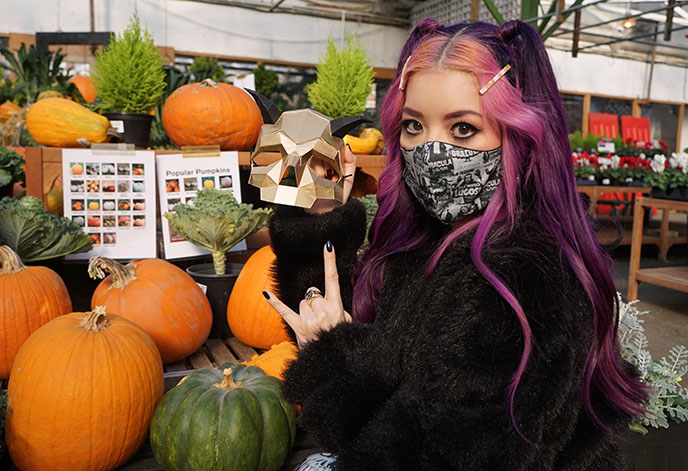 Papercraft has many eye-catching mask designs with cut-outs for the eyes, nose, and mouth. These include a werewolf and pumpkin-head, and cute animals like foxes and panda bears.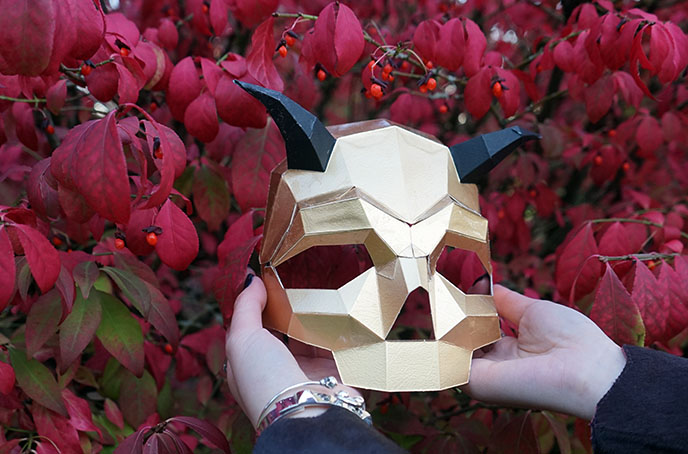 This devil one has a luxurious finish, thanks to the gold heavy paper stock. Each mask includes holes and stretchy string, so you wear it over your face with comfort. 
No need to wait until Halloween — we can wear an occult mask year-round! I styled mine with these exact Jeffrey Campbell Mexique boots. See more styles from this designer below:
In addition to costume masks, PaperCraft has kits that let you create wall art, table or floor sculptures, and other three-dimensional works. 
The kits are fun for families or friends to make together. Patience is key, so set aside at least a few hours, and take your time to make sure everything is properly lined up before gluing. 
A look at my current hairstyle — face-framing front pieces, dyed light pink to contrast with the dark purple in the back, by my Vancouver stylist BlameChad.
OOTD: zombie tights by Michelle's House of the Strange and Unusual, classic monsters fabric face mask by Josie Stevens, and these Jeffrey Campbell Mexique black leather heeled boots.
These photos were taken around Halloween, before there were more restrictions in Vancouver… Looks like we will be wearing masks for quite a while, so we may as well make them stylish. 
If you're looking for an activity to do at home this winter… why not put together a Satanic mask like this? 
Hail Papercraft World — I had fun tapping into my artistic side, thanks to their paper 3D design kits. 
I hope my Goth Christmas gift guide was helpful to anyone looking for original presents (for others, or yourself). 
Last look at my outfit — glad I was able to enjoy Halloween, despite the state of the world. Green zombies tights by Michelle's House of the Strange and Unusual, and these JC Mexique platform shoes.
Shop more Jeffrey Campbell styles below:
I got this BOO shirt in Mexico City last year. The ghosts remind me of the Nintendo Boo character, and also appear to be cracked eggs! (Catch up with my Mexico City stories here.)
I have more Satanic Panic coming your way, in the form of new projects, magazine shoots and articles… including a fashion interview in the New York Times. Stay tuned to @lacarmina on Twitter, Instagram, Facebook and TikTok for updates. 
And remember, you can shop my closet (@lacarmina on Depop) — I'm happy to send you a discounted package from my personal collection.
Stay safe this holiday season… or Krampus will spank you!