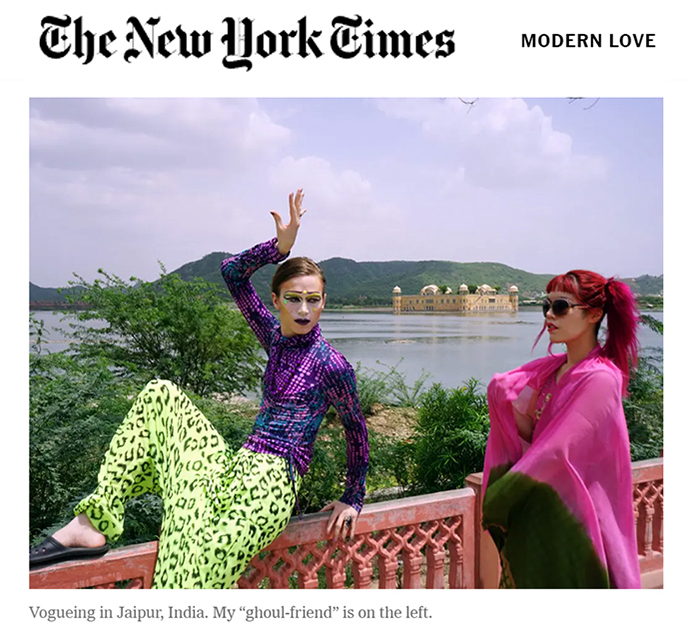 Delighted to share a journalism / writing career milestone… I'm published in The New York Times "Tiny Love Stories!"
For NYT Styles – Modern Love, I wrote about how I met my best ghoul-friend, Yukiro, at Midnight Mess in Tokyo. The New York Times editor said she was moved by the submission and photos of our fabulous friendship!
In my debut essay for The New York Times, read how Yukiro and I went from partying in Japan to having adventures worldwide (above is a snap in LA from around 2012). We've traveled to Mexico, Lebanon, Germany, Egypt, India, Hong Kong, and many other countries so far (see our travel guides here).
Thank you for your support — it's the reason I'm able to write meaningful, alternative stories for publications like the NY Times.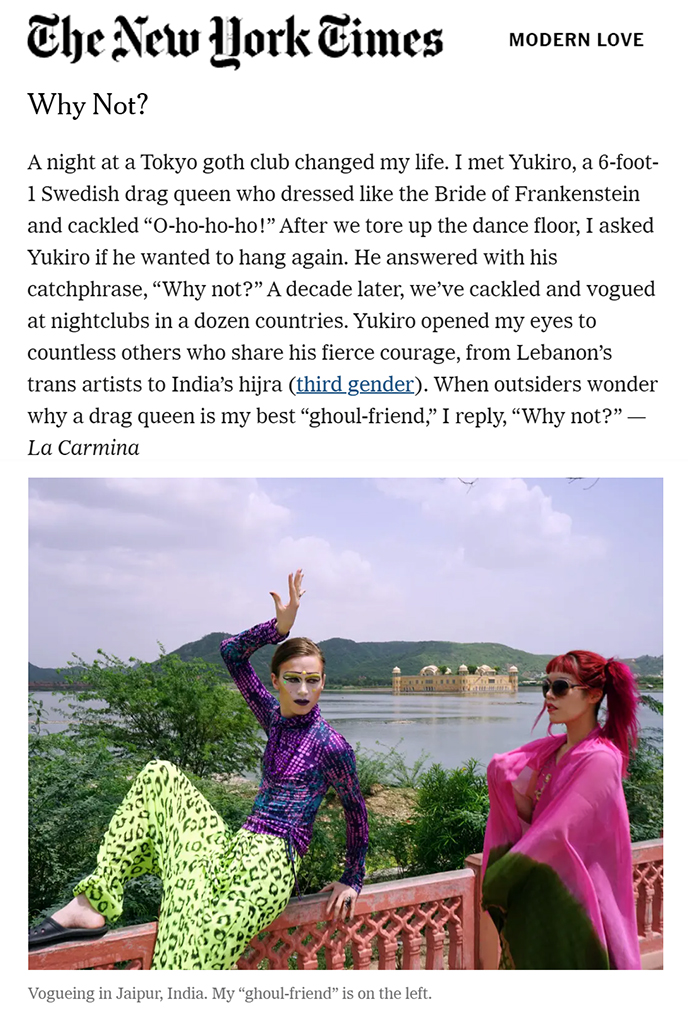 Above is a screenshot of our New York Times feature, published on NYT here. The photo is from our journey to India (vogueing in Jaipur, before we hung out with hijra or the third gender!). And here's the text below:
"Why Not?" A night at a Tokyo goth club changed my life. I met Yukiro, a 6-foot-1 Swedish drag queen who dressed like the Bride of Frankenstein and cackled "O-ho-ho-ho!" After we tore up the dance floor, I asked Yukiro if he wanted to hang again. He answered with his catchphrase, "Why not?" A decade later, we've cackled and vogued at nightclubs in a dozen countries. Yukiro opened my eyes to countless others who share his fierce courage, from Lebanon's trans artists to India's hijra (third gender). When outsiders wonder why a drag queen is my best "ghoul-friend," I reply, "Why not?"
— La Carmina (The New York Times Styles, Tiny Love Stories – Modern Love, 5/23/2023)
It was the Tokyo Goth subculture that brought us together… so I thought I'd give you a tour of Laforet Harajuku, the alt / youth culture department store. (Photos from my visit last fall.)
Since opening in 1978, LaForet shopping center has reigned as Harajuku's hub of alternative fashion and art. I always come here to be inspired by the latest Jpop-influenced designs.
You'll find all sorts of alt boutiques here, from Gothic Lolita to urban. Hangry and Angry recently revived their label, and invited me to visit them at LaForet.
Bubbles sneakers are currently the rage among Harajuku girls. These trainers feature a bubble sole.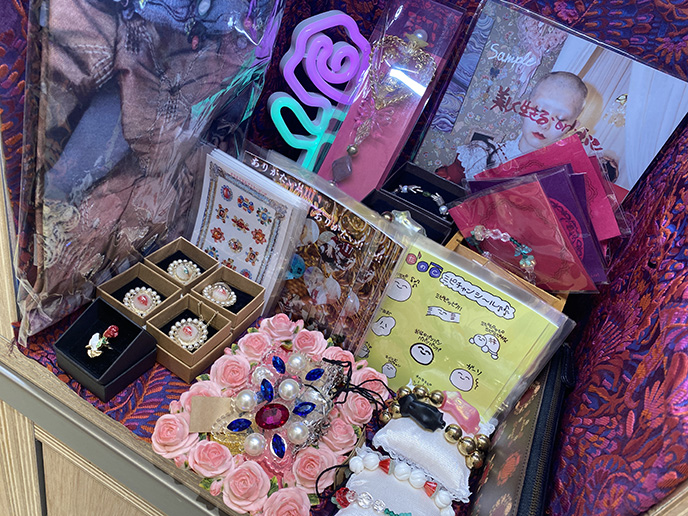 The first floor of LaForet has collections from small, indie designers with edge.
Many of these handmade items are one-offs and can only be found in Japan.
LaForet also had vending machines of kawaii creatures.
Closeups on some of the charming handmade animals.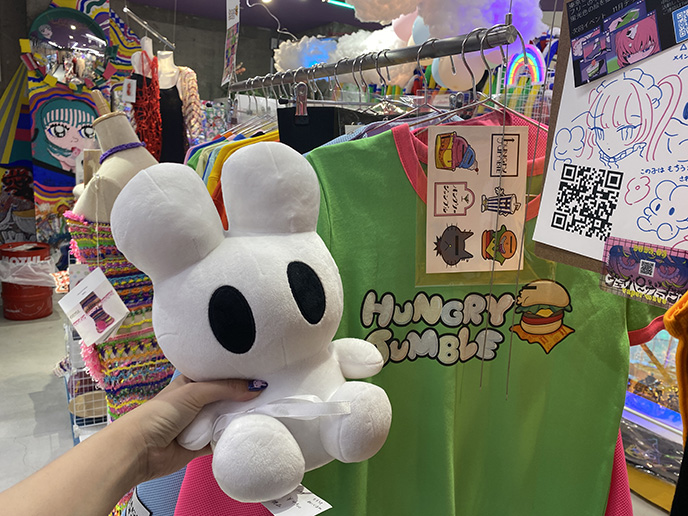 Everyone knows of Hello Kitty, but there are many other kawaii mascots to squeeze in Harajuku, like this minimalist bunny (reminds me a bit of Miffy).
Love the retro-altar aesthetic here.
How sweet are these plush bunnies?
LaForet is also home to the Sailor Moon Store, which is filled with character goods featuring the sailor scouts.
Usagi / Serena greets guests with gachapon machines.
You can pick up Sailor Moon keychains, candy drops, wands and more. (Remember when Yukiro and I visited the Sailor Moon Museum pop-up exhibit and cafe in Roppongi?)
LaForet Harajuku isn't just about fashion — there's plenty of pop culture art to discover here as well.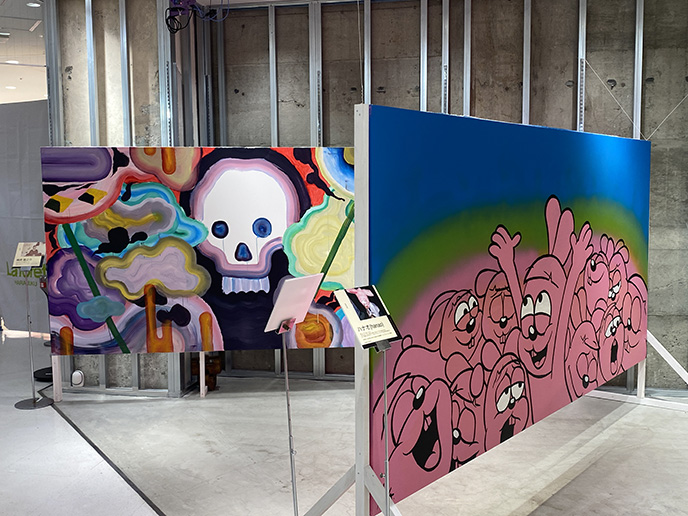 Anime, pastels, skulls and cute characters are the vibe here.
Laforet Harajuku has about 12 floors of fashion (some of them are "half" floors). If you have limited time, focus on the basement levels that are dedicated to Gothic, Lolita and Punk designers. (Above is a collab with Trolls dolls.)
Every type of "style tribe" is represented here. Nile Perch is all about pastels and fairy kei nostalgia.
This new boutique focused on romantic wedding dress / princess aesthetics.
A display of kimono-inspired outfits.
Love it when ancient Japanese garments meet modern streetstyle and anime.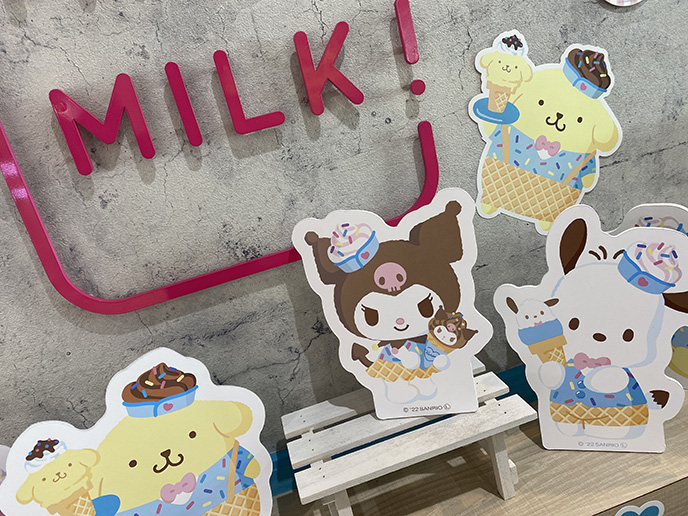 Laforet has some food options as well, like this Milk sweets cafe that teamed up with Sanrio characters.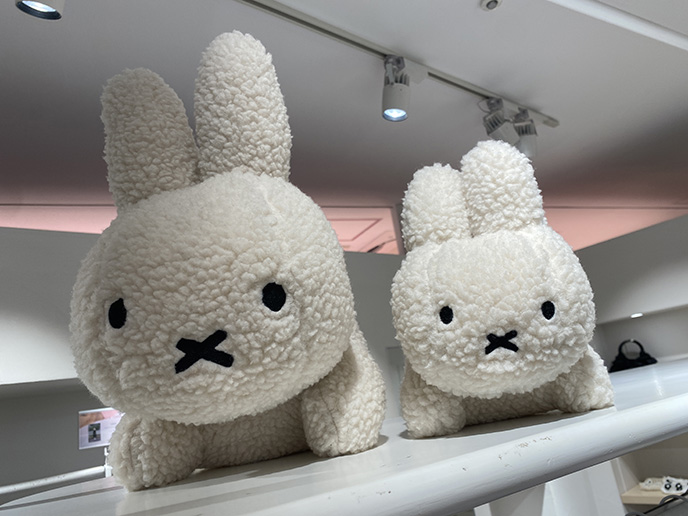 I couldn't resist getting this Merry Jenny Miffy bag, in the large size!
I also got a plaid JSK dress with a cross and corset lacing, at Ank Rouge.
I was into the jirai kei (dark meets cute) styles at Ank Rouge, such as the plaid skirts and bat wing crop tops.
Lolita fashion isn't as huge as it once was, but it still has a strong presence at Laforet Harajuku.
Although these youth styles change all the time, kawaii always dominates.
Rojita is another brand that's all the rage right now. I see a lot of these jirai kei outfits worn around Tokyo by young women.
The platform heel patent shoes are a must (I got a pair here — the ones with the glitter heart on the side).
I was pleased to see a cyber – synthwave – vaporwave boutique as well.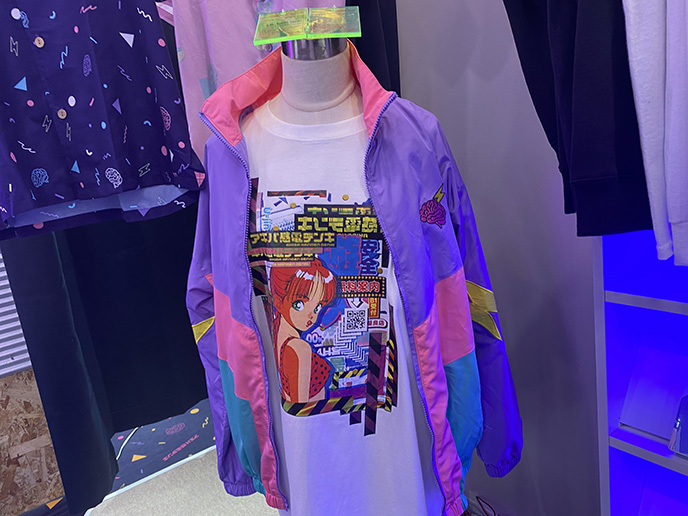 The colors and prints of the 80s and 90s will never die.
As you can see, Laforet has many takes on Gothic styling.
These Lolita dresses have pentagram back straps and cross prints.
Here's a devil bunny with horns and a pitchfork.
Amilige hails the Fallen Angel in a cute way.
A teddy bear with a Leviathan cross, horns, and bat wings… that's Japanese Satanism for you!
I wanted everything in this store.
Pullip doll fans have a section for the big-eyed dolly.
Laforet also has a number of purikura booths (for taking photos and decorating them).
Be warned… You can spend hours and lots of yen in Laforet Harajuku…
HeiHei is a new independent brand with a distinct vibe. It was founded by Harajuku street style personalities.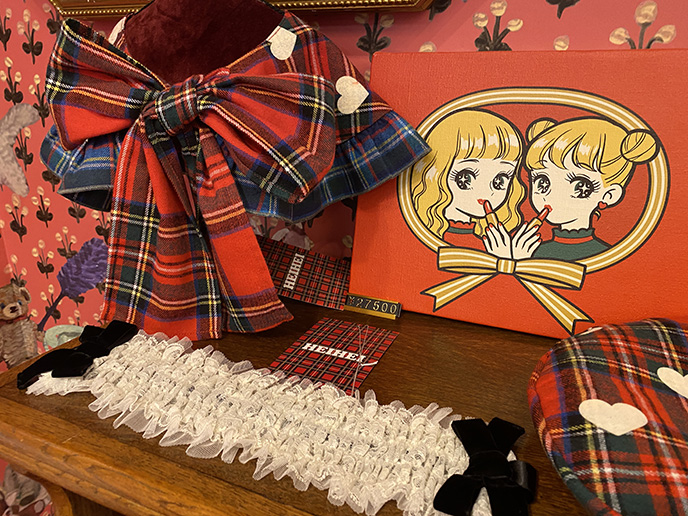 The plaid and 1960s styles stood out.
The displays at Hei Hei were among the best.
The basement floors of Laforet contain multiple Goth Loli Punk boutiques.
Look for evil accessories like bat wing necklaces and eyeball bracelets.
Alice and the Pirates is a treasure chest of lacey Lolita designs, such as parasols and headdresses.
Oh my Goth. Laforet Harajuku remains Tokyo's best spot for Gothic fashion — be sure to visit the department store you're in the Japanese capital!
PS — I've been writing about Japanese alt culture for well over a decade now, and am honored to be recognized by the Tokyo Metropolitan Government.  For the Correspondents' Eye on Tokyo series, the Metro Government interviewed me about my blogging and journalism work, in an article called: "La Carmina Shares her Passion for Tokyo and the Sparks that Keep it Aflame."
While at Laforet, I couldn't resist getting this purple hannya ring with horns… It matches my new book, THE LITTLE BOOK OF SATANISM. Thanks for supporting my work; it enables me to keep writing books and for pubs like The New York Times!
You can find my new Satanic history / culture book in digital or paperback at — Amazon, Kindle, Barnes and Noble, Bookshop or Simon & Schuster. Canadians can order it from Chapters/Indigo or Amazon Canada. Or Google the book title to find it near you — you can buy it worldwide! Thank you for the <3.
Goth on the Beach alert! My friend Trevor and I recently escaped the cold for Puerto Vallarta, located on the west coast of Mexico. Puerto Vallarta is only a 4-ish hour direct flight from Vancouver, making it a great choice for those seeking an easy and inexpensive getaway.
Read on for our beach, mezcal and Elizabeth Taylor adventures!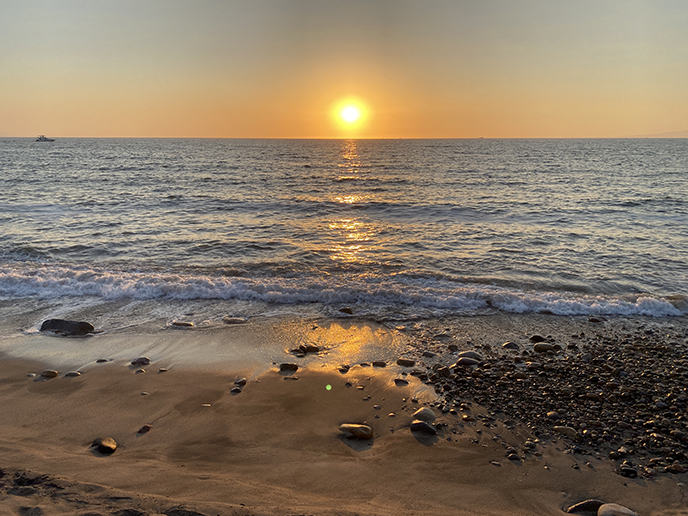 My top tip: stay in Zona Romantica, known as the LGBTQ area. Everything is walkable in the Romantic Zone — you're blocks from the beach and Malecon, as well as the coolest restaurants and bars. If you stay north in the resort areas (Nuevo Vallarta and Nayerit), you're far from the action and can't easily walk around and explore.
Zona Romantica is within walking distance of several popular beaches. But if you want to get away from the crowds… simply take a 60 peso Uber to Playa Conchas Chinas further south. I got there at 9am, and had the place to myself!
All right, I wasn't quite alone. This modelesque snowy white egret was cat-walking along the shore.
Keep in mind that UV rays are intense in Puerto Vallarta, even in the early morning! I covered up with tons of mineral sunscreen, and an Audrey Hepburn style downturned brim hat.
My Cruella black and white pearl necklace is Lily Streeter Jewelry — love how it fastens easily in the front. Lily makes darkly romantic jewels inspired by days of old; check out her site for other edgy fine designs.
I also covered up in style with Abysm Internal, an indie designer of alternative clothing and home decor. I was drawn to their original Gothic, fantasy and mythological prints, which include dragons, skulls, and demons. Everything is made to order, in beautiful sheer or solid fabric.
Obligatory hot dog legs shot. Unlike other Puerto Vallarta beaches, Conchas Chinas has a more Gothic feel — it's marked by dark rock formations, and the waves were a little more intense.
Happy to be in Mexico, by the warm water! My leopard print pants are from a boutique in Medellin, Colombia and my top is by Michi NY.
My necklace by Lily Streeter Jewelry is inspired by Cruella de Vil, and made by hand in half black and half white pearls. My oversized sunglasses are Balenciaga.
Around 11:30 to noon, more people arrived at Conchas Chinas — but it still was pretty empty. Quite the contrast from busy Los Muertos beach, which is filled with people and pounding with club music. Keep in mind that there aren't any food or toilet facilities at Playa Conchas Chinas, but there are usually umbrellas and chairs for rent.
I'm wearing this blue shadow dragon design by Abysm Internal. I'm a fan of kimonos as summer outerwear, as they are light and keep you cool yet protected from the sun's rays. I chose the open shirt in a sleek, silky knit, and it came with a black robe tie around the waist (not pictured).
I considered Photoshopping out the fellow in the back, but decided to keep him in!
Photos taken by remote app, on my Sony a7 IV mirrorless camera. (That's why I am holding my phone in shots — I use it to click the shutter.)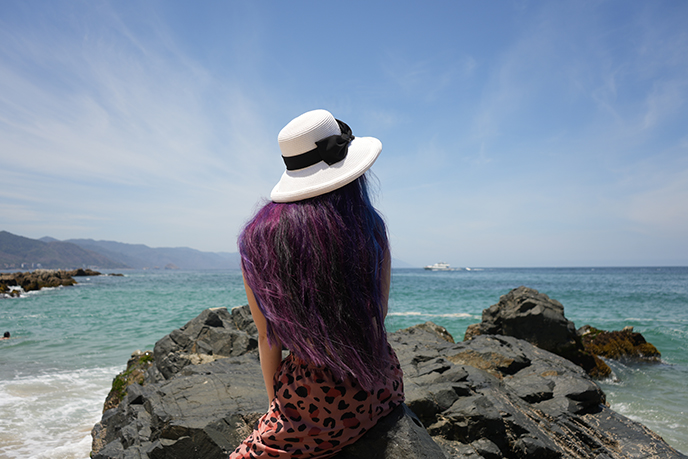 My hair color has some blue in it now, to match the ocean and mountains.
Puerto Vallarta has other gorgeous beaches. From Zona Romantica, walk north along the Malecon to Playa Camarones. It sits on a more peaceful section of the shoreline, and you can't beat the sunsets here.
These beaches are all accessible to the public. If you're planning a trip to Puerto Vallarta, try to avoid the peak tourist times such as spring break and Santa Semana (the holy week in early April).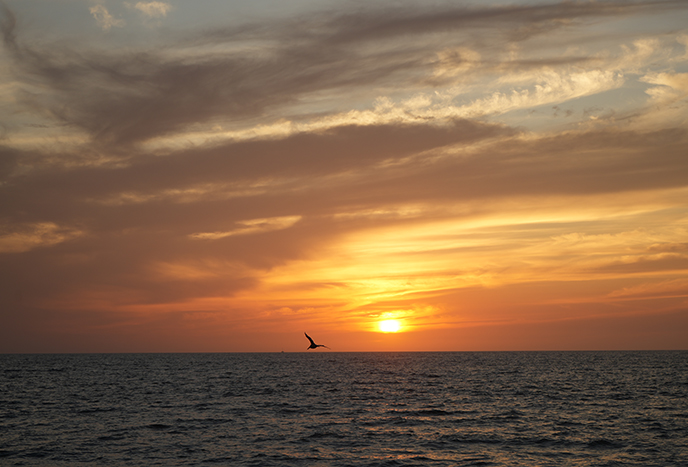 Playa Olas Altas (right by Zona Romantica) is another lovely spot to catch the sunset. You can see sailboats move across the horizon, and pelicans diving into the waves.
Puerto Vallarta's Malecon has glorious views from every point on the seawall. In the next post, I'll show you more of it.
Once you're in Puerto Vallarta, you can eat fabulous food for cheap all throughout Zona Romantica and Centro. My favorites: 20 peso al pastor tacos at Tacos el Gato, located by the beach in Centro (the pineapple up top is sliced fresh into the corn tortilla!) Also try Marisma Fish Taco (the quesadillas and add-on vegetables / sauces are to die for), and go to Cafe Oro Verde for coffee and beans to take home (330 pesos per kilo, check opening hours in advance).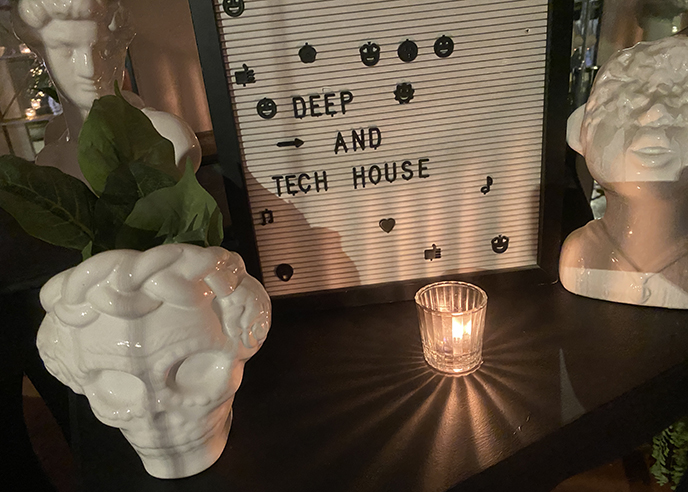 I'm currently on a mezcal kick, and went several times to El Colibri bar in Centro, which has a Goth alternative vibe. They specialize in craft mezcal and raicilla cocktails (try the Paradise, Geminis and Papu's Sazón), and bring in nu disco and techno DJs on the weekends.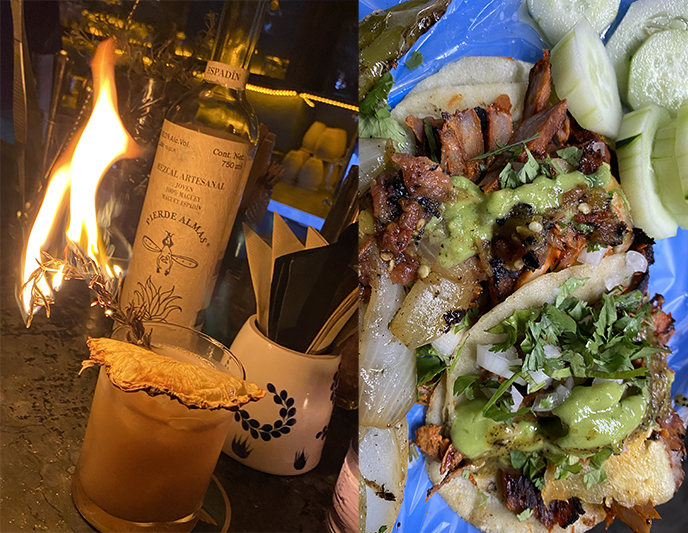 Above, the perfect pairing: a mezcal cocktail at El Colibri bar, and al pastor tacos from Los Gatos.
Trevor and I spent more beach time further north, in Nuevo Vallarta. The sand is soft and the waves are gentle in this resort area.
Don't worry about Jaws coming out from the seafoam. Puerto Vallarta only has one species of shark that lives off of plankton.
Trevor and I made it our goal to relax during this trip, so we didn't hop around to other areas like Sayulita. If you stay in Zona Romantica, you won't get bored — you can walk to the main areas and find a variety of food at 1990s prices. (I loved getting iced coffee each day for 50 pesos… or $2.80, like back in the 90s!)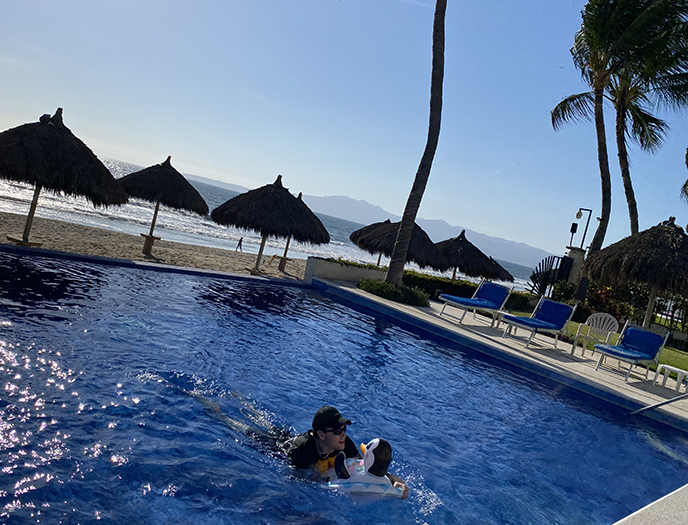 Trevor got some private pool time with a penguin.
Rather than staying in big resorts, look into apartment / villa rentals or boutique hotels in Zona. (We'll show you more from this LGBTQ district in the next post.)
Trevor and I had an open-air dinner to remember at Casa Kimberly, the hotel made famous by Elizabeth Taylor and Richard Burton. The actors were having an affair while still married to other people, and were staying in adjoining casitas. Richard built this Puente Del Amor or Lover's Bridge so that they could visit each other without alerting the paparazzi.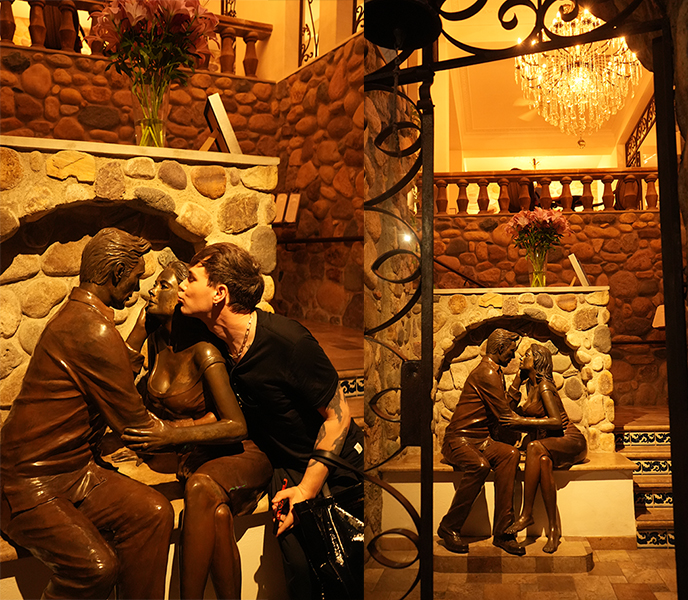 In 1964, Burton gifted Casa Kimberly to Taylor for her 32nd birthday. The Hollywood stars met on the set of Cleopatra, and were known for their wild spending and personal drama. Looks like someone is trying to sneak a kiss from Dick…
Richard Burton first came to Puerto Vallarta in 1962, when he starred in The Night of the Iguana. Casa Kimberly's decor upholds the glam of that era with exquisite antiques, crystal chandeliers, and views of the city and water below.
Elizabeth Taylor's iconic violet eyes greet guests as they go up the stairs to Iguana Restaurant. Every architectural detail is executed to perfection here.
The open-air courtyard of The Iguana is straight out of a movie. Live mariachi bands performed while we dined, and the coastal breeze kept the restaurant cool.
You'll find photos and memorabilia of the actors throughout Casa Kimberly. Here's a photo of Liz Taylor with Rock Hudson — she was a strong LGBTQ ally, and they remained close friends until his death from AIDS.
Trevor sits under a poster of Who's Afraid of Virginia Woolf? Richard Burton and Elizabeth Taylor did 11 movies together, and married and divorced each other twice. (Liz had eight marriages total… stunning queen!)
The menu at Iguana Restaurant was as elegant as the atmosphere. We enjoyed braised beef with sweet potato paired with a red Mexican Sangiovese wine, and a guava mille-feuille with house made vanilla bean ice cream for dessert — perfection.
Dine at Iguana Restaurant at Casa Kimberly, for a night to remember. Reserve well in advance, as this is an in-demand fine dining spot.
Puerto Vallarta was exactly what I was looking for: a relaxing getaway with easy access to the beach, local food and culture. (Be sure to visit Conchas Chinas beach if you come!)
Have you been to PV, or other parts of the country? You can see my other Mexico posts here (I've travelled to Mexico City, Mazatlan, Merida, and Tulum / Riviera Maya).
Finally, I wanted to thank all of you who read my latest book — The Little Book of Satanism! I greatly appreciate those who reached out, and am glad to hear you are enjoying it.
Published by Simon and Schuster, my new book covers the history, culture, practice and philosophy of Satanism.
If you're interested, you can find THE LITTLE BOOK OF SATANISM in digital or paperback from global retailers including — Amazon, Kindle, Barnes and Noble, Bookshop or Simon & Schuster. Canadians can order it from Chapters/Indigo or Amazon Canada. Or Google the book title to find it near you — you can get it worldwide! Thank you for your kind support.