I can't gallivant around the world to my heart's content these days… But I can happily partake in local travels. I'm currently in Vancouver, which is gorgeous in the summer — and there's a lot to explore nearby. 
It felt nice to stretch my wings again, by taking a short and safe getaway to Victoria, British Columbia. In my first article, I showed you my royal stay with the Fairmont Empress Hotel, which included purple cocktails and afternoon tea.
Now, I'll show you some of Victoria's Goth-est places –– including a Chinese cemetery, and several Gothic and alternative clothing stores!
Read on for a guide to the spooky side of B.C.'s capital city. I'll also show you the many ways that travel has changed in the pandemic era — such as social distancing signs, QR code menus, and face shield boutiques.
Canada's westernmost province, British Columbia, has flattened the Covid curve… thanks to the leadership of Provincial Health Officer, Dr Bonnie Henry. (Victoria honored Doctor Bonnie with this mural; she did so well with responding to the crisis that she was even profiled in the NY Times.)
BC residents are now in Phase 3 of the "re-start," which means careful local travel is permitted. I studied the guidelines carefully, as I didn't want my trip to potentially cause a burden on the community, or raise risk of transmission.
Outfit info: Black and white sun hat by Tenth Street Hats, yellow and black plaid midi skirt by Sourpuss Clothing, off the shoulder stretch top by Black Milk Clothing.
For those of you who aren't familiar: Victoria is the capital city of the province of British Columbia. It's located on Vancouver Island, off the Pacific Coast.
To get from Vancouver to Victoria, you can fly or take the ferry. I recommend taking the 1.5 ferry ride from Tsawwassen to Swartz Bay, and reserving tickets through the BC Ferries website well in advance. When you dock, you can drive south about 40 minutes to arrive in downtown Victoria.
Phase 3 suggests that local travellers "bring groceries and essential supplies, if possible." I took their advice, and stocked up on Paleo, Keto and collagen-filled treats. This way, I didn't have to stop for snacks along the way.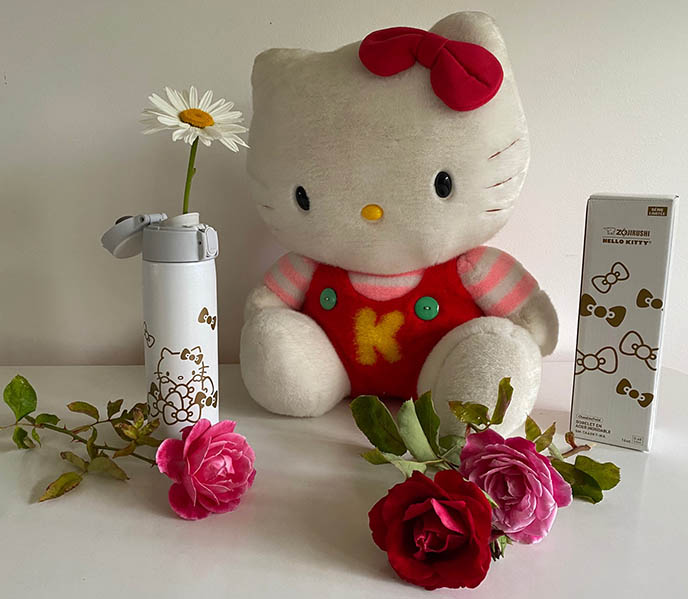 I'm all about hydration, so I take a reusable drink container with me at all times. This trip was the perfect opportunity to test out my new Zojirushi x Hello Kitty stainless steel mug!
The tumbler is well-insulated, yet lightweight, and can hold either hot or cold drinks. I've been a Hello Kitty / Sanrio fan since childhood, so I adore the cute cat and bows design. (It comes in white or black, with gold. They also produced a collaboration rice cooker.)
The tight-fitting lid flips open with a safety lock, and the well-designed stopper and spout prevent spillage. Made with Japanese tech and kawaii, this Zojirushi x Hello Kitty collaboration is a winner.
(The Hello Kitty stuffed plush is from Japan in the 1990s. They don't make them like they used to.)
Nowadays, you're allowed to stay in your car during the entire BC Ferries ride. (This wasn't allowed until Covid hit.)
I prefer this new ferry policy. Finally, I can recline and take a nap inside my parked car. (The photo shows how you can now enjoy the ocean breeze from inside the garage… but the yellow Porsche does not belong to me!)
Everyone is now required to bring a face mask aboard the ferry — a policy I agree with. All passengers must show their masks before boarding, or they may be denied passage.  
I put on my cloth face covering, and went to the outside deck for these spectacular views.
I stayed for four nights at the fabulous Fairmont Empress Victoria, which has implemented many new protocols to keep guests safe. (See my full hotel review here.)
The city began as a British settlement in 1843, and was named after the powerful Queen Victoria. The Empress Hotel dates back to 1908, and sits in the perfect location; it's easy to walk to all of Victoria's main sights from here.
In these Covid-times, it's best to spend time outdoors if you're traveling. Fortunately, Victoria is a terrific city for strolling — there are plentiful parks, beaches, and cultural neighborhoods. 
My favorite area was Victoria's Chinatown. Established in the mid 1800s, this is the second oldest Chinese neighborhood in North America after San Francisco.
I did a curtsy to the lion statues guarding the Gate of Harmonious Interest. This ornate red arch marks the entrance to Chinatown, on Fisgard Street.
You'll be charmed by the Chinese architecture, such as century-old brick buildings and bright red doors. 
What I wore: Hat by Tenth Street Hats, skirt by Sourpuss Clothing, top by Black Milk Clothing.
Victoria's Chinatown was originally the makeshift home of Chinese immigrants, who came here to pan for gold or work on the Canadian Pacific Railway. Back the, some of these gritty alleys led to opium dens and gambling joints.
Today, Chinatown is a lively collective of restaurants and hip boutiques, lit up by cheery red lanterns. 
Look for Chinatown's hidden Fan Tan Alley, and you'll come a cross a highly Instagrammable alleyway. This is one of Victoria's best destinations for local-made clothing and accessories, vinyl records, handcrafted homewares, and other alternative goods. 
I'm standing in front of Heart's Content, Victoria's ultimate Goth punk and alternative shop. The boutique is owned by a friendly local couple. They've been sourcing edgy items (like this Japanese The Clash t-shirt) for over three decades. 
I spotted Doc Martens boots, The Misfits tees, Mary Quant tights, Ben Sherman shirts, boned corsets, and other Goth fashion. The front cases were filled with spiked chokers and belts, and skull accessories.
If you like to dress on the dark side, then Heart's Content is the place to shop.
Fan Tan Alley is one of the the narrowest streets in Canada. Squeeze through and take a photo (it's one of the most popular Instagram spots in Victoria).
If you're more of a retro pin-up fashionista, check out Hussy Boutique (also located in this historic neighborhood).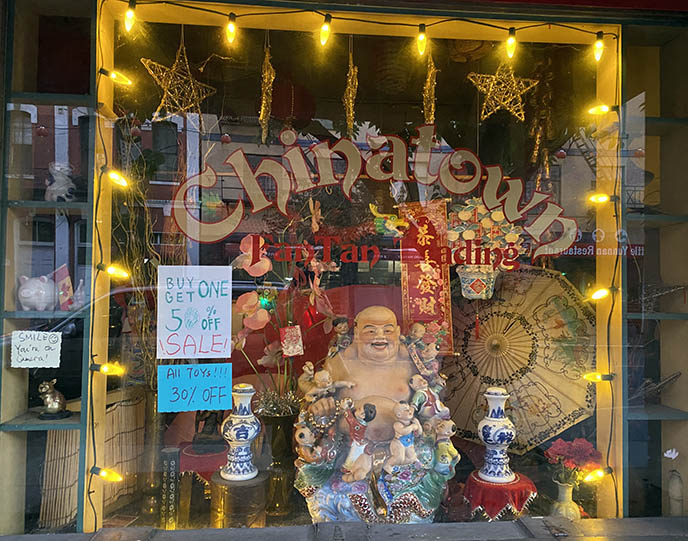 You'll encounter magic and mystery in Victoria's Chinatown. I came across this glowing Buddha in a shop window, not far from the Dart Coon Club Cheekungtong (an association of Chinese Freemasons — didn't realize they existed). 
Quite appropriately, an ally put up a Black Lives Matter poster by the Gate of Harmonious Interest.
While walking around downtown Victoria, I came across a colorful mural supporting BLM as well. There were also messages about staying safe and flattening the coronavirus curve. 2020… we live in interesting times.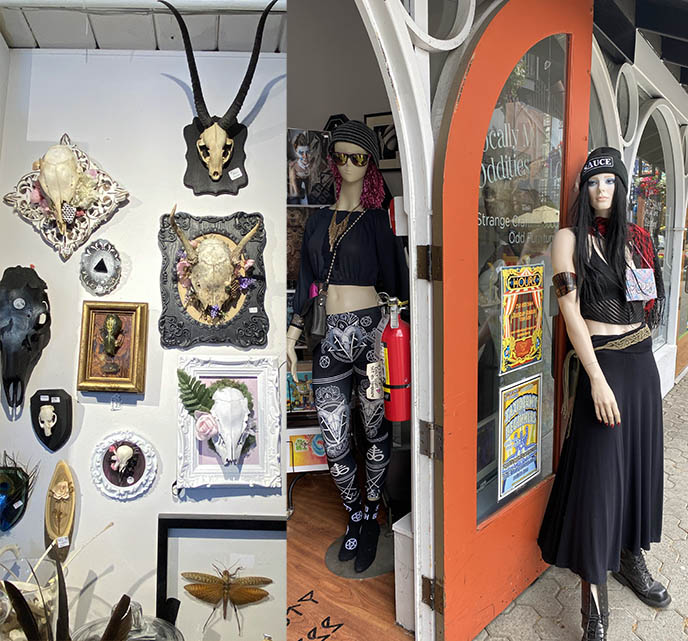 What other Goth and alt shops can you visit in Victoria? Little Shop of Strange, a quirky emporium for taxidermy and spooky oddities. Note the animal skulls with horns, and Baphomet pentagram leggings worn by the mannequin. 
The black coffin bookcase is home decor goals. Little Shop of Strange is an eccentric and morbid spot to get local art, jewelry, clothing, and occult items.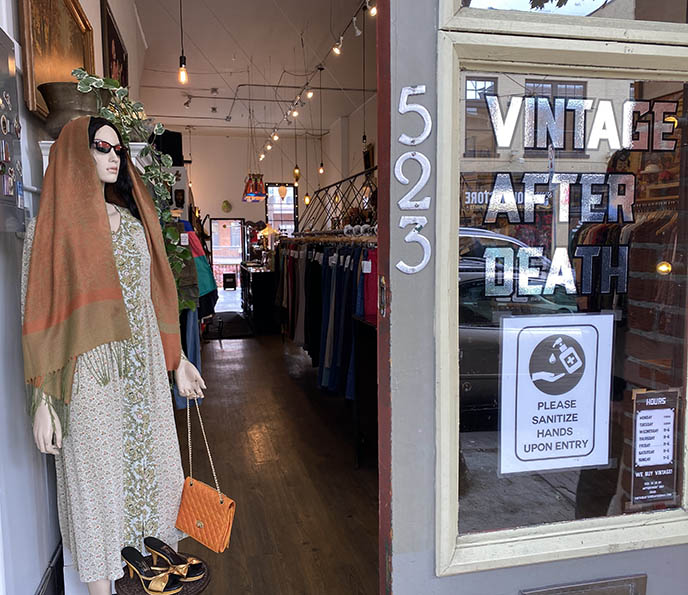 Victoria has a great selection of secondhand stores as well. The ghoulishly-named Vintage After Death was one of my favorites. 
I spy a skull above a rack of colorful clothing from the 1970s, 80s and 90s. 
Use your imagination to mix and match accessories, and put together a standout outfit.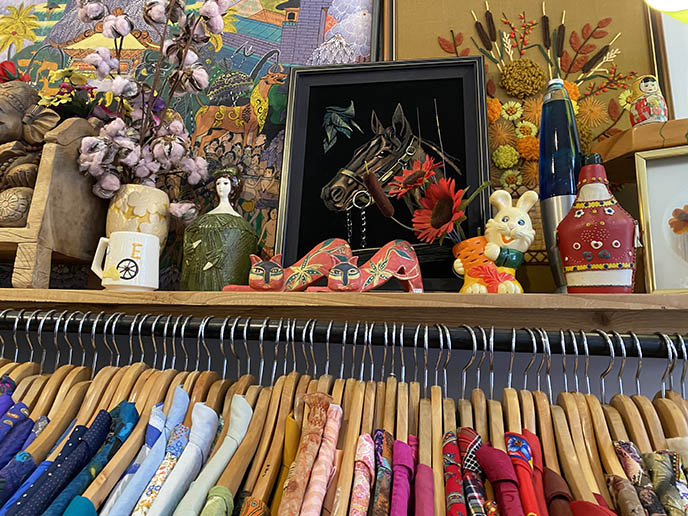 Vintage After Death sells bizarre knick-knacks too: goofy bunny statues, Raggedy Ann horror dolls, sequined Indian tapestries, etc.
Face masks are currently à la mode… Quite a few clothing shops featured them in the display windows. 
Who could have predicted that face shields would be the 2020 must-have accessory?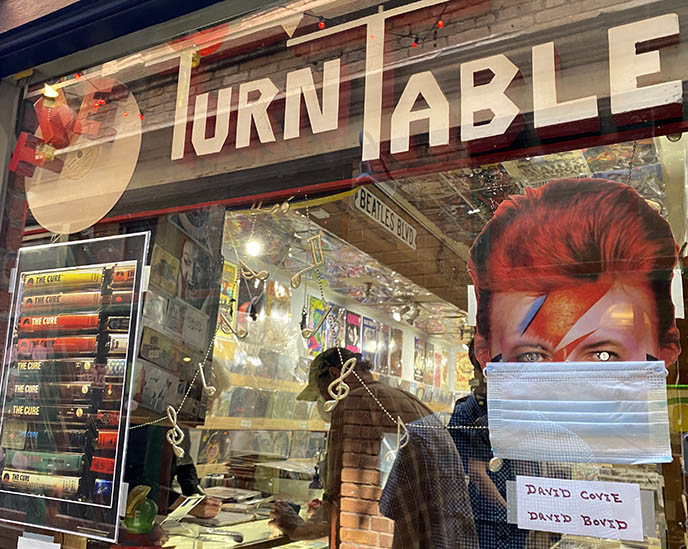 The music store Turn Table even put David Bowie as Aladdin Sane in a medical mask. (I suppose his current stage name would be David Cowie or David Bovid.)
Even this stuffed bunny wears a fabric facemask… and so should you!
As our BC health leader Dr Bonnie says, "Be Calm, Be Kind, Be Safe." Victoria's businesses have put up Plexiglass at checkout counters, and set up outdoor seating with social distancing signs. 
Dining outside is encouraged, so head to the local favorite Red Fish Blue Fish. (The fish 'n' chips shack usually has a long line-up, but now there is barely a wait, as there are no foreign tourists.) Order the BC halibut, and enjoy this view of the Inner Harbour waterfront.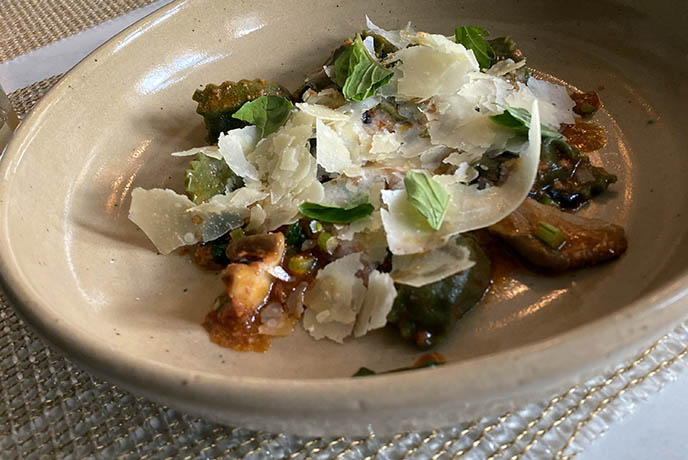 Victoria has many excellent restaurants with patios. A few friends suggested 10 Acres, but I wasn't able to visit this farm-to-table bistro this time.
However, I had a spectacular dinner at The Courtney Room. Still thinking about the above stuffed handmade pasta with confit mushrooms, basil, chili, parmesan, and bolognese. 
And don't miss out on the Fairmont Hotel Empress' afternoon tea and award-wining cocktail bar. (I reviewed them in depth, in this post.)
Victoria BC is an ideal destination for those who love nature and spending time outside. Hit up Willows Beach, and find a quiet spot for swimming and relaxing in the sand. 
I'm not an outdoors type, but enjoyed a socially distanced hangout with local friends at Willows. Here's my Goth on the Beach look (I wore a hat, parasol and four layers of sunscreen!)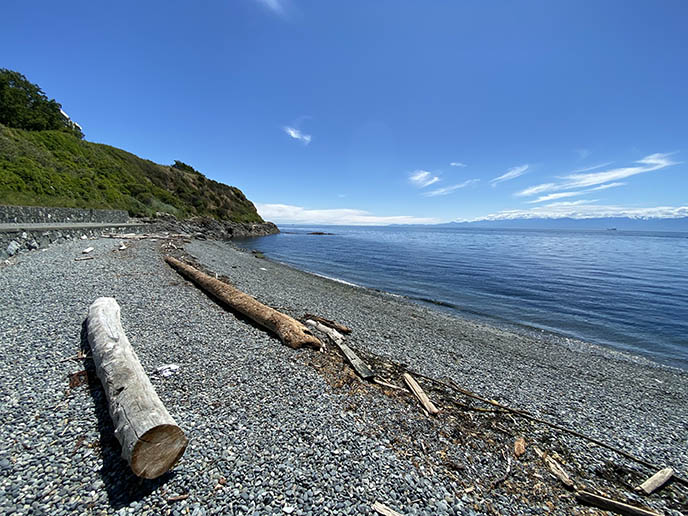 There are many other beaches and scenic spots around Victoria. You can also drive a short distance to provincial parks such as Goldstream, or to see nearby lakes and waterfalls.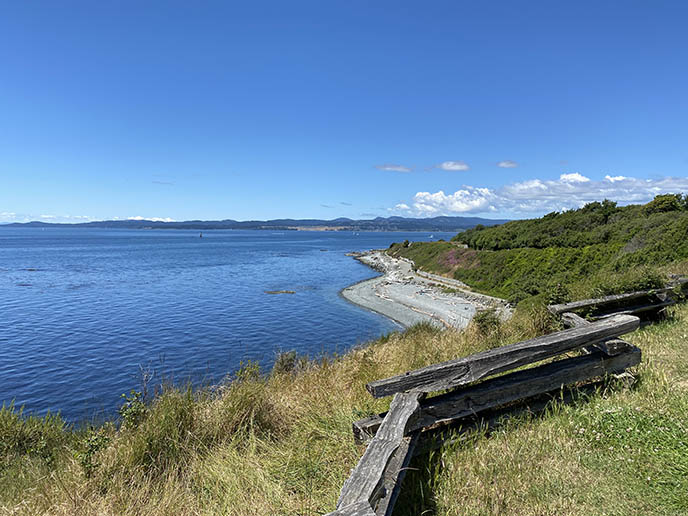 I opted to stay in Victoria, so I did the classic walk on Dallas Road, from Clover Point to Ogden Point. These views…
I also had fun exploring Beacon Hill Park, which was blooming with flowers. Look for the fabulous resident peacocks, who make quite a funny chirping noise! 
The Chinese Cemetery is also worth a visit. Established in 1903, this burial ground was designed around feng shui principles. The wind and water elements are strong here — and the graveyard is an important spot for Victoria's Chinese community.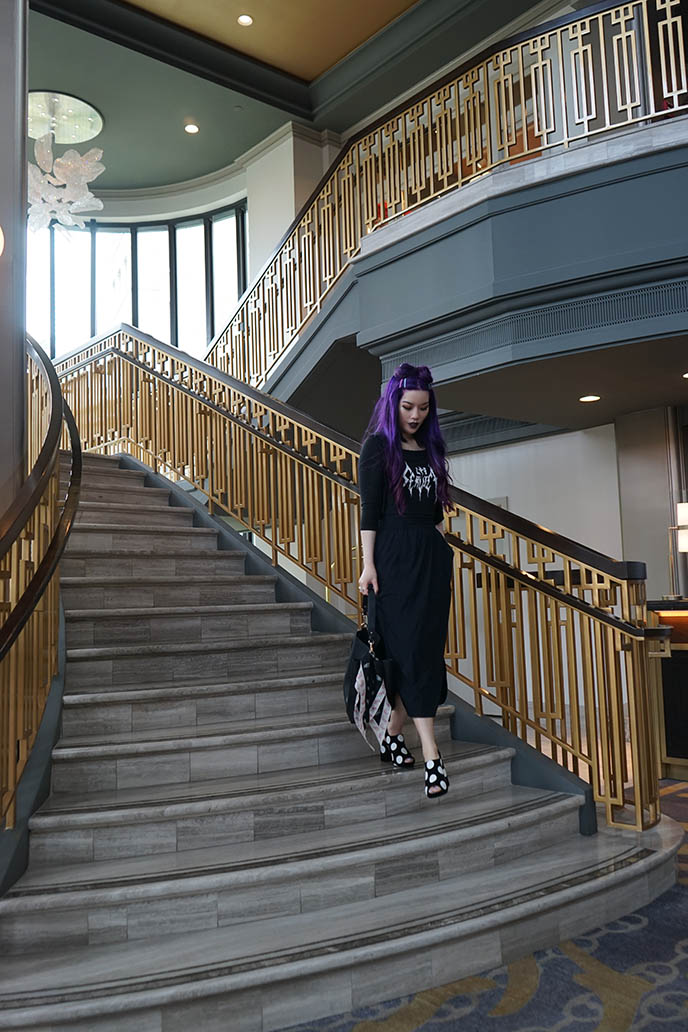 Never forget that Queen Victoria dressed in all-black and mourned her dead husband for 40 years… No wonder the city named after her has lots for Goths to enjoy! 
Cheers to the Fairmont Empress Victoria hotel for a relaxing five-star stay. See my full hotel review, including how they're handling safety and sanitation, here.
Victoria, British Columbia is a royal gem. Have you heard of this Vancouver Island destination, or been here? Did I miss any of the major Goth spots?  
The economy may be crashing in 2020… But at least I've got these sweet money pieces in my hair! (Read on for my makeover, followed by a comprehensive Mexico City Goth shopping and travel guide.)
I'm nostalgic for the 1990s… when things were booming, and people could even travel the world on a Concorde jet! So I got a throwback hairstyle: chunky face-framing highlights. This light-and-dark dye job has been trending, but I've only seen it with bleach-blonde strips along the sides of the face.
My brilliant Vancouver hair stylist Chad Evans (Blame Chad) delivered this look with an alternative twist. He lightened the face-framing front pieces to lavender and baby pink, and dyed the rest of my hair dark purple.
I accessorized my money-piece hairstyle with barrettes from Hong Kong, for more of that 90s feeling. (I'm also growing my bangs out for the first time in over a decade).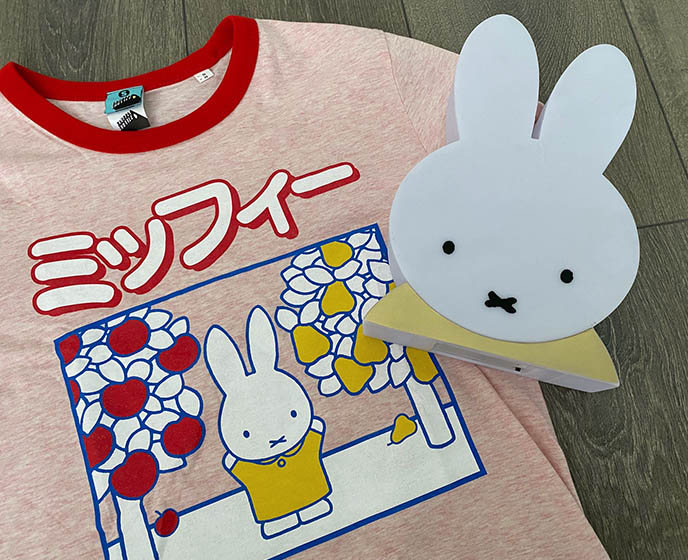 My pastel pink chunky hair strips match the colors of my Japanese Miffy ringer t-shirt, from Truffle Shuffle. My favorite kawaii mascot is shown reaching for fruit, and her name is written in katakana!
Truffle Shuffle carries original clothes and accessories featuring your favorite pop culture icons from cartoons, TV shows, books, and more. Of course, I picked out a few items from their extensive Miffy the bunny range.
I put together a cute-meets-Gothic look with their Miffy sweatshirt, which has an adorable sleeve detail. I paired it with Lip Service leggings with a skull and cross pattern.
This rainbow Miffy tee would be perfect for a Pride event! (I wonder when we can safely gather in groups again… Until then, I'll be shooting photos with a remote, hence the iPhone in my hand…)
But at least I can brighten up my wardrobe with the Truffle Shuffle x Miffy clothing line. They also have items featuring Hello Kitty, Pusheen, Alice in Wonderland, and other fan favorites — check out their site for retro character cuteness.
I guess I'm into all things chunky right now — did you notice the choker in my photos? This golden crystal beauty by Frame Chain is a necklace that doubles as an ingenious glasses holder! (When you take off your sunglasses, you simply fold the arms into the O-ring.)
The Crystal by Frame Chain has a disco meets 90s streetwear vibe that is 100% me. I love the large square links, which are embellished with crystals. You can adjust the necklace's length with the clasp in the back — I chose to wear it like a choker or dog collar.
Frame Chain makes glasses chains in other fabulous styles. On the left, I attached the yellow gold Donnie to my Spilt Milk sunglasses. This long link chain attaches to any glasses through expandable loops at both ends, which you slip through the arms.
I love how these unconventional accessories add unexpected sparkle to your look. (You can see me wearing Frame Chain's Donnie in this outfit post.)
Peek at more Frame Chain accessories for glasses, below:
Finally, some close-ups of my new Leatherology Elizabeth black leather bucket bag. I decorated this purse with a Coach diamond scarf, and filled it with fresh-cut pink flowers.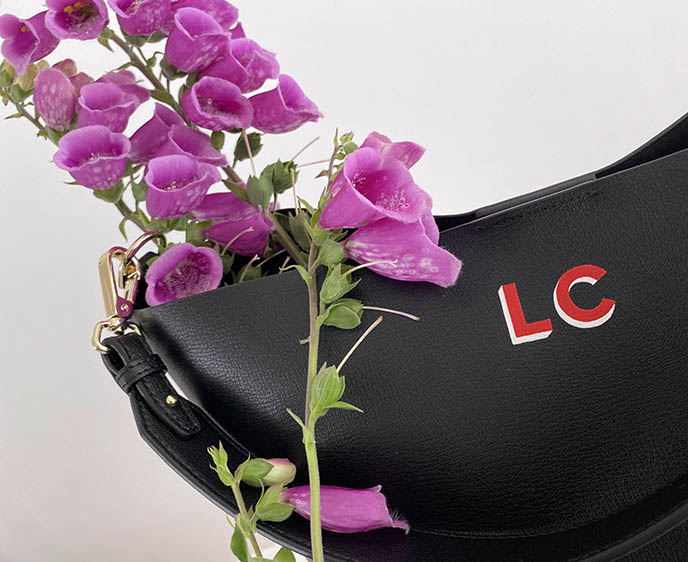 Details of the exquisite black Italian leather with gold hardware, and hand-painted initials. You can customize Leatherology's bags and accessories with monograms in various sizes, fonts, and colors. I marked my territory with a bold red and white LC.
The Elizabeth large bucket bag is easy to sling over my shoulder, and bring on a day out. It's lightweight and goes with all types of outfits, from casual to evening.
Leatherology makes bags in all sizes, including makeup containers, crossbody bags, clutches, backpacks, you name it. I love how mine is one-of-a-kind, thanks to the hand-painted customization.
Now, let's go backwards… to a time when international travel was possible. Last fall, I went to Mexico City for the first time. The Mexican capital is one hell of a destination, as you saw in part 1 of my Gothic guide to CDMX.
For centuries, locals have gone all out to celebrate Day of the Dead (honoring ancestors who have crossed to the over side). In a city filled with happy sugar skulls, it should come as no surprise that there is a vibrant Goth subculture.
Whenever I visit a new place, I'm keen to check out the local Gothic fashion boutiques, bars, clubs, and other spooky hangouts.
My friend, musician and artist Aurelio Voltaire, got me excited with his video about Goth shops and cafe in CDMX. Taking inspiration from his "Gothic Homemaking" episode, I hit up some of the darkest fashion boutiques in Mexico City.
Voltaire recommended Horror Boutique, a Gothic gem hidden in the Zocalo historic district of Mexico City. This shop is horrifically difficult to find, so here are my detailed instructions.
Go to the address on Google Maps, which is "República de Guatemala #2 esq. Brasil 4 to piso." When you arrive, look up for a red awning that says "2 Guatemala," and a sign for "Centro Brasil. Enter this storefront, and walk up the stairs to the fourth floor.
When you spot unit #403 — guarded by a skeleton who warns you to "Enter if you Dare" — you will have found Horror Boutique!
The young owner, Ariel Mendez, only speaks Spanish. However, he warmly welcomes anyone to come in and browse his designs (modeled by mannequins with sugar skull masks!).
At Horror Boutique, he and his small team make everything  by hand — when I visited, they were cutting and sewing fabrics.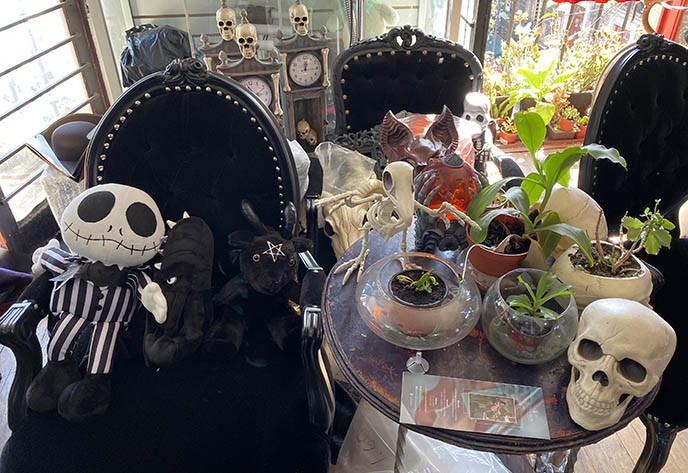 Horror Boutique carries spooky home decor (such as plushies) and accessories as well (ankh necklaces, pentagram chokers). Love this corner by the balcony, featuring taxidermy and a plush Jack Skellington.
At Horror Boutique, you'll find an enormous variety of Gothic fashion for both men and women. Ariel creates fantastical steampunk and Victorian gowns, as well as pin-up and fetish styles (love the skeleton corset in the back). He can also custom-make and tailor garments to your bleeding heart's desire. 
While you're in this building, poke around at the other cute and alternative shops on other floors. I came across this Japanese kawaii shop, with a colorful selection of plush animal slippers.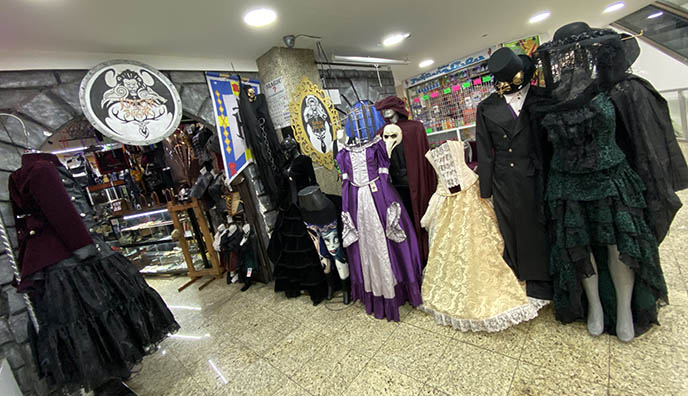 There's another Goth fashion destination in Mexico City's Zocalo, which isn't featured in Voltaire's video. Once again, it's a challenge to find — so heed my directions!
On Google Maps, look for "Ropa dark alternativa Luna alterna shop," and go to the address listed: Donceles 87, esq República de Brasil, Centro Histórico de la Cdad. de México.
Look for Plaza Bialos, a small shopping center; the logo is a white capital B on a red background. Take the escalator up, and you'll find a cluster of dark and alternative shops. 
There's something here for everyone who leans away from the mainstream.
Cosmonauta sells hard rock and metal clothing, music and accessories. If you're a fan of fantasy cosplay, or hunting for a sword and suit of armor, then you'll adore Mundo Medieval Mexico.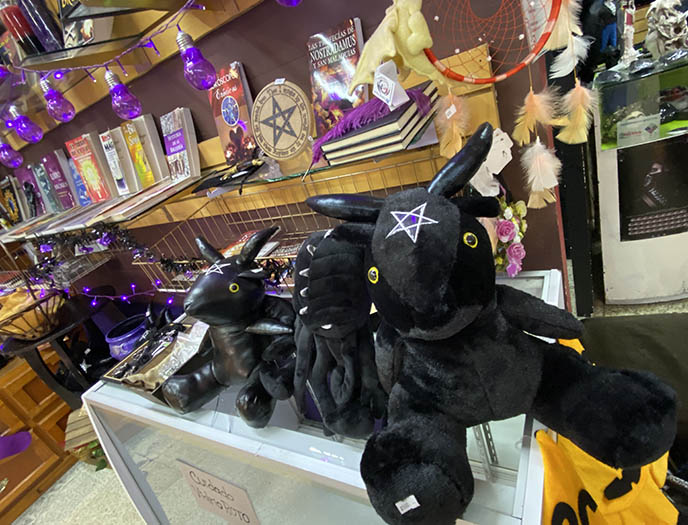 My favorite was Luna alterna shop, a large Mexican Gothic fashion boutique run by friendly staff who speak English and Spanish. Once again, they're indie creators who make everything in-house. I tried on a bat-printed shirt, and gave these cute Baphomet stuffed toys a squeeze. 
Luna carries a tantalizing selection of occult literature in Spanish, including guides to tarot and Santeria, and books of hechizos (spells).
(Voltaire's video covers a few other Goth stores I didn't get a chance to visit, such as Doctor Frankenstein Shop, which he recommends.)
I also recommend poking around Mexico City's La Condesa neighborhood, which is known as a hipster area. You'll come across indie and alt boutiques… and perhaps get a glimpse of Satan. 
I noticed a jar of dead roses beneath this Catholic glass shrine in Condesa. Peering closer, I saw it was marked with a pentacle! Google Translate tells me this says: "We carry our symbols with pride. We have the right to use them, as other religions use theirs." Hail to that.
Condesa is one of the best districts in CDMX to relax with a cup of joe. There are many craft coffee shops to choose from — but I was hypnotized by the glowing eyes logo of Blend Station.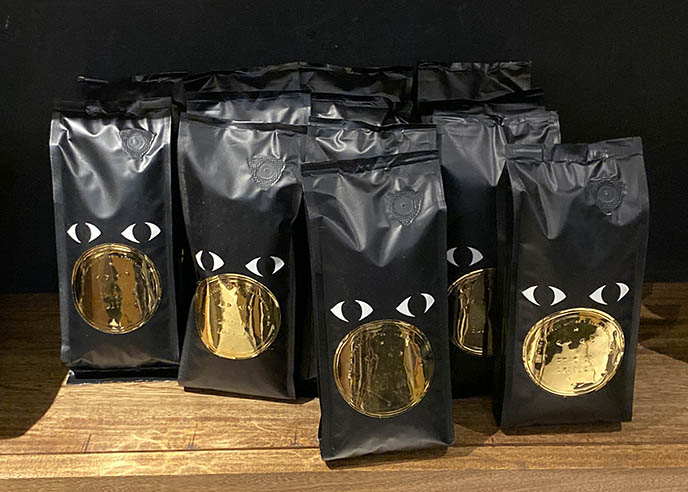 Voltaire's video also takes viewers to multiple "witch-themed" coffee shops in Mexico City. I didn't get a chance to visit any, as they're a bit spread out, but he highlights: Brujas Dark Galeria Cafe, and Salem Witch Store & Coffee. Each features witchy decor such as broomsticks and pentacles.
Voltaire also recommends Bizarro Cafe, a favorite Goth hangout in the Roma district. With rows of skulls on the walls, and cups decorated with bat wings, this seems like my type of place. (I'll have to come back to experience the Bizarro coffee shop, which sounds like something out of Seinfeld.)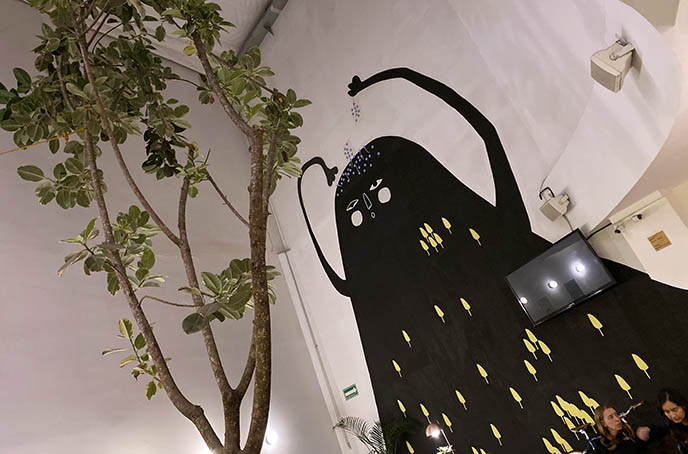 If you're in Mexico City on a Saturday, be sure to visit the Tianguis Cultural del Chopo flea market, also known as El Chopo. (I sadly wasn't there on that day…)
At Tianguis / El Chopo, you can browse open-air stalls that sell Gothic, emo, punk and alternative music (including vinyl and cassettes), clothes, accessories, you name it. There's a huge selection at low prices — and it's also a fab spot for people-watching, as you can see in Voltaire's video.
Fortunately, I did get a chance to stop by Mexico City's famous witchcraft market, Mercado Sonora. Located close to the CDMX airport, Sonora Market is an overwhelming bazaar for shamanistic remedies, death statues, and other ritual items.
(The market is safe, but tourists are advised to not linger in the surrounding Merced area. And always watch your bags and belongings, wherever you are.)
Mercado Sonora has many small shops devoted to brujería, or witchcraft. These healers offer medicinal plants, magic cleansing potions, and other occult talismans.
Sonora Market is also a great place to pick up skull beaded necklaces, and other spooky accessories and home decor.
Many of the magic shops are guarded by statues of Santa Muerte, the Mexican folk saint of Holy Death. The skull-faced idol wears a dramatic robe and carries a scythe, which she uses to separate the body and soul at the time of death.
It's easy to get lost in the sprawling Sonora Market, and feel as if you've descended into the underworld. Other sellers carry devilish items and Day of the Dead goods.
Sonora is famous for its artisans who make small paper sculptures, known as cartonería. Look for frightening Judas figures, and fantastical monsters known as alebrijes.
"She's a black magic woman / She's trying to make a devil out of me."
You can hire one of the many witches and shamans that set up shop at Mercado Sonora. They offer services like tarot readings, Ouija board sessions, voodoo, you name it.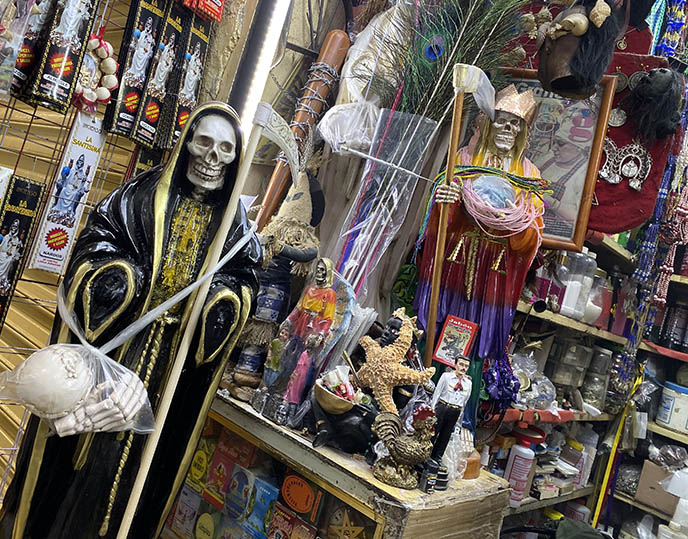 The Grim Reaper grins from every direction… Better pick up a blessed amulet to keep death from encroaching.
Fittingly, you can also get inexpensive Halloween masks, costumes and other horror goodies at Mercado de Sonora. I spy Jigsaw from the Saw series, and Pennywise the clown from It.
When I visited, Mercado had set up a giant Day of the Dead altar. (See more of my Dia de los Muertos coverage in this Mexico section of my blog.)
When night falls, Goths gather at El Scary Witches for tea and cocktails. This witch and Gothic-themed bar is best described as a salon for the dark arts — and it's a must-visit if you're in Mexico City.
Every guest is warmly welcomed by co-owner Clauzzen Hernandez (wearing one of her Edgar Allan Poe shirts). She and her husband have long been involved in CDMX's Goth subculture; Clauzzen is a DJ, and has a dark radio show called Hexen, The Black Book at Reactor Radio Station.
El Scary Witches is located in Zona Rosa — go into the narrow alley, and look for a sign pointing to the entrance. "The Scary Witches" is the ultimate dark destination: it's a bar, cultural forum, cafe, boutique, and film club in one.
I was particularly impressed with the venue's playlist: a rotation of obscure alt tracks. The music volume is never too loud, which lets patrons converse freely. That night, I heard Goth cabaret, post-punk and synthpop coming from the speakers. 
El Scary Witches's black walls and Gothic decorations are to die for. One corner sells t-shirts and dark goods like Cthulhu cookies. Sit down at one of the many tables, and enjoy drinks and snacks such as mollettes (Mexican open faced sandwiches).
The chill atmosphere is a welcome departure from typical Goth clubs. Many local women come here alone, and they can relax without being bothered by other patrons.
Clauzzen made her signature Black Devil cocktail for me. It's served in a skull glass, and features dripping red blood (syrup) and candy horns!
Boils and ghouls, El Scary Witches has my highest recommendation. Stop by this alternative / dark pub in Zona Rosa, and say hi to Clauzzen for me.
I hope to be back in Mexico soon for more witchiness. Day of the Dead was outstanding — and I'd love to see how it's celebrated in other regions of the country.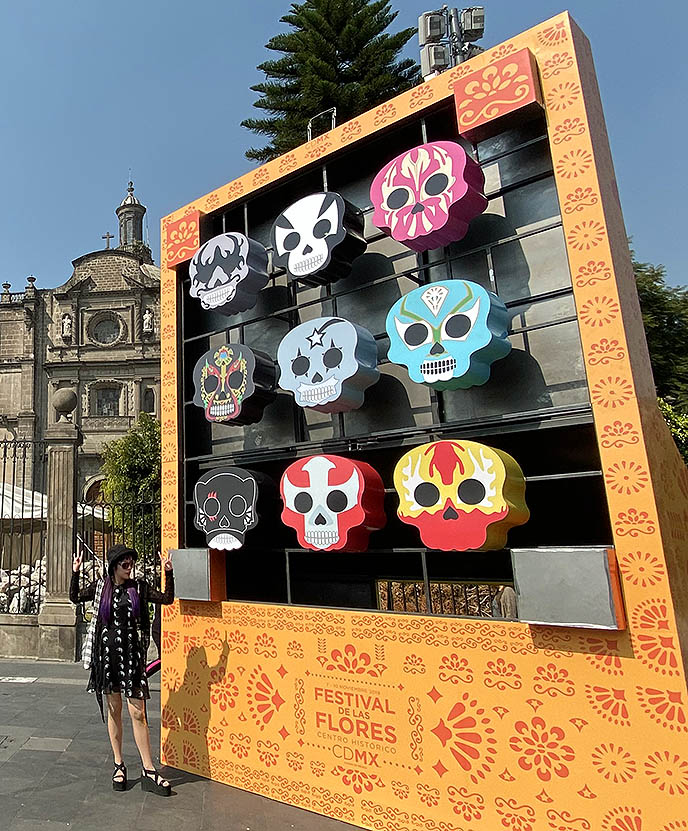 PS: Check out more of my Mexico Goth guides here — I wrote first-hand about the cemetery rituals, sugar skull makeup and other spookiness.
Grateful that I was able to have these Gothic travel experiences around the world, as they're not possible right now. But hopefully, we'll be able to voyage safely again soon.
Until then, I'll be sharing more local stories, as well as guest posts from familiar faces on this blog… Stay tuned, as I have some exciting things coming your way!