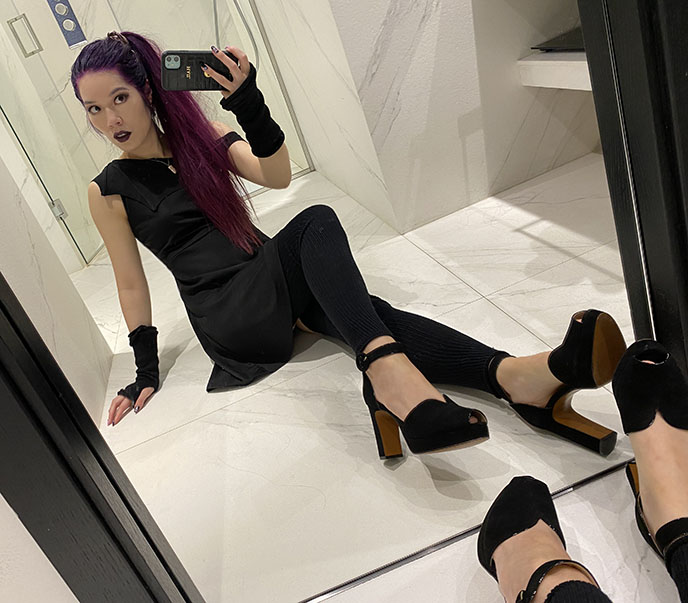 It wasn't until my third trip to Spain that I discovered… I'm mad about Madrid!
Many travellers overlook the Spanish capital in favor of cities like Barcelona and Granada (which is what I did, on my previous two trips). This time, I spent a few days in Madrid — and realized it's a wicked destination for those who love dark art, parks, culture and architecture (like this Goth girl).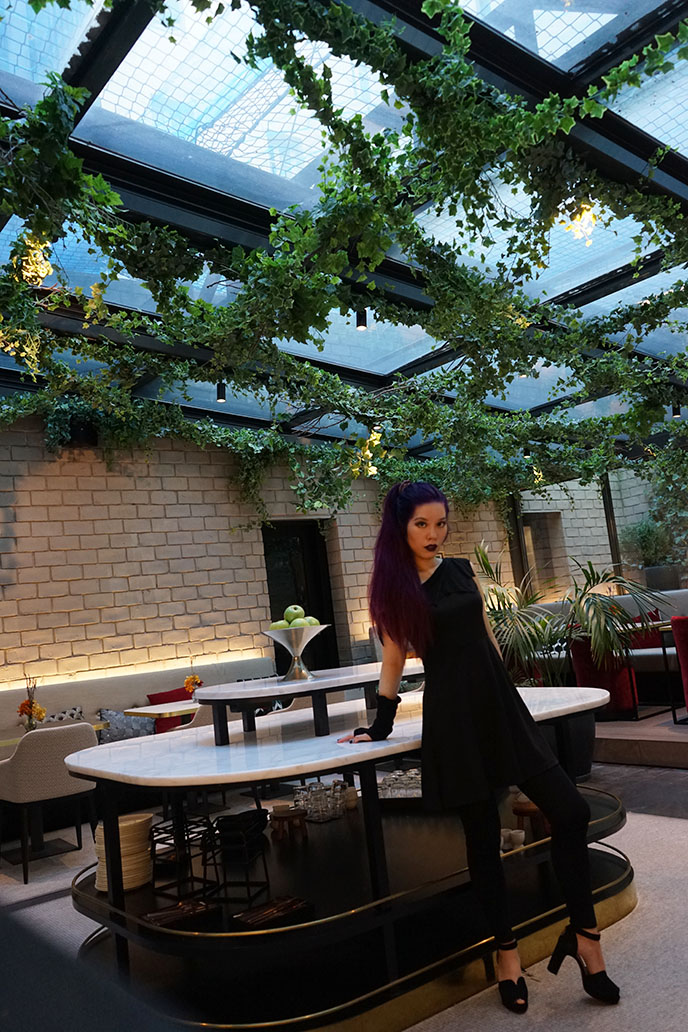 Read on for my stylish stay at The Pavilions Madrid hotel (wearing a Gothic one-shoulder dress by Fantasmagoria)…
… and a visit to a 19th century monument to Satan! (This is the Fallen Angel Fountain at Madrid's Retiro Park. Inspired by John Milton's "Paradise Lost," the dramatic sculpture represents the angel Lucifer falling from Heaven, with gargoyles and demons below.)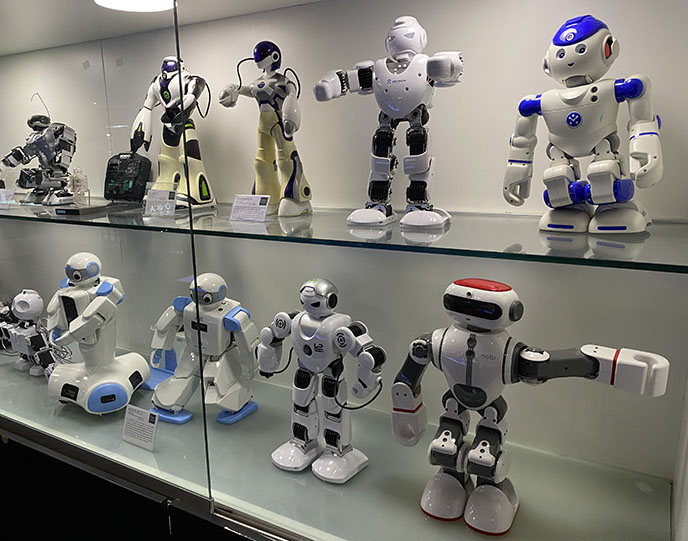 I'll also walk you though my stress-free PCR testing experience at MedMeSafe, and give you a tour of the funky Robot Museum Jugetronica. (Already, I think you can see why I loved Madrid…)
Let's check in to my chic boutique hotel, The Pavilions Madrid, which has enticing avantgarde interiors. The luxurious hotel has a small number of rooms and friendly staff members, making my stay feel like a private getaway. Pavilions is located in a quiet and stately neighborhood of Madrid (Chamberi / Salamanca), yet it's within walking distance to fashion boutiques, wine shops and cultural attractions.
The hotel treated me to a top floor Deluxe Attic room, which is filled with Spanish contemporary art and includes a cozy bed, sofa, and modern bathroom.
The best part… my room had a spacious terrace, with this view of the neighborhood and its classic architecture!
My "curated journey" at The Pavilions Madrid included lounging in the interior garden. Guests can enjoy cocktails and daily breakfast in this gorgeous green space.
Can't get enough of the breakfast nook, which has trailing plants hanging from the ceilings and walls. Every morning, I enjoyed fresh cafe au laits and eggs made to order, along with a selection of local cheeses, fruits, grain breads and more. (Be sure to try the quince paste, and tomato jam.)
In the afternoon, I kicked back with colorful drinks by bartender Gemma. Her creations include a salt-rim margarita, gin fizz, and rainbow citrus cocktail. (Keep reading for more of my stay at The Pavilions Madrid at the end of this story…)
I'm sure you are curious — what was it like to do a PCR test in Spain?
Many foreign visitors — including all Canadians — must now take a PCR or NAAT test in order to travel home (72 hours before you fly, and with a negative result of course).
Booking a PCR test can be complicated in Spain, as many clinics don't speak English or offer an easy online system. I was relieved to discover MedMeSafe, an English-language platform with dozens of lab locations throughout Spain!
If you need an RT-PCR test in Spain, all you have to do is create a profile at MedMeSafe.com, enter your info, and select a time slot at a clinic near you (mine was centrally located in Madrid). The website is available in English, Spanish and French. You'll get a voucher by email, which you show when you arrive. A professional performs a quick and non-invasive nasal swab, and it's over in minutes. I received my results within 24 hours, which included a PDF letter, and I was good to go.
The MedMeSafe site has useful info, such as requirements to travel from Spain to Canada. In addition, the staff speaks English and is wonderful at responding quickly (by email and What's App). Thank you to the team for the efficient and seamless PCR test experience. (You can find out more and book a test at a Spain lab here.)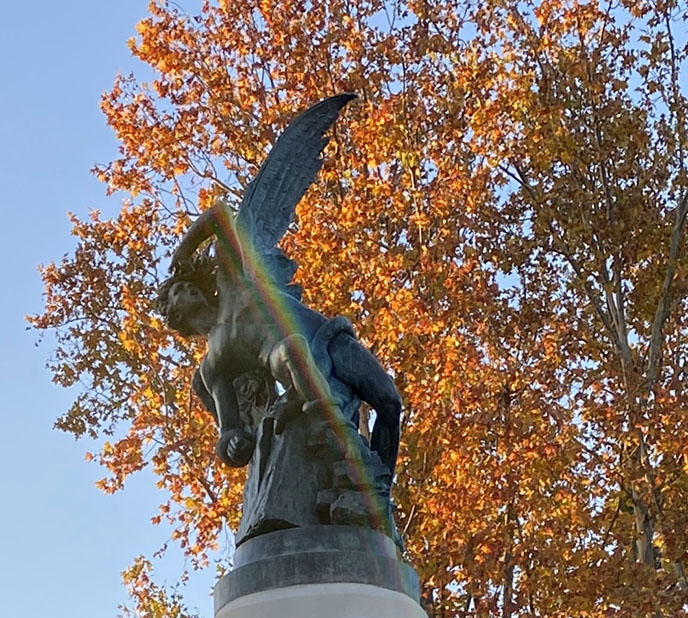 I spent my time in Madrid walking around different neighborhoods. (And walk I did… my iPhone tells me I averaged 20 – 24k steps per day!)
Of course, I made a pilgrimage to the devilish Fuente del Ángel Caído (Fountain of the Fallen Angel), located in Buen Retiro Park. It's one of only monuments in the world dedicated to the overlord of Hell — hail Satan. The 1877 bronze sculpture shows the beautiful winged Lucifer falling from grace; it's a masterpiece by Spanish sculptor Ricardo Bellver.
The Satanic fountain has an octagonal pedestal, which is decorated with dark demonic figures, lizards and snakes. I think these hell-beings look rather adorable, with water spurting from their fanged mouths.
Located by the south central entrance of Madrid's Retiro Park, the Fountain of the Fallen Angel stands 666 meters above sea level (a tribute to the number of the beast). What a wonderful artistic interpretation of Milton's Paradise Lost.
I couldn't get enough of Retiro Park, and spent hours here. Founded in 1505, this garden of Eden belonged to the Spanish monarchy until the late 19th century, when it became a public space.
Look for the pink Little Fisherman House (Casita del Pescador), built by a pond by King Ferdinand VII. I said hello to the ducks basking in the sun, and resident prowling cats. (The birds paid them no notice; it turns out that the animals are friends).
The former royal retreat spans 350 acres, and includes rose gardens and sculptures throughout. This is the King Alfonso XII monument…
… which is protected by proud lion statues that overlook the water.
I watched couples rowing boats on Parque del Buen Retiro's artificial lake. In the 17th century, the Spanish royals held water shows and mock battles here.
I loved strolling around and admiring the elegant fountains. This "Monument to Santiago Ramón y Cajal" was another favorite. The Art Deco reliefs show the goddess Minerva, and reference both human life and death.
The brilliant light and water reflections made me feel like I was in a lucid dream. So glad I got to experience Madrid's Retiro Park in November, for a last taste of fall.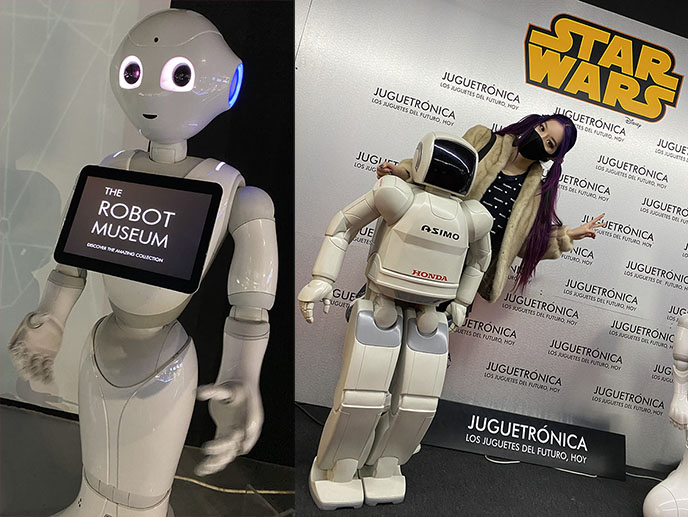 It's no secret that I am a fan of offbeat and bizarre museums / attractions — as well as robots. Put the two together, and you've got the funky Robot Museum Jugetronica!
Located inside Madrid's Centro Comercial ABC Serrano shopping complex, the Robot Museum has an enormous collection of automatons from throughout the years. The resident "robotos" include Softbank's Pepper (a humanoid and programmable bot), and Honda's Asimo (which can perform the difficult task of climbing stairs).
I was fascinated by the wide variety of robots from different countries, including advanced automatons by Spain's Juguetrónica. Of course, Japan is responsible for some of the cutest ones, like Sony's Aibo the robot dog.
Aibo was big in Japan in the 2000s, and spawned many canine "breeds" and a fan magazine. The Robot Museum lets you play with a number of models, which is something I'd never had the chance to do before. I had fun petting an Aibo (who responded by wagging his tail), and having him chase a ball.
The museum gives a run-down of robots in pop culture that have captured our imaginations. These include Lost in Space, C3P0 of Star Wars, Terminator, and Japanese gundam (I saw a giant one in Tokyo).
I was particularly amused by the kawaii robots, which look like penguins, dinosaurs and other cute animals. Here's Paro the therapeutic white seal, who comforted the elderly in Japanese care homes. (I want one!)
The robots can dance to the beat of music, respond to your commands, walk towards their master… I wonder, do these androids dream of electric sheep?
From the earliest incarnations (Medieval mechanical automatons) to today's AI, robots have long fascinated and frightened humanity. Here are some retro bot toys from the 1970s.
The 1980s robots were my favorites. They're clunky with buttons, and programmed through cassettes!
When it was released in the mid-80s, Tomy's Omnibot 2000 was ahead of its time (on the left). Today, companies like Juguetrónica keep on blazing forward with artificial intelligence designs. Domo arigato, Mr Roboto, for the tour of the Robot Museum.
Madrid is one of Europe's centers of art and culture. I ducked in to the Thyssen-Bornemisza Museum, which is part of the city's "Golden Triangle of Art" (along with the Prado and the Reina Sofia national galleries).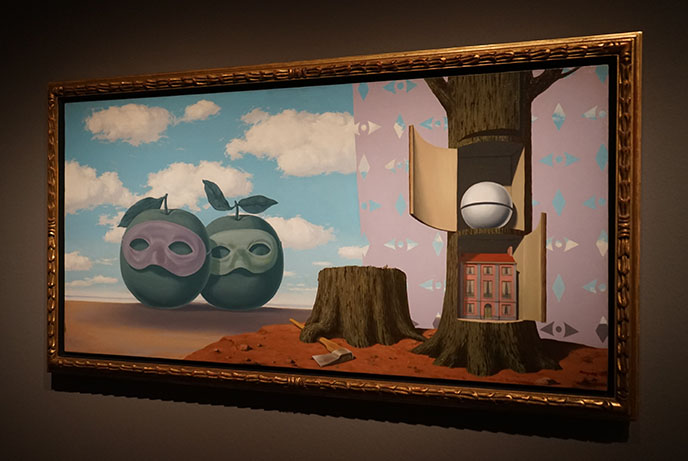 The Thyssen has an outstanding collection of European art throughout the ages. When I visited, they had a special Rene Magritte surrealist retrospective. (I dig his strange visions, and have also been to the Magritte Museum in Brussels, Belgium.)
Magritte's works are head-scratchers. I'm drawn to his more morbid paintings, such as this "family" of wooden coffins. (It's called "Perspective II, Manet's Balcony.")
Magritte's surrealism is masterful. These spooky shrouds look like portals into other universes.
Being able to travel abroad and wander around a new city felt like a dream to me, in these complicated and ever-changing times.
Madrid has many free outdoor attractions, such as the Temple of Debod. This ancient Egyptian ruins came from Aswan, and were preserved here in 1968. (I have fond memories of visiting Abu Simbel in Aswan, Egypt…)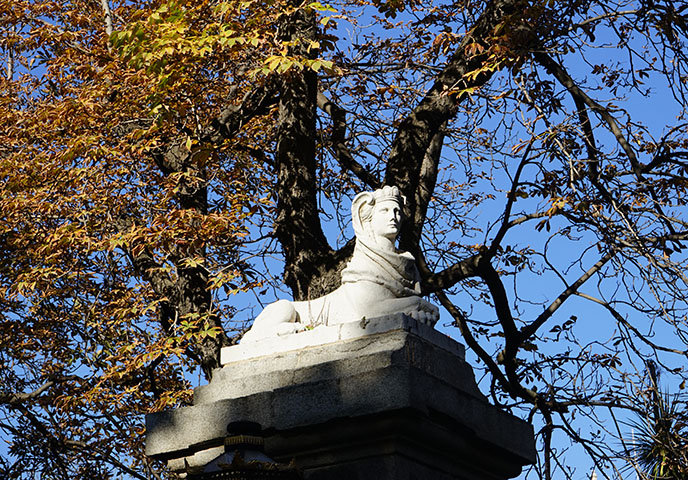 No matter where you wander in Madrid, you'll see beautiful sculptures and architecture — like this Sphinx on top of a gate.
I couldn't get enough of the ornate, carved facades. Imagine living in one of these apartments…
Along the wide shopping boulevard of Gran Via (known as "Spanish Broadway"), I spotted a double-fish fountain. I also encountered many "Maid of Honor" statues throughout Madrid, each uniquely and colorfully decorated. They're a modern tribute to the ladies of Diego Velázquez's famous "Las Meninas" painting. 
Classic art is everywhere in the capital of Spain. I encourage you to walk around, and see what you discover.
For avantgarde architecture, check out the CaixaForum Madrid museum and cultural center. The exterior features a stunning Vertical Garden living wall.
Madrid has a weird side as well. Meet "Julia" by Jaume Plensa, a giant sculpture of a woman's head by the Fernán Gómez cultural center.
Back to my designer suite at The Pavilions Madrid (wearing a bat wing one-shoulder Goth dress by Fantasmagoria). This luxurious hotel turned out to be the perfect home base for my long walks around Madrid.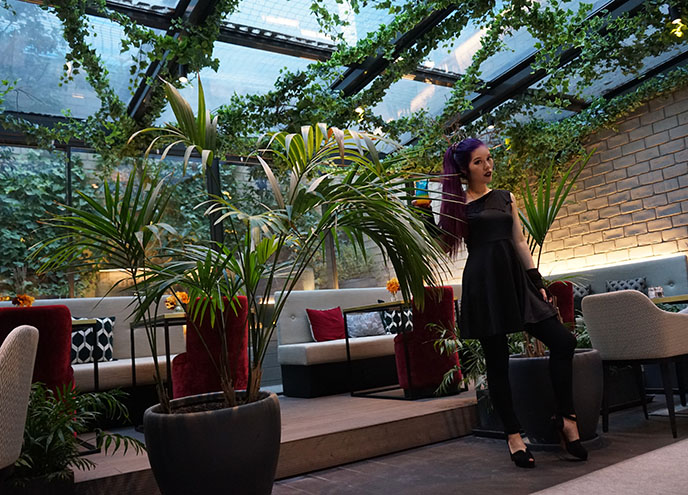 After two years in North America, being in Europe felt like a breath of fresh air. Gracias to everyone in Spain who welcomed me and made these experiences possible — including MedMeSafe Madrid for the rapid PCR test.
I'll soon be sharing much more from Seville, Cordoba and Valencia, including Michelin-starred dining. Please check out my @lacarmina Instagram for updates. You can also review my previous blog posts about Barcelona and Granada, Spain here. 
And drumroll please… Our latest episode for The Satanic Temple TV is out!
In Ep 3, Dr. John Skutlin and I interview Neil Edwards, filmmaker of the 'Sympathy for the Devil' documentary about The Process, Church of the Final Judgment. Neil also filmed and directed the "Liturgy" music video for Satanic Planet (band with Lucien Greaves, Dave Lombardo, Luke Henshaw, Justin Pearson).
We interview Neil about his work, and he presents his devilish collections — including The Process magazines featuring Marianne Faithfull, a 1960s vinyl, a serial killer photo, and more. Enjoy the new Satanic Show + Tell on TSTTV.
And finally, I was interviewed by Conde Nast Traveler about women and travel spending habits. I talk about how I want to return to Japan and Hong Kong, as soon as it's possible… See my interview in CN Traveller Magazine.
This purple devil is about to board a flight… to Spain! 
Excited to share that I'm off to Valencia on a food / travel press trip — it'll be my first time outside North America since you-know-what! I will also touch down in Seville, Cordoba and Madrid. Please stay tuned to @LaCarmina on Instagram / Twitter / Facebook to see my Spanish travels and outfit shoots, and let me know if you have tips.
Before I fly, I wanted to share more from my summer trip to New York City. I love catching up on art in NYC, so I went to the outdoor sculpture/installation Vessel (right before it closed down)…  
… and got a Zen minimalist fix at the Isamu Noguchi museum, dedicated to the Japanese-American sculpture artist.
And I was delighted to visit artist Oscar Oiwa in his studio. Read on for an exclusive peek at his latest large-scale works, as well as his quarantine drawing series (detailing his experiences and musings in lockdown). 
All things in life are fleeting, so take the time to see them while you can… Vessel NY is yet another example of this. Photographer Joey Wong and I managed to visit the honeycomb-metal structure days before it unexpected closed (possibly for good).
Located at Hudson Yards, Vessel is a geometric open-air structure that stands 16 stories high, and contains 2500 steps over 154 flights of stairs. I first went to Vessel in Feb 2019 but was keen to return, as the experience changes unexpectedly with the seasons and time of day. 
Architect Thomas Heatherwick unveiled this gigantic sculpture / public installation in 2019. Vessel has garnered both praise and criticism for its Escher-esque design made from steel.
I personally think the concept is brilliant: it's a joy to wander through the beehive, and take in the sunlit panes and patterns. (I'm wearing a celestial Gothic dress by Too Fast Clothing.)
Unfortunately, Vessel is closed for the foreseeable future due to tragedies that took place here…
The 360 degree design lets you take in views of the Hudson River and surrounding mid-town buildings, from all levels. 
Vessel is a photographer's dream — we had fun taking images from a variety of perspectives. 
The view from the top is a dizzying one. A curved elevator runs up one side of Vessel, making it accessible (although it only stops on certain floors).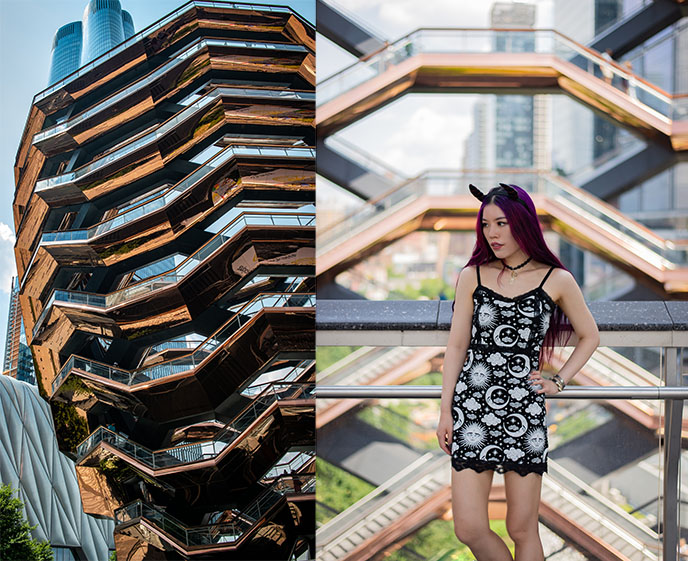 The fate of Vessel at Hudson Yards remains to be seen… (It is now closed, with no concrete plans to re-open).
After years of visiting and living in NYC, I finally got around to visiting the Noguchi Museum, located in the Long Island City section of Queens. The space is designed by the artist himself, Isamu Noguchi (1904–1988), to mirror his Zen-like artistic vision. 
The Noguchi museum feels like a slice of Japan in NYC. The rock garden is particularly lovely: it contains a few of his abstract sculptures and a stone fountain, as well as transparent wind chimes that add a ghostly flutter to the greenery. (This was the sound installation Animitas by artist Christian Boltanski, which was on view at the time.)
Isamu Noguchi is a Japanese-American artist best known for his stone sculptures, which contain both rough and smooth panes, and are more complex than first meets the eye. This museum contains the largest collection of his works, which include architectural models and drawings.  
Enter into the void…. Noguchi made this perfect circle from segments of marble. This modern sculpture references the ancient Japanese enso, or circular symbol of enlightenment.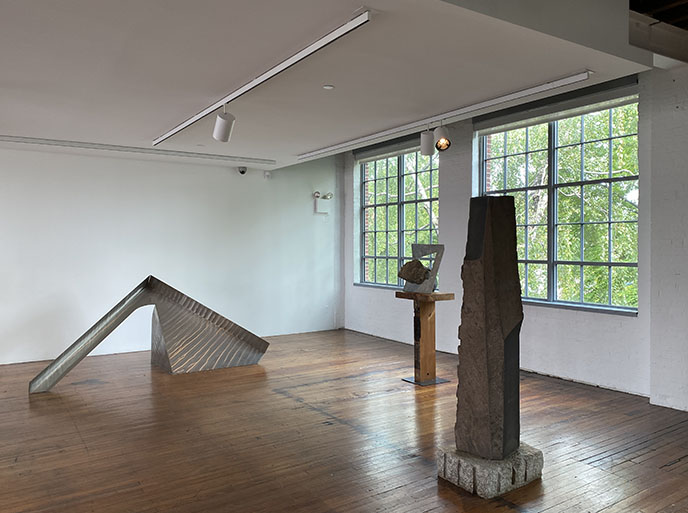 Noguchi is also known for his interlocking sculptures, and works made from wood and metal. I'm particularly fond of his mid-century interior designs, such as the stone-like Noguchi sofa and glass coffee table.  
And I've long coveted a Noguchi lantern. In 1951, Isamu Noguchi visited the town of Gifu in Japan, and was inspired by the lanterns made by local artisans. Using natural materials, he created his own Akari range of lights in a variety of forms, which radiate peace and weightlessness.
As Noguchi put it, "All that you require to start a home are a room, a tatami, and Akari." (And perhaps a metal cage or two?)
Many of Noguchi's works have a touch of the surreal. Here are a few that juxtapose positive and negative space, and geometric and organic forms.
The top floor focused on Noguchi's "Useless Architecture." These designs served no specific function, but were merely for aesthetic purpose — like this step-terrace. The terrace is based on one of Noguchi's models for an unrealized playscape (c. 1961–65) for Riverside Park in Manhattan.
Noguchi's vision was inspired by the stairway to nowhere at Jantar Mantar, which I saw for myself when I was in India.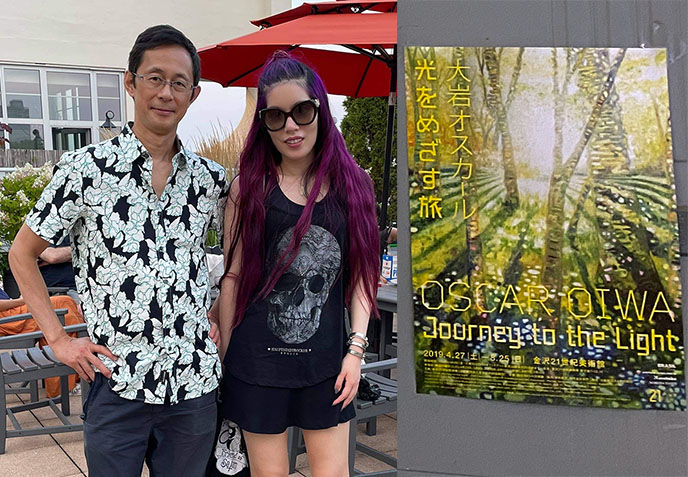 I also made a journey to the Queens studio of Oscar Oiwa (大岩オスカール)! When I was in São Paulo, Brazil, my friend Elizabeth Wurtzel and I saw his Paradise installation in an inflatable dome. We were mesmerised by his 360 degree swirling vortex of dark forests, pathways and skies. Since then, Oscar and I have been corresponding online. 
At long last, I got to visit Oscar Oiwa's studio, and get an inside look at his creative process. Oscar is a Brazilian-American-Japanese visual artist whose distinctive works have been exhibited worldwide.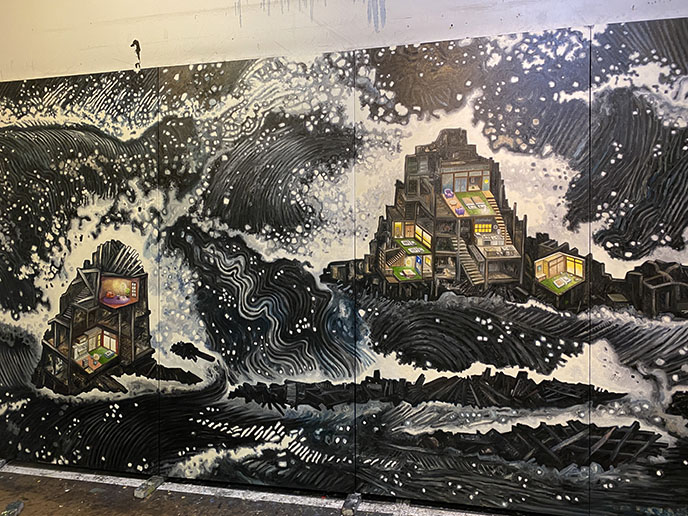 Oscar's gigantic canvases feel like a portal to dream world. He details everyday scenes in these Japanese-style houses, which are tossed about by dark and mysterious waves. 
During the pandemic, Oscar was confined to his apartment in NYC. The experience inspired him to create a series of drawings that reflected his thoughts and experiences. He describes them as "an imaginary trip in the midst of life under quarantine. The result is like a diary of insights about my past, my present daily life, and the future."
Oscar's quarantine art included depictions of an empty Times Square NY, and this surreal and whimsical portrait of Osaka's Dotonbori food district. (He showcases the famous giant crab and fills a boat with takoyaki (octopus balls), the beloved street food.)
Oscar Oiwa is currently in Japan, where he is presenting a number of art exhibitions (details here). These include displays at the Tokyo Museum of Contemporary Art. Hopefully I can return to Japan sooner rather than later, to see his latest artworks for myself.
Until that day, you can look back at my Japan blog posts from over the years. You can also search my site (see Search box on the right sidebar) for specific topics or destinations. I hope you'll find these resources useful as you plan your next trips abroad. And please keep in touch via @lacarmina social media, as I'll be sharing my journey in Spain!