It feels like I'm in a dream… which may be the case, as I'm a longer sleeper than most! Did you know I can spend almost half the day asleep, with intense lucid dreams? 
My "secret power" has led me to join the Sleep.com team, as a writer and Clubhouse moderator. I wrote about travel and lucid dreaming — and 1-2 times a week, I help host a lively and informative chat about sleep (with doctors, guest experts, and panelists) on the new Clubhouse app. 
I've realized just how important it is to get a good night's rest. Since Goths are known as people who stay up late, I wanted to share some original data reporting from Sleep.com and Sleepscore Labs — about which US cities are staying up latest and sleeping least.
Is your city one of the "most sleep-deprived"? Check out the list, which includes key info on how to improve your sleep.
While sleep experts recommend seven hours per night, not one of these cities even came close! Twelve American cities are getting less than six hours of sleep a night.
The city with the shortest average sleep time is Phoenix, which averages less than 5 hours and 45 minutes of sleep per night. (I wouldn't be able to function on so little… I do best with at least 9 hours, and I can easily doze off for 12!)
My Goth friends in Phoenix are certainly night owls. But why might locals be getting less rest? The study shows population age, climate, air quality, and bright city lights may be factors.
New York City is called "the city that never sleeps," but perhaps we should call it "the city that goes to bed way too late." According to SleepScore's analysis, the Big Apple stays up the latest of all the cities profiled, clocking an average bedtime of 11:55 p.m. (I confess I stayed out late partying a lot when I lived in NYC…)
I'm a famously excellent sleeper — I can even sleep on airplanes — so I'm going on Clubhouse on Thursday, May 13 at 2pm PT / 5pm ET to talk with the experts and find out more about this.
Here's the link to join our discussion on Clubhouse (if you need an invite, click it and you'll skip the line to join the app). And here's the full story with more info about America's 18 Most Sleep-Deprived Cities.
I'm having a great time on Clubhouse, the audio-only chat app. Every Sunday, you can find me there with my Sleep.com club of friends (Sun at 7 PT / 10 ET). We host a "Sunday Scaries" chat, each time with a different health and rest topic, as part of the "Sleep Secrets" club. Check out more info about our Clubhouse chats.
Next Sunday, join us to discuss: Sleep Stages: How Much REM Sleep Do You Need (& Why)?
Sun, May 9 at 7-8pm PT / 10-11pm ET
It's Mother's Day, and 43% of moms surveyed told us they would choose one full night of uninterrupted quality sleep, over breakfast in bed, or gifts. And we found out last Sunday that women need more sleep than men! What are the specific brain and health benefits of REM sleep, deep sleep, and light sleep? And how much of each do we need? Neurologist and sleep expert Dr. Chris Winter and internal medicine specialist Dr. Monya De discuss with our panel (which includes your resident long-sleeping, lucid-dreaming Goth!)
Anyone is welcome to join our Sleep.com Clubhouse chats, and ask the doctors and experts questions. I'm always happy to chat about lucid dreaming, sleep tips, and more!
In these dreamy photos, I'm wearing Sleevey Wonders — they make these purple 3/4 length mesh under-sleeves, which I've slipped on under my strappy dress. It's wonderful how Sleevey Wonders can transform an outfit with color and texture! They're flattering, and can add warmth or cover to make your coordinate stand out.
Outfit Details: My black hat with crosses is by Ministry of Wings. The 90s-style spaghetti strap plaid dress and spiderweb tights are Ninja Cosmico. My Morbid Debutante skull pearl choker is from Alex Streeter, and my snakeskin boots are by Acne Studios.
Baphomet's got my back… A wonderful bomber jacket with a Satanic red patch on the back, by my friends at Long Clothing. They conjure up devilish Goth streetwear for men and women, including a Hellraiser print and my favorite "Satan loves you for who you are" range.
Here is the graphic that illustrates the sleep study — are you surprised to see where your city lies?
See the full story about USA's most sleep-deprived cities, and tune in to Clubhouse on Thurs May 13 (2pm PT) to discuss it with our experts, panelists, and doctors.
PS: Just wanted to share some fun press… I was featured in Nylon Magazine! The fashion mag interviewed me about how Penny Lane's Almost Famous coat influenced my styling.
I also wrote about one of my favorite topics: Japanese Zen Buddhist design. (It's the Seinfeld of Buddhism — a whole lot of nothing, yet it's everything!)
In my debut for House Beautiful, I explain principles of Zen design: from sand gardens to modern minimalist architecture & No-thing / Emptiness. My architecture article also got picked up by Yahoo. Thank you for reading.
I recently recorded some podcasts as well, and will share them with you soon.  Until then — sweet dreams, night owls!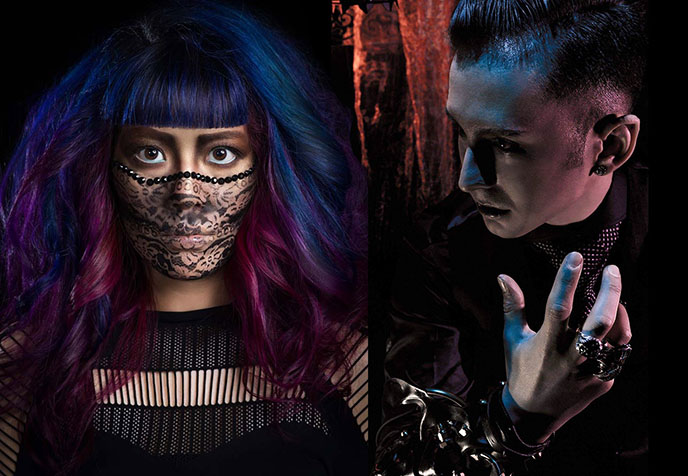 Friend of Satan, we have devilish news… La Carmina and Dr. John Skutlin are doing a LIVE "Satanic Show + Tell" event at The Satanic Temple Virtual Headquarters (TSTVHQ) on April 29. And we want YOU to join us on-camera to share your devilish possessions! 
We are looking for 4 people to join us remotely on-screen (via Zoom) on Thursday, April 29, between 7-8 PM PT / 10-11 PM ET. (What better way to celebrate Hexennacht than at this live event, with us and your fellow Satanists?) 
For 10-15 minutes, we invite you to show us your Satanic possessions via Zoom, and tell the stories behind them. These items might include morbid art, devilish books, Baphomet toys, dark fashion… We take a broad view of "Satanic" and are excited to chat with you about your personal collections!
(Below are some of La Carmina's collections, including a tote by Lucien Greaves available from The Satanic Temple Shop.)
How To Join "Satanic Show + Tell Live" 
– Please email ** gothiccarmina at gmail .com ** ASAP or send @lacarmina a DM, and let us know which 3-4 items you'd like to share at TSTVHQ.
– Please be available to appear at The Satanic Estate with us via Zoom on Thursday, April 29th, between 7-8 PM PT / 10-11 PM ET. We will assign you a 10-15 min time slot within this hour.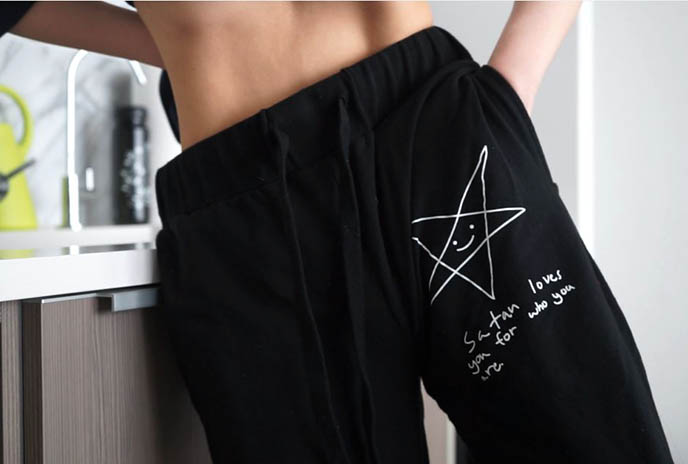 Our Upcoming The Satanic Temple TV Show
Dr John Skutlin and La Carmina are the creators and hosts of an upcoming web series on The Satanic Temple TV called "Satanic Show + Tell." In each episode, we interview notable individuals about their unusual Satanic possessions. Each guest "shows" us their rare devilish objects – from Art Nouveau vampire statues to Japanese demon masks – and "tells" the fascinating, morbid stories behind them.
Our show guests include:
– Keroppy Maeda, Japanese body modification expert (bagel heads!)
– Family of Metallica's Kirk Hammett – talking about his classic horror/sci fi collections 
– Evan Michelson and Ryan Matthew Cohn of "Oddities" TV show on Discovery Science Channel
– Alex Streeter, designer of the Angel Heart pentagram ring 
Join our April 29 "Satanic Show + Tell Live" for a glimpse of our upcoming Satanic Temple TV series, and to interact with us in real-time. As our catchphrase goes: "Show us, I pray thee, thy gory possessions!" (Below are some of Dr. John Skutlin's Satanic films, books, and Baphomets.)
TSTVHQ + How To Attend Our Live Event
The Satanic Temple Virtual Headquarters is an online multi-room events space designed to feel like a Victorian mansion. TSTVHQ is celebrating Hexennacht between April 29 and May 3 with a variety of dark performers and lecturers. 
If you'd like to view our "Satanic Show + Tell Live" event, you can either purchase an April 29 single day pass (for our show at 7-8 PM PT on 4/29), or a full pass to the Satanic Estate (for all 5 days, Apr 29 – May 3). 
We look forward to seeing you there, and viewing your demonic collections live! 
I've attended many of The Satanic Estate's events, which coincide with TST's holidays such as Hexennacht. This unique platform lets you see a live performance (a Michelle Remembers parody reading, a Satanic Chef cooking demo, a history talk), and interact with others in the web chat and on-camera. John and I are delighted to be part of the April 29th event by doing a live Satanic Show + Tell! 
The caretakers of The Estate / Satanic Temple Virtual Headquarters also launched a podcast called Tea Room Dialogues. I was a guest on their most recent episode, where I spilled the tea to Jack Matirko. We had a tasty conversation about death rituals worldwide, Satanic travel, dark subcultures, journalism and more – enjoy our chat.
And we'd love to learn about your demonic collections at our April 29 "Satanic Show + Tell Live" at The Estate!
To join us on-screen via Zoom, please email ** gothiccarmina at gmail .com ** ASAP or send @lacarmina a DM. Let us know which 3-4 items you'd like to share, and clear your calendar for April 29th, between 7-8 PM PT / 10-11 PM ET. We look forward to welcoming you!