Goth on the Beach alert! My friend Trevor and I recently escaped the cold for Puerto Vallarta, located on the west coast of Mexico. Puerto Vallarta is only a 4-ish hour direct flight from Vancouver, making it a great choice for those seeking an easy and inexpensive getaway.
Read on for our beach, mezcal and Elizabeth Taylor adventures!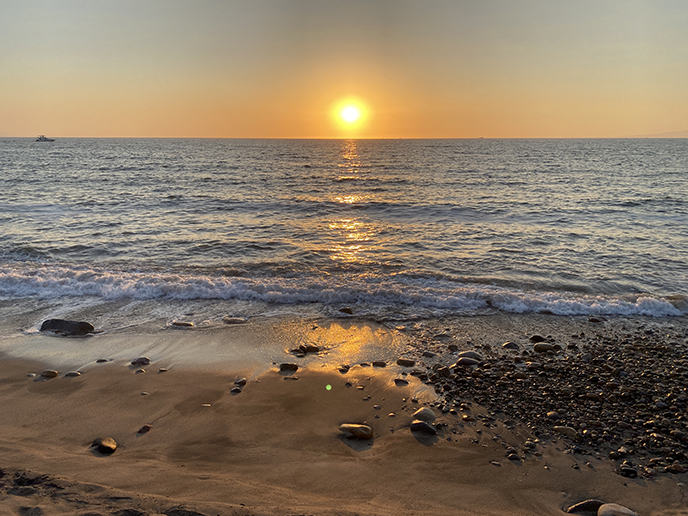 My top tip: stay in Zona Romantica, known as the LGBTQ area. Everything is walkable in the Romantic Zone — you're blocks from the beach and Malecon, as well as the coolest restaurants and bars. If you stay north in the resort areas (Nuevo Vallarta and Nayerit), you're far from the action and can't easily walk around and explore.
Zona Romantica is within walking distance of several popular beaches. But if you want to get away from the crowds… simply take a 60 peso Uber to Playa Conchas Chinas further south. I got there at 9am, and had the place to myself!
All right, I wasn't quite alone. This modelesque snowy white egret was cat-walking along the shore.
Keep in mind that UV rays are intense in Puerto Vallarta, even in the early morning! I covered up with tons of mineral sunscreen, and an Audrey Hepburn style downturned brim hat.
My Cruella black and white pearl necklace is Lily Streeter Jewelry — love how it fastens easily in the front. Lily makes darkly romantic jewels inspired by days of old; check out her site for other edgy fine designs.
I also covered up in style with Abysm Internal, an indie designer of alternative clothing and home decor. I was drawn to their original Gothic, fantasy and mythological prints, which include dragons, skulls, and demons. Everything is made to order, in beautiful sheer or solid fabric.
Obligatory hot dog legs shot. Unlike other Puerto Vallarta beaches, Conchas Chinas has a more Gothic feel — it's marked by dark rock formations, and the waves were a little more intense.
Happy to be in Mexico, by the warm water! My leopard print pants are from a boutique in Medellin, Colombia and my top is by Michi NY.
My necklace by Lily Streeter Jewelry is inspired by Cruella de Vil, and made by hand in half black and half white pearls. My oversized sunglasses are Balenciaga.
Around 11:30 to noon, more people arrived at Conchas Chinas — but it still was pretty empty. Quite the contrast from busy Los Muertos beach, which is filled with people and pounding with club music. Keep in mind that there aren't any food or toilet facilities at Playa Conchas Chinas, but there are usually umbrellas and chairs for rent.
I'm wearing this blue shadow dragon design by Abysm Internal. I'm a fan of kimonos as summer outerwear, as they are light and keep you cool yet protected from the sun's rays. I chose the open shirt in a sleek, silky knit, and it came with a black robe tie around the waist (not pictured).
I considered Photoshopping out the fellow in the back, but decided to keep him in!
Photos taken by remote app, on my Sony a7 IV mirrorless camera. (That's why I am holding my phone in shots — I use it to click the shutter.)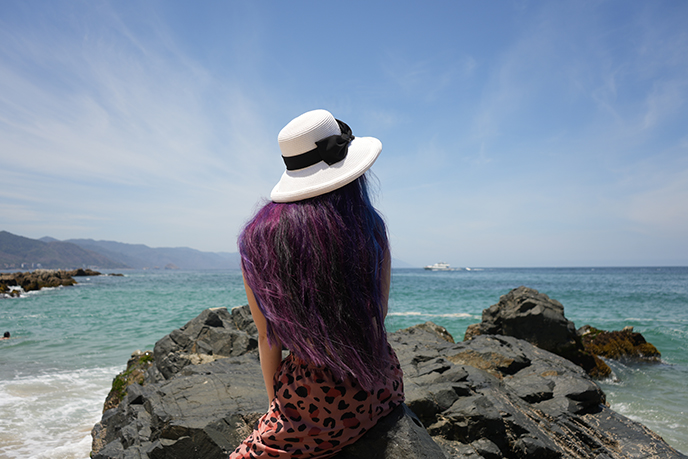 My hair color has some blue in it now, to match the ocean and mountains.
Puerto Vallarta has other gorgeous beaches. From Zona Romantica, walk north along the Malecon to Playa Camarones. It sits on a more peaceful section of the shoreline, and you can't beat the sunsets here.
These beaches are all accessible to the public. If you're planning a trip to Puerto Vallarta, try to avoid the peak tourist times such as spring break and Santa Semana (the holy week in early April).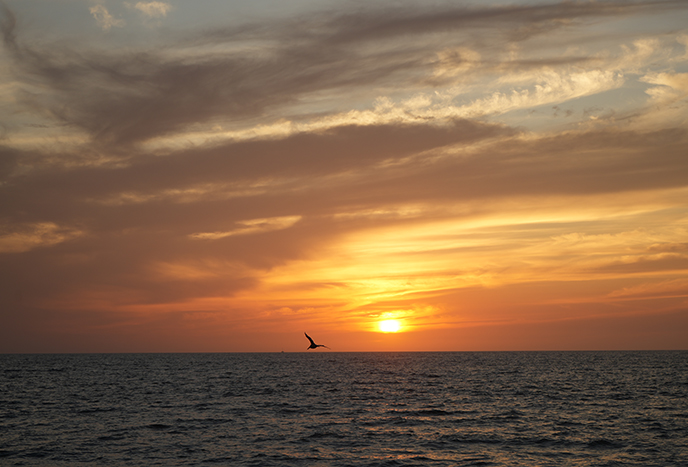 Playa Olas Altas (right by Zona Romantica) is another lovely spot to catch the sunset. You can see sailboats move across the horizon, and pelicans diving into the waves.
Puerto Vallarta's Malecon has glorious views from every point on the seawall. In the next post, I'll show you more of it.
Once you're in Puerto Vallarta, you can eat fabulous food for cheap all throughout Zona Romantica and Centro. My favorites: 20 peso al pastor tacos at Tacos el Gato, located by the beach in Centro (the pineapple up top is sliced fresh into the corn tortilla!) Also try Marisma Fish Taco (the quesadillas and add-on vegetables / sauces are to die for), and go to Cafe Oro Verde for coffee and beans to take home (330 pesos per kilo, check opening hours in advance).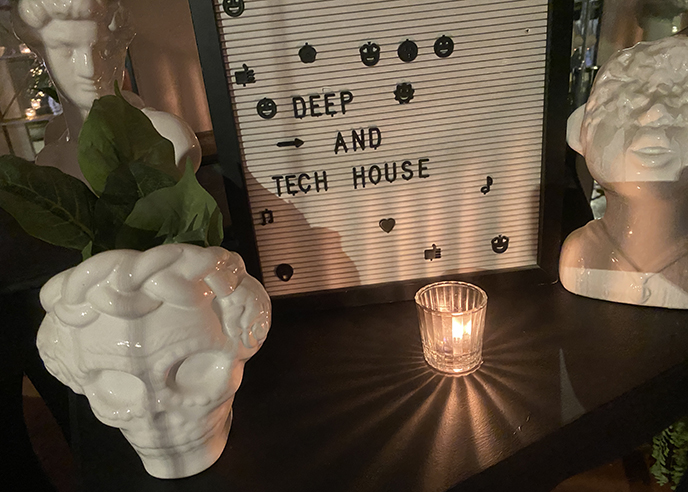 I'm currently on a mezcal kick, and went several times to El Colibri bar in Centro, which has a Goth alternative vibe. They specialize in craft mezcal and raicilla cocktails (try the Paradise, Geminis and Papu's Sazón), and bring in nu disco and techno DJs on the weekends.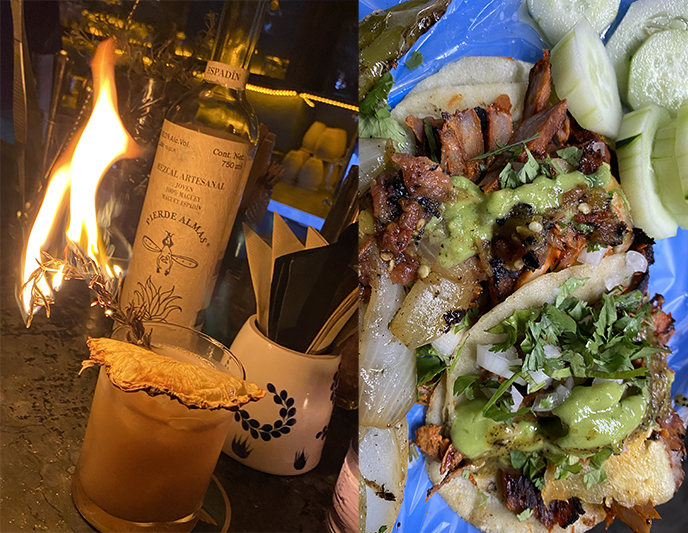 Above, the perfect pairing: a mezcal cocktail at El Colibri bar, and al pastor tacos from Los Gatos.
Trevor and I spent more beach time further north, in Nuevo Vallarta. The sand is soft and the waves are gentle in this resort area.
Don't worry about Jaws coming out from the seafoam. Puerto Vallarta only has one species of shark that lives off of plankton.
Trevor and I made it our goal to relax during this trip, so we didn't hop around to other areas like Sayulita. If you stay in Zona Romantica, you won't get bored — you can walk to the main areas and find a variety of food at 1990s prices. (I loved getting iced coffee each day for 50 pesos… or $2.80, like back in the 90s!)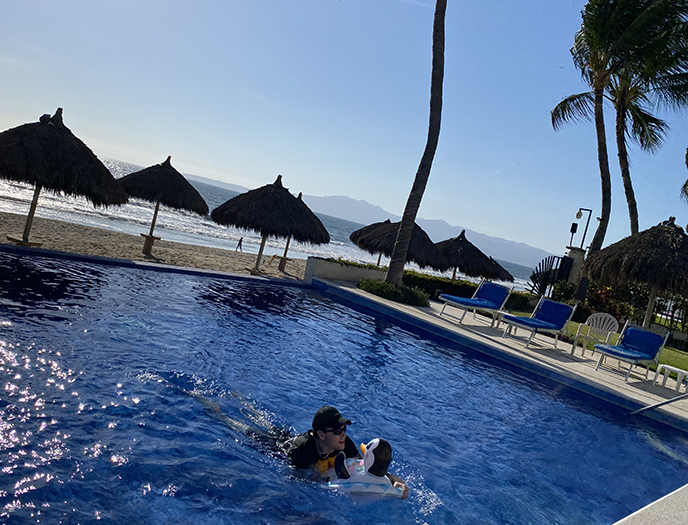 Trevor got some private pool time with a penguin.
Rather than staying in big resorts, look into apartment / villa rentals or boutique hotels in Zona. (We'll show you more from this LGBTQ district in the next post.)
Trevor and I had an open-air dinner to remember at Casa Kimberly, the hotel made famous by Elizabeth Taylor and Richard Burton. The actors were having an affair while still married to other people, and were staying in adjoining casitas. Richard built this Puente Del Amor or Lover's Bridge so that they could visit each other without alerting the paparazzi.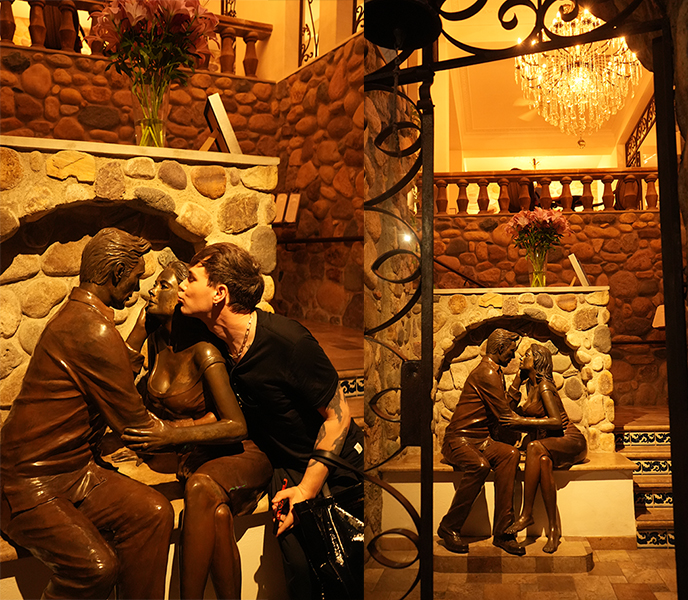 In 1964, Burton gifted Casa Kimberly to Taylor for her 32nd birthday. The Hollywood stars met on the set of Cleopatra, and were known for their wild spending and personal drama. Looks like someone is trying to sneak a kiss from Dick…
Richard Burton first came to Puerto Vallarta in 1962, when he starred in The Night of the Iguana. Casa Kimberly's decor upholds the glam of that era with exquisite antiques, crystal chandeliers, and views of the city and water below.
Elizabeth Taylor's iconic violet eyes greet guests as they go up the stairs to Iguana Restaurant. Every architectural detail is executed to perfection here.
The open-air courtyard of The Iguana is straight out of a movie. Live mariachi bands performed while we dined, and the coastal breeze kept the restaurant cool.
You'll find photos and memorabilia of the actors throughout Casa Kimberly. Here's a photo of Liz Taylor with Rock Hudson — she was a strong LGBTQ ally, and they remained close friends until his death from AIDS.
Trevor sits under a poster of Who's Afraid of Virginia Woolf? Richard Burton and Elizabeth Taylor did 11 movies together, and married and divorced each other twice. (Liz had eight marriages total… stunning queen!)
The menu at Iguana Restaurant was as elegant as the atmosphere. We enjoyed braised beef with sweet potato paired with a red Mexican Sangiovese wine, and a guava mille-feuille with house made vanilla bean ice cream for dessert — perfection.
Dine at Iguana Restaurant at Casa Kimberly, for a night to remember. Reserve well in advance, as this is an in-demand fine dining spot.
Puerto Vallarta was exactly what I was looking for: a relaxing getaway with easy access to the beach, local food and culture. (Be sure to visit Conchas Chinas beach if you come!)
Have you been to PV, or other parts of the country? You can see my other Mexico posts here (I've travelled to Mexico City, Mazatlan, Merida, and Tulum / Riviera Maya).
Finally, I wanted to thank all of you who read my latest book — The Little Book of Satanism! I greatly appreciate those who reached out, and am glad to hear you are enjoying it.
Published by Simon and Schuster, my new book covers the history, culture, practice and philosophy of Satanism.
If you're interested, you can find THE LITTLE BOOK OF SATANISM in digital or paperback from global retailers including — Amazon, Kindle, Barnes and Noble, Bookshop or Simon & Schuster. Canadians can order it from Chapters/Indigo or Amazon Canada. Or Google the book title to find it near you — you can get it worldwide! Thank you for your kind support.
Let's continue our Tokyo travels…. with a guide to the new Shibuya Parco department store complex! Shibuya's old Parco mall has been fully revamped, and now has a number of anime and manga attractions — including MewTwo floating at the mouth of the Pokemon Center on the 6th floor.
Read on for a tour of the new Shibuya Parco including floor guides with photos of Pikachu and Super Mario, the neon-lit food hall, and kawaii / Lolita stores like Angelic Pretty. (All photos by Joey Wong)
And I wanted to share a freelance writing win… I'm published by Eater! I wrote a comprehensive food & travel guide to Tōhoku, Japan, with photography by Joey Wong. My Eater piece introduces Tohoku, Japan's Capital of Sake, Wagyu, and Sea Pineapples.
If you love sake & seafood, I hope you'll enjoy my travel writing debut on Eater about my foodie trip to Tohoku, Japan. "A few hours from Tokyo by bullet train, the rugged northern region features Miyazaki-worthy landscapes, a coastline chock full of seafood, and some of the country's most stunning cherry blossoms."
Now, back to Pikachu and his brethren. Shibuya has gone through a number of reconstructions over the past years, especially around the station. The Parco department store was always one of my favorite spots in the area to see artsy and pop culture boutiques.
The re-opened Parco is bigger and badder than ever, especially on the sixth floor — which is dedicated to all things manga, anime, and gaming. I was greeted by a statue of Ryu from Street Fighter, at the Capcom store. (Anyone play the video game on Super Nintendo growing up? I did!)
There's also an immense Nintendo Shop at Parco. Outside on the patio, you can pose with an 8-bit Super Mario and a question block! (Anyone been to the new Nintendo World theme park in LA or Osaka, or seen the Super Mario movie?)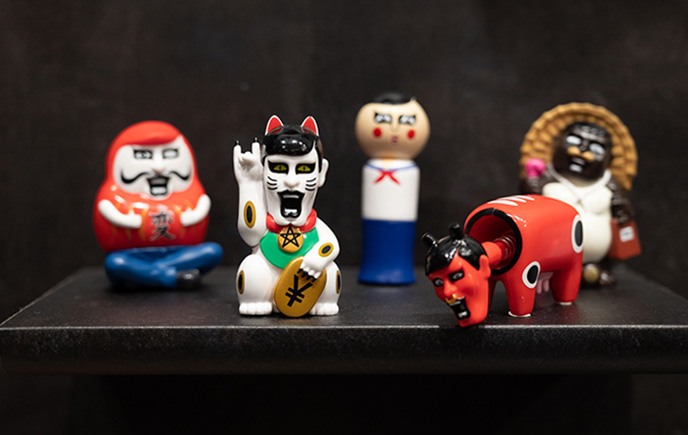 Parco's 6th floor has about a dozen design shops. In addition to fan favorites like Yoshi, you'll find indie figures and accessories — like these heavy metal versions of traditional Japanese lucky cats (maneki neko), daruma dolls, tanuki and more. (Note the pentagram on the cat's collar.)
I was tempted to take home so many cuties here…
Do you remember when I did a German TV show in Tokyo with "Mr Peen?" Looks like I found his chibi version at Parco. (Incidentally, the Kanamara Matsuri penis festival just took place; it's a Shinto tradition in Kawasaki.)
"P size wa?" So many fab figurines, plushies, home goods, fashion and more to peruse at Parco.
The star of the show is undoubtedly Mewtwo, the psychic pocket monster. He's prepping for battle in an incubation chamber at the entrance of the Parco Pokemon Center.
The Pokemon shop is one of the biggest, and has seasonal limited-edition items such as Halloween Pikachus.
Parco's Pokemon Center has a sci-fi design and lights that made me feel I was in a spaceship full of Pokemon.
Fans can purchase pretty much any item imaginable, from snacks to toys and decor. I'm into the Pika-Pika pumpkin candy bucket on the right.
My hair matches with Gengar, the purple ghost / poison Pokemon with a sinister smile.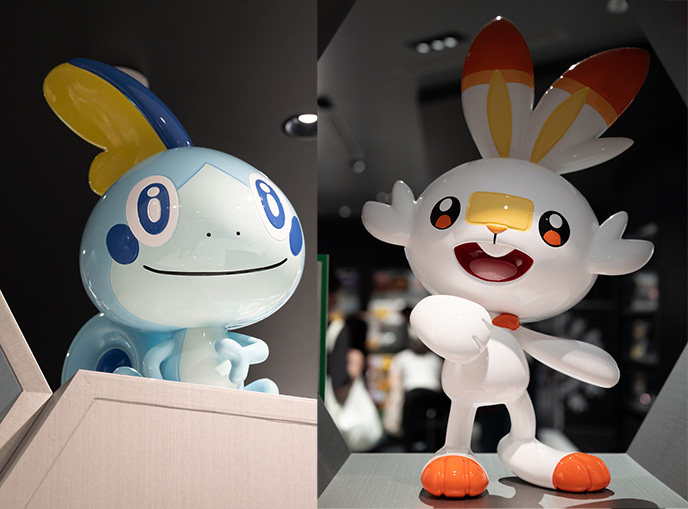 Gotta catch em all… Which is your favorite Pokemon?
If you can't make to this store, there are Pokemon Centers all over Japan — including at Character Street in Tokyo Station (here are pics).
In the old days, Japanese boutiques banned people from taking photos inside. Times have changed, and you're now free to snap away — and there are lots of Instagrammable displays like this one at the Shonen Jump store.
If you're interested in Jpop and youth culture, check out Shibuya 109 department store nearby as well (it's focused on young, trendy women's fashion, and has a Sanrio shop and purikura).
There's much more to see at Parco than just the 6th floor. Give yourself at least 1-2 hours to wander the entire complex, as there is plenty of Japanese design inspiration.
You'll come across paintings amidst the industrial architecture, and windows with neon views of Shibuya below.
Parco's outdoor patio walk is spectacular. A great place for people-watching, or hanging out with a coffee or glass of wine.
Parco's stores and art exhibits are constantly changing, so rather than giving a specific floor / shop guide, I encourage you to wander around and see what's new. When I was there, I saw this Astroboy statue and a photo area with an idol-type girl.
Parco has plenty of stores for street / urban fashion and goods. I came across a clan of Bearbricks.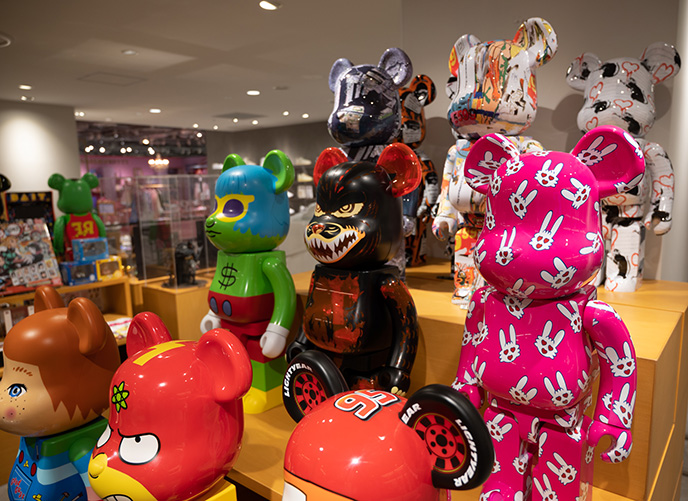 These Bearbrick collectibles are designed in collaboration with leading street artists.
I enjoyed seeing "indie" critters at Parco, rather than the most famous mascots like Hello Kitty. Love the construction and design of this pastel horned fella.
You can also shop for sweet Lolita fashion at Parco's Angelic Pretty.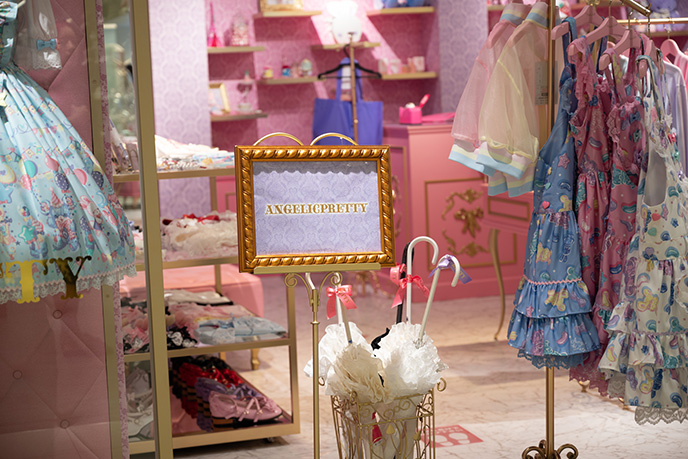 The brand continues to be all about candy pastel sweetness.
Most of the Gothic and Sweet Lolita boutiques are in Harajuku, particularly in LaForet dept store (photos to come). However, you can find some frilled dresses and other alternative fashion in Parco.
Angelic Pretty's Loli prints are often on the kitsch-bizarre side… like these animal detergent bottles, of all things!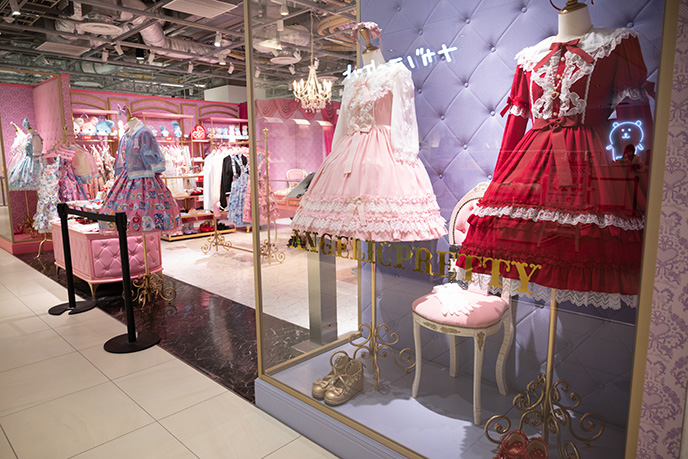 I started this blog when Lolita style was thriving in Japan. It isn't worn by people here as much these days, and many of the labels closed — but Angelic Pretty remains at Parco.
Make sure you stop by the Parco basement levels, as there's a gigantic food / restaurant area! As with everything in Parco now, the neon design is on point.
Here's a restaurant called Bugs Cafe that serves creepy crawlies like tarantulas and crickets. There's also a drag queen Campy Bar here (but Yukiro says it isn't very good, so I can't recommend it!). I did enjoy the vegan izakaya Masaka with friends.
I stumbled across this horned (horny?) oni in Parco's lower levels as well.
What do you think of the new Parco design? I'll certainly come back to see the latest art and cuteness when I return to Tokyo.
But for now… I'm escaping the rain, and heading to somewhere warm and LGBTQ+ friendly. Check out my Instagram @LaCarmina to see where in the world I'm heading.
All photos Joey Wong — check out more of his Shibuya shots in this post. And please take a moment to read our Eater's Guide to Tohoku, Japan!