Last Halloween, someone had a date with the Devil… in Salem, Massachusetts!
All hail the Satanic Temple, who have a headquarters and art gallery in Salem — the New England town where the 1692 witch trials took place. Read on for a peek inside…
In part 1 of my Salem Goth Guide, I took you to the witchiest museums and historic attractions, including the local cemetery and Witch House. (Since these tend to close early, around 4-5pm, I suggest that you visit them first if you are only here for a day).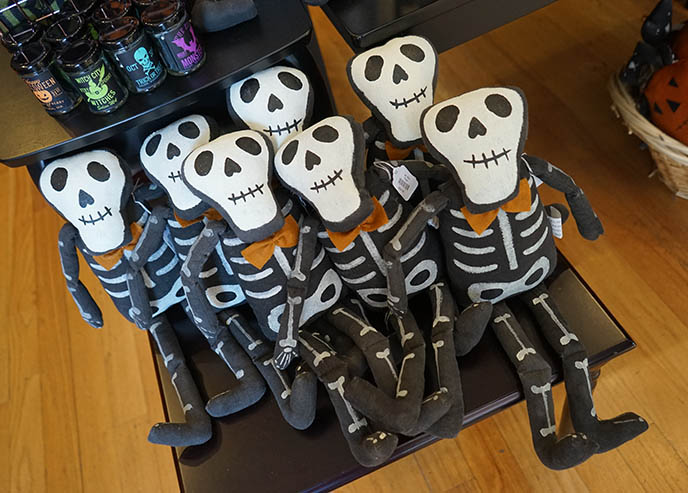 In this second installment of my Salem adventures, I'll show you what we did in the later afternoon (around 4-7pm). This is the ideal time to check out the Gothic stores on Essex Street, as they don't generally close until 6pm. But before we go shopping, let's pay a visit to The Satanic Temple of Salem.
Coronavirus Note: Salem will still be having "haunted happenings" this year, but with safety precautions to prevent COVID. Please see the tourism board's FAQs about travel, mask requirements, and events in Salem for Halloween 2020, before you visit.
Because of COVID-19, the Salem Art Gallery is open only by appointment. You can easily make an advance reservation via their site.
The gallery and Satanic Temple are located at 64 Bridge Street. The street number is a few digits shy from 666, but the black and red signpost makes up for it.
Don't feel apprehensive about visiting this devilish lair — everyone is welcome here. I saw families and children wandering inside, and snapping cheerful photos with Baphomet.
The Satanic Temple (TST) has chapters worldwide — remember when I went to their disco party in London! — but their head office is in Salem, MA.
The Satanic Temple has been designated a tax-exempt church, but they're a non-theistic organization and don't "worship the devil." In their words, "Satan is an icon for the unbowed will of the unsilenced inquirer – the heretic who questions sacred laws and rejects all tyrannical impositions."
Members believe in respecting the freedoms of others, and acting with compassion in accordance with science. (Unlike certain religious figures who sit on chairs like these…)
Logistics time. What's the best way to get to the Satanic Temple of Salem?
Most of Salem's historic / tourist attractions are in the central part of the town. The TST is a little further north (15-20 minute walk, or 5 minute car ride). If you're only here for a day and short on time (as we were), I suggest taking an Uber to maximise your time.
Opening hours: TST usually closes at 7pm, which is why we visited it last. (Salem's other Gothic attractions close earlier). Keep in mind that it is closed Monday/Tuesdays, and that this year (with COVID), you must make an appointment through their site first.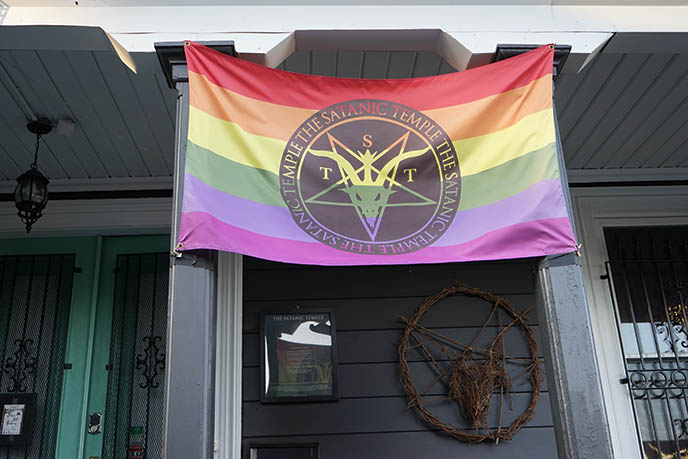 The Satanic Temple and Art Gallery are easy to spot. Look for a dark grey historic house with a rainbow flag of the goat-headed one.
Many members identify as LGBTQ+. The Satanic Temple stands for equal rights, benevolence, and freedom of expression — often taking part in campaigns for LGBTQ+ and reproductive rights.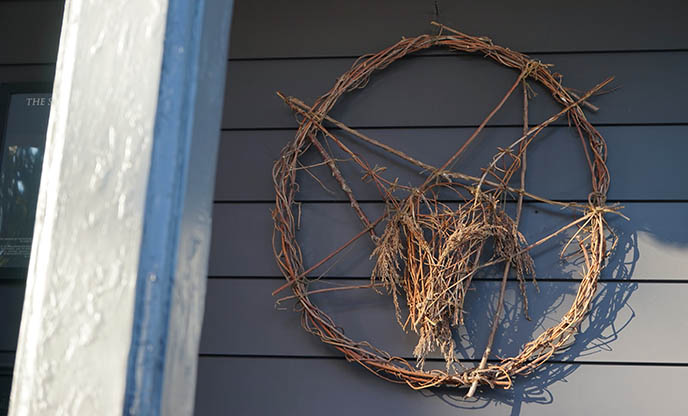 How charming is this goat-headed wreath? The Satanic Temple's logo is a Sigil of Baphomet (the Sabbatic Goat) and an inverted pentagram.
Inside, you can sit on the lap of Baphomet — check out Daddy's hooves! (More about this controversial statue further down.)
Founded in 2013, The Satanic Temple rebels against arbitrary, tyrannical norms that interfere with individual freedoms. They've made waves by using devilish imagery (such as black masses and "Snaketivity" sculptures) to fight encroachments on the separation between church and state.
If you're confused about the Church of Satan vs. Satanic Temple, here's a funny guide to the differences between the two. (The former was founded in 1966 by Anton LaVey, author of The Satanic Bible).
For members of TST, Satan isn't a supernatural deity. He represents the never-ending search for knowledge, using the best scientific evidence available to make rational decisions.
The Satanic Temple has seven fundamental tenets, which focus on living with compassion, justice, and wisdom.
In addition to serving as an office, Salem's Satanic Temple is an art gallery and creative gathering space. Anyone is welcome to visit and see the rotating works on display.
(Admission must be made in advance via their site. Note the local logo, featuring a death's head or winged skull that is found on many Puritan graves.)
It's well worth the visit — you get to peruse a dark collection of memorabilia for sale, and see art such as the original concept sketch for the Baphomet statue.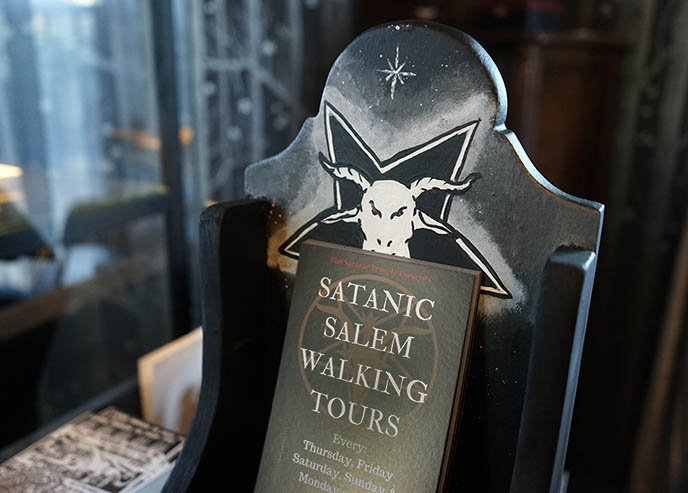 The team also offers a Satanic Salem Walking Tour, and various activities. You can attend a lecture, take a class on making candles for a Satanic ritual, or watch a screening of documentary Hail Satan? (which focuses on co-founder Lucien Greaves, and TST's activities).
As you'd expect, the Satanic Temple of Salem is a Gothic dream-house. Built in 1882, the Victorian-style interiors once housed a funeral parlor. Wander up the winding staircase, and be inspired by the artwork by mostly local artists.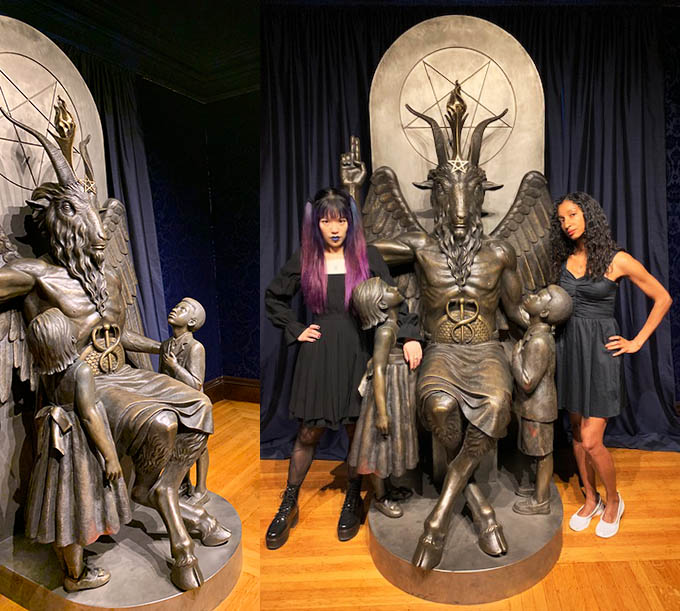 Lissette and I were delighted to stand with the infamous Baphomet statue, which is 8.5 feet tall and weighs 3000 lbs. Originally a pagan idol associated with the Knights Templar, the horned deity evolved into the Sabbatic Goat, and is a symbol of both TST and the Church of Satan.
When a Ten Commandments statue was placed outside Oklahoma State Capitol, The Satanic Temple created this Baphomet to sit beside it in the name of religious equality. The court ended up removing the Christian statue on the grounds that state property shouldn't be used to further religions — win!
The bronze Baphomet is a political symbol, and a powerful work of art especially when seen (and sat on) in person. Love the pentagrams, snakes, and two children staring up at him.
The Satanic Temple has fought against religious encroachment in other creative ways. They asked to give a Satanic invocation before Scottsdale City Council, since only Judeo-Christian groups have said prayers in this public forum. They were arbitrarily denied, and are currently in court to defend their First Amendment rights.
I got a kick out of their response to the Christian Good News Club, which some public schools offered as an after-school children's program. Enter the After School Satan Club! "While the Good News Clubs focus on indoctrination, instilling them with a fear of Hell and God's wrath, (we) focus on free inquiry and rationalism, the scientific basis for which we know what we know about the world around us." V-fingers to that, from our perch on these Pope chairs.
The Salem headquarters also holds the Satanic Temple Veterans' Monument. In response to a two-foot steel cross memorial placed in Belle Plaine's remembrance park, the Satanists donated this statue. However, they were denied the right to place it — and are currently still fighting for the same access to public spaces as other religions.
The monument is simple yet strong: a black steel cube marked with a gold inverted pentagram, and an empty soldier's helmet on top where people can leave messages.
Be sure to visit the Satanic Temple's library. They have a fascinating collection of death masks and medical devices, which reminded me the Morbid Anatomy exhibit.
A wonderful collection of books and objects on the subject of witch-hunts, Satanism, and occult matters.
Peruse the fascinating collection of Satanic Panic literature and records. In the 1980s, there was a widespread and unfounded fear that Satanic ritual abuse had become widespread, resulting in child blood-lettings and other dark matters. These books (Halloween Satanism, Turmoil Toybox) look ridiculous now, but they were taken seriously at the time.
The moral panic even led to police guidelines on how to spot a Satanist. I laughed out loud… if your teen draws a yin-yang or is listening to Dio, you better pray for their soul!
Intrigued by this "hell house?" Then crawl on over to The Satanic Temple of Salem for an enlightening visit.
(You can find out more about their work in the Hail Satan documentary.)
Now, let's check out some spooky boutiques. Salem is an incredible destination for those who love Gothic fashion and home decor. (Note that these photos were from my visit last fall, so things may have changed with COVID.)
Some of the stores are more on the tourist side, and sell generic Halloween goods. However, there are also wonderful indie boutiques with local / handmade Goth items (like this skull sweater).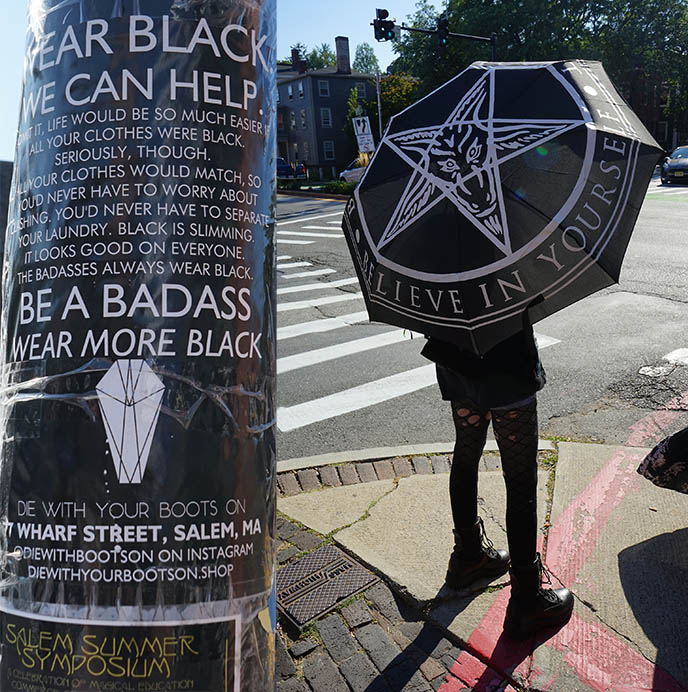 I didn't get to go to every Goth store — I missed out on Die With Your Boots On, purveyor of underground / subculture fashion and locally made products.
Most of the Gothic boutiques are on Essex Street, between Summer – Washington – Hawthorne. I suggest starting at one end and walking along Essex, and meandering to the side streets as well.
Lissette and I were fans of Witch City Wicks, an independent, handmade, local candle and home goods company.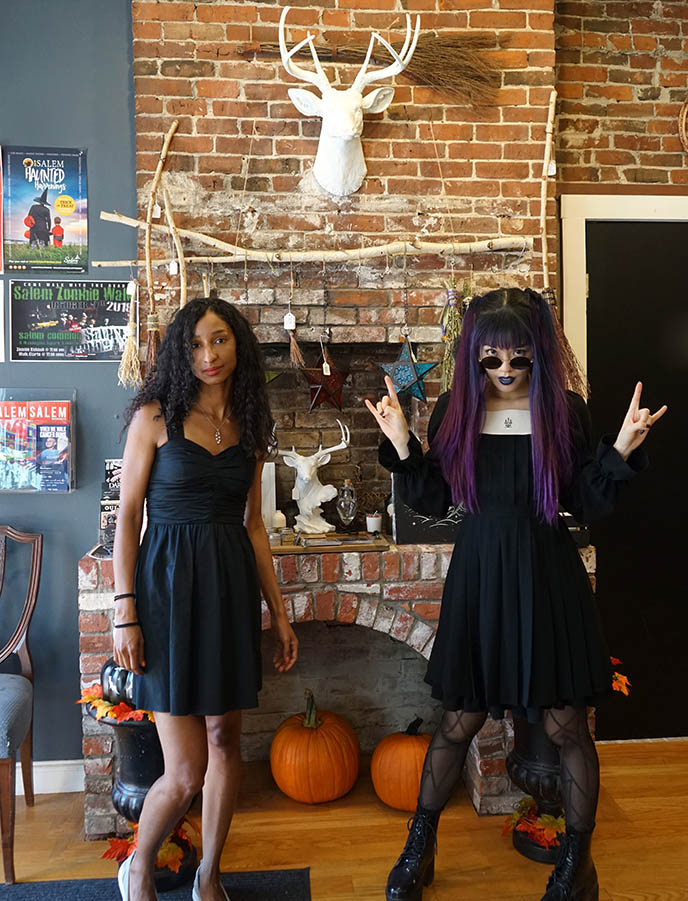 In addition to artisan candles, Witch City Wicks stocks hand-crafted interior decor and gifts — perfect for witchy women.
They carry an enticing selection of silver jewelry with witch and occult themes. These pentacle necklaces and pendants are by Burial Ground.
All their candles are made with vegan-friendly soy wax, and have alternative scents and packaging influenced by Salem's culture.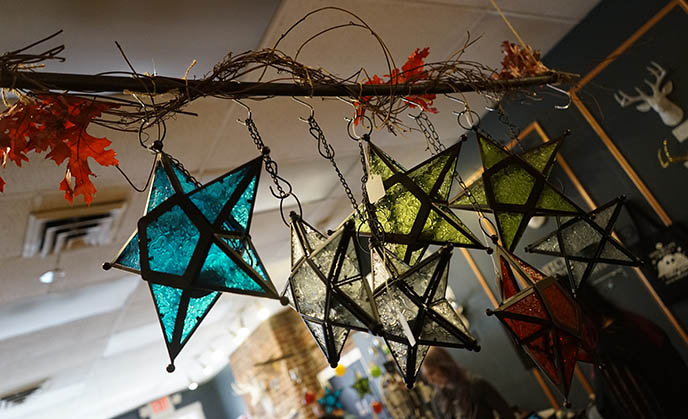 Witches tend to be associated with horror and darkness in popular culture, but Witch City Wicks shows the positive, spiritual side of wicca.
Be ready to spend when you're in Salem… it's hard to resist designs like these, especially when they are by indie makers.
Bubble, bubble, toil and trouble… Can you picture me stirring a cauldron by this hearth?
I'm wearing a rare OG pleats dress by Moi-meme-Moitie (the elegant Gothic Lolita brand of Mana-sama, guitarist of Moi dix Mois and Malice Mizer).
Salem isn't just for witches. The little New England town with a ghastly history had drawn in other bloody subcultures.
Coffin-dwellers will love the boutique Vampfangs. Founded in 1993, they carry all things vampire-related including red contacts and sharp fangs.
There's a selection of jewelry that looks like it belongs to Lestat. I spot an anhk and skull.
Vampfangs also has a variety of fragrances, oils and skincare — wiwth vampiric names like Bitten, Immortal, Funeral Parlor, Black Cloak.
Need a skull, or a horned headband? Vampfangs has you covered.
These specialty boutiques are run by locals who participate in the subculture, and put careful attention to design details. Salem's historic atmosphere adds to the charm of shopping for Goth goods.
"I put a spell on you…" All your ritual needs can be found at Hex Old World Witchery.
This old world witchcraft store is a wonderland of herbs, crystals, divination objects, voodoo dolls…
Hex pays homage to deities and demons from all cultures. The Satanic Baphomet sits next to Kali, Hindu goddess of destruction (remember I visited her temples in India?)
So many potions to choose from… In Salem, it's always the Season of the Witch.
Can you picture yourself wearing this pointed witch hat with a skull?
Be sure to pay your respects to the altar at the entrance of Hex, which brings together Santa Muerte candles, voodoo dolls and a human skull.
Many Salem stores run special events and workshops. No matter when you visit, you'll find something witchy or artistic to partake in. Tarot card readings, spell casting, broom-making… If only I had more time!
You can visit the store websites and Destination Salem to learn about upcoming activities. Or just wander around, and see what happens to be going on (we stumbled upon a small vendors fair).
The sun, it burns! Outside The Coven's Cottage, which has a pagan and metaphysical focus, especially on Norse/Asatru.
The word "witch" is found on pretty much everything in Salem… Impossible to see everything in a single day. I'll have to come back for more.
Be sure to read Part 1 of my Salem Goth Guide as it covers the best museums (including the Witch Trials of 1692), and Goth-friendly attractions like Count Orlok's Nightmare Gallery of monsters.
A hearty hail to The Satanic Temple of Salem for the special tour. (Keep in mind that I visited last year, so these photos are from the pre-COVID days.)
Salem, MA more than lived up to my Gothic expectations! I hope you'll get to safely fly (either by plane or broom) to Destination Salem and revel in these haunted happenings for yourself.
(For more, check out the first instalment of my Salem Goth travel guide and Chilling Adventures of Sabrina the teenage witch adventure. Happy Halloween!).
If the Great Pumpkin is our overlord… Then take me to church!
Yes, this pumpkins house is real, and it's spectacular. It's located near Vancouver — at Maan Farms in Abbotsford, British Columbia. If you're a local, then this pumpkin patch is a must-visit for Halloween season.
Read on for our "Fall at the Farm" escapades that involved goat horns, wine tastings, a haunted corn maze, and more jack-o-lanterns than you could ever count!
Fall is obviously my favorite time of the year. Now that the heat and West Coast toxic smoke have dissipated, I'm keen to spend time outdoors under the gloomy skies.
Pumpkin picking outfit: My cute pumpkin knit shirt is from Michelles's House of the Strange and Unusual, and my faux leather leggings are from UK Tights. Highly recommend that you wear rain boots because of the mud — mine are Jeffrey Campbell.
Maan Farms is located about an hour's drive from Vancouver, BC (it's within the Metro Vancouver / Lower Mainland area). The farm has attractions year-round that flow with the seasons, such as a sunflower festival in the summer.
Right now, the farm is teeming with gourds and squashes. Hail to the Great Pumpkin!
Follow the Maan Commandments, to keep safe from COVID. The farm recommends masks and social distancing, and keeping the visiting group to 6 or fewer people.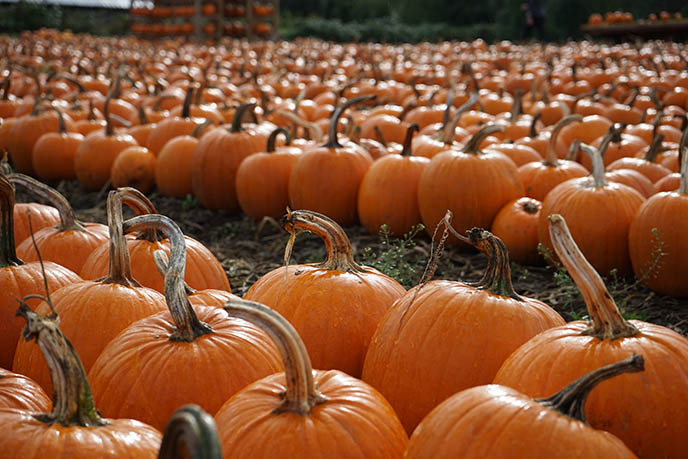 I'll add that you should bring your DSLR, so you can get shots like these! (Shot with this Sony A7 mirrorless camera.)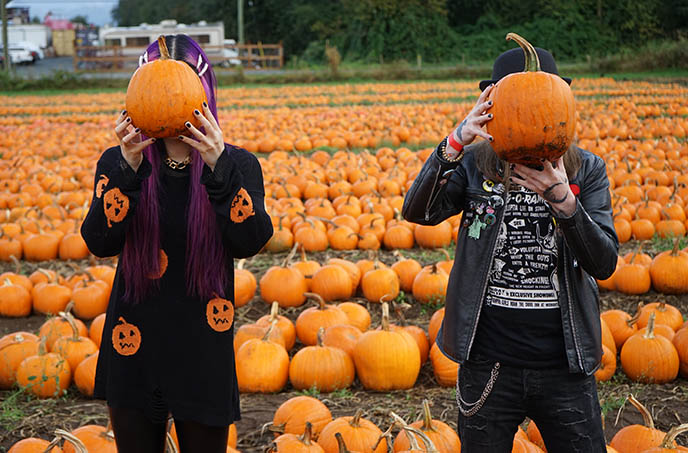 The pumpkin patch will be busy on weekends and sunny days. Aim for weekdays and Halloween weather, for unobstructed photos.
My friend Rob and I took mandatory photo with pumpkins over our faces (photography by Ben). My spooky sweater is from indie Goth shop, Michelles's House of the Strange and Unusual.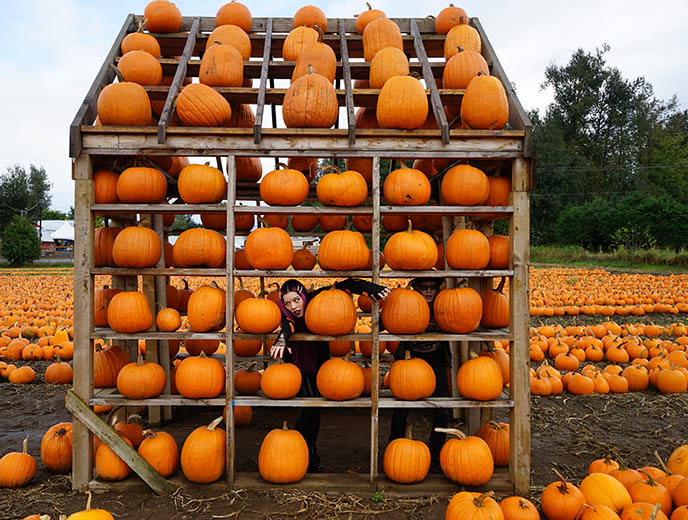 Doing my best impression of a zombie. In addition to Instagram-worthy photography spots, Maan Farm has activities geared to all ages, from a kid's jumping pillow to wine tastings (see what we drank further down).
Loving these luxe black leggings from UK Tights. Made by Commando, they're skin-tight faux leather, and have zippers at the hem.
Do you prefer Cinderella (orange) or Snow White pumpkins? You know I love my minimalism… Now, they just need to breed Gothic black pumpkins!
The title song from Nightmare Before Christmas rang through my mind… In this pandemic era where travel is impossible, I'm enjoying my local adventures.
"This is Halloween, this is Halloween, Halloween, Halloween, Halloween, Halloween / In this town we call home / Everyone hail to the pumpkin song / In this town, don't we love it now!"
Maan Farms is also home to what is known as the Scariest Corn Maze in Canada. After night falls, dare to wander through the tall stalks… where you might encounter terrifying creatures like ourselves!
Maan's haunted corn maze has reduced capacity this year because of COVID-19, so it will sell out. Be sure to grab tickets in advance here.
Time to check out the Barnyard Adventure petting zoo. It's inhabited by a variety of cute and devilish critters….
…including chickens, peacocks, and goats with curved horns. This one could be a cousin of Black Phillip from "The Witch" horror movie.
Hail! These goats were eager to be part of the devil-horns photo. (Maan Farms offers goat yoga with them as well).
Why are goats associated with witchcraft, the occult and Satanists? In the 11th century, the Knights Templar were tortured during the Inquisition, and confessed to worshipping a heathen deity called Baphomet. Later on, this name became associated with occult and mystic traditions.
The iconic image of Baphomet the Sabbatic Goat comes from the 1856 drawing by Eliphas Levi. Today, the goat-headed one is a symbol of both the Satanic Temple and Church of Satan. 
The goats were in fact friendly and gentle… But an aggressive duck quacked fiercely at us, and chased us out of the petting zoo area!
We found black bunnies around the barn area, as well as a white Miffy-like one. The antlers above the doorway called out for a snapshot.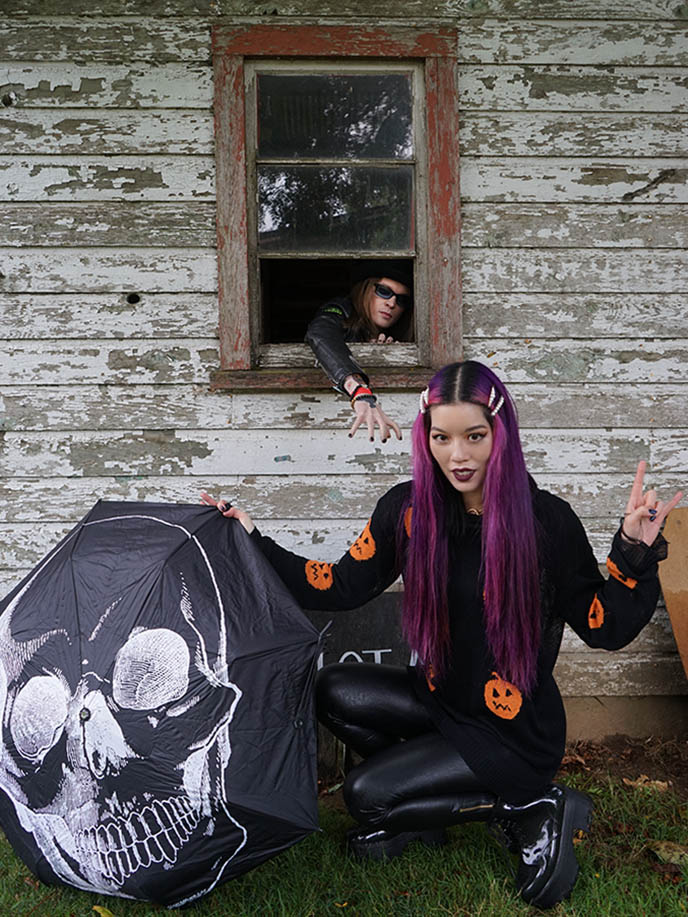 How many frightful creatures can you find in this photo? Ah, I love Halloween! (I brought my skull umbrella for the brief drizzles of rain that day.)
For some reason, Rob is strangling himself, while I'm doing the Elaine devil-horns pose from Seinfeld.
As she said: "I'm going to hell! The worst place in the world! With devils and those caves and the ragged clothing! And the heat! My god, the heat!"
At the other side of the road, Maan Farms has a shop, cafe, and winery. We were welcomed by the 12-foot Home Depot skeleton that's going viral this year.
Outside, there were bins filled with pumpkins of all shapes and sizes. Rob says "booo" to the white pumpkins, but I'm into their aesthetic.
Have you eaten pumpkin pie yet, this year? We sure have.
Maan does a fantastic job at making the farm look festive for fall, with pumpkins in pleasing arrangements.
Close-up on my trailing knit and print. This Halloween sweater is from Michelles's House of the Strange and Unusual — the grumpy-faced pumpkin design is to die for.
Michelle's Gothic shop takes its name from Lydia Deetz's quote in Beetlejuice: "I myself am, strange and unusual." Browse her web store to find all sorts of dark oddities, including clothing and home goods. Think "sci fi mixed with skulls and zombies with cats."
I'm embracing "pandemic hair" these days… super long length, with extensive roots. I'm taking this downtime to grow out my bangs, clipping them to the side with pearl barrettes. 
Go inside Maan's store to find local preserves and hot sauces, and handmade goods including skull bath products. At the cafe, you can dine on pumpkin scones, cheesecake, and pumpkin spice ice cream served inside a real mini pumpkin!
Don't leave without a wine tasting. Maan Farms' Estate Winery produces everything in-house. Above is the outstanding raspberry dessert wine — there's about 2 lbs of berries used per bottle, with no added sugar. I tried four wines, and took home a bottle of the Pinot Noir Rose.
We didn't get a chance to try out the horror haunted corn maze, but here's a sense of the vibe. Maan's corn maze runs only until Nov 1, and be sure to reserve tickets.
Maan Farms is family-run, and you can tell the the kind team is passionate about what they do. While there are other pumpkin patches in the Metro Vancouver area / Lower Mainland, this is the most photogenic one — and the only one with a pumpkin hut!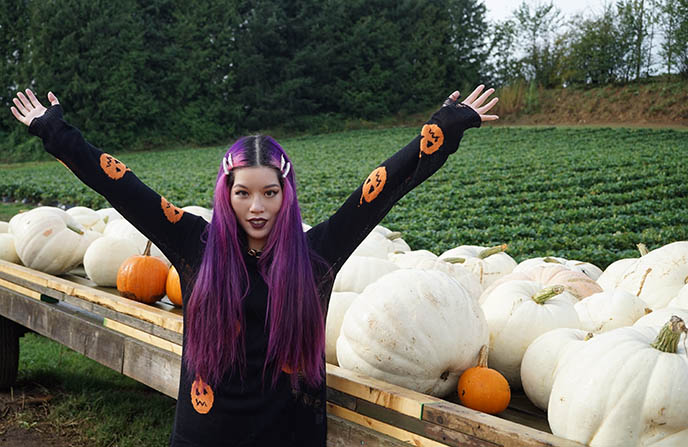 You may recall that last year, I visited the pumpkin patch in Richmond, BC (see photos). Last time I wore a candy corn sweater. This time, it's pumpkins galore.
Halloween is different in 2020, due to the global pandemic. Many events, like haunted houses and horror movie releases, were cancelled. But we can still go outside and enjoy spooky season.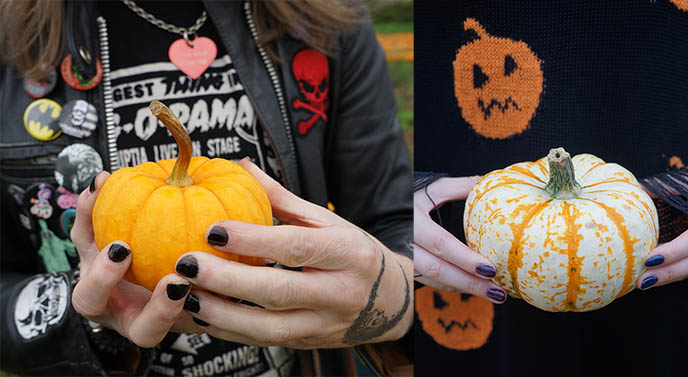 Will you visit a pumpkin patch this year? Are you decorating your place?
Perhaps this post inspires you dress up, get outside, and support a family farm in your area!
OOTD: Rain boots, Jeffrey Campbell. Halloween sweater, Michelles's House of the Strange and Unusual. Leather look leggings, UK Tights.
Before we sign off, I wanted to share some of my latest writing work. I've been pivoting to freelance travel writing, which lets me look back fondly at past trips around the world.
I wrote about Metairie Cemetery in New Orleans, for Roadtrippers Magazine (read it here). With pyramid tombs and weeping Goth angels, this is one of my favorites.
I'm also now a contributor to travel site Tripsavvy. I wrote about 10 minimalist buildings around the world, including the Museum of Tomorrow in Rio de Janeiro. Grateful I got to visit it with Elizabeth Wurtzel (see our Brazil journey here).
For Tripsavvy, I also wrote about 10 worldwide destinations for horror fans. Have you visited any of these places that inspired horror novels and films? I've been to the HR Giger museum and bar, the NOLA Lafayette cemetery, Whitby Abbey (Dracula inspiration), and Bran Castle in Romania.
A last look at the pumpkin paradise that is Maan Farms in Abbotsford, BC (outside Vancouver). Mmm, now I'm hungry for pumpkin ice cream and pie…
This is just the start of my Halloween coverage... I have a lot more up my sleeve! Stay tuned to my site and social media @lacarmina to see what scares I have in store for you.