TOKYO DARK CASTLE: AURAL VAMPIRE, TAKUYA ANGEL, SISEN, CHIHIRO, GOTH EBM.
"This is Halloween, this is Halloween…" well, perhaps not quite yet. But we're in Tokyo, the closest place on Earth to Jack Skellington's hometown. No need to wait for October 31st; every month, Tokyo Dark Castle lowers the drawbridge and lures in Japan's finest Goth/electro bands. Saturday's performers included Auto-Mod (top left: Genet, event organizer and singer of Auto-Mod) and †13th Moon†.
I ran into Selia in the Ikebukuro subway station, and he's unrecognizable without the feathered horns and eyelashes! What a transformation: DJ Sisen lays down a pounding beat, fairytale minions twist around the stage, and Selia's operatic voice takes you on a ride with the Valkyries. Truly one of the most arresting performers around.
The highlight: when Selia dragged out Count de Sang by the chain of his dog collar, choking and whipping him against his Rococo skirts. (Check out his MySpace page for a video.)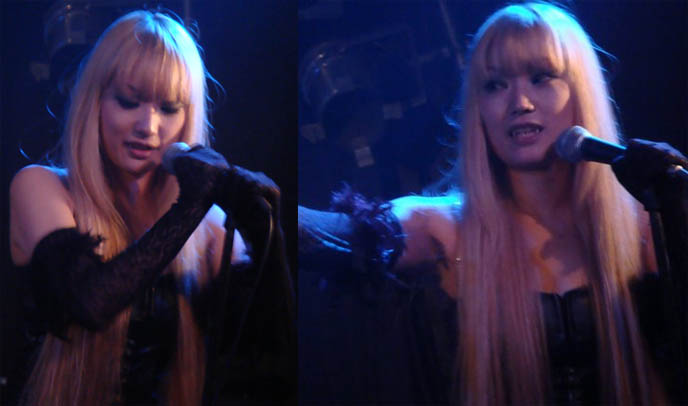 Aural Vampire ended the night around 5am. Blonde singer Exo-Chika can do no wrong, even though the excess banter with her masked partner caused grumbling in the audience.
I rarely dress Cyber Gothic, but DJ Sisen and friends are rubbing off on me. Daiso (the 100 yen store) has already brought out Christmas items. For a few dollars, I picked up blue tree garland and gift wrap bows to decorate my hair. The blue eyelashes are from Anna Sui; the dark purple lipstick is Cyber by MAC.
Much of the club fashion can be described as Lolita + Death. DJs Chihiro and Takuya Angel (top right) spun pounding EBM.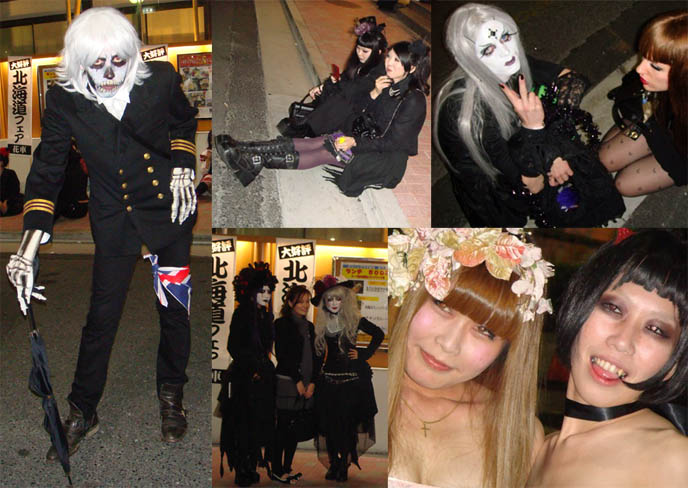 Tokyo Dark Castle was packed to the rafters; a year ago, there was only a handful of nightcrawlers. We took a much-needed breather outside. Drunk Kabuki-cho "normals" stumbled by and took photos.
Goodnight, all-seeing Sisen – see you at Tokyo Decadance!