Colorful Cape Town tour! Table Mountain, Bo Kaap houses, Nelson Mandela's Robben Island.
Did you know Cape Town is so colorful? My face says it all: I loved it here. On Day 1, I experienced the city's kind people, diverse neighborhoods, soulful cooking, and intriguing history.
Follow my rainbow shoes, as I explore the South African city by land, air and water.
Cape Town's colorful architecture inspired me to dress accordingly. I'm wearing a Goth/rainbow tie-dyed tank top by Gladnews (the Japanese brand in Shibuya 109). My bunny ears hoodie jacket is by Peace Now. The cute Batman leggings are from Hyoma in Izzue, Hong Kong.
We started the day bright and early, with a private helicopter ride. There's no better way to see the scenic city and its beaches on the Atlantic Ocean coastline.
I was here with my two filmmakers, thanks to Cape Town Tourism. Photography in this post by Melissa Rundle and Eric Bergemann. They captured a cinematic shot of helicopters landing with lens flare.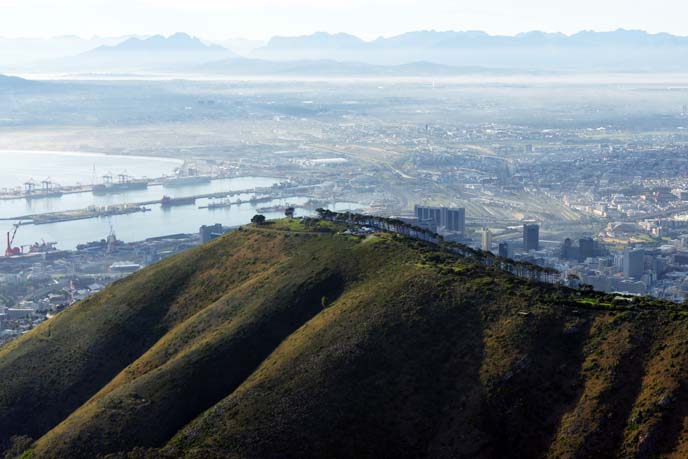 Up in the air — what fun! We felt safe during the helicopter ride, which was smooth and not too noisy. We could even communicate through microphones.
Out the window, we saw this mountain range with a Mohawk of African trees on top.
Cape Town began as a Dutch trading settlement, founded in 1652. As you're probably aware, the city has a tumultuous history from the days of slavery and apartheid, to independence under Nelson Mandela. Today, Cape Town has a new and developed vibe, and is a safe destination for anyone to visit.
From any point in the city, you can see the famous flat Table Mountain, covered with a "tablecloth" of clouds. Next to it lies the Devil's Peak, domed Lion's Head, and Signal Hill.
We flew over Robben Island, in Table Bay. Since the late 17th century, the Dutch have used this as a jail primarily for political prisoners, and as a leper colony. The first post-apartheid President of South Africa, Nelson Mandela, was famously imprisoned on Robben Island for 18 years.
Today, Robben Island is a UNESCO World Heritage Site and museum. Many visitors take the ferry here, and go on tours led by guides who were formerly prisoners on the island.
Next, our driver took us to the Victoria & Albert Waterfront, a favorite destination among both locals and tourists. We sampled artisan bread, and browsed African goods in the gift stores. I posed beneath the Ferris wheel with my lion backpack from A Bros Products, Hong Kong.
Lots of quaint buildings dot the V & A. There are many attractions for families including the Two Oceans Aquarium, and four museums.
We went on a short boat ride around the harbor. A seal leaped out from the water!
A bunny popped out too. The kids on the boat were rather amused.
Onward to the Bo-Kaap district, distinguished by this row of rainbow-colored houses. This was the traditional neighborhood for the Cape Malay, an ethnic group descended from the Indian and Malaysian slaves brought over by the Dutch East India Company.
One of the oldest houses is now the Bo Kaap Museum, filled with photos and objects that chronicle the district's history over the years. Our guide told us about the insane Dutch system of racial classification: Cape Town was divided into black, white, colored, and Indian (each with sub-sections). Many of residents were mixed, and rules were applied indiscriminately.
People of "lower" classifications were forced to relocate, often to segregated townships. They received worse treatment in prisons, and limited opportunities for jobs and businesses. I can't believe that the apartheid system lasted in South Africa until 1994 — only 20 years ago.
Today, Cape Town feels peaceful, and the city is a mix of cultures. Wale Street, found under Signal Hill, is full of character. In this mostly Muslim community, these houses are painted every year before Eid.
The colors match my sandals with a rainbow platform heel, from Shinjuku Studio Alta. I felt like wearing bright clothing the entire time I was here.
Faldela Tolker lives in the purple house. She offers a unique cooking tour: visitors come into her house to learn how to make Cape Malay specialties, and eat lunch at her table.
Faldela is one warm, sassy lady! We loved her stories and sayings, like "salt is love." From the staircase, I glimpsed her grandchild peeking at our table.
She served us samosas, with spicy sauces on the side. Next came a hearty tomato bredie (a distinctive stew with Indian flavors) and rice. We finished with sweet koesisters, a traditional syrup-coated doughnut, washed down with cardamom tea. It ended up being one of the most memorable meals I had in South Africa, and certainly the warmest.
Faldela then showed us how to fold and stuff samosas. She laughed at my bunny hoodie and insisted on trying it on! There's so much heart in this home, and I'm so grateful I got to join her Cape Malay cooking "safari".
Across the street lies Atlas Trading, a 70 year old spice shop with bins of exotic flavors. I'm not sure what "ass seeds" are. In the back, we even found cannabis and opium scented incense.
My crew and I ended the afternoon by taking the cable car up Table Mountain. Can you believe we did all of this in a day? Everything is close together in Cape Town, so you never have to travel far to reach attractions.
Before boarding the "aerial cableway," each group takes a photo in front of a green screen.

When we left, we saw that this image was superimposed on various backdrops, and packaged as a souvenir! So touristy and cheesy that we had to get them. I can't stop laughing at how ridiculous we look.
From the top of Table Mountain, we looked down at the rocky coastline and city. I admit we were a bit spoiled by the views we had already seen from the helicopter ride.
On the way back, we ran into a dassie, a squirrel-like rodent found only in southwestern Africa.
The dassie lives on rocky outcroppings, and since there are tourists carrying food on Table Mountain, they've become rather bold.
Melissa is doing a big no-no… One shouldn't touch these wild animals! At least she didn't get bitten, unlike the peacock that pierced her skin during our safari.
Back to my room at the Taj Hotel. I lay on the bed and stared out at this view of the mountain ranges.
A million thank yous to Cape Town Tourism, for bringing us to this fascinating and beautiful city! Coming up, I'll take you on a tour of the street art, fashion designers, and African cuisine.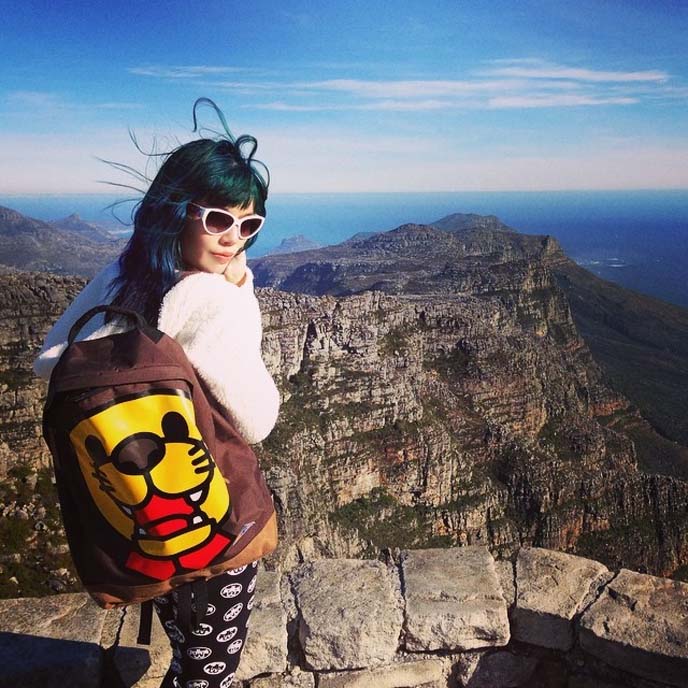 Did you expect South Africa to look like this? Don't miss out on the bonus photos of my trip, on my @lacarmina Instagram.