Noord: a hidden, off-the-beaten-track Amsterdam hipster neighborhood! Eye Film Museum, restaurants, art studios.
This girl is all smiles (despite what my Long Clothing top says)… because I've discovered an Amsterdam district filled with inspiration! 
Have you heard of "Noord," the waterfront area north of the city center? Home to EDM festivals, artist studios, and transformed warehouses, this is a side of Amsterdam that very few tourists see.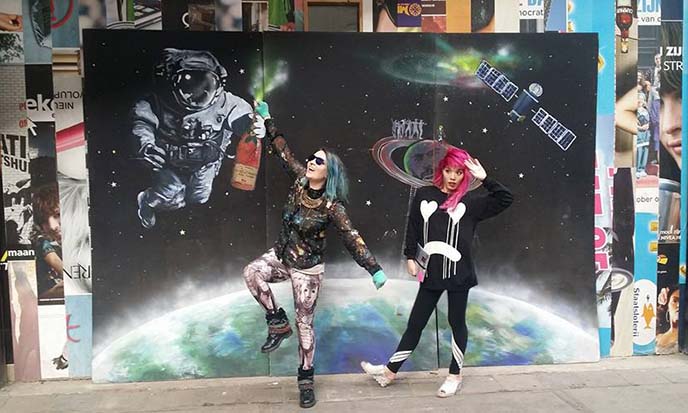 Like intrepid astronauts (or… space cadets), my friends and I will take you to the most cutting-edge hangouts in Noord. It's incredible to see how these run-down shipyards have been transformed into hipster heaven.
(Above, I'm wearing this Long Clothing Drippy sweatshirt.)
But first, a quick announcement: I had the honor of being interviewed by BBC Radio about Goth lifestyle and culture! The show "talks to Gothic blogger, La Carmina, about the extraordinary and extreme goth scene in Japan that includes body modifications."
Here's the link to my BBC Radio Worldwide interview, and you can hear my voice throughout in the entire program for "The Why Factor" show. Thanks everyone for the positive reception so far!
Now, back to Holland. The team at I Amsterdam (the city's tourism board) matched me with the perfect guide for an insider tour of Noord. I instantly clicked with Faustina, who shared my love of glamorous fashion and cat-eye sunglasses!
She met us at Hotel The Exchange, and did an introduction with maps to get me oriented. (Soon, I'll take you around this stylish boutique hotel).
We walked to Centraal Station, where Faustina locked her bike next to literally thousands. Notice the "parking lot" above her, filled to the brim. Amsterdam truly is the city of bicycles.
Noord is located only 5 minutes from the central station, making it a convenient yet off-the-beaten-path destination.
Anyone can hop onto the Buiksloterweg ferry. The ride is free, departs every 10 minutes, and can accommodate bicycles and scooters. Before you can figure out how to pronounce the ferry's name, you've crossed IJ Lake and arrived at NDSM wharf.
Step off the little ferry, and you're arrived in northern, uptown Amsterdam. Right away, you can sense that Noord has an artistic, young vibe. (All photography by Arina Dresviannikova)
"I see a little silhouette of a man"… that's the one and only Freddie Mercury, next to a decorative wall overlooking the waters.
It's impossible to miss A'DAM Toren, named for "Amsterdam Dance And Music." This 22-storey tower looks over the waterfront, and was opened by a creative team that includes EDM pioneers. 
As you might expect, this is a one-stop place to party. ADAM Tower contains nightclubs, bars, cafes, hotel rooms, and a revolving restaurant (the square-shaped disc at the top rotates around). The top floor has a 360 degree panoramic terrace, and Europe's highest swing that sends adrenaline junkies "over the edge."
There's another space-age building nearby: EYE Film Museum.
Named after the river IJ (which is pronounced "eye"), this modern structure is a film buff's dream. You'll find four cinemas and a restaurant inside, plus an extensive archive, and rotating exhibitions about filmmakers. 
The Eye is the vision of architects Delugan Meissl. Like a projected film, the building seems to be in constant motion. As the designers put it,  the concept is a "sustained encounter between urban reality and cinematographic fiction."
When I visited, EYE Film Museum had a fascinating exhibit dedicated to Hungary's Bela Tarr, auteur of melancholic films about the human condition.
His films played in sets that re-created his world — including a decaying tree surrounded by barbed wire fences, with leaves blasting though the room. (We weren't allowed to take pictures inside, so you'll have to use your imagination — or better yet, visit for yourself).
On the ground floor, the Eye has an open-plan cafe with spectacular views of the IJ harbor.
Eye Filmmuseum hosts frequent screenings and lectures. They have an annual Imagine Film Festival, dedicated to exploitation, cult and lower budget films.
Within these walls, there lies an extensive film archive with close to 40,000 Dutch and foreign titles. The collections also include posters, photographs, soundtracks and other archival material: a treasure trove for studies.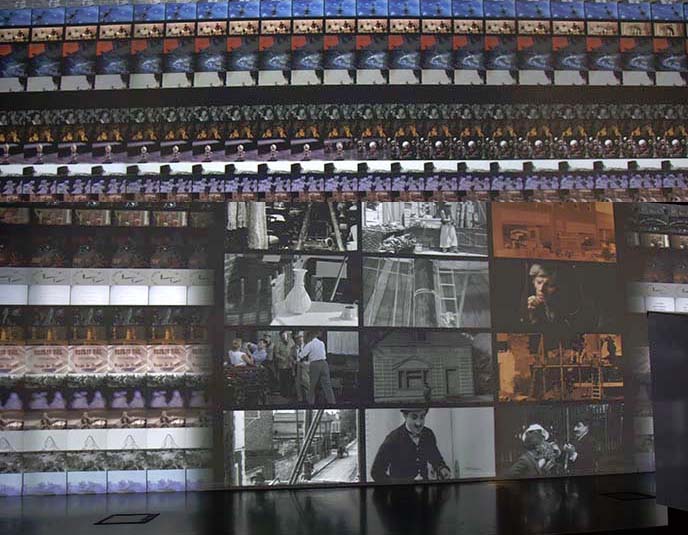 In the lower level, we saw historical cameras, projectors, and clips of Dutch films dating back to the late 19th century. This museum is a must for movie-lovers.
We continued our walk through Noord, and Faustina told us about its history. In the 1600s, sailors and merchants moved to the northern banks, to work in the maritime industry and find affordable housing.
This was a shipbuilding area until the 1980s, when the industry declined. Before long, Noord turned into an industrial wasteland, filled with the ghosts of the past.
Lured by low rents, artists moved in — followed by creative companies like MTV. They revitalised Noord, transforming these decrepit lots into a graffiti-covered wonderland.
Today, Noord is a lively neighborhood with a diverse population. Many tech startups and artistic firms are headquartered here.
The Netherlands gives generous support to young artists, including providing studios for them to create.
Faustina took is to NDSM Wharf, a giant collective of creative minds. As we approached, the street art grew more and more vivid.
NDSM stands for Nederlands Dok en Scheepsgebouw Maatschappij (Dutch Dock and Shipbuilding Company): one of the largest European shipyards before going bankrupt in 1980.
The abandoned warehouses fell into disrepair, until street artists from around the world turned them into colorful canvases.
We peeked into design studios, and posed in front of this intergalactic mural. There was even a cheeky, hot-pink installation called a "Barbie Peep Show."
"Make art, not Euros." That's the DIY spirit at NDSM.
As we kept walking, I was impressed by the myriad of ways that locals turned industrial skeletons into art.
Case in point: Crane Hotel Faralda. In this old shipyard, an abandoned 50-meter-high crane was turned into a three-room boutique hotel! 
I witnessed one of the coolest transformations at Pllek, a modern restaurant built out of shipping containers. (Address: TT Neveritaweg 59, Amsterdam)
It's easy to mistake this entrance for a pile of rusting compartments. However, when you walk in, you'll discover a spacious glass-front eatery by the river. 
Pllek continues the upcycled theme inside, with furniture made from salvaged maritime artifacts. Concrete floors maintain the industrial feel, while a disco ball adds fabulosity.
The diners tend to be young, hip foodies… an alien would fit right into the picture!
The menu relies on organic, sustainable meats and produce. I ordered a pumpkin ravioli, and it was one of the best meals of the trip.
Desserts are a must at Pllek: Dutch apple pie, creme brule, chocolate cake, ahh.
Outside, Pllek has picnic benches and a strip of sand. When the sun shines, this is "the" place to hang out by the river.
Pllek also organises regular cultural events, ranging from photography exhibits to yoga and Tai Chi on the beach. At night, they bring in DJs for some of Amsterdam's best dance parties. 
Back in the city center, I had another spectacular meal at Restaurant Lt. Cornelis (Address: Voetboogstraat 13, Amsterdam).
As you might guess from the "chiaroscuro" portraits, they specialize in traditional Dutch cuisine, prepared with locally sourced ingredients.
However, a peek into the open kitchen, and you'll see young chefs with tattoos working with flames. Restaurant Cornelis draws from the past, but gives all their dishes a modern flair.
I recommend going for the "Menu Cornelis," a four-course tasting that will surprise your palate. Each dish also comes perfectly paired with wine.
The friendly servers brought out dishes that I had never tried before, including melt-in-your-mouth bitterballen (Dutch croquettes). Everything was beautifully plated and prepared: highlights included the sustainable sirloin, and a chocolate/citrus/white chocolate dessert with foam.
Cheers to all the new friends we made on this journey! I'm glad I got the chance to see the underground, alternative, obscure side of Amsterdam. 
If you're planning a visit, check out the I Amsterdam website. You can find more suggestions for attractions in Noord and other areas.
What's next… a space-disco journey throughout the galaxy? You'll have to stay tuned to find out where I'll be next!