La Carmina Biography: TV presenter, fashion blogger, travel journalist.
SHORT BIOGRAPHY
La Carmina is an alternative fashion, travel and culture blogger, international TV host (Travel Channel, NBC, Food Network, National Geographic, Discovery), author of 3 books (for Penguin USA and Random House), and travel journalist at Business Insider, CNN Travel, Yahoo Travel and AOL / Huffington Post. She was awarded the Best Blog of the Year award in 2017.
She began her La Carmina travel & fashion blog in September 2007, as a creative outlet during her studies at Yale Law. Since then, she has published two books with major publishers, hosted travel TV shows for major networks (including with Andrew Zimmern and William Shatner), and flown to over 60 countries for fashion and tourism projects. La Carmina's worldwide adventures include speaking at an Istanbul tourism forum, judging a Filipino beauty pageant, popping into Hobbit holes in New Zealand, dancing with drag queens in Israel, and volunteering with punk rockers in Burma.
La Carmina's mission is to showcase underground and youth subcultures in a positive light, and encourage meaningful, offbeat, compassionate travel. Today, she pursues these passions through professional blogging and journalism, TV hosting and production, and her own travel series that is filmed all around the world.
See more details about La Carmina's work and experience below. Contact her (gothiccarmina at gmail dotcom) for business inquiries.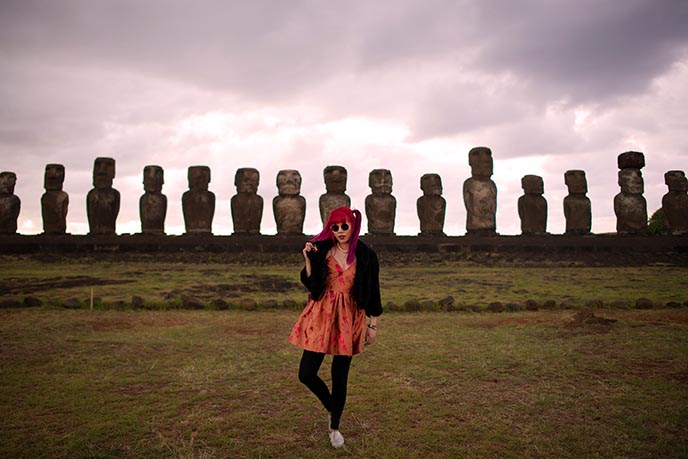 ♥ TV HOST FOR MAJOR NETWORKS: La Carmina has appeared on NBC "The Today Show", ABC "Nightline" and CBS "The Doctors". She co-hosted the Japan episode of "Bizarre Foods" with Andrew Zimmern for Travel Channel, and appeared on an NBC travel show with Star Trek's Captain Kirk and Happy Days' Fonz for  "Better Late than Never."
NHK Japan filmed two documentaries about her work, including "Kawaii TV" and "New York Wave." Her TV presenting and production credits include Food Network "World's Weirdest Restaurants", Discovery Channel and TLC Asia's "Oddities," CNN, National Geographic "Taboo" and "Roam", Canal Plus France "Toque a Tokyo", Travel Channel's "Could I Live There" and "No Reservations Anthony Bourdain" promo, multiple programs on top German network Pro Sieben (including Joko & Klaas, Offline, Schulz in a Box), Dutch Pepsi, Sony Australia, Norway TV (with Prince Ari Behn), and more.
View her presenting reels below and here. See full clips on her TV hosting and arranging site.
♥ TRAVEL SHOW SERIES: La Carmina and her professional film crew are constantly on the road, shooting episodes for her ongoing travel series about youth culture, underground fashion and trends. Episodes include Budapest, Abu Dhabi, South Africa, Israel, Slovenia, Hong Kong, Iceland. Her travel videos air on AOL / Huffington Post Travel, Yahoo Travel and Business Insider, where they reach an enormous travel audience (500,000+ views each).
♥ COOLHUNTER & PRODUCTION ARRANGER: La Carmina runs a trend consulting and TV fixing company, La Carmina & The Pirates. As Japan fixers, they're arranged TV episodes about bagelheads in Japan, bunker parties in Hong Kong, and lip sewing body modifications in Vancouver. (See her television resume and hire the Pirates.)
♥ AUTHOR & JOURNALIST: La Carmina wrote three books including Cute Yummy Time (based on the Japanese food decoration trend – Penguin USA) and Crazy, Wacky Theme Restaurants: Tokyo (lively stories of dining at weird theme cafes in Japan – Random House). She is a travel and youth culture journalist for Sunday Times Travel UK, Business Insider, CNN, Huffington Post, Yahoo, and more. She also has her own column in every issue of the Chinese in-flight magazine, Hong Kong Express Airways. La Carmina won the Top Blogger of the Year award.
♥ EDUCATION: Born and raised in Vancouver, Canada, La Carmina is a summa cum laude graduate of Columbia University and Yale Law School.
♥ RECOGNITION & AWARDS: Her popular blog has been featured in major publications (The New Yorker, Washington Post, Cosmopolitan, Vogue, LA Times). She has appeared as a guest expert and host on numerous TV shows, and on the cover of magazines (see press clippings). La Carmina has been invited on numerous individualized press trips (Bangkok, Taipei, Maldives, Croatia and more) and to appear / speak / teach as a top blogger and digital influencer. Appearances include: World Tourism Forum Turkey, Experience Romania conference, Luisaviaroma Italy, Pecha Kucha Tokyo, IFB conference, Hong Kong Social Media Week, Mediabistro social curation summit, PRSA Travel and Tourism Conference.
♥ FUN RANDOM FACTS: La Carmina's passions (or obsessions) include her earless Scottish Fold cat Basil Farrow, Italo Disco and Synthwave music, Miffy the cute Dutch bunny, Seinfeld / Larry David, Daria, 1980s & 1990s culture, Zen minimalism, horror films, alternative beauty and subcultures worldwide. She's known for her "spooky-cute" style with colorful hair and Gothic Japanese fashion. LaCarmina has travelled to over 60 countries on 6 continents; destinations include Easter Island, Cape Town, Israel, and Myanmar.
♥ FAQ: Where do you buy your clothes?  Many of the fashions I wear are by Tokyo and Hong Kong street style designers, but quite a few of my favorites can be bought online. Retailer Dolls Kill carries my favorite brands such as Long Clothing, Disturbia, Morph8ne and Killstar. Luisaviaroma is my go-to for a splurge: they carry Alexander McQueen, Rick Owens and more.
💖 If you're looking to buy these Japanese clothes online, click here for sales. 💖
I'm currently selling my wardrobe on Depop – details here! These include rare Japanese Lolita, Goth, Alternative garments at low prices. La Carmina offers exact shipping and bundle discounts, and packages come with photos and personalized notes. (Learn more about La Carmina's wardobe sale)
♥ FAQ: What camera does La Carmina use to take photos? From mid-2014 onward, she shoots with the Sony alpha 7 (A7) a mirrorless DSLR camera. Her travel videos are mostly filmed on a Canon 5D Mark II, which is also what many fashion bloggers use to take outfit post photos. Underwater footage is shot with a GoPro camera. 
♥ FAQ: How do you find cheap flights and travel deals?  For plane tickets, I've found that CheapFlights lives up to their name, especially if you're looking for routes to Tokyo and other major cities. I also use Expedia for both flights and hotels; they have a fantastic refund policy and often pull up the lowest rates.
♥ FAQ: Where do you book hotels for the best rates? I'm a big fan of searching for hotels and activities on TripAdvisor, since they pull up excellent rates as well as user-generated reviews — meaning that you get the inside scoop. I've also been using Hotels.com for years to book hotels worldwide. The site's reliable and easy to search, and you can cancel without fees.
Got questions? Want to team up with La Carmina? Shoot her an email, and follow her social networks (@lacarmina, linked on the right sidebar). She works consistently with international fashion brands, travel companies, TV shows, tours, hotels and more on blog and social media showcases, video, virtual reality and more.
(Pictured above: shooting with Henry Winkler / The Fonz, for NBC's Better Late than Never in Hong Kong.)