Category Archive for
Food + Theme Restaurants
Hail, San Diego! Since California is currently one of the safest US states (in terms of case count), I went west after Salem to hang with the animals.
I didn't have time to visit the famous zoo… but still got to pet the giraffes, at the chic Andaz San Diego hotel.
Read on for my SD travel diary that includes sushi restaurants and the Andaz's STK Rooftop Bar, which overlooks downtown San Diego…
… and a cannibalism exhibit at the Museum of Us, at the nearby Balboa Park! (It features famous flesh-eaters like Issei Sagawa, The Japanese Cannibal.)
The Andaz San Diego, a concept by Hyatt, ticked off everything I look for in a hotel. It's a design-focused boutique property, with a convenient central location (San Diego's downtown Gaslamp district).
On the top floor, you'll find The Rooftop by STK — the largest roof-top hangout in all of San Diego, with soaring views. I had fun sitting around the fire pit with cocktails and shared plates. (Dress by Sourpuss Clothing.)
The Andaz's 159 rooms are decorated with sleek furnishings and local art, which capture the warm and laid-back vibe of San Diego. I was glad to find an enormous bathtub, and small touches such as free earplugs on the side table.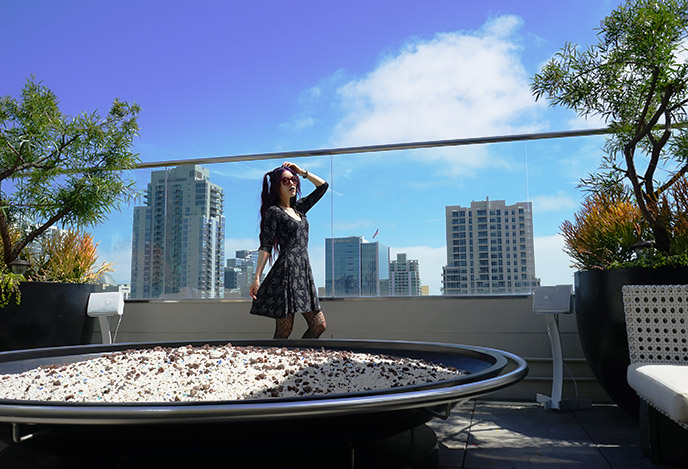 The Andaz is set in a historic building, which was originally built for the 1913 World's Fair. Today, it's a contemporary space with an open-air rooftop restaurant / bar for safe hangouts.
The Rooftop by STK serves food all day. I particularly enjoyed the breakfast / brunch menu: the avocado toast, oat milk lattes, and veggie frittata with goat cheese, spinach and tomato jam hit the spot.
There's also a swimming pool on the Andaz rooftop. Take a swim at sunset, to watch the sky turn pink.
The Andaz's lobby is filled with surprises, including this art gallery / lounge space inhabited by a giraffe and her baby!
(My Hail Satan, Est 666 shirt is from The Satanic Temple's shop.)
When I checked in at Andaz San Diego, the staff offered me complimentary coffee, beer, or wine. There was also cold brew coffee available on-tap at all times — and I sure took advantage of that.
The hotel's common areas are well tended (Plexiglass separators, hand sanitizer stations, masks required), and filled with art that pay homage to San Diego's sights, such as the Zoo. The Andaz has special designer suites too (see photos of the rooms.)
My favorite art piece: a 12-foot tall giraffe sculpture.
The funky design draws from the Gaslamp Quarter's artistic culture. Local works are displayed throughout the Andaz, including large-scale paintings.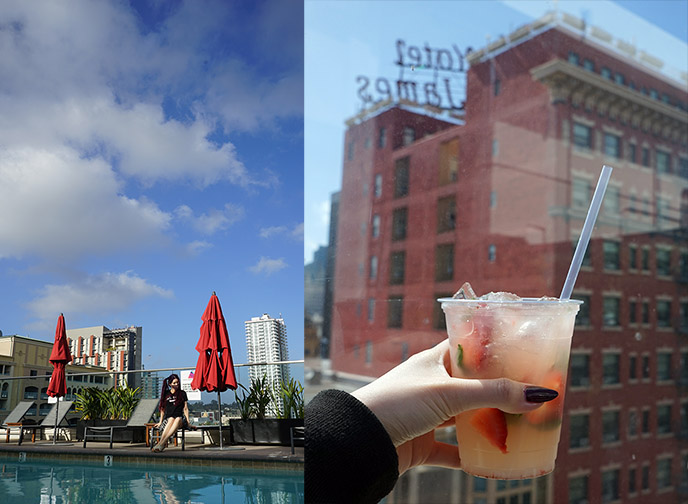 Cheers to the Andaz San Diego — I'd love to come back for a strawberry cocktail at the rooftop pool!
San Diego is known for its excellent sushi, so I went to investigate the best Japanese restaurants nearby. Locals rave about Taka Sushi; located in the Gaslamp dining district, it was only a short walk from the hotel.
Chefs Maru and Makoto greet all guests with enthusiasm. Taka Sushi​'s intimate wood interiors and long sushi bar add to the friendly feel — and made me nostalgic for sushi restaurants in Japan.
At Taka, the skilled chefs combine a creative modern approach with traditional techniques. They select the freshest ingredients, including seasonal fish from Japan, and put together phenomenal omakase sashimi platters. Above, we were speechless at the melt-in-your-mouth salmon from New Zealand, amberjack, uni (sea urchin), squid, tuna, hamachi and more.
Taka Sushi also offers cooked Japanese dishes, and one-of-a-kind creations — like this spicy tuna tartar, flecked with gold and caviar! The combination of avocado, quail egg, and spicy sesame oil soy sauce was remarkable.
I strongly recommend going for the omakase at Taka, meaning that you leave the selection to the chef (the Japanese word comes from "makaseru," or "to entrust.") You'll get to try unusual and seasonal offerings, such as these small crunchy red crabs.
Next came a sushi and nigiri selection… isn't the presentation lovely? The battera "box" sushi stood out, and the ikura salmon roe gunkan, tamago egg, and ebi shrimp were among the best I've had in a while (a well-executed tamagoyaki is a sure sign that a sushi restaurant knows its stuff).
The server came back to take this fish and the still-moving prawn, which were then fried.
Don't leave without trying the original zucchini flowers starter with wasabi salt, and black sesame creme brulee. Arigato Taka Sushi for the outstanding omakase — I've had a lot of sushi around the world, and this experience ranks among my favorites.
For a chic Japanese fusion experience, there's no better spot in San Diego than Cloak and Petal. Located in Little Italy, "cloak" suggests a hidden spot, while "petal" references the gorgeous cherry blossoms trees that decorate the restaurant. Year-round, anyone can come here to eat under the pink and white sakura flowers, similar to "hanami" picnics in Japan.
Start with hot sake, and then choose from Cloak & Petal's imaginative menu. The sushi creations have catchy names like "Go Go Ohime Sama" on the right (asparagus, avocado, krab, salmon, yuzu gel, smoked salt, strawberry compote, lemon oil, micro greens), and "Cezar Chavez & Main" on the left (shrimp tempura, spicy tuna, avocado, black pepper, tuna, charred jalapeño ponzu, cilantro, habanero).
The restaurant decor has a Japanese street art vibe, inspired by the Tokyo subway and graffiti art.
I loved this spicy and textured spin on hamachi (yellowtail): prepared carpaccio-style with ponzu, jalapeno, black garlic sauce, chives, and garlic.
Thank you Cloak and Petal for a lovely Japanese meal under the sakura blooms, with excellent service and ambiance.
(SD sushi restaurants and Andaz rooftop photos by Kym LaRoux.)
Speaking of eating raw foods… I stumbled upon an intriguing cannibalism exhibit. "Cannibals: Myth & Reality" is currently on display at the Museum of Us (formerly known as the Museum of Man). It's located in San Diego's Balboa Park, an enormous green space and the site of many museums, art galleries and the world-famous zoo.
The thoughtful and gore-free exhibition dives into cannibalism from all perspectives, from historical incidences to pop culture perspectives, Quite a few horror movies have humans-eating-humans; above is the Japanese poster for the "Cannibal Holocaust" film.
Here's a newspaper article that sensationalizes Jeffrey Dahmer, "The Milwaukee Cannibal." He stored body parts in his freezer, and admitted to feasting on the flesh of his victims.
Cannibalism is considered taboo and associated with evil — yet the exhibit points to instances where people turned to it as a last resort for survival. I saw photos from the famine during the Nazi siege of Leningrad, and heard stories from the Uruguayan rugby players trapped high in the Andes Mountains, who resorted to eating the dead to survive.
Cannibalism is also shrouded in myth and mystery. We still don't know what happened to Michael Rockefeller, the heir who disappeared in New Guinea in 1961. The natives of that region were known for headhunting and cannibalism, and rumors spread that he was eaten by them.
Our judgments of "right" and "wrong" change with the times. Here's a scene depicting ritualistic Aztec cannibalism. (You can read more about pre-Columbian civilizations in my Mexico City stories.)
The Museum of Us has interactive displays that make us ponder the nuances of eating "long pig" around the world. (Is it acceptable to eat hair or nails? Or one's own flesh? And under what circumstances – where do we draw the lines?)
The museum has other fascinating exhibits centered on anthropology and cultures worldwide, I enjoyed the "Monsters!" section, which has a hell of an entrance.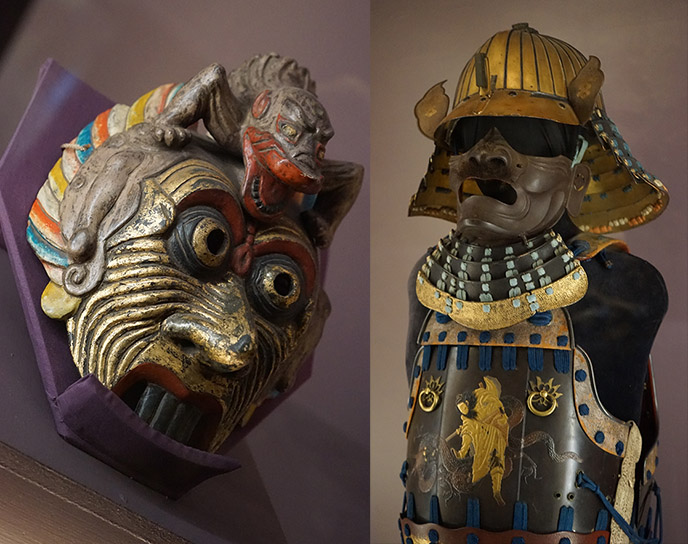 It dives into fantastical art and legends of monsters worldwide. These Asian depictions got my attention.
From the manticore to Godzilla to fierce Chinese dragons, monsters have long had a hold on our imaginations.
The San Diego Museum of Us also had some visitors from ancient Egypt. This sarcophagus is looking a little green. (See more mummies, Sphinxes and Egyptian artifacts in my report about the Cairo museum.)
The building itself is a beauty. It was constructed for the 1915 Exposition, and the exterior sculptures were by the Piccirilli Brothers.
I leave you with a devilish figure from inside the Museum of Us…
… and the true ruler of the underworld (if you ask me) — Miffy the bunny! (I came across this mural on the walk from the hotel to Balboa Park.)
Is San Diego on your list of places to visit, now that travel is re-emerging? Thank you to the Andaz San Diego for the terrific stay, and I'm keen to be back soon.
Until that day, as Ron Burgandy would say… "You stay classy, San Diego!"
It was supposed to be the Summer of Carmina… Instead, we got the Summer of Covid.
But as you will see — I'm making the most of being at home, and creatively styling Goth outfits with face-masks! I even got to do a little bit of safe travelling once again.
My province, British Columbia, is officially in Phase 3 of re-opening — which means locals can take part in "smart, safe and respectful travel within B.C."
In line with the government's health regulations, I did a majestic local getaway… and spent four nights at the fabulous Fairmont Empress Hotel in Victoria, BC! (The island capital is a 1.5 hour ferry ride and short drive from Vancouver, where I'm currently located).
I know many of us are itching to travel again. In these times, I think we must prioritize what's ethical and responsible to others, or else we risk causing terrible harm. The right approach will vary, depending on where you are and your particular circumstances — but I urge you to veer on the side of caution.
British Columbia has done an outstanding job at planking the curve, and our case numbers have gone down to single digits. I trust our health leaders, who have currently green-lighted local tourism as long as it's done with care. (Please stay up-to-date with regulations, as these can always change.)
What does the "new normal" of traveling look like, in a pandemic? What's it like to stay in a hotel like the Fairmont Empress, which has introduced new sanitation and distancing measures?
My hotel experience turned out to be wonderful, with unexpected upsides! Read on to see temperature checks and plastic-wrapped remote controls…
First, let me share my first new outfit photos since the before-times. When Phase 3 was announced, I went and got my roots fixed.
Grateful to my stylist, Chad Evans, for revamping the purple dye and putting it in 1990s space buns! (For a dose of positivity, check out his site BlameChad; he'll soon be releasing a clothing line of hoodies, with 20% of proceeds going to the BC schizophrenia society.)
I've been wearing Goth brand Lip Service since the 90s, and they continue to be at the top of the alternative fashion game. Love their logo halter tank top, and apocalyptic fabric face mask with skulls and daggers.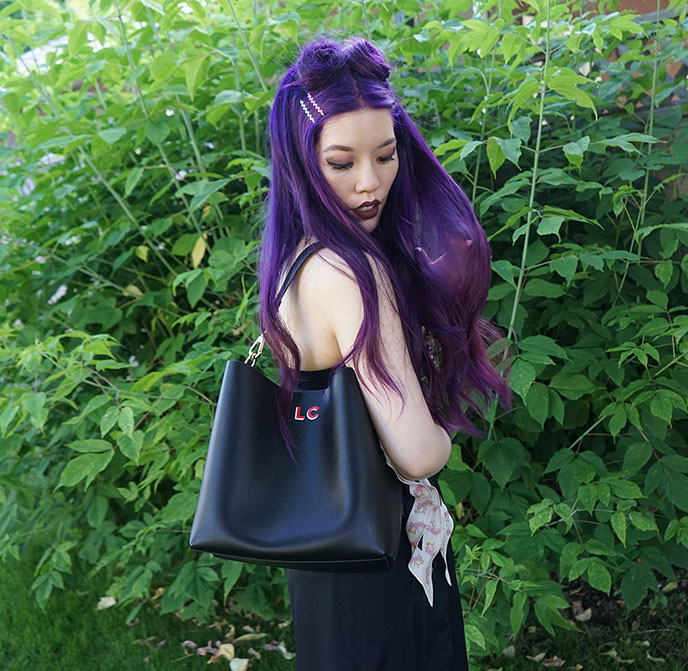 My Leatherology Elizabeth large bucket bag arrived just in time for my local trip. The black Italian leather is gorgeous, with a handy shoulder strap, gold hardware and magnetic closure.
Leatherology offers a variety of purses and accessories (from messenger to makeup bags), which can be personalized with your initials. Can't get over how cool the hand-painted monogram looks: LC, in red with white shadow.
My Leatherology Elizabeth bucket purse is lightweight, yet large enough to hold my everyday essentials for traveling (DSLR camera, sunscreen, hat, etc). I'm so happy with the elegant yet edgy look, and delighted to support a BIPOC-owned indie company.
I'm living in my pink Spilt Milk sunglasses this summer, so I glammed them up with a Frame Chain gold chain.
If you thought these glasses accessories were only for librarians, then think again… Frame creates glasses chains that double as chic, luxurious jewelry. My Donnie in yellow gold has a 1970s disco feeling, which is exactly up my dance floor. The flexible loops at the ends slip onto any eyewear, becoming an eye-catching and unusual accessory (which also has a practical use!)
Intrigued by these stunning glasses chains? See more styles from Frame below:

I got new polka-dot sandals by Lola Ramona, my favorite retro-inspired shoemaker. These Chloe Verve sandals have a 70s Boogie Nights feeling with white-on-black circles, an adjustable back strap, and a platform block heel. Plus, they're comfortable enough for disco-ing all night long.
I hope this fashion coordinate introduces you to some fab new brands (and old favorites like Lip Service) — and gives you some ideas for how to style a Goth face mask! (More photos at the end of this post.)
I did my eyebrows with my go-to Dipbrow Pomade in Ash Brown, by Anastasia Beverly Hills. I'm wearing ABH Liquid Lipstick in the purple "Trust Issues" shade.
Find more of my favorite professional makeup by Anastasia below:

All dressed up — but where to go? As I mentioned at the start of this post, any travel decisions should take into account government guidelines, and whether you're making a net positive impact on the community you're visiting (as well if they're welcoming tourists). In BC, we currently have the go-ahead to support our local travel industry as long as we do so with care.
And so, I packed my face masks and hand sanitizer, loaded the car with snacks and water, and only got out when I arrived at the Fairmont Empress Hotel in Victoria.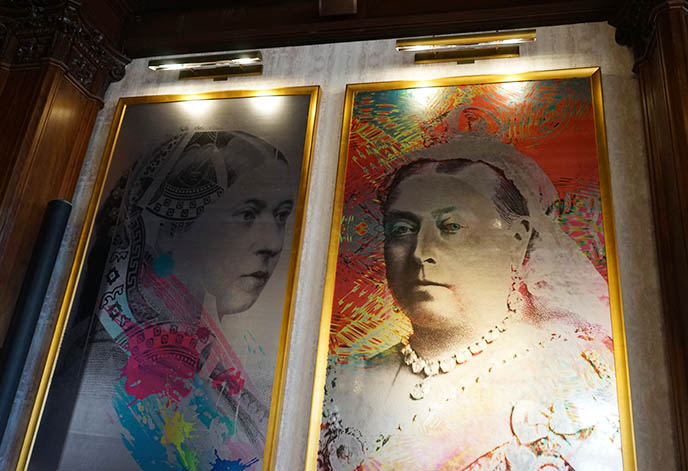 The historic Empress Hotel pays tribute to British Queen Victoria (who was rather Gothic — she loved her mourning gowns!). Designed in the Châteauesque style, the hotel could easily be mistaken for a castle. The Empress opened its doors in 1908, becoming one of the most famous Canadian "railway hotels" built to serve posh train travelers).
(Tip: if you go to the parking level of the Fairmont, you'll find black and white photos of the chateau over the years.)
The Fairmont Empress went through an elegant restoration in 2017. The lobby preserved the classic royal architecture, while adding modern glam. The staircase was one of my favorite photo-spots.
Love the chic colors… and epic Swarovski chandelier, which reminds me of glittery Chinese shrimp crackers! (That's a compliment; those snacks are delicious).
The Fairmont Empress shut down for a few months, due to coronavirus. When it re-opened its doors on June 26, I was one of the first guests to check in.
I was reassured to see the hotel had implemented many measures to the reduce risk of contacting the virus. The Fairmont Empress currently allows only 100 guests to stay with them at one time. All the staff wears masks correctly, and they conduct temperature checks at the door.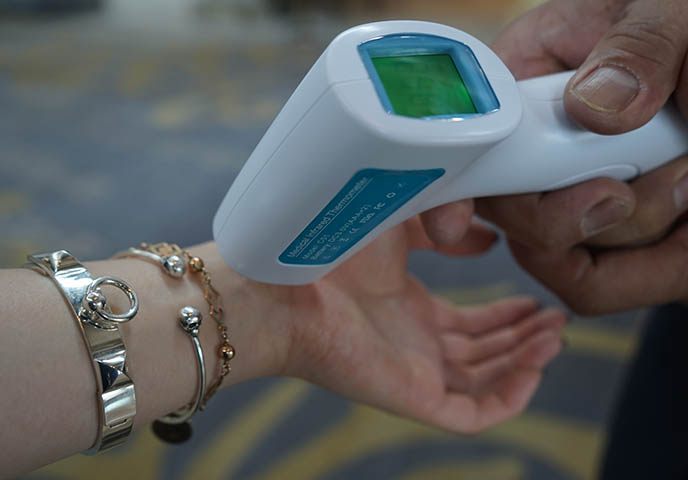 Have you ever been beeped by an infrared temperature gun? The device doesn't touch you, and reads your temperature in a second.
I felt safe from the moment I checked in, as I knew the Fairmont was taking screening seriously. The hotel also only allows registered guests inside (if you're going to the restaurants, you use a separate entrance). Instead of valet, the hotel has an easy self-parking garage.
The hotel was spotless, and there was hand sanitizer everywhere.
I'm actually pleased that everyone is being more vigilant, as I'm a bit of a germophobe! I always refused to touch handrails, door knobs and elevator buttons, and I wore a mask whenever I flew on a plane. I used to be considered the weirdo… but now everyone acts like me.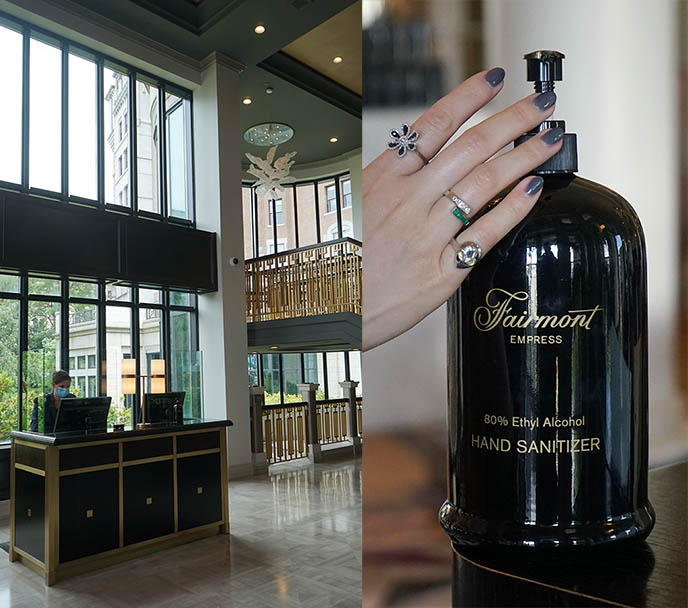 The Fairmont's new Covid protections blend seamlessly with the interior design. Note the clear Plexiglass, and the hand sanitizer in pretty bottles.
The Fairmont Empress team did a great job at creating elegant signage, such as these physical distancing stickers that kept people six feet / two meters apart. All of these protocols were carefully checked by inspectors, and abide by the All Stay Well #AllSafe initiative for hotels.
I quickly discovered that there were a lot of unexpected benefits to traveling locally, in an era when international passport holders are banned from entering Canada.
For instance, there were no longer long line-ups and crowds of tourists everywhere. I could take images like this without anyone photo-bombing me!
Victoria, BC is paradise in the summertime. Since the Fairmont only allows a limited number of guests right now, I got a spectacular harbour view room with this view of the water.
Located at 721 Government Street, the Empress is in the heart of Downtown Victoria, right by the Parliament Buildings. Hip boutiques and restaurants are within an easy walking distance (I'll show you what I found, in the next story).
My 5-star room was enormous and comfortable, with a sitting area and windows looking out at the Inner Harbour.
For now, there is no room service, and housekeeping will not enter your room unless you request a cleaning. The hotel also leaves each room unoccupied for 48 hours prior to a final cleaning and the next check-in.
I was excited to find hand sanitizer, wipes, and disposable masks in the room. And look… the TV remote control is now wrapped in plastic. (Remotes were my germophobe pet peeve in the past, so this is a most welcome development!).
I enjoyed wandering through the long hallways, and coming across spooky furniture like these curved cabinets. Not surprisingly, the Empress Hotel is alleged to be haunted. Guests have spotted the ghost of the architect, Francis Rattenbury, walking the halls with a cane. (If he's anything like my dad, he's probably making sure the building meets fire and accessibility codes).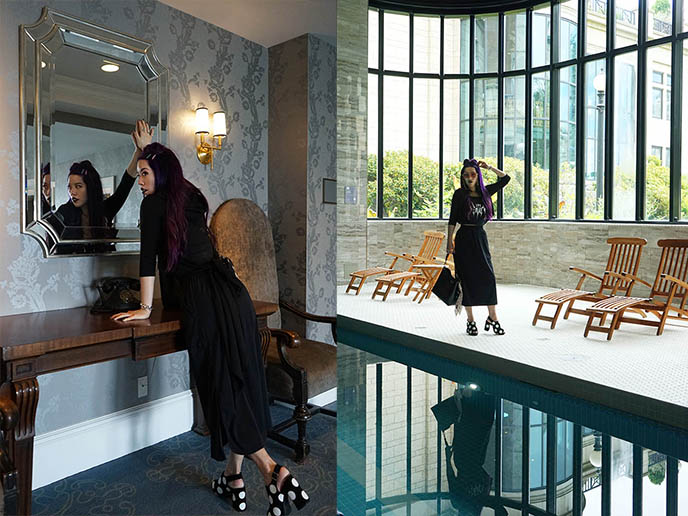 The Fairmont's polices maintain balance, and let guests have a more relaxed and uncrowded experience. You can ask front desk for access to the swimming pool, which allows 20 people max, or 4 in the hot tub. The Willow Stream Spa also keeps numbers down (ie, 2 people or 1 household can use the steam room or sauna at a time).
Be sure to explore every part of the Fairmont Empress, as it is blossoming with history. The Palm Court, which is now used for weddings and events, is crowned with this magnificent stained glass dome. The Tiffany-style circular ceiling was boarded up and forgotten over the years, only to be re-discovered in 1989 and restored to its former glory.
The high ceilings and old-time finishings make my imagination soar… I imagined that I was sitting down for a drink at the bar in Kubrick's The Shining!
Even if you aren't staying at the Fairmont Empress, you should come by for the legendary afternoon tea, a special occasion fit for a royal.
Dress up (I saw some women wearing fascinator hats!) and savor tea and fresh-baked delicacies on a stacked tray. The tearoom offers Prince and Princess options for children as well.
Seems like the right place to do an "I'm a little teapot" pose. The doors open at 1pm, and a piano player fills the room with classical music.
In the past, the Empress afternoon tea was dominated by foreign and cruise ship tourists. Now, there's plenty of space for locals to relax and enjoy the tradition. (The tables are separated to maintain distance, making it feel more private as well).
Cheers to starting the day with sparkling wine! The Fairmont Empress ethically sources tea from top producers, and offers an extensive selection (I went for the creamy Earl Gray).
The staff can cater to food allergies, and the delights are prepared from local ingredients — including honey from the hotel's bee hives, and lavender from their garden.
Two thumbs up to the warm scones with house-made clotted cream and strawberry lavender preserve. I also adored the cucumber sandwiches, sockeye salmon and chive crème fraîche blini, and coronation chicken curry brioche. And how adorable are the desserts, decorated with cherries and gold foil.
Since we are encouraged to dine outside to prevent the spread of Covid, the Fairmont Hotel Empress is now offering a Picnic on the Lawn package. The staff puts together a luxury picnic lunch, which you can enjoy on a blanket on the spacious grounds — facing the harbour and surrounded by flowers.
Guests can also have a meal at Q Restaurant, where the tables sit far apart. One wall is lined with portraits of Queen Victoria, showing her grow from a young lady to the Empress Dowager.
Rather than handling shared menus, patrons of Q Restaurant and Bar can use their smartphones to scan a QR code at each table. This opens up a menu that you can read on your phone!
As you can see, the Pacific Northwest breakfast was a hit. Try the eggs Benedict and buttermilk pancakes, made from sustainably sourced proteins and fresh regional produce.
From the Victorian era to the Covid age, the purple Empress rules. How lovely are the high, cherry wood ceilings with intricate mouldings? (The clear plastic shield is new, but barely visible.)
I'm still dreaming about the cocktails I sipped at Q Bar, which was deservedly named one of Canada's best 50 bars. They are known for concocting beautiful drinks with the locally crafted Empress 1908 Gin, which is naturally purple thanks to a pea blossom infusion.
Thumbs up to the signature Q 1908 (above), which pairs the gin with lemon juice, sugar, egg white, and a butterfly pea flower on top. I also adored the Rock Paper Scissors (dark cacao and port), Concord (mezcal, crème de violette, luxardo maraschino, lemon), and Old Fashioned with Czech absinthe and fresh rosemary.
After months of eating at home, it was a pleasure to dine al fresco at the Veranda. I enjoyed a veggie-packed lunch on the patio, while looking out at the water.
Treat yourself to an Empress purple gin and tonic, and red wine sangria with fresh fruit. You'll love the colors and flavors of the heirloom tomato and bocconcini salad, sourced from nearby farms. Veranda's menu also offers local delights like Coho salmon, Haida Gwaii halibut, and hand-made tagliatelle with fungi.
The desserts couldn't be prettier, topped with edible flowers. That's a bergamot posset cream with raspberry, amaro jelly, and fennel pollen shortbread at the front. Behind: a Saanichton berry shortcake with amaretto sponge, crème fraîche mousse, and Tahitian vanilla.
I hope you'll get a chance to live like a Queen at the Fairmont Empress in Victoria. Even if you don't stay overnight, do come for a meal and to wander the gardens.
So many lush backdrops to shoot my Lip Service Goth halter shirt and skull cross mask.
Grateful to have my hair looking healthy and violet again, thanks to my stylist Chad Evans of BlameChad (his salon is in downtown Vancouver BC).
In an upcoming post, I'll show you more of what I saw in Victoria, British Columbia. I walked all around in my Lola Ramona polka-dotted Chloe Verve sandals.
I carried around a Leatherology Elizabeth bucket bag monogrammed with my initials — it's designed perfectly for local travel.
I'm smiling under my fabric mask. It's nice to feel a sense of normalcy again thanks to local exploration. (Long black skirt by Charli Cohen.)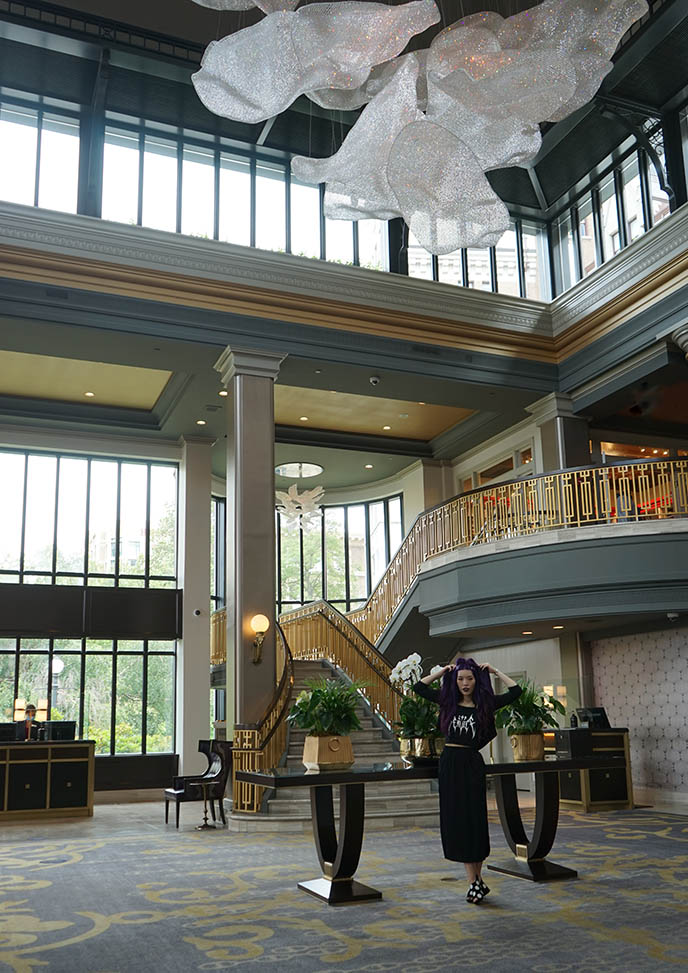 If you're living in British Columbia where mindful local tourism is endorsed, then treat yourself to a stay at the Fairmont Empress in Victoria. (Or if you're reading this in the future, and borders are open to international travelers, then I hope you'll get the chance to visit.)
I can vouch that they did a fabulous job keeping guests safe, and making you feel like a queen.
You can also see my review of the Fairmont Banff Springs, from last fall. I'm excited to show you more places to visit in beautiful British Columbia soon. (Next up: an alternative guide to Victoria.)
What's the current situation for travel, wherever you are living? How do you feel about the balance between keeping safe from the virus, opening carefully, and supporting local economies?