Category Archive for
Food + Theme Restaurants
Pinch me… I'm traveling somewhere fun in a few days!
This will be my first trip since Portland in late February… and 100% in accordance with the B.C. government's travel and social distancing guidelines. (I'm forever on the cautious side, when it comes to Covid… and I wish more people were.)
Can you guess where I'm going? Take a peek at my social media —@lacarmina Instagram, Twitter, Facebook — to be part of my journey.
(This Tokyo photo by Said Karlsson is unrelated, but expresses my excitement… and how much I miss Japan. Never thought the country would be cut off from me like this. Can't wait to go back).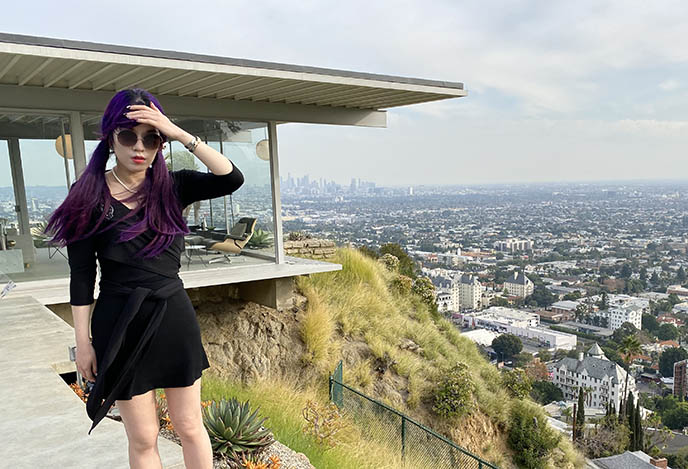 But this eagle's nest wouldn't be a bad spot to spend quarantine, am I right? Seated in an Eames Lounge Chair, overlooking the Hollywood Hills…
Architecture fans, this one's for you. When I was in Los Angeles last January, I got to tour Stahl House —  glass masterpiece of mid-century modern architecture.
To top off this fabulous day, I had dinner at Beetle House: a Gothic Halloween theme restaurant that honors the world of Tim Burton. Read til the end, to see me hanging with Jack Skellington and Edwards Scissorhands!
I couldn't visit Stahl House without re-creating the famous black and white photo, taken by Julius Shulman in 1960 (there's a shot of it further down).  Architect Pierre Koenig's glass house has fascinated me for years, and I jumped at the chance to finally see it in person.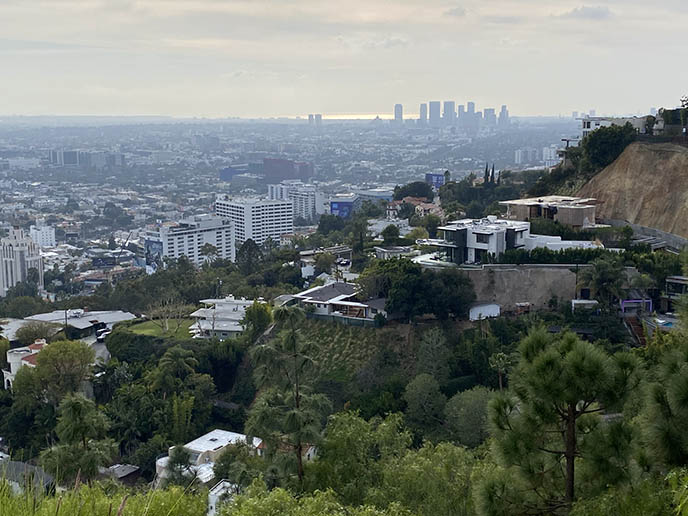 Don't just drive to Stahl House (1635 Woods Drive), as this is a private property and you won't be able to see anything from outside. To properly visit, you must book a guided tour well in advance, through Stahl House's website. (Of course, this isn't possible with Covid right now — but bookmark this for the future.)
Stahl House only offers a limited number of small-group tours, and they sell out extremely quickly (often months in advance). I messaged them to find out when the next month's slots would be released, and got tickets on that exact day.
The narrow, winding streets have limited parking space, so you're encouraged to carpool or ride-share, and arrive early.
I parked in the carport, and waited with anticipation in front of the C.S.H. #22 glass door. (This refers to Case Study House No. 22, one of the experimental residential homes commissioned by Arts & Architecture Magazine from 1945-1966.)
As soon as the guide lets you in, you'll understand why Stahl House is an icon of American mid-century design. 
Built in 1960, this dreamy residence wasn't a party pad for a celebrity. It was the beloved home of an ordinary family with three kids! Imagine spending your childhood waking up to these views, and plunging into the pool.
In 1954, Bruce Stahl (Buck) and his wife Carlotta bought the undeveloped land for $13,500. They brought their vision to young architect Pierre Koenig, and he made this modernist fairytale home come to life. 
Much of the construction was DIY — Buck gathered discarded concrete from around the city, and pieced it together to make the foundation. (It would be impossible to build Stahl House today, as it would violate current zoning and safety laws!)
The afternoon tour lasts an hour. Our guide first let us wander and take photos. Then, we gathered in the living room to hear how Stahl House came to be.
Did I adopt a barefoot lifestyle in LA? Not quite. All guests must take off their shoes to avoid damaging the property. In addition, you can only take photos with a smartphone, so leave your DSLR and video cameras at home. (Good thing I had upgraded to an iPhone 11.)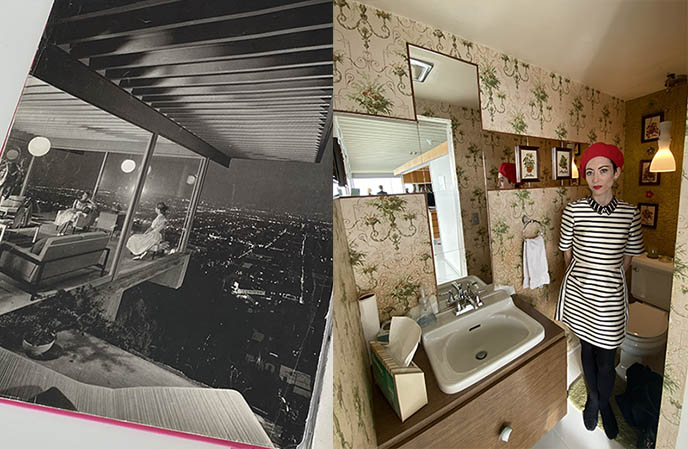 Photographer Julius Shulman visited Stahl House in 1960, and snapped this well-known image of two women chatting in the corner at night.
Lauren and I had fun sitting in the exact spot as these ladies. But we also got a kick out of seeing the parts of Stahl House that are never photographed… like the tiny wallpapered bathroom! 
Here's my tribute to Shulman's Stahl House photo. The angle captures the magic of lounging in the living room, which seems to float over Laurel Canyon. Clean lines and panoramic views… modernist perfection.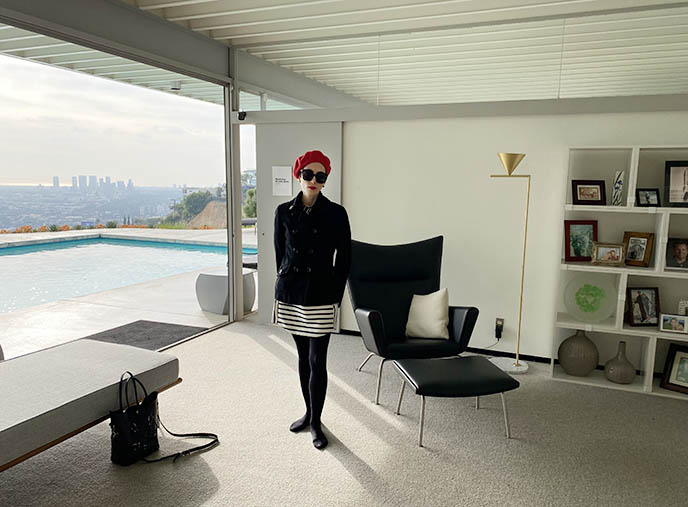 We got to explore most of the 2200 square foot house at our leisure. (One of the two bedrooms was off-limits, as well as one of the bathrooms. But we got full access to the kitchen, dining and living rooms).
Stahl House was furnished in collaboration with Design Within Reach, purveyors of modern furniture. If you've seen photos of my apartment, then you'll know I adore these types of interiors.
Every room has floor-to-ceiling glass windows, for mesmerizing views over Laurel Canyon LA.
We learned there were downsides to living in a"glass house" — the constant UV coming through the windows quickly faded the furniture and finishings. Stahl House had to be constantly maintained by the family to keep it true to its original incarnation. (The property is owned and managed by the three children who grew up here.)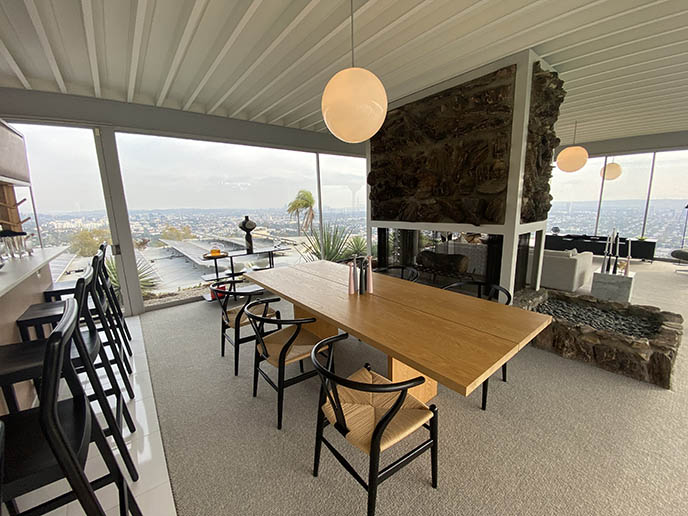 Stahl House was an "open concept" pioneer. The stone fireplace divides the living room from the cooking and dining areas.
This Eames lounge chair and ottoman fits in perfectly with the glass, steel and concrete.
The minimalist furniture from Design Within Reach complements the white-oak kitchen cabinets. Stahl House is photogenic from every perspective; no wonder it has been featured in many movies and fashion shoots.
Watch your step, and don't get distracted by the views… There's a steep drop off the balcony landing, and no safety net.
Talk about "living on the edge!"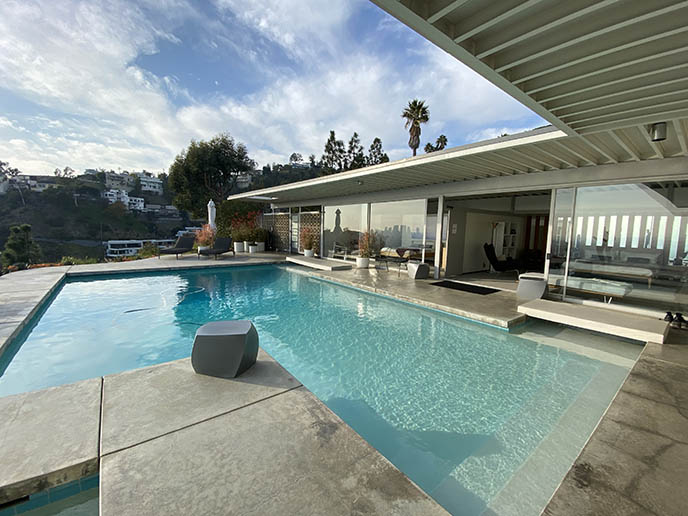 We learned that the Stahl children would roller-skate around the concrete decking, and jump from the rooftop into the pool… Ah, the carefree 1960s and 1970s.
When Stahl House's reservations open up again, be sure to book tickets as far in advance as possible. There are limited time slots and each tour has maximum 20 people.
Our guide wasn't sure how long the family would be running these tours for the public, or if the home may be sold in the future. If you get the chance to see Stahl House, jump at it!
This inspiring day wasn't over yet. We headed to Hollywood for dinner and drinks at Beetle House LA.
This theme restaurant tips its hat to the Beetlejuice movie, Halloween and Tim Burton's cinematic oeuvre (but it's not owned or officially associated with the Gothic director). Beetle House has locations in both Los Angeles and New York, as you can gleam from the grinning pumpkin logo.
For fans of Tim Burton movies, Beetle House is a dream (or should I say nightmare!). A giant Jack Skellington in a Santa hat welcomes you to the neon-lit bar.
At Beetle House LA, every day is Halloween. Prepare yourself for an immersive dinner theater, featuring live performances by this spooky crew.
(Could there be a better haunt to wear my "A Tim Burton Film dress" from Forest Ink?")
Every corner of the themed restaurant is filled with cheeky references to Tim Burton movies.
Here lies Betelgeuse. Dare to mutter his name three times in front of the tombstone, and see what happens!
And here rises Oogie Boogie, and Sally and Jack from The Nightmare Before Christmas. (The purple lights and Gothic windows with bats add to the Burton feeling.)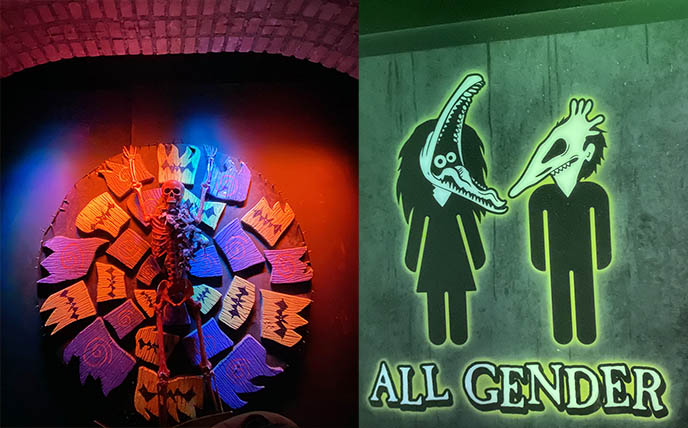 I spot skeletons on the wall, and an All Gender bathroom. Beetle House proclaims, "We are a safe place where every goth, punk, freak, weirdo, artist, and visitor is welcomed and celebrated."
Quite fittingly, your host for the evening… is the devil himself.
Beetle House accepts dinner walk-ins, but tables tend to fill up especially on weekends — so I recommend that you make an advance reservation.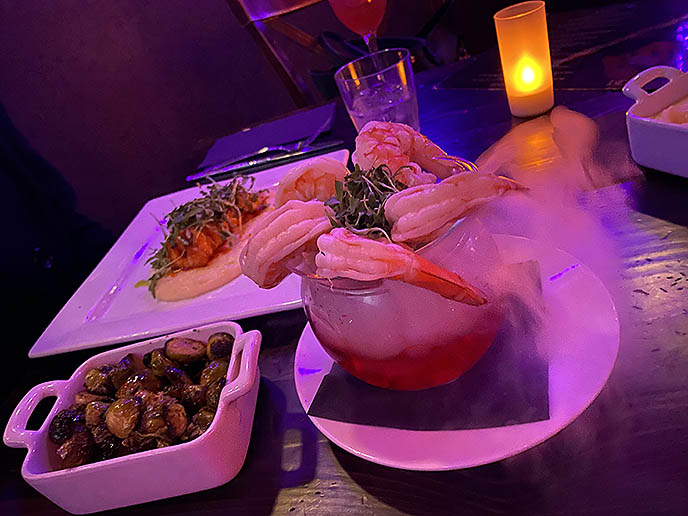 The $50 experience includes a tasty three course meal, and a theater show with rotating acts (who perform while you dine).
The menu includes cocktails with names like This Is Halloween (with pumpkin liquor), The Beetle's Juice, and Alice's Cup O' Tea.
At Beetle House, the food is excellent, and presented with dramatic flair. We dined on Sweeney Beef (steak on a cloud of potatoes, with a drizzle of "blood" and topped with a razor!) The seared salmon with red pepper puree and sweet corn succotash is named Big Fish.
Head to the outdoor patio, and get swallowed by Dante's Inferno Room. (It looks exactly like the Satanic hangout in Beetlejuice, where red-faced devil ladies entice the main character, played by Michael Keaton!)
The bar serves standalone drinks, with a focus on craft cocktails. You can also dare to drink the Hellfire Bowl, or take the 3 From Hell fiery shot challenge.
While we drank and ate, we watched immersive sideshow acts throughout the entire restaurant space. The performances are constantly changing; you may encounter magic tricks, contortionists, impersonators…
That night, we heard a song from Mrs. Lovett (played by Helena Bonham Carter in Sweeney Todd: The Demon Barber of Fleet Street.) Edward Scissorhands appears to be looking on in horror, at the balloon swallower!
'Twas an evening of frightful delights. (This bearded lady hammered nails into her nose, and then stuck scissors inside!)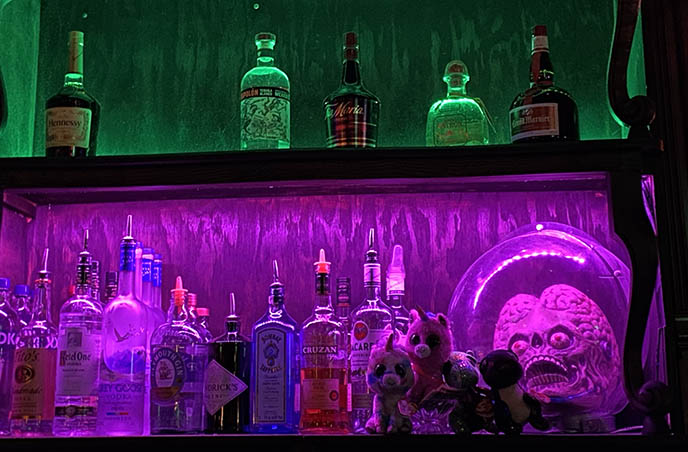 It's been a weird year… I'd welcome the brainy aliens from Mars Attacks will return to Earth, and take matters into their own hands.
A last look at Tim Burton's swirling visual aesthetic. Thanks Beetle House LA for an evening to remember.
Where would you prefer to spend your lockdown — at the modernist Stahl House, or a Halloween themed eatery?
Happy that I get to spread my wings a little, and do some travel this week… Add me on @lacarmina Instagram, Twitter, Facebook to see where I end up!
Dead inside… and on the outside as well!
I'm so, so ready to celebrate Day of the Dead in Mexico with Borderline Projects and Morbid Anatomy. (See details of my Halloween trip in this post).
Read on for a sugar skulls teaser, as well as a guide to the best French-Canadian restaurants in Montreal.  
To get in the Day of the Dead spirit, I went to Glam Nail Studio in Richmond, BC (Vancouver area). I asked for Mexican sugar skulls nails… and here's what they delivered! 
Glam Nail Studio is world-famous for their intricate Japanese nail art. Can you believe these sugar skull faces and cobwebs are hand-drawn?
The salon used Bio-Sculpture Gel on my nails to create a rainbow ombre, glitter, and 3D effect with cute skeletons. These Day of the Dead nails are perhaps my favorite ones ever — thank you to the Glam Nails team.
I played around with Dia de los Muertos makeup, for a party before the trip.
Love everything about Halloween season. Here's a fall outfit featuring a Jawbreaker bat cropped sweater, Erbert Chong leather skirt, Strathberry East/West with white edge crossbody purse, and Lack of Color bucket hat.
Close up on my Halloween-themed sugar skull nail art designs. Sailor Moon and Goth skull rings by Sapphire Studios, silver collier de chien bracelet by Hermes Paris.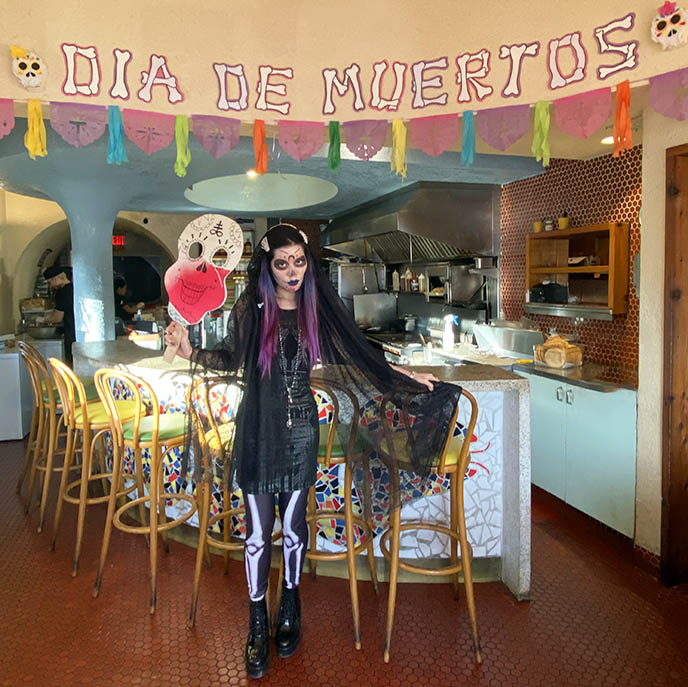 Here's the full outfit for Dia de los Muertos, with a Cyberdog dress and UKTights.com skeleton bones leggings. I made the grinning sugar skull sign myself.
See you in Merida, Campeche and Mexico City — can't wait to join the parade of the dead!
Now, let's go back in time to Montreal, Quebec: I was here over the summer. If you're looking for a guide to the city's most innovative fine dining, then I've got you covered.
Let's start my Montreal food tour with lunch at Restaurant Jérôme Ferrer: Europea. The famous eatery recently moved to a gorgeous new location, with high ceilings and modern furnishings.
Europea is described as a "universe," as the experience includes a bar, take-out corner, brasserie, afternoon tea, and "grand table" for fine dining.
Chef Jerome Ferrer is a Montreal icon; he has several restaurants in Quebec and abroad, including in Sao Paulo.
The revamped Europea is a collaboration with stage director René Richard Cyr, who oversaw Cirque du Soleil shows. Together, they brainstormed a theatrical dining experience.
The surprises begin as soon as you're seated. I found a "hardcover book" on the table — when I opened it, there was truffle popcorn inside! The table is set with avantgarde cutlery and butter platters, and the napkins are hidden in a sliding drawer by your waist.
Europea's decor is upscale, yet playful. The white spiral staircase is an architect's dream, and complemented the custom paintings throughout the rooms.
(I wore a silk Emilie Shanghai Nights dress by Realisation Par, and a black lace cape jacket by Pheren Couture. See more on my Depop closet sale.)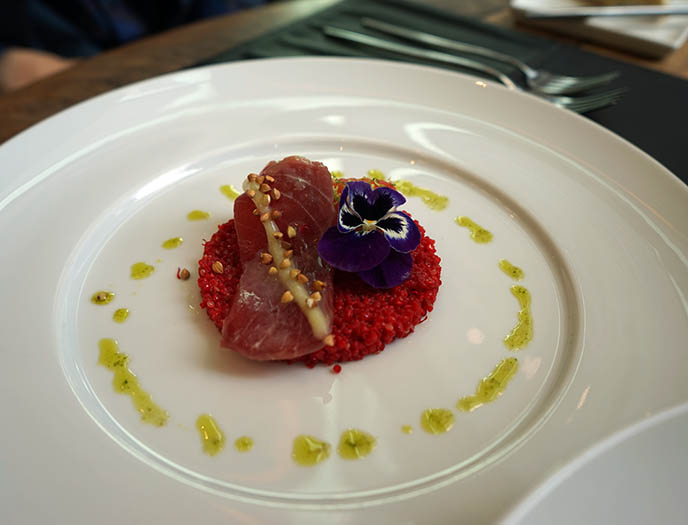 Europea isn't just about flash (although every dish is beautifully presented). Every item I tried on the lunch menu was marvelous, with a delicate marriage of flavors and garnishes.
The prix fixe changes weekly; I was lucky I got to try the citrus-marinated tuna and watermelon in lemonade and Thai basil, with pretty red quinoa and edible flowers.
Europea is known as a fine dining restaurant for special occasions. However, the brasserie set menu is surprisingly well-priced at $35 Canadian.
You can also order drinks and small plates at the bar area, or get take-out from the Comptoir.
Quebecois cooking can be on the heavy side, so I was happy to receive a main course with grilled turkey breast, and plenty of greens. The dish comes with seasonal asparagus, and a tasty cheese potato mousseline.
Europea's lunch menu usually includes a fish option, which I recommend. I'd come back any time for this striped bass fillet with a Parmesan herb crust, vegetable spaghetti, and saffron fish soup.
The white wines are two of my favorites — Sancerre and Chablis — perfectly chilled.
And now… dessert, served with holographic spoons! You can imagine the difficulty I had in choosing between the lemon meringue, berry mousse, white chocolate cheesecake, tiramisu…
… so why not try them all?
Our server also brought us foamy cappuccinos, and a platter of freshly baked pastries. (Europea has an afternoon tea option as well.)
Jerome Ferrer's Europea menu combines art, technology and gastronomy — and the results get a standing ovation, if you ask me.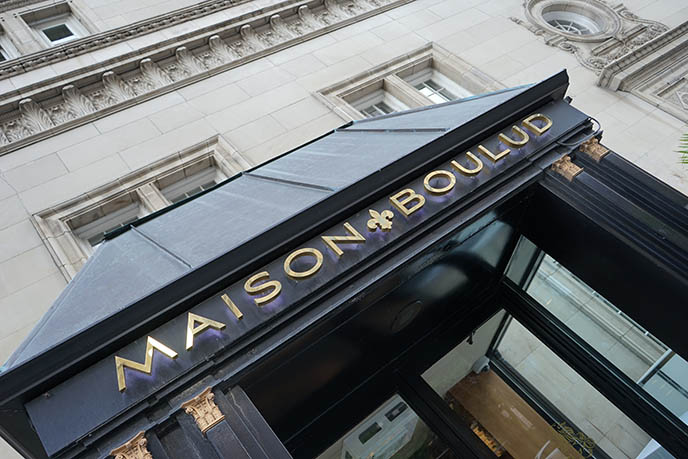 I also had the pleasure of dining at one of the top-rated restaurants in Canada, Maison Boulud at the Ritz-Carlton Montreal. This elegant hotel dates back to 1912: a perfect setting for the fine French approach of Daniel Boulud. 
Perhaps you've heard of Boulud's legendary NYC restaurant, called Daniel, or seen his appearances on Anthony Bourdain's TV shows.
Montreal's Maison Boulud is headed by Chef Riccardo Bertolino (above, with his team). The kitchen is lined with jars of spices from around the world, hinting at the global flavors in the contemporary French approach.
The restaurant's decor is posh, yet modern and warm. Maison Boulud has an extensive wine cellar, and the staff can recommend excellent pairings for your dishes.
Be sure to explore the outdoor terrace. The duck pond in the back adds to the memorable atmosphere.
Boulud's menu is all about seasonal ingredients from Quebec's local purveyors. We began with colorful cocktails: the "Cosmo de l'Orient" has white cranberry juice with a ginger and coriander infusion, and a purple flower in a giant ice ball! 
The oozing amuse bouche — arancini with peas, mint, and smoked mozzarella — instantly made us eager for more.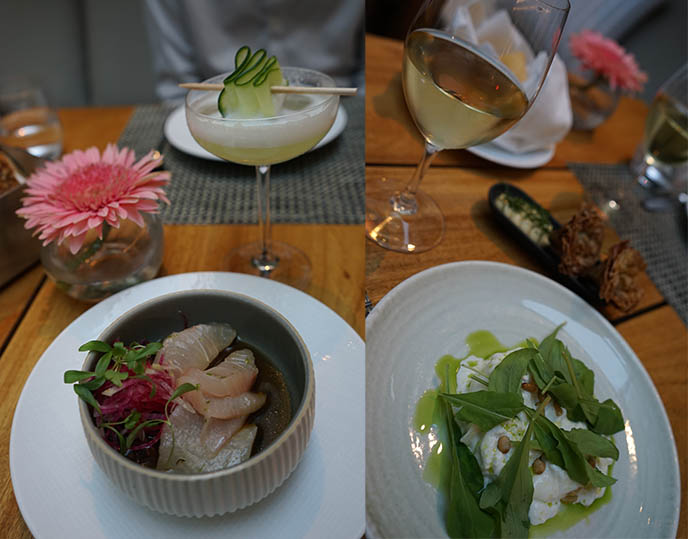 The chef's Japanese inspiration shows in the starters, which include a hiramasa sashimi with ponzu sauce, and a red snapper ceviche with pineapple. The burrata was as fresh as the ones I've had in Italy, and came with wild arugula and basil oil.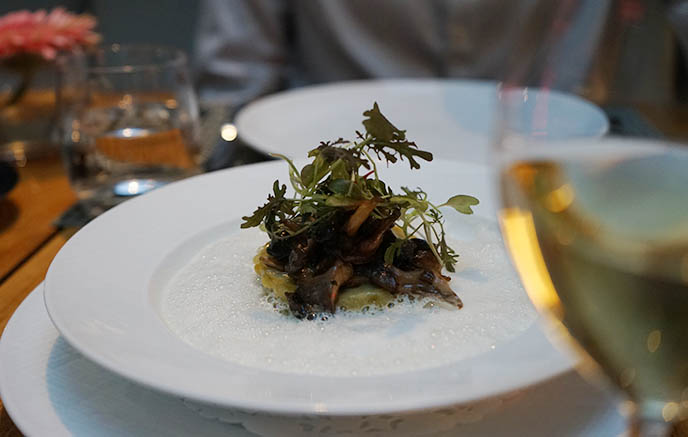 One of the most finely executed and delicious dishes was this one. A single egg yolk raviolo (somehow, it's perfectly runny inside), with sheep milk ricotta and parmesan froth.
Boulud dips into the Middle Eastern spice jar for this dish: a mouthwatering sea bass with za'atar herbs, chickpeas, raisins, and lemon.
Montreal's Maison Boulud serves breakfast, lunch, and dinner, along with special thematic menus such as "Singapore Vibes." Diners can also choose three, four, or eight course "discovery" tasting menus.
Don't leave without trying the freshly baked madeleines, which you can dip in the warm chocolate coulant cake with gold foil. I also couldn't resist a trio of sorbets: raspberry, sea buckthorn, passionfruit.
Without doubt, Chef Daniel's Maison Boulud deserves its 5-star reputation among foodies.
As you know, I was recently in Egypt… but I'll never get tired of visiting pyramids, especially if there's a wild party inside! 
This triangular behemoth is PY1, the latest project of Guy Laliberté, founder of Montreal's Cirque du Soleil. In the daytime, you can go inside the pyramid to see a one-hour multimedia show, called 'Through the Echoes."
At night, the PY1 pyramid turns into a futuristic club night. The temporary event is located at Montre Clock Tower Pier, in the Old Port of Montreal. It's impossible to miss after dark, as the peaks light up with trippy projections.
PY1 Nights have seven different club themes, with music and visuals to match. I went to Astral Plane, which is all about intergalactic visions. The local DJs were terrific, and spun a never-ending mix of minimal techno and electronica.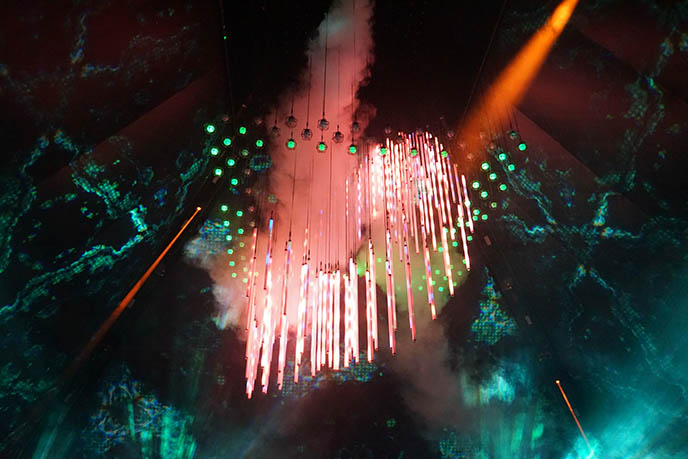 When you're inside the spacious tent-like venue, you can look up and see fog, shifting lights, lasers, and image projections from every angle.
The visual effects were spectacular. Imagine this mandala "flower" blossoming and morphing, in time to the electro music beat.
PY1 Nights is adults-only, but anyone can come during the daytime to see "Through the Echoes." This 60-minute multimedia show feels like a waking dream, as it immerses you in a tale of space, time, and possible futures.
Wouldn't you like to rave inside a giant art-pyramid? PY1 is next heading to Miami, Florida to keep the party going. 
After, the pyramid will move to a new location… perhaps Egypt, or outer space…
Montreal is a party city, and there's an endless number of creative bars and music venues to check out. The two come together at Bar Le Royal, a speakeasy-style cocktail bar with a slightly hidden entrance.
The stylish bar is located in Plateau-Mont-Royal, a trendy district popular with students — making it a great spot to visit after dinner with friends.
Bar Le Royal has an extensive list of craft cocktails, some with rather obscure flavors combinations. The staff excels at explaining the menu, and can help you pick something that suits your palate.
Try one of the drinks with an eye-catching presentation. "Le Joli Ghost Dog" is a spicy twist on a Moscow Mule: served in a bamboo steamer basket, with chopsticks and a side of pink pickled ginger. Behind, the mixologists topped "Meiji Le Grand" (sake, cane rum, orange liquor, orgeat, and my beloved yuzu juice) with a spoon of Asian rice crackers.
A local DJ spins groovy records in the curving metal booth. The sound is never too loud, making Bar Le Royal a great space to chat with friends while enjoying music.
Bar Le Royal serves small plates as well, including Quebec cheeses that pair with out-of-the-box cocktails.
I had never tried a drink quite like "400 Dieux Lapins," which comes in a glass coated with fine Aztec cacao! The chocolate taste and texture, combined with Mexican mezcal, Quebec liqueurs Shámán and Amermelade, and Japanese yuzu is indescribable… you'll have to sip it for yourself.
I wish I had more time in Montreal to go clubbing. I'd love to see a sassy performance at Mado's Cabaret: she is Quebec's most famous drag queen.
There are plenty of Goth clubs and bars in Montreal as well. Above, a duo of angry skulls peers down from Les Foufounes Electriques. I wish I had time to check out the new Gothic / alternative venue Cabaret Berlin… next time.
(I previously visited Montreal and wrote about the Goth nightlife, including Katacombes and other venues. You can see my Montreal clubbing guide here.)
Let's end with a few photos I snapped while walking around the city at night. No matter where you are, you'll encounter intriguing event spaces and public art.
Montreal had heatwaves during the summer, so I took Ubers during the day, and walked around at night.
I came across a girl in a white dress, doing a photoshoot in front of this enormous tentacle-human statue.
I also passed by historical moving images on several walls. This is the "Cité Mémoire" experience: anyone can download the free app, and interact with projections that come alive after dusk.
Notre Dame Basilica also gets the disco treatment. The church has a multimedia show called Aura Basilica, which projects neon lights over the classic architecture.
A final hail to Montreal, Quebec — there's so much to love about this Canadian city.
PS: If you missed Part 1 of my MTL travel guide, which focuses on art and fashion, you can see it here. (My suggestions include Goth stores and futuristic museums!)
And now, off to Mexico! Enjoy my Day of the Dead updates on @LaCarmina Instagram / Twitter.