Category Archive for
Food + Theme Restaurants
My purple evil queen and I were reunited at last in Japan… and sashayed our way through the Sailor Moon Museum in Roppongi, Tokyo! 
Let Yukiro Dravarious and LC show you around the Pretty Guardian Sailor Moon 30th anniversary exhibition, which is the largest one in history. The magic is taking place at Tokyo's Roppongi Museum until December 30: get tickets here while it remains open.
Three decades ago, Japanese manga artist Naoko Takeuchi created the Sailor Moon comic series — and it took off with anime adaptations, merchandise and millions of fans worldwide. To commemorate "Pretty Guardian Sailor Moon," Roppongi Museum put together the largest ever retrospective with a variety of colorful exhibits.
Yukiro and I grew up watching the 1990s Sailor Moon cartoons, and of course, we love the evil characters the most!
My visit to Japan's Sailor Moon museum inspired me to dress as Wicked Lady (also known as "Black Lady") for Halloween. The pink haired mistress of the dark is the grown up bad girl version of Chibiusa, Usagi and Mamoru's daughter. (I had all the cosplay fashion items in my closet already, and put my hair into space buns with an upside-down black crescent moon on the forehead!)
Located in Roppongi Museum, Japan's biggest ever Sailor Moon exhibition debuted earlier this year. It is only running til Dec 30, 2022, so be sure to get advance tickets from the Sailor Moon museum site.
"Moon Crystal Power Make Up!" Yukiro and I practiced our sailor scout poses beneath the banner of Sailor Moon and her main posse: Sailors Mercury, Mars, Jupiter, and Venus. (Photos by Joey Wong)
The museum tickets have timed entry, so be sure to arrive before your slot. When you walk into the first hall, you'll encounter a large immersive screen, as well as recreations of the wands used by the characters.
The famous theme song plays, and the characters display their planetary powers on-screen. You know how it goes… "Fighting evil by Moonlight! … Sailor Mars! Sailor Jupiter!"
Looks like Serena / Usagi is about to get her moon crystal snatched by a fabulous purple villain! (For the occasion, I wore a princess dress from Manon Tokyo boutique in Shibuya 109, and put my hair in Sailor Moon "space buns" — aka dumpling or meatball head "odango.")
Super-fans will recognize the pink wand as an exquisite recreation of the Spiral Heart Moon Rod from season 3.
The Sailor Prism Theater used moving images and laser effects on the big screen to bring the universe of Pretty Guardian Sailor Moon to life.
Then, we entered a room that displayed original drawings from the manga series — using a shimmering holographic effect! As we walked through, these famous scenes took on a different light.
The silver creates a rainbow refraction above the evil Koan, the youngest Spectre Sister of the Black Moon Clan.
The holographic manga panels were a unique way to tell the 30-year-long history of Sailor Moon.
The next room was as fabulously decorated in rainbow gradients. The walls show original drawings as well as video clips from the various Sailor Moon movies.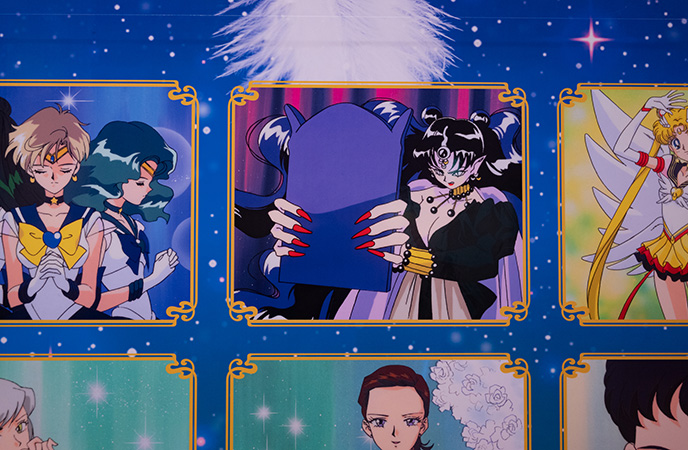 There have been many Sailor Moon anime and films, and it was fascinating to see the evolution of the character design over the decades.
Isn't it obvious why we love the evil lady characters the most?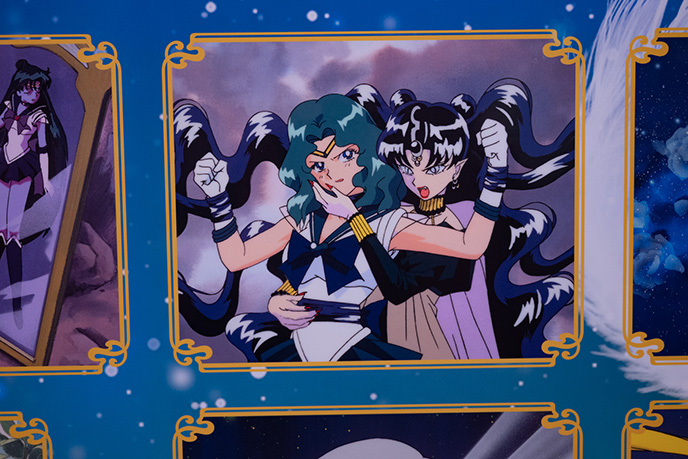 I want to dress up as Koan as well, maybe next Halloween…
Riveted by the original storyboards and sketches for the TV shows and movies.
Sailor Moon and her friends / enemies are known for their transcendent outfits, so of course there were fashion displays at the Tokyo museum. Here's a wedding dress and suit for the Silver Millennium, worn by Princess Serenity and Prince Endymion (the previous incarnations of Usagi and Mamoru / Tuxedo Mask).
Designers created ballgowns inspired by Pretty Guardian Sailor Moon. Love the rainbow gown with moon symbols, and the prom version of her seifuku sailor school uniform.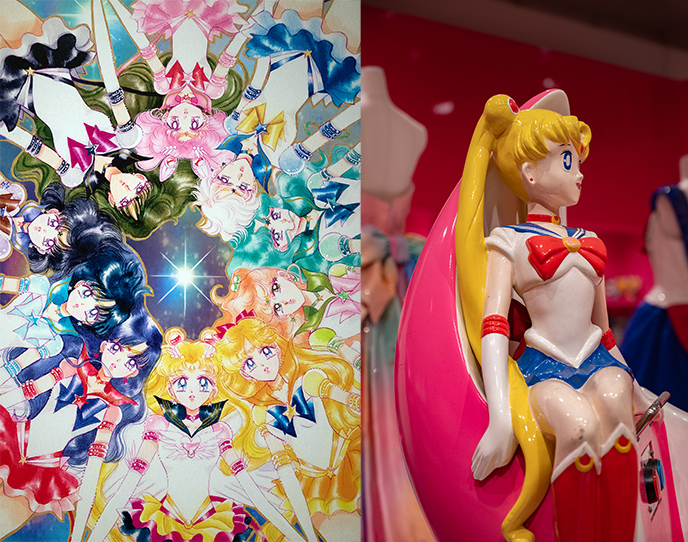 Naoko Takeuchi said she created the series to celebrate strong women and their close friendships — which is certainly part of what draws so many fans to the manga and anime.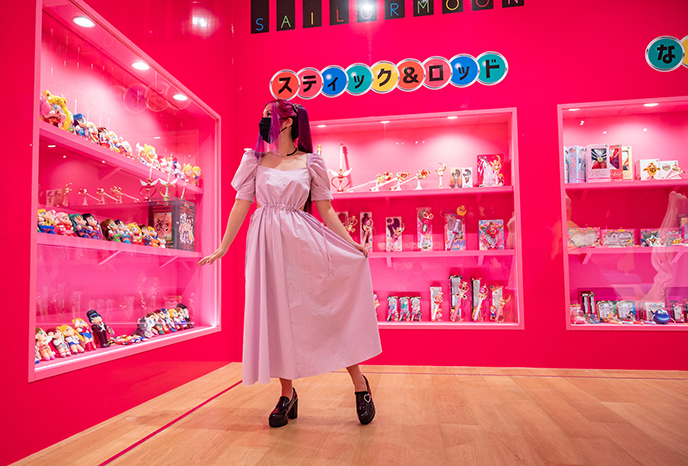 These glass cases showed rare SM collections including Bandai figurines, game consoles, and plush toys.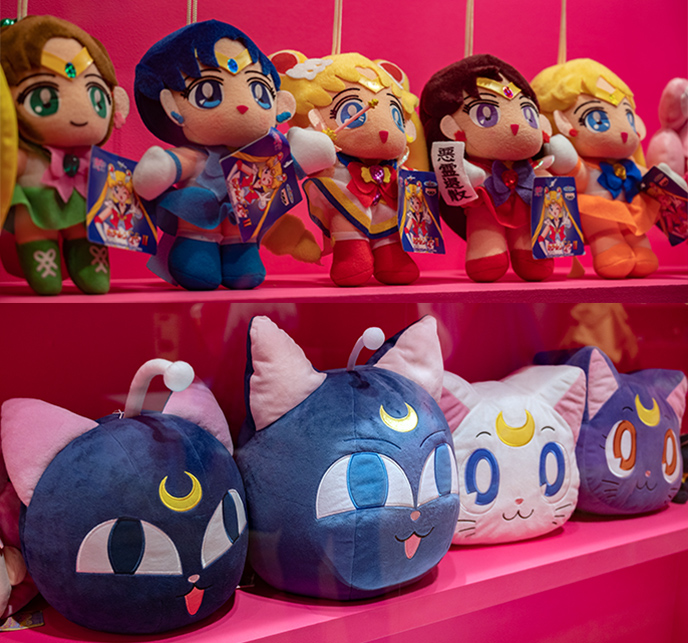 There are endless collectibles based on Sailor Moon, like Luna and Artemis cat pillows… I have some clothing items myself.
Did you watch or read Sailor Moon growing up? And do you own any collectibles?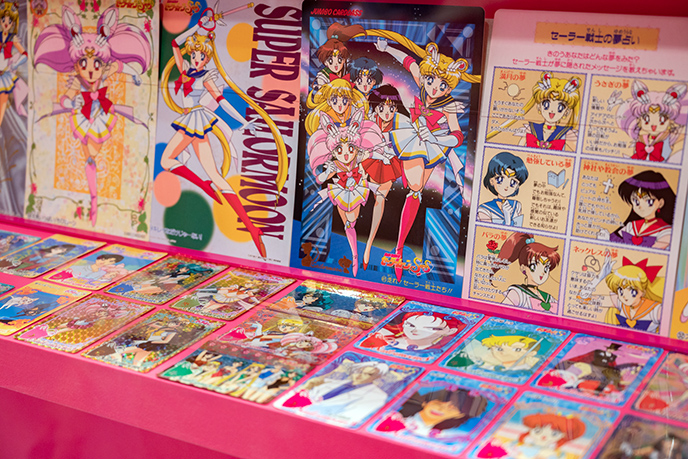 Love how the museum design makes you feel as if you're part of the series.
In the next room, we fawned over tiny costumes used in the various theatrical musicals inspired by Sailor Moon over the years.
Some of the outfits were from a Sailor Moon Takarazuka, or performance by an all-female musical theatre troupe. The costumes are intricately designed, using real feathers…
… and fine materials, as you can see from this choker detail.
Another room showed how various artists depicted Sailor Moon characters and scenes in their own style. Many have been greatly inspired by the storylines.
Luxury shoe designer Jimmy Choo did a version of Sailor Moon's red high-heeled boots.
Fittingly, the experience ends by exiting the Door of Space and Time (no need for a space-time key to get past the hanging fringe). I wore a dress from Shibuya 109's Manon Tokyo store and styled my hair in a tribute to Serena / Usagi.
But you can't leave without browsing the exclusive Sailor Moon merchandise at the museum gift shop!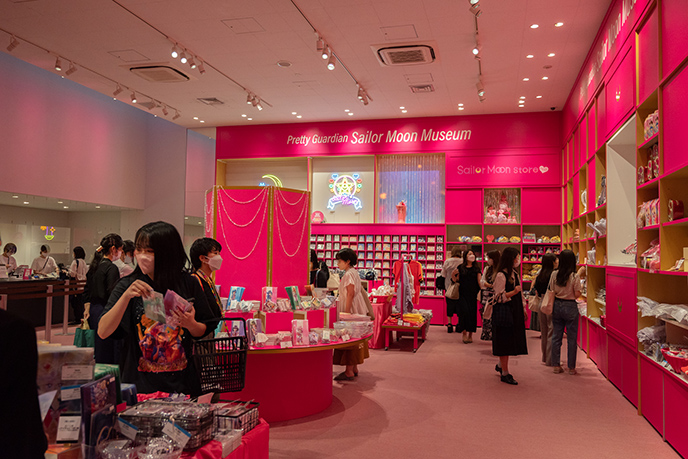 While you can find Sailor Moon merch all over Japan, the Roppongi Museum sells limited edition items only available here.
From buttons to cookies and stationery, there's something for every fan.
How about a chibi plush toy to remember the occasion?
Luna is one of the most popular characters, so there were many items with the black cat on it.
Even the restroom signs match the theme of the temporary exhibit.
Finally, we stepped into the Sailor Moon Museum café for a themed meal. This pink cake is decorated to look like the Cosmic Heart Compact.
The theme restaurant dishes include omelette rice with an image of Sailor Moon on the side.
Of course, there's a lot of pink and cuteness, including on the lattes.
Sailor Moon burger slider, anyone? (The pop up cafe and museum are only running til Dec 30, but there are often other SM theme restaurants or food items available in Japan. And there's a permanent Sailor Moon boutique at LaForet Harajuku; photos soon.)
I've been dreaming of visiting the Sailor Moon Museum since it opened earlier in 2022 — thank you to the press team for inviting us! Be sure to get tickets and check it out before it closes at the very end of the year. (Address: Roppongi Museum, 5 Chome-6-20 Roppongi, Tokyo.)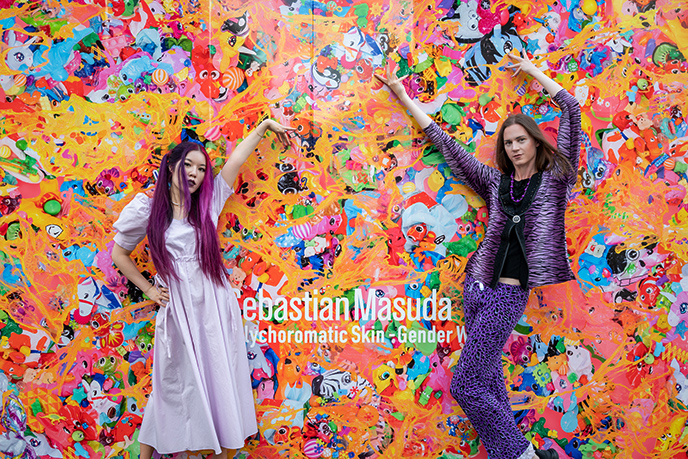 It was a cosmic injustice for Yukiro and I to be separated over the past few years due to The Collapse… We made the most of my time in Tokyo, and have much more to share from our subculture adventures.
(Voguing in front of "Polychromatic Skin – Gender Wall," a Roppongi mural by Sebastian Masuda of Kawaii Monster Cafe fame. This work expresses gender in many colors through a diverse range of materials.)
Til then, you can see a feature about us in Tokyo Cheapo's article about the Goth Scene (Then and Now), as well as my Metropolis Magazine guide to Japan Halloween spots. And add us on socials @lacarmina and @dravarious for more of our evil shenanigans.
Hail, San Diego! Since California is currently one of the safest US states (in terms of case count), I went west after Salem to hang with the animals.
I didn't have time to visit the famous zoo… but still got to pet the giraffes, at the chic Andaz San Diego hotel.
Read on for my SD travel diary that includes sushi restaurants and the Andaz's STK Rooftop Bar, which overlooks downtown San Diego…
… and a cannibalism exhibit at the Museum of Us, at the nearby Balboa Park! (It features famous flesh-eaters like Issei Sagawa, The Japanese Cannibal.)
The Andaz San Diego, a concept by Hyatt, ticked off everything I look for in a hotel. It's a design-focused boutique property, with a convenient central location (San Diego's downtown Gaslamp district).
On the top floor, you'll find The Rooftop by STK — the largest roof-top hangout in all of San Diego, with soaring views. I had fun sitting around the fire pit with cocktails and shared plates. (Dress by Sourpuss Clothing.)
The Andaz's 159 rooms are decorated with sleek furnishings and local art, which capture the warm and laid-back vibe of San Diego. I was glad to find an enormous bathtub, and small touches such as free earplugs on the side table.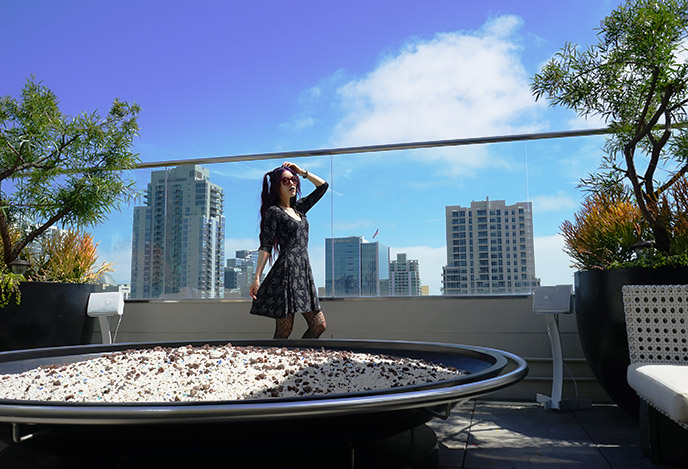 The Andaz is set in a historic building, which was originally built for the 1913 World's Fair. Today, it's a contemporary space with an open-air rooftop restaurant / bar for safe hangouts.
The Rooftop by STK serves food all day. I particularly enjoyed the breakfast / brunch menu: the avocado toast, oat milk lattes, and veggie frittata with goat cheese, spinach and tomato jam hit the spot.
There's also a swimming pool on the Andaz rooftop. Take a swim at sunset, to watch the sky turn pink.
The Andaz's lobby is filled with surprises, including this art gallery / lounge space inhabited by a giraffe and her baby!
(My Hail Satan, Est 666 shirt is from The Satanic Temple's shop.)
When I checked in at Andaz San Diego, the staff offered me complimentary coffee, beer, or wine. There was also cold brew coffee available on-tap at all times — and I sure took advantage of that.
The hotel's common areas are well tended (Plexiglass separators, hand sanitizer stations, masks required), and filled with art that pay homage to San Diego's sights, such as the Zoo. The Andaz has special designer suites too (see photos of the rooms.)
My favorite art piece: a 12-foot tall giraffe sculpture.
The funky design draws from the Gaslamp Quarter's artistic culture. Local works are displayed throughout the Andaz, including large-scale paintings.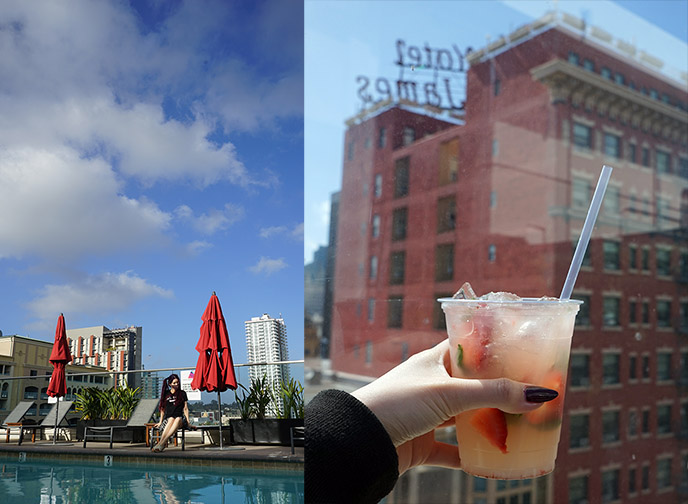 Cheers to the Andaz San Diego — I'd love to come back for a strawberry cocktail at the rooftop pool!
San Diego is known for its excellent sushi, so I went to investigate the best Japanese restaurants nearby. Locals rave about Taka Sushi; located in the Gaslamp dining district, it was only a short walk from the hotel.
Chefs Maru and Makoto greet all guests with enthusiasm. Taka Sushi​'s intimate wood interiors and long sushi bar add to the friendly feel — and made me nostalgic for sushi restaurants in Japan.
At Taka, the skilled chefs combine a creative modern approach with traditional techniques. They select the freshest ingredients, including seasonal fish from Japan, and put together phenomenal omakase sashimi platters. Above, we were speechless at the melt-in-your-mouth salmon from New Zealand, amberjack, uni (sea urchin), squid, tuna, hamachi and more.
Taka Sushi also offers cooked Japanese dishes, and one-of-a-kind creations — like this spicy tuna tartar, flecked with gold and caviar! The combination of avocado, quail egg, and spicy sesame oil soy sauce was remarkable.
I strongly recommend going for the omakase at Taka, meaning that you leave the selection to the chef (the Japanese word comes from "makaseru," or "to entrust.") You'll get to try unusual and seasonal offerings, such as these small crunchy red crabs.
Next came a sushi and nigiri selection… isn't the presentation lovely? The battera "box" sushi stood out, and the ikura salmon roe gunkan, tamago egg, and ebi shrimp were among the best I've had in a while (a well-executed tamagoyaki is a sure sign that a sushi restaurant knows its stuff).
The server came back to take this fish and the still-moving prawn, which were then fried.
Don't leave without trying the original zucchini flowers starter with wasabi salt, and black sesame creme brulee. Arigato Taka Sushi for the outstanding omakase — I've had a lot of sushi around the world, and this experience ranks among my favorites.
For a chic Japanese fusion experience, there's no better spot in San Diego than Cloak and Petal. Located in Little Italy, "cloak" suggests a hidden spot, while "petal" references the gorgeous cherry blossoms trees that decorate the restaurant. Year-round, anyone can come here to eat under the pink and white sakura flowers, similar to "hanami" picnics in Japan.
Start with hot sake, and then choose from Cloak & Petal's imaginative menu. The sushi creations have catchy names like "Go Go Ohime Sama" on the right (asparagus, avocado, krab, salmon, yuzu gel, smoked salt, strawberry compote, lemon oil, micro greens), and "Cezar Chavez & Main" on the left (shrimp tempura, spicy tuna, avocado, black pepper, tuna, charred jalapeño ponzu, cilantro, habanero).
The restaurant decor has a Japanese street art vibe, inspired by the Tokyo subway and graffiti art.
I loved this spicy and textured spin on hamachi (yellowtail): prepared carpaccio-style with ponzu, jalapeno, black garlic sauce, chives, and garlic.
Thank you Cloak and Petal for a lovely Japanese meal under the sakura blooms, with excellent service and ambiance.
(SD sushi restaurants and Andaz rooftop photos by Kym LaRoux.)
Speaking of eating raw foods… I stumbled upon an intriguing cannibalism exhibit. "Cannibals: Myth & Reality" is currently on display at the Museum of Us (formerly known as the Museum of Man). It's located in San Diego's Balboa Park, an enormous green space and the site of many museums, art galleries and the world-famous zoo.
The thoughtful and gore-free exhibition dives into cannibalism from all perspectives, from historical incidences to pop culture perspectives, Quite a few horror movies have humans-eating-humans; above is the Japanese poster for the "Cannibal Holocaust" film.
Here's a newspaper article that sensationalizes Jeffrey Dahmer, "The Milwaukee Cannibal." He stored body parts in his freezer, and admitted to feasting on the flesh of his victims.
Cannibalism is considered taboo and associated with evil — yet the exhibit points to instances where people turned to it as a last resort for survival. I saw photos from the famine during the Nazi siege of Leningrad, and heard stories from the Uruguayan rugby players trapped high in the Andes Mountains, who resorted to eating the dead to survive.
Cannibalism is also shrouded in myth and mystery. We still don't know what happened to Michael Rockefeller, the heir who disappeared in New Guinea in 1961. The natives of that region were known for headhunting and cannibalism, and rumors spread that he was eaten by them.
Our judgments of "right" and "wrong" change with the times. Here's a scene depicting ritualistic Aztec cannibalism. (You can read more about pre-Columbian civilizations in my Mexico City stories.)
The Museum of Us has interactive displays that make us ponder the nuances of eating "long pig" around the world. (Is it acceptable to eat hair or nails? Or one's own flesh? And under what circumstances – where do we draw the lines?)
The museum has other fascinating exhibits centered on anthropology and cultures worldwide, I enjoyed the "Monsters!" section, which has a hell of an entrance.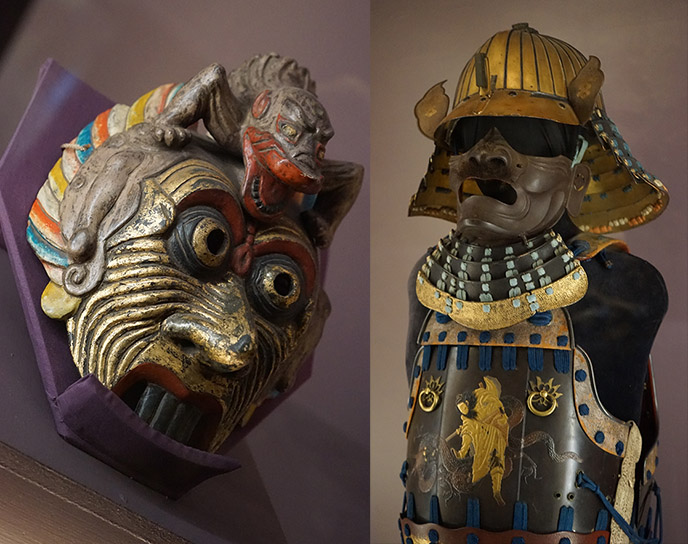 It dives into fantastical art and legends of monsters worldwide. These Asian depictions got my attention.
From the manticore to Godzilla to fierce Chinese dragons, monsters have long had a hold on our imaginations.
The San Diego Museum of Us also had some visitors from ancient Egypt. This sarcophagus is looking a little green. (See more mummies, Sphinxes and Egyptian artifacts in my report about the Cairo museum.)
The building itself is a beauty. It was constructed for the 1915 Exposition, and the exterior sculptures were by the Piccirilli Brothers.
I leave you with a devilish figure from inside the Museum of Us…
… and the true ruler of the underworld (if you ask me) — Miffy the bunny! (I came across this mural on the walk from the hotel to Balboa Park.)
Is San Diego on your list of places to visit, now that travel is re-emerging? Thank you to the Andaz San Diego for the terrific stay, and I'm keen to be back soon.
Until that day, as Ron Burgandy would say… "You stay classy, San Diego!"