Category Archive for
Food + Theme Restaurants
It was supposed to be the Summer of Carmina… Instead, we got the Summer of Covid.
But as you will see — I'm making the most of being at home, and creatively styling Goth outfits with face-masks! I even got to do a little bit of safe travelling once again.
My province, British Columbia, is officially in Phase 3 of re-opening — which means locals can take part in "smart, safe and respectful travel within B.C."
In line with the government's health regulations, I did a majestic local getaway… and spent four nights at the fabulous Fairmont Empress Hotel in Victoria, BC! (The island capital is a 1.5 hour ferry ride and short drive from Vancouver, where I'm currently located).
I know many of us are itching to travel again. In these times, I think we must prioritize what's ethical and responsible to others, or else we risk causing terrible harm. The right approach will vary, depending on where you are and your particular circumstances — but I urge you to veer on the side of caution.
British Columbia has done an outstanding job at planking the curve, and our case numbers have gone down to single digits. I trust our health leaders, who have currently green-lighted local tourism as long as it's done with care. (Please stay up-to-date with regulations, as these can always change.)
What does the "new normal" of traveling look like, in a pandemic? What's it like to stay in a hotel like the Fairmont Empress, which has introduced new sanitation and distancing measures?
My hotel experience turned out to be wonderful, with unexpected upsides! Read on to see temperature checks and plastic-wrapped remote controls…
First, let me share my first new outfit photos since the before-times. When Phase 3 was announced, I went and got my roots fixed.
Grateful to my stylist, Chad Evans, for revamping the purple dye and putting it in 1990s space buns! (For a dose of positivity, check out his site BlameChad; he'll soon be releasing a clothing line of hoodies, with 20% of proceeds going to the BC schizophrenia society.)
I've been wearing Goth brand Lip Service since the 90s, and they continue to be at the top of the alternative fashion game. Love their logo halter tank top, and apocalyptic fabric face mask with skulls and daggers.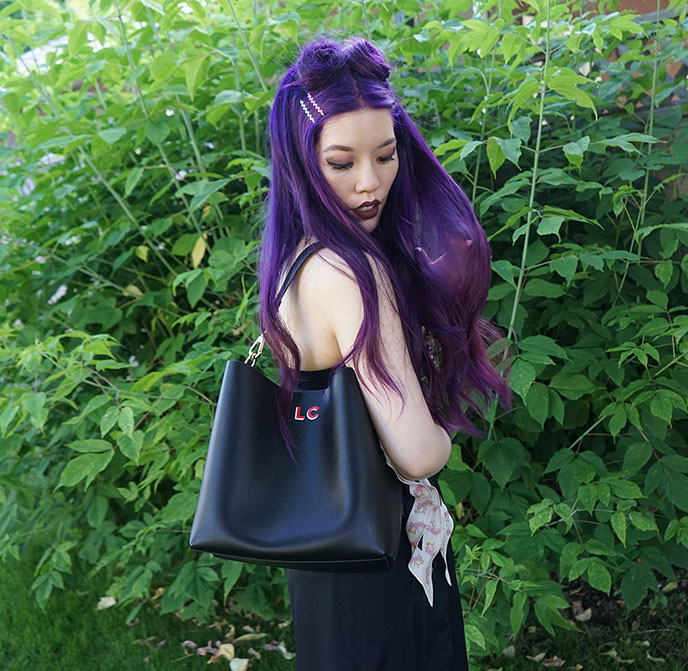 My Leatherology Elizabeth large bucket bag arrived just in time for my local trip. The black Italian leather is gorgeous, with a handy shoulder strap, gold hardware and magnetic closure.
Leatherology offers a variety of purses and accessories (from messenger to makeup bags), which can be personalized with your initials. Can't get over how cool the hand-painted monogram looks: LC, in red with white shadow.
My Leatherology Elizabeth bucket purse is lightweight, yet large enough to hold my everyday essentials for traveling (DSLR camera, sunscreen, hat, etc). I'm so happy with the elegant yet edgy look, and delighted to support a BIPOC-owned indie company.
I'm living in my pink Spilt Milk sunglasses this summer, so I glammed them up with a Frame Chain gold chain.
If you thought these glasses accessories were only for librarians, then think again… Frame creates glasses chains that double as chic, luxurious jewelry. My Donnie in yellow gold has a 1970s disco feeling, which is exactly up my dance floor. The flexible loops at the ends slip onto any eyewear, becoming an eye-catching and unusual accessory (which also has a practical use!)
Intrigued by these stunning glasses chains? See more styles from Frame below:

I got new polka-dot sandals by Lola Ramona, my favorite retro-inspired shoemaker. These Chloe Verve sandals have a 70s Boogie Nights feeling with white-on-black circles, an adjustable back strap, and a platform block heel. Plus, they're comfortable enough for disco-ing all night long.
I hope this fashion coordinate introduces you to some fab new brands (and old favorites like Lip Service) — and gives you some ideas for how to style a Goth face mask! (More photos at the end of this post.)
I did my eyebrows with my go-to Dipbrow Pomade in Ash Brown, by Anastasia Beverly Hills. I'm wearing ABH Liquid Lipstick in the purple "Trust Issues" shade.
Find more of my favorite professional makeup by Anastasia below:

All dressed up — but where to go? As I mentioned at the start of this post, any travel decisions should take into account government guidelines, and whether you're making a net positive impact on the community you're visiting (as well if they're welcoming tourists). In BC, we currently have the go-ahead to support our local travel industry as long as we do so with care.
And so, I packed my face masks and hand sanitizer, loaded the car with snacks and water, and only got out when I arrived at the Fairmont Empress Hotel in Victoria.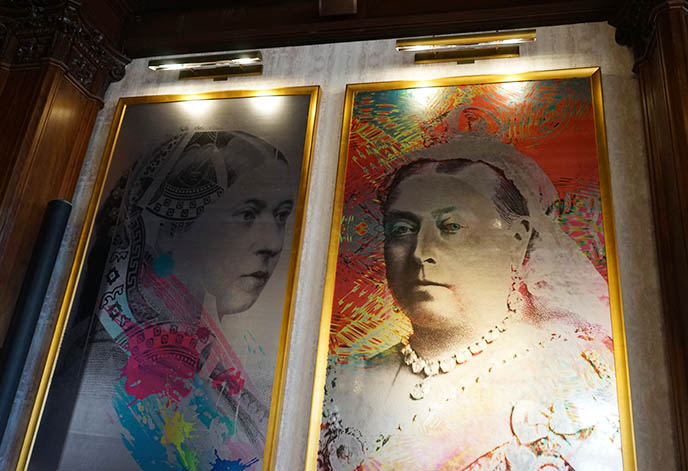 The historic Empress Hotel pays tribute to British Queen Victoria (who was rather Gothic — she loved her mourning gowns!). Designed in the Châteauesque style, the hotel could easily be mistaken for a castle. The Empress opened its doors in 1908, becoming one of the most famous Canadian "railway hotels" built to serve posh train travelers).
(Tip: if you go to the parking level of the Fairmont, you'll find black and white photos of the chateau over the years.)
The Fairmont Empress went through an elegant restoration in 2017. The lobby preserved the classic royal architecture, while adding modern glam. The staircase was one of my favorite photo-spots.
Love the chic colors… and epic Swarovski chandelier, which reminds me of glittery Chinese shrimp crackers! (That's a compliment; those snacks are delicious).
The Fairmont Empress shut down for a few months, due to coronavirus. When it re-opened its doors on June 26, I was one of the first guests to check in.
I was reassured to see the hotel had implemented many measures to the reduce risk of contacting the virus. The Fairmont Empress currently allows only 100 guests to stay with them at one time. All the staff wears masks correctly, and they conduct temperature checks at the door.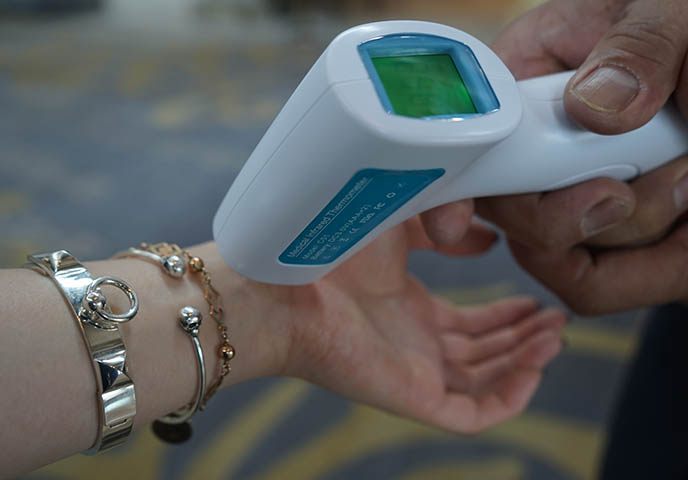 Have you ever been beeped by an infrared temperature gun? The device doesn't touch you, and reads your temperature in a second.
I felt safe from the moment I checked in, as I knew the Fairmont was taking screening seriously. The hotel also only allows registered guests inside (if you're going to the restaurants, you use a separate entrance). Instead of valet, the hotel has an easy self-parking garage.
The hotel was spotless, and there was hand sanitizer everywhere.
I'm actually pleased that everyone is being more vigilant, as I'm a bit of a germophobe! I always refused to touch handrails, door knobs and elevator buttons, and I wore a mask whenever I flew on a plane. I used to be considered the weirdo… but now everyone acts like me.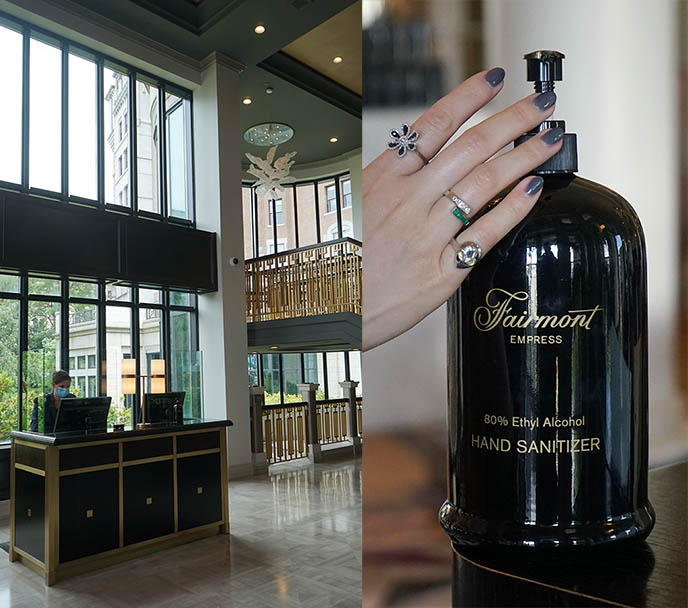 The Fairmont's new Covid protections blend seamlessly with the interior design. Note the clear Plexiglass, and the hand sanitizer in pretty bottles.
The Fairmont Empress team did a great job at creating elegant signage, such as these physical distancing stickers that kept people six feet / two meters apart. All of these protocols were carefully checked by inspectors, and abide by the All Stay Well #AllSafe initiative for hotels.
I quickly discovered that there were a lot of unexpected benefits to traveling locally, in an era when international passport holders are banned from entering Canada.
For instance, there were no longer long line-ups and crowds of tourists everywhere. I could take images like this without anyone photo-bombing me!
Victoria, BC is paradise in the summertime. Since the Fairmont only allows a limited number of guests right now, I got a spectacular harbour view room with this view of the water.
Located at 721 Government Street, the Empress is in the heart of Downtown Victoria, right by the Parliament Buildings. Hip boutiques and restaurants are within an easy walking distance (I'll show you what I found, in the next story).
My 5-star room was enormous and comfortable, with a sitting area and windows looking out at the Inner Harbour.
For now, there is no room service, and housekeeping will not enter your room unless you request a cleaning. The hotel also leaves each room unoccupied for 48 hours prior to a final cleaning and the next check-in.
I was excited to find hand sanitizer, wipes, and disposable masks in the room. And look… the TV remote control is now wrapped in plastic. (Remotes were my germophobe pet peeve in the past, so this is a most welcome development!).
I enjoyed wandering through the long hallways, and coming across spooky furniture like these curved cabinets. Not surprisingly, the Empress Hotel is alleged to be haunted. Guests have spotted the ghost of the architect, Francis Rattenbury, walking the halls with a cane. (If he's anything like my dad, he's probably making sure the building meets fire and accessibility codes).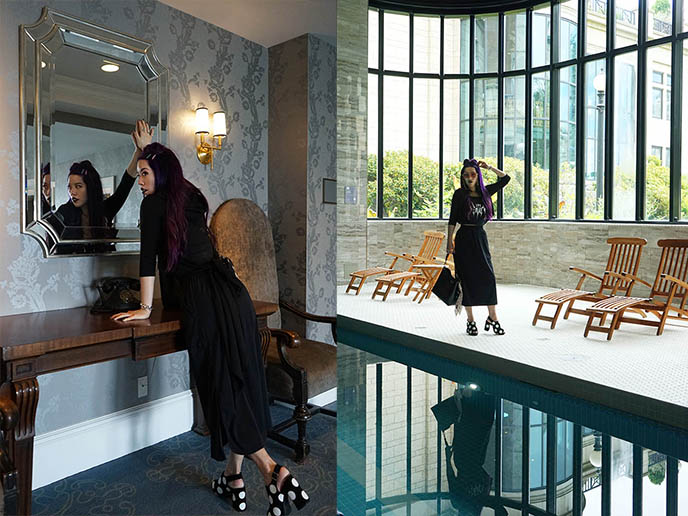 The Fairmont's polices maintain balance, and let guests have a more relaxed and uncrowded experience. You can ask front desk for access to the swimming pool, which allows 20 people max, or 4 in the hot tub. The Willow Stream Spa also keeps numbers down (ie, 2 people or 1 household can use the steam room or sauna at a time).
Be sure to explore every part of the Fairmont Empress, as it is blossoming with history. The Palm Court, which is now used for weddings and events, is crowned with this magnificent stained glass dome. The Tiffany-style circular ceiling was boarded up and forgotten over the years, only to be re-discovered in 1989 and restored to its former glory.
The high ceilings and old-time finishings make my imagination soar… I imagined that I was sitting down for a drink at the bar in Kubrick's The Shining!
Even if you aren't staying at the Fairmont Empress, you should come by for the legendary afternoon tea, a special occasion fit for a royal.
Dress up (I saw some women wearing fascinator hats!) and savor tea and fresh-baked delicacies on a stacked tray. The tearoom offers Prince and Princess options for children as well.
Seems like the right place to do an "I'm a little teapot" pose. The doors open at 1pm, and a piano player fills the room with classical music.
In the past, the Empress afternoon tea was dominated by foreign and cruise ship tourists. Now, there's plenty of space for locals to relax and enjoy the tradition. (The tables are separated to maintain distance, making it feel more private as well).
Cheers to starting the day with sparkling wine! The Fairmont Empress ethically sources tea from top producers, and offers an extensive selection (I went for the creamy Earl Gray).
The staff can cater to food allergies, and the delights are prepared from local ingredients — including honey from the hotel's bee hives, and lavender from their garden.
Two thumbs up to the warm scones with house-made clotted cream and strawberry lavender preserve. I also adored the cucumber sandwiches, sockeye salmon and chive crème fraîche blini, and coronation chicken curry brioche. And how adorable are the desserts, decorated with cherries and gold foil.
Since we are encouraged to dine outside to prevent the spread of Covid, the Fairmont Hotel Empress is now offering a Picnic on the Lawn package. The staff puts together a luxury picnic lunch, which you can enjoy on a blanket on the spacious grounds — facing the harbour and surrounded by flowers.
Guests can also have a meal at Q Restaurant, where the tables sit far apart. One wall is lined with portraits of Queen Victoria, showing her grow from a young lady to the Empress Dowager.
Rather than handling shared menus, patrons of Q Restaurant and Bar can use their smartphones to scan a QR code at each table. This opens up a menu that you can read on your phone!
As you can see, the Pacific Northwest breakfast was a hit. Try the eggs Benedict and buttermilk pancakes, made from sustainably sourced proteins and fresh regional produce.
From the Victorian era to the Covid age, the purple Empress rules. How lovely are the high, cherry wood ceilings with intricate mouldings? (The clear plastic shield is new, but barely visible.)
I'm still dreaming about the cocktails I sipped at Q Bar, which was deservedly named one of Canada's best 50 bars. They are known for concocting beautiful drinks with the locally crafted Empress 1908 Gin, which is naturally purple thanks to a pea blossom infusion.
Thumbs up to the signature Q 1908 (above), which pairs the gin with lemon juice, sugar, egg white, and a butterfly pea flower on top. I also adored the Rock Paper Scissors (dark cacao and port), Concord (mezcal, crème de violette, luxardo maraschino, lemon), and Old Fashioned with Czech absinthe and fresh rosemary.
After months of eating at home, it was a pleasure to dine al fresco at the Veranda. I enjoyed a veggie-packed lunch on the patio, while looking out at the water.
Treat yourself to an Empress purple gin and tonic, and red wine sangria with fresh fruit. You'll love the colors and flavors of the heirloom tomato and bocconcini salad, sourced from nearby farms. Veranda's menu also offers local delights like Coho salmon, Haida Gwaii halibut, and hand-made tagliatelle with fungi.
The desserts couldn't be prettier, topped with edible flowers. That's a bergamot posset cream with raspberry, amaro jelly, and fennel pollen shortbread at the front. Behind: a Saanichton berry shortcake with amaretto sponge, crème fraîche mousse, and Tahitian vanilla.
I hope you'll get a chance to live like a Queen at the Fairmont Empress in Victoria. Even if you don't stay overnight, do come for a meal and to wander the gardens.
So many lush backdrops to shoot my Lip Service Goth halter shirt and skull cross mask.
Grateful to have my hair looking healthy and violet again, thanks to my stylist Chad Evans of BlameChad (his salon is in downtown Vancouver BC).
In an upcoming post, I'll show you more of what I saw in Victoria, British Columbia. I walked all around in my Lola Ramona polka-dotted Chloe Verve sandals.
I carried around a Leatherology Elizabeth bucket bag monogrammed with my initials — it's designed perfectly for local travel.
I'm smiling under my fabric mask. It's nice to feel a sense of normalcy again thanks to local exploration. (Long black skirt by Charli Cohen.)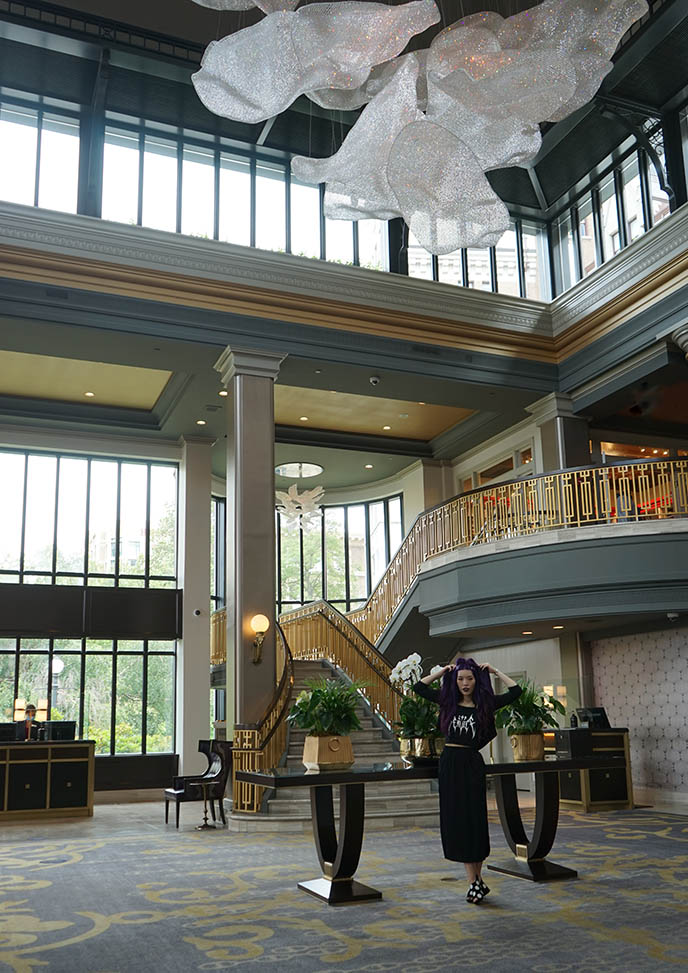 If you're living in British Columbia where mindful local tourism is endorsed, then treat yourself to a stay at the Fairmont Empress in Victoria. (Or if you're reading this in the future, and borders are open to international travelers, then I hope you'll get the chance to visit.)
I can vouch that they did a fabulous job keeping guests safe, and making you feel like a queen.
You can also see my review of the Fairmont Banff Springs, from last fall. I'm excited to show you more places to visit in beautiful British Columbia soon. (Next up: an alternative guide to Victoria.)
What's the current situation for travel, wherever you are living? How do you feel about the balance between keeping safe from the virus, opening carefully, and supporting local economies?
Pinch me… I'm traveling somewhere fun in a few days!
This will be my first trip since Portland in late February… and 100% in accordance with the B.C. government's travel and social distancing guidelines. (I'm forever on the cautious side, when it comes to Covid… and I wish more people were.)
Can you guess where I'm going? Take a peek at my social media —@lacarmina Instagram, Twitter, Facebook — to be part of my journey.
(This Tokyo photo by Said Karlsson is unrelated, but expresses my excitement… and how much I miss Japan. Never thought the country would be cut off from me like this. Can't wait to go back).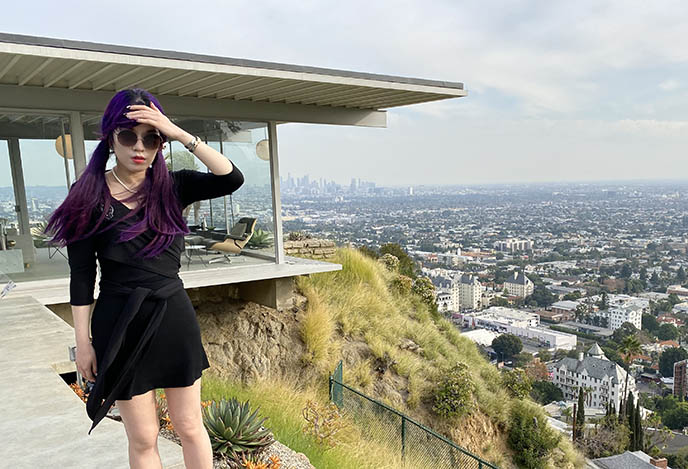 But this eagle's nest wouldn't be a bad spot to spend quarantine, am I right? Seated in an Eames Lounge Chair, overlooking the Hollywood Hills…
Architecture fans, this one's for you. When I was in Los Angeles last January, I got to tour Stahl House —  glass masterpiece of mid-century modern architecture.
To top off this fabulous day, I had dinner at Beetle House: a Gothic Halloween theme restaurant that honors the world of Tim Burton. Read til the end, to see me hanging with Jack Skellington and Edwards Scissorhands!
I couldn't visit Stahl House without re-creating the famous black and white photo, taken by Julius Shulman in 1960 (there's a shot of it further down).  Architect Pierre Koenig's glass house has fascinated me for years, and I jumped at the chance to finally see it in person.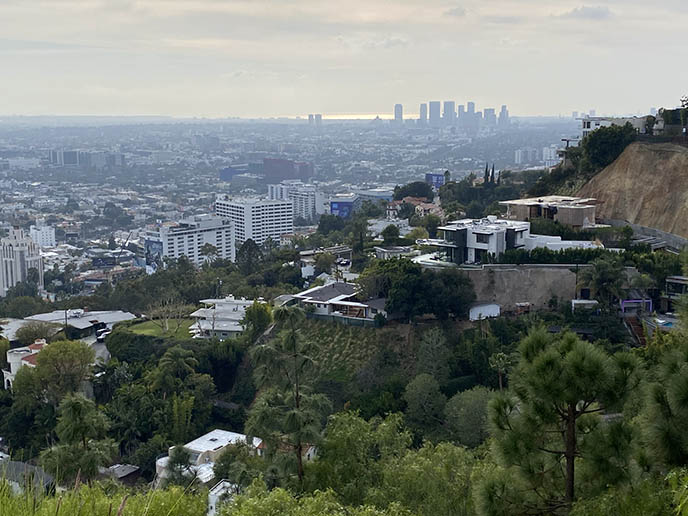 Don't just drive to Stahl House (1635 Woods Drive), as this is a private property and you won't be able to see anything from outside. To properly visit, you must book a guided tour well in advance, through Stahl House's website. (Of course, this isn't possible with Covid right now — but bookmark this for the future.)
Stahl House only offers a limited number of small-group tours, and they sell out extremely quickly (often months in advance). I messaged them to find out when the next month's slots would be released, and got tickets on that exact day.
The narrow, winding streets have limited parking space, so you're encouraged to carpool or ride-share, and arrive early.
I parked in the carport, and waited with anticipation in front of the C.S.H. #22 glass door. (This refers to Case Study House No. 22, one of the experimental residential homes commissioned by Arts & Architecture Magazine from 1945-1966.)
As soon as the guide lets you in, you'll understand why Stahl House is an icon of American mid-century design. 
Built in 1960, this dreamy residence wasn't a party pad for a celebrity. It was the beloved home of an ordinary family with three kids! Imagine spending your childhood waking up to these views, and plunging into the pool.
In 1954, Bruce Stahl (Buck) and his wife Carlotta bought the undeveloped land for $13,500. They brought their vision to young architect Pierre Koenig, and he made this modernist fairytale home come to life. 
Much of the construction was DIY — Buck gathered discarded concrete from around the city, and pieced it together to make the foundation. (It would be impossible to build Stahl House today, as it would violate current zoning and safety laws!)
The afternoon tour lasts an hour. Our guide first let us wander and take photos. Then, we gathered in the living room to hear how Stahl House came to be.
Did I adopt a barefoot lifestyle in LA? Not quite. All guests must take off their shoes to avoid damaging the property. In addition, you can only take photos with a smartphone, so leave your DSLR and video cameras at home. (Good thing I had upgraded to an iPhone 11.)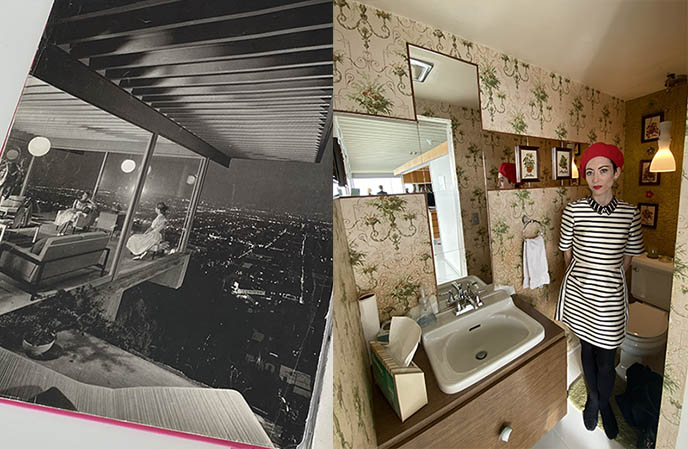 Photographer Julius Shulman visited Stahl House in 1960, and snapped this well-known image of two women chatting in the corner at night.
Lauren and I had fun sitting in the exact spot as these ladies. But we also got a kick out of seeing the parts of Stahl House that are never photographed… like the tiny wallpapered bathroom! 
Here's my tribute to Shulman's Stahl House photo. The angle captures the magic of lounging in the living room, which seems to float over Laurel Canyon. Clean lines and panoramic views… modernist perfection.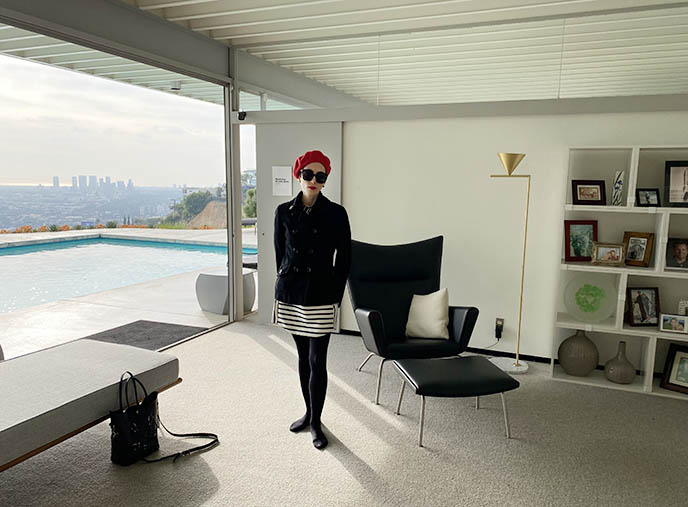 We got to explore most of the 2200 square foot house at our leisure. (One of the two bedrooms was off-limits, as well as one of the bathrooms. But we got full access to the kitchen, dining and living rooms).
Stahl House was furnished in collaboration with Design Within Reach, purveyors of modern furniture. If you've seen photos of my apartment, then you'll know I adore these types of interiors.
Every room has floor-to-ceiling glass windows, for mesmerizing views over Laurel Canyon LA.
We learned there were downsides to living in a"glass house" — the constant UV coming through the windows quickly faded the furniture and finishings. Stahl House had to be constantly maintained by the family to keep it true to its original incarnation. (The property is owned and managed by the three children who grew up here.)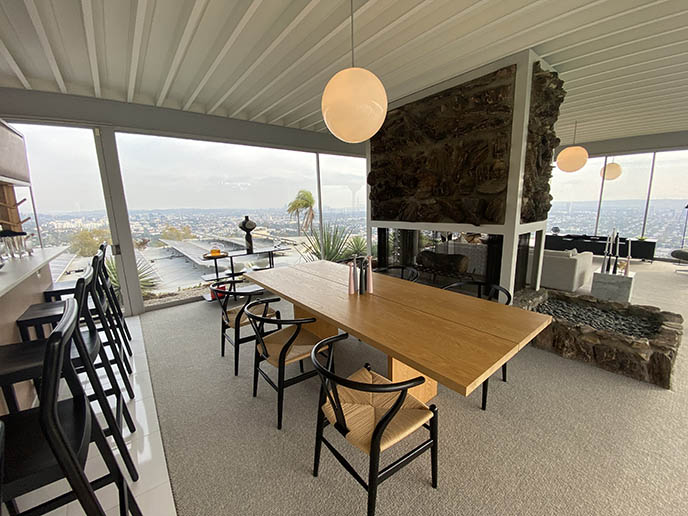 Stahl House was an "open concept" pioneer. The stone fireplace divides the living room from the cooking and dining areas.
This Eames lounge chair and ottoman fits in perfectly with the glass, steel and concrete.
The minimalist furniture from Design Within Reach complements the white-oak kitchen cabinets. Stahl House is photogenic from every perspective; no wonder it has been featured in many movies and fashion shoots.
Watch your step, and don't get distracted by the views… There's a steep drop off the balcony landing, and no safety net.
Talk about "living on the edge!"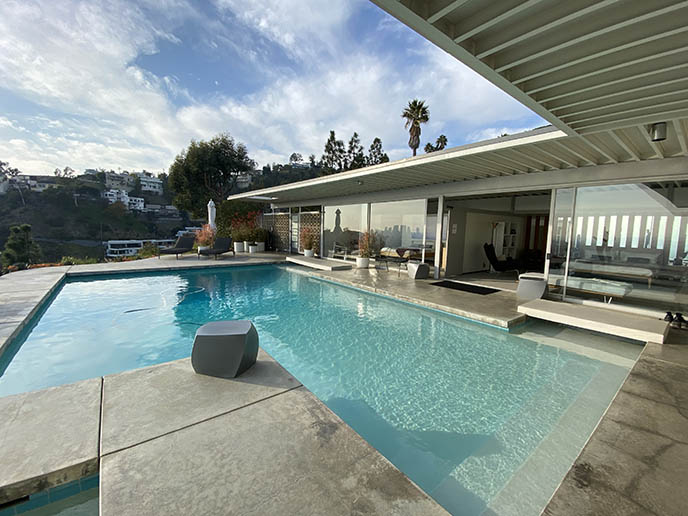 We learned that the Stahl children would roller-skate around the concrete decking, and jump from the rooftop into the pool… Ah, the carefree 1960s and 1970s.
When Stahl House's reservations open up again, be sure to book tickets as far in advance as possible. There are limited time slots and each tour has maximum 20 people.
Our guide wasn't sure how long the family would be running these tours for the public, or if the home may be sold in the future. If you get the chance to see Stahl House, jump at it!
This inspiring day wasn't over yet. We headed to Hollywood for dinner and drinks at Beetle House LA.
This theme restaurant tips its hat to the Beetlejuice movie, Halloween and Tim Burton's cinematic oeuvre (but it's not owned or officially associated with the Gothic director). Beetle House has locations in both Los Angeles and New York, as you can gleam from the grinning pumpkin logo.
For fans of Tim Burton movies, Beetle House is a dream (or should I say nightmare!). A giant Jack Skellington in a Santa hat welcomes you to the neon-lit bar.
At Beetle House LA, every day is Halloween. Prepare yourself for an immersive dinner theater, featuring live performances by this spooky crew.
(Could there be a better haunt to wear my "A Tim Burton Film dress" from Forest Ink?")
Every corner of the themed restaurant is filled with cheeky references to Tim Burton movies.
Here lies Betelgeuse. Dare to mutter his name three times in front of the tombstone, and see what happens!
And here rises Oogie Boogie, and Sally and Jack from The Nightmare Before Christmas. (The purple lights and Gothic windows with bats add to the Burton feeling.)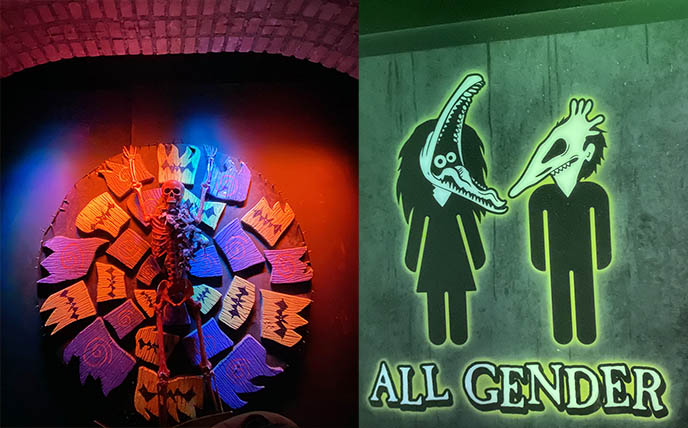 I spot skeletons on the wall, and an All Gender bathroom. Beetle House proclaims, "We are a safe place where every goth, punk, freak, weirdo, artist, and visitor is welcomed and celebrated."
Quite fittingly, your host for the evening… is the devil himself.
Beetle House accepts dinner walk-ins, but tables tend to fill up especially on weekends — so I recommend that you make an advance reservation.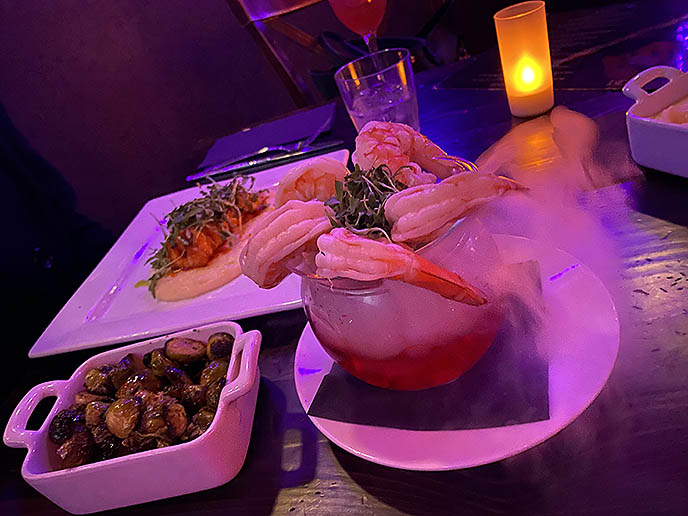 The $50 experience includes a tasty three course meal, and a theater show with rotating acts (who perform while you dine).
The menu includes cocktails with names like This Is Halloween (with pumpkin liquor), The Beetle's Juice, and Alice's Cup O' Tea.
At Beetle House, the food is excellent, and presented with dramatic flair. We dined on Sweeney Beef (steak on a cloud of potatoes, with a drizzle of "blood" and topped with a razor!) The seared salmon with red pepper puree and sweet corn succotash is named Big Fish.
Head to the outdoor patio, and get swallowed by Dante's Inferno Room. (It looks exactly like the Satanic hangout in Beetlejuice, where red-faced devil ladies entice the main character, played by Michael Keaton!)
The bar serves standalone drinks, with a focus on craft cocktails. You can also dare to drink the Hellfire Bowl, or take the 3 From Hell fiery shot challenge.
While we drank and ate, we watched immersive sideshow acts throughout the entire restaurant space. The performances are constantly changing; you may encounter magic tricks, contortionists, impersonators…
That night, we heard a song from Mrs. Lovett (played by Helena Bonham Carter in Sweeney Todd: The Demon Barber of Fleet Street.) Edward Scissorhands appears to be looking on in horror, at the balloon swallower!
'Twas an evening of frightful delights. (This bearded lady hammered nails into her nose, and then stuck scissors inside!)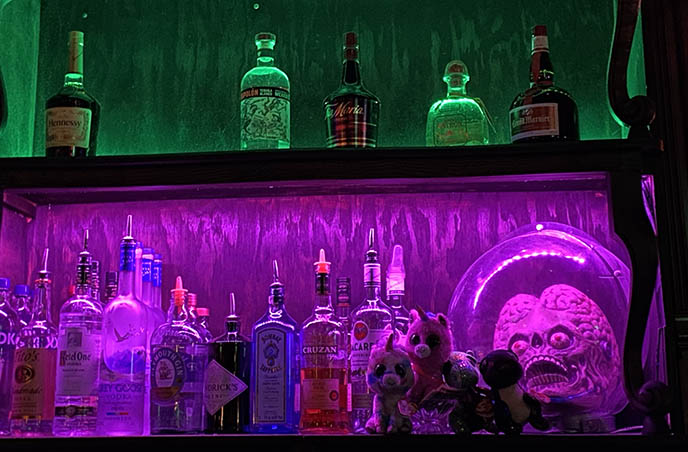 It's been a weird year… I'd welcome the brainy aliens from Mars Attacks will return to Earth, and take matters into their own hands.
A last look at Tim Burton's swirling visual aesthetic. Thanks Beetle House LA for an evening to remember.
Where would you prefer to spend your lockdown — at the modernist Stahl House, or a Halloween themed eatery?
Happy that I get to spread my wings a little, and do some travel this week… Add me on @lacarmina Instagram, Twitter, Facebook to see where I end up!