Category Archive for
How-Tos
Ah, there's nothing like the Mediterranean coast in summer. Could this be the Italian Riviera? Dubrovnik in Croatia? Surprise… I'm standing in Slovenia! 
Before my trip, I knew very little about this tiny European country — and I'm guessing you're in the same shoes. To my surprise, I discovered a world class beach town, creative restaurant scene, and ethical food produced by Slovenians with passion.
On our first day, my filmmakers and I learned straight away that Slovenia is a travel destination full of surprises. 
But first, a style revelation: there's a dyed skull underneath my hair!
If you've been following my social media, you'll have seen images of my skull-shaped undercut, which is the work of stylist Stephanie Hoy at Sugar Skull Studio in Vancouver. I've trusted her with my rainbow hairstyles throughout the years, and am thrilled with this big change.
Want to know how to achieve a skull shaved hairstyle like mine? Then watch the video of my hair transformation, step by step! You'll see how Stephanie used clippers to sculpt the shape, then bleached and dyed the skull and crossbones. (Watch it on LaCarmina Youtube.)
Outfit of the day: I'm wearing a Long Clothing x Grace Neutral oversize tee — the print also comes in a crop top version. My black and white sandals are these Sorel Torpeda slides.
(Shop more designs by Long Clothing with a click below — this nu-Goth brand rocks!)

My nail art is Miffy meets the devil. They're by Glam Nail Studio, an award winning salon located in the Vancouver area, specialising in Japanese nail art.
My head feels so much lighter, after taking out the lower layers of hair. I like how I can wear it up to show off the skull, or leave it down to cover it. Perfect for my summer travels.
Slovenia is an easy, quick flight from most European countries (it only took 2 hours for me to get here from Amsterdam). The country is also within a few hours drive of Austria, Italy and Croatia — it's possible to visit all three by car, in a single day!
Many people assume that Slovenia is a land-locked country, since it appears to be that way on the map. In fact, there's a warm and gorgeous coastal stretch along the Adriatic Sea. (How glorious is this waterfront view from my hotel window?)
My filmmakers and I started our journey in Portoroz, one of these seaside towns known for wellness. We stayed at Hotel Slovenija: beautifully designed, luxurious and modern.
Their spa offers therapies related to the surrounding nature and healing mineral waters. I was glad for a massage after multiple flights and jetlag.
Crowds of tourists can ruin experiences for me. In Slovenia, there's nothing of this sort. No Starbucks or McDonalds. Not a single bus tour in Tartini Square.
I loved walking around and seeing the layers of history in the architecture. Portoroz feels like an undiscovered seaside town in Croatia or Italy. 
I stopped to take a Vine video of the red roofs overlooking the Adriatic. (I'm @lacarmina on Vine, Twitter, Instagram and Snapchat.)
Perhaps this gorgeous country is overlooked by travellers because it's so tiny. It only has two million inhabitants, over 20k square kilometers.
The small size is a big advantage, when it comes to food production. Slovenian ingredients are outstanding because locals can take their time and use natural methods to bring out the best possible flavors.
My travel film team and I visited Soline / Sečovlje Saltworks, the famous evaporation pond located in Piran. At these saltworks, everything is done in the traditional method.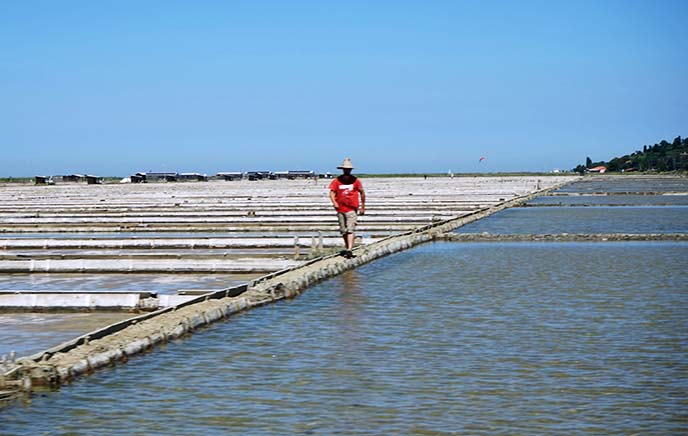 Saltmaking is one of Slovenia's oldest economic activities. At Soline, the process is the same as it was centuries ago: the sea, sunshine, and a lot of muscle work. The salt flats also have an ecological benefit, as they encourage flora and fauna.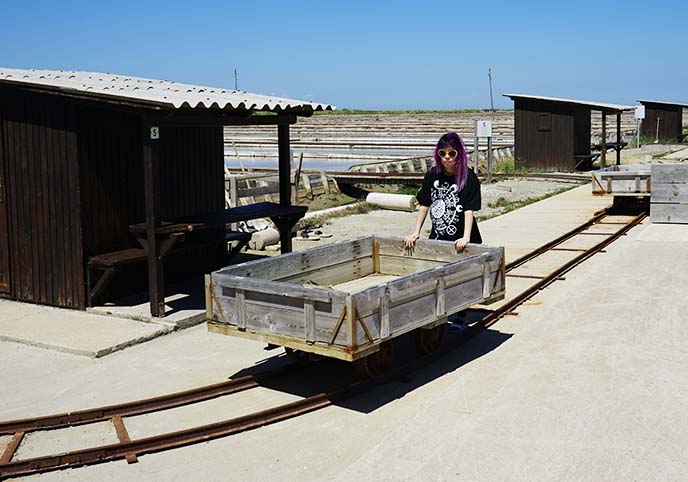 I pretended to be a salt-worker, and failed. Let's just say that I only managed to push the cart a few inches on the track!
Slovenian salt also has health benefits, since it's high in minerals and crystallized naturally.
I've tried a number of gourmet salts, but Sečovlje's product is outstanding. The taste is light, with hints of minerals. Since the crystals are enhanced by the seawater captured inside, flavors are nuanced rather than explicitly "salty."
Slovenian salt gets my "Miffy two thumbs up!" If you're curious, you can order Piranske Soline salt through their website.
My next stop was again an eye-opener. I always thought of "fish farming" as bad for both the creatures and the environment, and preferred the taste of wild-caught. However, at Fonda Fish Farm (Ribogojnica Fonda), I met a woman who is taking a very different approach.
Dr. Irena Fonda (molecular biologist and award-winning researcher) joined her family in raising fish via the free-floating method, or cages in open water. The rich sea water, continuous movement, and natural environment result in sea bass that are ethically raised — and recognized as the best quality in the world.
Dr. Fonda took us on a boat ride through the warm and beautiful Piran Bay. As the waters deepened, we came across what looked like yellow caterpillars, floating on the gentle waves. It turned out to be Fonda's mussel farm! Ropes hang down from these buoys, and the mollusks grow on them.
We arrived at the pens, and they were nothing like the crowded, dirty "fish farms" that I always heard about. The sea bass swim freely about in the fresh Piran waters, which have an ideal balance of salt and minerals. The cages also become homes for other underwater organisms, supporting the local ecosystem.
Every day, Fonda's team comes to feed the sea bass (they grow for 2-3 years). I got to give it a try: you can watch me tossing food to the fishies, in this Instagram video!
Dr. Fonda impressed us with her heartfelt dedication to every aspect of her work, including education and package design. If you see Fonda sea bass on a menu, you'll know this means the highest grade. The body had a clean, pleasing smell — nothing "fishy" is going on.
(On the boat ride, I wore this exact Sorel Torpeda sandal, which is both stylish and practical — you can walk all day long, and they match most clothes. I also love Sorel's studded sandals. See more of their footwear below.)

It doesn't get any fresher than this: sea bass carpaccio, straight from Slovenian waters. With a sprinkle of Soline salt (from the flats we visited) and local olive oil (which was better than any I've had in Italy or Greece, no joke).
"Na'zdravje" or cheers to Fonda fish farm for the enlightening tour and snack.
With our appetites whetted, it was time to sit down for lunch. Our guide and driver Ales took us to Domačija Šajna, which is the definition of a charming Slovenian village. We passed through these big doors into an open courtyard with a flowering garden. 
Yet another pleasant surprise: Slovenian cuisine has a lot of seafood and Mediterranean influences. It's certainly not the "central European" stereotype of meat and potatoes.
We started with farm-fresh cheeses and prosciutto, paired with Slovenian wines (all were outstanding). At the bottom right, I could have eaten ten servings of this shaved truffle gnocchi. 
The chef used local fruit and wines to add both color and flavor. He served aged beef steak in wine sauce, poached pears, and millefeuille with strawberry.
Everything is close by in small Slovenia, and Domacija Sajna is well worth a drive for a meal like this.
Our road trip continued with a few more scenic stops. In the Littoral region (Municipality of Komen, in the Karst plateau), we walked around Štanjel church.
This Parish Church of the Prophet Daniel was built in the 15th century. It has a Games of Thrones feeling, doesn't it? I half expected the High Sparrow to step out.
Are you surprised by what we found in Slovenia? This is what I love about off-the-beaten-path destinations: they're full of hidden treasures, which surpass our expectations about a place.
In a single day, I had my eyes opened in many ways. Coming up, I'll show you what we found in the capital of Ljubljana, the island on Lake Bled, and more.
Hvala (thank you) Visit Slovenia for the opportunity to come here with my team. All photos by Borderless Media.
If you're digging my outfit, you can shop these same items below:


And here's the DIY tutorial hair video of my skull shaved cut. Would you do an undercut style like this?
Winter is coming… and autumn has most certainly arrived!
My friends and I love this time of year because we can finally take out our leather jackets, and vamp up our wardrobes with cold-weather accessories such as gloves.
I was excited when Farfetch invited me to create an Autumn / Winter look from their latest collections. This online fashion portal carries an immense selection, including a lot of independent and Japanese designers — and you know I'm all about that.
I love taking walks outside any time of the year, but there's a particular joy in crunching through autumn leaves, and breathing in the crisp air. So I thought I'd show you what I wear on one of my outdoor excursions.
In the Farfetch workout essentials section, I found this cut-out Michi top that doubles as a sports bra. It's perfect for wearing under a leather jacket, and if you start to feel cold, you can simply zip up your coat.
I love these black leggings with white line details — they're Y-3 by Yohji Yamamoto. I usually have a hard time finding activewear that I love, but this Japanese edgy label is right up my alley.
I paired my Gothic activewear with a studded, dark blue leather jacket from Hong Kong. It's by the brand Bauhaus, which is only found in Asia.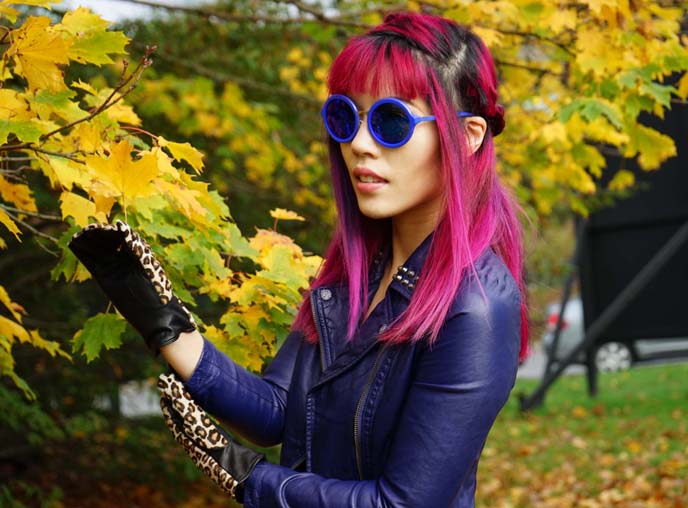 In the wintertime, it's still important to protect your eyes by wearing sunglasses. The glare from the snow can be blinding, and the harsh weather can dry out and irritate your eyes.
Happily, Farfetch has a treasure-trove selection of sunglasses. I picked out Linda Farrow x Phillip Lim sunglasses: I adore retro accessories, and couldn't resist these round glam-hippie frames. I also thought the blue color was a nice fit for winter.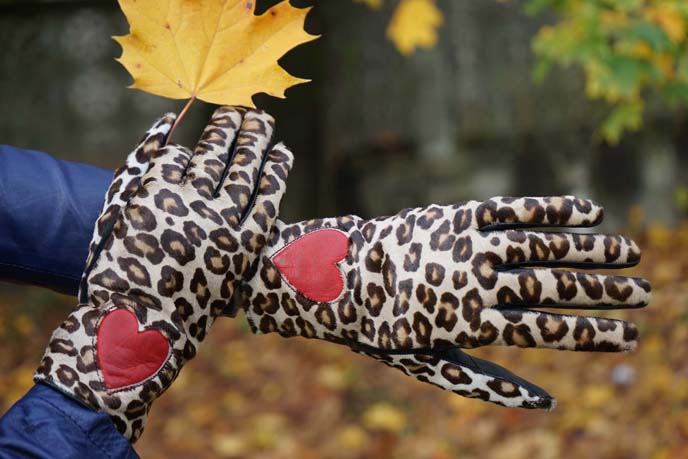 Finally, my hands get cold easily, so I'm always in need of gloves. Many people think of winter accessories as "utility garments," but why not get something with style?
When I saw these Moschino gloves on Farfetch, I couldn't resist. The style is 100% "me," with a red heart, leopard print, and black leather! 
I hope my outfit post got you inspired to revamp your autumn / winter wardrobe. There's no need to stick to black colors and boring accessories… have fun with this season!
If you liked these looks, you can get everything I'm wearing (plus much more) on Farfetch. They invite you to share your finds on social media with hashtags #farfetch #myfarfetch.
During the winter months, you'll inevitably be spending more time inside.
Instead of seeing this as a negative, I make this an opportunity to re-boot my workouts. Keeping fit also helps me feel energized, even if I'm staying indoors.
Have you heard of the term Health Goth? The media has been talking about the trend of people wearing black, Gothic-looking activewear. But in fact, this has nothing to do with the subculture, and the sportsgear is still by mainstream brands.
Nevertheless, I like the general idea of "health Gothic" — in the sense that you can work out hard, and still dress and feel like yourself. I don't think any of you could picture me in a pink yoga outfit, right?
I'm wearing black workout leggings with a stripy twist: Y-3 by Yohji Yamamoto. They're functional for all types of fitness activities, and well made so that they won't thin out or stretch out of shape (two of my pet peeves about leggings).
This Michi sports cropped top fits my aesthetic perfectly. I'm a big fan of cut-out designs, and the bra has built in support.
I hope these outfit photos give you some ideas for how you too can be Goth at the gym. 
What type of workout routine do I have? 
When I'm home for an extended period of time, I enjoy taking fitness classes. This month, I did a mix of pilates, yoga, and TRX (a Navy Seal suspension training method that's brilliant for core).
I also work out on my own. I do bodyweight exercises, videos (such as Tracy Anderson), and high-intensity interval training. I choose cardio that is gentle on the knees, such as sprinting on an elliptical or rebounding on a trampoline. And, as mentioned before, I go on long walks.
Overall, I mix up my workouts and try to maximize efficiency (no moderate chronic cardio for this girl). I focus on exercises that build up my core, flexibility, and balance. This all works toward my goal of "functional" strength and endurance, which helps me on my sometimes grueling travels.
Now, let's talk about food and diet! When I'm home, I try to eat "clean" about 80% of the time. It's not complicated: I focus on high quality whole foods (especially organic / grass fed / free range / seasonal / local). Everything is prepared simply (baked, steamed, poached, stir-fried) with simple flavors.
I eat a lot of vegetables, healthy protein and fats, and low-glycemic fruits. I love my raw cheeses and organic plain yogurt / kefir.  I avoid "junk foods" (with chemicals and unrecognizable ingredients), added sugars (including fake sweeteners), and empty carbs / gluten (I stick to brown rice, sweet potatoes etc). The above sashimi salad from Hong Kong's Sushi To is a great example.
However, it's important to stay flexible, and thoroughly enjoy the other 20%! (Coco Ichiban curry gets a thumb's up and bow, during our Norway travel TV shoot in Tokyo.)
Now, when I travel, I don't stick to the 80/20 equation. I consider food to be a huge part of the traveling experience, and eat my fill of local dishes while I'm there. (It's actually good to mix things up, to avoid having the body adapt and stagnate. You can Google "leptin reset" for more on this phenomenon.)
Eating freely while you're overseas lets you learn so much about the local culture. I often didn't realize certain ingredients or dishes existed — or that the Japanese were this creative at cute food design!
Did you enjoy reading about my diet and workout? What do you think of my fall / winter "health Gothic" outfit?