Category Archive for
Huffington Post + AOL Travel
Split snake tongues, star-shaped subdermal implants… welcome to the visionary world of extreme body modifications. I had the honor of chatting with revered body mod artist, Steve Haworth, at his home in Phoneix AZ. The interview's up on Huffington Post; please check it out! I'd love to hear what you think of my writing.
"Let me show you something," says Steve Haworth. Grinning like a kid, he places a small magnetic ball on the tip of his right ring finger. He lets go and rotates his wrist. The ball sticks.
The force is with Steve, thanks to a neodymium magnet in his fingertip that attracts objects and detects fields — a feeling he describes as a sixth sense. When he turns on an electric can opener, the metal dances.
Intrigued? Please read the rest of the article on Huff Post. Your comments and social shares are always appreciated, and help me continue my subculture coverage. (Support with a Like below…)
Steve showed me his collection of animal skulls and oddities. (Speaking of, I'll be appearing on Discovery's Oddities TV show this year; will let you know the air date soon.)
His colleague/girlfriend Mandi and client/model Michelle joined our chat.
Mandi displays a technology Steve is working on, which lights up her chest subdermal. His goal is to have it pulse to the beat of music — can you imagine the effect on a club dance floor?
Steve has a small magnet under the skin of his fingertip, and it can pick up metal objects.
The implant lets him feel electromagnetic forces, a phenomenon he describes a "sixth sense." When Steve holds his finger to an electric can opener, the embedded magnet vibrates.
Special thanks to my dear Wes for joining this adventure!
Steve manufactures his own silicone subdermal implants. Inserted under the skin, they come in a variety of shapes.
The extreme body mod community's close-knit; Steve has been to Japan twice, teaming up with Keroppy and Asami of bagelheads fame. Here's a photo I took during my French TV shoot, which featured forehead inflation. If you're interested in Japanese bagel heads, contact La Carmina & The Pirates; we worked on multiple programs about this mod.
What's your reaction to extreme body mods, like branding, scarification and forehead horns? To learn more, here's my article about Steve Haworth. Thanks for keeping an open and understanding perspective.
If you enjoyed my Hungry in Hawaii travel video, then you'll drool over my latest Huffington Post Travel episode — a foodie's tour of Hong Kong!
"Travel TV host La Carmina eats her way through Hong Kong's hippest international restaurants. With her friend John Skeleton, she visits Taboo, Boqueria, Cafe Habitu, Lily and Bloom, The Academics, and Socialito (in Lan Kwai Fong, Central, and Causeway Bay)."
Watch the new episode above and here on Huff Post Travel.
I loved The Academics so much that I came here twice. My yellow raincoat with angel wings is by Kusuri (now carried in Karmaloop's Kasbah). Designer Lauren Bitar's pop Japan jackets are major head-turners.
At this sister cafe to Habitu, the award-winning (and stylish) baristas take center stage. They hand-roast their own beans and pour it through a Chemex drip to maximize flavor.
An Americano goes well with macaroons, cupcakes, or a chocolate tart topped with walnut and gold.
I enjoyed the New York City feel of The Academics, with high exposed ceilings and brick walls.
The concept is influenced by the owner's extensive travels. The apple strudel was as good as the one I had in Germany…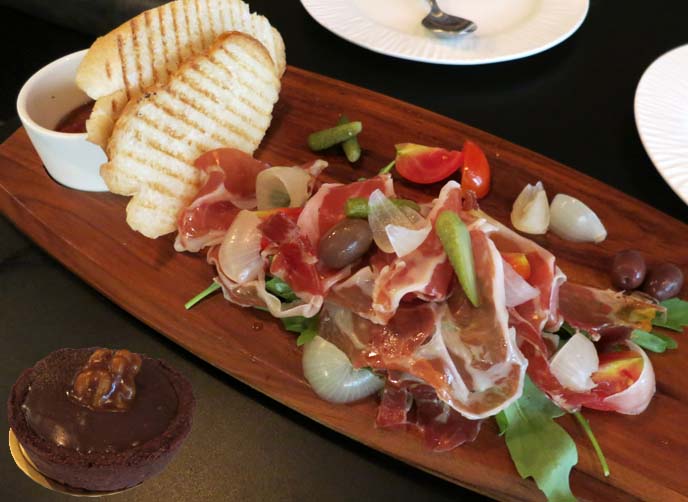 … and the small plates brought me back to Italy. The next time I'm shopping in Causeway Bay, I'll be stopping here to refuel. (38 Yiu Wa Street, CWB, HK)
Please take a moment to read the article and watch the Hong Kong food tour video — I spent a long time on it for you!
Which restaurants and dishes excited your appetite? Here's more of my Hong Kong travel tips and photos.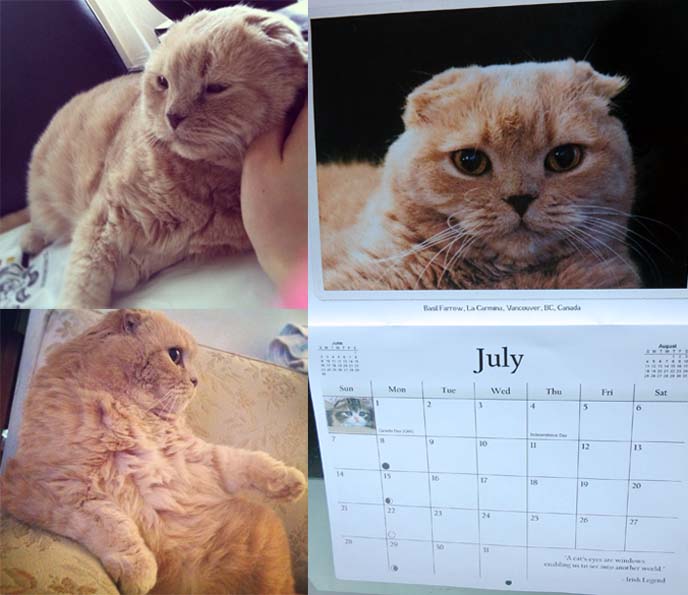 PS: Look who is Mr July in the Scottish Fold Rescue Calendar! Don't forget to order one for 2013; all proceeds go to helping orphan Folds find good homes.