Category Archive for
Italy & Western Europe
As a hardcore Miffy fan, it was a dream come true… to visit the Miffy Museum in Utrecht, Holland!
The recently-opened Nijntje Museum is dedicated to the X-mouthed bunny (that's her name in Dutch).  I took advantage of a brief Netherlands stopover to visit with Leyla, my fashion blogger and vlogger friend (who made a video of the trip on her LeylaFashion YouTube.)
Get ready for Miffy Madness. We'll take you inside each room of the museum, as well as the Nijntje Pleintje plaza, traffic lights crossing, and gift stores dedicated to this adorable mascot!
(Update – I now have a travel guide to Miffy shops in Amsterdam, Netherlands too! It covers De Winkel Van Nijntje, Mr Maria and more.)
We couldn't resist posing with X-fingers to mimic her mouth. However Leyla's son, Danny, seems ready to go inside…
Address and directions: The Miffy Museum is located at Agnietenstraat 2, 3512 XB Utrecht, Netherlands. Utrecht is the hometown of her creator, illustrator Dick Bruna, and a 30 minute train ride from Amsterdam. The museum is open every day except Mondays, from 10am to 5pm.
How to get here by train: I came straight from my stopover in Schiphol Airport (Amsterdam). I rode the train —  track 1 or 2, direction Heerlen or Nijmegen — and arrived in half an hour at Utrecht Centraal Station. From there, you can walk 15-20 minutes or take a short bus ride. You can also come here direct from Amsterdam Central or any major station.
When you arrive, look for the giant statue of Miffy in a red sweater, and the sign "Nijntje Museum" next to a light-up outline of her head.
Earlier in 2016, the museum reopened after a significant renovation. Now, the two-level building brings Miffy's universe to life, with colorful and interactive displays for kids and adults.
The human-sized statue is from the Miffy Art Parade in 2015, a project that celebrated her 60th anniversary.
Sixty artists decorated a gargantuan Miffy statue, in a variety of styles ranging from creepy Goth to rubber ducky. (There are photos of these statues at the end of this post, so keep reading). The works went on display all over the Netherlands and Japan.
Many people mistakenly think that Miffy is Japanese, because of her "kawaii" and minimal look. In fact, she's Dutch and older than Hello Kitty. (Sanrio even got sued for copying her design; the court ordered them to discontinue their "Cathy the bunny" character.)
Her name, Nijntje, is a shortening of "konijntje," which means "little rabbit." Dick Bruna released his first bunny book in 1955, followed by over 30 more. She's also the face of many fashion and home good products – shop a selection below.

Dick Bruna's storytelling and bright drawings have proved to be timeless. Even today, children are charmed by the Miffy universe he created — including her family, Grunty the pig, and Boris the bear.
The Nijntje Museum puts his deceptively simple illustrations front-and-center. For example, the lockers are decorated with different drawn objects, for easy remembrance.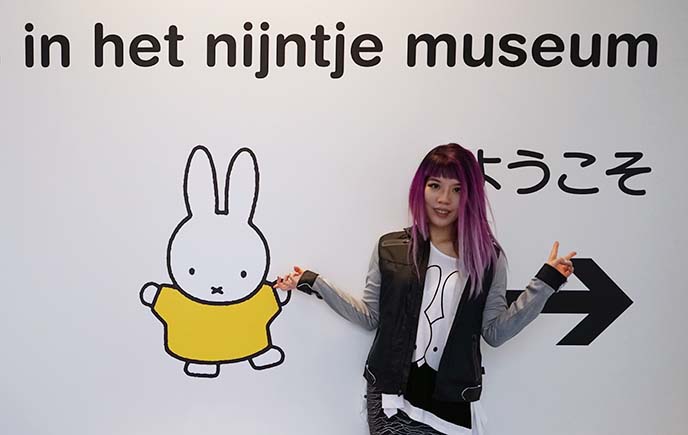 The Japanese characters spell out "yokoso," or welcome — because visitors from Asia (especially Japan) are plentiful!
People from all over the world are flocking over to see Miffy's museum, which has quickly become one of Utrecht's most popular attractions. I recommend getting tickets online in advance, and arriving early to avoid crowds (doors are open from 10am to 5pm, Sunday to Tuesdays).
The Miffy Museum is designed as a series of magical miniature worlds. There are 10 rooms, which look like scenes from the picture books come to life.
In this one, her star-mouthed mother stands over the family kitchen. Children can pretend to cut vegetables, cook, and even climb through the cabinets.
There are all sorts of interactive displays for fans of all ages. Leyla and I snuggle up to the plush bunny and Snuffy the dog. 
(PS: I'm selling some of my Miffy fashion and accessories here; email me if you'd like anything! My sandals are this Joanie Mule by Sorel Footwear.)
The museum's displays encourage you to "play house" and let your imagination roam free. 
We helped Miffy work in the garden. I must have done something wrong because her dad seems to be watering me with his can…
I've been a Miffy obsessive for years, but I developed a deeper appreciation for artist Dick Bruna after seeing his full oeuvre. 
The museum's figurehead is his white bunny, his most popular creation (her books are translated into 50 languages and sold more than 85 million copies).
However, Dick Bruna wrote more than 100 other picture books for children, and also did graphic design for organisations including hospitals. I got to see these lesser-known yet equally impressive works for the first time.
Dick Bruna is known to be a very kind man, and his children's books promoted the acceptance of everyone, including those who are different or disabled — very progressive themes for his time. This room encouraged children to help others in need of medical treatments.
Dick Bruna was inspired by Matisse, and his works are tied together by simplistic forms and blocks of primary colors. This room shows his interpretation of Snow White and the Seven Dwarfs. (Danny loved running up and down the ramp!)
As we moved through the rooms, we got to see Nijntje's evolution. In the first books, she looked a plush toy with floppy ears. From the 1960s onward, her face got rounder and her ears stood up.
The rabbit's simple look and narratives are key to her appeal: anyone can project their imagination onto her. In my case, she's a creepy-cute minimal Goth icon with her mouth sewn shut, hence the X!
Dick Bruna always portrayed Miffy as a regular little girl with universal experiences such as making a new friend (the brown bunny Melanie), or suffering the death of a grandmother.
The museum is full of play areas: matching games, puzzles, funhouse mirrors. As Bruna said in an interview, "The most difficult thing is keeping it simple, to leave plenty of room for the child's imagination."
Danny fell in love with this spacious room, beautifully designed with cars and trains that you can push or ride. 
Bruna's world keeps children engaged while helping them learn. He wrote a book about safely crossing the road, illustrated in minimal orange and grayscale.
But as you can see from our funny Instagram shuffle... navigating roadways is a lesson for all ages!
(There's actually a working Miffy traffic signal, in Utrecht. Keep scrolling down to see the real deal.)
Whether you're a toddler or grown-up, you can't help but smile as you explore the Miffy Museum. Her world is all about creativity, positivity and imagination — expressed in bold primary paints and outlines.
On the upper level, there's a space that represents a zoo and farm. These two parrots repeat your words when you speak into a microphone. Danny loved crawling through the cages and going down the slide.
Dick Bruna has a genius for conveying the essence of an animal, with only a few brushstrokes. His simple forms add up to a warm, minimal style that's unmistakably his own.
The only negative about the Nijntje Museum… It's hard to say goodbye! Leyla and I felt like this crying child, when it was time to go. We'll simply have to come back again soon.
(My Miffy top is for sale on my Depop shop, and my shoes are the Sorel Joanie Mule.)
Thankfully, there are more Miffy sights to see in Utrecht, making it the ideal day trip from Amsterdam.
Right across the street from the statue is Centraal Museum, which features a range of artwork including by locals.
In the atelier of Centraal Museum, you'll find an exact replica of Dick Bruna's studio. Everything from his original workshop has been set up here, from his drafting table to a modern chair in primary colors.
The circular painting shows his simple yet powerful design of the black bears (zwarte beertjes).
I watched a fascinating video of Dick Bruna at work. To this day, he continues to draw with brush and ink: it takes many precise strokes to create the seemingly simple X of Miffy's mouth. The slight shake in the hand-drawn forms results in what he calls "a line with a heartbeat."
Dick Bruna always appreciated his fans, and kept displays of the mementos that they sent him. The studio let us get a closer look at his creative process, and I recommend visiting Central Museum too (it's just across the street from the Miffy Museum).
You can't leave Utrecht without seeing Miffy's crosswalk. The bunny shows up as the pedestrian traffic signal: red for "Don't Walk," and green for "Go."
Look for the rainbow colored crossing called 'Regenboogzebrapad', and you'll find her directing traffic. (Location: it's in front of the shopping mall at St Jacobsstraat 1A, 3511 Utrecht, Netherlands.)
A short walk away is Nijntje Pleintje, a dark Miffy statue created by Dick Bruna's son, Marc Bruna. (Address: 1e Achterstraat 1, 3512 VL Utrecht, Netherlands).
Nijntje Pleintje is located in this little grassy square, at the beginning of the Van Asch van Wijckskade. It looks like a flat, black metal, cut-out Goth version of the bunny — which matches our style rather well.
(You'll laugh when you see the Boomerang Instagram video we did, next to this statue!)
But wait — how can you take Miffy home with you? There are several Netherlands gift stores that you can't miss — they even have vampire Gothic versions of the bunny. Keep reading the rest of the story below…
As much as I travel, I can't be everywhere at once. This year, I sadly wasn't able to make it to Wave Gotik Treffen in Leipzig (the biggest Gothic festival in the world).
Thankfully, my friend Jen was at WGT with her camera, and put together a special report for us! Read on for her German Goth stories, including images of the Victorian Village, flamboyant fashion, and industrial bands.
If I went to the festival, I would have worn these eye-catching steampunk shoes from Hades Footwear! Their Harajuku boots are my current favorites — such a striking design, with a metal heel and vintage-looking buckles. You can get these exact boots here.
– My dress is by Chaser the Brand. Here's the link to purchase this exact dress (which comes in a few colors) and a longer maxi version.
– The black wide-brim hat is from Lack of Color Aus.
Shop my outfit below:


I'm a huge fan of Hades Footwear, a California-based shoe company that specializes in alternative, Goth, Victorian and steampunk styles. They make unique designs like studded stilettos or thigh high boots — you won't find these in regular stores!
If you're a metal rocker type, you might like their Motorhead chain boots. Retro ladies would enjoy Hades' steampunk ankle boots
(Click the photos below to browse more Hades Footwear styles.)

Now, let's hand the keyboard over to my friend Jen (pictured above left, with her favorite corset maker Ludwig Lilienthal). Enjoy her diary of Wave Gotik Treffen 2015 with photos by Seventh Sin, the event photography company that she co-owns.
At the end, Jen invites you to submit photos and memories of Wave Gotik Treffen for a museum exhibition. I hope you'll consider taking part in this historical project.
Jen writes: We skipped the traditional Friday afternoon picnic at Clara Zetkin Park in favor of checking out a new Friday afternoon event, Viona's Victorian Village, held at the stunning Arena am Panometer. The Village features not only a grassy area to picnic, but also vendors, DJs and concerts.
Lolita style is no longer as prevalent in Germany as it was a few years back, but the girls who do it go all out.
We saw metal artist Pawel Athanasios Lickas working live at the Village.
There was a vague dress code to encourage to guests to participate rather than merely goth-stalking, but as you can see from the crowd photos, everyone who made an effort no matter what their personal style, was welcome.
This made for a lovely atmosphere where we were able to relax and find old friends among the crowd, and have conversations without being trampled by overzealous onlookers.
The left photo shows Courtney of Atropos Threads and a friend from Paris, in front of Courtney's stand at the Victorian Village.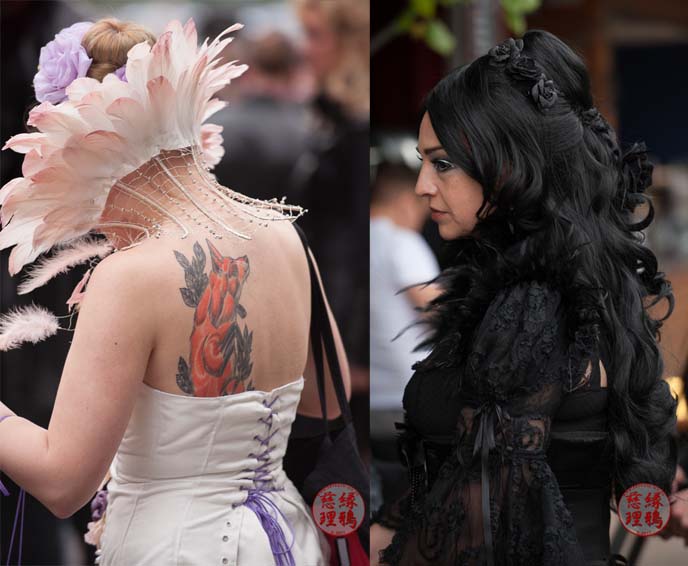 Diverse examples of the decadent personal style seen at Wave Gotik Treffen — from feathered collars to braided wigs.
The smiling participants and winners of the costume contest.
One of the best places to meet with friends and look around for new trends is the Agra, the main venue of WGT where the campground, market, and largest concerts are held. The "Black Market" is a huge hall where people can buy dark fashion and accessories.
Schnitt Muskel's macabre fetish and cyber inspired cuts and misappropriated materials seemed like a stark contrast to puderblonde's fashion and accessories in steampunk, gothic, shabby chic style. Nonetheless, the two small designers were working their booths together at the market.
I admired Benito Alesio's stunning work for The Original Atelier…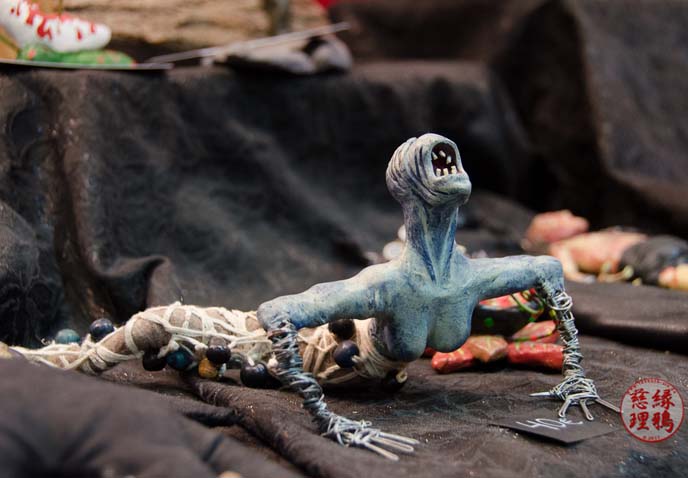 … and these spooky-hawaii figurines from Pandemonium Crafts.
Romantic jewelry and headdresses from Nox Aurum, decorated with antler horns and lace fans.
As much fun as these events were, the main draw of the weekend was the 224 concerts and many dance nights on the official program. Our cat Hugin did his best to hide the schedule and keep us home, but in the end, he decided that having so many guests to fuss over him and fluttery black clothing to play with was actually pretty awesome.
This year we focused on meeting up with friends and catching smaller, less known acts. We saw Dan and Olaf of Harmjoy make their WGT debut (above)…
…and the long lived, but still underrated industrial projects Gerechtigkeits Liga and Last Dominion Lost (above photo by Flamisol).
An atmospheric image of Evi Vine performing onstage, also by Flamisol.
Did you know that next year will be the 25th Wave-Gotik-Treffen in Leipzig? WGT has grown from its humble beginning with 6 bands and one venue, to an event that brings in over 20,000 visitors and offers events all over the city. WGT has had its growing pains, but remains true to its ideal as a meeting point for goth subculture.
(These "classic Goth" photos by Muetze were taken at the first Wave-Gotik-Treffen in 1992!)
I'm thrilled to be working with the City History Museum of Leipzig to present the story of WGT and the goth movement in Germany, in an exhibition that will open next spring. If you've been to WGT we would be very interested to hear your stories and see your photos and videos.
We're also looking for "objects" to display: such as clothing or shoes that you wore, signed albums or posters from bands you met at WGT, or handmade memorabilia. We're also looking for people willing to be interviewed about their WGT experiences and featured as part of the exhibit, so please drop me a line if you're interested.
(La Carmina's note: I hope you'll consider taking part in this Goth museum exhibit, and will do my best to see it next year!)
Last but certainly not least, I'm honored to reveal… I'm on the cover of FlyMe360° Travel & Lifestyle Magazine! 
This new magazine is the brainchild of three friends and frequent travellers, who felt they could improve on the current travel publications in the market. FlyMe360° emphasizes personal, genuine travel stories that connect with all types of readers. The inaugural issue is an entertaining mix of first-person accounts, gadget reviews, photography tips, finance and health articles, and more.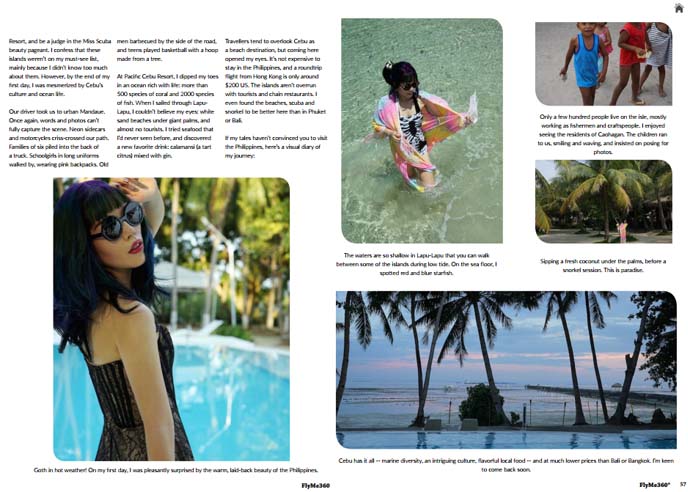 FlyMe360° puts a special focus on travels in Asia. I contributed a story about my experiences last year in Cebu, Philippines.  Above is a peek at the pages.
I encourage you to subscribe to FlyMe360 for free! You'll get access to all of the first twelve issues (including my article), and perks such as prizes. The magazine invites you to contribute your own travel stories too — you can find out more and contact them through their site 
(And if you're still thinking about my Hades steampunk boots — here's where you can find these shoes.)