Category Archive for
Mexico + Central America
Goth on the Beach alert! My friend Trevor and I recently escaped the cold for Puerto Vallarta, located on the west coast of Mexico. Puerto Vallarta is only a 4-ish hour direct flight from Vancouver, making it a great choice for those seeking an easy and inexpensive getaway.
Read on for our beach, mezcal and Elizabeth Taylor adventures!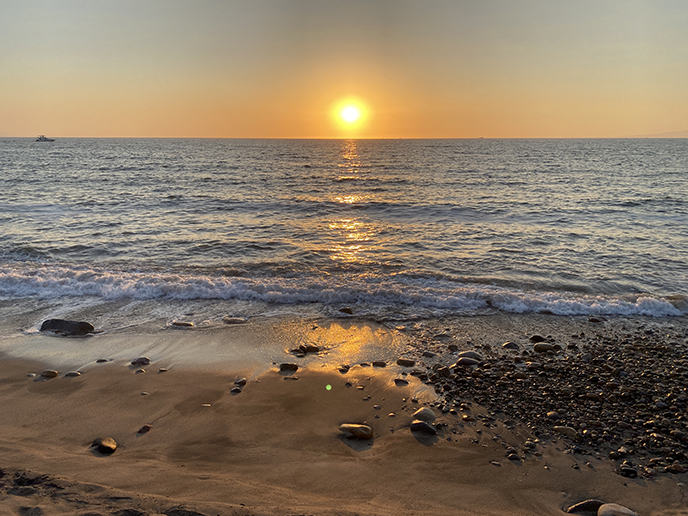 My top tip: stay in Zona Romantica, known as the LGBTQ area. Everything is walkable in the Romantic Zone — you're blocks from the beach and Malecon, as well as the coolest restaurants and bars. If you stay north in the resort areas (Nuevo Vallarta and Nayerit), you're far from the action and can't easily walk around and explore.
Zona Romantica is within walking distance of several popular beaches. But if you want to get away from the crowds… simply take a 60 peso Uber to Playa Conchas Chinas further south. I got there at 9am, and had the place to myself!
All right, I wasn't quite alone. This modelesque snowy white egret was cat-walking along the shore.
Keep in mind that UV rays are intense in Puerto Vallarta, even in the early morning! I covered up with tons of mineral sunscreen, and an Audrey Hepburn style downturned brim hat.
My Cruella black and white pearl necklace is Lily Streeter Jewelry — love how it fastens easily in the front. Lily makes darkly romantic jewels inspired by days of old; check out her site for other edgy fine designs.
I also covered up in style with Abysm Internal, an indie designer of alternative clothing and home decor. I was drawn to their original Gothic, fantasy and mythological prints, which include dragons, skulls, and demons. Everything is made to order, in beautiful sheer or solid fabric.
Obligatory hot dog legs shot. Unlike other Puerto Vallarta beaches, Conchas Chinas has a more Gothic feel — it's marked by dark rock formations, and the waves were a little more intense.
Happy to be in Mexico, by the warm water! My leopard print pants are from a boutique in Medellin, Colombia and my top is by Michi NY.
My necklace by Lily Streeter Jewelry is inspired by Cruella de Vil, and made by hand in half black and half white pearls. My oversized sunglasses are Balenciaga.
Around 11:30 to noon, more people arrived at Conchas Chinas — but it still was pretty empty. Quite the contrast from busy Los Muertos beach, which is filled with people and pounding with club music. Keep in mind that there aren't any food or toilet facilities at Playa Conchas Chinas, but there are usually umbrellas and chairs for rent.
I'm wearing this blue shadow dragon design by Abysm Internal. I'm a fan of kimonos as summer outerwear, as they are light and keep you cool yet protected from the sun's rays. I chose the open shirt in a sleek, silky knit, and it came with a black robe tie around the waist (not pictured).
I considered Photoshopping out the fellow in the back, but decided to keep him in!
Photos taken by remote app, on my Sony a7 IV mirrorless camera. (That's why I am holding my phone in shots — I use it to click the shutter.)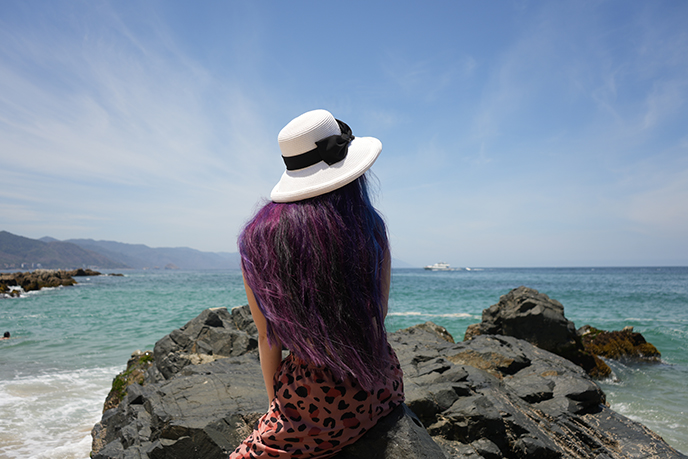 My hair color has some blue in it now, to match the ocean and mountains.
Puerto Vallarta has other gorgeous beaches. From Zona Romantica, walk north along the Malecon to Playa Camarones. It sits on a more peaceful section of the shoreline, and you can't beat the sunsets here.
These beaches are all accessible to the public. If you're planning a trip to Puerto Vallarta, try to avoid the peak tourist times such as spring break and Santa Semana (the holy week in early April).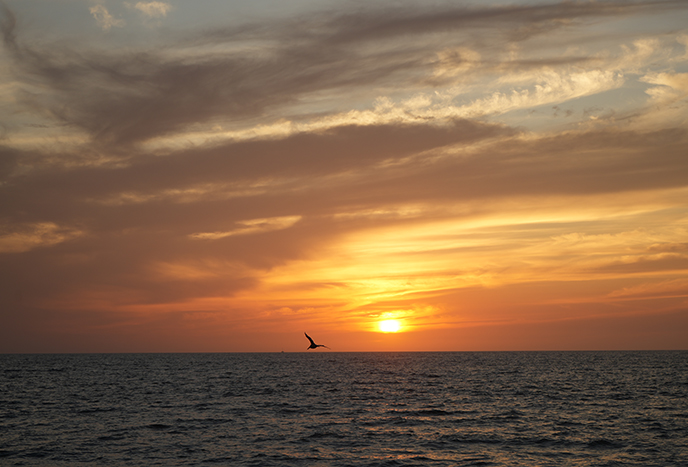 Playa Olas Altas (right by Zona Romantica) is another lovely spot to catch the sunset. You can see sailboats move across the horizon, and pelicans diving into the waves.
Puerto Vallarta's Malecon has glorious views from every point on the seawall. In the next post, I'll show you more of it.
Once you're in Puerto Vallarta, you can eat fabulous food for cheap all throughout Zona Romantica and Centro. My favorites: 20 peso al pastor tacos at Tacos el Gato, located by the beach in Centro (the pineapple up top is sliced fresh into the corn tortilla!) Also try Marisma Fish Taco (the quesadillas and add-on vegetables / sauces are to die for), and go to Cafe Oro Verde for coffee and beans to take home (330 pesos per kilo, check opening hours in advance).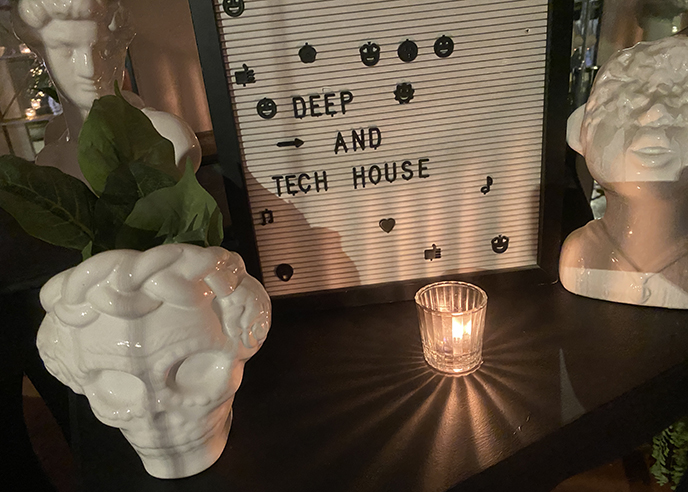 I'm currently on a mezcal kick, and went several times to El Colibri bar in Centro, which has a Goth alternative vibe. They specialize in craft mezcal and raicilla cocktails (try the Paradise, Geminis and Papu's Sazón), and bring in nu disco and techno DJs on the weekends.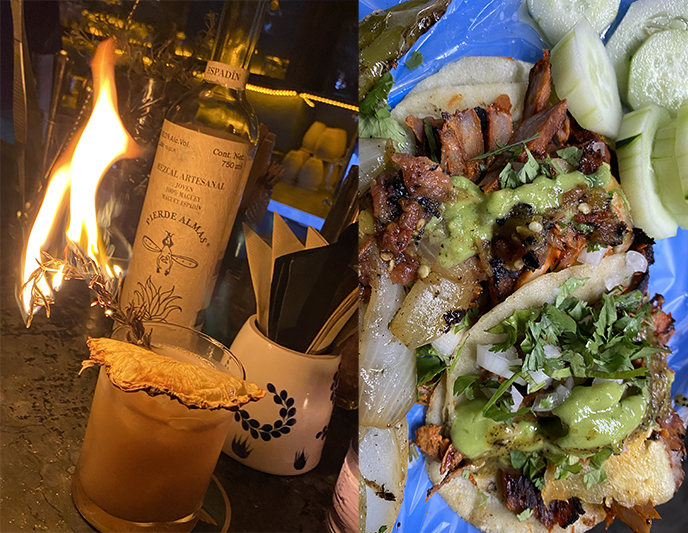 Above, the perfect pairing: a mezcal cocktail at El Colibri bar, and al pastor tacos from Los Gatos.
Trevor and I spent more beach time further north, in Nuevo Vallarta. The sand is soft and the waves are gentle in this resort area.
Don't worry about Jaws coming out from the seafoam. Puerto Vallarta only has one species of shark that lives off of plankton.
Trevor and I made it our goal to relax during this trip, so we didn't hop around to other areas like Sayulita. If you stay in Zona Romantica, you won't get bored — you can walk to the main areas and find a variety of food at 1990s prices. (I loved getting iced coffee each day for 50 pesos… or $2.80, like back in the 90s!)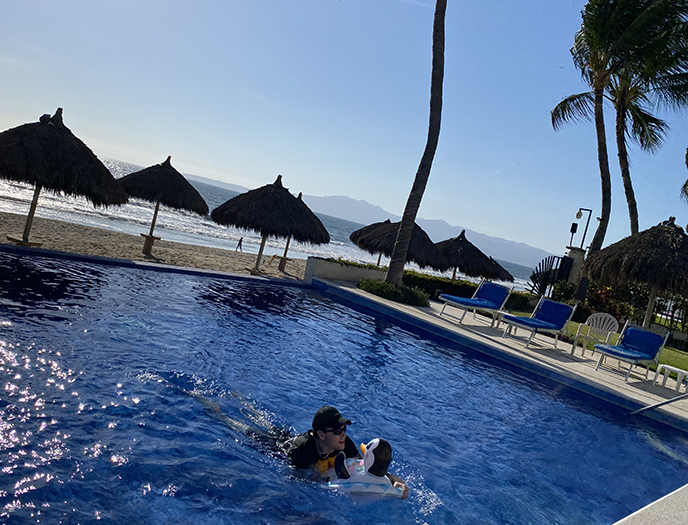 Trevor got some private pool time with a penguin.
Rather than staying in big resorts, look into apartment / villa rentals or boutique hotels in Zona. (We'll show you more from this LGBTQ district in the next post.)
Trevor and I had an open-air dinner to remember at Casa Kimberly, the hotel made famous by Elizabeth Taylor and Richard Burton. The actors were having an affair while still married to other people, and were staying in adjoining casitas. Richard built this Puente Del Amor or Lover's Bridge so that they could visit each other without alerting the paparazzi.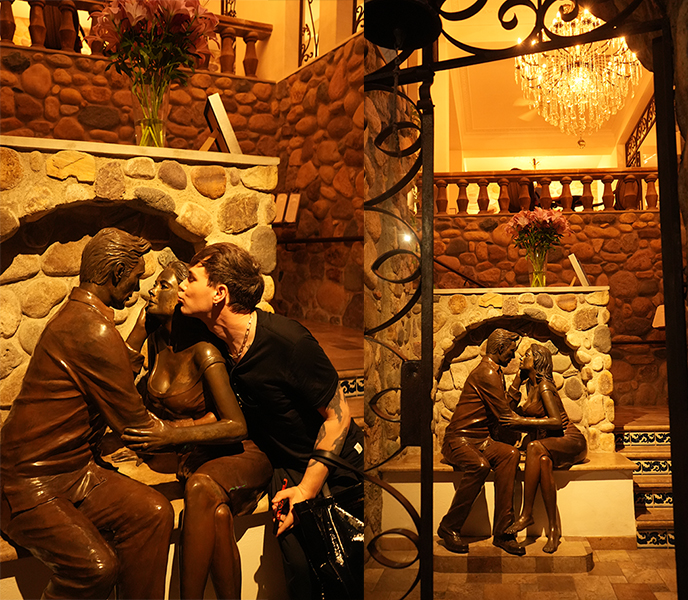 In 1964, Burton gifted Casa Kimberly to Taylor for her 32nd birthday. The Hollywood stars met on the set of Cleopatra, and were known for their wild spending and personal drama. Looks like someone is trying to sneak a kiss from Dick…
Richard Burton first came to Puerto Vallarta in 1962, when he starred in The Night of the Iguana. Casa Kimberly's decor upholds the glam of that era with exquisite antiques, crystal chandeliers, and views of the city and water below.
Elizabeth Taylor's iconic violet eyes greet guests as they go up the stairs to Iguana Restaurant. Every architectural detail is executed to perfection here.
The open-air courtyard of The Iguana is straight out of a movie. Live mariachi bands performed while we dined, and the coastal breeze kept the restaurant cool.
You'll find photos and memorabilia of the actors throughout Casa Kimberly. Here's a photo of Liz Taylor with Rock Hudson — she was a strong LGBTQ ally, and they remained close friends until his death from AIDS.
Trevor sits under a poster of Who's Afraid of Virginia Woolf? Richard Burton and Elizabeth Taylor did 11 movies together, and married and divorced each other twice. (Liz had eight marriages total… stunning queen!)
The menu at Iguana Restaurant was as elegant as the atmosphere. We enjoyed braised beef with sweet potato paired with a red Mexican Sangiovese wine, and a guava mille-feuille with house made vanilla bean ice cream for dessert — perfection.
Dine at Iguana Restaurant at Casa Kimberly, for a night to remember. Reserve well in advance, as this is an in-demand fine dining spot.
Puerto Vallarta was exactly what I was looking for: a relaxing getaway with easy access to the beach, local food and culture. (Be sure to visit Conchas Chinas beach if you come!)
Have you been to PV, or other parts of the country? You can see my other Mexico posts here (I've travelled to Mexico City, Mazatlan, Merida, and Tulum / Riviera Maya).
Finally, I wanted to thank all of you who read my latest book — The Little Book of Satanism! I greatly appreciate those who reached out, and am glad to hear you are enjoying it.
Published by Simon and Schuster, my new book covers the history, culture, practice and philosophy of Satanism.
If you're interested, you can find THE LITTLE BOOK OF SATANISM in digital or paperback from global retailers including — Amazon, Kindle, Barnes and Noble, Bookshop or Simon & Schuster. Canadians can order it from Chapters/Indigo or Amazon Canada. Or Google the book title to find it near you — you can get it worldwide! Thank you for your kind support.
The economy may be crashing in 2020… But at least I've got these sweet money pieces in my hair! (Read on for my makeover, followed by a comprehensive Mexico City Goth shopping and travel guide.)
I'm nostalgic for the 1990s… when things were booming, and people could even travel the world on a Concorde jet! So I got a throwback hairstyle: chunky face-framing highlights. This light-and-dark dye job has been trending, but I've only seen it with bleach-blonde strips along the sides of the face.
My brilliant Vancouver hair stylist Chad Evans (Blame Chad) delivered this look with an alternative twist. He lightened the face-framing front pieces to lavender and baby pink, and dyed the rest of my hair dark purple.
I accessorized my money-piece hairstyle with barrettes from Hong Kong, for more of that 90s feeling. (I'm also growing my bangs out for the first time in over a decade).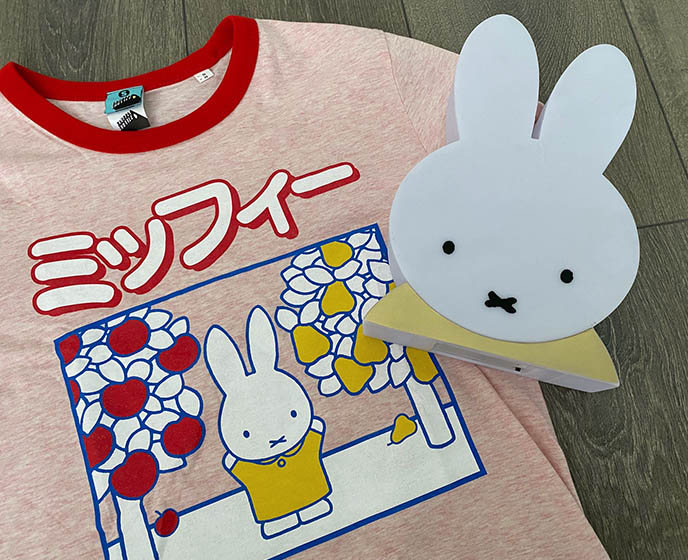 My pastel pink chunky hair strips match the colors of my Japanese Miffy ringer t-shirt, from Truffle Shuffle. My favorite kawaii mascot is shown reaching for fruit, and her name is written in katakana!
Truffle Shuffle carries original clothes and accessories featuring your favorite pop culture icons from cartoons, TV shows, books, and more. Of course, I picked out a few items from their extensive Miffy the bunny range.
I put together a cute-meets-Gothic look with their Miffy sweatshirt, which has an adorable sleeve detail. I paired it with Lip Service leggings with a skull and cross pattern.
This rainbow Miffy tee would be perfect for a Pride event! (I wonder when we can safely gather in groups again… Until then, I'll be shooting photos with a remote, hence the iPhone in my hand…)
But at least I can brighten up my wardrobe with the Truffle Shuffle x Miffy clothing line. They also have items featuring Hello Kitty, Pusheen, Alice in Wonderland, and other fan favorites — check out their site for retro character cuteness.
I guess I'm into all things chunky right now — did you notice the choker in my photos? This golden crystal beauty by Frame Chain is a necklace that doubles as an ingenious glasses holder! (When you take off your sunglasses, you simply fold the arms into the O-ring.)
The Crystal by Frame Chain has a disco meets 90s streetwear vibe that is 100% me. I love the large square links, which are embellished with crystals. You can adjust the necklace's length with the clasp in the back — I chose to wear it like a choker or dog collar.
Frame Chain makes glasses chains in other fabulous styles. On the left, I attached the yellow gold Donnie to my Spilt Milk sunglasses. This long link chain attaches to any glasses through expandable loops at both ends, which you slip through the arms.
I love how these unconventional accessories add unexpected sparkle to your look. (You can see me wearing Frame Chain's Donnie in this outfit post.)
Peek at more Frame Chain accessories for glasses, below:
Finally, some close-ups of my new Leatherology Elizabeth black leather bucket bag. I decorated this purse with a Coach diamond scarf, and filled it with fresh-cut pink flowers.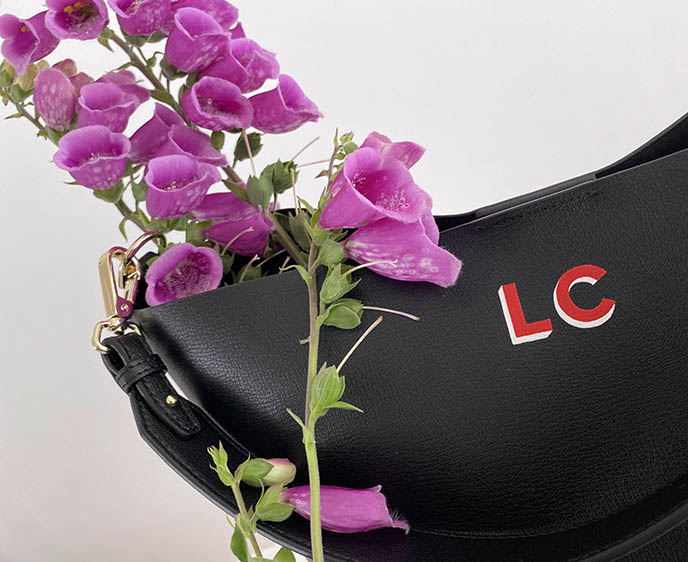 Details of the exquisite black Italian leather with gold hardware, and hand-painted initials. You can customize Leatherology's bags and accessories with monograms in various sizes, fonts, and colors. I marked my territory with a bold red and white LC.
The Elizabeth large bucket bag is easy to sling over my shoulder, and bring on a day out. It's lightweight and goes with all types of outfits, from casual to evening.
Leatherology makes bags in all sizes, including makeup containers, crossbody bags, clutches, backpacks, you name it. I love how mine is one-of-a-kind, thanks to the hand-painted customization.
Now, let's go backwards… to a time when international travel was possible. Last fall, I went to Mexico City for the first time. The Mexican capital is one hell of a destination, as you saw in part 1 of my Gothic guide to CDMX.
For centuries, locals have gone all out to celebrate Day of the Dead (honoring ancestors who have crossed to the over side). In a city filled with happy sugar skulls, it should come as no surprise that there is a vibrant Goth subculture.
Whenever I visit a new place, I'm keen to check out the local Gothic fashion boutiques, bars, clubs, and other spooky hangouts.
My friend, musician and artist Aurelio Voltaire, got me excited with his video about Goth shops and cafe in CDMX. Taking inspiration from his "Gothic Homemaking" episode, I hit up some of the darkest fashion boutiques in Mexico City.
Voltaire recommended Horror Boutique, a Gothic gem hidden in the Zocalo historic district of Mexico City. This shop is horrifically difficult to find, so here are my detailed instructions.
Go to the address on Google Maps, which is "República de Guatemala #2 esq. Brasil 4 to piso." When you arrive, look up for a red awning that says "2 Guatemala," and a sign for "Centro Brasil. Enter this storefront, and walk up the stairs to the fourth floor.
When you spot unit #403 — guarded by a skeleton who warns you to "Enter if you Dare" — you will have found Horror Boutique!
The young owner, Ariel Mendez, only speaks Spanish. However, he warmly welcomes anyone to come in and browse his designs (modeled by mannequins with sugar skull masks!).
At Horror Boutique, he and his small team make everything  by hand — when I visited, they were cutting and sewing fabrics.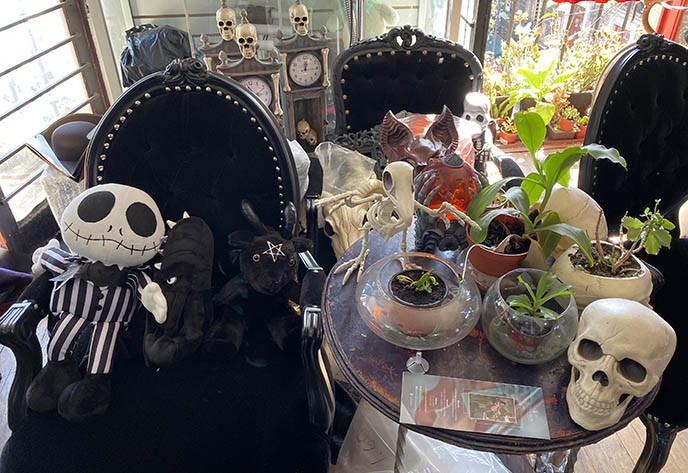 Horror Boutique carries spooky home decor (such as plushies) and accessories as well (ankh necklaces, pentagram chokers). Love this corner by the balcony, featuring taxidermy and a plush Jack Skellington.
At Horror Boutique, you'll find an enormous variety of Gothic fashion for both men and women. Ariel creates fantastical steampunk and Victorian gowns, as well as pin-up and fetish styles (love the skeleton corset in the back). He can also custom-make and tailor garments to your bleeding heart's desire. 
While you're in this building, poke around at the other cute and alternative shops on other floors. I came across this Japanese kawaii shop, with a colorful selection of plush animal slippers.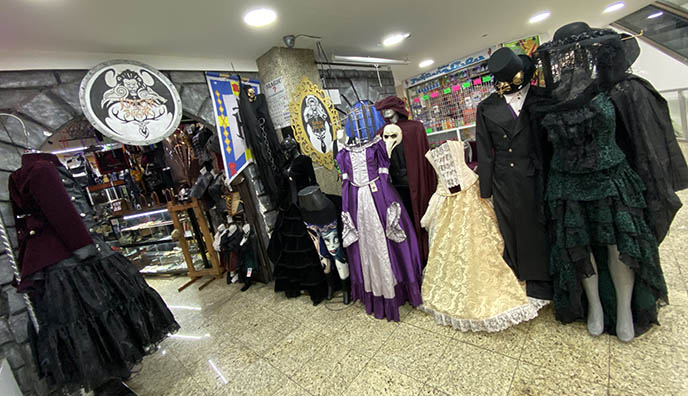 There's another Goth fashion destination in Mexico City's Zocalo, which isn't featured in Voltaire's video. Once again, it's a challenge to find — so heed my directions!
On Google Maps, look for "Ropa dark alternativa Luna alterna shop," and go to the address listed: Donceles 87, esq República de Brasil, Centro Histórico de la Cdad. de México.
Look for Plaza Bialos, a small shopping center; the logo is a white capital B on a red background. Take the escalator up, and you'll find a cluster of dark and alternative shops. 
There's something here for everyone who leans away from the mainstream.
Cosmonauta sells hard rock and metal clothing, music and accessories. If you're a fan of fantasy cosplay, or hunting for a sword and suit of armor, then you'll adore Mundo Medieval Mexico.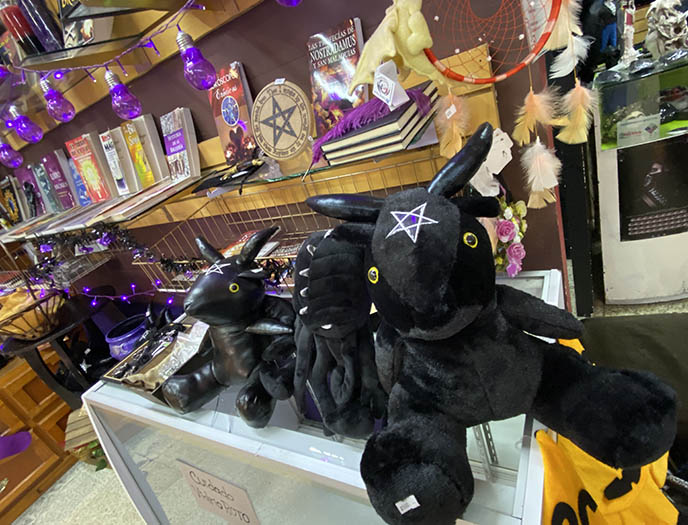 My favorite was Luna alterna shop, a large Mexican Gothic fashion boutique run by friendly staff who speak English and Spanish. Once again, they're indie creators who make everything in-house. I tried on a bat-printed shirt, and gave these cute Baphomet stuffed toys a squeeze. 
Luna carries a tantalizing selection of occult literature in Spanish, including guides to tarot and Santeria, and books of hechizos (spells).
(Voltaire's video covers a few other Goth stores I didn't get a chance to visit, such as Doctor Frankenstein Shop, which he recommends.)
I also recommend poking around Mexico City's La Condesa neighborhood, which is known as a hipster area. You'll come across indie and alt boutiques… and perhaps get a glimpse of Satan. 
I noticed a jar of dead roses beneath this Catholic glass shrine in Condesa. Peering closer, I saw it was marked with a pentacle! Google Translate tells me this says: "We carry our symbols with pride. We have the right to use them, as other religions use theirs." Hail to that.
Condesa is one of the best districts in CDMX to relax with a cup of joe. There are many craft coffee shops to choose from — but I was hypnotized by the glowing eyes logo of Blend Station.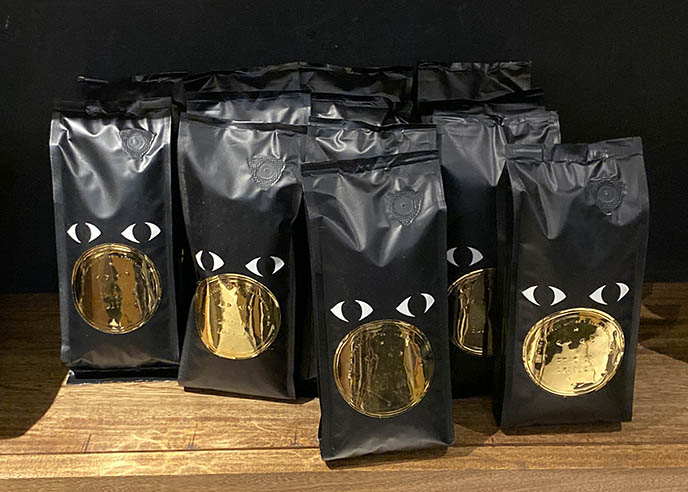 Voltaire's video also takes viewers to multiple "witch-themed" coffee shops in Mexico City. I didn't get a chance to visit any, as they're a bit spread out, but he highlights: Brujas Dark Galeria Cafe, and Salem Witch Store & Coffee. Each features witchy decor such as broomsticks and pentacles.
Voltaire also recommends Bizarro Cafe, a favorite Goth hangout in the Roma district. With rows of skulls on the walls, and cups decorated with bat wings, this seems like my type of place. (I'll have to come back to experience the Bizarro coffee shop, which sounds like something out of Seinfeld.)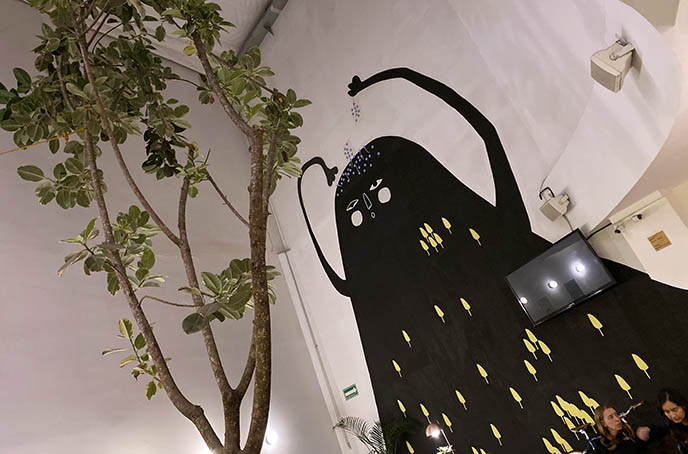 If you're in Mexico City on a Saturday, be sure to visit the Tianguis Cultural del Chopo flea market, also known as El Chopo. (I sadly wasn't there on that day…)
At Tianguis / El Chopo, you can browse open-air stalls that sell Gothic, emo, punk and alternative music (including vinyl and cassettes), clothes, accessories, you name it. There's a huge selection at low prices — and it's also a fab spot for people-watching, as you can see in Voltaire's video.
Fortunately, I did get a chance to stop by Mexico City's famous witchcraft market, Mercado Sonora. Located close to the CDMX airport, Sonora Market is an overwhelming bazaar for shamanistic remedies, death statues, and other ritual items.
(The market is safe, but tourists are advised to not linger in the surrounding Merced area. And always watch your bags and belongings, wherever you are.)
Mercado Sonora has many small shops devoted to brujería, or witchcraft. These healers offer medicinal plants, magic cleansing potions, and other occult talismans.
Sonora Market is also a great place to pick up skull beaded necklaces, and other spooky accessories and home decor.
Many of the magic shops are guarded by statues of Santa Muerte, the Mexican folk saint of Holy Death. The skull-faced idol wears a dramatic robe and carries a scythe, which she uses to separate the body and soul at the time of death.
It's easy to get lost in the sprawling Sonora Market, and feel as if you've descended into the underworld. Other sellers carry devilish items and Day of the Dead goods.
Sonora is famous for its artisans who make small paper sculptures, known as cartonería. Look for frightening Judas figures, and fantastical monsters known as alebrijes.
"She's a black magic woman / She's trying to make a devil out of me."
You can hire one of the many witches and shamans that set up shop at Mercado Sonora. They offer services like tarot readings, Ouija board sessions, voodoo, you name it.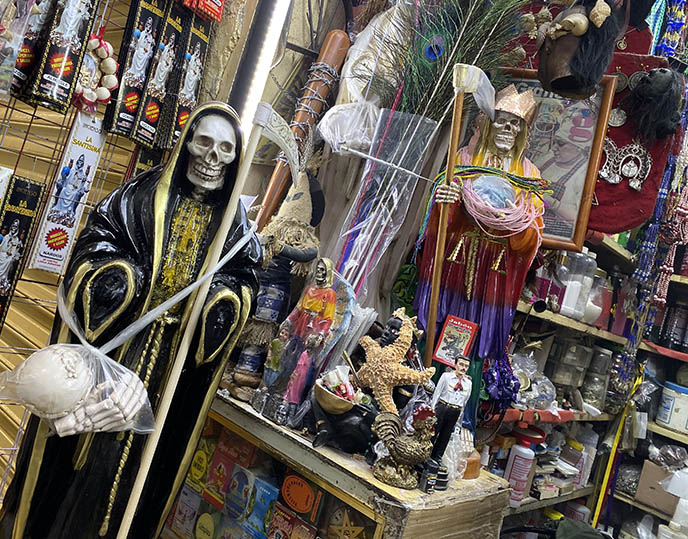 The Grim Reaper grins from every direction… Better pick up a blessed amulet to keep death from encroaching.
Fittingly, you can also get inexpensive Halloween masks, costumes and other horror goodies at Mercado de Sonora. I spy Jigsaw from the Saw series, and Pennywise the clown from It.
When I visited, Mercado had set up a giant Day of the Dead altar. (See more of my Dia de los Muertos coverage in this Mexico section of my blog.)
When night falls, Goths gather at El Scary Witches for tea and cocktails. This witch and Gothic-themed bar is best described as a salon for the dark arts — and it's a must-visit if you're in Mexico City.
Every guest is warmly welcomed by co-owner Clauzzen Hernandez (wearing one of her Edgar Allan Poe shirts). She and her husband have long been involved in CDMX's Goth subculture; Clauzzen is a DJ, and has a dark radio show called Hexen, The Black Book at Reactor Radio Station.
El Scary Witches is located in Zona Rosa — go into the narrow alley, and look for a sign pointing to the entrance. "The Scary Witches" is the ultimate dark destination: it's a bar, cultural forum, cafe, boutique, and film club in one.
I was particularly impressed with the venue's playlist: a rotation of obscure alt tracks. The music volume is never too loud, which lets patrons converse freely. That night, I heard Goth cabaret, post-punk and synthpop coming from the speakers. 
El Scary Witches's black walls and Gothic decorations are to die for. One corner sells t-shirts and dark goods like Cthulhu cookies. Sit down at one of the many tables, and enjoy drinks and snacks such as mollettes (Mexican open faced sandwiches).
The chill atmosphere is a welcome departure from typical Goth clubs. Many local women come here alone, and they can relax without being bothered by other patrons.
Clauzzen made her signature Black Devil cocktail for me. It's served in a skull glass, and features dripping red blood (syrup) and candy horns!
Boils and ghouls, El Scary Witches has my highest recommendation. Stop by this alternative / dark pub in Zona Rosa, and say hi to Clauzzen for me.
I hope to be back in Mexico soon for more witchiness. Day of the Dead was outstanding — and I'd love to see how it's celebrated in other regions of the country.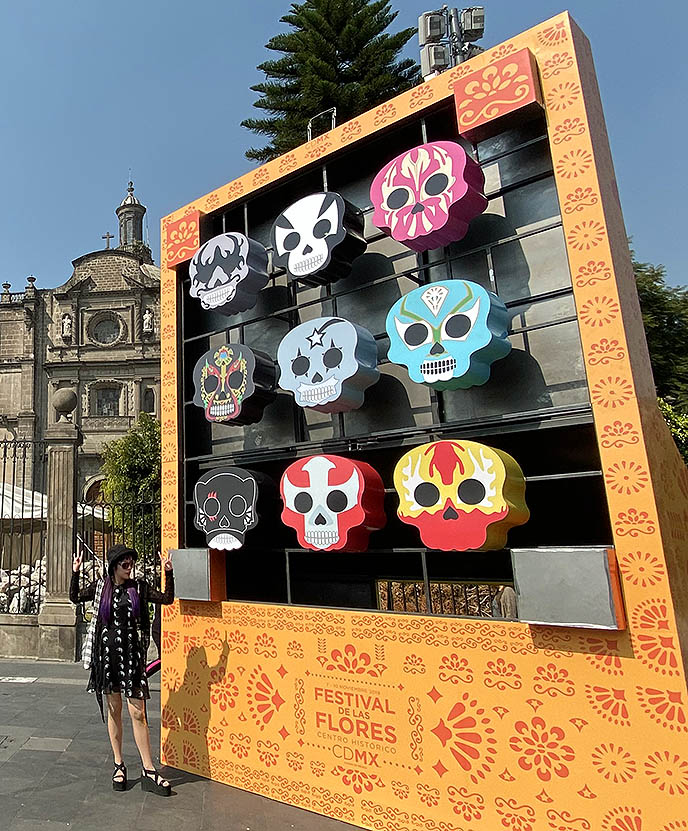 PS: Check out more of my Mexico Goth guides here — I wrote first-hand about the cemetery rituals, sugar skull makeup and other spookiness.
Grateful that I was able to have these Gothic travel experiences around the world, as they're not possible right now. But hopefully, we'll be able to voyage safely again soon.
Until then, I'll be sharing more local stories, as well as guest posts from familiar faces on this blog… Stay tuned, as I have some exciting things coming your way!