Category Archive for
Mexico + Central America
Well, here we are at June 2020. What a year of change and reckoning…
Over the past week, you may have seen my thoughts and resources on #blacklivesmatter on social media (@lacarmina). Before I continue with my travel stories, I thought I'd say something here as well.
These words by Oren Jay Sofer (reflecting on the George Floyd homicide and resulting protests) resonated with me:
"Stay with the discomfort. It's in the crucible of that pain that transformation happens. That's when we can start making real changes in our lives and say — I'm not going to be a part of this anymore. I'm going to educate myself, I'm going to speak out. I'm going to do something."
(Spoken in a Ten Percent Happier live meditation. Illustration via @witchesofatlanta Instagram.)
Black lives matter, and there are so many ways we can show our support. Donate (here's a list of suggested funds). Amplify BIPOC voices and creators. Lobby for changes within your industry and community. Truly inform yourself, speak out, and put in the lifelong work to be anti-racist.
Nobody has a rule-book for going forward, but I'm determined to do my best to be an ally for life.
In that vein, it feels right to keep sharing meaningful stories about travel and culture around the world. I feel travel is one of the most powerful tools we have to wake up from prejudices, and realize there is no true separation between any of us.
As Anthony Bourdain (RIP) put it: "The extent to which you can walk in someone else's shoes or at least eat their food, it's a plus for everybody. Open your mind, get up off the couch, move."
(I'm including these photos, as they mark a turning point. They were taken by Joey Wong at Joshua Tree, January 2020. We barely knew about coronavirus at the time… Now, we're in a whole new world, and it's up to us to make it a better one.)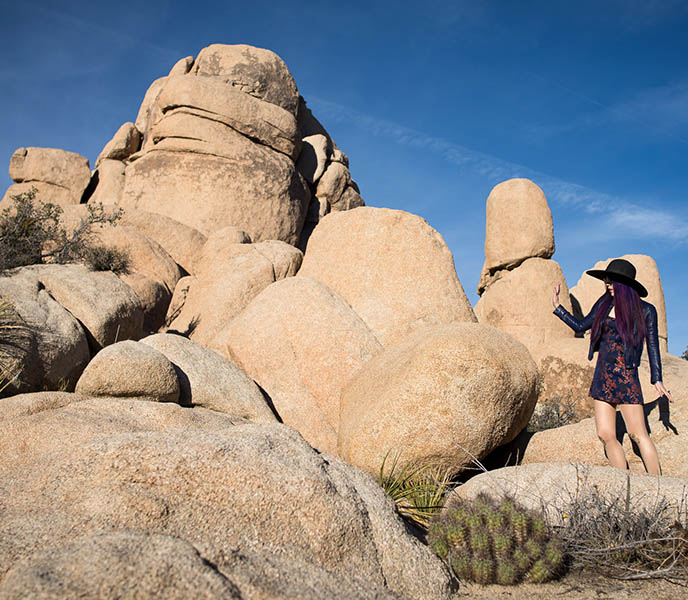 International travel may not be feasible for some time. But from home, we can still be curious and open to different ways of being.
As Anthony Bourdain also said: "To be treated well in places where you don't expect to be treated well, to find things in common with people you thought previously you had very, very little in common with — that can't be a bad thing."
In that spirit, here's a new cultural dispatch from Mexico City — one of the best destinations out there for foodies and art-lovers! I got to eat insects (they were delicious!) and gaze at space-age architecture… Grateful that CDMX got to be one of my final trips for now.
You may remember that I went to Mexico to celebrate Day of the Dead 2019. During the journey, my friends and I dined at three of the hippest restaurants in Mexico City.
We began with a bang at Azul Condesa, which specializes in Oaxacan dishes (Oaxaca is considered one of the best food regions in the country). As soon as we saw this lady making fresh traditional tortillas, we knew we were in for a meal to remember.
The eatery is located in La Condesa, considered the hipster area of CDMX. Azul's sleek decor and presentation matched the chic feel of the neighborhood.
I was excited to eat bugs in Mexico City! This isn't a novelty — insects are traditionally eaten by locals, and prepared in unexpectedly delicious ways. The gooey ant larva (escamole) and crispy grasshoppers paired crazily well with the fresh corn tortillas and guacamole.
We sampled juicy pork tacos wrapped in banana leaves, and a perfectly grilled Yucatecan fish with avocado and plantain.
Be sure to order one of the moles from Azul's extensive selection. The mole negro, or "king of the moles," was the best I've ever had. This dark, velvety sauce is made from over 30 spices and ingredients, resulting in a complex mix of spice, smokiness, sweetness, and heat. You can also try moles from different regions of Mexico; some are made with yellow chilhuacle or red guajillo chiles.
The Aztec adored xocōlātl, or hot cocoa. For dessert, the chef came over with a hot chocolate station. Choose from various flavors such as vanilla, spicy, or the chef's selection, which he then mixes by hand in a traditional pot.
(All Azul Restaurant photos by Luke Walter.)
On our second night, we made our way to the Roma neighborhood. As depicted in the Alfonso Cuarón film, this is an elegant area with plenty of parks and restaurants.
We had an artful meal at the local hotspot, Meroma. The ground floor houses a craft cocktail bar. Guests access the restaurant through a concealed staircase in the back corner.
Meroma specializes in flavorful small plates, served on fine colorful tableware. I enjoyed the handcrafted Mezcal sour (lime, egg whites and bitters) so much that I ordered a second one.
Meroma's chefs focus on sustainable Mexican ingredients, while drawing upon techniques from all over the world. The fresh daily catch is a must. Loved the yellowtail ceviche, elegantly draped with leaves.
We ate up every bite of the grilled quail with vegetables, and agnolotti filled with fresh cheese, mushrooms, sage, and thyme.
The contemporary desserts are a must. We recommend the goat milk tart with rice cream and chamomile, and cacao pot de creme with parssion fruit caramel, cacao crumble and coconut sorbet. Treat yourself at Meroma — you won't regret it.
For a fine and traditional Mexican meal, book a table at the charming El Cardenal. The restaurant has several locations, each with classic decor and recipes that were handed down throughout the centuries.
El Cardenal's classic menu includes mole with chicken, and ceviche. My favorite dish was the Gusanos de Maguey (Maguey Worms) — be adventurous, and you may be amazed at how tasty bugs can be!
The mezcal worms are lightly fried or toasted, for a pleasing slightly crunchy texture. I ate them wrapped in a tortilla, with a smear of guacamole and salsa verde (green chile hot sauce). So. Good.
What do bugs go well with? For any Mexican meal, you can't beat a fresh fruit margarita. El Cardenal makes a fab lemon one with a salt rim; I asked for mine with no sugar.
I'm officially a fan of eating creepy-crawlies. I'd come back to El Cardenal any time for more of these wrigglers.
Don't forget that "bizarre foods" depends on cultural context. Bugs are historically eaten in Mexico, and they're a cheap and sustainable source of protein. Give them a try, and you'll discover a whole new phylum of dining!
Now, let's appreciate the futuristic architecture found throughout Mexico City. You'll find space-y design in the most unexpected places, such as this old library we stumbled into. (Beam me up, aliens… I'm ready to leave this planet!)
CDMX is home to many works by Luis Barrigan, the Pritzker-winning Mexican architect inspired by Le Corbusier. His mid-century designs are recognizable for their clean lines and bright colors.
I was keen to visit Luis Barrigan's Casa — but they don't permit photography, so I couldn't share the experience with you. Instead, I went to Camino Real Polanco, and was mesmerized by the swirling whirlpool fountain at the entrance.
Camino Real Polanco Hotel was built in the late 1960s by Ricardo Legorreta, a modernist architect and student of Luis Barragan. A psychedelic pink and yellow cow looks over the swimming pool and garden.
Poke around the hotel, and you'll come across glorious corners like this twisting white staircase. Talk about synthwave architecture…
Anyone can hang out at Camino Real Polanco's bar, which has blue geometric planes and shallow water elements. Groovy, baby.
Another architectural must-see is Museo Soumaya. This space disco structure opened in 2011, and was named after Soumaya Domit (late wife of Carlos Slim, the Mexican business billionaire).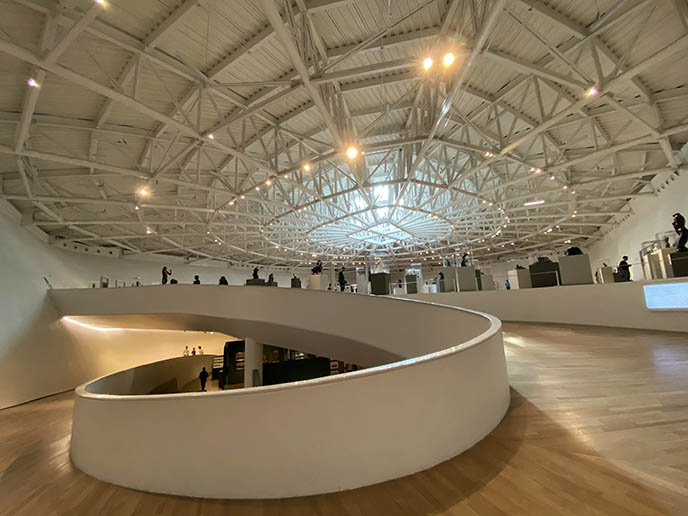 Soumaya is an art museum that offers free admission for everyone. The curving white ramp reminds me of the Guggenheim in NYC, designed by Frank Lloyd Wright. (The Soumaya Museum is the vision of architect Fernando Romero's firm Fr·ee.)
Soumaya's select collection includes Mexican artists and European old masters. A bronze of Auguste Rodin's The Three Shades (Les Trois Ombres) sits beneath the apex. (It's part of his 1886 group, The Gates of Hell.)
Close up on Soumaya's futuristic silver exterior. It's like a sequin purse, or spaceship, or snakeskin… no wonder I'm into it.
Last stop: Mexico City's Biblioteca Vasconcelos, which opened in 2006. The highly Instagrammable library includes lush gardens, creating a green oasis within the metropolis.
Look up, as you enter Vasconcelos Library… Wow!
The trippy design layers concrete and glass walkways with stacks and reading areas. It's fun to randomly go up staircases and look out from the balconies.
Artist Gabriel Orozco's Ballena (Whale), a painted whale skeleton, hangs from the center of Biblioteca Vasconcelos,
Here's a last look at the imaginative design of the Museum of Anthropology (I featured the Museo in depth, in this post). Did you know there was such epic contemporary architecture in CDMX?
If you missed my article about Mexico City's human sacrifices, green alien masks, elongated skulls and other bloody artifacts, check it out here.
I still have a Mexico City Goth shopping / bars / clubs guide to share with you. And more Day of the Dead coverage to come… You can see all my alternative stories so far in my Mexico travel category.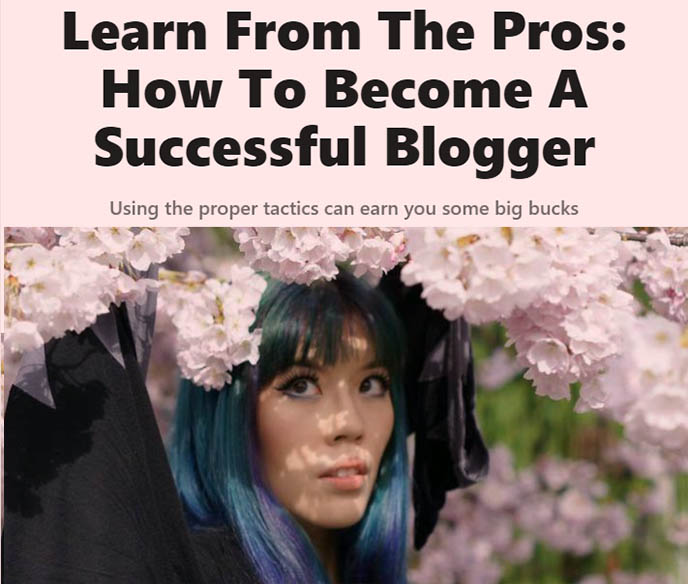 Two final notes before we go. It was an honor to be interviewed for "Learn From The Pros: How To Become A Successful Blogger." I shared tips on blogging and monetization, and how to gauge one's success. I hope you find the article helpful.
Also, friends in France: you can catch me on Canal Plus TV on June 10, at 9pm! I appear in the bagelheads body modification segment of "La Gaule d'Antoine," a new program with Antoine des Caunes. (I did a Tokyo TV show with him a few years ago.)
Let's end with more words from Anthony Bourdain, as I've been thinking of him… (He's been gone two years now).
"Travel changes you. As you move through this life and this world you change things slightly, you leave marks behind, however small. And in return, life—and travel—leaves marks on you."
Take care of yourselves, my friends.
Hi. How are you doing in these bizarre pandemic times? It's hard to fathom that most of us have been in lockdown for over a month now.
I'm in "pajamas mode" almost all the time, but I dressed up to take a walk outside and enjoy the cherry blossoms. (The city lets people spend times outdoors, if you avoid crowded areas and always maintain a safe social distance.)
This year, there shall be no "hanami," or gathering with friends to admire the pink blossoms. Instead, it's sakura meets survival mode!
(Reason #666 it's good to be Goth: you already have a closet full of apocalyptic clothing. I'm wearing a fuzzy Mongolian lamb coat by Skandinavik, Very Metal dress by Gladnews Japan, Moat House wood sunglasses, and Sylvain Le Hen HairDesign Access barrettes.)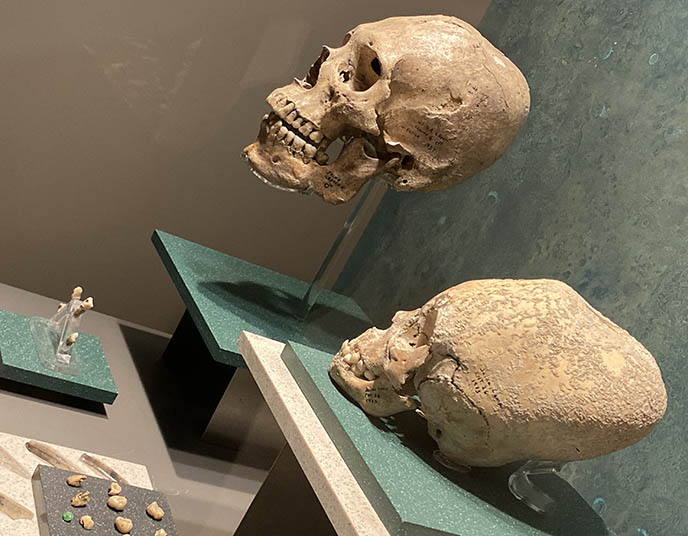 These days, much is uncertain. All my travels are cancelled for the foreseeable future. But I'm here to connect, and help however I can as we go through this strange era together.
For now, I'll keep sharing Gothic outfits, and stories from my recent trips. I hope you enjoy this deep dive into Mexico City's skull-loving ancient civilizations. I went to several fascinating museums, where I learned about Mayan conehead skulls and Aztec sacrificial remains…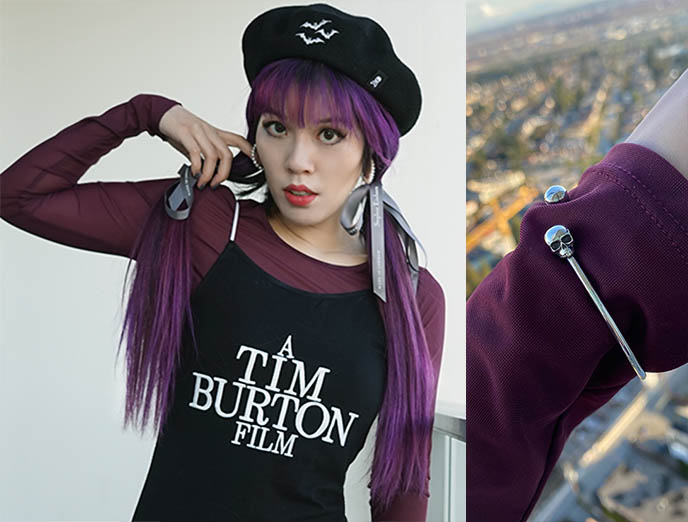 Until we flatten the curve, I'll be staying in and shooting outfit photos on my balcony with a remote. (That's the way we fashion bloggers did things in 2007… are we back to the future?)
(OOTD: Skull bracelet and ribbons Stephen Einhorn, Goth dress Forest Ink, burgundy top StellasStyle, beret Sourpuss.)
These days, I find myself reaching for activewear that is edgy and stylish.
I was delighted to discover StellasStyle, an indie shop that curates luxurious fitness fashion. Their site brings together select designs from forward-thinking, sustainable labels (I'm wearing a golden jacket and purple-red mesh top from their collection).
StellasStyle's Lanston Aiden sheer runched long sleeve shirt can be worn for barre, ballet or yoga classes (layered with a sports bra). Or slip it under a bodycon dress with spaghetti straps, for a 1990s vibe. The breathable material is perfect for layering, especially when I travel in different climates.
(I styled it with a bat beret by Sourpuss, Tim Burton dress by Forest Ink, and Stephen Einhorn pearl earrings and skull bangle.)
You know I love space-age metallics… so I went for this "Going For Gold" brass jacket by L'urv (from StellasStyle). I've never seen such a fabulous puffer.
Love the futuristic gold fabric and hardware, which elevate the design to the next century. The waterproof bomber has a hood, diamond-quilted insulation, and plenty of pockets. Browse more eye-catching active fashion (including my coat and top) on StellasStyle.com.
Nowadays, I'm appreciating the small things such as a walk outside. Have you been able to see and enjoy the cherry blossoms?
I dressed up to match the pink flowers. Wearing a Tita mini dress by French designer Valfre, red floppy hat by Tenth Street Hats, and Mexique platform boots by Jeffrey Campbell. Find more below from this alt shoe designer:

Finally, my new sunglasses are by Pugnale Eyewear, an Italian designer whose motto is "The metal side of art." These Spalla pink frames have a pretty butterfly shape, and silk gathered fabric at the edges! Pugnale's sunglasses are handmade in northeast Italy, and the metallic frames are beautifully crafted.
Voodoo heart cardigan by Sourpuss Clothing, and black felt hat by Tenth Street Hats.
Now, let's flash back to my travels last fall, in Mexico City. CDMX has been on my bucket list for years — as a lover of ancient civilizations, I've longed to visit the famous Museum of Anthropology.
The Museo Nacional de Antropología focuses on pre-Columbian Mexican history, and contains around 600,000 artifacts from all over the country. Visitors can gape at everything from prehistoric skeletons to tribal jewelry, to the enormous Temple of the Feathered Serpent in Teotihuacan.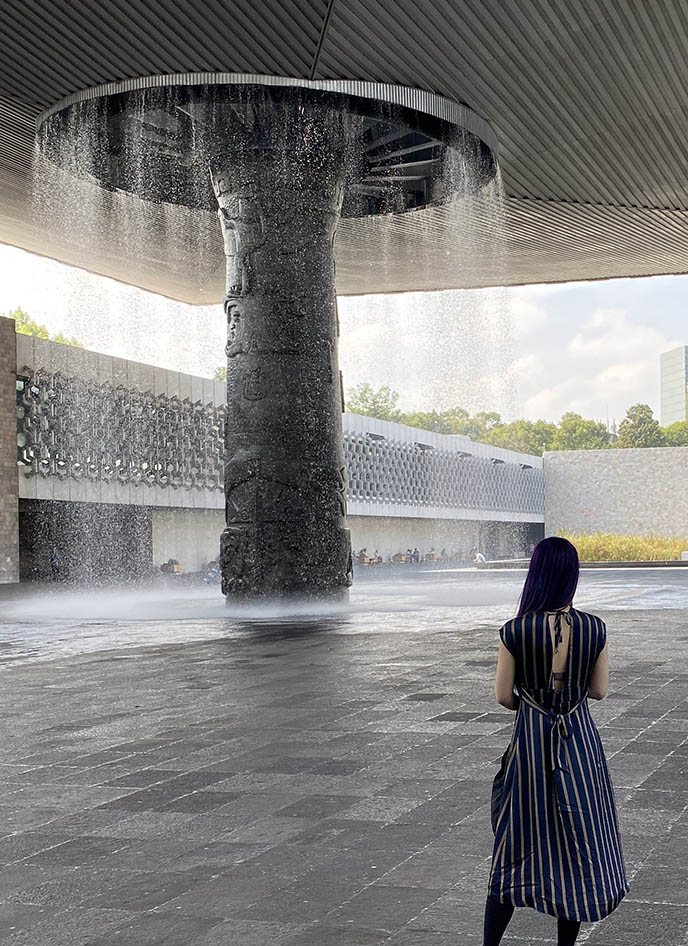 The Anthropology Museum is immense, and you can easily spend an entire day (or at least several hours). How space-y is the concrete courtyard, held up by a dramatic "umbrella" fountain?
You'll find dozens of exhibition rooms around the main courtyard, as well as outdoor gardens with centuries-old temples. (Wearing a striped silk dress by Chaser.)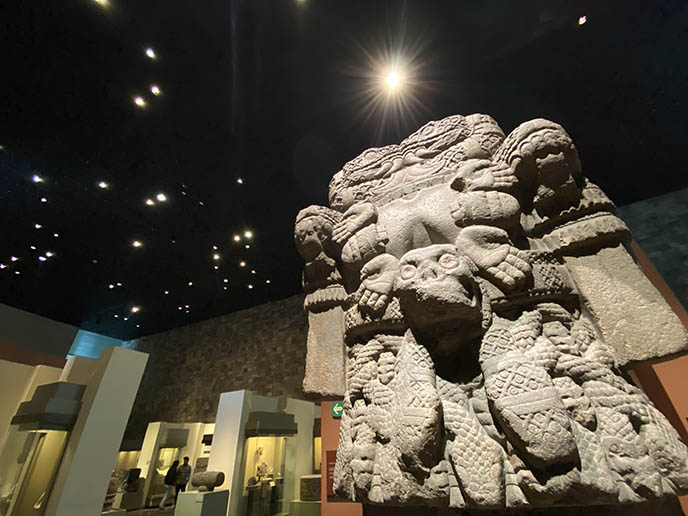 The museum is full of intriguing archaeological finds — but since this is a Gothic travel blog, I'll highlight the darkest and spookiest relics! My favorite rooms were 4) Teotihuacan, 6) Mexica, and 9) Maya.
I nearly turned to stone when I stared in the eyes of Coatlicue, goddess of fire and fertility. Carved in the 1400s, the Aztec statue shows the deadly goddess in a skirt of snakes. She has a necklace made from human hands and hearts, and wears a skull on her belt… So heavy metal.
I learned that the people of Mexico have always loved skulls. Behold the Disc of Mictlantecuhtli, one of the Aztec gods of death. Worshippers sometimes engaged in ritual human cannibalism, to appease his morbid nature.
Death rites have long been important to locals (who continue to honor ancestors with Day of the Dead, as I witnessed in Merida). The Pre-Hispanic people believed in Mictlan, an underworld ruled by the Lord and Lady of the dead. This duo was represented as fearsome skeletons with bulging eyes.
When a family member died, their kin performed intricate rites to ensure their soul reached the land of the dead.
Some of the Aztec rituals involved human sacrifice and flesh-eating. The Anthropology Museum discovered these skeletal remains of victims, usually slaves or prisoners of wars. The captives were slayed en masse to appease the bloodthirsty deities (especially sun god Huitzilopochtli), and display the brutal power of the empire.
Go to the lower level of the Maya room, and say hello to the alien-like King Pakal. In the 7th century, he was the ruler of Palenque, located in the south of Mexico. His funerary mask is this glowing jade masterpiece, which makes him look like a little green Martian man!
The museum also displays K'inich Janaab' Pakal's sarcophagus, which is decorated with the sun, moon and stars. The carvings show the king seated on a structure… which looks remarkably like a spaceship. He also appears to be wearing a breathing apparatus and holding controls with his hands.
It makes you wonder… Did the ancient Maya have knowledge of space travel and extraterrestrials? 
I enjoyed seeing pre-Columbian fashion and jewelry, like flamboyant feathered headdresses. Some statues had intricate body mods, such as nose and ear piercings… How punk is this lady's look.
Mexico City's anthropology museum has several elongated Mayan skulls… they look eerily like HR Giger's xenomorphs in the Alien films! Were these coneheads the remains of extraterrestrial visitors?
The truth is not so out there. The Maya performed cranial deformation as a body modification. Parents pressed a board to their baby's still-soft skull, creating a long flat forehead that was considered a sign of beauty. The art of adornment even went so far as to inserting precious stones into the teeth.
Archaeologists have uncovered intriguing burial sites in Mexico, like this one. The couple is surrounded by practical and fine objects, arranged in intricate patterns.
Here's how a Mayan child was interred.
Mexico City's Museo Nacional de Antropología is fascinating on so many levels… I've only shown you a small sliver of their collection. If you only go to one museum in the city, make it this one.
I wasn't kidding when I said CDMX was full of skulls and human sacrifice. You can see the remains of both at Templo Mayor, located in the Zocalo historic center. In the 1300s, the city was known as Tenochtitlan, and this was the main temple of the Mexica people.
I'm sitting next to a cute jaguar, or Ocelotl-Cuauhxicalli. Don't let the smiling feline fool you… this stone vessel was used to hold human hearts, which were ripped out of sacrificial victims!   
In 1521, Spain's Hernán Cortés arrived in Tenochtitlán and described the bloody Aztec ceremonies that took place at Templo Mayor. Like in the Apocalypto movie, the priests used a knife to slice open the person's chest, and lift up their heart to the gods. Then, they tossed their bodies down the steep steps.
The decapitated heads of the victims were mounted on a towering wooden rack, called a tzompantli. Some of these skull-racks held over a thousand heads, lined up in rows!
Historians thought that the Spanish conquistadors were exaggerating… until they found proof of the tzompantli and large-scale human sacrifices in 2015 and 2018. I guess Mel Gibson's brutal movie had it right after all.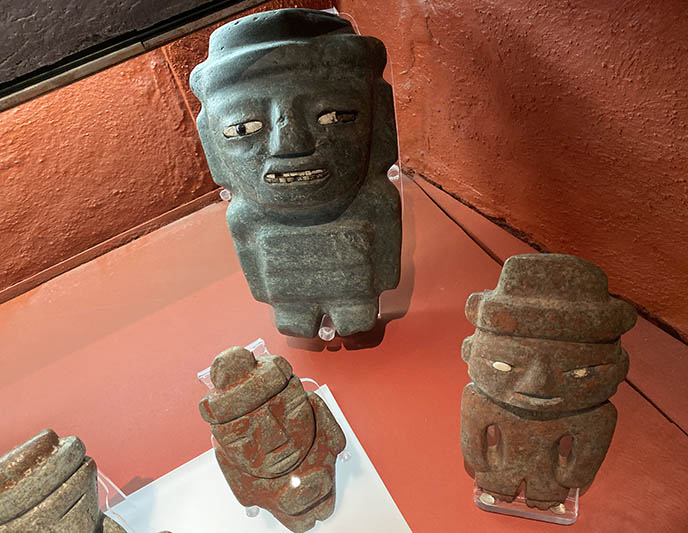 After you walk around the exterior ruins of Templo Mayor, you can go inside to see displays of artifacts from this excavation. Once again, there were loads of interesting objects, but let's focus on the Goth-est ones.
These "skull masks" were created as offerings to the gods. The shell and pyrite eye decorations give them a googly-eyed look. Note the perforations on top; these probably held curly hair.
I saw more burial arrangements, featuring grinning skulls and gems.
The bodies of human sacrifice victims weren't as well-treated after death. They were often given to high-ranking community members, who cooked their body parts in large pots and ate them. Ritual cannibalism was considered an honor, and a way of communing with the gods.
Inside Templo Mayor's museum, you can get up close with a reproduction of the "huey tzompanti." The skulls of decapitated victims were covered in stucco, and used to build a wall. (This would look right at home in a Goth club, or heavy metal bar.)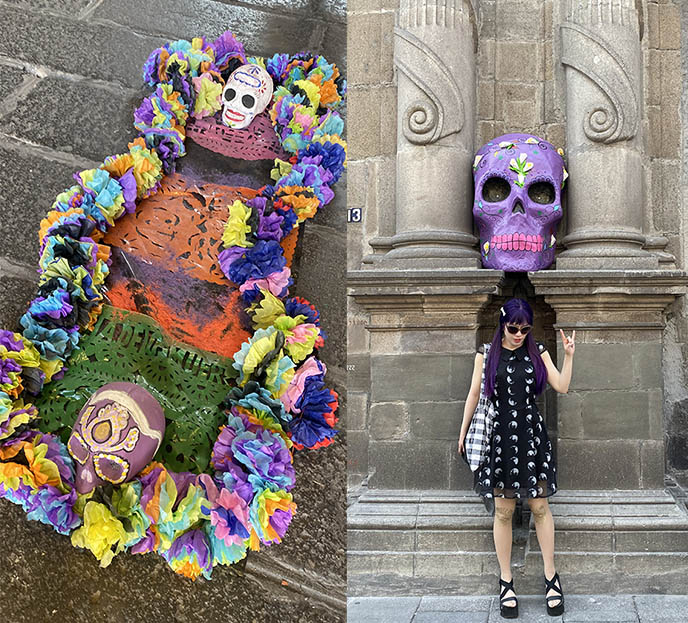 Today, the people of Mexico City still put skulls everywhere… but now, they're colorful calaveras that don't require the loss of life!
(See Part 1 of my CDMX Day of the Dead report, for sugar skulls galore.)
Around Day of the Dead, you can see plenty of skulls at Museo Nacional de las Culturas del Mundo. Located in Zocalo, this free museum lets you learn about both Mexican and global cultures. (My star platform shoes are Rocketdog Footwear).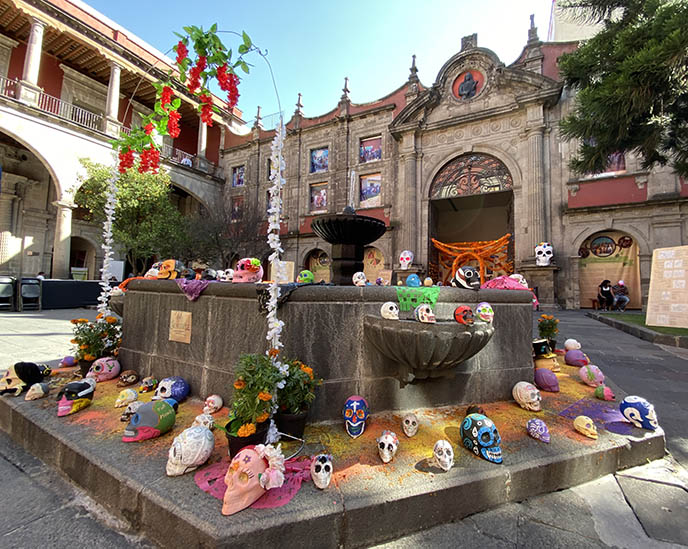 The culture museum is located in an elegant colonial-era building. In the 1700s, this was the site of a mint.
I had fun seeing the creative ways that artists painted sugar skulls. Neon colors and floral motifs were popular.
This cheerful, rainbow arrangement expresses the joy of Day of the Dead. Rather than being a scary holiday like Halloween, this is an occasion to honor those who have left us, and celebrate their personalities.
Mexicans put up altars for those who have left us. This one is laden with fruit, marigold flowers, and skeleton dolls.
I also popped into the free Museo de la Medicina Mexicana. Housed in an 18th century palacio, the Museum of Mexican Medicine covers Mexican medical practices over the centuries. You can find all sorts of oddities like preserved fetal brains…
… and tubes of babies in various stage of development before birth. This scene looks straight out of a sci-fi film.
The medical museum also has wax figures depicting ailments, and plenty of rare skulls and bones.
And that's only a small glimpse of the cultural wonders in Mexico City… This skull-filled destination is ideal for Goths, as you can see!
If you're hungry for more skulls, check out the rest of my Mexico Day of the Dead journey here.
Grateful I had the chance to see these artifacts and rituals in-person. Travel may not be possible right now, but I'm certain you can look forward to exploring Mexico City — or anywhere that fascinates you — soon. 
Check back on the blog soon, as I have a backlog of stories still to share! You can also keep in touch via my social networks: Add @lacarmina on Instagram – Twitter – Youtube – Facebook – Pinterest.