Category Archive for
Mexico + Central America
Ready for round two of my Puerto Vallarta travels? Read on for my offbeat, alternative guide to Zona Romantica — the LGBTQ district and best place to stay — including molecular mezcal cocktails, Day of the Dead skeletons, and a xenomorph alien!
I recommend staying in Zona Romantica as it's within walking distance of the beach and hippest restaurants, as well as LGBTQ clubs and bars. My daily protocols were a dream: get ice coffee, walk the Malecon (boardwalk) and dip my feet in the foam, eat 20 peso tacos, and watch the sunset. (You can see my fav Puerto Vallarta attractions at a glance in my @LaCarmina Instagram Guide.)
I took some photos to showcase my updated hair color — it has blue streaks in it now, along with dark purple and my natural black underneath. My stylist is Katya at Kore Salon in Vancouver.
Living the jungle life in Puerto Vallarta, Mexico. Wearing a halter bikini top by UK Swimwear — they have lots of chic swim styles, and I like how I can wear this as a crop top as well. My comfy animal print pants are from Medellin, Colombia.
I'm forever living in the 90s — that era is my makeup inspiration these days.
Digging the foreground blur. These images were shot on my Sony a7 IV mirrorless camera.
I also take images on the iPhone, as it brings out landscape and sky details nicely. I made it a habit to catch the sunset over the ocean every day.
Here's another beachwear look. My red bikini and long resort dress are by UK Swimwear.
I took these photos at the only uncrowded spot on Los Muertos beach, under the palapas. If you're looking for a quiet, deserted beach experience, go to Playa Conchas Chinas instead (all info and pics in my first PV post).
Speaking of living in the 1990s… I got these reissued Steve Madden Slinky sandals (I had the same ones in the late 90s!) The slight platform and "fwap fwap" noise bring me back. Get a pair below, in various colors:
Zona Romantica is Puerto Vallarta's rainbow district, as you can see from the pride flags and Tom of Finland murals. The streets are filled with LGBTQ clubs, bars, and shops with friendly vibes.
Always a fabulous time traveling with Trevor. (We met this local who was obsessed with my hair's realness!)
Long live the Queen in Puerto Vallarta (or the Queen Mother)…
I recommend getting a local Airbnb or booking a boutique hotel in the Romantic Zone, rather than staying in the distant resorts. Mine had a cute patio area. I'm wearing an Abysm Internal kimono that matches my hair and the turquoise door.
Abysm Internal has a wide selection of original, dark and fantastical designs — I was drawn to this Japanese horned hannya with a pentagram on its forehead. I chose it in the sheer fabric, and purple/blue color variation.
Leave it to us to find the most Gothic parts of Puerto Vallarta. We saw Day of the Dead skeleton figurines in a store near the Malecon.
This Mexican skeleton couple was looking out at the ocean from a patio by the boardwalk.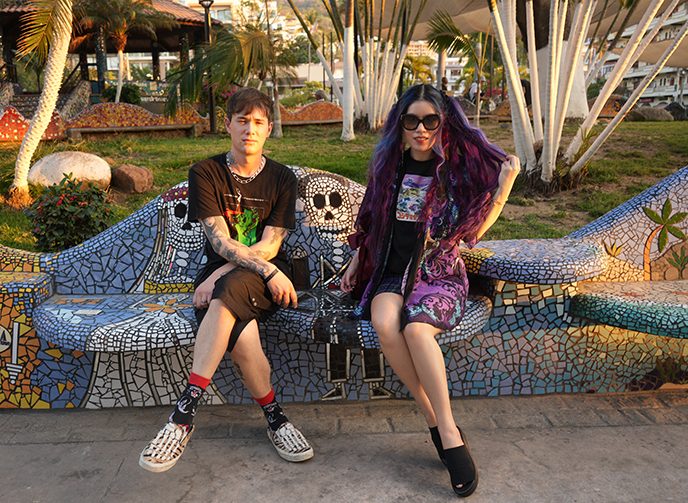 At Plaza Lázaro Cárdenas in Zona Romantica, there are a variety of colorful seats… including this Dia de los Muerto themed one. We had to take a photo here at Golden Hour.
Find my Steeeveee Maddennnn shoeesss below (if you've seen Wolf of Wall Street, you'll know what I mean).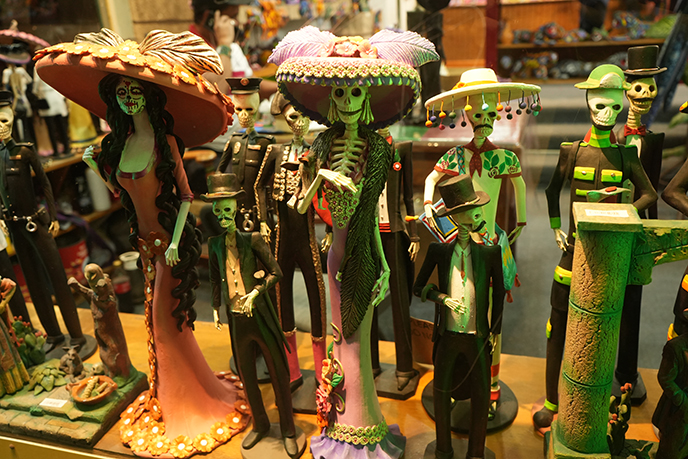 Puerto Vallarta has quite the party scene, and would be a thrilling spot for Day of the Dead. (You can see how I celebrated Dia de los Muertos and Halloween in Mexico City and Merida, in my past Mexico posts here.)
Although there weren't any Goth clubs or events in Puerto Vallarta when we were there, I loved visiting El Colibri bar, which serves mezcal craft cocktails and has an alt / Gothic atmosphere.
As The Collapse accelerates… Abysm Internal's Gothic / devilish kimonos are a stylish way to keep cool and covered from the sun.
Mexico's west coast has a dry heat and no mosquitoes (unlike in Riviera Maya / Tulum). It's easy and inexpensive to get here from the North American west coast, making it a perfect winter getaway.
Golden Hour at the beach by Zona Romantica. Take off your shoes, and have a "Gaywatch" moment.
My Japanese demon kimono is the perfect Goth summer beach coverup.
Been making it a habit to walk 10k steps a day and spend more time outdoors.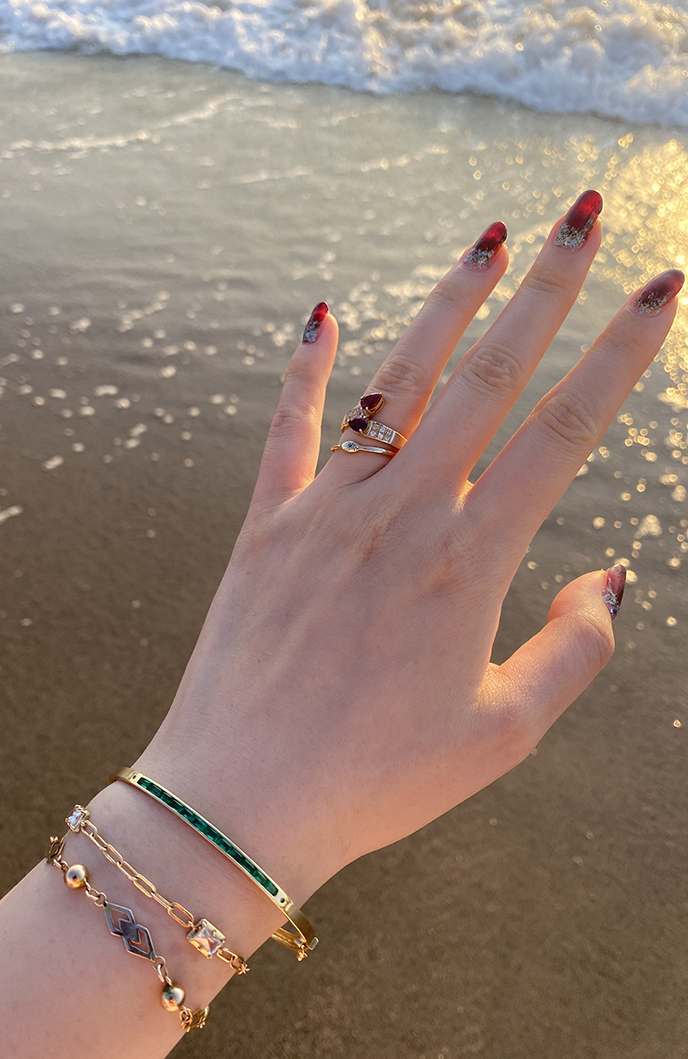 Here is a video of my jewelry at sunset. Wearing a gold and diamond ouroboros ring by Ingrid Valou (stacked with my mom's ruby/diamonds/gold1970s ring). The topaz and gold paper clip bracelet is from Anzie Jewelry (stacked with my mom's 70s gold chain bracelet, and a Colombian emerald and blue diamond gold bangle I got in Medellin.)
We were all about the witchy molecular cocktails at Mezcal & Sal, in Zona. The drinks came with magical presentations like bubbles, slides, and drops.
Mezcal y Sal also puts a creative take on Mexican dishes — such as watermelon tiradito (that tastes like marinated tuna), and cactus mousse for dessert.
I'm on a mezcal kick, as it's a pure alcohol. Visit Agave Liquors in Zona Romantica for a wide selection of artisanal mezcals. and also check out Vinos America (I got the Alipus San Andres there for 999 pesos). Stay out of the tourist stores, and make sure you purchase mezcal that is over 40% alcohol with no additives. I recommend getting a small-batch handcrafted Mexican mezcal for around 1000-1500 pesos.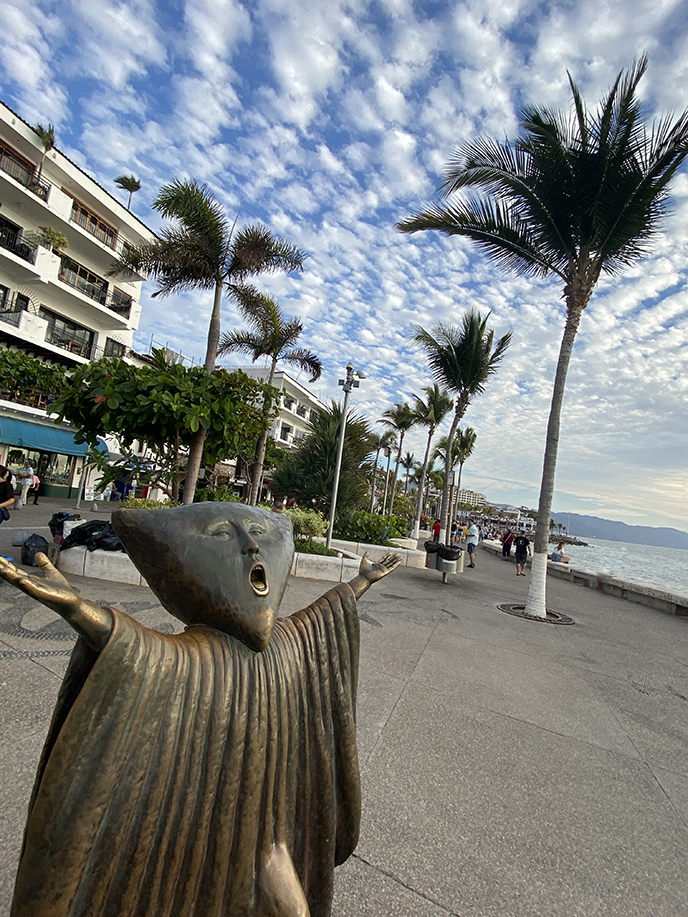 Ran into a Dorito-faced cult leader on the Malecon. While Puerto Vallarta is a popular tourist destination, it doesn't feel overly commercial or Americanized, especially if you avoid spring break and peak times.
As you walk the seawall, you'll come across weird sculptures, performance artists, and other inspiration.
We dared to approach this Alien xenomorph… What a costume! I passed by an Edward Scissorhands as well.
Loved being close to the water and birds in Mexico.
The skies turn dramatic after sunset. (See my first Puerto Vallarta post for more recommendations.)
Leave it to me to find Miffy wherever I go… next to a UFO!
The Tarzan life in Puerto Vallarta suited me well, and I'd jump at the chance to go back (especially in the coldest months)!
For more of my food / beach / attraction tips, see my Instagram Guide to Puerto Vallarta here. And if you'd like anything from my personal wardrobe, take a look at my Depop @LaCarmina (I ship worldwide, and can do bundle discounts).
Finally, a reminder that I've been ramping up my social media content… Add @LaCarmina on Instagram and other social networks (YouTube, X as it's now called) to see the latest updates, and learn where in the world I'll be next!
Goth on the Beach alert! My friend Trevor and I recently escaped the cold for Puerto Vallarta, located on the west coast of Mexico. Puerto Vallarta is only a 4-ish hour direct flight from Vancouver, making it a great choice for those seeking an easy and inexpensive getaway.
Read on for our beach, mezcal and Elizabeth Taylor adventures!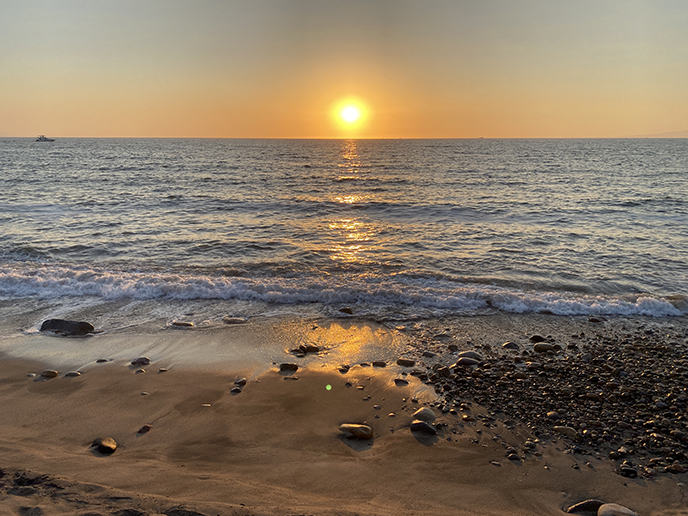 My top tip: stay in Zona Romantica, known as the LGBTQ area. Everything is walkable in the Romantic Zone — you're blocks from the beach and Malecon, as well as the coolest restaurants and bars. If you stay north in the resort areas (Nuevo Vallarta and Nayerit), you're far from the action and can't easily walk around and explore.
Zona Romantica is within walking distance of several popular beaches. But if you want to get away from the crowds… simply take a 60 peso Uber to Playa Conchas Chinas further south. I got there at 9am, and had the place to myself!
All right, I wasn't quite alone. This modelesque snowy white egret was cat-walking along the shore.
Keep in mind that UV rays are intense in Puerto Vallarta, even in the early morning! I covered up with tons of mineral sunscreen, and an Audrey Hepburn style downturned brim hat.
My Cruella black and white pearl necklace is Lily Streeter Jewelry — love how it fastens easily in the front. Lily makes darkly romantic jewels inspired by days of old; check out her site for other edgy fine designs.
I also covered up in style with Abysm Internal, an indie designer of alternative clothing and home decor. I was drawn to their original Gothic, fantasy and mythological prints, which include dragons, skulls, and demons. Everything is made to order, in beautiful sheer or solid fabric.
Obligatory hot dog legs shot. Unlike other Puerto Vallarta beaches, Conchas Chinas has a more Gothic feel — it's marked by dark rock formations, and the waves were a little more intense.
Happy to be in Mexico, by the warm water! My leopard print pants are from a boutique in Medellin, Colombia and my top is by Michi NY.
My necklace by Lily Streeter Jewelry is inspired by Cruella de Vil, and made by hand in half black and half white pearls. My oversized sunglasses are Balenciaga.
Around 11:30 to noon, more people arrived at Conchas Chinas — but it still was pretty empty. Quite the contrast from busy Los Muertos beach, which is filled with people and pounding with club music. Keep in mind that there aren't any food or toilet facilities at Playa Conchas Chinas, but there are usually umbrellas and chairs for rent.
I'm wearing this blue shadow dragon design by Abysm Internal. I'm a fan of kimonos as summer outerwear, as they are light and keep you cool yet protected from the sun's rays. I chose the open shirt in a sleek, silky knit, and it came with a black robe tie around the waist (not pictured).
I considered Photoshopping out the fellow in the back, but decided to keep him in!
Photos taken by remote app, on my Sony a7 IV mirrorless camera. (That's why I am holding my phone in shots — I use it to click the shutter.)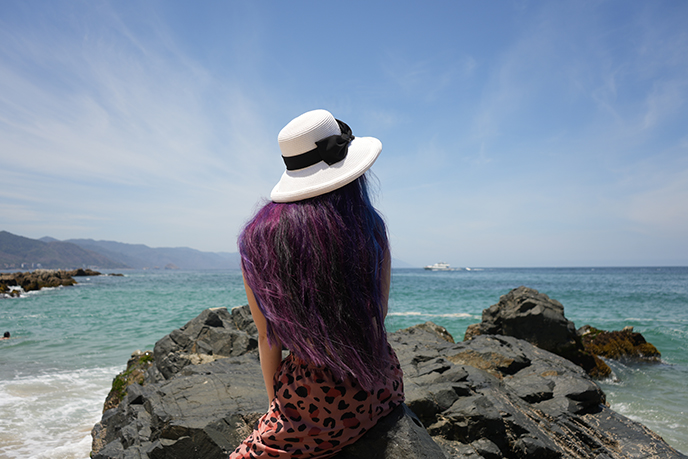 My hair color has some blue in it now, to match the ocean and mountains.
Puerto Vallarta has other gorgeous beaches. From Zona Romantica, walk north along the Malecon to Playa Camarones. It sits on a more peaceful section of the shoreline, and you can't beat the sunsets here.
These beaches are all accessible to the public. If you're planning a trip to Puerto Vallarta, try to avoid the peak tourist times such as spring break and Santa Semana (the holy week in early April).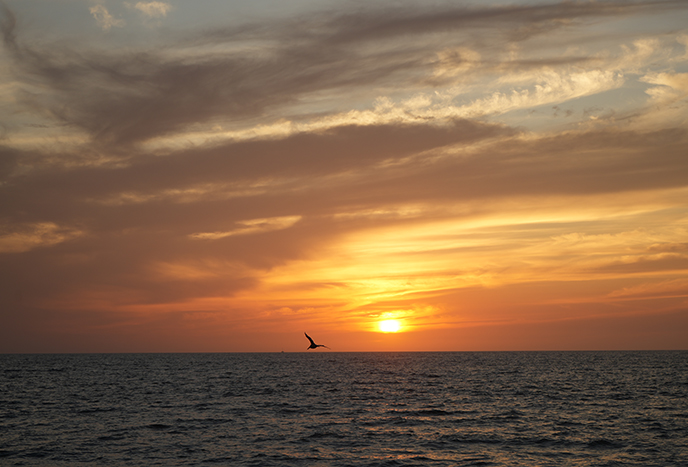 Playa Olas Altas (right by Zona Romantica) is another lovely spot to catch the sunset. You can see sailboats move across the horizon, and pelicans diving into the waves.
Puerto Vallarta's Malecon has glorious views from every point on the seawall. In the next post, I'll show you more of it.
Once you're in Puerto Vallarta, you can eat fabulous food for cheap all throughout Zona Romantica and Centro. My favorites: 20 peso al pastor tacos at Tacos el Gato, located by the beach in Centro (the pineapple up top is sliced fresh into the corn tortilla!) Also try Marisma Fish Taco (the quesadillas and add-on vegetables / sauces are to die for), and go to Cafe Oro Verde for coffee and beans to take home (330 pesos per kilo, check opening hours in advance).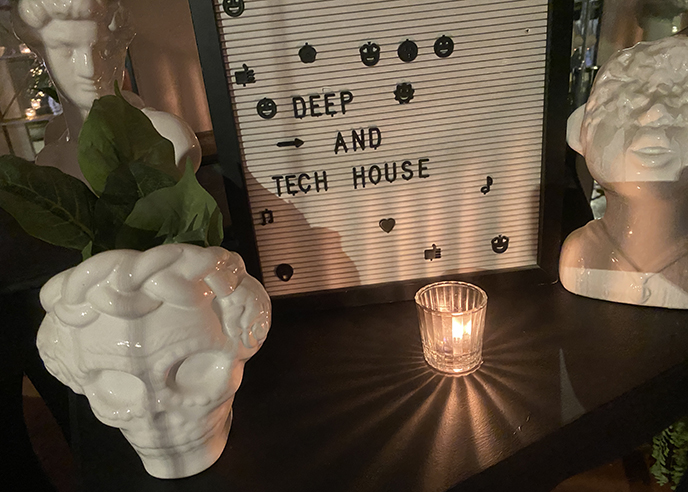 I'm currently on a mezcal kick, and went several times to El Colibri bar in Centro, which has a Goth alternative vibe. They specialize in craft mezcal and raicilla cocktails (try the Paradise, Geminis and Papu's Sazón), and bring in nu disco and techno DJs on the weekends.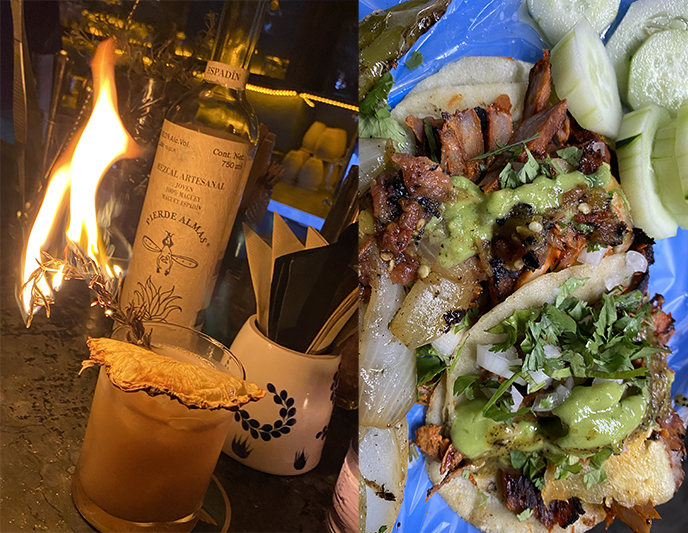 Above, the perfect pairing: a mezcal cocktail at El Colibri bar, and al pastor tacos from Los Gatos.
Trevor and I spent more beach time further north, in Nuevo Vallarta. The sand is soft and the waves are gentle in this resort area.
Don't worry about Jaws coming out from the seafoam. Puerto Vallarta only has one species of shark that lives off of plankton.
Trevor and I made it our goal to relax during this trip, so we didn't hop around to other areas like Sayulita. If you stay in Zona Romantica, you won't get bored — you can walk to the main areas and find a variety of food at 1990s prices. (I loved getting iced coffee each day for 50 pesos… or $2.80, like back in the 90s!)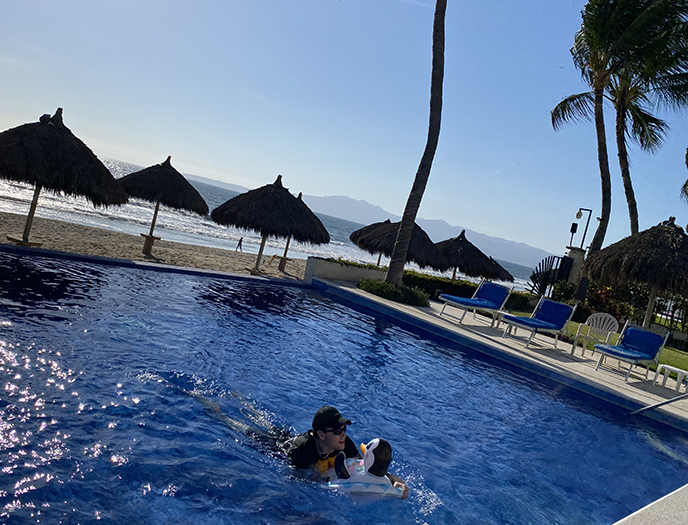 Trevor got some private pool time with a penguin.
Rather than staying in big resorts, look into apartment / villa rentals or boutique hotels in Zona. (We'll show you more from this LGBTQ district in the next post.)
Trevor and I had an open-air dinner to remember at Casa Kimberly, the hotel made famous by Elizabeth Taylor and Richard Burton. The actors were having an affair while still married to other people, and were staying in adjoining casitas. Richard built this Puente Del Amor or Lover's Bridge so that they could visit each other without alerting the paparazzi.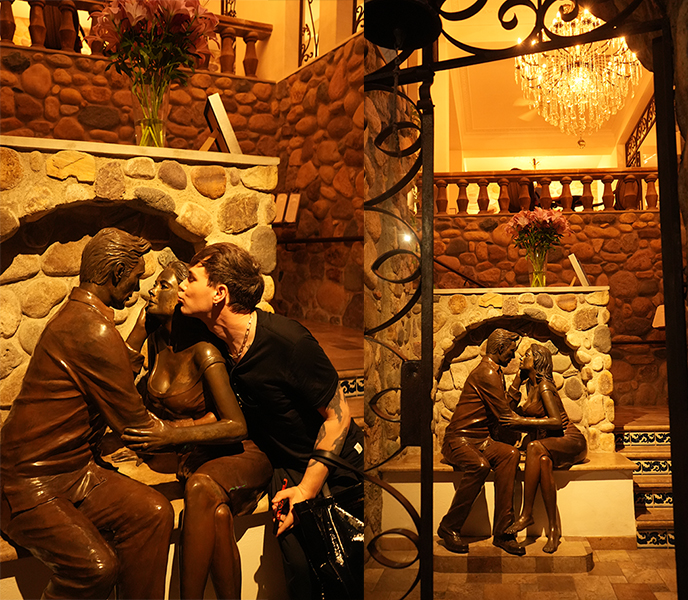 In 1964, Burton gifted Casa Kimberly to Taylor for her 32nd birthday. The Hollywood stars met on the set of Cleopatra, and were known for their wild spending and personal drama. Looks like someone is trying to sneak a kiss from Dick…
Richard Burton first came to Puerto Vallarta in 1962, when he starred in The Night of the Iguana. Casa Kimberly's decor upholds the glam of that era with exquisite antiques, crystal chandeliers, and views of the city and water below.
Elizabeth Taylor's iconic violet eyes greet guests as they go up the stairs to Iguana Restaurant. Every architectural detail is executed to perfection here.
The open-air courtyard of The Iguana is straight out of a movie. Live mariachi bands performed while we dined, and the coastal breeze kept the restaurant cool.
You'll find photos and memorabilia of the actors throughout Casa Kimberly. Here's a photo of Liz Taylor with Rock Hudson — she was a strong LGBTQ ally, and they remained close friends until his death from AIDS.
Trevor sits under a poster of Who's Afraid of Virginia Woolf? Richard Burton and Elizabeth Taylor did 11 movies together, and married and divorced each other twice. (Liz had eight marriages total… stunning queen!)
The menu at Iguana Restaurant was as elegant as the atmosphere. We enjoyed braised beef with sweet potato paired with a red Mexican Sangiovese wine, and a guava mille-feuille with house made vanilla bean ice cream for dessert — perfection.
Dine at Iguana Restaurant at Casa Kimberly, for a night to remember. Reserve well in advance, as this is an in-demand fine dining spot.
Puerto Vallarta was exactly what I was looking for: a relaxing getaway with easy access to the beach, local food and culture. (Be sure to visit Conchas Chinas beach if you come!)
Have you been to PV, or other parts of the country? You can see my other Mexico posts here (I've travelled to Mexico City, Mazatlan, Merida, and Tulum / Riviera Maya).
Finally, I wanted to thank all of you who read my latest book — The Little Book of Satanism! I greatly appreciate those who reached out, and am glad to hear you are enjoying it.
Published by Simon and Schuster, my new book covers the history, culture, practice and philosophy of Satanism.
If you're interested, you can find THE LITTLE BOOK OF SATANISM in digital or paperback from global retailers including — Amazon, Kindle, Barnes and Noble, Bookshop or Simon & Schuster. Canadians can order it from Chapters/Indigo or Amazon Canada. Or Google the book title to find it near you — you can get it worldwide! Thank you for your kind support.