Category Archive for
Miami
I think you can tell…. I had a hell of a time hanging out around Miami Beach!
In addition to relaxing on the famous shores, travelers flock to the South Beach district for its glamorous hotels, electrifying art scene, and creative restaurants.
After a long and locked-down winter, I was ready to indulge in my favorite cuisine: local seafood and Japanese sushi, which are two of the city's specialities. If you're as fond as I am of fresh fish, then read on for my guide to my favorite Miami Beach restaurants! (Blue Ribbon Sushi, Ocean Grill at The Setai, and Katsuya.)
For the first portion of my recent trip, I did not leave the Miami Beach area (staying at The Balfour hotel, located in the quieter South of Fifth area). Since I came before the rowdy March spring break — see my first dispatch with tips — Miami Beach was uncrowded, and I got to enjoy the sand and waves in peace.
The surrounding palm trees and brightly-painted lifeguard towers give Miami Beach a 1980s retro vibe. (I often felt like I was in the 80s B-movie, "Miami Connection"!)
From South Beach, all you have to do is walk a few blocks to find some of Miami's most stylish and well-reviewed sushi restaurants.
For one of the city's finest Japanese dining experiences, make your way to Katsuya Miami. Located inside the SLS South Beach Hotel, the restaurant was designed with modern cinematic flair by Philippe Starck (sleek furniture, high ceilings and oversize Japanese portraits).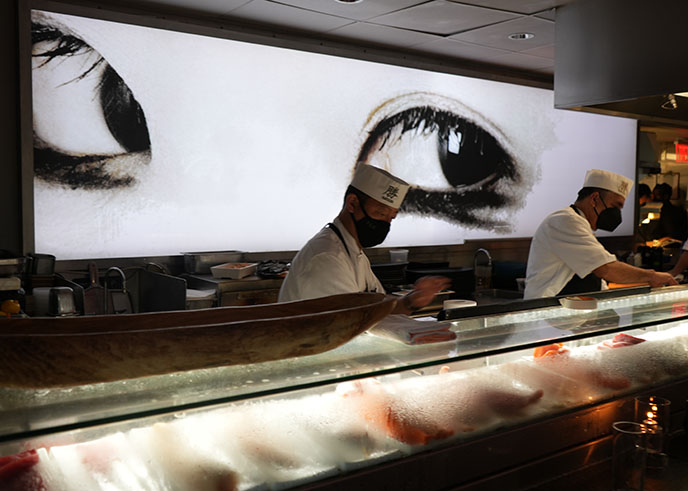 Katsuya is helmed by master sushi chef Katsuya Uechi, who opened the first location of his eponymous restaurant in Los Angeles (1997). Paying close attention to his clientele's taste preferences, Chef Katsuya created a bold new style of cuisine that mixes Japanese tradition with laid-back California flavors.
Katsuya Miami showcases his signature fresh and modern Japanese menu. The chef pioneered the Crispy Rice with Spicy Tuna (far right) that is now copied by many restaurants. However, nothing comes close to Katsuya's version, which has a buttery umami and slight crunch as the finely chopped ahi melts in your mouth.
I was also swept away by the flavors of the charred shishito peppers (with yuzu yogurt, and still-moving bonito flakes), and tangy scallop tiradito.
In addition to its cocktail classics, Katsuya has an ever-changing drink menu with clever presentations (mine came in a lucky maneki neko cat!). The cocktails feature unusual Japanese spirits and ingredients such as ume (plum) whiskey, mizu craft shochu, shishito melon shrub and sencha tonic.
And then, there's the acclaimed sushi. Katsuya Miami's knowledgeable servers are terrific at walking you through the daily selection. I recommend letting the staff know your preferences, and going with the chef's selection of the day. You'll end up with a personalized sushi and sashimi menu like above, which included anago (saltwater eel), thick cuts of hamachi, sweet amaebi (shrimp), giant ikura roe that bursts in your mouth… Katsuya South Beach was a meal to remember.
If you've booked a Miami Beach hotel, keep in mind that parking is in short supply and expensive. For the first few days of the trip, I walked or took short Uber rides, and stayed entirely within the district. However, I never lacked things to do in SoBe, or grew tired of dipping my toes in the Atlantic Ocean.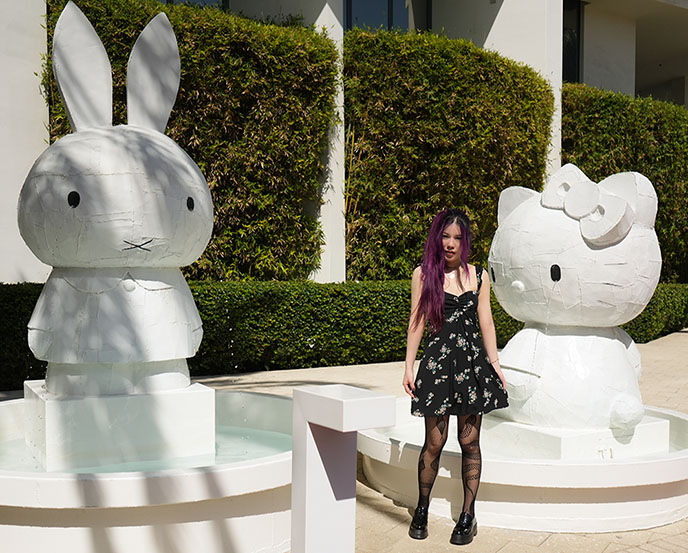 And I simply had to visit my idol… Miffy the X-mouthed bunny! These kawaii statues by Tom Sachs are located in front of the W Hotel South Beach. He created a giant white-cast bronze of Hello Kitty, and turned Miffy into a crying fountain (yes, those are tears spurting out of her eyes and into the water… how emo!)
He also made a cheeky rendition of My Melody, Japan's Sanrio bunny character.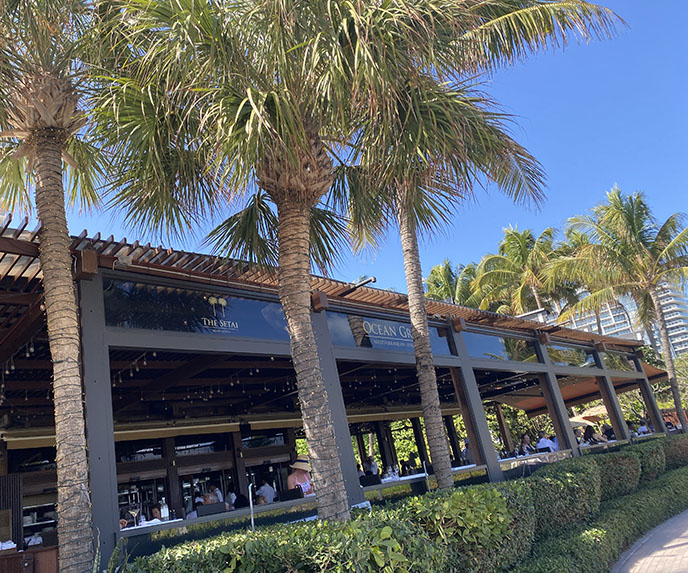 After my pilgrimage to the Tom Sachs Miffy Fountain, I walked to the nearby Ocean Grill at The Setai for a luxe lunch with a beachfront view. The raised and covered dining deck lets you take in views of the palm trees and ocean, while as you dine on fresh-caught seafood prepared on a wood-fired grill.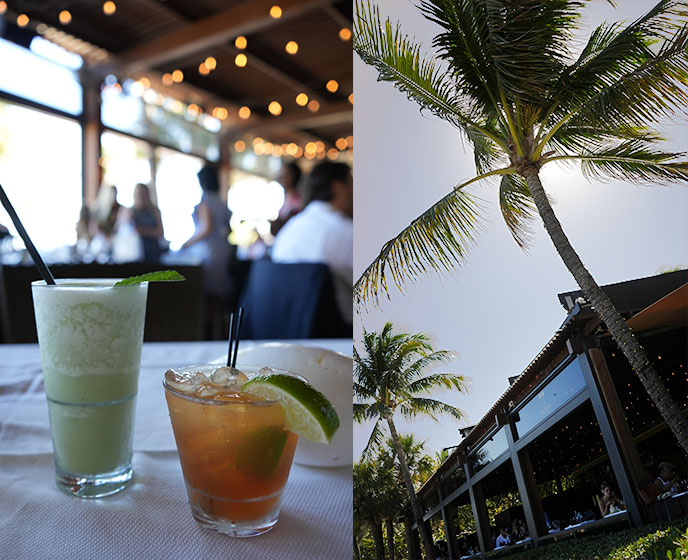 We started with the best pina colada I've ever had (I mean it!) infused with rum, coconut, pineapple, and fresh mint leaves. The "Greek Samurai" with honey liquor, yuzu sake, and fresh lime juice was a perfect balance of tangy and sweet.
I think the high quality of the ingredients at Ocean Grill Miami comes through in the photos. (I'm shooting with my brand new Sony a7 IV mirrorless camera.) For an appetizer, we shared the burrata di bufala cheese with local vine ripe tomatoes, balsamic, and arugula.
As a seafood lover, it was hard to choose from the many tantalizing options on the lunch menu, including fish tacos and Chilean sea bass. We went with the server's suggestion: a boneless whole branzino fish, and combination of scallops and shrimp — charred on the signature woodfire grill, and served with grilled vegetables and sauce vierge (French salsa). Healthy and delicious.
To end the meal, how could I resist a Whiskey & Coco Cream cocktail served in a coconut imprinted with The Setai's logo? I'd come back in a heartbeat for another open-air meal by the beach at Ocean Grill.
If you ask me, there's nothing like dining on seafood, sushi and sashimi after a day at South Beach. (If you come right in early March before the spring break rush, you'll get unobstructed views like these.)
After the sun set, I enjoyed the finest ocean flavors at Blue Ribbon Sushi Bar & Grill — a Japanese restaurant with locations in several US cities. Blue Ribbon is known for its bright and inventive dishes; the teamwork at the long sushi-making bar sums up their vibrant approach to Japanese cuisine.
Once again, I recommend asking for the chef's choice, and letting the server know your favorite flavors. The dishes that arrive will delight and surprise you: marinated thinly sliced usuzukuri, blue fin tuna with ponzu and garlic chips, and sashimi with a mix of fresh fish from Japan.
You can also let the bartender know your cocktail preferences, and they will mix up a custom drink with Japanese spirits. This top shelf Japanese whiskey and fresh orange concoction was exactly to my liking.
I loved the presentation of the kyushu aji, or Japanese horse mackerel, served two ways (first, you eat the sashimi belly. Then, the spine is fried for a crunchy finish). Blue Ribbon also has an extensive menu of hot dishes, such as their famous fried chicken and vegetable rice.
Blue Ribbon Sushi Miami has an enormous dining space including a glamorous lobby bar, a sushi bar that lets you watch the chefs, two indoor dining areas, and covered outdoor poolside seating (which was my choice.)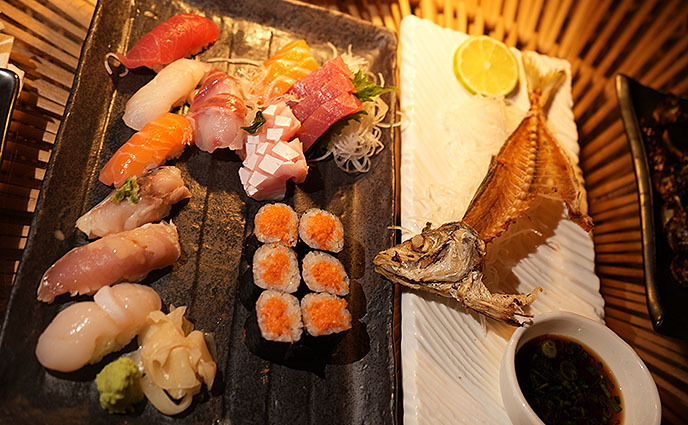 Scallops, salmon, amberjack, tuna, and more… the nigiri and rolls were phenomenal quality.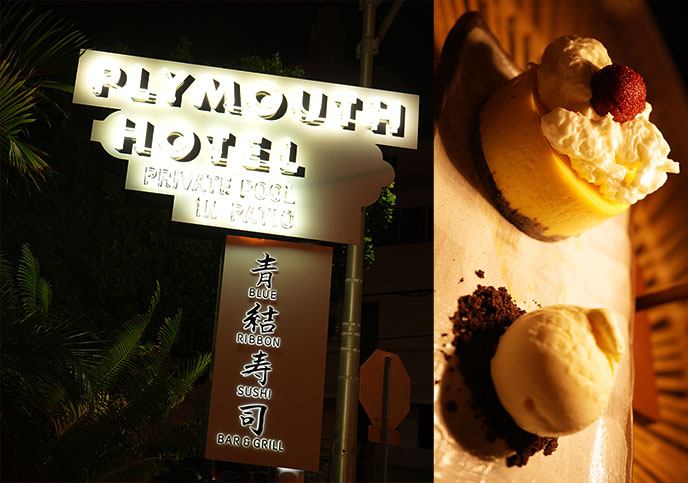 For dessert, a Floridian specialty with a Japanese twist… Yuzu key lime pie (and longtime readers know that's my favorite flavor of all time!). Taste the tangy creaminess for yourself at Blue Ribbon Sushi, located in the restored Plymouth Hotel at South Beach.
I stayed at The Balfour Hotel, which turned out to be the ideal Miami Beach home base. The historic Art Deco hotel is fully renovated — I have fond memories of walking up the spiral staircase to the rooftop at night, and taking in views of the surrounding buildings and stars (or UFOs?) above.
The Balfour (formerly known as Room Mate Lord Balfour Hotel) has a small and photogenic plunge pool, which lets you cool off during the hottest hours of the day.
The easygoing and friendly staff at The Balfour were always happy to help (such as when I requested to heat up my leftovers). The hotel's location is conveniently located on the cultural Ocean Drive and across the road from the ocean. Yet it's in the quieter South of Fifth area of Miami Beach, meaning you won't be surrounded by crowds and nightclubs.
Designed by architect Anton Skislewicz in 1940, The Balfour is classic Miami Art Deco with its warm pastels and stucco details. The rooms are set out in a "U" shape, with a quiet inner courtyard / pool framed by palm trees.
The Balfour Hotel is also home to Mehzcla Restaurant, which serves Latin food with South Beach flavors. The kitchen is open late, allowing me to relax with room service after my evening check-in. I think I ordered very well: sweet plantains with smoked agave and cotija cheese, chaufa rice with vegetables, and citrus-miso glazed salmon anticuchos! The bartender also made me a custom yuzu sour cocktail.
Life is short… so I'm doing my best to spend it poolside when I can. (Wearing serpent print tights from Sock Dreams, and a Flynn Skye Carla mini dress with a flower print.)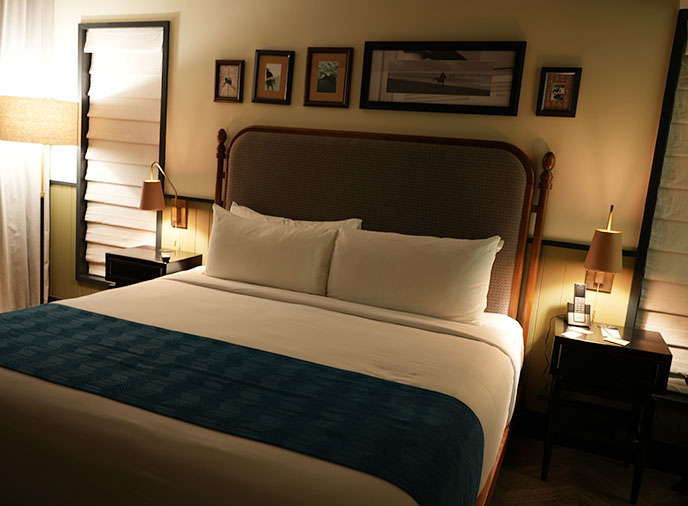 Although The Balfour is a historic hotel, the rooms are updated with new furnishings and tech amenities. Every morning, I made tea using the machine included in the room.
Love the glowing facade at night. I recommend booking a stay at The Balfour boutique hotel if you want to be in Miami Beach, but away from the pumping club music and raucous crowds further up towards South Beach.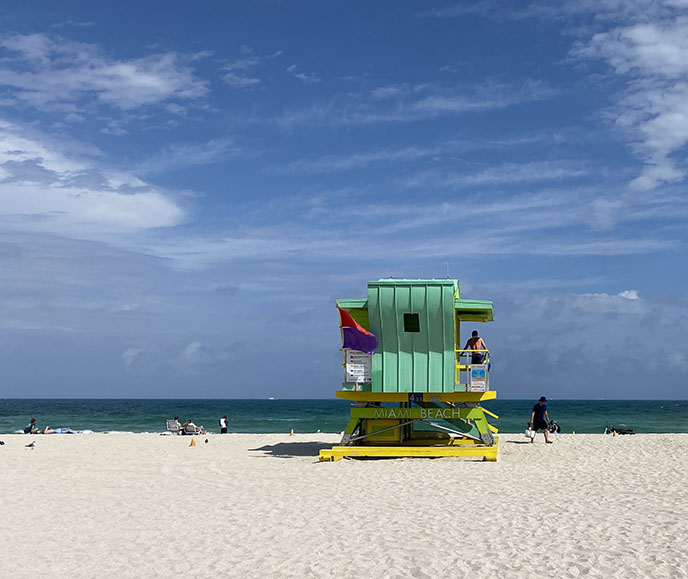 I only had to walk a minute from the hotel to be at the beach. No wonder Miami is associated with synthwave; the pastel-painted lifeguard stations have an 80s vibe.
The beach area near The Balfour (South of Fifth) is much less crowded than further up north where partygoers convene.
You can also walk along Ocean Drive to see the famous Art Deco architecture. (This was my second visit to the city; I was here years ago for Art Deco Weekend.)
Art is everywhere around Miami Beach. Every January, the city hosts Art Basel to showcase exciting talent.
Although this district is known for being pricy, there are many free activities as well. I swung by Miami Beach Botanical Garden, which has free entry and is located by the convention center. It includes a Japanese garden…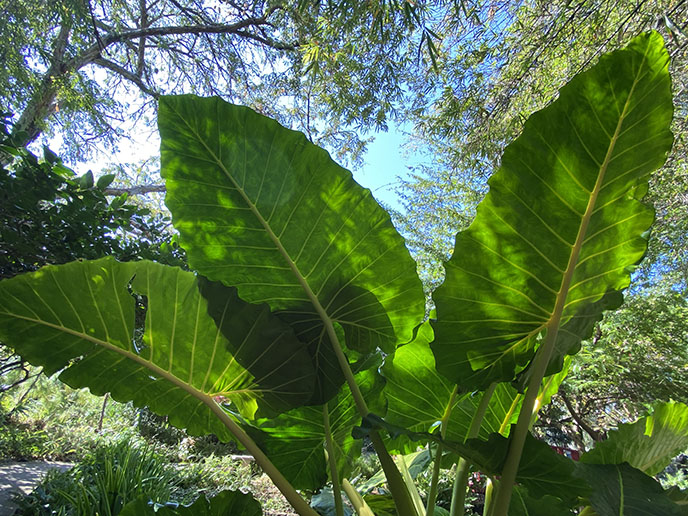 … and the enormous palm leaves. At Miami Beach's botanical garden, you can see an eclectic collection of native Florida plants and tropical flowers.
The urban green space is a playground for lizards and butterflies.
I leave you with a few final snaps of "Emo Miffy"! The crying bunny character was created by Dutch artist Dick Bruna, while My Melody and Hello Kitty are by Japanese company Sanrio.
The sculptures were executed in cast bronze by Tom Sachs in 2008. He recontextualized the cute mascots into all-white works of art.
Finally, I wanted to share my latest podcast interview with Cemetery Confessions on The Belfry Network. In the words of host Dani Ashes, "We talk about how to travel around the world as a Goth, Satanism in Japan, the Satanic Panic and more with the astute, multitalented La Carmina." You can listen to the leading Gothic talk radio show on any podcast app, Spotify, or YouTube.
I also contributed to several articles on Yahoo and Huffington Post. I give travel expert advice on how to vacation on a budget, make the most of your airport departure date, get over the post-vacation blues, and more.
And I'm waiting for Japan to open to tourists… I created a Twitter Community for "Japan Travel: Traveling Tips" to provide info about Japan tourism and visas. Anyone is welcome to join it here.
Are you planning any trips for 2022? How do you feel about traveling nowadays?
Meet my tall new Floridian friend… You could say we made a Miami Connection!
To put it lightly, travel is confusing these days. Rules are in constant flux, and prices / busy periods are difficult to predict. Thankfully, with a little research and planning, you can take a sunny getaway to Miami, Florida — while staying safe and avoiding South Beach partygoers.
Welcome to my guide to having fun in Miami, Florida by coming in early March, before the spring break high season!
(Wearing a dress by For Love & Lemons; see more below):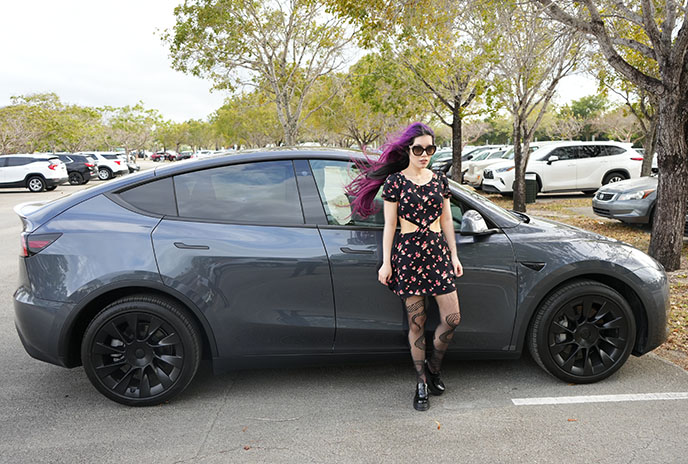 These days, high fuel costs are on everyone's minds. But I'll share a travel tip for getting around in a Tesla from TeslaRents! Read on to see how I got to test-drive an electric car for the first time, thanks to their seamless online rental service.  
And I'll take you inside my cozy stay at AC Dadeland Hotel. a recently-opened AC property that had plenty of free parking — letting me avoid the high fees and traffic of tourist-ridden South Beach.
Rules are always changing — but right now, to fly from Canada to the US, you must have a negative antigen test taken the day before your journey. I was pleased to discover the easy testing offered by Iridia Medical Clinic in Vancouver, BC. 
Booking an online appointment with them is simple and affordable. In addition, they offer a remote antigen option, which lets you get tested via telehealth! The kit (which I'm holding) has everything you need to do your own test via Zoom with an Iridia nurse. If the result is negative, you'll immediately get an official document in your email to show at the airport. This way, if you need a test before a flight, you don't need to stress about finding a foreign clinic or having delayed results. 
Vancouver's Iridia Medical has a variety of testing services for travel, business, or peace of mind (including PCR, rapid antigen, and molecular testing). They're quick and reliable, and also offer mobile or on-site testing. I enjoyed their chic clinic space and friendly customer service.
I went into the clinic for my nose swab (which only went in about an inch, so there was no discomfort). 20 minutes later, I had my antigen test results and was good to fly to Miami to hang with the animals.
I'd love for you to experience Iridia's effortless service — so they're giving you 10% off all testing! Just go to Iridia Medical Clinic's website and make a booking with promo code: LACARMINA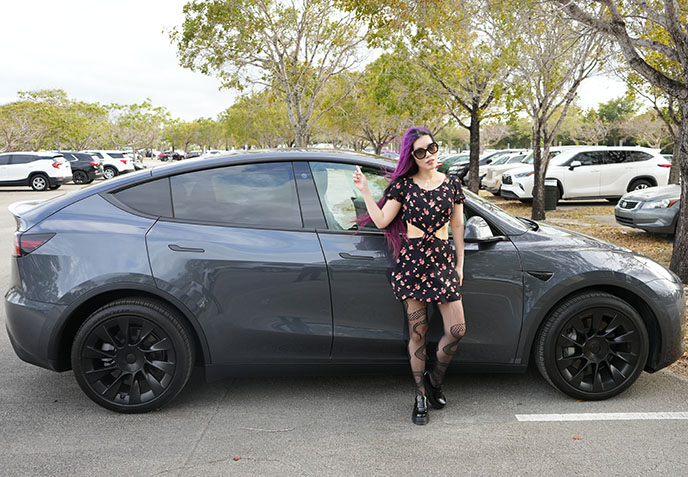 When I landed in Miami, I "went electric" for the first time — and rented a Tesla from TeslaRents. I'd like to have an electric car in the future, and TeslaRents gave me the opportunity to test-drive a Model Y for the first time. (They also have Model X and 3 Teslas for rent in Boston, LA, Vegas, NY, Denver, and Portsmouth in addition to Miami.)
Traditional car rental pick ups and drop offs tend to be a pain (long lines, and much paperwork and hassle), but TeslaRents has made the fully-online process effortless. Book an electric car from their site, verify your info with easy steps, and then simply go to its parked location for a contactless pickup/drop-off.
TeslaRents also does door-to-door delivery, which was an enormous timesaver for my short trip. TeslaRents drove the Model Y to my hotel at a specified, passed me the key-card, and I was ready to drive to the beach.
The driver texted me to let me know when they were on the way and had arrived. To return the Tesla, I simply parked it at my hotel, left the key inside, and texted them the location. In all my travels, a car rental had never been this easy.
I loved being able to test-drive a Tesla for a few days, and try out the touch screen settings and one-pedal driving. As someone who is prone to getting lost, the navigation system made it easy to get around a new city (the AI voice told me in advance to get into certain lanes for highway merges and exits). 
The TeslaRents customer service was also outstanding: I got fast and friendly replies both by email and text. When I couldn't figure something out, I received responses immediately from the team — something I've never gotten from a traditional car rental company. 
It turned out that I didn't have to charge my Tesla Model Y the entire time I had it (although the plug-in process is simple, and you must simply keep the charge above 20% before returning it). In this age of climate collapse and skyrocketing fuel costs, I was delighted to drive an electric car with zero emissions. Plus, there were no engine sounds, and the steering and safety measures were excellent.
TeslaRents is also committed to a zero-waste, paper free business approach, and gives back by donating to the Aashray Care Home for HIV Affected Children in Jaipur, India.
The Model Y's charcoal-colored exterior and sleek interiors matched my Gelish DIY manicure. My car was clean and well-maintained, and I was impressed by the customer service throughout the process.
Renting a luxury EV from TeslaRents is a great way to treat yourself during a vacation, and try driving a Tesla. The rates are very reasonable (with a variety of model options), making this an excellent option for an occasion such as a wedding or prom. Do keep TeslaRents.com in mind the next time you're looking for a car to rent in Miami and other major US cities!
Flying to Miami in early March lets you avoid the spring break crowd that descends upon the beaches later that month. In addition, I suggest staying away from the major tourist areas (like South Beach) during the weekends, as the streets will get clogged and noisy. 
Instead, look for a hotel in a central yet peaceful location, such as the recently-opened AC Dadeland Hotel. The chic property is right next to Dadeland Mall: in fact, there's a walkway that connects you right to the restaurants and shops. 
(Serpent fishnet tights from Sock Dreams. Dress by For Love & Lemons; click below for more dresses):

Since the AC Dadeland is located in the less-touristed South Miami, the rooms are large and quiet — and there's plenty of free parking. (In South Beach, hotel parking rates are $40-50 US per day!)  
I was fond of AC Dadeland's modern minimalist aesthetic, such as this artistic arrangement in the lobby. All of the furnishings are new, and the hotel will soon open a rooftop terrace with a swimming pool. 
The rooms had plenty of space and were clutter-free. Every morning, I went for the free breakfast at the second floor lounge. The European tapas-style spread included a variety of cheeses, fresh-baked egg tarts, yogurts, and fruit. You could also order eggs any style, and bring food upstairs in a takeout box.
Speaking of modern… AC Dadeland has teamed up with the robots! The hotel is now offering a contactless robot food delivery service for guests. Place an order, and a robot will pick it up and bring it to you. You can track its progress in real-time, and open the lid with a unique PIN. (Don't forget to say thank you very much, Mr. Roboto.)
While I didn't meet the robots, I enjoyed a relaxed dinner and drinks at AC Lounge. Loved the small plates such as nachos, and hand-crafted cocktails (try the signature AC gin and tonic, and smokey Manhattan).
I encourage you to stay at Miami's new AC Dadeland for new and comfortable accommodations, and perks like free parking and easy access to shops and dining. 
The hotel is near the airport and a number of top attractions — including Zoo Miami. It only took about 15 minutes to drive there and say hello to the pink elephant at the entrance.  
Zoo Miami is a leader in many conservation initiatives, and is accredited by the Association of Zoos and Aquariums (AZA) — meaning they meet the highest standards for animal health and welfare.  
Case in point… this Tiger King, who reigns over what looks like a southeast Asian temple!
Since Miami has warm weather year-round, animals from India, Africa, Australia, and other hot places are comfortable here.
On the left: a close-up of the tiger's cat-itude. On the right: I saw large green iguanas all around Miami, including at the zoo. They can reach up to five feet in length. 
In the Australia section, I said hello to a tree kangaroo and an adorable koala. Zoo Miami also contains environments dedicated to the Mission Everglades, Asia, Africa, and the Amazon and Beyond. 
The living spaces are spacious and well-designed. The chimps and orangutans seemed to be having fun swinging around the wood playgrounds. 
Zoo Miami is the only tropical zoo in the continental US. There are over 3000 animals on nearly 750 acres, so give yourself enough time to walk around everywhere — or arrive early to rent a safari cycle. Once again, early March is a great time to visit, as temperatures won't be overly hot.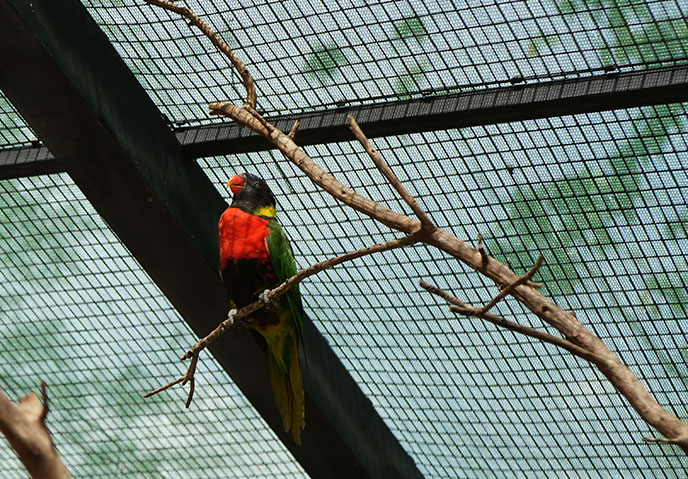 Zoo Miami also offers interactive animal feedings and encounters (check the website for times, prices, and details). The "parrots feeding" enclosure lets you feed the beautiful Australian rainbow lorikeets for $5.
I was a little too excited to take the ramp to the Giraffe Feeding Station — and say hello to these "tall bois"!
The giraffes are very polite. You can buy a "big salad" of lettuce, and they'll eat the leaves right from your hands.
What a treat to be able to see African safari animals up close, including elephants and zebras.
And don't forget to meet the more "alternative" creatures, such as this floofy-tailed anteater. Cheers to Zoo Miami for a fun outdoor day activity. 
After a long day of exploring, I was ready to eat. Fortunately, the AC Dadeland hotel is connected to Dadeland Mall, which is home to Aoki Teppanyaki and Izakaya.
I miss Japan so much… and stepping inside Aoki made me feel like I was back. The red gates and glowing lanterns hint at the Japanese cuisine on the menu, which is based on tradition but presented with a modern and playful touch.
What a treat to be greeted by owner Kevin Aoki himself! He showed me his vintage motorcycles and other collectibles from his worldwide travels. The red torii Shinto gates are inspired by Kyoto's Fushimi Inari temple, which we both love to visit. 
I sat at a family-style teppanyaki (iron plate grill) table, and enjoyed an umami-filled dinner with a show. The chefs dress like samurai in black uniforms and headbands, and cook the dishes with dramatic flourishes — such as drumming the ingredient containers, throwing and spinning eggs, and lighting up the grill with a flash of fire!
In my Instagram video from Aoki Grill, you can see how chef Alain prepares the infamous vegetable egg rice followed by shrimp, scallops, lobster and salmon. I also devoured the signature deluxe spicy roll, and Japanese whisky-based cocktails like a ginger old fashioned with absinthe rinse.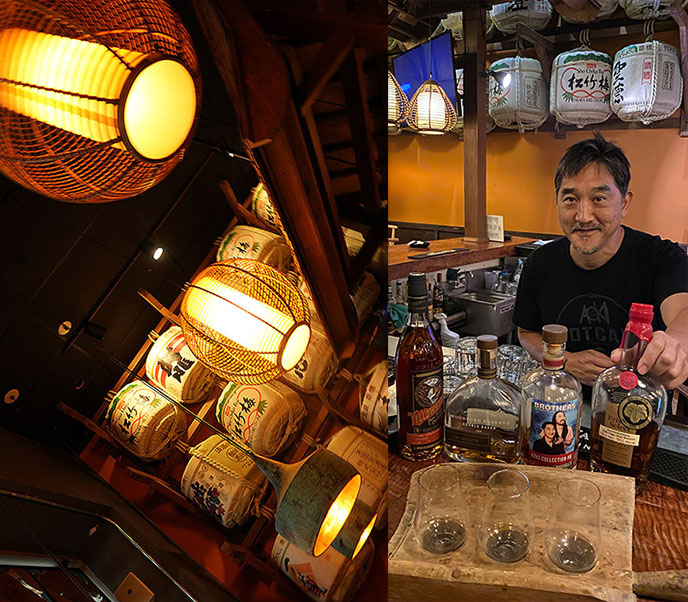 Miami's Aoki Teppenyaki also has a high-ceilinged wood bar area that made me feel as if I were back in Japan. It houses an enormous exclusive collection of whisky, each carefully chosen by Kevin Aoki himself. He poured us a flight of Aoki Collection Barrel Select bourbons, which included a bottle featuring him and his younger sibling, DJ Steve Aoki, on the Brothers label.
While many come for the famous teppenyaki (your choice of seafood, vegetables, and meat grilled with flair), Aoki also serves sushi omakase, and countryside Japanese comfort foods inspired by Kevin's visits to his grandfather's hometown in Wakayama. What better way to end the evening than at Miami's Aoki Teppanyaki and Izakaya (they have a location in Waikiki, Hawaii too).
With a bit of planning and clever choices (such as a well-located hotel, and a TeslaRents electric car rental), you can make an enjoyable getaway to Miami in March — and completely avoid the spring break shenanigans. I encourage you to travel now that we have a reprieve, as things can quickly get restricted again in unexpected ways… you never know what The Collapse will bring next. 
Have you planned any trips for 2022? More to come from Miami (check out my @LaCarmina Instagram for previews)… as well as a few new destinations in the next months!