Category Archive for
Myanmar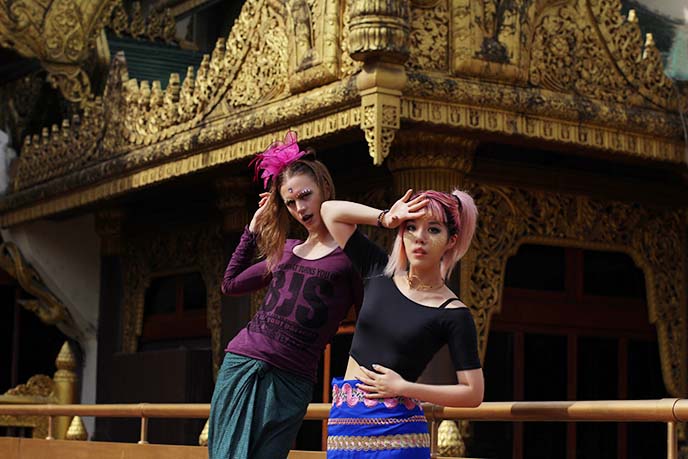 Ready for more decadent adventures with Yukiro?
I've been saving this final dispatch from Myanmar, since it was the most eye-opening destination we've visited together. We'll give you a run-down of the best attractions in Yangon. The city has lots of fascinating sights, including the golden Karaweik Palace…
… and the lunch procession of Buddhist nuns and monks at Kalaywa Tawyakyaung Monastery. 
We'll also take you to Yangon Circular Rail. It goes all around the city in a loop, which lets you glimpse slices of life in Burma.
But first, the epic news… Yukiro and I are going to India and Malaysia!
This dream trip has been brewing for some time, and it's finally happening. We'll be visiting Kuala Lumpur, Langkawi and North India — including New Delhi, Agra (Taj Mahal), Jaipur and Varanasi (Indian Golden Triangle, and holy city where the Ganges river flows).
Can't wait to reunite with this queen again. Be sure to follow @lacarmina Instagram and Snapchat to see snippets from our Indian epic. And if you have travel tips, we are all ears.
To get you in the mood, let's flash back to Burma. Yukiro and I were endlessly inspired by the local culture we encountered.
We fully embraced the Southeast Asian elegant fashion and languorous poses. We drew inspiration from the "longyi" skirts and "thanaka" yellow sun-protection paste, worn by both local men and women. (All photos by Sniper Chau.)
Many travelers know little about Burma / Myanmar (you may call it either, according to leader Aung San Suu Kyi) — other than that it's the most Buddhist country on the planet. We wanted to learn more about the Theravada traditions, so our ParkRoyal hotel driver took us to Kalaywa Monastery, located about 20 minutes from downtown.
(Address: Naga Hlainggu Hillock, Yangon / Rangoon)
Aim to arrive around 10:30-11:30am, so that you can witness the Buddhist lunch procession. About a thousand monks and nuns line up, and walk through this food station run by volunteers. They gracefully receive hot food, vegetarian dishes and fresh fruit in their metal alms bowls.
For most of the Burmese population, Buddhism is an important part of their daily practice. These volunteers work together to prepare and serve the food, in the true spirit of loving-kindness.
In Burma, there are approximately 500,000 male monks, and 75,000 nuns. Lay-people often become "temporary" monks as well, such as by dedicating a month or so to living the monastic lifestyle.
Once they received their alms, the young practitioners walked over to the separate dining halls, where they sat and waited until everyone had been served.
They spend their lives in the kyaung (temple-monastery), where they devote every day to study and practice.
The Theravada Buddhist line of bhikkhuni (nuns) died out in Burma, so the women created a new type of lineage. These "thilashin" take vows, shave their heads and wear the pink robes — sometimes from a very young age.
(Many smiled gently at me, perhaps because of my matching pink hair and fashion!)
Over 1000 Buddhists live at Kalaywa Monastery. The community gladly supports their education and basic needs.
All over Myanmar, you'll often see red-robed monks making their rounds for alms in the mornings. Even the poorest community members will prepare a dish of food, and dole out a serving into the bowl of each Buddhist that passes by.
Almsgiving is not a form of begging, but the local tradition that lets laypeople give respect to Buddhist monks and nuns, and support their spiritual journey.
When everyone was seated in the long benches, the monks clasped their hands together and chanted. Finally, it was time to break open the fruit and eat from the alms bowls, using their fingers.
We noticed a few cats walking around the tables! True to Buddhist spirit of compassion, these young men made sure the kitties had something to eat.
We encourage you to visit Kalaywa Monastery to learn more about the Burmese Buddhist tradition. If you walk around the grounds, you'll see some beautiful flowers and gardens as well.
Visiting Karaweik Palace is another way to experience Burma's culture. Located on Kandawgyi Lake in central Yangon, this golden floating restaurant is based on the design of the Pyigyimon royal barge.
Only customers are allowed inside, so we stopped for tea and pandan leaf-flavored ice cream. (It's also possible to order Burmese food, and there is an international buffet as well).
We enjoyed cooling off in Karaweik Palace's golden hall, and watching an energetic puppet show on the stage.
The restaurant hosts a Royal Culture Show every evening, with all types of Burmese performances. Yukiro could easily be mistaken for one of the dancers!
We listened to traditional songs performed by this singer and instrumentalist, who is strumming the Saung-gauk (Burmese arched harp).
Near the entrance of Karaweik restaurant, this stylish woman did a thanaka demonstration. She showed us how to grind bark to make the yellow-white cosmetic paste, which is worn to soften the skin and protect it from sun damage.
Karaweik Hall is a bit touristy, but it's a fun spot to take photos and learn about Burmese culture.
My ponytail reveals my cobweb undercut, or shaved and dyed hair tattoo! My hairstyle and color are by Stephanie Hoy at Sugar Skull Studio in Vancouver, as always.
As Seinfeld might say: What's the deal with these "quacky" gold-headed ducks? Are they dragon boats, or rubber duckies?
In fact, they represent a mythical bird in Burmese folklore with a melodious cry, called the karaweik.
The golden barge gave us perfect views of Shwedagon Pagoda, Kandawgyi lake (with a tall fountain) and park. 
I'm wearing an off-shoulder top by Black Milk Clothing, and a skirt from Park Royal hotel.
Another top attraction is — surprisingly enough — riding the rails. Yangon Circular Railway is similar to the Yamanote in Tokyo: a local commuter rail that forms a loop around the city.
Operated by Myanmar Railways, the line stretches 29 miles and has 39 stops. We went to Yangon Central Railway Station to check it out. (Address: Kun Chan Rd, Yangon, Myanmar)
Yangon's Circle Rail is extremely popular among the locals. There are about 200 coaches, which carry 100,000 to 150,000 commuters daily.
Yukiro and I enjoy seeing daily life, wherever we travel. Yangon's central station had a Complaint Center… but there was nobody there to complain to! (Now that's something to complain about.)
Many tourists ride the circular loop, which takes about three hours to complete. It's a way to glimpse different parts of Yangon, and see what day-to-day life is like for the people who live here.
We decided the train journey would be a bit too hot and time-consuming… so we ended up simply visiting the Circular Train station.
As you can see, there's no AC. The seats fill up quickly, so arrive early if you want to nab one.
Such cute and classic trains rolling through, with a choo-choo.
Yangon Circular Railway was first built during colonial times by the British. Today, the tracks have been modernized and expanded, and there are even ads on the front of the cars.
Each train ticket costs the equivalent of 15 cents! Ticket prices are kept low because of ministry subsidies, so this public transportation system is accessible to everyone.
Hello, boys of Burma…
(If you want to hop on this train with them, here's info about getting tickets, timetables and more.)
Only in Myanmar, you'll see people wearing thanaka (sometimes in intricate designs) on their faces.
The future of the railway is optimistic. Japan is currently working with Yangon city development to improve and expand public transport.
Yangon is a very safe city, and we rarely ran into touts or beggars. At the station, everyone we encountered was respectful.
Baby on board. (Images by Sniper Chau.)
Even if you don't end up taking the three-hour ride, Yangon's Circular Railway is worth checking out!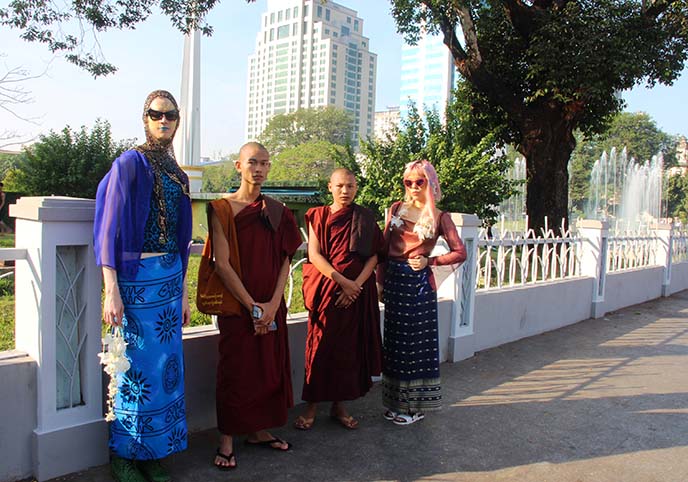 Another must-see is Maha Bandula Park, which features a fountain pond and sits next to Sule Pagoda.  The park dates back to the late 19th century, and is currently named after General Maha Bandula who fought the British in the First Anglo-Burmese War.
During colonial times, the centerpiece of the park was a statue of Queen Victoria. After 1948, the queen was replaced by Independence Monument, an obelisk that commemorates Burmese independence from the British. (You can see it behind us.)
It's impossible to miss Sule Pagoda, a glimmering golden dome in the center of Yangon's downtown.
This spiritual site supposedly enshrines a hair of the Buddha. (It's located at the junction of Sule Pagoda Road and Maha Bandula Road.)
Sule Pagoda was the focal point of many political demonstrations over the years. Protesters gathered here during the 1988 uprisings and 2007 Saffron Revolution, both of which faced violent pushback from the military government that was then in power.
Today, it's a peaceful Buddhist temple where city-dwellers can meditate.
Sule Pagoda is about the size of a small block — much smaller than Shwedagon Pagoda, which we visited too. You'll see Buddha statues and golden architecture in both places, but if you only have time to visit one, go to the magnificent Shwe Dagon.
Buddhists can place offerings in a miniature golden ship, which has the mythical karaweik bird at the front. With a system of pulleys, the boat sails up to the stupa.
This Burmese child seemed as earnest as her mother in her reflections.
Finally, you can't leave Yangon without a fine meal. We headed towards Inya Lake, a popular recreational and romantic area. On the way, look out for Aung San Suu Kyi's compound, where she spent years under house arrest. (We spotted the outside gate, which has a portrait of her father on the top.)
This photo illustrates the fun of driving in Myanmar. You'll see "boys in the back" of trucks, lounging about. And when the vehicle needs to change lanes, everyone participates in the turn signal! 
Yukiro and I were having dinner at the highly-rated Le Planteur. As soon as we saw this glorious French colonial manor, lit by lanterns, we knew we were in for a special meal.
Address: 80 University Avenue, Bahan Township, Yangon, Myanmar (Burma)
Le Planteur is all about beautiful service and thoughtful touches — such as this table by the water, covered in fresh rose petals.
We explored the grounds, blooming with lush foliage and secret lounge areas. Many come here for cocktails and light bites.
How beautiful is the waterfront of Inya Lake? In the distance, there's a rowboat illuminated in lights.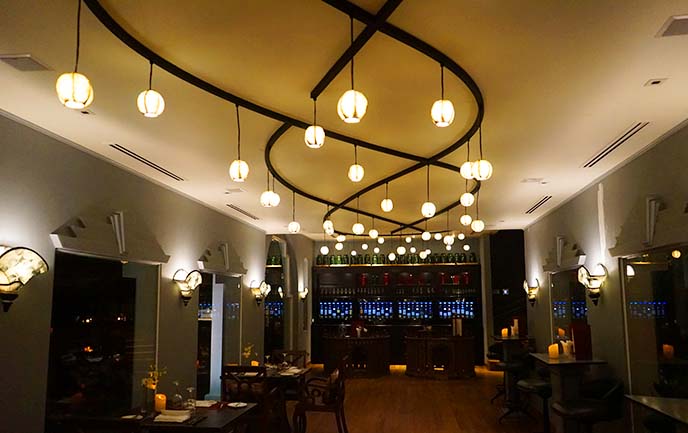 Inside, we were excited to see a high-tech wine dispenser wall! With a touch of a card, you could fill your glass with varietals from around the world.
Le Planteur pays tribute to the French colonial days. The manor is filled with glamorous private lounges, perfect for large gatherings.
The decor ranges from 19th century style red couches to a chandelier made from white feathers, framed by peek-a-boo vintage photography.
Founder Boris Granges was born in Switzerland, and brought his fine dining expertise to Myanmar. You may order a-la-carte, but I recommend Le Planteur's degustation menu, which lets you taste the chef's selection of the day. (It can also be customized if you are vegetarian.)
We started with delightful amuse-bouches of tuna, and ordered a second round of the freshly-baked brown bread rolls.
The French cuisine is five stars perfection. Le Planteur uses the freshest ingredients, with a focus on subtle vegetable flavors. Every dish is beautifully executed and presented. On the right, this is my favorite dessert of the year so far: a black chocolate dome with passion fruit heart and tonka bean biscuit.
Le Planteur is the place to be for an exquisite meal in Myanmar. (Be sure to browse the artisan shop at the entrance too.)
(For other restaurant suggestions, including homestyle Thai and Burmese food, check out this post.)
Did you enjoy our Yangon city guide? Here are all my Myanmar posts in one place — we hope to be back soon, to hang out with our new punk and Goth friends. But now, a new journey to South Asia awaits…
We'll be exploring India and Malaysia! Add @lacarmina Instagram and Snapchat for the first peek.
Let's continue our Myanmar escapades… with a tour of the progressive art and photography galleries of Yangon! 
Burmese artists are spreading their wings, now that they are free from military rule and censorship. With the support of these independent galleries, local creators are able to express themselves in ways that were previously forbidden (such as by painting nudes and political topics).
Yukiro and I are certainly "women who explore" — so let's give you a tour of Yangon's top galleries.
We stayed at ParkRoyal hotel, and they bestowed us with a car and driver that made getting from place to place much easier. I looked up a few Burmese art exhibits, and gave our driver the list. He figured out the most efficient route, which made it possible for us to see five venues that day: Pansodan, River, Nawaday Tharlar, New Zero, and Deitta.
We started our art tour at Pansodan Gallery, which we heard was one of the best in the city.
Love the greenery and vivid street signs near the entrance of Pansodan Gallery. Walk up the stairs, and you're there.
Address: 1st Floor, 286, Pansodan Street, (Upper Block), Kyauktada Township, Yangon, Myanmar.
Pansodan Gallery was established in August 2008 by Aung Soe Min and Nance Cunningham, a Canadian who has lived in Burma since the 1990s.
We chatted with Nance and her French friend Christophe Munier, who recently published a book called Burmese Buddhist Murals. He told us that a lot of spiritual art from past centuries has been destroyed. His book attempts to document these works before they are gone, as preservation is unfortunately a challenge in a country with limited budget for the arts.
On the bright side, a gallery like Pansodan is a welcoming space, which gives Burmese artists a chance to present their works to worldwide audiences. The selection ranges from budding artists to older masters, working in a variety of mediums.
Pansodan Gallery also aims to make the local art accessible. Some of the paintings are in higher price ranges, but there's a great selection of watercolors, cards, books and other small items for $10-30 US.
We loved seeing these fun, modern expressions of Burmese culture on the walls. Works like these were brimming with color and energy.
After years under the military government, Myanmar has opened up. In the past, only non-controversial, sanctioned subjects like landscapes were permitted. Now, artists are free to express any topics and themes without censure.
Before the current democratic government, it was difficult (to say the least!) to be an artist in Myanmar. Art supplies were often scarce, and if the military deemed your works to be offensive, they'd be confiscated. It was even forbidden to display photos and paintings of "The Lady," Aung San Suu Kyi.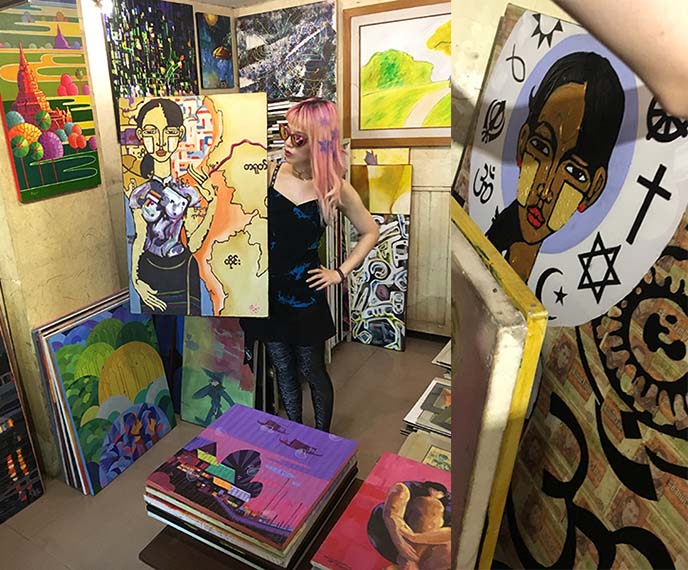 Now that she's the leader of the democracy, the arts have flowered. This liberalisation has enabled artists to depict nudes, and political or edgy subjects for the first time. Many choose to paint Aung San Suu Kyi, as you can see in the examples above.
Pansodan Gallery encourages this creative renaissance in many ways, including running a laid-back social event every Tuesday night. Anyone can come to enjoy beer and snacks, talk art, and meet others.
The owners have also opened up a new space called Pansodan Scene recently. In addition to displaying paintings, the Scene has poetry readings, talks, concerts, and a small cafe.
(Address: 144, 2nd Floor, Pansodan Street, Corner of Mahabandoola Street, Kyauktada Township, Yangon)
Yukiro and I consider the streets of Yangon to be works of art in themselves! So many colors and textures in a single block.
We watched this man hang up spiritual flags, as he prepared a stage for a Buddhist event.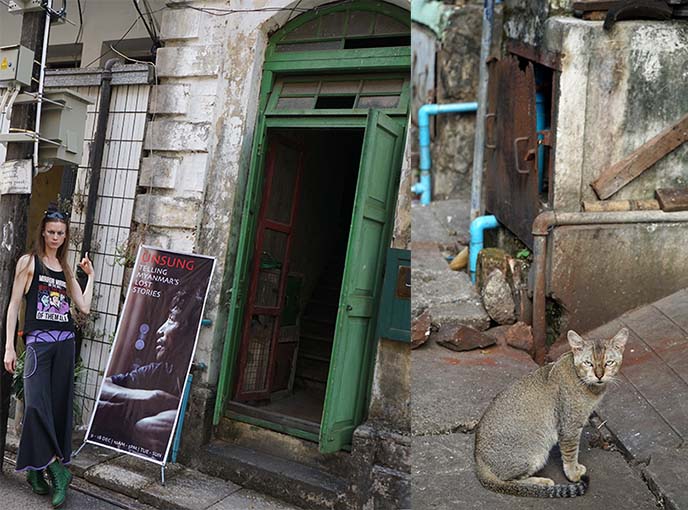 We said hello to a few cats, on the way to our next stop: Myanmar Deitta gallery. (Address: No.49, 44th St, Yangon, Burma).
This is a not-for-profit organisation that supports photographers, filmmakers and other multimedia producers in Myanmar. The upper level space hosts workshops and exhibitions, with the goal of presenting and discussing social issues that were formerly repressed by the military.
We caught the bilingual exhibit by The Kite Tales Project, titled "Unsung Heroes: Telling Myanmar's Lost Stories." Run by two journalists, Ma Thin Lei Win and Kelly Macnamara, this digital initiative captures the daily lives of people all throughout the country.
The journalists traveled all throughout Myanmar, including to remote and conflict regions. Through photo, video and audio, they recorded stories that had been silenced for decades, from a variety of perspectives.
Naturally, I was drawn to these photographs of tribal tattoos and body modifications in Burma. On the left, a 90-year old woman from the ethnic Chin village sports a full-face blue tattoo. One of the reasons these women modify their appearance is to prevent other tribes from preying on them.
Another woman, a daughter of a Lahe chief, spoke about how her community once got tattoos to celebrate heroes and victories. She lamented that today the practice has become lost.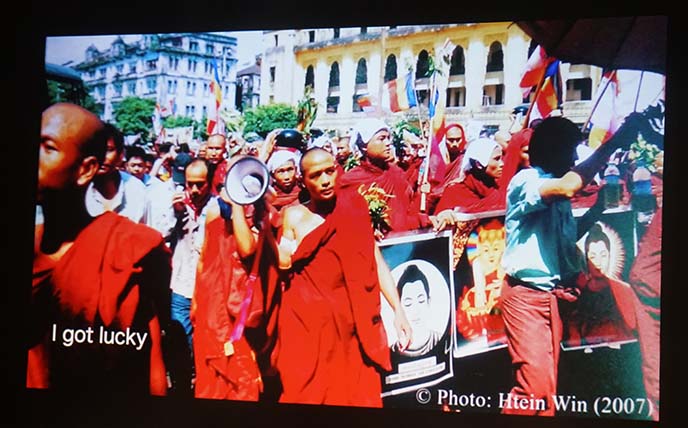 In the attic, we watched documentary footage from throughout the country. I was intrigued by these videos from the Saffron Revolution, a series of peaceful political demonstrations in 2007. Many Buddhist monks took part in this nonviolent resistance, wearing saffron-colored robes.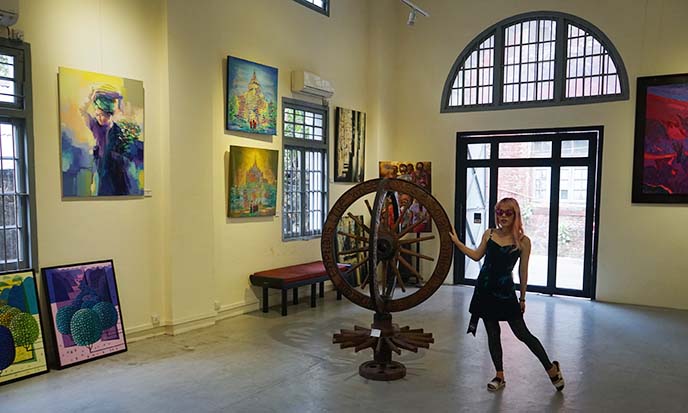 Onward to River Gallery, which was once housed in The Strand hotel. (Address: Chindwin Chambers 33/35, 37th and 38th Street, Yangon)
Yukiro opened his Pokemon Go app, and realized there were almost no Pokemon to catch in Myanmar. Nonetheless, this gallery had what looked like a wooden Poke-Stop sculpture, which you could even spin!
River Gallery is a high-ceilinged space that beautifully showcases the works of Myanmar's leading contemporary artists. It's a great place to pick up artistic souvenirs, as there are cups, jewelry and other fine items for sale.
Before the democratic leadership, Myanmar was isolated from the global art scene, and struggled under the draconian censorship. River Gallery was keen to create a space for local artists to get better representation and exposure. 
Here, you can see playful and abstract works by over 40 contemporary artists, who are now free from these restraints. River Gallery organises an annual show abroad for its talents as well.
In contrast, New Zero Art Space is a more obscure and underground gallery. We went into an apartment building, and searched for the door to this non-profit. (Address: No,202, 2nd Floor, United Condo, Ah Lan Pya Pagoda Road, Dagon Township Yangon 1181)
We stepped into "Identity of Fear: A Solo Exhibition by Mayco Naing." The stark, white tiles of the space were the perfect backdrop to her black and white photographs.
The concept: young Burmese, immersed in baths, with their hands clasped over their faces. Naing's photographs reflect the generation born around the 1988 Revolution. She and her fellow 20-30 year olds faced a volatile dictatorship, low educational standards and conservative values while growing up.
The underwater bathtub images represent the stifling educational opportunities she feels her peers have suffered. The nudity also confronts feelings of shame about the human body.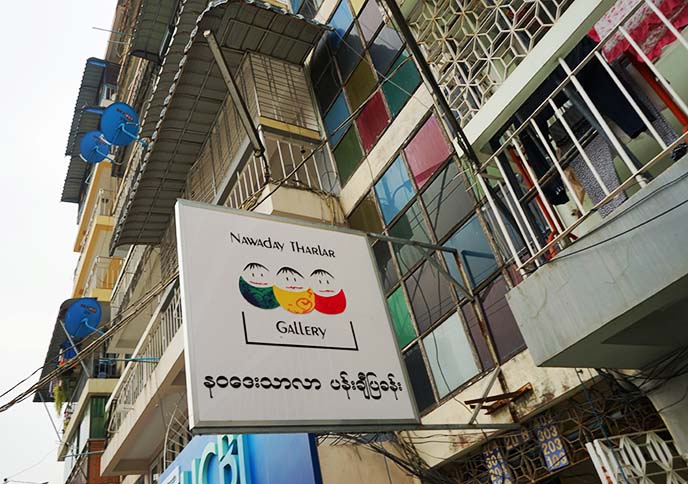 Before heading back to our ParkHotel, we stopped by the nearby Nawaday Tharlar gallery. The smiling kawaii logo is impossible to resist!
Address: Yaw Min Gyi road Building No. 20B Room No. 304, Yangon, Myanmar (Burma)
When we stepped into the entrance, we were mesmerised by the tangle of electrical wiring — that's an art piece on its own!
Nawaday Tharlar opened in 2012, and is dedicated to creating a place for people to come together and share art, music, poetry and stories.
The gallery holds a bi-monthly open mic, where anyone can come to perform. It also hosts different creative activities, such as a tea and drawing workshop.
In the main room, we enjoyed the "Yangonoftheday One Year Exhibition." This photography project posts images once a day, depicting some aspect of Yangon city life.
The concept shows all the facets of Yangon (Rangoon) and its people, and lets residents share their stories through Instagram-like square photos.
I spotted monks and punks. Birds and buildings.
In the back rooms, there are stacks upon stacks of canvases, from dozens of Burmese artists. Anyone can come to flip through them.
Buddhist themes abound, in this spiritual country. Isn't the Burmese writing lovely?
Props to our ParkRoyal hotel driver, for navigating these confusing and busy streets! Interestingly, motorcycles are banned in the city, so you won't see street scenes similar to Vietnam. Still, people will cross the roads willy-nilly.
We saw children in school uniforms, and adults in matching longyi (the long Burmese tied skirts worn by men and women).
Our car passed by the Ganesh Hindu Temple. Buddhism is practised by about 88% of the population, but there are other religions here too.
As we drove through the narrow streets, our car windows were perfect for people-watching.
We noticed these covered drinking gourds, or pots of water that anyone can drink from.
Myanmar has a lot of investment from Korea and Japan, hence this street filled with technology stores. Smartphones are common here…
… as Samsung, Sony, LG and others have a large presence.
Modern and traditional are a true balance in Yangon. We're very glad we came to Myanmar, and hope to see Bagan and more of the country next time.
For more about Burmese Buddhism and monks, come see our story about the golden Shwedagon Pagoda.
Isn't Myanmar a fascinating country? I'm glad to see the liberalisation of arts here, and look forward to these continued positive changes.