Category Archive for
Netherlands
XXX marks the spot! We're holding crosses because they're the symbol of Amsterdam. But of course, I made them a tribute to Miffy the Dutch bunny (with her mouth shaped like an X).
My friends and I love experiences that weave together fashion, art and creativity. While in Amsterdam, we stayed in two boutique hotels with rooms customized by artists, ranging from one to five stars. Let us take you inside the stylish Hotel The Exchange…
…and Lloyd Hotel / Cultural Embassy, which feels like a living art installation!
At Lloyd Hotel, I sat down for coffee with co-founder and artistic director Suzanne Oxenaar. We immediately clicked over my Miffy bag, which led to lively conversations about meaningful art, the connection between Dutch and Japanese culture, and her projects around the world.
I loved hearing about Suzanne's ground-breaking work: she did a pop-up Tokyo "LLove Hotel" with mood-themed rooms by artists, and established a residence for artists at a Netherlands psychiatric institution. 
In the mid-1990s, Amsterdam was keen to rejuvenate the Eastern Docklands area, which had become abandoned to squatters. Suzanne and Otto Nan accomplished this by opening Lloyd, the world's first 1-to-5 star hotel that doubles as a "cultural embassy." They designed the public spaces to host creatives and guests from around the world, encouraging the exchange of ideas.
(Address: Oostelijke Handelskade 34, 1019 BN Amsterdam, Netherlands)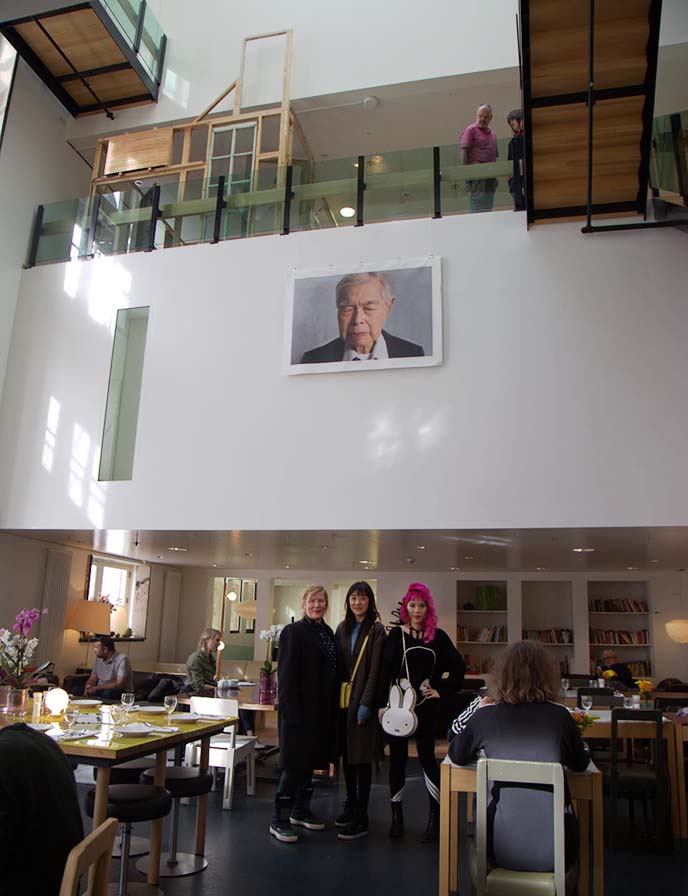 Artists from around the globe come here for residences, or to curate exhibitions. We met the Japanese photographer who created the portrait above. (All photography by Arina Dresviannikova)
Hotel Lloyd's cultural programs let innovators from different countries connect and collaborate. Most of the works are presented in multi-use spaces that are free and open to the public.
In love with the high ceilings and clean, modern design. Suzanne put care into each detail, such as chairs that were refurbished to be more functional and comfortable, while retaining the original skeleton.
I'll have to come back to try a meal at Lloyd Restaurant, which serves classic European dishes made with sustainable and organic products.
Lloyd's meeting rooms and halls are designed to inspire. Guests are encourage to use the spaces however they like, even as exhibition spaces or concert halls.
I felt like I was in Japan during sakura season, thanks to this "Under the Cherry Blossom Tree" installation by Eiko Ishizawa (made from silk screen on textile and wood).
– Outfit Details – My alien sweater is from Gypsy Warrior; it's similar to this aliens top. Click the thumbnails for more intergalactic options:

Suzanne walked me through the fascinating history of Lloyd Hotel. This historic building was originally commissioned by Royal Holland Lloyd (cargo ship line) to house immigrants. It later became a WWII detention center and refugee camp, and then a prison for young offenders. The space transformed into a collective of artist studios, and finally a design hotel.
Chikako Watanabe, the first artist in residence at Lloyd Culturele Ambassade, made a commemorative installation based on a 1920s room at Lloyd. Families slept on a tiny cot like this, while awaiting their journey on a ship.
I've stayed in art / theme hotels before — but none were as creative as the ones at Lloyd Hotel! The 117 rooms are all different, designed by Dutch designers and ranging from 1 to 5 stars (to fit all needs and budgets).
I flopped down on this 8-person bed, inspired by the shenanigans of rock musicians. This "Rough Music Room" is by Joep Van Lieshout, and an example of a five-star deluxe double room.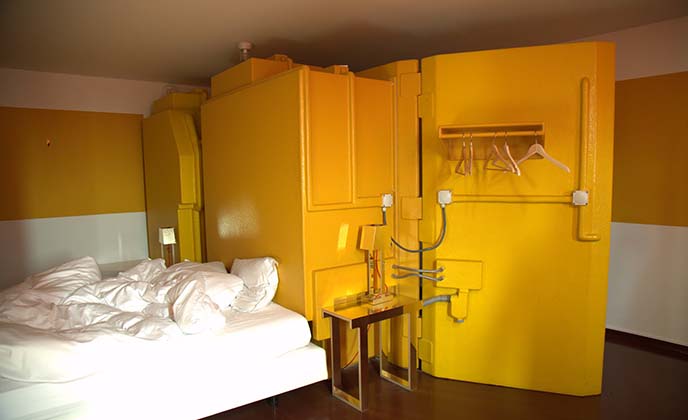 Every room in Lloyd Hotel is unique. When you make a reservation, you can pick the "star category" (which has a corresponding price). The exact room you'll be staying in is a surprise, unless you make a specific request in advance.
Some of the rooms are very experimental. The one above has a folding, modular hinged wall — which lets you re-arrange the bathtub, closet and partitions as you please!
Lloyd Hotel encourages you to let go and have fun. How could I resist swinging around this rustic attic-style room, with a built-in swing?
My Dutch vlogger frend Leyla, who runs LeylaFashion blog and @leylafashion YouTube channel, created a vlog about our tour of the hotel — you can see us playing around on these swings!
(If you like my alien fashion, check out the items below:)

This is not just a dust ball. It's "Dust Ball," an art piece by Japan's Suchan Kinoshita. Like the Katamari video game, she rolled traces of the hotel's past into this mound — a preservation and reflection of the building's many transformations.
Even a 1-star room (top right) is cozy and designed with flair. Each floor contains different room-types, so guests from all backgrounds can mingle.
Suzanne brought us to the library, open to both guests and visitors for exhibitions, lectures, or plain relaxing and reading. The classical space contains a typewriter and furniture by De Bazel, a Dutch architect and contemporary of Frank Lloyd Wright.
I couldn't help but smile at "The Family Portraits," an exhibition by Michiel Voet. His photos communicate family stories, and the impact that migration has on society.
The immigrant portraits are a study in friction and togetherness throughout the generations. Now I want to do a family portrait, standing on chairs and with spacesuit-jars over our heads!
Leyla, Arina and I also stayed at Hotel The Exchange — another whimsical property run by Suzanne and her team.
What's the deal with the XXX, which you'll see all over Amsterdam? This symbol is from the city's coat of arms, and represent three vertical St. Andrew's Crosses. The saint was martyred on an X-shaped cross in the 1st century.
Amsterdam is known for adult entertainment in the Red Light District, which gives "XXX" a coincidental meaning as well. For me, it represents the X-mouth of Miffy, the Dutch mascot!
Hotel The Exchange's name refers to the weaving together of fashion and interior design, making these rooms one-of-a-kind.
This boutique hotel's location is ideal for travellers: right in the city center, and within walking distance of all the major sights. (Address: Damrak 50, 1012 LL Amsterdam, Netherlands)
In the spirit of playful collaboration, Otto Nan and Suzanne Oxenaar commissioned students from Amsterdam Fashion Institute to create rooms "dressed like models." The lounge sets the whimsical tone, with has pillows made from fabric swatches and a selfie #nofilter mirror.
Hotel The Exchange is actually made up of three narrow buildings (one dates back to the 17th century), which were connected while retaining the original framework. The winding staircases and unexpected passages make this a fun space to wander through.
(All photography by Arina Dresviannikova)
Once we checked in, I spread out my belongings on my bed.
Details of my silver clutch by Makeup Junkie Bags, and I Amsterdam city card (which gave me free, unlimited access to public transit and all the major museums in Amsterdam).
We stayed in the top-level Rembrandt Room, featuring this superb view and a bed surrounded by what looks like a giant, old-fashioned ruffled collar.
Closeup on Leyla's cute accessories: a Hello Kitty ghost ring, and Dutch Pikachu. She uploaded a vlog about our adventures at Lloyd hotel; The Exchange footage is coming soon.
Hotel The Exchange has 61 unique rooms, each with its own theme and designed by a young graduate of AMFI. Like at Lloyd, they range from one to five stars (reflecting the amount of amenities, views and square footage).
The rooms are dressed like models on a catwalk — draped in hand-crafted designs that reflect a particular vision of Amsterdam fashion. In a world filled with cookie-cutter hotels, it's heartening to stay in a place where you wake up feeling stylish and inspired.
I was impressed by the diversity of design. The "Mattress Room" by Roos Soetekouw deconstructs a bed into its foam, box-spring and textile parts. These pieces are re-worked into 3D furniture and textured decor. I think my Miffy purse looks quite at home on this hanger rack, made out of bed-springs.
Even the room numbers get a twist: each is a hand-embroidered disk, made up of X's in the hotel's signature orange-red shade.
Malu Gehner called her room "Epaulettes," after the shoulder decorations found in military attire. Her room is decked out in braided rope trimmings.
Many of the artists incorporated special fabrics developed in collaboration with the Textile Museum in Tilburg for the project.
Roos Soetekouw created one of my favorite rooms, "Misunderstood Creatures." This is not for everyone, but you can understand why Goths would feel right at home. 
The sinister fantasy installation includes portraits of three troubled yet lovely creatures. The black ceiling seems to be crying dark tears.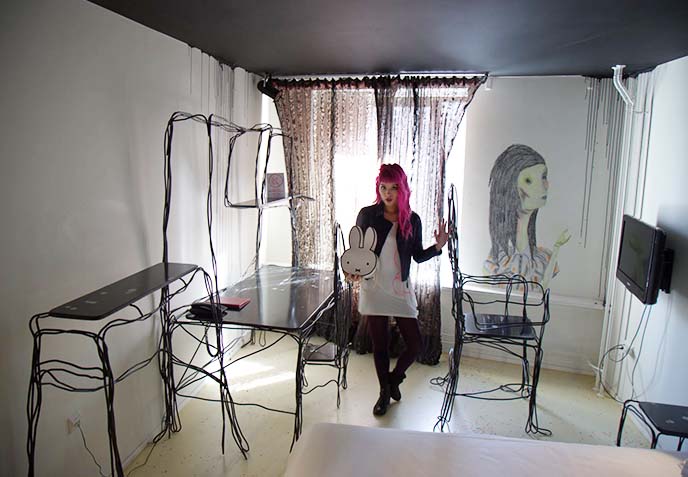 I love the dark side of fashion, and The Room of Misunderstood Creatures spoke to my aesthetics.
If you look closely, there are colorful sequins encased in the floor — adding a magical sparkle to the twisted gloom. 
Sofie Sleumer was inspired by the tales of the brothers Grimm. She used the walls of her small room to tell the story: a collage of nature, insects, eggs and other fairytale imagery. She also sourced broken furniture from small markets, mending the broken parts to add to the feeling.
Hotel The Exchange has several common areas for guests. This one has a wide selection of fashion and photography books, and two working sewing machines, fabric and threads! 
Every morning, we looked forward to having breakfast at hotel's Café Stock located next door. The well-lit space has illustrations from the room designers on the walls.
Arina and I couldn't get enough of Cafe Stock's Dutch apple pie, baked fresh and served with real hand-whipped cream.  We always ordered the XL sized lattes and cheese pancakes, and the national "stroopwafel" (two pieces of thin, baked waffle with caramel syrup in between) is a must-try.
Cheers to Hotel The Exchange and Lloyd Hotel / Cultural Embassy for the inspiring stay. Hearts and stars to I Amsterdam for making these stories possible.
Would you stay in a fashion hotel like this one?
Don't forget to check out Leyla's vlog of our hotel tour, and more of my travel tips from the Netherlands here. And I'm now off to a new destination… check out my Instagram to see where I'll be. Hint, yee-haw!
This girl is all smiles (despite what my Long Clothing top says)… because I've discovered an Amsterdam district filled with inspiration! 
Have you heard of "Noord," the waterfront area north of the city center? Home to EDM festivals, artist studios, and transformed warehouses, this is a side of Amsterdam that very few tourists see.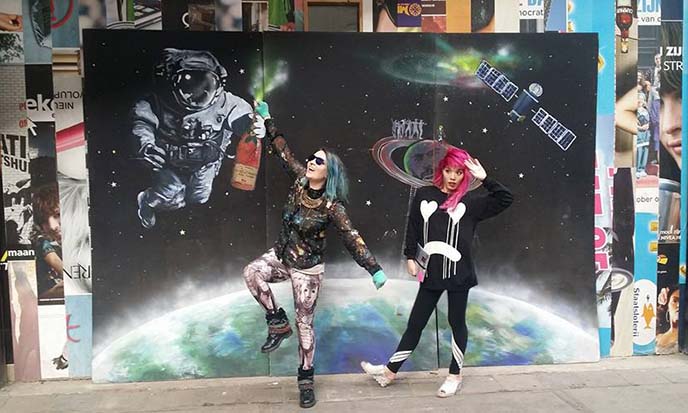 Like intrepid astronauts (or… space cadets), my friends and I will take you to the most cutting-edge hangouts in Noord. It's incredible to see how these run-down shipyards have been transformed into hipster heaven.
(Above, I'm wearing this Long Clothing Drippy sweatshirt.)
But first, a quick announcement: I had the honor of being interviewed by BBC Radio about Goth lifestyle and culture! The show "talks to Gothic blogger, La Carmina, about the extraordinary and extreme goth scene in Japan that includes body modifications."
Here's the link to my BBC Radio Worldwide interview, and you can hear my voice throughout in the entire program for "The Why Factor" show. Thanks everyone for the positive reception so far!
Now, back to Holland. The team at I Amsterdam (the city's tourism board) matched me with the perfect guide for an insider tour of Noord. I instantly clicked with Faustina, who shared my love of glamorous fashion and cat-eye sunglasses!
She met us at Hotel The Exchange, and did an introduction with maps to get me oriented. (Soon, I'll take you around this stylish boutique hotel).
We walked to Centraal Station, where Faustina locked her bike next to literally thousands. Notice the "parking lot" above her, filled to the brim. Amsterdam truly is the city of bicycles.
Noord is located only 5 minutes from the central station, making it a convenient yet off-the-beaten-path destination.
Anyone can hop onto the Buiksloterweg ferry. The ride is free, departs every 10 minutes, and can accommodate bicycles and scooters. Before you can figure out how to pronounce the ferry's name, you've crossed IJ Lake and arrived at NDSM wharf.
Step off the little ferry, and you're arrived in northern, uptown Amsterdam. Right away, you can sense that Noord has an artistic, young vibe. (All photography by Arina Dresviannikova)
"I see a little silhouette of a man"… that's the one and only Freddie Mercury, next to a decorative wall overlooking the waters.
It's impossible to miss A'DAM Toren, named for "Amsterdam Dance And Music." This 22-storey tower looks over the waterfront, and was opened by a creative team that includes EDM pioneers. 
As you might expect, this is a one-stop place to party. ADAM Tower contains nightclubs, bars, cafes, hotel rooms, and a revolving restaurant (the square-shaped disc at the top rotates around). The top floor has a 360 degree panoramic terrace, and Europe's highest swing that sends adrenaline junkies "over the edge."
There's another space-age building nearby: EYE Film Museum.
Named after the river IJ (which is pronounced "eye"), this modern structure is a film buff's dream. You'll find four cinemas and a restaurant inside, plus an extensive archive, and rotating exhibitions about filmmakers. 
The Eye is the vision of architects Delugan Meissl. Like a projected film, the building seems to be in constant motion. As the designers put it,  the concept is a "sustained encounter between urban reality and cinematographic fiction."
When I visited, EYE Film Museum had a fascinating exhibit dedicated to Hungary's Bela Tarr, auteur of melancholic films about the human condition.
His films played in sets that re-created his world — including a decaying tree surrounded by barbed wire fences, with leaves blasting though the room. (We weren't allowed to take pictures inside, so you'll have to use your imagination — or better yet, visit for yourself).
On the ground floor, the Eye has an open-plan cafe with spectacular views of the IJ harbor.
Eye Filmmuseum hosts frequent screenings and lectures. They have an annual Imagine Film Festival, dedicated to exploitation, cult and lower budget films.
Within these walls, there lies an extensive film archive with close to 40,000 Dutch and foreign titles. The collections also include posters, photographs, soundtracks and other archival material: a treasure trove for studies.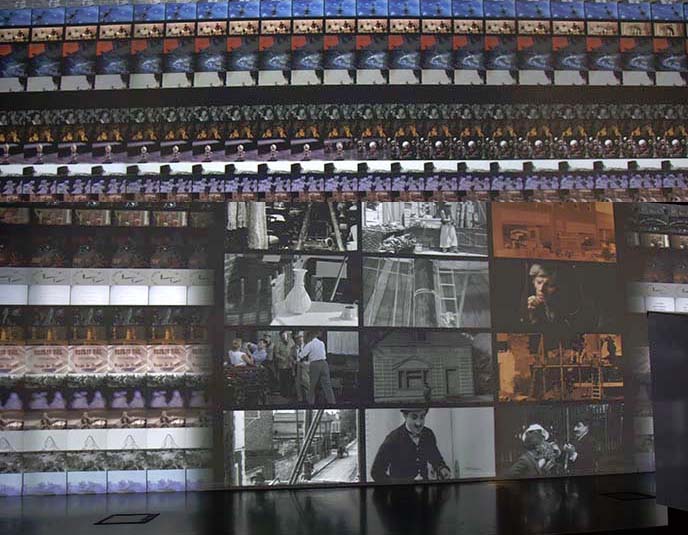 In the lower level, we saw historical cameras, projectors, and clips of Dutch films dating back to the late 19th century. This museum is a must for movie-lovers.
We continued our walk through Noord, and Faustina told us about its history. In the 1600s, sailors and merchants moved to the northern banks, to work in the maritime industry and find affordable housing.
This was a shipbuilding area until the 1980s, when the industry declined. Before long, Noord turned into an industrial wasteland, filled with the ghosts of the past.
Lured by low rents, artists moved in — followed by creative companies like MTV. They revitalised Noord, transforming these decrepit lots into a graffiti-covered wonderland.
Today, Noord is a lively neighborhood with a diverse population. Many tech startups and artistic firms are headquartered here.
The Netherlands gives generous support to young artists, including providing studios for them to create.
Faustina took is to NDSM Wharf, a giant collective of creative minds. As we approached, the street art grew more and more vivid.
NDSM stands for Nederlands Dok en Scheepsgebouw Maatschappij (Dutch Dock and Shipbuilding Company): one of the largest European shipyards before going bankrupt in 1980.
The abandoned warehouses fell into disrepair, until street artists from around the world turned them into colorful canvases.
We peeked into design studios, and posed in front of this intergalactic mural. There was even a cheeky, hot-pink installation called a "Barbie Peep Show."
"Make art, not Euros." That's the DIY spirit at NDSM.
As we kept walking, I was impressed by the myriad of ways that locals turned industrial skeletons into art.
Case in point: Crane Hotel Faralda. In this old shipyard, an abandoned 50-meter-high crane was turned into a three-room boutique hotel! 
I witnessed one of the coolest transformations at Pllek, a modern restaurant built out of shipping containers. (Address: TT Neveritaweg 59, Amsterdam)
It's easy to mistake this entrance for a pile of rusting compartments. However, when you walk in, you'll discover a spacious glass-front eatery by the river. 
Pllek continues the upcycled theme inside, with furniture made from salvaged maritime artifacts. Concrete floors maintain the industrial feel, while a disco ball adds fabulosity.
The diners tend to be young, hip foodies… an alien would fit right into the picture!
The menu relies on organic, sustainable meats and produce. I ordered a pumpkin ravioli, and it was one of the best meals of the trip.
Desserts are a must at Pllek: Dutch apple pie, creme brule, chocolate cake, ahh.
Outside, Pllek has picnic benches and a strip of sand. When the sun shines, this is "the" place to hang out by the river.
Pllek also organises regular cultural events, ranging from photography exhibits to yoga and Tai Chi on the beach. At night, they bring in DJs for some of Amsterdam's best dance parties. 
Back in the city center, I had another spectacular meal at Restaurant Lt. Cornelis (Address: Voetboogstraat 13, Amsterdam).
As you might guess from the "chiaroscuro" portraits, they specialize in traditional Dutch cuisine, prepared with locally sourced ingredients.
However, a peek into the open kitchen, and you'll see young chefs with tattoos working with flames. Restaurant Cornelis draws from the past, but gives all their dishes a modern flair.
I recommend going for the "Menu Cornelis," a four-course tasting that will surprise your palate. Each dish also comes perfectly paired with wine.
The friendly servers brought out dishes that I had never tried before, including melt-in-your-mouth bitterballen (Dutch croquettes). Everything was beautifully plated and prepared: highlights included the sustainable sirloin, and a chocolate/citrus/white chocolate dessert with foam.
Cheers to all the new friends we made on this journey! I'm glad I got the chance to see the underground, alternative, obscure side of Amsterdam. 
If you're planning a visit, check out the I Amsterdam website. You can find more suggestions for attractions in Noord and other areas.
What's next… a space-disco journey throughout the galaxy? You'll have to stay tuned to find out where I'll be next!