Category Archive for
Salem + Boston
When I was in Salem MA, a child came up to me and yelled "Witchhh! Witchhh!" I took it as a compliment that she put me on trial (wearing Moi-meme-Moitie achieved the desired effect).
This September, I made a Goth pilgrimage to Salem, Massachusetts — the center of the 1692 century witch trials. As you'll see, this little American town lives up to its notoriety as the ultimate Gothic destination.
The sign "Enter if you Dare" is apt. I have several friends who didn't plan out their trip to Salem well, and ended up being disappointed (the shops and museums were closed, or they couldn't get tickets or access to certain places).
Fear not — if you're planning a trip to the witch capital, then this Goth travel blogger has got you covered. Here lies part 1 of my guide to getting the most out of a day trip to Salem MA, including how to plan transportation and see all the darkest, witchiest attractions.
† How to maximize Salem, in a nutshell †
– Come between spring-fall, but avoid the October tourist rush.
– Weekdays are less crowded, but make sure the places you want to see are open (some shut in winter, and Satanic Temple closes Mon-Tues).
– Arrive around 10am, when the museums and shops open.
– Go to the Witch Museum first, as ticket slots sell quickly. Then make your rounds of other attractions and stores before things close around 5-6pm.
– End with a visit to the Satanic Temple & Art Gallery, as it requires an Uber and closes at 7 or 8pm. (I'll take you inside in Part 2 of this guide).
Let's start with how to get to Salem. Unless you're able to fly on a broom, most travellers come over from Boston — as this is the closest major city and airport.
Year-round, you can take the subway from Boston to Salem. Board the MBTA Commuter Rail (Rockport/Ipswich Line) from Boston's North Station. In 30 minutes, you'll be in Salem.
Boston Harbor Cruises also runs a Salem Ferry between mid-May and October 31. The boat sails from 1 Long Wharf, and the journey takes less than an hour.
My friend Lissette and I took the earliest Salem Ferry sailing. We enjoyed being out on the water, and taking in Boston's famous waterfront and brick skyline from the deck.
Be sure to reserve Salem Ferry tickets in advance from their website, as time slots can sell out. Also keep in mind that the boat route only runs from spring-fall.
(We took the subway back, as we wanted to stay past the last ferry departure; take note that the last train departs around 11:30pm. You can make Salem a day trip like we did, or book a room overnight if you want to take your time and see more.)
The moment you arrive in Salem, you'll feel as if you have arrived in witch heaven! The quaint New England town is filled with occult symbols and spooky stores, much like in the movie Hocus Pocus (which was filmed here).
I walked by a statue of Samantha, the witch from the 1960s TV show Bewitched, by Lappin Park. The popular series shot a few episodes in Salem, which got people intrigued about traveling here. (Photo by my friend Julie.)
From the 1960s onward, Salem has embraced its witch / Halloween reputation to the fullest. Today, travellers flock here to learn about the late 17th century witch trials, and take part in all things Gothic (as the posters around town hint).
Thankfully, Salem remains a small town with a historic, indie and subculture feel — it hasn't turned into a "Disneyland for Witches."
That being said, Salem gets extremely busy around Halloween. Tourists are blocked from the graveyard in October, and you may encounter long lineups everywhere. I recommend coming in late September (like I did): you'll still get to experience the fall / Halloween feeling, without too many people around.
I've been waiting for this moment… Hail, Salem Witch Museum! This is the most popular museum in Salem, centering on the Witch Trials of 1692.
I did a "Puritan meets Harajuku Goth" look for this journey. The dress is a Moi-meme-Moitie rare Pleats from the early-mid 2000s; got it in Tokyo Japan, of course. I paired it with UK Tights, Edwardson Eyewear sunglasses, and Jeffrey Campbell platform ankle boots.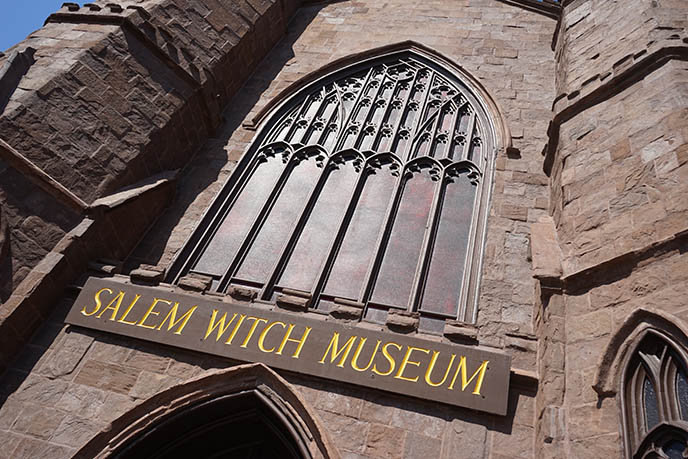 Goth alert: Get to the Salem Witch Museum early, ideally around opening time (10am). The tickets are first come first serve, and can't be booked in advance. Since the passes are sold by 30-minute time slots, you might have to wait until a later hour to get inside. (We arrived around 11am and were lucky, as we got the next immediate entry).
If you need to kill time before the doors open, go next door to Salem Witch Museum's gift shop. There's an enormous selection of witch-themed books, jewelry, homewares and other memorabilia.
(My next article will focus on all the Gothic boutiques you must visit, so stay tuned for a full Salem shopping guide.)
My Alex Streeter Ouroboros ring fits in with the shop's selection of witch brooms and magic spells.
I was tickled to see a "Ride with Pride" t-shirt with a rainbow broomstick trail. As you'd expect, we ran into many fellow Goth and alternative travellers in this dark destination.
Our group was ushered inside, and the riveting presentation began. All around the room, life-sized sets lit up, and a narrator told the story of the 1692 Salem Witchcraft Trials in dramatic voices.
Photos aren't allowed, so imagine… Satan, with red horns and glowing eyes! Did the "evil hand of the Devil" cause the "embittered women" to accuse hundreds of witchcraft, resulting in 30 courtroom death sentences?
I learned how a slave's fortune-telling games led to weird behaviors and hysteria among a group of young women. Between 1692-3, hundreds (mainly outsiders such as older single women) were accused of "entering a pact with Satan." By the end of the Salem witch trials, 20 were executed as witches, mostly by hanging.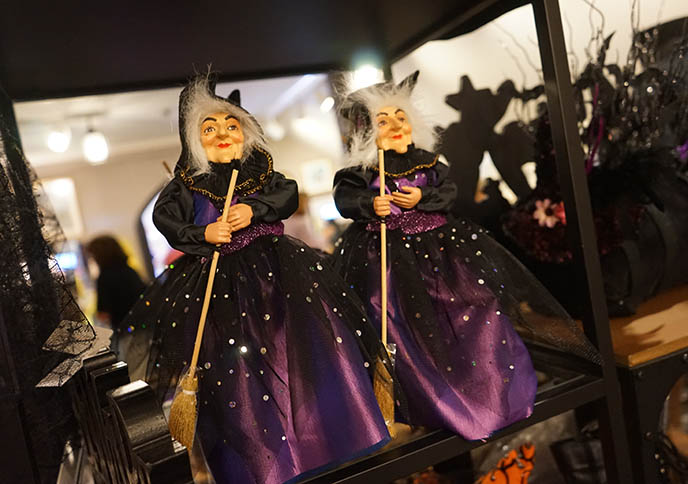 After, a guide took us to an exhibit on the evolving perspective of witches over the years: from pagan healing women, to green-faced crones on broomsticks (influenced by the Wizard of Oz).
The Salem Witch Museum was both entertaining and enlightening — I was fascinated by the tales of witch hunts throughout the ages. I was also glad I went here first, to learn about the town's terrifying history before sightseeing further.
Since I was in a morbid mood, it made sense to stand among the tombstones of The Old Burying Point Cemetery. Also known as Charter Street Cemetery, this is one of the oldest graveyards in America (established 1637).
It's right by the Salem Witch Trials Memorial: a simple granite monument with an open book etched with court transcripts, and benches carved with the victim's names.
Many of the 17th century headstones were decorated with winged skulls — how pirate-Goth. Known as death's heads or Soul Effigies, these represent the spirit flying to the afterlife.
(I have many more photos of these Gothic-looking Puritan tombstones in my article about Boston's Granary Burying Grounds.)
This year, Salem's historic burial place was closed to visitors between late Sept and early Nov. October is peak season for Salem tourism, and they wanted to prevent damage to the centuries-old tombs. Keep the closure dates in mind, if you want to tread carefully among the dead.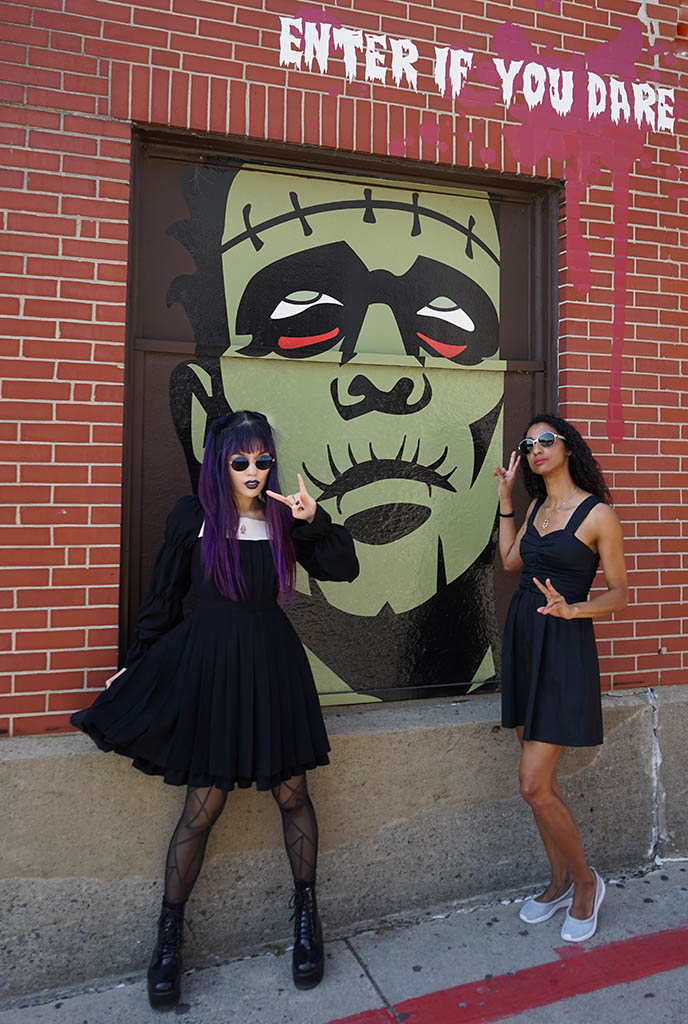 Lissette and I had until 5-6pm to see Salem's other museums and boutiques (as they generally close at this time, with the exception of the Satanic Temple / Art Gallery).
I recommend browsing Destination Salem's site, as they give a great run-down of all the restaurants, shows, tours, shops and attractions in Salem.
I personally wanted to focus on all things Goth and Witch, so I didn't see some of the other highly-rated places, like the Peabody Essex art museum or House of Seven Gables (the mansion at the center of Nathaniel Hawthorne's novel).
Some of Salem's witch-related attractions seemed to be on the cheesy side, and I preferred to learn about the culture / history than to get scared at a haunted house (there are several here).
That's why I stopped by the Salem Witch Village. A local man took us through a pathway of tableaus, which explored the legends, myths and truths about witches and their craft.
Rather than sensationalizing witches, the Village Museum taught us about the symbols and rituals of Wicca. Our guide talked about the many meanings of the pentacle (an upright five-pointed star in a circle). It's a symbol of the elements and divine feminine, and a magical talisman that summons energies.
The tour delved deeper into the Salem Witch Trials. We saw a mannequin being pressed to death by giant rocks! This was Giles Corey, a man accused of being a warlock. Because he refused to plead guilty or not guilty, he was pressed over the course of three days. When asked what he wanted, Giles — his eyes bulging from the heavy boulders on his chest — defiantly told them to add "More weight!"
We also learned about the ancient pagan festival of Samhain, which takes place in October and influenced Halloween. I was thrilled by the tales of Jack O' Lantern, a miserly man who tricked the Devil. Later, the horned one got his revenge and cursed Jack to roam the Earth until the apocalypse, with only an ember inside a turnip to light his way. (These carved turnips turned into Jack-o-lantern pumpkins lit by candlelight!)
Salem's a small and walkable town, so Lissette and I were able to easily see multiple historic sites by foot in a single day.
I struck an ominous pose in front of The Witch House. Isn't this dark and pointy-roofed home a Gothic dream? Built in the mid-17th century, this was the home of Judge Jonathan Corwin, who presided over the witch trials of 1692.
The Witch House is located at 310 Essex Street, and it's a stunning example of New England architecture in the 17th century. I've been to many allegedly haunted houses, but in this case, the truth is scarier than sorcery. Swayed by witch-hunt hysteria, Judge Corwin's court sent 20 wrongly-accused victims to the gallows, while others died in jail.
Inside, you can see relics of the diabolical trials. There were documents about witchcraft and demonic possessions, and examples of "witchcake." This not-so-delicious cake was baked with the urine of possibly possessed girls, and fed to the household dog. Somehow, this could reveal whether the ladies were dabbling in black magic.
The upper levels gave me a peek of how limited life was for these Puritan women. The weaving wheel and wood cradle look like something out of a dark fairy tale…
Some theorize that the women "acted out" in response to their oppressive religious/patriarchal environment, leading to the witch-scares and executions.
The Witch House is open daily from mid-March through November. It's great to go inside if you're interested in the daily life and artifacts of the witch-hunting days. However, if you're short on cash, you can just take photos outside.
(Side note: there's a dark electronic music genre called witch house that emerged about a decade ago. Perhaps this could be my album cover.)
We wrapped up our museum escapades at Count Orlok's Nightmare Gallery. Salem MA has a movie monsters permanent exhibition, and it's a classic horror film buff's dream (or nightmare).
This town isn't just about witches –– Salem has grown into a hotbed for all things horror and Halloween especially in October, when the annual Haunted Happenings take place.
Outside Count Orlok's lair, I ran into these old-school monsters… and gave Frankenstein's creature a tip in order to get strangled! (As my friend John S. would say, "I'd buy that for a dollar.")
This private gallery is named after the Draculean baddie in the 1922 classic horror, Nosferatu. Photography isn't allowed inside Count Orlok's museum, so here are snaps from the gift store outside.
The admission fee is well worth it for the life-sized monsters and killers you'll encounter inside. The Nightmare Gallery isn't your typical cheesy wax museum. Made of resin, silicone and other life-like materials, these horror legends are impressively made and dramatically lit, with eerie music in the background of each room.
This mannequin insists, "Hi, I am NOT Slappy." He's been mistaken one too many times for Slappy the Dummy, from R. L. Stine's Goosebumps books.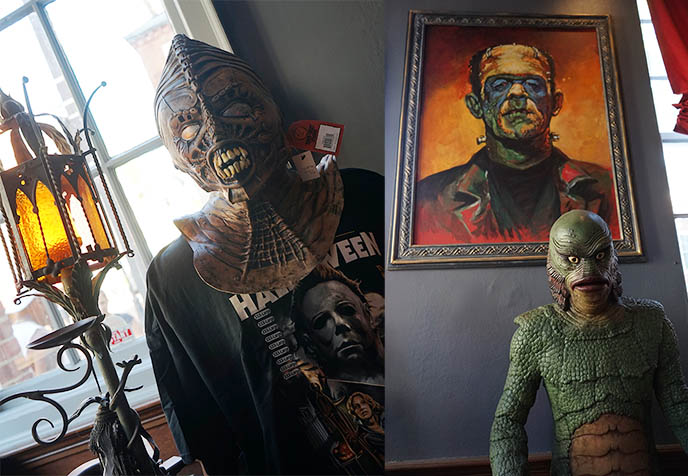 I appreciated the mix of old and new creatures inside Count Orlok's. The tour begins with replicas of silent and black-and-white movie stars, dressed as their horror alter egos. Hello Boris Karloff as Frankenstein's Monster, and Bela Lugosi as Dracula.
The human-sized creatures includes cult characters from The Shining, Halloween, Carrie, Friday the 13, Night of the Living Dead, and Trick 'r Treat. (Can you recognize the masks above?)
You'll also see rare photos of the actors, and actual set pieces or props. I was wowed to see the real upside-down head with crab legs, from John Carpenter's The Thing!
If the terrifying characters above stir your heart, then Count Orlok's Nightmare Gallery is a must-see.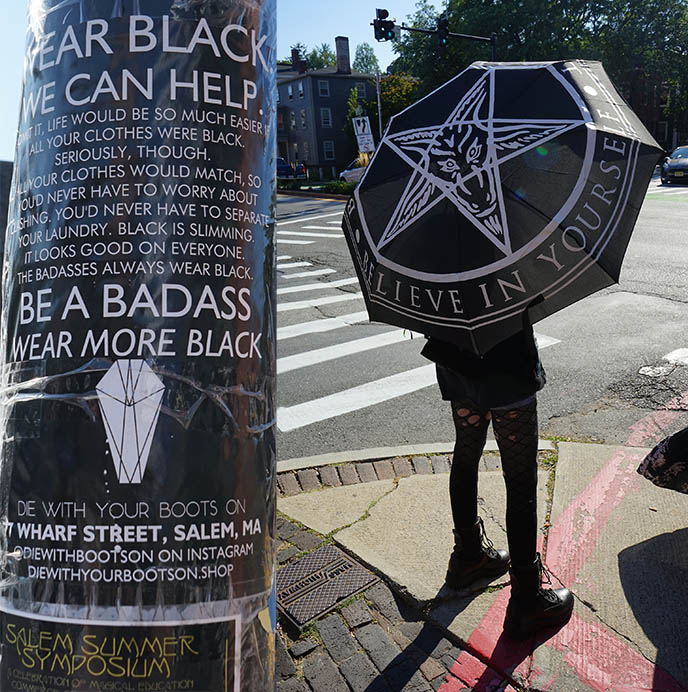 We packed so much into a single day-trip to Salem… this is only part 1 of my coverage! In the next piece, I'll take you inside the most fabulous Goth, vampire and witch-themed indie boutiques. (As you'd guess, Salem is a Gothic shopping paradise, with stores like Die With Your Boots On.)
At any time of the year, you'll find dark and monstrous events in Salem. I'll gladly go back any time to experience more of this Goth destination.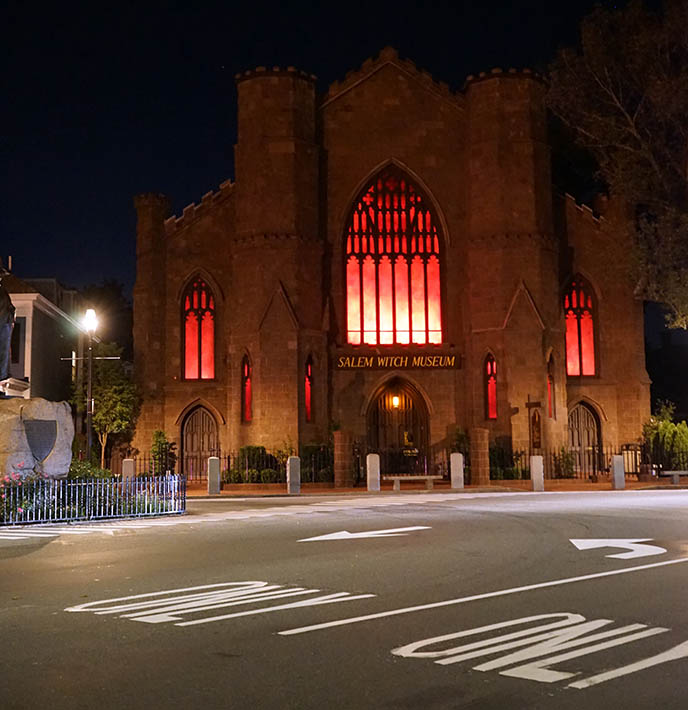 The last train from Salem to Boston departs around 11:30 pm, so if you're staying late, keep an eye on the clock.
Salem is fun to walk around at night. Lots of lively cafes and bars, and the Salem Witch Museum glows red with the fires of hell.
Hail Witches! Thanks to Destination Salem for supporting our trip here. Their website and visitor center (a short walk from the train station) are excellent resources for planning your journey.
PS, speaking of horror: my episode of The Purge TV show airs Dec 17 on USA Network and Amazon! Next, I'll take you behind-the-scenes of my television shoot and set experience in New Orleans.
Once upon a midnight dreary… I was in Boston, getting spooky… with Edgar Allan Poe! 
After my Purge television show appearance, I spent a few days in New England. Boston's known as a preppy city, but leave it to me to find the darkest and quirkiest sides.
Outfit details: My faux fur leopard jacket and bat shirt are by Sourpuss Clothing. Burgundy faux leather leggings by UK Tights, platform black boots by Jeffrey Campbell. Click below for more of my style:
If you've got a Gothic bent and are visiting Massachusetts, then this Boston Goth travel guide has got you covered.
We'll creep around the Granary Burial Grounds, home to spooky skull tombstones, and pay a visit to Edgar Allan Poe Square. We'll also get fabulous at Six, the glamorous musical about Henry the VIII's wives.
For an out-of-this-universe stay in Boston, there's only one hotel worth teleporting to: Yotel! 
This futuristic hotel speaks to my sci-fi soul. I stayed at Yotel in NYC for fashion week years ago, and was delighted to dock with them once again.
I adore Yotel's hip decor, which looks like something out of a 1960s space opera. The lobby's curving lines and white lights have a rocketship feel, and these "pillows" are like squishy asteroids. 
My black and white dress is by Valfre (available here).
As we get closer to the reality of space travel, Yotel Boston gives a glimpse of what hotels may look like in the future. Guests can check in or out with self-service terminals, and float around the vibrant co-working space and cafe at any hour.
My long-time friend and travel comrade Lissette shares her first impressions. "Upon arriving at Yotel, I was impressed by the way the entrance looked like a space station. All of the furniture reminded me of the Jetsons and was complete with a robot."
My "Wednesday Addams" dress is by Valfre; see more from this French designer below:
We were delighted to meet Yotel's cute-faced robot when we checked in. As Y2D2 says, "I'm a delivery robot, but that's not all I can do…" He can also tell jokes, perform demos, and take selfies with you!
Yotel's little purple robot can even bring items to your room, such as a toothbrush if you forgot one. Y2D2 opens up to reveal a compartment, where you can place items for delivery.
Lissette says, "We even got to see the robot in action delivering items to someone's room on our floor." It was amazing to see how Y2D2 could ride the elevator by himself, scoot past obstacles, and wirelessly ring the doorbell.
When you answer the door, his compartment opens so you can take you item. Don't forget to say "Domo arigato, Mr Roboto."
Yotel's playful approach makes the hotel stand out. Even the chairs in the Sky Lounge spell out LOL! 
Yotel Boston is located in the Seaport, a vibrant waterfront area with many hip boutiques and restaurants.
As you can see, "The views from the rooms as well as the rooftop lounge area provided excellent snapshots of the city." – Lissette
At night, we enjoyed a cocktail on Yotel Boston's rooftop terrace. Outside, you get a brilliant view of the surrounding brick buildings and twinkling skyscrapers.
Lissette says, "Our room was super cute with bunk beds and a very futuristic bathroom setup and lights that could change colors. The glass enclosures in the bathroom supplied a surprising amount of privacy, and there was a curtain to separate the bathroom from the bedroom as well. The ability for the queen bottom bunk to have a range of reclining options added to the spaceship feel of the room."
Yotel is like a 5-star spaceship: you sleep in a luxurious but compact cabin, with ingenious tech that helps maximize the space. For example, when you push a button, the bed unfurls. I was fond of this mod chair, which matched my hair color, and had striking views of South Boston's brick walls.
Cheers to the friendly and accommodating staff at Yotel Boston, and the kind bartenders that knew their stuff.
(More from our space-age hotel at the end of this post.)
Now, let's go from robots to pirates. (Did you have any clue that Boston had such odd attractions?)
I've visited Boston twice before, mainly to see the historic sites with family. This time, I was keen to get Gothic at the Granary Burying Grounds, the city's most famous graveyard.
I hung out with famous Bostonian ghosts in late September. The sky was bright but there was a dusting of dead leaves on the tombs: perfection.
Founded in 1660, the Granary Burying Grounds is Boston's third-oldest cemetery. The small Tremont Street plot as over 2000 grave markers, but as many as 5000 bodies lie here. (Or "lye," as they wrote back in the 17th century.)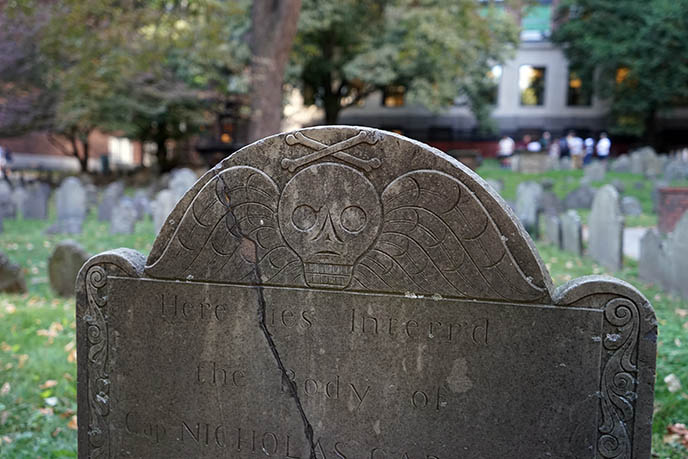 Some of the tablet-shaped tombstones are blank, or have words that got partially wiped out through time. However, many have a pirate Goth look, with grinning winged skulls and crossbones!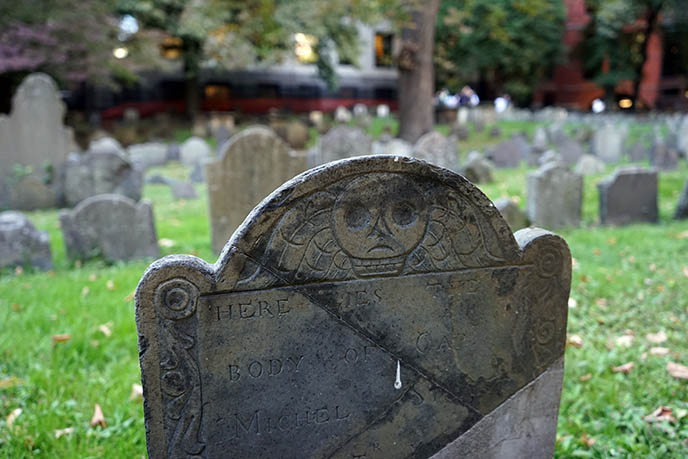 What's the story behind these spooky grave-markers? This "death's head" is know as the Soul Effigy. This represented the soul flying to the afterlife after death.
The Granary Burial Grounds are home to other odd monuments for the dead. The tallest one is an obelisk, erected in 1827 and dedicated to the relatives of Benjamin Franklin (a Bostonian).
Boston's Granary is also the final resting place of Paul Revere, Samuel Adams, and John Hancock (his headstone is nowhere as large as his signature on the Declaration of Independence).
The Granary is worth visiting for its historic importance, but let's face it — I'm here for skulls.
Unlike typical graveyards, you won't see any angels, crucifixes or Virgin Mary statues. The Puritans were against religious imagery, so they expressed their beliefs in the afterlife through winged skulls on tombs. (Ironically, to our modern eyes, these carvings have an edgy Goth feel!)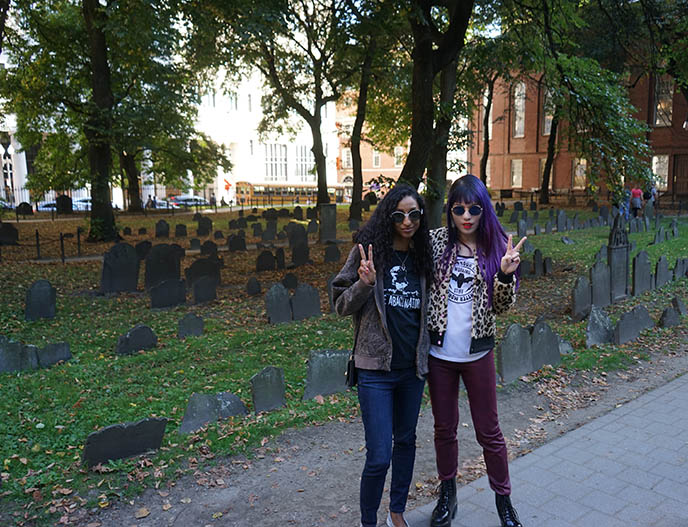 These rows of headstones, surrounded by fall leaves and Boston brick, give a Halloween atmosphere like nothing else. I can easily imagine RIP written on one of these upright slabs, and a hand sticking out to pull you underground!
Some of the 17th century headstones are now askew (perhaps the restless undead tipped them over?) The Soul Effigies are exquisitely carved into the stone tablets.
Looks like a vampire got buried among the American Puritans… (This above-ground coffin reminded me of the Romanian graveyard I visited in Bucharest.)
It was fun to read the engravings on the Granary headstones, written in old-time English. Each followed a straight-forward script: "Here Lyes Ye Body of X wife to Y, aged Z. Departed this life, date." No RIP or fancy memorials to be found here.
In 2009, a visitor fell through the ground and discovered a secret stairway leading to a crypt! I wonder what other mysteries lie beneath the Granary Burying Ground…
Looks like it's a pirate life for these Puritans. In fact, the skull and crossbones were a popular "memento mori" symbol in the 16-17th centuries. They remind us that no matter our status, it's impossible to avoid the Grim Reaper.
Some of the Death's Head or Soul Effigies have scowling faces, while others are grinning and cheery. The one on the right looks sad: was he an emo Puritan boy? 
The headstone "emoji" may have reflected the dead's fate, or outlook on the afterlife.
Can you tell I'm in my autumn element? Lissette took this behind the scenes snap of me. (I'm shooting with my Sony A7 mirrorless camera. Highly recommended for travel, as it's lightweight but full frame and brilliant quality).
This "grave" place is a must-see in Boston, MA.
Lissette and I also went to Salem, Massachusetts and photographed the cemetery there (along with all the witchy things). Stay tuned for this story soon!
Time to sign off on a fabulous note… We were thrilled to see Six the Musical at the American Repertory Theater! 
This new show re-imagines the 6 wives of Henry the Eighth as sassy pop queens, who compete to see who had the worst marriage with the king. Each belts out a number about her life story, with a different musical feel (ie, inspired by Sia, Beyonce, Britney — and all are catchy earworms.)
Lissette raves: "We made the trip to Cambridge/Harvard Square to witness the histo-remix that was Six, the musical. The stage picture was just what the musical called for, with the six wives standing in formation backed by a very talented four-piece band of all women presenting this "her-story."
"Coming from Chicago, it was great to see Courtney Mack, a fellow Columbia College Chicago grad, as Katherine Howard. Her number, "All You Wanna Do," is an excellent example of how well the choreography matches the lyrics and mood of each song. As she sings about the different relationships she has with men throughout her life, the other queens grab at and touch her body in an increasingly more aggressive way as it becomes clear what it is that "[t]he only thing [guys] wanna do is…"
(As you can see above, the Tudor pop superstar costumes were pure fabulousity! My dress is no match for these royal designs.)
Lissette continues: "It was most enjoyable to watch the energy and execution Brittney Mack brought to the ensemble. Her Anne of Cleves was really fun to watch and deftly played. Although her queen profile was modeled after Nicki Minaj, the moment when she showcased her operatic range was a pleasant surprise in the middle of a pop musical."
"Her song, "Get Down," did an amazing job of overlaying contemporary social media vernacular on top of the history (Henry VIII expressing interest in Anne because he saw her portrait, but then rejecting her in person). That is such a common experience for people who interact with dating apps and the online swipe n' match game. This song really brought the experience of the queens into the modern context."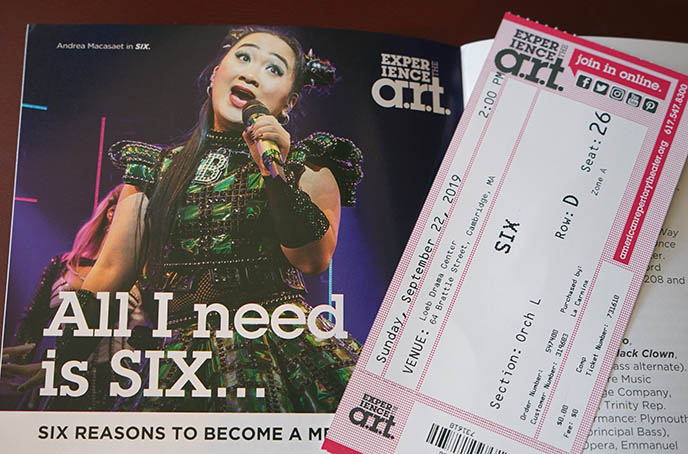 "Andrea Macasaet (above) was charming as Anne Boleyn. The number of times she reminds us that she was beheaded was provided necessary levity to the competition about who was treated the worst by Henry."
"The actors brought a strong level of musicality and emotion to each of the numbers — it was really easy to want each of them to win the competition. Like the choreography, the costumes were well matched to the personality and style of each queen.
Six was a complete theatrical statement that spanned different kinds of pop while staying true to expectations of musical structure, with full cast numbers at the top and bottom of the show, and a solid variety number in the middle with "House of Holbein."
"The surprise encore medley paying homage to each of the queens' songs was really fun. The finale song, "Six" is a great conclusion to the show and the refrain was another representation of why this cast and the band were all so talented. They put on a great show that blended history with pop culture in the same way that Hamilton married history with hip hop. I can't wait to see what is next from writers Toby Marlow and Lucy Moss."
I think we've given you more than six reasons to see Six the Musical!The show is currently touring the world, with runs in London, New York, Australia, Chicago, Edmonton and Minnesota. You heard it here first — this is a feminist powerhouse that can't be missed.
Before we fly away from Boston, let's strike a pose at Edgar Allan Poe Square. This life-sized statue was unveiled in 2014, to commemorate the Boston-born horror writer. (Address: Boylston St & Charles St, Boston, MA)
I hope Edgar liked my punk-Goth outfit. My faux fur animal print jacket and bat mortuary shirt are Sourpuss Clothing, burgundy faux leather leggings by UK Tights, boots Jeffrey Campbell. See details below:
Poe is best known for his spooky short stories, and poem "The Raven" published in 1845. The statue, created by Stefanie Rocknak, shows the author strolling with a long coat. A raven perches on his suitcase, which is bursting with books and papers.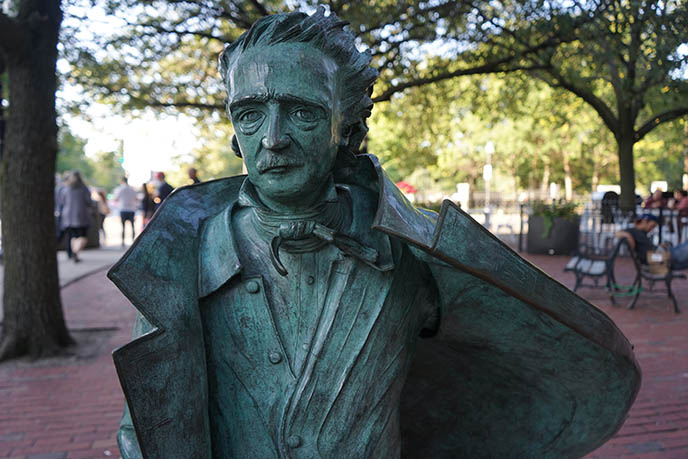 Fun fact: Edgar Allan Poe had a bitter relationship with the city of Boston and its literary elite. He claimed to have made a suicide attempt here in 1848, and wrote "Their pumpkin pies are delicious. Their poetry is not so good." (This man… he's as Goth as you can get!)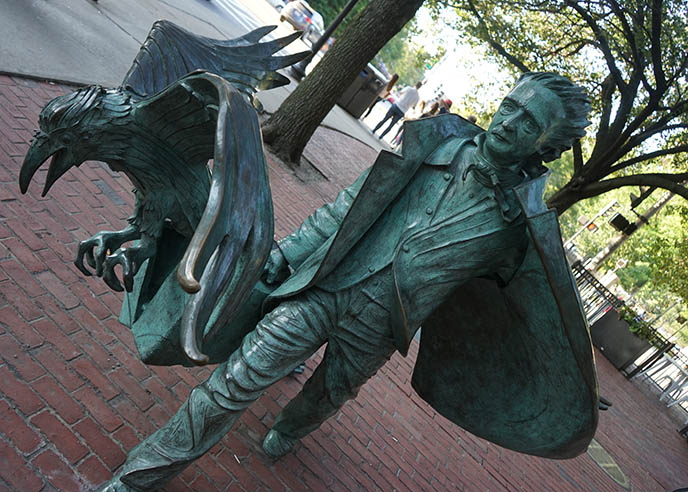 The Edgar Allan Poe statue and Granary Burying Grounds are a short walking distance apart, so you can easily visit both in an afternoon. Be sure to take a stroll in the lovely Boston Common park as well.
We also stopped for dinner at the nearby Union Oyster House, which has been open since 1826, and is the oldest continuously running restaurant in the USA.
Although many tourists come here, the historic wood building and artifacts on the walls are worth admiring. Most importantly, the food is excellent: we feasted on haddock, blackened cod, broccoli, and warm cornbread (their clam chowder is also notable).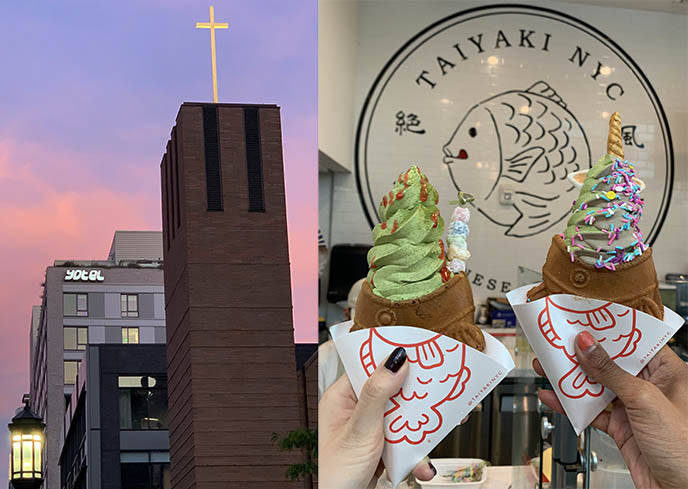 As the sun set, we wandered back to South Boston where we were staying. Feeling the urge for something sweet, we munched on unicorn taiyaki (Japanese red bean waffles shaped like a fish) with matcha ice cream — so good.
Domo arigato, Mr Roboto and the team at Yotel Boston for welcoming us through these space-y revolving doors.
I can't help but feel invigorated every time I stay with Yotel. The compact space-age rooms are fun to share with friends, and the public spaces are full of quirky books and design objects.
Did you realize Boston, MA was such an eccentric and alternative destination? Also, what are these balls for? (Find my Wednesday Addams dress here.)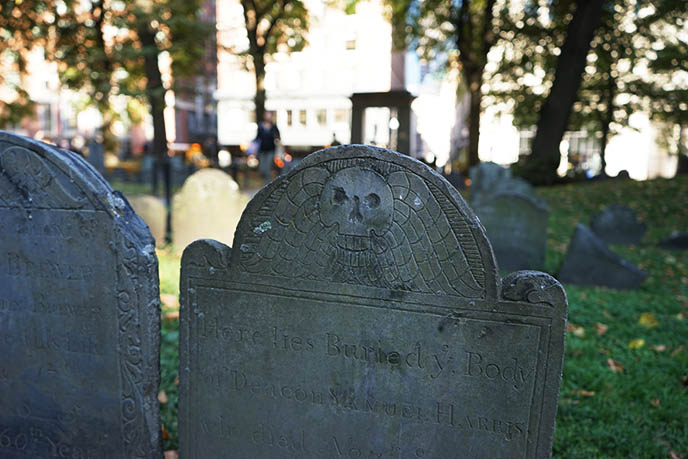 "Here lies buried y body…" I have tons of Halloween coverage still to come for you, including our spellbinding escapades in Salem, Massachusetts. Isn't this the best time of year, by far?