Category Archive for
Los Angeles CA
Vampires, everywhere! On my last trip to Los Angeles, I partook in a number of blood-thirsty activities that paid tribute to Nosferatu.
In Part 1, you saw me rolling around with Trevor on Bela Lugosi's gravestone. Now, I'll take you to a Vampire wine bar and Bar Sinister's Endless Night ball. I'll also show you how I got custom-made vampire fangs, which look like the real deal!
I was excited to meet Father Sebastiaan, master Fangsmith, during his stop in LA. He's world-renown for his ability to craft vampire fangs, which fit right over your canines and look indistinguishable from the rest of your teeth.
I felt like the journalist from Interview with a Vampire, meeting Lestat. After all, Father Sebastiaan is the founding father of the Sanguinarium, the largest vampire community in the world.
He travels the world, crafting fangs for fellow creatures of the night. While in Los Angeles, he set up shop in this spooky Beverly Hills abode.
The space felt like a coven gathering. I admired this vampire couture, made by hand with decadent materials.
Kent Kaliber introduced me to Father Sebastiaan, who created my very first set of fangs! The process took about 40 minutes, with theatrical rituals in between.
The professional fang master comes from a long line of dentists. He measured and fit the pointy Lilith prosthetics over my canines, then shaped them to fit perfectly over my teeth. No need for glue or any adhesives. Once they're in, these fangs stay snug, and feel like they're part of you.
Father Sebastiaan walked me through several initiation rites, including flipping through this book and choosing a vampiric name. He gave me a special ankh necklace to wear, and a case to store my new fangs. (You can wear them for most of the day, and only need to remove them when you eat and sleep.)
Wouldn't you like some enticing fangs of your own? You can find out more on Father Sebastiaan's website and his Facebook. 
Now, I was ready to party at the Endless Night vampire salon, at Bar Sinister. This legendary club remains one of the best Gothic venues in LA, and has parties every weekend. (Address: 1652 N Cherokee Ave, Hollywood, CA)
I co-hosted the event with Kent Kaliber; we went on stage to introduce the performers. There was a dark roster of entertainers that night…
… including belly dancers, go-go girls and DJs. Father Sebastiaan also set up a booth for fang-making.
Bar Sinister has multiple rooms to explore. Vendors set up booths for bondage wear, headdresses and other alt fashion.
As dawn crept closer, the dance floor got wild. These two took "the monster mash" to a whole new level! 
Fear the creeping dead! Everyone dressed up for the Endless Night vampire theme, but this latex mask took the cake.
(Not pictured: the S&M fetish stations upstairs, where you could whip or be whipped, on a cross and other equipment.)
A devilish thank you to host that night Kent, and owners Kelly and Tricia La Belle, for welcoming me back to Bar Sinister. They throw a fabulous Gothic club every weekend, with birthday specials, so check out Bar Sinister's Faceebook for upcoming events. 
After all that decadence, Trevor and I needed to replenish our veins with blood. Believe it or not, there's an LA bar that serves this exact purpose: the Vampire Lounge & Tasting Room. (Address: 9865 S Santa Monica Boulevard, Beverly Hills, CA 9021)
The moment you walk in, you'll feel like you've been transported into Dracula's lair. There is an upper floor, giant mirrors and chandeliers — a setting made for the King and Queen of the Damned.
Opened in 2011, the Vampire Lounge and Tasting Room is the first of its kind. Vampire aficionados can come here to sample "bites" of food and sample wines, while watching Nosferatu on the screen.
All of the wines come from Vampire Vineyards, a California-based winery. You simply must try their flights of wines (several reds and whites), each with enticing names like Dracula and True Blood.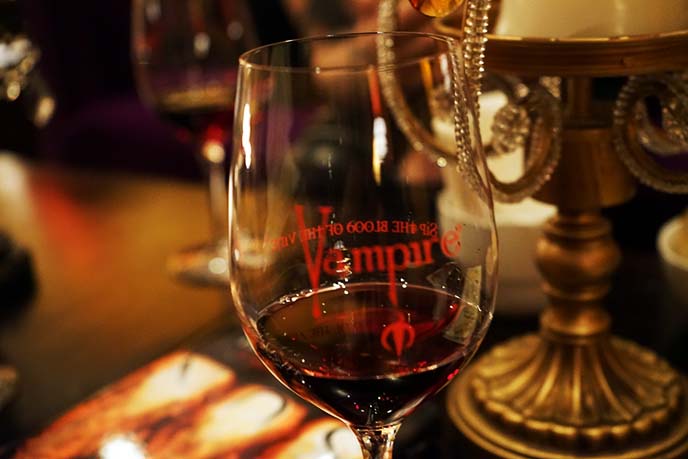 I was delighted by Vampire's rich, full bodied victuals. What a pleasure to sip bloody wines in this elegant space, accomanpanied by quality cheese and charchuterie.
Don't leave without a bar of Vampire Dark Chocolate. Trevor and I couldn't resist eating the entire package.
The bar also sells bottles of Vampire Wine; my favorite is the True Blood Cabernet Sauvignon. What a marvellous occasion for sipping "the blood of the vine"!
I'll end with some more alternative adventures in Los Angeles. I went to downtown LA one evening with Lauren. In recent years, this area is becoming known for its bar scene.
We hung out at The Lash, an alt venue that usually has no cover charge. This is my type of venue: "ginger bear" craft cocktails, an indie crowd, and live DJs that spin dark electro and Italo Disco. 
Finally, Trevor and stopped by Melrose Avenue for a shopping session. We ducked into a classic store, Maya Hollywood  (7360 Melrose Ave. Los Angeles, CA).
The colorful walls are packed with tribal masks from all over the world. I browsed Tibetan jewelry, Mayan earrings and other spiritual accessories.
We paid a visit to Necromance (7222 Melrose Ave): a spooky store filled with oddities from the natural world. You'll find strange shells, preserved insects, and taxidermy such as a giant stuffed white peacock.
(If you're interested in stores like this, also check out my posts about Loved to Death San Francisco, and Obscura Antiques in NYC — where I appeared on their TV show.)
It's always a wild time, being in Los Angeles! Here are more of my Goth / alternative LA travel tips, including club nights and shops, from my trips over the years.
Did this post inspire you to plan a Dracula-themed day in Los Angeles? (More of this photoshoot in my story about Bela Lugosi's cemetery).
PS – I'm off to six countries this summer, announcement coming soon! Be sure to get your orders in from my Goth fashion sale, before I head off. All the listings are here; let me know what you'd like and shoot me an email, before everything is gone!
Bela Lugosi's dead (or undead).
To honor the legendary Dracula actor, we went to his grave in Los Angeles… and rolled around on it. Literally, as you will see.
The cemetery was the ideal place to take photos of Trevor wearing Urban Body Jewelry, purveyors of alternative septums, plugs, tunnels and more. Read on for the vampiric tale…
Trevor and I were in Los Angeles late last month. We always get a thrill from visiting a special location, and styling ourselves in ways that reflect the mood. Perhaps you remember when he styled me in Issey Miyake and vintage couture, at the San Francisco Conservatory of Flowers.
Outfit of the Day: I'm wearing Daria boots by P. Manjo (a Spanish footwear designer), and an apocalyptic cut out top by Michi, my current favorite.
Shop my look below:

Bela Lugosi is a horror movie icon, best known for playing Count Dracula in the original 1931 film. With his Hungarian accent and lurid expressions, he thrilled audiences with his portrayal of Bram Stoker's vampire.
Although he appeared in other horror movies, Bela Lugosi spent the last years of his life in obscurity. My favorite Tim Burton movie, Ed Wood (you MUST see if if you haven't!) chronicles his final appearances in B-movies, such as Plan 9 from Outer Space.
Bela Lugosi died at age 73 from a stake through the heart (hyperbole… it was a heart attack). He was buried wearing his Dracula costume, complete with cape!
Today, Bela is undead — at least in the sense that he has become a Hollywood legend. Fans like us still visit his grave at Holy Cross Cemetery in Los Angeles. (Address: 5835 W. Slauson Ave, Culver City, CA).
If you're not familiar with the classic horror actor, I encourage  you to check out the Bela Lugosi film collection (which includes Murders in the Rue Morgue, The Black Cat, The Invisible Ray and Black Friday). And of course, the movie that made him an icon: Dracula.
Look out, Trevor… When you lie with the undead, evil spirits are bound to appear…
We couldn't have picked a better spot to photograph these Gothic accessories. They're from Urban Body Jewelry, an online boutique with over a thousand styles of plugs, from 16 gauge to 2 inches. They also have septums, body rings and more.
Trevor had a hard time choosing from all the alternative designs: cobwebs, skulls, crosses oh my. Here's a close-up of his silver spiderweb plugs. I love the fine detail of the webbing.
As you can see from the ominous shadow (no Photoshop here), the ghosts of the graveyard must have approved…
We were thrilled with Urban Body Jewelry's large selection of alternative jewelry, especially for less common piercings (such as nipple rings and septums). The dark styles also complement Trevor's tattoos.
Trevor says, "I am very pleased with the quality, and the concepts are very unique. I definitely would like to incorporate more of their pieces into my personal wardrobe."
Trevor had a hard time choosing designs from their Plugs and Tunnels page. Everything is well priced (many items are under $10) but made with quality materials like stainless steel.
In his hand, you can also see a black captive nipple ring and stainless steel nipple bars that he's excited to wear.
When you're resting your head on the grave of Bela Lugosi… you'd better be ready for Dracula's bite! Trevor has these incredible liquid blood plugs in his ears (0 gauge), which look like vials of victim blood. 
Here's a closeup of his Stainless Steel Cross Tunnel Plugs as well. A classic Gothic style that matches all types of outfits.
(The tattoo is a nice touch, since Bela Lugosi often acted in movies with Frankenstein's Boris Karloff).
Don't worry if you lack piercings, like me. You can also pick up fake septums and rings that look like the real deal.
I think the photos speak for themselves… Urban Body Jewelry is a gem for those who love alternative accessories.
And they kindly gave me a coupon code to share with you! Just enter CARMINA10 at checkout for a 10% discount. Take a look at their selection here, and let me know what you end up getting.
Here's to Bela Lugosi, a pioneer of horror. RIP (1882-1956).
Dracula's grave is located in front of this grotto, in the southwest part of Holy Cross Cemetery. After you enter the main gate, turn left and follow the road up until you see this cave.
There are no tombstones or mausoleums in this resting ground — only flat grave markers. You'll have to walk around a little and scan the names in order to find Bela.
The late afternoon light created interesting glow effects. (All photos shot on my Sony A7 mirrorless camera.)
Other celebrities lie beneath the earth at Holy Cross: Rita Hayworth, Bing Crosby, and Sharon Tate, who was murdered by Charlie Manson's followers. 
We found an altar with candles and the monogram IHS. This is apparently a "Christogram" (representing the first three letters in the Greek spelling of Jesus).
Somehow, we managed to make this look more like a Satanic ritual…
Trevor and I decided to make this a Dracula Day, in Bela Lugosi's legacy. After the graveyard, we went to a Vampire Wines tasting lounge and an Endless Night ball (I will show you in an upcoming photo diary).
Side view of my new lavender-blue hair color. It's the work of stylist Stephanie Hoy at Stratosphere Salon, Vancouver.
Holy Cross cemetery surpassed our expectations. What a pleasure to wander in this hauntingly beautiful grotto.
"The bats have left the bell tower / The victims have been bled / Red velvet lines the black box / Bela Lugosi's dead" – Bauhaus
The sun began to set as we climbed back into our Goth-mobile.
Can you believe we have 666 on our license plate?
We tested out Silvercar, and it was by far the best car rental service I've experienced. This startup exclusively loans out silver Audi A4 sedans, wired with GPS, WiFi and more.
Renting a car is usually a hassle with long lineups, poor customer service and contracts that try to trick you into spending more money. I always feel like I need to be on guard, or else these companies will give me a lemon.
I had the complete opposite experience with Silvercar, which truly lives up to its motto: "Car rental the way it should be." The company "hacked" the process to make it as streamlined and stress-free as possible.
When we got to LAX, Trevor and I didn't have to wait for a dingy shuttle to take us to the lot. Instead, a Silvercar with a friendly driver was waiting to pick us up!
At Silvercar HQ (address: 9010 Bellanca Ave), there wasn't any complicated paperwork to sign. In fact, we didn't even need to go inside. We simply used the mobile app to unlock the car by scanning a QR code, and tapped the screen three times to seal the deal. Returning the rented car was just as easy.
All the cars are luxury Audis in pristine condition. We immediately connected the Bluetooth and played Marilyn Manson.
Silvercar is everything I love about startups. They take a frustrating service (in this case, airport car rentals) and subvert it, using apps and out of the box thinking.
In this spirit, we couldn't resist taking this cheeky photo! When the 666 tattoo on your butt matches your license plate… how could you not?
Best of all, the rental rates are very reasonable. In fact, I'd have paid more if I got an Audi from one of the big-name companies. After this joyful test drive, there's no doubt I will be riding with Silvercar again (especially if they give us the 666 car!).
Silvercar is currently available in major American cities including Austin, NYC, San Francisco and Miami. The startup is growing quickly and will open in new locations soon, so keep an eye out.
I hope you enjoyed our vampiric photoshoot. Don't forget to check out Urban Body Jewelry to pick up dark accessories for yourself (code CARMINA10 at checkout for 10% off.)
Have you watched any of Bela Lugosi's works? Perhaps this post may inspire you to have a classic horror movie marathon. 
Shop for my look below – and don't miss out on the current Shopbop sale, on til Mar 5. Just enter BIGEVENT16 at checkout for 15-25% off orders on most items.)