Category Archive for
Los Angeles CA
Welcome back to La Carmina's Big Adventure! (Do you recognize these Cabazon Dinosaurs from the Pee Wee Herman movie?)
After a few relaxing days in Palm Springs (see first post), photographer Joey Wong and I took a road trip to LA — with a pit stop at this kitschy roadside attraction. 
In LA, I stayed at my favorite home-away-from-home — The Orlando Hotel in West Hollywood. At this point, taking a photo with the big O sign is tradition.
Read on for a peek inside, as well as dinosaurs and aliens, oh my!
When you're driving west from Palm Springs to LA, you'll pass through Cabazon. This appears to be a sleepy retirement desert town… until you see a tyrannosaurus rex in beast mode!
The Cabazon Dinosaurs are an amusing place to stop and take photos. The 20 meter tall Mr Rex is made from steel and concrete. 
Dinny the Dinosaur, a 45 meter long brontosaurus, hangs out next to him. His humped back mirrors the curves of the Palm Desert mountains. Both dinos were featured in the 1985 comedic film, "Pee-wee's Big Adventure."
(My outfit consists of a hooded top by Cyberdog, white dress by UK Swimwear, and sandals by Lola Ramona.)
I disguised myself using my silver alien backpack (get one here), and got up close to the T-Rex.
These ridiculous dinosaur statues were built in the 1960s by Claude K Bell, a former sculptor for Knott's Berry Farm. He made them to entice highway drivers to visit his restaurant. 
Things get weirder. After Claude died, the dinosaurs were sold to a group… that turned the attraction into a Creationist museum! Yes, there are people out there that believe the world was created only 6000 years ago along with humans and dinosaurs, who co-existed.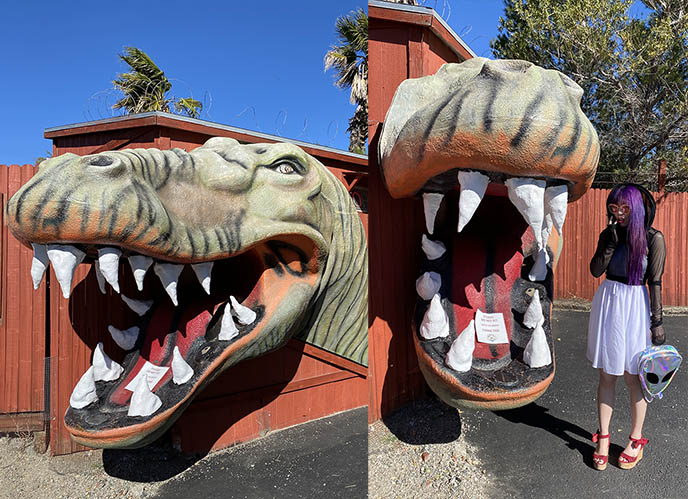 The dino attractions look like kid's stuff. But if you look closer, you'll notice Creationist slogans in the gift shop like "Don't swallow it! The fossil record does not support evolution."
The Creationist museum suggests that dinosaurs might still exist but be in hiding, citing Loch Ness and other supposed spottings.
Is the truth in there? I wasn't about to pay the fee to go in and be dis-informed, so I just took photos outside. 
One can dispute whether dinosaurs are real… but aliens exist for sure!
The drive between Palm Springs and LA is an easy one, and takes just over 3 hours (try to avoid peak traffic hours). We landed in downtown Los Angeles, which has developed significantly over the past 10 or so years.
Here's a futuristic view from The Geffen Contemporary at MOCA (contemporary art museum). In a later post, I'll show you the Broad art museum and Disney Concert Hall. 
Don't overlook the incredible historic architecture in this district. I popped in to the Bradbury Building: built in 1893, this is a five story masterpiece of cast iron filigree surrounding a central glass atrium.
If this setting looks familiar to you, it may be because Harrison Ford ran around here with a gun, in the 1982 apocalyptic film Blade Runner — one of my personal favorites. 
The set designers added trash, fog and mannequins to The Bradbury Building, transforming it to the character J. F. Sebastian's apartment. These geometric stairs, iron railing and open cage elevators made this one of the most memorable scenes in Blade Runner. 
I'm wearing a holographic alien backpack, and pink sunglasses with built-in eyebrows by SpiltMilk Eyewear.
Time to check in at The Orlando Hotel in West Hollywood. I've been docking at this boutique hotel since 2011, and always recommend it to anyone coming to Los Angeles. From the valet to the front desk, the Orlando staff are a standout. Everyone shows genuine care and welcomes you warmly. 
(Silk striped dress by Chaser, and skull mini purse by Alexander McQueen.)
The Orlando Hotel's location (West 3rd Street in WeHo) can't be beat. I dislike taking the highways and battling with LA traffic. By staying at the Orlando, I can take local streets and easily get to the beach, Koreatown, Hollywood, and downtown. 
In addition, the hotel is on a hip street lined with cafes and shops, so you can access plenty of fantastic places by walking. Or, you can simply hang out at their pool. 
Over the years, the Orlando has spruced up its interiors. They now house Cleo Third Street, a chic bar and restaurant named after Queen Cleopatra. Guests can order room service from Cleo as well (no need to ever leave those cozy rooms!)
I've stayed at a number of "design" hotels that seem luxurious, but aren't actually that functional or comfortable. This is why I adore The Orlando: everything works seamlessly! 
Here, it's easy to find and operate the light switches. The rooms and bathroom are spacious, with plenty of storage space. The shower heats up quickly, and is easy to step in and out of (no water splashing everywhere). And the plush beds with silky sheets are among the best I've slept in. 
I feasted like a royal at Cleo Third Street, the hotel's restaurant. Their Middle Eastern meets Mediterranean cuisine has a modern touch, and the small plates are designed for sharing with friends. We were fans of the craft cocktails, featuring fresh juices and garnishes. 
The fiery halloumi was a big hit, along with the smoked eggplant and sumac babaganoush, served with spongy laffa bread. The menu has plenty of flavorful dishes to choose from, with ingredients like harissa, tahini, and lebaneh. Cleo also has multiple options for those who are vegan, vegetarian or gluten free. 
I've made so many wonderful memories at The Orlando Hotel over the years. My friends, from Josie Stevens to the Amazing Race Goths, have found inspiration here with me. 
Next time you're heading to LA, I hope you'll get to stay here and see why The Orlando Hotel is my happy place! 
Time to check out something new: OUE Skyspace in Downtown LA. Opened in 2016, this is the tallest open air observation deck in California.
We went up the elevator until we were almost 1000 feet above the city. From the various outdoor viewing decks, OUE SkySpace lets you take in panoramic 360 degree views of Los Angeles.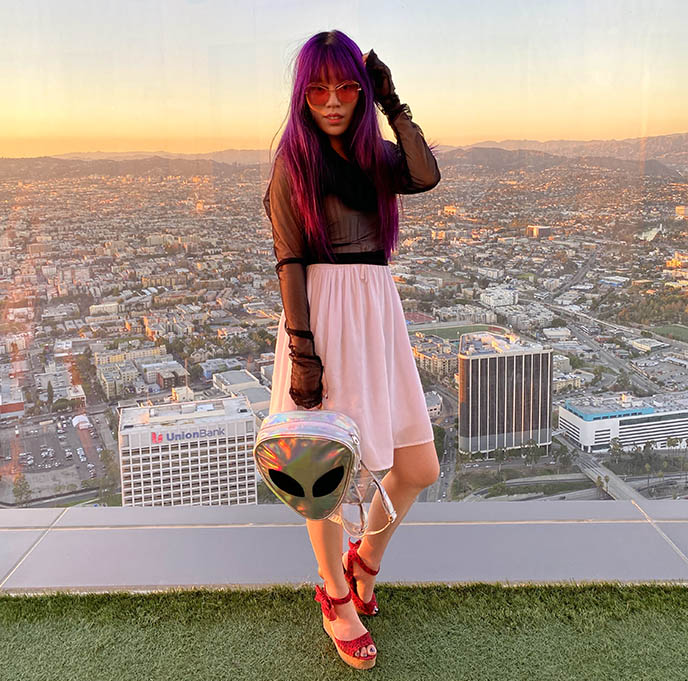 You can buy wine from the bar, and sit on the lounge chairs to enjoy the views of the horizon. OUE Skyspace has areas set up for selfies as well. 
OOTD: alien backpack (from here), pink sunglasses by SpiltMilk Eyewear, mesh shirt Cyberdog, white dress UK Swimwear, heels Lola Ramona.
Be sure to ride The Skyslide, a clear glass slide that lets you shoot down the outside of the building! Although the slide only spans one floor, it's a fast zoom that delivers thrills. (I yelled "Oueee!")
I recommend visiting right before sunset so that you can catch the glow of dusk. Yes, that's the moon above me. 
OUE Skyspace is a must for photography lovers. Joey Wong shot these images that capture the energy of LA.
During golden hour, you can get plenty of pink-hued portraits and fashion photos.
Joey's long exposure shows the snake-like roads and frenetic pace of downtown LA. 
Love how the car lights turn into laser beams. 
The last light before the darkness. If you'd like to come up here, you can learn more about OUE Skyspace and get timed entry tickets through their site.
LA LA LLA LA! I have more to come from Los Angeles and Palm Springs, as well as NYC and Portland. (You can see previews on  my @lacarmina social media.)
Thanks for your patience, these are crazy times… Wash your hands and stay safe, aliens!
Vampires, everywhere! On my last trip to Los Angeles, I partook in a number of blood-thirsty activities that paid tribute to Nosferatu.
In Part 1, you saw me rolling around with Trevor on Bela Lugosi's gravestone. Now, I'll take you to a Vampire wine bar and Bar Sinister's Endless Night ball. I'll also show you how I got custom-made vampire fangs, which look like the real deal!
I was excited to meet Father Sebastiaan, master Fangsmith, during his stop in LA. He's world-renown for his ability to craft vampire fangs, which fit right over your canines and look indistinguishable from the rest of your teeth.
I felt like the journalist from Interview with a Vampire, meeting Lestat. After all, Father Sebastiaan is the founding father of the Sanguinarium, the largest vampire community in the world.
He travels the world, crafting fangs for fellow creatures of the night. While in Los Angeles, he set up shop in this spooky Beverly Hills abode.
The space felt like a coven gathering. I admired this vampire couture, made by hand with decadent materials.
Kent Kaliber introduced me to Father Sebastiaan, who created my very first set of fangs! The process took about 40 minutes, with theatrical rituals in between.
The professional fang master comes from a long line of dentists. He measured and fit the pointy Lilith prosthetics over my canines, then shaped them to fit perfectly over my teeth. No need for glue or any adhesives. Once they're in, these fangs stay snug, and feel like they're part of you.
Father Sebastiaan walked me through several initiation rites, including flipping through this book and choosing a vampiric name. He gave me a special ankh necklace to wear, and a case to store my new fangs. (You can wear them for most of the day, and only need to remove them when you eat and sleep.)
Wouldn't you like some enticing fangs of your own? You can find out more on Father Sebastiaan's website and his Facebook. 
Now, I was ready to party at the Endless Night vampire salon, at Bar Sinister. This legendary club remains one of the best Gothic venues in LA, and has parties every weekend. (Address: 1652 N Cherokee Ave, Hollywood, CA)
I co-hosted the event with Kent Kaliber; we went on stage to introduce the performers. There was a dark roster of entertainers that night…
… including belly dancers, go-go girls and DJs. Father Sebastiaan also set up a booth for fang-making.
Bar Sinister has multiple rooms to explore. Vendors set up booths for bondage wear, headdresses and other alt fashion.
As dawn crept closer, the dance floor got wild. These two took "the monster mash" to a whole new level! 
Fear the creeping dead! Everyone dressed up for the Endless Night vampire theme, but this latex mask took the cake.
(Not pictured: the S&M fetish stations upstairs, where you could whip or be whipped, on a cross and other equipment.)
A devilish thank you to host that night Kent, and owners Kelly and Tricia La Belle, for welcoming me back to Bar Sinister. They throw a fabulous Gothic club every weekend, with birthday specials, so check out Bar Sinister's Faceebook for upcoming events. 
After all that decadence, Trevor and I needed to replenish our veins with blood. Believe it or not, there's an LA bar that serves this exact purpose: the Vampire Lounge & Tasting Room. (Address: 9865 S Santa Monica Boulevard, Beverly Hills, CA 9021)
The moment you walk in, you'll feel like you've been transported into Dracula's lair. There is an upper floor, giant mirrors and chandeliers — a setting made for the King and Queen of the Damned.
Opened in 2011, the Vampire Lounge and Tasting Room is the first of its kind. Vampire aficionados can come here to sample "bites" of food and sample wines, while watching Nosferatu on the screen.
All of the wines come from Vampire Vineyards, a California-based winery. You simply must try their flights of wines (several reds and whites), each with enticing names like Dracula and True Blood.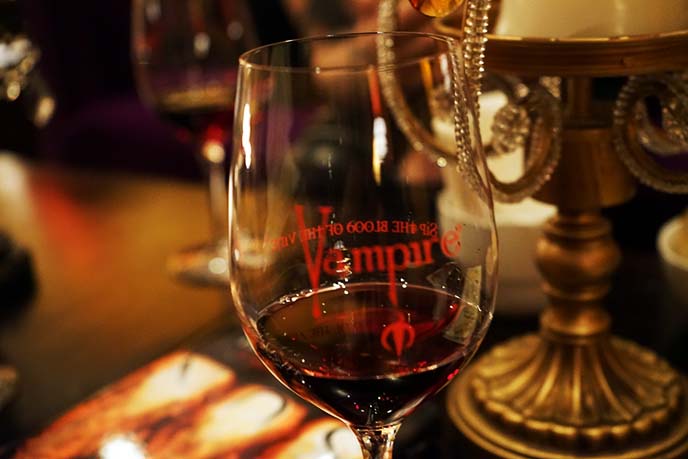 I was delighted by Vampire's rich, full bodied victuals. What a pleasure to sip bloody wines in this elegant space, accomanpanied by quality cheese and charchuterie.
Don't leave without a bar of Vampire Dark Chocolate. Trevor and I couldn't resist eating the entire package.
The bar also sells bottles of Vampire Wine; my favorite is the True Blood Cabernet Sauvignon. What a marvellous occasion for sipping "the blood of the vine"!
I'll end with some more alternative adventures in Los Angeles. I went to downtown LA one evening with Lauren. In recent years, this area is becoming known for its bar scene.
We hung out at The Lash, an alt venue that usually has no cover charge. This is my type of venue: "ginger bear" craft cocktails, an indie crowd, and live DJs that spin dark electro and Italo Disco. 
Finally, Trevor and stopped by Melrose Avenue for a shopping session. We ducked into a classic store, Maya Hollywood  (7360 Melrose Ave. Los Angeles, CA).
The colorful walls are packed with tribal masks from all over the world. I browsed Tibetan jewelry, Mayan earrings and other spiritual accessories.
We paid a visit to Necromance (7222 Melrose Ave): a spooky store filled with oddities from the natural world. You'll find strange shells, preserved insects, and taxidermy such as a giant stuffed white peacock.
(If you're interested in stores like this, also check out my posts about Loved to Death San Francisco, and Obscura Antiques in NYC — where I appeared on their TV show.)
It's always a wild time, being in Los Angeles! Here are more of my Goth / alternative LA travel tips, including club nights and shops, from my trips over the years.
Did this post inspire you to plan a Dracula-themed day in Los Angeles? (More of this photoshoot in my story about Bela Lugosi's cemetery).
PS – I'm off to six countries this summer, announcement coming soon! Be sure to get your orders in from my Goth fashion sale, before I head off. All the listings are here; let me know what you'd like and shoot me an email, before everything is gone!