Category Archive for
Texas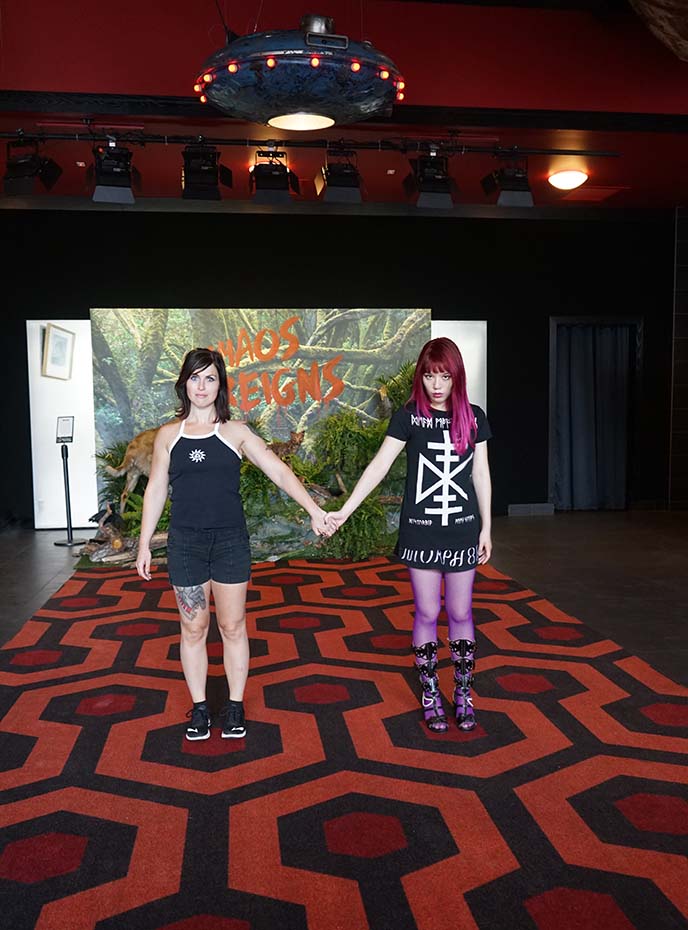 "Come and play with us… forever, and ever, and ever." When you encounter the creepy twins from The Shining…. you know you're in for a wild ride.
In my first post from Austin, I explored Goth and alternative attractions in the city with my friends. Now, we'll keep on "keeping Austin weird" — with themed karaoke rooms, hip restaurants, and a secret bar disguised as a Floppy Disk repair company!
Beam me up: Austin is an ideal travel destination for pop culture and film lovers. At Alamo Drafthouse. we loved the carpet straight out of the Stanley Kubrick horror film, and UFOs circling above.
The Drafthouse is a theater and event space with several locations in Austin; we're at the South Lamar venue.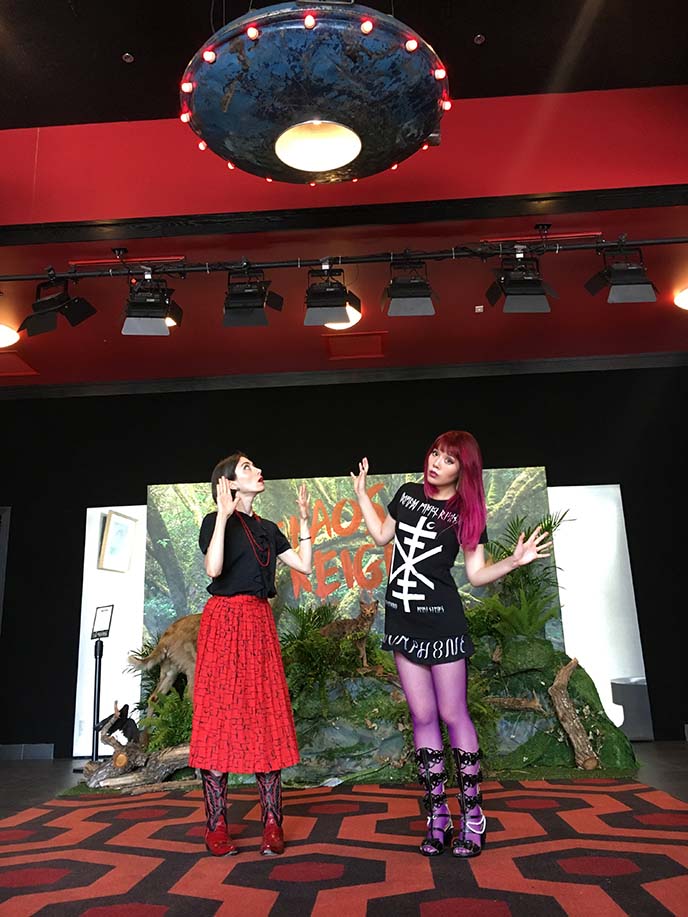 At the Alamo Drafthouse, visitors can enjoy movies along with dinner and drinks. The theater puts care into their programming, projecting classic and cult films in addition to quality new releases.
Outfit details: I'm wearing a Disturbia top, Morph8ne skirt from Attitude Clothing, and We Love Colors magenta fishnets. My Japanese Yosuke gladiator shoes are similar to these cut-out boots. See more from these Gothic brands below:
We also loved the creepy animal tribute to Lars Von Trier's Antichrist: Chaos Reigns (an experimental horror movie with S  & M themes). Sarah matched her tattoo with the taxidermy crow, then posed as Danny from The Shining.
Right next door is The Highball, an amazing karaoke parlor with 7 themed rooms! I got a fright in the haunted house one, when the eyes of the painting turned to look at me.
(Highball address: 1120 S Lamar Blvd Austin, TX 78704)
The karaoke rooms are brilliantly designed by Space Warp Design, in a variety of creative themes. We were fans of the 1980s glam parlor, featuring Jem and the Holograms pink stars, and a Rubik's Cube table. And how cool is this Twin Peaks red room? 
Enter the swirling vortex of The Fifth Dimension… Ooo….
In addition to karaoke, The Highball puts on regular events like Cards Against Humanity and Geeks Who Drink quiz nights. They also bring in live bands to play the stage, and have annual celebrations like "Highballoween" for Halloween.
I grew up playing Nintendo, so I felt at home in this 8-bit wonderland. Love how they made the light into a question block.
As you can see, The Highball's rooms are spacious and easily fit large groups (you can make reservations through their site). Unlike most karaoke joints, they offer excellent food and drinks — including creative seasonal cocktails, and unusual beers.
We joined the gallery of freaks in the Circus Room, which had a cute two-headed goat in a cage.
However, the room we eventually chose… was The Inferno! Devil horns and pentagrams are everywhere, in this black metal Satanic-themed karaoke room. 
The karaoke room looks like an altar to Satan, with upside-down cross stained glass windows.
We belted out songs that fit the theme of the room, such as Pet Shop Boys "It's a Sin," and Marilyn Manson's "Sweet Dreams."
"In league with Satan." So much fun to sing lyrics from a screen, in between two coiled serpents.
And… there is a pentagram scratched into the floor. A prime spot for black magic rituals.
(More about what I'm wearing below:)
I love the designers' attention to detail. Note the church-like wooden pews, and Leviathan Cross carved into the sides.
The Highball's modern karaoke system is digital: you choose songs on a touch-screen. It's easy to search, select and queue tracks (and they have thousands of options, in all genres). There are two microphones for duets, and even a magic voice synthesizer for the tone-deaf.
You know you're having fun.. when there's a demonic possession back bend over a pentacle!
With friendly staff and the coolest rooms ever, The Highball karaoke was one of our favorite activities in Austin. I hope you'll get to book a room, for a devilishly good time.
Austin's weird factor is right up my alley. I heard of a secret password-protected speakeasy bar, disguised as a Floppy Disk Repair Co. It became my mission to get access and see what low-tech wonders lurked inside.
The company's website offers no clues: it states that they are a "full service floppy disk repair company" that fixes "all brands and makes and formats." I read online that visitors need to know the keypad password, which changes weekly and is difficult to find (it's not listed online, for example, and the bartenders next door don't necessarily give it out).
I brought some of my dad's old floppies in a retro case, and showed them to the bouncer… and that got us immediately through the door! (But this may not work for everyone.)
The Floppy Disk Repair Co's interior is satisfyingly creepy. The speakeasy was formerly called the "Red-headed Stepchild," again for mysterious reasons (I couldn't figure out who this mascot in a bowtie is supposed to be). This creepster leers at the guests, next to red lights that read "Mmm…your hair smells pretty."
(Address: 119 E 5th St, Austin, TX 78701, USA)
The "cocktails for redheads" continue the psycho theme, with names like "Silence of the Lambs" and "My Trix are not for your kids." Despite the name, I adored "Gary's spicy fire crotch margarita" — tequila, serrano peppers and ginger beer, served in red-tipped glassware.
Hmm, a stitched-up teddy bear with missing eyes, and doll head lights. Nothing bizarre to see here.
The friendly bartenders even repaired my Kao discs with stickers! The Floppy Disk Repair Co. is one hip speakeasy, with creative drinks and plenty of creep factor. Let me know if you manage to crack the code to get through the doors.
Another must-visit spot for cocktails is Hotel San José. Bunkhouse founder and designer Liz Lambert revamped a motor lodge from the 1930s into a hip hotel, right in the happening SoCo (South Congress) district. How picture-perfect is the hotel's pool, framed by black bamboo and with mid-century hairpin-leg lounge chairs?
(Address:  1316 S Congress Ave, Austin, TX)
The 40-room boutique property maintains its 1930s charm, and the public spaces have been re-imagined in beautiful ways. The entrance looks like a secret garden, with granite pathways, and a lilypad pool that was being enjoyed by a great-tailed grackle bird. 
The Hotel San Jose lounge lets you sit outside and enjoy the courtyard, while having drinks and light fare. The drink list includes micheladas and refreshing cocktails: I had the sake with ginger brew, lime and crystallized ginger. Lauren had the champassion: champagne, passion fruit, and raspberries. And we destroyed the cheese plate, a perfect mix of local cheeses, fruit, olives and honey.
Right next door, Liz Lambert's Bunkhouse group has another property: Austin Motel, whose motto is to "Let Love In!" (Address: 1220 South Congress Avenue)
Once again, the designers paid tribute to the history of the motel, which was established in 1938. They kept original elements like the neon sign, while updating the 41 rooms and 1950s-style outdoor pool, with plenty of mid-century modern touches. 
We couldn't resist taking photos in the unique lobby, which is a hybrid of a check-in area and Americana general store. We sat in the colorful 50s seats, and browsed the playful local designs for sale. (How cool are the gold table and pelt rugs?)
Next door, we grabbed a drink at Fine Foods: which opened in April as part of Austin Motel. In this retro-styled bar, the friendly Rob mixes old-fashioned punches and cocktails, with names like The Dean and Playboy's Punch.
(I brought along my midi tote by Strathberry. See more about my bag below, with a click:)
I cooled off with a "Cold Fashioned" – a frozen Old Fashioned with rye, citrus and bitters. Health food fans would rejoice over the "Green Belt" — an original mix of gin, lime, Chartreuse, Luxardo maraschino liqueur, and chlorophyll "pond scum!" 
Now that we were thoroughly hydrated, it was time to explore South Congress. This Austin street is filled with eclectic stores, selling everything from succulents in dinosaur planters to water bottles "activated by crystals."
If you love flamboyant fashion, you've got to stop by Lucy in Disguise with Diamonds. The store has an enormous selection of costumes, vintage clothing,  masks, wigs and other fabulous glitz.
At 8000 square feet, this shop is overwhelming. The racks are divided into categories, to make browsing easier. There are sections for "around the world," steampunk, the 1970s, you get the drift.
Lucy in Disguise carries both old and new items, and they offer clothing or costume rentals at very reasonable rates. You can be Wonder Woman or Pikachu for the day. 
Onward to Uncommon Objects. The name pretty much sums it up: this is a store full of oddities.
Uncommon Objects started as an antique shop, and has expanded to carry every kind of old-fashioned, kitschy, creepy tchotchke that you can think of. Walking through, it feels like a museum – yet everything displayed is available to buy.
Dead insects, anatomical models, animal skulls, yes please.
After shopping on South Congress, we had worked up a big appetite. We swung over to Café No Sé, an all-day cafe also located on SoCo Avenue. (Address: 1603 S Congress, Austin, TX 78704)
By now, you might be noticing that Austin is an inspiring city for interior design. At Cafe No Se, the whitewashed wood walls are accented by reclaimed wood furniture and vintage bookshelves. This airy, cozy space is ideal for brunch with a group of friends.
Café No Sé offers a seasonal breakfast, brunch and all-day menu, as well as "All Day Rosé". There were plenty of healthy options on the New American menu: we highly recommend the hummus with kamut tabbouleh and grilled laffa bread. We also enjoyed the bigeye tuna poke with brown rice, seasoned with pickled jalapeño and grapefruit, and topped with shrimp chips.
Everything comes with plenty of greens, and a colorful presentation. Cafe No Se serves brunch favorites with a twist, such as beet and horseradish cured gravlax on a bagel, juicy burgers, and ricotta gnudi (dumplings pasta) with charred corn, tomato and herbs.
Now, how can we visit Texas without feasting on tacos? Near our hotel Archer in Domain Northside, there lies the first Austin location of Velvet Taco (they have a few restaurants in other parts of the state, as well as Chicago.
(Address: 11501 Rock Rose Ave, Austin TX)
When we saw the spacious patio (which just opened up) and funky, cheerful decor, we knew we were in for a treat.
Velvet Taco's mission is to deliver a new take on tacos. They experiment with exotic and unexpected flavors — on the menu, there are some with paneer, with shrimp and grits, and even red curry coconut queso. Each order consists of one taco, so diners can mix-and-match. Above, you can see we tried a bit of everything, including a breakfast version with Barbacoa brisket, and a fish taco wrapped in lettuce.
Eating tacos is a delicious but messy endeavor, especially when topped with hot sauce. Thankfully, the restaurant has plenty of napkins and a decadent restroom for washing up.
The Marie Antoinette mural encouraged us to eat cake… and we did, a red velvet slice with cream cheese frosting. We washed everything down with unlimited ice tea, in flavors like vanilla creamsicle and passionfruit green.
Our final meal was a memorable one, at Hillside Farmacy. I saw lots of positive reviews about this eatery, which offers a thoughtfully-sourced menu, and is located in a restored antique pharmacy.
(Address:  1209 E 11th St, Austin, TX 78702)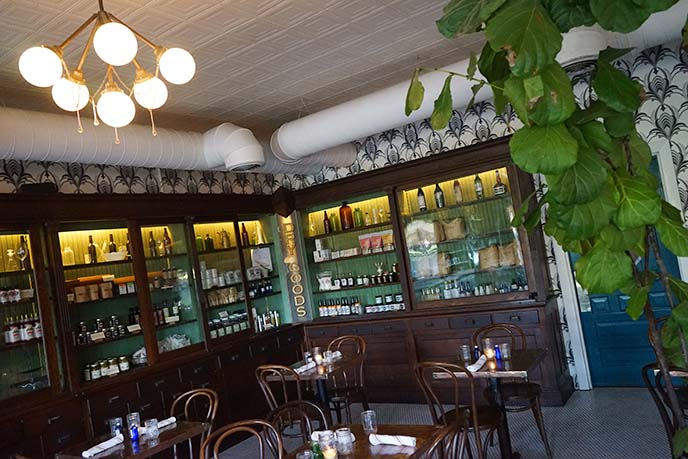 In the 1920s, this was Hillside Drugstore: operated by Doc Young, Austin's first African American pharmacist. Today, the restaurant pays homage to the building's history — with original furnishings, and a glass case lined with apothecary bottles. The current name, "Farmacy," is also a nod to the farm-to-table approach. 
Hillside Farmacy is well-loved by locals for its raw bar and throwback cocktails. I tried a "Country Doctor," a homemade fountain soda with ginger, fresh apple, cinnamon and applejack. I also had a "kombooza" or kombucha with rum, a refreshing twist on the standard Dark and Stormy.
Hillside Farmacy's menu is ingredient-driven, with close attention to locally sourced or foraged products. Austin's history shines through in Southern starters like the Pimento Cheese, an addictive spread served with celery and crunchy bread. (How sweet are the salt and pepper shakers, which look like medicinal tonic bottles?)
Our server recommended the pasta alla checca, as Texan heirloom tomatoes were especially in season. It was the perfect showcase of farm-fresh ingredients straight from Austin, and also comes in vegan and gluten-free variations. The crisp salads were outstanding, and the campfire chocolate mousse (vanilla marshmallow, dark chocolate, sea salt and graham crackers) was oozy, nostalgic perfection.
Hats off to Texas — until the next time I return. I hope you enjoyed my alt travel perspective on the city! Is there anything you'd add to my Austin travel guide?
PS: don't miss out on my current India and Malaysia stories in real-time, on @lacarmina Instagram.
"Keep Austin Weird" is the motto of the Texas capital… and I think we certainly lived up to it!
I've long been curious about the Goth / offbeat attractions in Austin, Texas. Lauren and I took a weekend trip to visit our friend Sarah, and take a walk on the weird side of the city.
Looking for a Goth travel guide to Austin, Texas? Then read on…
We'll court death at the Tears of Joy hot sauce store (above), watch the bats fly from Congress Bridge, encounter biker gangs on W.6th Street, and nightcrawl at Gothic music club Elysium.
Austin has become a young travel destination in recent decades, thanks to SXSW and startup culture. It's a liberal, independent city in an otherwise conservative red state. As the saying goes, "Austin's a blueberry in the tomato soup of Texas."
Lauren and I had a magnificent stay at Archer Hotel, which perfectly captures the laid-back, artistic vibe of Austin. We instant fell for the boutique hotel's mid-century modern meets Southwest decor.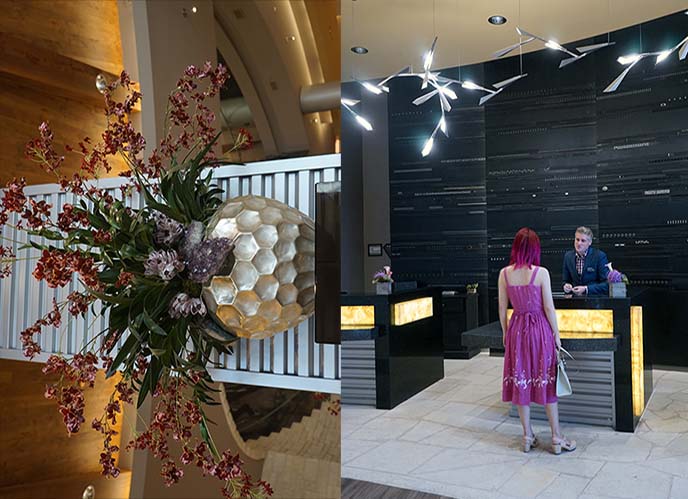 Hotel Archer opened its Texas location only 8 months ago (they also have a New York property). All the spaces are beautifully designed and the staff was lovely, especially the concierge Steven.
(Address: 3121 Palm Way, Austin, TX 78758)
We loved the eclectic, modern Texan interiors (note the cow skull pattern pillows), and fun touches — such as the random elevator music that ranged from disco to soft rock.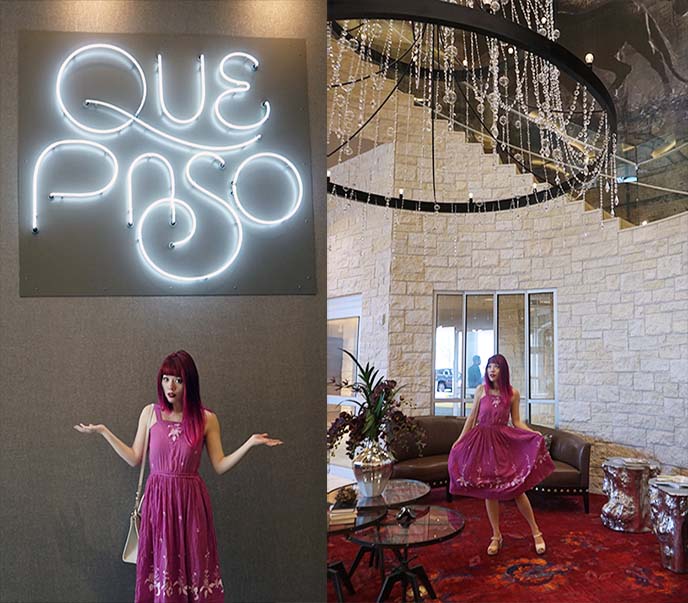 Que paso? What's happening in this neighborhood?
A lot, as the Archer Hotel is located in The Domain Northside. It's an up-and-coming area lined with hipster shops and restaurants, and not far from the historic downtown. (I'll give you a tour at the end of the post; make sure you scroll to the bottom).
The boutique hotel has 171 luxurious and fully-stocked rooms, which we loved coming back to after a long day of sight-seeing under the sun.
I'm wearing a vintage dress, which is for sale on my Depop shop. (Feel free to browse, and email me if you'd like anything you see listed.)
My midi tote purse is by Strathberry, and my clog sandals are by Lotta from Stockholm. See more about my bag below, with a click:
From our hotel, it was only a short Uber or Lyft ride to West Sixth Street — the famous Austin entertainment district. We were greeted by kitschy murals and men on motorcycles… our trip happened to coincide with the ROT Rally biker festival!
Bikers from all over gathered to hang out in downtown Austin. On W.6th Street, there are plenty of tattoo parlors, bars and pizza joints to keep them happy.
Also nicknamed "Dirty Sixth," this street is the go-to for raucous nightlife and live music.
For fans of quirky oddities, there's a lot to see on this strip. We stopped by the Alamo Drafthouse Ritz (historic theater dating back to 1929), and popped into the Museum of the Weird. 
As a fan of spicy flavors, I was excited to visit the Tears of Joy hot sauce shop! (Address: 618 E 6th St Austin, TX 78701)
This family-run business stocks hundreds of salsas and sauces, which are fantastic for souvenirs (I picked up all the spooky bottles on the left). As you might guess from the coffin-shaped bookcase above, some of these can be tongue-burning hot.
It's a joy to browse through all the labels: the names / images range from frightening (Satan's Rage) to goofy (Buhba's Butt Blaster). Tears of Joy carries hot sauces from around the world, with a focus on rare items made in small batches with natural ingredients.
I've never seen such creative bottle designs, all in once place. Some entice you with skeleton and spider toys attached to the labels.
I gravitated to the scary spices, and made my final selection with the friendly input of co-owner Brian Rush.
He had a spread of tortilla chips and hot sauces in the back table, which anyone is welcome to try. We even dared to try The Source, a pure extract and one of the hottest sauces on the planet… Try one dot on the tip of a toothpick, and you'll be reeling!
I encourage you to stop by Tears of Joy, for a date with the Reaper. They make their own products as well; the Red Fang is my favorite, and is sold on their online store along with many others.
On that note: nearby is the Treaty Oak, a sprawling tree that was the center of a poisoning mystery. (It's located at Baylor St between 5th and 6th Streets).
This majestic Southern oak tree was the last survivor of the Council Oaks, a grove of 14 sacred trees where two native tribes would meet. In 1989, locals suddenly discovered that the tree was slowly dying… as it was being poisoned by someone. 
The city banded together to save the Treaty Oak. After an investigation and trial, Paul Cullen was sentenced to 9 years in jail for poisoning the tree (he served three, and maintains his innocence). Today, the oak stands strong, although it no longer has a branch span of 127 feet.
As the sun sets, it's time to release the bats! Austin's Congress Avenue Bridge is home to the largest urban bat colony in North Americas (the bats live in the crevices under the bridge). Every evening, they fly out in search of prey — although the best time to see them is in spring and summer.
Some visitors gather at Austin-American Statesman Park to see the bats, or take a boat ride into the waters. Lauren and I chose to stand on the bridge, and found a great spot right on the railing, above one of the posts in the center. 
As the sky darkened, tiny Mexican free-tailed bats began to whizz out from under us. Don't worry: these little brown creatures won't hit you in the face.
Look out over Lady Bird Lake, and you'll see an ominous dark cloud floating over the skyline. The bat colony is out on the hunt for insects. Quite the "Gotham City" sight, wouldn't you say?
The bats got us in the mood for a Goth party. On the recommendation of many locals, we went to Elysium Goth club for a night of dark dance.
This is the top Austin venue for Gothic Industrial dance music, bringing in DJs and live bands. Founded in 2001, Elysium is a large club with multiple spaces and old-school purple-blue lights.  (Address: 705 Red River St, Austin, TX 78701, USA)
Elysium has various themed nights and special events. That evening, we watched Blakk Glass perform (energetic darkwave from Seattle).
The concert headliner was Hexheart, a new project from Jasyn Bangert, the grandmaster of God Module.
The audience loved Hexheart's mix of darkwave, synth and post-punk. Between the sets, the DJs played Gothic tracks for people to dance on the sunken floor.
Spooky selfie. (My top is by Disturbia Clothing.)
Finally, let's talk a walk around the Domain Northside, where our hotel Archer is located. This is a newly developed northern area: most of the shops only opened a couple of months ago, with more on the way.
The Domain is becoming a one-stop shopping and dining destination in Austin. The public spaces are lovely, and the surrounding streets carry both local and national brands (such as Warby Parker and Free People).
We encountered large-scale colorful murals featuring Leonard Cohen, rats with wings and other trippy designs.
Here's to giant public art installations. The Domain includes Rock Rose, a street with a mouthwatering selection of international restaurants (Thai, Indian, Mexican etc), clubs and bars.
Highlights from our stroll: the speciality candy store Sugarfina, and this open courtyard with scoop chairs.
A lot of the boutiques specialized in cute local-made goods.
Purse designer Kelly Wynne is from Texas, and opened her first retail location here not long ago.
Hiding among the butterflies, in my Live Long backpack by Long Clothing. These murals are part of the HOPE Outdoor Gallery project.
HOPE is a community paint park located at 11th & Baylor, launched by a team that includes street artist Shepard Fairey. It uniquely provides street artists the chance to create and display large-scale art pieces, and encourages educational initiatives.
I picked up a few things at Whole Foods. The natural grocery chain originated in Austin so its stores are gargantuan here, with a larger-than-usual selection of items. Outside the Domain Whole Foods, there was this pastel patio for Spun liquid nitrogen ice cream.
Back at Archer Hotel, we were ready for a meal at the acclaimed Second Bar + Kitchen, which also has a popular downtown location.
But first, cocktails. We went up to the pool terrace of Archer TX, for happy hour cocktails. It was only $6-8 for these outstanding drinks: a Painted Mule with meadow tea and ginger beer, and Green River with chartreuse, grapefruit oil and basil.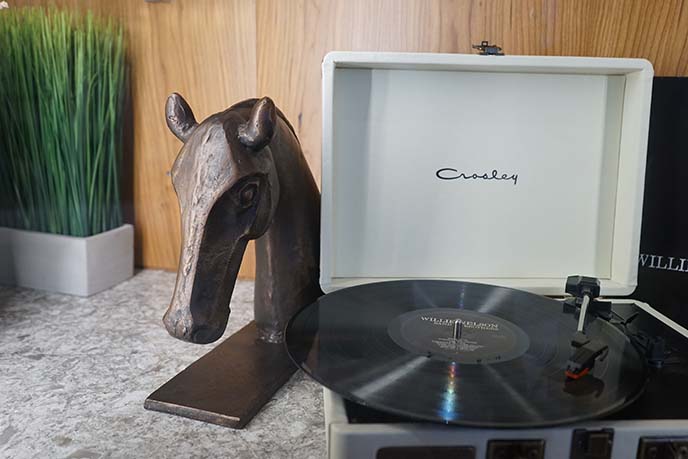 There's tons to do at the Archer, with an outdoor pool decorated with a Lonestar, and a fitness center. At the front, guests can pick up crafts by local artisans.
The lone star, found on the state flag and commemorating its independence from Mexico, also adorns the ceiling of Second Bar + Kitchen. The restaurant is run by Chef David Bull, and is all about seasonal, local, casual fare that is perfect for sharing.
We started with the outstanding meatballs, and unique cocktails: above is a gin with peach, honey and scoop of jalapeno jam.
Our server brought out off-menu selections, made fresh with the best ingredients of the day. The Texan heirloom tomatoes with smoked cheddar were our favorite starter. Second Bar + Kitchen takes comfort food flavors to new depths, with unique courses like pepperoni soup, and chicken tortellini in broth.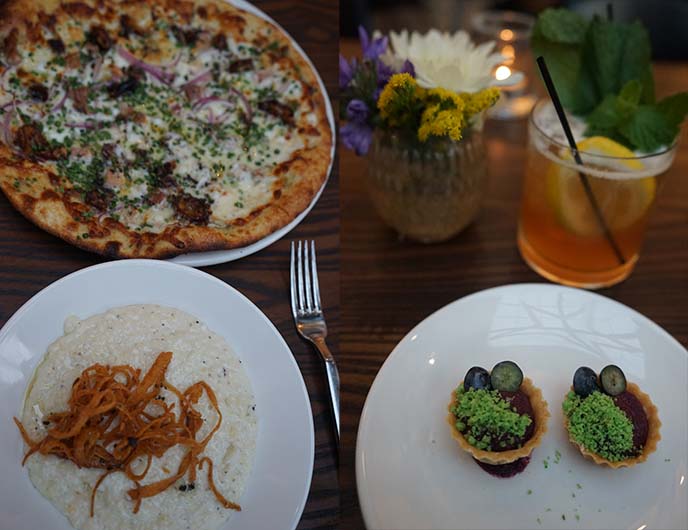 Since I was back in the South for the first time since New Orleans, I was keen to "get my grits on." The black truffle grits with caramelized onions were the best I've ever had. We also loved the pizza with blue cheese, pork, medjool dates and truffles — an unusual combination of rich flavors that absolutely works.
I often don't have room for dessert, so I was glad to see the menu had "bite sized" portions of sweets, such as the blueberry tart above. We always have room for another round, however: cheers to the Southern Bourbon Sour and Boilerplate Old Fashioned. 
Without doubt, we kept it weird in Austin! (Demented Snapchat from our room at Archer Hotel.)
Have you visited any of these spots in Texas? There's much more weirdness to come in the next post, and I'll announce my next destination soon too.