Category Archive for
Tokyo Gothic Lolita
It's time to dance… because as of October 11, Japan will fully open to tourism! That means travelers will be able to visit Japan without a required visa, tests (if they're 3x vax), or mandatory tours/bookings. Simply show your passport, and you're in.
I was in fortunate to be in Japan in August / September on a business visa. working on a Tohoku journalism project. It was my first time back in three years, and I have so much to share with you…
Let's start with two ways to get the best possible travel experience in Japan: book a Tokyo Family Stays rental apartment / house, and rent a pocket WiFi from eConnect Japan!
And since it's October, I'll show you photos of the cute Halloween goods I found in Tokyo. Read on for a lot of spooky-cuteness, like Hello Kitty and Cinnamonroll dressed as witches and ghosts.
Since I was traveling for a month with photographer Joey Wong, we wanted to share a larger apartment or home rental rather than a tiny hotel. We're delighted to have discovered Tokyo Family Stays, as they have a number of well-maintained properties geared for long-term stays.
We stayed at Pencil House, located in Hatsudai (one stop from Shinjuku station). Although the facade measures only 2.5 m wide (!!), the sleek black Pencil spans three floors, and is ingeniously designed for comfort.
Believe it or not, the Japanese compact home contains three bedrooms, a bathroom, kitchen, laundry, living and dining room, and balcony! Here's what the ground floor looks like: the hallway is tiny but there's a bedroom in the back, and laundry / bath facilities on the sides.
The Pencil House was in a quiet and photogenic neighborhood, but only a few minutes walk away from convenience stores, Hatsudai Station, and Coco Ichiban Curry (we went several times… trust us, this Japanese curry is addictive!)
Tokyo Family Stays stood out for their personalized hospitality and excellent communication. Our host Trace Northcott welcomed us herself when we arrived, and made sure we had everything we needed.
You can tell that I felt right at home, in the cozy and modern space… (Wearing a Cruella black and white pearl necklace by Lily Streeter Jewelry.)
Each of their rental properties includes elements of Japanese decor, for a localized feeling. (Loved the kimono on the wall, and traditional dolls in the spiral stairway.) And the rooms are well-equipped with AC, including all the bedrooms… a must during the hot summers!
Tokyo Family Stays is a great choice for families or remote workers. We had fast WiFi, and plenty of space for laptop work. As Joey put it: "Staying in a house was much more suitable for me, especially as I needed to have space to work remotely and necessities like a laundry machine due to my longer stay."
The house is professionally cleaned after each guest, and well-stocked with every amenity you can think of. The hosts put much more care and attention into details than regular Airbnbs that I've experienced.
Tokyo Family Stays has multiple properties of different sizes, including studio apartments and homes for large groups. The locations are terrific — there's even a rental in Harajuku, which is where I got these cyber-samurai pants (at AC DC Rag)!
We enjoyed the neighborhood feel of the Hatsudai house, and conveniences such as a 24-hour supermarket down the street. (My purple-pink cyber Goth hair by Katya at Kore Salon in downtown Vancouver, BC.)
Japanese hotels are notoriously cramped, and not ideal for remote work or long-term stays. Tokyo Family Stays is the way to go, especially if you're traveling with friends or relatives.
Now that Japan will re-open for tourism on Oct 11, we encourage you to keep TokyoFamilyStays.com in mind as your home away from home.
Here's another travel tip for you. Your cell phone and data plan likely won't work in Japan, so you'll need access to reliable Internet while you're on the go, or working remotely.
My recommendation: get a pocket WiFi from eConnect Japan! This compact, portable WiFi router works as a mobile hotspot and lets you access high-speed internet with up to 10 devices simultaneously. Simply turn it on and connect your device, and you're good to go.
eConnect's pocket WiFi made my Japan trip so much easier — I could instant message friends to meet up, and use Google Maps to figure out trains and directions.
eConnect can mail the portable WiFi to your address in Japan — so you'll have it as soon as you check into your accommodations. The lightweight device delivers safe and high-speed 4G/LTE, and the battery charge lasts all day.
The rental came with a free extra mobile battery, as well as a wall / USB charger and protective case.
eConnect sells prepaid SIM cards as well, and offers both pick up and delivery options to airports, hotels, residences and post offices in Japan. They included a handy prepaid envelope for returns: all I had to do was put in the items, seal the envelope, and drop it off at a postbox (or ask your hotel front desk to mail it for you).
Their pocket WiFi packages include various amounts of GB depending on your needs (we had the Monster: 100 GB!), and prices start at ¥237/day.
If you're looking for a reliable and trusted pocket WiFi service in Tokyo or other Japanese cities, we recommend connecting with eConnect Japan.
It felt so good to be back in Japan… being here always inspires me to take photos. I got to try out my Art Tributes camera strap for the first time.
The design features Japanese cranes in a classic print, and has my custom-embroidered initials in gold!
The camera strap fits any camera, and is beautifully constructed as you can see from the fabric and stitching. Art Tributes also makes customizable guitar and bag straps in a variety of fetching colors and patterns.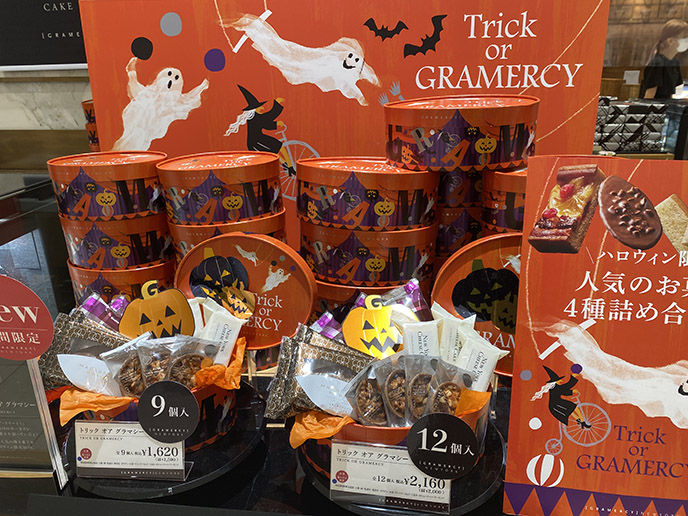 Since it's spooky season, I thought I'd wrap up with photos of cute Halloween items now found throughout Japan. The illustrations and packaging are always hauntingly adorable.
You can find almost anything Halloween-themed in Tokyo right now… including these smiling pumpkin obi, or kimono belts!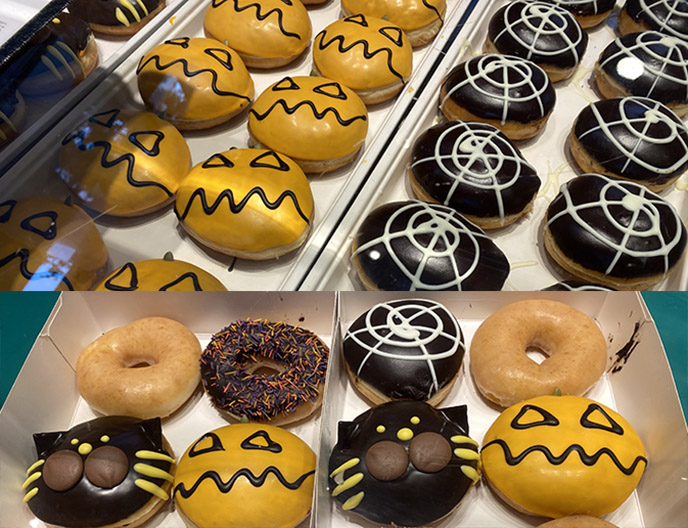 Krispy Kreme puts out a Halloween donut collection each year. This time around, the donuts include a black cat with whiskers, pumpkin, spiderweb, and eyeball.
In Japan, you don't get a ghost… you get a geist. And this is not a pumpkin, it's a kabocha! I found these funny inflatables at the infamous Don Quixote (the Don Don Don Don theme song is still stuck in my head).
Donki's food section includes a number of Halloween sweets and treats. I was tempted to get these vampiric onigiri seasonings. (Don Quixote offers tax free shopping, so bring your passport and pay at the special counter.)
I love to browse the food halls of department stores, as they are loaded with Halloween-themed snacks like these at this time of year.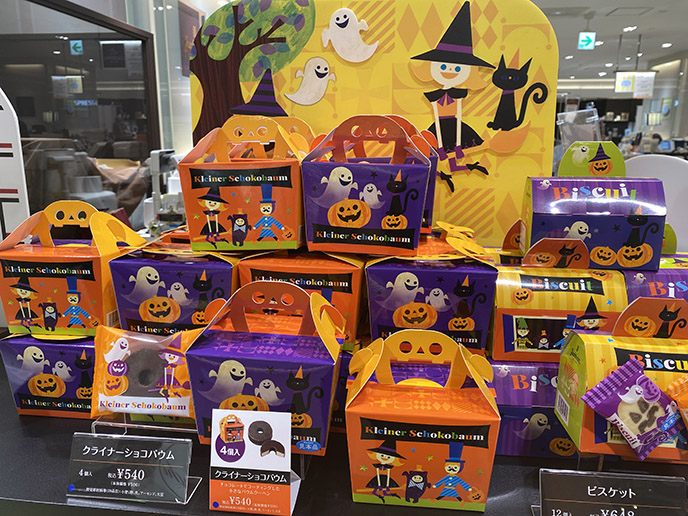 A quintessentially Japanese "kawaii" interpretation of witches, ghost, pumpkins and black cats.
How creative: an advent calendar for Halloween, with themed chocolates in every window.
I was drawn to the dark purple witchery of these cigar biscuits with moon and bats.
Halloween sweets from department store food halls are a great fit for your Japanese Goth friends.
I was tempted to get a tin of Hello Kitty nori chips, in the sour plum flavor.
The store Loft also stocks decorations, candies and snacks for All Hallows Eve.
And you can't miss out on the 100 yen (hyaku-en) dollar stores such as Daiso, Seria, and Can Do.
Each contains racks of Halloween decor, stickers, masks, cat outfits, you name it… at low, low prices.
How "fun fun" is the meh-face on the emo pumpkin!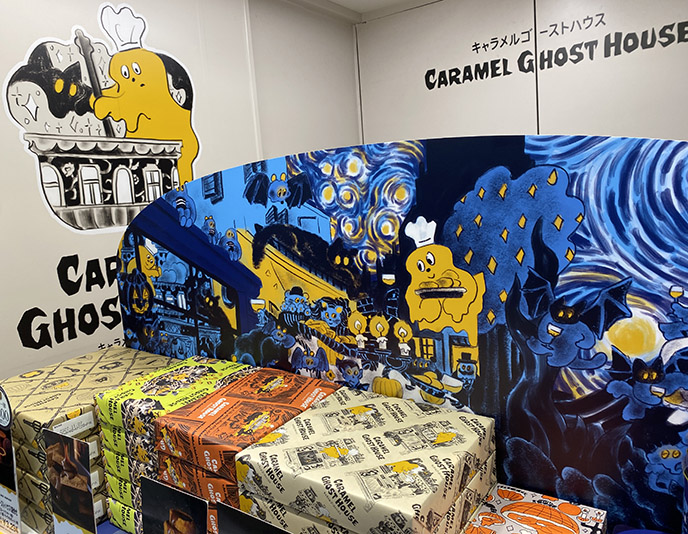 The Caramel Ghost House sells boxes of sweet that are oozing with caramelization (or ectoplasm?)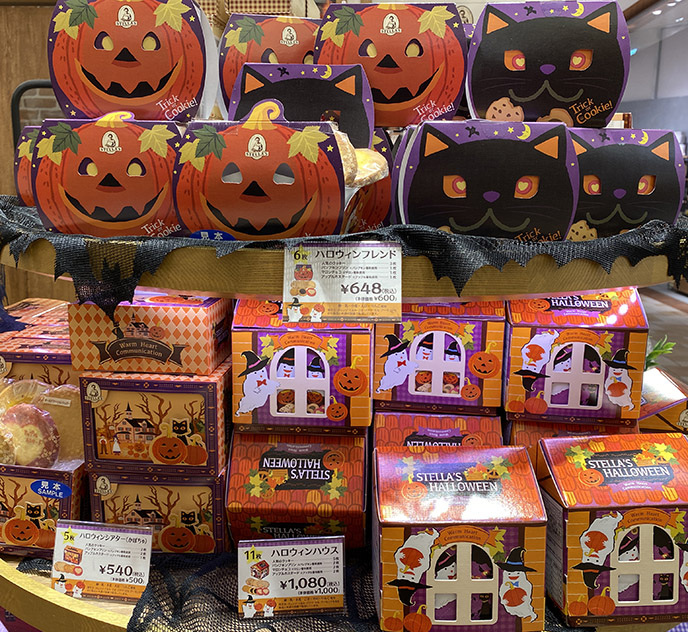 I'm always impressed by the creative Halloween designs in Japan, such as the haunted house windows cut-outs.
And there are plenty of devilish things to be found, such as these red horns and pitchfork from Claire's.
Speaking of the devil… my new book, The Little Book of Satanism (order here), comes out on Oct 25 — right before Halloween!
Description: "La Carmina's guidebook explains how Satanism developed in the context of social history, while debunking lurid conspiracy theories about serial killers and ritual abuse. Discover the fascinating history and culture of Satanism through the ages, and learn why many Satanists today stand up for free inquiry and personal liberty."
I've been busy doing tons of press for the book. Here's a sampling of interviews and book reviews so far:
La Carmina on "The Little Book of Satanism" for USA Wire
OnlySky article on Satanism in Japan
Book review of The Little Book of Satanism
Podcast with Stephen Bradford Long, Sacred Tension: The Ancient Roots of Modern Satanism
The Little Book of Satanism is available worldwide, and can be pre-ordered now. You can Google the book title and your country to find it nearby — or check out the links to order it here, from a variety of retailers.
My Satanic guidebook comes out in both paperback and digital on 10.25. Thank you for the support, and happy Halloween!
Feeling so nostalgic for Japan… I miss the era when we could party all night, and share absinthe freely! At this rate, I'm not sure when I can safely return.
Thankfully, I have a crew of Pirates — and we can live vicariously through their travel adventures in Japan and beyond.
Today, we're letting our favorite spooky lady, Yukiro Dravarious, steer the ship… with a guide to traveling in Aomori, Japan! Read on for bizarre and Buddhist art, and a visit to Mount Osore, a hell-like volcano haunted by Gothic spirits.
Before I turn over the wheel, I wanted to share some of Yukiro's recent drag photos and projects (as Die Schwarze Frau). She and her Haus of Schwarz did a live, socially-distanced performance for Tokyo Closet Ball. Watch it here; our dead diva comes alive near the end.
For more fabulosity, check out Yukiro's Witch Review series on YouTube — it breaks down the best horror B-movies, without spoilers!
And you're invited to Yukiro's online Halloween party on October 10, 8pm Japan time! Tune into the event here — Casket of Horrors. All members of her drag Haus will perform live, followed by a battle to the death between 10 spooky video contestants. 
If this Evil Queen's genius makes you bow down in awe, show your support by buying Yukiro a glass of red wine here.
(Above photos by: Akane Kiyohara from Beauty Blenda, by Haus of Gaishoku.)
Now gather round children, and let's listen to Yukiro's Aomori travel story…
In July, my boyfriend and I escaped the Tokyo heatwave by taking a local trip to Aomori. It was our first time visiting the northernmost region of Japan's main island Honshu (本州), right below Hokkaido. We researched where to go and what to see – as well as the government's safety recommendations, as our priority was to minimize the risk of getting or spreading COVID-19.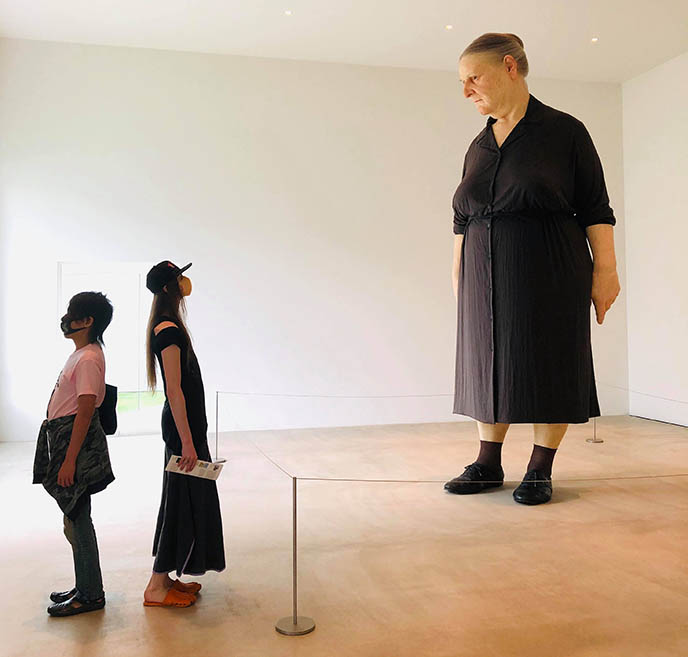 Our shinkansen route: We took the bullet train to Hachinohe (八戸) from Tokyo Station. Then, we took a local train to Misawa (三沢) where we booked our hotel. The trip took about 4 hours and cost about 18000 yen one way. We travelled just before the Japanese summer vacation so we avoided crowds, and got a very reasonable deal on our hotel, Hoshino Resort Aomoriya (less than 5000 yen per person a night!)
Pro tip: Pack a mask and hand sanitizer, and avoid crowded trains and rush hours. Our trains were more or less empty, and we saw almost no humans during this trip. Just what we desired!
Misawa is a rejuvenating spot, and we were delighted by the brisk air, surrounding nature, and no humans as far as the eye could see. Between Misawa station and the hotel, there was a 10-15 min walking path through small waterfalls and meadows.
Our hotel, Hoshino Aomoriya, was one of the best I've been to in Japan. We had an airy room and relaxation area. It bordered a Japanese park filled with art, birds, pony rides, jogging routes, and a pond with lotus flowers and auspicious carp fish.
The hotel also had two natural onsen (hot springs) free of charge for hotel guests, with both inside and outside options. The outdoor onsen was especially spirited as it was surrounded by trees, a pond, and trailing pink flowers.
The hotel displayed art from Okamoto Taro (岡本太郎); I loved his kappa-like spirit depiction. I was impressed by the collection of nebuta, or gigantic paper figures in the form of dragons, gods or Shoguns. Some were 9 meters in length, and spat out smoke and lights. Aomori has a yearly Nebuta festival (ねぶた祭) every summer, but it was cancelled due to the virus. In the future, I hope I can see this procession of musicians, dancers, and locals carrying the giant white floats.
I carried my mosquito repellent and sun lotion and hand sanitizer in my bag, as well as sunglasses and a mask of course. I was expecting mosquitoes but to my delight I wasn't bitten once in Aomori! In Tokyo I get bitten 1-3 times a day if I don't wear full cover up or spray myself heavily with repellent.
We chose to stay in Misawa because it was close to the memorial museum of Terayama Shuji (寺山修司). He's an avant-garde poet, dramatist, writer, and film director — one of the most influential Japanese artists. I'm a big fan of his provocative movies and was eager to learn more about this extraordinary man.
Getting to the Terayama Shuuji museum: We took a 20 minute taxi ride from Misawa station, since there are only connecting buses on weekends and during vacations. All museums (and most stores) are also closed on Mondays in the Misawa area, and you more or less need a car to efficiently get around Aomori.
Needless to say the Terayama Shuji museum was very much worth the costly taxi ride (4000 yen one way). Every guest has to get their temperatures checked, and wear plastic gloves provided by the museum, as well as pay a small admission fee of 400 yen.
Terayama Shuji's museum was as kooky and wicked as one would expect. The first room was a traditional exhibition space about his career, along with books, merchandise and collaboration pieces.
The second was very impressive since it was designed like a treasure hunt! There were 12 desks, and you had to use a flashlight, open drawers and find secret hidden panels. Each bench contained keywords to help solve the riddles. Inside the desk drawers were more facts, poems and interesting curiosa regarding Terayama; some even projected movie clips. The other parts of the room contained a library, and a ceiling constellation of his bizarre characters being lit up one after another. We bought some goods and left, without seeing another single visitor, and were very pleased.
We then took the local train to Aomori city, and from the station, we rode a bus to Heiwa Park (the Park of Peace – 平和公園) , which is said to be haunted! Unfortunately we did not encounter any ghastly beings, as it was empty as everywhere.
Then, we paid 400 yen to visit the memorial museum of Shikō Munakata (棟方 志功), a woodblock printmaker who reached international fame. Munakata was known for his eccentric personality and obsession with Vincent van Gogh; at a young age he claimed to be the "Van Gogh of Aomori." The grandest piece in the museum was his "Ten Great Disciples of the Buddha" (二菩薩釈迦十大弟子) (1939), considered to be his crowning achievement.
The following day we had the pleasure of meeting a local friend, Yoko, who kindly took time to rent a car and take us to must-see places. We realized how difficult it is to travel around Aomori without a car, so her help really made our trip worth writing about!
Our first stop was the Towada Art Center (十和田現代美術館). Outside, there was free street art for anyone to enjoy.
The infamous Yayoi Kusama (草間彌生) had an art platform opposite the main building, featuring her recognizable dotted sculptures. We also saw firefighters climbing a wall that was surprisingly part of the exhibit, and a friendly ghost manifestation.
PS: see La Carmina's review of the Stockholm Yayoi Kusama exhibit here, as well as her trip to Naoshima Island (land of the giant pumpkins).
Also exciting was the Wish Tree, planted by Yoko Ono; you wrote your wish on a paper strip and hung it on one of the branches.
I enjoyed Towada's many interactive pieces, and slightly hidden art that you had to search for. We took fantastic photos amidst the glass walls, and enjoyed installations from artists around the globe.
Next, Yoko took us to the Oirase Gorge (奥入瀬渓流) – a long path for hikers, through jaw-dropping waterfalls and picturesque trees. The gorge stretches 14 km from Nenokuchi (子ノ口) on Lake Towada (十和田湖) to Yakiyama (焼山). The strong current leads through a ferocious path with many rocks.
When we went, there was mud because of rain, and the thicket of trees made the temperatures quite cool. Even in the peak of the summer, I recommend wearing rubber boots and an extra coat layer.
After a few scenic stops, we made it to the peaceful Lake Towada, the largest caldera lake on Honshu Island. On one of the rocks in the water we could spot a tiny shrine, which belongs to a god who protects the lake. Yoko took us to Towada Shrine (十和田神社), and we admired the mossy stones that are said to have healing powers.
We also saw the "Statue of Virgins" (おとめ像) on the beach side of the lake. It's the last remaining work of poet and sculptor Takamura Kōtarō (高村光太郎), and in our eyes, looked more like a romance between two women. Thanks to Yoko, we had a lovely day of nature and art.
The next day we went to Mt. Osore, the Mountain of Dread: one of the three most sacred places in Japan. It is also a main shooting location for Terayama Shuuji's movie "Pastoral: to die in the country" (田園に死 す).
Mount Osore is home to psychic mediums called "itako" who are traditionally blind, and undergo rigorous spiritual training. Itakos can summon the soul of a dead person; they become possessed, and speak to the customer in their spirit's voice!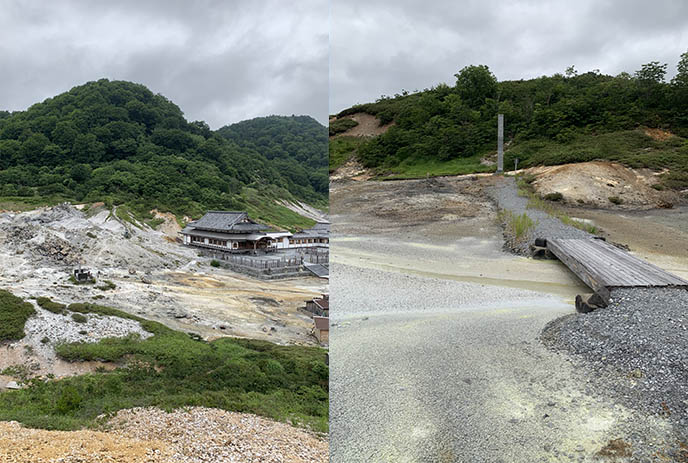 How to get to Mt Osore: From Misawa, take the express train direct to Shimokita Staton (下北), or take the local and transfer at Noheji station. (Not to be confused with Shimokitazawa, the hipster area in Tokyo frequently shortened to Shimokita!) Then, ride one of the three daily 40 minute buses to Osore. The trip took about 2-3 hours and cost 1900 yen for the train and 800 yen for the bus ride, per person each way.
Arriving at Mount Osore was like entering another realm. The holy ground is said to have spirits of the dead roaming about. It is also an active volcano, and is believed in Japanese mythology to be one of the gates to the underworld.
Admission info: The entry fee for adults is 500 yen, and there's an overnight option with meals included for 12000 yen. The festivals with Itako spirit readings take place between July 20-24, and the area is open 6:00-18:00 each day between 1st of May to 31st of Oct (imagine going there on Halloween.) Osore is too cold in the winter for humans to visit… but not for spirits!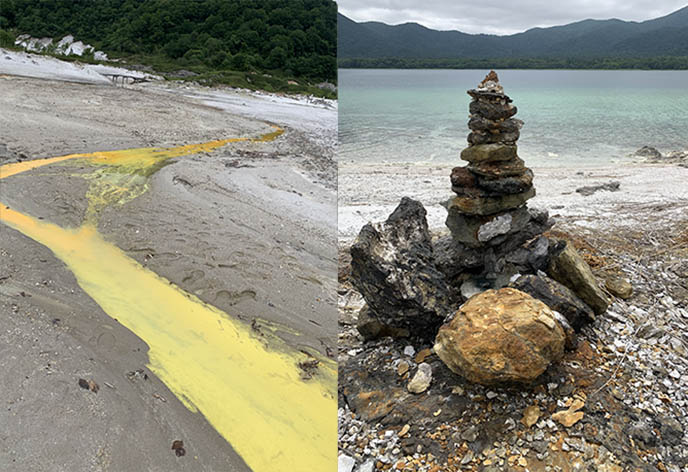 The place is gigantic, so allow several hours to walk around. The main temple, Bodaiji (菩提寺), is said to be founded 1200 years ago by the monk En'nin (円仁), and belongs to the Sōtō division of Zen Buddhism. The sanctimonious Mount Osore contains the highly acidic waters of the caldera lake. Lake Usori is in the center, surrounded by 8 mountain peaks representing the lotus flower's 8 petals.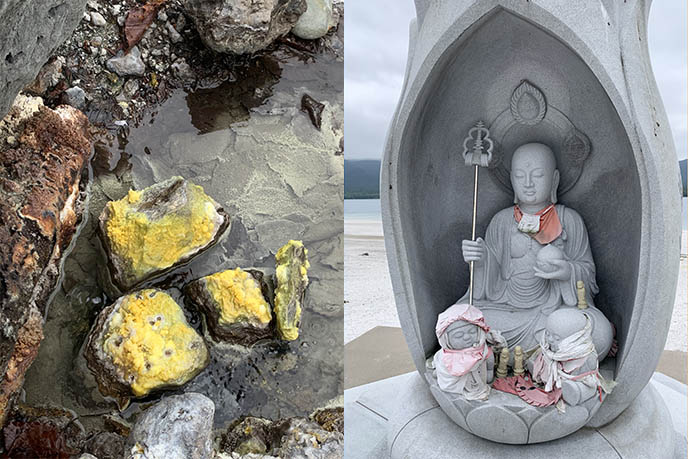 The area has many fumaroles (openings of the planet's crust) emitting steam and volcanic gases (especially sulfur dioxide… the smell was everywhere). There are exactly 108 fumaroles, representing the 108 worldly desires and the 108 hells bound to them. Some of these hells even had their own signs with dramatic names, such as: The hell of salt, The eternal hell, The hell of severe crimes, and the hell of the blood-pounding pond!
Mount Osore looked like a demon landscape. The paths bubbled with sulphuric yellow, orange or blue, while the white sand and grey stones made the scenery look like an endless graveyard. Adding to the melancholy were hundreds of Jizou bodhisattva (地蔵菩薩), or stone figures that guard over children who have died. Many of these small stone monks were clothed in handmade baby bibs and hats.
We saw pyres and monuments to famous monks, as well as offerings of cute pink windmill toys (風車). This famous Japanese toy represents unborn children, and is said to help them find peace in the afterlife. Seeing so many was heartbreaking and overwhelming.
Osore had other meaningful tributes to those who have passed. I saw a large urn, shaped like a giant lotus, with hand-prints (mainly of children) on the back side. This was a monument for the unfortunate souls who died in Japan's 2011 tsunami and earthquake.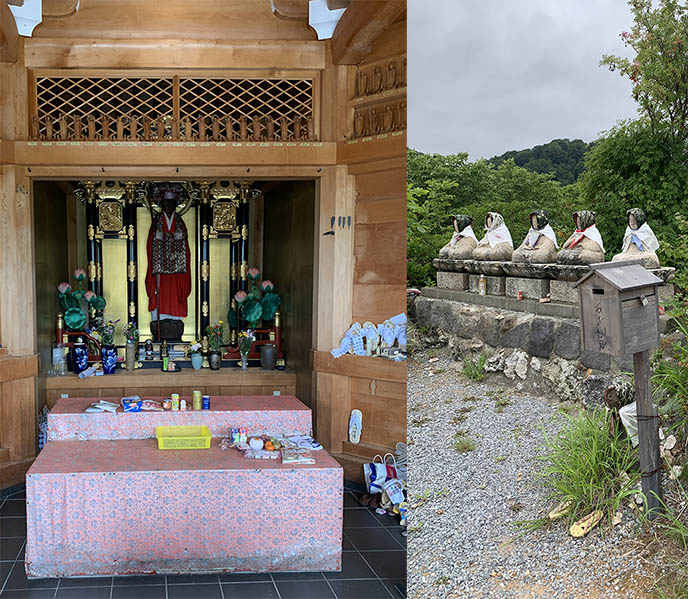 In one hut, I found heirlooms and old clothes belonging to the dead, with names of the unborn written on wood stripes all over the ceiling.
In Japanese media, the Mountain of Dread tends to be portrayed as a haunted place. It is said that you are cursed if you take any stones from the holy ground. In fact, this is a site of meaningful stillness and remembrance, which really spoke to me. While I loved the otherworldly Gothic atmosphere, I also felt this was one of the most serene places I've ever visited. There was no malice in the air – just a solemn peacefulness.
On the last day of our journey, we took a local train from Hachinohe to Shark Town station (伸), where there were an obnoxiously high number of seagulls by a shrine. These were actually "Black-tailed gulls" (Umineko 海猫). Fun fact: the word in Japanese Umi-neko is a compound of Umi – ocean and Neko – cat, so basically they are called "sea cats" or "cats of the ocean."
We walked 10 minutes from Shark Station to Kabushima Shrine (蕪島神社) and as we got closer, we started hearing cat-like cries. It turned into a screeching as we approached the small harbour. Unlike regular seagulls, these beasts had black tails, a red ring around their eyes, a black mark on the beaks, and a sharp red tip: as if they'd just dug into raw flesh and still had blood dripping from their Gothic faces.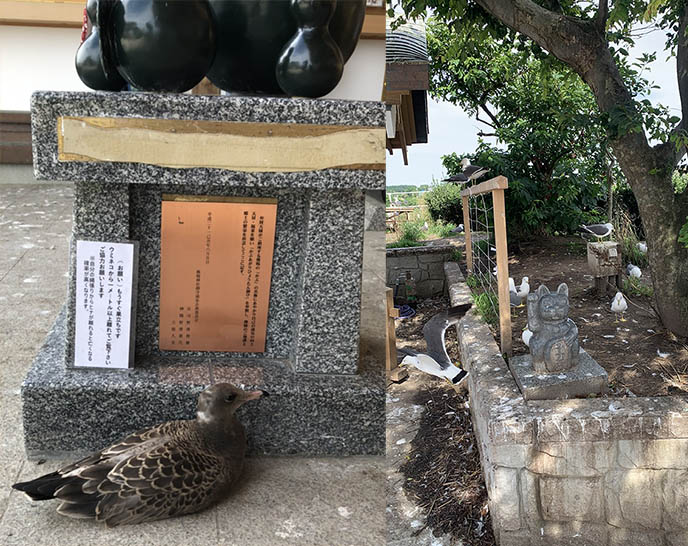 The little shrine on the hill burnt down in 2015 but was rebuilt as of last year. The workers stopped construction while the gulls were hatching their babies, so they could raise them in peace. In mid July, the hatchlings still wore a brown coat of feathers but were as large as adults. I was stunned by how they were unafraid of humans; you basically had to be careful not to step on them.
As you can imagine there was bird poop absolutely everywhere and we were afraid of being targeted from above! I would recommend this shrine if you are a fan of animals and birds in particular, but only if you have some extra time in Aomori. On the contrary, if you have a phobia or were freaked out by Alfred Hitchcock's "The Birds" I would suggest never to step your foot at Kabushima shrine!
Thanks to Yukiro for the eye-opening guide to Aomori! I didn't realize there was so much avantgarde art and spiritual / Gothic scenery in this region of Japan. (Here are a few final pics from Towada Art Center.) Hopefully I can visit soon.
For more from Yukiro, watch his latest (freak)show drag performance here. The entire Haus of Schwarz (Stefani ST Sl;t , Le Horla, and Angel Heart) performed, with mommy dearest Die Schwarze Frau near the end! Le Horla's spooky makeup was put on by Haus' Drag Dad, Weryk.
If want something unproductive to do during quarantine, watch Yukiro's YouTube series, Witch Review. Die Schwarze Frau dishes on her favorite old school horror cult B movies, sharing her darkest thoughts with you! There are no spoilers, so you can watch these reviews in (ill)-faith.
And if you're inspired to dress in Gothic or Punk clothing, check out Punk Rave Store — they have many dark styles for men and women.
And we order you to tune in to Yukiro's Halloween livestream extravaganza, called Casket of Horrors! All members of Haus der Schwärze will perform live, and then there will be 10 spooky videos submitted from around the globe. The winner will be crowned "The Queen (or Queer) of Halloween 2020!" Watch the live-stream online (here's the info) on 2020/10/10 at 20:00 Japan time, if you dare.
Love it to death? Then support Yukiro by buying him a glass of red wine here!