Category Archive for
Tokyo Gothic Lolita
It's going to be the best Halloween ever… because Japan National Tourism Board is sending me back to 日本 for a month and a half!
From October to November, I'll be Goth-ing it up around Tokyo and other cities. You're invited to join me and friends for spooky festivities on Oct 7 (Yukiro's drag Casket of Horrors) and Oct 29 (Mistress Maya's Bizarre Night Circus with a performance by Yukiro) — full info below.
Read on for my fab Halloween Japan plans — as well a look inside a Tokyo church-themed bar, robot cafe, and more.
I'm grateful to Japan National Tourism Board for supporting my upcoming trip. In return for the flights, train passes and more, I'll be delivering travel articles and photos about my experiences for leading publications (stay tuned).
My plans: first, I'll be in Tokyo from early Oct to Nov — of course, I timed the trip around spooky season! Get ready for a deluge of Halloween coverage on my @LaCarmina Instagram featuring friends who will also be there (John, Trevor, Yukiro and other familiar faces).
Then, I'll spend two weeks hopping around by train, thanks to the Japan Rail Pass from JNTO. l plan on maximizing the unlimited 14-day train pass and hitting up Hakone, Kyoto, Nara, Kobe, Osaka, Kanazawa and Shirakawa. Let me know if you have tips for any of these destinations.
If you're in Japan this fall, I hope you'll come to the following events with my pals and me!
⛧ Oct 7: Casket of Horrors, Tokyo's leading drag queen extravaganza masterminded by Yukiro. His Haus Von Schwarz and guest performers will be strut the stage at Shinjuku Club Science. Get discounted advance tickets here, or at the door.
⛧ Oct 29: Mistress Maya (of Midnight Mess) presents Bizarre Night Circus at Salon de Suigeikan in Kamakura. I can't wait to see the venue, which is a funhouse filled with taxidermy and outsider art. Maya's Halloween event includes a kinbaku rope show, a drag show by Yukiro, and other alternative performances (it runs from the afternoon to 8pm). More info here, and I hope to see you there!
Currently planning my Halloween costume for this year… (Above, I was Wicked Lady / evil Chibiusa from Sailor Moon last October).
Do you ever wonder how I have Internet on my phone when in Japan? My trick is to get an eSim from iFree MOGO for my smartphone! In the old days, people could only insert physical SIM cards into cell phones — but now, you can digitally activate a data plan for your device, and get online when you're in Japan or traveling elsewhere.
MOGO's website has electronic SIM plans for over 80 countries and different lengths of time (I got their 60-day 10GB Japan eSIM for my new iPhone 15 Pro). They offer stable connections and coverage at affordable rates, and have 24/7 live chat support. If you haven't heard of eSims, check out iFree MOGO — it's the easiest way I found to have the Internet on my phone when I'm abroad.
To get us even more excited for Halloween in Japan, here are some Akiba photos from my trip last fall, taken by Joey Wong (the tourism board sent us to Tohoku on a press trip, before the country re-opened to tourists). No wonder Akihabara is known as Electric Town — the vibe is electrifying here.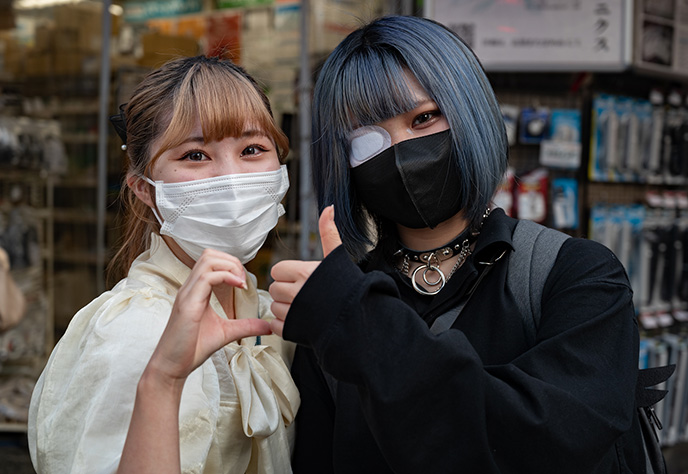 Akihabara is known as Tokyo's anime / manga / otaku / Jpop culture district. You'll come across young Japanese dressed up in alt fashion or cosplay, like these two friends.
People come to Akihabara to unapologetically "geek out." You can cosplay as your favorite cartoon, comic or video game characters…
… and shop for figurines, body pillows, retro game cartridges, you name it.
Head to one of the many game centers to try picking out a toy with a UFO catcher. (Japan's gaming arcades don't allow you to take photos inside, but Joey managed to sneak a few shots.)
Then, have lunch at a maid cafe — these theme restaurants are still popular in Akiba. (The staff wears French maid outfits, performs cute dances and treats you like royalty.)
We loved this local's guro Goth style and genki poses. (The eye bandaid is for aesthetic purposes only.)
A typical scene in Electric Town. You'll see lots of people dressed in anime/manga outfits giving out flyers.
Akihabara is the place to get new or used tech as well — robotos, computers, cameras, cell phones, etc. You can also get funky snacks like Sega-shaped taiyaki, and dine at themed restaurants like the Final Fantasy Eorzea Cafe.
We stumbled upon a racy Japanese vending machine… This one contains adult DVDs. (VHS tapes in this genre remain popular as well in Japan.)
Quite a few of my close friends will be in Tokyo for/around Halloween… can't wait to dress up and celebrate with them!
Akihabara is near the Dawn Avatar Robot Cafe, which is run by a staff of Mr Robotos! Here's our video of the Tokyo robot cafe, which lets you see the androids in action.
At DAWN Avatar Robot Café, different-sized robots are remotely controlled by disabled workers. They greet you with a bow and wave, take your order, and serve it to your table.
I also came across a police patrol robot at Narita Airport… AI is indeed taking over. Check out my footage of helpful Japanese robotos in my Instagram video.
Japan is full of contradictions… the robotics and arcade games are futuristic, but many businesses still use floppy disks, fax machines, and websites that look like they were coded in 1999.
Miffy has become omnipresent in Japan, much to my delight. It used to be difficult to find Miffy items…
… but now, you can find her X-mouth all over Tokyo, including inside UFO catcher / crane games.
Now, let's hang with my friends in Shibuya. I met up with the glamorous Triesste before she conquered the stage with humor at the Tokyo Comedy Bar.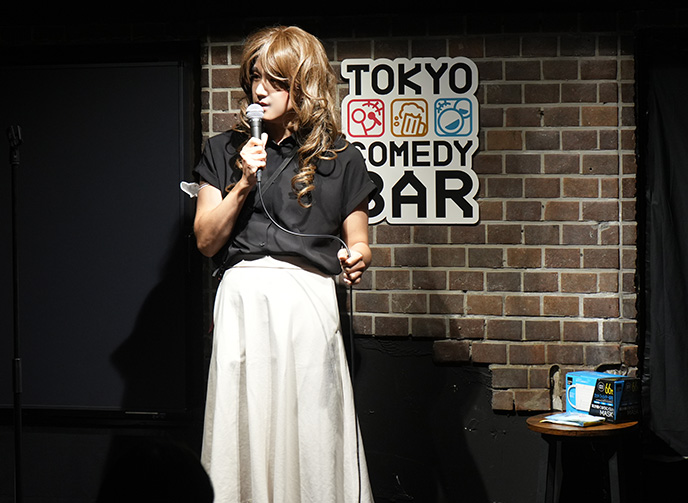 Tokyo Comedy Bar has stand up shows in English and Japanese, and draws a friendly alternative / LGBTQ crowd. Shota had the crowd in tears from his hilarious story-time.
Can't wait to see more comedy, music, and drag performances when I'm back in Japan. Of course, I'll be sharing all these stories with you on this blog and @LaCarmina social media.
And then, my Goth comrades and I had a blasphemous night out at The Church. This slightly sacrilegious Christian-themed bar is the Dōgenzaka district of Shibuya. With stained glass windows and crosses, the exterior looks like you're about to enter into the house of the Lord.
Nuns in full habits greet you — but instead of blessing you, they're here to tempt you into licentiousness and liquor!
Christon Cafe in Shinjuku is now closed, but The Church takes over with a similar kitschy Christianity vibe.
The Church's altar doubles as a DJ booth… but the music consists of live EDM instead of Gregorian chants.
The interior decor continues the sacred theme with Holy Bibles, rows of wooden pews, crucifixes, and pointed arches.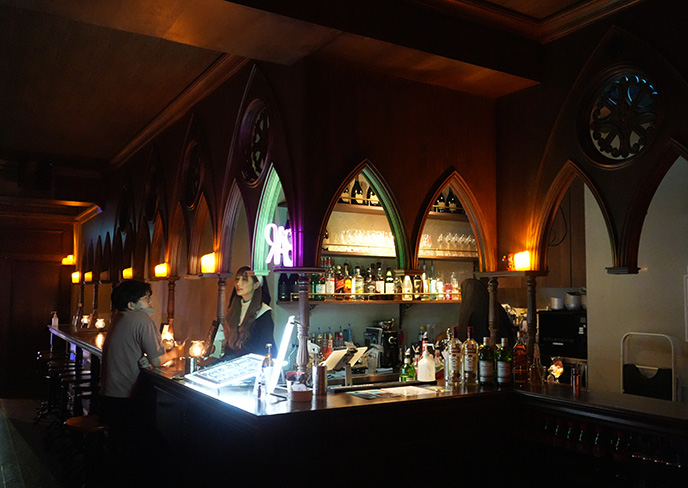 Ask one of the nun bartenders for a glass of blood red wine, and give a toast to Satan before dancing the night away.
We'll always make time on a Sunday to go to church… if it's The Church in Shibuya!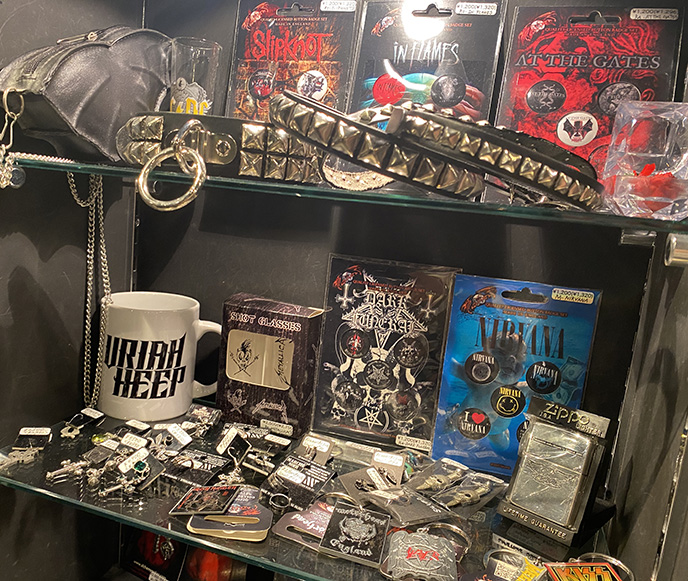 I'll leave you with some final demonic snaps from Shibuya. I popped into Blitz rock shop, which sells heavy metal and hard rock merch.
Shibuya is one of my favorite shopping districts. In Don Quixote and Village Vanguard, you'll be confronted by shelves of kawaii mascots like Pokemon's Gengar.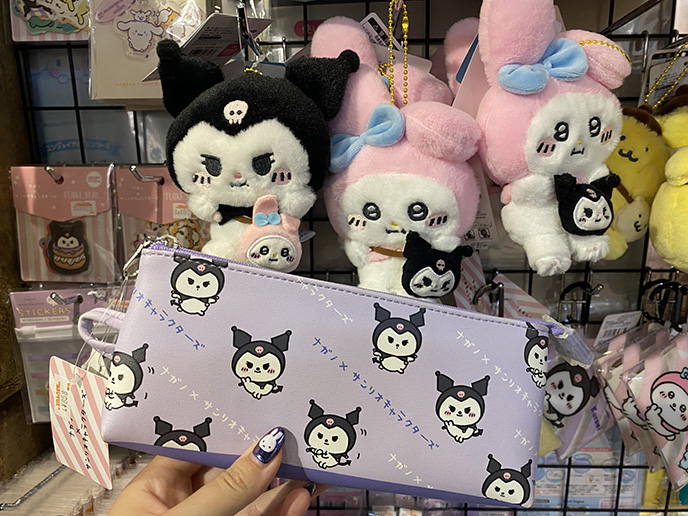 The devilish Kuromi is popular in Japan, especially around Halloween.
I love how plump they made these Sanrio characters!
Miffy the Dutch bunny has her own row of goodies at Village Vanguard.
You can find retro and lesser known characters in the basement of VV.
I'll never grow tired of Japanese kawaii character design.
I was into the subdued colors and rounder shapes of this Sanrio collection inside Shibuya 109.
You can find Hello Kitty shops all over Tokyo, including in Shibuya and Shinjuku.
In Japan, there's a greater selection of Sanrio goods as well as limited edition pieces like these Kuromi bags.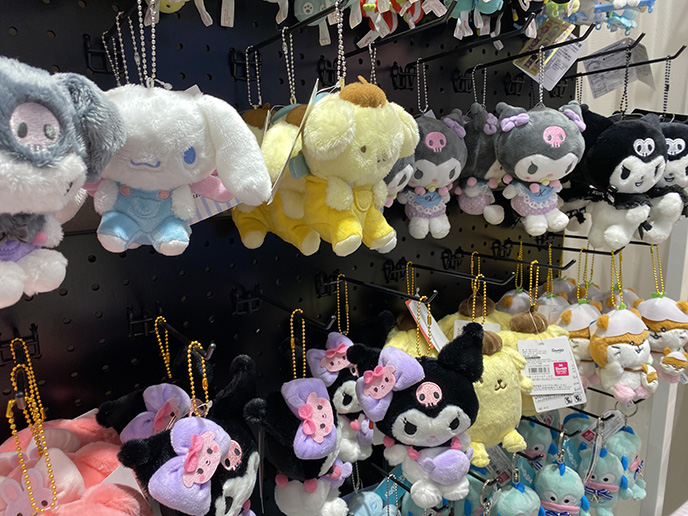 The yen remains low, so I'll be doing some damage when I'm back here…
See you cuties in Tokyo and other cities this Halloween! (Japan Tourism is sending me to the Land of the Rising Sun from October to November — join me at the alt parties on Oct 7 and 29, described at the top of this post.)
For tons of spooky Japanese content, add @LaCarmina on Instagram, as well as FB, TT and X (is that what we call Twitter now?). またね — see you later!
No-Face rides again! When I was last in Japan, I only had 15 minute to get ready for Department H (Tokyo's seminal alt/drag/fetish party) — so I did quick look inspired by the mysterious spirit in the Ghibli film, Spirited Away.
Spirited Away is probably my favorite Hayao Miyazaki anime, and this scene of Chihiro and No Face riding the train is unforgettable. They pass through water and the mystical Japanese countryside… you'll have to see the film yourself to understand the magic.
The outfit was fitting, as Tokyo's Department H club night feels like being in a fantasy movie. Let me show you around the all-night party that features drag queen shows and eccentric outfits. Get ready for tons of photos by Joey Wong…
… and I'll also give you a tour of Keroppy Maeda and Taku Oshima's Jomon tattoo / photography exhibit, which took place at Shinjuku Beams.
(By the way, I'm now on the Threads app. Who knows what will come of it, but you can add me @lacarmina on Threads as well as Instagram.)
If you're a longtime reader, you'll know that my friends and I have long been attending Department H. The fetish night takes place on the first Saturday of every month, and has been running since the 1980s!
Dept H is held in a somewhat random venue: Tokyo Kinema Club (東京キネマ倶楽部) in Uguisudani (鶯谷). Vincent joined me outside — our purple/blue hair had matching vibes.
It's a Department H tradition to get canned alcohol at the Family Mart convenience store next door. There are no bars or food/drink available inside, so you're encouraged to BYOB.
I got a yuzu Strong Zero for old time's sake (I do not have the strength for these any more!)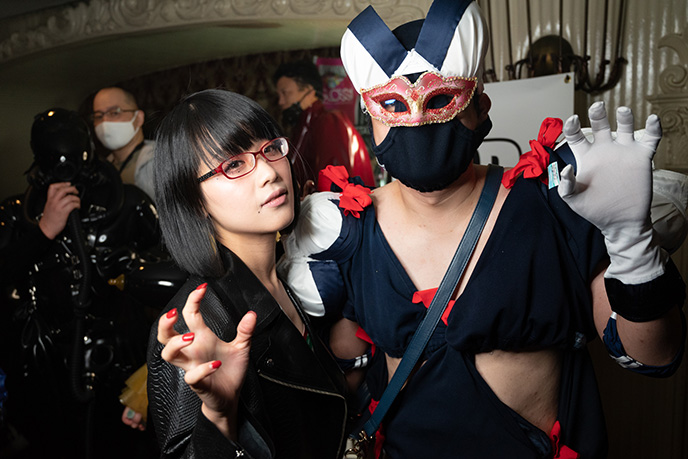 At Department H, you can be who you want to be without judgment. (Please make sure you ask guests if they're ok with being photographed, before taking any pictures.)
This is the place to wear hentai, fetish and latex gear. Lockers are available if you want to come in wearing normcore clothes, and then change into your finery.
Anyone is welcome here, and the partiers are extremely friendly (don't let the spookier looks fool you!) Department H draws a mixed crowd — LGBTQ, fetish, alt fashion, you name it.
The event features a glitzy drag queen parade, followed by all sorts of performances from dance to aerial silks…
… and racy wrestling with peen-monsters! Remember the time Naomi and I shot a German TV show with Mr Peen, at Department H?
This Japanese purple drag queen was giving Yukiro energy.
Can't beat the creative costumes and makeup at Japanese club nights like Department H.
Photojournalist Ryoichi Keroppy Maeda always has a booth at Department H, where he shares his passion for extreme body modifications. He signed a copy of his Modcon book that chronicles these body mods and the people behind them.
You may remember Keroppy Maeda from our Japan bagel head adventures — there's a photo of Dr John inside, from our National Geographic TV shoot where he got a bagelhead!
At the time, Keroppy had a Jomon Tribe exhibit at Beams Shinjuku, which showcases his photography and collaborations with tattoo artist Taku Oshima.
Keroppy and Taku have researched and revived the tattoos worn by the indigenous hunter-gatherers that lived in Japan thousands of years ago.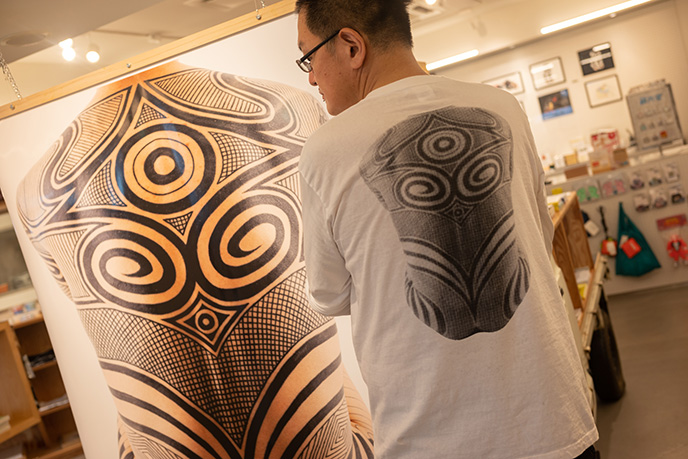 Archeological evidence shows the Jomon people adorned their bodies with geometric lines and swirls, which Taku has adapted into modern tattoo designs.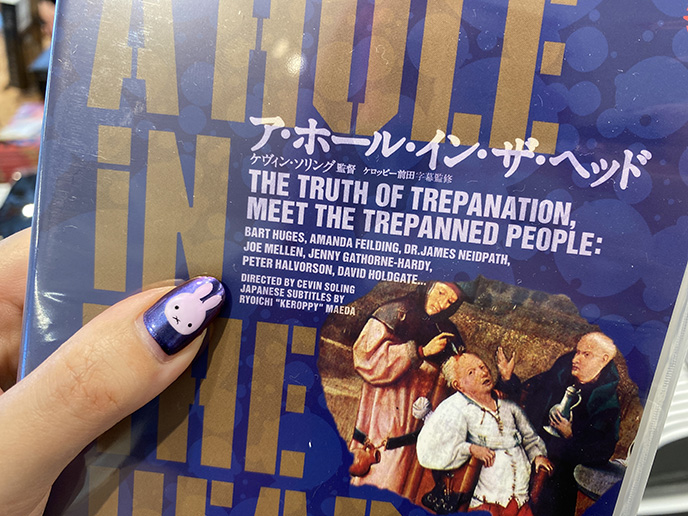 At the exhibit, you could see their Jomon body art and photos in large-scale, and shop Keroppy's books and DVDs. (He did the Japanese subtitles for "A Hole in the Head," a documentary about trepannation or drilling a hole in one's skull.)
Fascinating to learn how Japan's earliest inhabitants engaged in bold tattooing, and how Keroppy and Taku have revived it using today's techniques (in a country where tattoos remain taboo).
Taku Oshima shows tools like the ones used in Jomon body modifications, thousands of years ago. They've uncovered evidence of dental mods and piercings made by the ancient Jomon tribes as well.
Research suggests that the Jomon may have had facial markings, much like the ones he wears. Tattooing has long been practiced among the indigenous people of Hokkaido and Okinawa, until it was banned in the Meiji Period.
Researchers are still uncovering artifacts about Jomon culture and practices, which bring new insight into the history of tattooing in prehistoric times.
These tribal influenced tattoos are stunning, and a departure from the full-body yakuza style that most people equate with Japanese body art.
Can't wait to see what Keroppy and Taku do next with their modern primitive tattoo endeavors! Here's their artistic statement in Japanese and English:
縄文族』とは、タトゥーアーティストの大島托とフォトグラファーのケロッピー前田によるアートプロジェクトである。このプロジェクトは縄文の文様を抽出し現代的なタトゥーデザインとして身体に刻むことで、人類の原始的な精神が21世紀を生き抜くためのアイデンティティとなり得ることを示している。これは日本における「モダン・プリミティブズ(現代の原始人)」 の実践である。
"JOMON TRIBE" is a collaborative art project between tattoo artist Taku Oshima and photographer Ryoichi Keroppy Maeda, in which the patterns of Japan's Jomon period (14,000 – 300 BCE) are inscribed upon real human bodies as modern tattoo designs to show how the primitive spirit of humankind will become a new identity to survive the postmodern life of the 21st century. This project is the practice of "modern primitives" in Japan today.
And on that note… back to the fabulous personal expressions at Department H nightclub.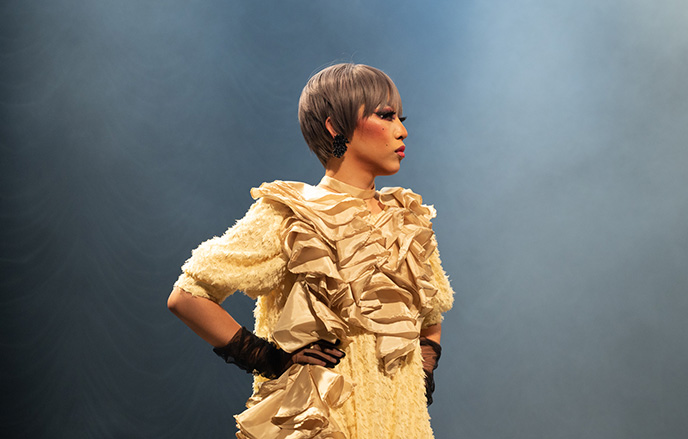 Kinema Club takes up two floors: you can walk around to admire the outfits, visit various vendor booths, and clap along to the performances such as the drag queen strut-fest.
Of course, we found Miffy among the latex fetish bunnies…
Would you give your confession to this priest?
Such talented alt performers, like this aerial silks artist wearing horns.
At Department H, you can observe or take part in shibari / kinbaku (Japanese rope bondage).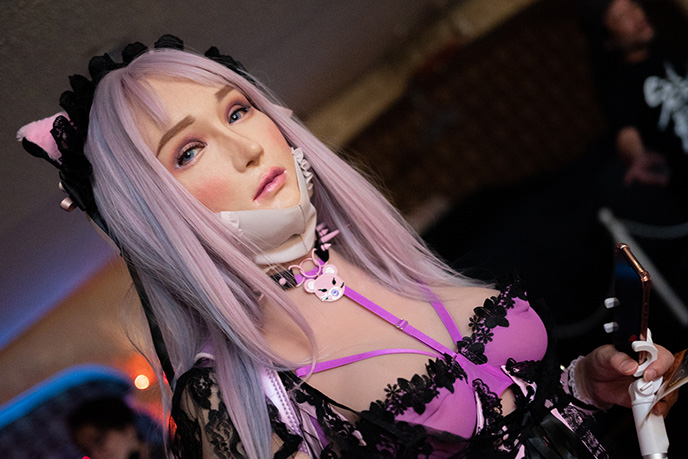 Always some kawaii and cosplay inspired looks in the mix at Japanese events.
The party spills over outside to the convenience store next door, where guests went for snacks and drinks.
Admission to Department H is 5000 yen, but 10% off with an event flyer and 40% off with a costume — so put on your best pentagram, and party here until dawn (as the trains stop running between about midnight at 5am).
Department H remains one of Tokyo's best alt night clubs — may it remain this way for decades to come. Thanks to organizer Gogh-san for always welcoming me.
If you're keen to travel to Japan, I have some new resources for you. I wrote four travel guides to Tokyo for Going.com (formerly Scott's Cheap Flights), geared towards new travelers!
My articles are about Tokyo itinerary suggestions (for 3-7 days), the best day trips from Tokyo, 15 best things to do in the capitol, and where to stay from high-end to budget and family options. Let me know if you find them helpful, and feel free to share them.
And add me @lacarmina on Threads — I've been around since MySpace so who knows if Threads will last, but I'll give it a go.