Category Archive for
Tokyo Gothic Lolita
Happy New Year! 2019 is feeling auspicious for me so far, with new opportunities and paths.
Looks like I'm already set for Chinese New Year as well, in this my all-red outfit. This Victorian Gothic silk dress is by Keipsule, a new designer with dark and luxurious aesthetics.
Since we're in a colorful mood, I'll also take you inside the extremely pink Hello Kitty Shinkansen, which I rode last fall! You read that right: Japan has a high-speed bullet train devoted to the kawaii cat.
I am living in Keipsule's dress, as it aligns perfectly with my current style direction. I'm forever fond of Gothic fashion — but these days, I've been prioritizing timeless, quality pieces by independent designers.
Keipsule's long-sleeved silk dress can be styled in a variety of ways, for different occasions. I wore it with two types of hats and winter accessories, as you can see in these photos.
Doesn't my red floppy hat remind you of Carmen Sandiego? It's from Tenth Street Hats, a family-run company that dates back to 1921. They sell modern millinery with a vintage feel, which fits with the Victorian accents of the dress.
The length of the dress let me show off my UK Tights legwear. These Giulia stockings have both sheer and opaque detailing for an over-the-knee look.
If you like what you see, here's where you can get this Keipsule "Crow Skulls" dress here. It's made in Europe, and comes in a variety of sizes. This is a special piece in a limited number run, made with luxurious pure silk that flows as you move.
I grew up watching the Carmen Sandiego show, and I suppose I became a bit like her: shadowy world traveler with a band of deviants, or something like that!
Love the fine ruffle detail at the hem and down the neck. It's romantic and feminine, without being over-the-top.
The blood red pattern features black and white roses with ivy, cherry blossoms, crows, and skulls. It's a nod to classic Goth and the occult, without the typical all-black palette.
Wearing silver earrings by Alex Streeter, of course.
My red wide brimmed hat is the Scala Sydney in Cinnamon, by Tenth Street Hats. The style is packable, and has a curving 4 inch brim – perfect for winter. My coat is faux fur.
My Keipsule dress feels lovely on, as it's made with high end silk that moves with you. It can be dressed up in a variety of ways for special occasions, and has an elegance that won't go out of style.
Close-up on the jeweled buttons at the sleeve ends, and down the neck. Love how the shirt collar has a subtle ruffled insert.
My silver Ouroboros critter and claw rings are by Alex Streeter Jewellery.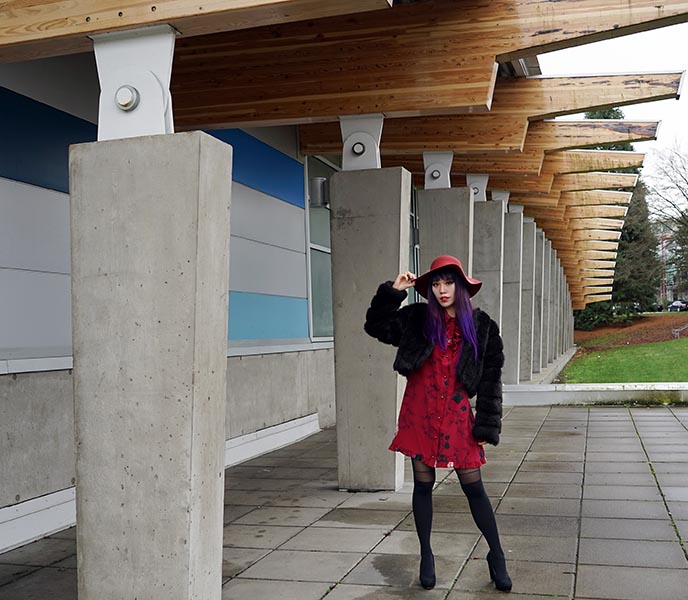 I'm all for investing in unique high-end pieces, and having them be a core part of your wardrobe. I'm excited to see what Keipsule produces next in their collection.
A few more shots of my Scala Sydney round crown felt hat. Tenth Street Hats carries a number of beautiful designs including fedoras, fisherman caps, big brimmed straw hats, and more for all seasons.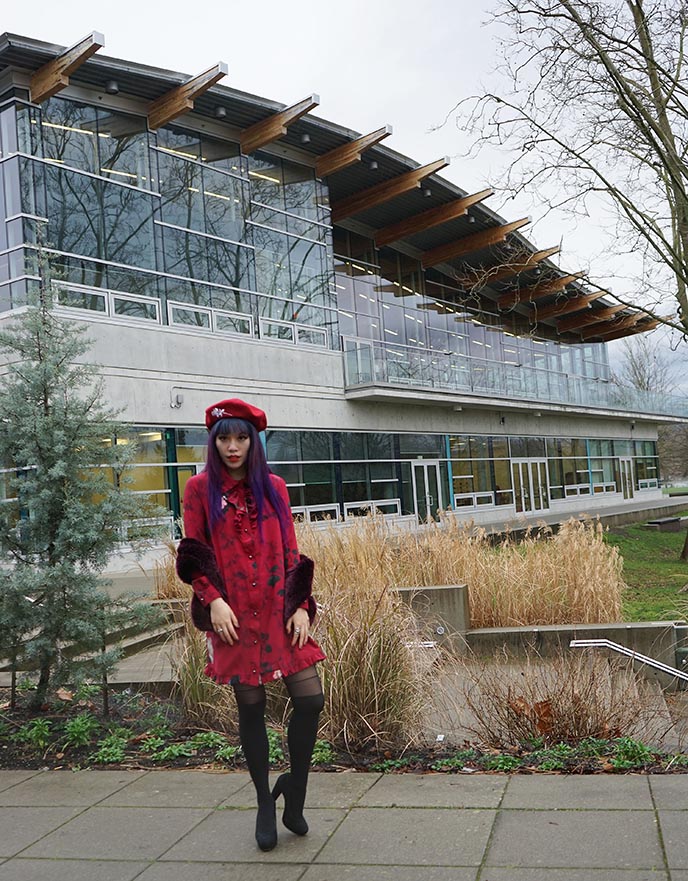 Here's a wardrobe remix with my 1990s-style red beret by Mary Wyatt London. The dark purple faux fur scarf is another old favorite, from Holt Renfrew.
Find out more about Keipsule here, and get this very same dress before the limited run sells out.
And now… all aboard the Hello Kitty bullet train! While I was in Hiroshima, I rode the high speed rails to Okayama (on the way to Naoshima). It happened that the Hello Kitty-themed shinkansen was barreling down these very tracks… which gave me the opportunity to take photos for you!
It's no secret that Hello Kitty is massive in Japan and worldwide. She has themed stores and cafes all over, and even an airplane and lounge.
Right now, there is a regularly scheduled shinkansen dedicated to Hello Kitty. The cat and her friends appear all over the train, and the bullet nose and doors of the train are bright pink.
Most of the train cars look like they normally do. However, the two last cars of the Hello Kitty train are a pink explosion of Sanrio characters. You can't reserve a seat inside this compartment, but there's a small sitting areas with themed decor all over.
The last car contains a Hello Kitty shop. Since the train passes through various cities and prefectures, the store carries specialties from these regions (like the famed baked bread of Hyogo, or my beloved yuzu liquor).
You can also get Hello Kitty limited edition goods, themed after the bullet train. Many show Kitty as a train conductor, ordering you to line up and watch your step!
How can you ride this fabulous train? Here's the Hello Kitty shinkansen timetable – as you can see, it runs often and stops in major areas including Shin-Osaka, Shimane, Tottori, Okayama, and Hiroshima
Psst: the Japan Rail Pass covers unlimited rides on this train. Once you have a J Rail Pass, go to a station and reserve seats in advance, lest they sell out.
If you get bored during the trip, there's a Special Theater that screens Sanrio cartoons and Japanese travel videos to keep you entertained.
"Ufufu" pretty much sums up my reaction to riding this kitschy, kawaii Japanese train!
The train is a new 500 series shinkansen. The nose is inspired by the beak of a bird, and cuts through the air to achieve top speeds.
Even the baggage area has a cute makeover… Be sure to take a photo with the giant Hello Kitty statue in the last train cars!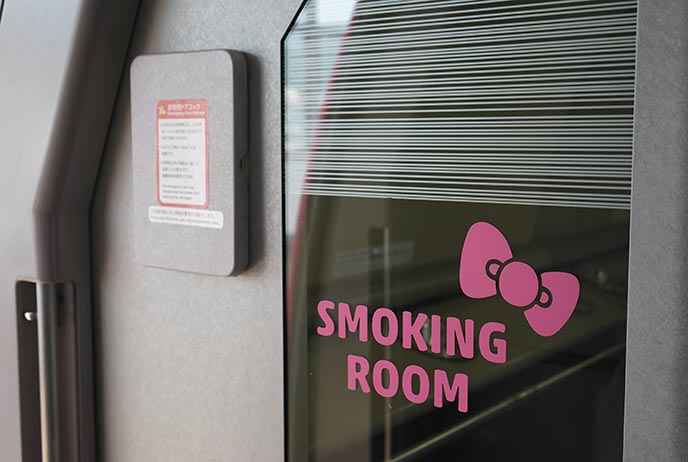 I'm quite sure this is the cutest and most ridiculous smoking room sign you'll ever see. Not sure how Hello Kitty and her friends can puff on cigarettes when they have no mouth…
I always recommend exploring Japan by train, as the shinkansen is a futuristic and comfortable ride that everyone should experience. A week-long unlimited Japan Rail Pass is great value, as you can hop on and off and see a number of cities.
Would you ride the JR West Hello Kitty bullet train? Or fly on the Sanrio plane?
A last look at my Keipsule silk dress – what do you think of this style?
New travel destinations to be announced soon, as well as site updates — thanks for your patience in the past while. Here's to a wonderful year!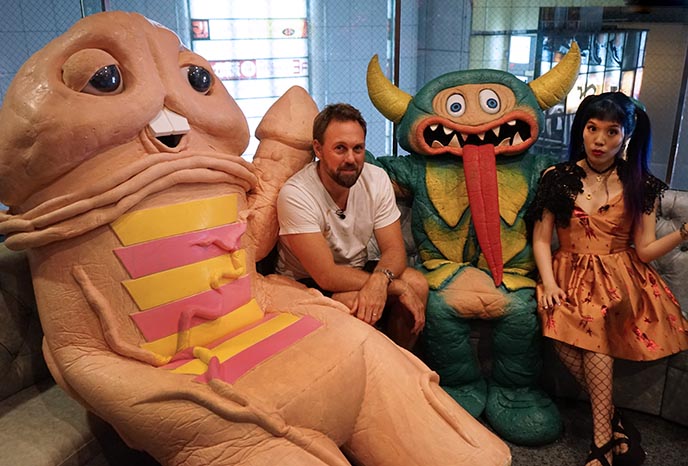 Uhh you may have recently seen La Carmina on German TV, with a giant peen… Ach du lieber!
Finally, we can reveal details of the crazy Japanese travel TV show we shot in September. As you may know, Naomi Rubin and I run a Pirates production company. We do local producing or "fixing" for travel television shows, in Tokyo and worldwide.
The Pirates have teamed up before with Joko und Klaas, the prime-time challenge show airing on Pro Sieben Germany. This time, "Das Duell um die Welt" (Duel around the World) featured celebrity guests… so we took presenter Steven Gätjen on a wild ride through Tokyo's fetish underground!
It was fabulous to be on-camera again for Joko and Klaas' program. As you'll see, I delivered Steven Gätjen's challenge, forced him to dress up in a pink studded suit, and introduced him to his bizarre band-members.
Keep reading to see the behind-the-scenes story of how we turned Steven into Ralf Acapulco, the schlager-industrial superstar singer… culminating in a hilarious performance at Department H, the alternative / S&M / latex / anything-goes party that remain the wildest in Tokyo.
❤ Wanna watch? I can't post the full episode, but here are clips above and on Vimeo. ❤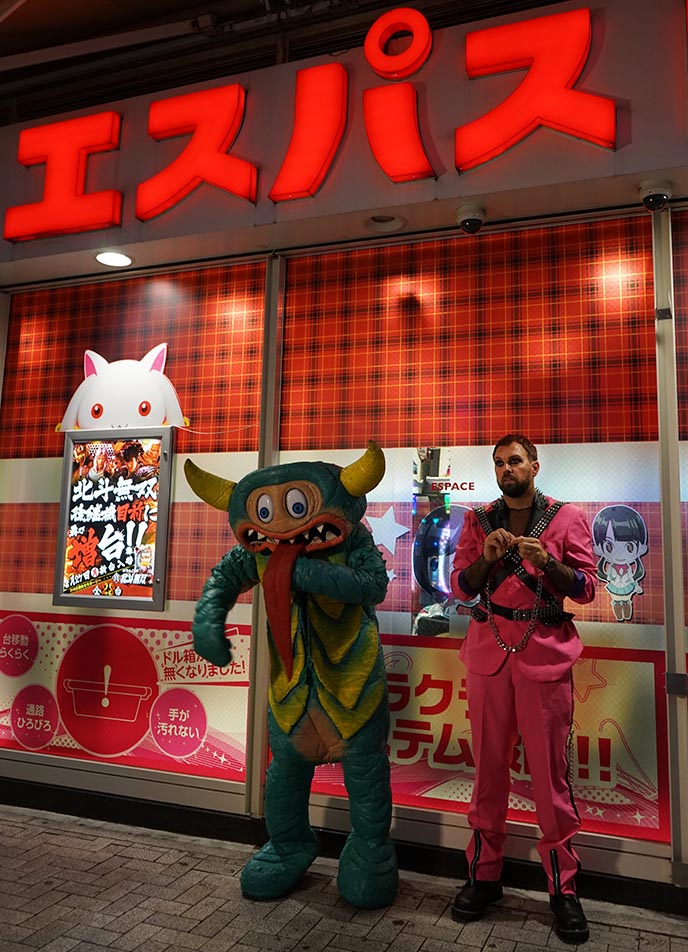 Naomi and I love working with the Joko gegen Klaas team, as they're always keen to do something crazy for the TV show. The production process is a long one: we throw around ideas for the challenge, and then build a story and locations around it.
As fixers, the Pirates make the local arrangements in Japanese including securing permits and locations, casting extras, arranging costume and makeup, hiring a van driver, securing hotels, and any other logistics for a successful shoot.
(You may recall that we gave Klaas a bagelhead, and sewed Joko's lips together for this show! We also worked with Palina Rojinski on a ProSieben travel shoot in Hong Kong, and Olli Schulz in a Box in Tokyo.)
Steven's adventure began in a Zen-like fashion. He sat down to a matcha tea ceremony, in a traditional tatami room that we rented.
The four people in kimono are extras that we hired… from the Japanese "rent a family" company! (Yes, you can hire someone to pretend to be your relative or significant other.) We previously rented the same lady to play a fake mother in Olli's TV show.
Naomi Rubin is an amazing Japanese-English translator who makes the shoot possible by communicating the director's words to the cast. She is also a talented illustrator, and created the elegant watercolor above based on the tea house scene.
In this scene, Steven received a mysterious card with an address. This led him to the next location…
… A karaoke room, where wacky individuals were waiting for his arrival! 
Steven Gätjen is lovely in person, with a gracious and positive attitude. We worked off a script, but had a good time ad-libbing during our scenes.
(My earrings are Alex Streeter, and dress House of Holland.)
Say hello to PicoPico. He makes astonishing full body costumes of monsters and strange creatures. We hired him to be on the show, wearing his original green Becos costume.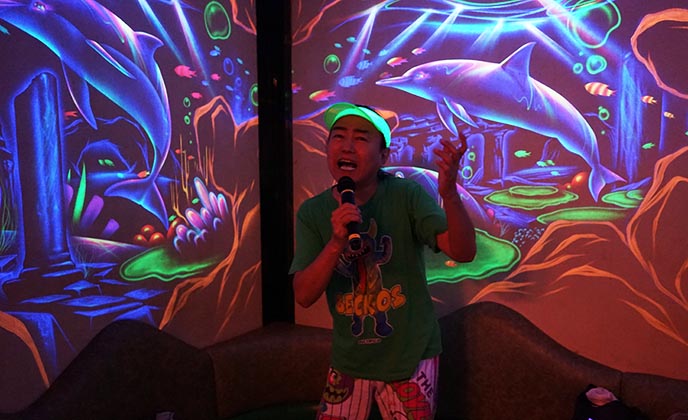 While we waited for our scene, Pico Pico and I did karaoke… why not, we were in Karaoke Kan Shibuya after all!
What's the deal with the blacklight space dolphins on the walls of the karaoke booth? Again… why not! (When you choose a song and it begins, the room lights up with a disco ball and neon lights.)
Pico Pico selected a Power Rangers tune to belt out. Love the spaceship background of the karaoke video.
Yours truly stuck to disco. We did a YMCA duet, of course with the appropriate hand motions!
(If the monster costume looks familiar, it's because he was also in the French travel TV show I did years back, with Antoine de Caunes for Canal Plus.)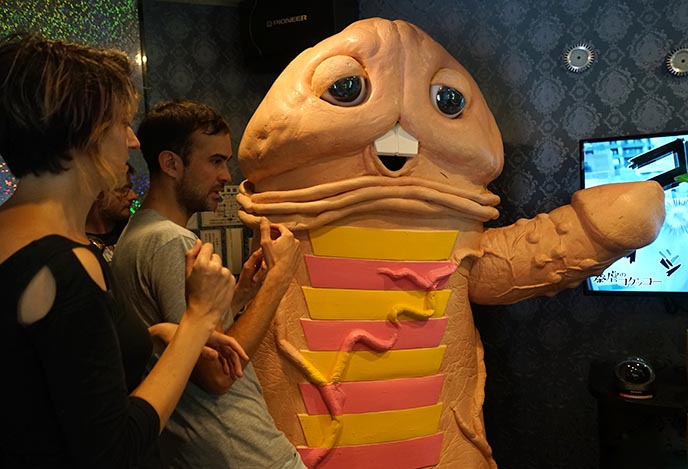 And then, a giant penis arrived… Welcome, Mr Peen! He was so big that he could hardly fit through the doors, no joke.
This phallic character, known as Gachachin, often pops up at Department H and once appeared at Kanamara Matsuri, the Penis Festival in Japan. The old costume got a bit… rotten… so the creator whipped up a fresh and bigger one in just three days.
As you can see, it takes two men to deal with the massive Mr Peen! When Sasano is inside, he can shuffle around and go turgid or flaccid. Check out the vein-y detailing on the foam body, and the arm appendage.
PicoPico also got inside his suit (he can see out of the mesh mouth area).
Naomi arranged for us to shoot in at Karaoke Kan Shibuya, in the exact same glass booth featured in the Lost in Translation movie by Sofia Coppola.
Here's a screenshot from the scene we shot together. I introduced myself as Steven Gaetjen's challenge-meister for Tokyo.
I'm sitting in the same place as Scarlett Johansson in the film, but unlike her pink wig, my hair color is real. (My cape is by Pheren Couture)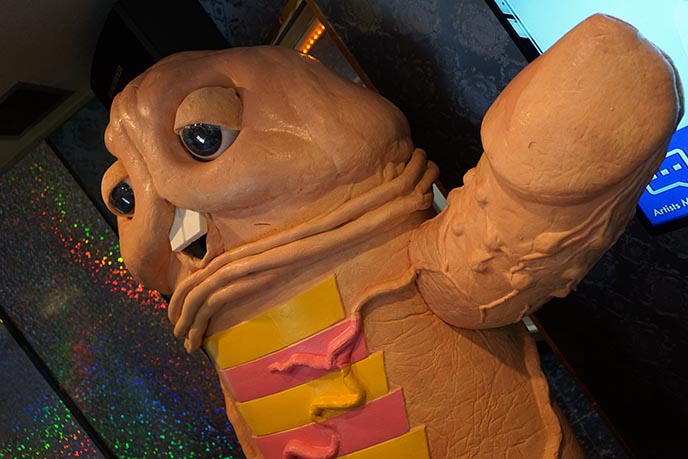 I presented Steven with his Tokyo challenge. He had to sing live on stage, at a wild party with hundreds of people watching… with Picopico and Mr Peen as his band members!
Steven Gaetjen had to perform a song that mixed schlager (cheesy, upbeat German music) with industrial (Rammstein-esque headbanging). He had to dress the part, hence this pink-studded costume that I declared was "so fash."
To add insult to injury, I made Steven take part in a nonsensical interview with a Japanese news crew. Our friends Miki, Ken and Yugo did a fantastic job acting as the host and camera crew for this segment.
We hired makeup and hair artist Tomomi Tokuda to give Steven this edgy look. She nailed it, and was a pleasure to work with.
Travel TV shows always need a ton of B-roll footage, so we headed to Akihabara to do a montage of Steven and the monster. PicoPico couldn't be there for that scene… so someone else literally stepped into his big shoes!
Akiba, the otaku and anime "electric town," made the perfect setting for these funny scenes. Above, the monster insists on taking a selfie with Steven, who is not amused.
Strolling through Tokyo, dressed ridiculous and shooting a TV show… just a typical day in the life of La Carmina and the Pirates.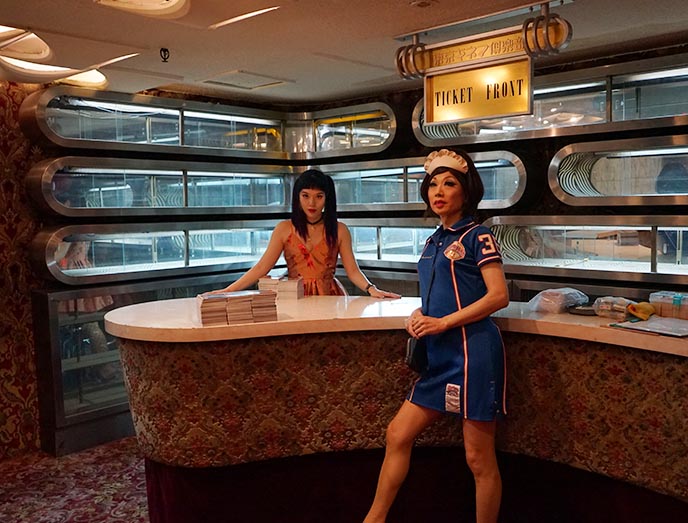 Finally, Steven arrived at the most insane party in Tokyo, if not the universe: Department H. (Keep scrolling for photos, and you'll see why.)
Organizer and mistress of ceremonies, Gogh, generously let us film here many times.
The Dept H party starts at midnight, and takes place the first Saturday of each month. However, the crew got here early to set up and rehearse the performance.
We put up a poster featuring Steven's flamboyant alter ego, Ralf Acapulco, who would be performing "Sushi of Love" live on stage.
"Itai, itai… painful!" Looks like Mr Peen is made to be a drummer. He even has a hole for his drum stick!
Time to rehearse, with the instruments that we rented. I can't stop laughing every time I see Mr Peen banging on the cymbals.
As you can see in the video clips, I took Steven to meet his keyboard players. These three are the Gokiburi crew… and they shocked him by sticking a long skewer through their cheeks, like a human shish kebab.
No Photoshop here. These regular-looking folk gleefully stuck a long metal needle through their jowls, connecting themselves together. Gotta love the creativity of Japanese body modifications.
Naomi shows them how to choreograph their headbanging and hand gestures during the live performance. (In this rehearsal photo, they aren't yet human-centipeded together.)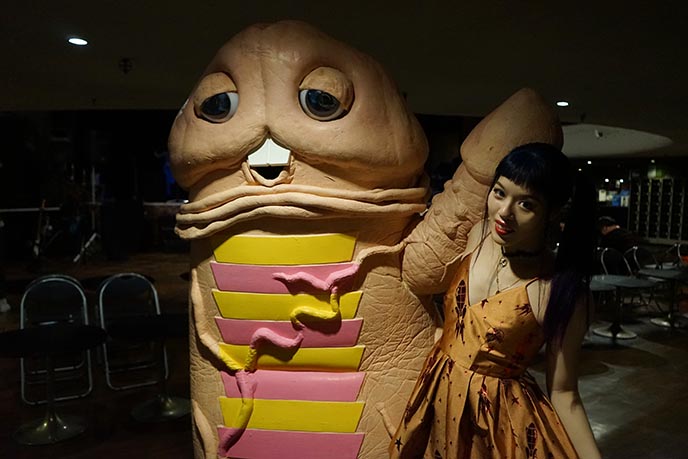 Looks like somebody is happy to see me. P size wa?!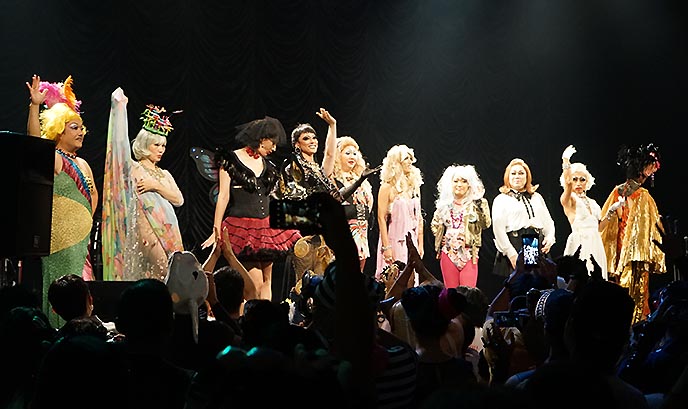 Department H takes place at Uguisidani's Kinema Club. The regular club night has been raging since the 1990s, and is still going strong. The event includes a drag queen show…
… and weird, racy performances such as this monster wrestling match.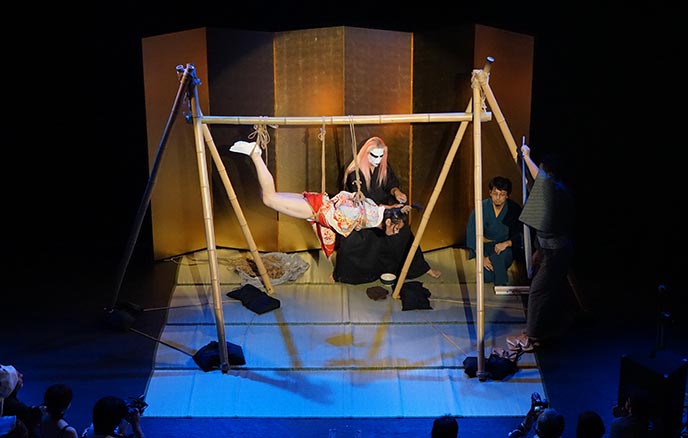 Hajime Kinoko, shibari artist, tied up a victim on stage with rope. The person's hair was then dipped in ink, and used to paint calligraphy on a scroll.
And then, "Ralf Acapulco" took the stage! The contrast between the bright schlager and scream-and-groan Industrial rock made for a hilarious performance.
(Watch some clips from the TV show below, as well as extras on my Instagram video.)
Danke everyone for watching me on Joko und Klaas: Duell um die Welt, Tokyo episode! Take a moment to see what we got up to in the video. I hope our surreal monster dance makes you laugh.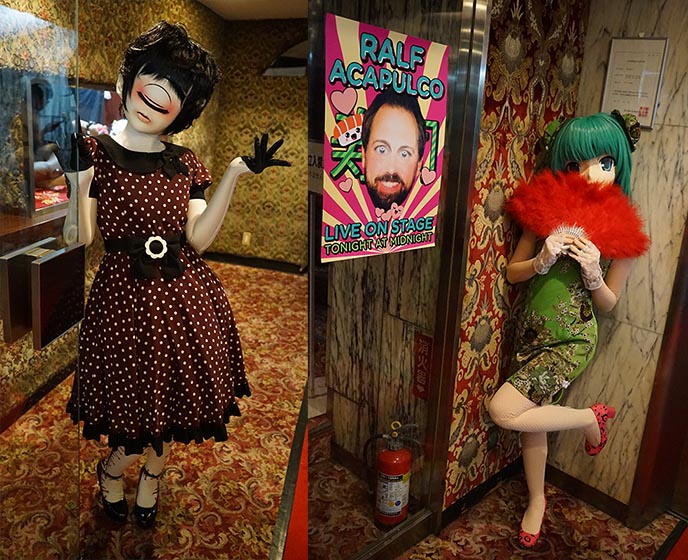 I'll leave you with mind-bending photos from Department H nightclub. The partygoers wear the most bizarre outfits you'll see on the galaxy. At Dept H, you can be whoever you want to be — whether it's a one-eyed dolly, or a green haired lady of the night.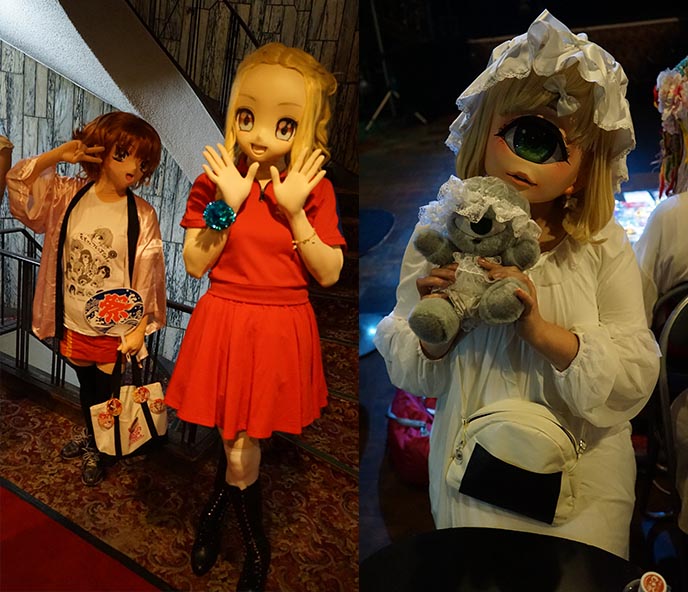 You'll see a lot of anime kigurumi, or dollers, at Department H. Typically handmade, these are full-body suits that include giant masks with big eyes. The effect is a bit cute, a bit creepy… a real-life anime or manga character come to life in three dimensions.
(Click below to see more photos.)