Search Results for:
abu dhabi
Whenever I travel, I love to get into the spirit of the destination and have it influence my looks. In Abu Dhabi, this was my outfit of the day.
My film crew and I were amazed by the "Austin Powers in Arabia" decor of our host hotel, the Fairmont Bab Al Bahr. (The Fairmont also hosted us in Dubai.)
Photos by my talented filmmaker Melissa Rundle.
Outside, the pool and beaches stretch out towards the famous white mosque.
The lobby offers Middle Eastern tea to weary travelers…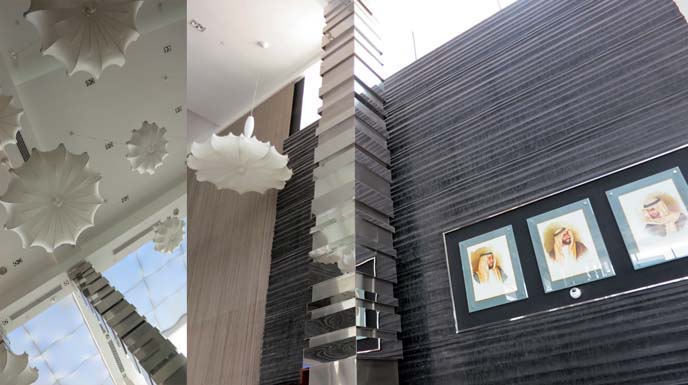 … and has portraits of the sheikhs that rule the United Arab Emirates.
In the basement, you can smoke shisha (or hookah). We had a fabulous meal at the award-winning Frankie's Italian Restaurant & Bar — I'm still thinking of the eggplant parmigiana and chocolate lava cake.
My room's decor continues the mod theme with a circular light-up mirror. What a nice welcome: a plate of chocolate and fruit.
We had rooms on the Fairmont Gold floor, which included a number of perks such as a lounge and open bar. (In the spirit of gonzo journalism, I drank fresh grapefruit juice with gin.)
Silhouette and my view from the bedroom window. Later, I'll take you inside the Sheikh Zayed Grand Mosque.
Abu Dhabi's a cultured, classical destination in contrast to the high-tech bustle of Dubai. The cities are only a 1.5 hour drive apart, so we recommend that you visit both.
The mosque is the most famous attraction, and one that you must experience for yourself.
Coming up: video footage of my Arab adventures in both Dubai and Abu Dhabi.
What do you think of my Middle Eastern-inspired makeup and coordinate? Have you ever wanted to visit this part of the world?
PS: I'm currently in Budapest and heading to Belgrade and Zagreb! Follow along my travel adventures on LaCarmina Instagram.
All right, here's the big news. In May, I'll be traveling to four international destinations: Dubai, Abu Dhabi, the Maldives Islands, and Montreal for Kinetik Festival! What will I be doing, how, and why? Keep reading.
(Hair in the above photo by Kukukachoo, shot by Said Karlsson. More from this series here)
You know I'm all about being a Pirate, and I've daydreamed of visiting the Maldives, an island nation in the Indian Ocean. Eco-friendly luxury resort Gili Lankanfushi is making this a reality… my filmmaking crew and I will be staying with them and sharing our "Treasure Island" adventure with you!
Can't wait to explore this five star eco-resort, accessible only by speedboat. I'll be staying in my own tropical villa, surrounded entirely by water, with a Mr Friday to assist me. Be sure to add my social networks (on the right sidebar) for a glimpse of the pirate life.
After the Maldives, my crew and I are jetting to Dubai, a destination that's been on my bucket list for some time. We'll be guests of The Fairmont Palm Jumeirah, located on the swank, man-made Palm Islands. This video and article coverage will be published on Huffington Post / AOL.
I'm fascinated by Dubai, a city of lavish imagination — home to the world's largest mall and artificial island, 7-star hotel Burj Al Arab, and outrageous developments like a World-shaped archipelago. I hope I don't fall off a camel when I ride it for the first time. (Above image from Wikipedia)
And then, we'll be filming travel videos at the Fairmont Bab Al Bahr in Abu Dhabi, a classical Middle Eastern city home to the Sheikh Zayed Grand Mosque.
Funny enough, I first heard of the United Arab Emirates though Garfield's Abu Dhabi song (where he threatens to mail Nermal away). Now, I'll be seeing the UAE with my own eyes.
And that's not the end. In late May, Montreal Tourism Board is sending me to Kinetik Festival, a four-day celebration of Electro-Industrial-Noise. I'm certain you'll enjoy my video coverage, since performance artist Lauren (from Death Cookbook days) and Daniel Graves of Aesthetic Perfection will be my co-hosts!
Super grateful to all of you for supporting my writing and presenting work, which makes these trips possible. My film team and I are going to work hard, and bring you the best possible coverage of these international destinations.
Do you have UAE, Maldives, and Montreal travel tips for us? Is there anything you'd like us to feature? Let us know in the comments and we'll do our best. (I've never been to any of these places, except Montreal as a kid.)
PS: Thank you to Atlas Obscura for interviewing me about my "subculture nomad" life. You can also read my Adone street style and South China Morning Post features online (photo above from their Encounters travel magazine).
PPS: My June and July plans are already in motion… where do you think I'll be? Hint, the continent is Asia…