Park Hotel Tokyo: luxury art & culture hotel in Shiodome! Japanese artist project, decorated theme rooms.
As that Italo disco song goes: "Tokyo by night / City full of light. I will lead you through / Tokyo by night."
That sums up the feeling of my stay at Park Hotel Tokyo, a modern skyscraper filled with Japanese design and culture. Every evening, I looked out from my Artist Room on the 31st floor — decorated floor-to-ceiling in wabisabi — at the neon twinkle of the Tokyo Tower.
(Above: I'm wearing a rose gold cuff bracelet and this exact 90s style choker by Shashi Jewelry. And clearly I'm on Snapchat, at username @lacarmina.)
As you'll recall, I was traveling around Japan using a JRailPass, which gives me unlimited access to JR trains (including shinkansen, buses and some ferries). If you purchase a Japan Rail Pass like mine (for 1-3 weeks), I recommend beginning your trip in Tokyo. Spend at least 5-7 days here, and then activate your pass to start riding the rails.
I'm glad I stayed at Park Hotel in Shiodome (near Ginza), as the entire experience is designed to immerse you in Japanese art and culture. My Instagram lit up when I showed you the soaring views from my hotel room window.
(Find out more about Park Hotel, and book a stay.)
From the moment you step into the 25th floor lobby, Park Hotel lives up to its reputation for omotenashi, or Japanese-style hospitality. The kind staff anticipates all your needs, and everyone speaks fluent English.
(For my Japan travels, my stylist Stephanie Hoy at Sugar Skull Studio made my hair grey and green.)
In 2012, Park Hotel Tokyo initiated an "Artist in Hotel" project, which brings in local artists to decorate a room on the 31st floor.
To date, there are over a dozen art rooms on this floor, each inspired by some aspect of Japanese culture. The creative themes include Sumo, Zen, and Lucky Cat. Photographer John S and I got to take an inside look — read on for the details and to learn about each artist.
That day, I wore a corset-style tank top by C/Meo (Cameo). They specialize in romantic, unique cuts, such as this similar cut-out black shirt and this bodice top .
My black lace necklace is this exact choker by Shashi. With embroidered detailing and a lobster claw clasp, this choker is 90s Gothic perfection.
(Shop my look below, and click the arrows for more:)

At Park Hotel, the art immersion begins in the lobby. The artists who took part in the room project also have designs on display, and for sale.
There's so much to see in the lobby lounge. I admired the glowing circular halo paintings by Nobuo Hashiba, and peeked into glass cases of contemporary design. At night, the tall atrium walls light up with colorful projections.
At this hotel, even the most unexpected spaces become canvases for creativity. Indoor smoking rooms are usually glum and bare-boned spaces. Fortunately, the funky artist Akihisa Hayashi ("Marron-chan") stepped in, and turned the walls into a retro-sexy painting of a geisha, with golden clouds drifting out of her elegant pipe!
Look closely and you'll see Tokyo landmarks along with flying sushi and ramen girls, Godzilla, a UFO, and cats.
Guests can book any of the Art Colours rooms on the 31st floor of Park Hotel Shiodome. I'm lounging in "Kabuki" by Yamaguchi Keisuke: he painted this horse and flowing circles while staying in this room for 16 days.
His inspiration is "Yanone," a Kabuki performance that captures the beauty of ancient Japanese traditions. The arms and legs blur into curves, representing the expressive movements of the theater.
In another room, painter Nanami Ishihara took the concept of "Festival" as her theme. The party never stops: every inch of free space is covered in rainbow rabbits, elephants, deities and schoolgirls doing the "Bon odori" matsuri dance.
She even turns functional objects into playful art. In the closet, the air vent becomes the mouth of a dancing lion!
Yuka Ohtani lived in Akita prefecture (in the north of Japan), and the peaceful landscapes and lifestyle inspired her to create this room. The panels are framed with cedarwood from the region, with a view of the local moat and flowers in bloom.
She pays tribute to Akita with elegant details: a "cracked ice" pottery pattern on the ceiling, camellia flowers over faux sliding screens…
… and paintings of glowing lanterns from the Kanto festival, hidden in the closet.
(I couldn't resist going inside and doing a Sadako impression!)
One of my personal favorites was the "12 signs of the Zodiac" room by Ryosuke Yasumoto, which was completed during his 11-day stay. His black and white animal illustrations flow through the walls, and emphasize the humorous side of the Asian folk tale.
I had fun finding all the animals in the room. Ryosuke Yasumoto takes full advantage of the three-dimensional space, mounting a cat sculpture on one wall and reflecting creatures in the mirror. (The cat was left out of the legendary race, but makes a comeback here.)
I stayed in the Wabi-Sabi room, which I recommend as it has a brilliant view of the Tokyo Tower. Artist Conami Hara created this work over four months, using silver foil to transform the walls into shimmering colors that will change over time. She painted driftwoods and ripples, inspired by the Zen stonen garden Ryoanji in Kyoto.
Castle by Kazuki Mizuguchi was constructed over 454 days. His transcendent vision depicts Edo Castle, which was lost in a fire, over a black background. The room entrance mimics a stone wall, and even the lampshades reflect the archtecture of the roof.
At night, a surprise appears: when you gaze in the direction of the Imperial Palace, the castle appears in a reflection on the glass.
The 25th floor harmonizes a functional lobby with natural surroundings of Japan. Looking up, the atrium soars up into a triangular prism of light.
Every morning, I came downstairs for the freshly prepared breakfast, with both continental and Japanese options. (I feasted on the gobo, hijiki, soft tofu and miso soup.)
Eggs, anyone? Next to the yogurt and fruit display, I came across these alien-like sculptures. (My Pokemon Go nail art is by Glam Nail Studio in Vancouver.)
Park Hotel's mission is summed up in "Art": Atrium, Restaurant, Travel, and of course the artist rooms project. They succeeded in bringing Japanese aesthetics to the forefront, and made my stay feel like a cultural integration.
Park Hotel is right by Shiodome and Shimbashi train stations, and a short walk to Ginza. The location gives easy access to the major districts of Tokyo, while letting you feel as if you're in a peaceful hideaway, up in the clouds. 
John S and I had a memorable drink at The Society, the first bar in Japan to be officially recognised by The Scotch Malt Whisky Society.
These connoisseurs stock hundreds of bottles of whiskey from around the world, each with poetic names that reference the taste or feeling. Such as: "Jingling Jalapenos," "Hospitals on Guy Fawkes night," and "BBQ in Pine-Clad Dunes."
We took in the Blade Runner views from the windows, and sipped one of the bar's finest Japanese single malt whiskeys. Prices are steep at The Society, but a tiny taste goes a long way.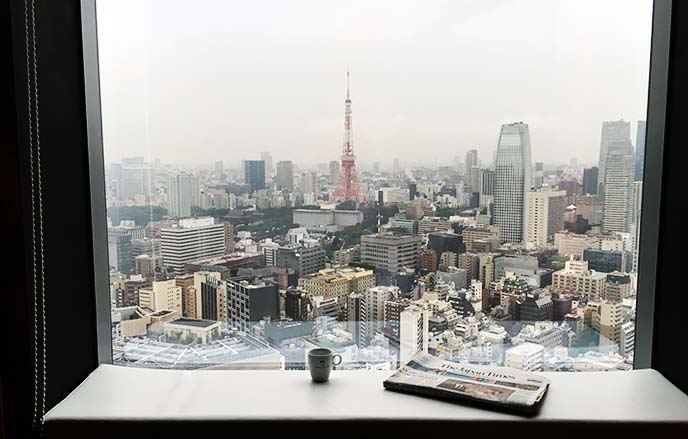 I'll miss my mornings in my Artist Room, drinking green tea and reading The Japan Times while curled up on this sill…
Arigato Park Hotel Tokyo for a beautiful stay that immersed me into the art and history of Japan. (You can learn more about this hotel and book rooms here.)
Which is your favorite of the Artist Rooms? Doesn't this city view remind you of the movie "Lost in Translation"? (PS: check my Instagram Stories and Snapchat @lacarmina for cute daily updates from Asia right now.)