HONG KONG IT & IZZUE STORE: HYOMA & MIFFY CUTE CHARACTER CLOTHING LINES. SELECT SHOPS, TRENDY BOUTIQUES CHINA.
All the way back in 2008, I wrote about Hyoma — a Hong Kong streetwear brand featuring a cute kitty. Three years later, I finally had the chance to pick up more items from this poppy designer.
Hyoma is found in the select shop, I.T. / Izzue (various locations in Hong Kong. The brand originated from Japan, as you can tell from the kawaii design.
Hyoma is all about bold, primary colors. While the clothes have a loose, urban feel, they are made with top-end fabrics.
The brand suits me and Seba very well, don't you think? We both picked up a few things at Hyoma — you can see us wearing them during our Hong Kong nightwalk.
Another boutique caught my eye… because it sold Miffy clothing! (The lovable rabbit character by Dick Bruna.)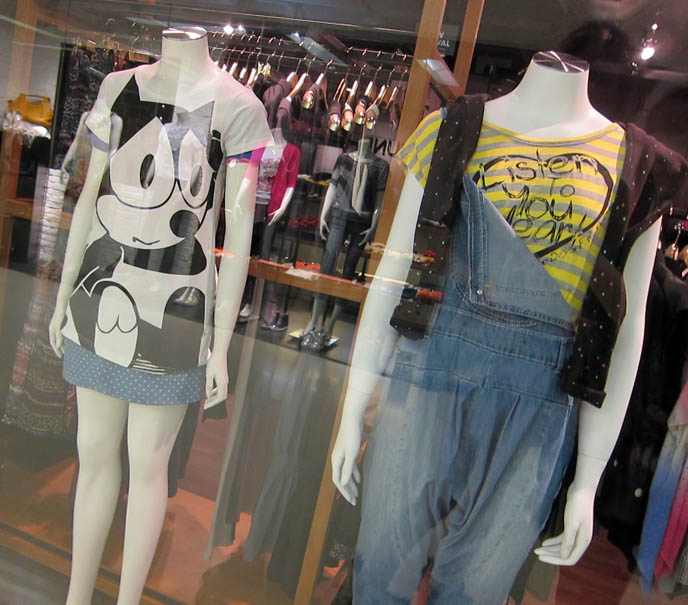 And who can resist Felix the Cat on a t-shirt?
I'm impressed by how cute character brands are producing chic, poppy fashion. It's Asia street style at its best.
PS: Thank you to Blood, Sweat and Fashion Magazine for interviewing me about my spooky world. Is there any plans to do more cooking books? Where do I see myself in 5 years? Advice to budding bloggers? Read my answers here.
What are your impressions of Hong Kong culture so far? Would you wear these clothes? You can see all my articles in the Hong Kong and Macau category.
Song of the Day: Metis Gretel – Metamorphose (Visual Kei with harpsichords)
❤ Squealed at this post? Please give it a Like (below) ❤