SHINJUKU TOKYO GOTH CLUBS, MUSIC & DJS: RITUALS THE HEAD SHOP, KENZO-A. DARKWAVE ROCK TECHNO PUNK ELECTRO PARTY.
Goth girls come out to play… at night with Kenzo-A! The Rituals designer has a new monthly Goth music event, The Head Shop.
What's spookier — my luminescent makeup, or the stuffed dog in Seba's pants?
First, we filled up at a Shinjuku izakaya (Japanese pub). I'm carrying a souvenir from my coolhunting travel TV show… soon, you'll find out what it means!
One of my favorite flavors: shiquasha, a green Okinawan fruit. Delicious, mixed with alcohol.
We ran into frightening individuals in front of Studio Alta (a common meeting place in Shinjuku).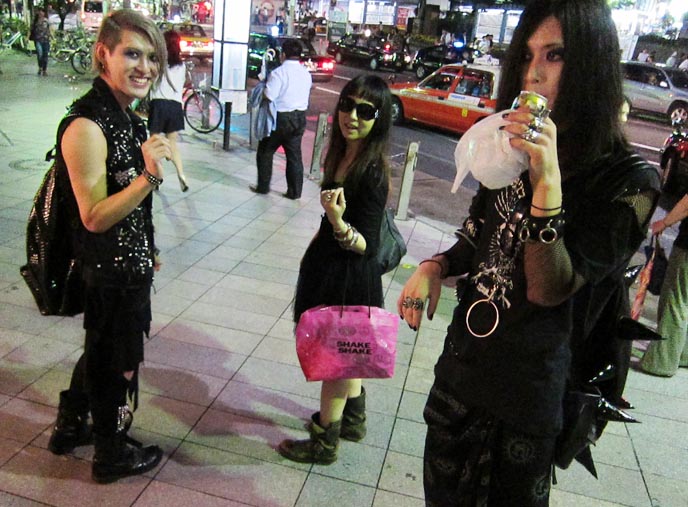 Did you know that Atsushi and Takashi are twins?
The Head Shop has live DJ sets all night long (techno, house, Gothic, electro) — as well as bands and fashion shows. This "Kenzomas" event was at Shinjuku Motion (next to Club Marz, where Midnight Mess and Tokyo Dark Castle go down).
Party's in the elevator.
You can spot blue-haired Kenny Creation from a mile away.
Kenzo's Rituals clothing is available to purchase. If you wear his clothing to the event, you get a discount.
Yes, that's a man in a glowing bra.
Seba and Atsushi get frisky with neon glowsticks.
The master of the festivities, Kenzo-A.
Don't miss his next Head Shop party: Friday, September 23, from midnight to morning at Shinjuku Club Marz. There are DJs, bands and a fashion show to celebrate Ritual's 3rd anniversary. Full details and prices (including discounts) are on the flyer.
For a taste of the music, check out my video above and here (footage from the last party is near the end). What do you think?
Where are these Tokyo Goth Industrial clubs? What are they like? How do you get in? All the details are in my Club Guide.

PS: for party announcements, giveaways and more, please subscribe to my mailing list.
[contact-form-7 id="6947″ title="Contact form 1″]
Song of the Day: DJ SiSEN – Brutal (SiSEN is currently and happily residing in Berlin!)
❤ Big hug if you Like this post (below) ❤